The Carmel Market (Shuk HaCarmel) has become a popular tourist attraction in the last decade. You can see, purchase and taste everything.
Carmel Market is probably the most famous marketplace in Tel Aviv. Similar to other markets (like Mahane Yehuda Market in Jerusalem), it changed in recent years. Bars, restaurants, coffee shops, and chef-owned food stalls appeared. Travel firms started to offer Market tours. And today, it is a mix of the old market and a tourist destination.
Map
The Carmel Market is spread along several streets in Tel Aviv. The main one is HaCarmel Street. And you can find additional stores on the nearby streets, like Yom Tov Street.
Directions for drivers: Link to Waze and Link to Google Maps
Directions for public transport: Link to Moovit
Interactive map of the area:
Offers:
Hotels, hostels, and apartments in this area:
Directions
If you walk to the Carmel Market, you can set the navigation app to HaCarmel Street 1 or Allenby Street 60, Tel Aviv.
If you are using public transport, then a variety of buses reach this area. Here is already a preset link to Moovit. Just enter your starting point, and you will get the updated directions.
And if you are driving, then you will need to find parking.
Parking
There are several paid parking lots in the area. The closest one is HaCarmel Parking, and its entrance is at HaCarmel Street 16. But it frequently has no free places. Thus we usually park a little bit further at Yosef Levi Street 2. It is next to the Hassan Bek Mosque and the David Intercontinental hotel.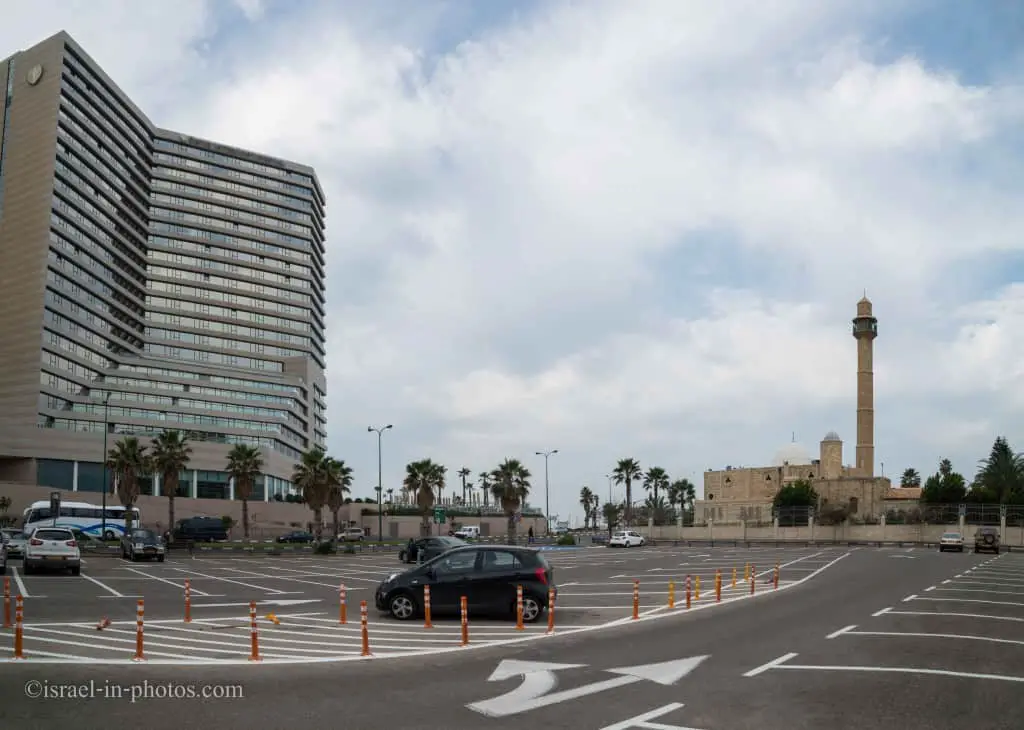 Though there are many paid car parking lots in this area, I recommend arriving either early (up to 9:00-9:30) or later in the afternoon since the car lots are filled quickly.
Opening Hours
There are many stores, stalls, and restaurants in the market and its surroundings. Each of them has its opening hours. Thus if you are interested in a specific place, check its opening hours. And the hours I am going to list now are the common ones when most stores are open.
Sunday – Thursday: 8:00 – 19:00 (17:00 during the winter).
Friday: 08:00 – 15:00 (13:00 during the winter).
Saturday and Jewish holidays – closed.
Restrooms
You can find toilets at the intersection of Nachalat Binyamin and Allenby Streets. The opening hours are Sunday – Friday: 8:00 – 19:00. Here is a photo: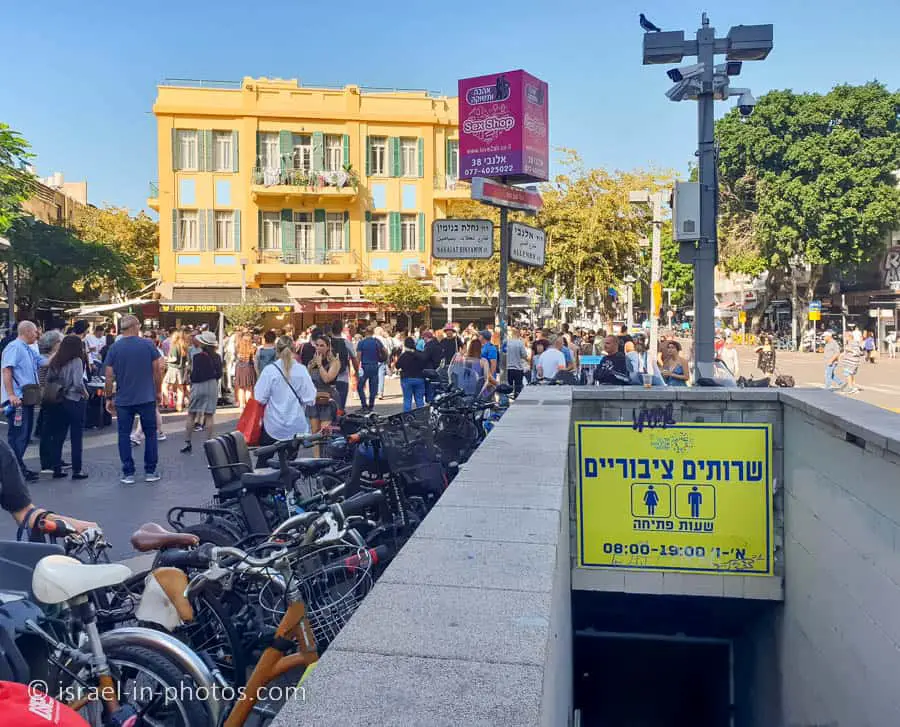 There are also restrooms at 25 Daniel Street, Tel Aviv. And, of course, there are restrooms in all restaurants.
History of the Carmel Market
In the early 1920s, the nearby neighborhood called Kerem HaTeimanim, literally 'the vineyard of the Yemenites,' started its marketplace, which was called "HaKerem," the vineyard. With the help of Zionist leader, Arthur Rupin, a group of Russian immigrants began to turn the small neighborhood into a bustling commercial center. Noticing its potential and impact, the Tel Aviv municipality, with Meir Dizengoff at its helm, encouraged its growth and permanence further by changing its name officially to Shuk HaCarmel, or the Carmel Market, renaming the road HaCarmel Street and allowing for permanent buildings and renovations within the allocated space.

With its growing success, local Arab farmers opened a competing market nearby, which became a source of tension among the local populations in downtown Tel Aviv Yaffo for decades, with incidents of violence between Arabs and Jews continuing well into the 1930s and even during Israel's War of Independence. Arab snipers shot at Jews shopping in the Carmel Shuk from the nearby Hassan Bey Mosque, one of the most well-known Arab mosques in the area, and still standing between the oceanfront and the marketplace.

During Israel's austerity period of the 1950s, the Carmel Shuk rose to great prominence as the best and most direct source of local, fresh produce. Efforts by the municipality to move the market to a more central location in the city failed in the 1960s and 1970s with locals preferring the market's intimate and authentic neighborhood charm. And as terrorist attacks tore through the heart of Israeli public life in the 1990s and early 2000s, the open market place suffered a downturn in visitors.

But in recent years, as the interest in local produce, outdoor experiential shopping, and blue-and-white purchases increased, as did the number of visitors and vendors to the Shuk. Thanks to a recent renovation, the Carmel Shuk of today is home to a range of culinary treats that, together with covered walkways and shaded coffee stalls, welcomes leading chefs from Israel and abroad to its abundant sights, sounds, and flavors.
Source: official site
Strolling at Carmel Market
After covering all basics, let's walk through the Carmel Market.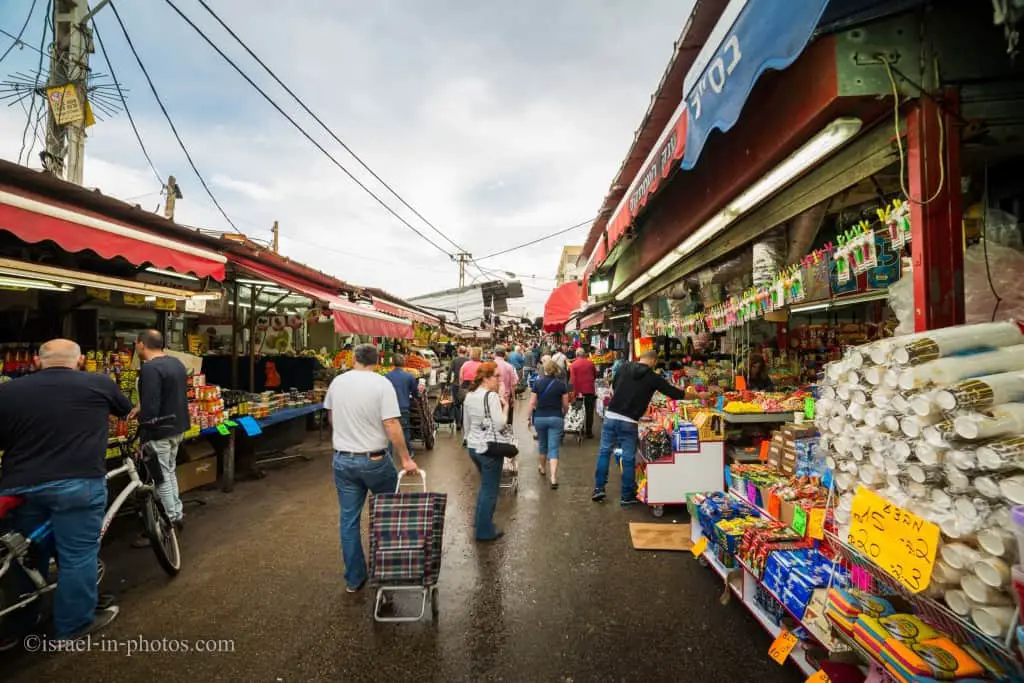 In Israeli markets, Halva is a widespread dessert. It is usually nut-butter-based Halva with sesame butter or paste (tahini) and sugar or honey as primary ingredients.
Honey-based sweets, like Baklava and Kanafeh, are popular as well.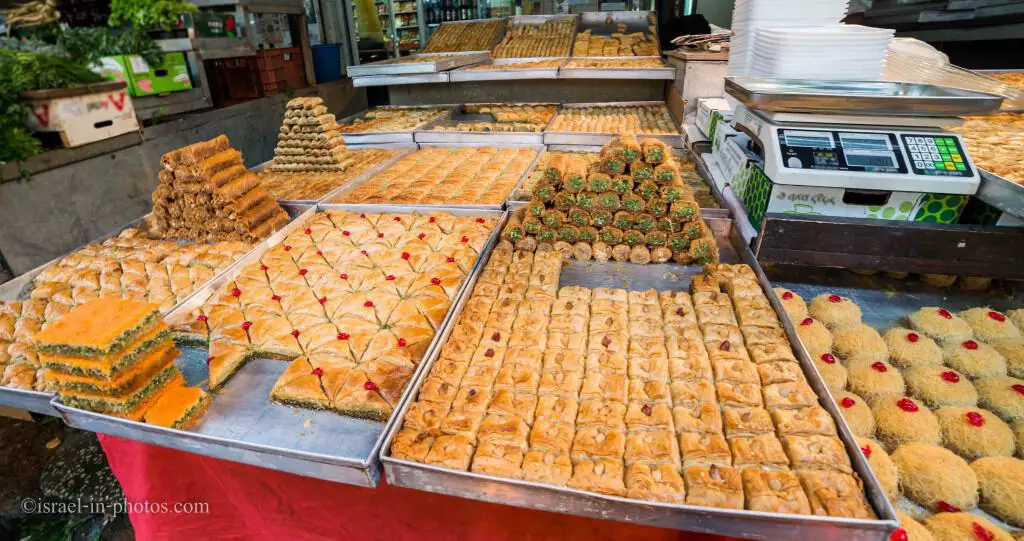 And, of course, olives and pickles: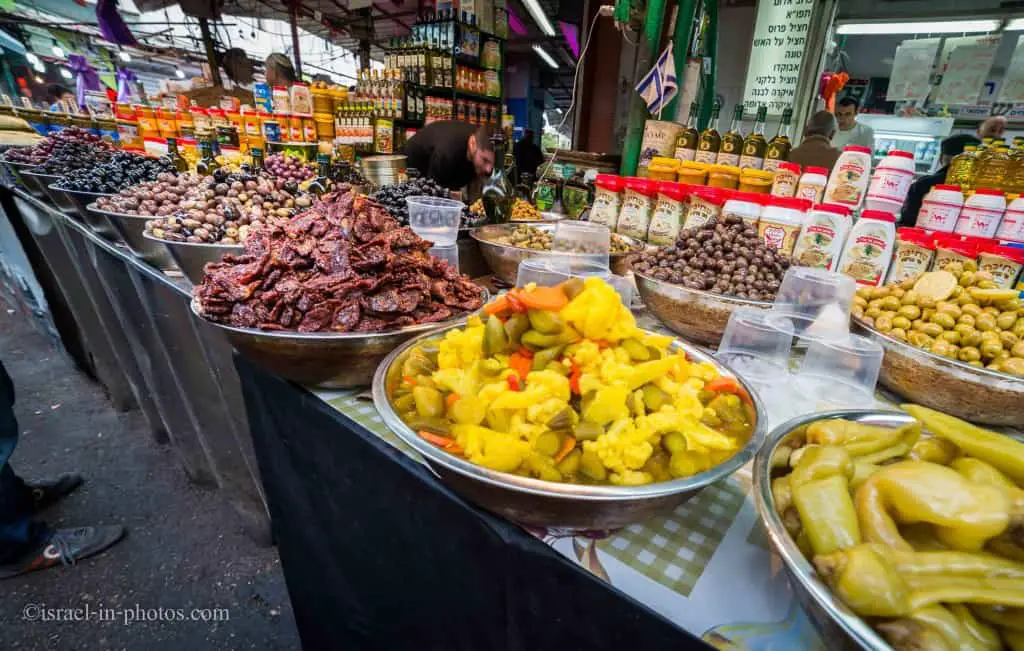 At the beginning of Ha-Carmel Street, almost all stands sell food and utensils. And towards its end (closer to Allenby Street), you can find clothes, gadgets, and flowers.
In the photo above, you can see cherry tomatoes in three colors. And though many say that Israel "invented" cherry tomatoes, this is not the case. Cherry tomatoes have been cultivated since the early 1800s and probably originated in Peru and Northern Chile.
Israeli researchers made significant modifications to the cherry tomato. For example, they adjusted it to the Israeli climate. Thus the cherry tomato was not created in Israel but improved.
After walking around and seeing all the food, you will probably become hungry. And you are lucky since, in recent years, many authentic restaurants with homemade food have been opened. Let's look at some of them.
Restaurants and Food Stalls
Walking along HaCarmel Street, you will see different food stalls and restaurants. For example, Bar Ochel at HaCarmel 38.
At HaCarmel 11, there is a place that looks like a synagogue. But it is a Hummus place.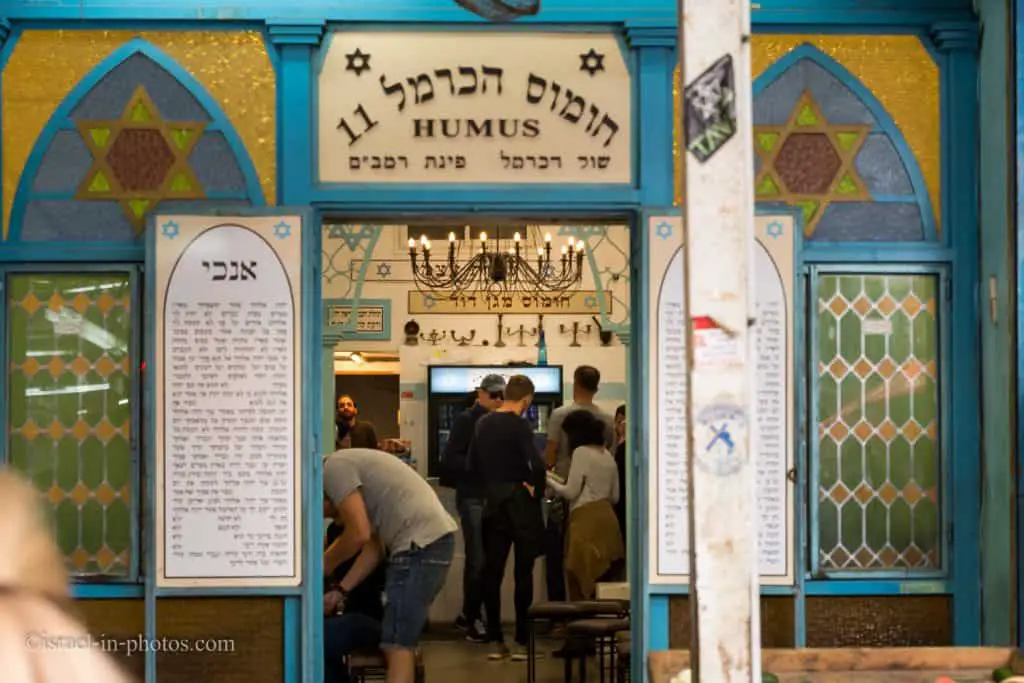 Many stalls offer small snacks.
As I mentioned above, there are many restaurants in this area. But since the quality of restaurants changes over time, I usually do not list all of them. Instead, I would recommend opening Google maps or another app and seeing the current rating.
Nevertheless, I will mention my favorite place. It is Hamitbahon at Rabbi Akiva Street 18.
Here is a typical restaurant in between vegetable stands:
When to Visit The Carmel Market?
The answer to this question is the usual one: "It depends." Here are the points to consider.
If you want to visit the nearby Nachalat Binyamin Market, then visit Carmel Market when Nachalat Binyamin Market is open, in other words, Tuesday or Friday.
And if you want fresh produce at lower prices, visit towards the end of the day.
If you want to eat at the market, visit during lunch or dinner.
Nearby Attractions
Here are several nearby attractions that you can reach on foot:
Where To Stay
Kerem HaTeimanim is one of the most popular neighborhoods among tourists. The Yemenite Quarter is close to the sea, the Carmel Market, Old Jaffa, and many other points of interest. And here is a link to booking.com, where you can see the available properties (hotels, hostels, and apartments) in the Yemenite Quarter.
Summary
Carmel Market is popular both among locals and tourists. You can purchase produce, taste the past and (maybe) the future, and take plenty of photos. Thus I suggest incorporating this market into your itinerary and combining it with nearby attractions.
If you love markets, check out Markets In Tel Aviv And Jaffa. And for additional points of interest nearby, see Tel Aviv-Yafo, or browse the interactive map at the beginning of this article.
Have you ever been to the Carmel Market? Tell us in the comments below.
That's all for today, and I'll see you in future travels!
Stay Tuned!
Additional Resources
Here are several resources that I created to help travelers:
And if you have any questions then check out
Useful Information For Tourists To Israel
.  
Did not find what you were looking for? Leave a comment below, and I will do my best to answer your questions.