Yad La-Shiryon guide starts with the basics (map, directions, opening hours, history), and then we are going to tour the museum. Let's begin!
Offers
Get 5% off for your next vacation at Isrotel.
Get 5% off for your next tour at Bein Harim with coupon code 'LEV5#12305'.
What Does Shiryon Mean?
The full name of Yad La-Shiryon is The Armored Corps Memorial Site and Museum at Latrun. So as you probably guessed, Shiryon means armor.
Introduction
Yad La-Shiryon is Israel's official memorial site for fallen soldiers from the armored corps, as well as one of the most diverse tank museums in the world. The cornerstone for Yad La-Shiryon was laid on December 14, 1982.

The site was created through the initiative of veteran officers of the armored corps. The outdoor display includes 110 tanks and other armored fighting vehicles, both Israeli and captured enemy examples including the Merkava and T-34, T-54, T-55, T-62 tanks, as well as vehicles obtained or purchased from allied nations specifically for diversifying the collection like the German Leopard tank or the only T-72 on display in Israel. Other notable items include: an M4 Sherman tank mounted high atop a former British water tower. A collection of mobile bridges constructed by the IDF (Israeli Defense Forces) which can be carried by tanks and erected while under fire; captured enemy vehicles, most of which Israel has modified and updated. A tank with a blown up gun. And a long, engraved commemorative wall bearing the names of Armored Corps soldiers killed in defense of the country.
Source: Wikipedia
Map
Yad La-Shiryon is located at Latrun. This is a strategical point that overlooks all surrounding area, including the Tel-Aviv – Jerusalem road.
Map of the area:
Directions
If you are using public transport, then you can take a bus to the Latrun junction and walk from there. Here is the preset link to Moovit where you can set your origin, and get the updated directions.
And if you are reaching by car, then enter "Yad La-Shiryon" into Waze or Google Maps, and you will get there. Also, there is plenty of free parking on site.
Opening Hours
Sunday – Thursday: 08:30 – 16:00
Friday and holiday eves: 08:30 – 12:00
Saturday and holidays: 09:00 – 15:30
Entrance Fee
Adult: 30 NIS
Child (5 – 16) / Student / Senior: 20 NIS
Family (2 Parents + minimum 3 kids age 5 -16): 100 NIS
Note: opening hours, ticket prices, and discounts were updated in June 2019. In any case, recheck them at the official site before visiting.
Discounts And Coupons
If you have the Matmon card, in other words, if you have the annual membership to National Parks And Nature Reserves in Israel, then by presenting it you will get a 20% discount. Another option to get 20% off is to print this coupon and present it at the entrance.
And the entrance on Independence Day is free.
Independence Day At Yad La-Shiryon
Our last visit was during 2018 Independence Day. Yad La-Shiryon is active all year round. But during Independence Day, you can find additional exhibitions. We started with the Military engineering exhibition.
Note: keep in mind that in these photos (since I took them during Independence Day celebrations) you will see crowds and soldiers that explain about the exhibits. If you come on a regular day, there will be fewer people and there will be no guides (or at least fewer guides).
Can you guess the wheel of which vehicle it is?
It is the massive caterpillar D9.
Beside every vehicle, there is an explanation stand in Hebrew. And guides are telling about the exhibits and answering questions.
I asked why the top of this vehicle is covered with something that looks like small glued stones.

As it turns out, there are two reasons for it. Ease of climbing is the obvious one. But the main one is camouflage. It is the exact opposite of cars. While you want your vehicle to stay clean, you want Infantry fighting vehicle to absorb the surrounding dust and dirt.
There were also stands of sniper rifles, optics, and Home Front Command. It is a particular camera used for saving people underground or under ruins (after an earthquake). The camera on the left can go 20 meters deep, and you see everything on the screen on the left.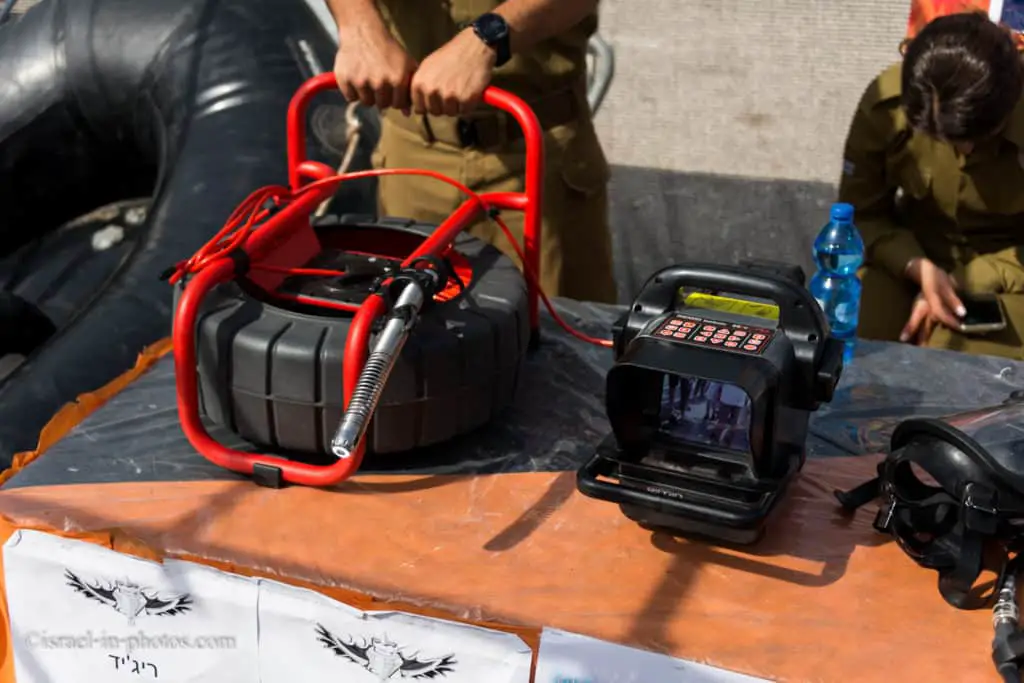 And these are the Artillery Corps: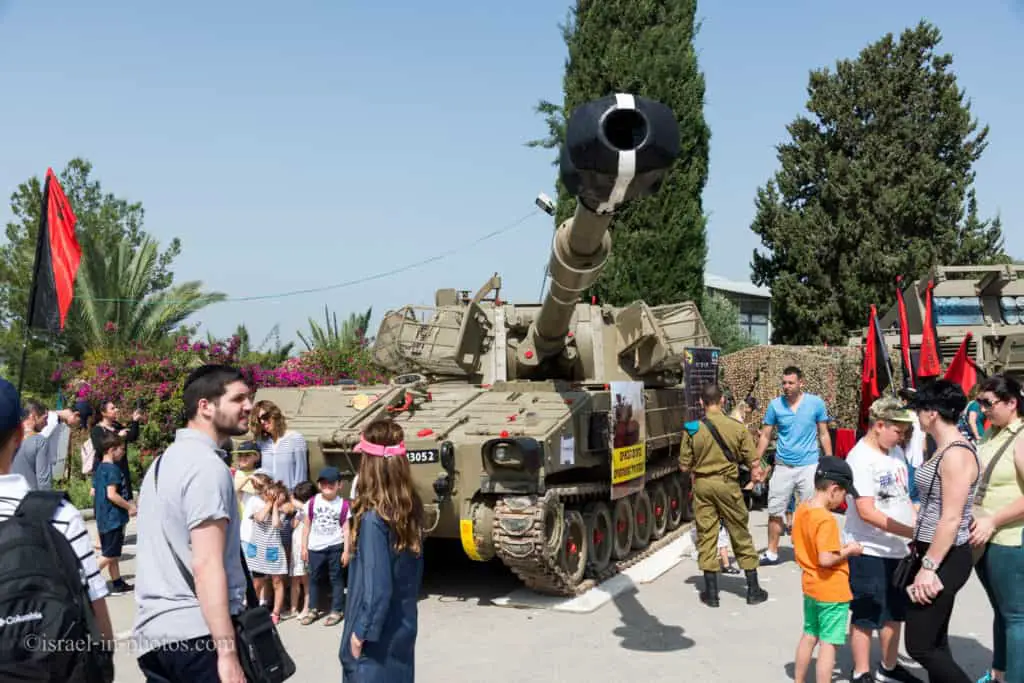 There were different small activities for kids. They included looking through different binoculars, climbing various vehicles, sitting in a Hummer, wearing helmets and you could even get disguised.
Regular Exhibitions At Yad La-Shiryon
Then we headed to the standard shows. As you can see, there were plenty of people, but with a little patience, we were able to visit everything.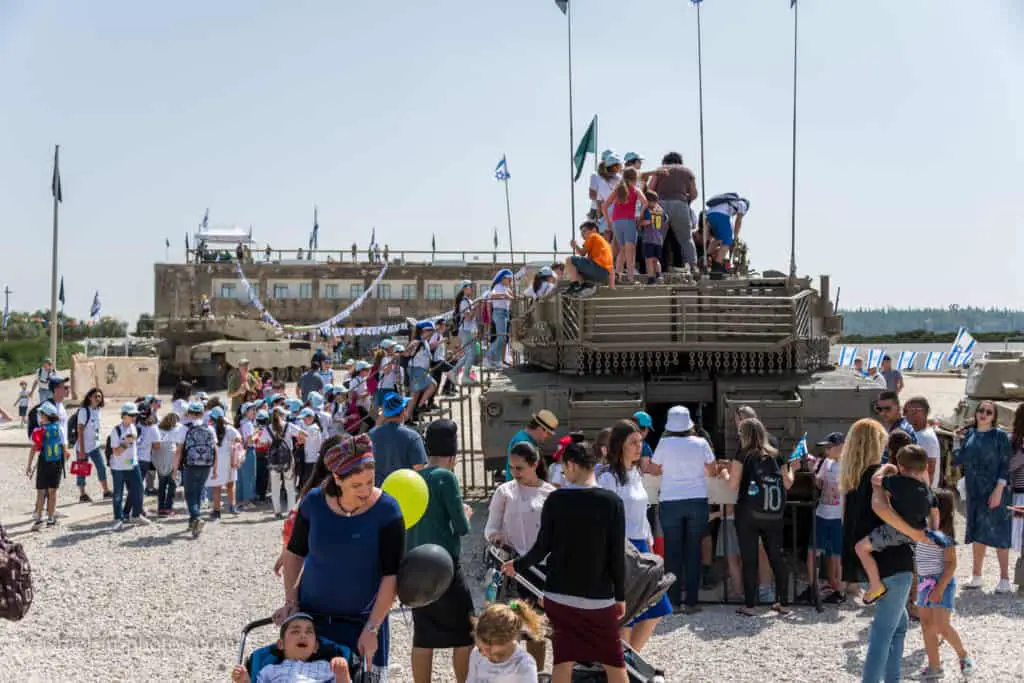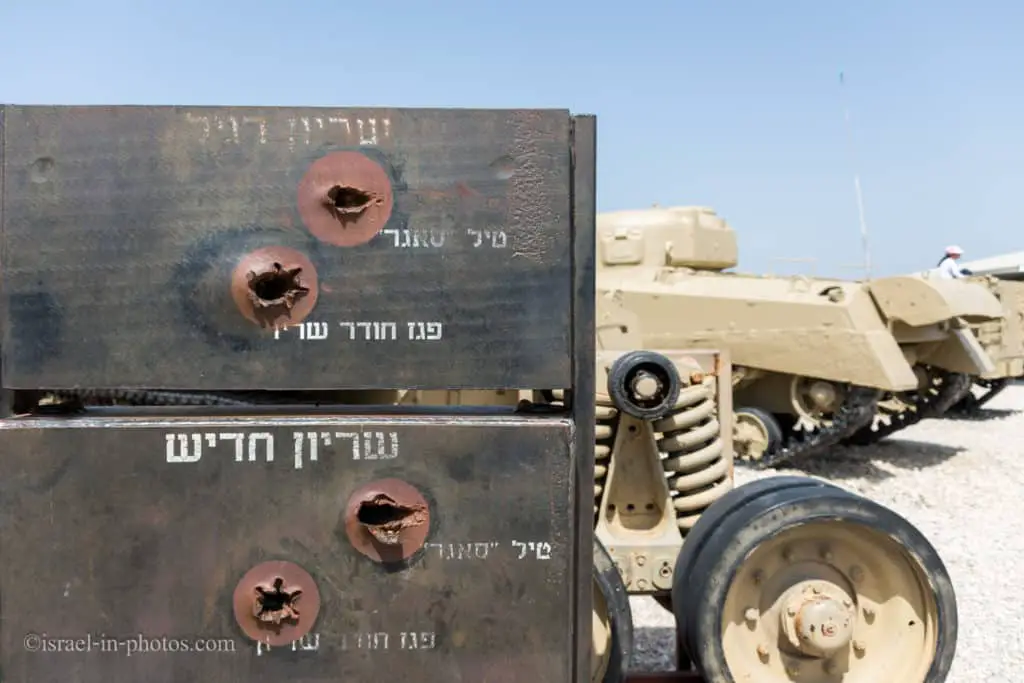 Here is a neat exposition. A tank was divided into two parts and this way you can see its interior.
The main museum section of Yad La-Shiryon is the armored corps collection, with more than 160 tanks and armored personnel carriers surrounding the site, making Yad La-Shiryon the most diverse museum in the world.

The armored combat vehicles are divided into the following groups: armored vehicles that took part in Israel's wars, armored corps that was captured and armored vehicles collection that belongs to different armies in the world. Beside each transport, there is a sign telling its primary technical data and historical background. Many tanks have unique stories.
Source: translated from the official site.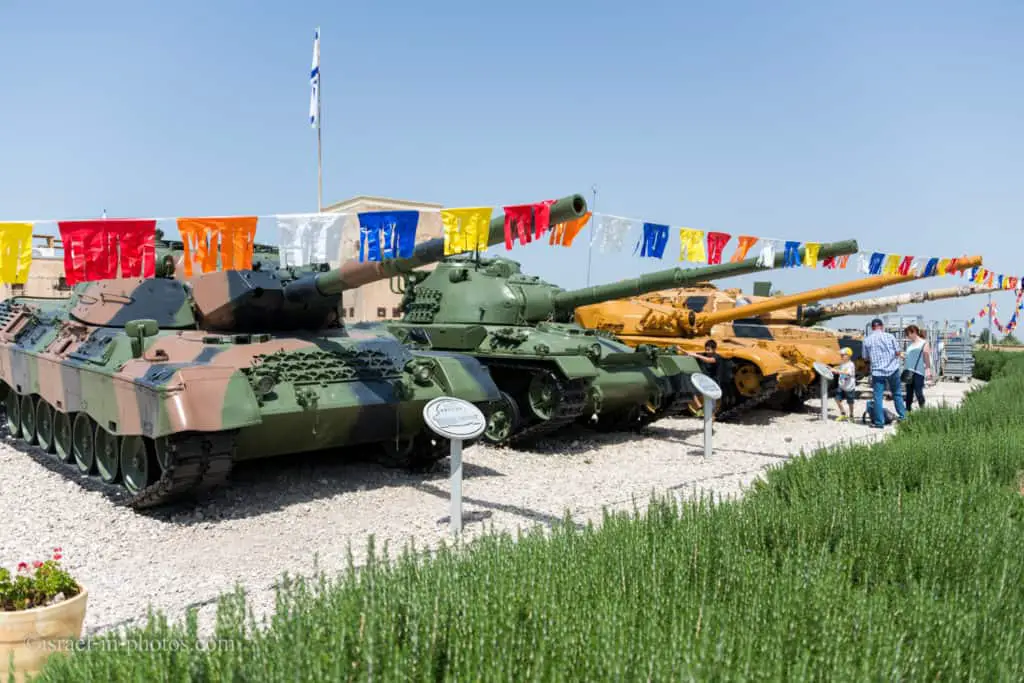 Armored personnel carriers: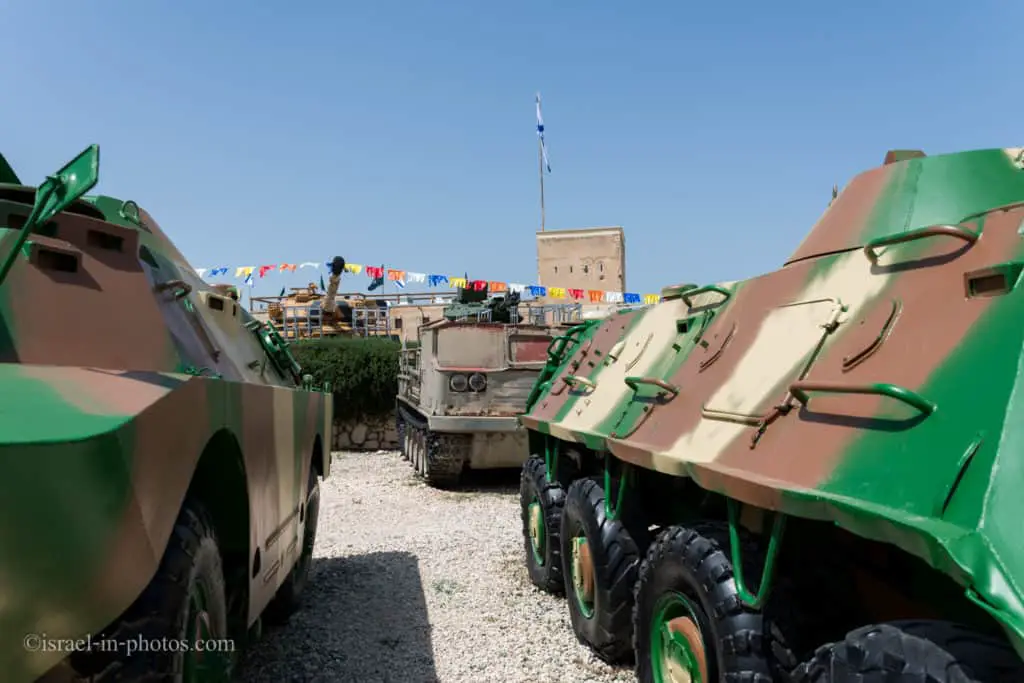 Tegart Fort
Then we headed to Tegart fort. It is located in the center at the highest point.
The main building, a Mandate-era Tegart fortress, houses a library with a publicly accessible computerized record of every fallen Israeli tank soldier, and a synagogue. The deeply pocked outer walls of the fort are a reminder of the building's wartime past and its use by the Arab Legion. The tower of the fortress has been converted into a Tower of Tears by Israeli artist, Danny Karavan. The inside of the tower is covered by steel taken from a tank and water circulating from a pool underneath the installation trickles down the walls.
Source: Wikipedia
You can still see the sign of war on the building.
The forts are named after their designer, British police officer, and engineer Sir Charles Tegart.

Sir Charles Tegart designed the forts in 1938 based on his experiences in the Indian insurgency. They were built of reinforced concrete with water systems that would allow them to withstand a month-long siege.

Many of them can still be seen in Israel today, and continue to be used as police stations and jails.
Source: Wikipedia
We climbed to the top of the building. When you are on the roof, you understand the importance of this place and why there were many wars there. Latrun hill allows an overview of surrounding valleys, including the road to Jerusalem and on a clear day, you can even see Tel Aviv.
View from the roof including a stand telling about Joshua Bin-Nun battle.
Sherman Tank On The Tower
The most famous sight at Yad La-Shiryon is most likely that of a tank on top of a tower, which serves as the museum's logo. In 1979, by the decision of late Major General (Ret.) Moshe Peled, the tank was hoisted on top of a tower on the site, which was originally used as a water tower. The tank that was chosen is an American M4 Sherman, one of the first tanks that fought in the service of the Israel Defense Forces. Since the water tower was only designed to support 25 tons and the tank weighed 34 tons, both the engine and transmission gears had to be removed.
Source: Wikipedia
Sherman tank on the tower and Latrun Monastery.
Another view from the roof:
We checked the museum inside the Latrun police station, but probably due to the number of people they divided entrance to slots. We decided not to wait for twenty minutes to see the movie and the exhibits and headed home.
Israel Defense Forces History Museum
The Museum of the IDF History is located at Neve Tzedek neighborhood, near HaTachana compound in Tel Aviv. This experiential museum tells the story from the time of the British Mandate until modern times.
Well, I should say that it was located in Tel Aviv since according to the official site, the Israel Defense Forces History Museum was closed on 1.1.2019. And the exhibits will be moved to Latrun within the next two years. So expect additional exhibits at Yad La-Shiryon soon.
Latrun Attractions
Here is the list of other nearby attractions in Latrun area:
Mini Israel is a miniature park. And according to the official site it "features over 385 beautifully crafted replica models of Israel's most important historical, religious, archaeological and modern sites, at a scale of 1:25, including 25,000 7cm high miniature residents within the models themselves".
Latrun Monastery is the only Trappist monastery in Israel.
Emmaus Nicopolis was the Roman name for one of the towns associated with the Emmaus of the New Testament, where Jesus is said to have appeared after his death and resurrection. Emmaus was the seat of the Roman Emmaus, whereas Nicopolis was the name of the city from the 3rd century CE until the conquest of Palestine by the Muslim forces of the Rashidun Caliphate in 639. In the modern age, the site was the location of the Palestinian Arab village of Imwas, near the Latrun junction, between Jerusalem and Tel Aviv, before its destruction in 1967. The site today is inside Canada Park, a place maintained by the Israel Nature and Parks Authority, although the archaeological site has been cared for by a resident French Catholic community since 1993. (source).
And you can combine several attractions for an adventure.
Summary
We spend almost three hours and Yad La-Shiryon, and the best part was leaving. No, I do not mean that it was awful. It was lovely. Both our daughter and we enjoyed the visit. After spending several hours when trying to leave the parking lot in Ramat David Airforce Base, I was delighted when it took us less than five minutes to leave the parking lot near Yad La-Shiryon (read about that Independence Day experience). Moreover, at this site, there are many things that kids can touch and climb on. Thus if you are wondering which one should you visit, Ramat David or Latrun, I would recommend Yad La-Shiryon.
Have you ever been to Yad La-Shiryon? Tell us about your experience in the comments below.
That's all for today, and I'll see you in future travels!
Stay Tuned! 
 
Additional Resources
Here are several resources that I created to help travelers:
And if you have any questions then check out Useful Information For Tourists To Israel.
 
Did not find what you were looking for? Email me at
hi@israel-in-photos.com
, and I will do my best to answer your questions.