Big Petah Tikva Park (Isaac Ohayon Park) has an ecological pond, playgrounds for children, sports facilities, and more. It is a good place for family time.
Note: Isaac Ohayon (1945 – 2020) was the eighth mayor of Petah Tikva. And the current name of this park is Isaac Ohayon Park. The previous and more popular name is Big Petah Tikva Park.
Map
Big Petah Tikva Park is situated near Ofer Grand Mall and Beilinson Hospital. And the main entrance is at Basel Street (GPS coordinates: 32.093700, 34.866763).
Directions for drivers: Link to Waze and Link to Google Maps
Directions for public transport: Link to Moovit
Interactive map of the area:
Offers:
Hotels, hostels, and apartments in this area:
Parking
There is a parking lot by the entrance at Basel Street. This is paid parking (blue and white curbs), and sometimes it can be full.
If you continue to Basel Street 5, you will see an entrance to a big field. Many people park there.
Opening Hours
Sunday – Wednesday: 6:00 – 24:00
Thursday – Saturday: 6:00 – 2:00
Note: my latest visit to Big Petah Tikva Park was in March 2021. So the park is working as usual during the Coronavirus.
Entrance Fee
Free.
Barbeque
Many people online mention there is a dedicated area for barbeque. Maybe I missed it. But according to the following sign, lightning fire, including barbeque, cigarettes, and hookah, is forbidden at the park's premises.
I will also mention there are tables with benches where you can have a picnic. And if there are no free tables, there is plenty of grass (but not much shade).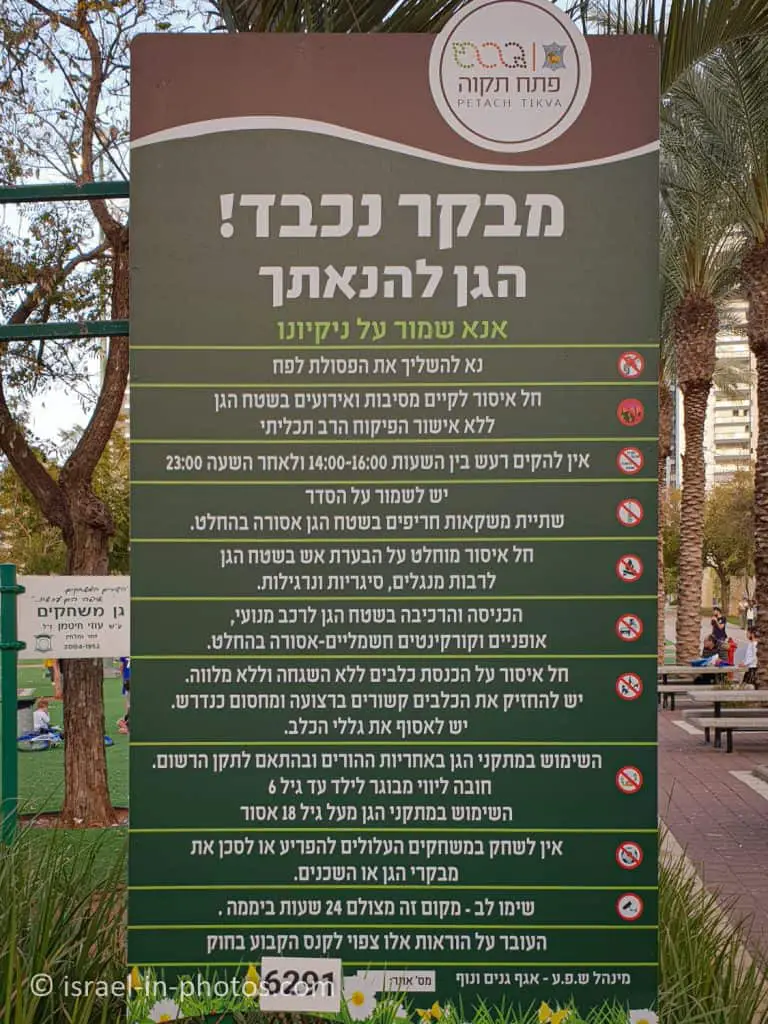 Ecological Pond
And now, let's visit different points of interest in the park. And we will start with the ecological pond.
The Ecological Pond in Petah Tikva is an artificial lake in Petah Tikva. The lake was built as part of the park expansion plan and is without fences on the banks. The area of ​​the lake and its surroundings is 14 dunams. The cost of constructing the lake is 52.5 million NIS, with construction work on the lake beginning in February 2016 and ending on August 28, 2018.

The lake is based on a system of ecological pools and water filtration with the help of "Wetland" vegetation (purifying aquatic vegetation) that keeps the water clean without chlorine and for a long time. In addition, there are various fish like koi fish that live in the lake.

Today, a system of wooden paths on the shores of the lake, walking and running paths, seating stands, trees and vegetation are already being built in the lake. And prepares to build a pier for renting boats and a restaurant that includes a seating area on the water and an observation deck from the roof.
Source: Wikipedia
As you can see from the following sign, drinking water from the pond is forbidden. And you are also asked not to feed the fish.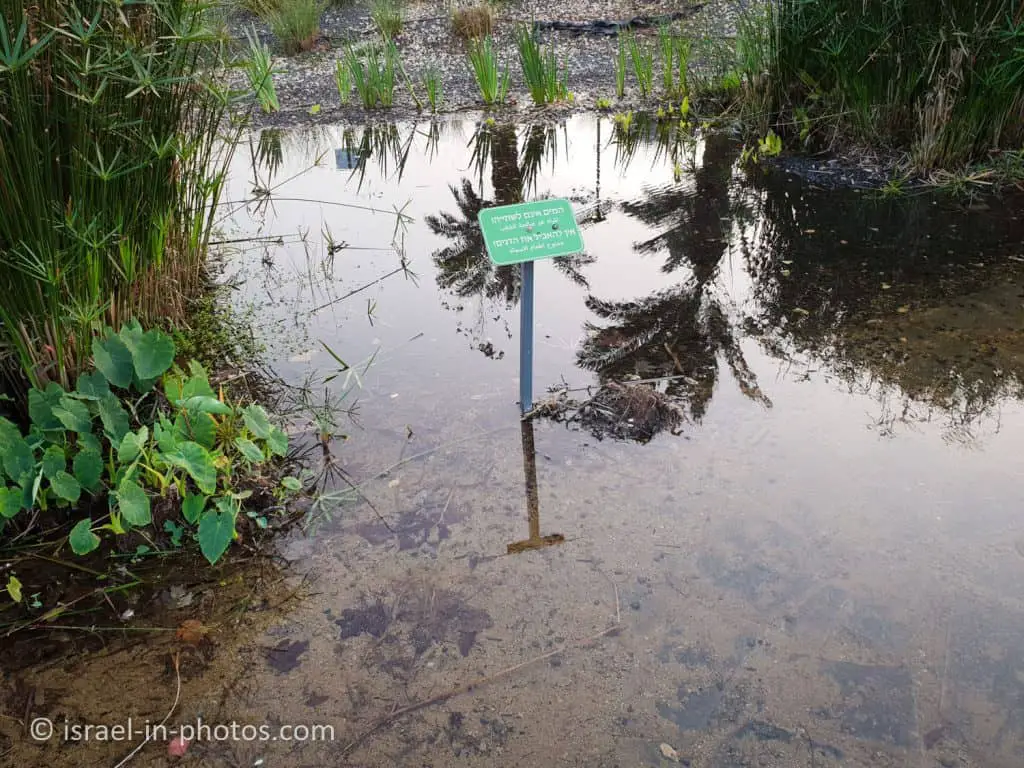 There are no fences. Thus if you are visiting with small kids, stay close to them.
The pond compound is not finished yet, and they are still building a restaurant.
During our visit, a family of ducks came to visit. And it looked like they were waiting for dinner.
Children Playgrounds
You can find restrooms and a complex for kids near the main entrance.
My older daughter enjoyed climbing all the towers and sliding down on slides. But the younger one prefers swings. And in such a big park, there are only several swings. So we had to wait for a while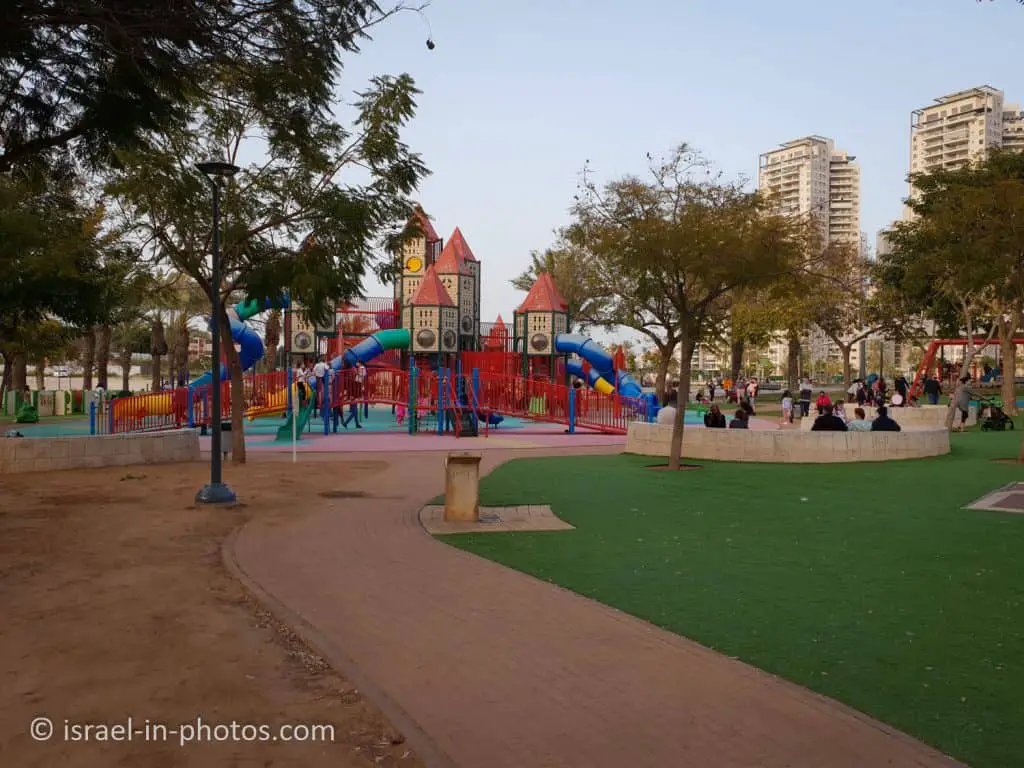 Sports Facilities
In the next photo, you can see the children's playground to the right, and then there are tennis tables, restrooms, and a roller hockey rink.
Municipal Parks in the Sharon Area
Here are several other nearby parks:
Also, you can find Big Petah Tikva Park, a little to the south.
Summary
Big Petah Tikva Park is popular in photography communities due to the photogenic ecological pond. But this park is not only for photographers. And if you want to spend several hours with your kids, this is also a good place. But if you are not living in Petah Tikva and looking for a municipal park, I want to mention that I prefer Raanana Park and Kfar Saba Park since they have more attractions.
Have you ever been to the Big Petah Tikva Park? Tell us about your experience in the comments below.
That's all for today, and I'll see you in future travels!
Stay Tuned!
Additional Resources
Here are several resources that I created to help travelers:
And if you have any questions then check out
Useful Information For Tourists To Israel
.  
Did not find what you were looking for? Leave a comment below, and I will do my best to answer your questions.