Today we will visit markets and specialty stores searching for Herbs and Spices at different places in Israel.
During the past week, I visited three places that sell herbs, spices, dried fruits, and nuts in Israel. I am not a chef or food critic. These visits were by chance, but I decided to use the opportunity and talk about herbs and spices.
Where to Look For Herbs and Spices in Israel?
Before we get to the places, I visited let's answer the mentioned question. The most basic answer is supermarkets. And though most supermarkets have spices, nuts, and dried fruits, usually the variety is not extensive. Thus, I would suggest visiting the markets. On the travel page, there are links to Israeli biggest cities, and on those pages, you can find the markets in those cities. Alternatively, you can check out the market tag. Beyond markets, you can visit specialty stores, and we will visit two of those in this post.
Variety Of Herbs And Spices
What to expect? The short answer is almost everything. In Israel, there are Jews from all over the world. And sometimes these are places that you would not expect. Like Synagogue From Suriname and India, which are presented in the Israel Museum in Jerusalem. But when it comes to spices, you can mainly find Middle Eastern, North African, and Europeans.
Most Popular Herbs and Spices
This most popular list is based on my experience. And if I forgot something, then leave a comment below. Also, the order of appearance has no importance.
Spearmint also known as regular mint is quite popular, and many people grow it by themselves. The most common usage is adding to tea or even hot water with mint leaves without tea leaves. In many restaurants, they will offer to add mint leaves to your black tea (at no extra charge). Another usage of mint is as a topping of salads. Usually, it goes in mozzarella cheese salats.
Za'atar is not a specific herb, but due to its popularity, I will mention it as well. It is a family of herbs that mainly include oregano, some basil thyme, thyme, and savory. Sometimes they also add sumac, fennel, and salt. There are different types of Za'atar, and it is mostly used in salads and pastries.
Paprika is one of my favorite spices. Especially smoked paprika with salt is one of the best mixes for chicken.
Coriander is used for many years. It is mentioned in ancient Jewish writings, and scientists even found remains of coriander in the tomb of the Egyptian king Tutankhamen. Coriander is added to many salads and stews.
Dill is added to stews and salads. For example Tzatziki.
Rosemary is easy to grow by yourself. And it is commonly added to potatoes, meat, and fish.
Sage is another popular plant. There are different types of sage, and it is usually added to pasta and sauces. Many people also drink it.
The frequent use of Lemon Verbena AKA Lemon Beebrush is drinking (similar to tea leaves).
Basil is widely used in pizza, pasta, pastries, and of course the pesto sauce.
Ancient Greek and Romans noted that bugs do not come close to Oregano. They thought that oregano protected from evil spirits and used it for purification and protection — today, oregano is used in pizza, pasta, pastries, and omelets.
You can find Sesame in two forms. The first one is direct usage. It is added to salads and pastries, for example, on top of Bourekas. And the second usage is indirect. It is combined into Tahini, Hummus, and Halva, which are common in Israel.
Parsley is often to garnish different dishes.
Thyme is an aromatic herb used for cooking seasoning foods and pastries. Although it has its aroma and bold taste, it does not obscure or hide the taste of other spices. Because of it, it is popular in the kitchen.
The first place that I visited was the Levinsky Market (for a detailed guide check Levinsky Market and Markets In Tel Aviv). Levinsky Market is not a regular market. It does not sell all products. And it focuses mainly on spices and nuts.
Israeli loves olives. Many places sell them, and in recent years farms started offering olive picking. Recently, we took part in such picking at Bethlehem Of Galilee.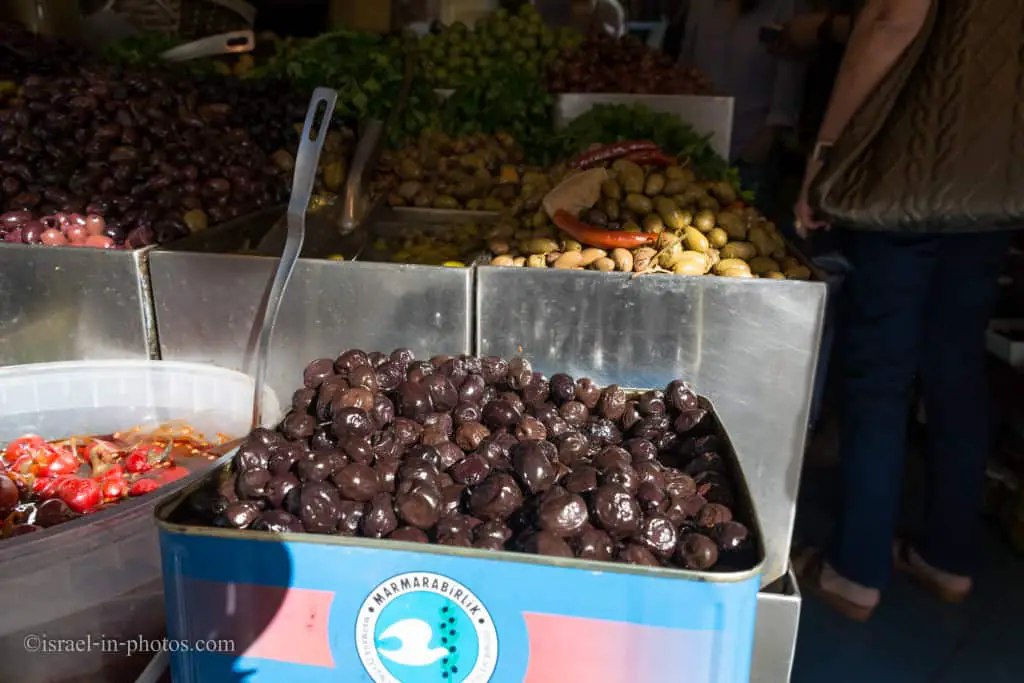 There are usually several dozens of olive kinds and about half a dozen olive oil types.

In the market, you can also find stands with spices. Many of those stands offer teas as well.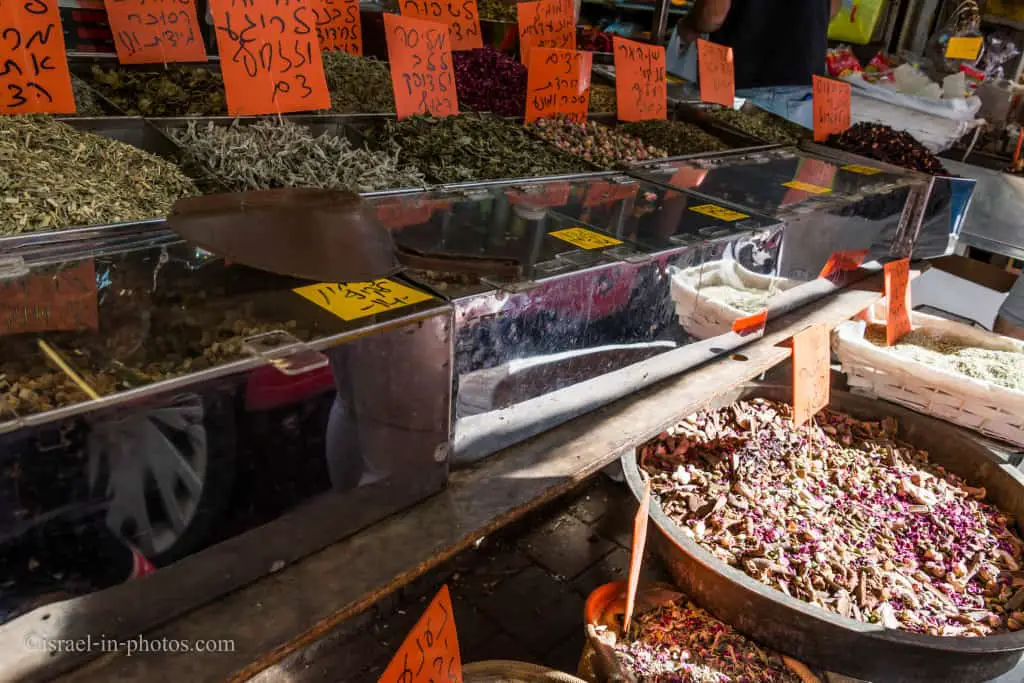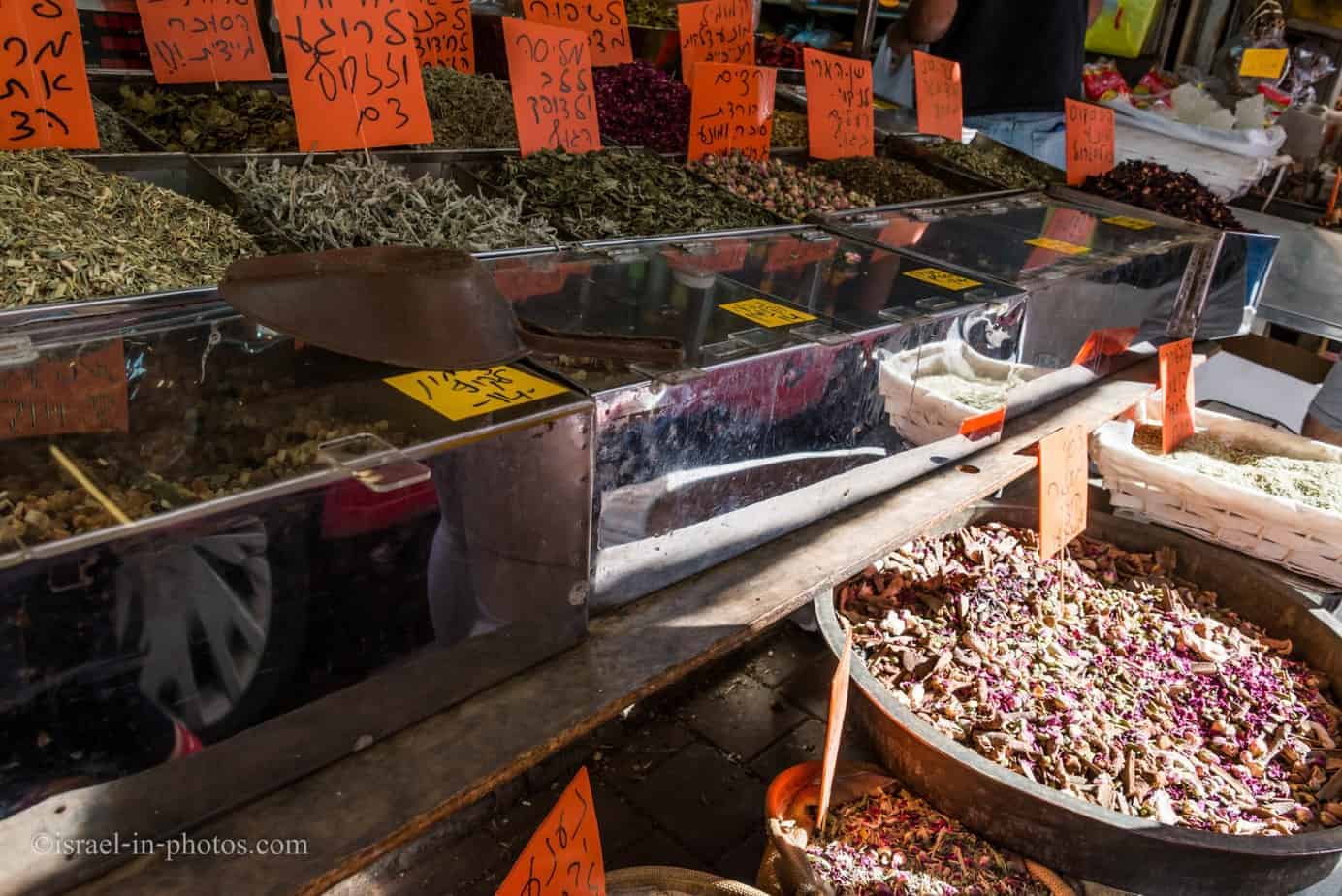 Tea to cure any disease: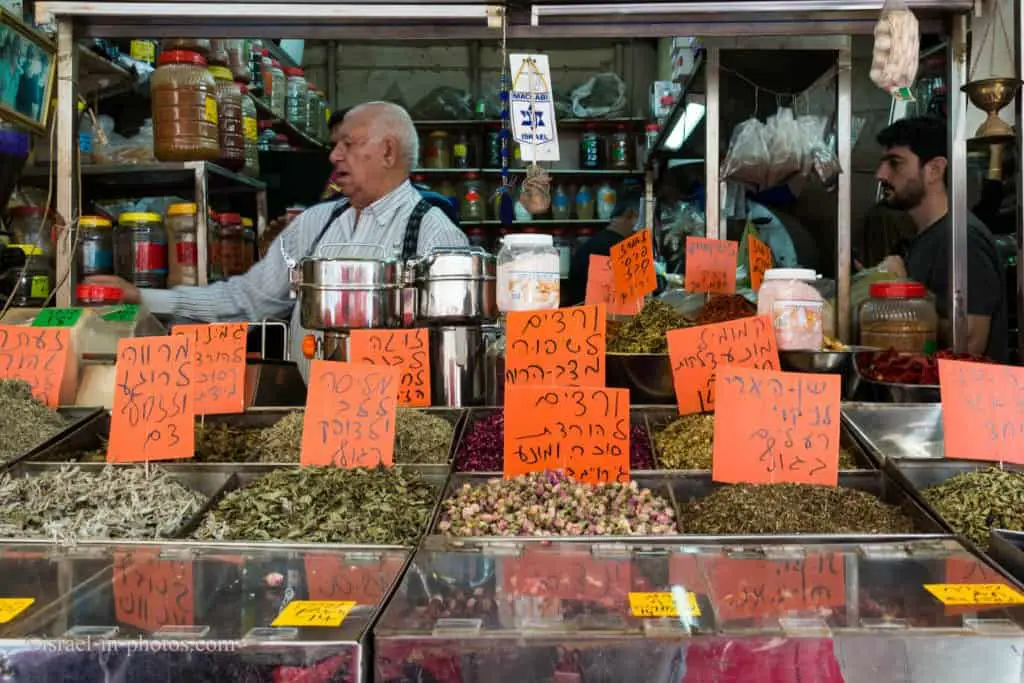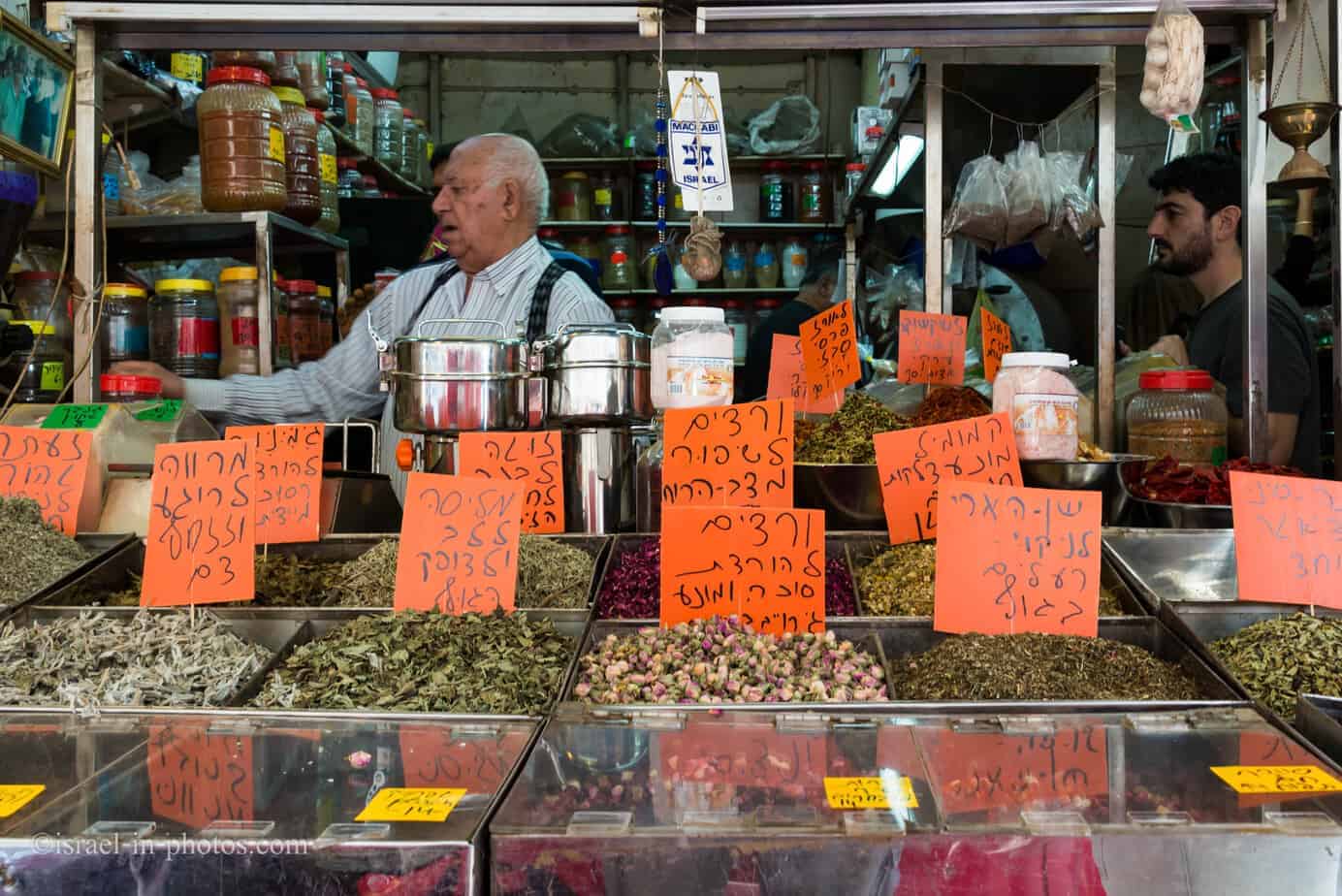 Dried fruits, nuts and Turkish delight (Rahat Lokum) are also popular.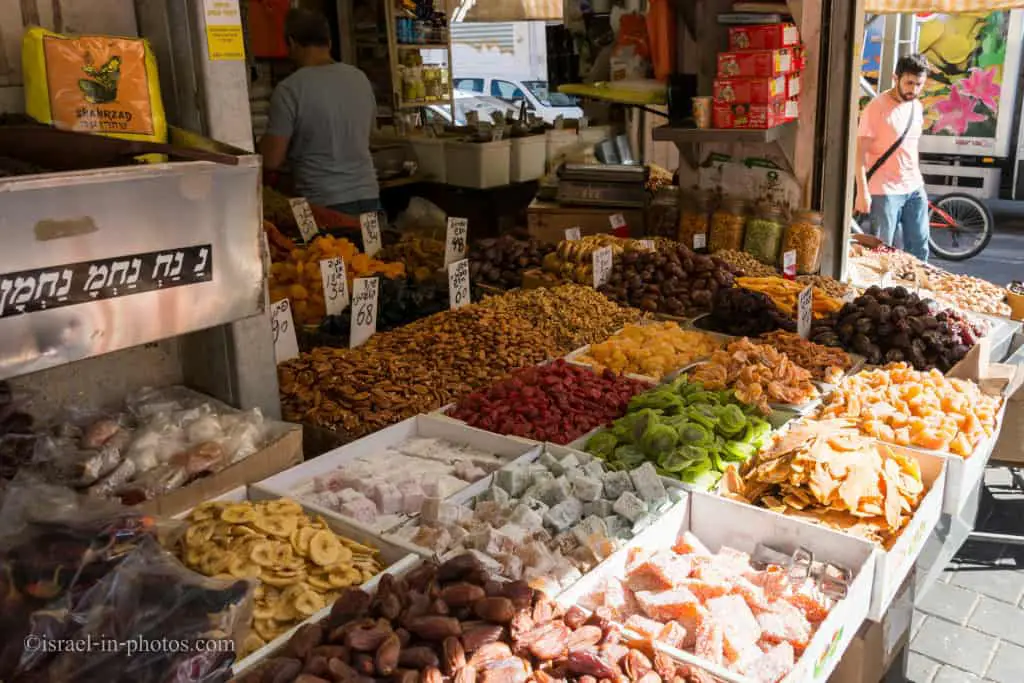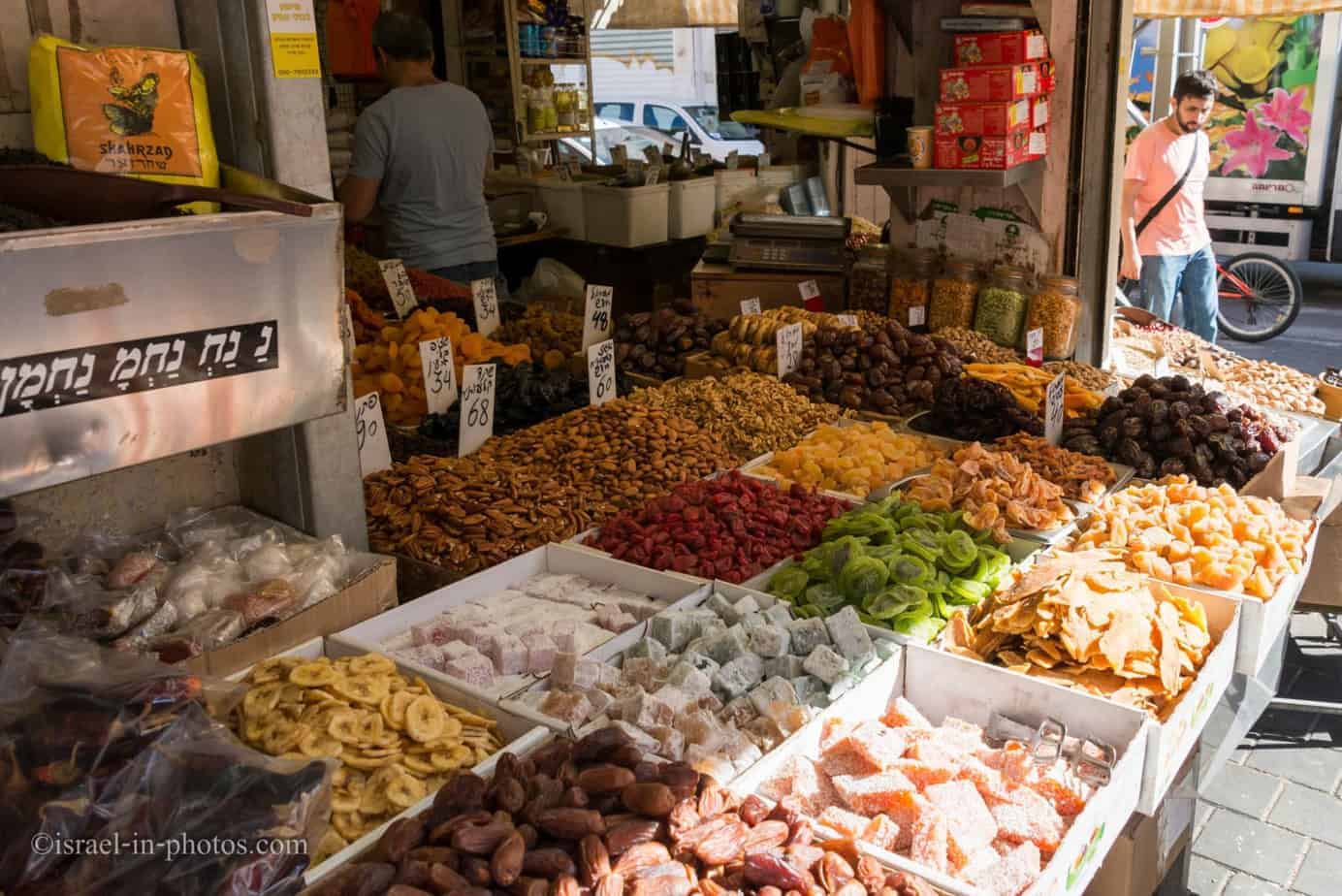 Nuts and dried fruits: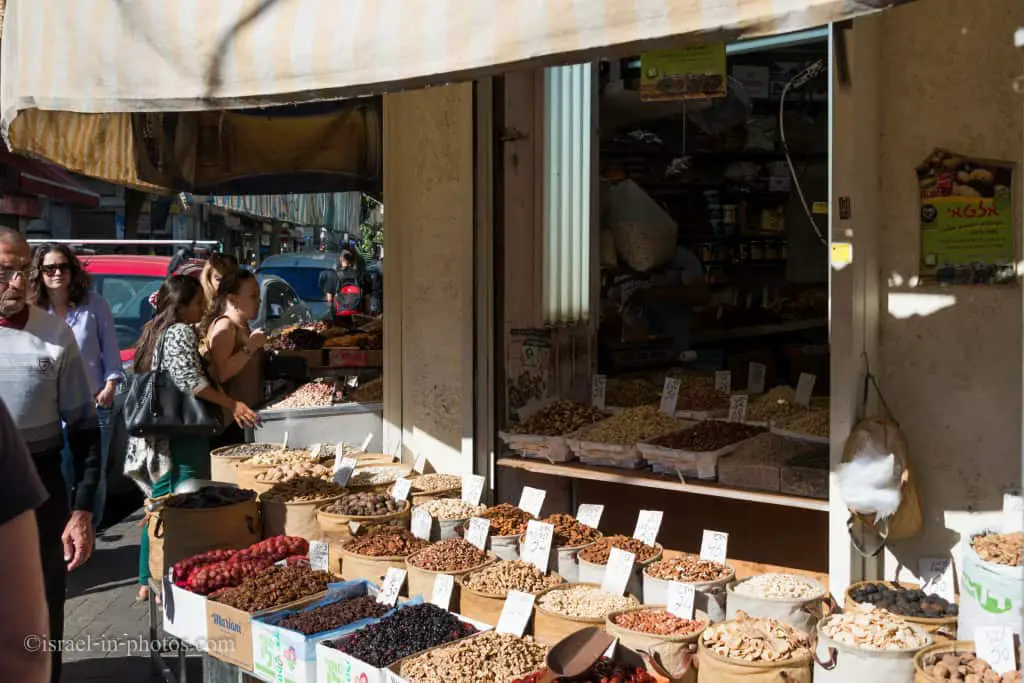 Different types of beans are also quite popular. They are either added to salads, stews, and other dishes. And since I mentioned beans, there are two favorite street food dishes in Israel that are mostly made of beans. Can you guess which ones?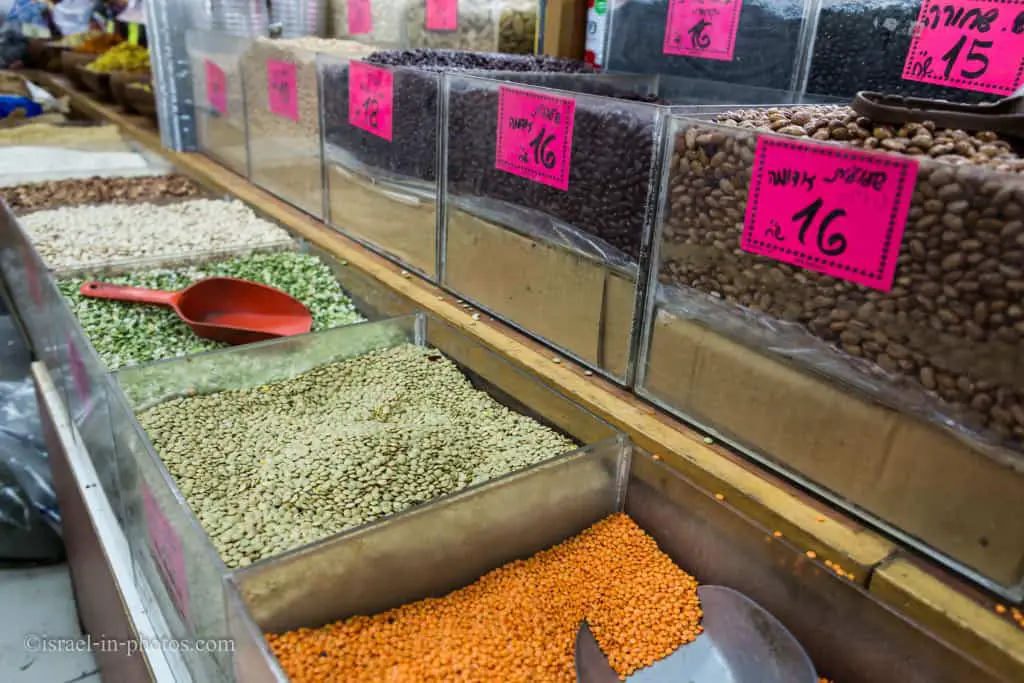 The first one is hummus and the second falafel.
Dried fruits always include raisins and dates since they are both grown locally.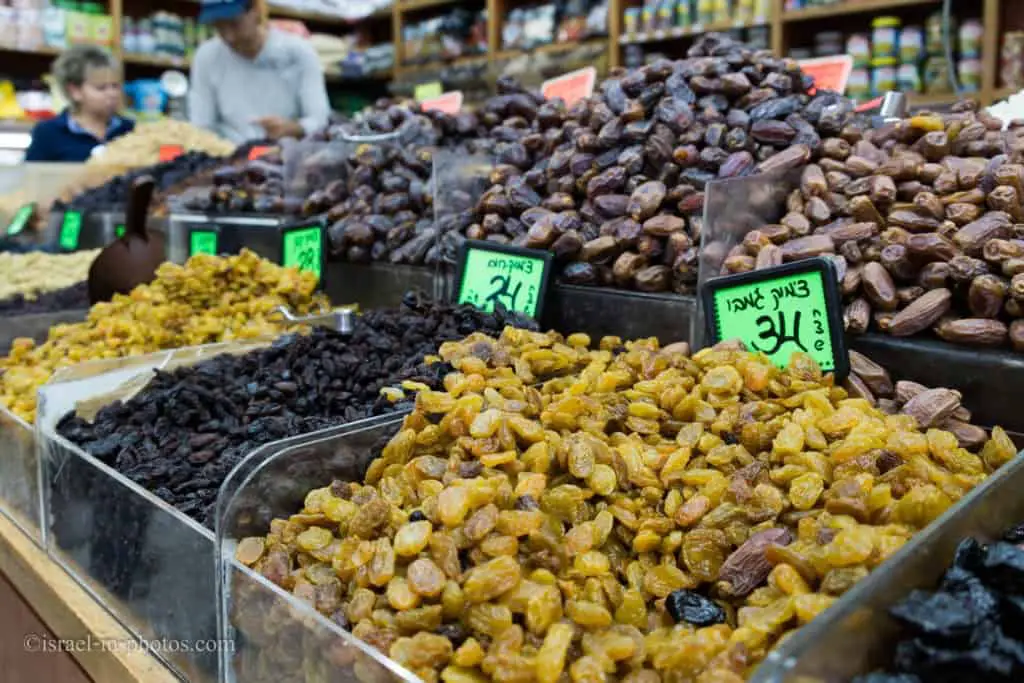 Most stores offer different mixes of spices for different dishes.

In recent years, culinary tours that include tasting became very popular in more touristic markets. I have seen them in the markets of Tel Aviv and Jerusalem. And this is one of them: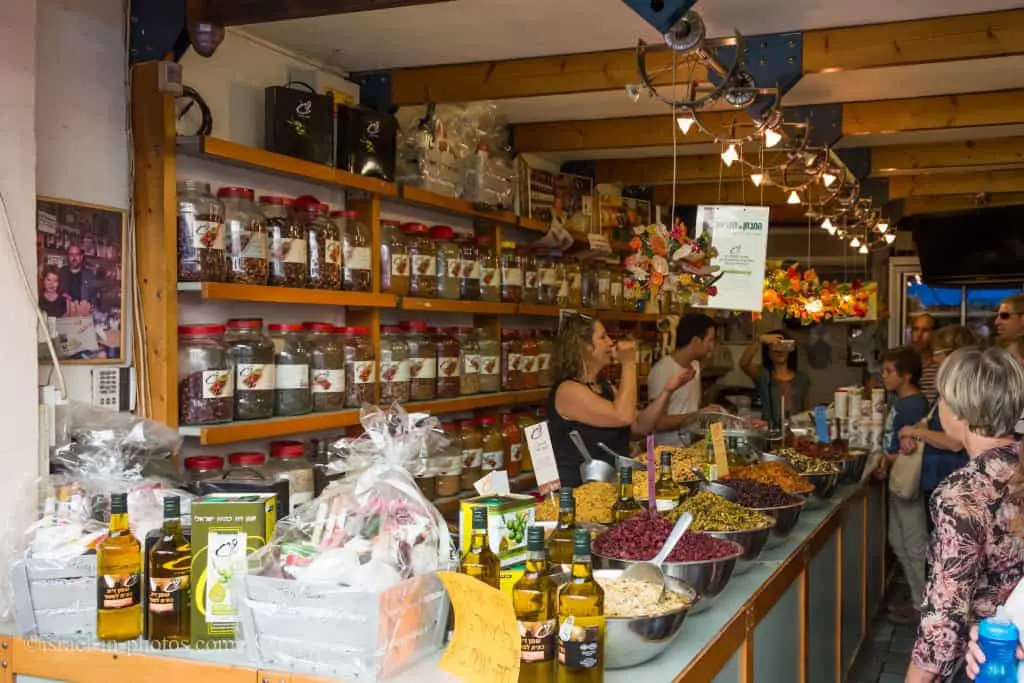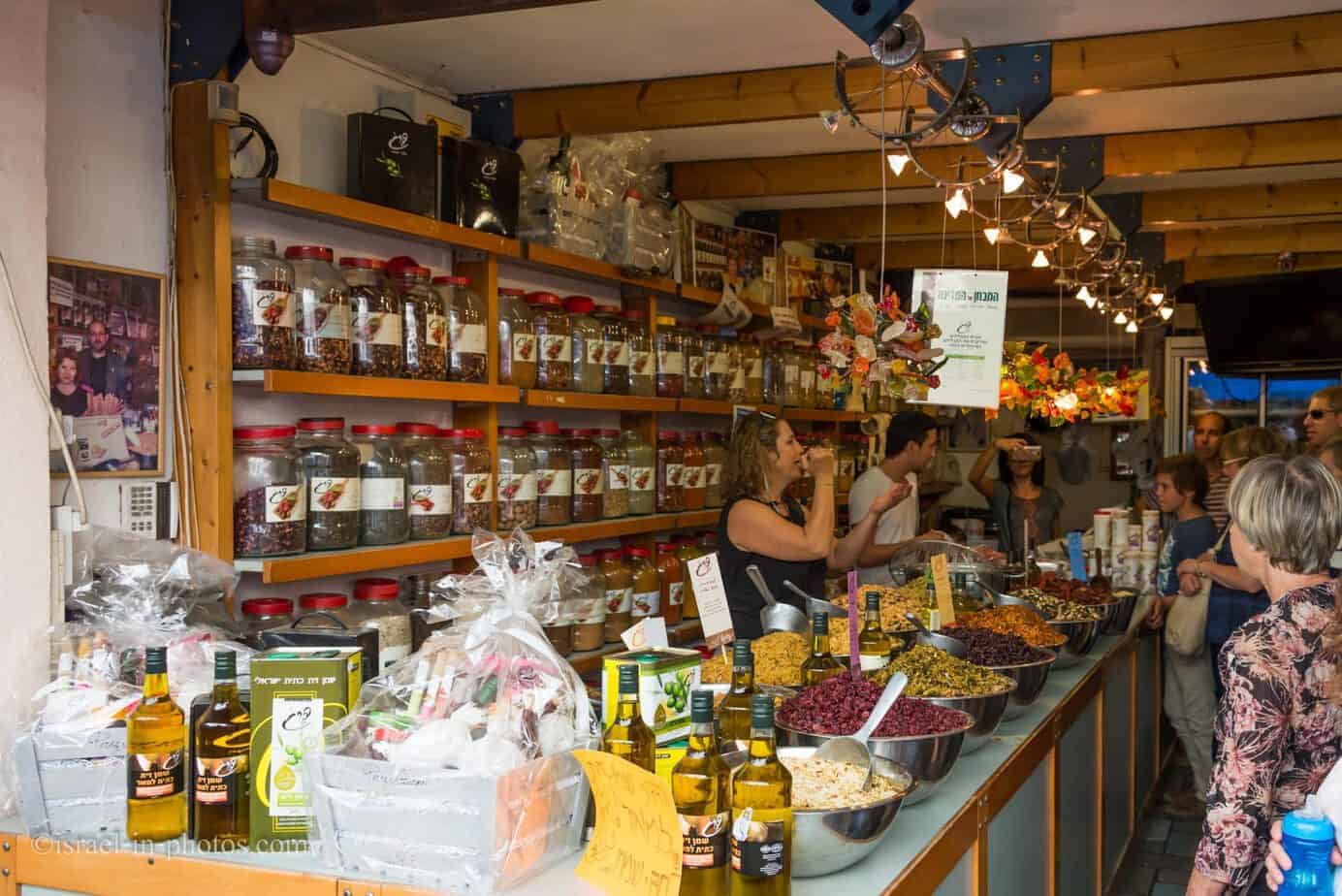 Quince: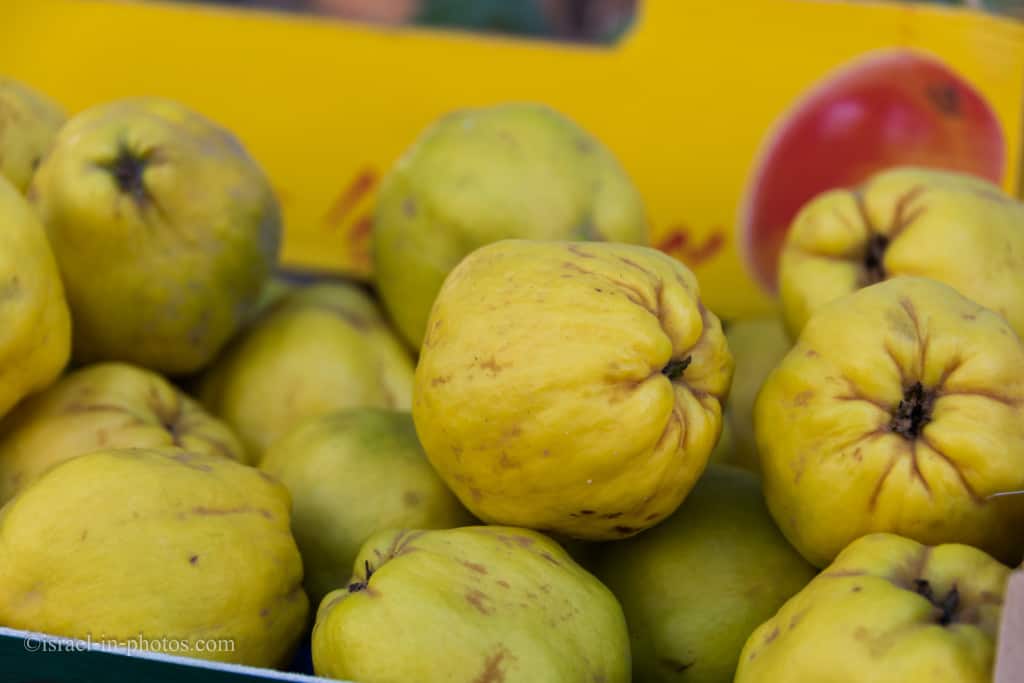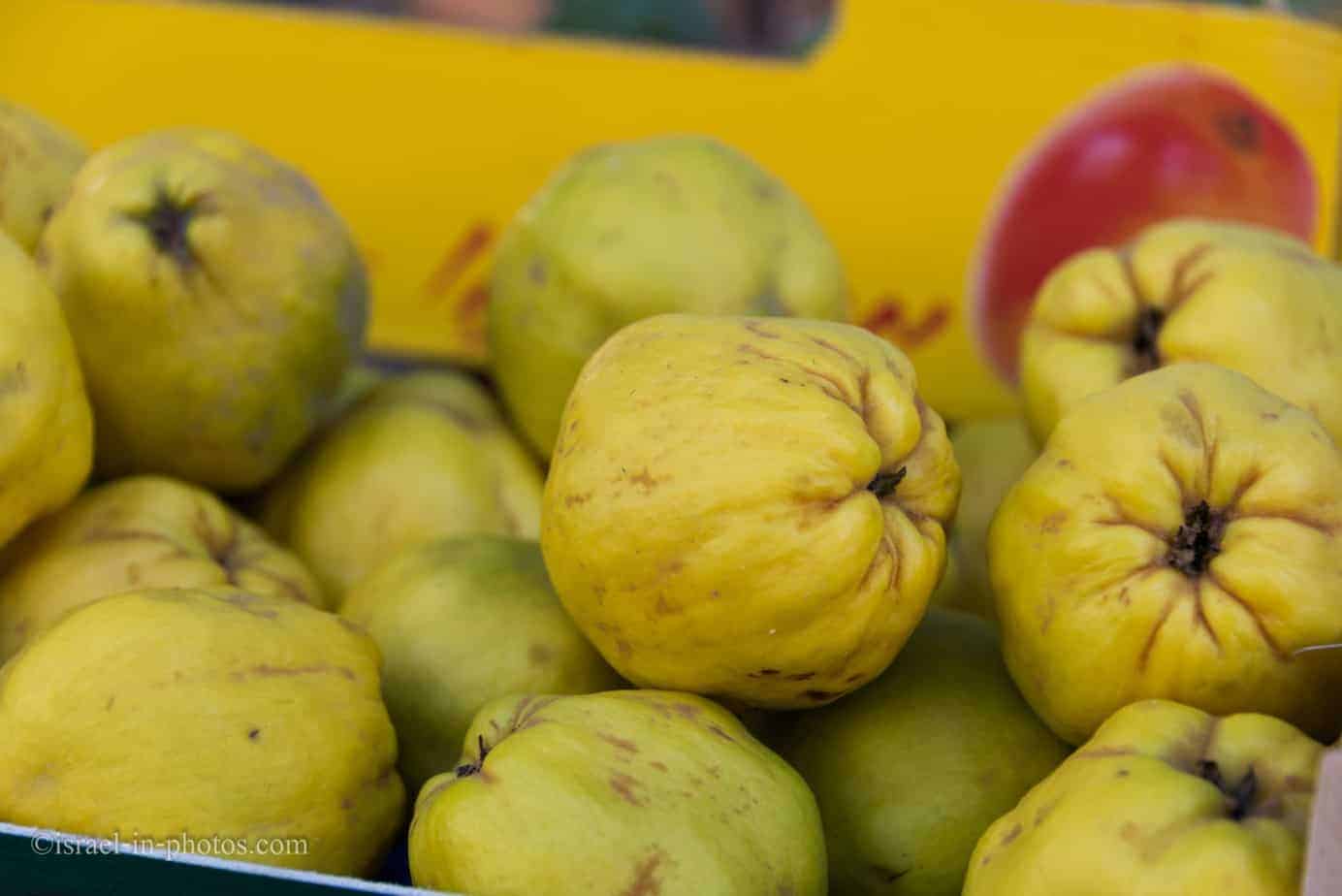 The next place we are going to visit is a specialty store called Derech Hatavlinim in Bethlehem Of Galilee. And they probably have the biggest selection of spices in Israel.
It is a big store surrounded by fields where they grow most of the spices. Moreover, they offer free tours in those fields in Hebrew where they tell you about different spices and their health benefits.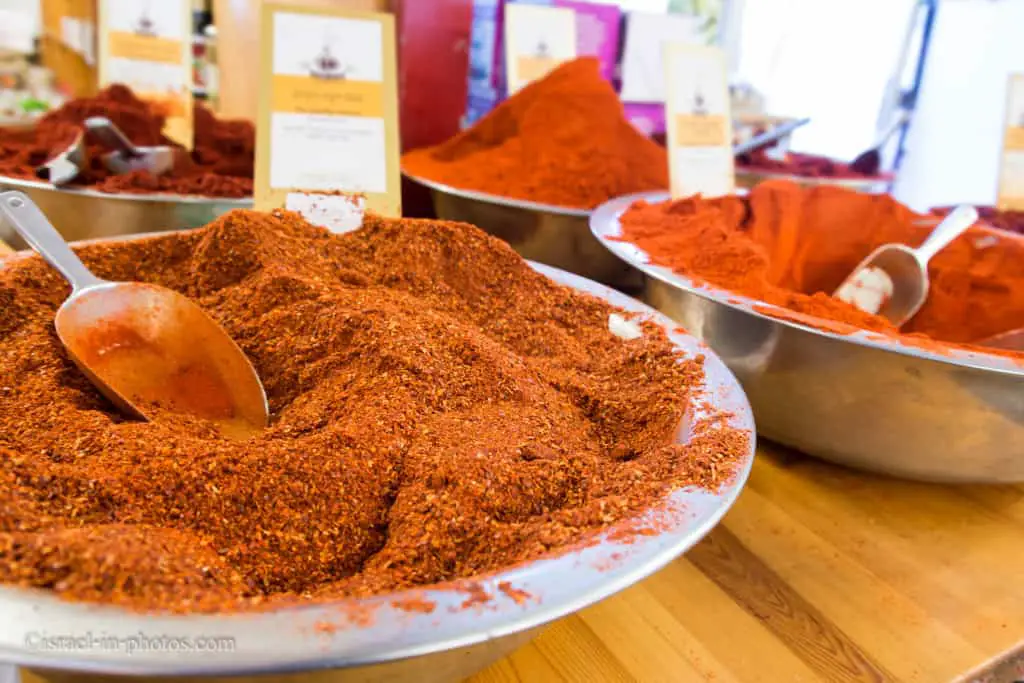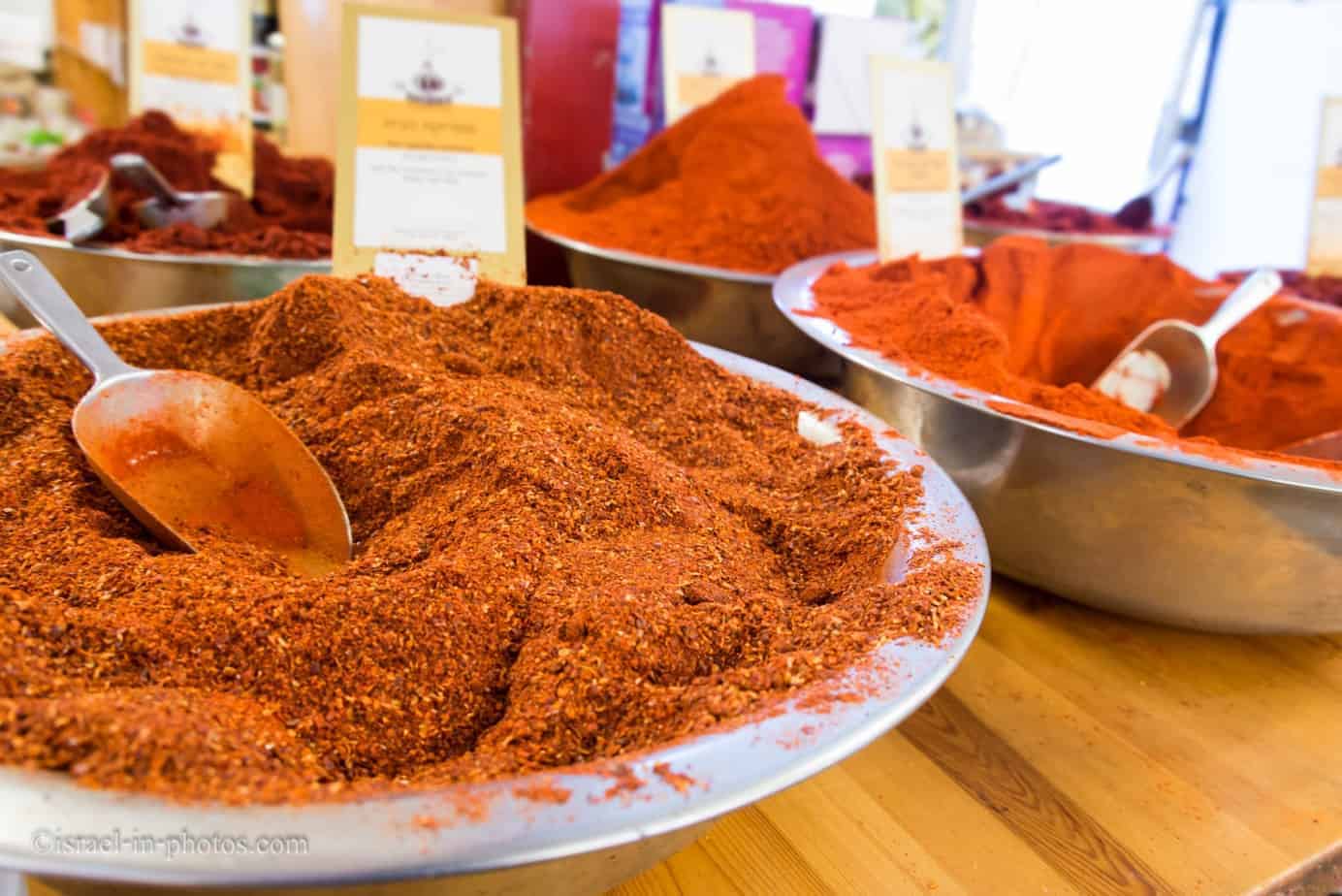 If you are in the area and want some spices, then you will most probably find what you want.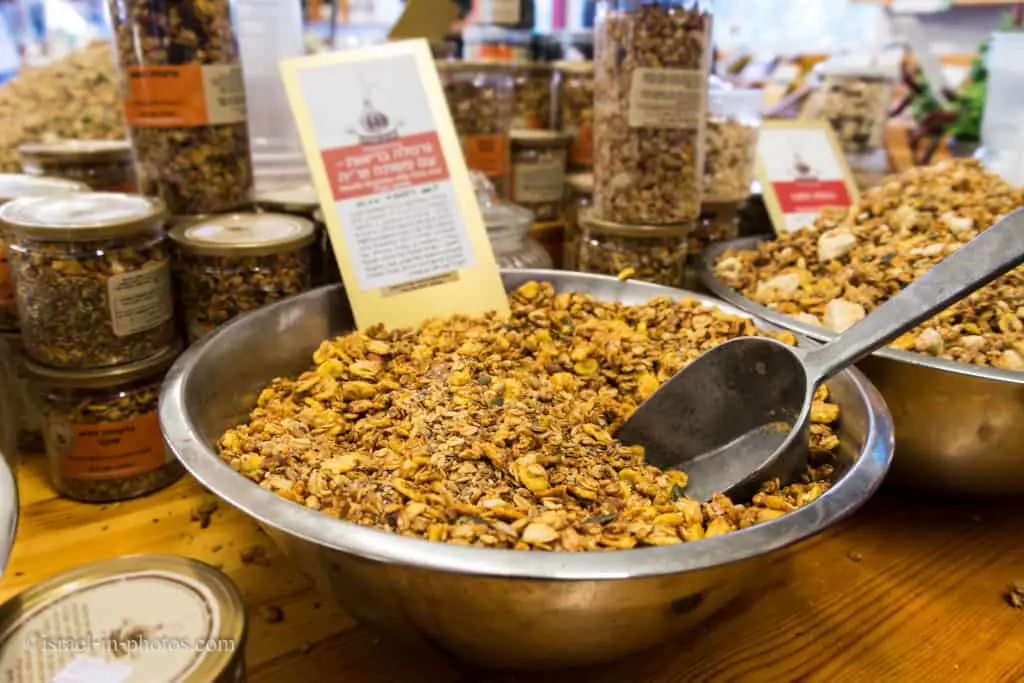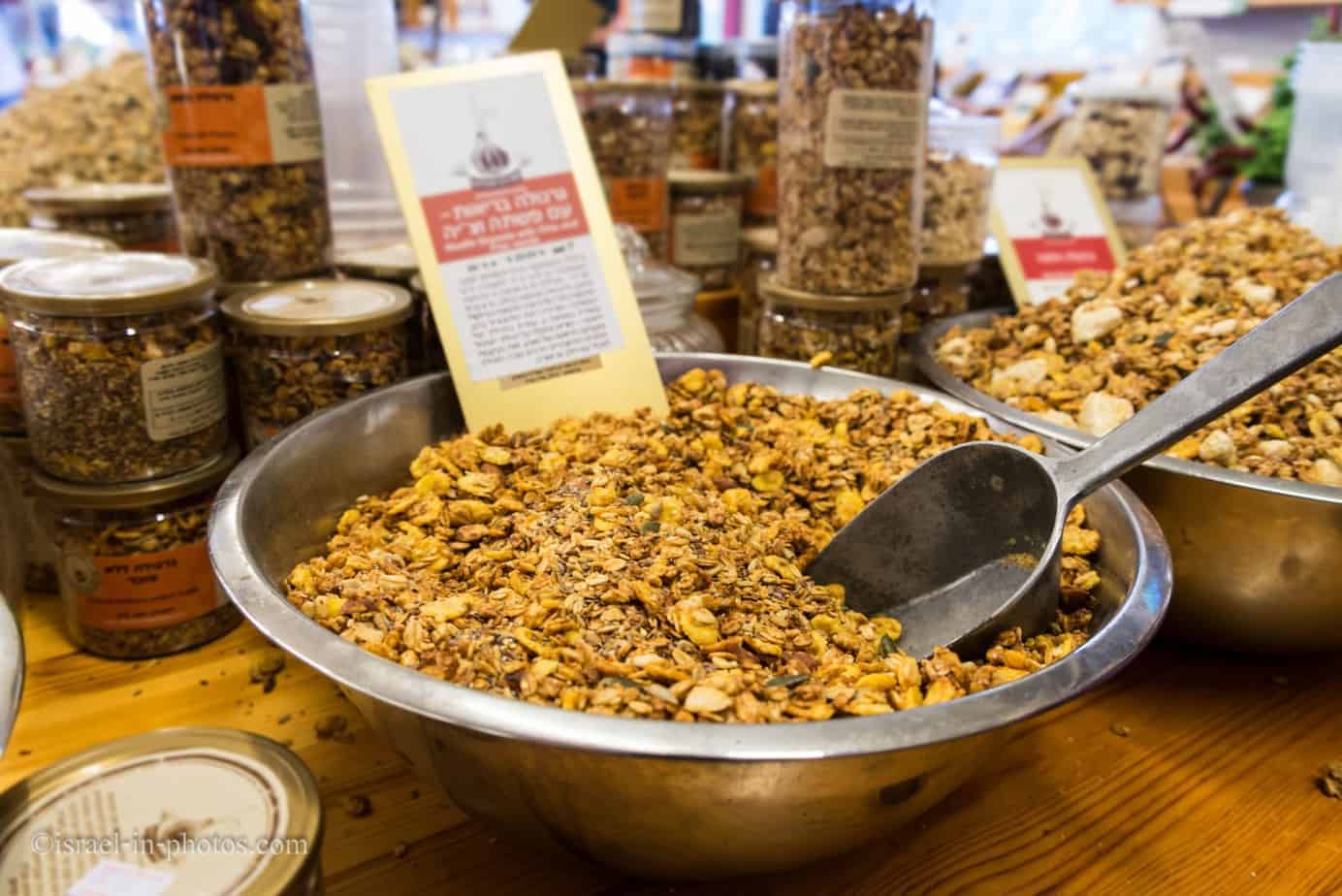 I wonder why in Hebrew it is written pink pepper, and in English, it is red pepper: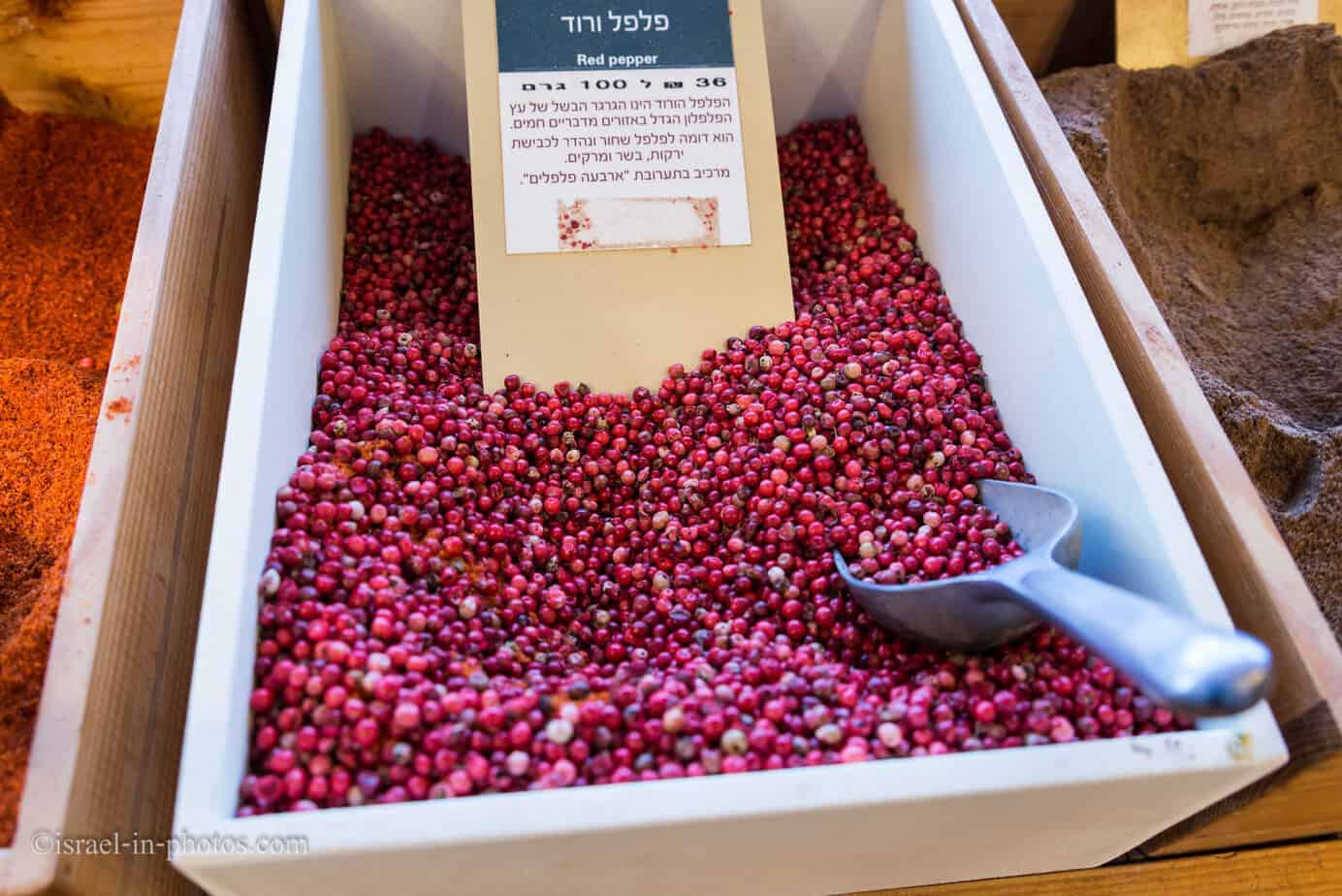 Besides natural spices, they offer many different mixtures. And suggestions on how to use these mixtures. Moreover, there are many workers in place, and if you are not sure or have a question, you can consult them.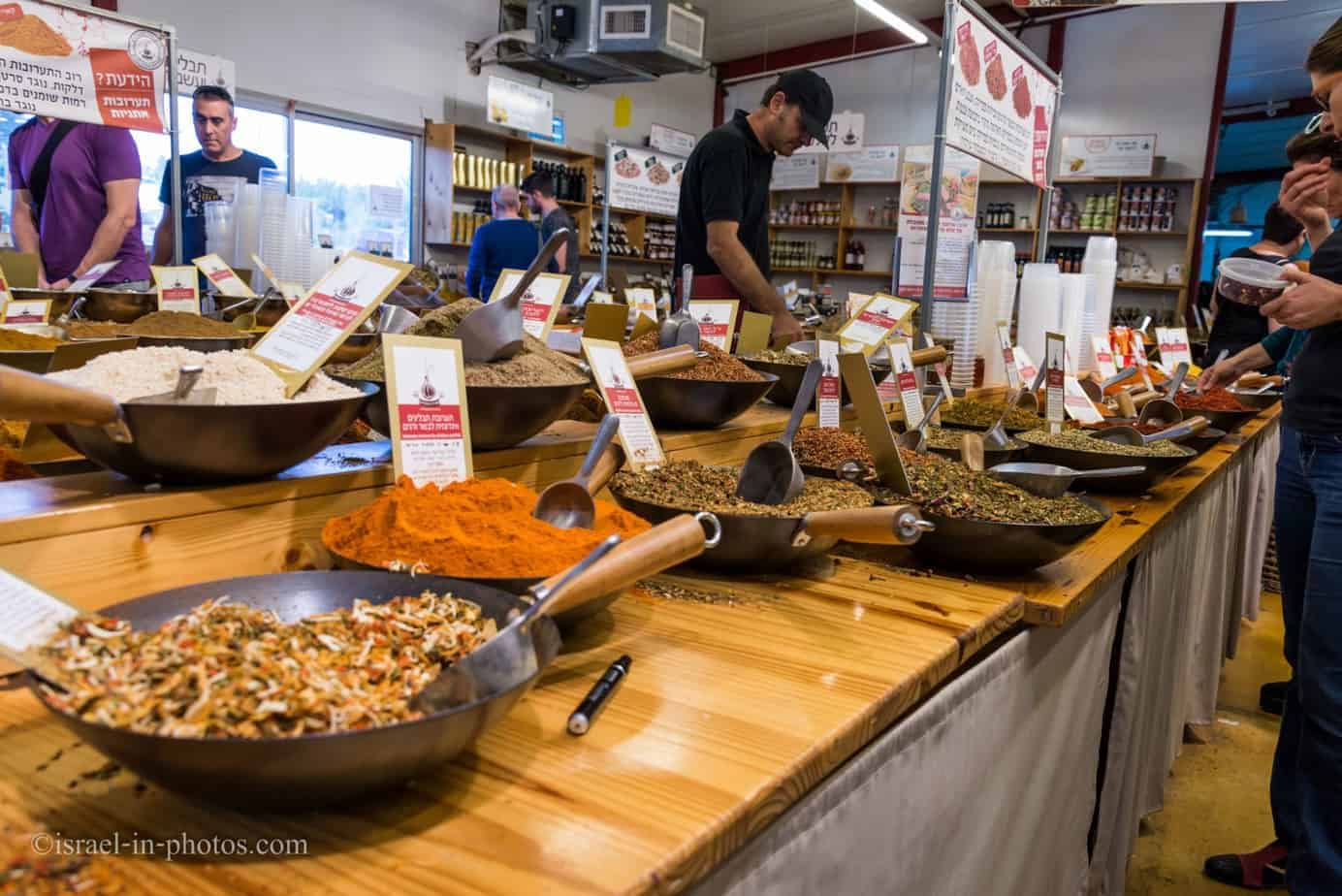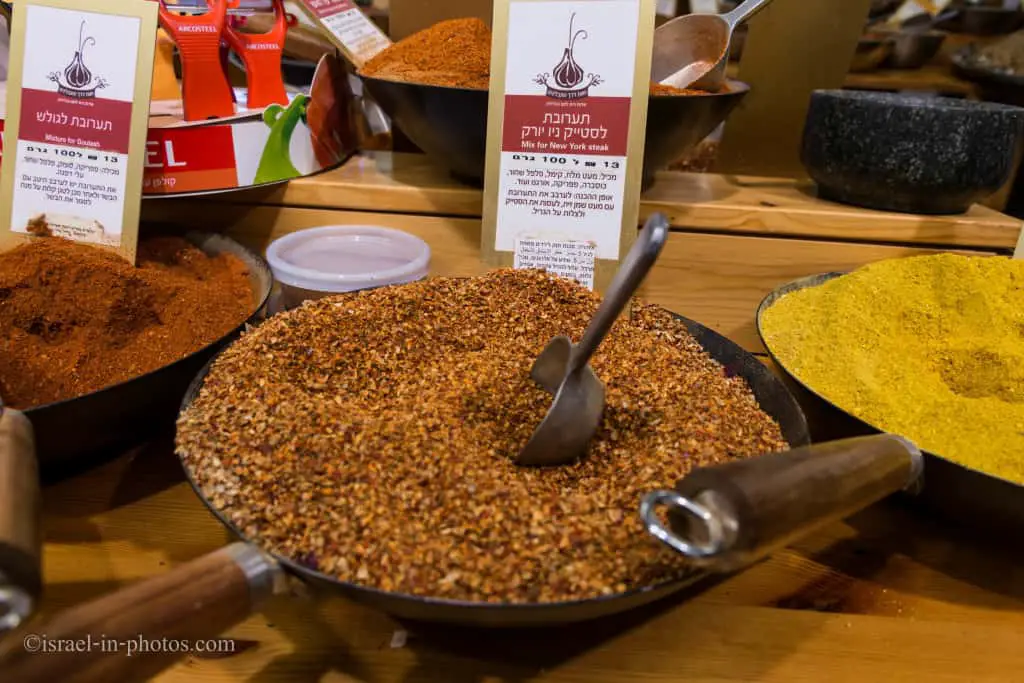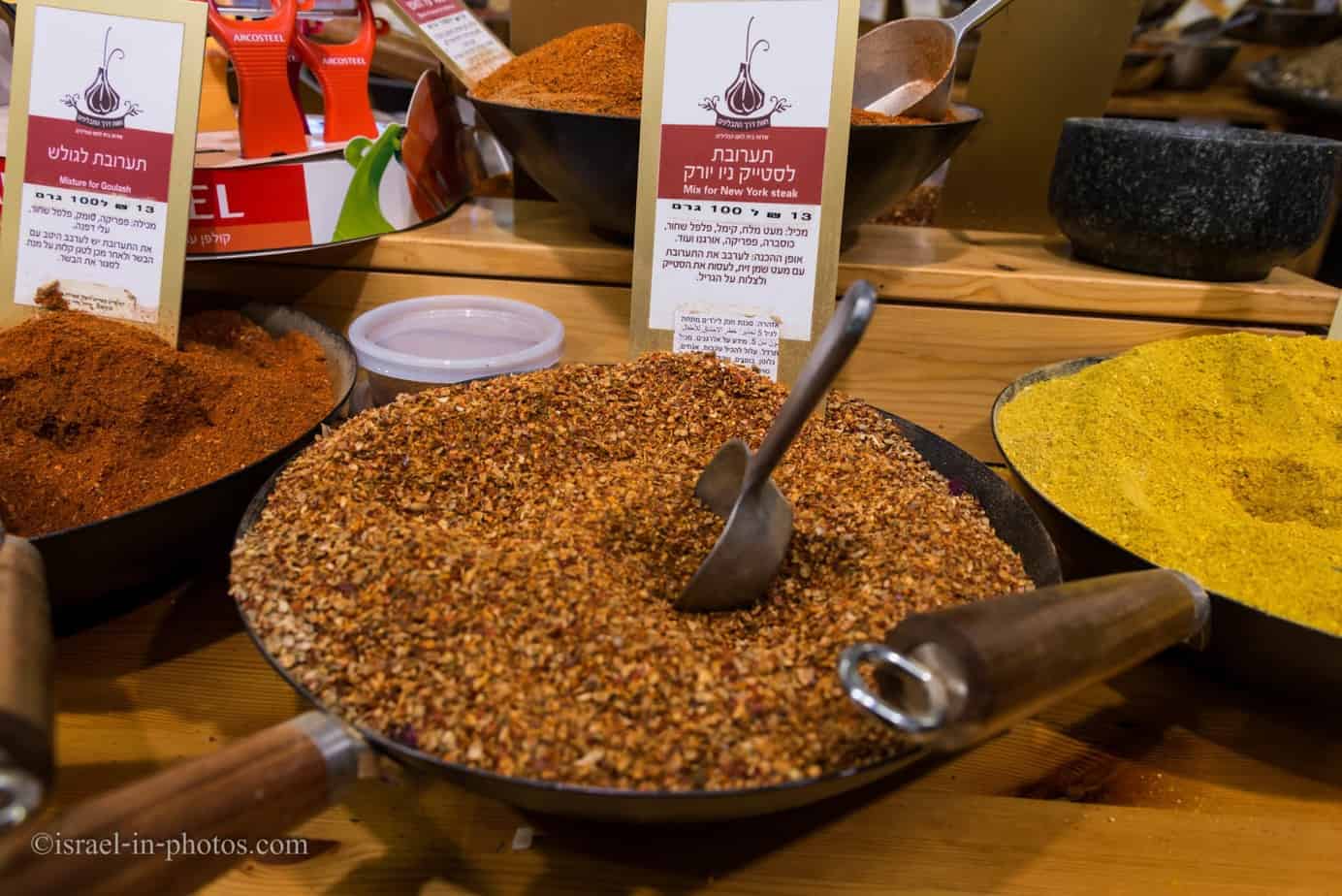 Fruit teas: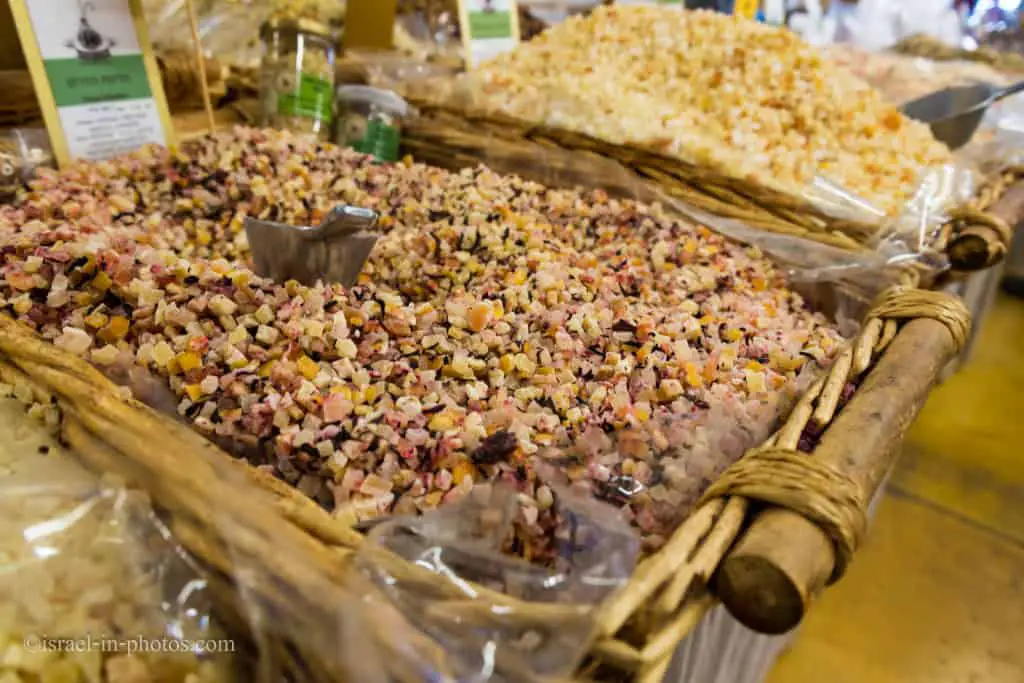 Green teas: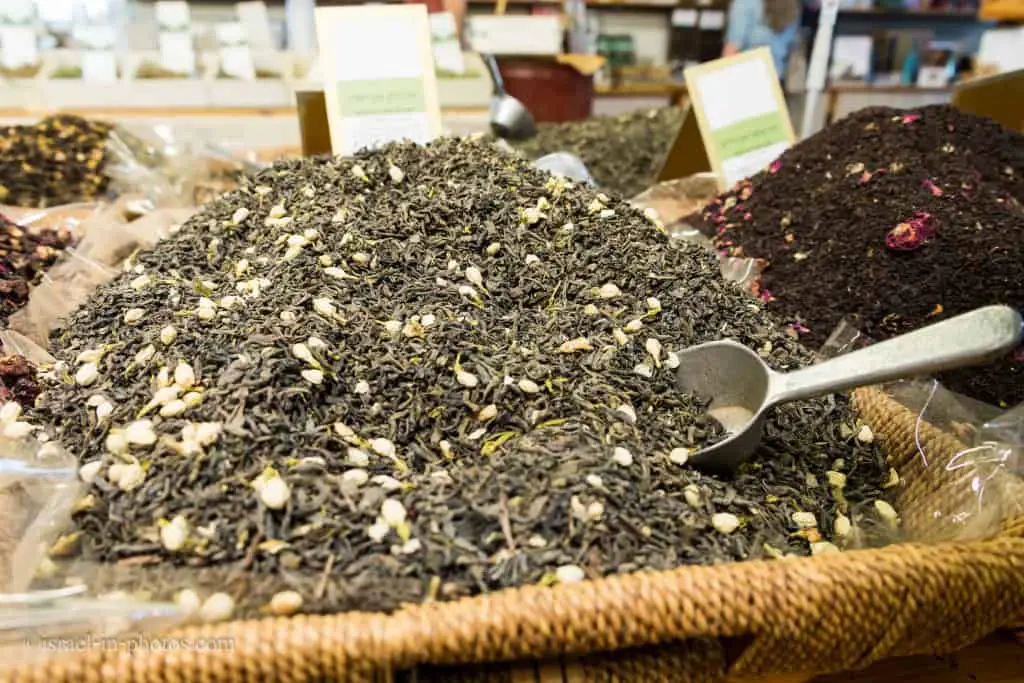 Speciality Store
And the last series of photos was made in a small store in Kfar Saba. There are such stores in almost every city.
And nuts: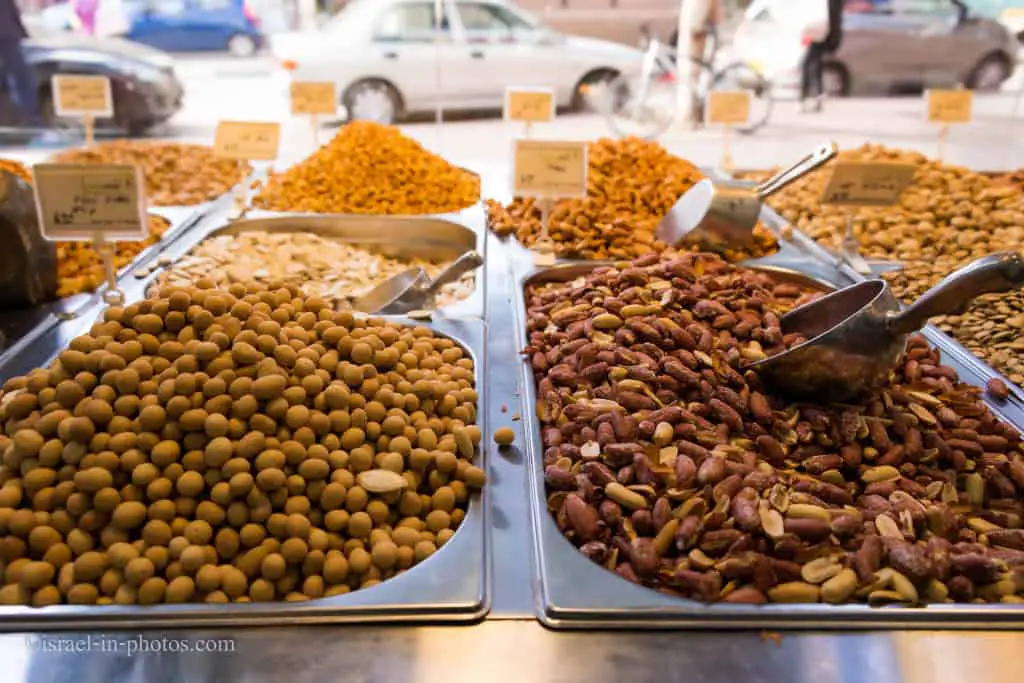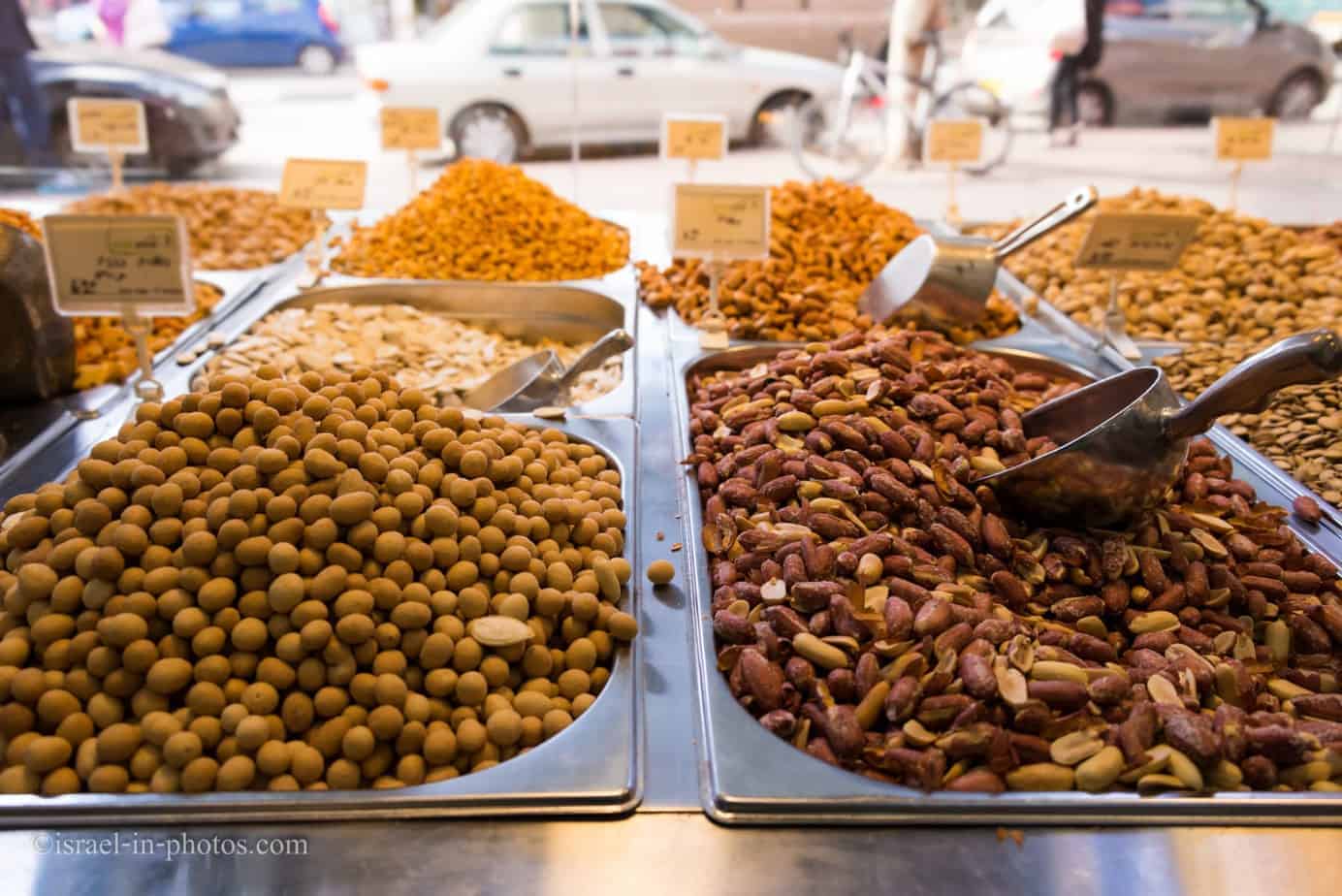 Common Questions
What Spices to Buy in Israel?
The significant advantage of spices and herbs is that most of them do not go bad. And you can store them for long periods.
Moreover, they are usually light and not bulky, thus will not take a lot of space in luggage. These facts make them ideal for traveling. Having said that, I rarely buy any food products when going abroad. The world today is very global, and you can buy everything online. For example, I purchase teas at iHerb.
But, if you are not into online shopping, then consider something from the most popular list above. Something that suits your taste and local produce.
If you are looking for ideas for souvenirs from Israel, then check out "What Are The Best Things To Buy In Israel?" in Useful Information For Tourists To Israel guide.
Can I Purchase Vacuum Packages Of Herbs And Spices?
As you can see from all the photographs, usually everything is laid open, and you put the requested quantity into a plastic bag or box. You can also purchase prepackaged items, but they are not vacuum sealed.
I never saw vacuum-sealed herbs and spices in Israel, but maybe you will find such a place. If so, let us know in the comments below.
What are your favorite herbs, spices, and food in Israel? What have you brought back home? Share with us in the comments below.
That's all for today, and I'll see you in future travels!
Stay Tuned!
For similar posts check out the Food category.
Additional Resources
Here are several resources that I created to help travelers:
And if you have any questions then check out
Useful Information For Tourists To Israel
.  
Did not find what you were looking for? Leave a comment below, and I will do my best to answer your questions.