In the morning we visited Austrian Open Air Museum Stübing and then we headed to Graz. We have a day and a half to explore Graz. Let's start!
Map of the area:

Afternoon Walk in Graz
We arrived in the afternoon to Graz, checked in to our hotel and went exploring the city.
While walking towards the old city we stumbled upon this unique looking building: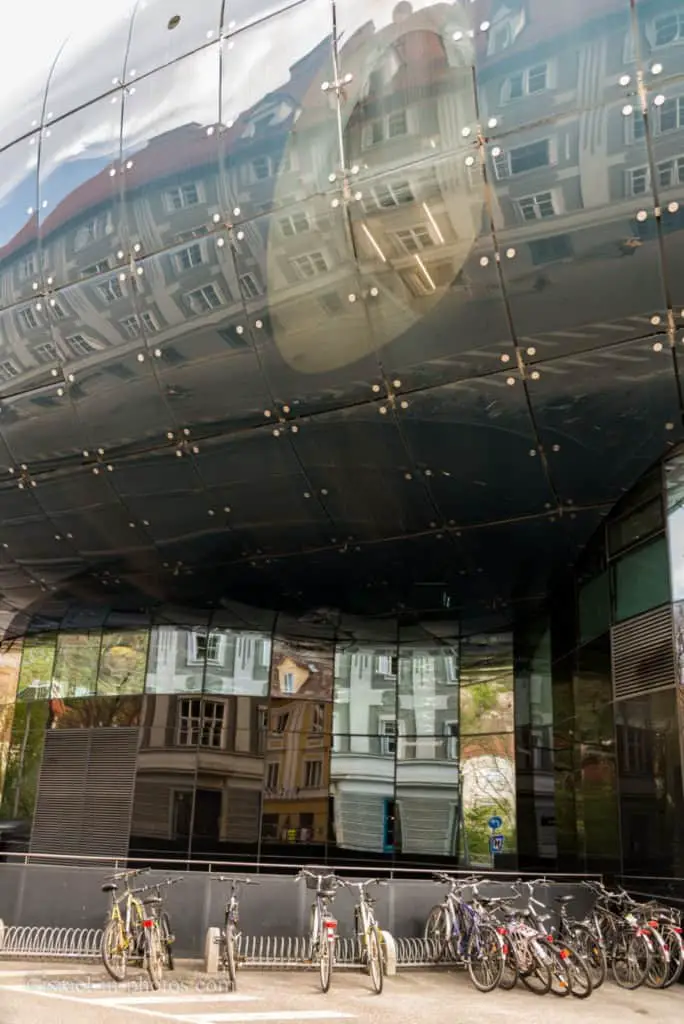 It is the Kunsthaus Graz.
The Kunsthaus Graz, Grazer Kunsthaus, or Graz Art Museum was built as part of the European Capital of Culture celebrations in 2003 and has since become an architectural landmark in Graz, Austria. Its exhibition program specializes in the contemporary art of the last four decades.
Source: Wikipedia
The first thing that struck me when we walked the city are buildings facades. They are beautiful.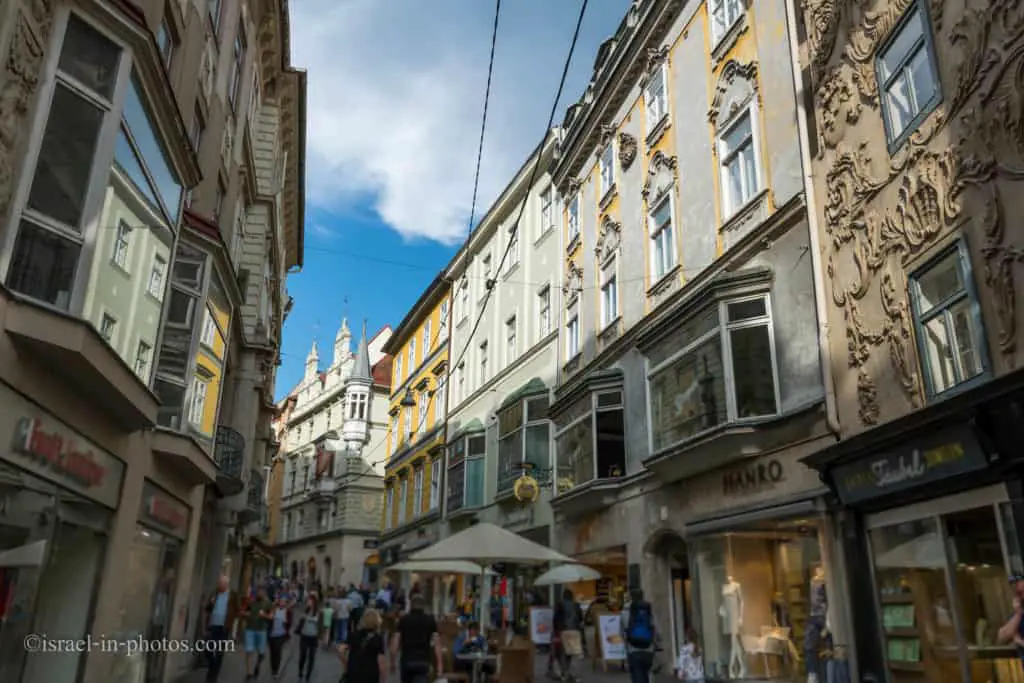 For example, take a look at this clothing store:
Also, if you love ice cream and sweets then you are in luck. There are plenty ice cream stores and bakeries in Graz. Many of them are very old. This bakery exists since 1569.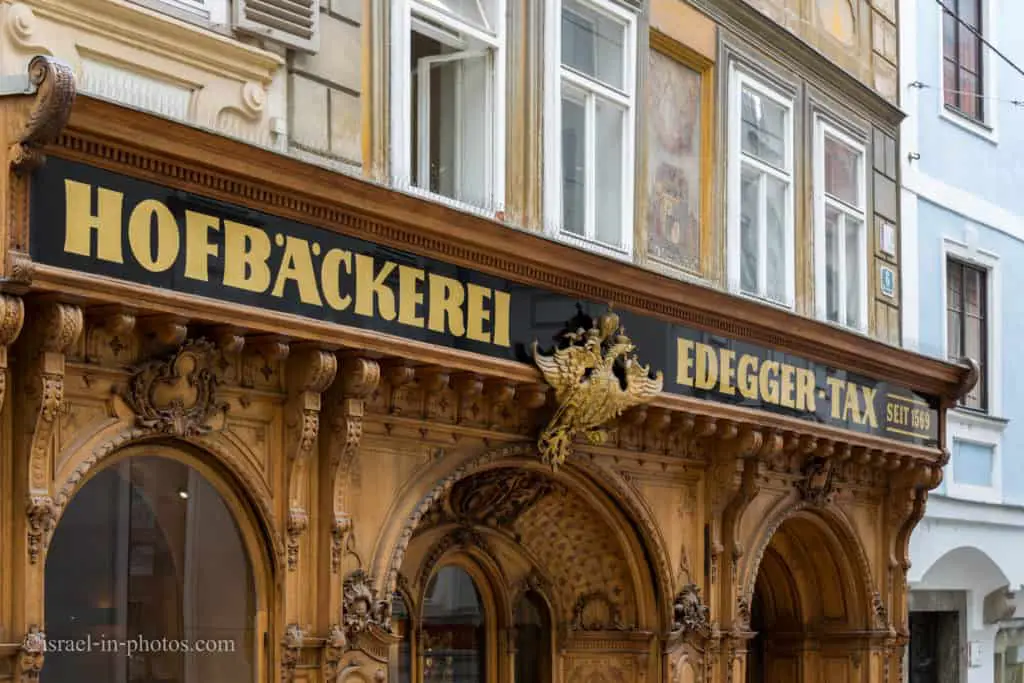 After an ice cream break, we walked towards Gratz Cathedral.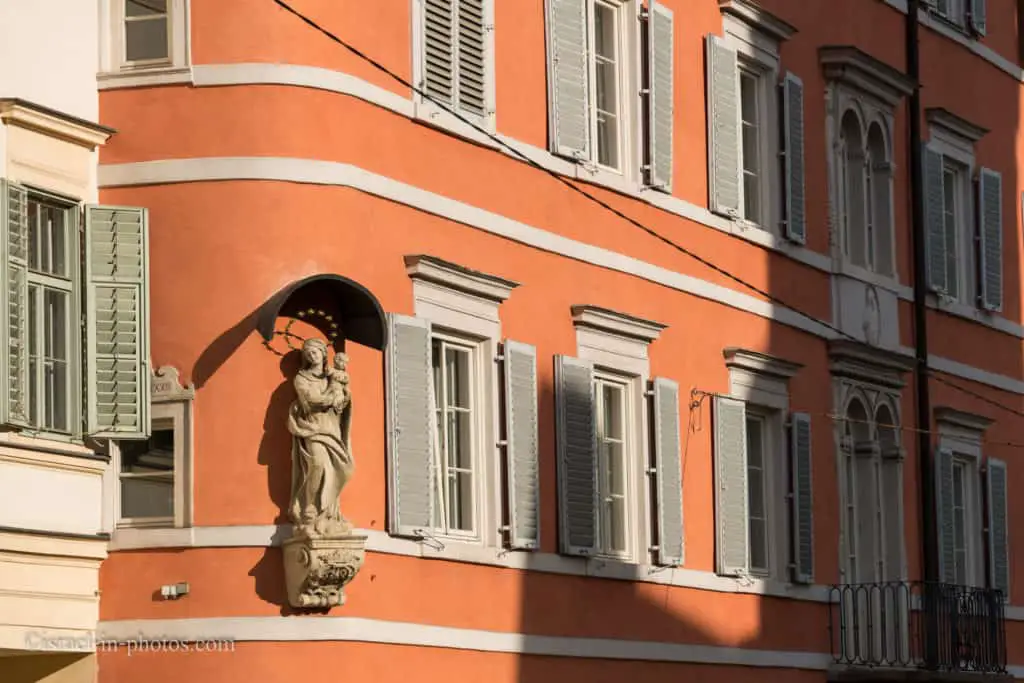 Gratz Cathedral
Here are several shots of the interior:
Royal-imperial church architecture is crowning the historic city centre… The "Gottesplagenbild", an inspiring relic of splendid Gothic fresco painting, is still in excellent condition today. Inside the cathedral, a multitude of ecclesiastical along with general historical treasures is waiting to be discovered.

Today's cathedral reminds of the days when Graz was an imperial city. Emperor Frederick III erected the church together with his new residence in Graz. In the course of history, the cathedral saw many changes. Construction work of the court and parish church in late-Gothic style was started in 1438, as Jesuit church it was refurbished in Baroque style in the late 17th and early 18th centuries. Since 1786 it has been the cathedral, i.e. the bishop's and main church of the Catholics in Styria.
Source: graztourismus.at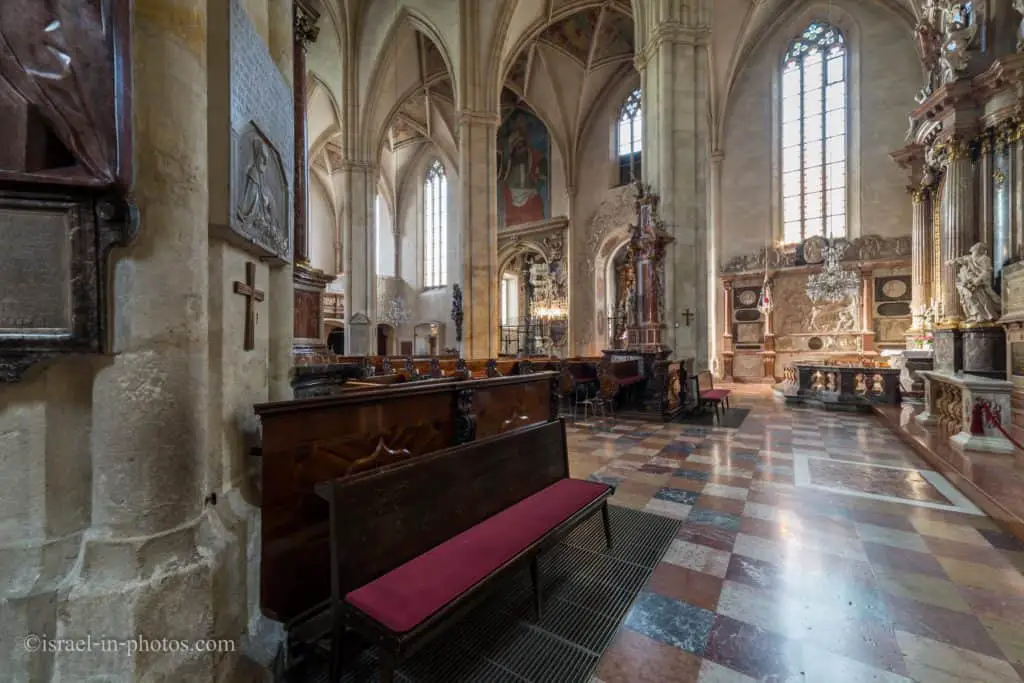 Nearby you can find Saint Catherine's Church and Mausoleum. As it turned out it was open at 10.30 – 12.30 and 13.30 – 16.00. We decided to return to the Mausoleum for the next day.
Opera house:
A house: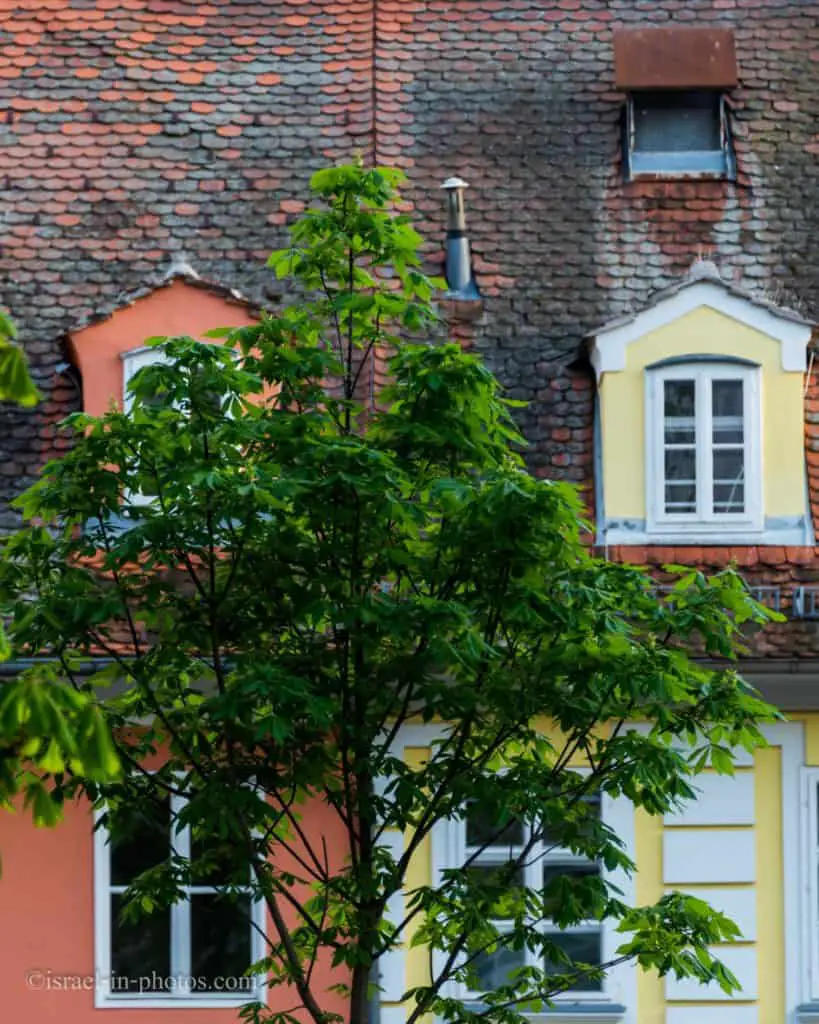 Old City Center
On our way back to the hotel we passed through the old city center. This is Herrengasse: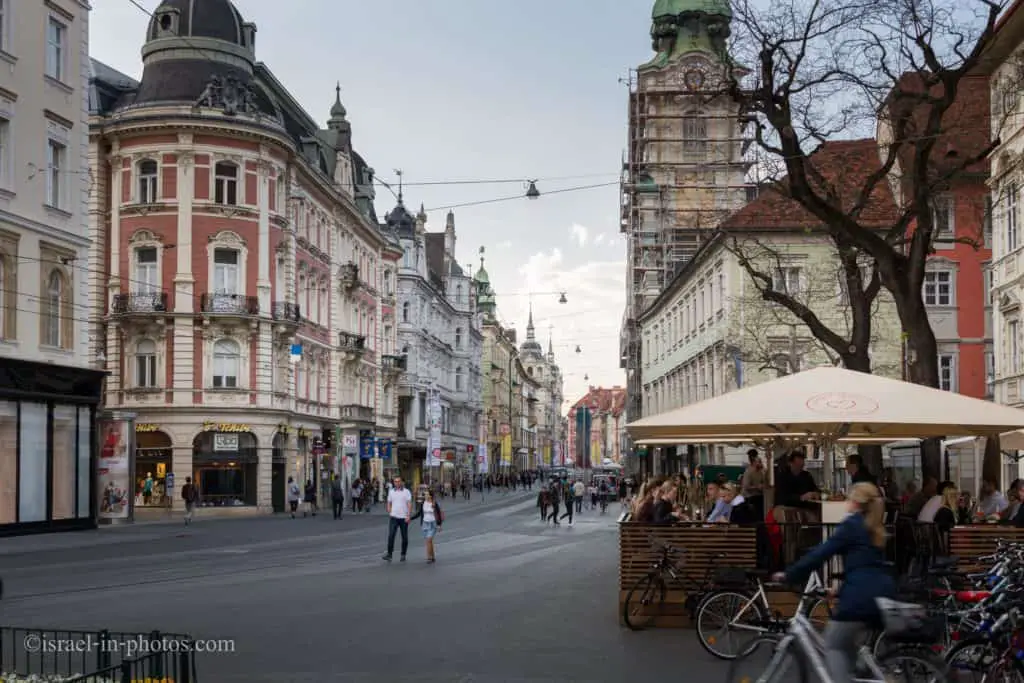 Well, I have already mentioned building facades 😉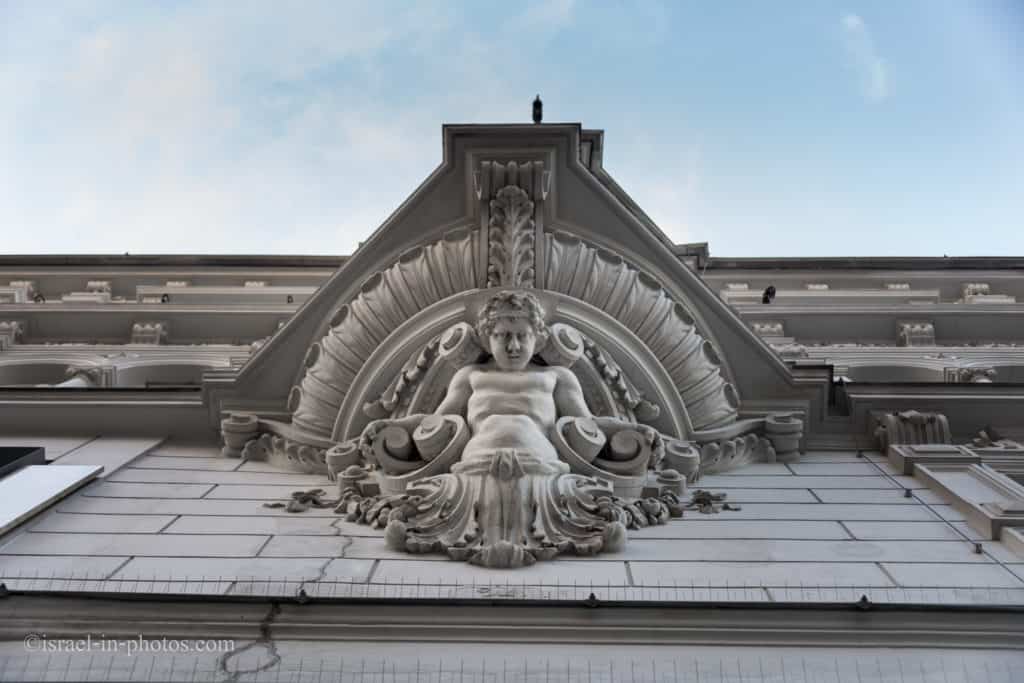 And this is Herzoghof:

A wall-tattoo on Herrengasse street? Sure! On the façade of the Herzoghof building in the centre of Graz, Greek and Roman Gods engage in a rendez-vous. The building was first painted as early as 1600. The Baroque painter Johann Mayer applied the 'divine' frescos in 1742, since which time it has been known as the 'painted house'. If you take a moment to immerse yourself in the images, you enjoy an intense sense of submersion right there in the middle of the urban hustle and bustle.
Source: graztourismus.at
Herzoghof is located on Hauptplatz, where you can also find the city hall:

This is a lovely area for a stroll, and as I mentioned we continued to our hotel for a night rest. Though it was still bright outside, the photo above was taken at almost 20.
Second Day in Gratz
Farmers' Market
We started the second day by visiting Kaiser Josef Platz. Kaiser-Josef-Platz square holds a Farmers' Market daily (on mornings till 13:00 and except Sundays).
This market has home grown vegetables and homemade bread, cakes, sausages and other products.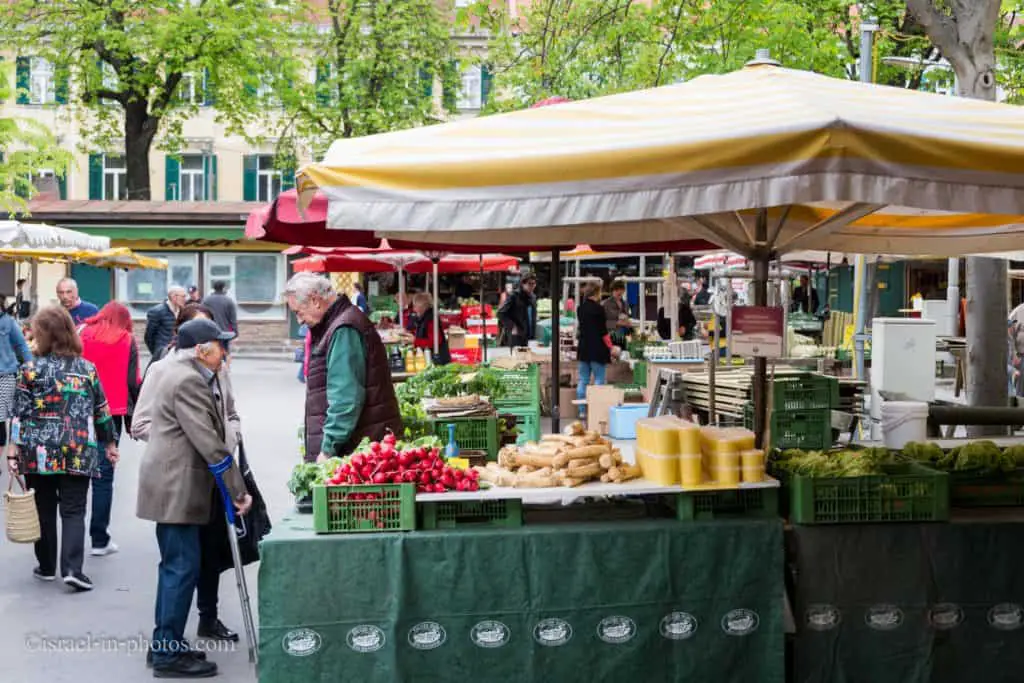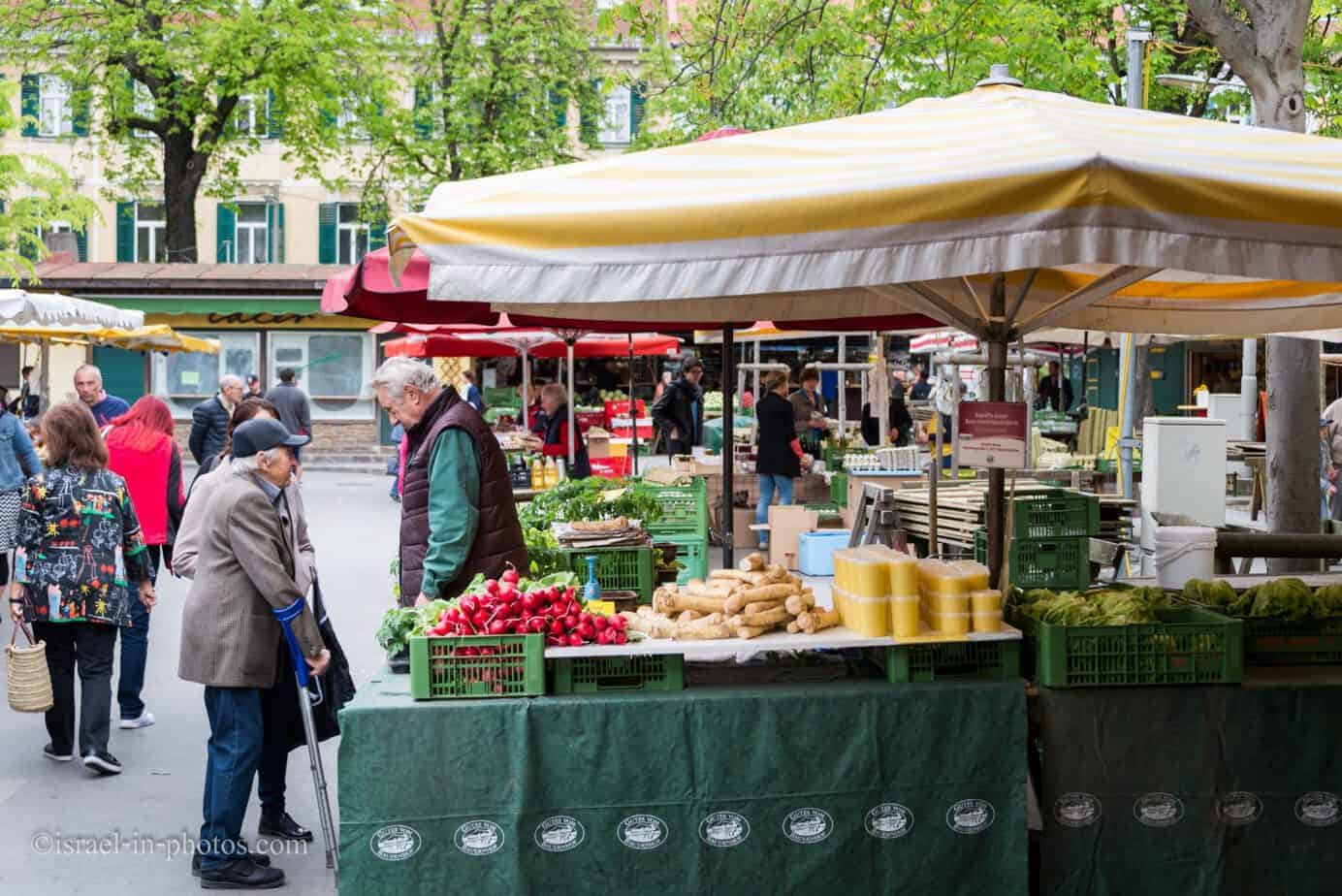 You can buy fresh flowers and seeds for your garden.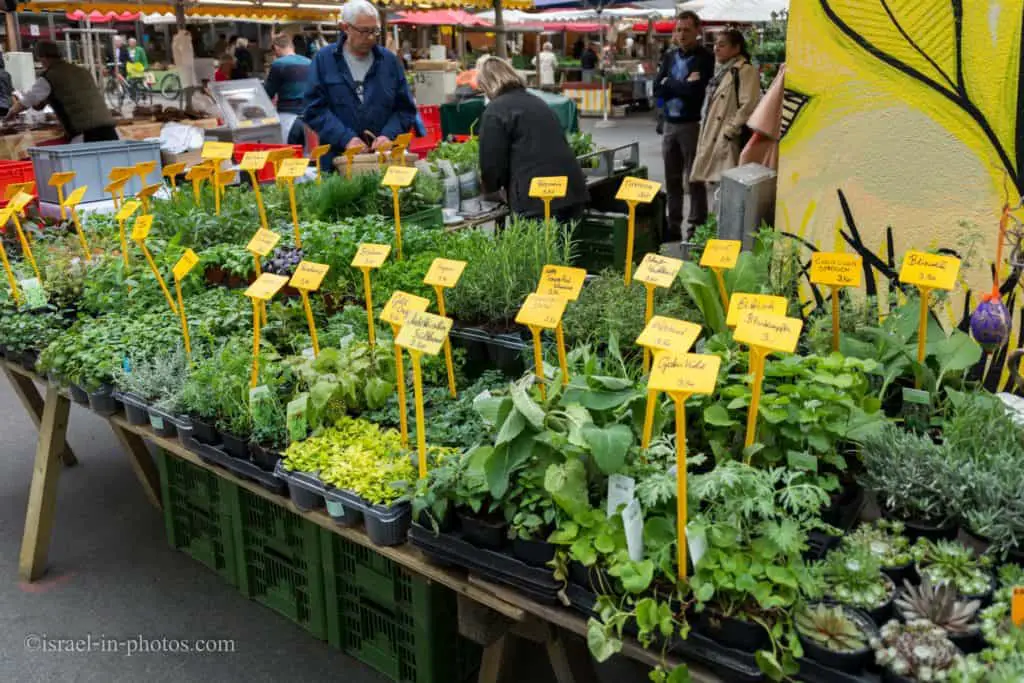 Bakery: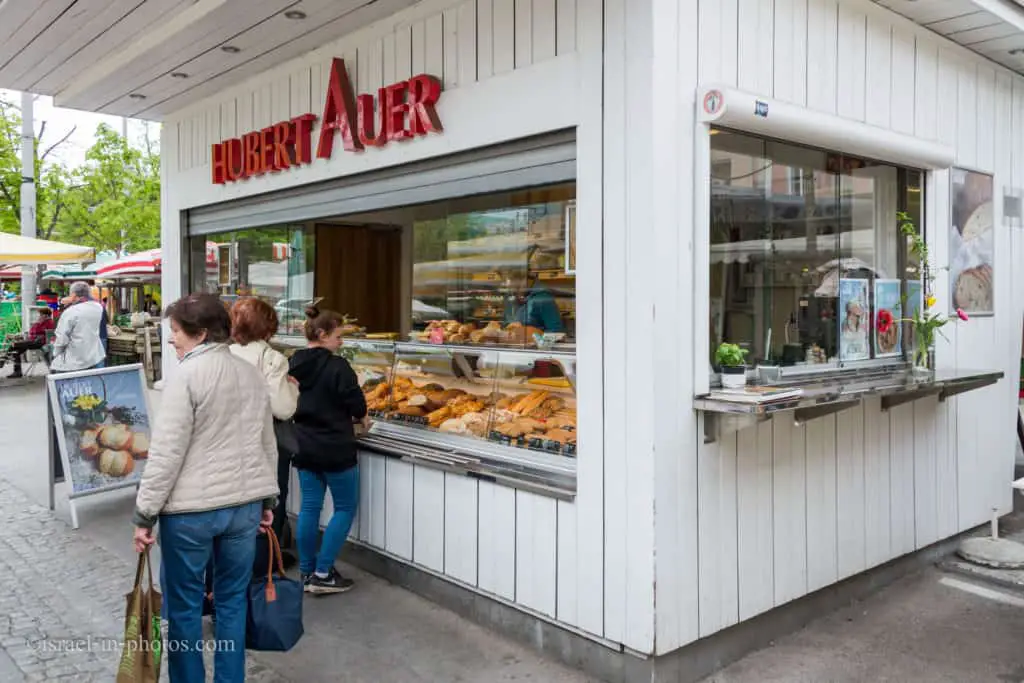 The market with the church: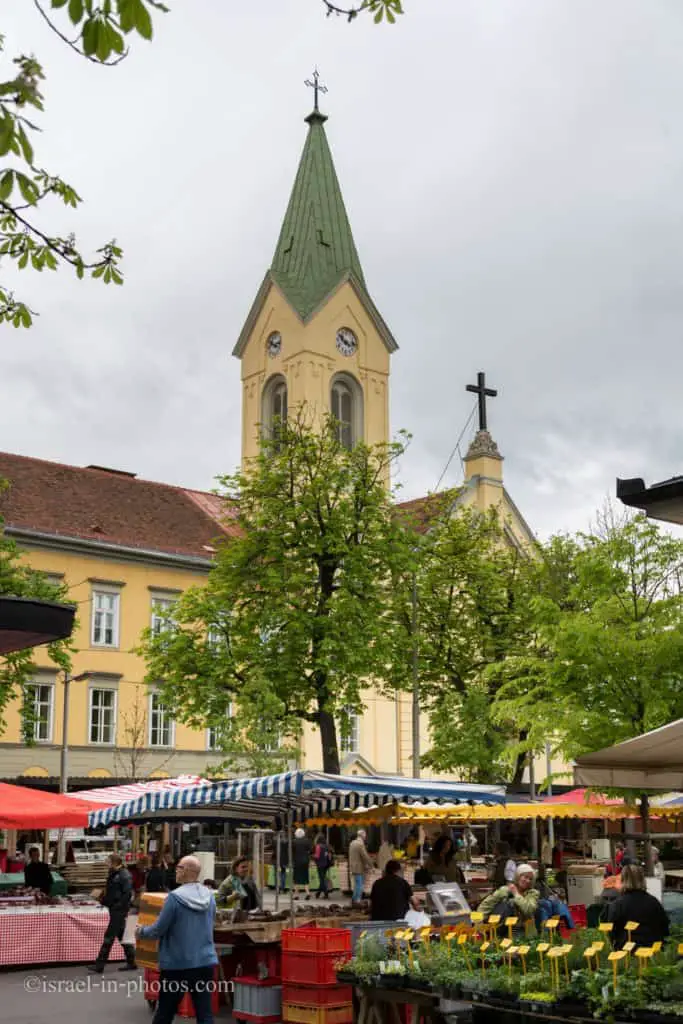 The Farmers' Market at Kaiser Josef Platz is quite small. We probably spend less than an hour before heading to the Mausoleum.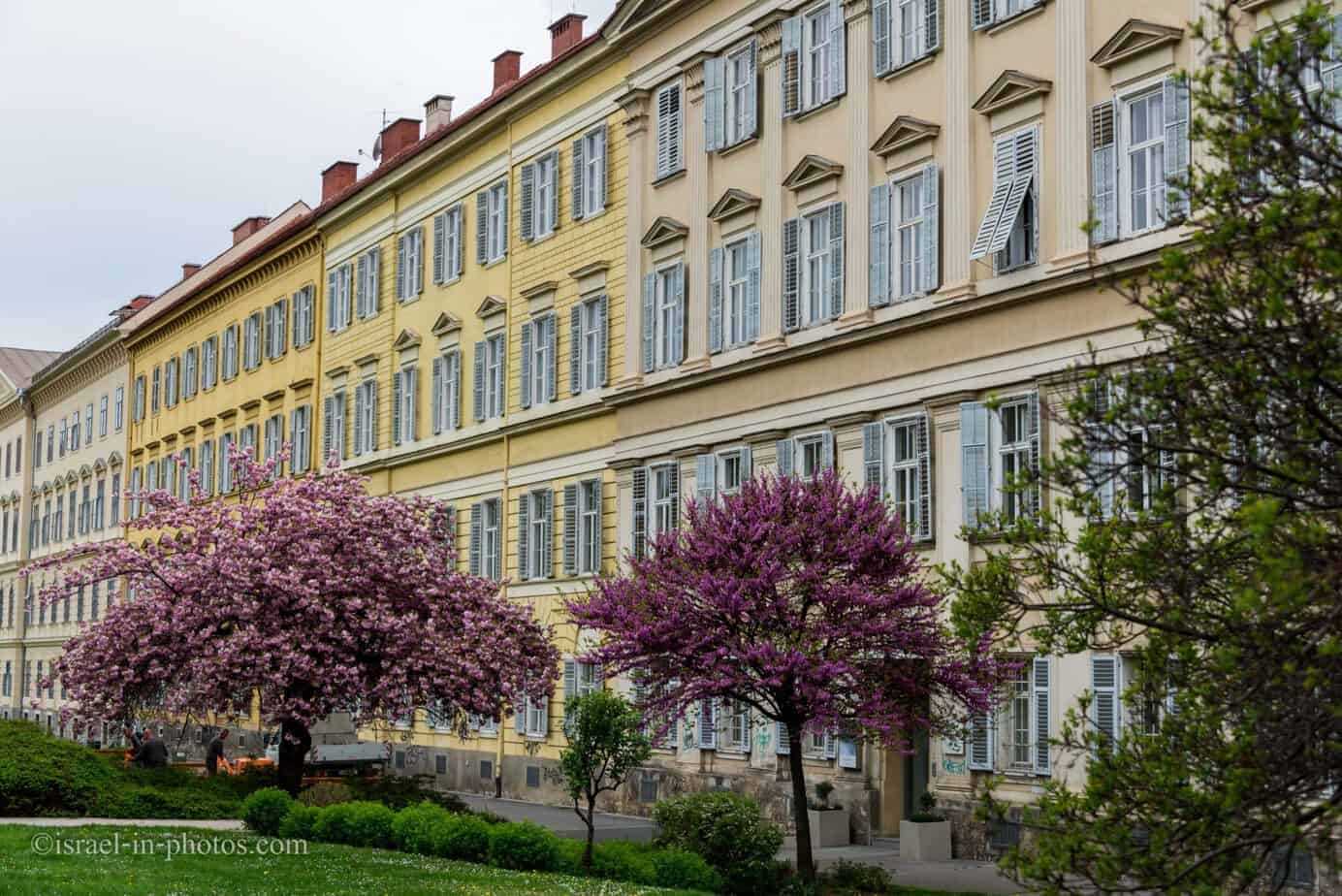 Saint Catherine's Church and Mausoleum
Entrance to Cathedral was free but to the Mausoleum was not. It was 6 euro per person.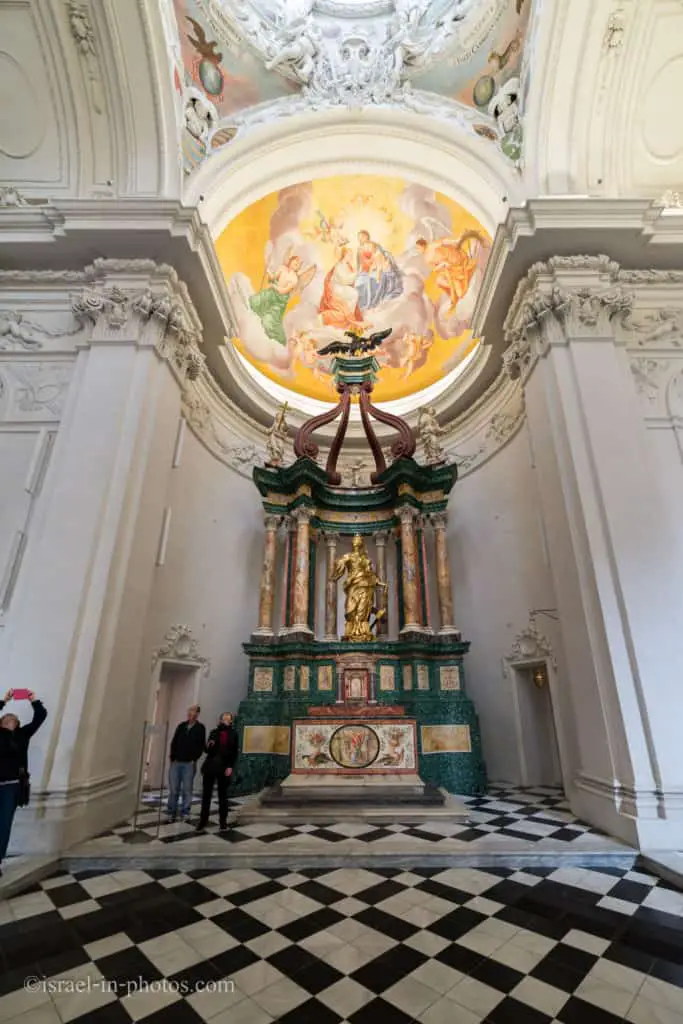 But, as you can see it was totally worth it.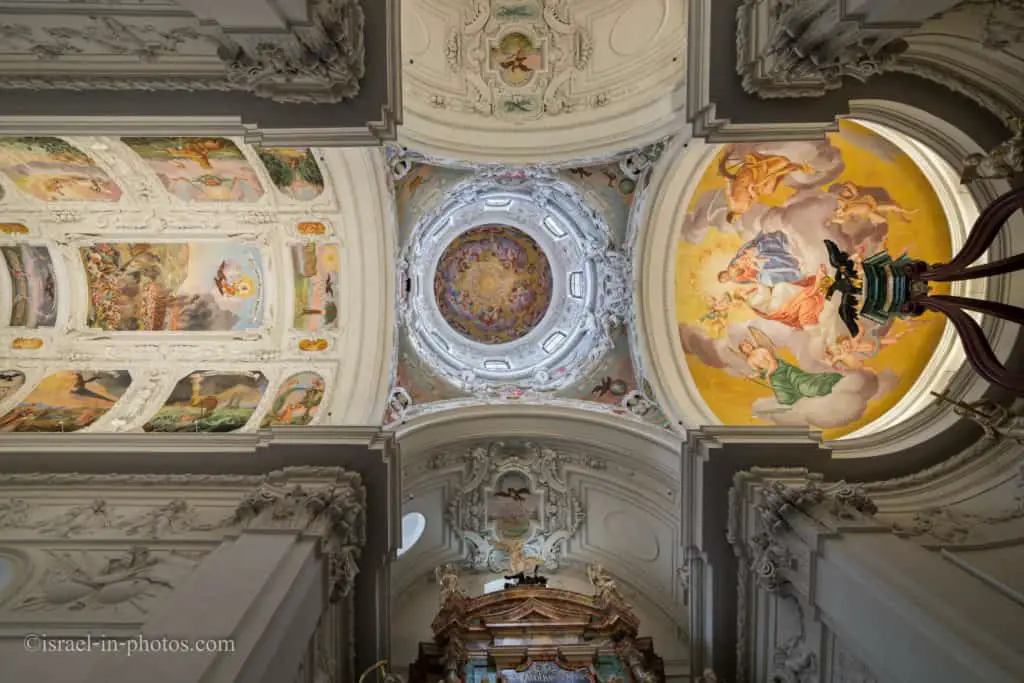 The ceilings were beautiful.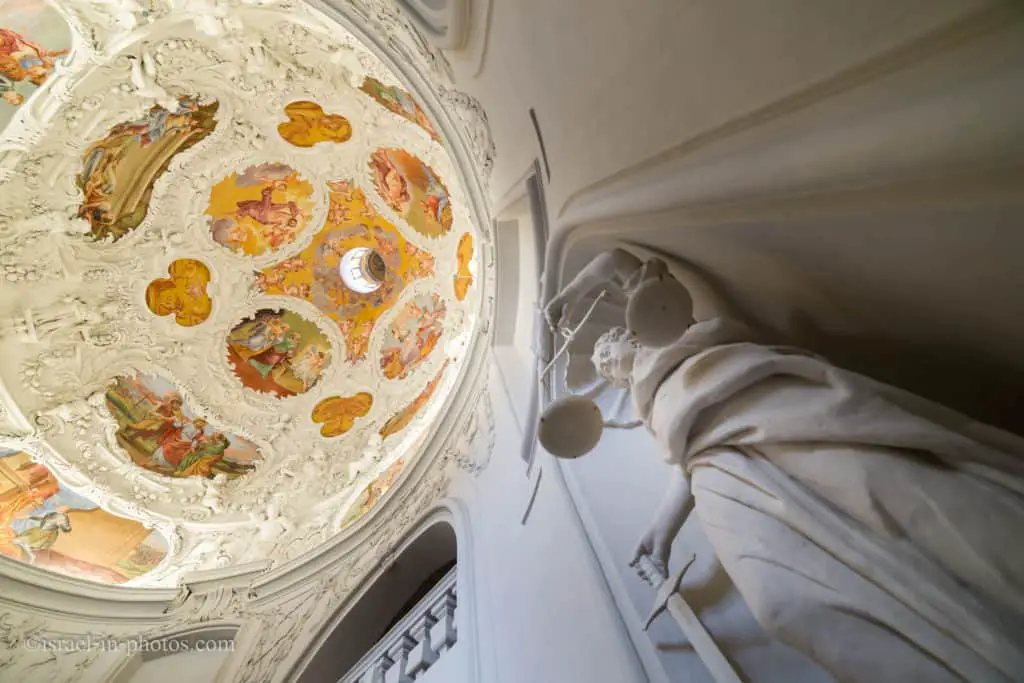 And then we went one floor down.
The interesting part is there are two mirrors (one on each side), that allow visitors to see the faces of the sculptures.
Then we climbed up the spiral stairs to the tower.
You can find there some information about the making of the bells, including the biggest bell of 3.5 that weighs tons. But, be aware that the bells ring every round hour. At this point, it is better not to be there.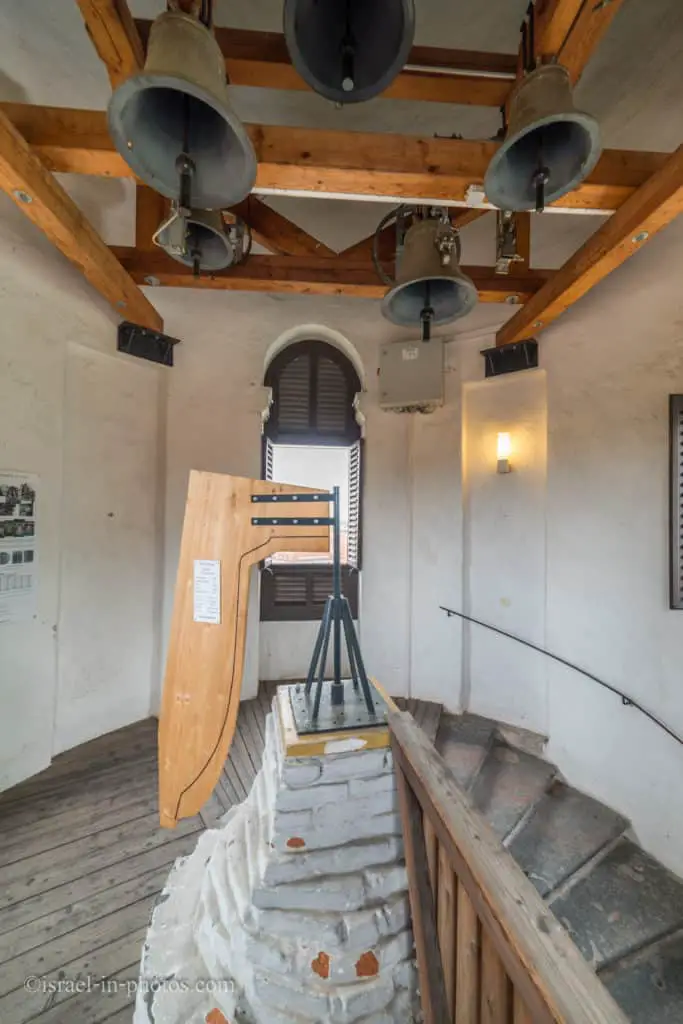 For photographers among the readers, I will mention that all windows in the tower are covered metallic grid. Thus, none of my photographs from the tower turned out to be good.
Rabbi Nissim
Not far from the Mausoleum we stumbled upon Rabbi's Nissim tombstone: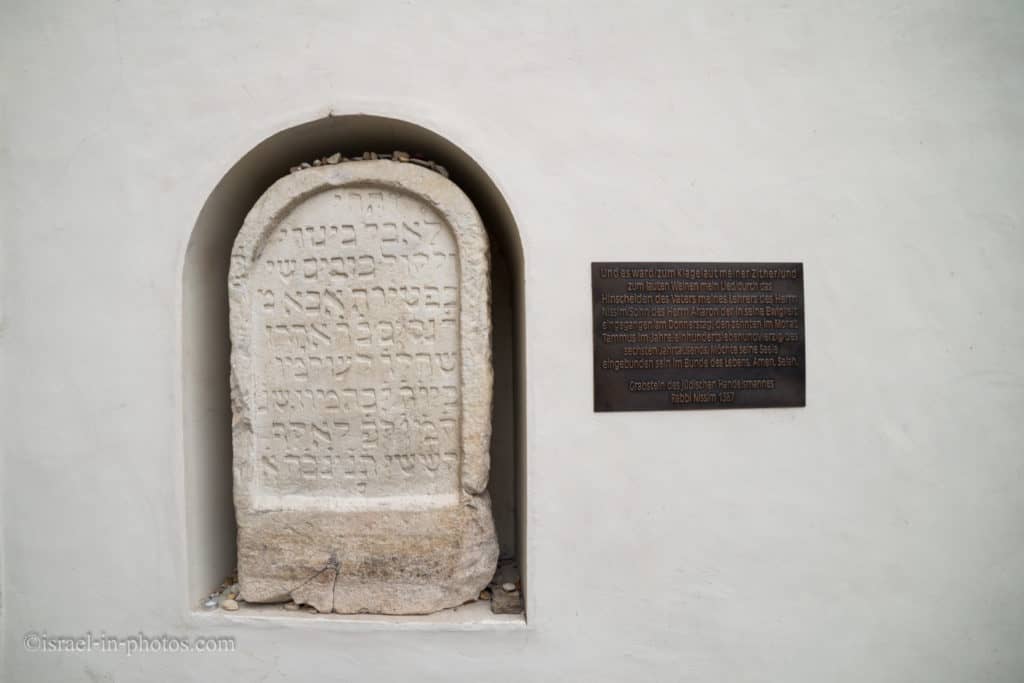 I found very little info about this tombstone. From what I gathered, the story goes pretty much like this: Jews lived in Gratz up till the end of the 15th century. Towards the end of the 15th century, together with rest of Austrian Jewry, they were expelled. And could not return and settle in Graz for the next 400 years. During this period, at 1865 Jewish cemetery in Wetzeldorf near Graz was purchased. Over the years this area became part of Graz and this tombstone is the remainder of the cemetery.
About 15 meters from there we found this cool old double staircase:
Very cool staircase. Have not seen such before.
Then we decide to go up the hill and visit:
Schlossberg Graz
Walking up through the park: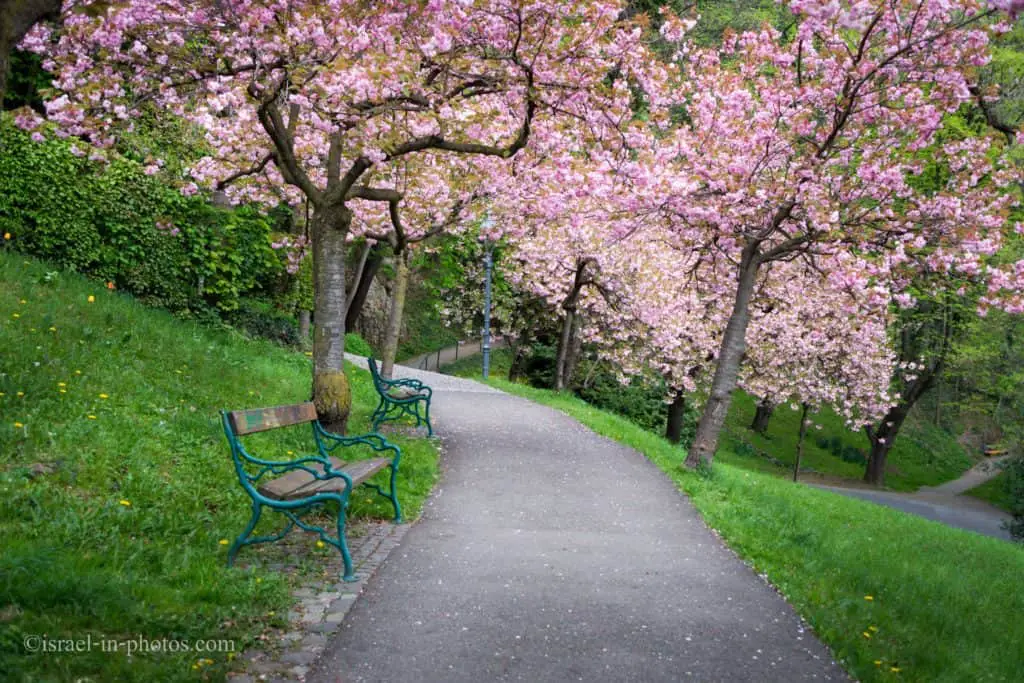 Approaching the main gate of the fortress. And here is a scheme of the lower part:

The higher you climb the better views you get. This shot was taken next to the clock tower.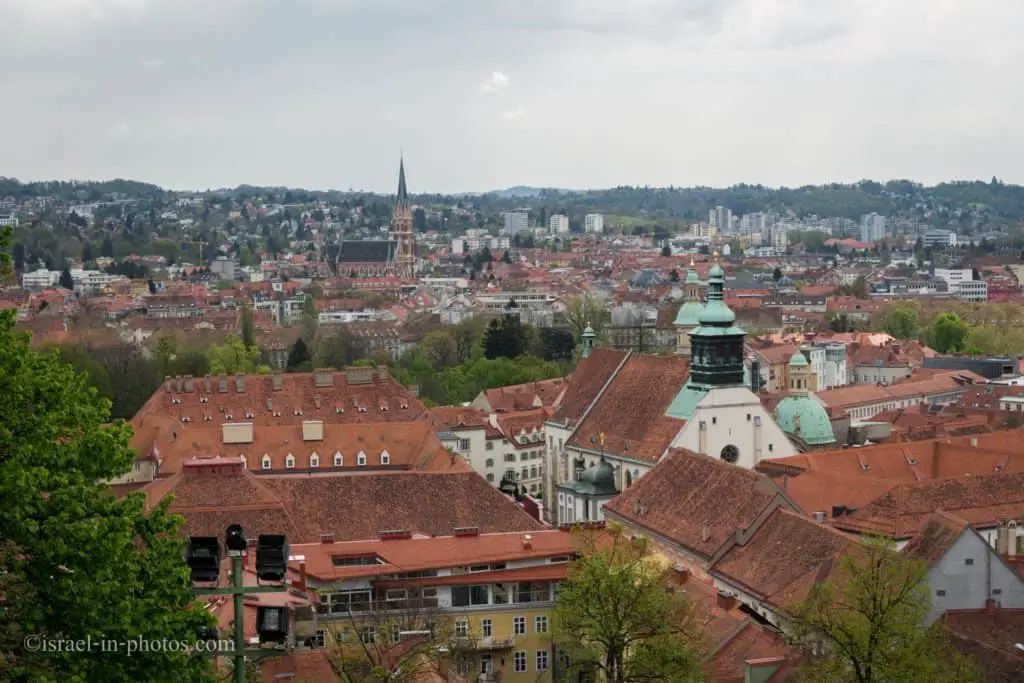 And here is the clock tower itself.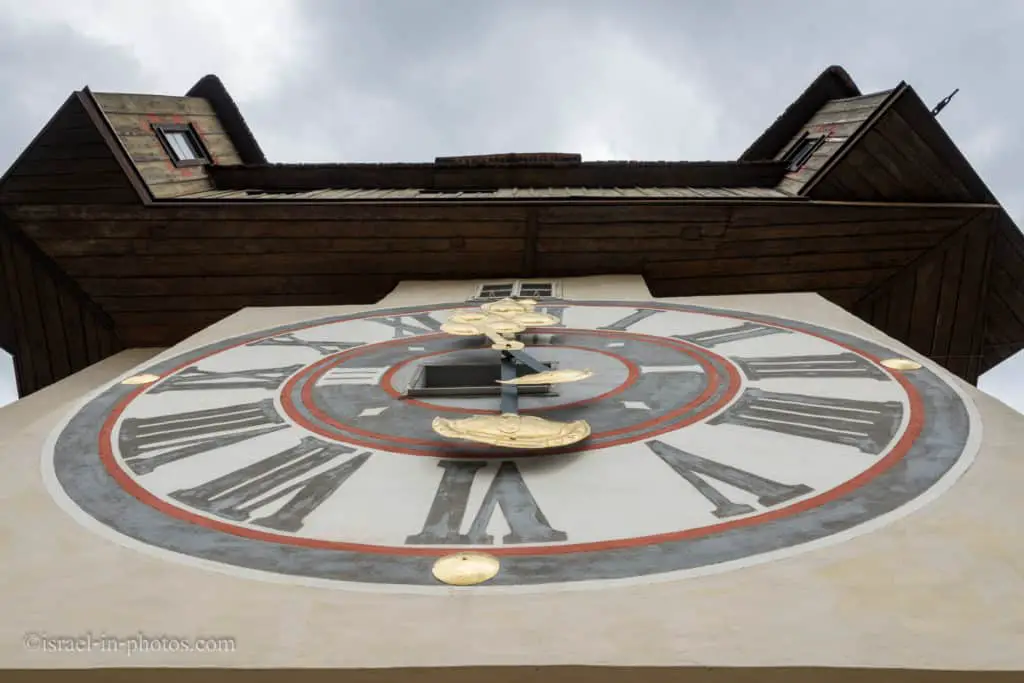 Another cityscape from a higher point. In it, you can also see the Kunsthaus.
A map of Schlossberglift Graz with three possible routes: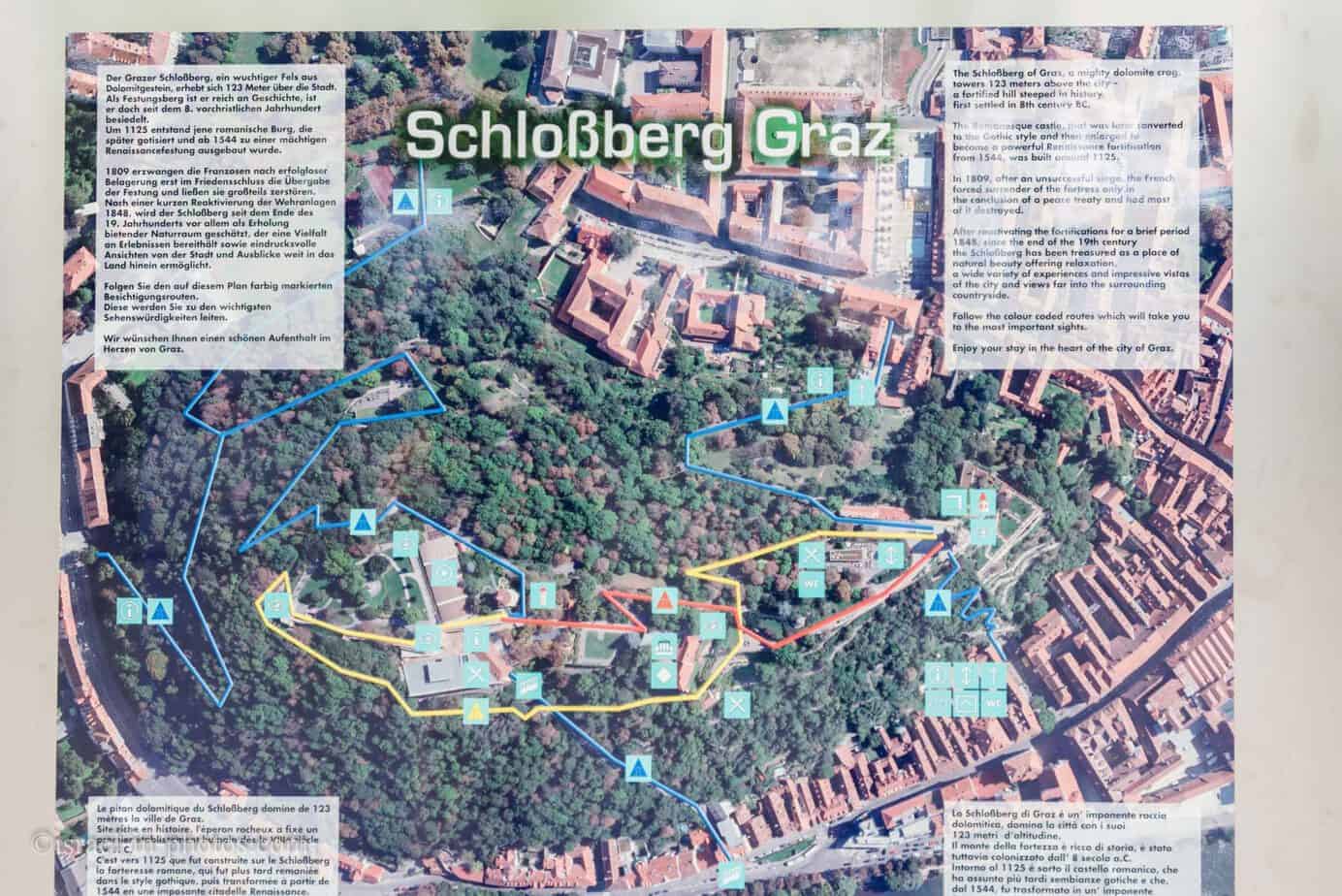 The Schlossberglift of Graz is located on a dolomite crag, 123 meters about the city. And it was first settled in 8th century BC.
You can easily spend a half day there exploring. But, we wanted to see one more thing that day. Thus we took probably the fastest way down, the funicular.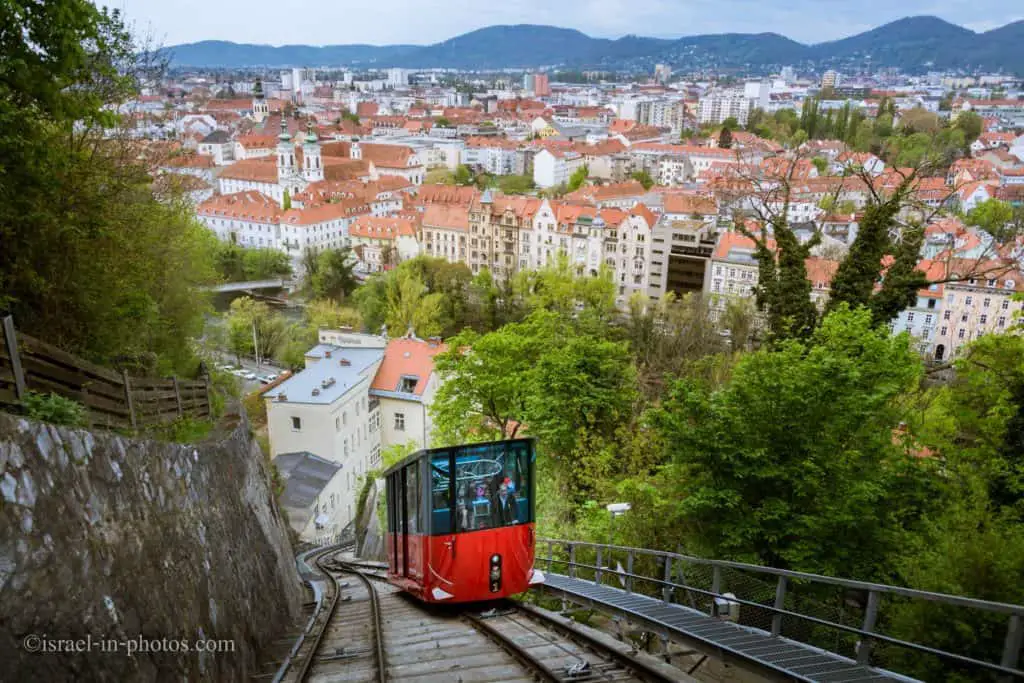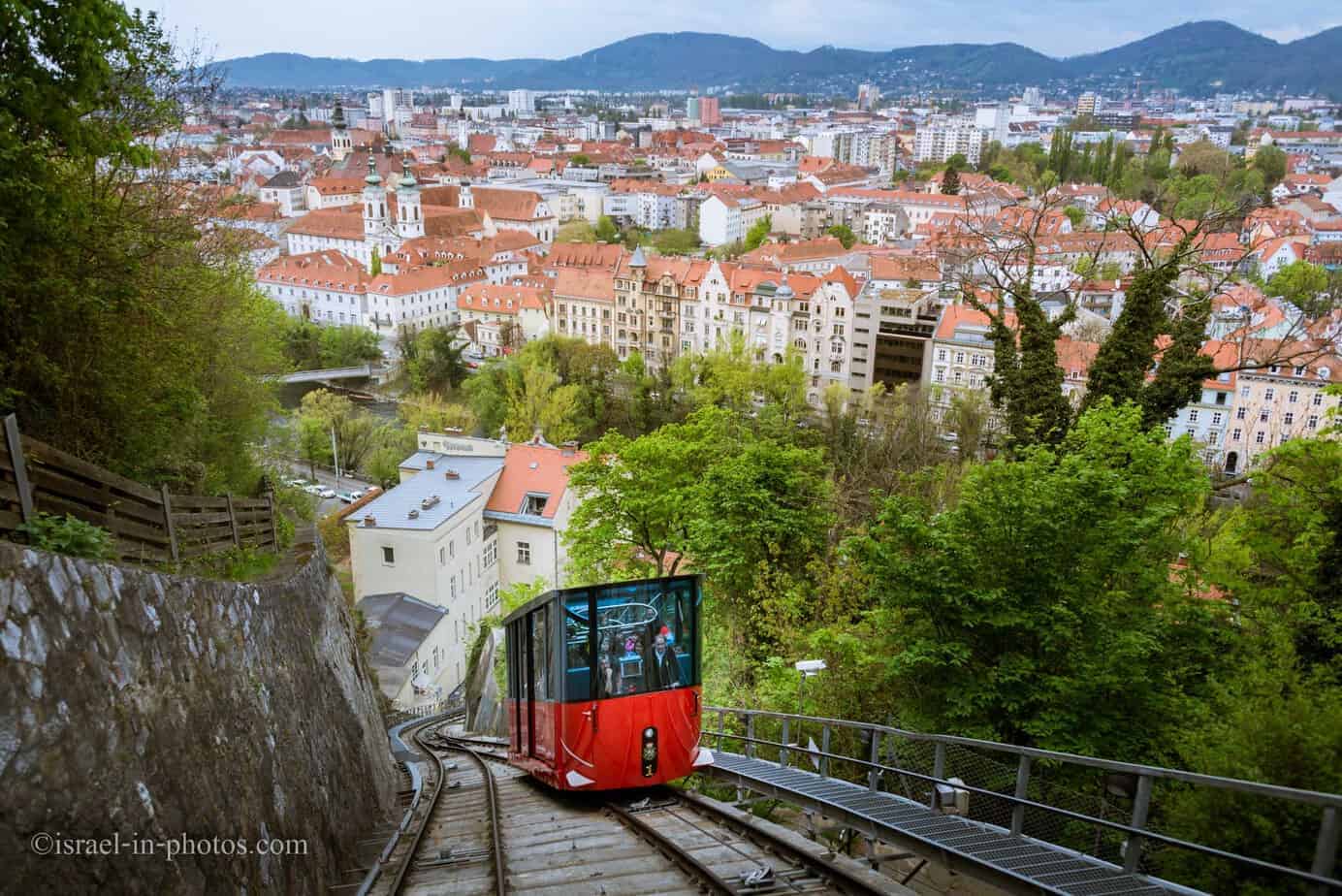 There are three ways to get to/from Schlossberglift. Walking up a hill (as we did). Using the funicular and the stairs: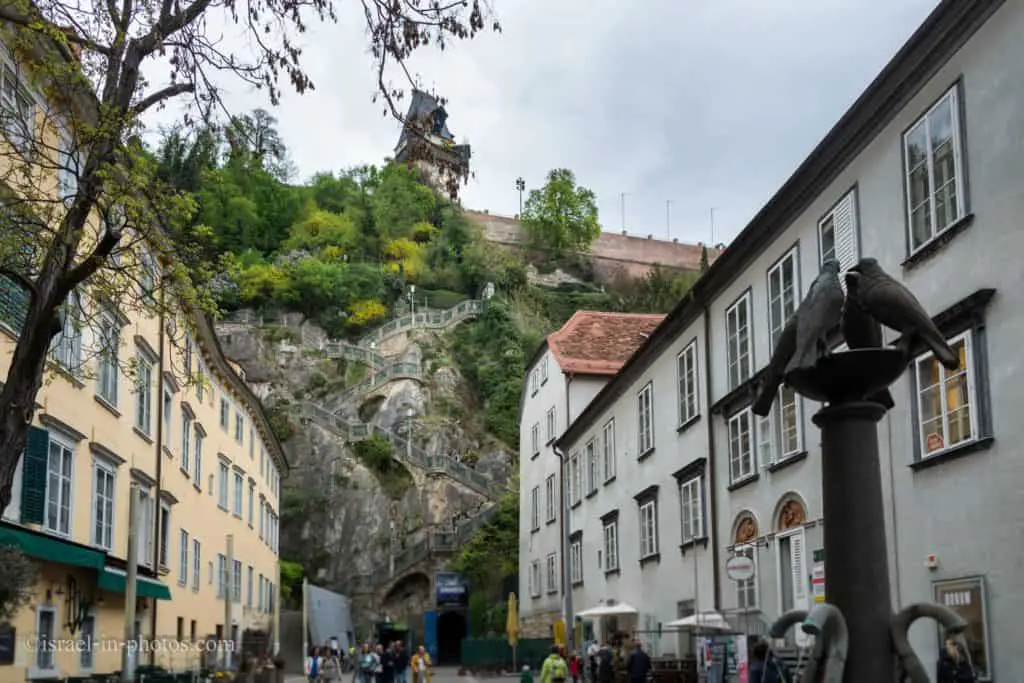 Eggenberg Palace
The reason for cutting our visit at Schlossberglift was Eggenberg Palace. Eggenberg Palace is open till 17 and the last guided tour starts at 16.
We made it in time for the 15:00 tour and since we were the only ones for the English tour, it turned out to be a private one.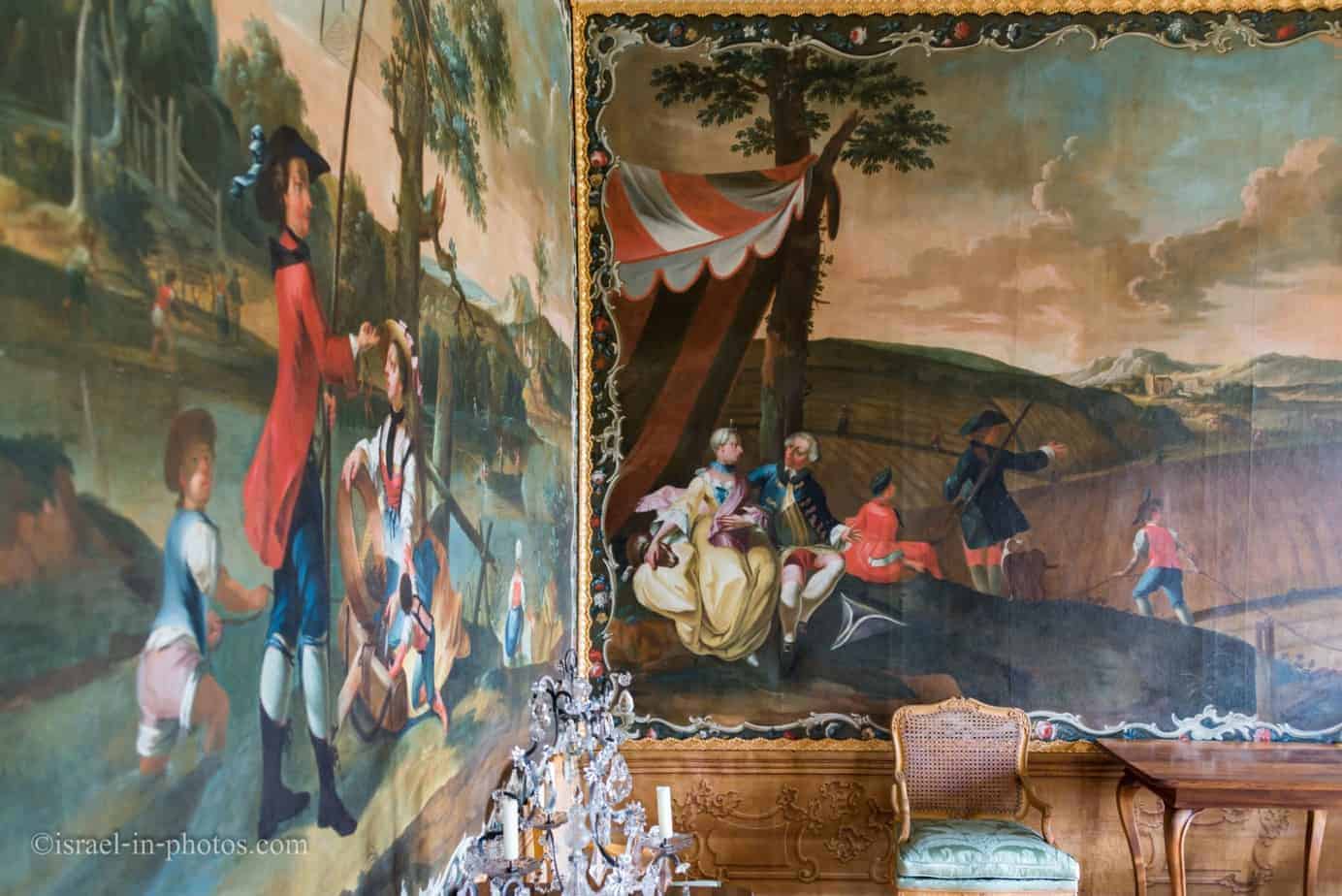 The tour lasted about 50 minutes, during which we visited many rooms and overall it was a very nice tour.
The Chinese room: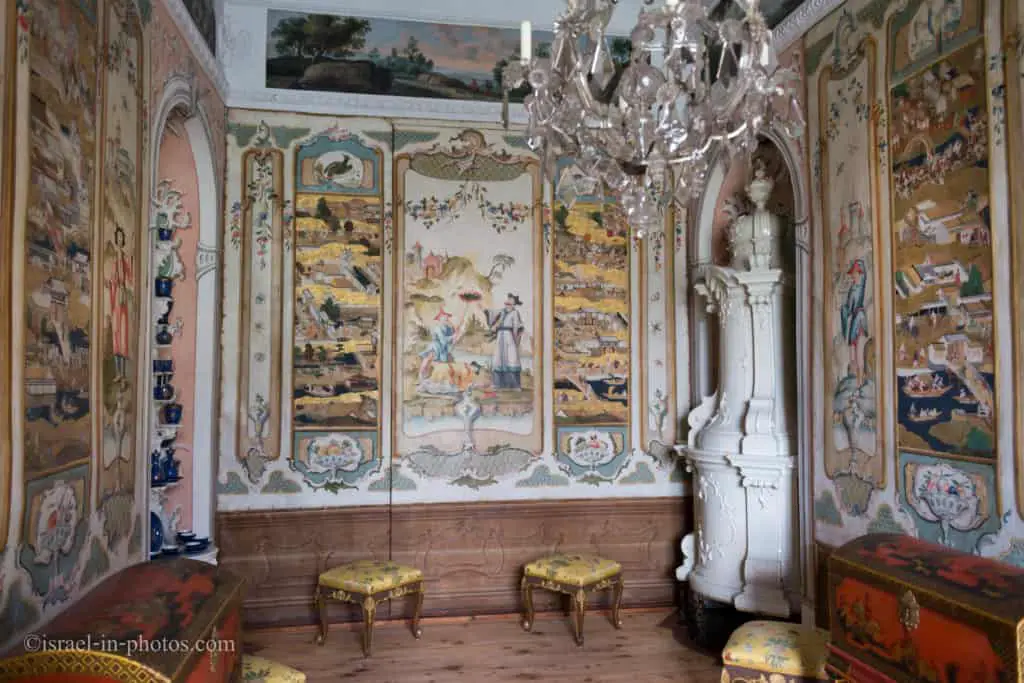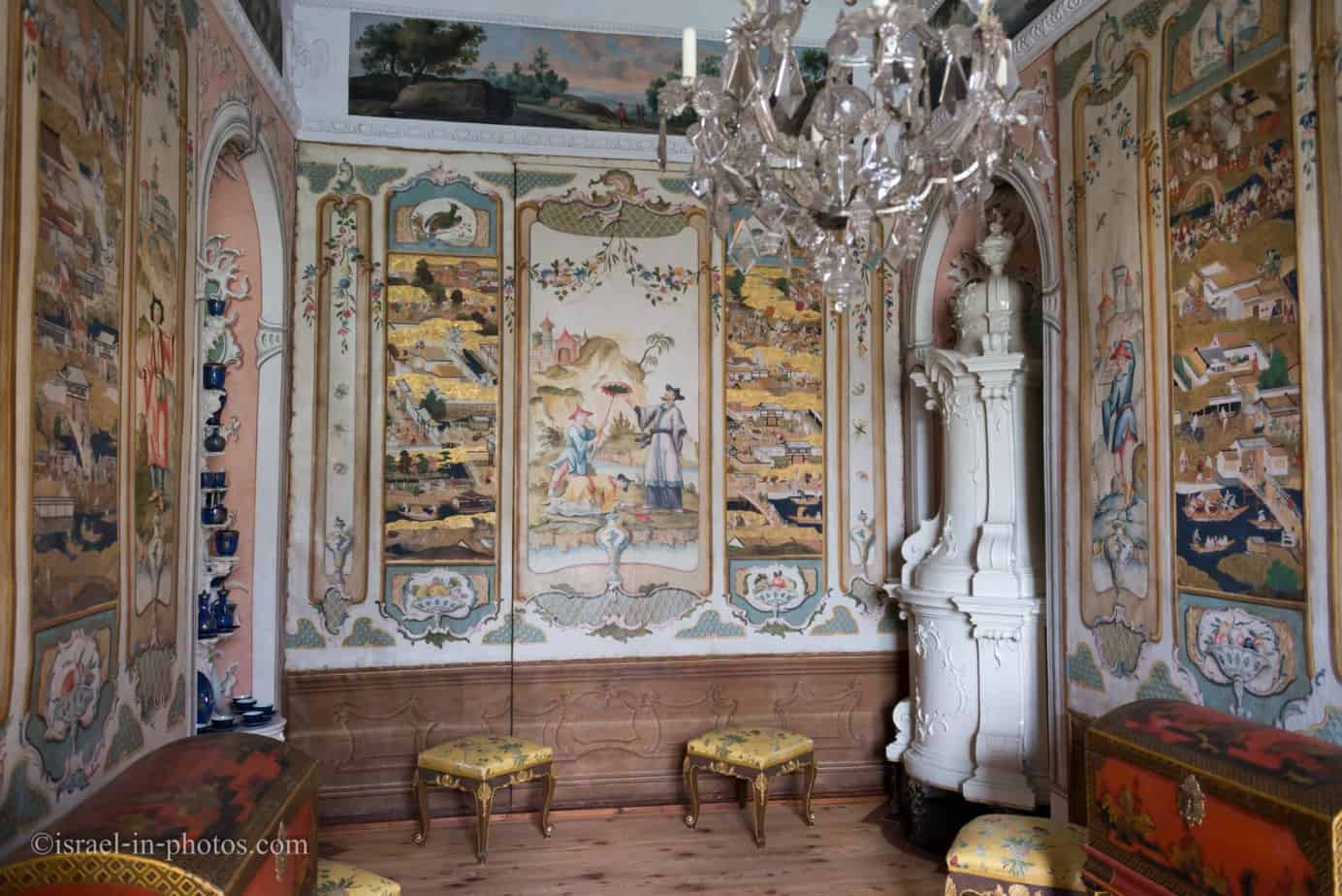 We learned many interesting things during the tour. For example: are the chairs in the next photo designed for any specific gender?
Yes, women. Women during that time wore big dresses. In order for the dress to be round, there was a metal skeleton beneath. Such a dress could easily weight 12 kg. Thus, women in such dressed could seat only on chairs without handles. Chairs with handles were for men.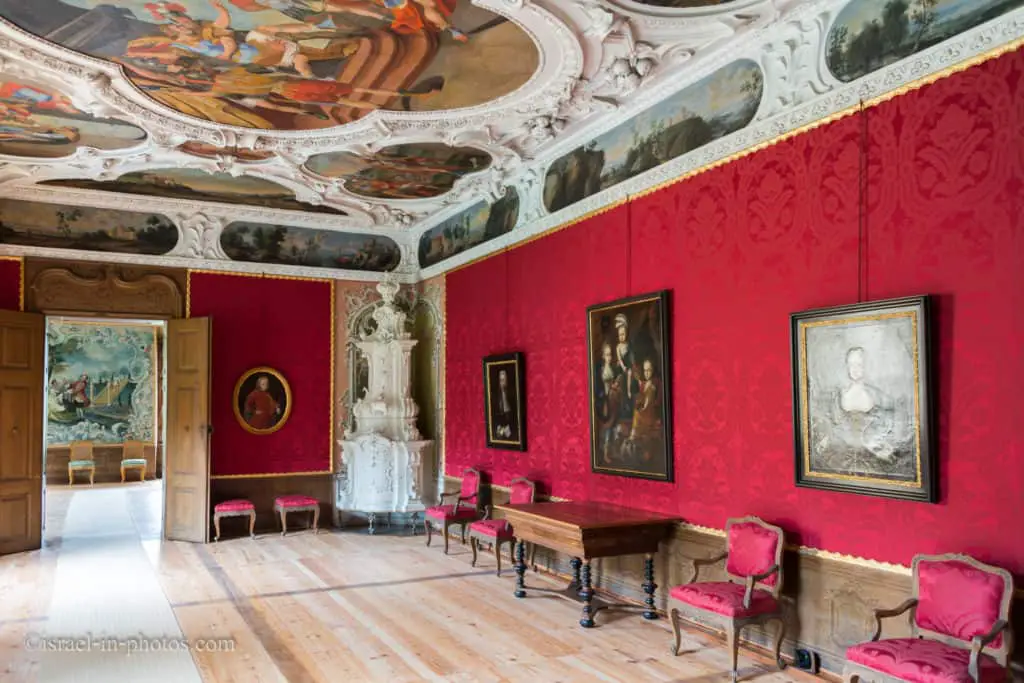 Many rooms with different vibrant colors: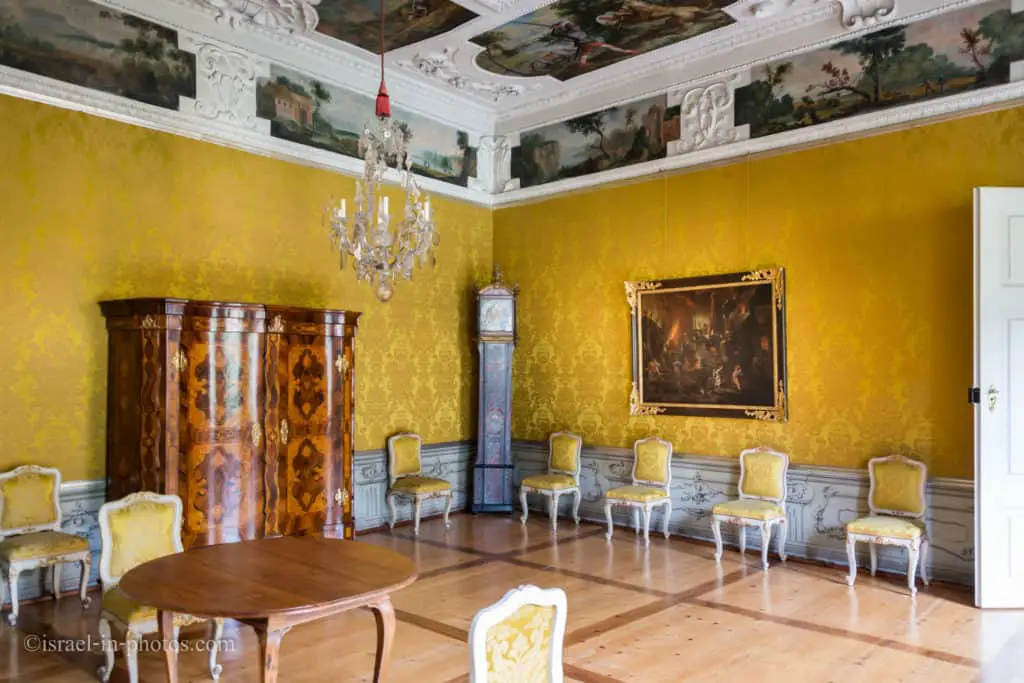 During the tour, we heard many peacock calls. So our guide told us a joke about peacocks. "Do you know why they make such terrible calls? They walk around so beautiful and majestic, that is until they look down. When they look at their legs, that are neither beautiful nor majestic they get scared and make that terrible call."
Another Chinese room:
You might think that this is a bedroom. But, this is a meeting room. The bed is not real, it is an accessory. The purpose is to show respect for the guest and how much they are valued. So much, that they are allowed to enter the bedroom.
And this is the Planetary Room. There is a drawing for each month and for each season. It was used as a dancing room.
Eggenberg Palace's Gardens
Our tour ended around 15:45 and we had time till 17 to explore the gardens.
Small pond nearby: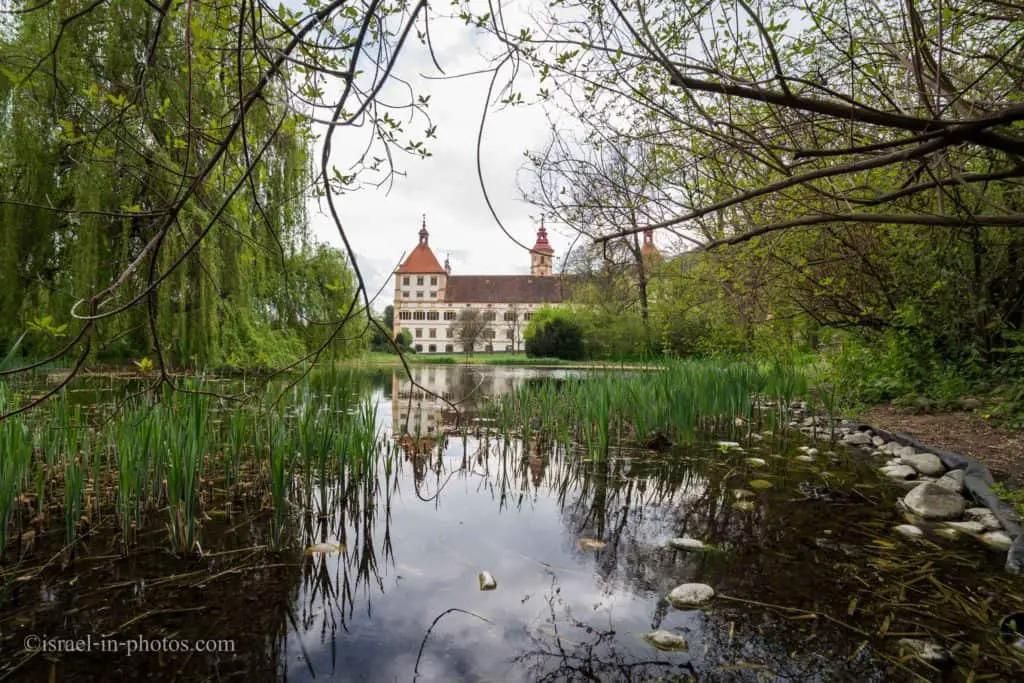 Eggenberg Palace's exterior:

We wandered the gardens till 16:50 and then started to walk towards the exit. This is the view from the road leading to the palace.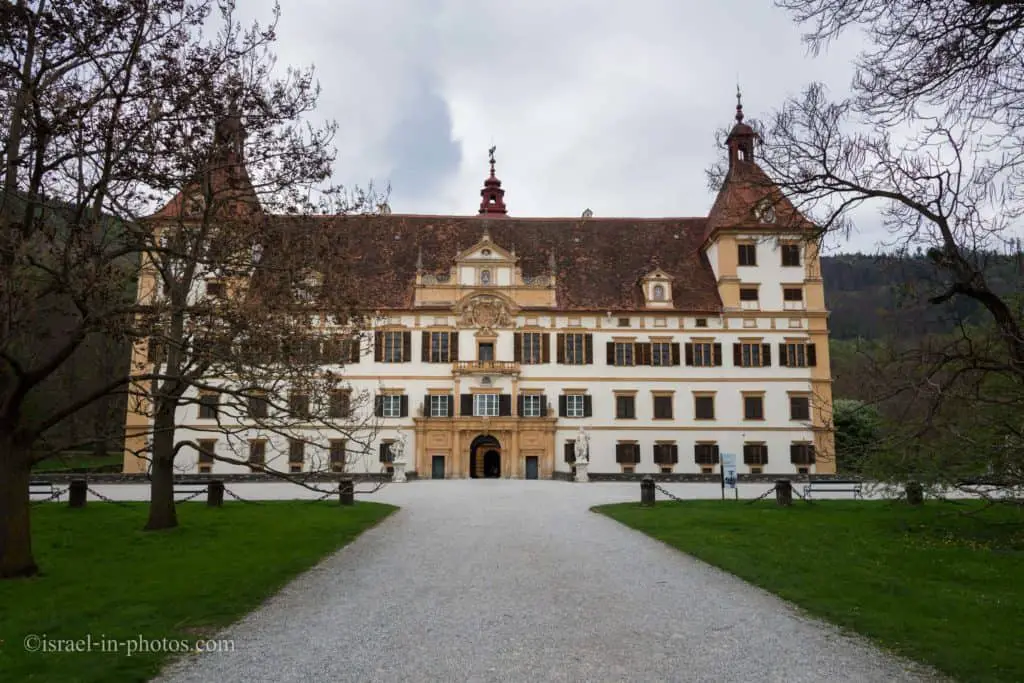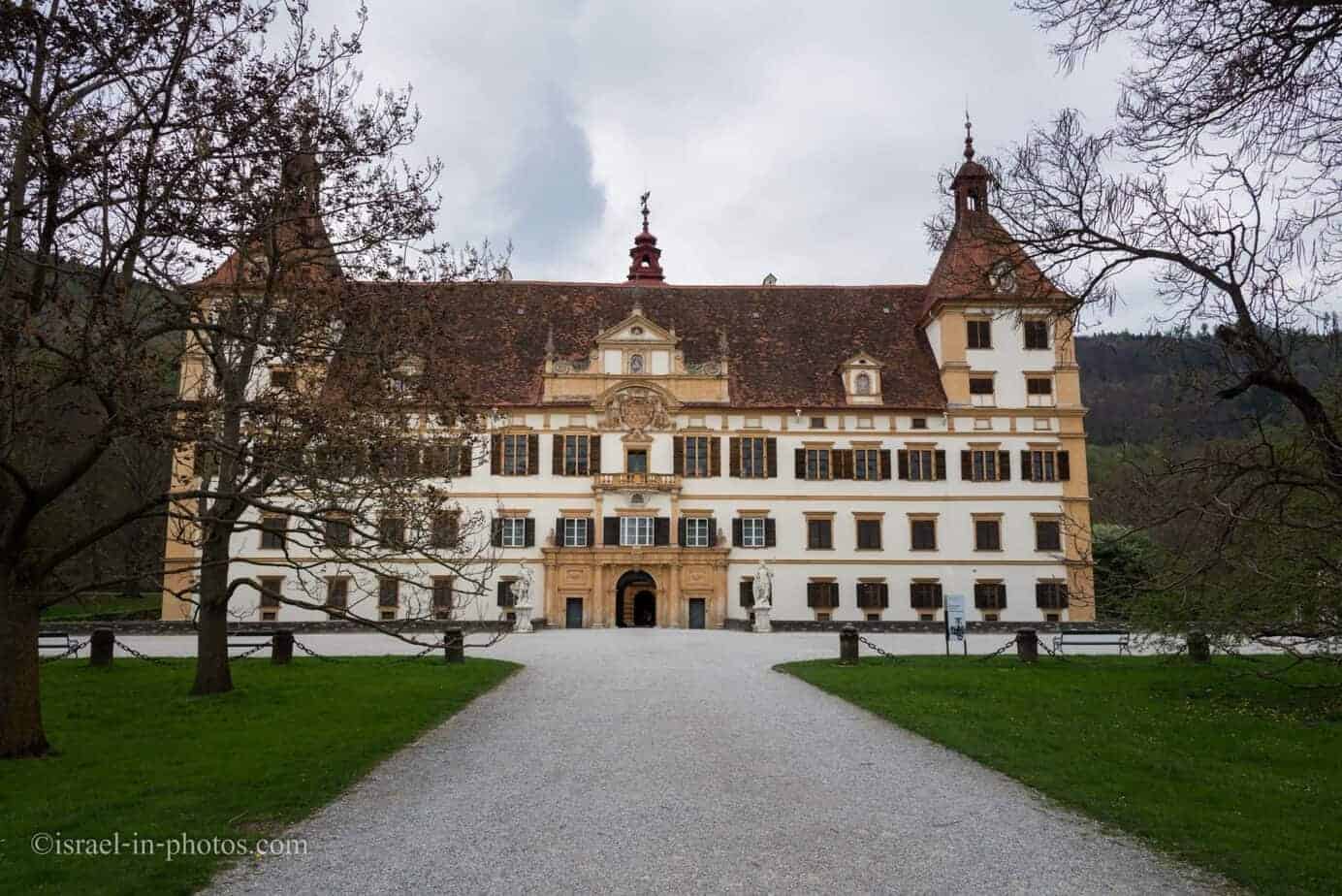 Overall, Eggenberg Palace is a very nice place and we loved the private tour.
And I will finish this post with a photo of a squirrel I took in the garden.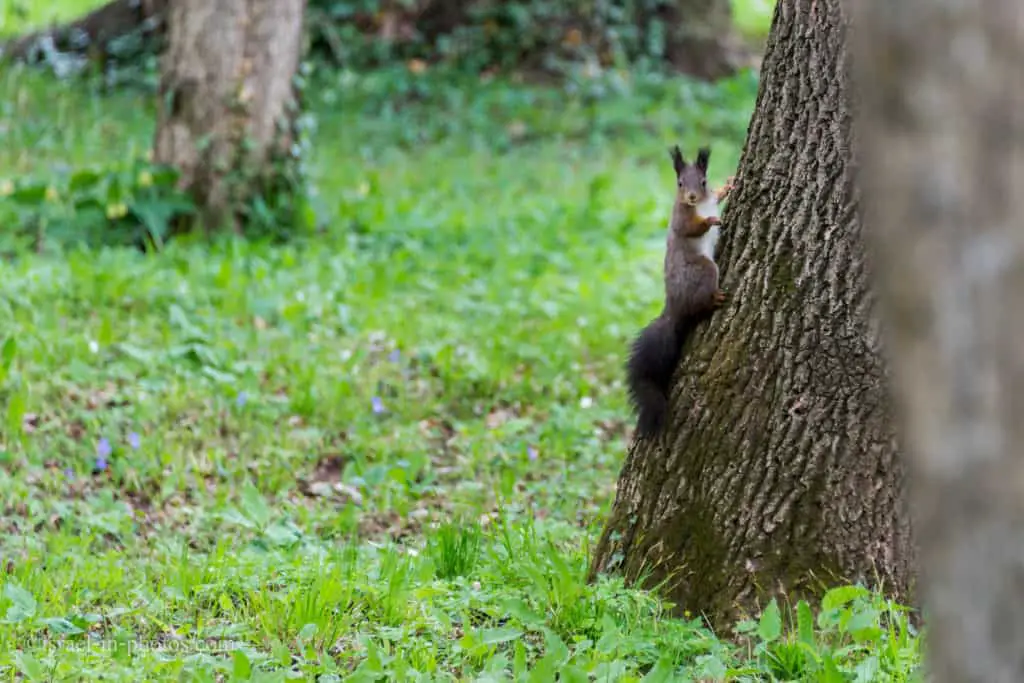 That's all for today and stay tuned to find out where we headed next!
Note: all posts from the trip to Austria can be found at 11 Days in Austria.

Additional Resources
Here are several resources that I created to help travelers:
And if you have any questions then check out Useful Information For Tourists To Israel.

Did not find what you were looking for? Email me at
hi@israel-in-photos.com
, and I will do my best to answer your questions.