Azrieli is probably the most recognizable complex in Tel-Aviv's skyline. It is also one of the first skyscrapers in Tel Aviv. In this post, we will be photographing next to Azrieli and then take an elevator to Azrieli Observatory, highest observatory in the Middle East.
Offers
Get 5% off for your next vacation at Isrotel.
Get 5% off for your next tour at Bein Harim with coupon code 'LEV5#12305'.
Background Information
The construction of Azrieli Center was finished in 1999, and since then it is an integral part of Tel-Aviv's skyline. Before the complex was built, it was used as Tel Aviv's dumpster-truck parking garage.
Azrieli complex is located at Derech Menachem Begin 132, Tel Aviv-Yafo
Map of the area: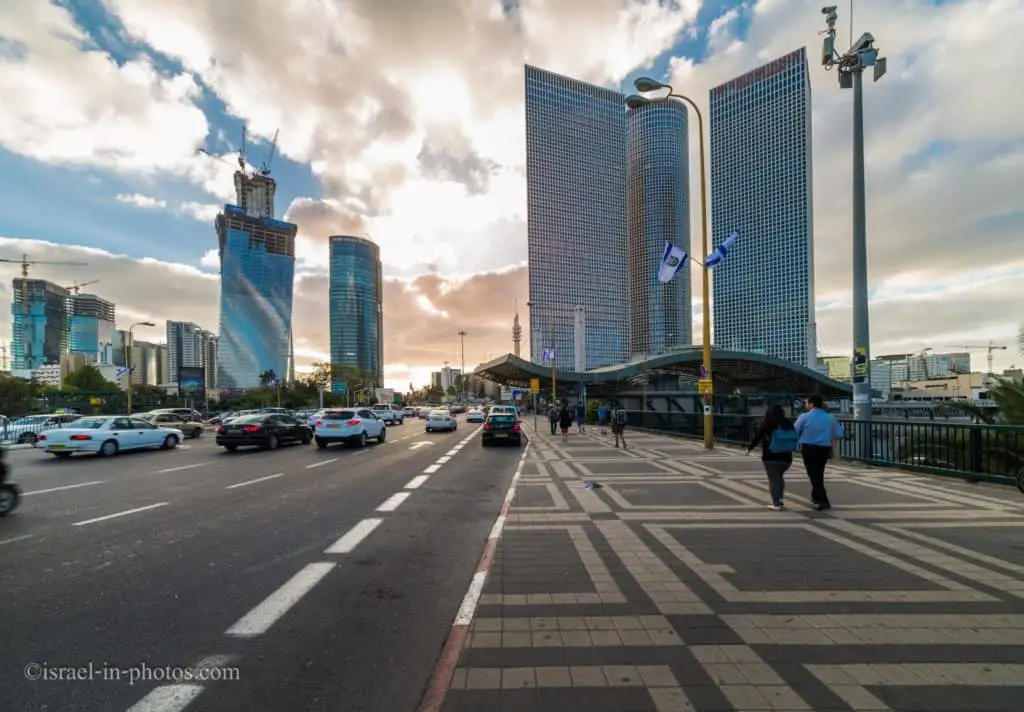 As you can see the Azrieli Center consists of three towers: Circular Tower, Triangular Tower, and Square Tower. The Circular Tower is the highest one (187m), and on the top floor, there is an observatory. Also, on the right side, the building with a wave-shaped roof is the train station. That makes reaching Azrieli by train very convenient.
Circular Tower
The Azrieli Center Circular Tower is the tallest of the three towers, measuring 187 m (614 ft) in height. Construction of this tower began in 1996 and was completed in 1999. The tower has 49 floors, making it at the time of its construction the tallest building in Tel Aviv and the second tallest in Israel, after the Moshe Aviv Tower in Ramat Gan, which was built in 2001. The top floor has an indoor observation deck and a high-end restaurant, and the 48th floor is home to Mr. Azrieli's office.

Each floor of the Circular Tower has 84 windows, giving the tower more than 4,000 windows. The tower's perimeter is 141 meters (463 feet); its diameter is 44 meters (144 feet). Each floor covers 1,520 square metres (16,400 sq ft).

On October 31, 2003, the first annual Azrieli Circular Tower run-up competition was held, in which the participants ran up the 1,144 stairs to the tower's roof.
Triangular Tower
The Azrieli Center Triangular Tower has a height of 169 m (554 ft). Construction of this tower, like the circular tower, began in 1996 and was completed in 1999. It has 46 floors, and its main occupant is Bezeq, Israel's largest telecommunications company. The tower's cross-section is an equilateral triangle.
Square Tower
The Azrieli Center Square Tower was completed in June 2007. The tower has 42 floors and is 154m high. It is the shortest of the three towers in the Azrieli complex. Construction of the third tower was stopped in 1998 due to city planning disagreements and was resumed in 2006.

The lower 13 floors house Africa Israel's Crowne Plaza business hotel. The upper floors are used as office space.
The source for the three tower quotes is Wikipedia.
Currently, most of the space in the towers is dedicated to offices. Besides offices, there is a mall, gym, observatory, and several other attractions.
View of the mall from above: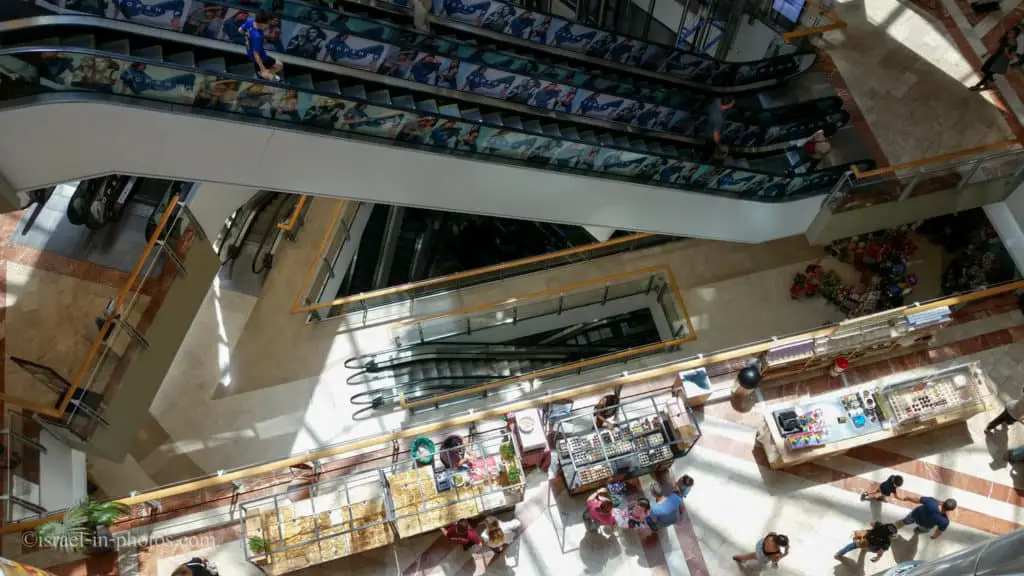 Mall Opening Hours
Sunday – Thursday: 09:30 – 22:00
Friday: 9:30-15:30
Saturday evening: an hour after Shabbat ends until 23:00
Parking
Whenever I am in the area, I usually park there. I always found an empty spot and the fee is around Tel Aviv's average cost.
The first hour or part of it:15 NIS
Second and third hour: every quarter hour – 3 NIS
Fourth and fifth hour: every fifteen minutes – 5 NIS
Full day – 100 NIS
Evening rate from 17:00 to 04:00 (excluding Chol HaMoed): 12 NIS
Holiday eve: 12 NIS
During holiday: 12 NIS
Friday until 17:00 – 12 NIS
Friday from 17:00 to Saturday at 17:00 – 20 NIS
Saturday from 17:00 to Sunday to 12:00 to 12 NIS
Note: opening hours and parking fees were taken from the official site.
Azrieli Exterior During Sunset
As you can see I had several pre-planned ideas, thus I was checking several spots. I was also returning to the same spots as I wanted to create a new photograph for my Day To Night collection.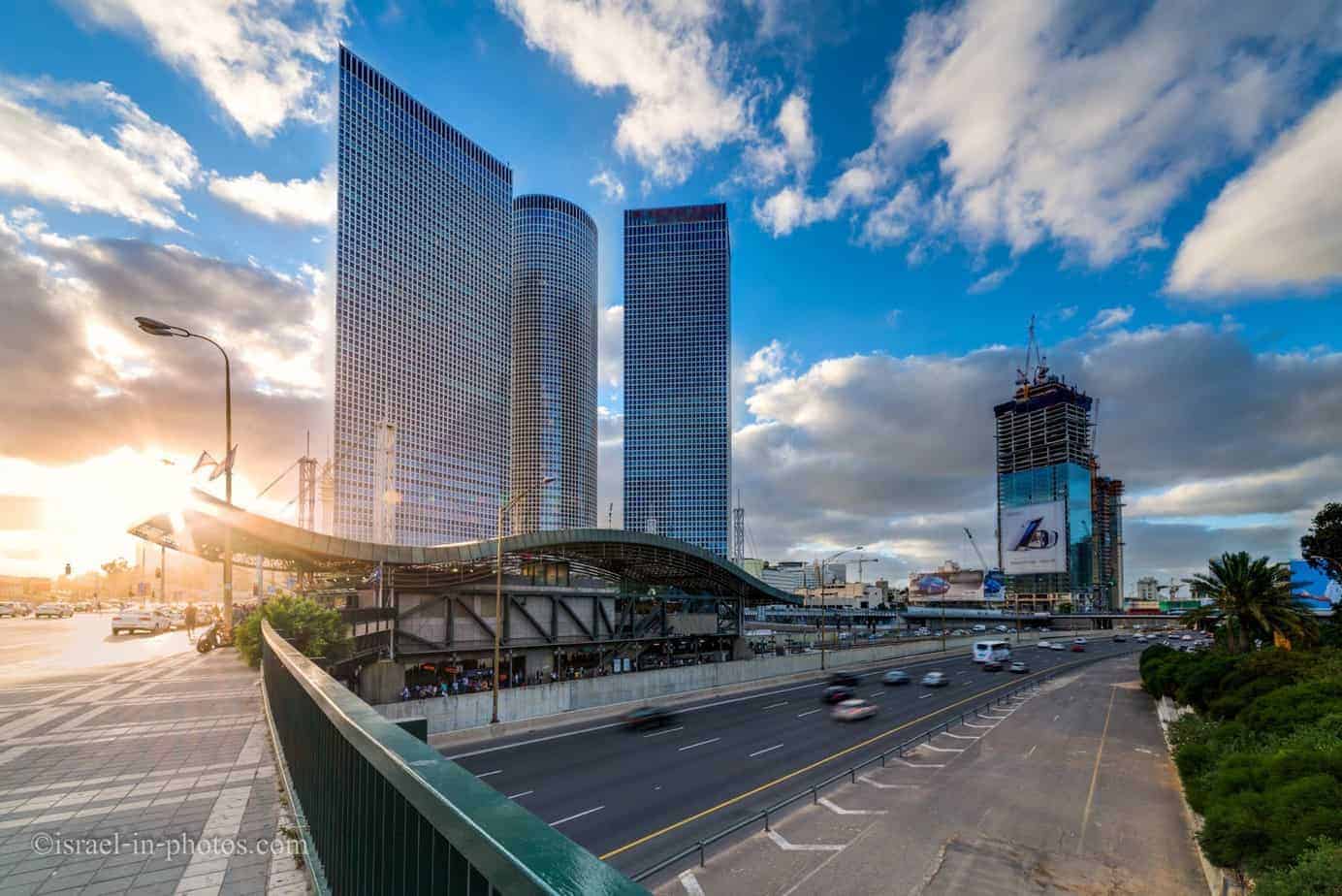 Here I shot straight down and you can see a car on Ayalon highway with a part of the bridge. What do you think about this photo?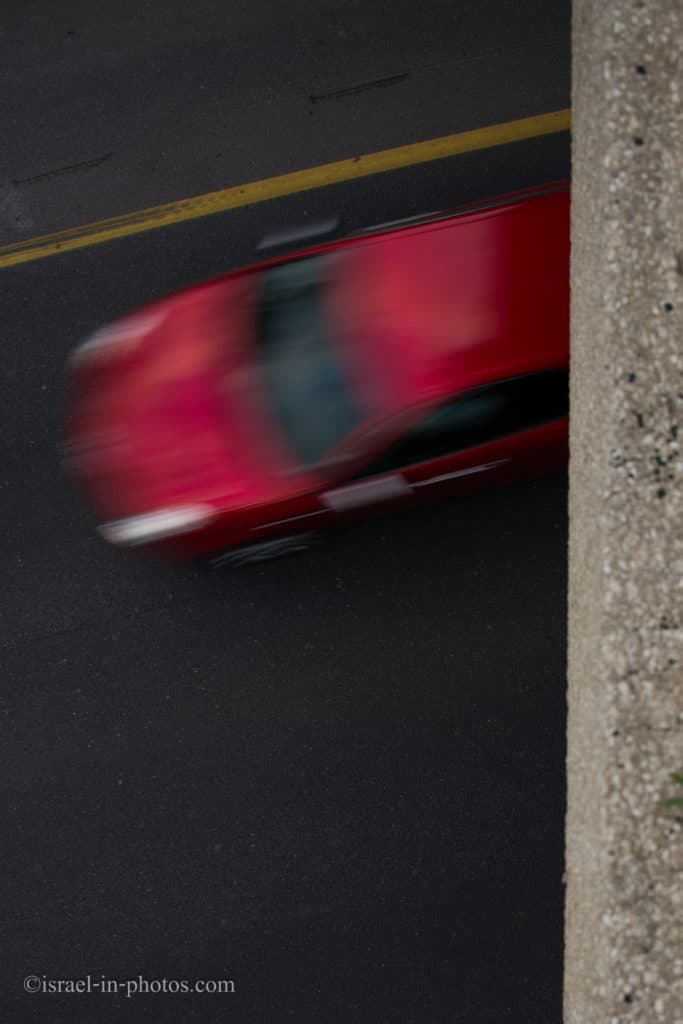 As you can see I was quite lucky and the sunset was colorful.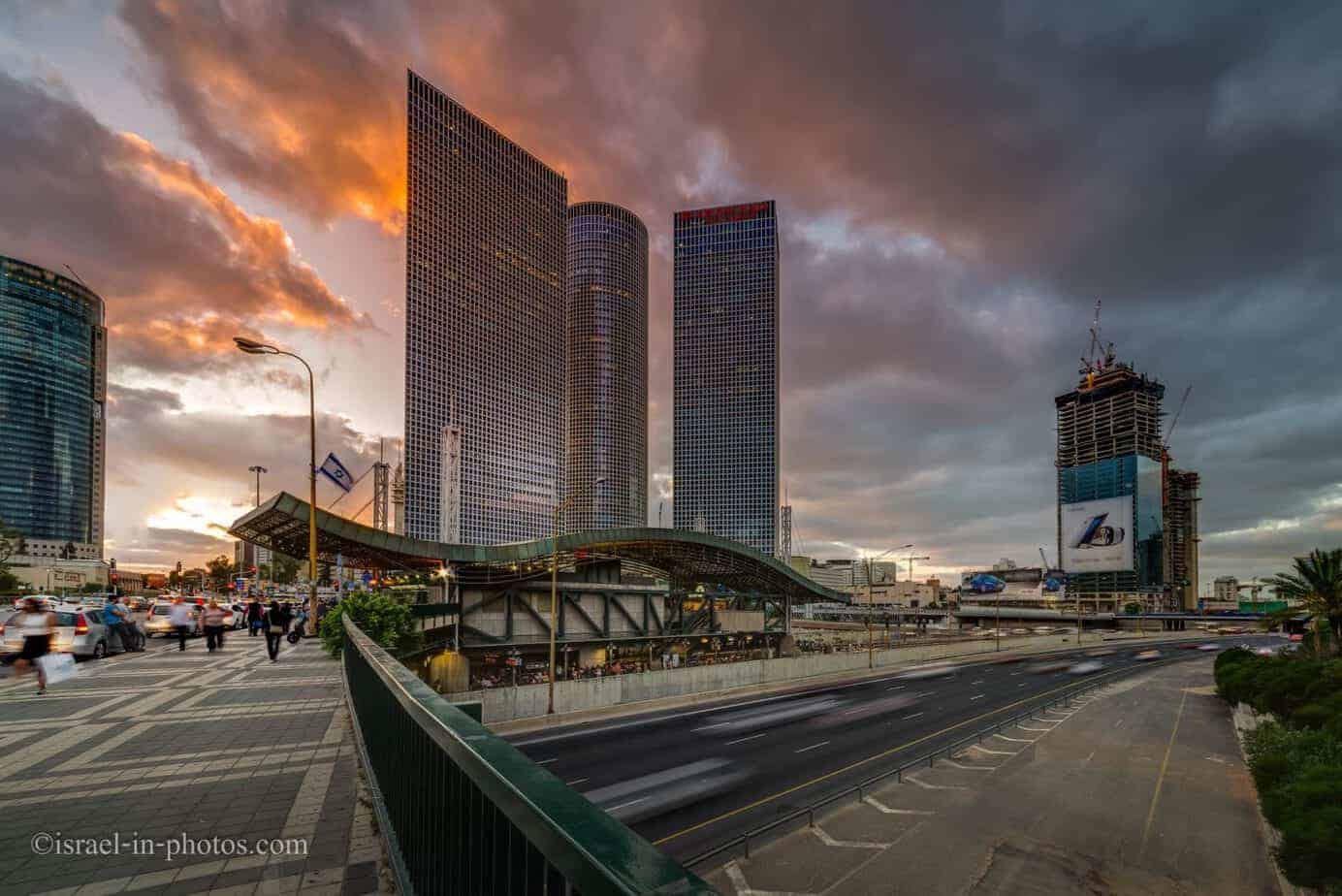 By this time I decided to change the angle. I went across the street so that car trails will create a leading line toward the Azrieli Center. And this is the result: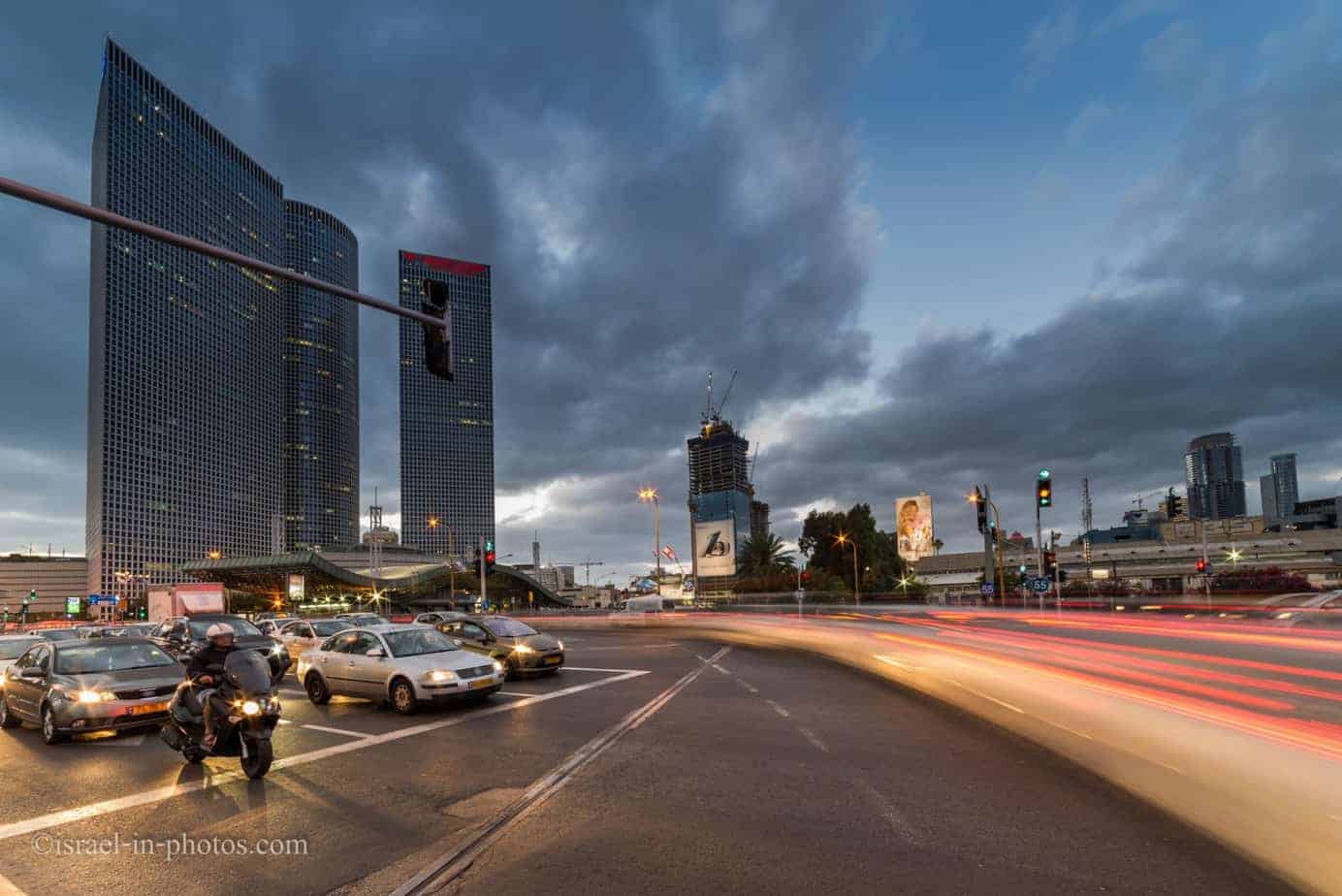 I love shooting in Tel-Aviv. Most people are used to people with cameras and even if you put a tripod, they will go on their way and won't bother you. It is not the situation in smaller cities. I remember once I took my camera (one body + one lens) to Petach Tikva market. Many sellers were shocked and could not understand what I was doing. Try to explain to a seller why are you shooting his pastries.
And these are my latest additions to the Day To Night collection: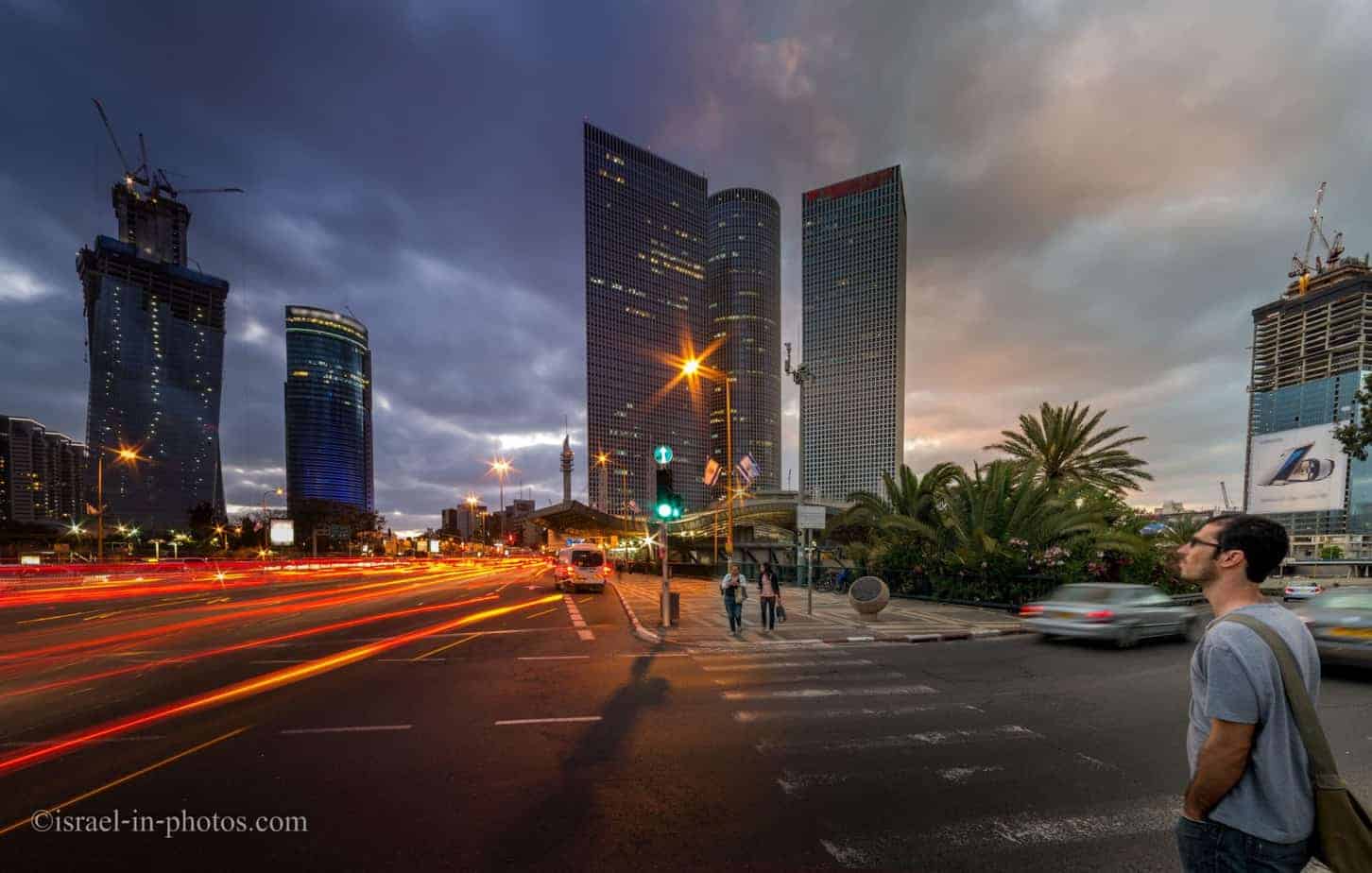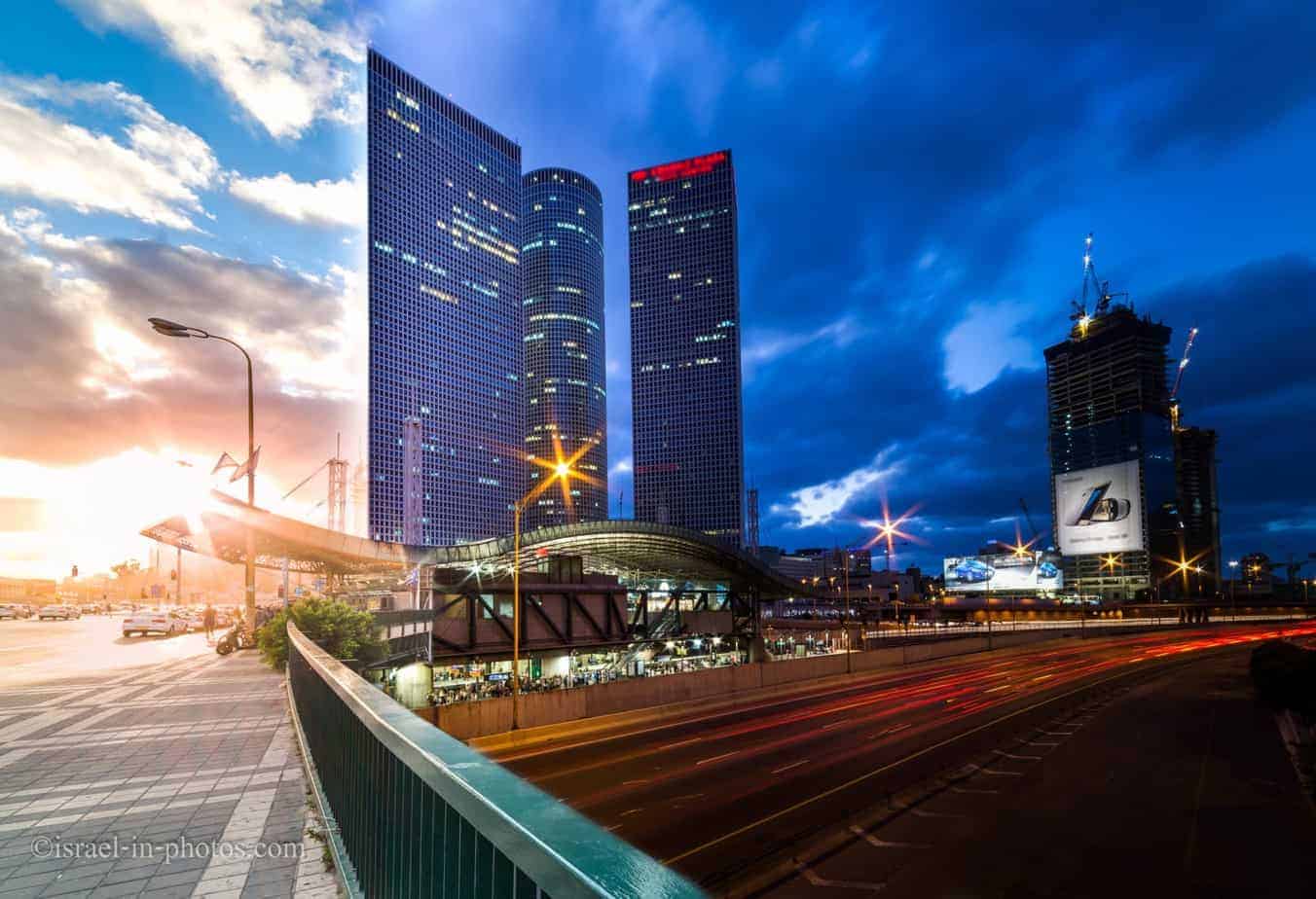 It was getting dark gradually. About 1.5 hours passed from taking the first photo until the last one.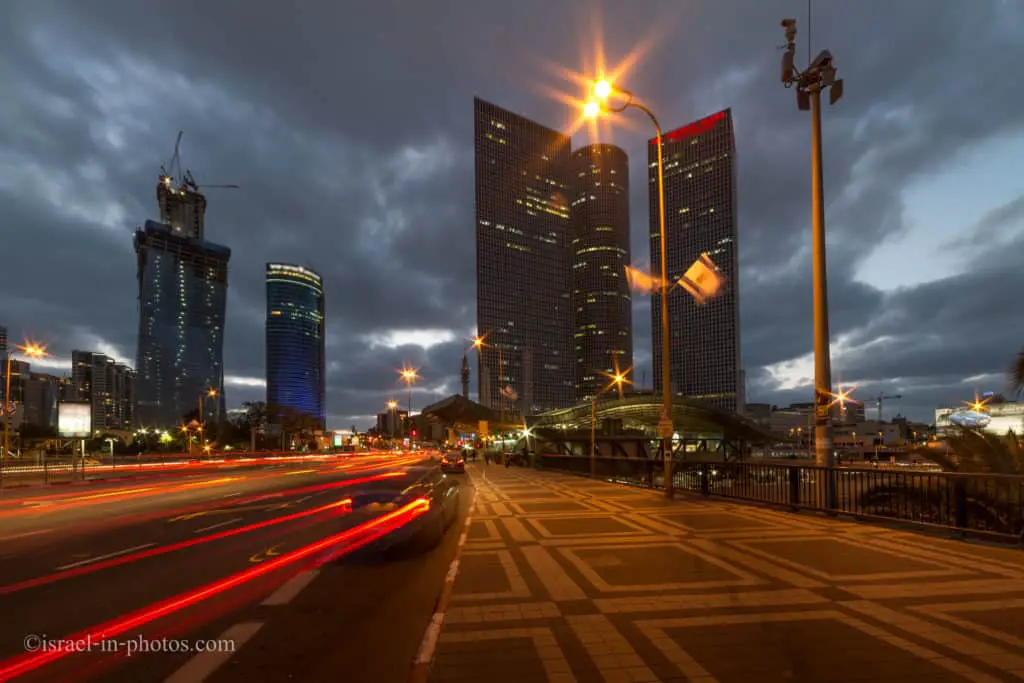 Since I was sick (some virus) and my temperature started to go up, I decided to make this get out shorter than usual, and this is my last photo from that day: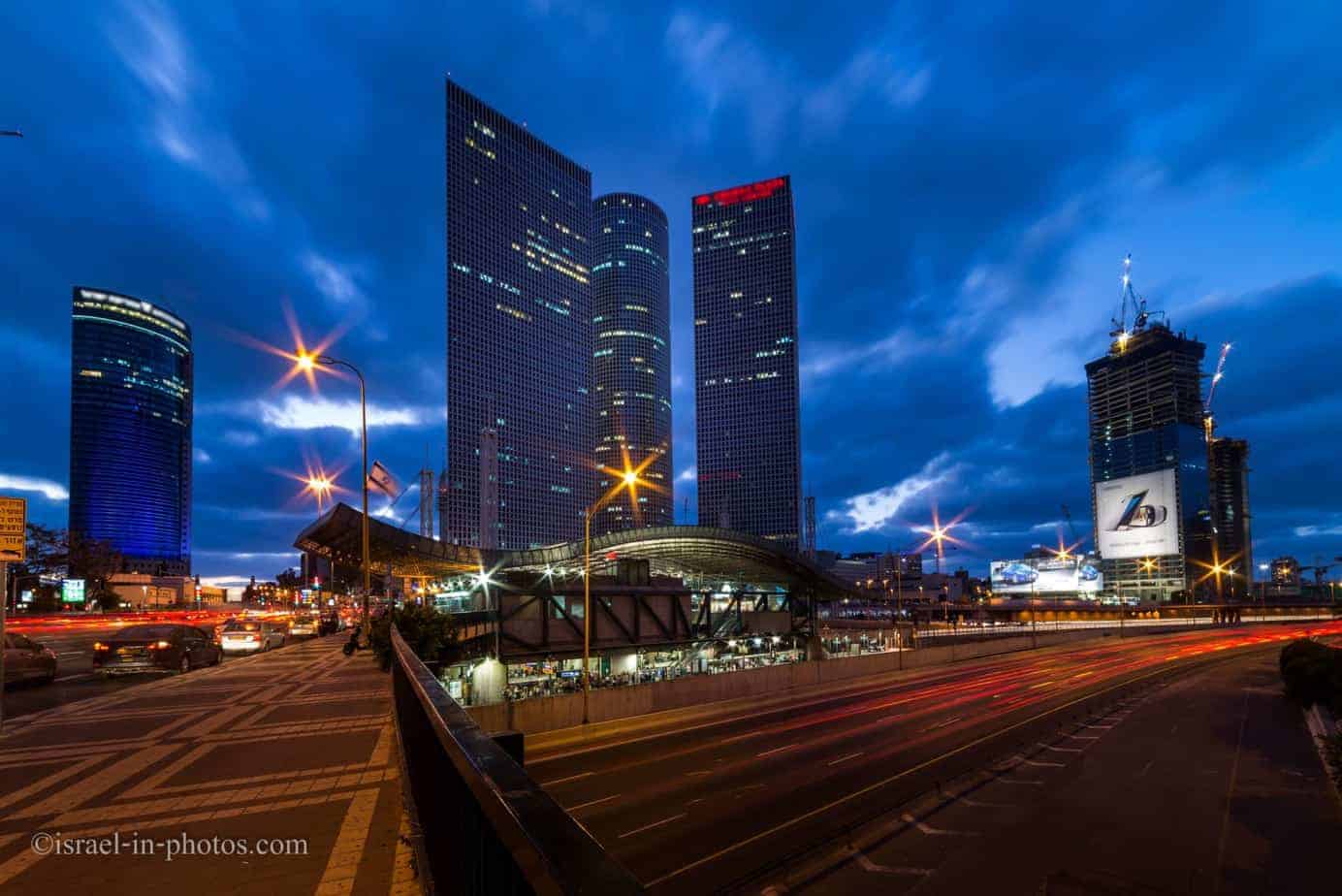 And now we will enter the Azrieli complex, and visit the observatory.
Azrieli Observatory – Highest Observatory In The Middle East
How To Get There
First of all, you have to reach Azrieli Center, which is located at Menahem Begin Road 132 Tel-Aviv. The Azrieli Observatory is located on the 49th floor of Azrieli's Round Tower in Tel-Aviv. The entrance to the observatory is through the mall. You go up to the third floor in the mall, enter the round tower. And after purchasing tickets, you take the elevator to the 49th floor.
Ticket Price
The ticket prices were 22 NIS for adults and 17 NIS for children.
In the past, I saw that they offered coupons. But I have not seen anything lately. Nonetheless, it is worth rechecking before a planned visit.
Opening Hours
Sunday – Thursday: 09:30 – 22:00
Friday: 09:30 – 15:00
Saturday: from one hour after the end of Shabbat till 23:00.
Note: one of the problems with this attraction is lack of clear data. The previous official site mitzpe49.co.il is no longer working (though their Facebook page is still pointing there). The opening hours were taken from new Azrieli site. But the previous official site listed varying opening hours and the fact that they can close this space for a private event. Thus, I would suggest calling them before visiting. The contact phone number is 03-6081990.
On Friday morning I have decided to visit it, and the following photo series is the result.
View of Menachem Begin Tunnel and Begin Rd. towards the south: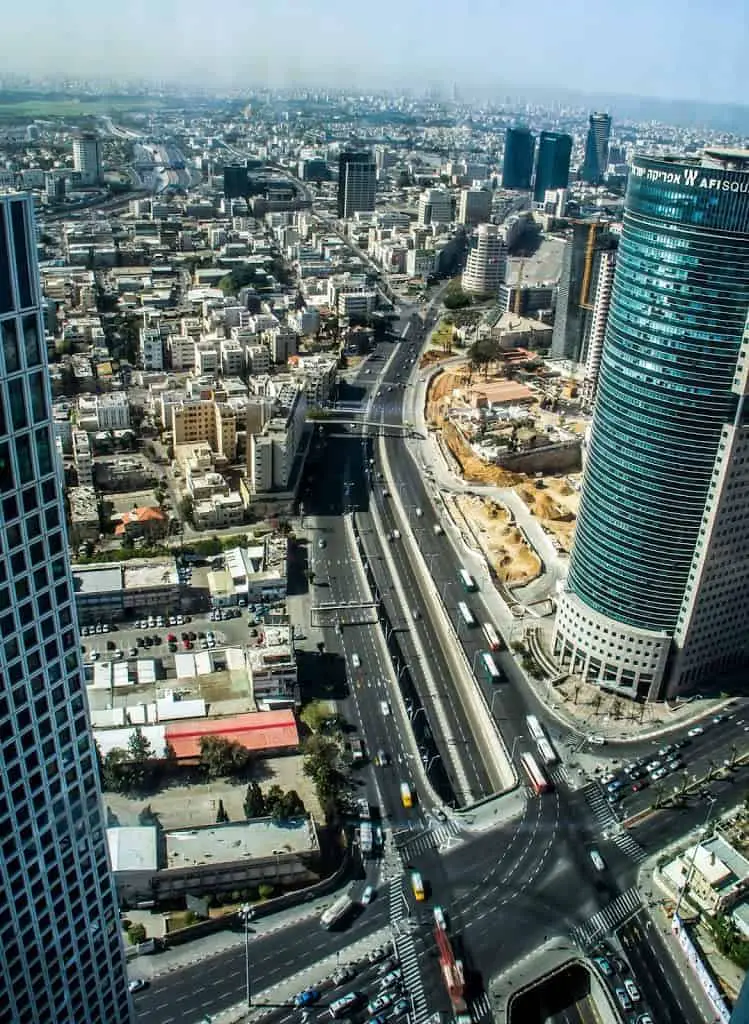 Top down view on Menachem Begin Tunnel: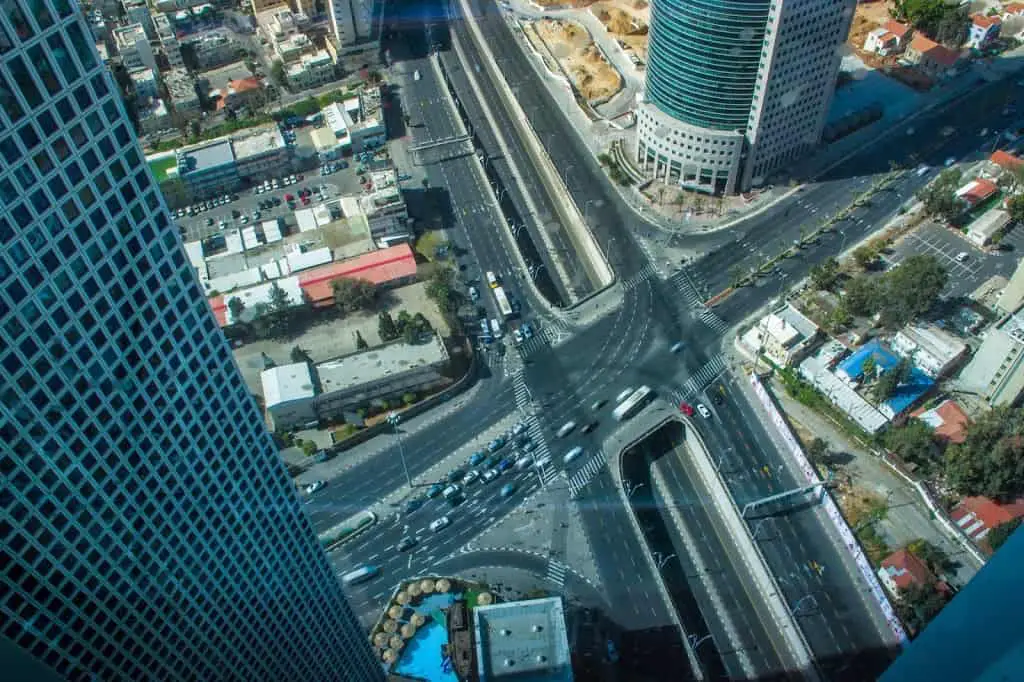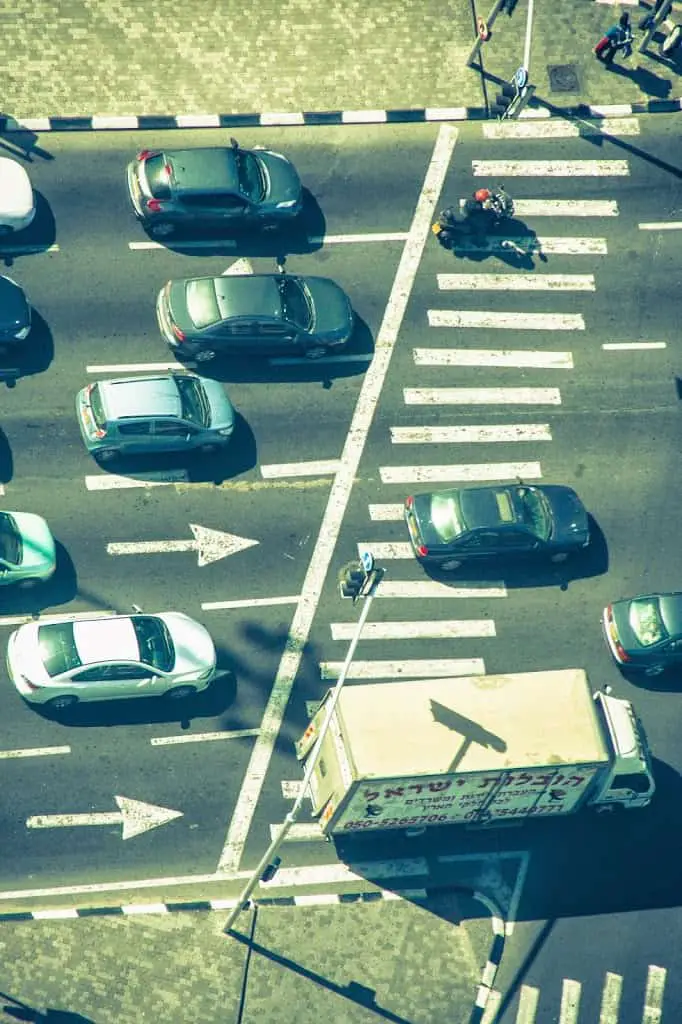 Ayalon Highway (on the right) – north direction: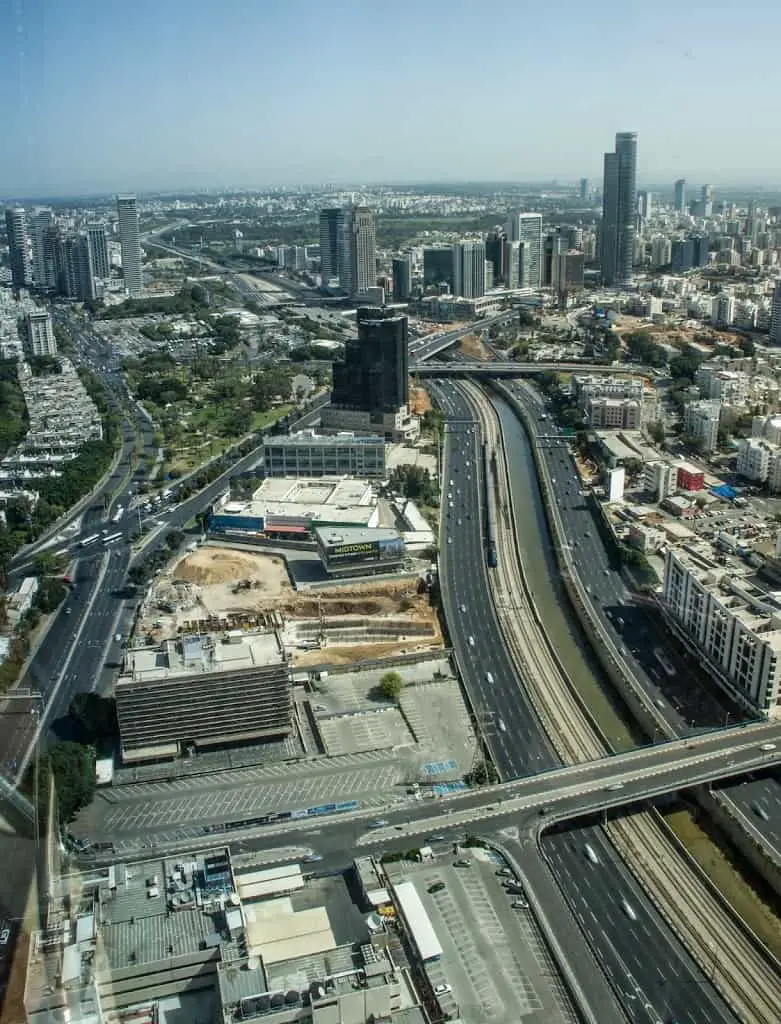 West of TA: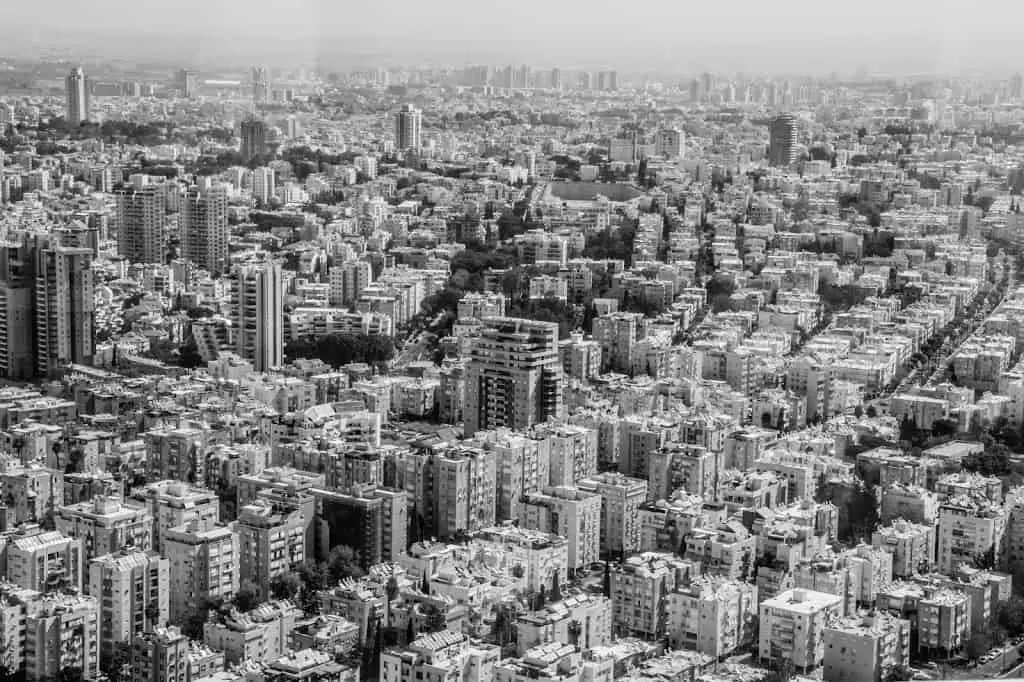 Ayalon Highway – north direction: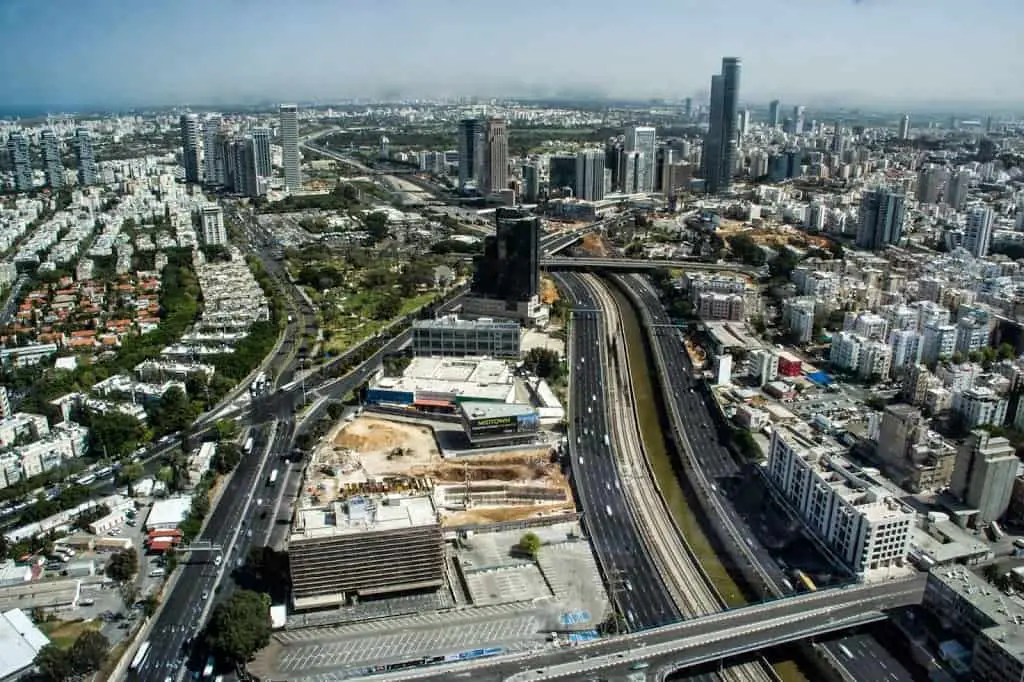 Ayalon Highway further ahead – north direction: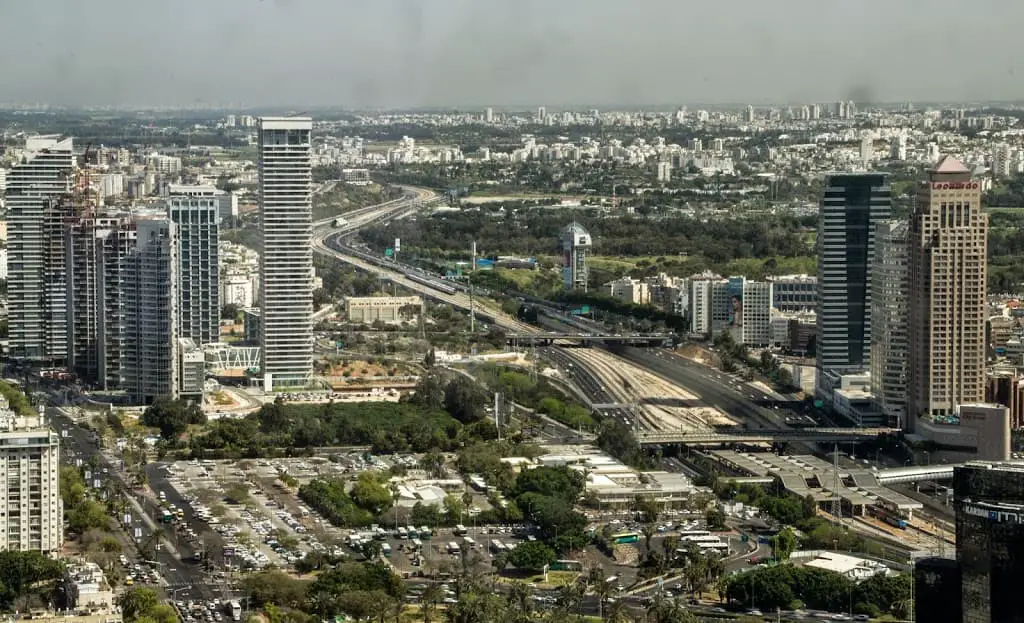 You can see Herzliya in the far end.
Ayalon Highway – south direction:


On the roof of Azrieli, there is an attraction for children, called "Island Park." It is not on the top roof, but rather on the middle one. It is on the third floor of the mall. And this is the top view of its pool. We will visit it later on in this post.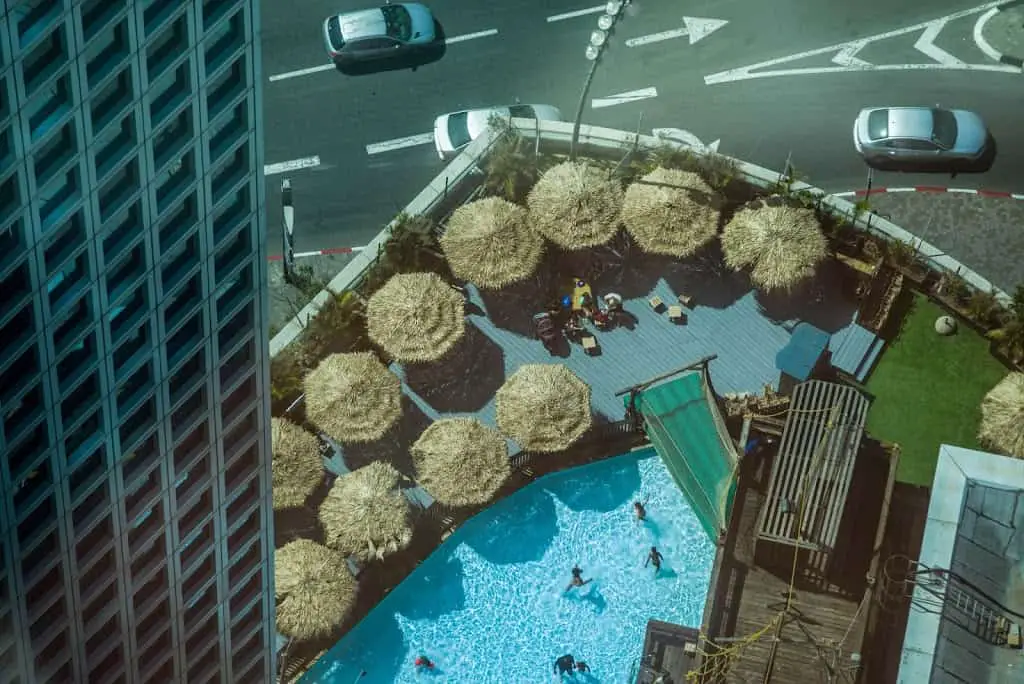 Azrieli Observatory does not give you 360 degrees view. It is about 270 degrees. The missing 90 degrees are the ones pointing east, towards the sea. And it is where the 2C Restaraunt located (see further info below). From the observation deck you can see the sea, but not very well.
Azrieli Observatory – Summary & Tips
After visiting the Azrieli Observatory, I was left with mixed feelings. I will divide my review into two parts. If you are not coming there to photograph, then you will probably be out of there in half an hour max. There are no presentations, no movies, almost no explanations, just the view. Moreover, the uncertainty about opening hours and the need to call them does not add to the fun.
Thus, I would not consider it as a family attraction. Many people will think that driving there, finding paid parking, purchasing tickets for a 15-minute attraction that offers nice views, is not worth it. And I thought the same. Thus I visited alone, and the purpose was photography.
For Photographers
If you are coming there to photograph then you should keep in mind two things:
1. The windows are not always clean. And I would not recommend going there after first winter rains that have a lot of sand.
2. Windows are highly reflective, and the general rule is keeping the camera closer to the window. It will decrease the number of reflections in the shot. And an even better solution is some black sleeve (rubber, paper, plastic or wrapping your coat) around the lens. It will keep the number of reflections to a minimum.
If I had to sum up, though the entrance price is not high, there is not much to do there. Unless you are a photographer, then you can photograph, create time-lapse movies and easily spend several hours.
Therefore the bottom line whether should you visit is "it depends." If you are looking for nice viewpoints of Tel Aviv then check out the viewpoint in Jaffa or the Science Walkway next to Tel Aviv University. And if you are looking for attractions near the Azrieli complex, then browse the map at the top of this post.
2C Restaraunt
Another option to see the views without paying for tickets to Azrieli Observatory is visiting 2C Restaraunt that is also located at the top of the circular tower. But, the restaurant is not cheap, and online reviews are not too positive. Thus, I preferred visiting the observatory.
Island Park
Island Park (official site) is located on the roof of the mall. It offers attractions for kids, mainly aimed at preschoolers and elementary school children. There is a small pool. The depth of the pool is around 40 cm, so you cannot swim there. It is a splashing pool.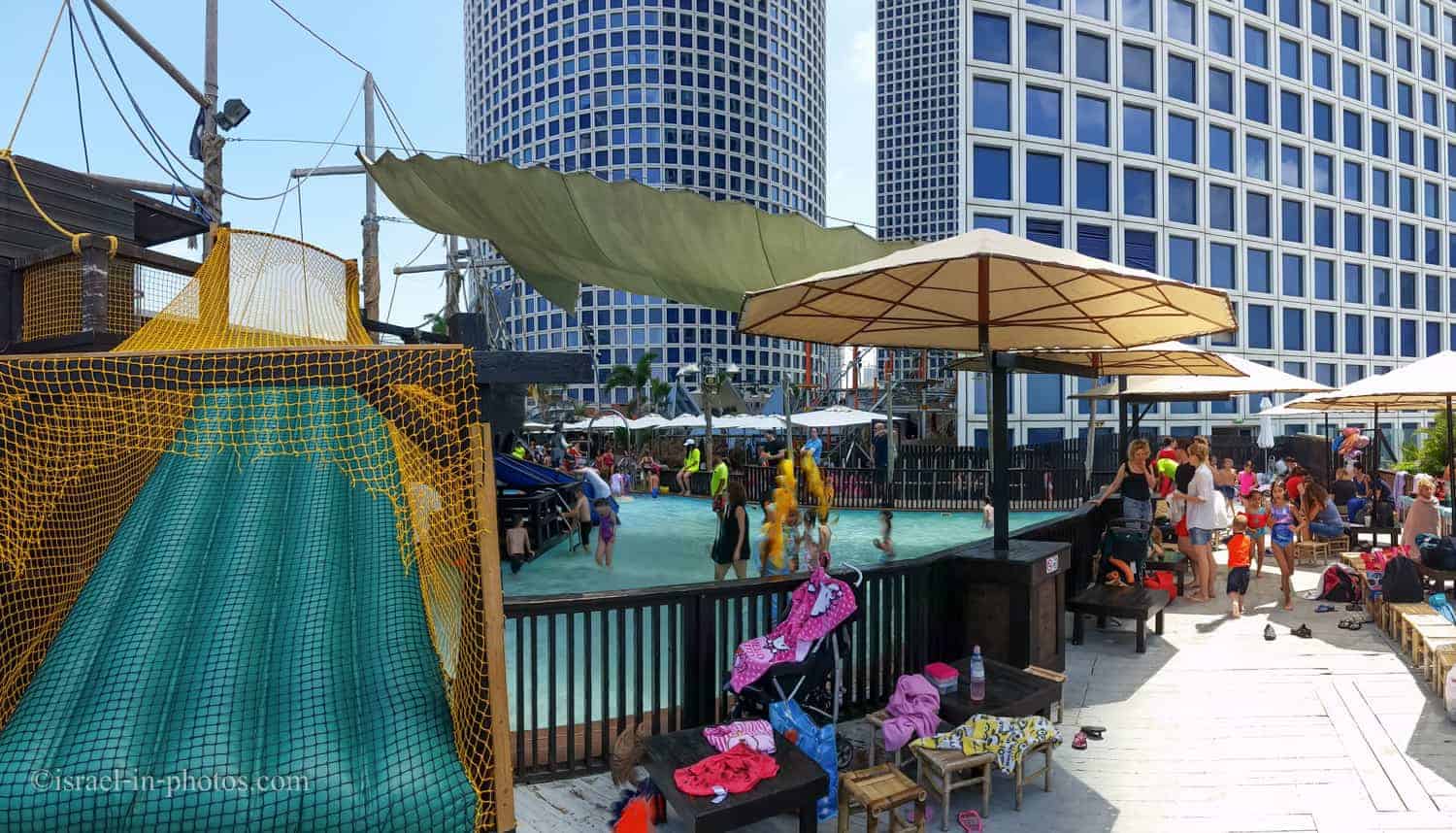 One of the attractions for smaller kids is this small train.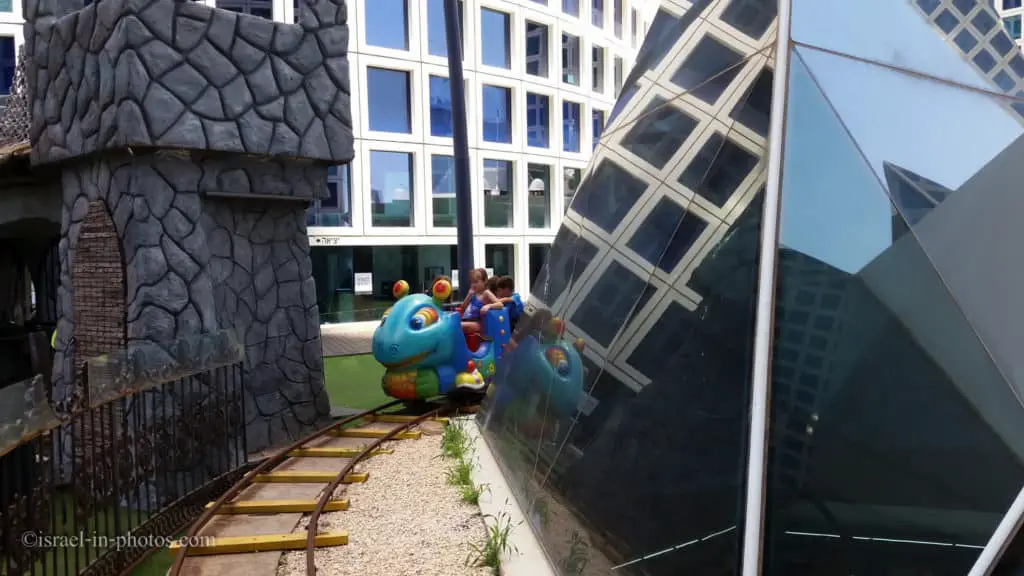 Motorcycles: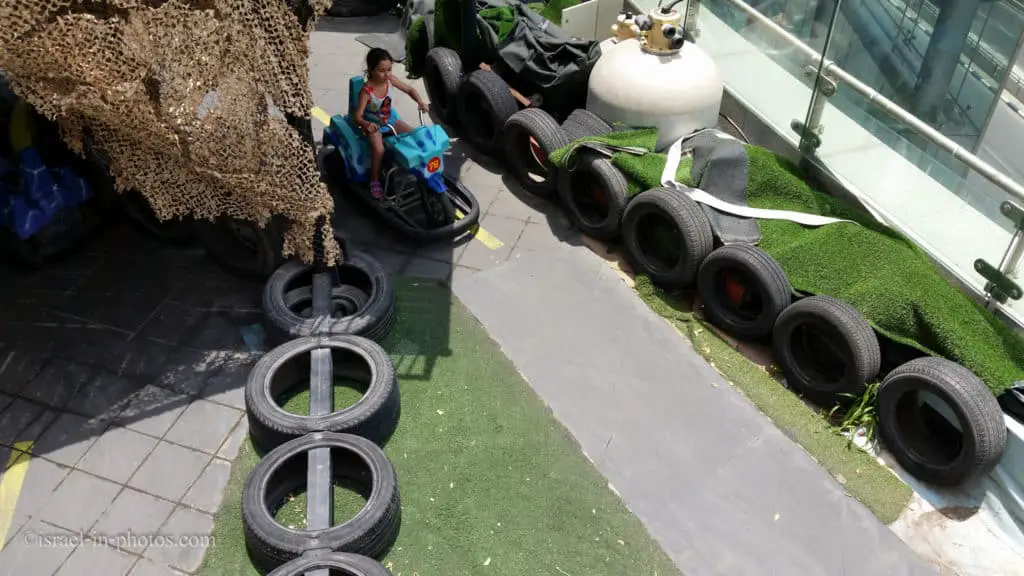 Ropes climbing for older kids in the top and army boot camp in the bottom, that can be done by younger kids as well.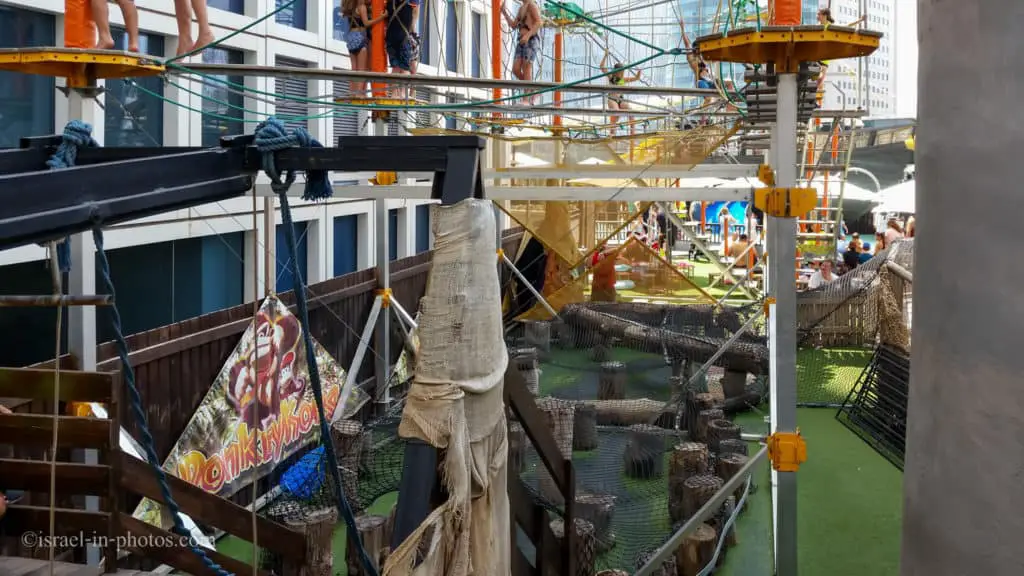 Overall, Island Park offers different attractions, and if you have kids at the suitable age, then you can enjoy a half day there. Also, one note regarding tickets. Full price tickets are not cheap. Different credit card companies offer discounted tickets with up to 50% off.
Have you ever been to Azrieli? Tell us about your experience in the comments below.
That's all for today, and I'll see you in future travels!
Stay Tuned!
For additional points of interest nearby see Tel Aviv-Yafo page. 
 
Additional Resources
Here are several resources that I created to help travelers:
And if you have any questions then check out Useful Information For Tourists To Israel.
 
Did not find what you were looking for? Email me at
hi@israel-in-photos.com
, and I will do my best to answer your questions.