Turtle Bridge at Alexander River is named after the softshell turtles living nearby. And besides seeing them, you can hike along the river.
Map
Turtle Bridge goes over Alexander River near Kfar Vitkin. The easiest way to get there is by entering the "turtle bridge" into Waze.
Directions for drivers: Link to Waze and Link to Google Maps
Directions for public transport: Link to Moovit
Interactive map of the area:
Offers:
Hotels, hostels, and apartments in this area:
Entrance Fee
Free.
Parking
There is a free dirt parking lot near the bridge. But since it is a popular place, the parking lot gets filled quickly on Saturdays and holidays. Therefore, I would suggest arriving early.
Opening Hours
You can visit this place anytime. But if your main goal is to see the turtles or hike one of the trails, you should do it during daylight. Moreover, there is a higher chance of seeing the turtles outside of the water early in the morning.
Tracks
Turtle Bridge can be a lovely place for a short family visit (usually about one hour). You can stay longer by having a picnic or taking a track. Let's go over the most popular trails.
Here is an interactive map from israelhiking.osm.org.il, where the trails are marked:
And here are the details of the most popular trails:
| | | | | | | |
| --- | --- | --- | --- | --- | --- | --- |
| # | Name | Color of the Trail on the Map above | Description | Distance (km) | Total climb and descent (meters) | Notes |
| 1 | Towards road #4 | Red | You can leave the second car at the marked spot or Beit Yanai Beach parking. | 3.3 | 4 | This is not a circular trail. But you can stop at any point and return to the turtle bridge. |
| 2 | Hirbat Samara | Blue | Follow the Israel national trail to Hirbat Samara. | 2 | 20 | If you do not have another car by Hirbat Samara, you can return using the same path. |
| 3 | Beit Yanai Beach | Green | This is an extended version of the previous path. From Hirbat Samara, continue to Beit Yanai Beach. | 3.7 | 40 | You can leave the second car at the marked spot or at Beit Yanai Beach parking. |
Note: currently, as part of expanding road #2, a new bridge is being constructed above Alexander Stream. Thus path #3 may be closed or modified.
All the mentioned trails are bidirectional. Thus you can also make the turtle bridge the ending point. But plan to be at the turtle bridge either in the morning or afternoon (in other words, when it is not too hot). This will increase your chances of seeing the turtles outside the water.
Observation Tower
We will start our visit by climbing the observation tower. You can get a 360-degree view of the surrounding area from the top.
You cannot see the turtle bridge in the following photo since it is behind the right line of trees. But you can see Alexander River. And if you look closely, then on the horizon, you will see the Hedera power station in the center of the photo.
In the photo above, you can see a playground for kids. Here is a closer view: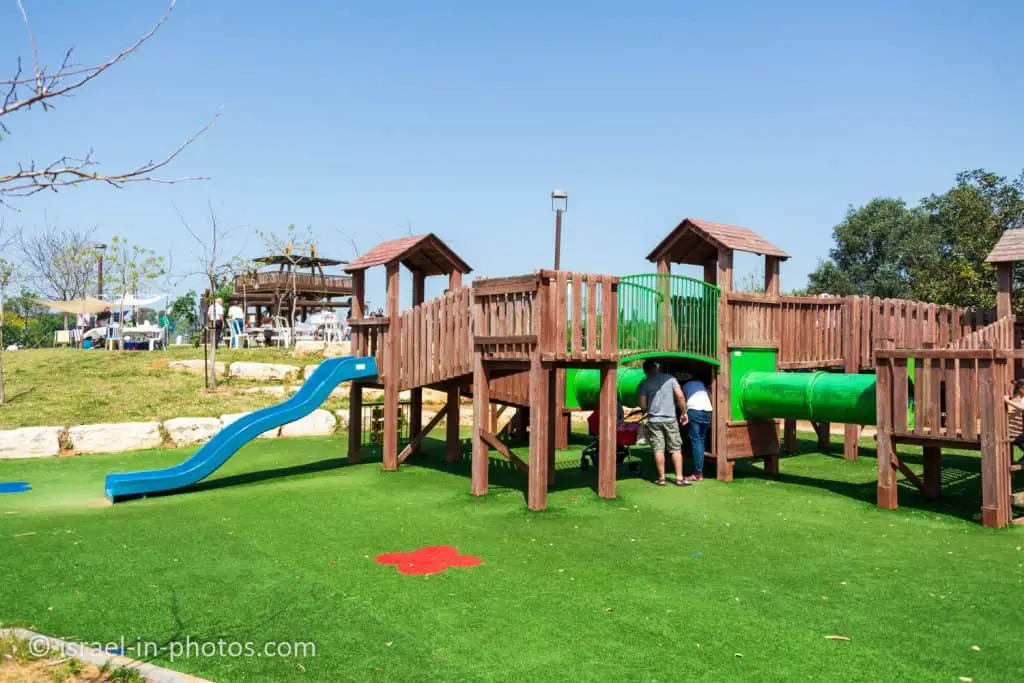 Picnic and Barbeque
As you can see from the photos from the top of the observation tower, Turtle Bridge is popular. Moreover, many people had picnics and barbeques. And that is because our most recent visit was during the Israeli Independence Day of 2021.
But with that being said, take a look at the following sign. You should take all your garbage with you. Also, fishing and entering the water are prohibited.
Turtle Bridge
And now, let's get closer to water. In the following photo, you can see the turtle bridge.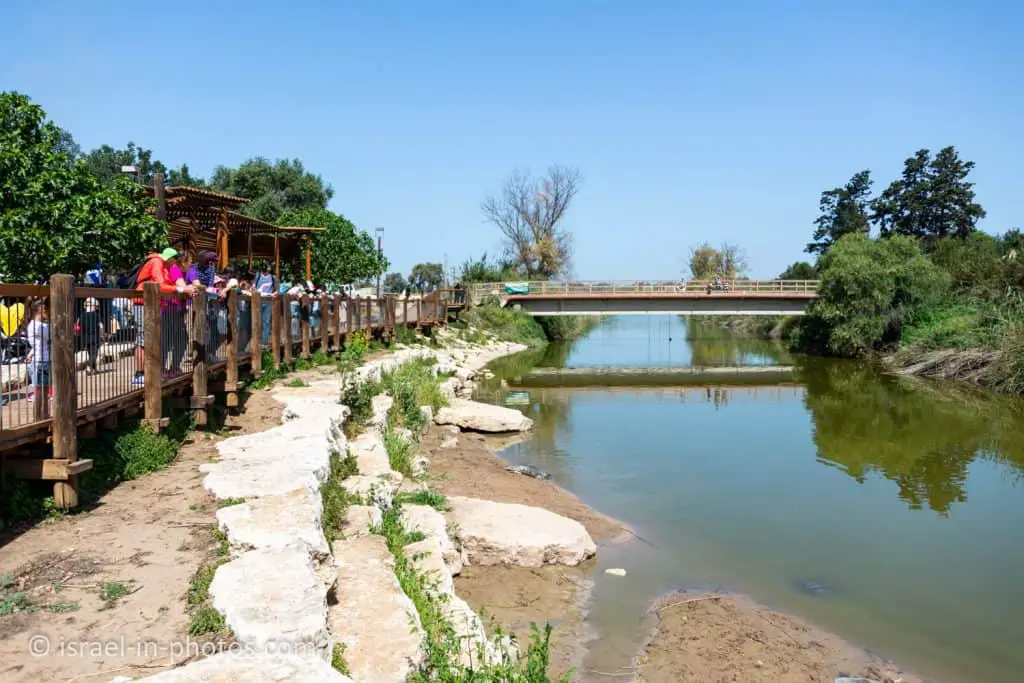 As mentioned above, this bridge got its name after Nile softshell turtles. Many species lived in this region, but only the turtles survived the industrial pollution in the previous century. And even today, you can see only a handful of birds and a small group of turtles.
I visited the Turtle Bridge many times. In previous years, there was no fence, and you could get very close to the turtles. The barrier was probably built because people kept feeding the turtles.
Nile Softshell Turtles
Nile softshell turtle is also called the African softshell turtle (Trionyx triunguis). And it is a freshwater species of turtles.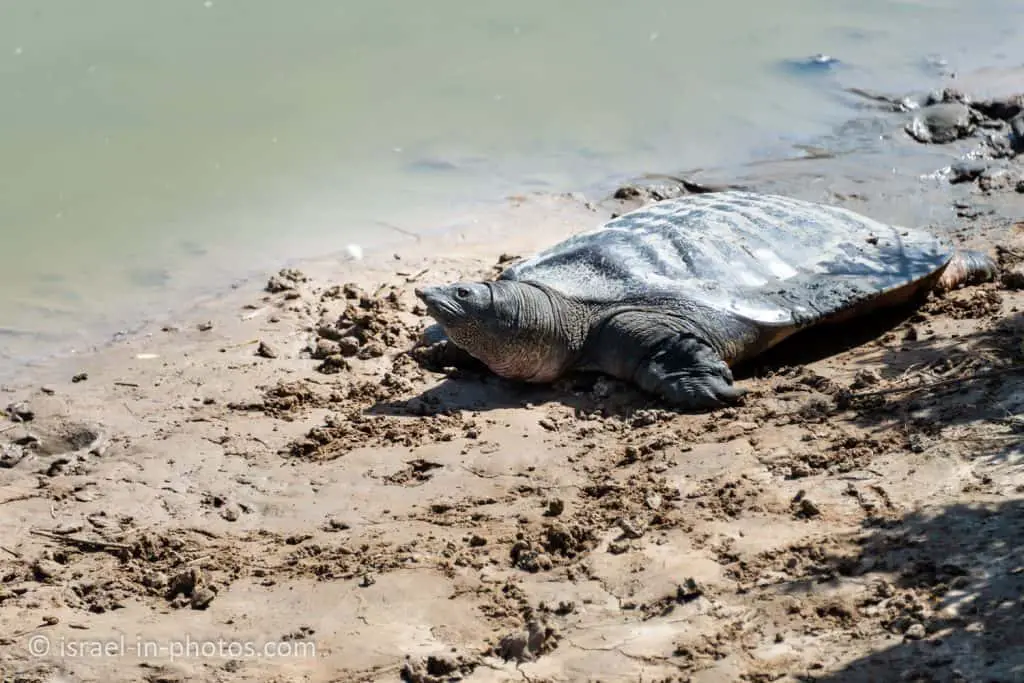 Tip: if you want to see the turtles on the beach, you should arrive early (depending on the season, but usually up to 10:00). As it gets warmer, they will get into the water.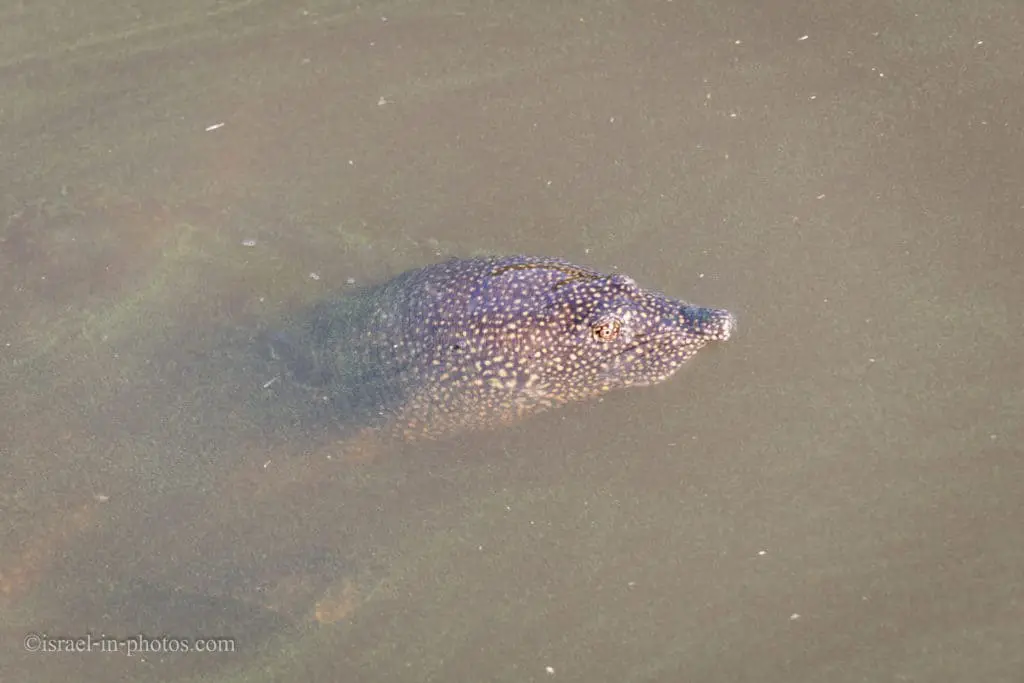 They might look small when swimming, but they are pretty big. Softshell turtles can reach one meter in length and weigh up to 50 kg. The origins of the softshell turtles are in the sweet water lakes of East Africa. It is a carnivore that feeds on worms, fishes, and other small water animals.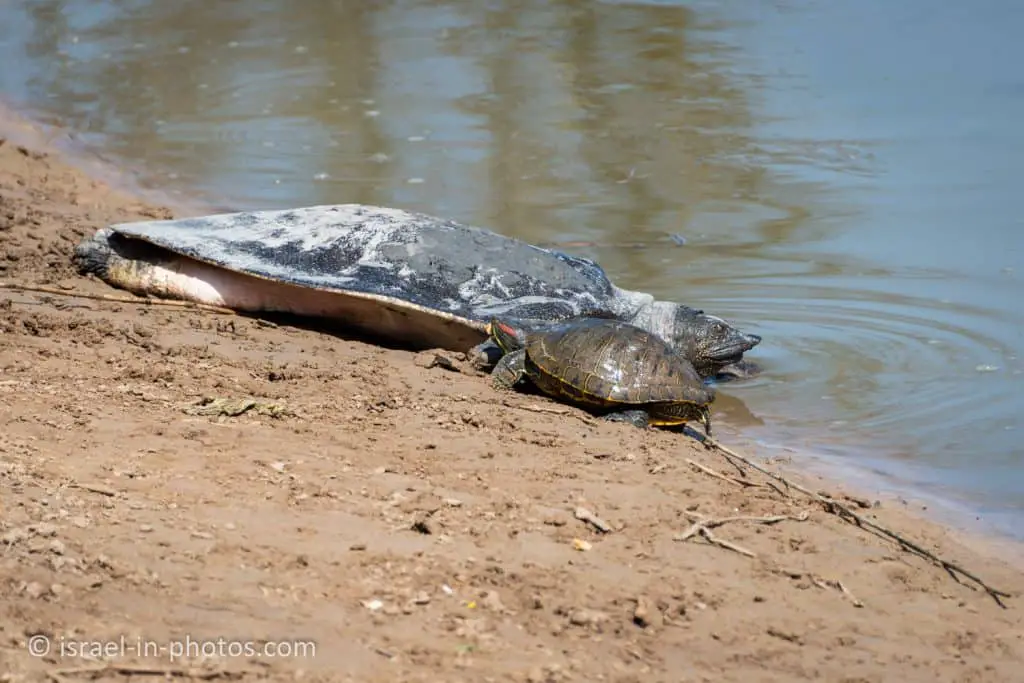 The flat body of a Nile softshell turtle is perfectly suited to life in streams, while membranes on its limbs make it an excellent swimmer. It is well camouflaged in murky water and on muddy streambeds, and its long, flexible neck allows it to peek out of the water and survey its surroundings. Like many species of reptiles, the Nile softshell enjoys sunning itself. Its sharp claws allow it to climb vegetation and smooth rocks on streambanks. It feeds on insects, mollusks, and amphibians as well as on various plants and nuts.

The Nile softshell turtle (Trionyx triunguis) that lives in Israel's streams is a member of an ancient family called Trionychidae. This family once included hundreds of species that thrived throughout the world, but there are now only 13 genera and 22 species left. Most of them live in Africa, Asia, and the Middle East, and some on the American continent. The most common species in Israel is considered the largest in Africa (its shell can be as much as 90 cm long) and it can live for decades.

The Nile softshell turtle was first described for science in 1775, when it was found in the Nile River, giving it its popular name Scientists were surprised to discover only a few decades ago, in the 1970s, how broad its distribution actually is – from the Sahara Desert and southward, in river estuaries in West Africa as well as in Kenya, Somalia and elsewhere. The Nile softshell reached Israel via the Nile Delta, into the Mediterranean Sea, and from there to various streams. It arrived in Lebanon, Syria, and Turkey in the same way.

Scientific surveys have revealed that the population of Nile softshell turtles in the Alexander Stream in Israel is one of the three major populations of this species in the Mediterranean basin (the two others are in the rivers of southwestern Turkey). Still, no one has been able to precisely estimate the number of adult Nile softshells in the Mediterranean basin. Past surveys have calculated their number at about 500 or less.
Source: unless stated otherwise, all quotes were taken from the Israel Nature and Parks Authority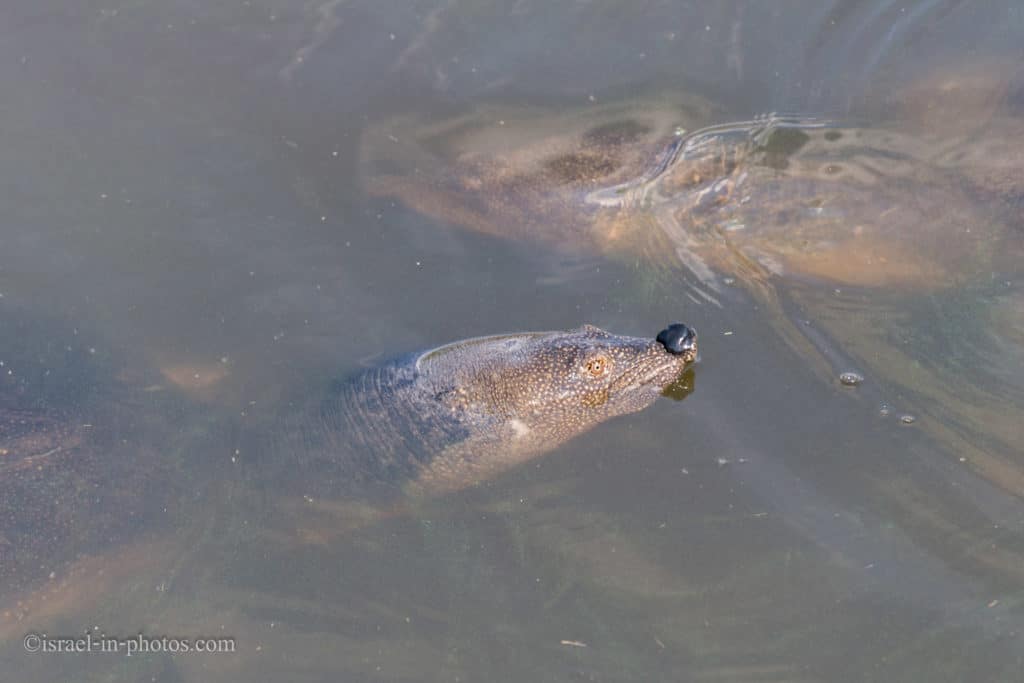 Various nature conservation organizations and international conventions define the Nile softshell turtle population in Mediterranean countries (Egypt, Israel, Lebanon, Syria, and Turkey) as a subspecies in need of special care. In 1996, the International Union for the Conservation of Nature declared the Nile softshell population critically endangered. In a survey carried out in Egypt, Syria, and Lebanon, no living individuals were found, but rather only remnants of shells in the hands of local fishermen.

It is no secret that as the green sea turtle, the Nile softshell turtle is in real danger, whether directly threatened by hunting or fishing or indirectly, by development, ongoing pollution, drying up of moist habitats, and other factors.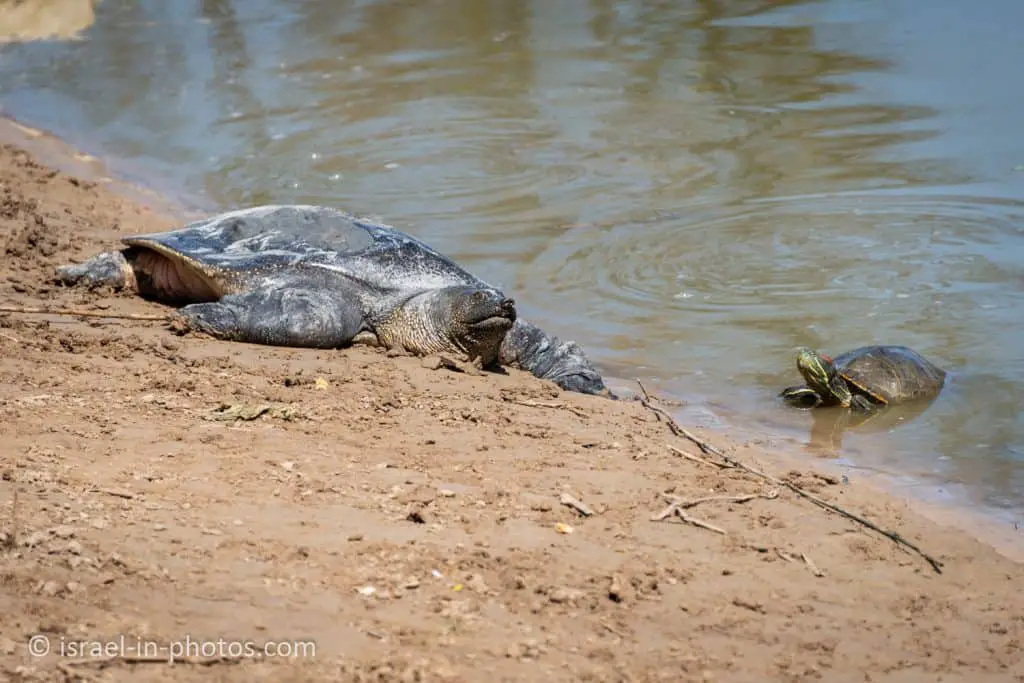 In the not-too-distant past, Nile softshell turtles were abundant in this country. In fact, until the beginning of the twentieth century, they could be found in most coastal streams. After Israel was established, researchers still reported hundreds of adult Nile softshell turtles and a few thousand young ones. But as noted, habitat change, restriction, and fragmentation over the past few decades as well as other environmental problems like pollution and various human activities, have led to a considerable decline in their population.

Today the largest populations are found in the Hula Nature Reserve and Alexander Stream National Park, and with an estimated few dozen individuals in each of those habitats. The western part of the Alexander Stream is considered the main nesting site in Israel for Nile softshell turtles; dozens of nests can be seen there in the breeding season.
As you go over the bridge, you will see a coffee shop. And here are also where the trails begin. The following photo shows the Israel National trail marking (on the tree to the left). If you follow it, it will lead you to Hirbat Samara and Beit Yanai Beach.
Summary
Turtle Bridge at Alexander River is a lovely place. You can make a short visit to see and show your kids the softshell turtles. Moreover, you can make a picnic there or start hiking. But since it is a popular place on weekends, I recommend arriving early.
Have you ever visited the Turtle Bridge? Tell us about your experience in the comments below.
That's all for today, and I'll see you in future travels!
Stay Tuned!
Additional Resources
Here are several resources that I created to help travelers:
And if you have any questions then check out
Useful Information For Tourists To Israel
.  
Did not find what you were looking for? Leave a comment below, and I will do my best to answer your questions.