Gan Garoo is an Australian Park. It is a thematic zoo in Nir David at Beit Shean Valley in northern Israel. And today we are going to visit it. Let's begin!
Map
Gan Garoo is located in Nir David, close to Gan Hashlosha (Sachne) and Beit Shean National Park.

There is free parking next to the entrance to the park.
Opening Hours
Sunday – Thursday: 9:00 – 16:00.
Fridays: 9:00 – 15:00.
Saturday 9:00 – 17:00.
During July and August, the park is open at:
Sunday – Thursday and Saturday: 9:00 -20:00
Friday : 9:00-15:00
Ticket Prices
Gan-Garoo and Gan Goo-Yura – Dinosaur Maze unique in the same facility and the ticket price includes entrance to both of them.
59 NIS – ticket price per person two years and above
41 NIS – ticket price per person for guests of Nir David Country Lodge
44 NIS – ticket price per person for residents of Beit Shean and Emek Hamaayanot.
47 NIS – ticket price per person for senior citizens, soldiers and handicap.
Note: opening hours and ticket prices were updated on January 2019. In any case, recheck the official site before visiting.
Coupons And Discounts
First of all, if you will be visiting Gan Hashlosha (Sachne), then there is a discount. Just ask at the ticket office. Here is what Gan Hashlosha site says:
Guests of Gan Hashlosha are entitled to a 25% discount at the entrance to the Australian Zoo and a green car park at the Spring Park, with admission to Gan Hashlosha (a similar discount will be given at the entrance to Gan Hashlosha with a presentation of these sites). The discount will be granted for visits that take place on the same day only.
Moreover, many credit card companies offer discounted tickets, and you can even find two tickets for 59 NIS. Check out the official website of your credit card's firm.
And lastly, occasionally, various sites offer coupons to Gan Garoo. For example, I have seen coupons on Groo, baligam.co.il, and HTZone. Thus, if you come prepared, you can save up to 50%.
About The Park
One of a kind in Israel and in fact unique worldwide.
Only here, or in far-off Australia, can you enjoy the unique and exciting experience of walking amid a pack of free-roaming kangaroos, Where you can pet and even hand-feed them.

Gan Garoo features a rich assortment of Australian animals including, kangaroos of various types, and a Lorikeet parrot aviary where you can feed the birds with fruit skewers.
Among the animals you will encounter are the Australian Cassowary, emu, small reptiles…
Note: unless stated otherwise, all quotes were taken from the official site.
History
At the beginning of the 1990s, Kibbutz Nir David decided to establish a tourist attraction on the kibbutz's grounds, adjacent to Gan Hashlosha (Sachne) National Park.
Numerous ideas were proposed until finally, the decision was made to establish a unique zoo. After a great deal of thought, it was decided to build an Australian zoo.

In checking the feasibility of the plan we discovered two things:
1. That Australian animals are strange and unique.
2. That Australian authorities are not eager to export animals from their country and that they impose extremely strict conditions upon any party who wishes to do so.

Yehuda Gat, Gan-Garoo's founder, established relations with the Australian National Parks Authority, the Australian ambassador in Israel and some zoos in Australia. For our part, we undertook to establish a park of the highest possible quality and dedicate it to flora and fauna of the 'fifth continent' – the fascinating country of Australia.

On July 28, 1996, an inauguration ceremony was held at the Park and attended by the Australian ambassador as well as many other notable figures.

Gan-Garoo holds an operator's license issued by the Australian National Parks Authority and a proud member of the Israeli Zoo Association and World Association of Zoos and Aquariums (WAZA).

We became the first zoo in the world (outside of Australia) in which visitors can pet a kangaroo.
We are one of the few zoos in the world that has succeeded in satisfying the strict conditions set by Australian authorities to receive koalas!
How Big Is Gan Garoo?
Gan-Garoo extends across an area of approximately four acres. The zoo's grounds are shaded and pleasant to explore.
Visitors may sit down on benches or at tables or enjoy a picnic on green lawns.

The average time of a visit to Gan-Garoo: between 1-1/2 and 4 hours, depending on the ages of children.
We visited Gan Garoo several times, and we typically spent 2-3 hours there.
When To Visit?
The rule that applies to most animal-related attractions is mornings and evenings. Usually, during those hours the animals are more active. Moreover, prefer cooler days. If you come in summer at noon than you will find the kangaroos and other animals resting.
Once, due to constraints, I visited on a hot day. Besides suffering from the heat, the animals were not cooperative. The next photograph that I took during that visit, pretty much sums up the situation.
If you will be in the area during a hot day, and looking for a family attraction, then consider Gan Hashlosha (Sachne) instead.
At Gan Garoo
When entering the park, we usually cover the area walking counter-clockwise. On the right, there are several big cages with Australian birds.
Are you talking to me?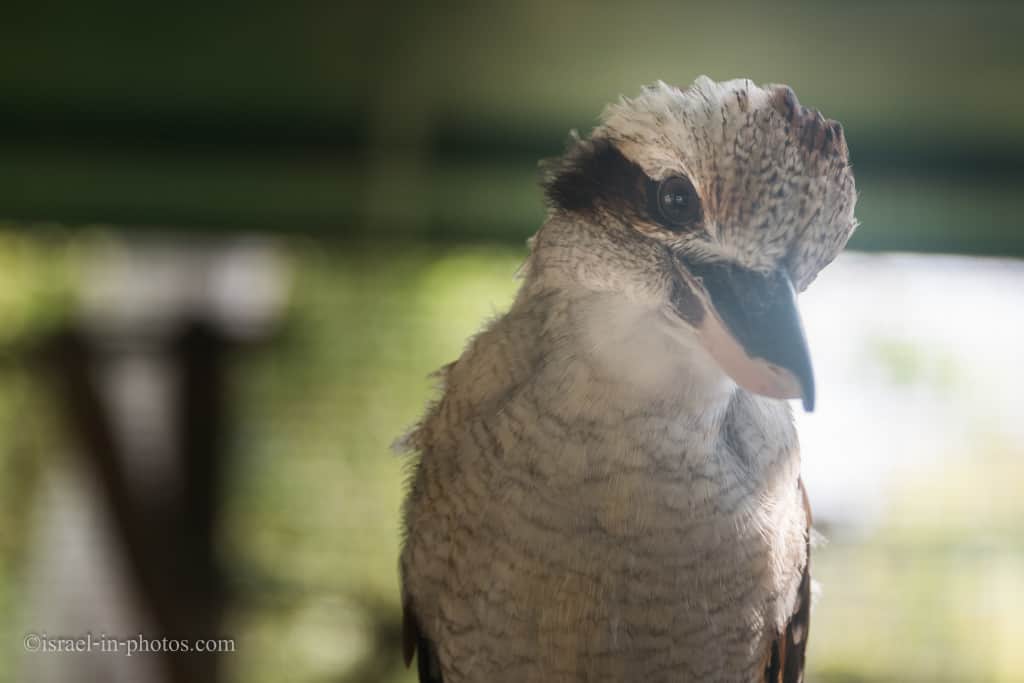 And then we reach the koala area.
Koalas
Important update about koalas. Currently, there are none.
In February 2018, Milo, the last Koala in Israel, passed away at a ripe old age. For more than six years, the Gan Guru team has been trying to bring in additional koalas from zoos in Australia. But is currently unsuccessful. The intention is to import Koala only as part of conservation programs and in coordination with the Australian authorities, and therefore the task is lengthening.
Koalas rest 18-20 hours a day. Thus, in most cases, you will find them resting.
There were several koalas: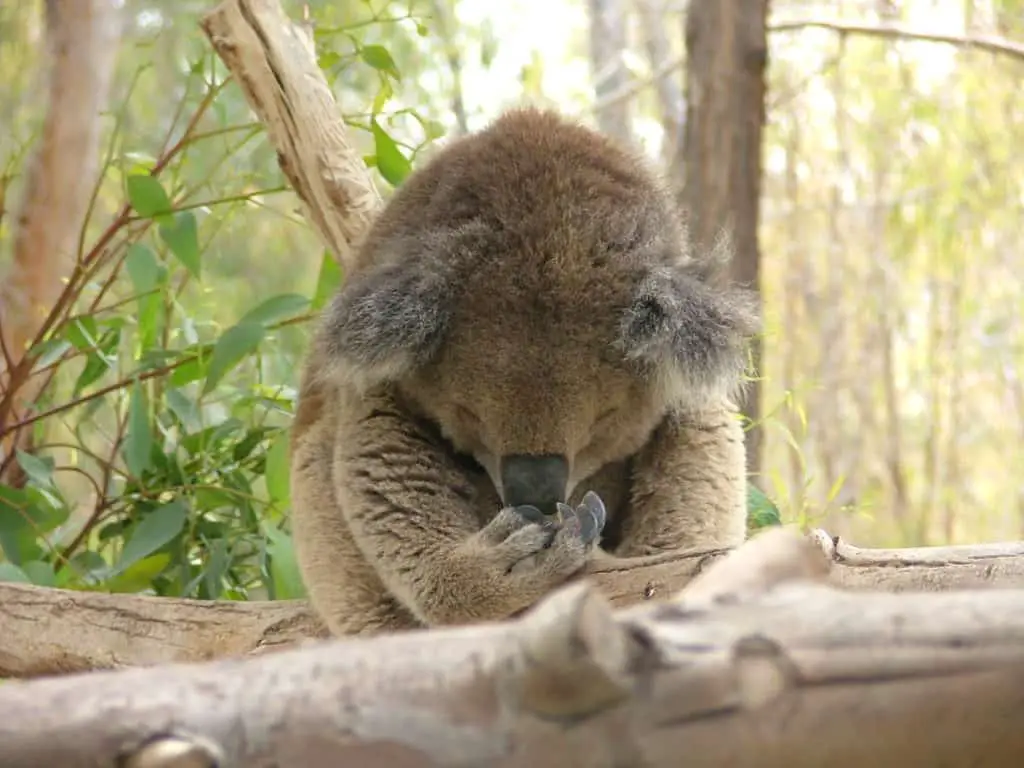 But they are mostly asleep. Koalas sleep about 18 hours a day. It's because they are tired of eating. What a life 😉
From time to time a guide came and made a presentation. Explaining (in Hebrew) about koalas, feeds them and pets them a little.
Though often called the koala "bear," they aren't related to bears Koala is a marsupial or pouched mammal.
Koalas live in eastern Australia, where the eucalyptus trees they love are most plentiful. They rarely leave these trees, and their sharp claws and opposable digits easily keep them aloft. During the day they doze, tucked into forks or nooks in the trees, sleeping for up to 18 hours.

When not asleep a koala feeds on eucalyptus leaves, especially at night. Koalas do not drink much water, and they get most of their moisture from these leaves. Each animal eats a tremendous amount for its size—about two and a half pounds (one kilogram) of leaves a day — Koalas even store snacks of leaves in pouches in their cheeks.

A special digestive system—a long gut—allows koalas to break down the tough eucalyptus leaves and remain unharmed by their poison. Koalas eat so many of these leaves that they take on a distinctive odor from their oil, reminiscent of cough drops.
Source: nationalgeographic.com
Kangaroo
When we think of Australia the first animal that comes to mind is, of course, the kangaroo:
It is more than seeing the Kangaroos. There is a big yard, and you can wander among them and pet them as well. Moreover, there are several machines where you throw a coin and receive a portion of food. Not sure exactly what it is, looks like dry dog food. But, the kangaroos love it and eat it off your hands.

Most people think kangaroos are endemic to (live only in) Australia. Several species of tree kangaroos and forest wallabies also live in Papua New Guinea.
Source: outback-australia-travel-secrets.com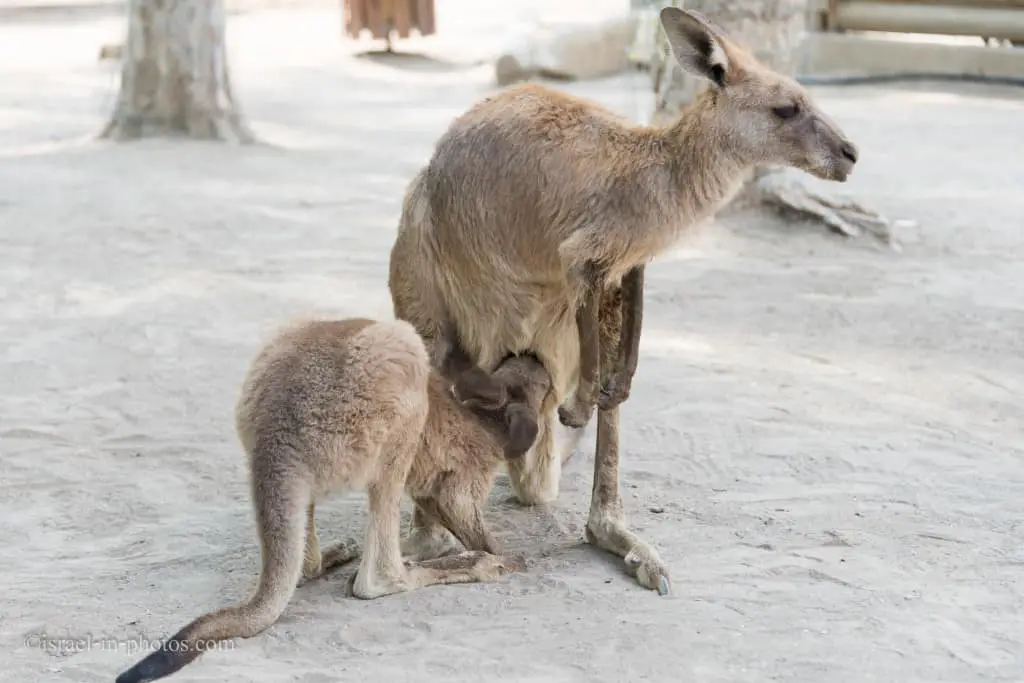 Female kangaroos can determine the sex of their offspring. They can even delay gestation when environmental factors are likely to diminish the chance of young surviving.
Like all marsupials, kangaroos are born extremely early; the equivalent of the seventh week of pregnancy for humans. They travel from the birth canal as little more than an embryo by blindly propelling through the mother's fur to the safety of the pouch, where they will spend several months developing before finally leaving to explore the world.
Source: onekind.org
How fast are Kangaroos?
The Red Kangaroo is the largest living marsupial and can grow to two metres (!). It weighs up to 90 kg (200 pounds). Top speed: over 60 km/h (close to 40 mph). A Red Kangaroo can leap eight metres far (25 feet) and three metres (10 feet) high!
Source: outback-australia-travel-secrets.com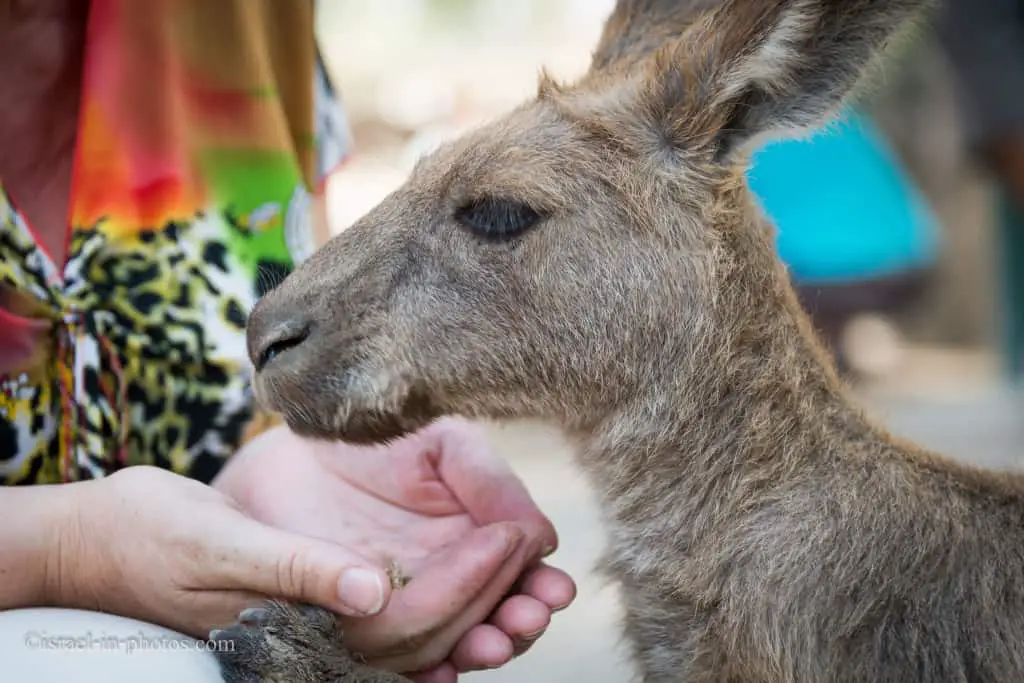 Kangaroos are adapted to dry region and can live with very little water as long as there is green grass: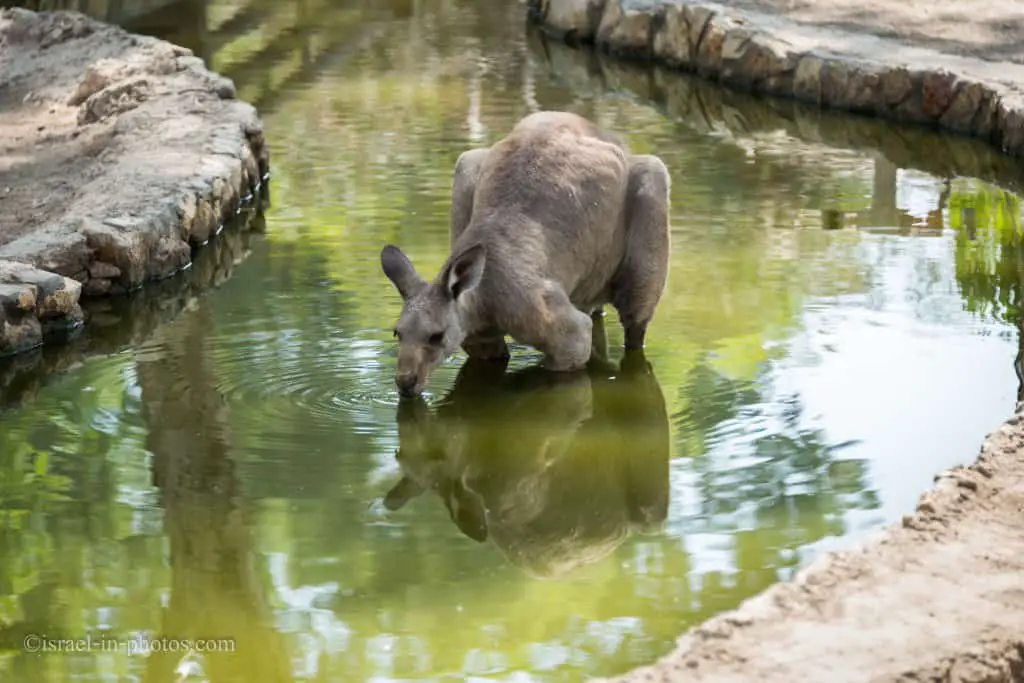 Interesting facts about hopping:
Kangaroos are the only large animals that move by hopping.
They cannot move backwards.
All macropods have very strong hind legs and large feet. (Only the tree kangaroos have strong front legs as well, and smaller back legs compared to other kangaroos.)
The large and strong tail is used for balance when hopping, and as fifth limb when moving about on all four legs, er, five.
Hopping is a fast and energy efficient method of travel, designed to cover huge distances in a land that offers little food.or water.
Odd kangaroo fact: on land kangaroos can't move their hind legs independently, only together. But when they are swimming (they are good swimmers) they kick each leg independently.
From the kangaroo yard, we continued to see other animals.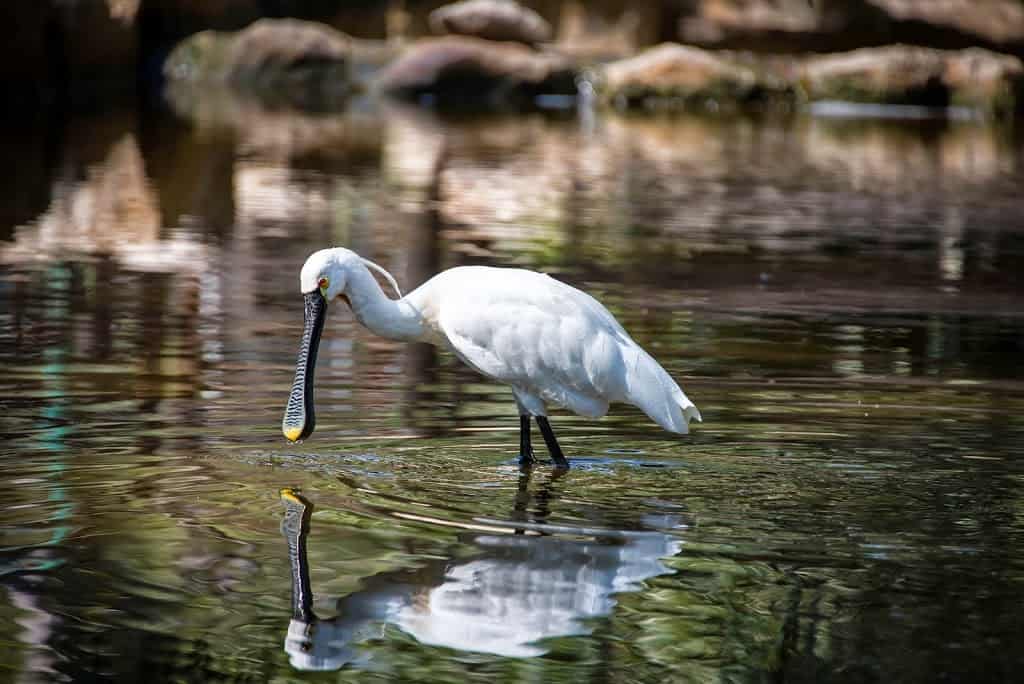 Lizards: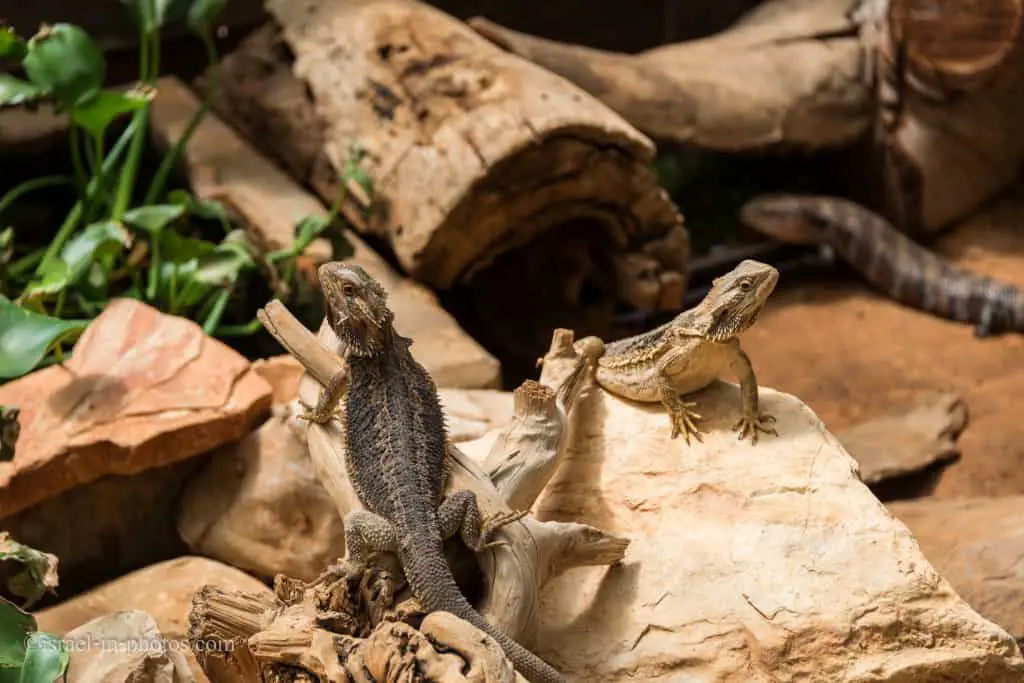 Lorikeet Parrot
After feeding the kangaroos and petting goats, we went to feed the parrots:

Each of us got several sticks with a piece of an apple and we went to feed the parrots. Here is my daughter feeding two simultaneously.

Here is another shot of the feast:
But you can not feed them too much. Thus after several times of getting new apples, a park staff member stopped giving us new apples.
Summary
Gan Garoo is not a big park. A typical visit will take several hours. Many attractions are aimed at kids, and they will be delighted. But I, as an adult did not suffer and enjoyed it as well. Thus, if you love animals, keep this option in mind.
Have you ever been to Gan Garoo? Tell us about your experience in the comments below.
That's all for today, and I'll see you in future travels!
Stay Tuned!

Additional Resources
Here are several resources that I created to help travelers:
And if you have any questions then check out Useful Information For Tourists To Israel.

Did not find what you were looking for? Email me at
hi@israel-in-photos.com
, and I will do my best to answer your questions.