From Melk, we drove for several hours till we arrived in Salzburg. We reached Salzburg in the afternoon and our plan included a city walk for the rest of the day. And a visit to Schloss Hellbrunn and Hohensalzburg Fortress on the next day.
Map of the area:

As we understood from our hotel staff, you can't get with a car to the old city. But there are two big parking lots next to the old city. What's interesting is that both these lots are underground. To be more exact they are at ground level but under a mountain. These car parks close to the old city. And since the area of the old city is not big you can cover it by foot without using transportation.
The cost of the parking was around 10 euro for a half day and 20 euro for a full day.
Walk in the Old City of Salzburg
Franciscan Church
As we exited the car parking we saw Franziskanerkirche and decided to enter.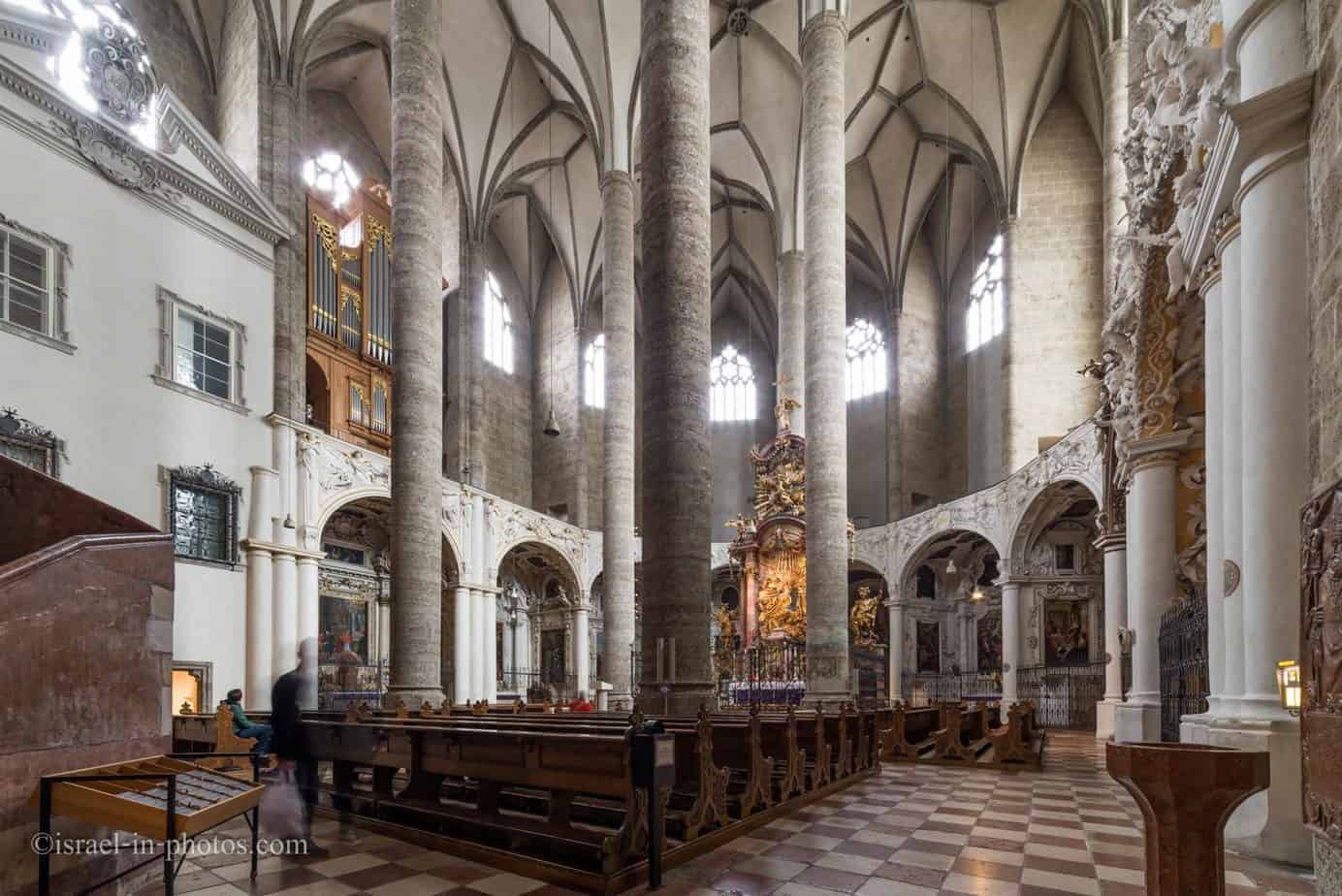 Franciscan Church is one of the oldest churches in Salzburg. The first church on this site was erected in the 8th century. And the interior redesign to baroque style, as we can see it today, was performed in the 18th century.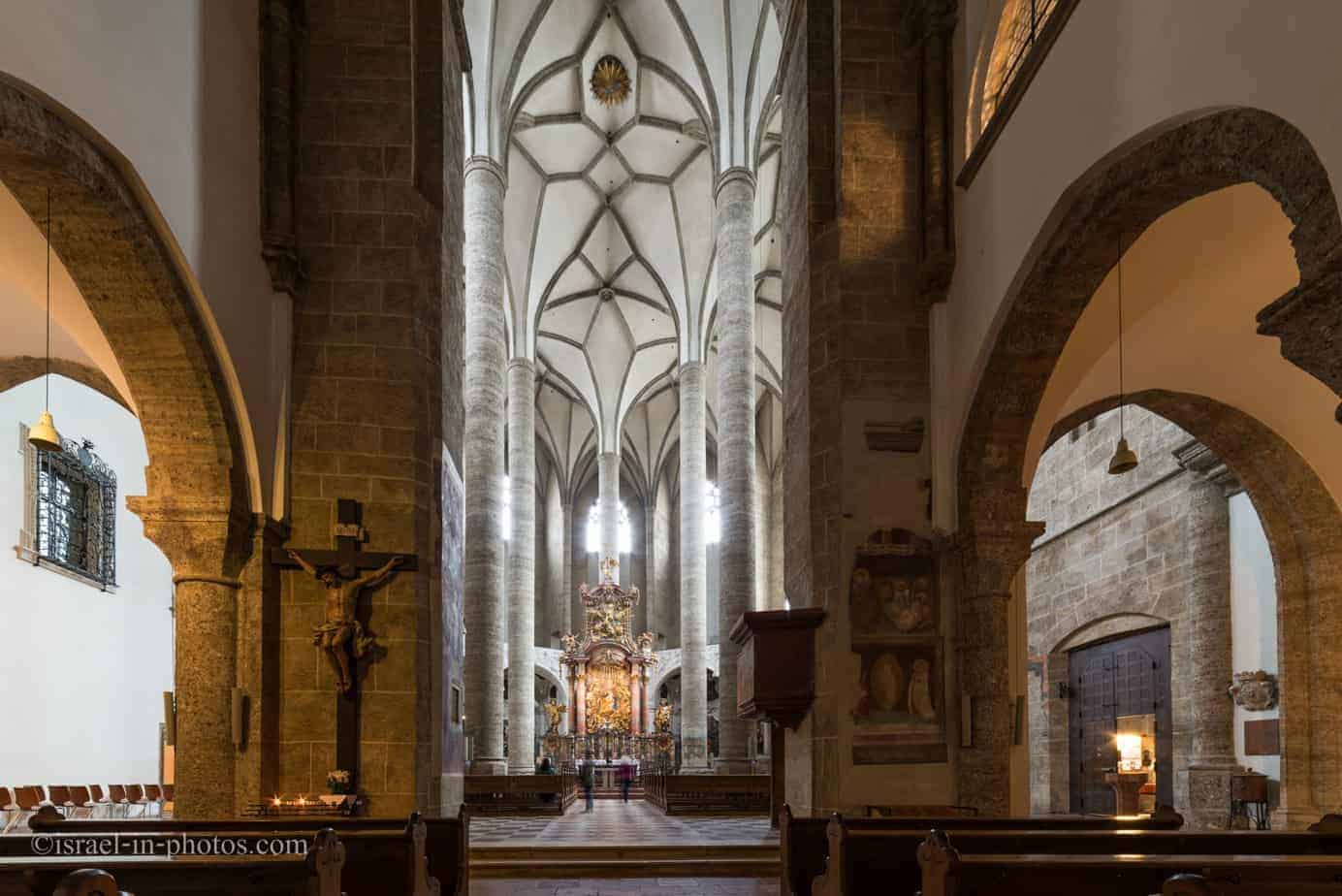 Within two minutes walk from Franziskanerkirche you can find:
Salzburg Cathedral
Exterior:

Salzburg Cathedral is seventeenth-century Baroque Cathedral and I especially liked its ceilings.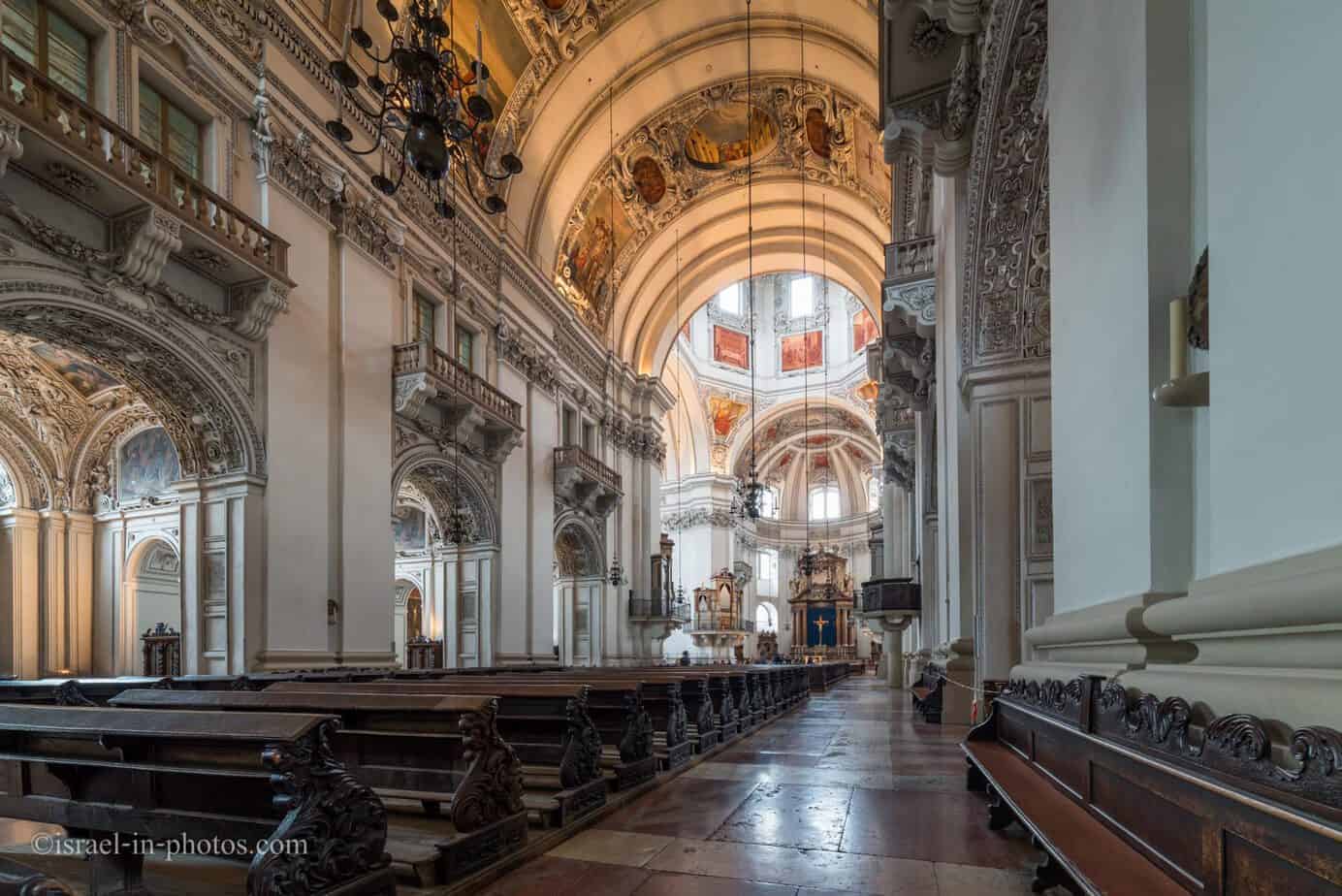 Another view of the ceiling: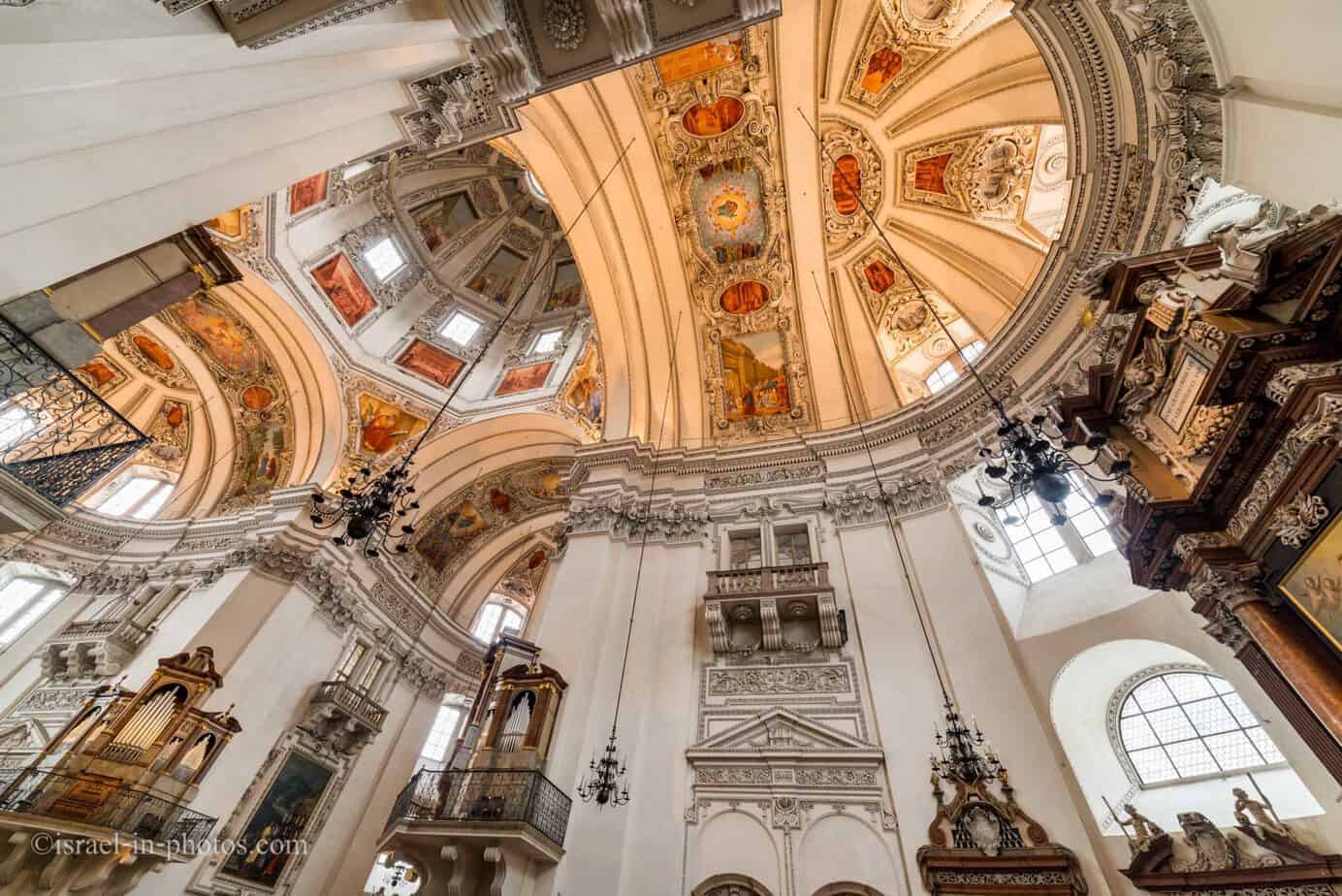 Salzburg Cathedral still contains the baptismal font in which composer Wolfgang Amadeus Mozart was baptised. But unfortunately, we haven't seen any signs on the site thus couldn't identify it.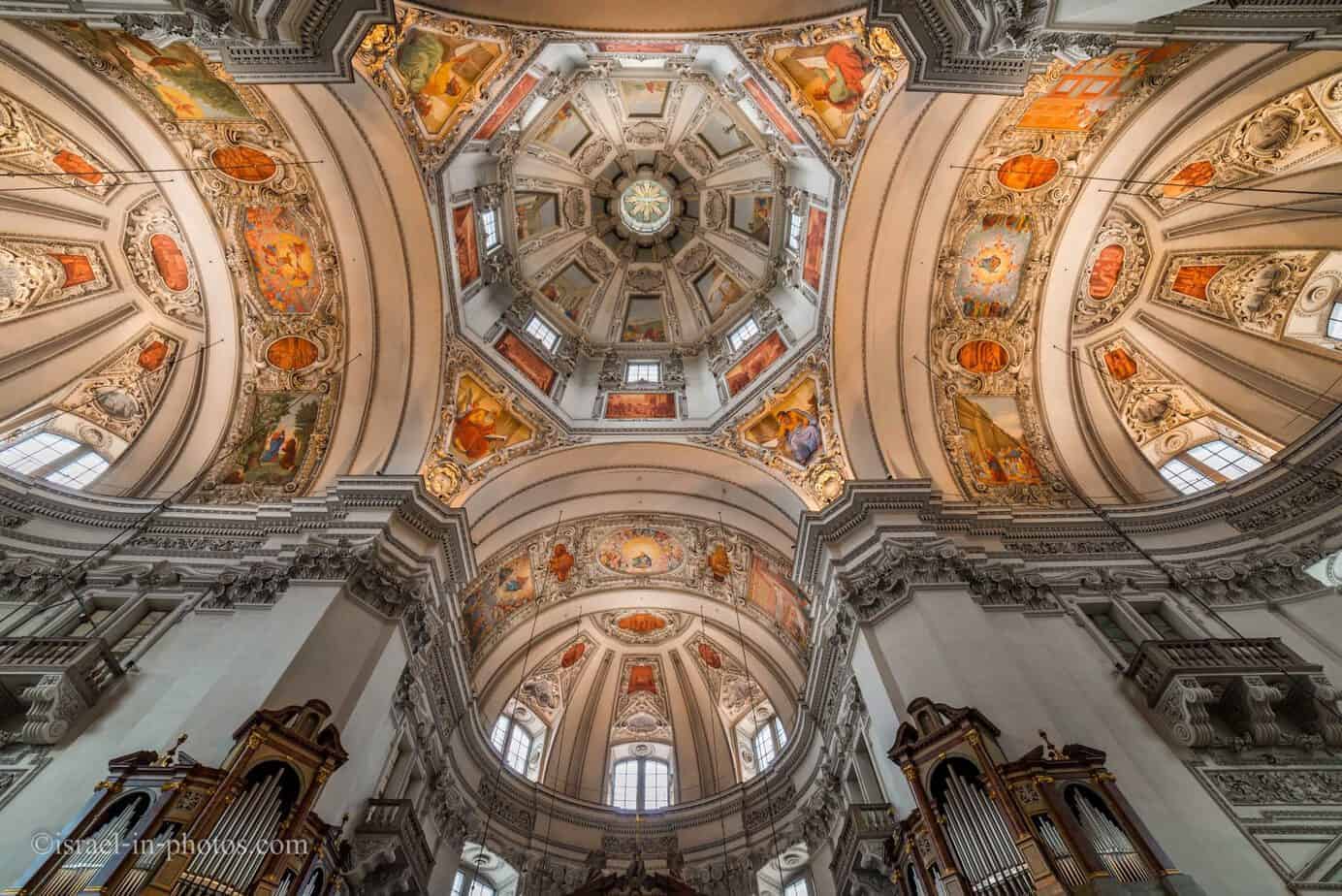 Entrance view:

The Cathedral from Residenzplatz square: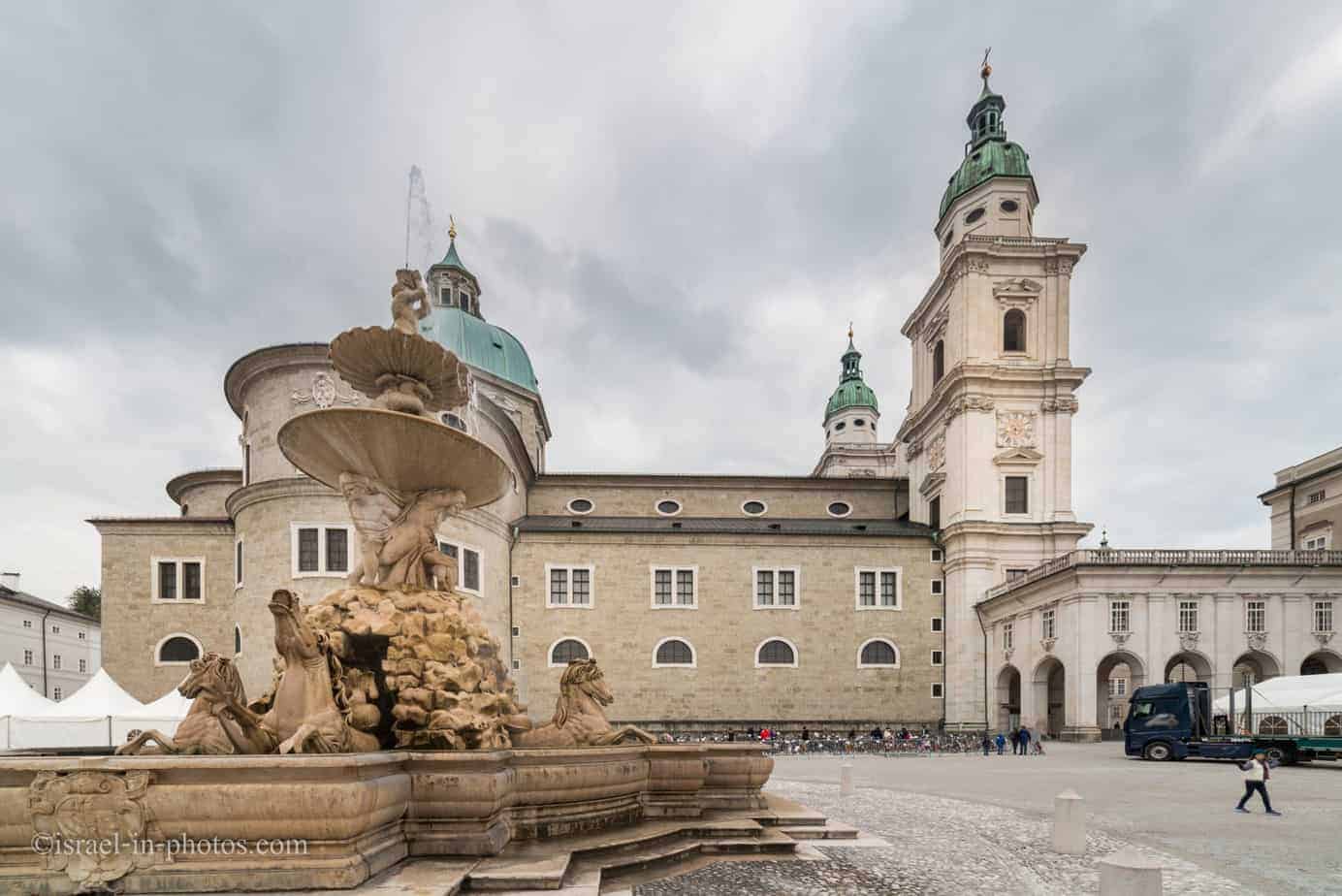 Wolfgang Amadeus Mozart
Mozart was born in Salzburg. At 17, Mozart was engaged as a musician at the Salzburg court, but grew restless and travelled in search of a better position. Nonetheless, Mozart's family remained in Salzburg and he returned to the city and visited them.
As you walk around the city you can see that Mozart became a trademark. Starting from Mozart Square, Mozart buildings and bridges, Mozart chocolate, Mozart toys and souvenirs.
And on the third floor of the yellow house, No. 9 Getreidegasse in Salzburg, Mozart family resided from 1747 to 1773.  And since Mozart was born in 1756, this is Mozart's birthplace.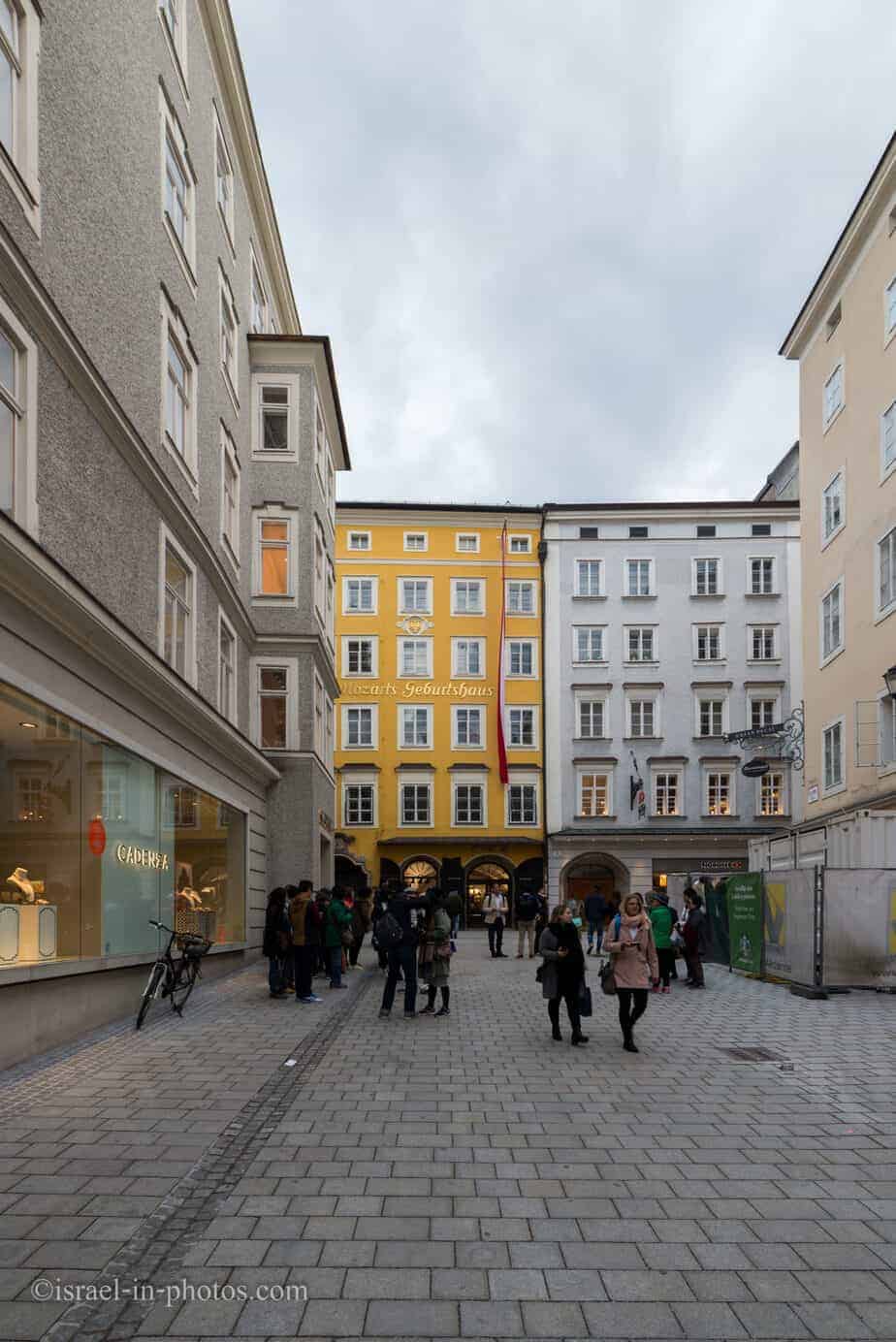 Salzach River
From Mozart's birthplace, we continued towards Salzach River. There are many bridges over the river and we chose the pedestrian one closest to our location. As you can see, love locks on a bridge became a worldwide trend.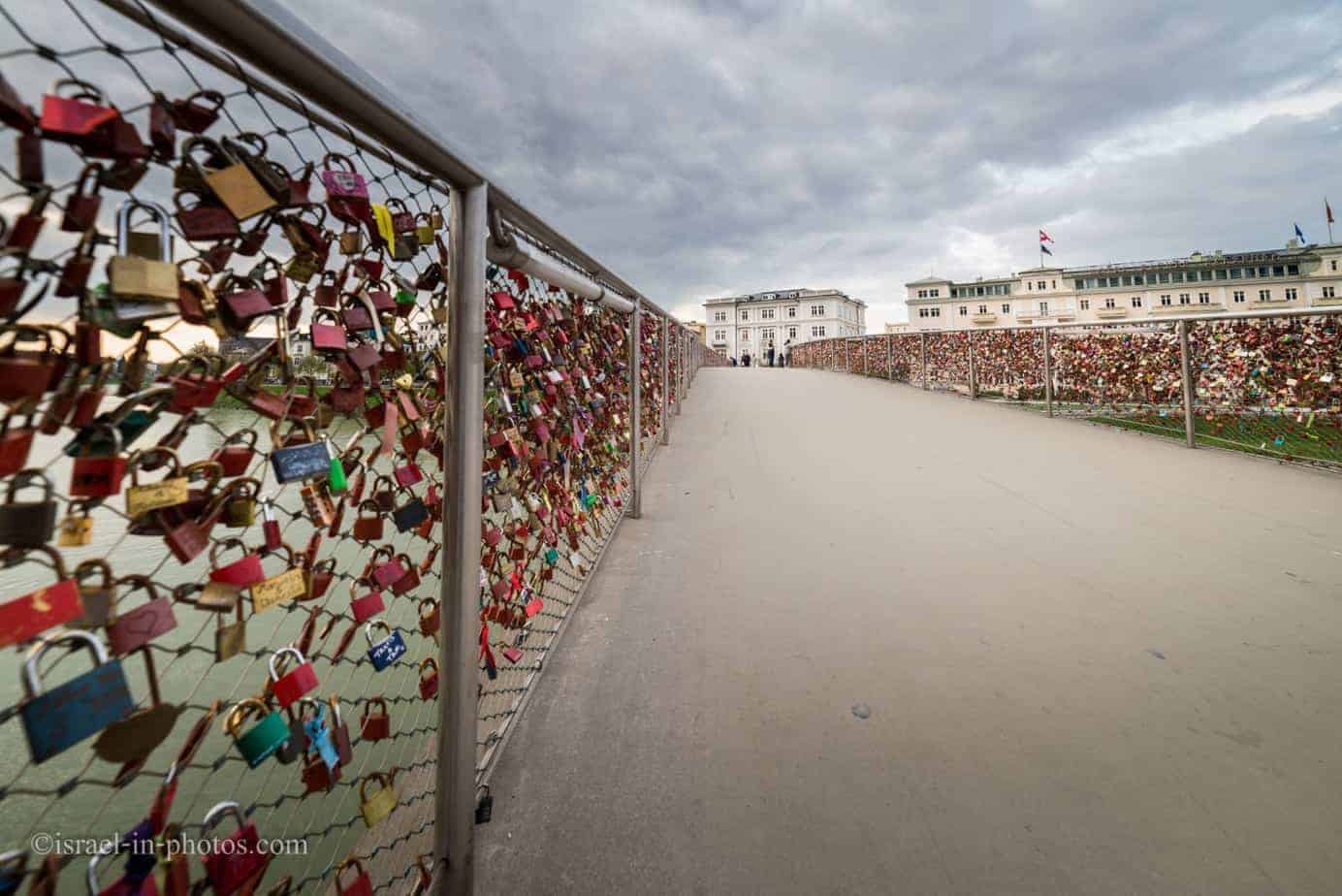 According to Wikipedia, the history of love padlocks dates back at least 100 years to a melancholic Serbian tale of World War I, with an attribution for the bridge Most Ljubavi (lit. the Bridge of Love) in the spa town of Vrnjačka Banja. The tale:
A local schoolmistress named Nada, who was from Vrnjačka Banja, fell in love with a Serbian officer named Relja. After they committed to each other Relja went to war in Greece where he fell in love with a local woman from Corfu. As a consequence, Relja and Nada broke off their engagement. Nada never recovered from that devastating blow, and after some time she died due to heartbreak from her unfortunate love.

As young women from Vrnjačka Banja wanted to protect their own loves, they started writing down their names, with the names of their loved ones, on padlocks and affixing them to the railings of the bridge where Nada and Relja used to meet.
View of Fortress Hohensalzburg and Salzach river: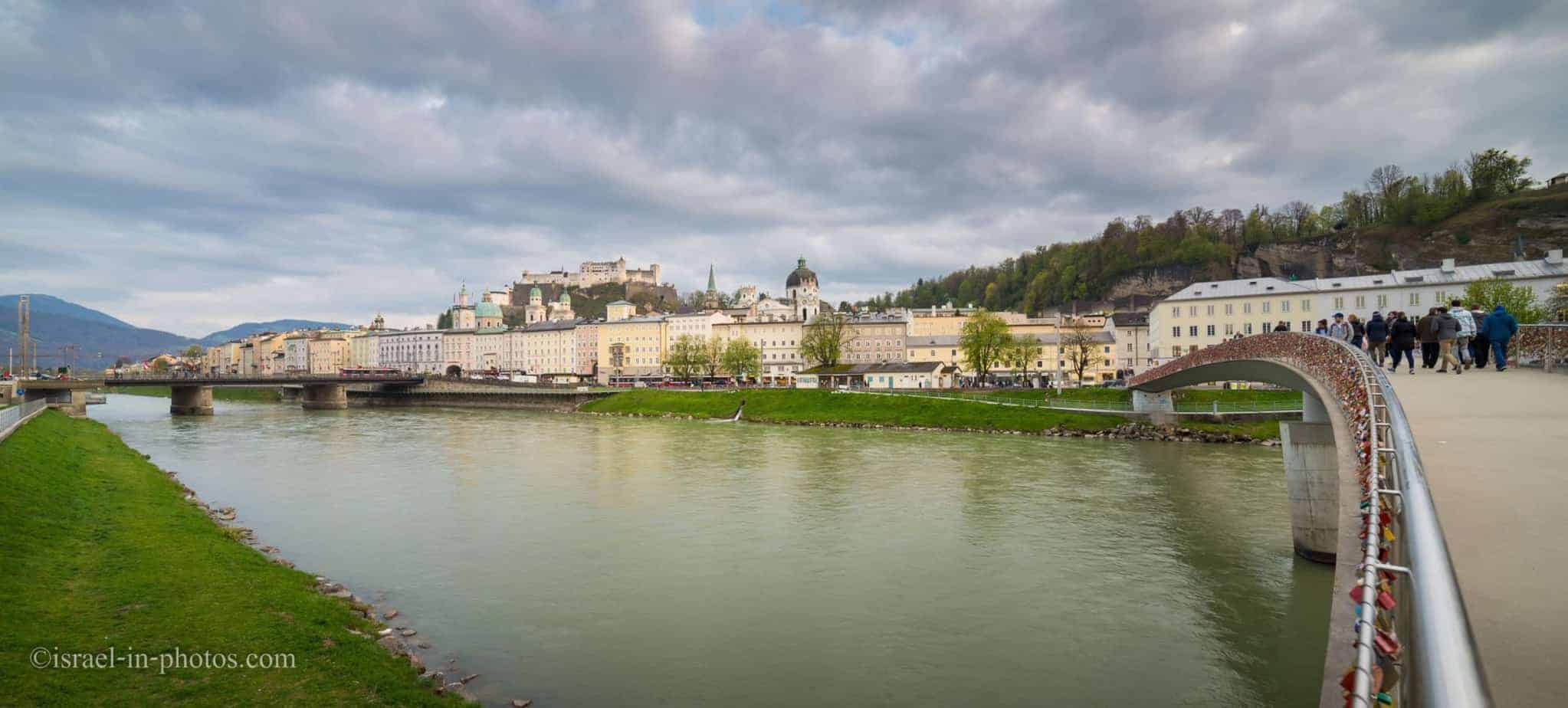 Closeup: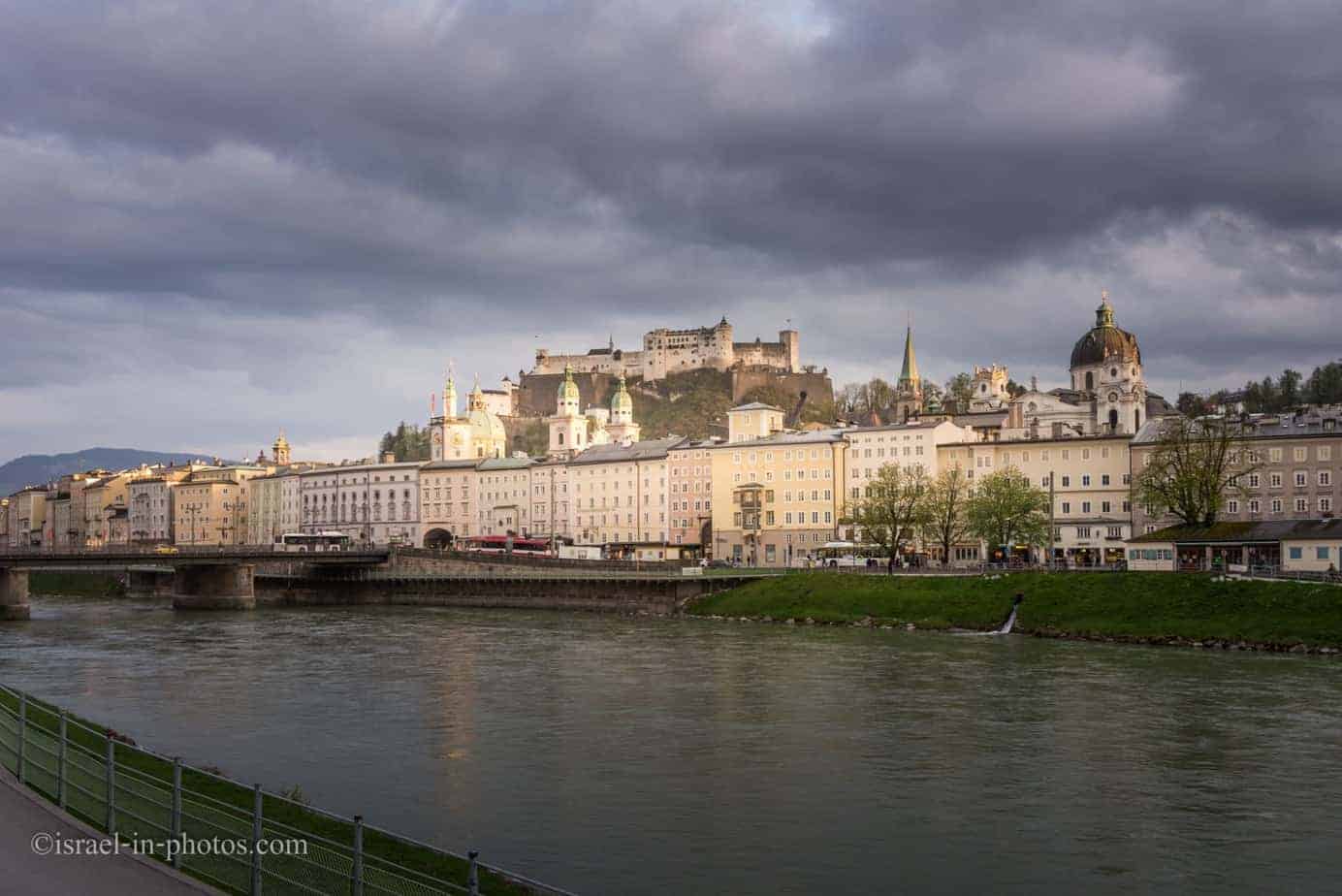 If you are interested in concerts, then you probably should check out the schedule of Mozarteum building.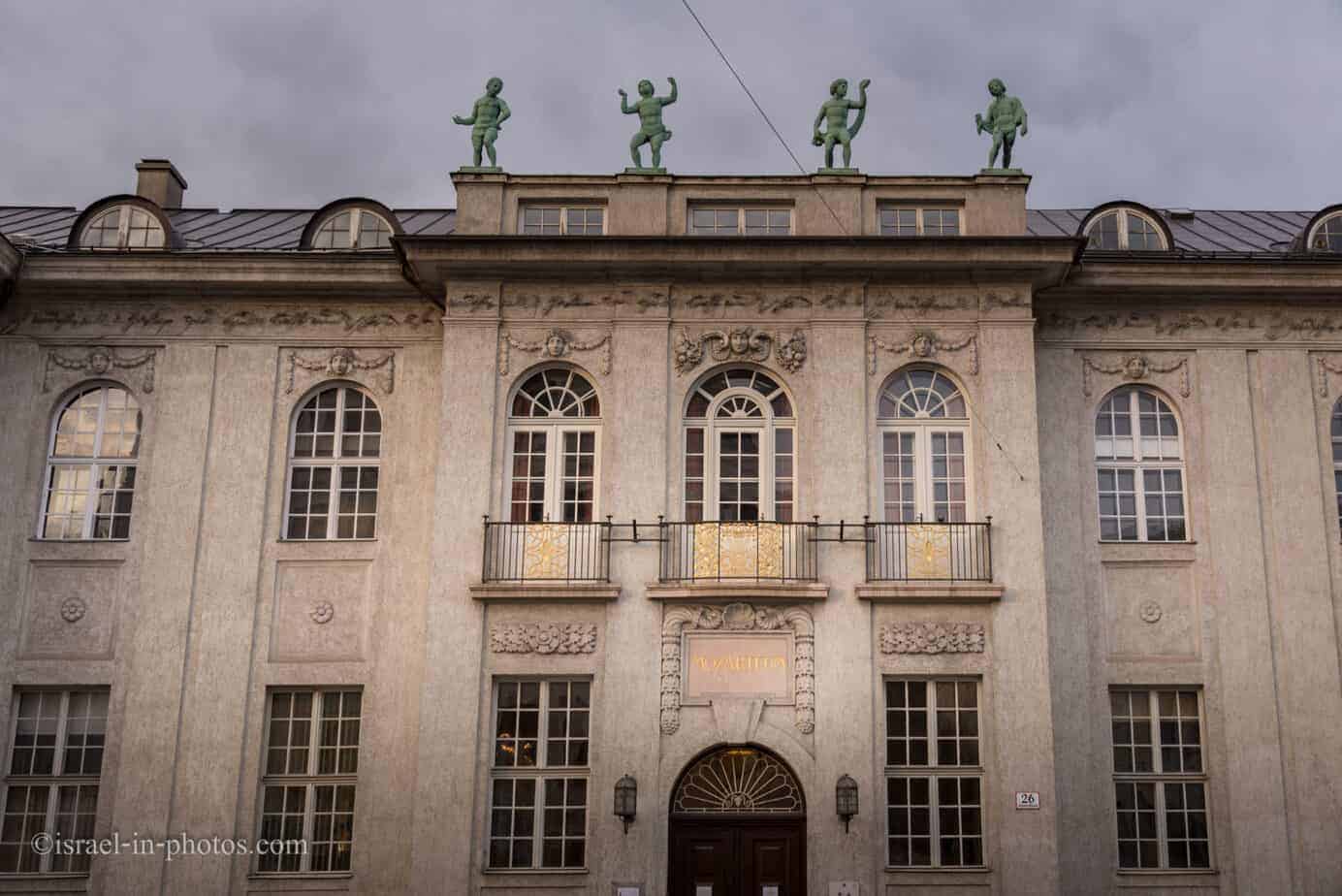 Crossing on the Salzach River on our way back to car parking.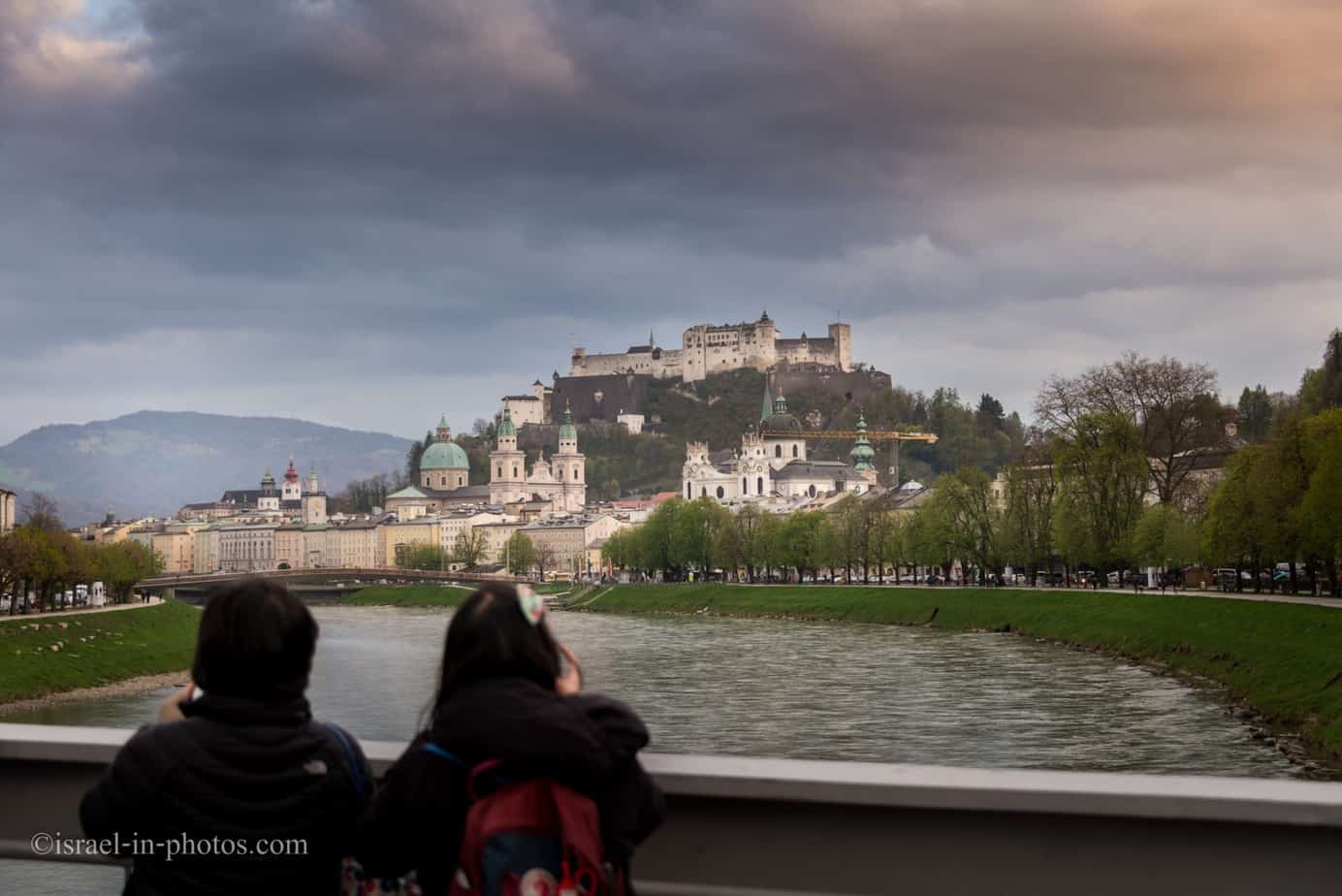 Mozart toys: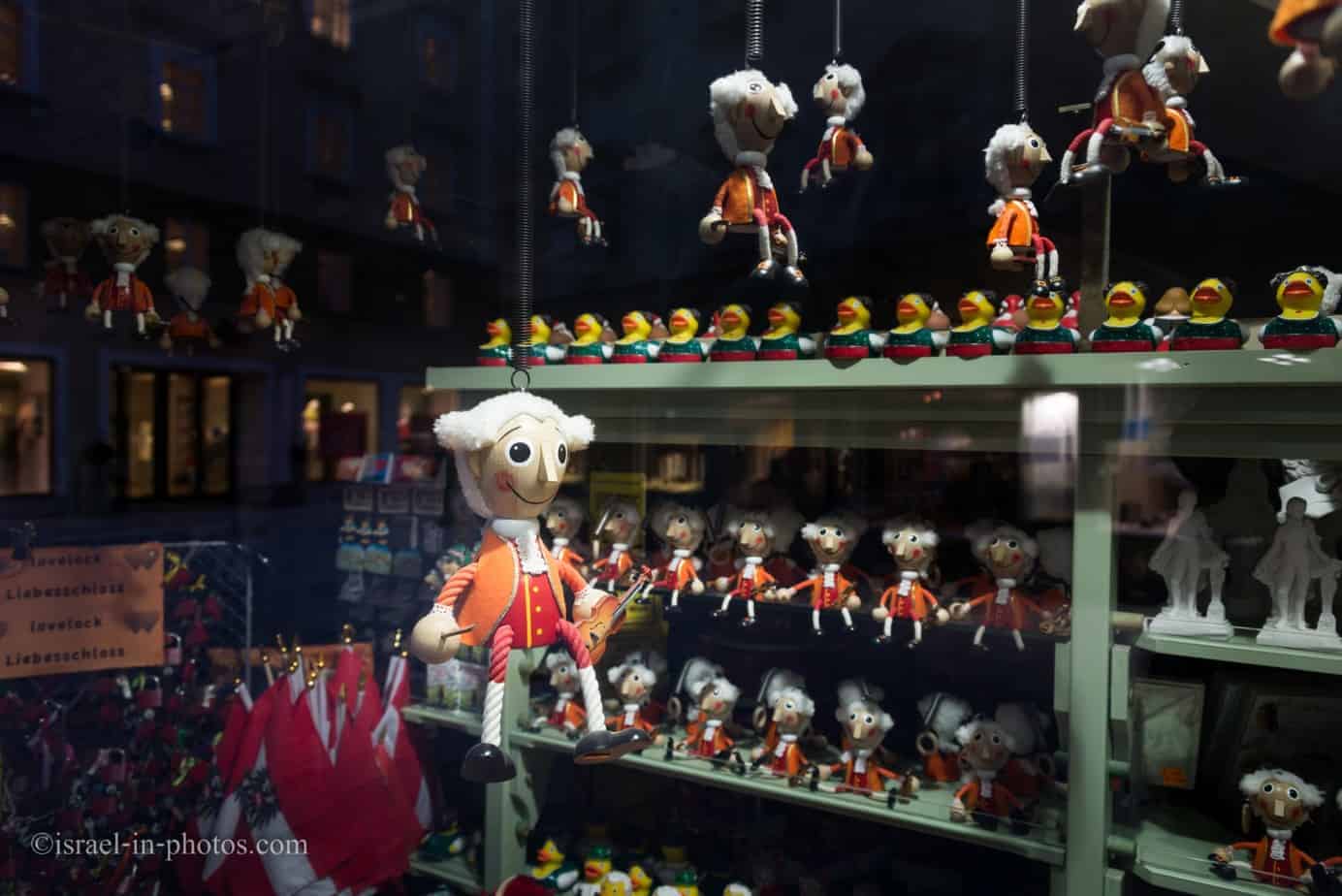 And here we are next to our starting point, next to Franciscan Church.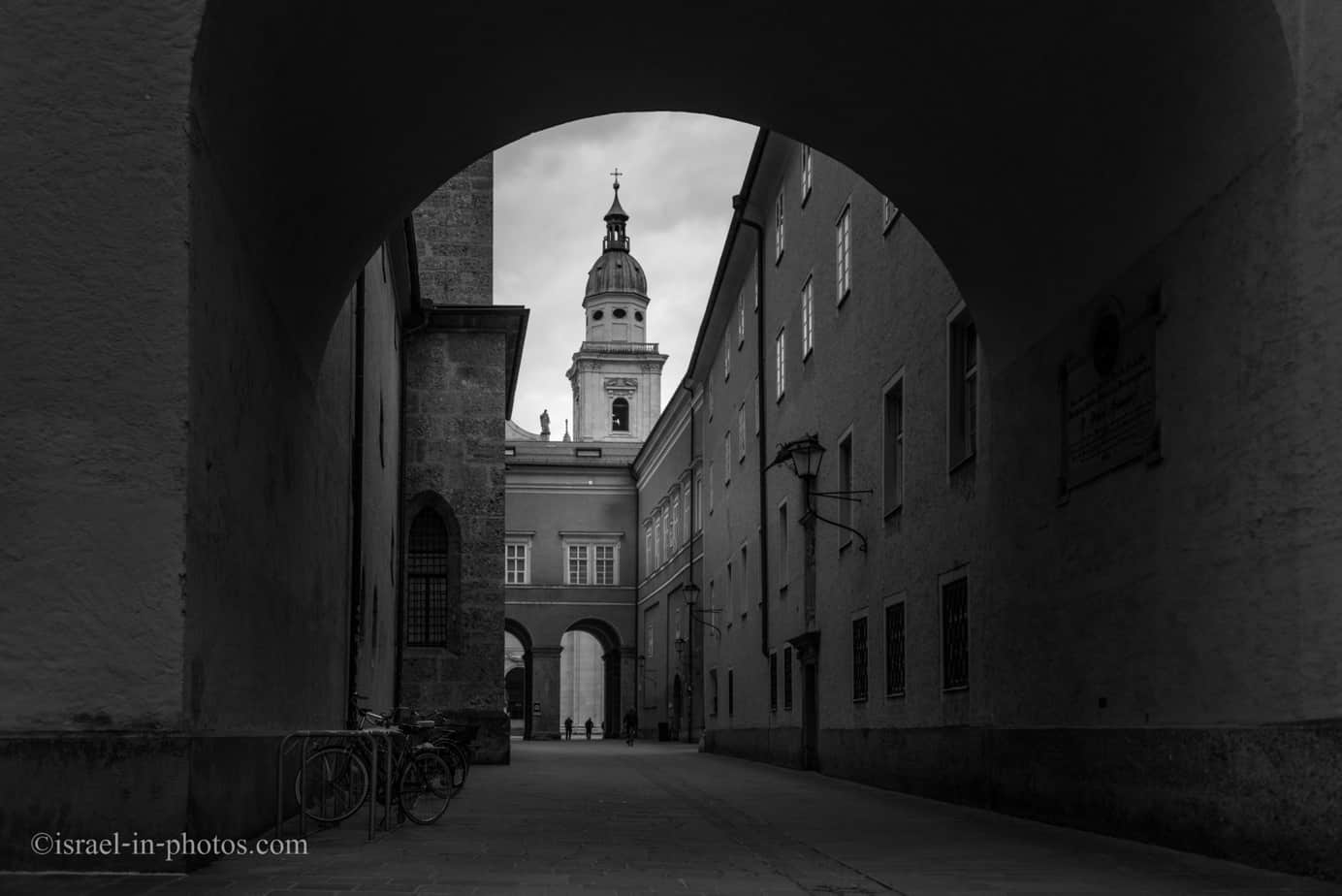 Hellbrunn Palace aka Schloss Hellbrunn
We started the next day with a visit to Schloss Hellbrunn.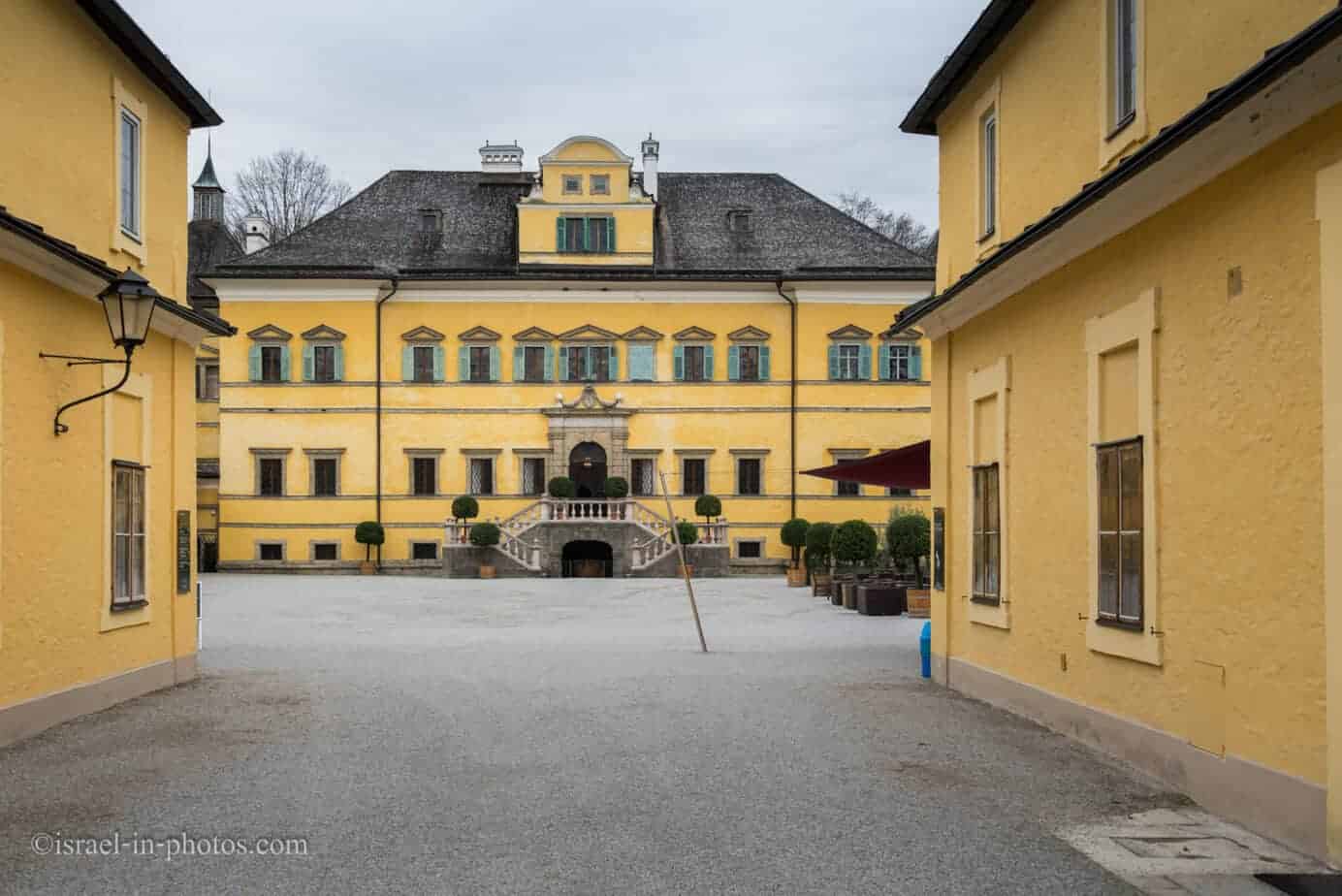 Trick Fountains Tour
Hellbrunn Palace is an early Baroque villa that's located about 20 min drive from Salzburg. It was built in 1613–19 by Markus Sittikus von Hohenems, Prince-Archbishop of Salzburg. And it is probably best known for trick fountains.
We arrived at Schloss Hellbrunn before 10 and waited for the 10 am tour.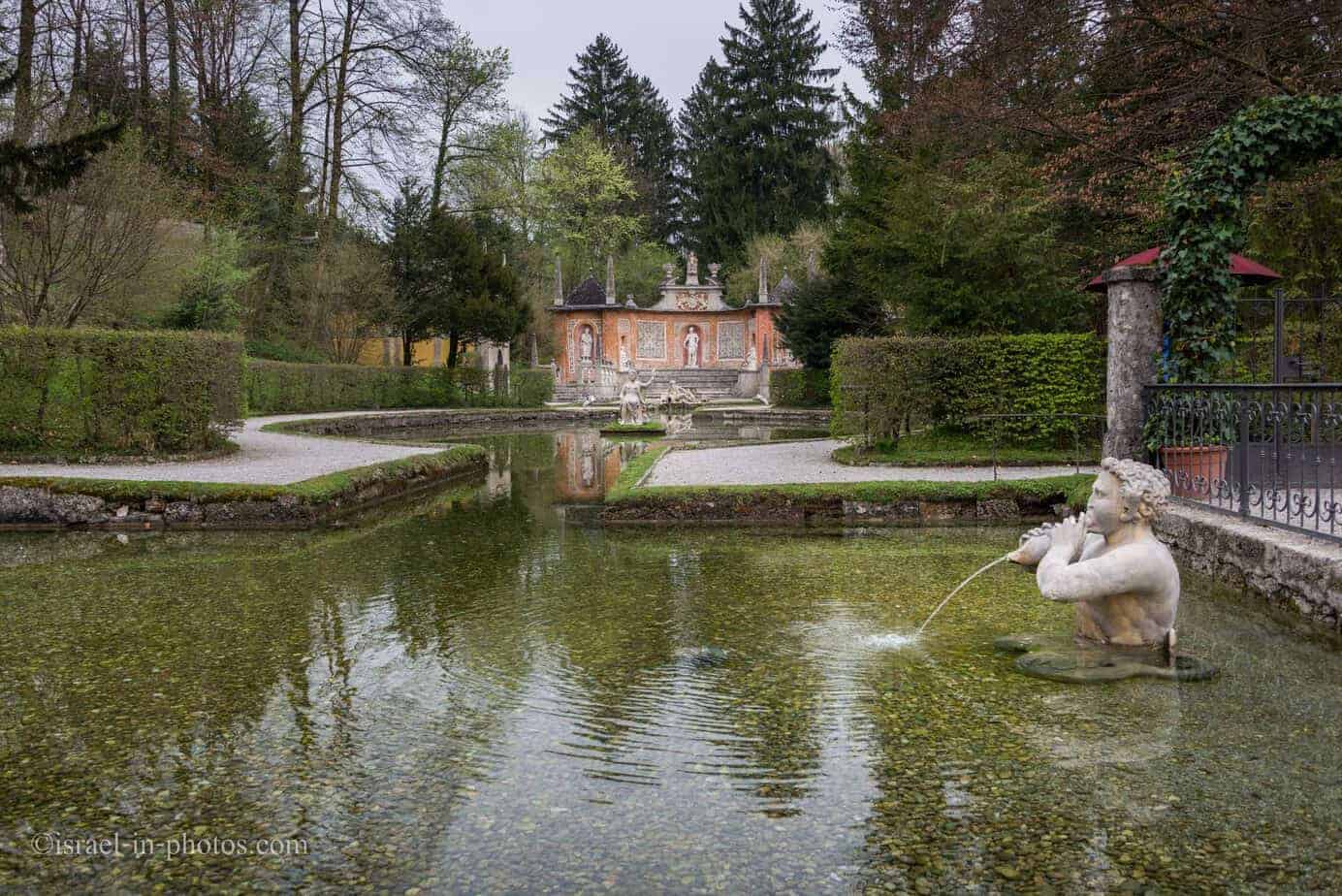 We started the trick fountains tour next to this table. As it turns out, Markus Sittikus loved performing practical jokes on his guests. His servants would put food on the table, then everybody took their seats. Afterwards, Markus pressed a hidden button and hidden fountains in the chairs, table and around it started working.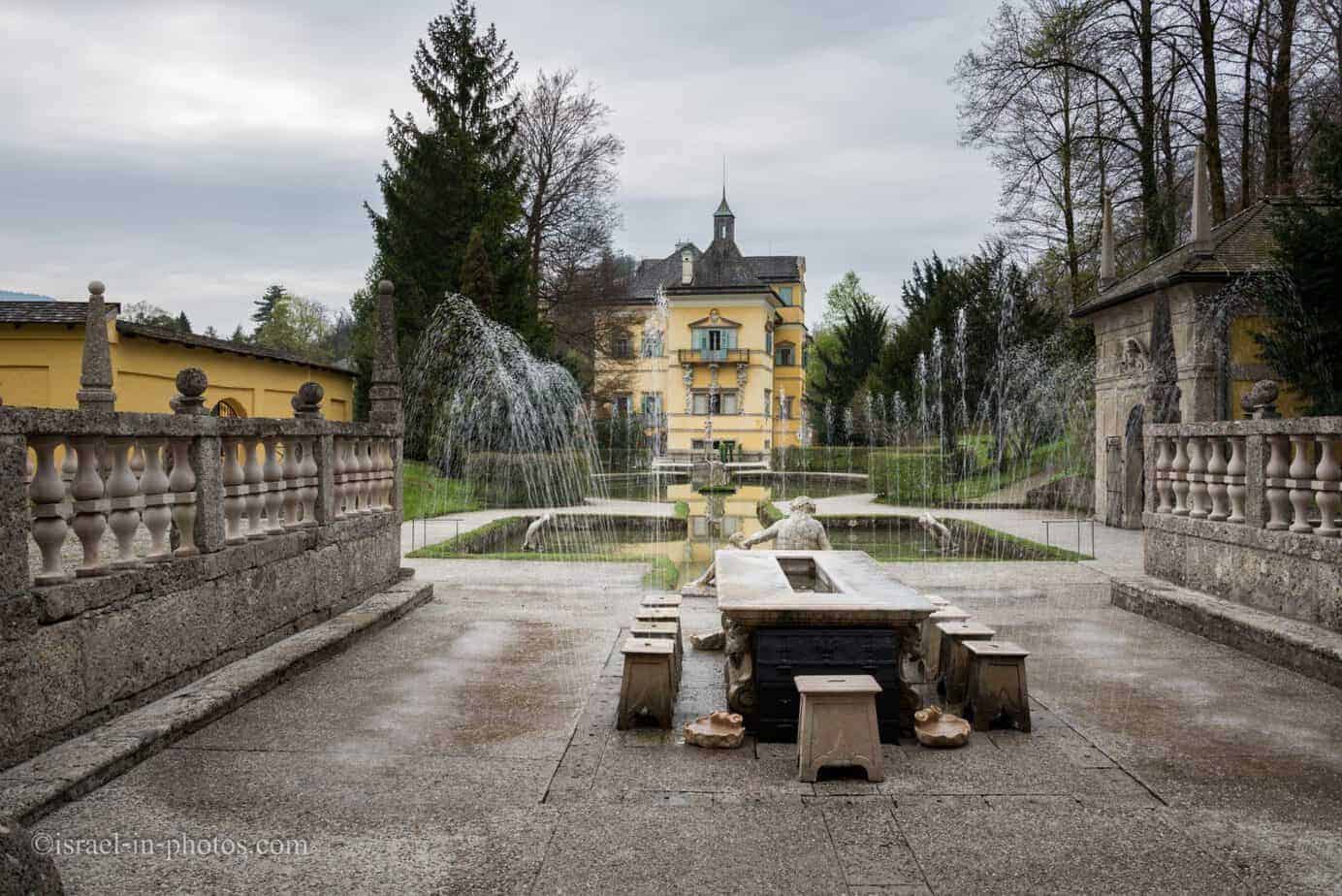 The same place from the other side (the table is behind the middle sculpture):

Besides the beautiful interior, this room had interesting small mirrors.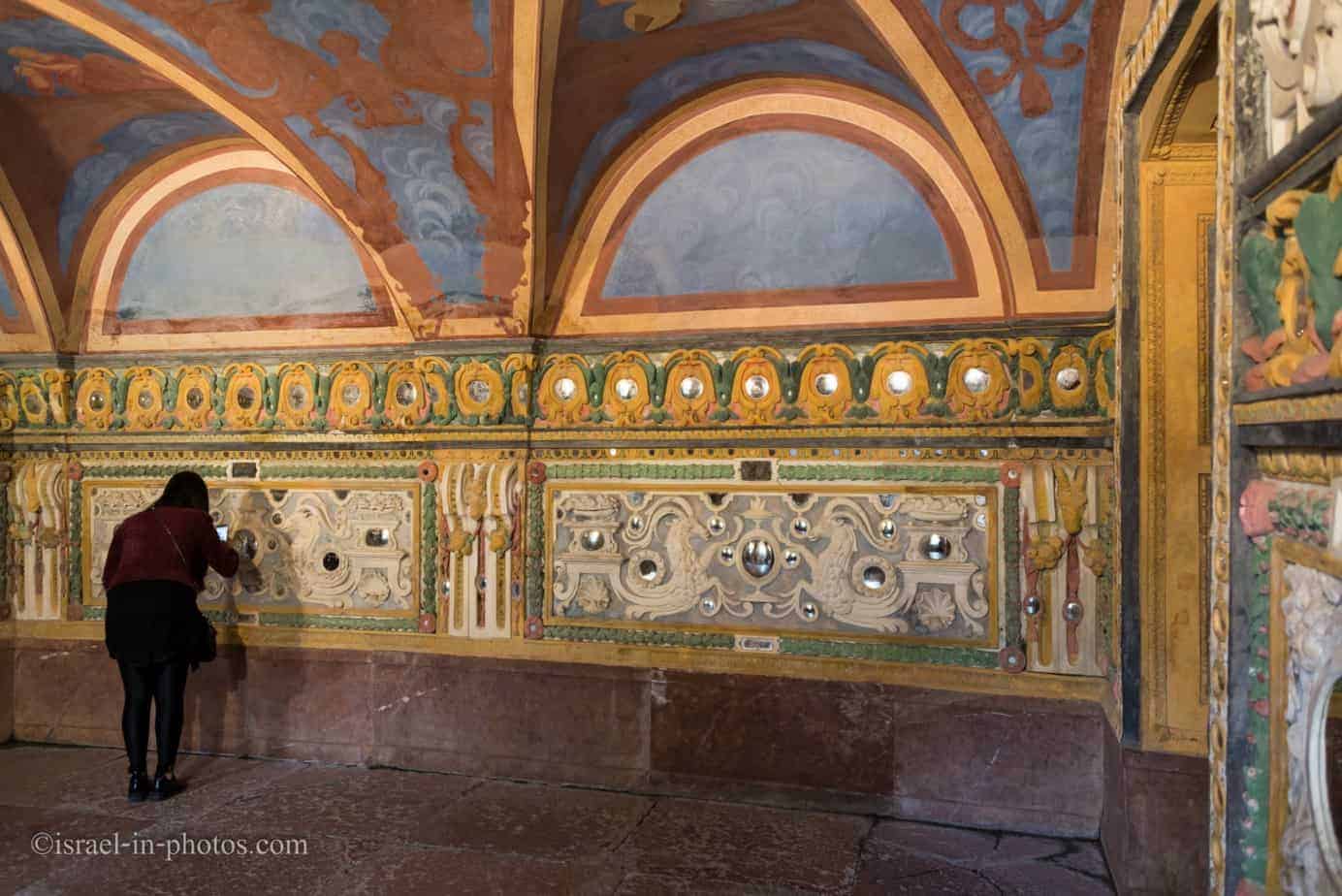 There are several small moving figures along the river. For example, Potter created a new jug.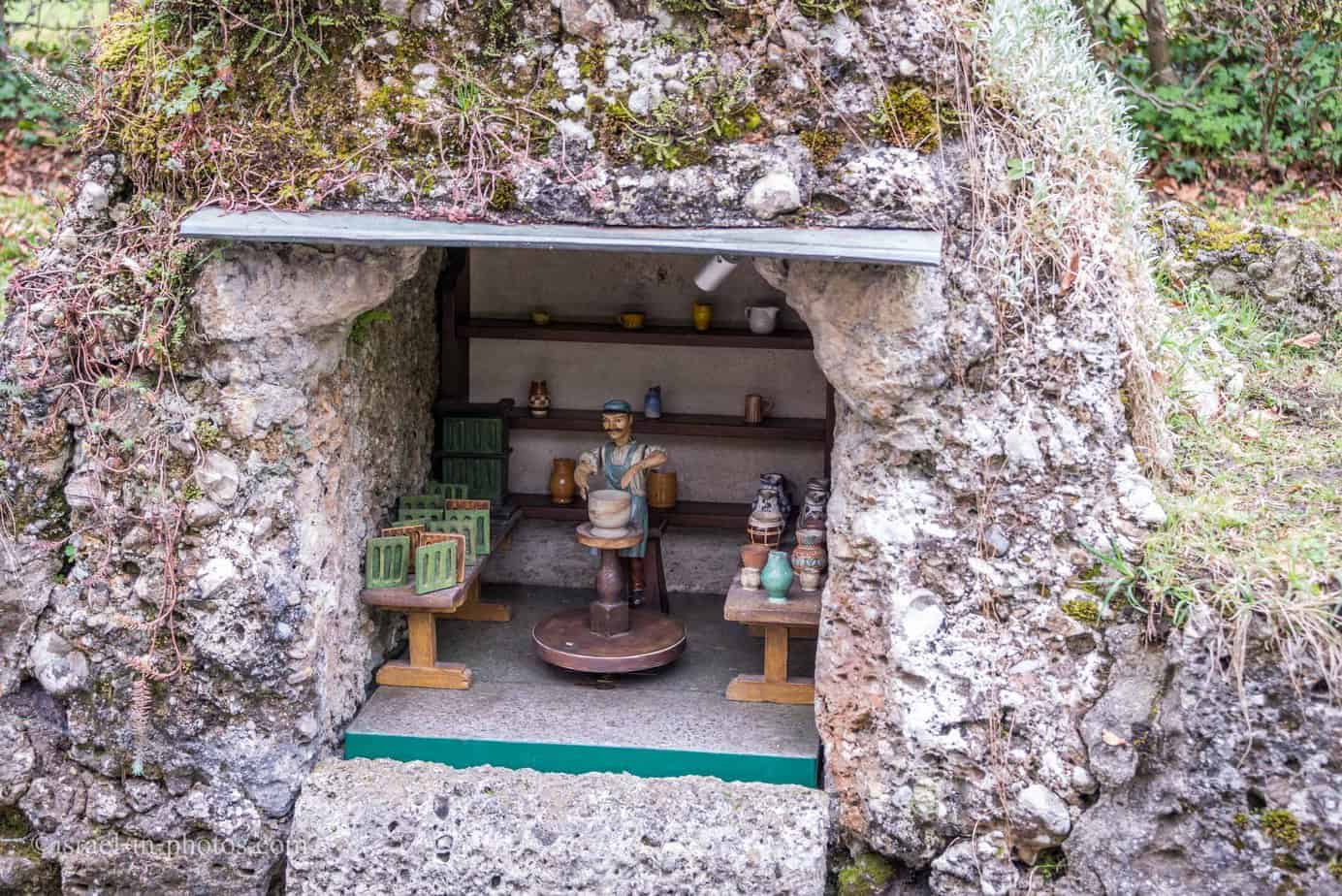 The interesting thing is that all trick fountains don't have any electricity. They are operated by water pressure (the water is coming from nearby mountains). And even today, though some pipes were replaced, the general mechanism is still the same.
As you can see I took this photo from far away since there are hidden fountains everywhere. I will just say that everybody was a little wet at the end of the tour.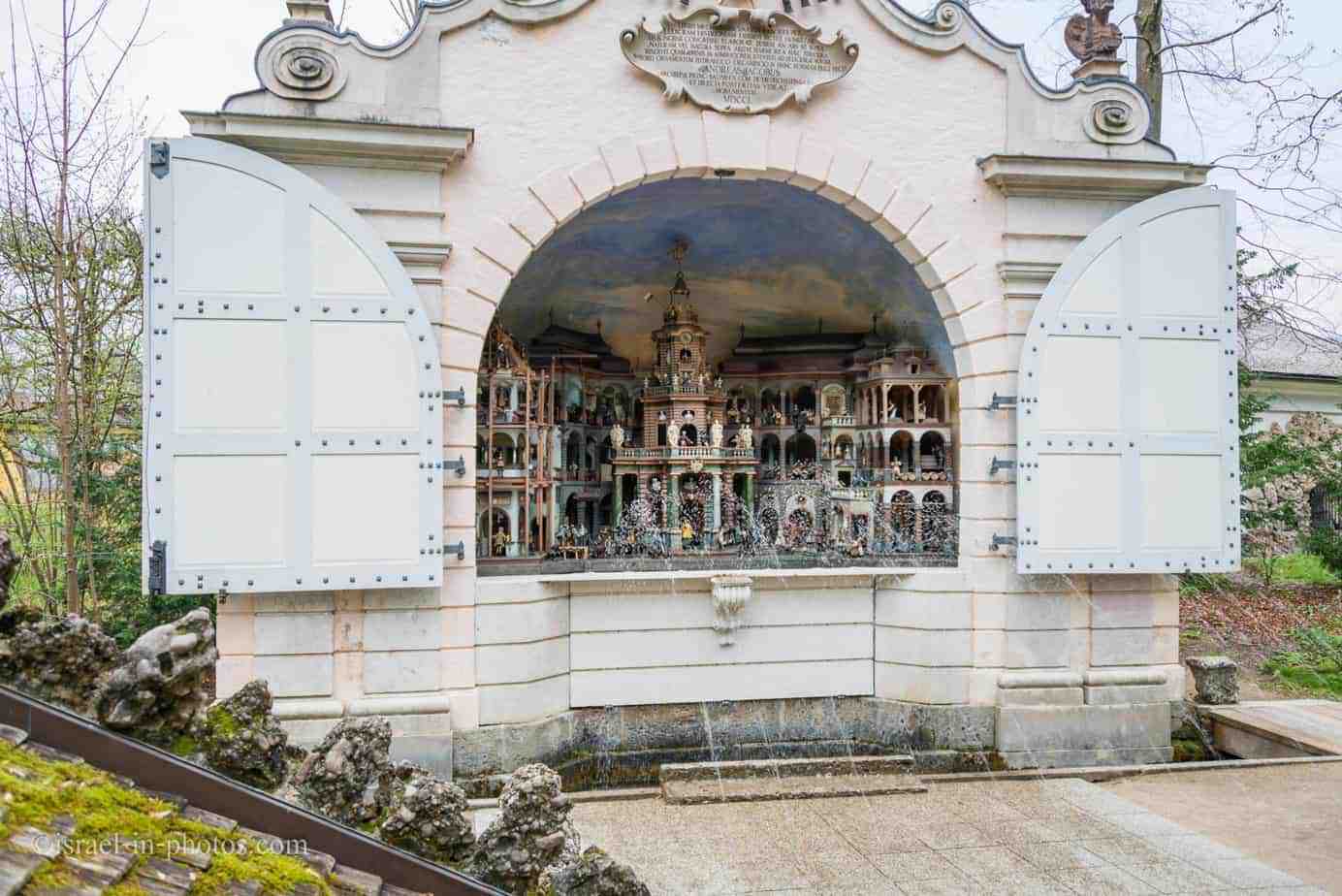 After the fountains were shut off, I came closer to see a replica of a village from that time. Of course, most of the parts are moving using the water pressure I mentioned before.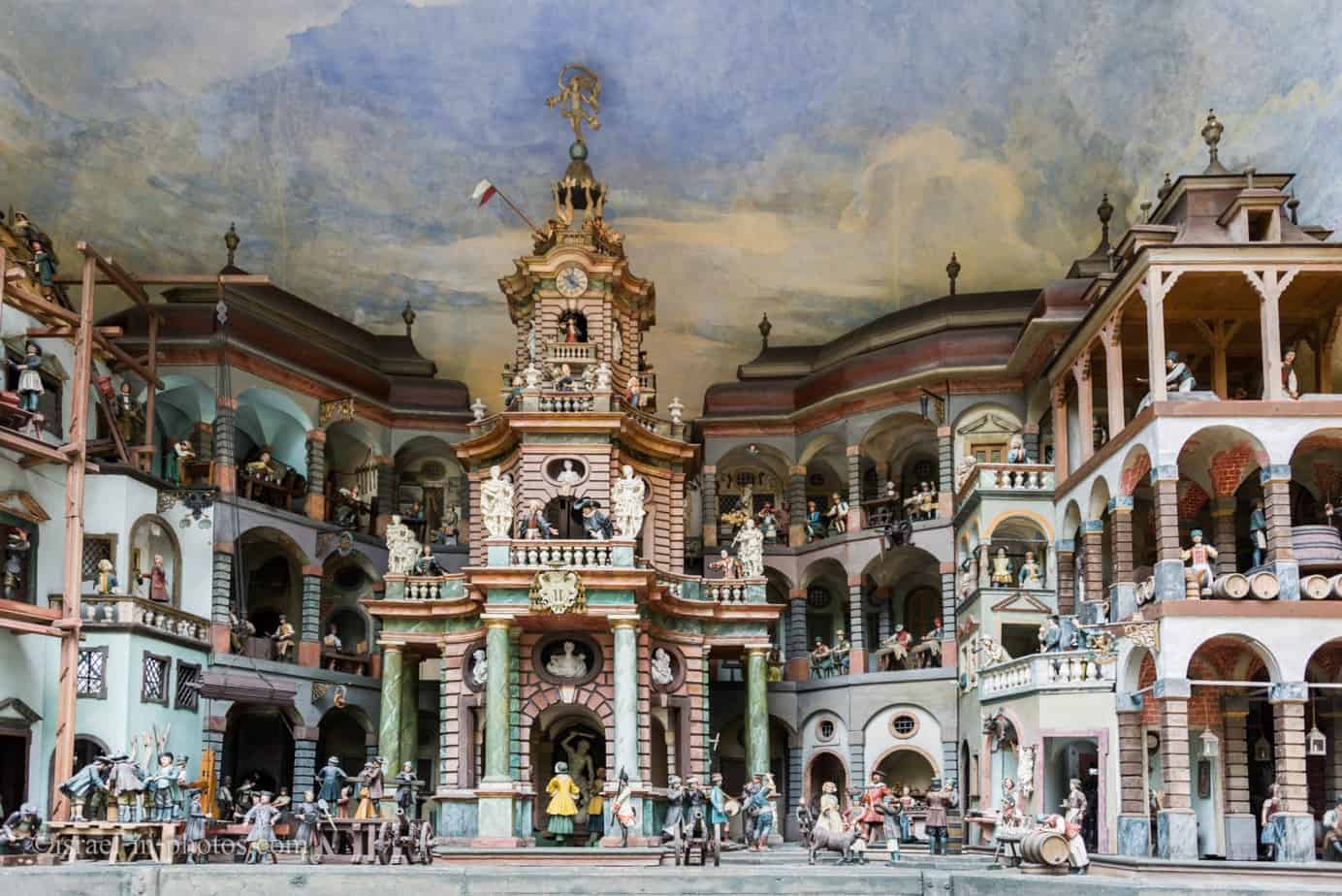 This building has a crown lying on a stone. And when our guide turned a knob, water stream hit the crown straight in the middle and the crown soared to the ceiling.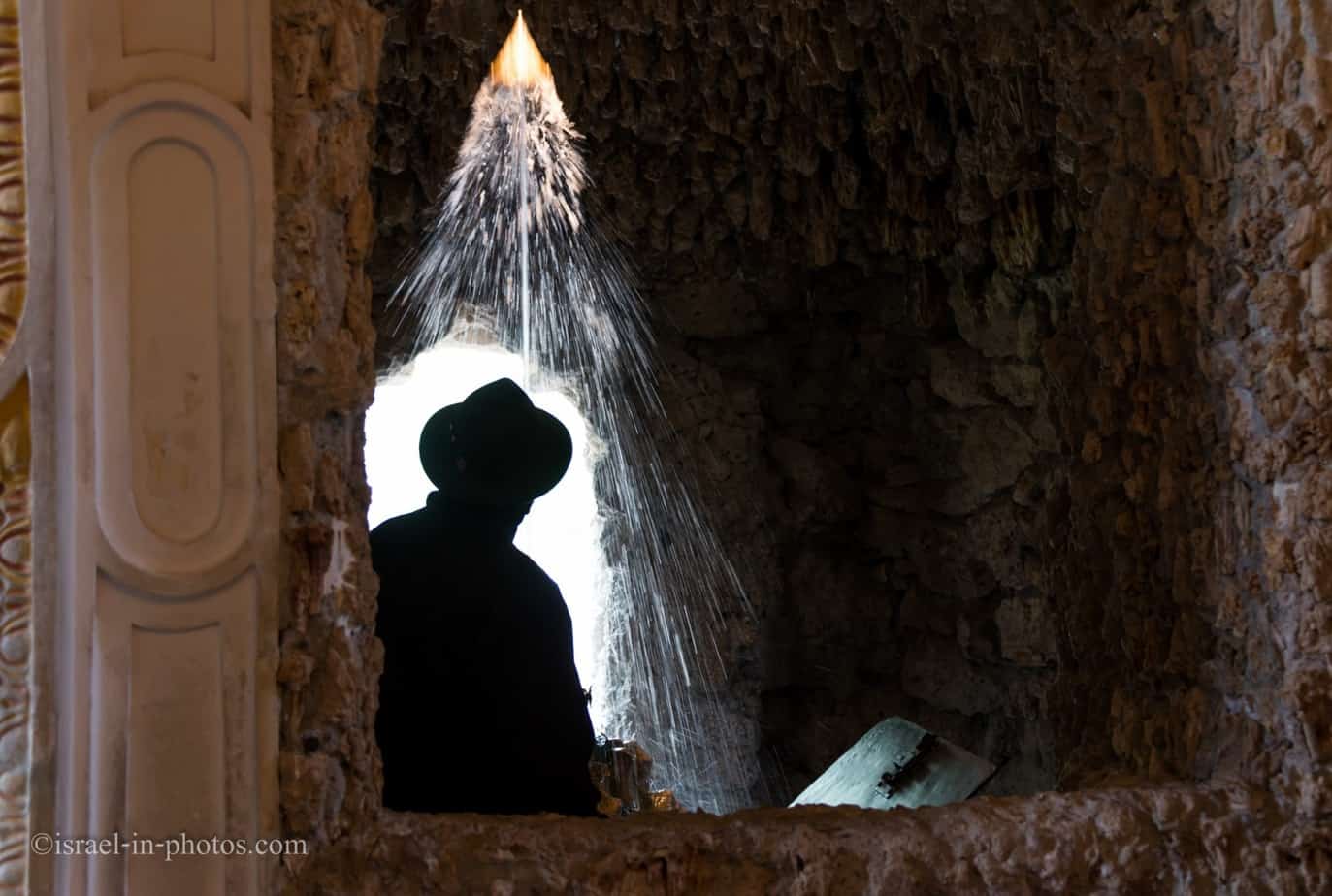 The intention was to say that you can rise up quickly, but you can also fall down quickly as well.
Trick fountains tour lasted for about 40 min and then we continued the palace itself (the yellow building).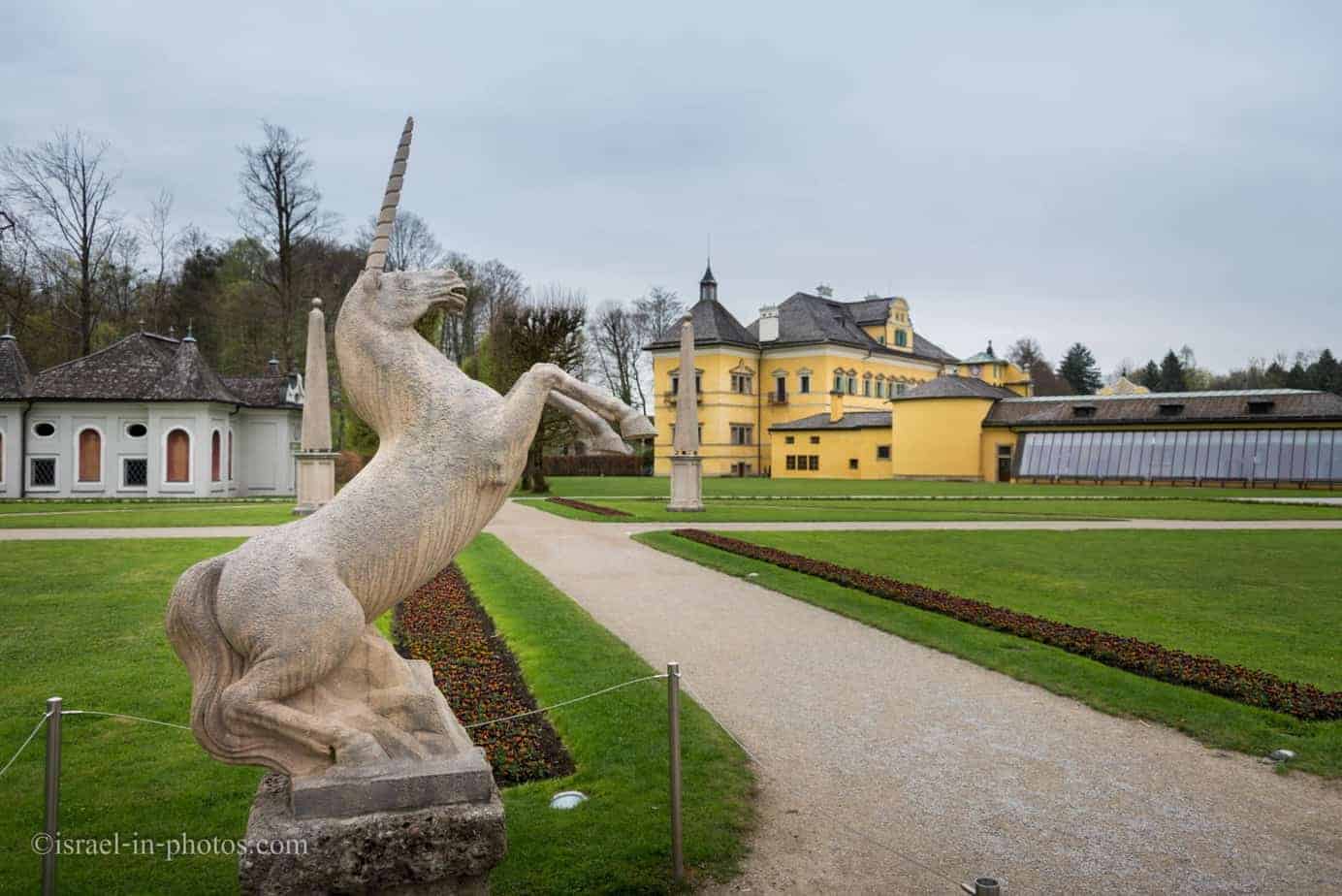 On our way through the gardens.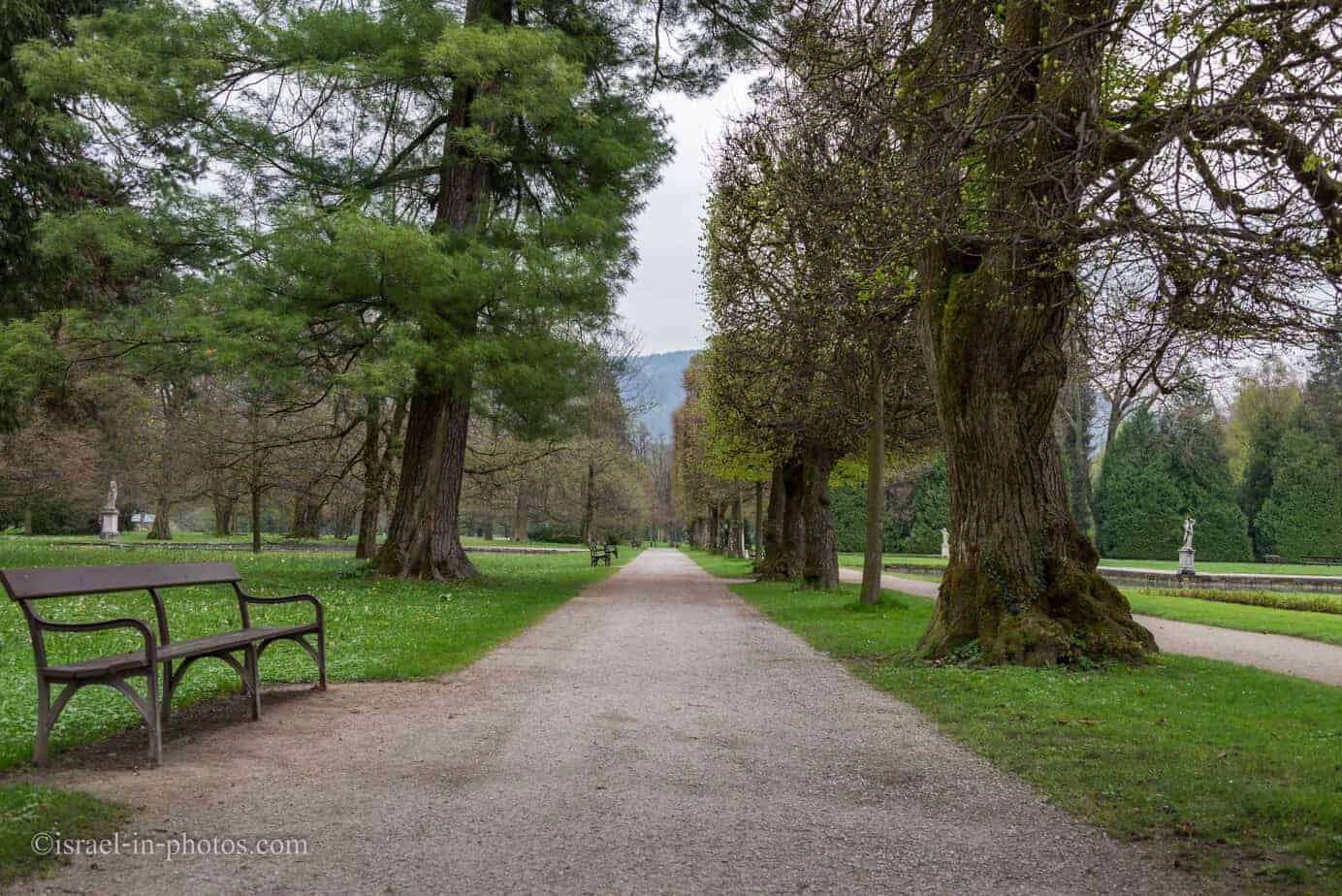 Hellbrunn Palace Museum
Inside the palace, there is a small museum telling about Markus Sittikus and life in that period.
Besides the beautiful interior, the sofa in the middle of this room was turning. Next to every seat, there is a monitor showing information about what you are currently seeing. Cool idea.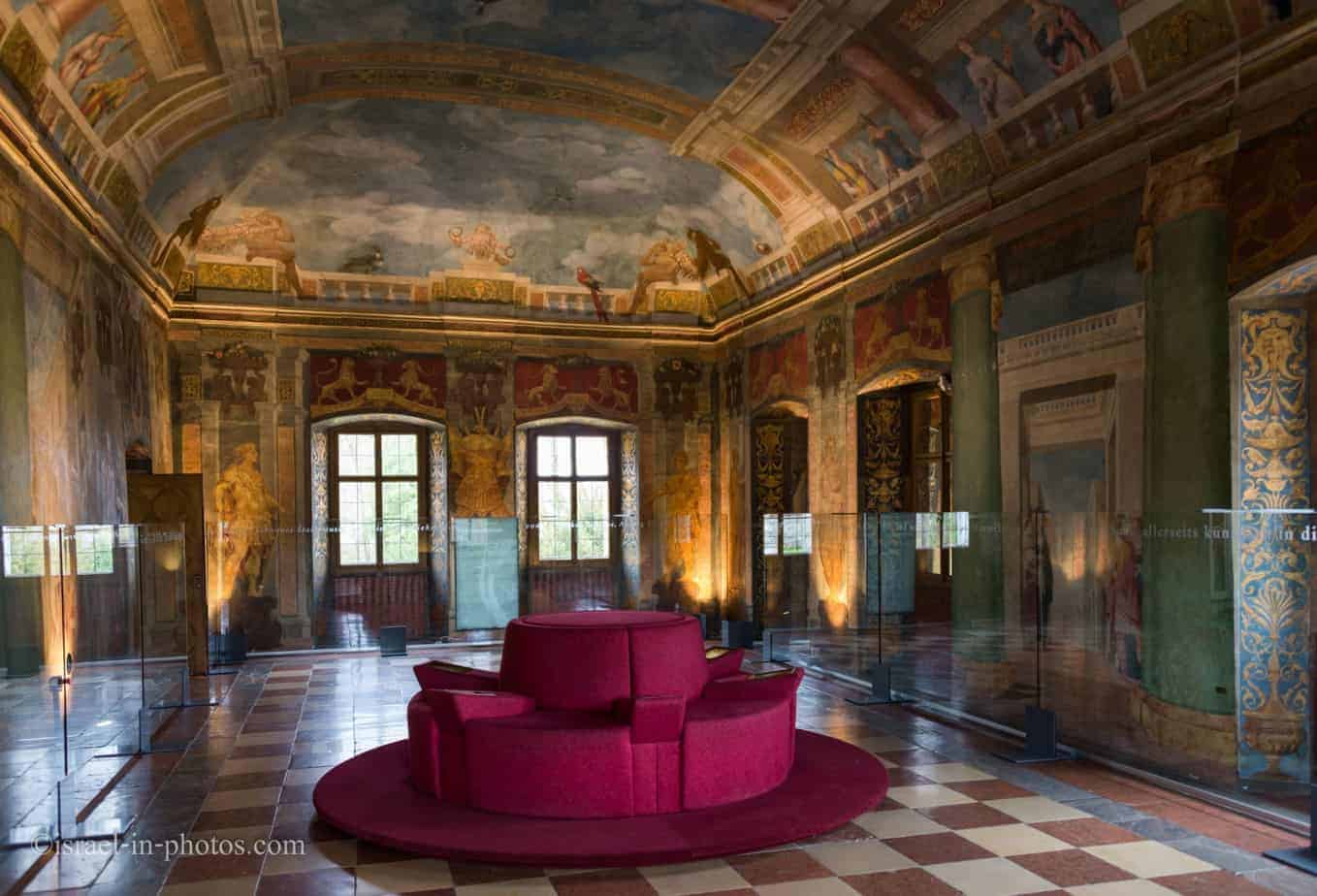 The music room: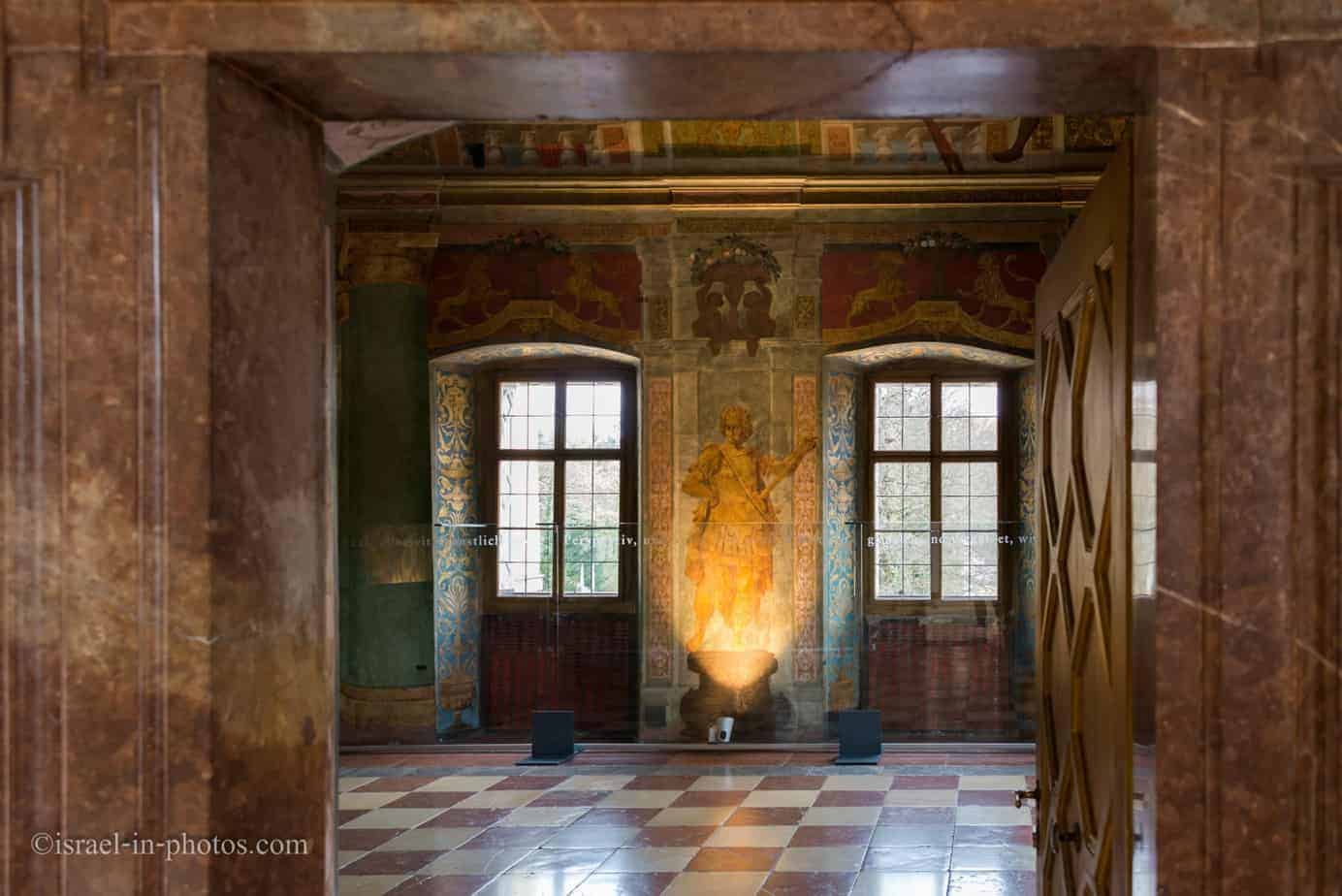 It's interesting to see there was no separation between what is real and not real (probably because they didn't know). In the collection, you can see real animals, like a painting of a pelican and a statue of a unicorn.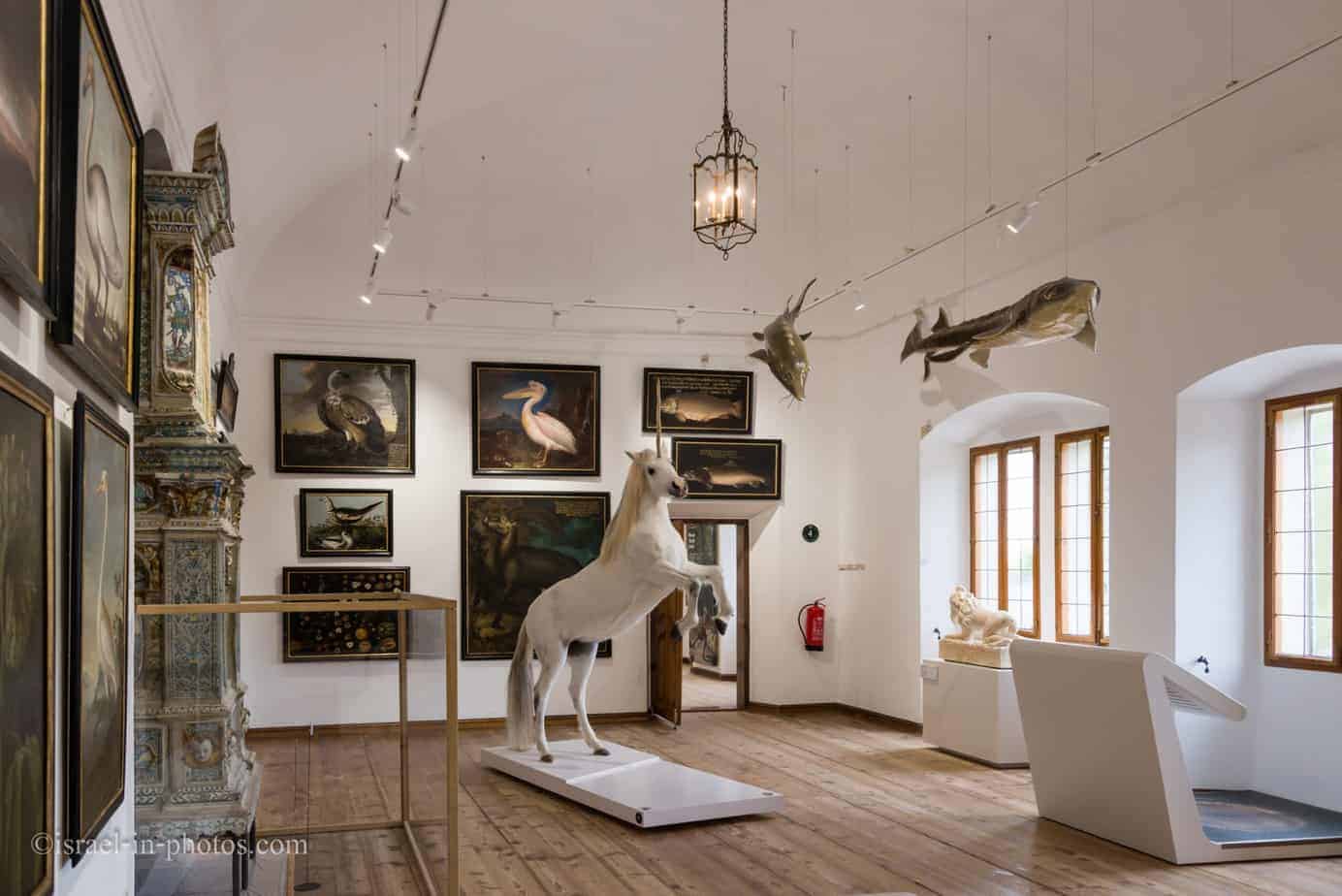 Markus Sittikus as a young boy.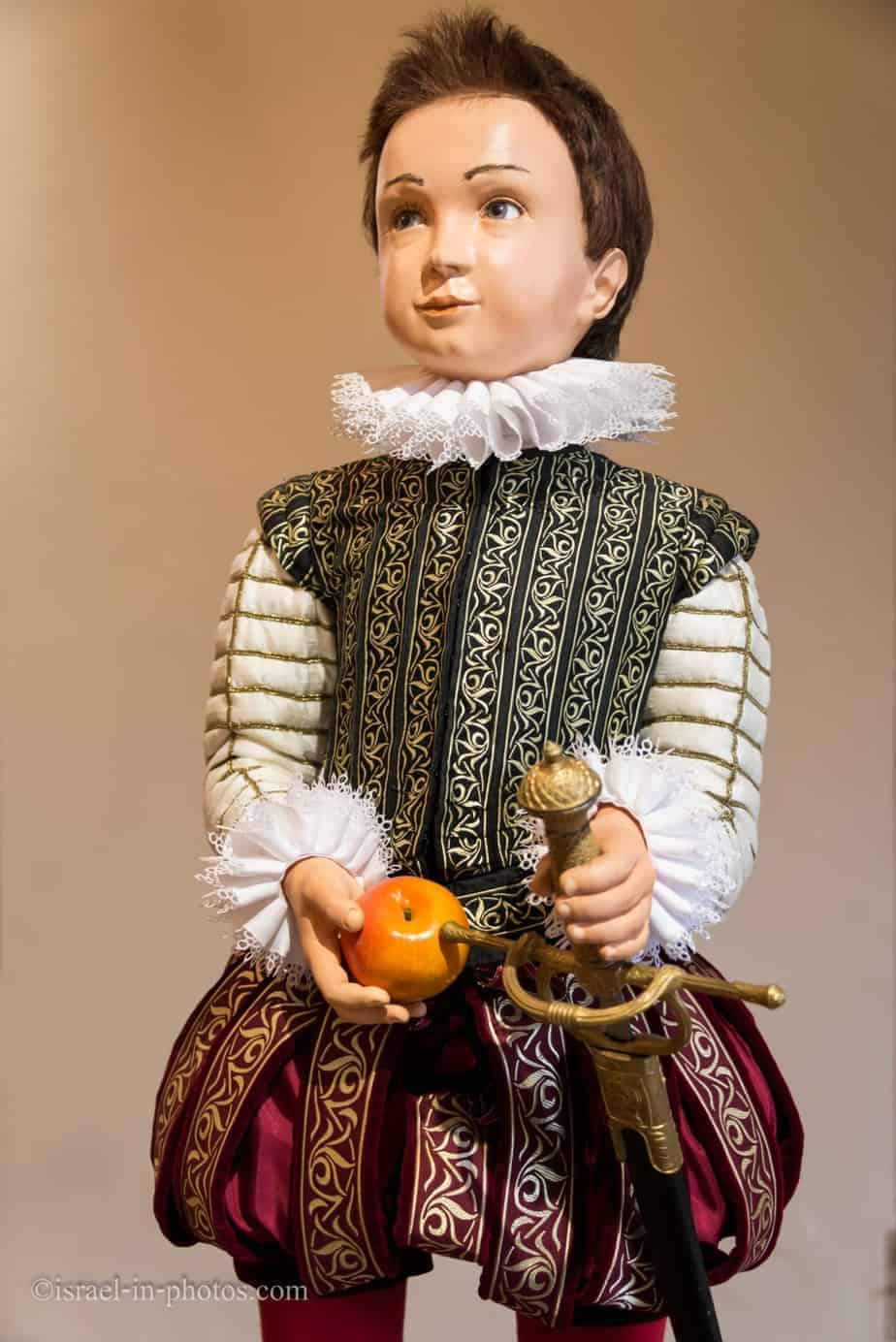 The same idea can be seen on this globe. On one hand, it represents earth quite accurately and on the other hand, different monsters are depicted in various areas.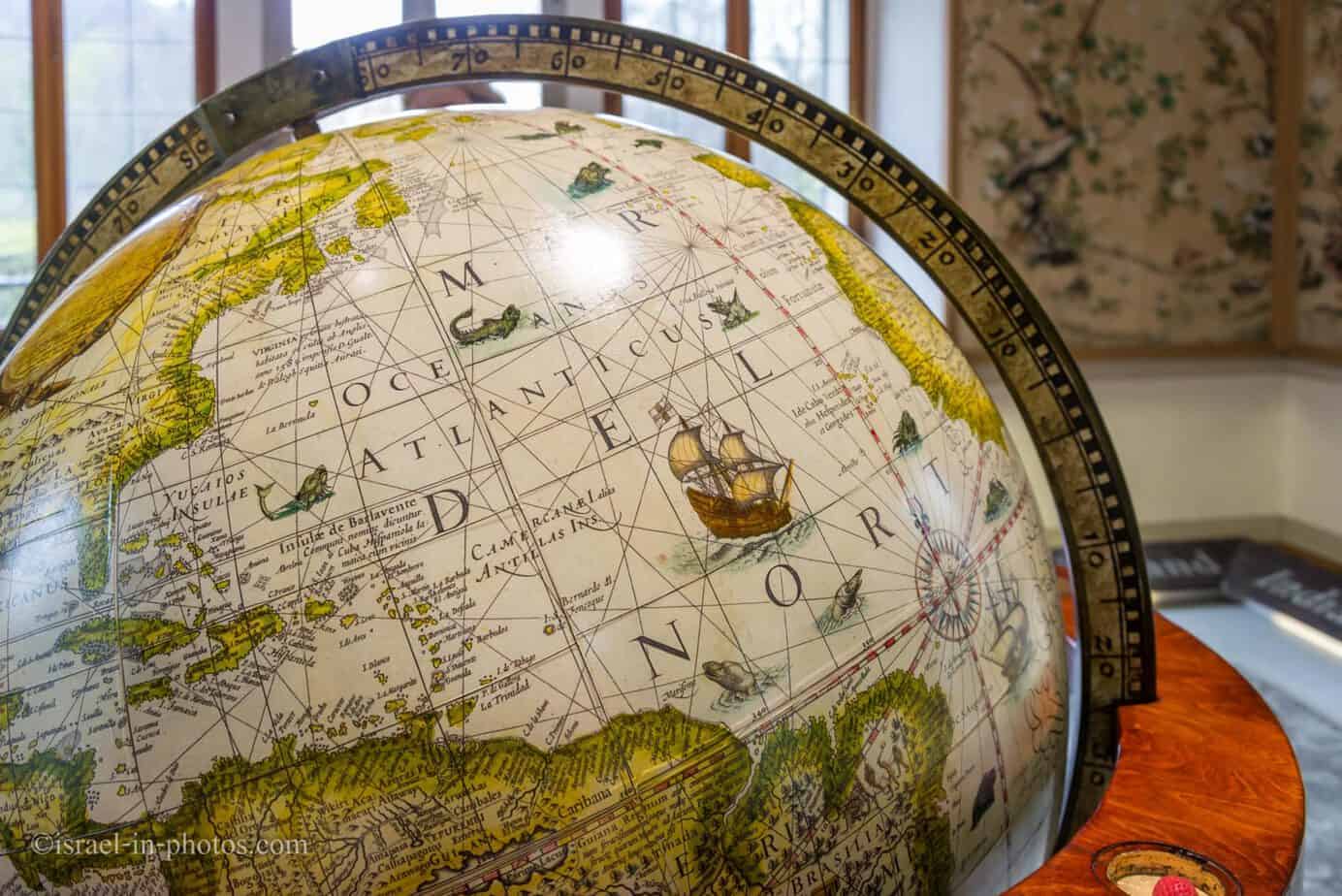 We spend another hour in the museum and then drove back to Salzburg. Next in line was Hohensalzburg Castle.
St Peter's Abbey
We parked at the same place as yesterday and started walking towards Hohensalzburg Castle. On our was we passed next to St Peter's Abbey and decided to enter.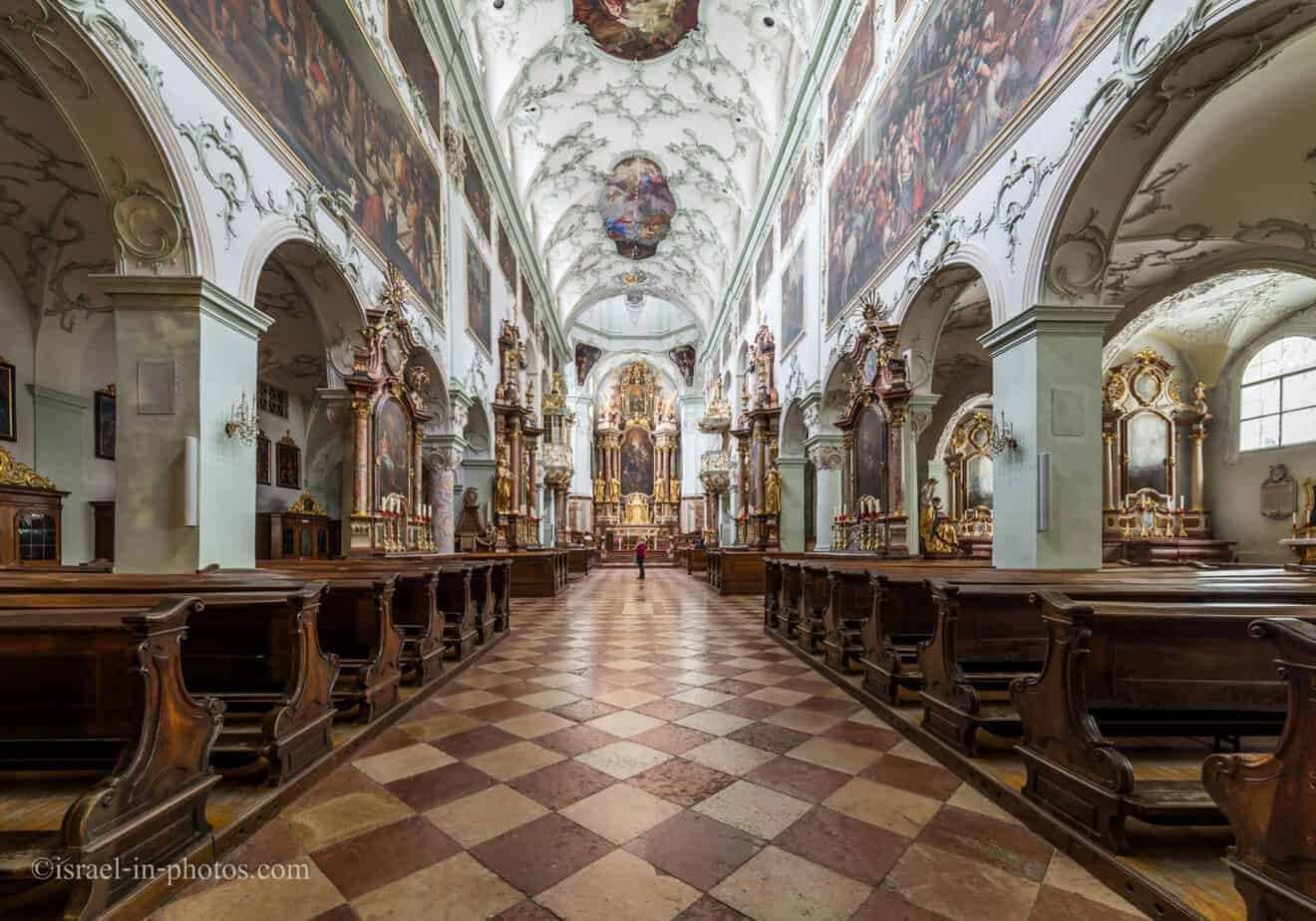 St Peter's Abbey is considered one of the oldest monasteries in the German-speaking area and in fact the oldest with a continuous history since its foundation in 696.
Ceiling: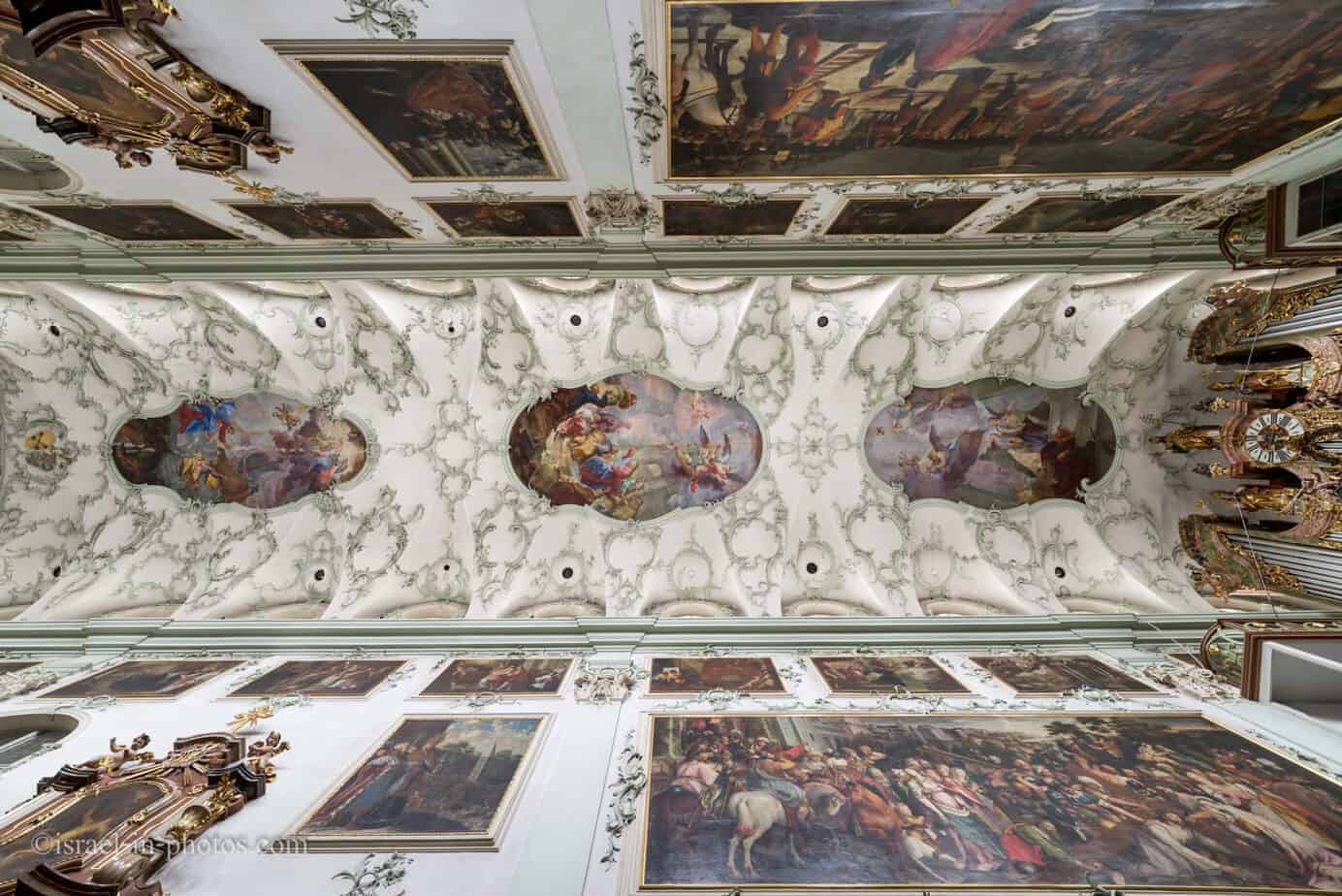 Next to the entrance: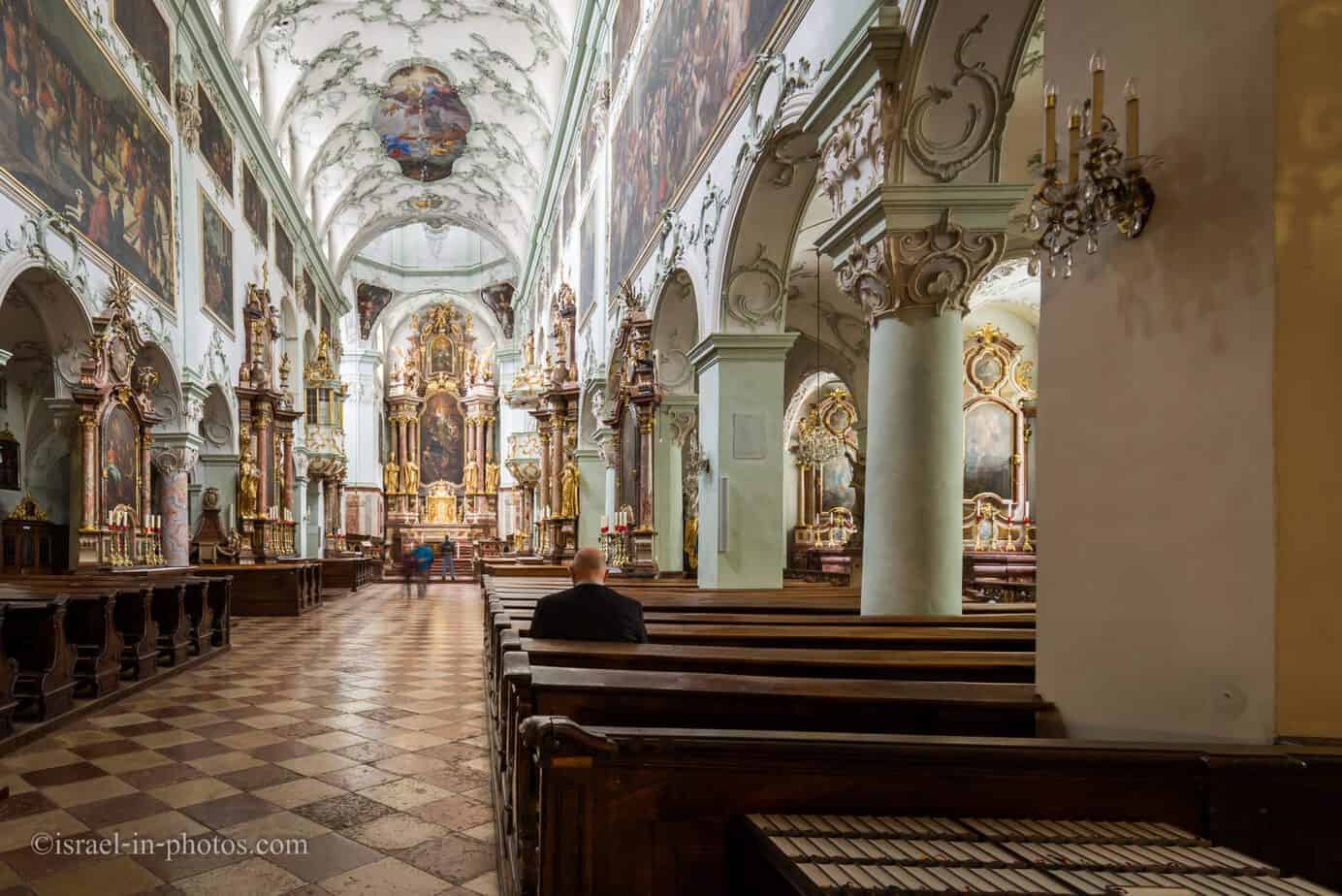 Petersfriedhof Cemetery
At the foot of Hohensalzburg Castle (can be seen up in the middle), lies Petersfriedhof. It is the oldest cemetery in Salzburg.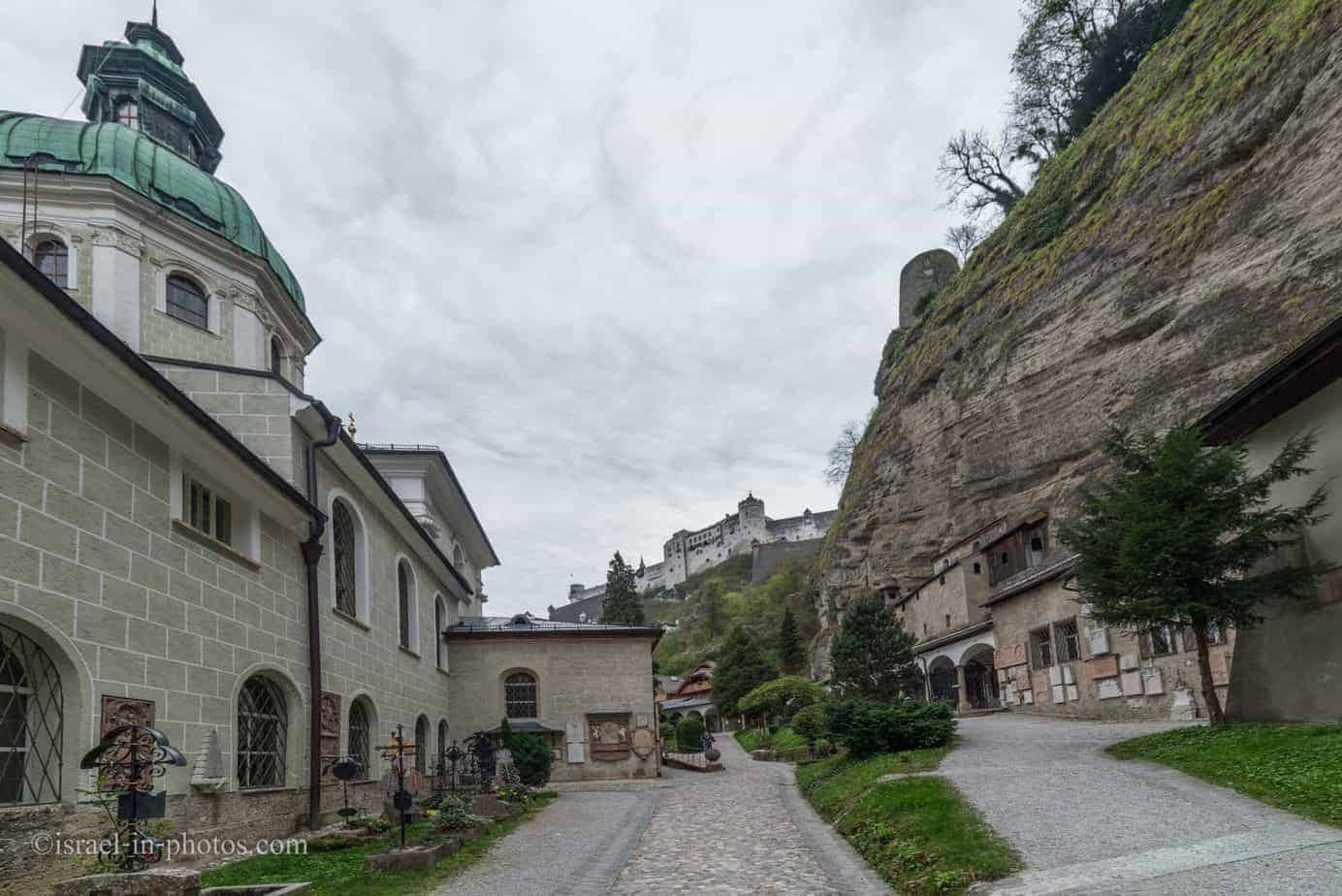 One of the notable burials is Santino Solari. Santino Solari was an Italian architect and sculptor. He was the chief architect of Salzburg and is his work includes Schloss Hellbrunn with its trick fountains and Salzburg Cathedral.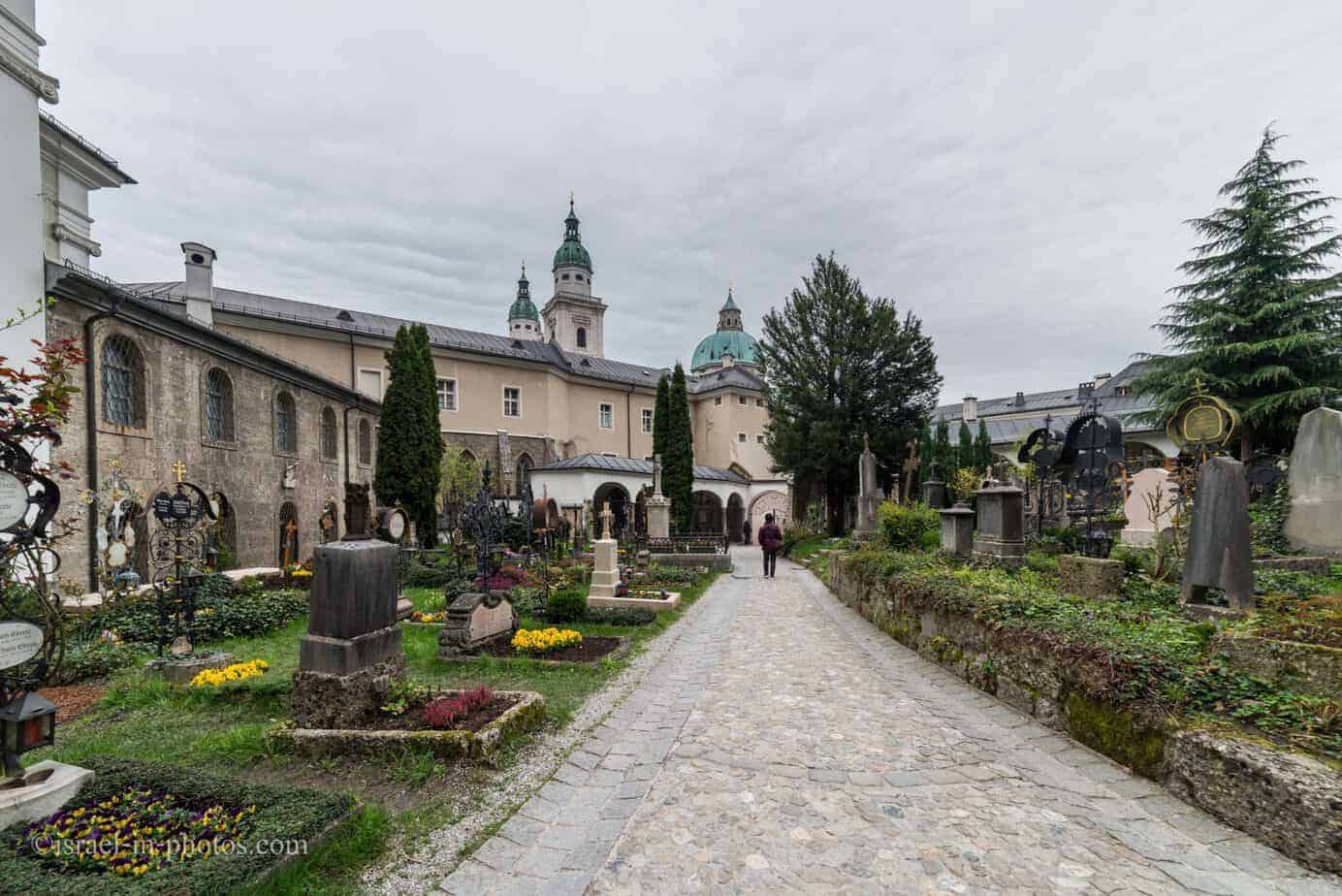 Hohensalzburg Castle
We took the funicular to the top of the hill and this is what was revealed beneath (funicular in the bottom and Salzburg Cathedral on the right).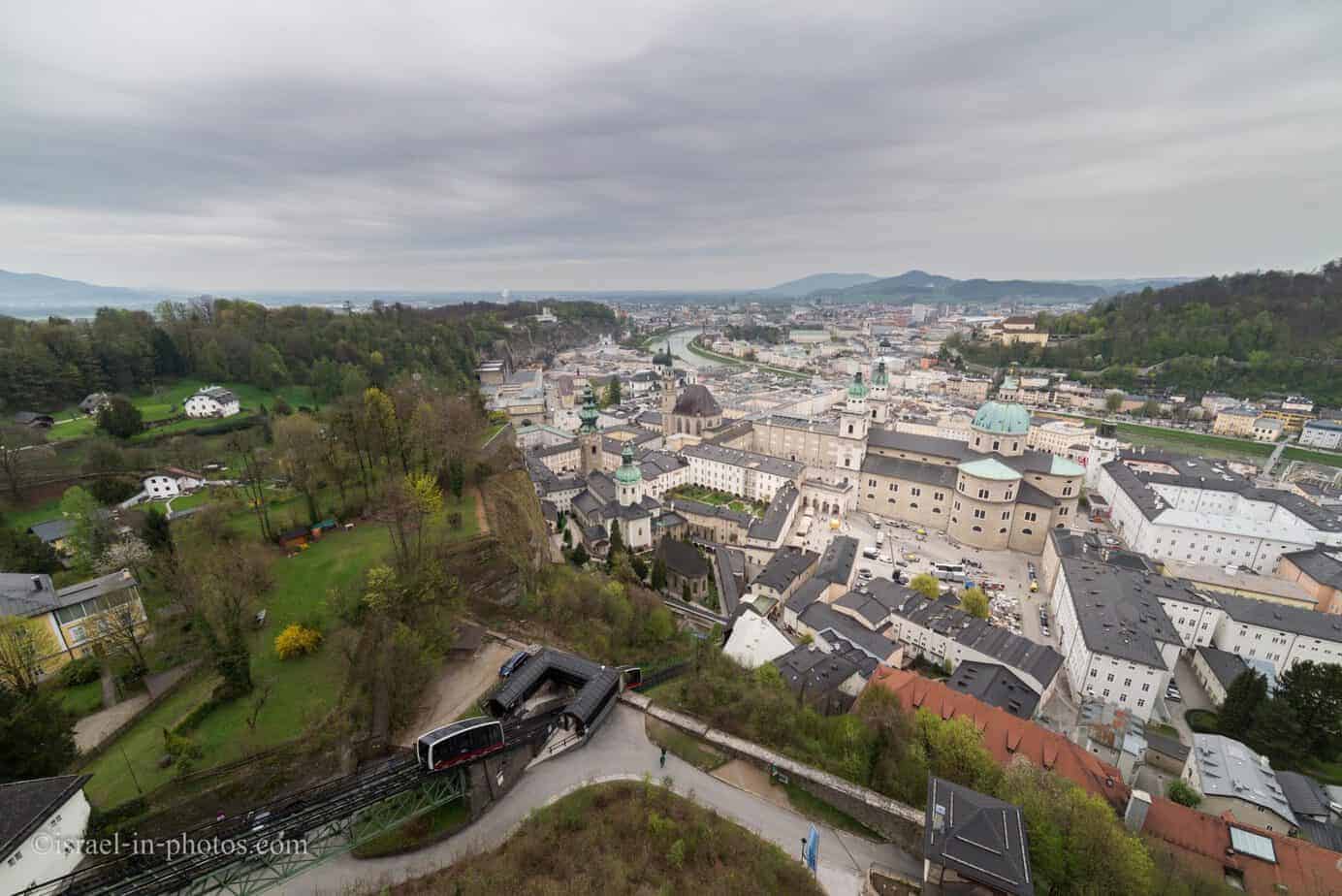 Another view from the top: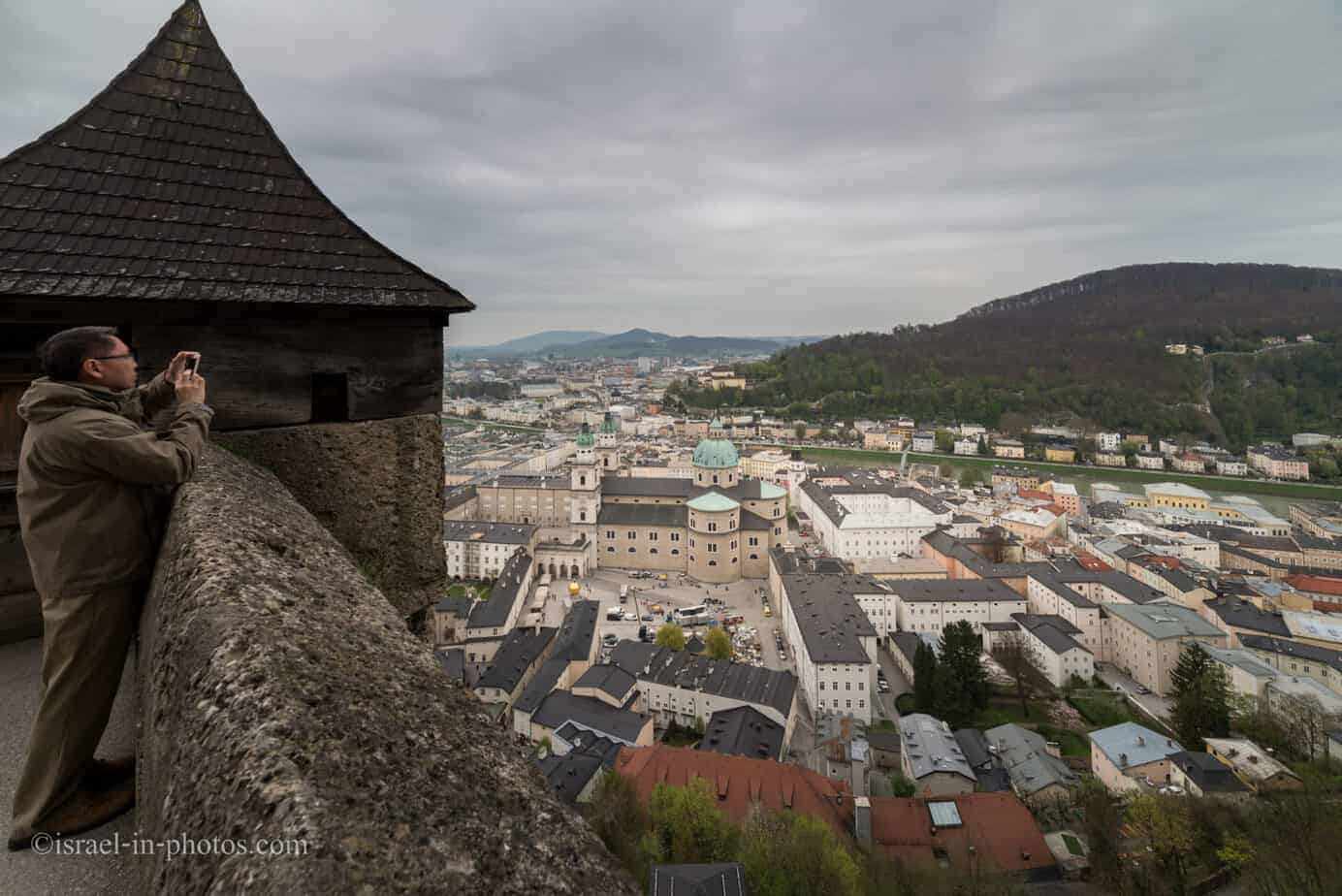 Usually, there are several types of combo tickets, but since restorations were going on only one ticket type was available. The ticket included the funicular ride up & down and audio guide on site. All this for 12 euro per person.
Thus after getting to the top of the hill, we took some photographs and went for the audio guided tour.
This room showed models depicting different development stages of Hohensalzburg Castle (in chronological order).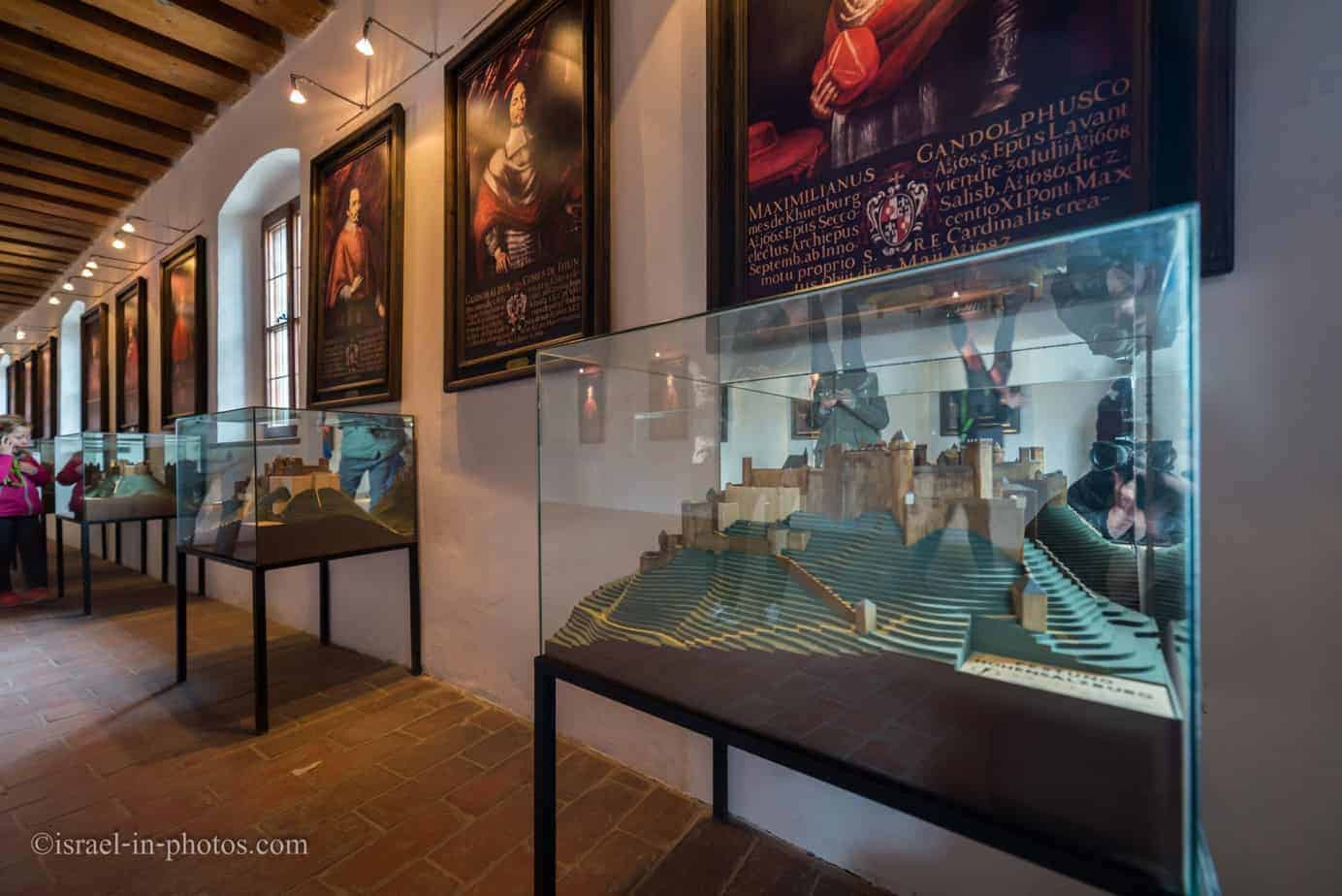 Then, after passing the torture room we climbed the stairs to the top of one of the towers.
Inner view of the castle: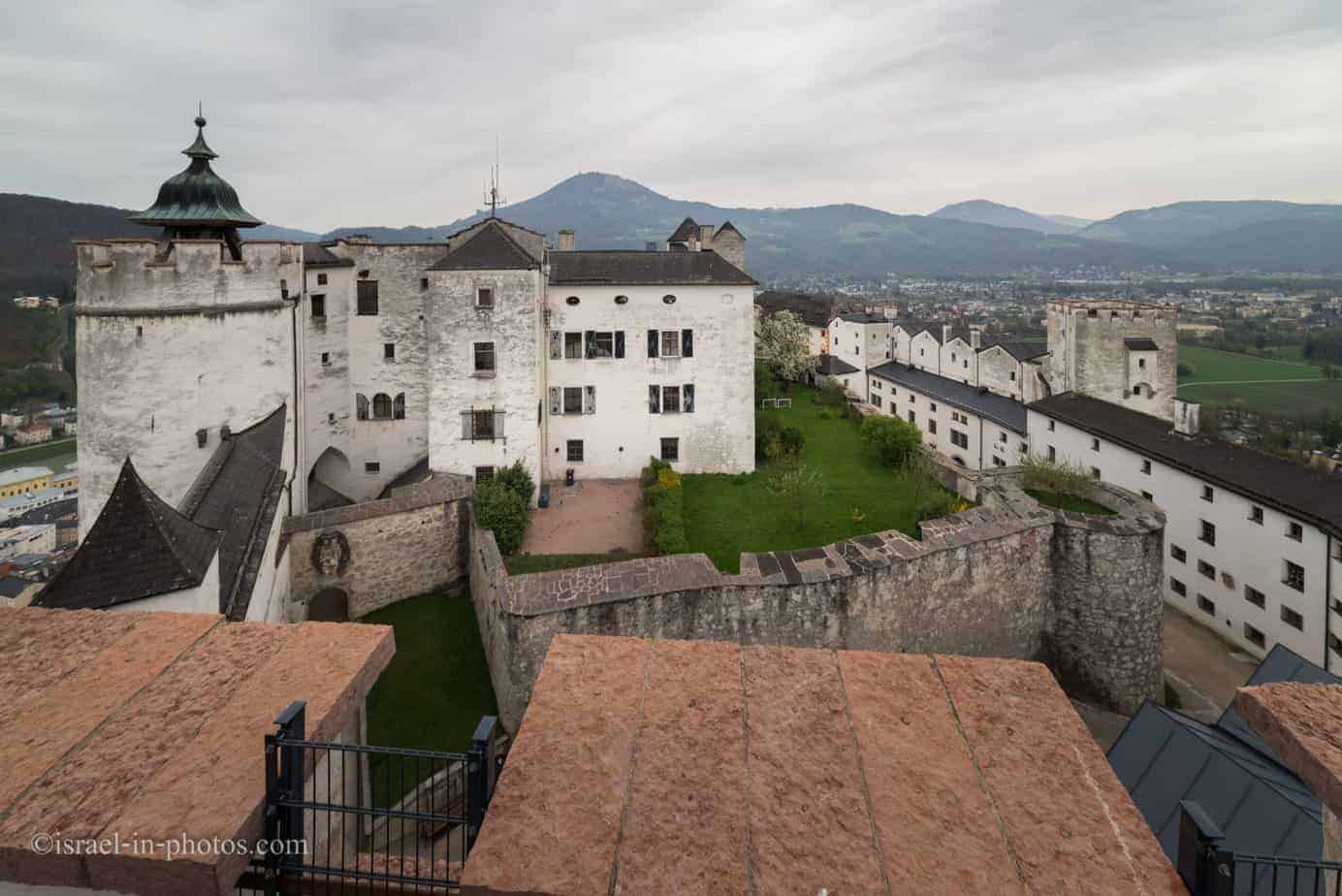 Looking towards the old city:

After several additional audio stops, the tour unexpectedly ended. Why unexpectedly? Well, I though the audio tour would be longer, but it lasted less than an hour.
Then we wandered around, but due to the reconstruction, everything was closed. Thus we took the funicular back to the old city.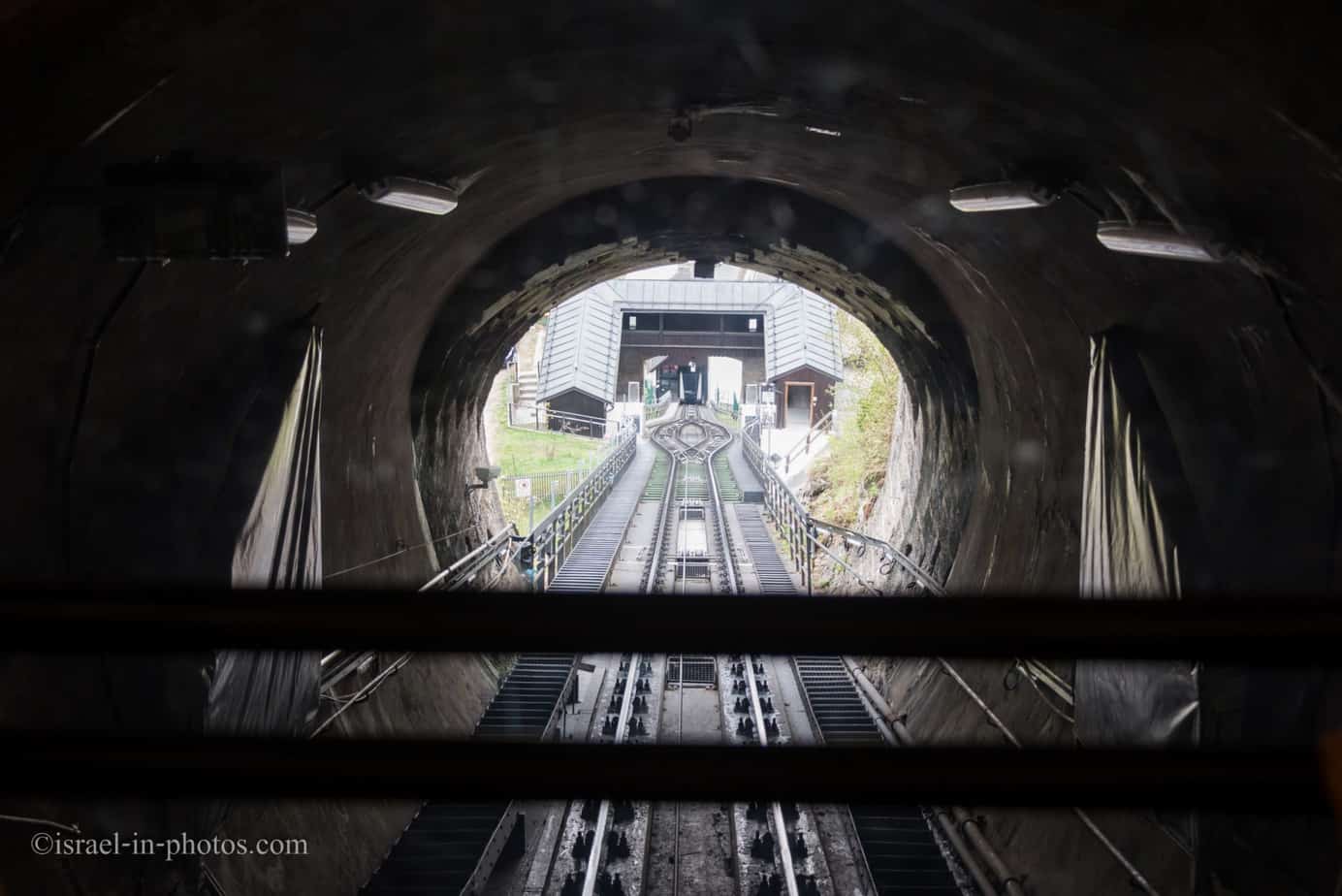 Almkanal Museum
When we exited the funicular we found ourselves in Almkanal Museum. It's a very small museum about the network of tunnels that connects much of the Old Town. It is considered to be the oldest canal system of Central Europe and probably dates back to the 8th century. 
And next to this tiny museum there is a store selling mostly jewellery and some salt.
Looking back at the Hohensalzburg Castle: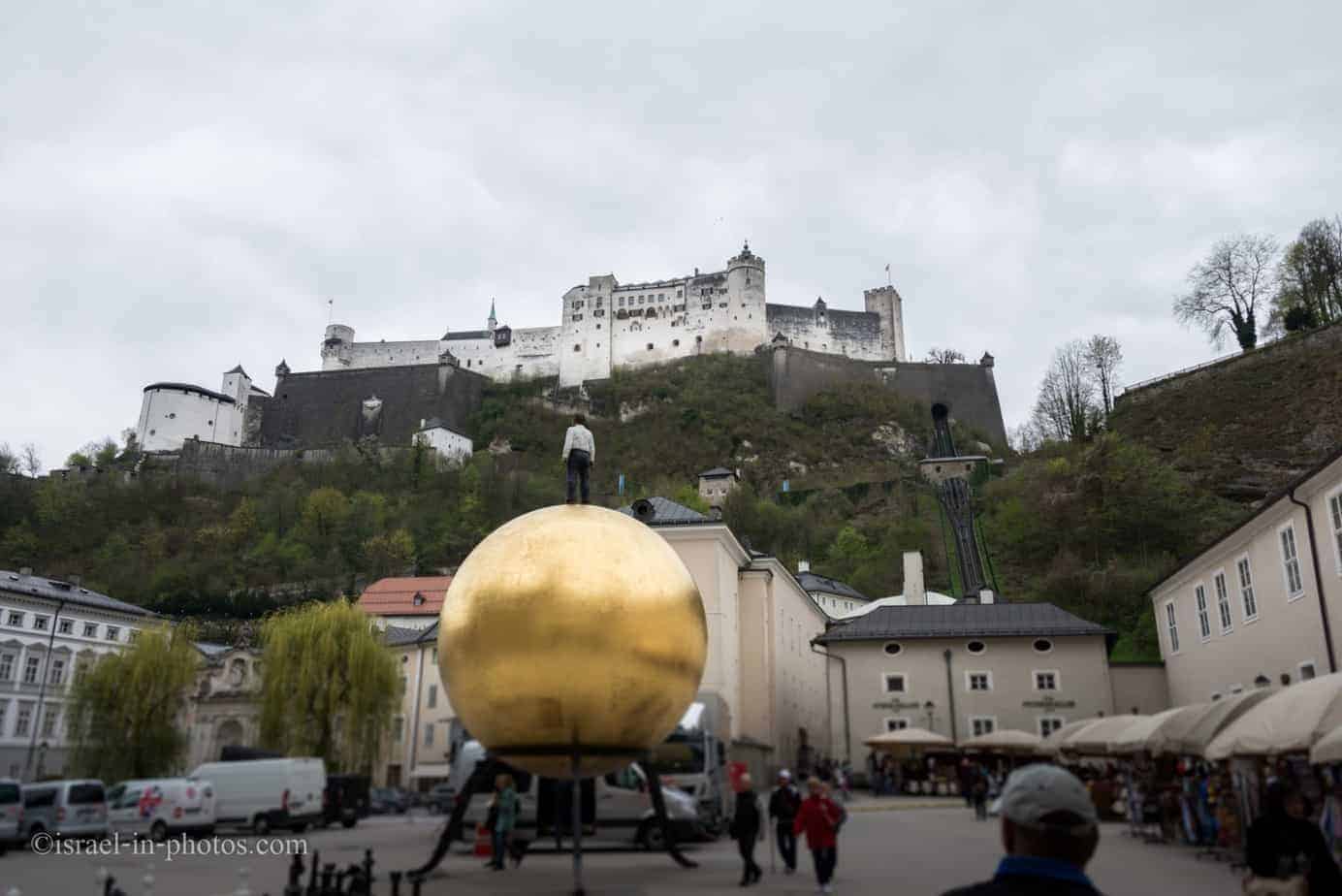 We walked the city a little more, but I will finish this day with a photo of Magnolia flowers.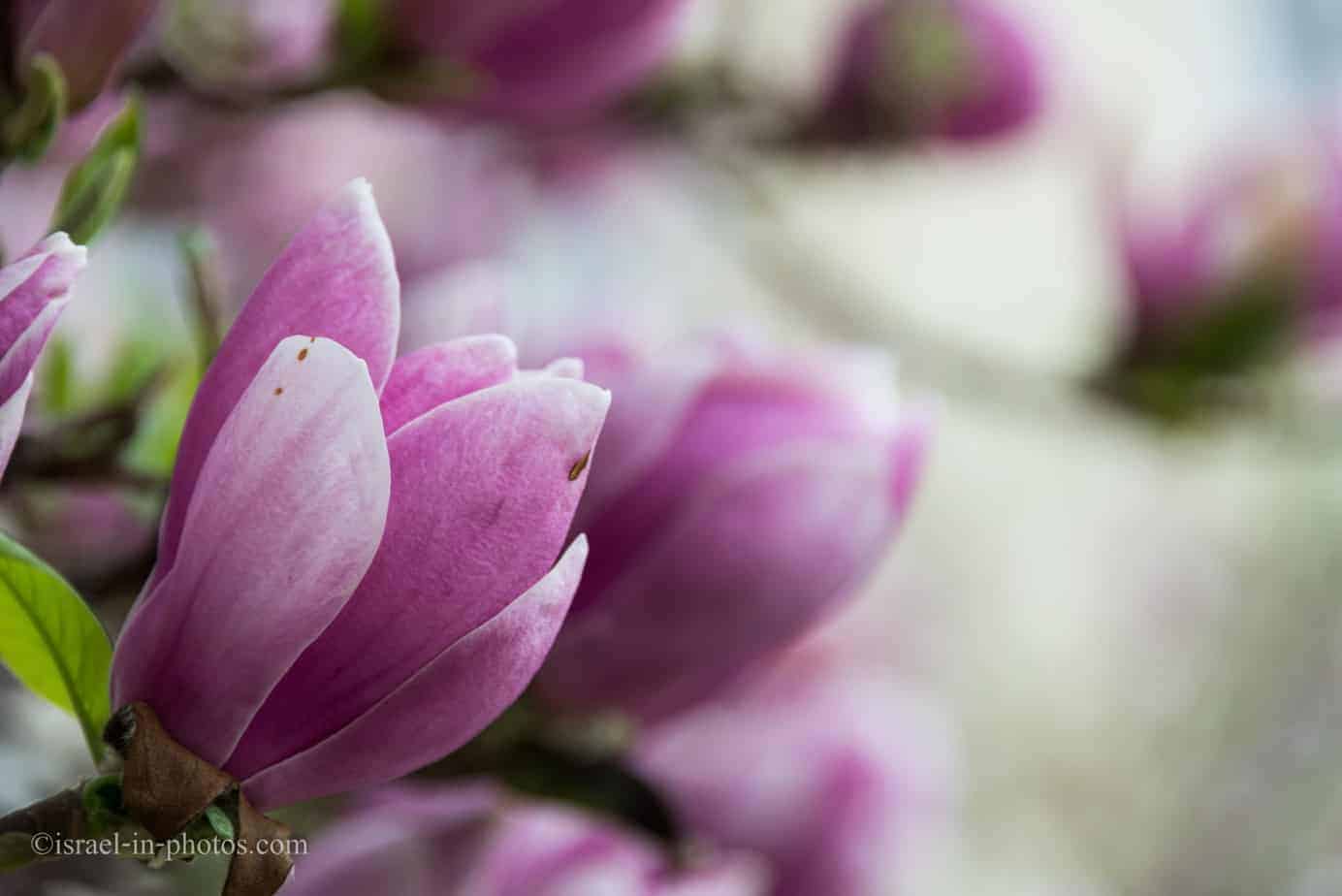 Cinemagraphs
While visiting Austria I created a series of Cinemagraphs. During our visit to Salzburg, I created two Cinemagraphs. I took the first one in our hotel. There actually was no wind, so I had to move the curtain myself. And the second one was made at Hohensalzburg Castle with the help of my wife.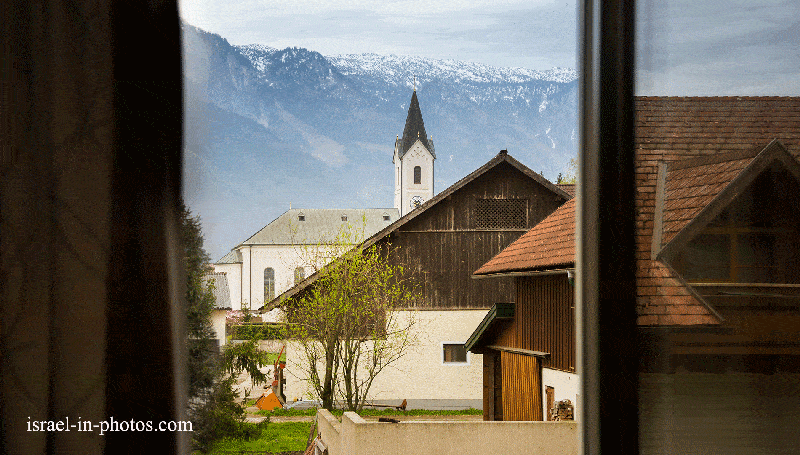 To find out more check out Cinemagraphs – Photos with Motion from Austria.
Note: all posts from the trip to Austria can be found at 11 Days in Austria.
That's all for today and I'll see you in future travels!
Stay Tuned! 
 
Additional Resources
Here are several resources that I created to help travelers:
And if you have any questions then check out Useful Information For Tourists To Israel.
 
Did not find what you were looking for? Leave a comment below, and I will do my best to answer your questions.