Rome is densely packed with tourists. If you go unprepared you could easily spend several hours in a line. The most famous tourist attractions are the Vatican and the Colosseum. For those two I would suggest purchasing tickets online and preferably early morning ones.
Knowing this our daily routine was: visiting one tourist attraction (which has a line) early in the morning and the rest of the day is walking around the city.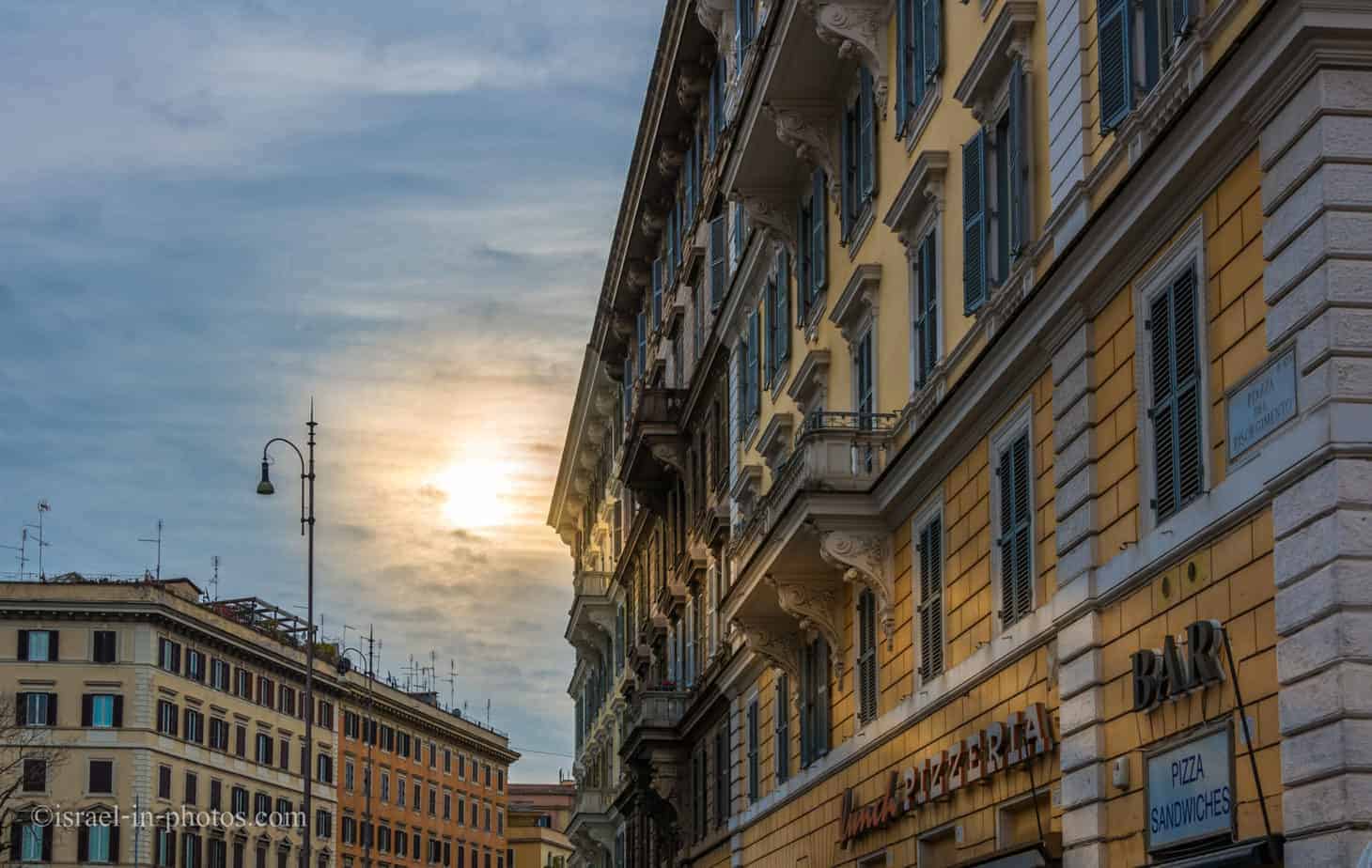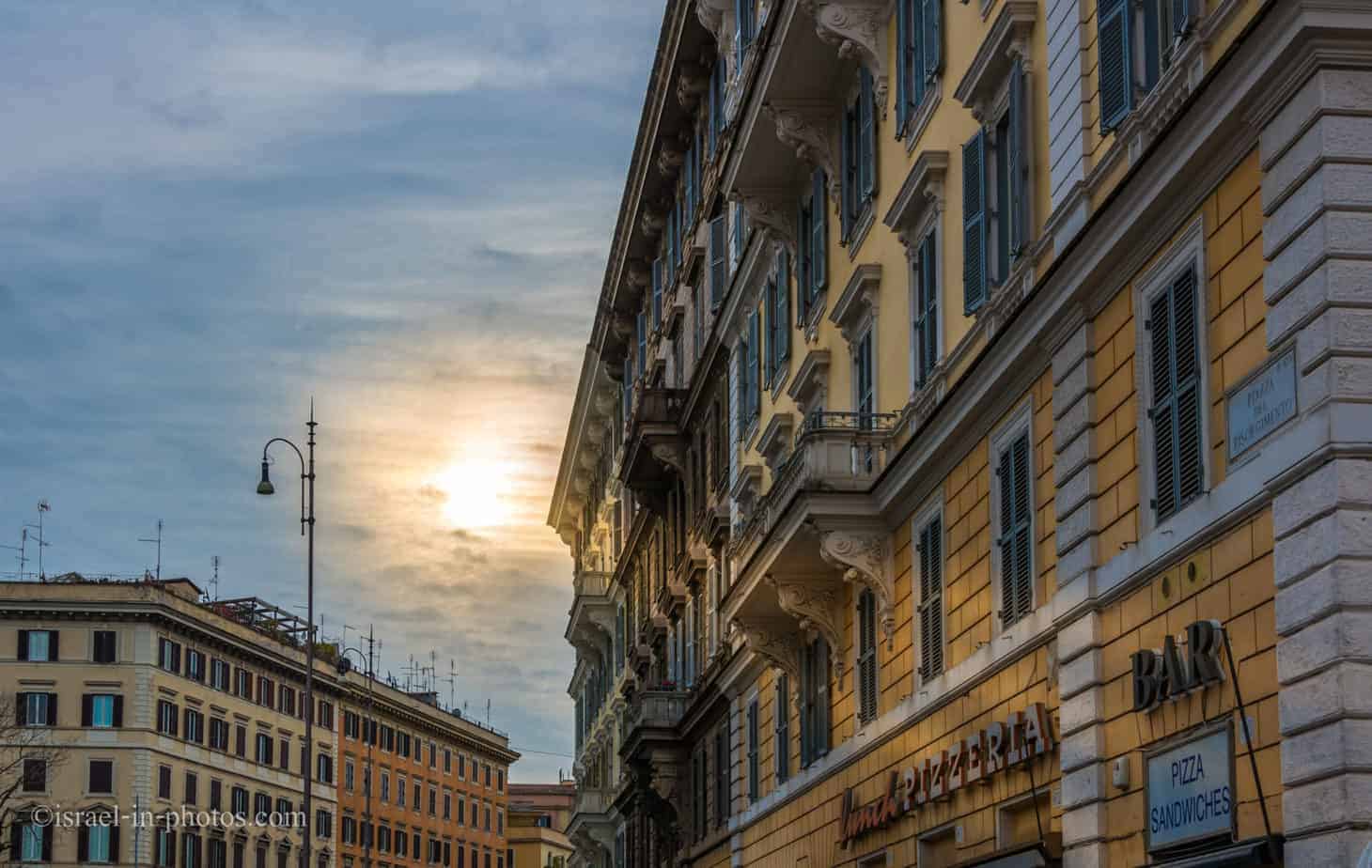 Vatican Museums
For the first day, we had pre-booked tour tickets to the Vatican museum. On the official site, you can book a guided tour in different languages.  Then you join a group (we were about 15 people) and tour the museum for several hours (depending on the tour you selected).
Our tour started only at 9:30, and since around 8 we were already there we had spare time. Thus, went to St. Peter's Square: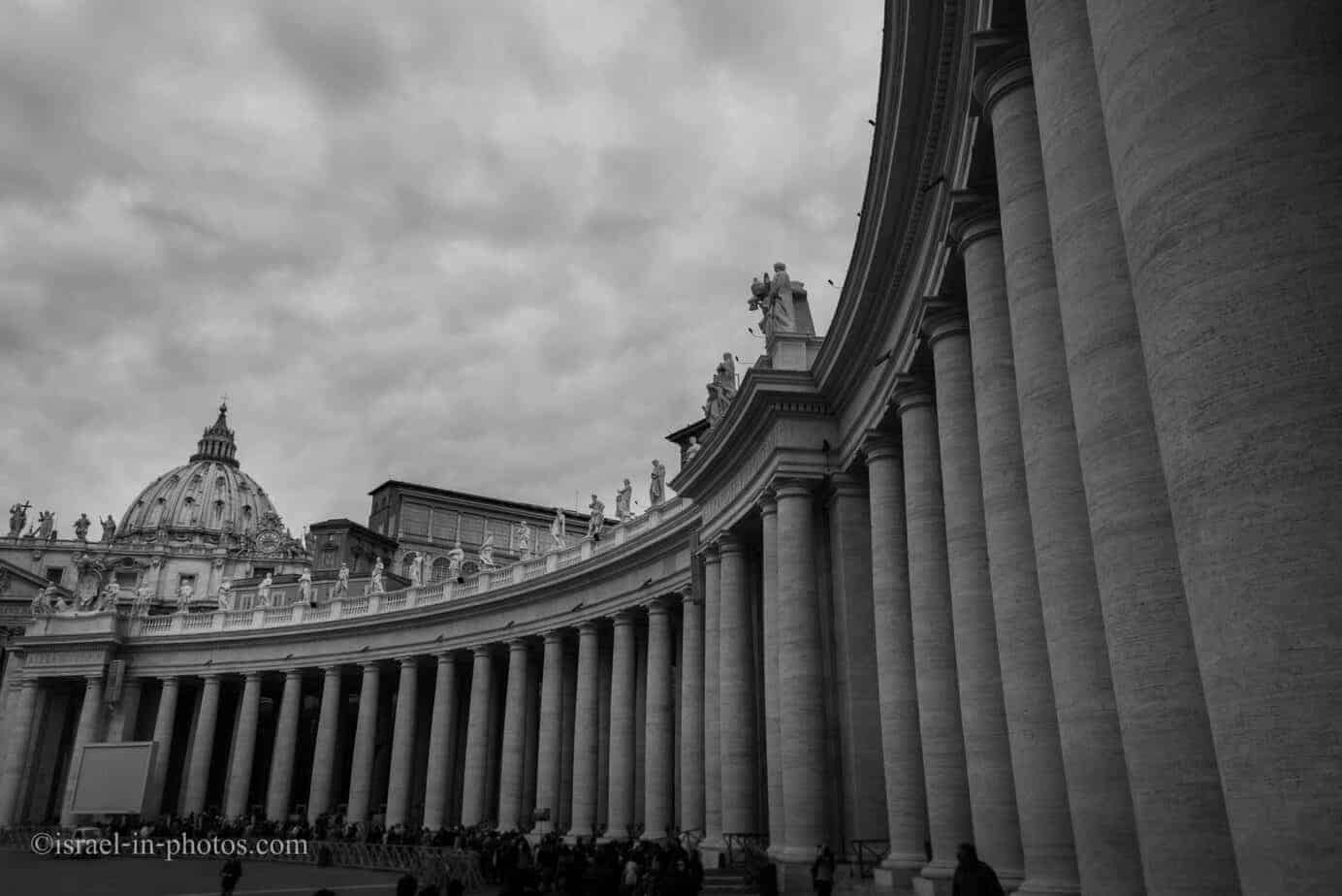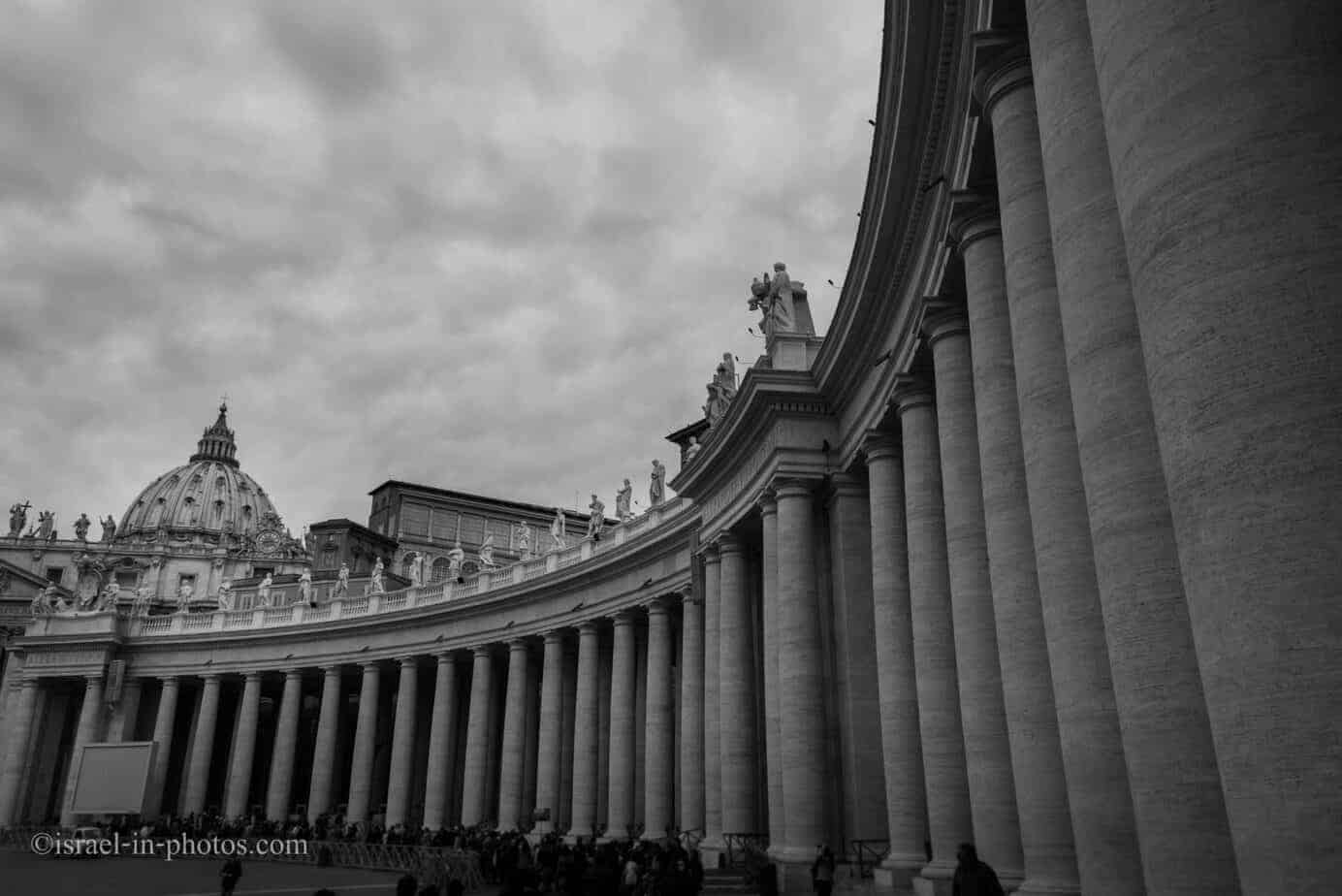 And this is a 360 deg. (fisheye) view of the square: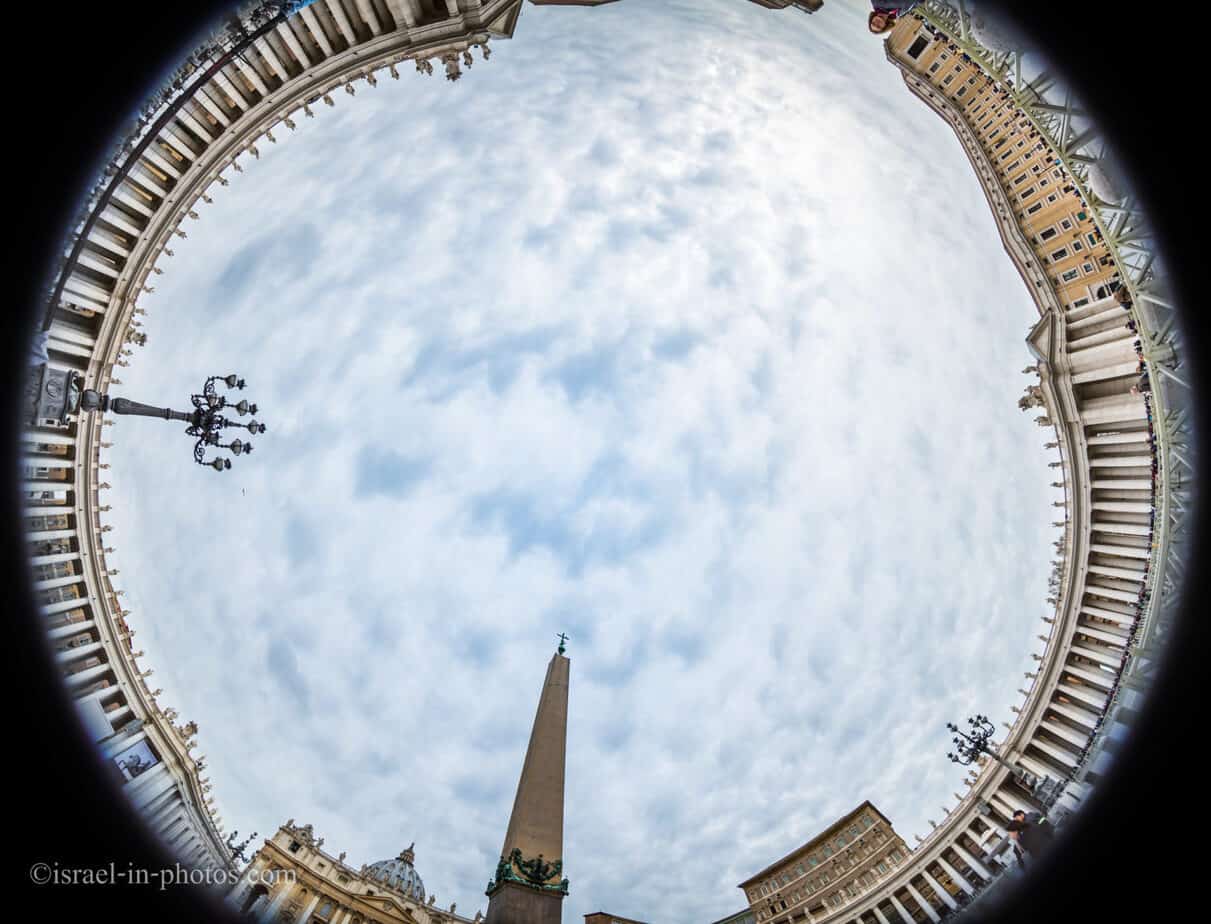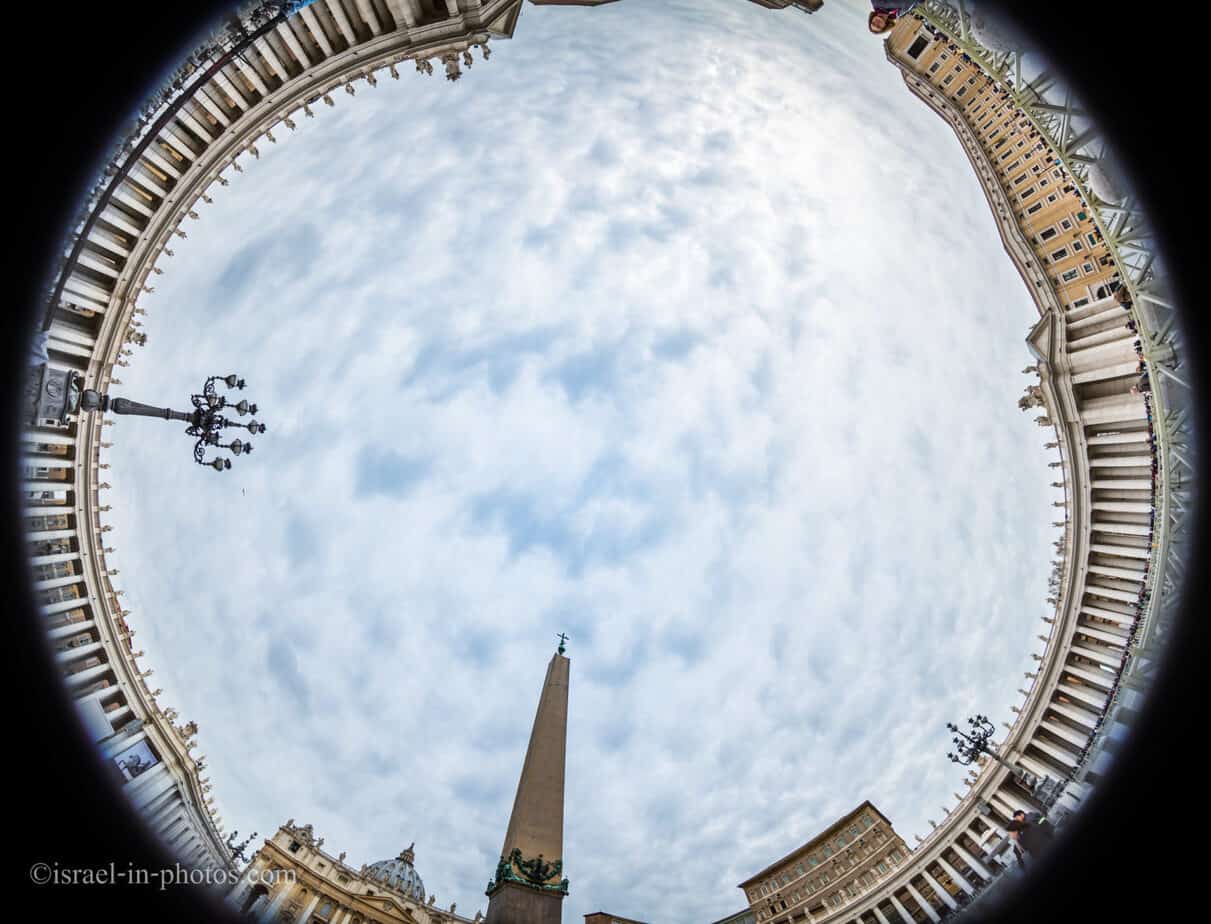 One common saying is "Sunny Italy". Well, Sunny is relative to where you come from. Italy isn't sunny relatively to Israel. In fact, in our first two days, it was mostly cloudy/rainy. Thus, many photos were converted to B&W: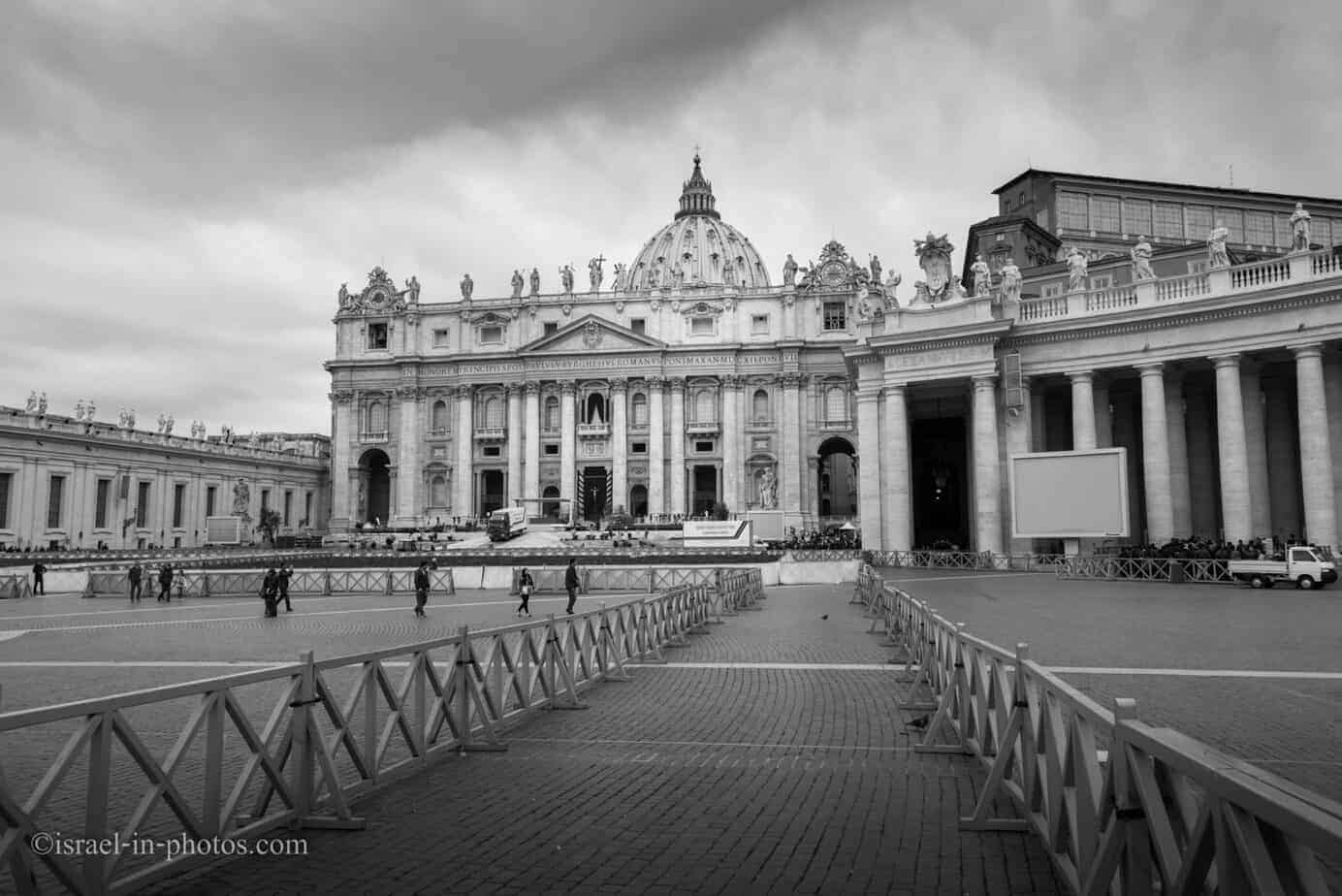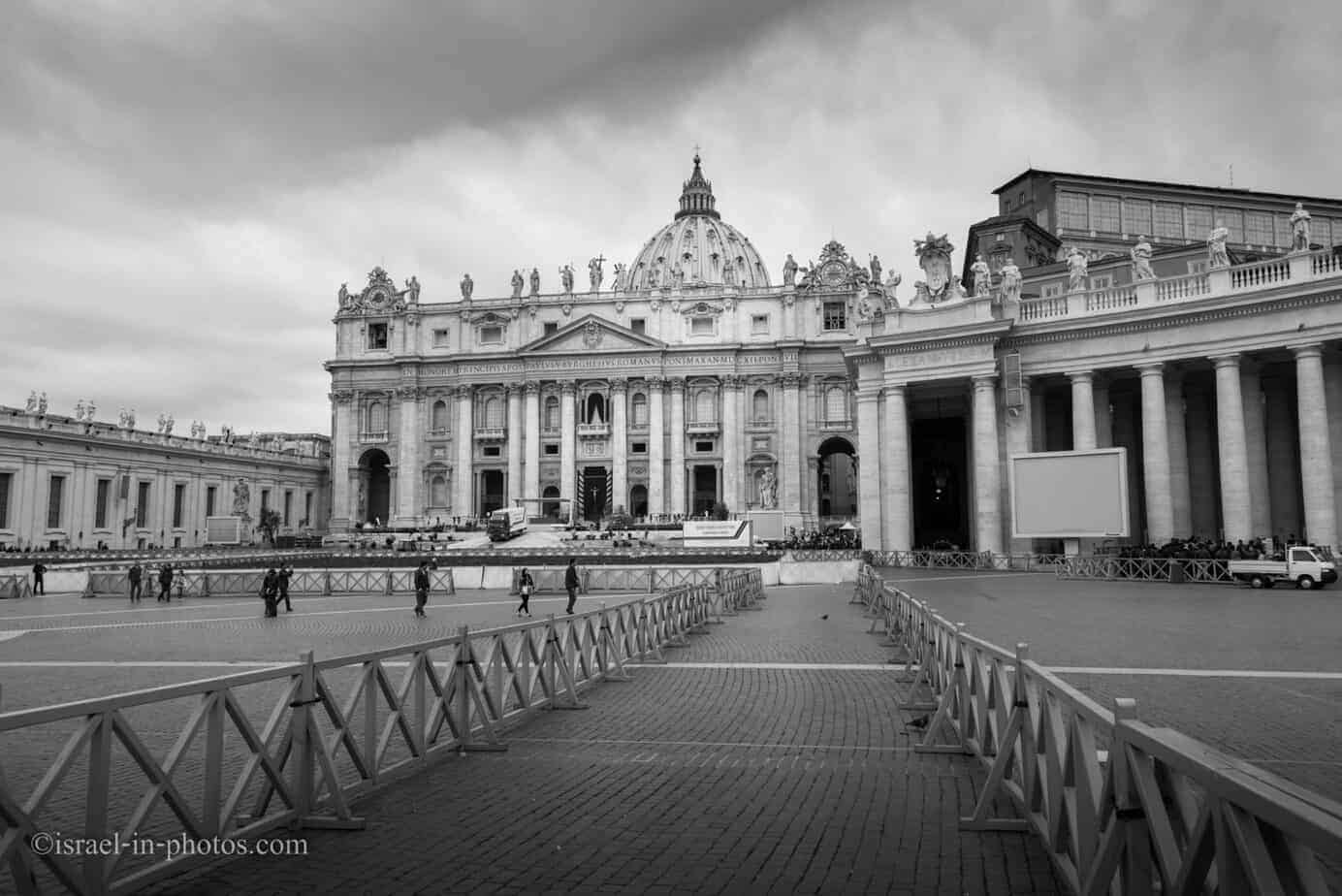 The entrance to Vatican Museums: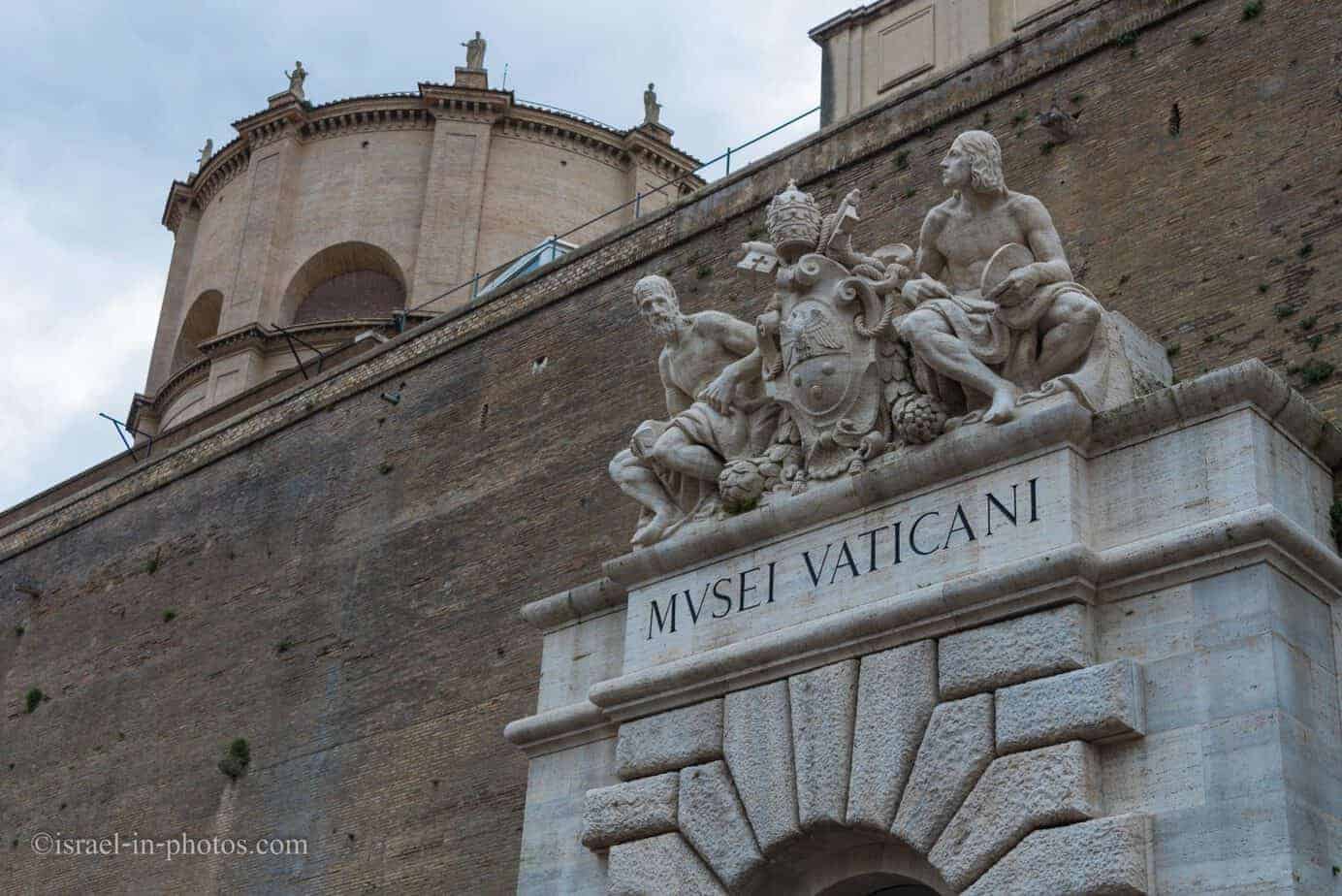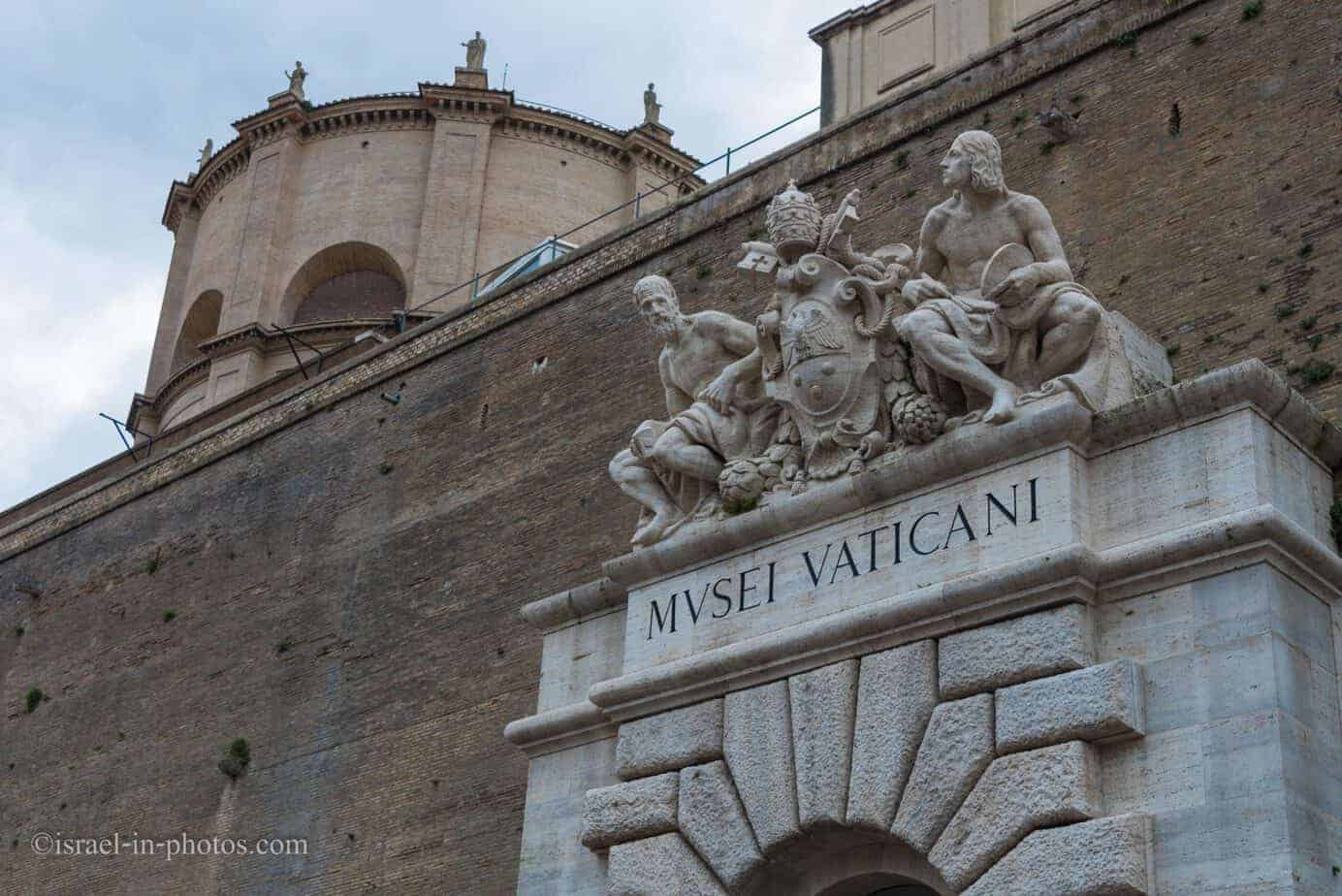 "Pinecone" yard: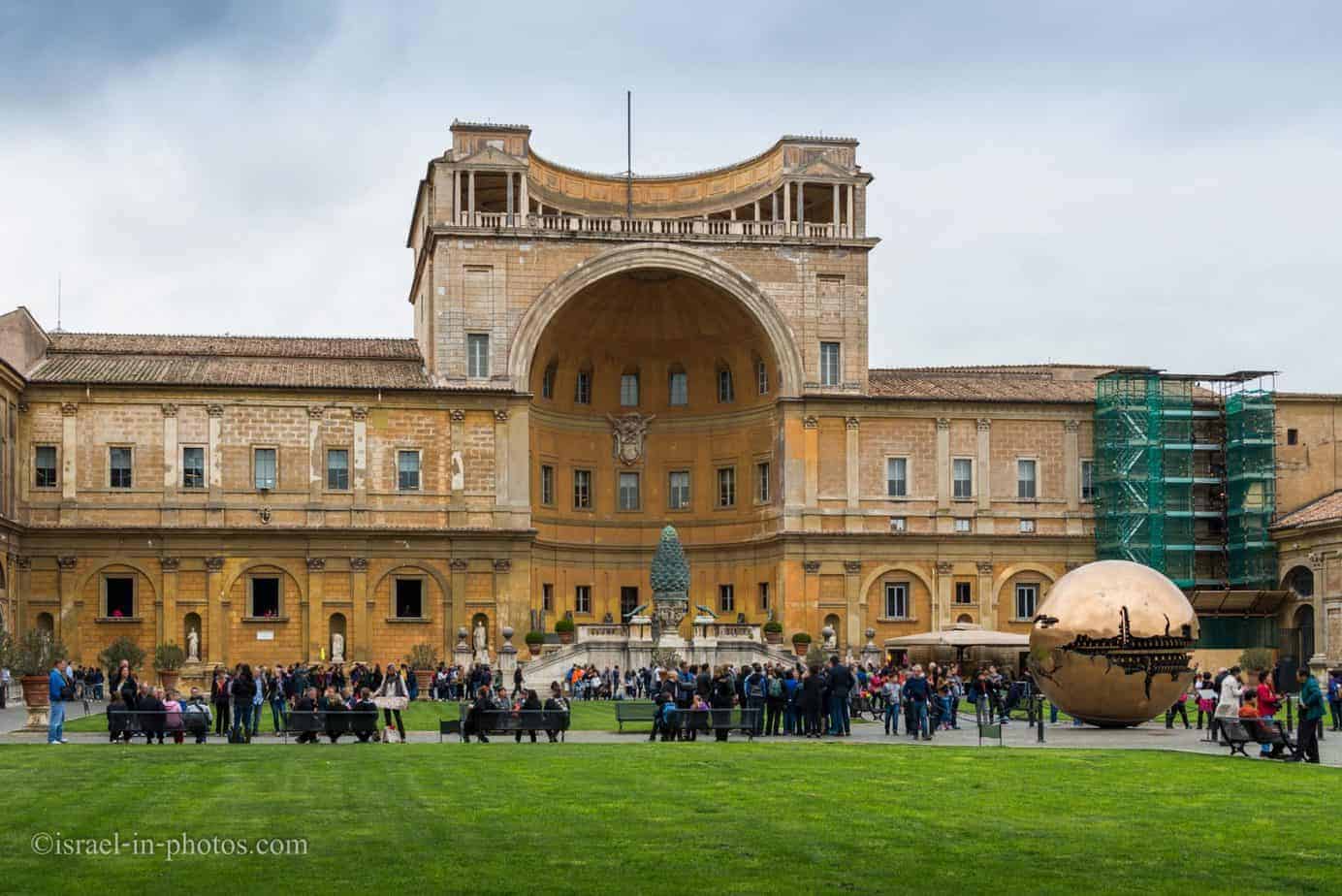 This 1st-century Roman bronze Pigna ("pinecone") in front of the exhedra, gives the name Cortile della Pigna to the highest terrace; it was an ancient fountain.
Even though we were off season you could barely walk there: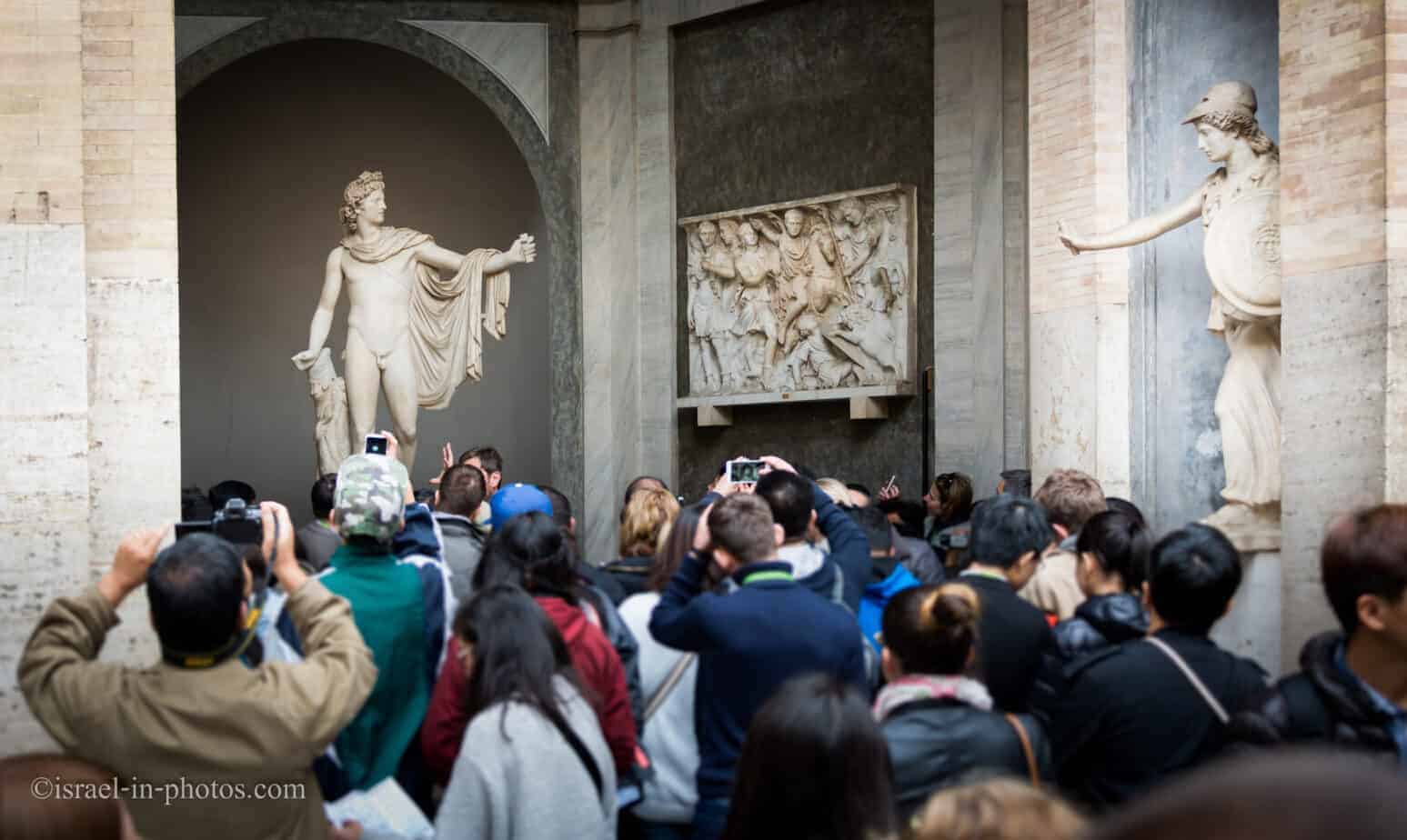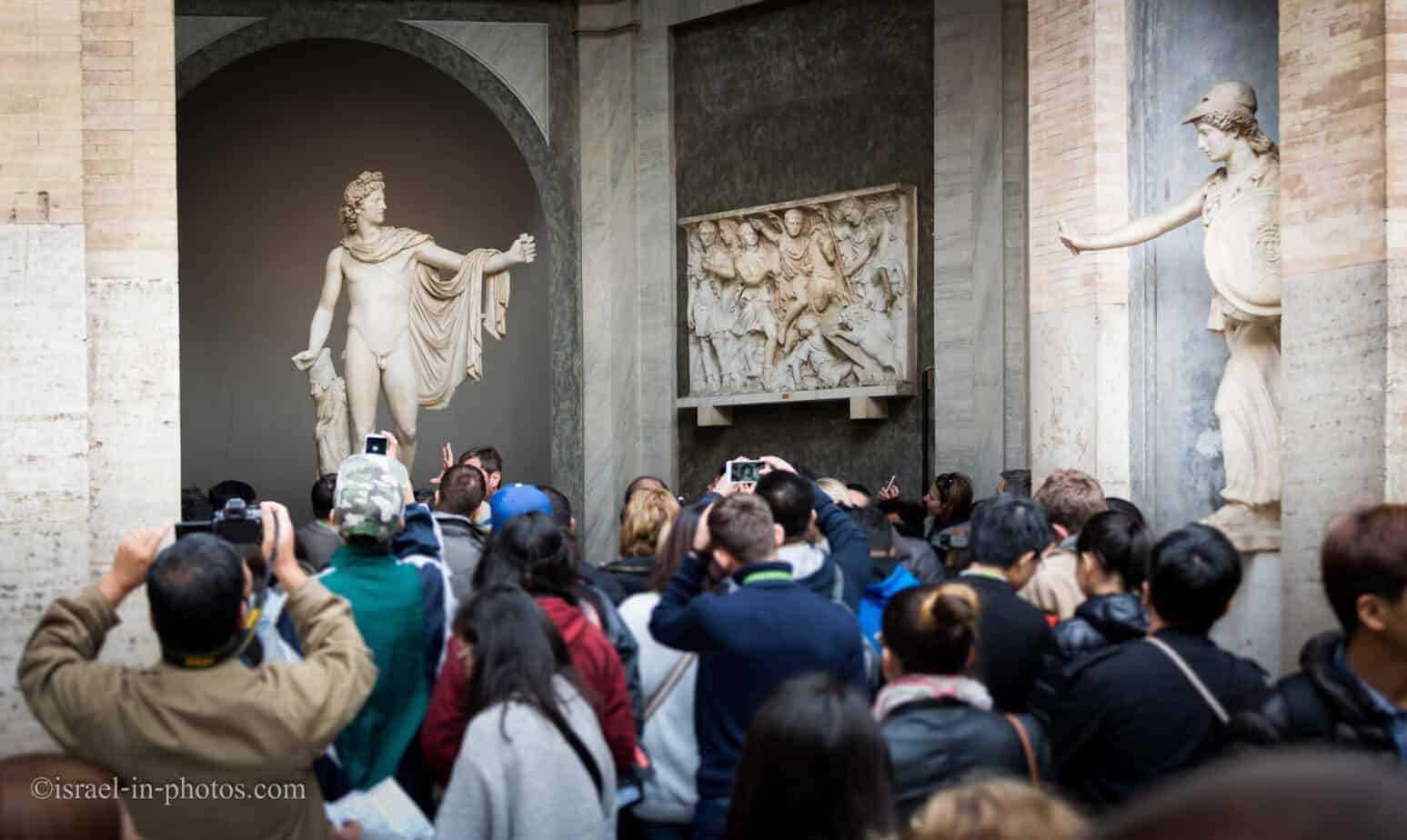 Some private firms have tours that start before opening hours (at 7 am while the Vatican is opened at 8 am). After seeing such amounts of people, I would suggest checking that option seriously.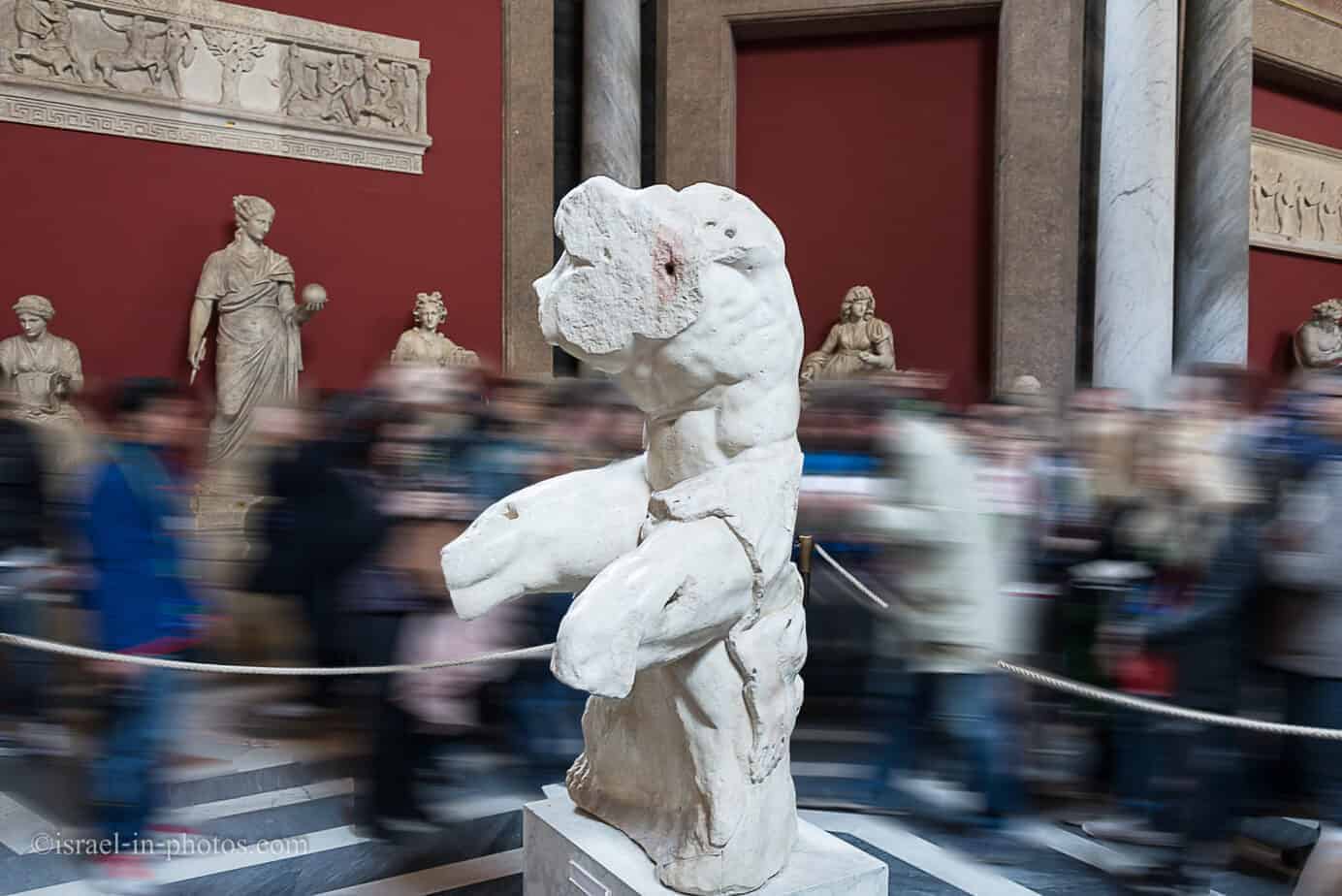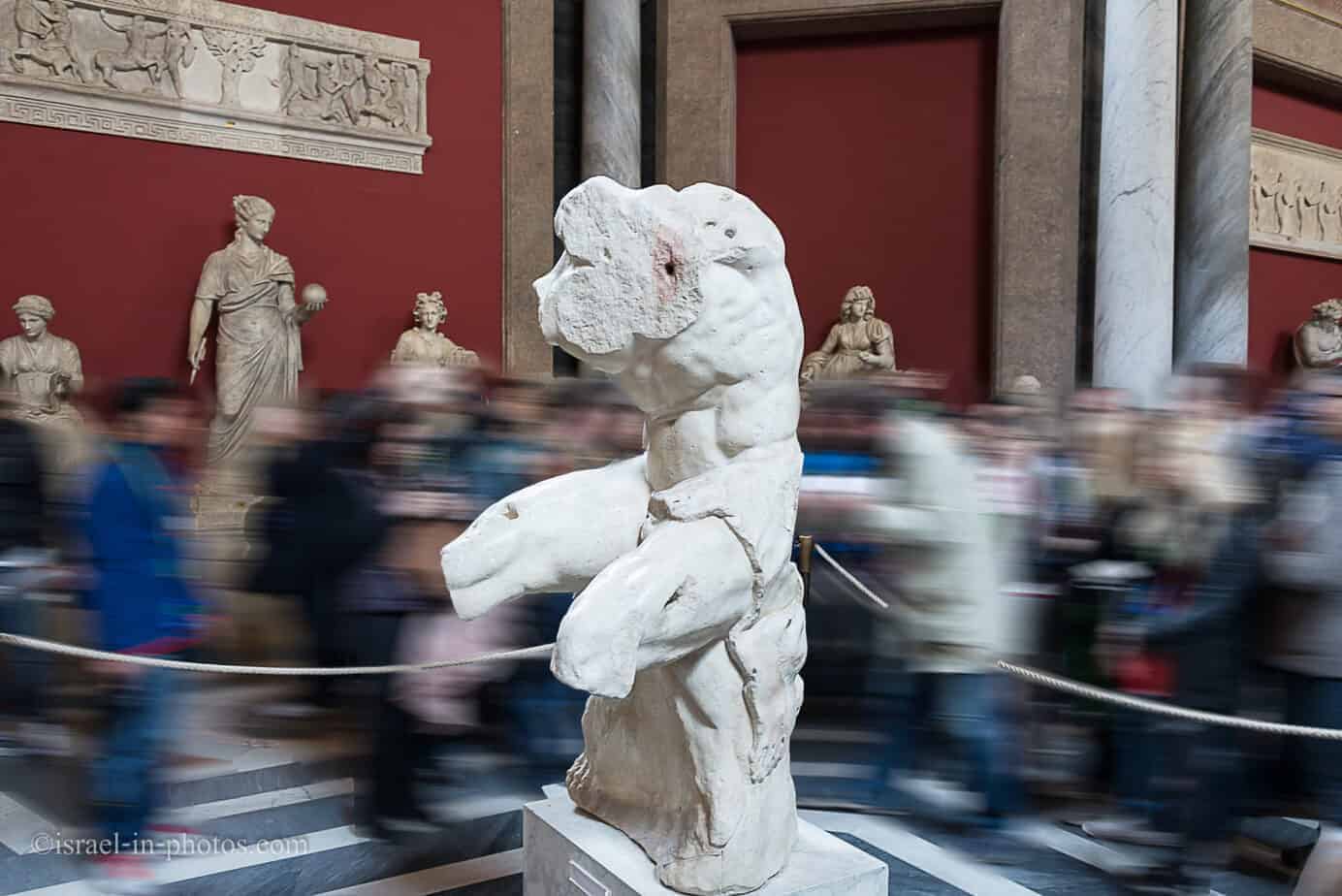 This is a unique carpet. As you go along, Jesus is always looking at you (his eyes follow you):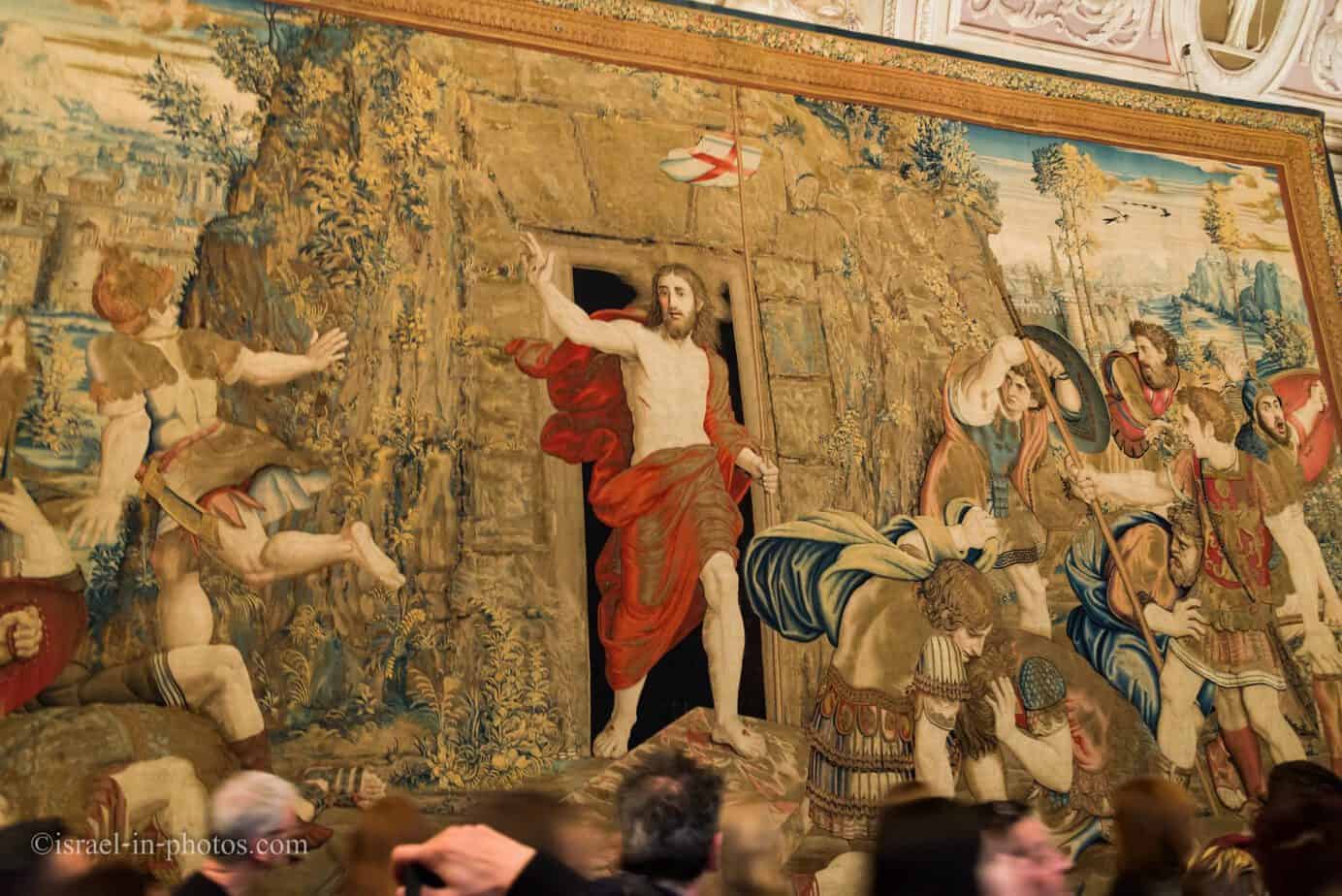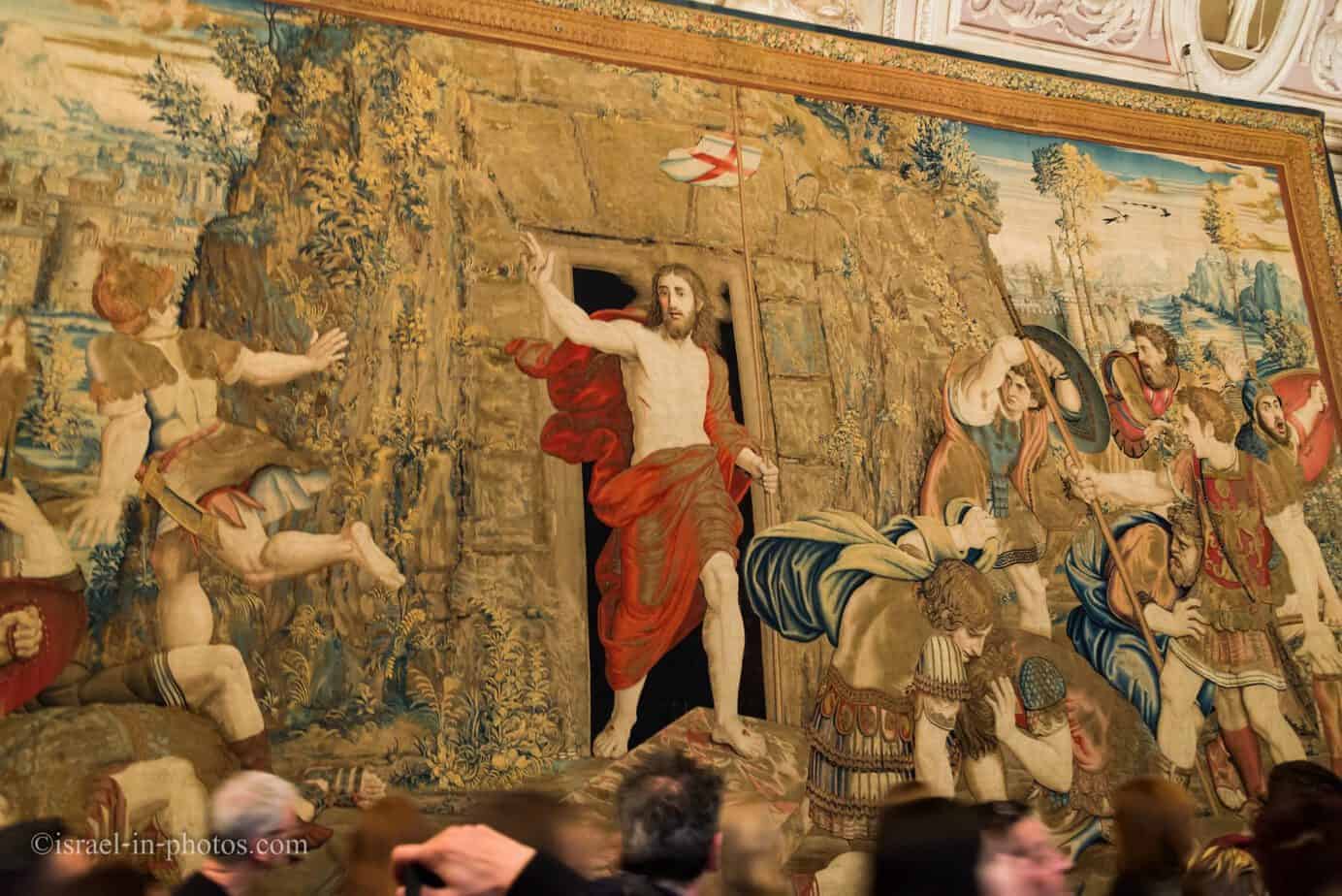 The Gallery of Maps: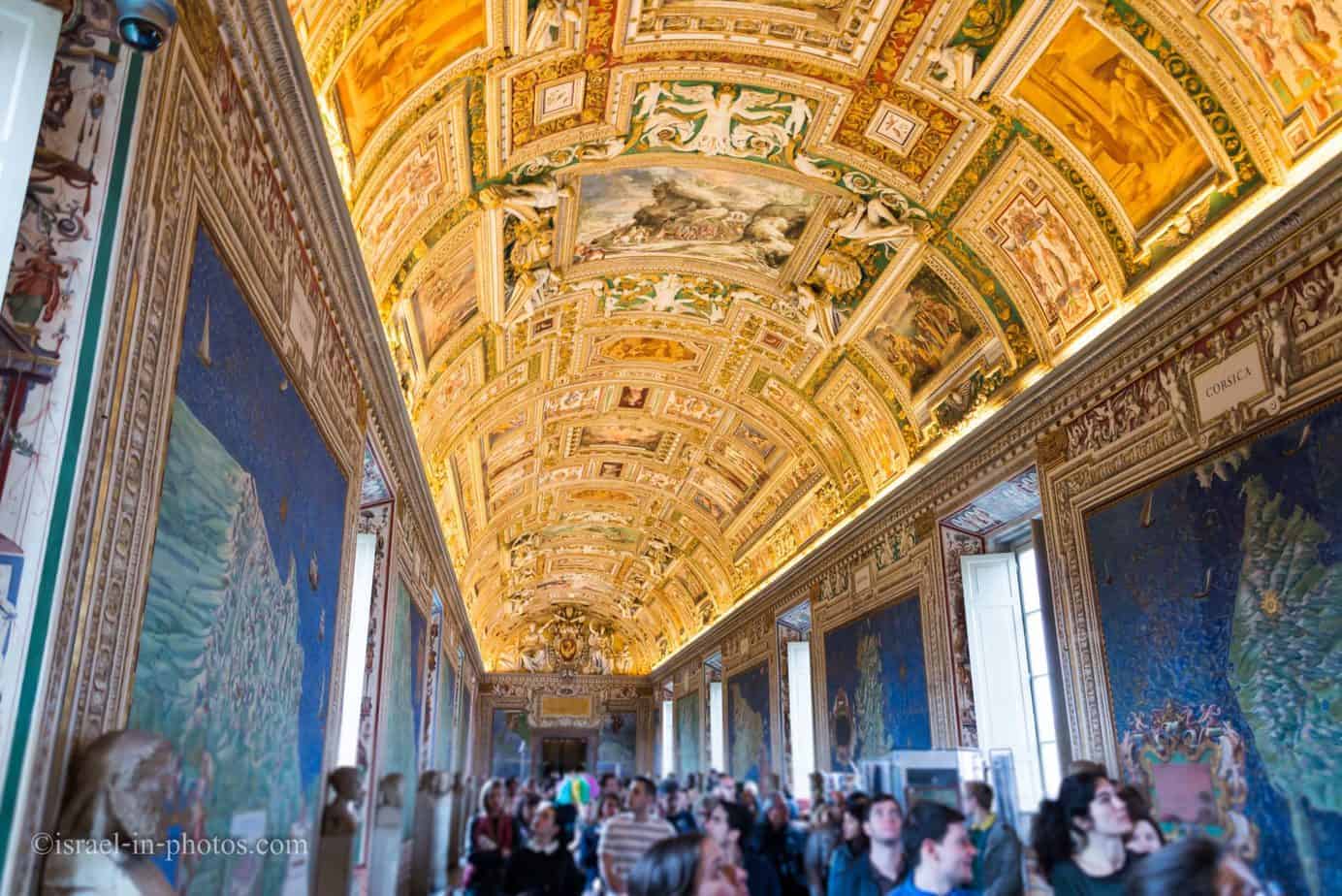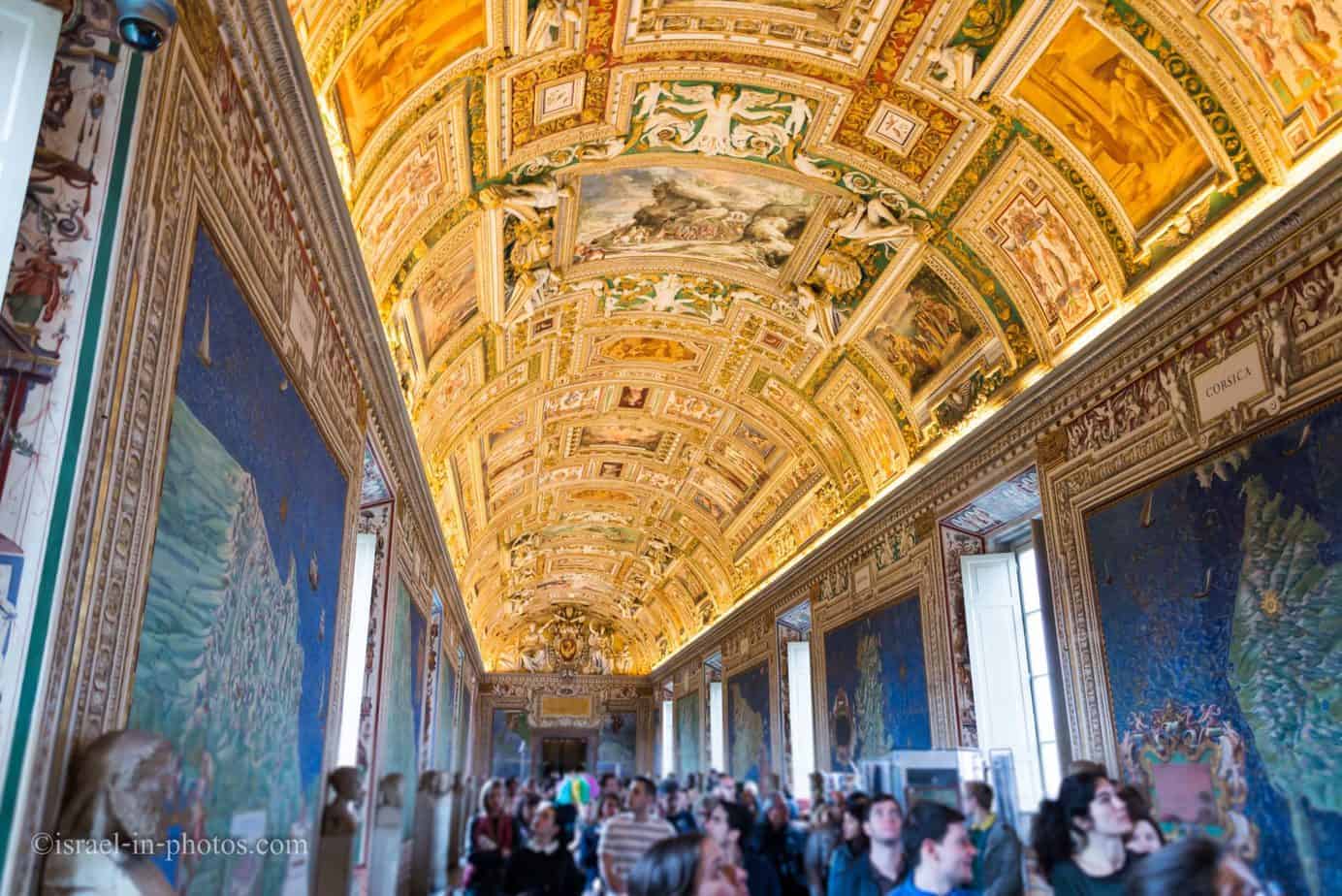 Here are several photos of one of the top attractions in the museum, Raphael Rooms: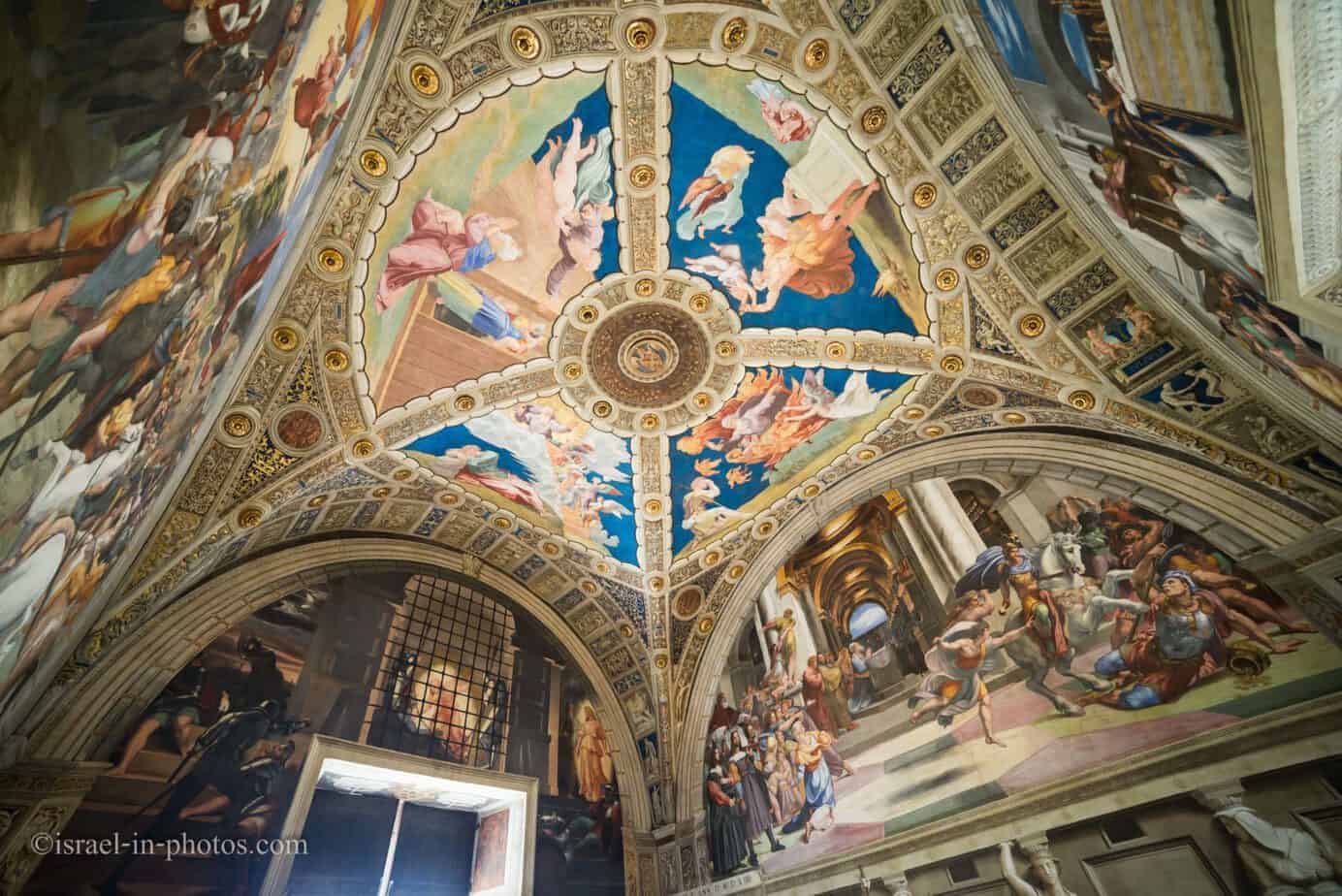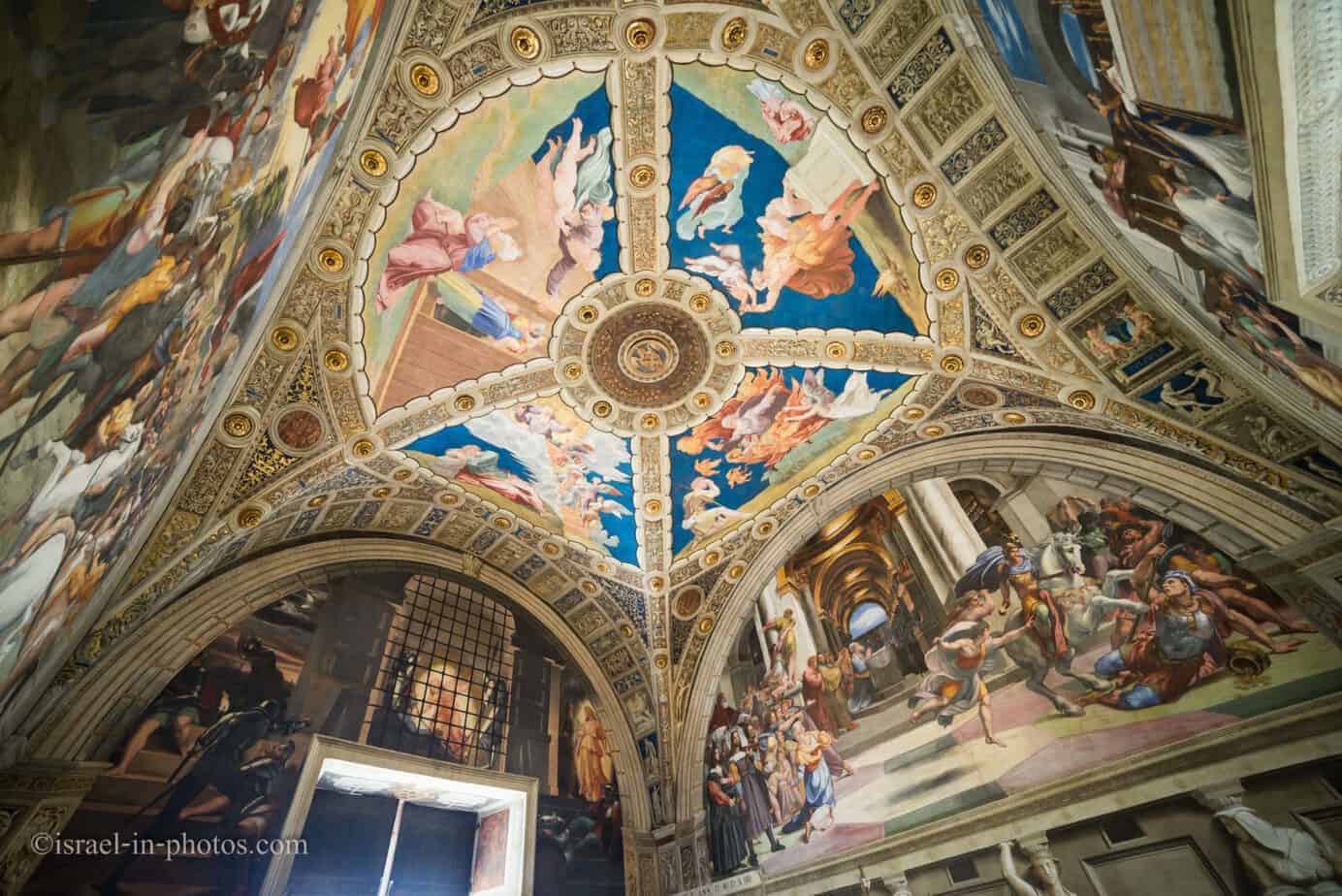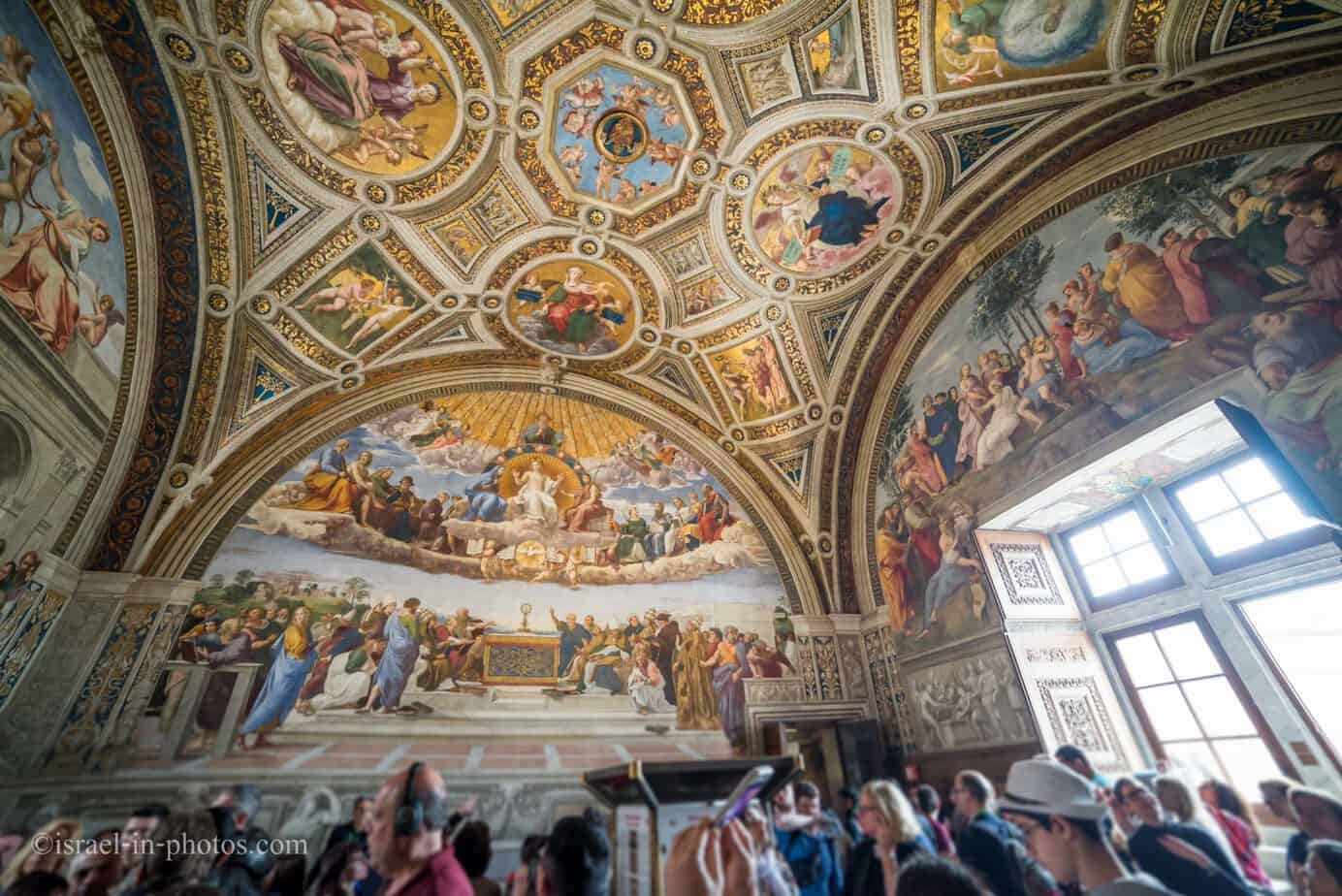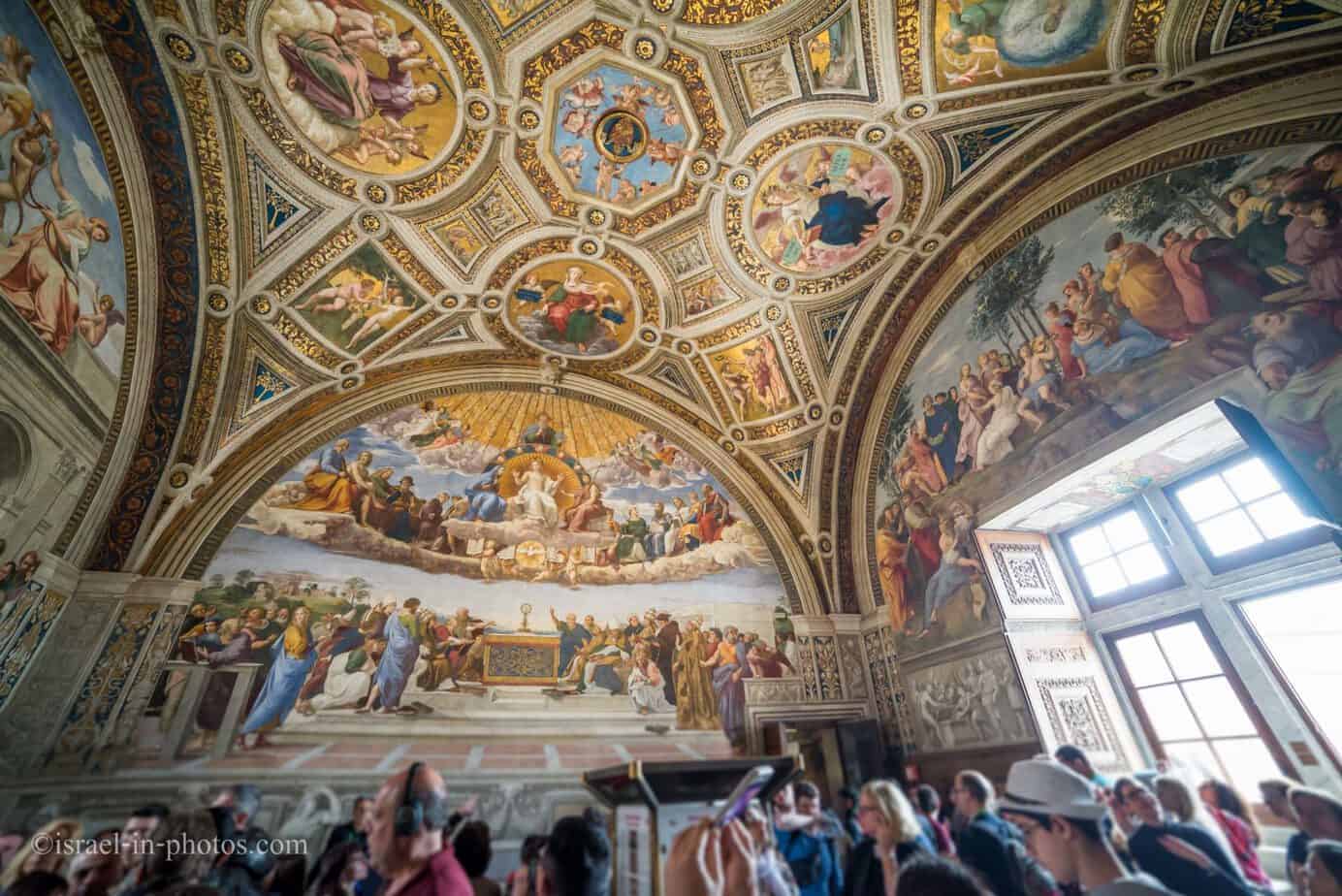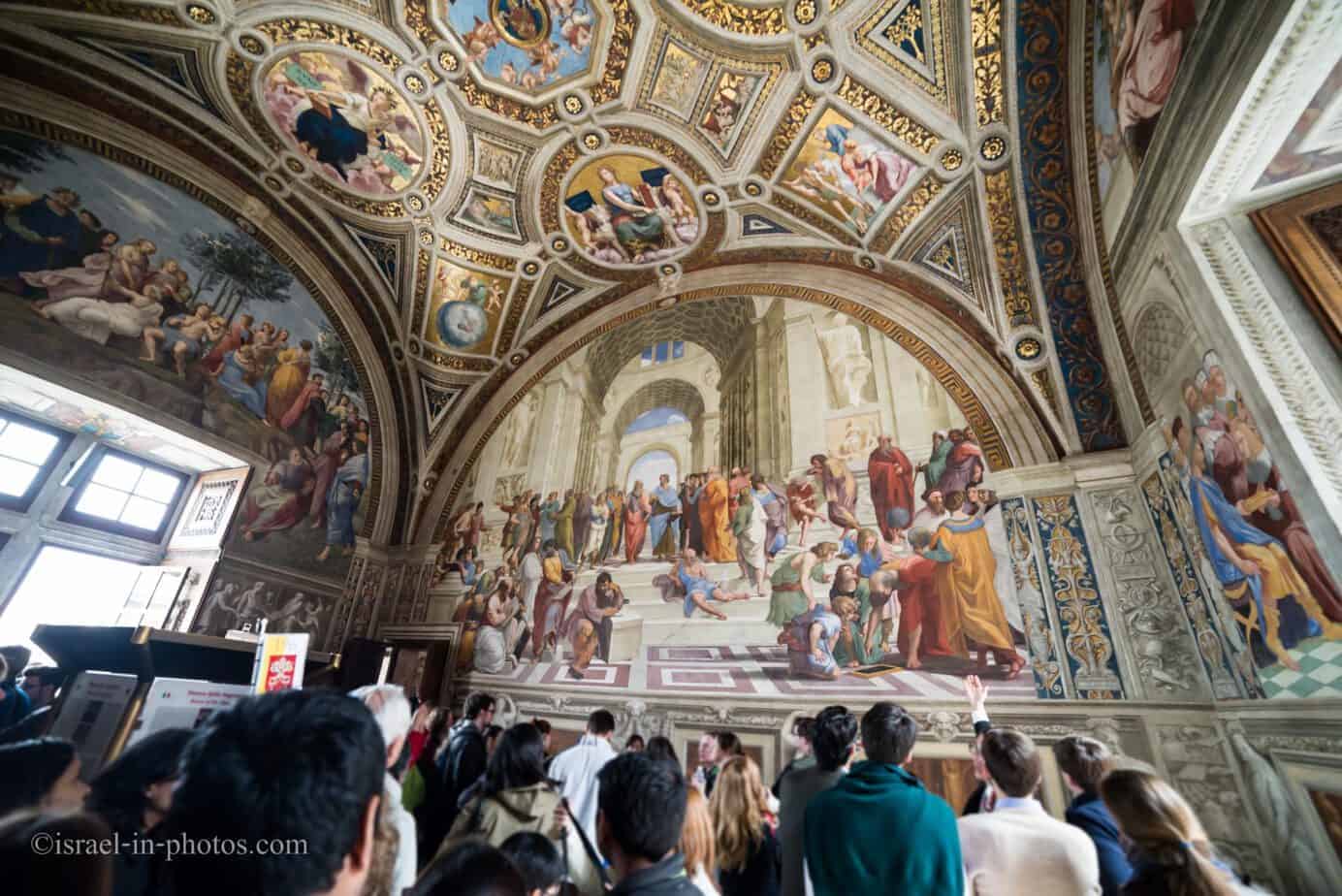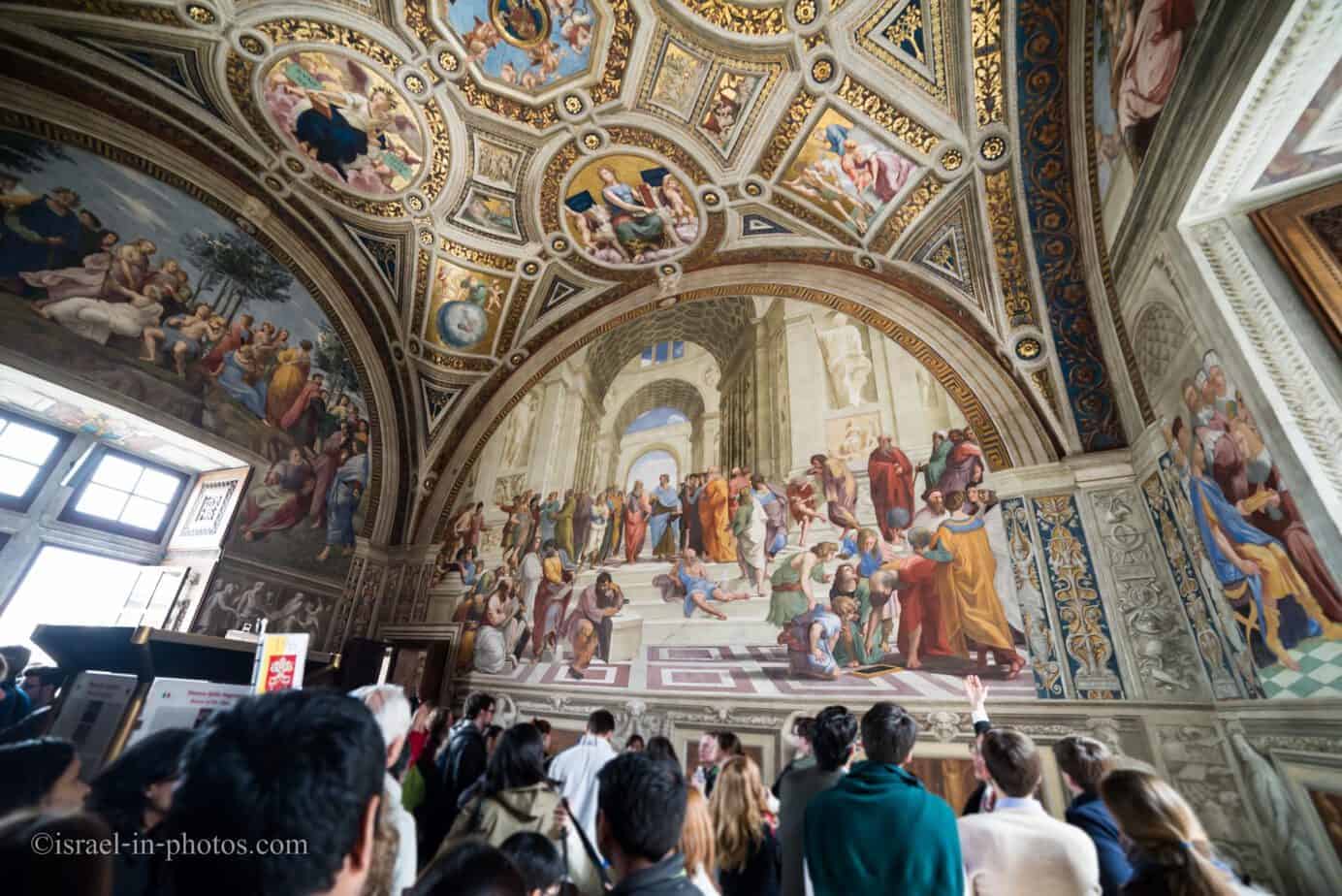 These are probably the most photographed staircases in the world: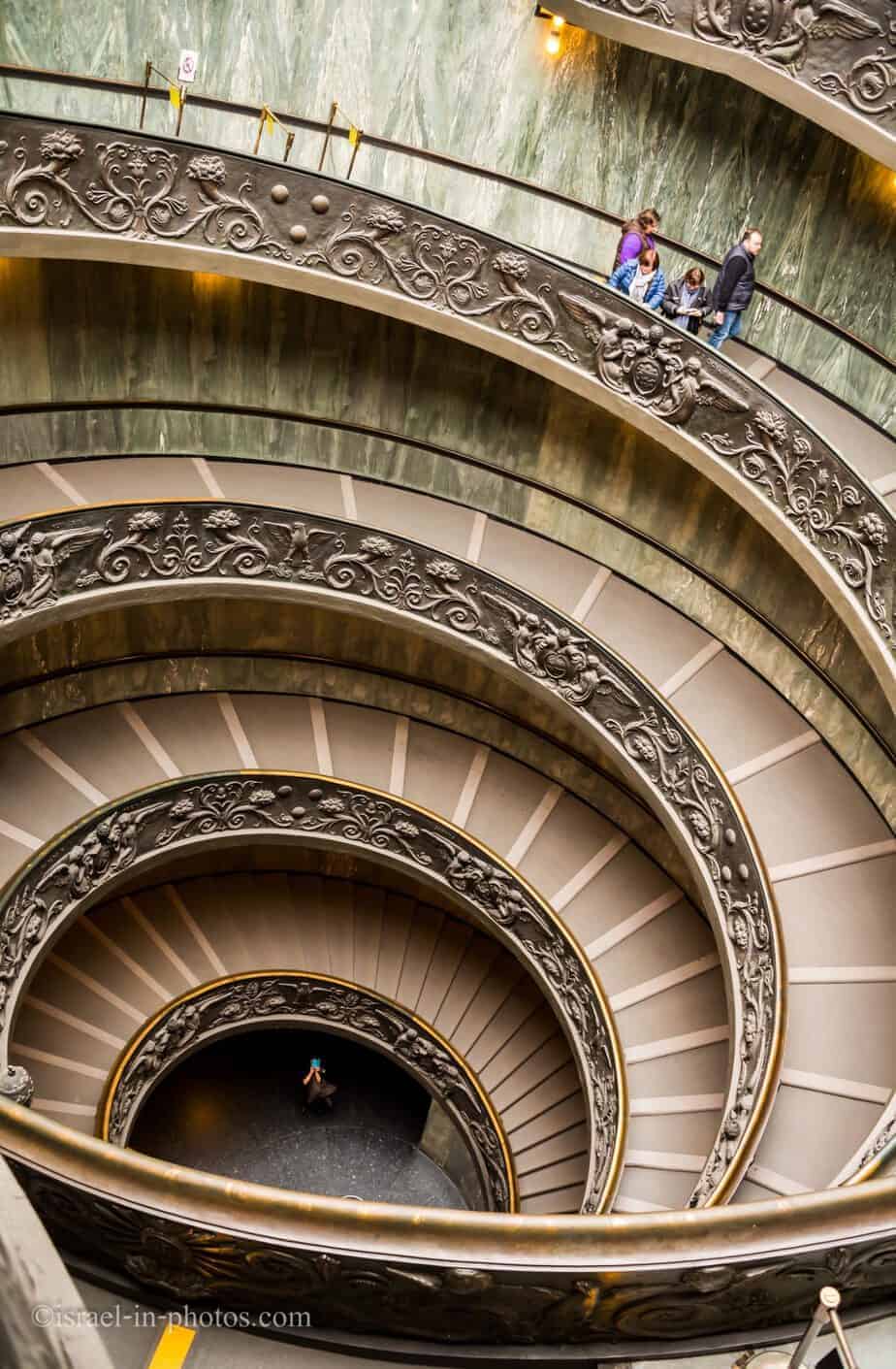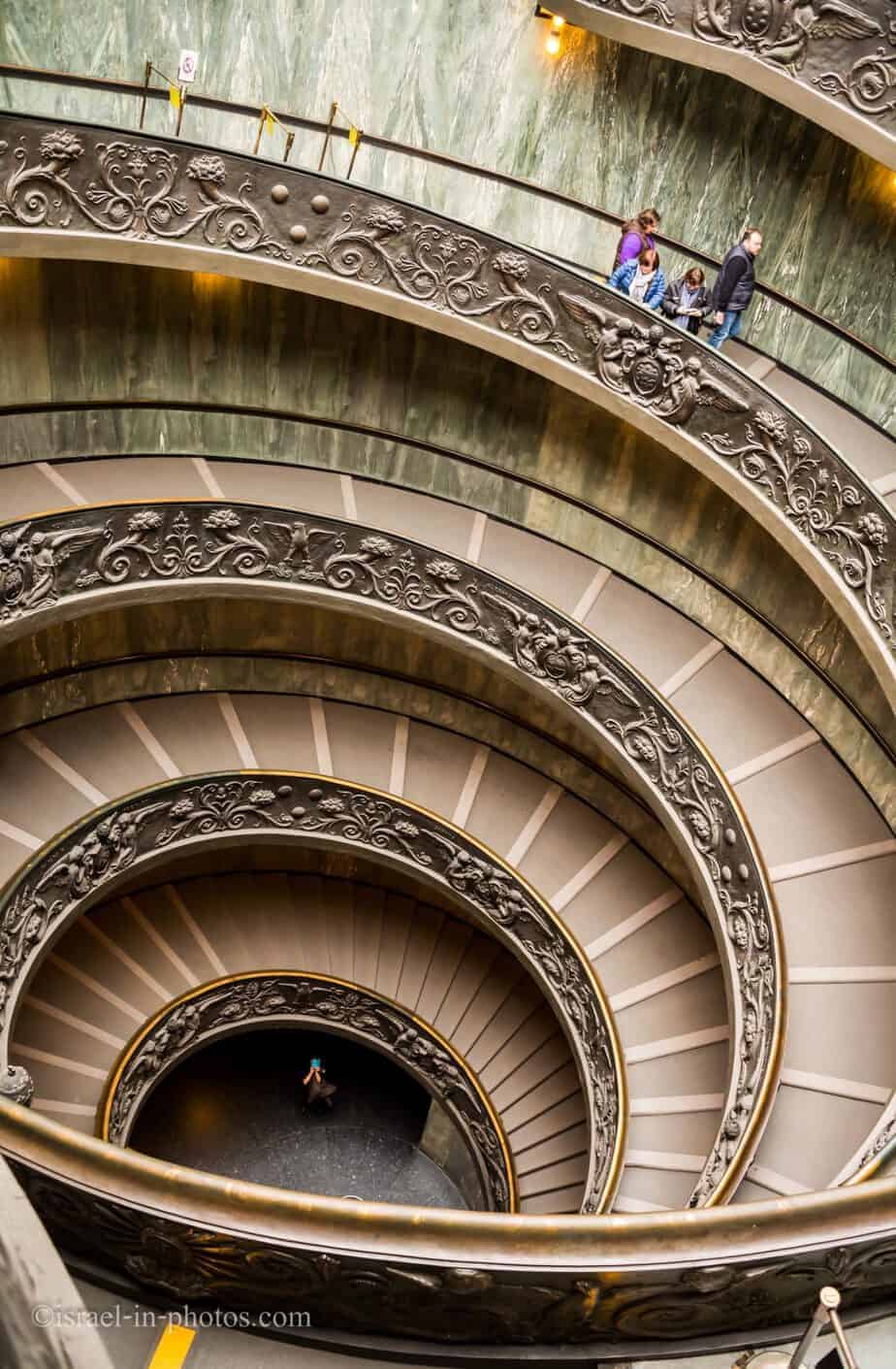 This is the Bramante Staircase. They are located next to exit in one of the souvenir shops.
The double helix staircase shown in the photo here was designed by Giuseppe Momo in 1932, inspired by the revolutionary spiral staircase designed by Donato Bramante in 1512 for Pope Julius II to connect the Belvedere Palace of Innocent VIII to the city. The original Bramante staircase, in the neighbouring Pio-Clementine Museum, is not generally open to the public, though specialist tours do visit.

The Bramante Staircase features granite doric columns and a herringbone paving pattern. The staircase was built to allow Pope Julius II to enter his private residence while still in his carriage, since walking up the several flights in heavy papal vestments would have been onerous.
Here is another view of the stairs: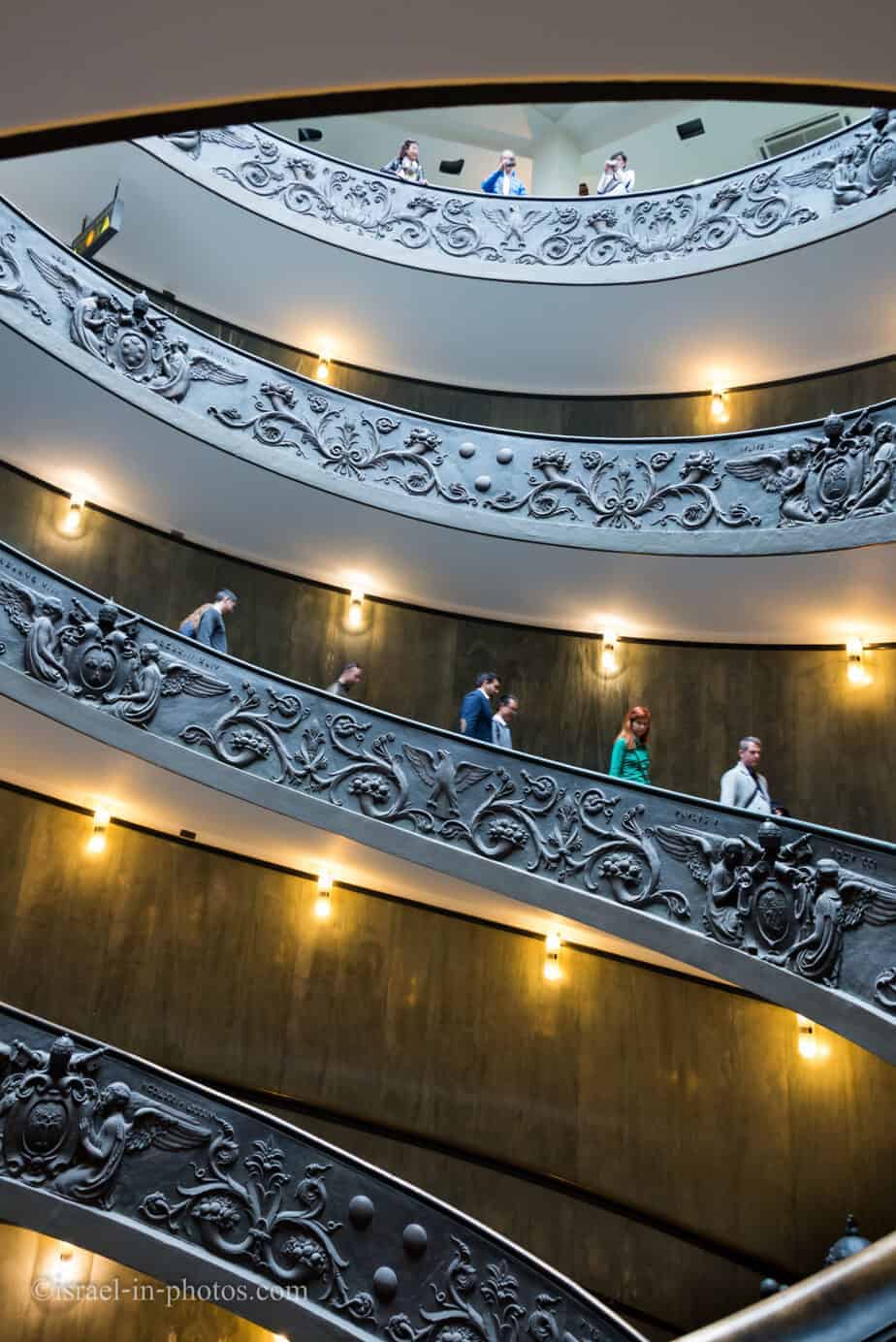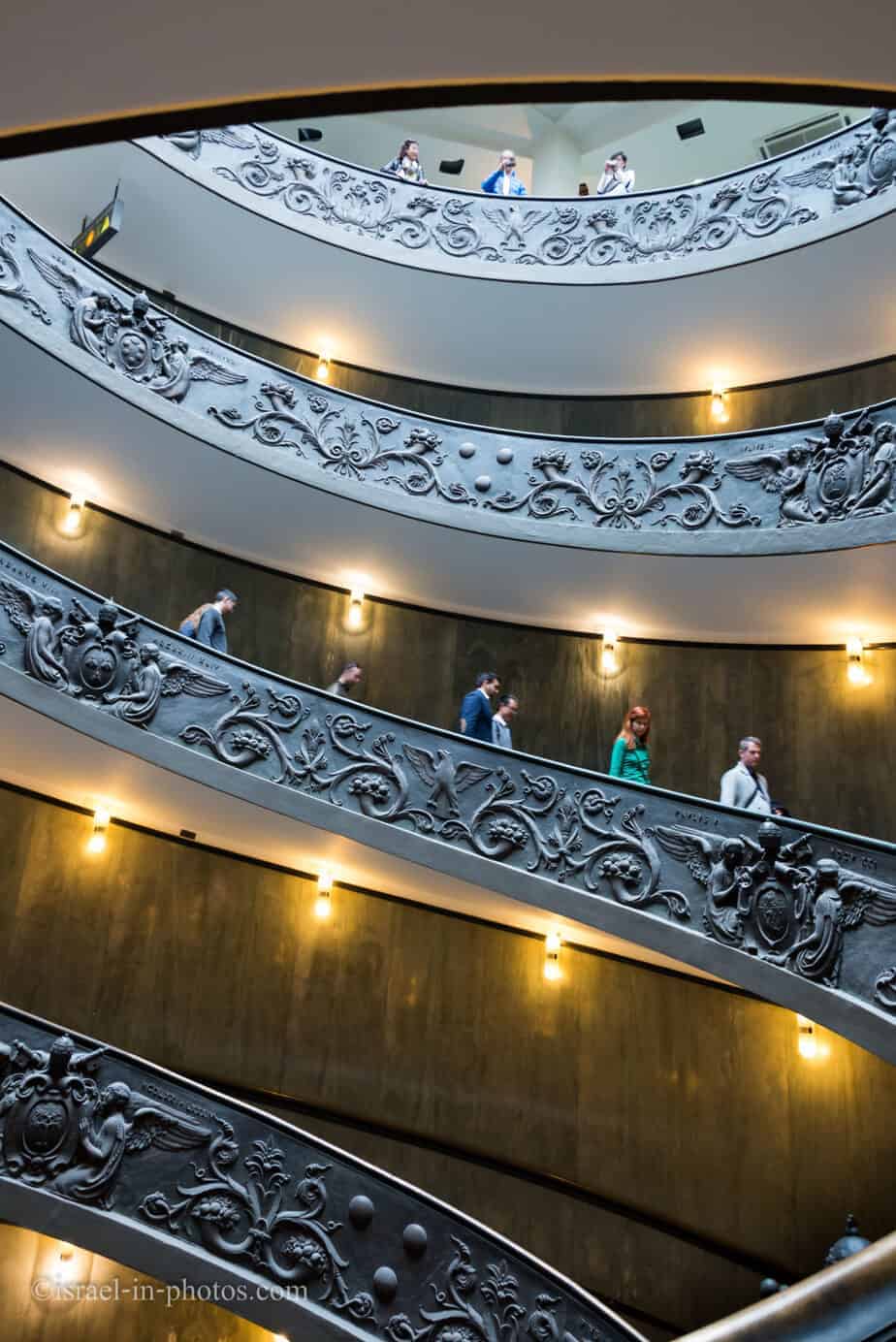 St. Peter's Basilica: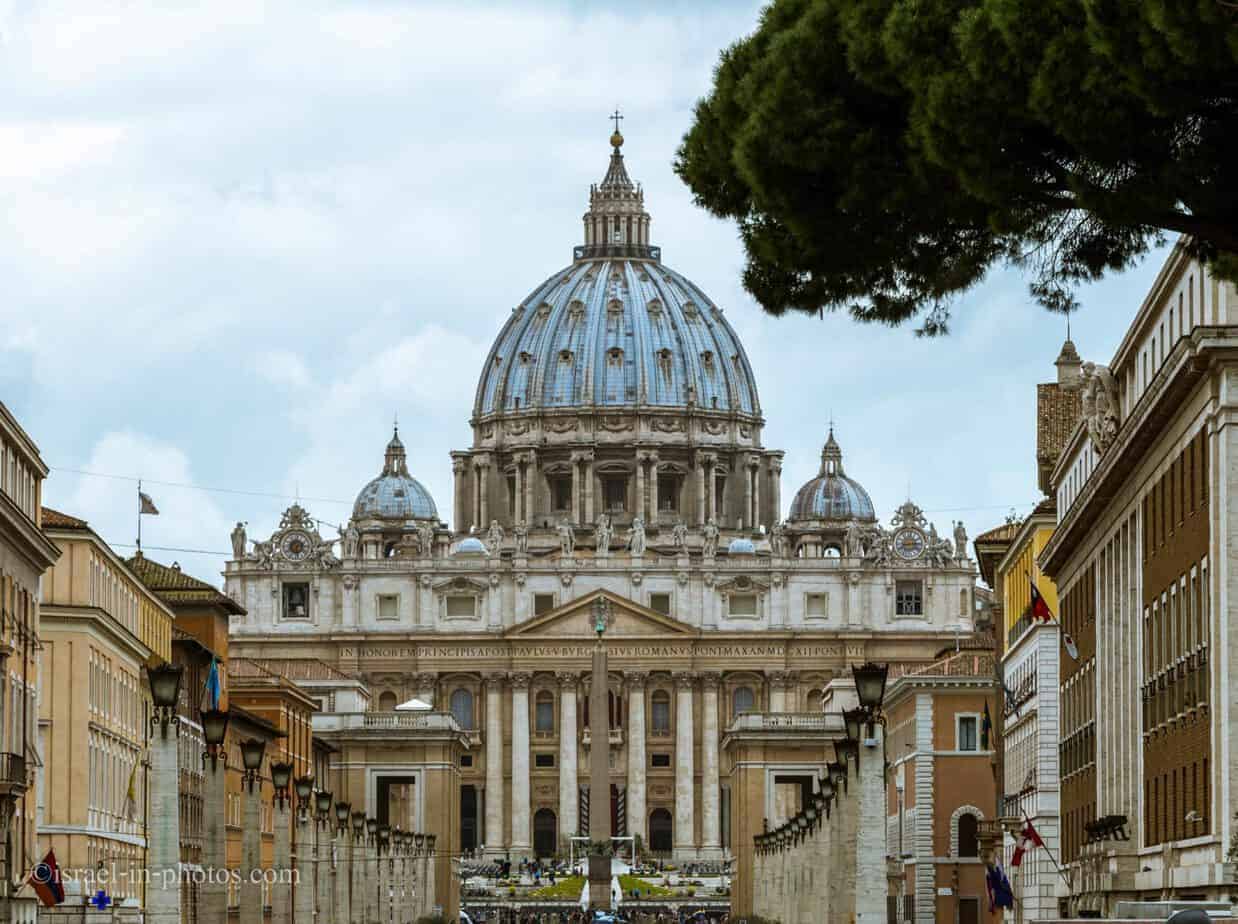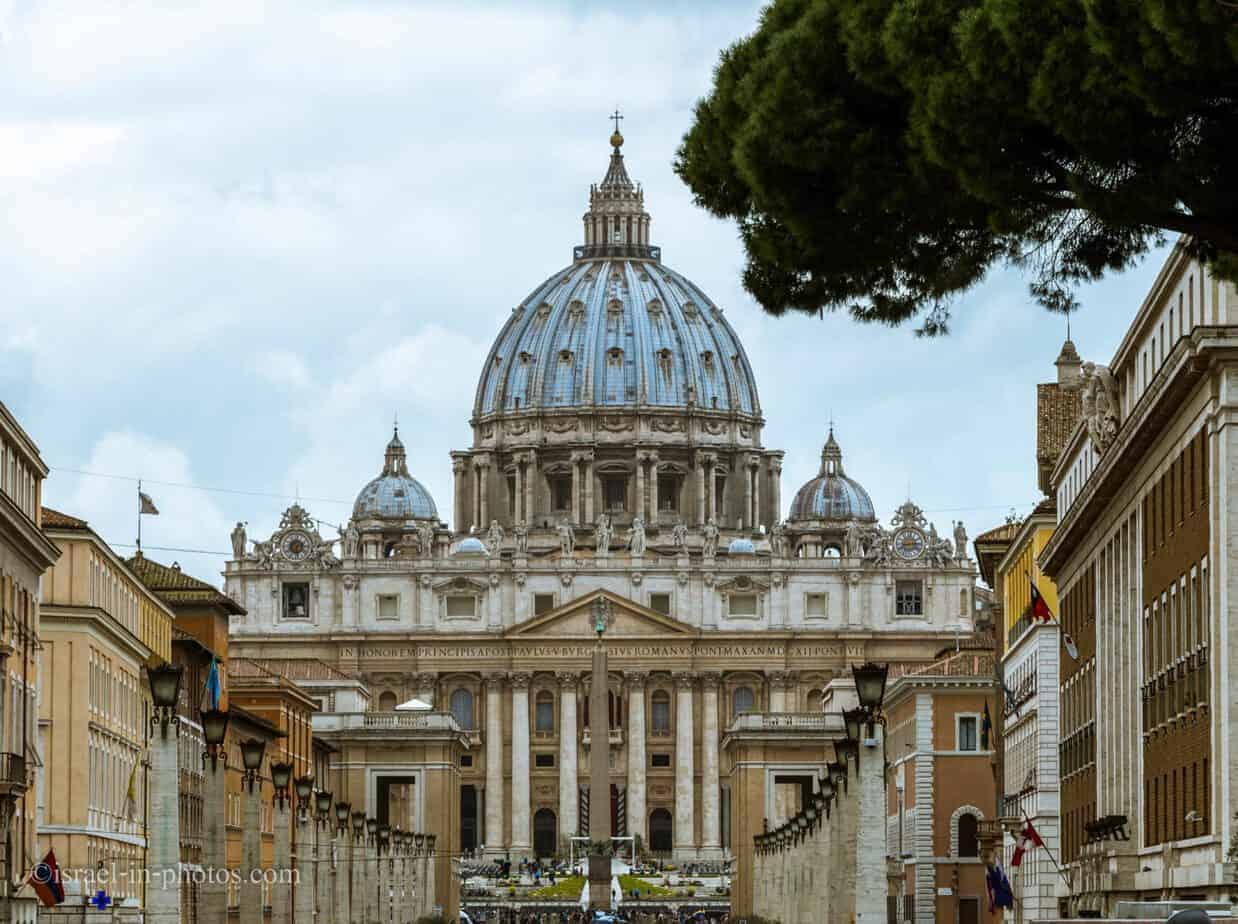 Castel Sant' Angelo
After several minutes of walking we've reached Castel Sant' Angelo: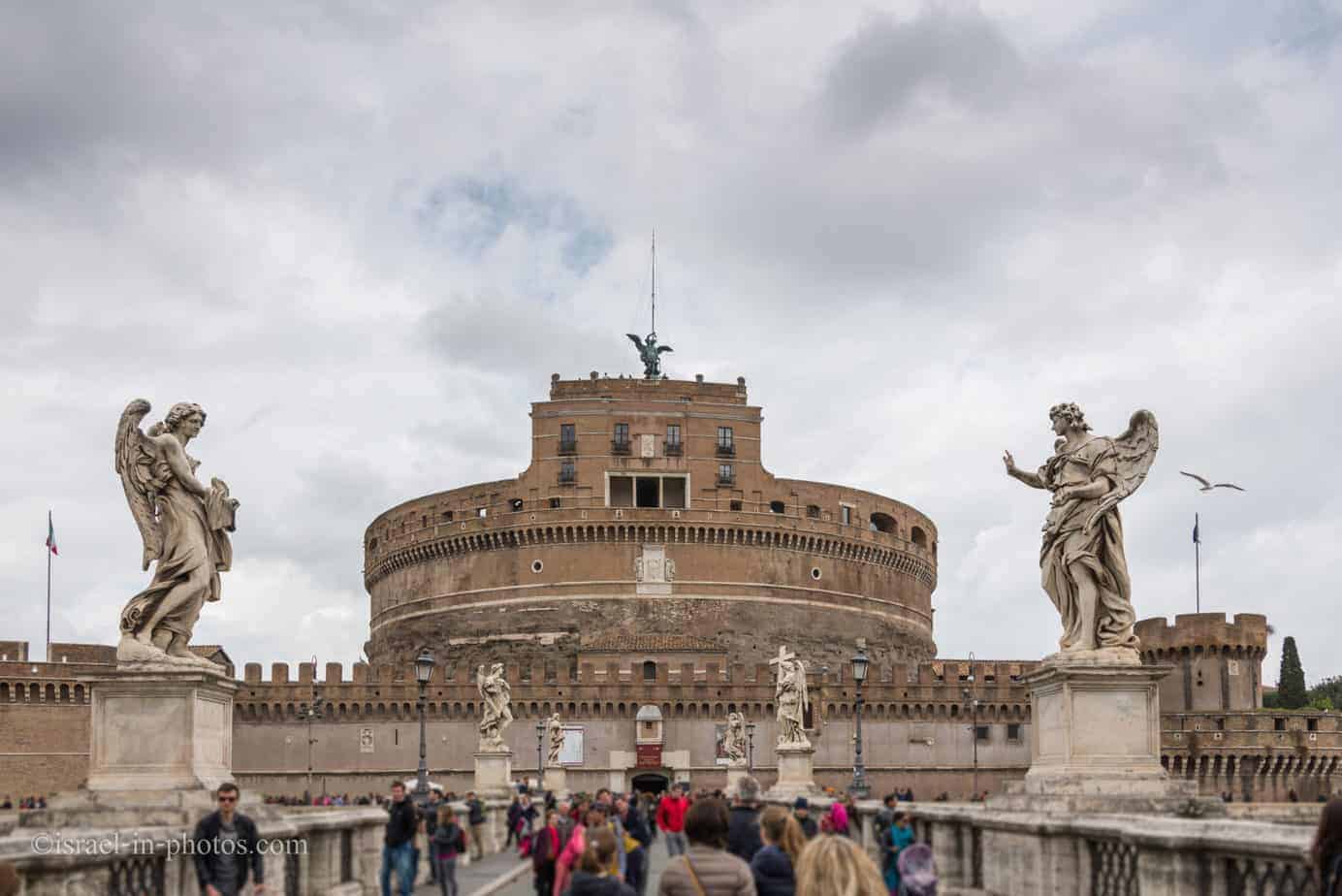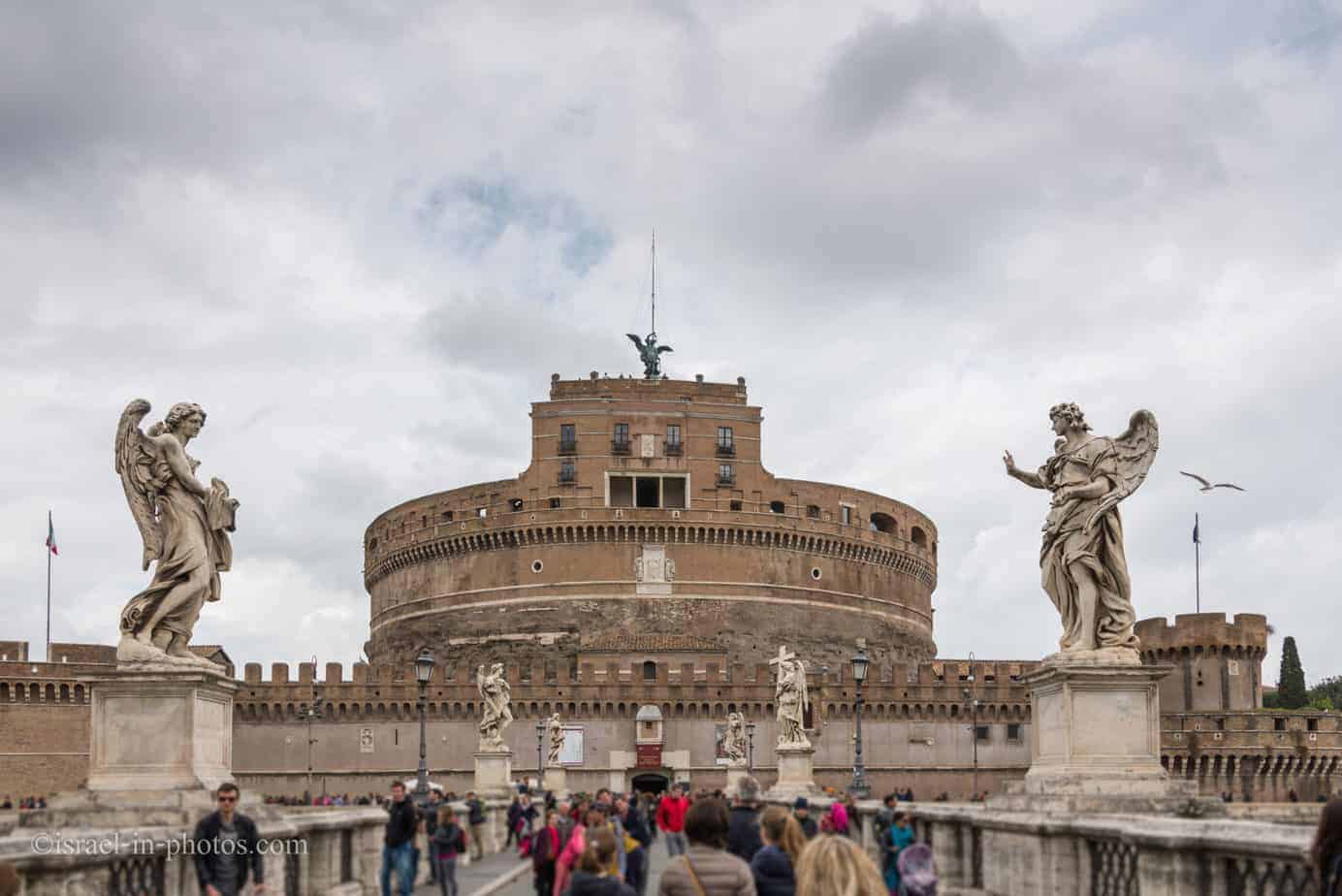 We did not visit it since it was already noon and there was quite a long line. I didn't want to wait especially since it rained from time to time.
The Mausoleum of Hadrian, usually known as Castel Sant'Angelo (English: Castle of the Holy Angel), is a towering cylindrical building in Parco Adriano, Rome, Italy. It was initially commissioned by the Roman Emperor Hadrian as a mausoleum for himself and his family. The building was later used by the popes as a fortress and castle, and is now a museum. The Castel was once the tallest building in Rome.
Thus, we crossed to the other side of the Tiber river toward …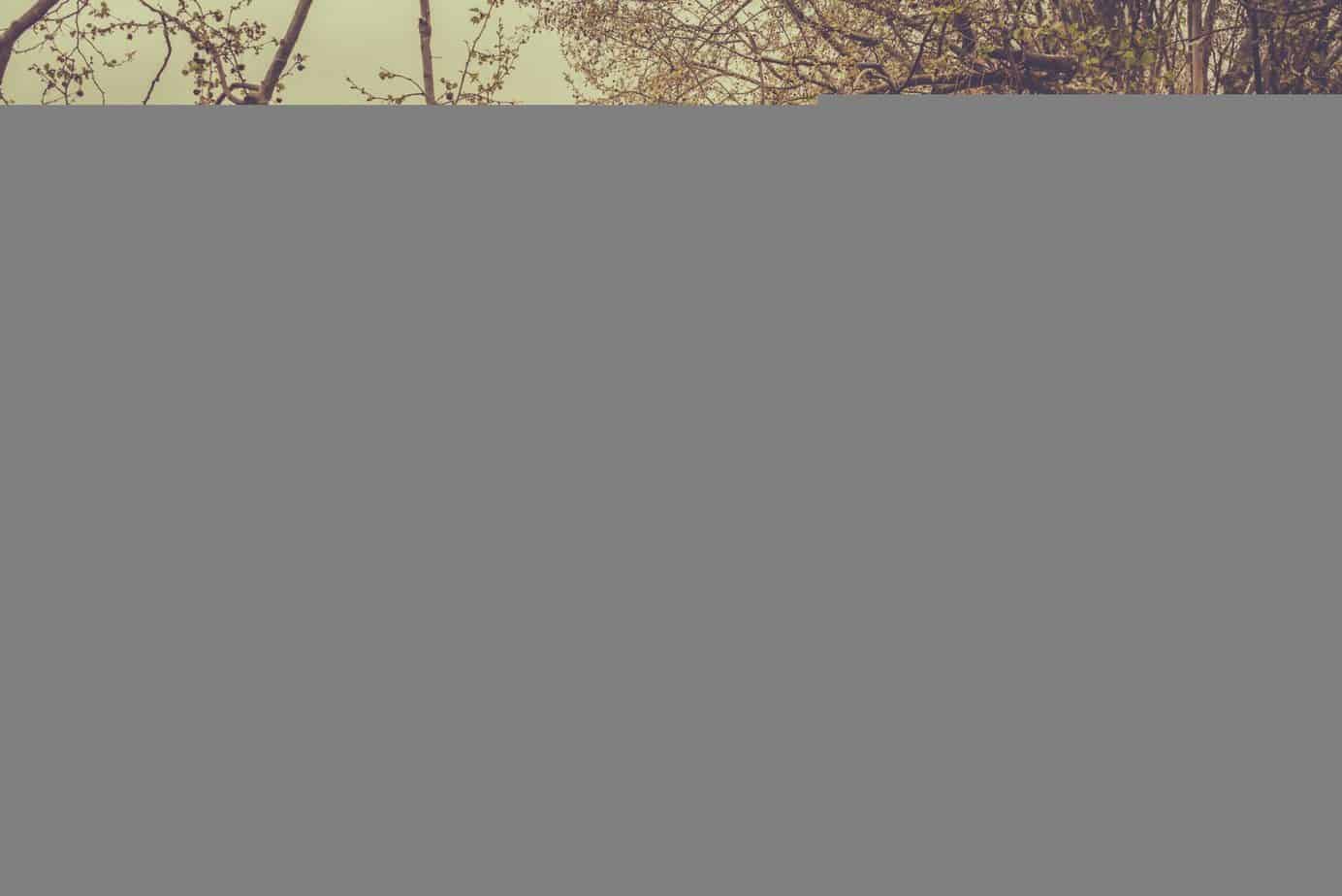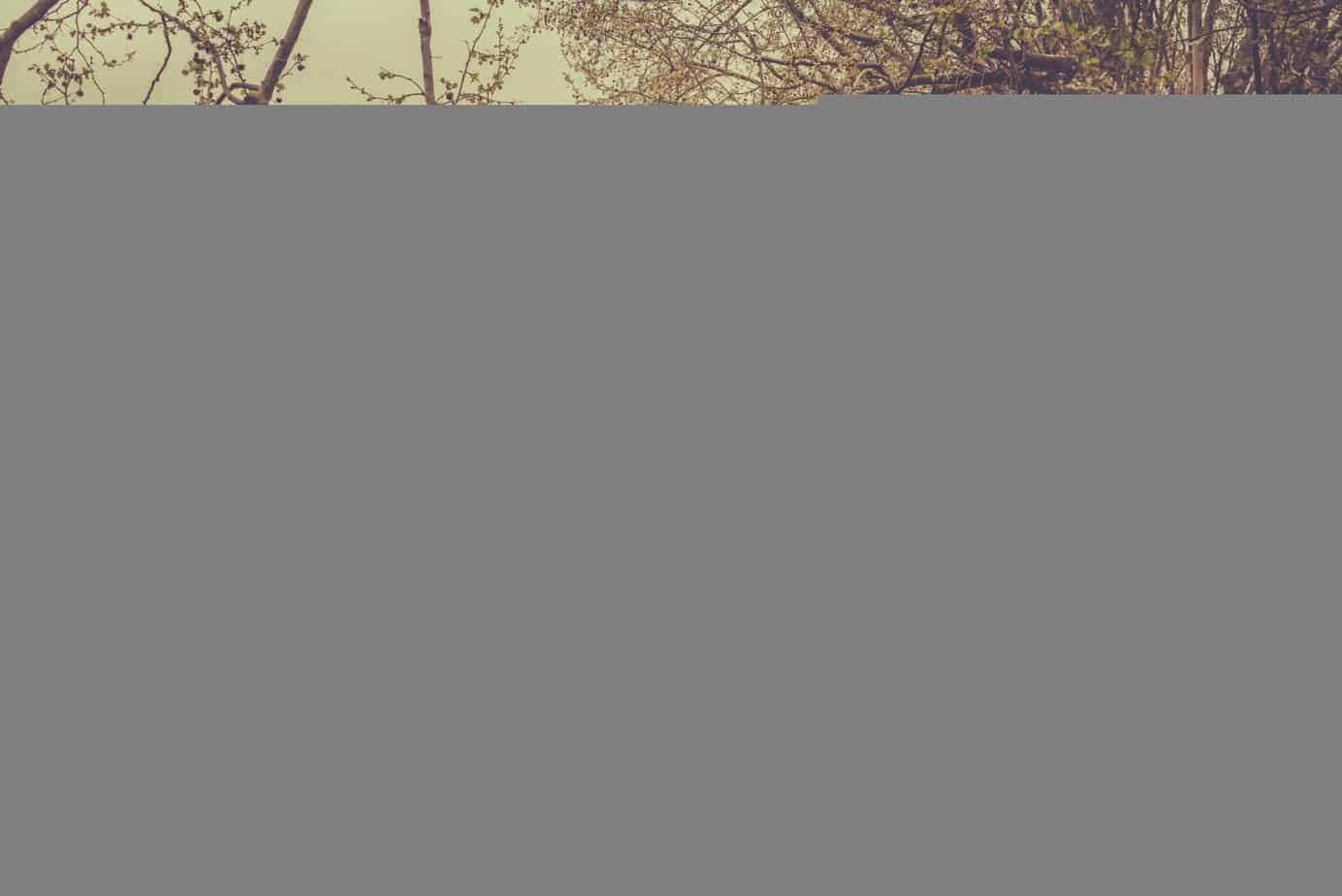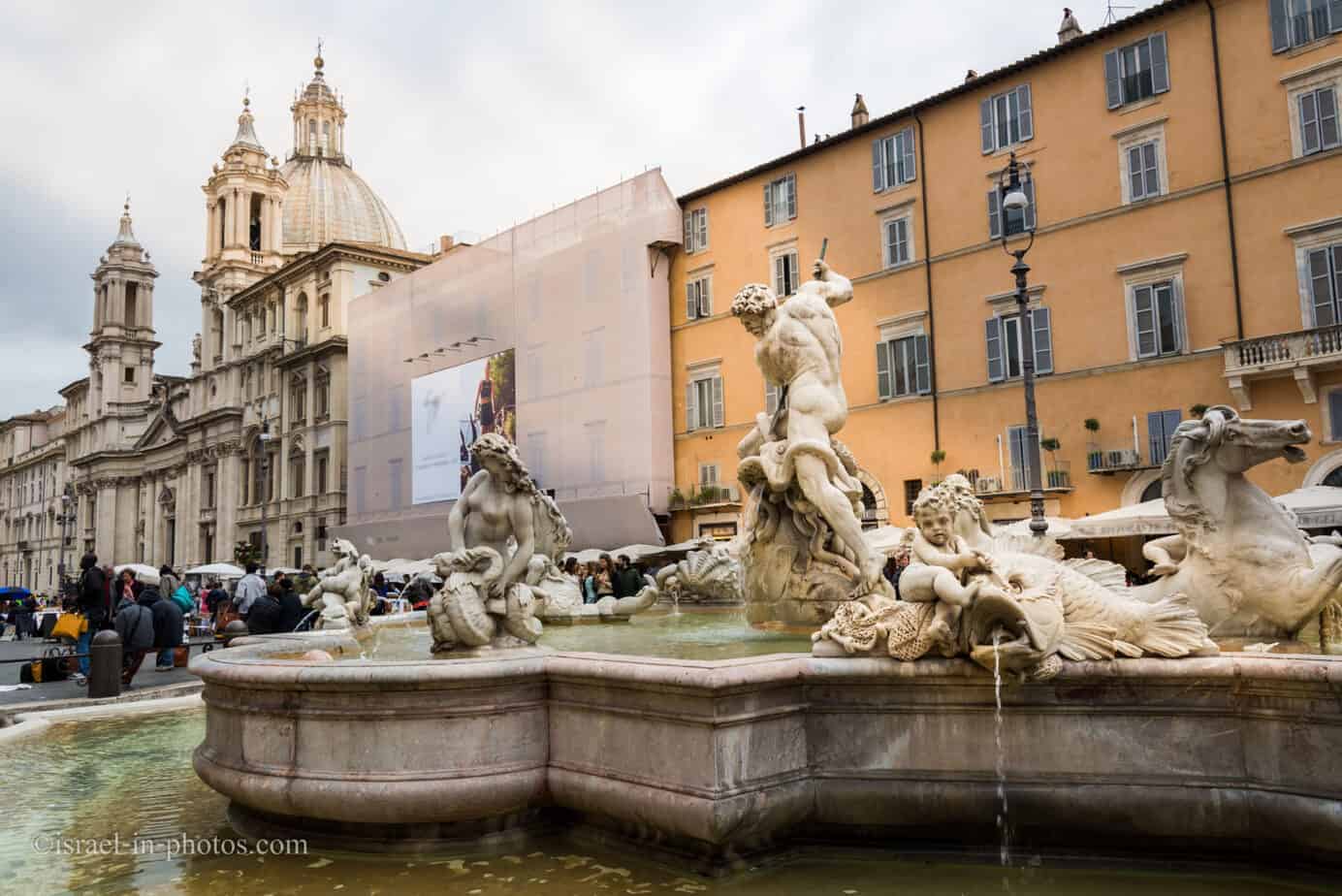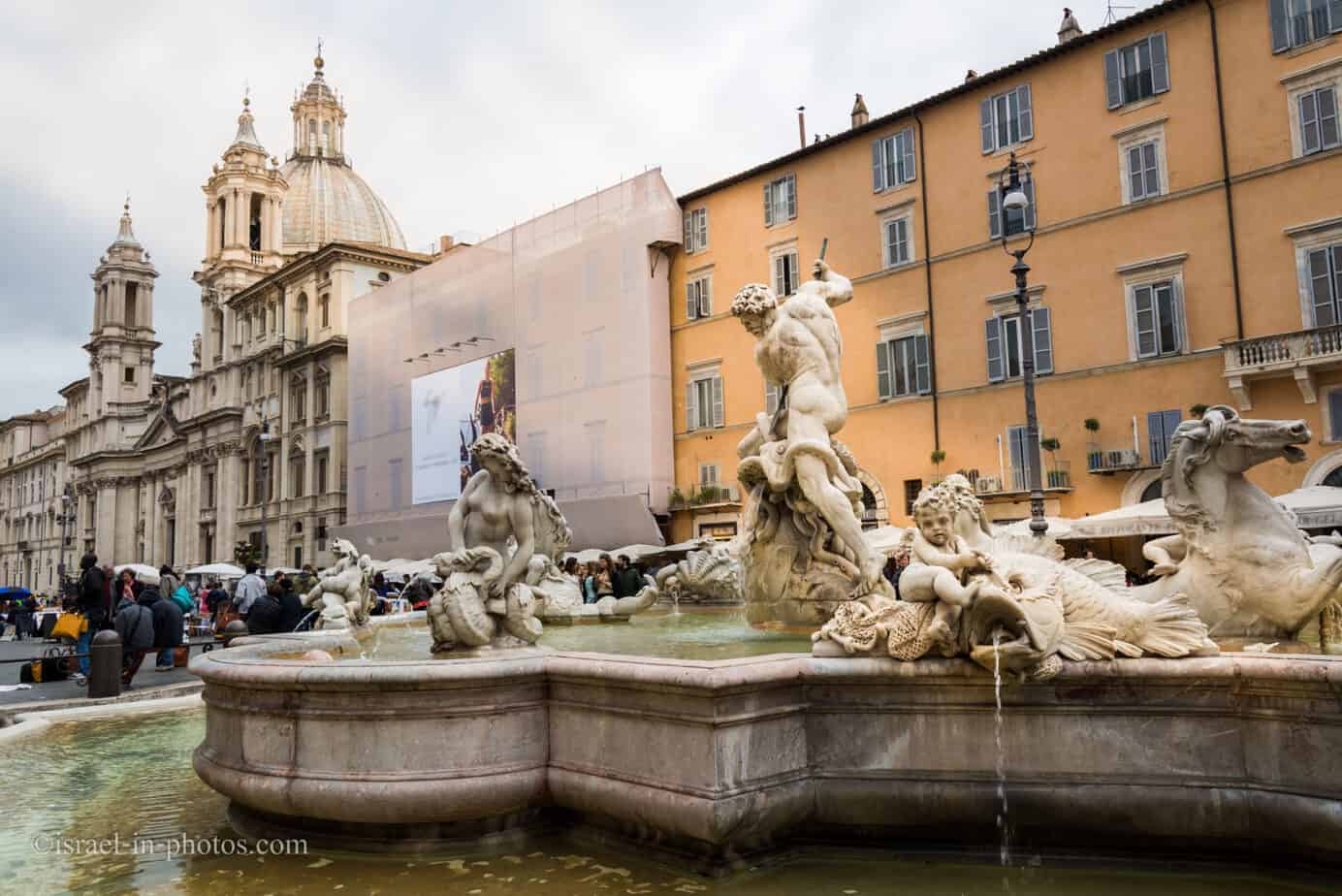 Piazza Navona is famous for several things. First of all, it's build on the site of an ancient Roman stadium:
It is built on the site of the Stadium of Domitian, built in 1st century AD, and follows the form of the open space of the stadium. The ancient Romans came there to watch the agones ("games"), and hence it was known as "Circus Agonalis" ("competition arena"). It is believed that over time the name changed to in avone to navone and eventually to navona.
Modern houses are located where once tribunes stood.
Secondly, there are three beautiful fountains. The most famous is the Fountain of the Four Rivers with an Egyptian obelisk, in the middle of Piazza: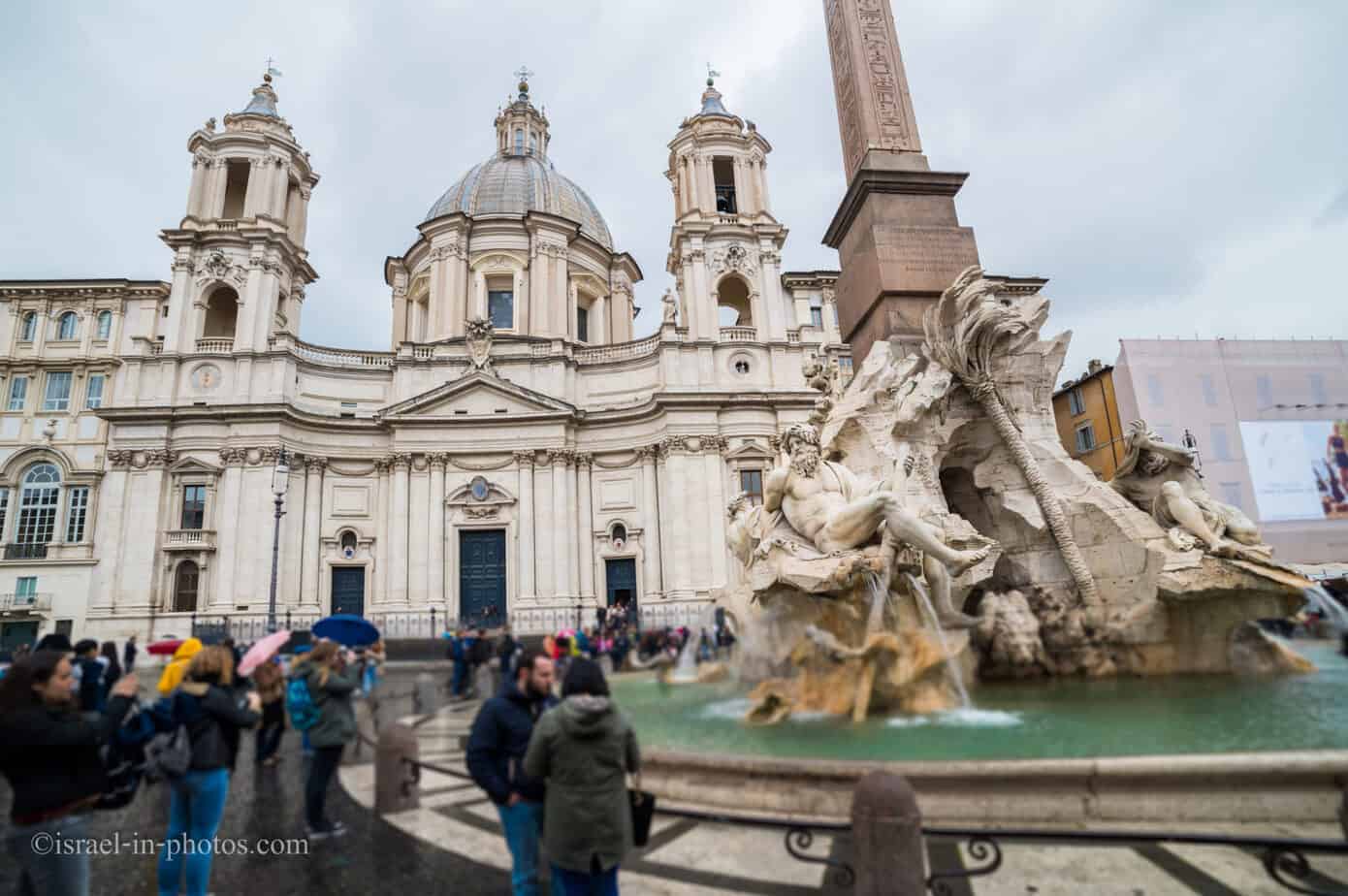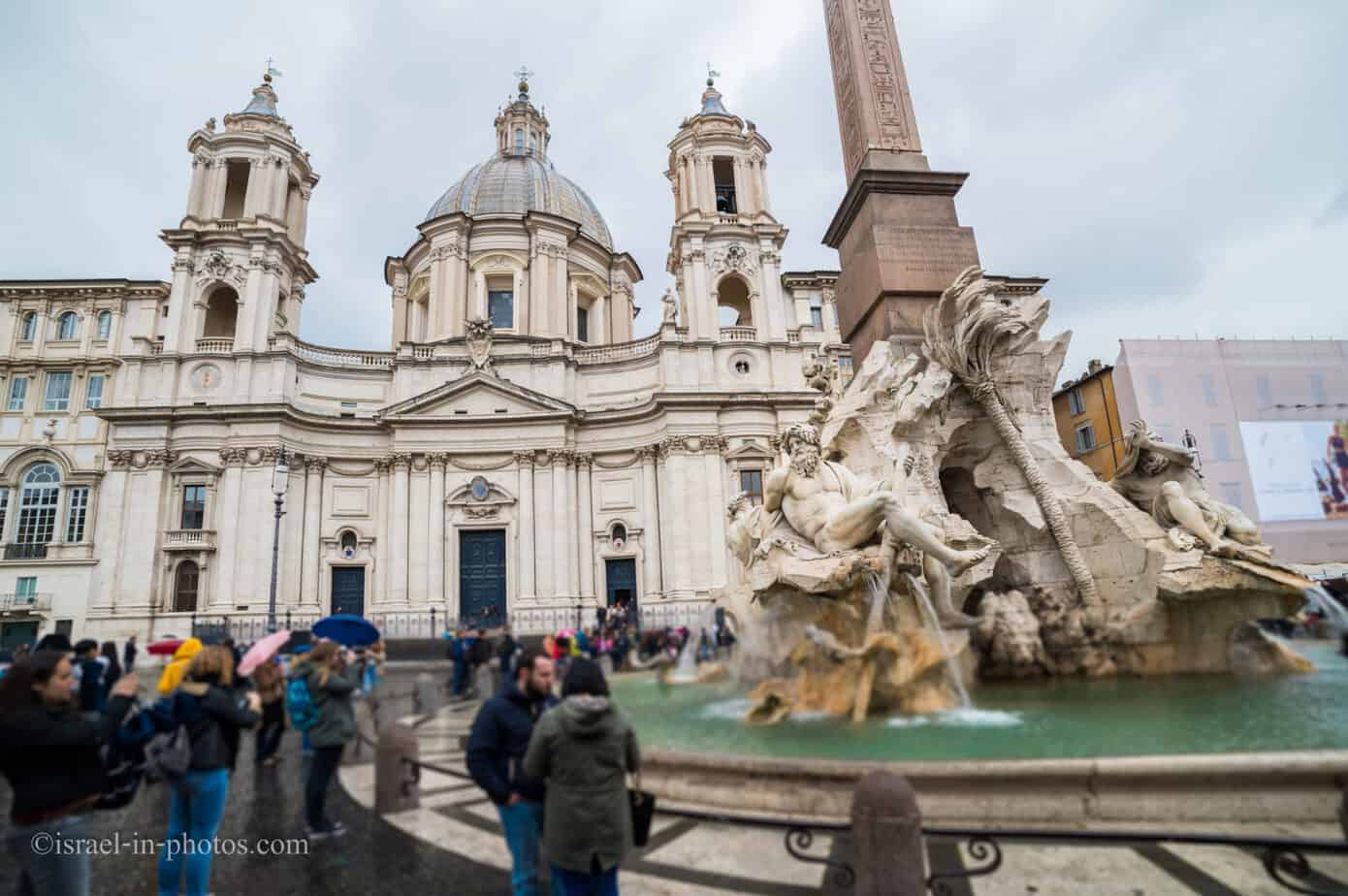 There are two more things this piazza is famous for. But I will tell you about them later on.
Pantheon
Our next stop was the Pantheon: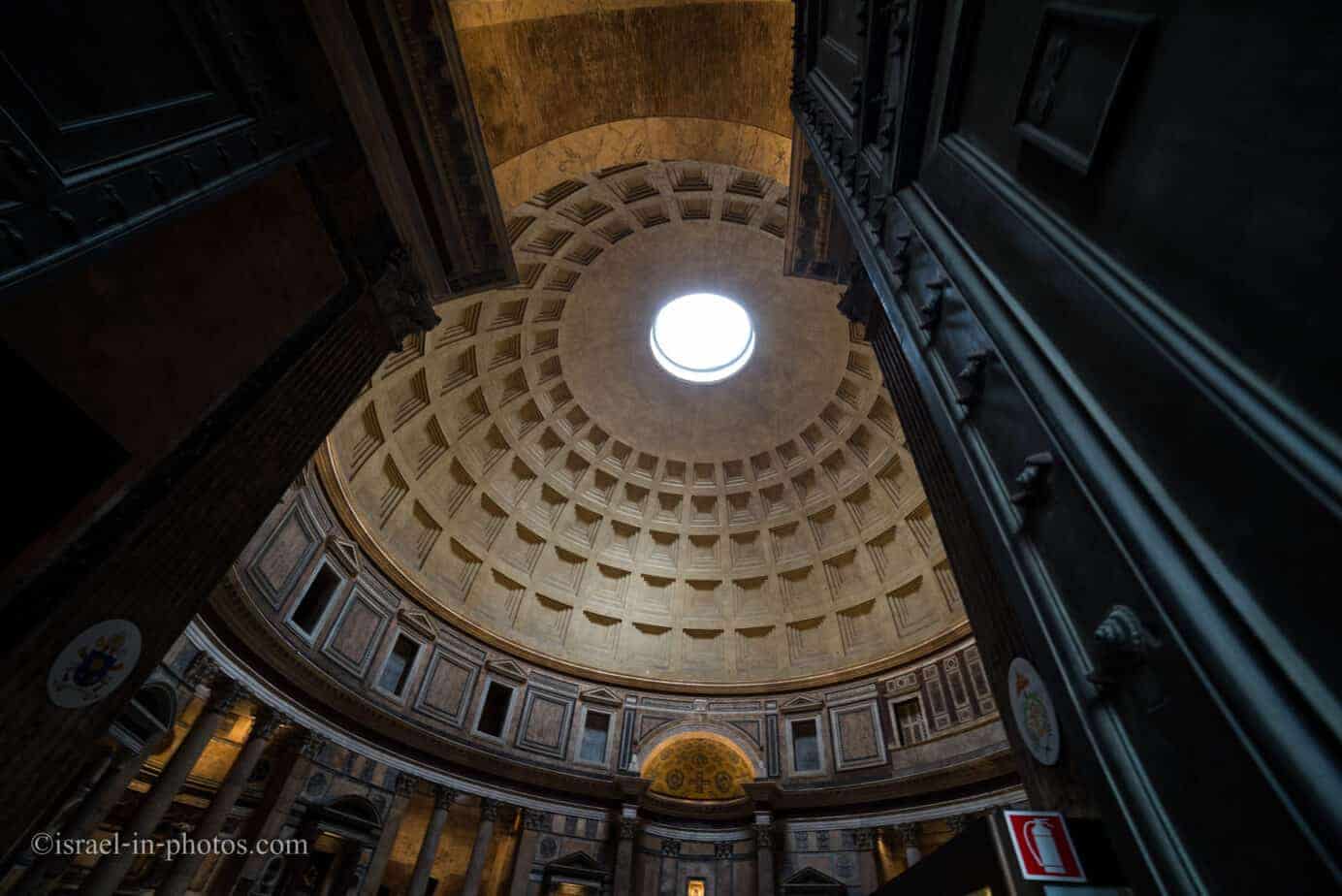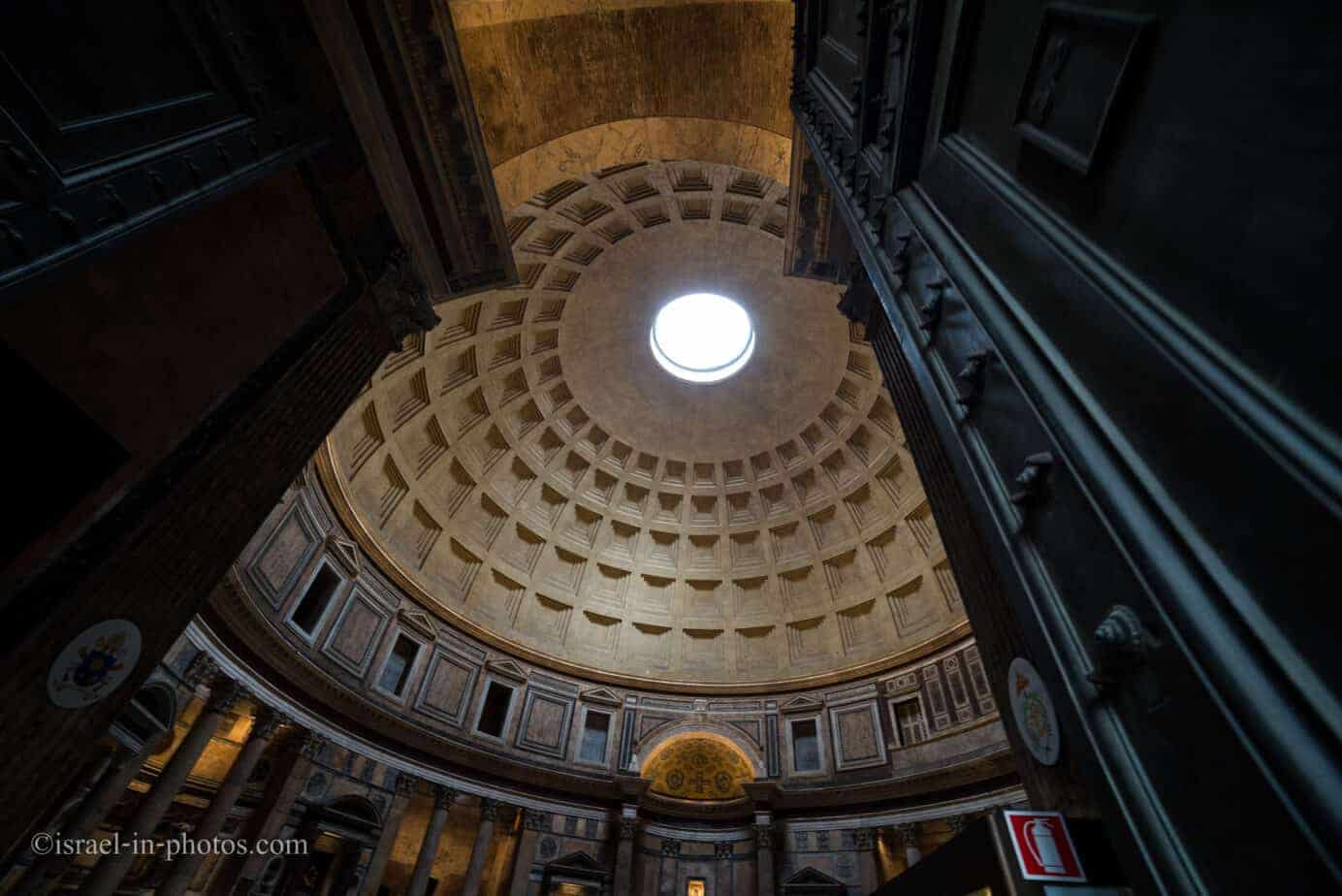 Pantheon is considered by many as top architecture. The top limit Romans could get to. Pantheon's dome is still the world's largest unreinforced concrete dome.
The building is circular with a portico of large granite Corinthian columns (eight in the first rank and two groups of four behind) under a pediment. A rectangular vestibule links the porch to the rotunda, which is under a coffered concrete dome, with a central opening (oculus) to the sky. Almost two thousand years after it was built, the Pantheon's dome is still the world's largest unreinforced concrete dome. The height to the oculus and the diameter of the interior circle are the same, 43.3 metres (142 ft).[4]

It is one of the best-preserved of all Ancient Roman buildings.
And the Oculus is the main source of natural light: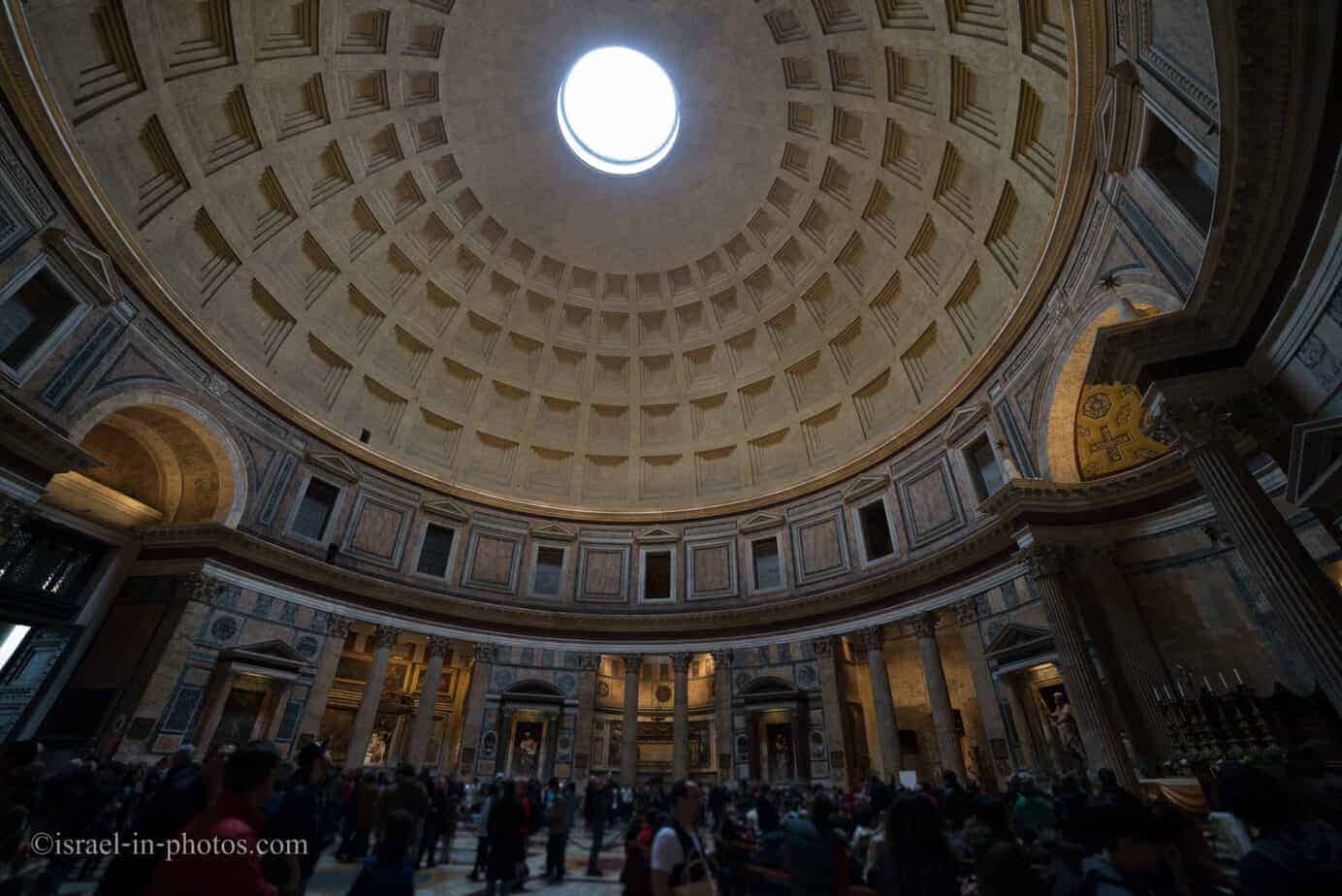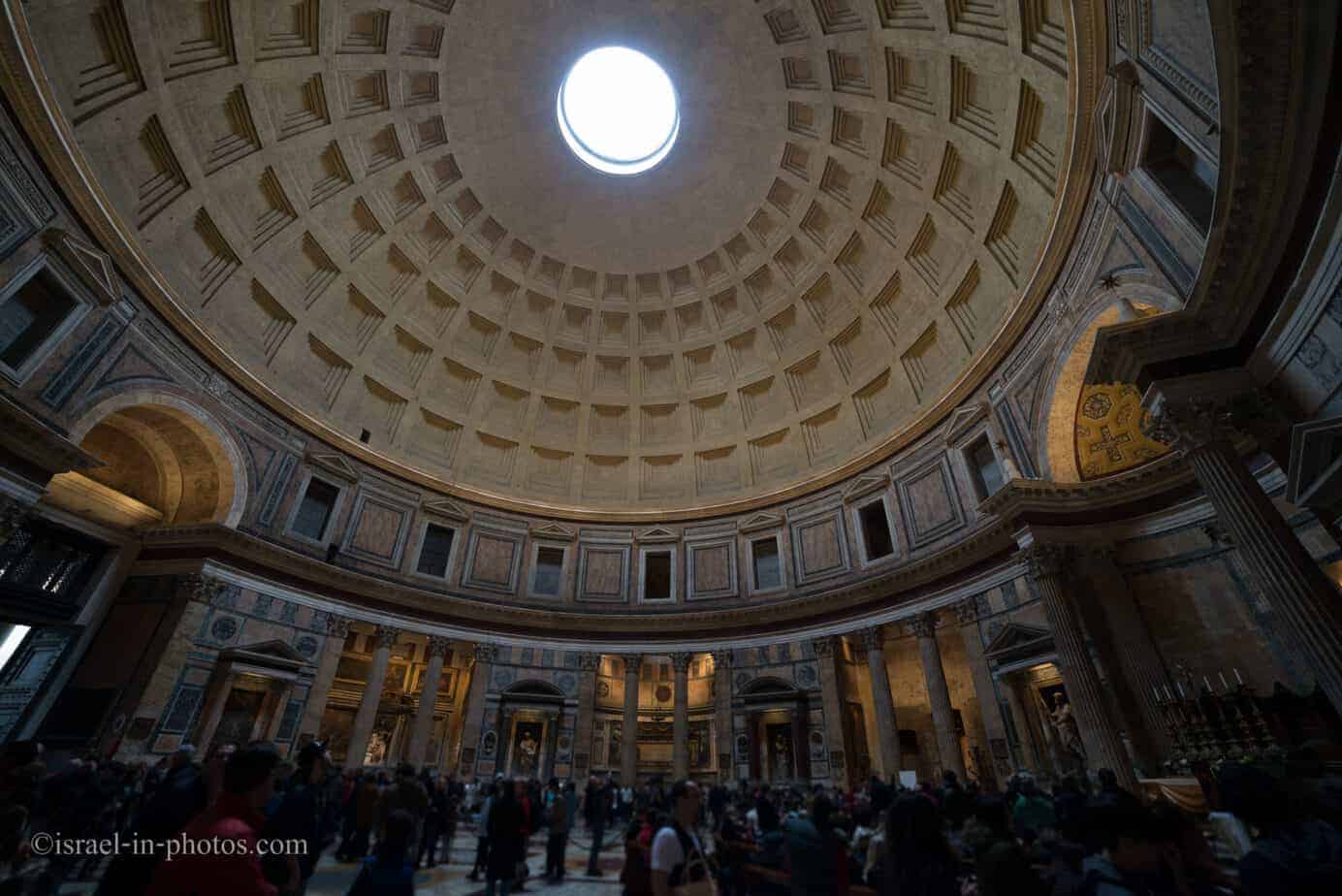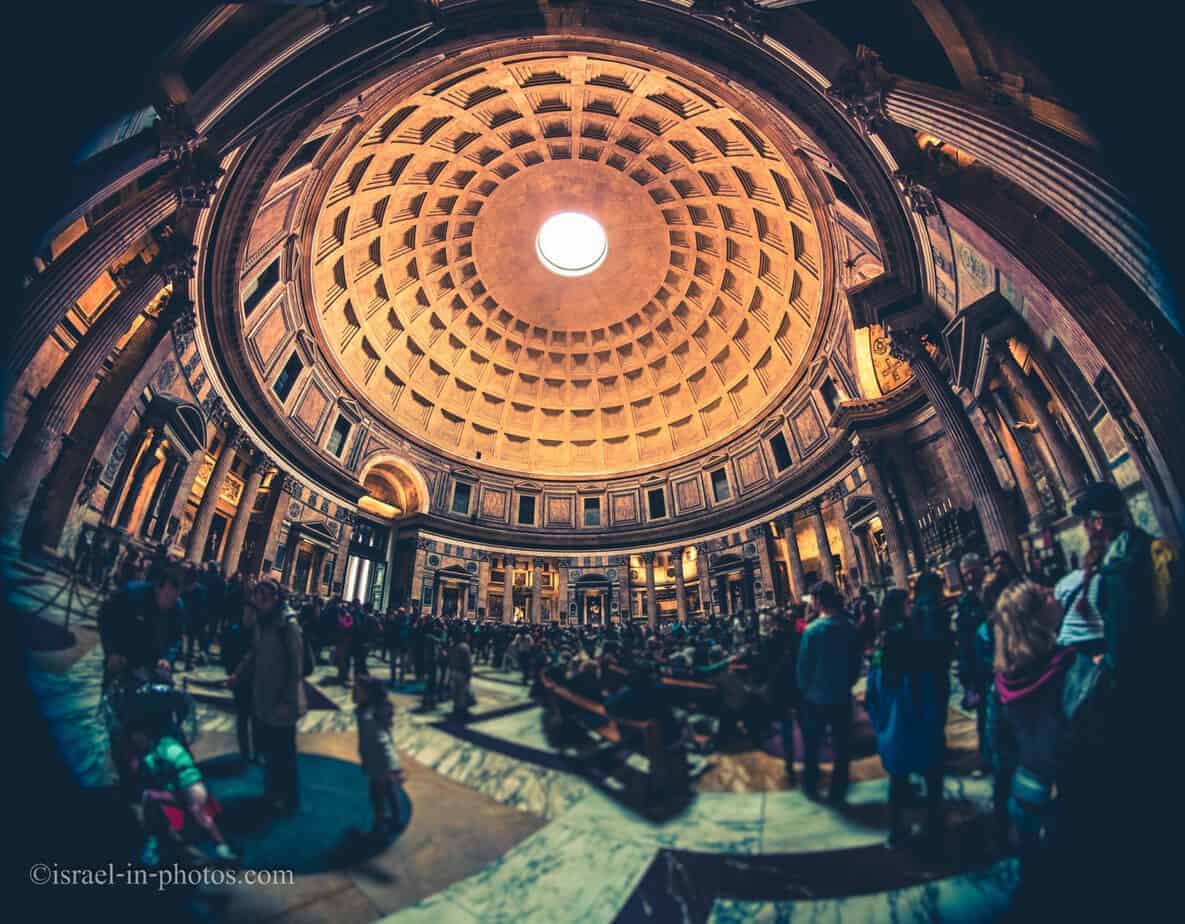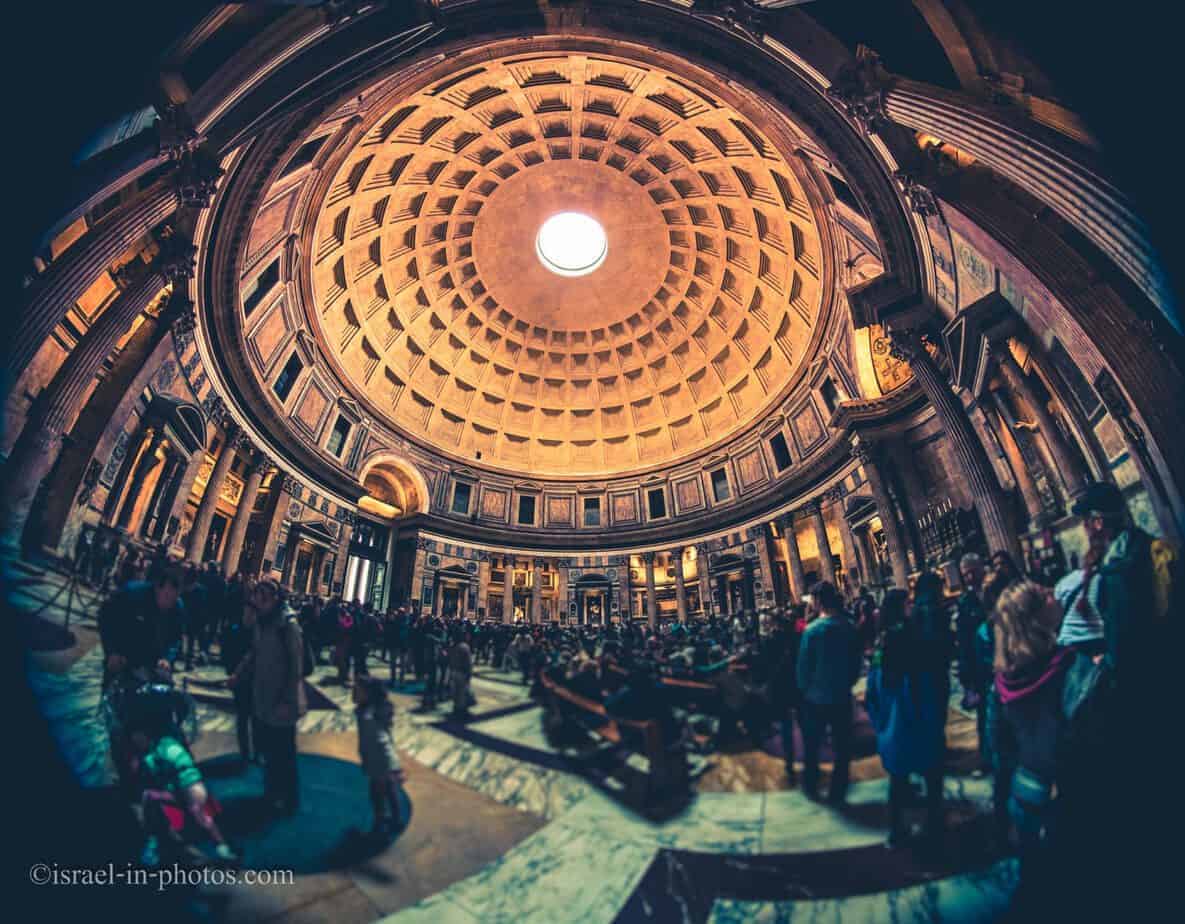 Here is an exterior view: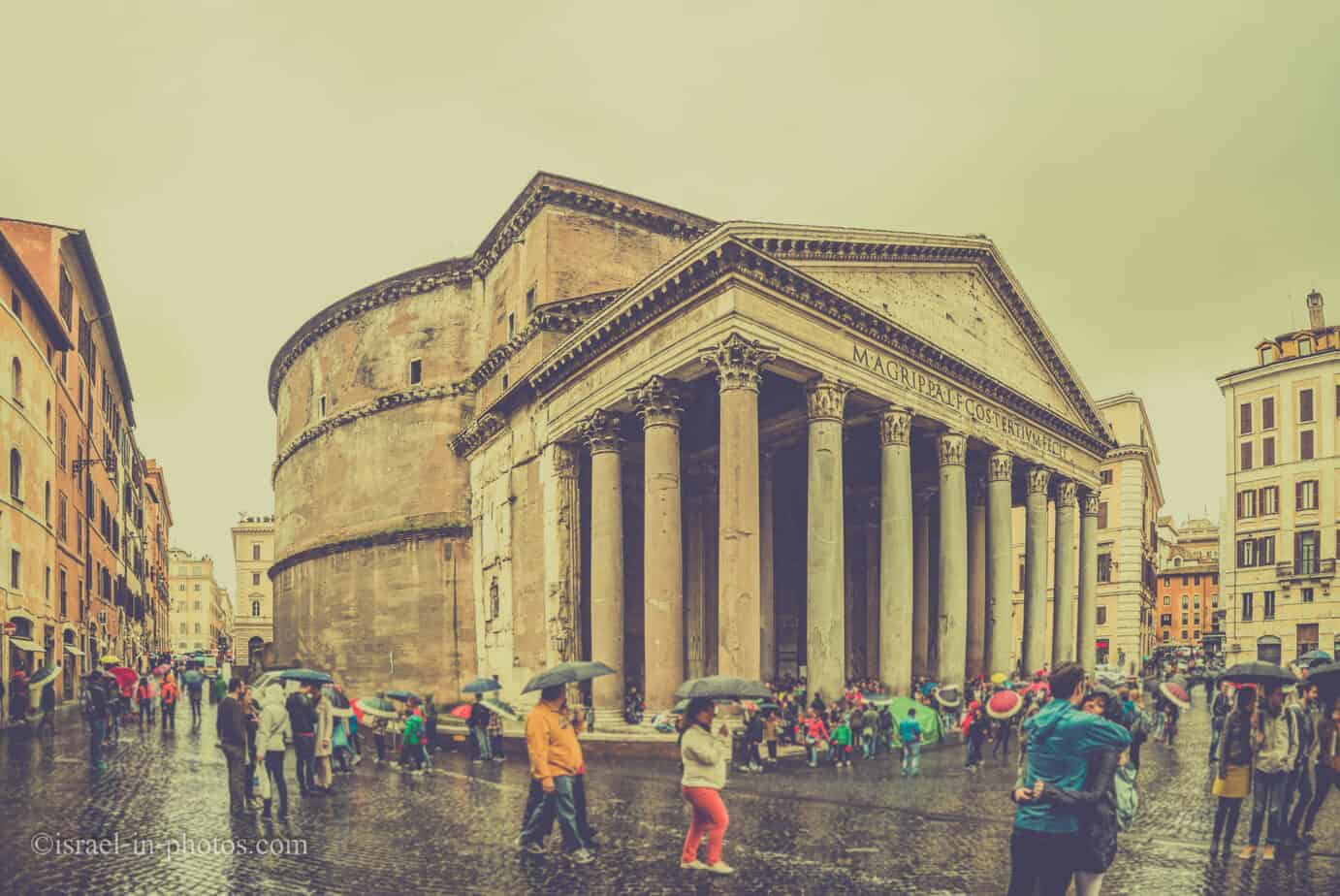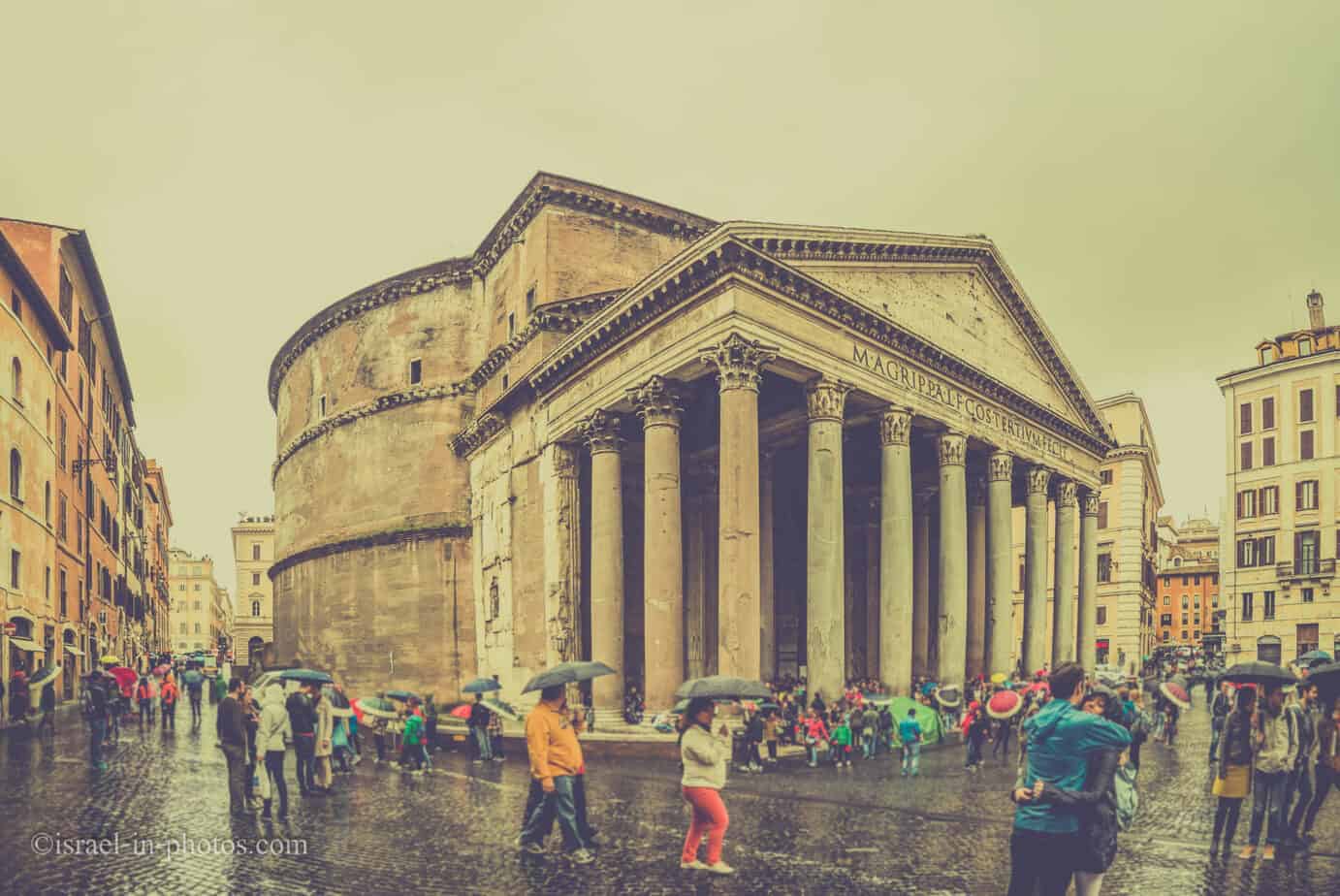 If you continue on the street that's located on the left in the photo above then after two minutes walking you will reach St Maria Sopra Minerva Basilica.
St Maria Sopra Minerva Basilica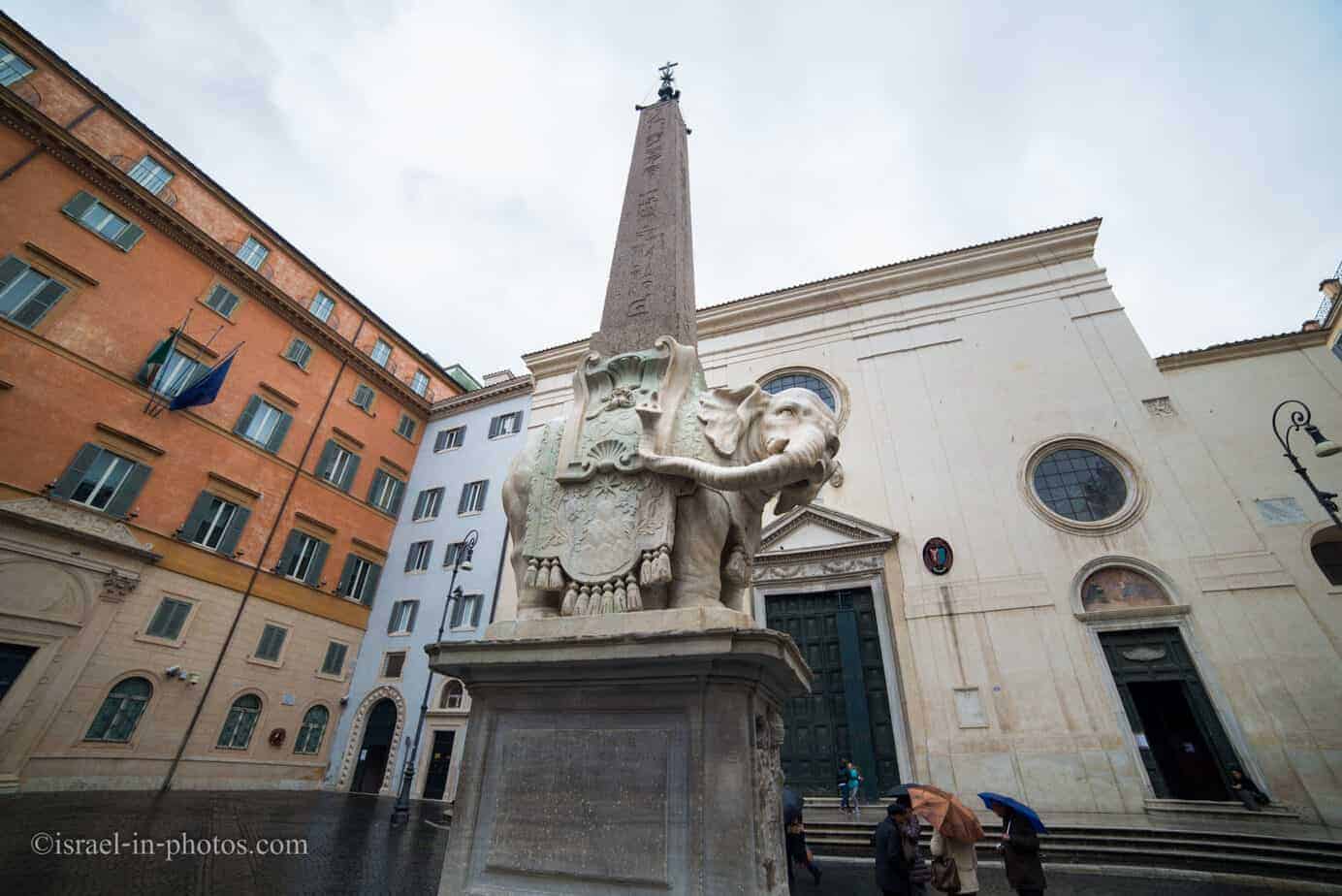 The church's name derives from the fact that the first Christian church structure on the site was built directly over (Latin: supra) the ruins or foundations of a temple dedicated to the Egyptian goddess Isis, which had been erroneously ascribed to the Greco-Roman goddess Minerva.

While many other medieval churches in Rome have been given Baroque makeovers that cover Gothic structures, the Minerva is the only extant example of original Gothic church building in Rome. Behind a restrained Renaissance style façade the Gothic interior features arched vaulting that was painted blue with gilded stars and trimmed with brilliant red ribbing in a 19th-century Neo-Gothic restoration.
Here are several interior photos: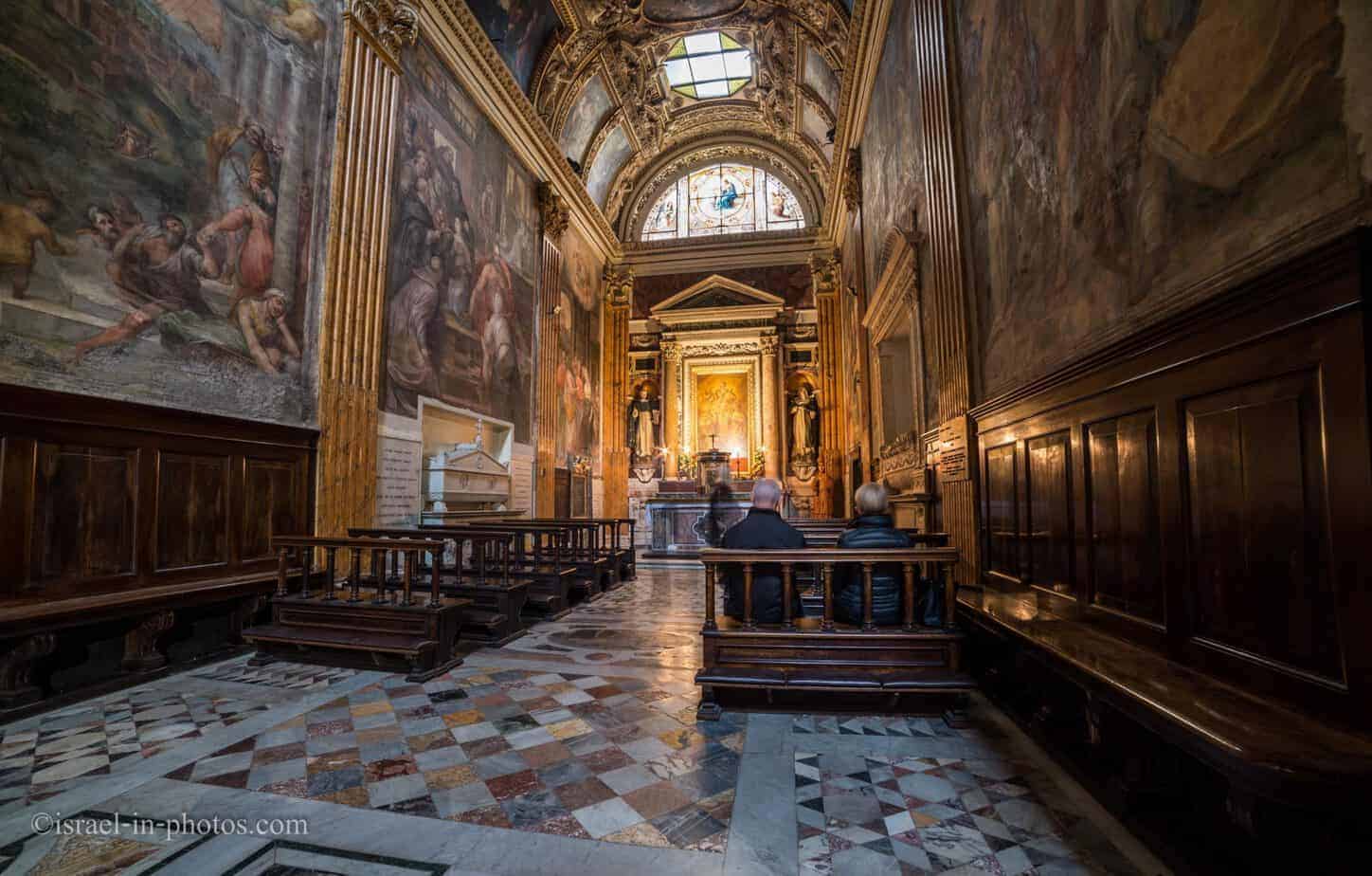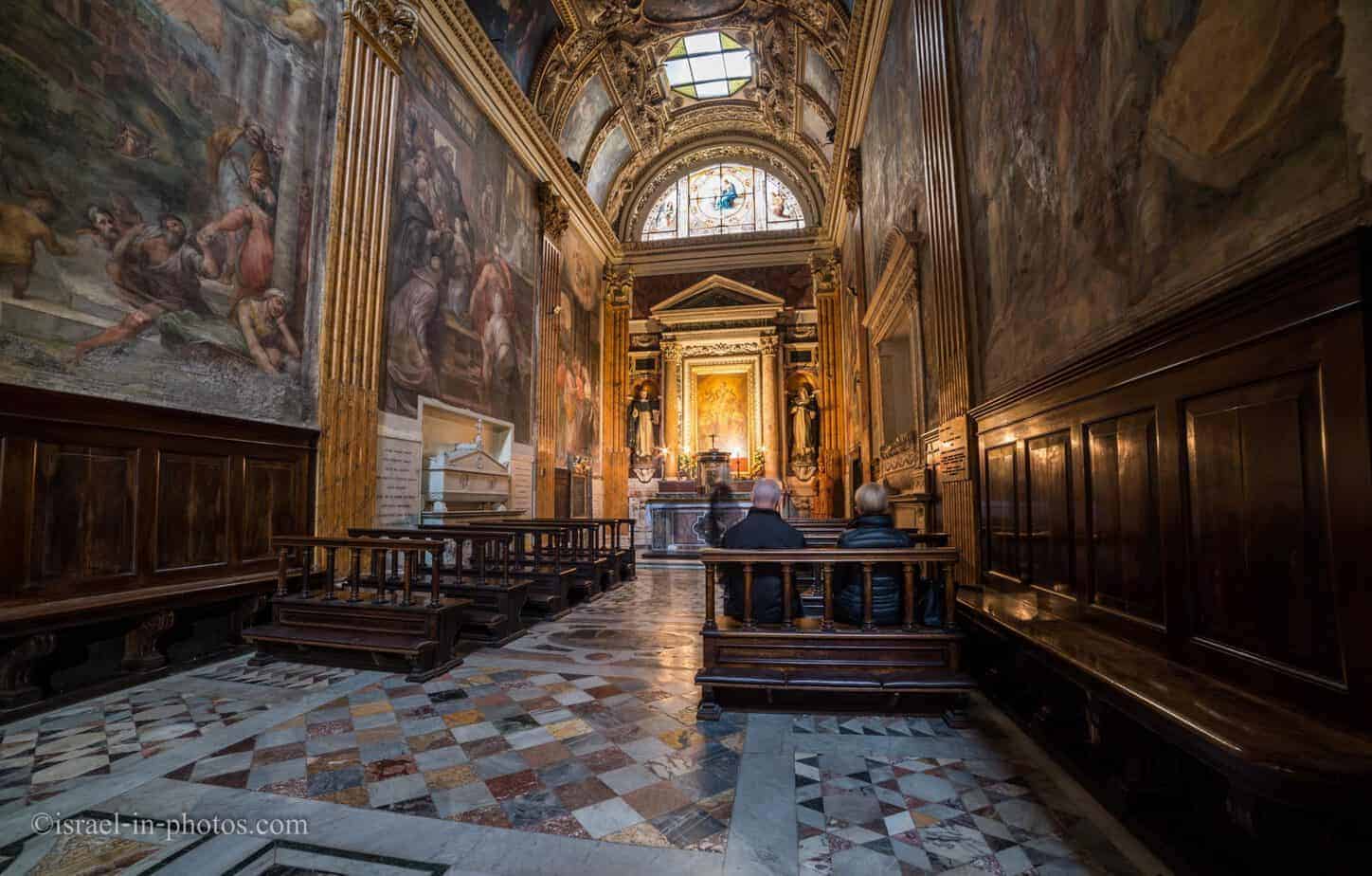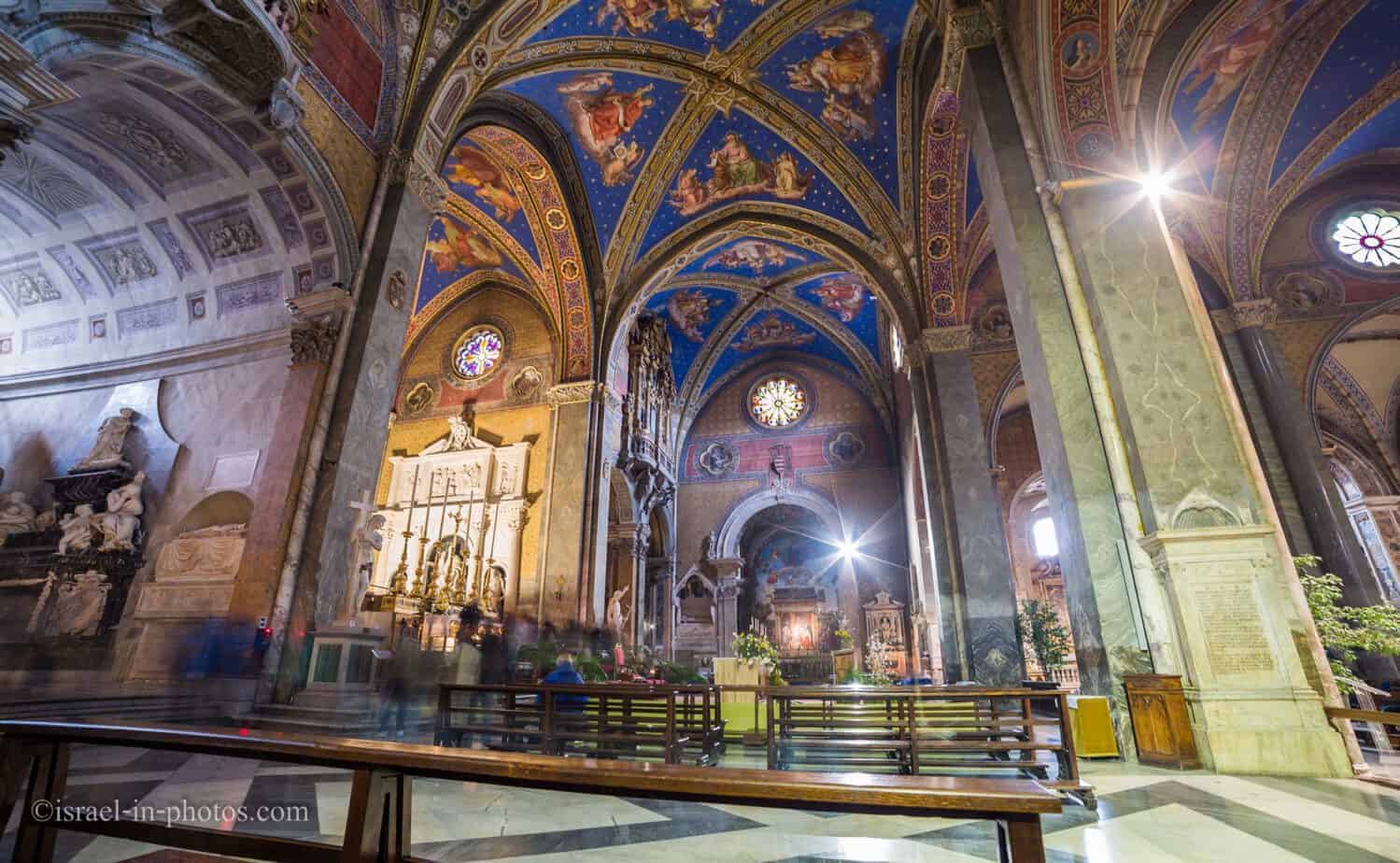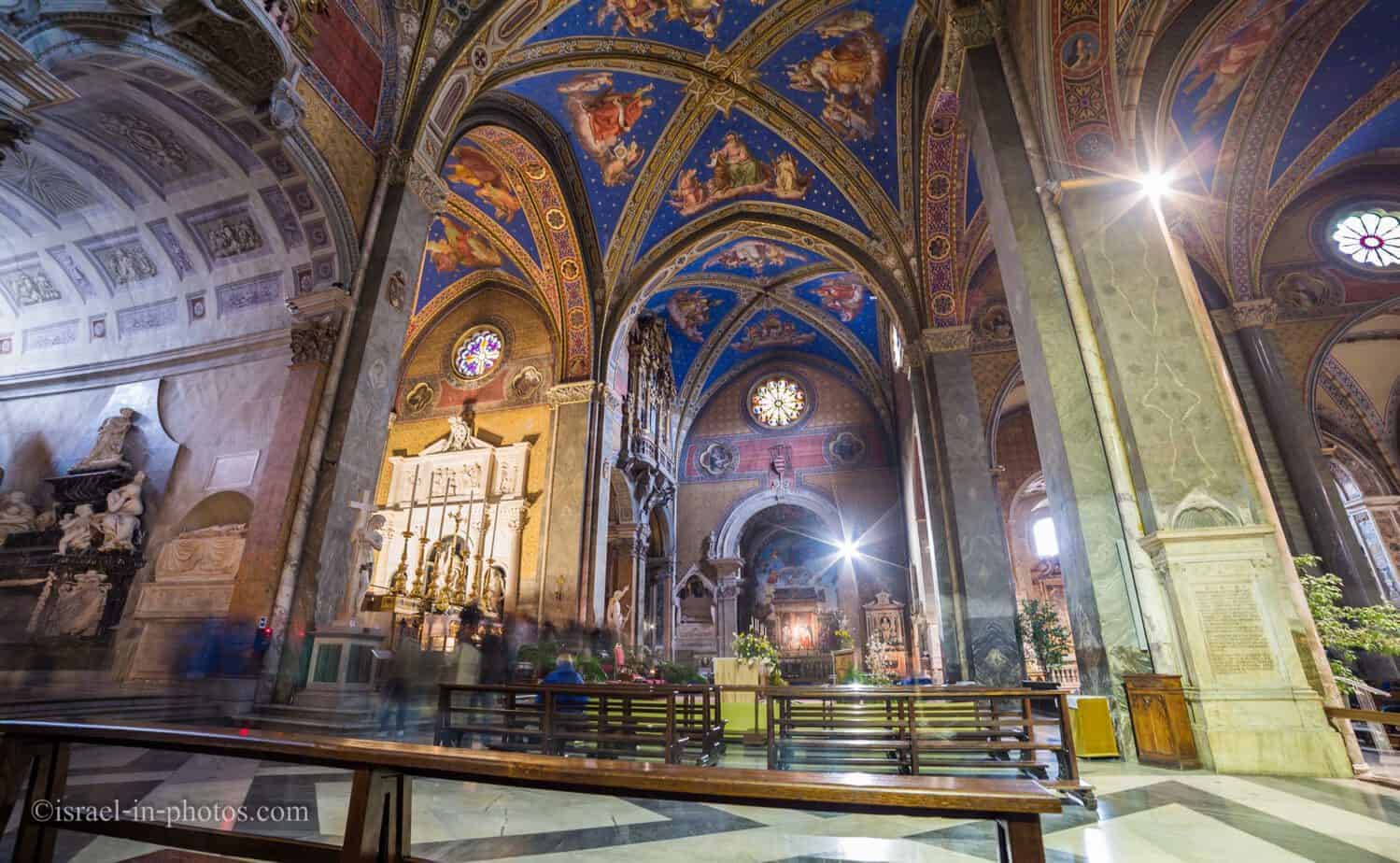 And that was almost all for the first day. So we started walking back to our hotel. Here we are passing through Piazza Navona again: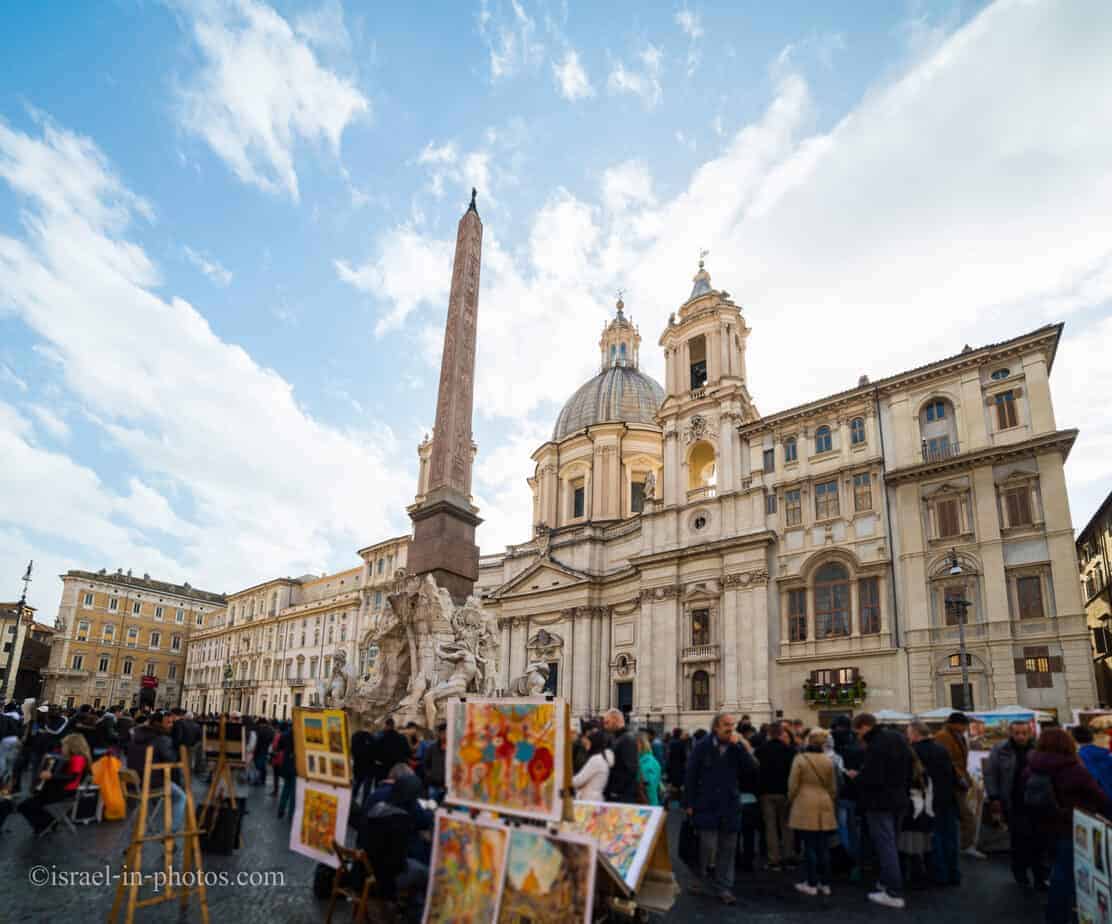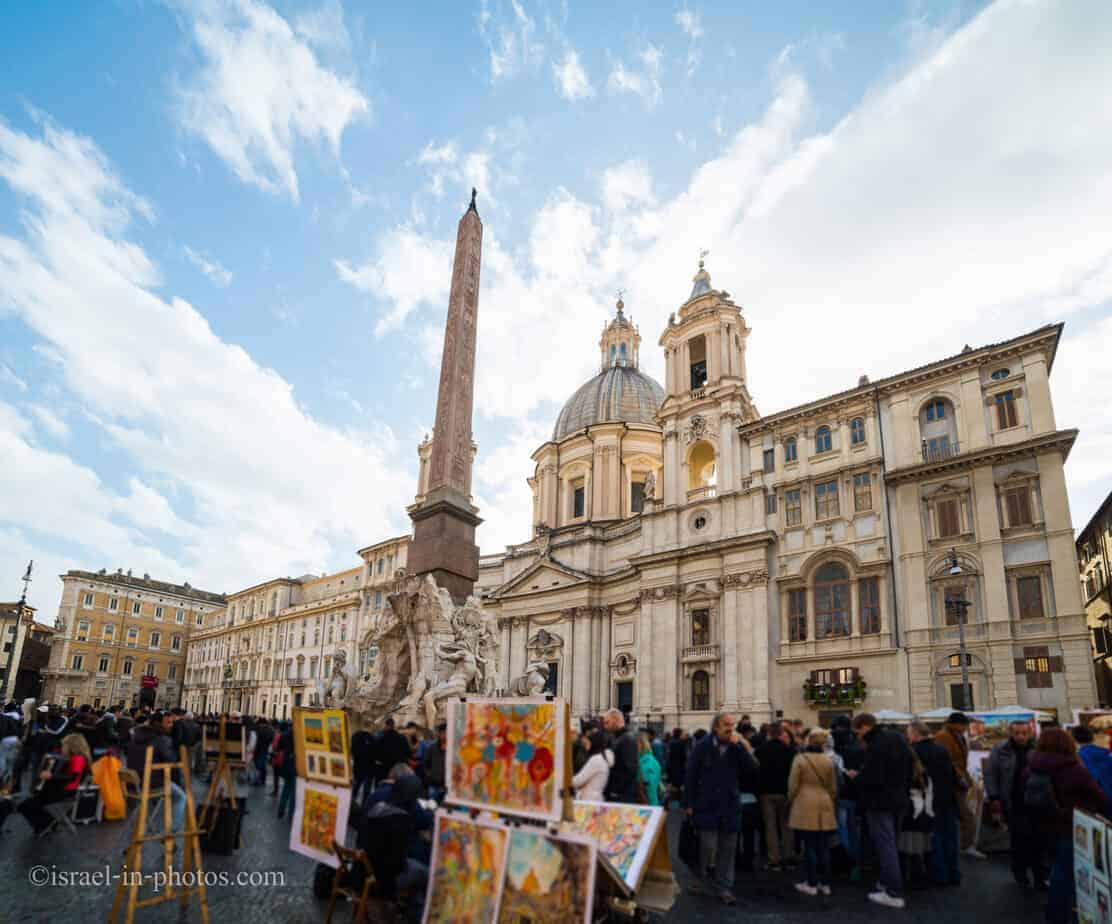 And as you can see the rain ended and it was sunny again. So now I can tell you what are two additional things Piazza Navona is famous for. The first one is the artist market. There are many painters whose painting you can buy and you can get your portrait in different styles. The second thing is the "Tartufo". "Tartufo" means "Truffle" in Italian. It's ice-cream dessert, which usually composed of two or more flavors of ice cream (typically chocolate), often with either fruit syrup or frozen fruit (usually raspberry, strawberry or cherry) in the center.
After a "Tartufo" we continue walking back and here is again Castle Sant'Angelo with St. Angelo Bridge: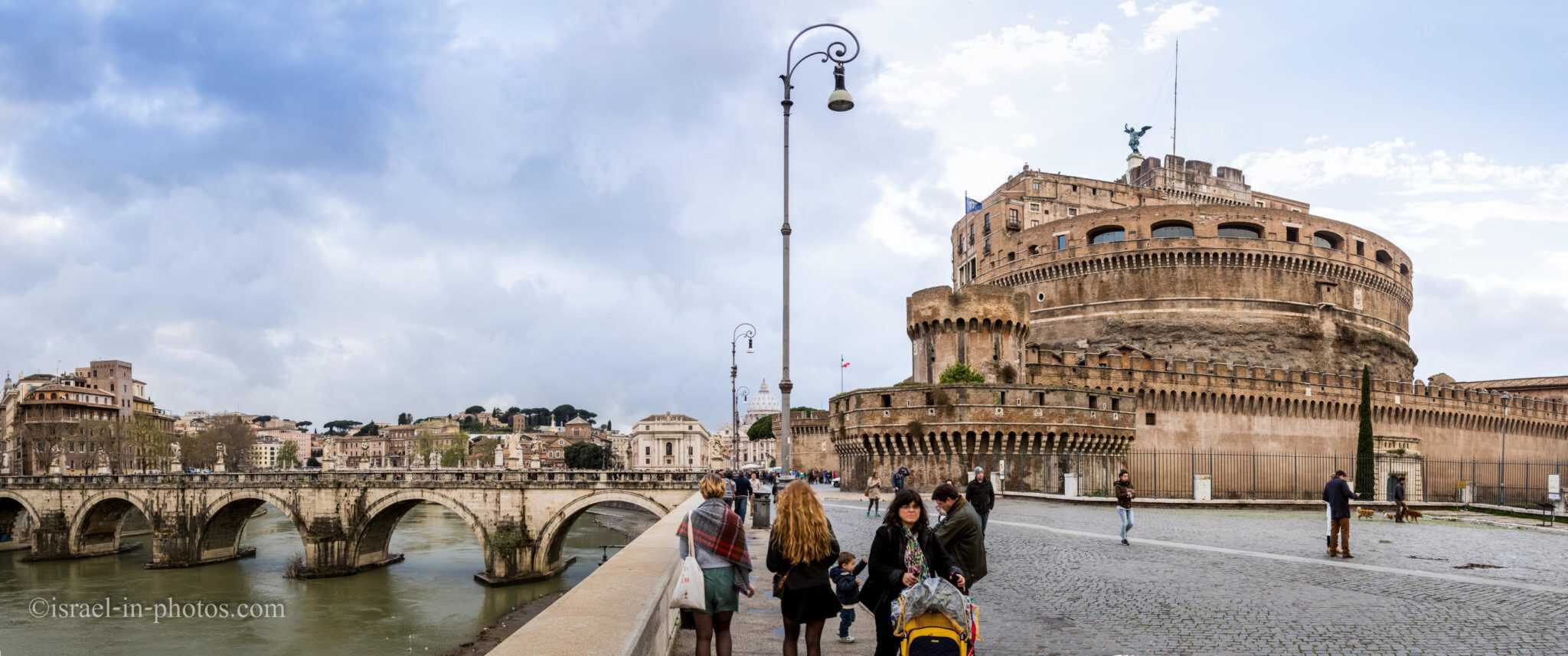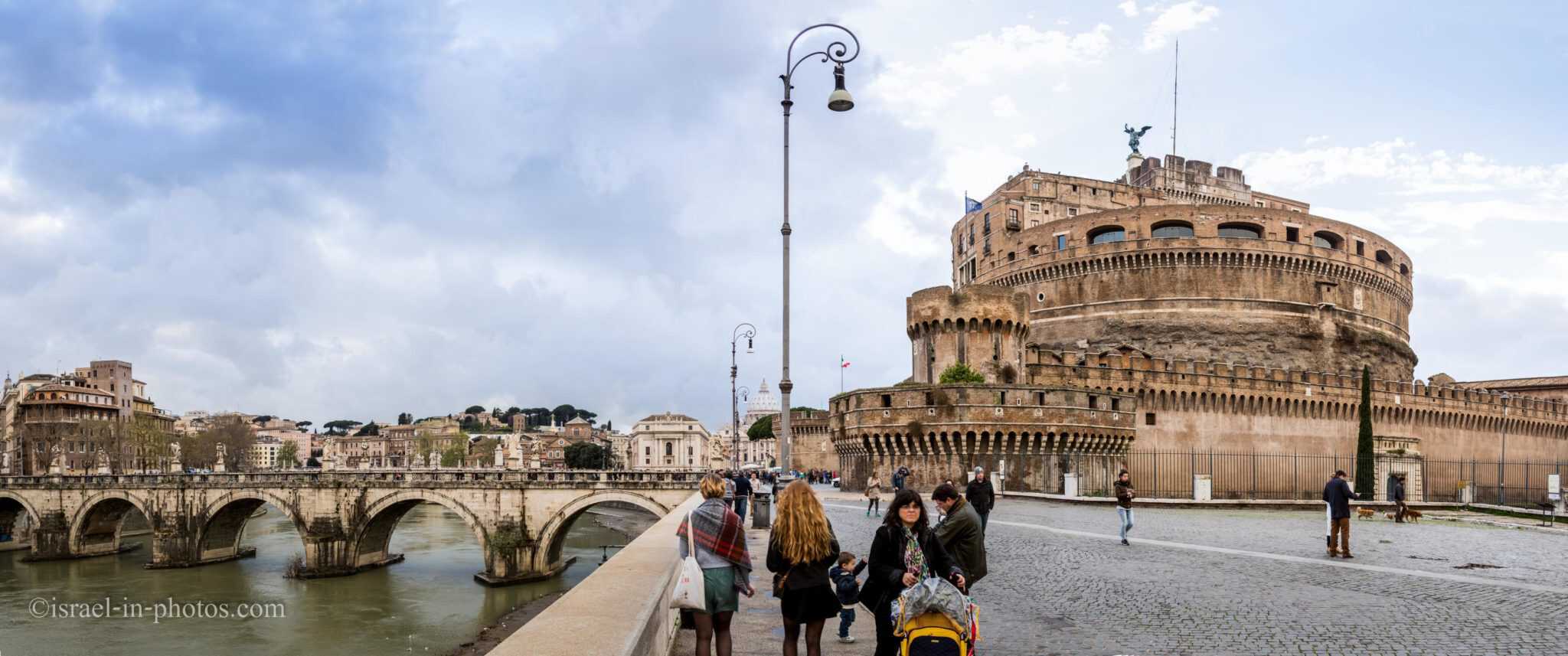 The massive walls of Castle Sant' Angelo: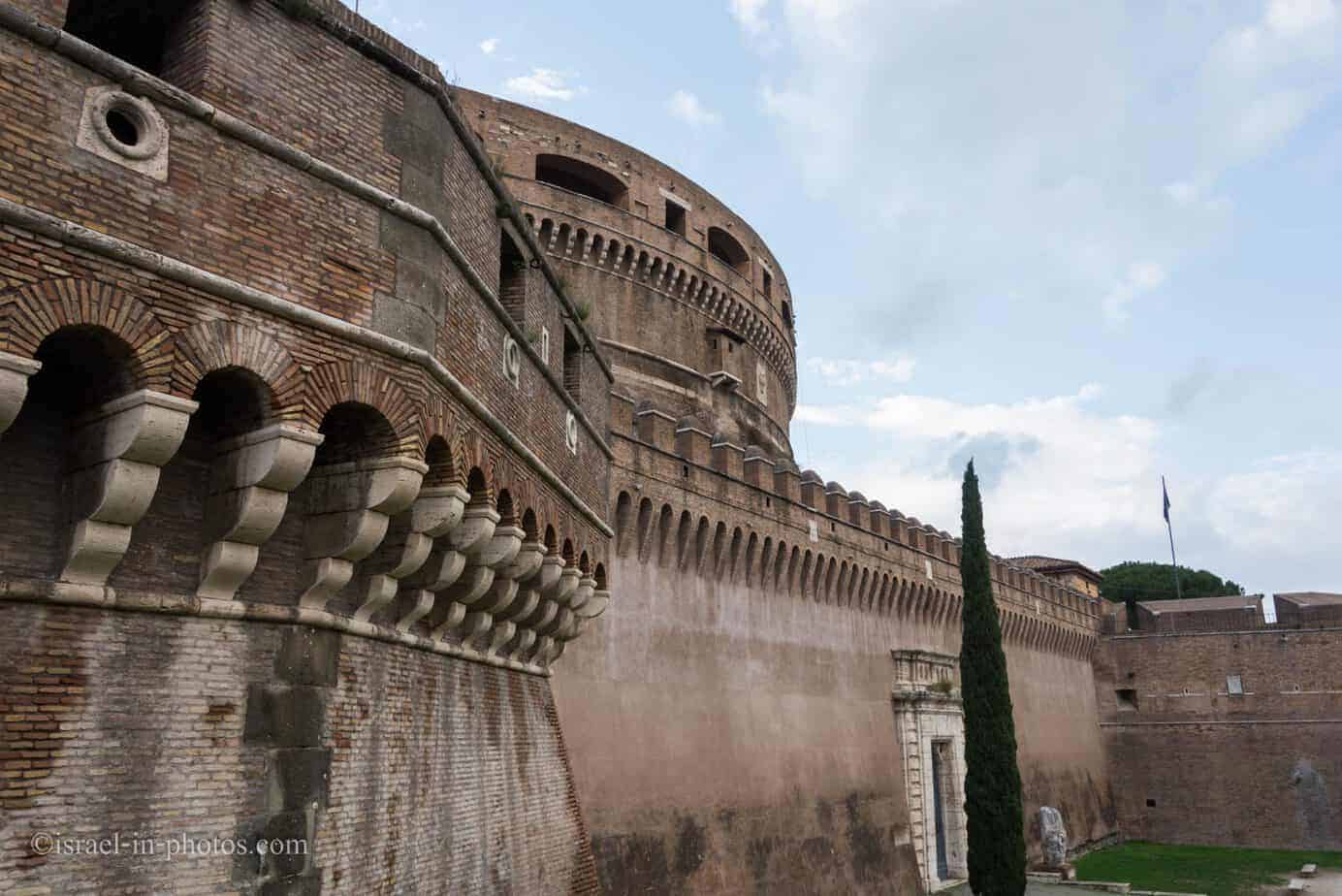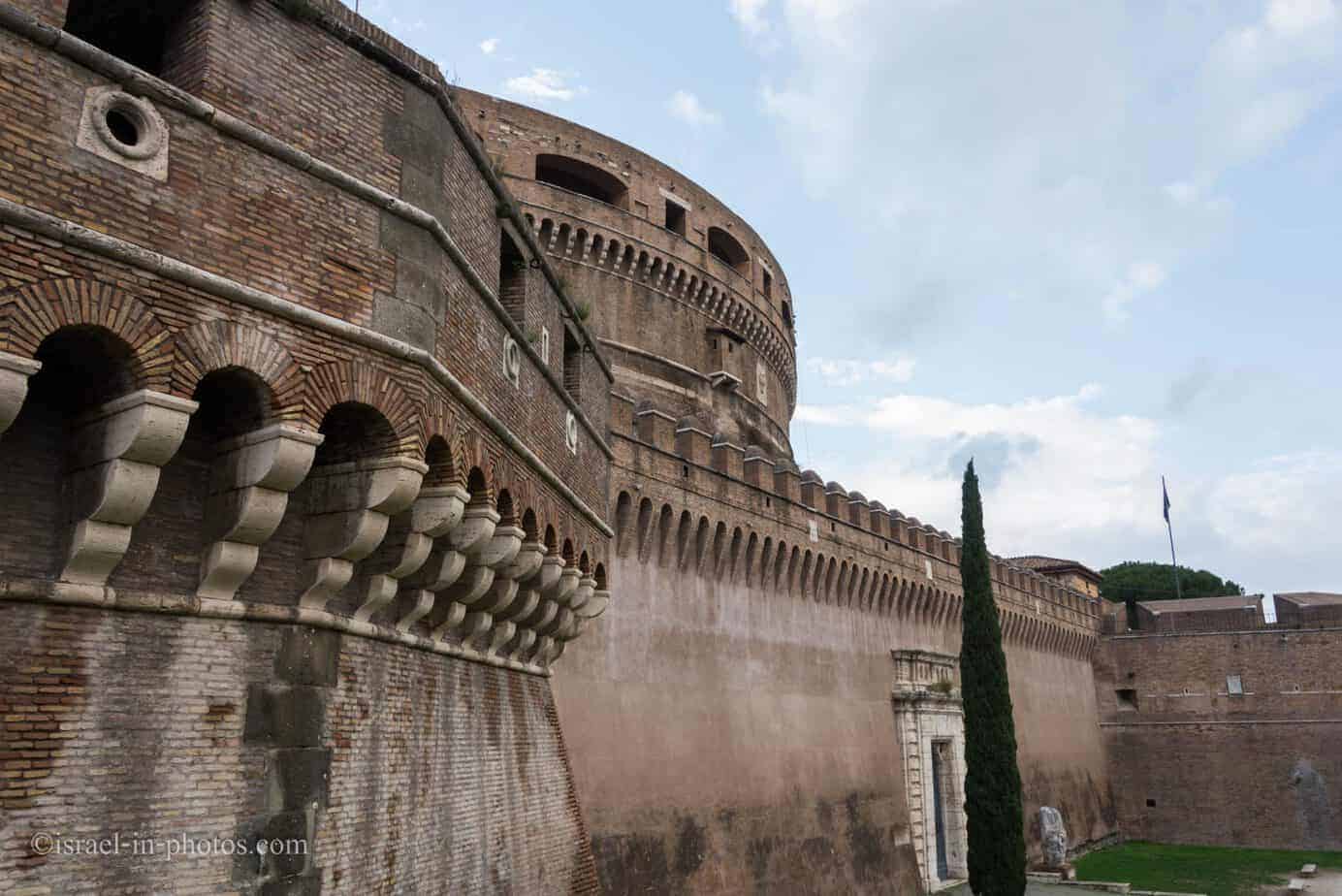 And one last tip for today: use Rome map I provided in my previous post or create yourself a new one. But as I mentioned before, there are very many tourists, thus if you get into any restaurant, most likely you will be disappointed. When we dined at TripAdvisor's recommended restaurants it was good. When we didn't, it was awful.
That's it for today and see you on day #2.
Stay Tuned! 
 
Additional Resources
Here are several resources that I created to help travelers:
And if you have any questions then check out Useful Information For Tourists To Israel.
 
Did not find what you were looking for? Leave a comment below, and I will do my best to answer your questions.