Talpiot is a food market in Hadar. Recently it became a hang-out place with restaurants, coffee shops, pubs, and galleries.
Map
Talpiot Market is located in the Hadar HaCarmel neighborhood in Haifa. The market and most restaurants are located along Sirkin and Lunz Streets. And the Talpiyot Market historical building is situated at Sirkin 35, Haifa.
Directions for drivers: Link to Waze and Link to Google Maps
Directions for public transport: Link to Moovit
Interactive map of the area:
Offers:
Hotels, hostels, and apartments in this area:
Directions
If you are using public transport, I want to mention a Metronit station near the market.
And here is a link to moovit. Change the starting point, and you will get the updated directions.
If you are driving, here is the link to Waze.
Parking
Usually, when I visit Talpiot, I park on nearby streets. For example, Barzilai Street, Ha-Shomer Street, and Naftali Imber Street.
During my latest visit, I parked at 20 Sokolov Street. It has blue and white curbs. And in retrospect, it was a mistake. I paid Pango more than the nearby parking lot. At Sirkin Street 15, you can find a parking lot. It costs 10 NIS per first hour and 20 NIS for the day. Also, at Sirkin Street 19, you can find a dirt parking lot.
Opening Hours
There are many businesses, and the opening hours may differ. Thus, I will list the standard opening hours when most places are open.
Sunday – Thursday: 10:00 – 18:00
Friday: 09:00 – 16:00
If you are interested in a specific place, check its opening hours. Also, places like pubs will be open in the evening and night and not at the listed hours.
Where did I get the mentioned opening hours from? The restrooms. It seems logical that toilets will be open when most businesses operate.
Restrooms
There are toilets at Lunz Street 3.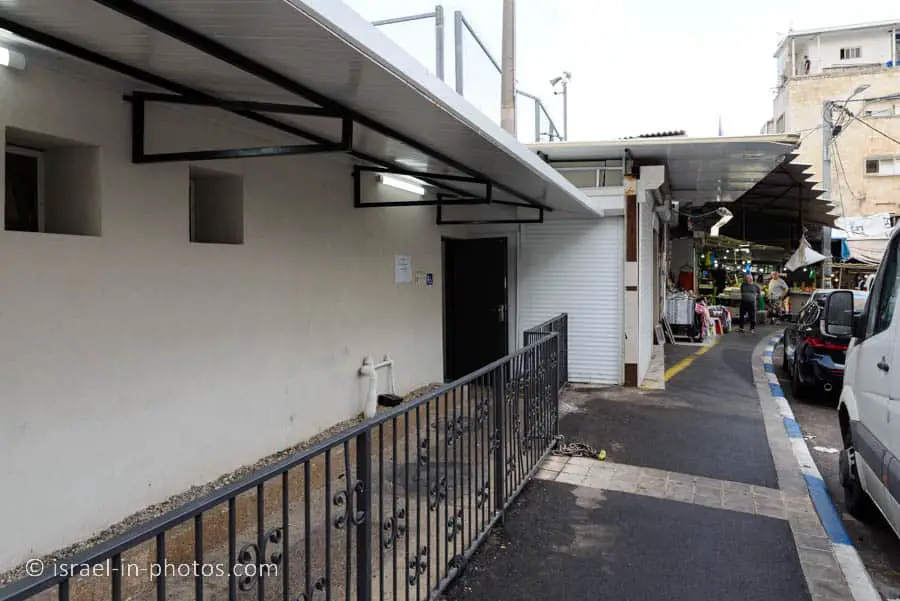 They were clean, but there was no paper. I saw that a market worker brought toilet paper with her.
Here are the opening hours: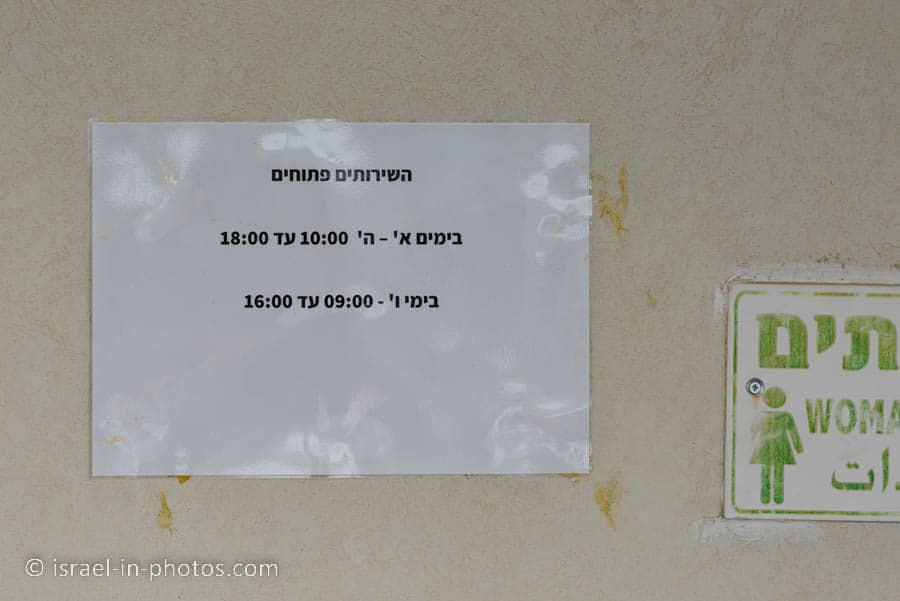 There are also restrooms behind Talpiyot Market historical building (Sirkin 35).
And now, let's start our visit.
Sirkin Street
This section will tell you about our recent visit (October 2022) and list the most popular places.
Note: all the places I will mention in this article have a rating above four (and many reviewers) on Google. Since food quality can change over time, I recommend checking the rating before visiting.
We visited on Sukkot eve and started at Lunz Street. Since it was about 9:00, we walked along Lunz and then Sirkin searching for coffee.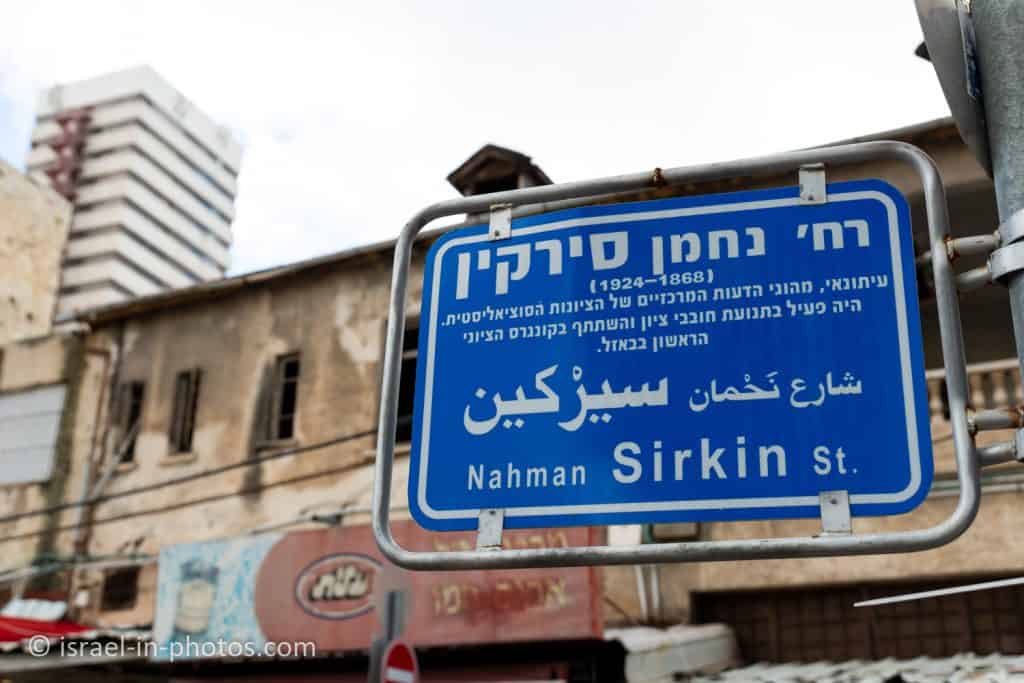 As you can see from the following photo, Knafe Talpiot was still closed. We will return to it later.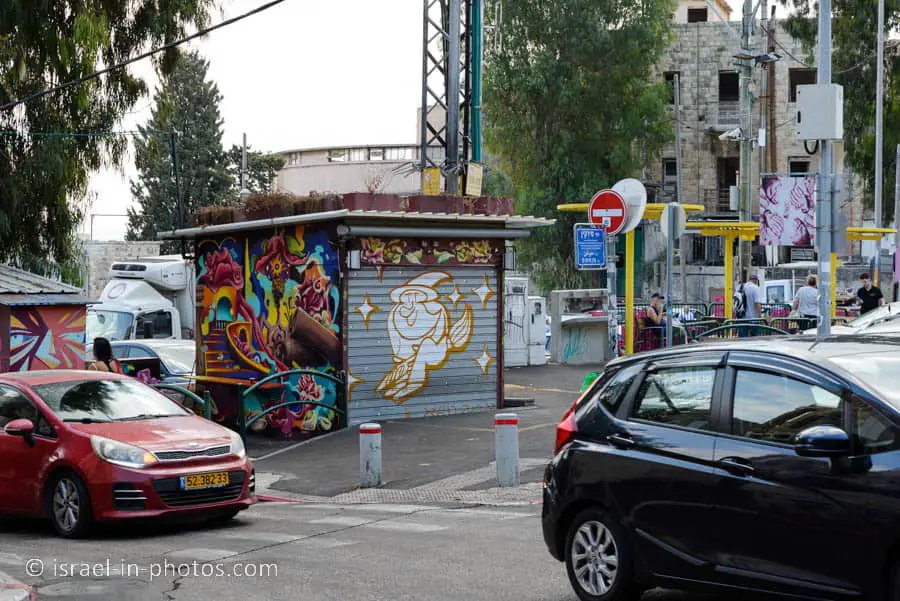 But there is an upside when some businesses are closed. You can see graffiti (if you love street art, see Graffiti in Florentin, Tel Aviv).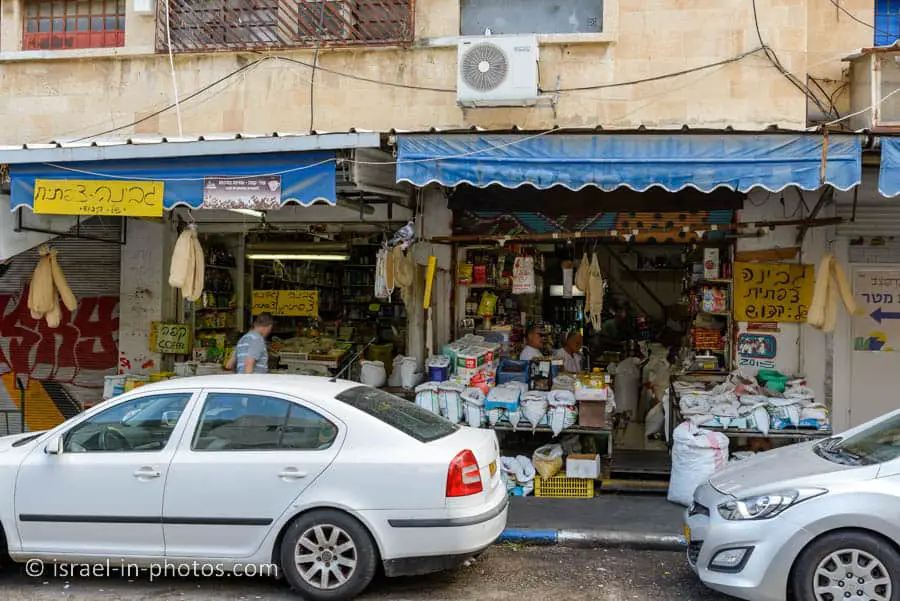 We walked for several minutes till we reached the building in the next photo (Sirkin 21).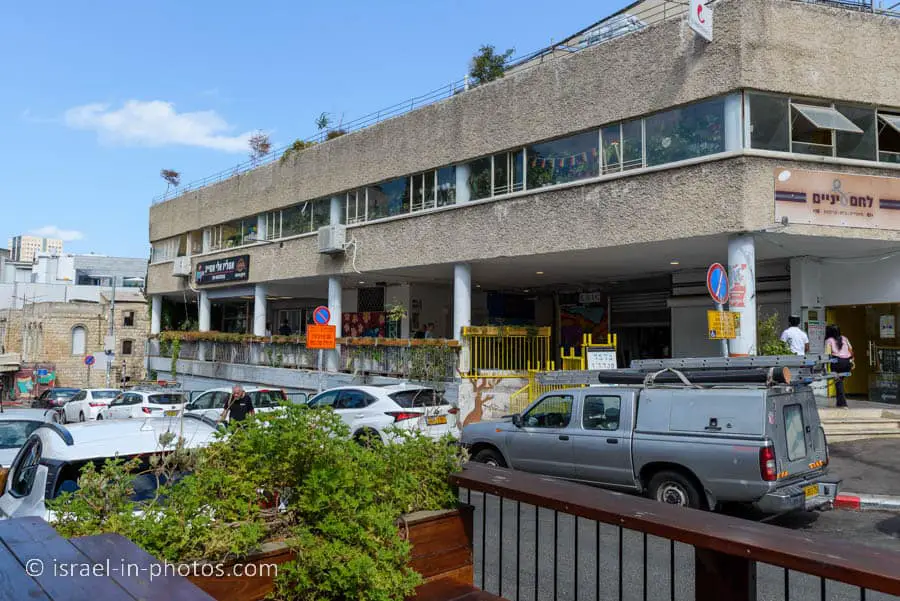 The building at Sirkin 21 has many food-related stores. For example, on the ground floor, you can find Eyeeye Bread bakery and La Mexicana Mexican restaurant (still closed).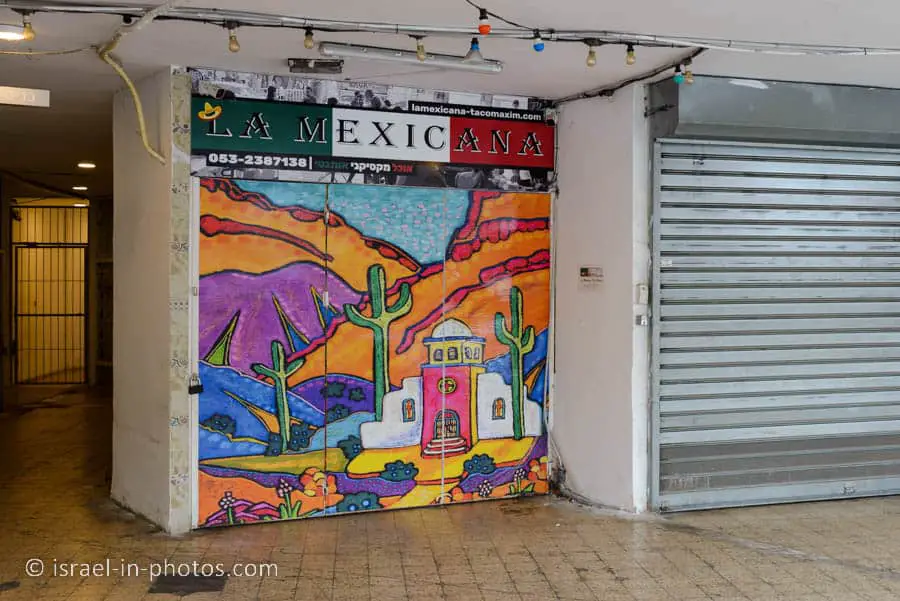 Talek – Handmade Coffee
Talek was our first stop. We did not make any fancy reservations and ordered a cappuccino and an americano.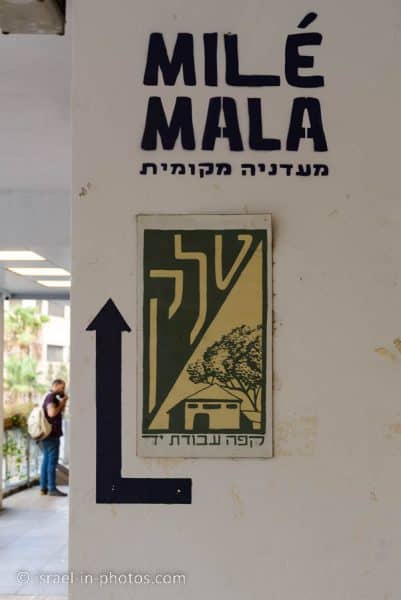 We got tried two freshly brewed coffees. It was a light roast with an intense fruity taste. If you know which roast you like, I suggest mentioning it since they have different types of beans.
Mile Mala
Our next stop was Mile Mala deli. They are located next door to Talek. Besides being a deli, they offer a changing menu with seating places outside.
We purchased several things to go and headed to the stairs. The building at Sirkin 21 has several floors. So far, we have visited only the ground floor.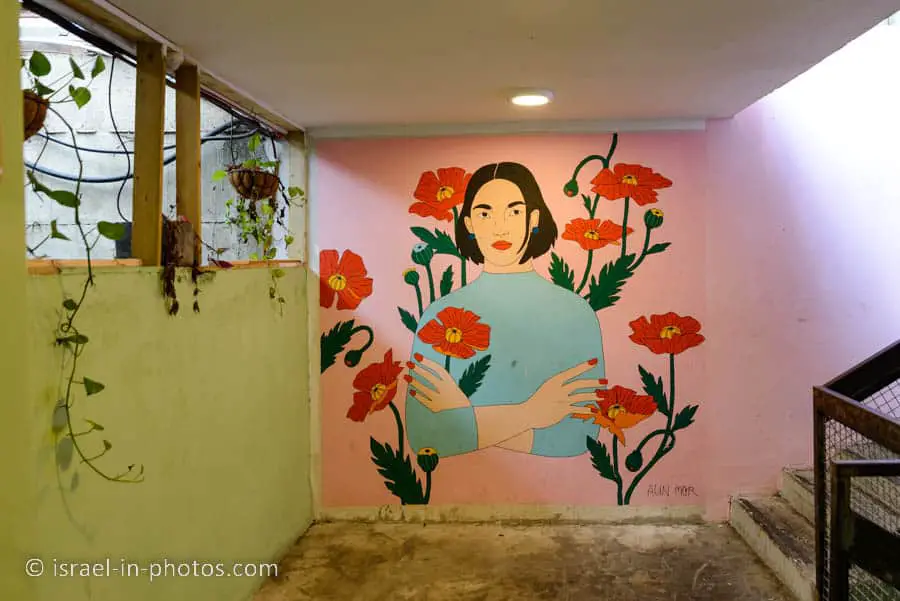 Cafe Nuna
On the first floor, you can find cafe Nuna. We hoped to have breakfast with a view, but unfortunately, they were closed at that instance.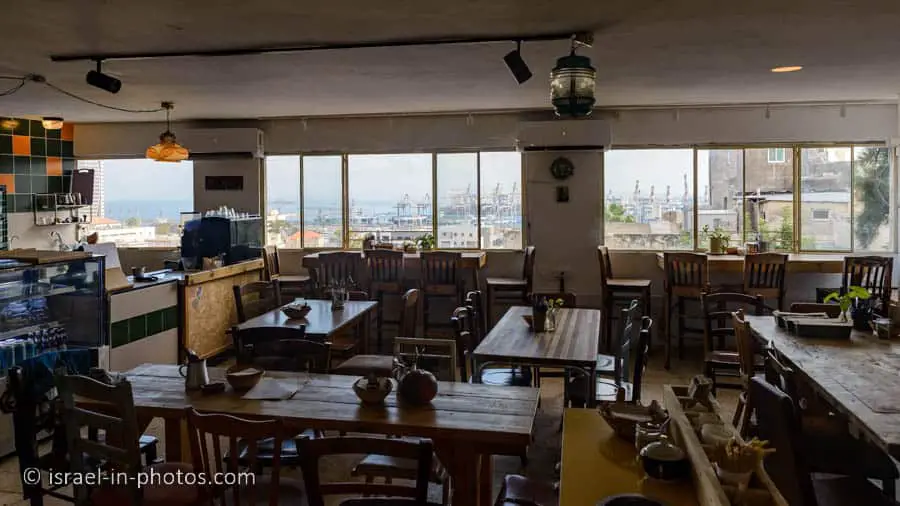 Also, on the first floor, you can find a nursery, a clothes store, and a design store.
Sirkin 21 – Roof Viewpoint
We took the stairs to the roof. There is a pub there, but since it was early, it was closed.
Here are several photos of Haifa from the roof: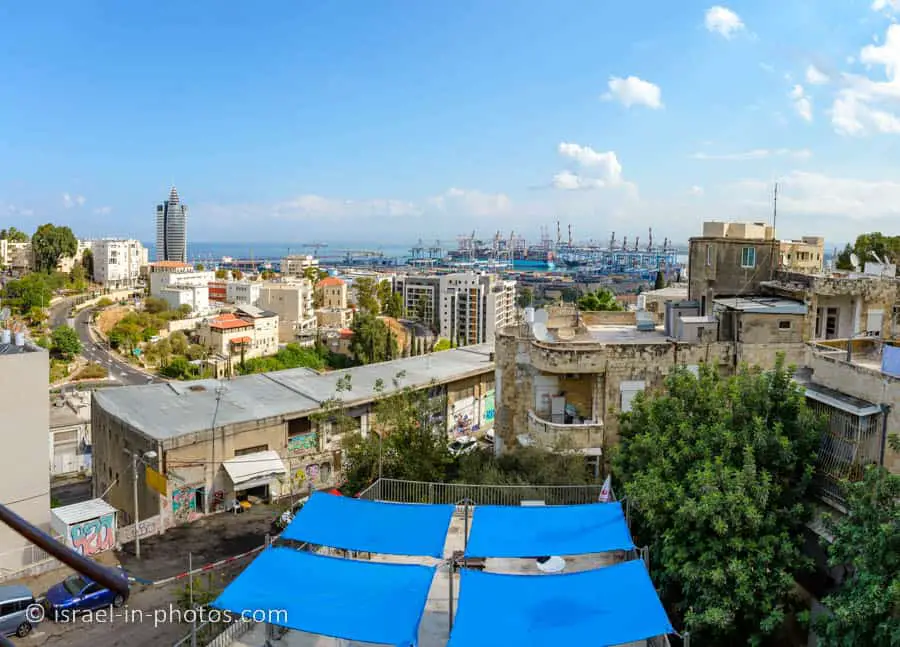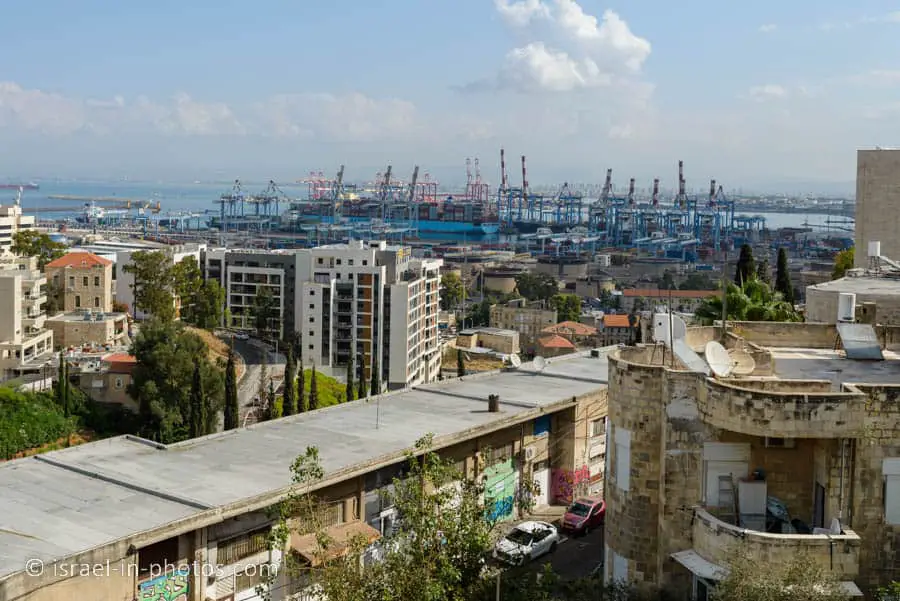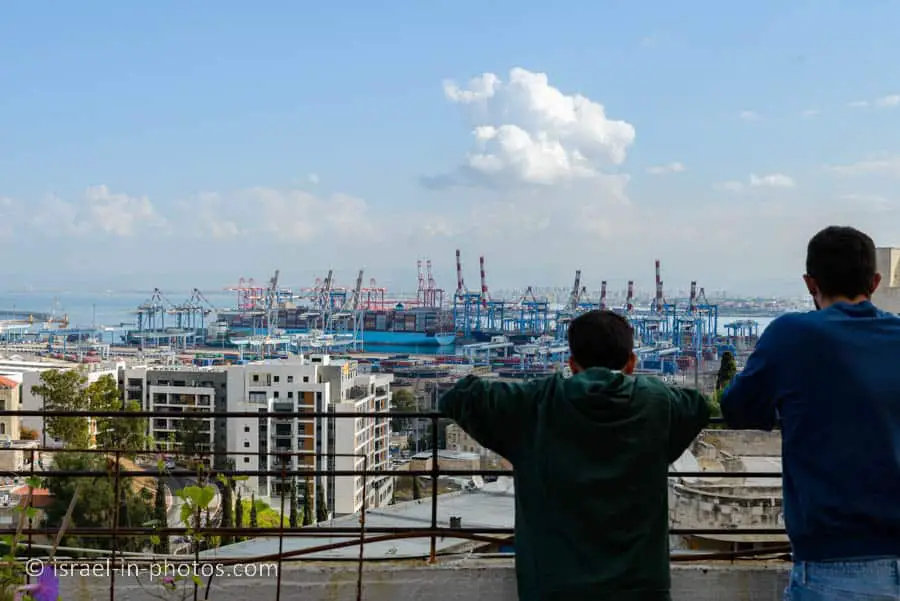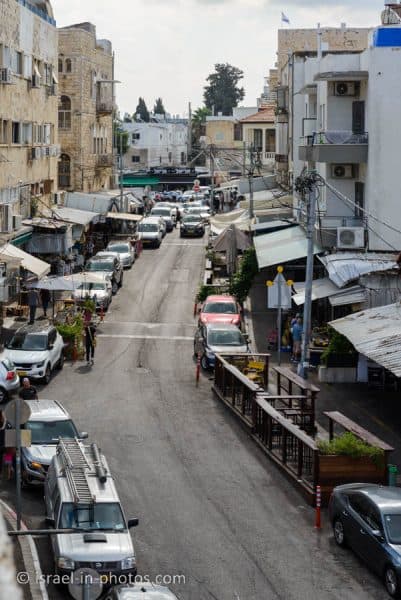 Perur Zahav Bakery
We took the stairs down, and beneath Talek – Handmade Coffee, you can find Perur Zahav bakery. Here is a photo of the building: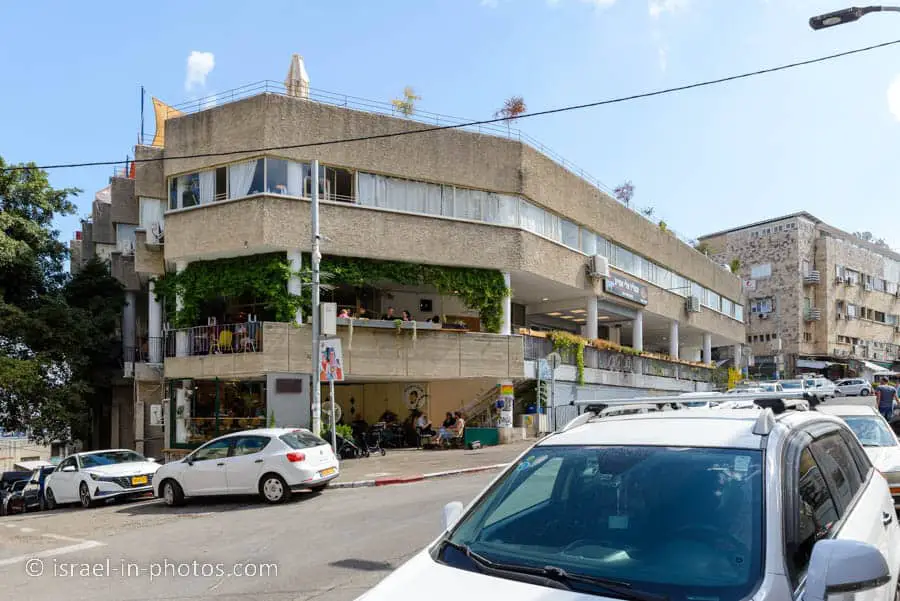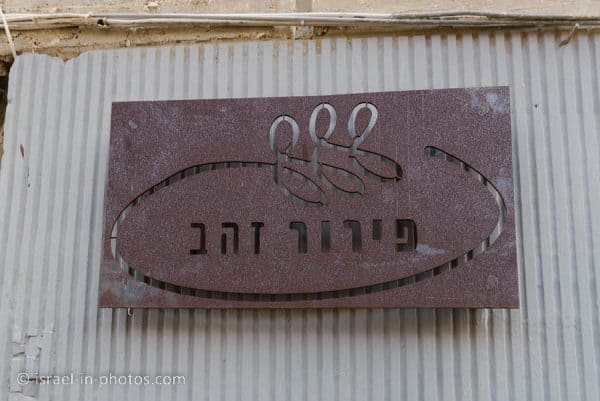 At Perur Zahav bakery, we saw interesting types of pastry. We took one salty and two sweet pastries, and everything was tasty.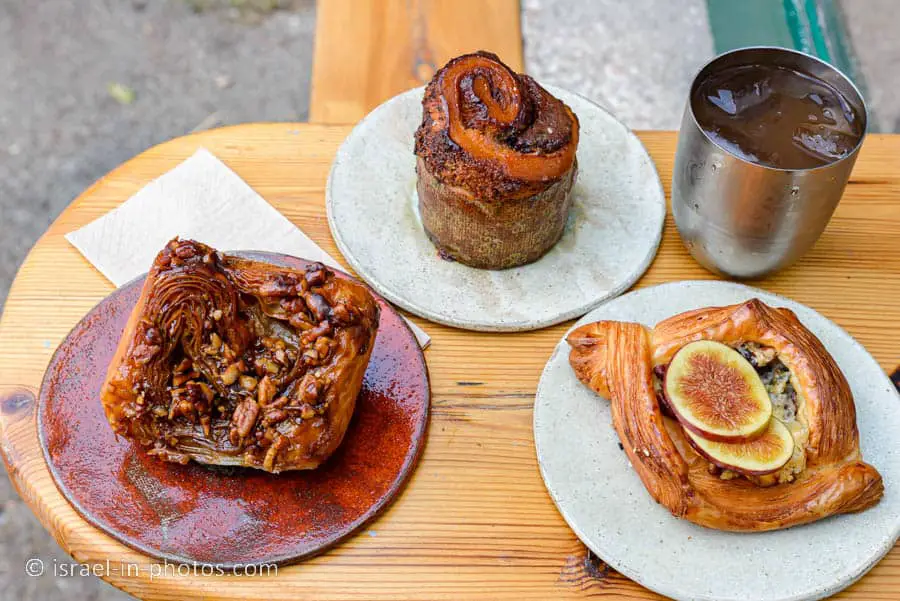 Bar & Gery's Place
On the opposite side of the street, at Sirkin 22, you can find Bar & Gery's Place.
My first association when I hear Argentinian restaurant is meat. But this is a vegetarian and vegan restaurant. One of their known dishes is empanadas with mozzarella and caramelized onions.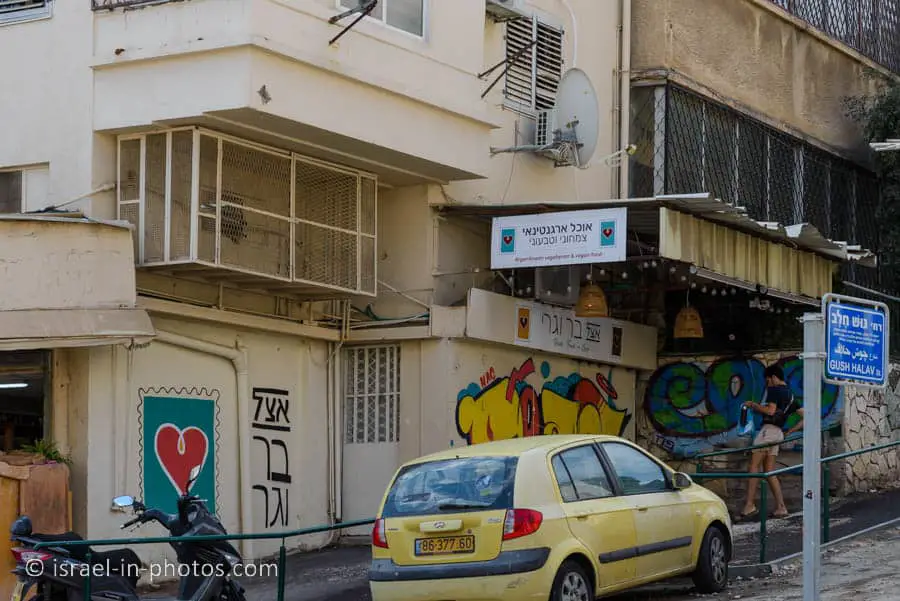 Let's take a short break from food and see street art: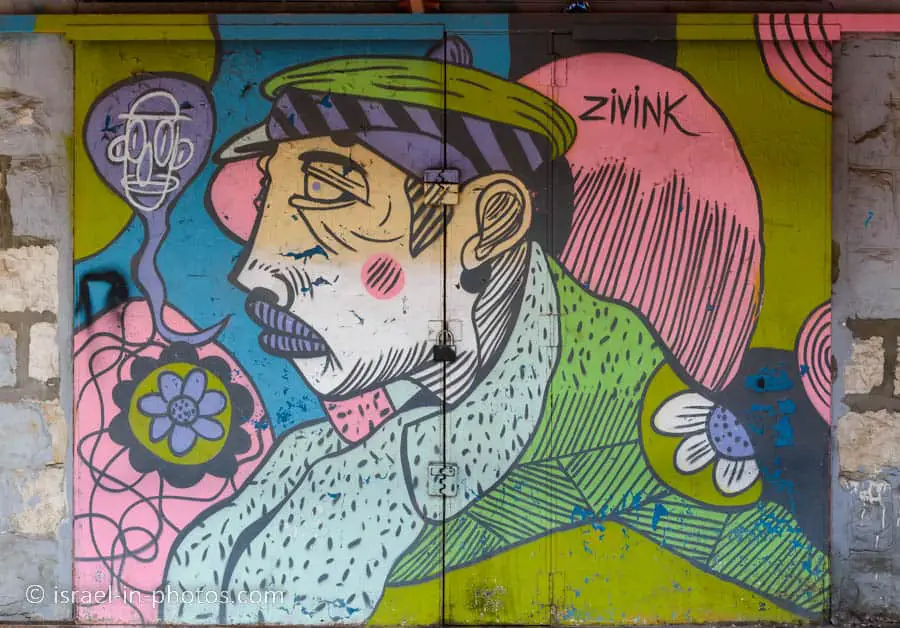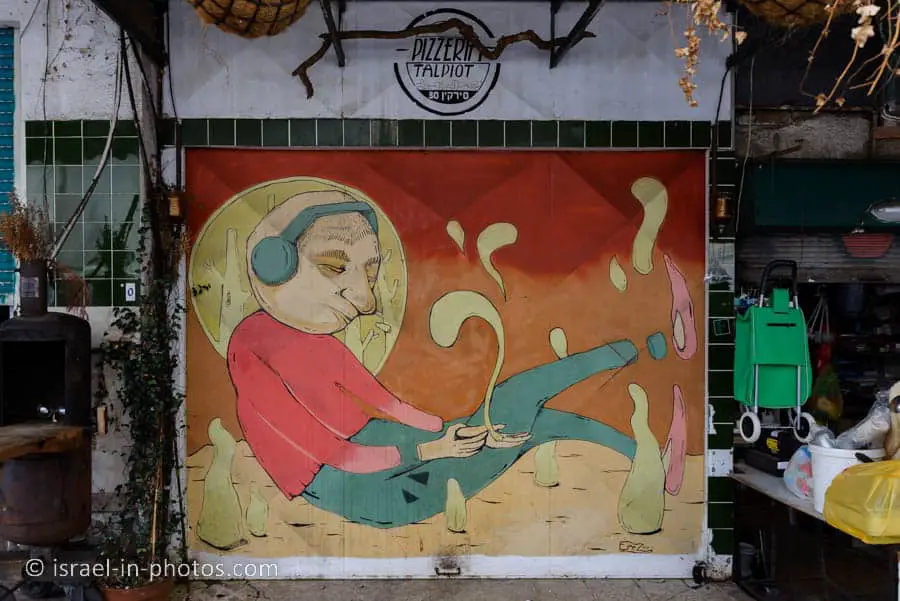 Knafe Talpiot
After doing some walking, we returned to Knafe Talpiot (Sirkin 29).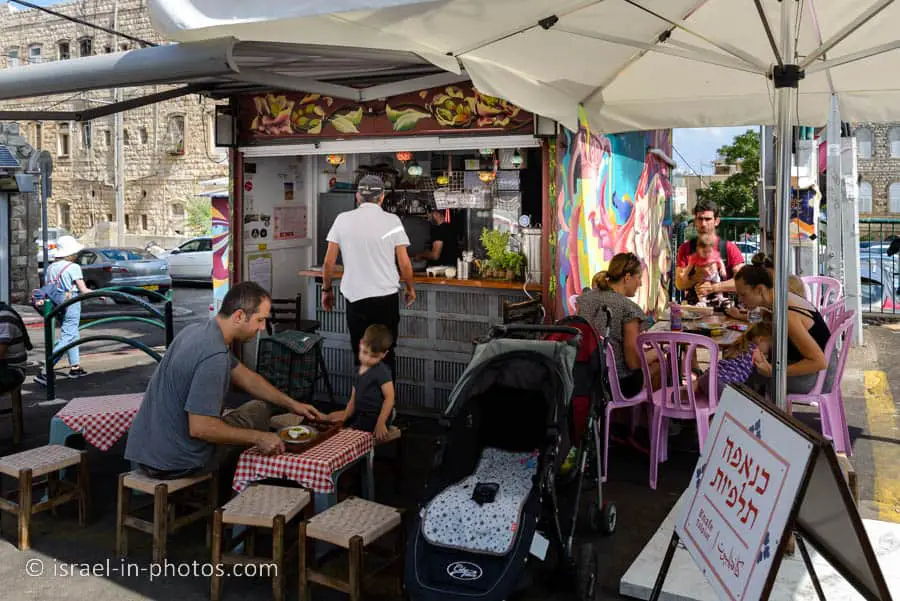 We took two desserts: Knafeh and Beirut nights.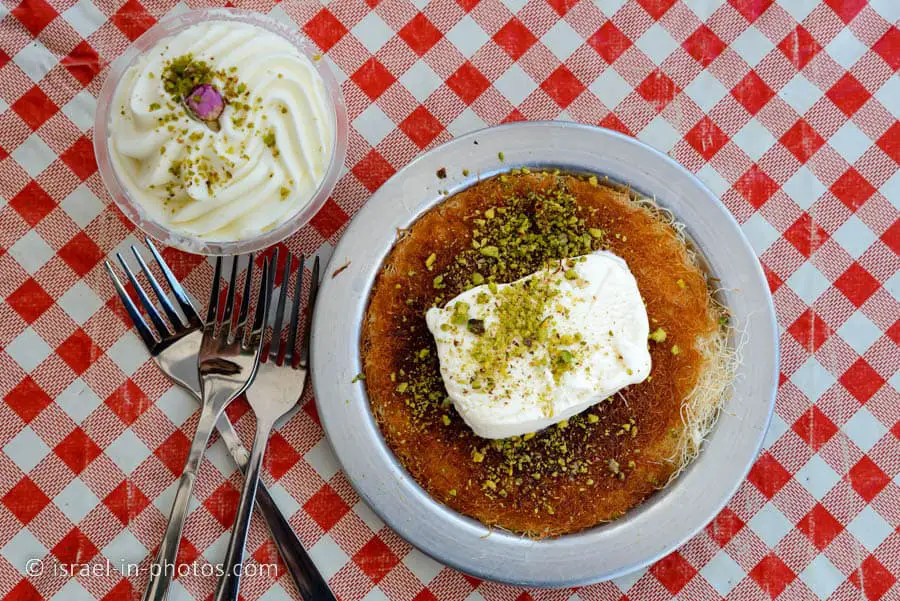 Beirut nights had sweet cream on top of semolina and probably rose water. The Knafeh was fresh and tasty. And the ice cream was great (they prepared it themselves). It had a homemade feeling, perhaps because it had less sugar water than in other places (if you love Knafeh and food in general, see Wadi Nisnas guide).
The Market
Let's take a short break from eating and talk about the market.
Most market stands are located near the meeting of Sirkin and Lunz Streets. There are many fruit and vegetable stands.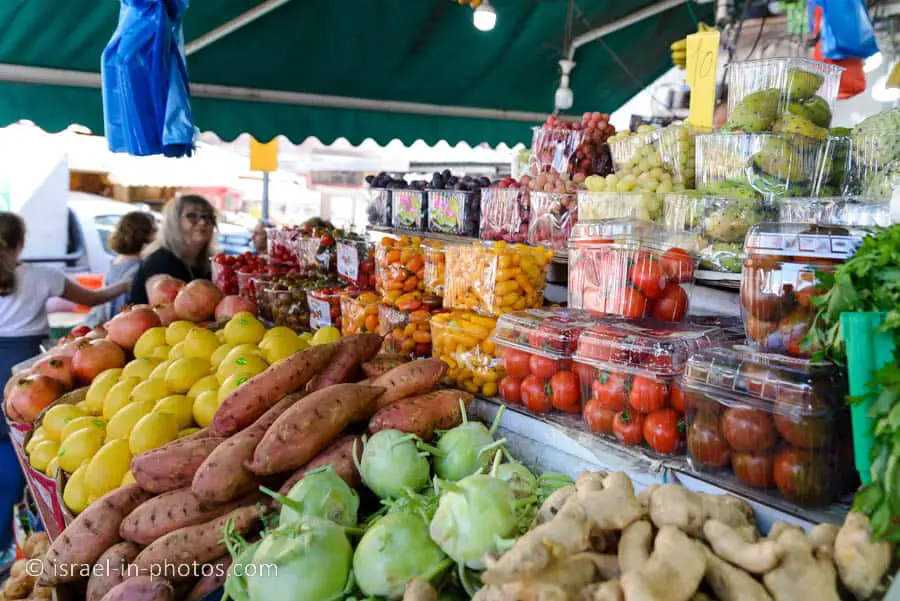 You can also find fish, meat, and other stands. And there are several small supermarkets.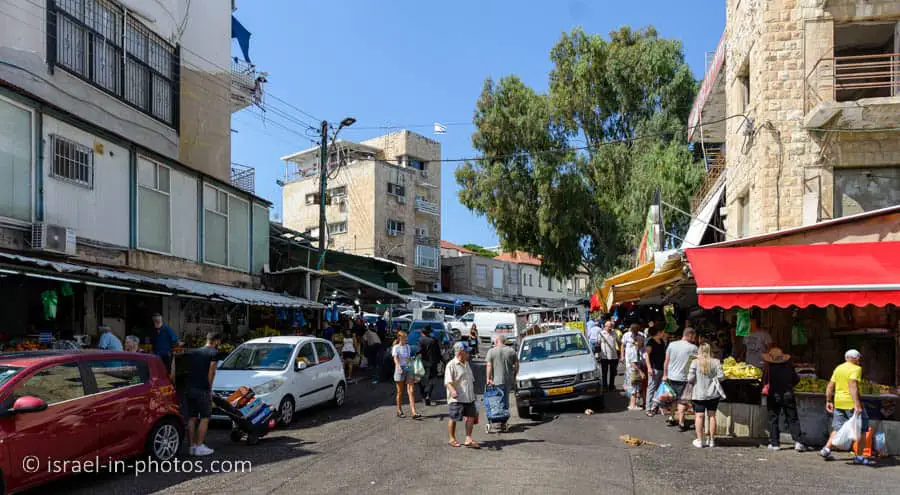 The following photo shows the industrial area in the background and the historic building (to the left) in the middle ground. And we will visit it next.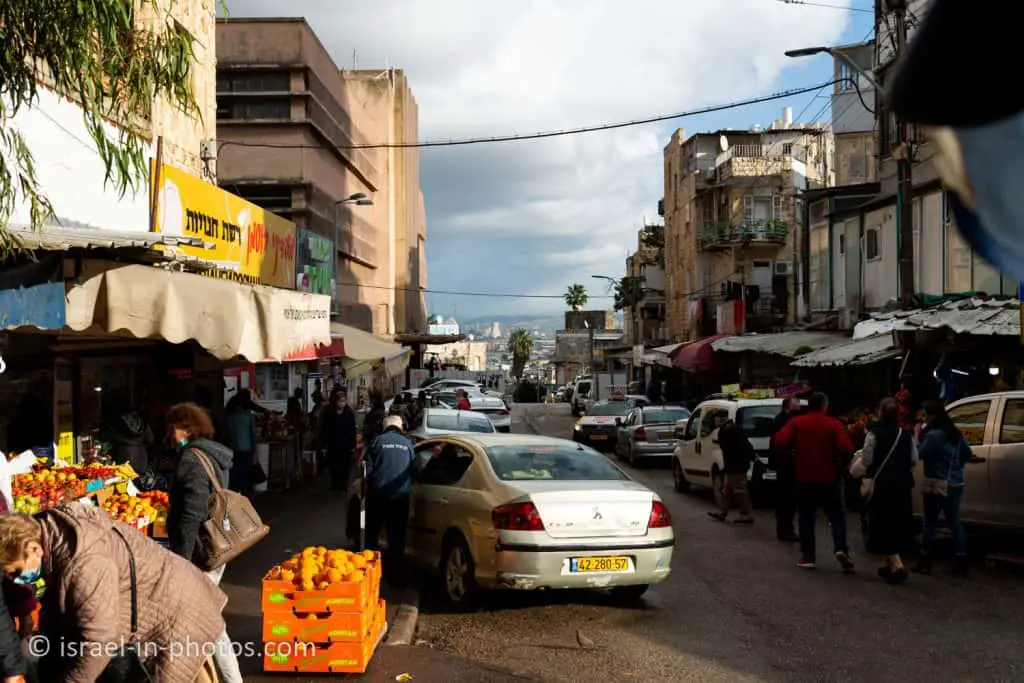 Talpiyot Market Historical Building
The Talpiot Market building was constructed in 1940 by Solel Boneh at the initiative of the Hadar Hacarmel Committee to concentrate the retail trade of agricultural produce within the Hadar Hacarmel neighborhood. Offices of the Hadar Hacarmel Committee were located on the top floor.
Architect Moshe Gerstel planned and designed the commercial building in a stylish and modern fashion, representing an important architectural milestone of the international Bauhaus style, in which a large hall is covered with glass tiles and surrounded by galleries lit by natural light. The building's northern facade is designed in a semicircular shape, having long, narrow parallel windows that are incorporated into all of the building's facades, imparting its unique design.
Source: sign
When we visited in 2020, the historical building was closed for reinforcement.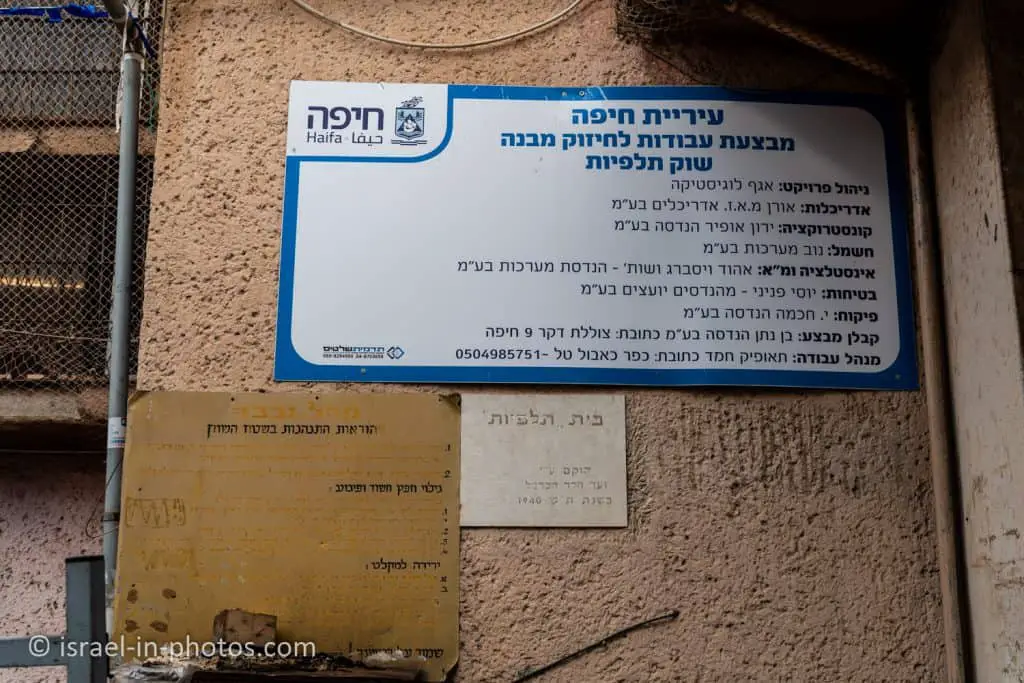 In 2022 it is already partially open, and you can visit the ground floor.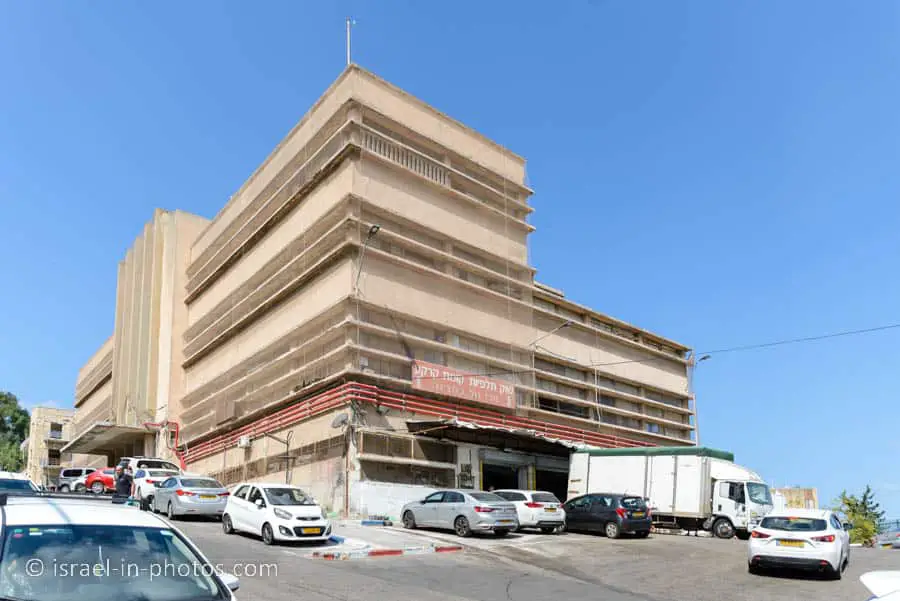 Inside the building, you can find many food-related stores.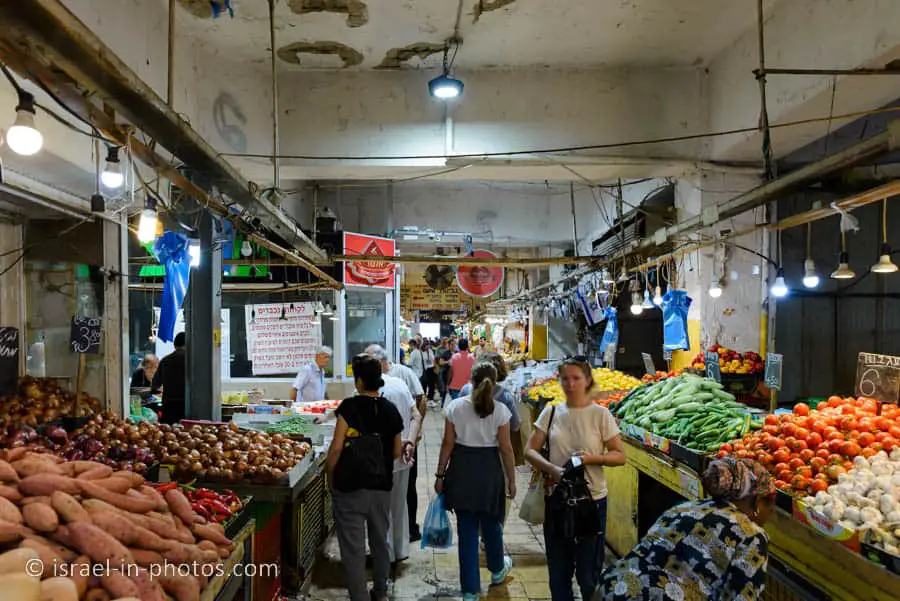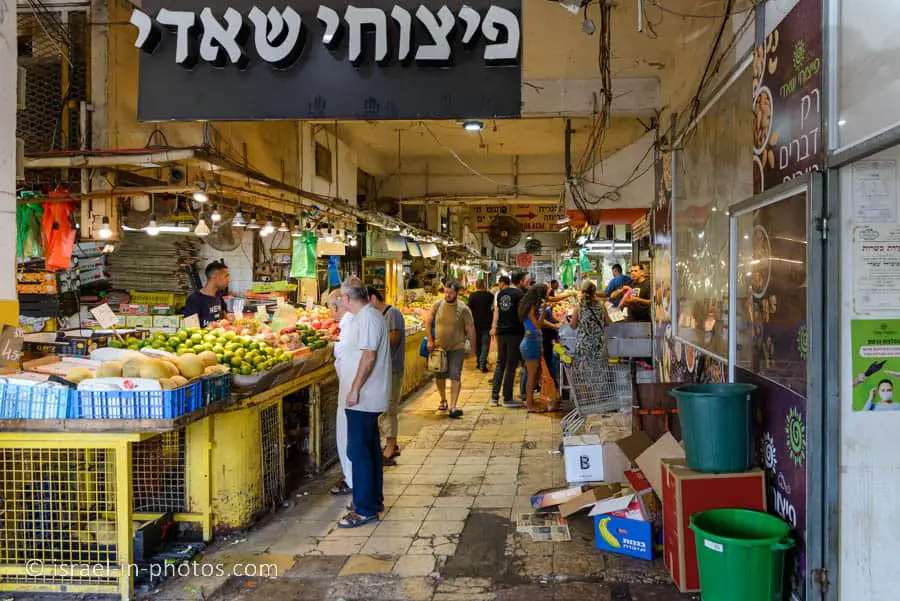 Talpiot Restaurant
We finished our visit with lunch at Talpiot restaurant (Sirkin 28). It is a chef restaurant specializing in seafood. We started with fish and vegetables and then had some more fish. Everything was fresh and tasty. But this place has two drawbacks, the price and the time it takes them to prepare the food.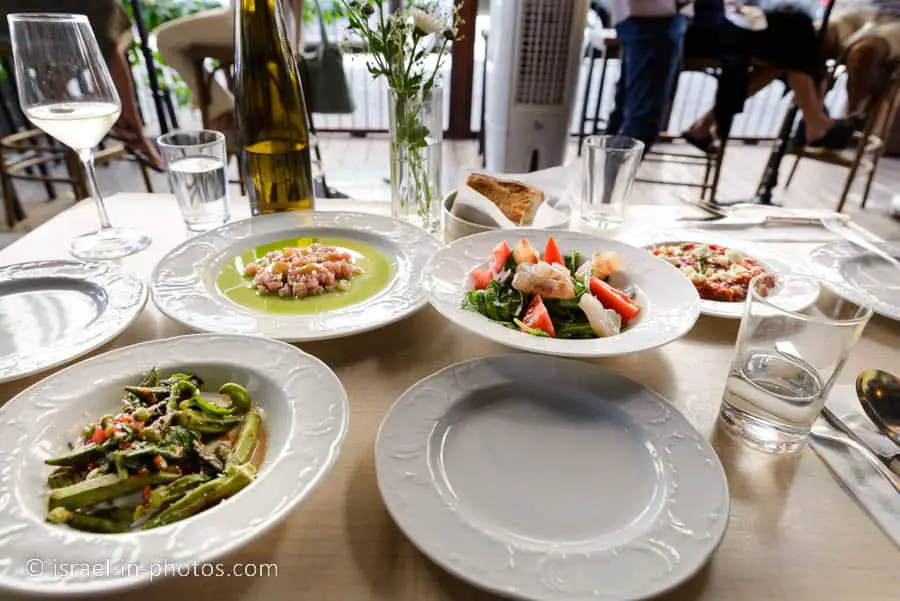 Other Restaurants
There are many other places where you can have lunch. Here are several other suggestions (besides the places already mentioned):
Arabeska (Lunz 7) – one of the most popular places in the market. Serves primarily Arabic food.
Pizzeria Talpiot (Sirkin 30)
Bardichev Hummus (Sirkin 27)
The Brewery Restaurant (Sirkin 27)
Pho 26 (Sirkin 27) – Vietnamese restaurant
Robin Food (Sirkin 24)
Laundromat Cafe (HeHaluts 45) – the place to combine doing laundry with lunch.
Summary
Talpiot Market is a combination of several worlds. On the one hand, it is an authentic market with few tourists, like HaTikva Market. On the other hand, it has many good and not expensive restaurants. And lastly, it has street art and some galleries like Florentin, Tel Aviv.
In the end, we witness a transformation. It is hard to know how many years it will take, but it looks that Talpiot Market will become similar to other famous markets in Israel, like Carmel Market and Mahane Yehuda Market.
You can browse the interactive map at the top of this post for additional attractions.
Have you ever been to Talpiot Market? Tell us in the comments below.
That's all for today, and I'll see you in future travels!
Stay Tuned!
For additional points of interest nearby, see Haifa.
Additional Resources
Here are several resources that I created to help travelers:
And if you have any questions then check out
Useful Information For Tourists To Israel
.  
Did not find what you were looking for? Leave a comment below, and I will do my best to answer your questions.