Snow Park is something new in Israel. 2018 is the first year it was opened, and it will remain open until the end of the summer vacation.
Due to hot summers in Israel, such an attraction is expected. Especially after the opening of the indoor snow park in Reem Mall in Abu Dhabi. And during the last week, we escaped the heat for several hours and visited the Snow Park at Tel Aviv Port (https://snow-park.co.il). Let's begin our visit!
Opening Hours
This attraction will be open until the end of August. During weekdays it is open between 9 am and 9 pm. On Fridays, the opening hours are from 9 am till 5 pm, and on Saturdays, this attraction is closed.
Tickets
Full ticket price is 110 NIS per person. And since I already had tickets for The Monsters Garden Exhibition and Lego Park at Park Peres In Holon, I decided that buying these would be too much. You can find several discounts at the official site, which decrease ticket price to 79 NIS (for Isracard owners) or even 1+1 (for American Express owners). But still, if you multiply it by all members of a family, it turns out quite expensive.
And after deciding not to go, I saw an offer at HTZone. They offer tickets for 29 NIS. And at that point, I bought the tickets.
Parking
Snow Park is being held at Hangar 11, at Tel Aviv port. You can park for free at the Reading parking lot and walk, or you can use the paid parking at Tel Aviv port. The organizers of Snow Park, offer to purchase discounted Tel Aviv port parking. And I bought a sticker at the event's store that allows full day parking at the port for 25 NIS.
Map of the area:
At Snow Park
We started our visit in the snow playground. There are two snow machines (one in each side), and they are shooting snow every couple of minutes.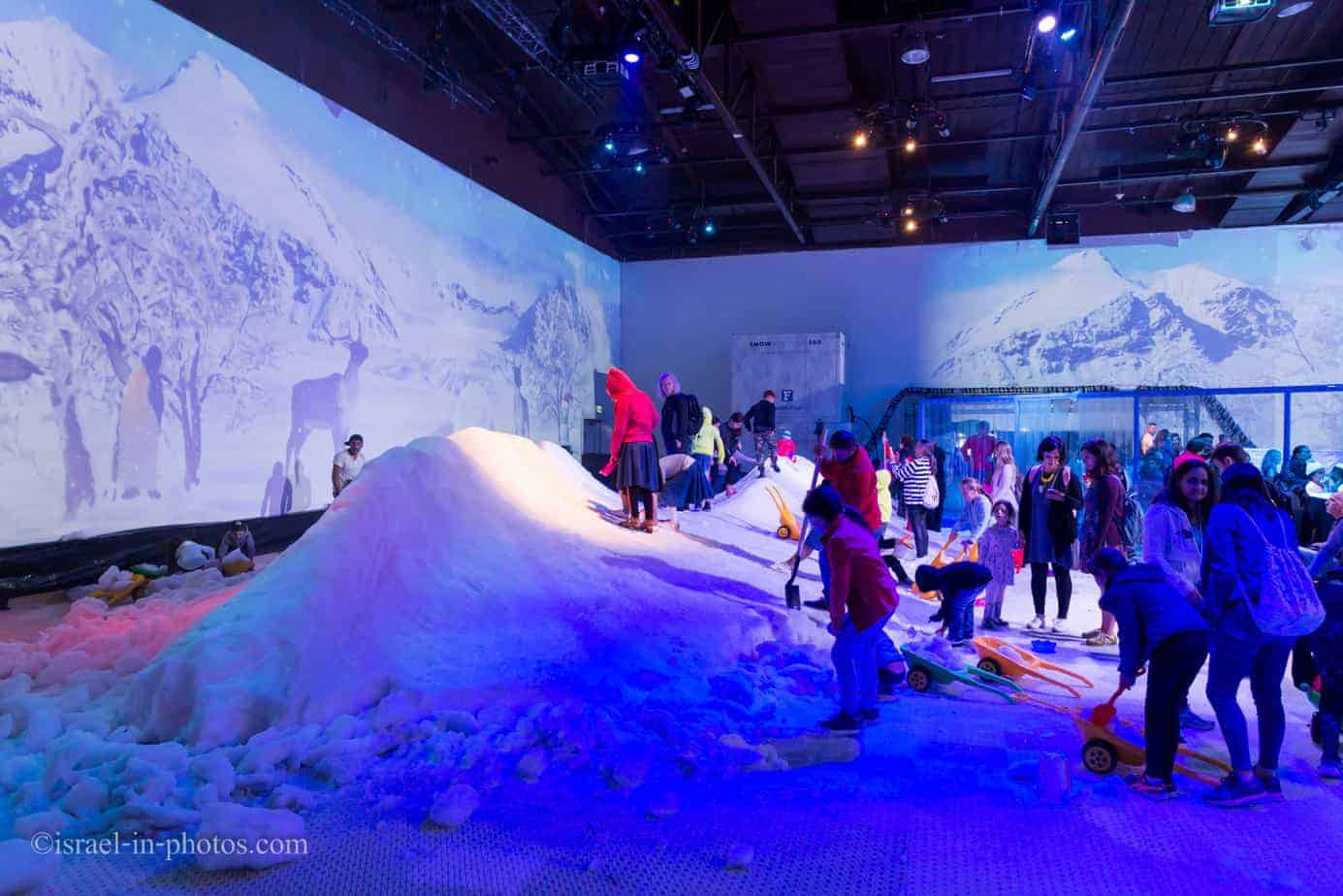 The consistency of the snow is icy. I guess it is due to lack of air inside it. Thus it can get hard, and you cannot play throw and catch. Well, you can, but it will be the same as throwing rocks at each other. Moreover, you can see in the photo above workers with shovels breaking the snow into smaller pieces so that kids could play.
I loved the fact that the floor is covered with special plastics. Without it, the flooring would be very slippery.
Despite the snow, it is not very cold inside. As far as I remember it is around 15 C. Thus, you can come in shorts and sandals (that is what I did), but it is better to bring extra clothes for kids. Not only warm clothing but a spare set as well. If they sit in the snow, the pants become entirely wet.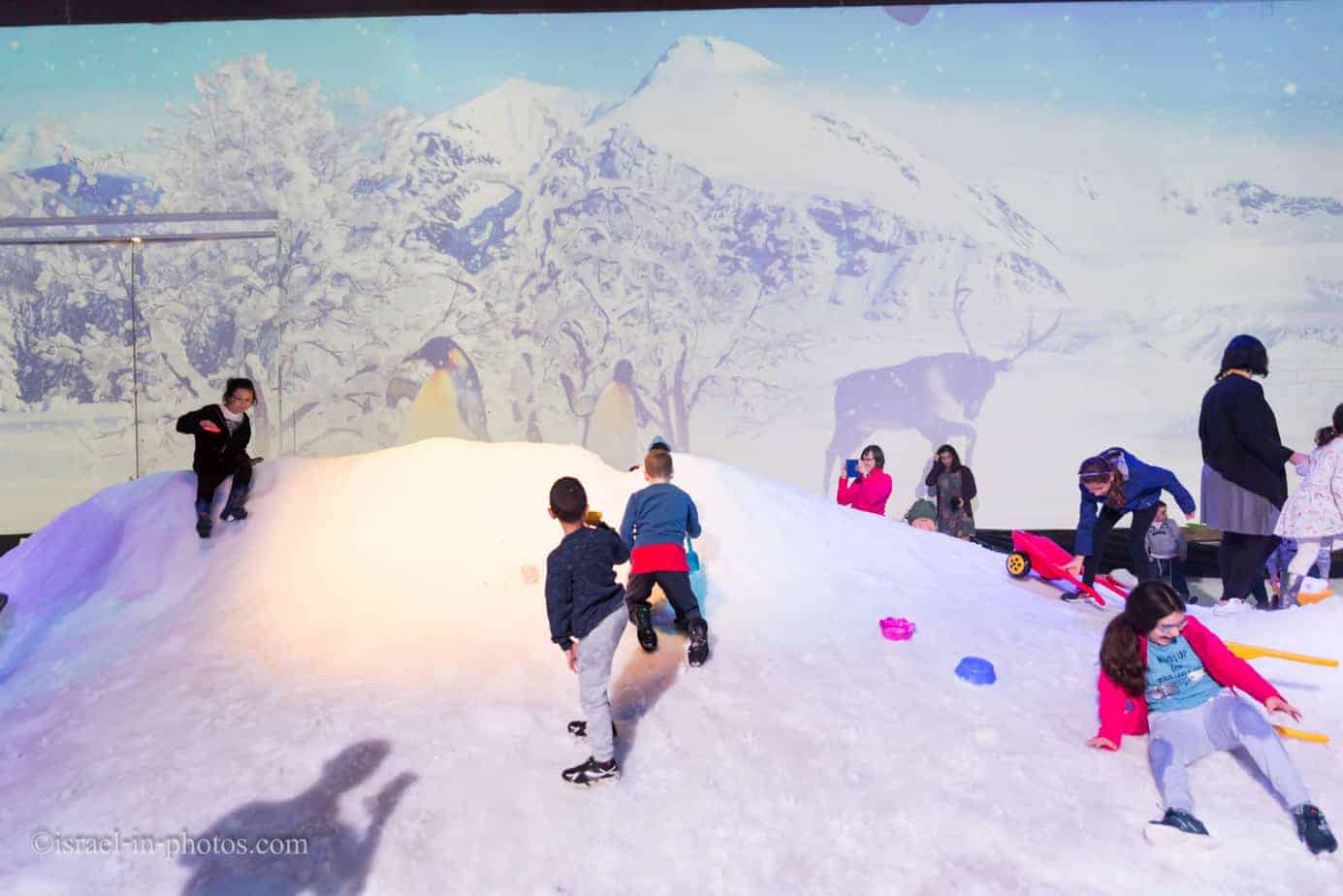 Our next stop was the sleds. There are two of them. One for smaller children and another for bigger ones (older than eight years old). And as you can see, the sliding is done using big tubes.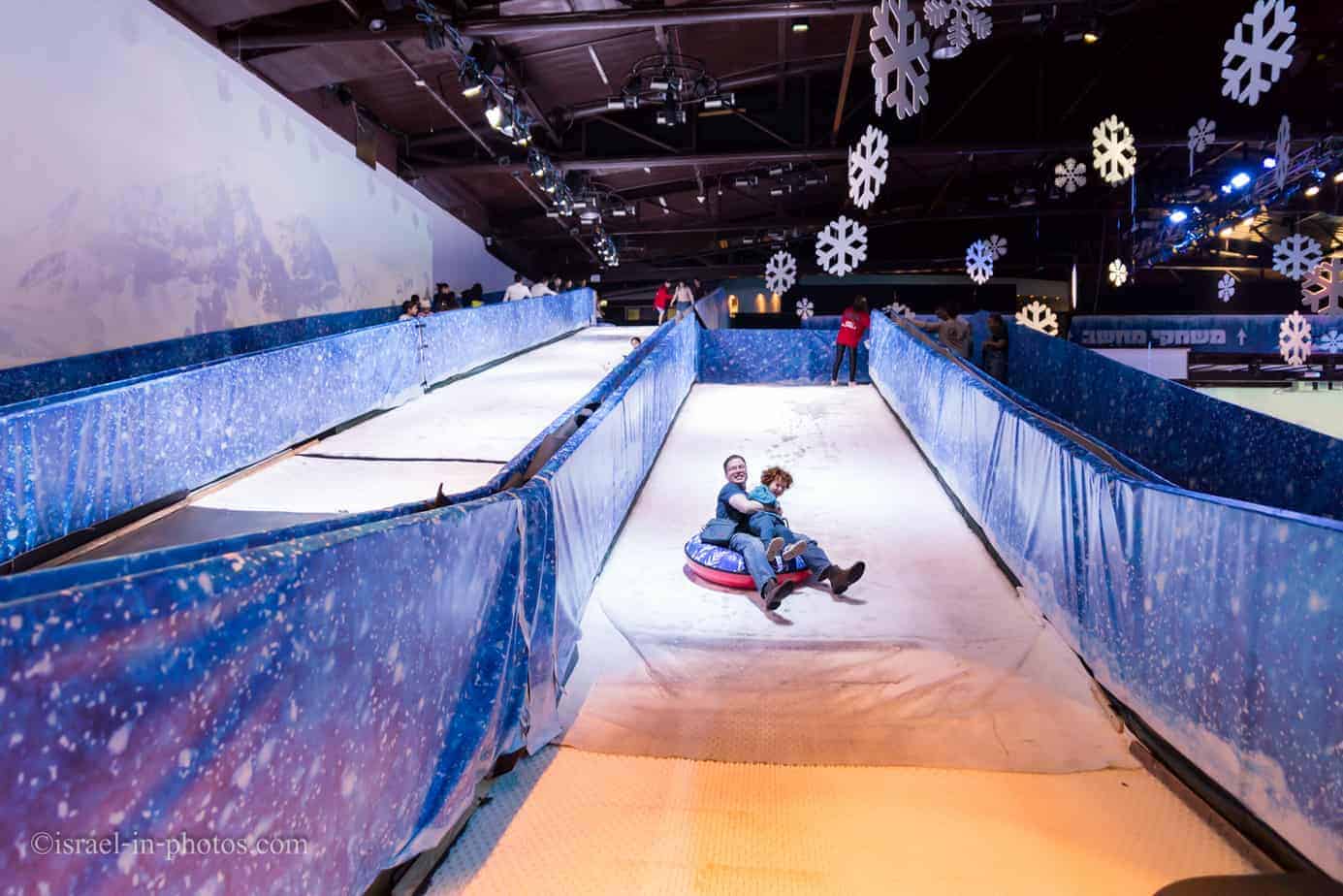 Then we continued to ice skating.
There is a stand in the back where you leave something valuable (like your phone or driving license) and in return take ice skating shoes. Note that you need socks for ice skating. Thus, if you come in sandals, bring a pair of socks with you. And if you are stuck, you can buy socks there.
Near ice skating, there are motorized tubes on ice. We did not visit this attraction since the line was too long.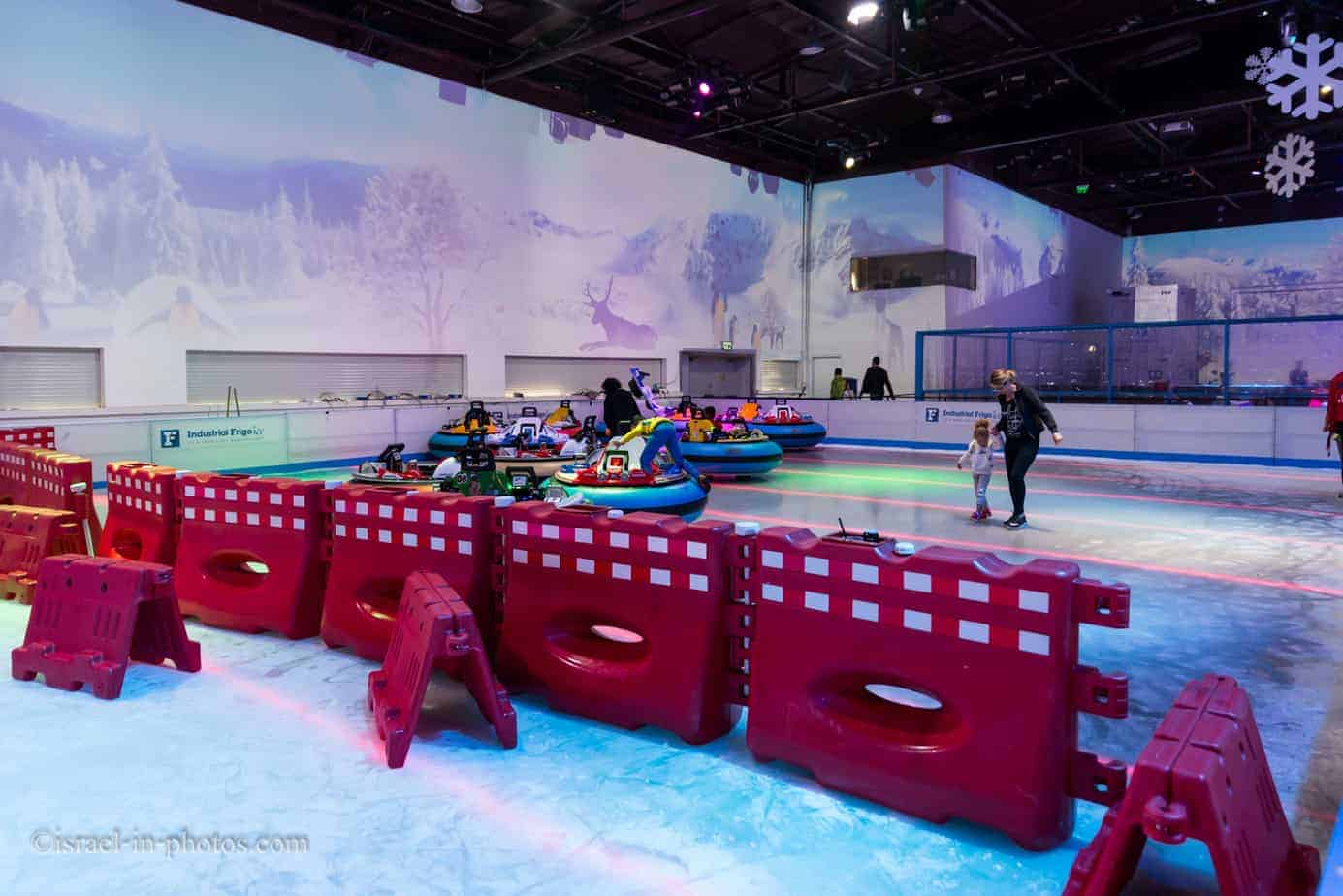 Additional Attractions
So far I covered all snow and ice related attractions. Let's get on the second floor and see the whole compound. On the left, there is the ice skating rink. The small building (that is closer to us) is a food kiosk. Then you can see the penguins and the photographer. You can make there a photo magnet (I did not check the price). And on the right, you can see the slides. At the far end of the compound, next to the snow, there is a small ring with electric cars for kids.
The second floor has a playground for toddlers and PlayStations.

After exploring, we returned to the snow compound for the second time.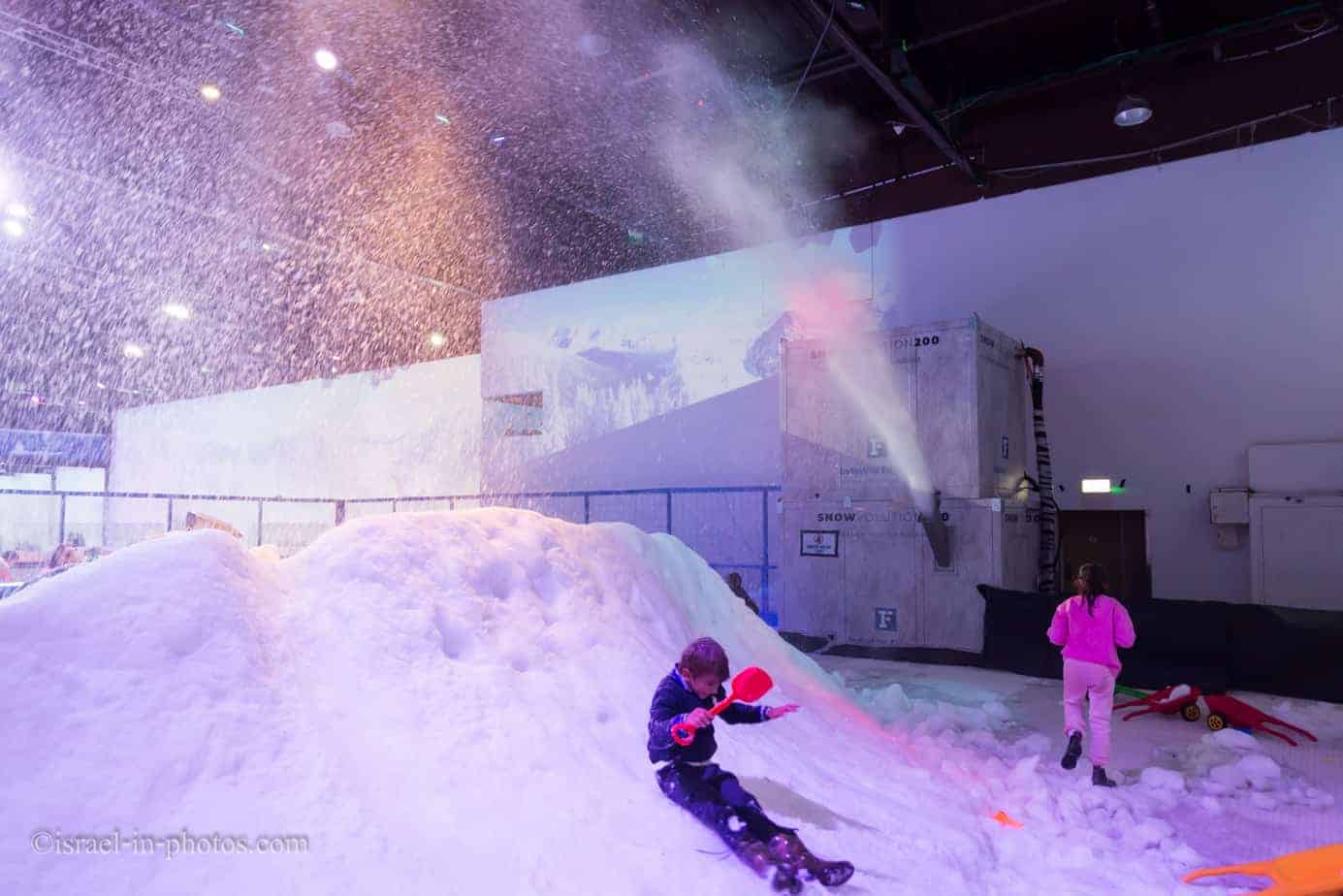 Towards the end of our visit, we played some table ice hockey.
And of course, there is a shop and a restroom at Hangar 11. There were also lockers, where you can rent one for 5 NIS.
Summary
We spent two hours at the Snow Park, and we enjoyed it. It was a fun experience. But, if I had to buy tickets at full prices, then I would expect much more. At 110 NIS per person, you can go to attraction like luna park or Superland, which offer (for most people) more value. Thus, if you find cheap tickets then go for it. You will both get an enjoyable experience and receive value for money.
Have you visited the Snow Park At Tel Aviv Port? Tell us about your experience in the comments below.
That's all for today, and I'll see you in future travels!
Stay Tuned!
For additional points of interest nearby see Tel Aviv-Yafo page. 
 
Additional Resources
Here are several resources that I created to help travelers:
And if you have any questions then check out Useful Information For Tourists To Israel.
 
Did not find what you were looking for? Email me at
hi@israel-in-photos.com
, and I will do my best to answer your questions.