Alonei Abba is a small nature reserve in Lower Galilee. And it offers lovely short trails that perfectly suit families with children.
Map
Alonei Abba Nature Reserve is located near Alonei Abba and Bethlehem Of Galilee. And you will see it while driving on road #7513. And the most straightforward way to get there is by entering its name into Waze.
Directions for drivers: Link to Waze and Link to Google Maps
Directions for public transport: Link to Moovit
Interactive map of the area:
Offers:
Hotels, hostels, and apartments in this area:
Adjacent to the Nature Reserve, there is free parking, and at the entrance, you can see the following sign.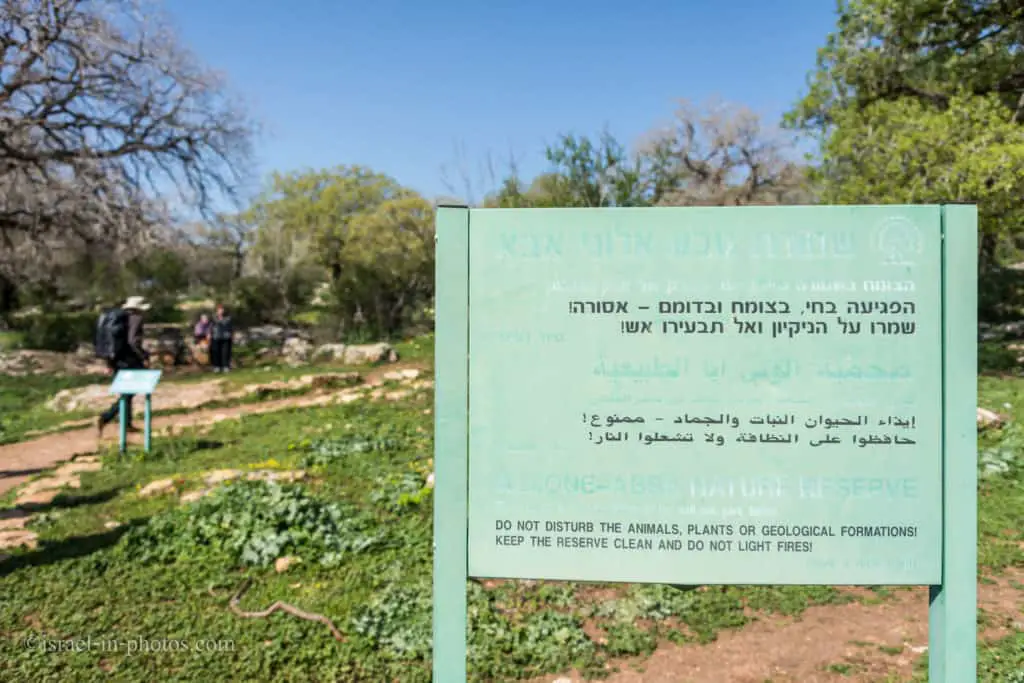 From the entrance sign, you will see a path. But there is more than one, so let's discuss tracks.
Tracks
Here is an interactive map from israelhiking.osm.org.il where the two most popular trails are marked:
And here are the details of those tracks:
| | | | | | | |
| --- | --- | --- | --- | --- | --- | --- |
| # | Name | Color of the Trail on the Map above | Description | Distance (km) | Total climb and descent (meters) | Notes |
| 1 | Blue and Black path | Blue | Circular trail | 1.7 | 82 | Start with the blue trail and return using the black path (or vice versa). |
| 2 | Black trail | Red | Follow the same trail in both directions | 2 | 52 | Take the black trail till the end (till you reach Basmat Tab'un) and return the same way. |
I want to warn you before you start hiking at Alonei Abba Nature Reserve. The trail marking is not always visible. For instance, we only noticed a split between blue and black trails at the beginning of our most recent visit.
If you are afraid of getting lost, I suggest taking only the black trail since it is better marked.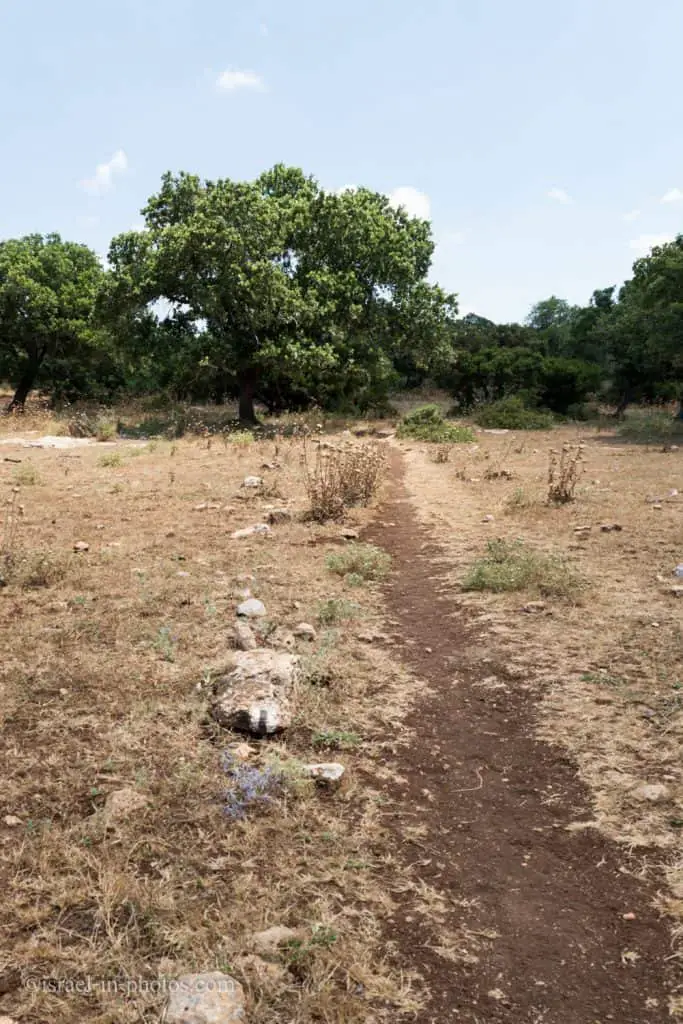 Opening Hours
Sunday – Thursday: 08:00 – 17:00 (16:00 during winter)
Friday and Saturday: 08:00 – 16:00 (15:00 during winter)
Note: though the official site mentions the opening hours while visiting there, I never saw any Israel Nature and Parks workers, and there are no gates.
Entrance Fee
Free.
When to Visit Alonei Abba?
In recent years we visited Alonei Abba Nature Reserve twice. Once during February, and the second time was May.
During February, we saw many different flowers – for example, Anemones.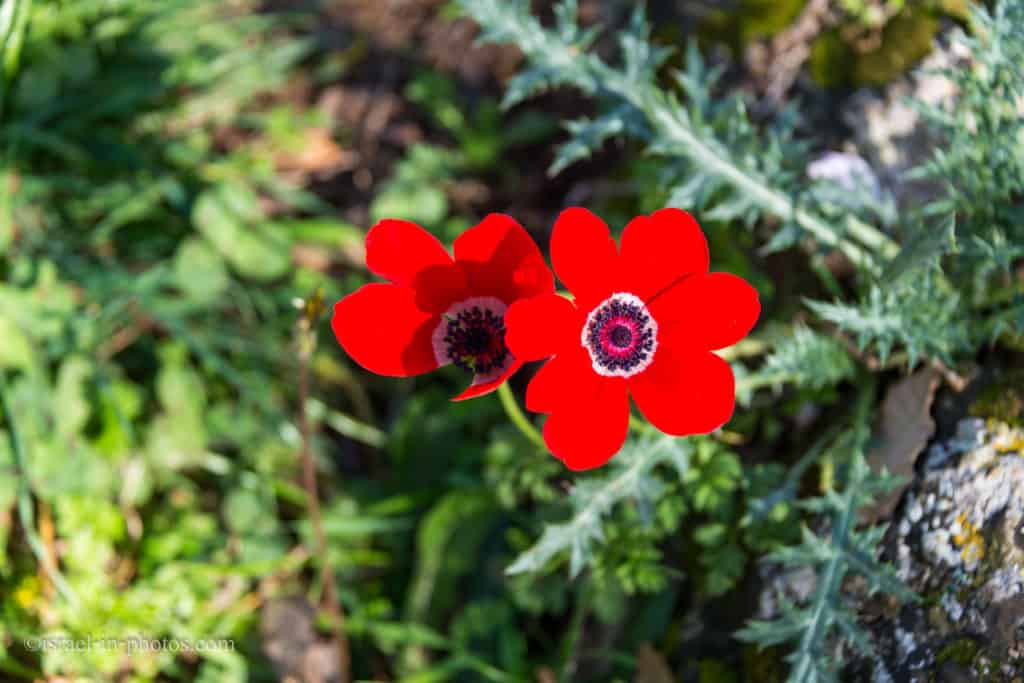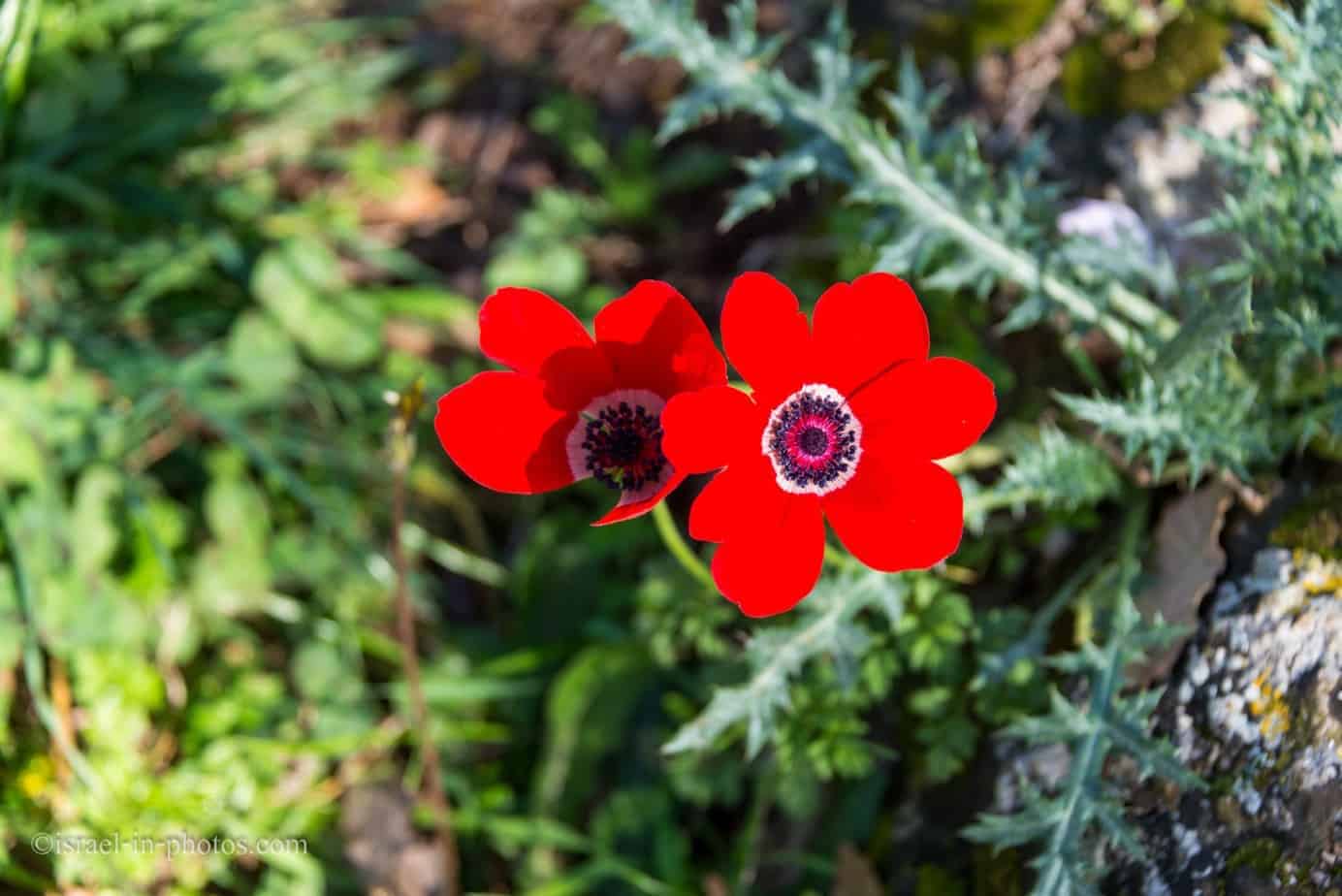 February is the best time to see Anemones. And that is also the reason why Festival Darom Adom takes place in February.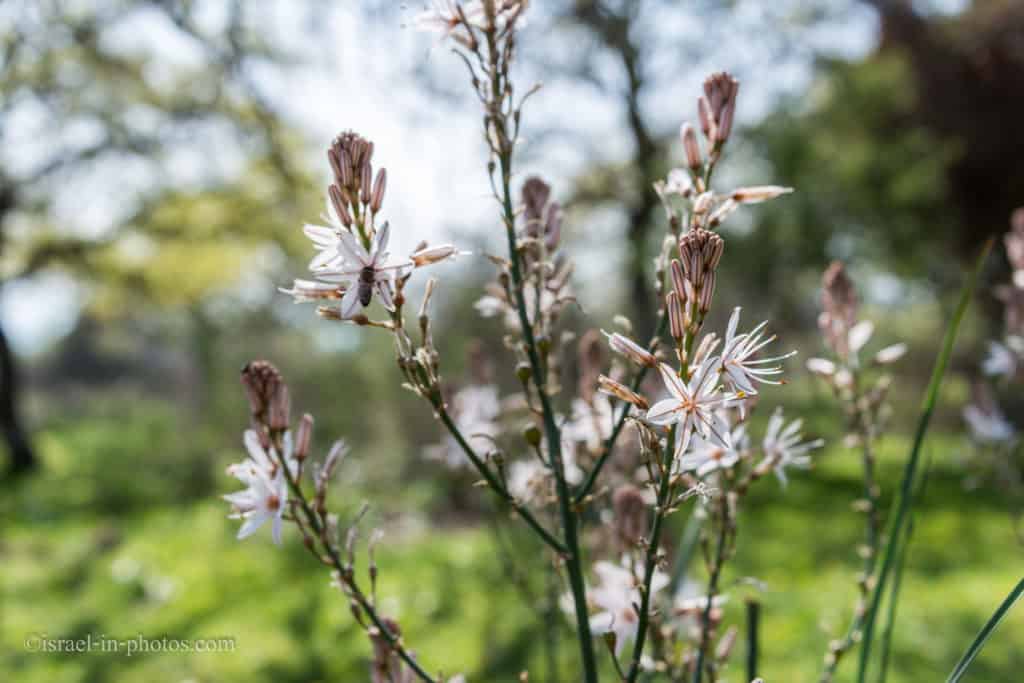 And in May, we say fewer flowers. Pretty much only this type: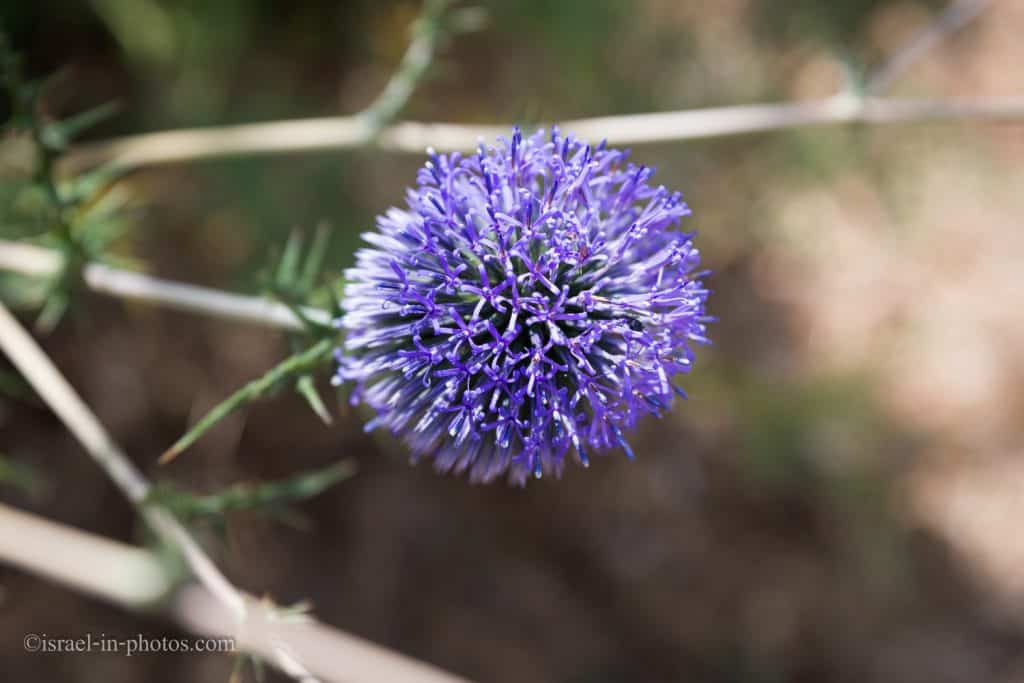 Therefore early Spring is the best time for a visit.
At Alonei Abba Nature Reserve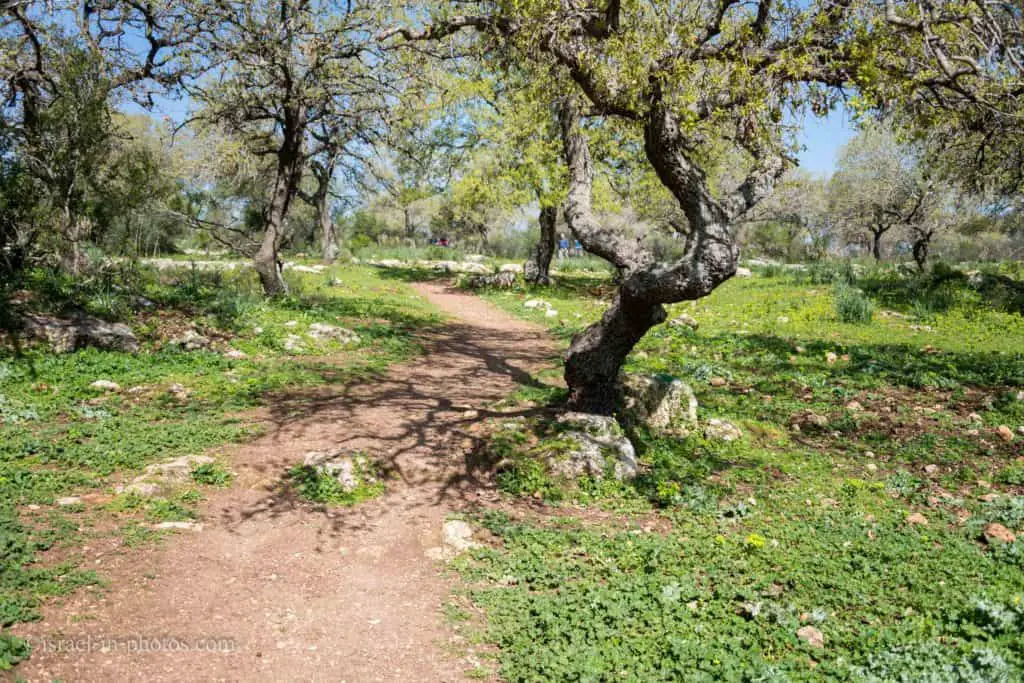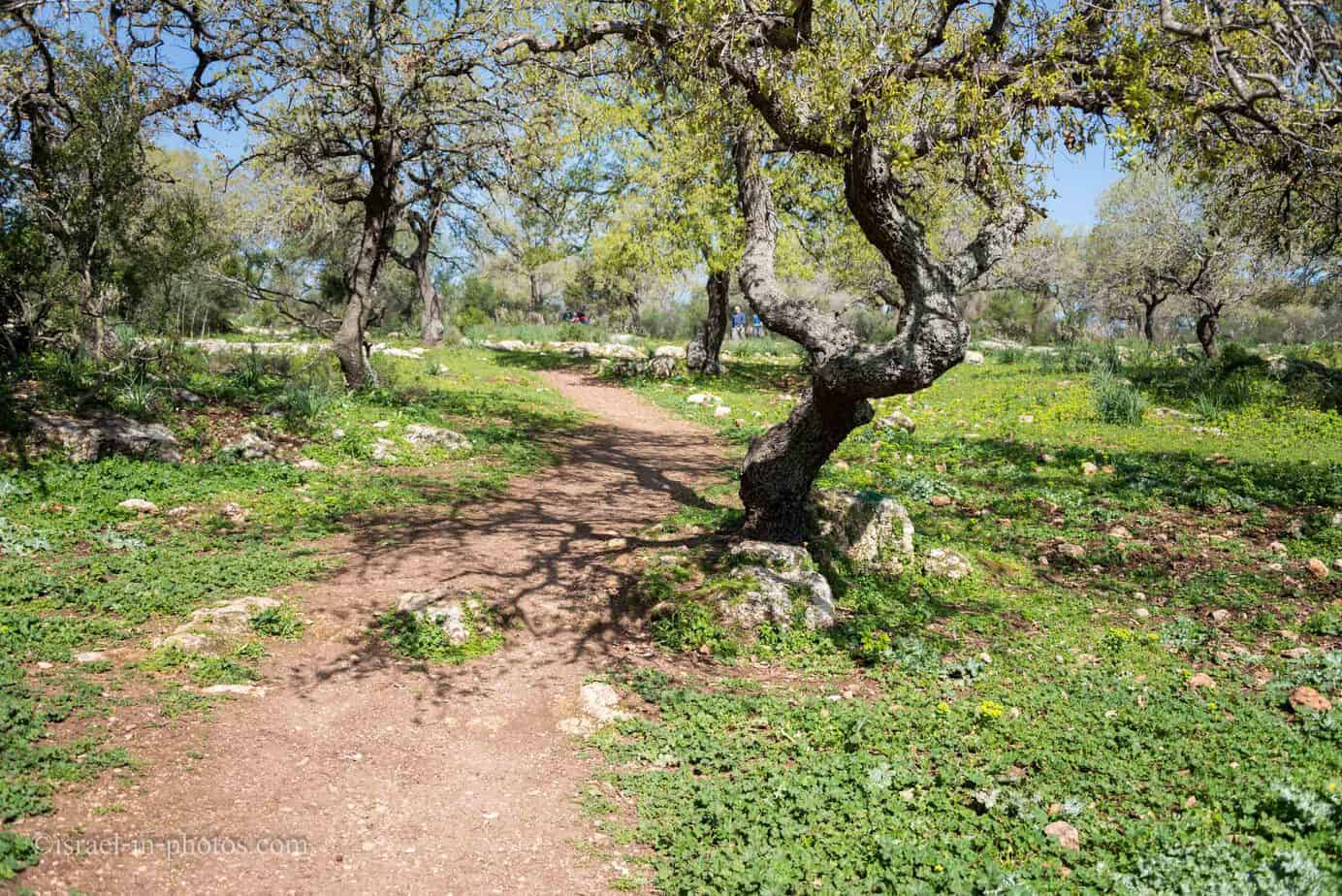 In 1994, a 950-dunam nature reserve was declared close by, to the north. The reserve is home to Valonia oak trees (Quercus macrolepis) and Palestine Oak (Quercus calliprinos). Other flora in the forest includes Pistacia palaestina, Styrax officinalis, Carob, Rhamnus palaestinus, and Judas trees. Most of the reserve is open for experimental grazing by cattle from the moshav.
Source: Wikipedia
From what I read on the net, Alonei Abba Nature Reserve is the remains of a big forest (from Nazareth mountains to Caesarea). The Ottoman forces cut down most trees during the First World War. The trees were used as fuel for trains. And this little forest remained only due to the Templar's (from Bethlehem of Galilee) objections.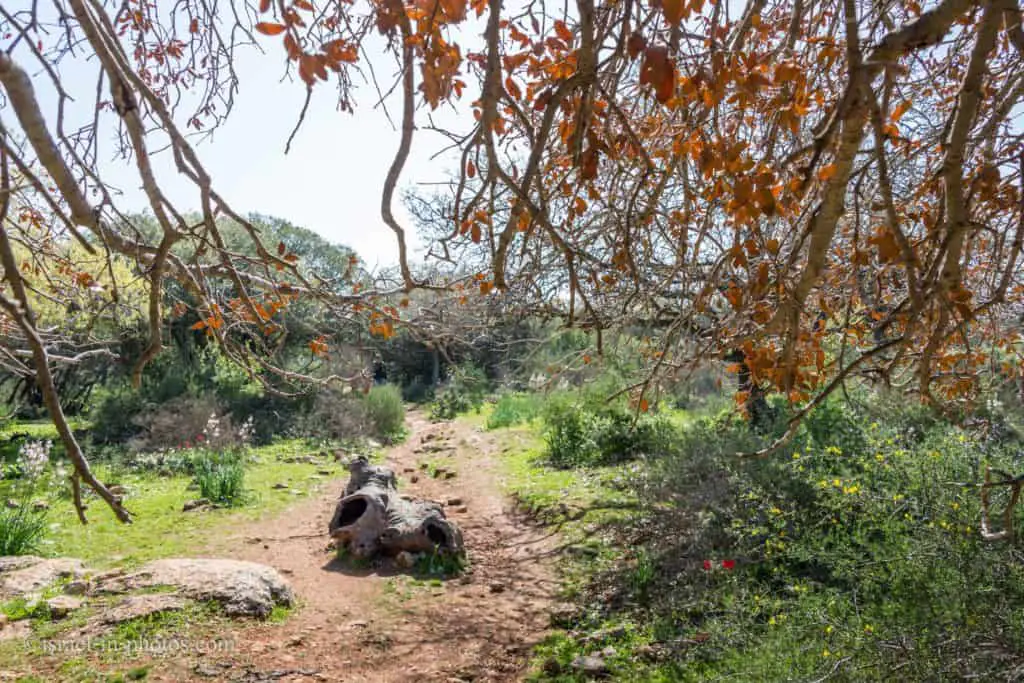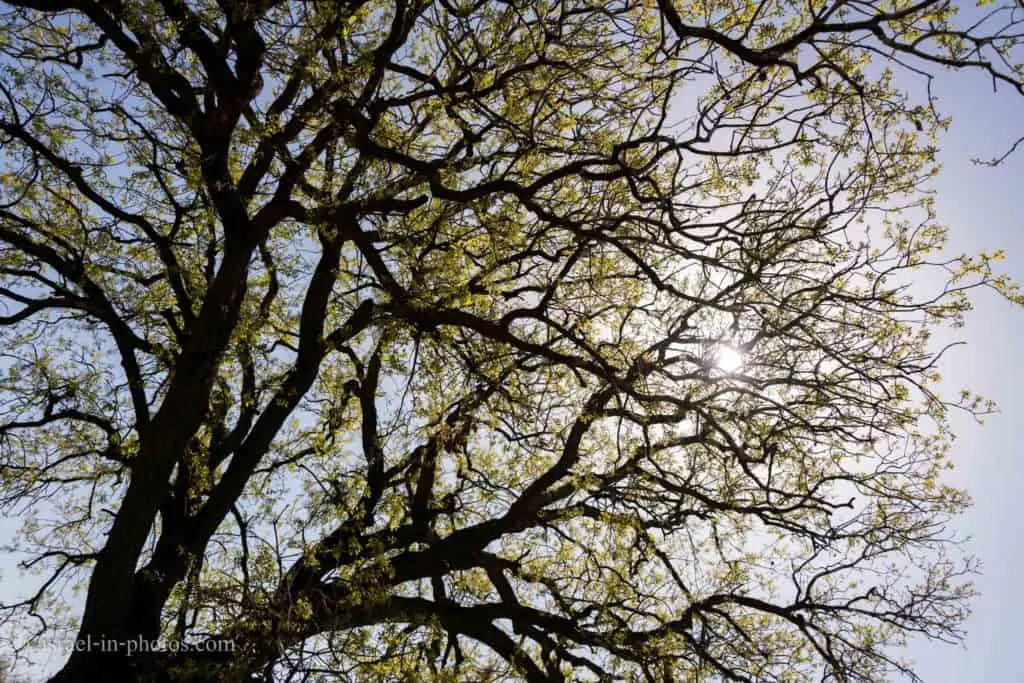 When we started hiking, there were almost no people. But when we returned and approached the starting point, we saw plenty of people having picnics.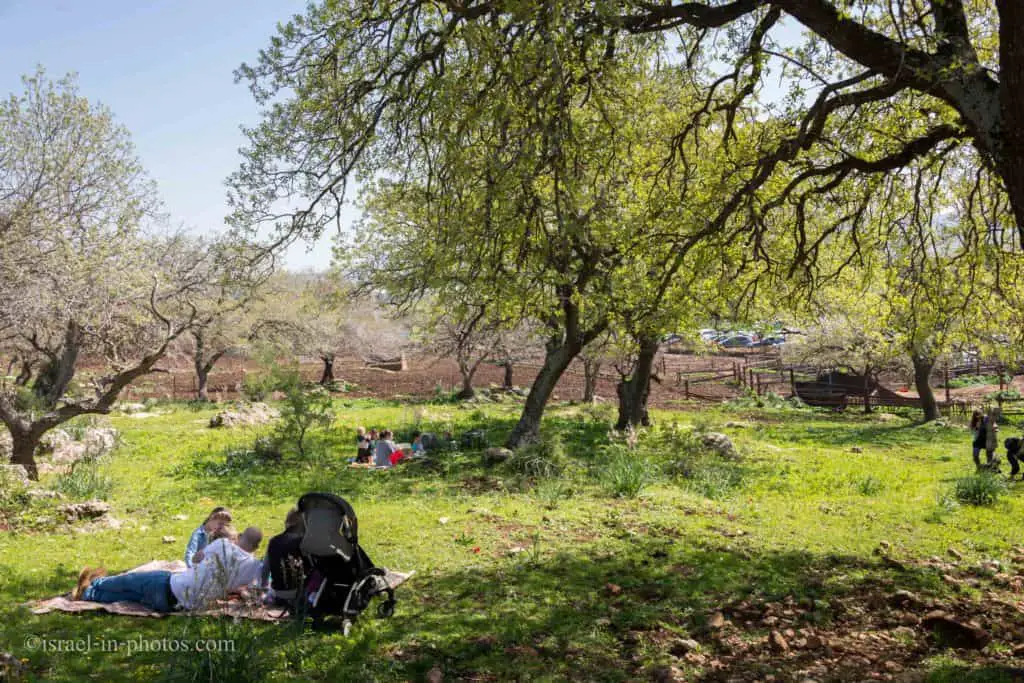 And only when we reached the parking, we saw cows: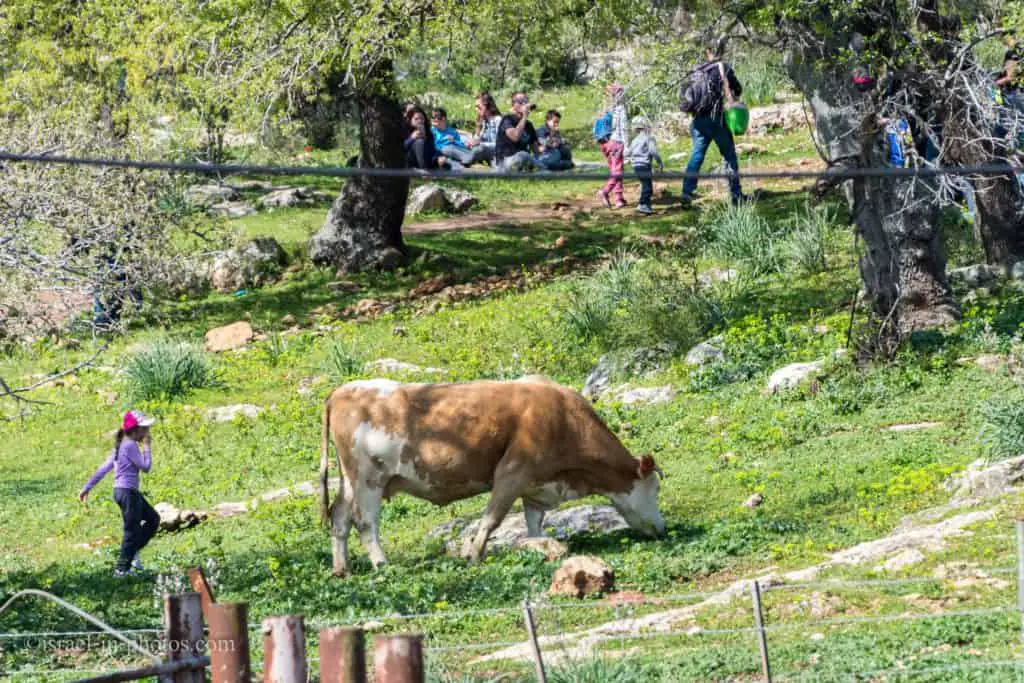 Both trails are not long and, depending on your pace, will take you around one and a half hours.
Origin of the Name
Alonei Abba Nature Reserve is next to moshav Alonei Abba (which means Abba's Oaks in Hebrew). And it was named after Abba Berdichev, one of the seven paratroopers captured and executed by the Germans during the Second World War.
Abba Berdichev
Abba Berdichev (1920 – 12 Shevat, 1945), whose Yahrzeit begins tonight, was a volunteer paratrooper who went behind enemy lines into Nazi-occupied Europe during World War II.

He was born in Galati, Romania to Suzi and Mordechai Berdichev and was a descendant of a well-known Hassidic family. Since childhood, he was an ardent Zionist and had a deep love for Israel. As a teenager, he was involved with Zionist youth groups in Romania. As a young man, he joined an agricultural training farm in preparation for immigration to the Land of Israel.

In October 1940, a pro-Nazi regime came to power in Romania, and the situation became dangerous for Jews. Berdichev decided it was time to leave. Paying a premium to get on a ship immediately, he immigrated to Israel on the ship "Darien 2", whose voyage lasted four and a half months. As the ship approached the shores of the Holy Land, it was captured by the British, and all aboard were imprisoned as illegal immigrants for a year and a half in the Mazraa detention camp near Acre.

After being released, Berdichev underwent further agricultural training on Kibbutz Geva and later at Ashdot Yaakov. In November 1943, he volunteered to be part of a group of paratroopers whom the British would drop behind enemy lines in Nazi-occupied Europe. The group was put under a course of training conducted by the British army in Ramat David and then in Egypt. For the purpose of the mission, Berdichev was given was false British identity papers under the name "Sergeant Robert Willis".

On March 15, 1944, Abba Berdichev was dropped into Yugoslavia along with Hannah Szenes, Reuven Dafni, and Yona Rosen. Berdichev was tasked with penetrating the Romanian homeland and helping Romanian Jews in their struggle for existence. The British also had him gathering intelligence and attempting to rescue airmen who were captured in Romania. After failing to reach Romania, Berdichev returned to Bari, Italy. In August 1944, he went on another mission in Slovakia, along with a delegation of British and American troops. On their way to Hungary, they were ambushed by Nazis, and the group fled to the mountains. The Germans hunted them persistently and captured them after about two months.

In December 1944, Abba Berdichev was transferred to the camp at Mauthausen along with other prisoners and brutally interrogated. The Nazis executed him on January 26, 1945. The will he left his family read: "all of you please – do not cry. We only weep for the unfortunate. I am fortunate that I had the honor of being chosen by the Jewish settlement in Palestine to bring encouragement and help to those in need in the Diaspora".

Berdichev's body was never recovered. An empty tomb with a gravestone was erected in his memory in a section for the 7 Jewish paratroopers of Palestine who fell in Europe in the military cemetery on Mount Herzl in Jerusalem.
Source: Jewish Genealogy Portal
Summary
Alonei Abba Nature Reserve offers beautiful and short trails. Since the path is not long and does not involve climbing, it is beloved by families with young children. You can probably visit all year round, but Spring is the best season for a tour.
Moreover, as I always say, come early. You will both enjoy the colder temperature and will be able to find nearby parking (around noon on Saturdays, there is usually no parking in the parking lot, and people parked along the road, #7513).
Note: if you are looking for additional nearby attractions, browse the map at the top of this post or see Bethlehem Of Galilee.
Have you ever been to Alonei Abba Nature Reserve? Tell us in the comments below.
That's all for today, and I'll see you in future travels!
Stay Tuned!
Additional Resources
Here are several resources that I created to help travelers:
And if you have any questions then check out
Useful Information For Tourists To Israel
.  
Did not find what you were looking for? Leave a comment below, and I will do my best to answer your questions.