Shvil Parot HaChalav is a dairy farm in Bethlehem of Galilee. They also offer behind-the-scenes tours, and today we will join one.
Map
Shvil Parot HaChalav is located at Bethlehem Of Galilee. As you enter this Moshav, you continue driving straight to the end. And then you will see their sign. You turn left and continue for about half a kilometer. You will see Shvil Parot HaChalav to your left.
Galili Olive Oil is situated near Shvil Parot HaChalav.
Directions for drivers: Link to Waze and Link to Google Maps
Directions for public transport: Link to Moovit
Interactive map of the area:
Offers:
Hotels, hostels, and apartments in this area:
Directions
The simplest way to reach this place is by entering Shvil Parot HaChalav to your favorite navigation app.
Once on-site, you will see big parking and a sign (on the right of the following photo) directing you towards the entrance.
You can also find restrooms near the parking, and I would suggest using them before the tour since we did not see other toilets in other parts of the farm.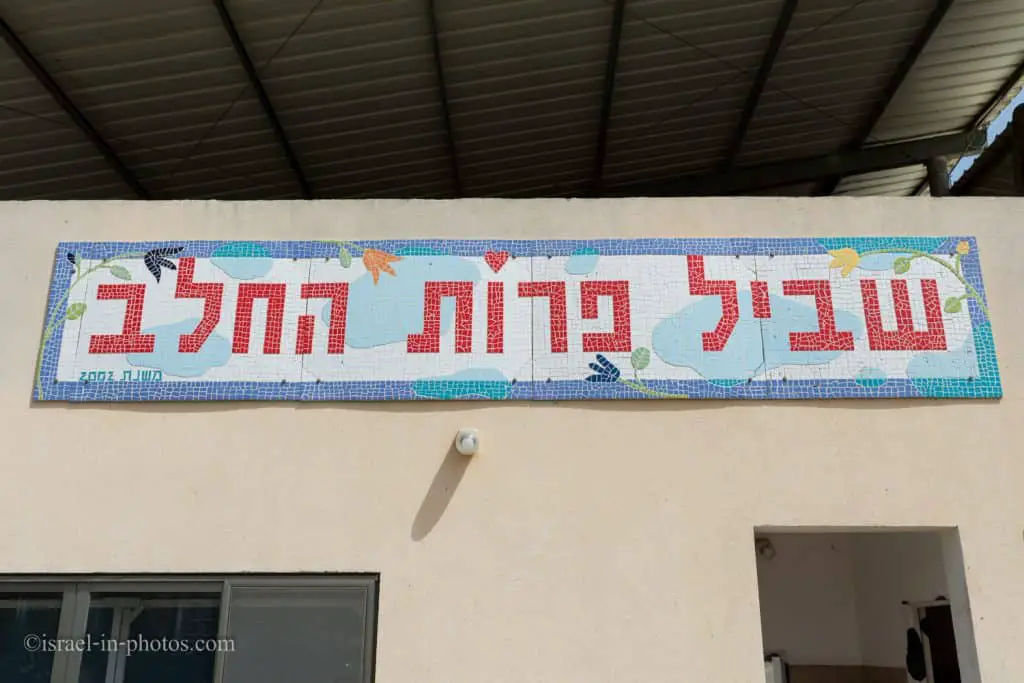 Opening Hours
Currently, Shvil Parot HaChalav does not have an official site. According to different websites, the opening hours are:
Sunday – Thursday: 10:00 – 16:00 – you must call in advance and register for a tour.
Friday – Saturday: 10:00 – 16:00
We planned to visit on a Saturday, and I called the owner (his phone is 052-3275682). And he told me to come whenever I want during the mentioned hours.
Note: I suggest calling in advance and asking for opening hours even if you are visiting during the weekend.
Entrance Fee
The entrance fee is 42 NIS per person (as shown in the next photograph). And everybody above the age of two and a half require a ticket.
Notes:
Currently, I do not see any coupons online. But there are discounts from time to time. So it is worth checking before your planned visit.
Our latest visit was in June 2020.
Once you enter Shvil Parot HaChalav, you will reach the waiting area. Then you purchase tickets and wait for a tour to start.
They are probably waiting for more people to come. But as the sign says, they try to keep you waiting for less than half an hour. And we waited for about ten minutes until our tour started.
Tour Language
First, I want to mention that our tour was in Hebrew. But I know that they also offer tours in other languages (including English and Arabic). Thus if you want to join a tour, not in Hebrew, call the phone number mentioned above.
The Tour
The tour is divided into different stations, and now we will go over them.
Station #1 – Meeting Baby Calves
We started our tour by visiting two baby calves. There our guide told us about the pregnancy and the birth of cows. And why the cow, in particular, and the mammal family, in general, have milk.
Station #2 – Feeding Cows
At this station, children depending on their age, got different tools. Some got shovels, others received buckets, and they started feeding the cows. And the toddlers brought hay by hand.
Near the feeding station, we also visited the hens. We discussed various related topics and headed to the next station.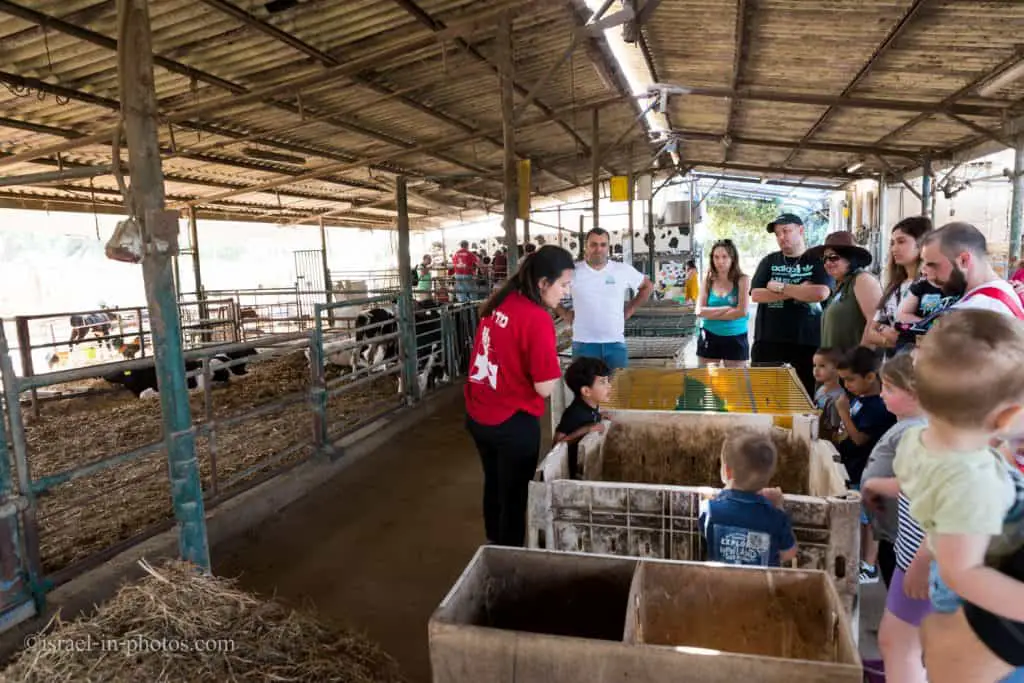 Station #3 – Milking Cows
We entered a small building, the milking parlor, where each child (who wanted) got to milk a cow by hand. And now, when my older daughter can milk cows, my role as a parent is done 😉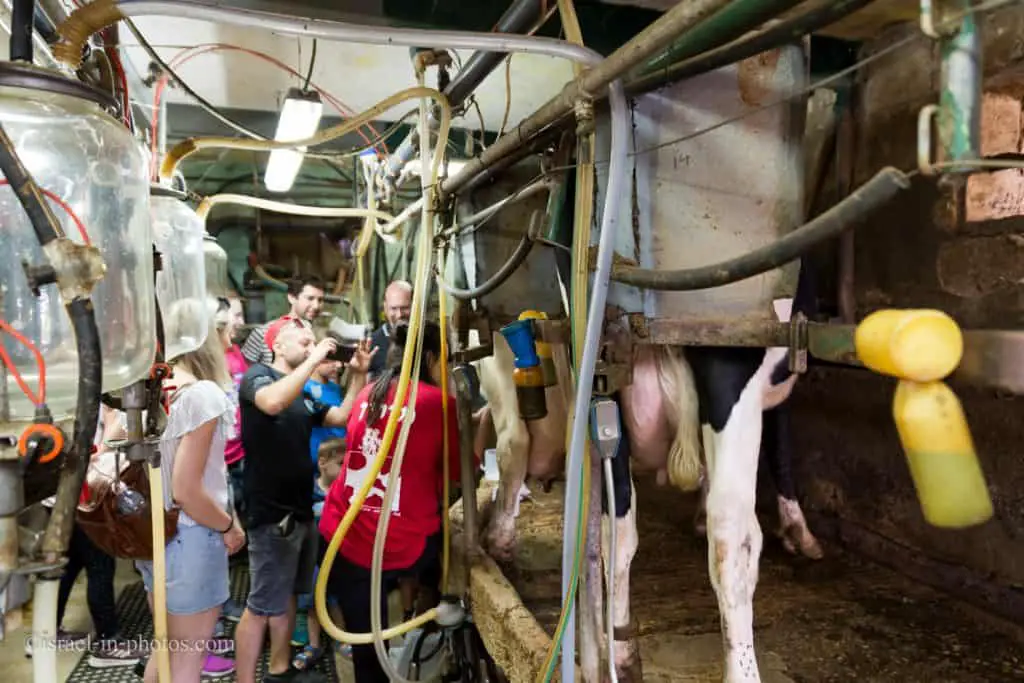 Station #4 – Feeding Baby Calves
At this point, each child got a large bottle of milk and got to feed the baby calves.
Note: during our visit, one bottle refill was allowed.
Station #5 – Preparing Chocolate Milk and Butter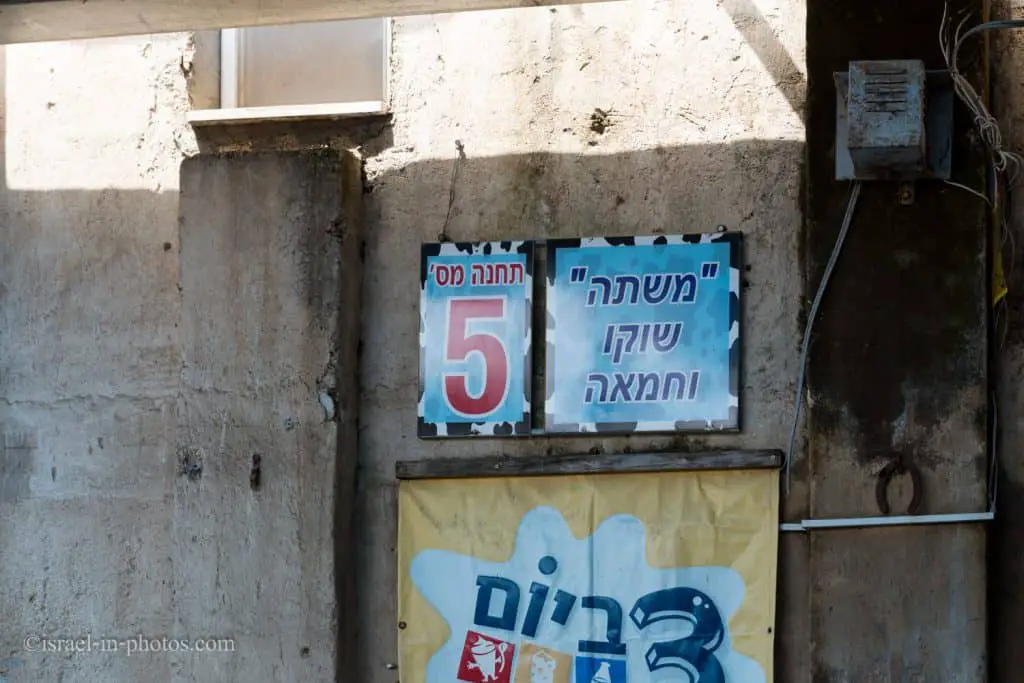 Next, each child got to prepare chocolate milk and helped to create buttercream. You can see the guide spreading butter on crackers. And then, of course, we got to eat it all.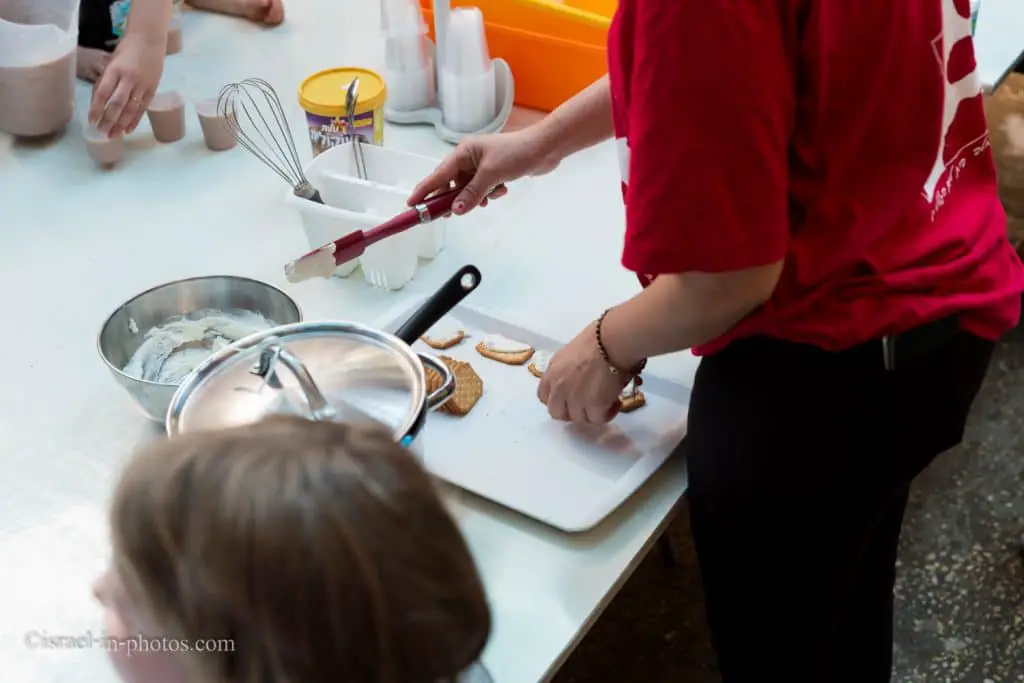 Station #6 – Automatic Milking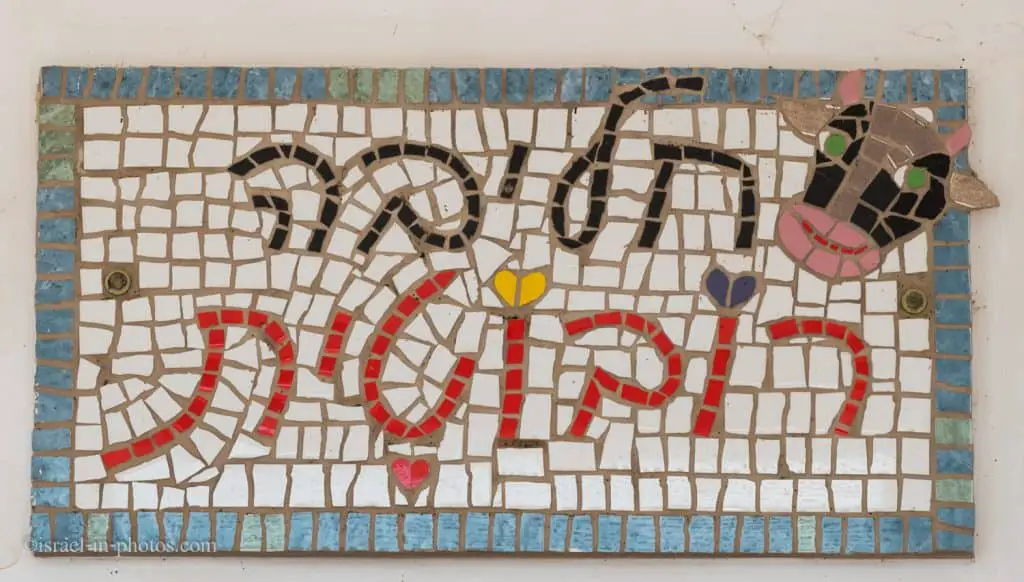 We headed back towards the car parking to the last stop, automatic milking.
We got into a dedicated room, and our guide explained the process.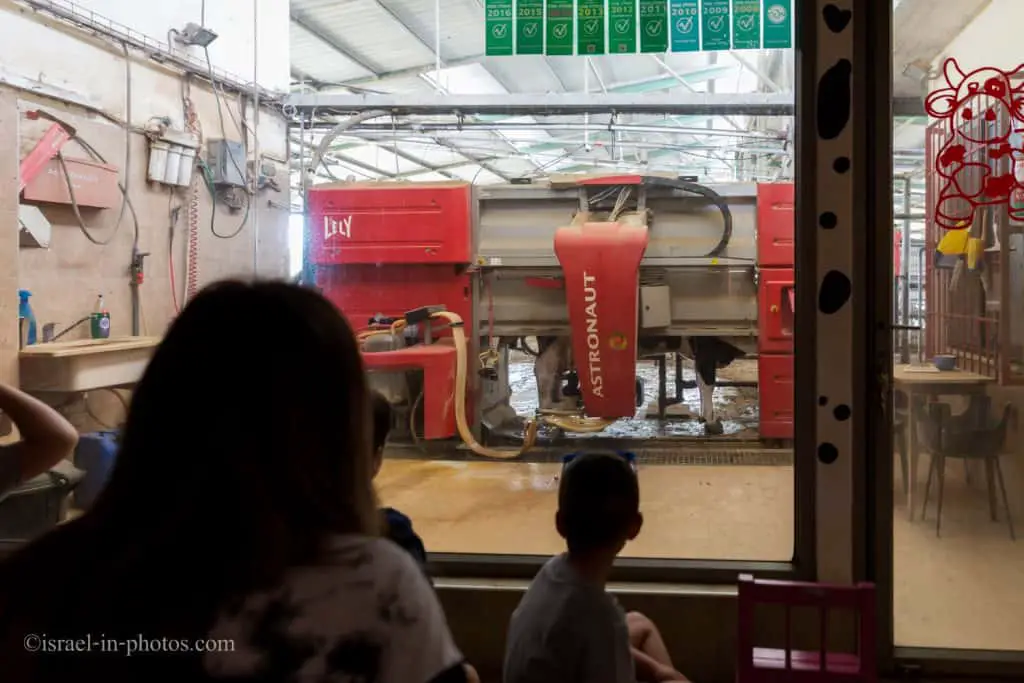 Cows learned that the machine offers them tasty fruits and vegetables during milking. Thus they want to come for milking. And when a cow comes, the robot checks the last milking time. If not enough time has passed, then the fruits and vegetable bucket is not opened, and she continues.
Automatic milking begins if a cow is not milked for a long time (usually milked twice a day).
First, the robot washes her nipples. Then using lasers, assembles the goblets, milks the cow, removes the goblets, and reports.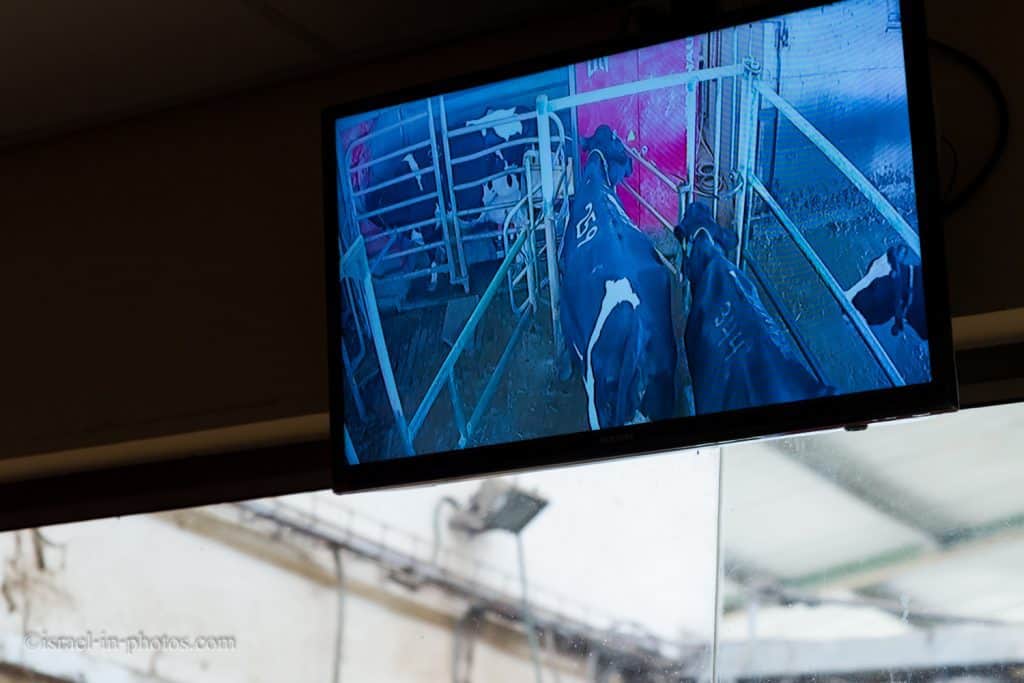 A colleague told me each cow has a steps counter in some dairy farms. And if the number of steps is low, then it means the cow has some health problem. The electronic device automatically notifies a veterinarian to come and check this cow. I asked about similar devices at Shvil Parot HaChalav, but they do not use this technology.
Who is this tour for?
As you probably understand, this tour is aimed at families with children. And indeed, during our visit, we mainly saw families with toddlers, preschoolers, and children of elementary school age.
How Much Time Does a Visit to Shvil Parot HaChalav Takes?
I saw many reviews online, and some even stated that their tour took almost three hours. But that is the exception. Most tours, and the one we participated in, lasted about one and a half hours.
Summary
Overall, it was an enjoyable experience. Children get to participate in a variety of activities, and they love it. But I want to add a small word of caution. This is an active farm. And if you are an animal lover or "green," you might see things you will not like. For example, the baby calves are standing in small compounds.
If you have not been there, then check them out.
Note: if you love agrotourism, then check out the agrotourism category. And if you are looking for additional attractions nearby, browse the map at the top of this post or see Bethlehem Of Galilee.
Have you ever been to Shvil Parot HaChalav? Tell us in the comments below.
That's all for today, and I'll see you in future travels!
Stay Tuned!
Additional Resources
Here are several resources that I created to help travelers:
And if you have any questions then check out
Useful Information For Tourists To Israel
.  
Did not find what you were looking for? Leave a comment below, and I will do my best to answer your questions.