Dolphin Reef Guide starts with basics (opening hours, entrance fee, directions, map, swimming with dolphins) and then we will visit the site. Let's begin!
Map
Dolphin Reef is located not far from Underwater Observatory Marine Park, also at Coral beach in Eilat. You will see it on the left while driving on road #90 towards Taba border crossing (Israel – Egypt).
Map of the area:
How To Get There
You can drive there and park for free outside. You can also take bus #15 from Eilat city center. Here is a link to Moovit where you can update your starting point and get updated directions. And the last option would be to take a taxi from Eilat.
Opening Hours
Sunday – Thursday 09:00 – 17:00
Friday-Saturday & Holidays 09:00 – 16:30
Note: closed on the Israeli National Memorial Day and "Yom Kippur".
Entrance Fee
Adult (from age 15): 69 NIS
Child (age 3-15): 48 NIS
Booking for snorkeling and diving with dolphins and relaxation pools grants entrance free of charge.
Additional facilities at extra cost:
Snorkeling and Diving Center
Restaurant
Cafe/Bar on the Beach
Relaxation Pools
Children's Activity Center
Underwater Photography Center
Souvenir Shop
Notes:
children under the age of 15 have to be accompanied by an adult.
opening hours and ticket prices were updated in May 2019. In any case, recheck the official site before visiting.
Site Plan
Here is a map we got at the entrance.
Note: you can click on the image above to enlarge it.
And the other side of the same leaflet.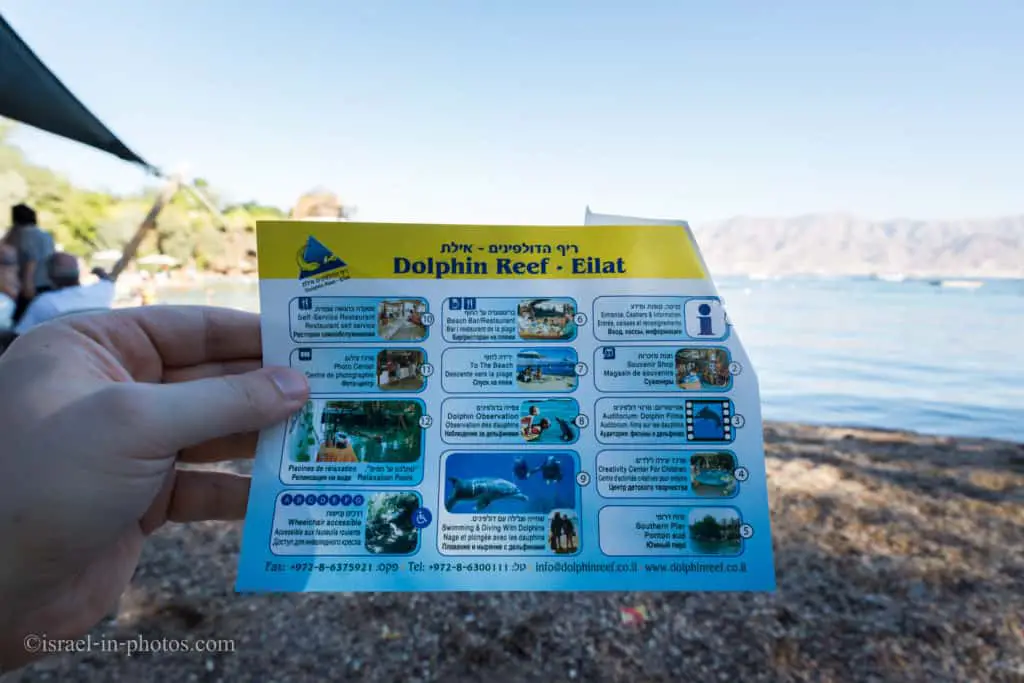 The Spirit
DOLPHIN REEF EILAT, on the shores of the Red Sea, is an ecological site unique in Israel and throughout the world where visitors can enjoy a natural atmosphere, magical views, secluded beach, together with the unusual opportunity of meeting and observing dolphins in their natural habitat.

A group of "bottlenose" dolphins, including babies born at the site, maintain their daily routine of hunting, playing, courting and socializing. They are free to choose between human company or to continue their daily routine in the group. The fact that the dolphins choose to be with us reinforces, in our opinion, the real bond created between them and us.

Visitors can enjoy getting close to the dolphins from our floating piers and observation points or during one of our guided swims or dives, suitable to anyone who is not afraid of getting wet.

Contact with people is based on the free will and choice of the dolphins. Their decision to approach guided groups of snorkelers or divers is not based on any reinforcement by feeding during these encounters. It is worth mentioning that the dolphins continually develop an even stronger connection with humans based only on curiosity, play, and spontaneous interaction.

The desire to deepen the bond between man and his environment is put into practice at Dolphin Reef in a different way than in other places in the world, starting with the physical conditions at the site and continuing with the warm attitude towards the dolphins.
Note: unless stated otherwise, all quotes were taken from the official site.
My Rant
If you take a closer look at the map, then you will notice that this is a small part of the beach, where dolphins come to visit. There are no real free extra activities, and the entry prices are not low. Currently, it is 69 NIS per adult and 48 NIS per child. You pay more than 200 NIS per family of two adults and two children and do not get value for money. And that is what bugs me about Dolphin Reef. Nearby beaches are of the same quality, and they are free.
Moreover, there is no chance a dolphin will swim near you since the area where people swim is separated from the sea by a fence (but there is a chance swimming with a dolphin when you swim on other beaches). And if you want to swim with the dolphins, you will have to pay extra. Moreover, you might be there for several hours and not see the dolphins at all.
The Beach
Dolphin Reef Beach is a short strip of the Red Sea beach. But it has three advantages over a wild beach, and they are:
There is plenty of greenery around the beach. Thus there is shade.
Plastic chairs and tables.
There are restrooms in the complex.
But there is one important thing you should know in advance. The swimming area that is near the beach is fenced. Dolphins cannot enter this area. Thus, if you want to swim with dolphins, there is no choice but to pay extra. See additional info in the next section.
Here is how the Dolphin Reef looks from the sea. The closest to us is Dolphin Reef perimeter marking (there is no net beneath it, and the dolphins can enter and leave freely). Further ahead, you can see the floating docks. You can use them for dolphin watching. And behind the floating docks, you can see the net around the swimming area and the beach itself.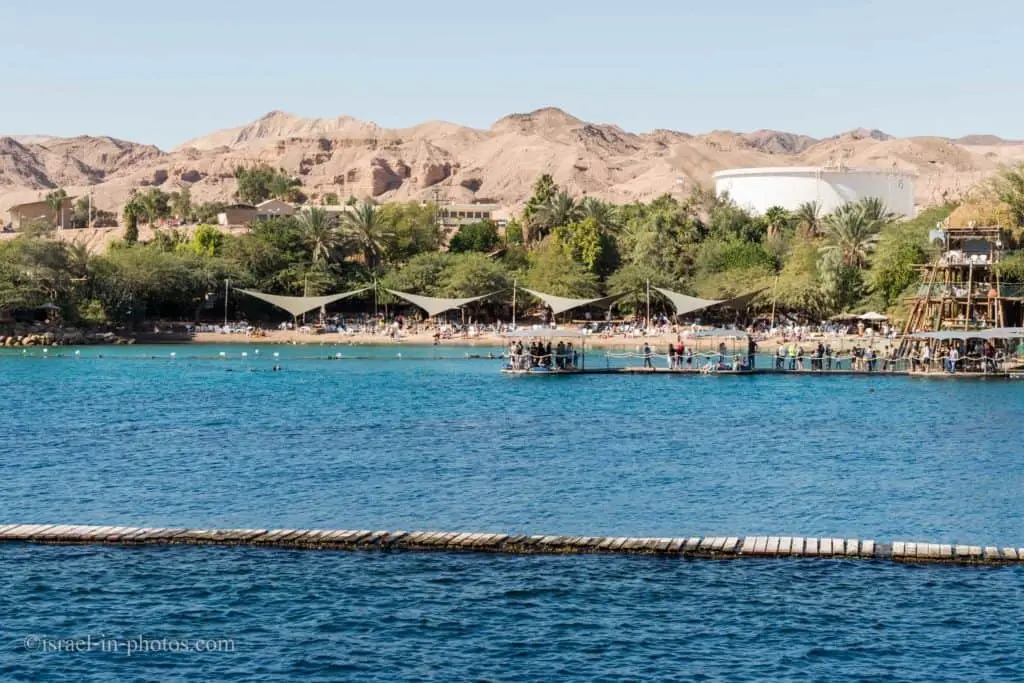 Note: there is no lifeguard on the beach.
Closeup of Aqaba, Jordan from Dolphin Reef beach: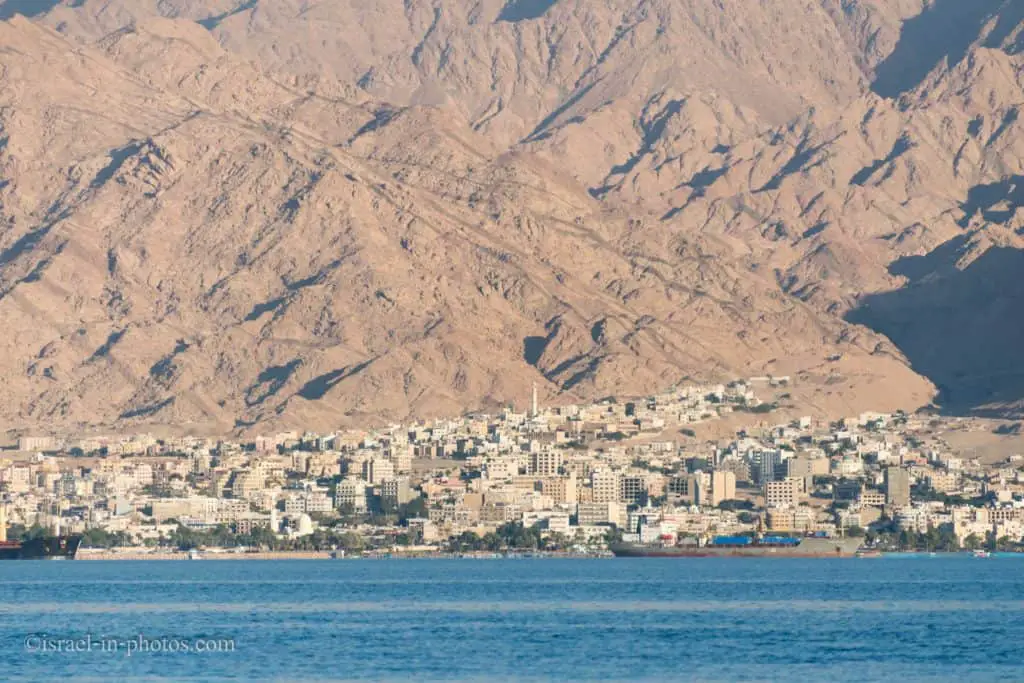 Swimming With Dolphins
If you want to swim with dolphins, then you have two options. You can either snorkel or diving with the dolphins.
Snorkel With Dolphins
Good swimmers between the ages of 10-88 years old can enjoy a one-hour snorkeling session with the dolphins.
Half an hour is devoted to choosing and fitting equipment, signing the medical statement and a briefing. After the briefing, half an hour will be spent in the water.

Snorkeling takes place in the sea, where your group will swim out not far from the shore, but to deep water (14 meters or 45 feet deep) and watch the dolphins as well as a big variety of fish and corals.
Snorkel with dolphins costs 290 NIS per adults (from age 15), and 260 NIS per children (from age 10). This price includes all equipment and entrance fee (when booked in advance). You can book through the official website.
Diving With Dolphins
Confident swimmers between the ages of 8 to 88 years old can enjoy one-hour diving with the dolphins.
Participants go into the water with their instructor. The session lasts for one hour. Half an hour is devoted to fitting wetsuits and fins, signing the medical statement and afterward a briefing. Once the briefing is completed, you will meet your instructor who will fit you with the scuba gear. Half an hour is spent in the water.

Full scuba equipment, including air tanks, is provided.

You will descend to a maximum depth of 6 meters, and see the dolphins as well as a wide variety of fish and corals.
Diving with dolphins costs 349 NIS per adults (from age 15), and 319 NIS per children (from age 8). This price includes all equipment and entrance fee (when booked in advance). You can book through the official website.
Beach Bar And Restaurant
To complete the picture, I will mention that there is a restaurant and a bar at the Dolphin Reef.
Restaurant complimentary – located near the diving club and offers sandwiches, salads, snacks, ice cream, soft drink, and warm and complimentary hot meals. Tables scattered around the restaurant diners comfort. The restaurant is open daily from 08:30 – 16:00 during the winter months in part from 8:30 to 2:00 p.m.

Bar Restaurant on the beach – right on the water line is Bar Restaurant offers meals, children's menu, snacks, wine, beer, cocktail, and all the soul needs to make perfect wonderful day.
We never ate there. Maybe it is only me, but I do not like to be forced to eat at attractions. When you have no choice, food tends to be expensive and not tasty. And from what I saw, the food looked very basic, but looks can be deceiving.
Dolphin Feeding
Our last visit to Dolphin Reef was in December. And after some swimming, yes it was not that cold, and you can swim in December, we went to the floating decks that are used for dolphin watching.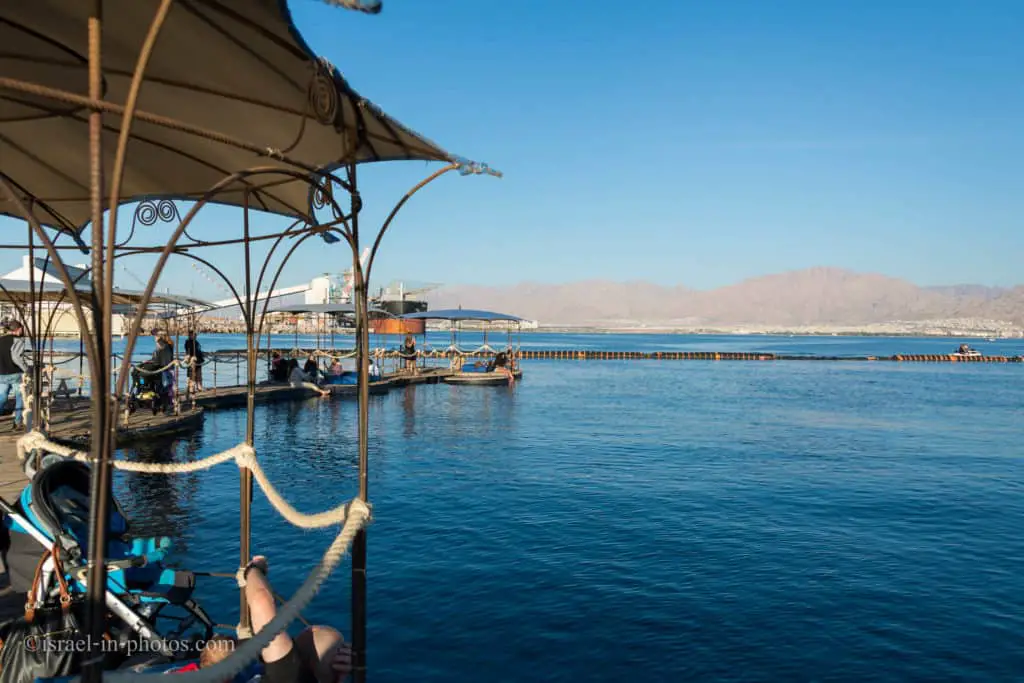 It is not my first time to Dolphin Reef, and I knew that the dolphins could freely swim into the open sea, they are not tamed, and there are no shows. But, last time we witnessed a feeding, thus we asked a crew member about it. I thought there are some feeding hours. However, since the dolphins swim and hunt freely in the sea, there are no constant times. Dolphins are fed only when they ask. Therefore, if you want to see dolphins from up close, you might need to wait more than several hours.
We spent about one and a half hours on the beach and another hour at the decks trying to see a dolphin from a close distance. We were unlucky in doing so and about to leave. Just bore going we saw crew members coming with buckets of fish to feed the dolphins.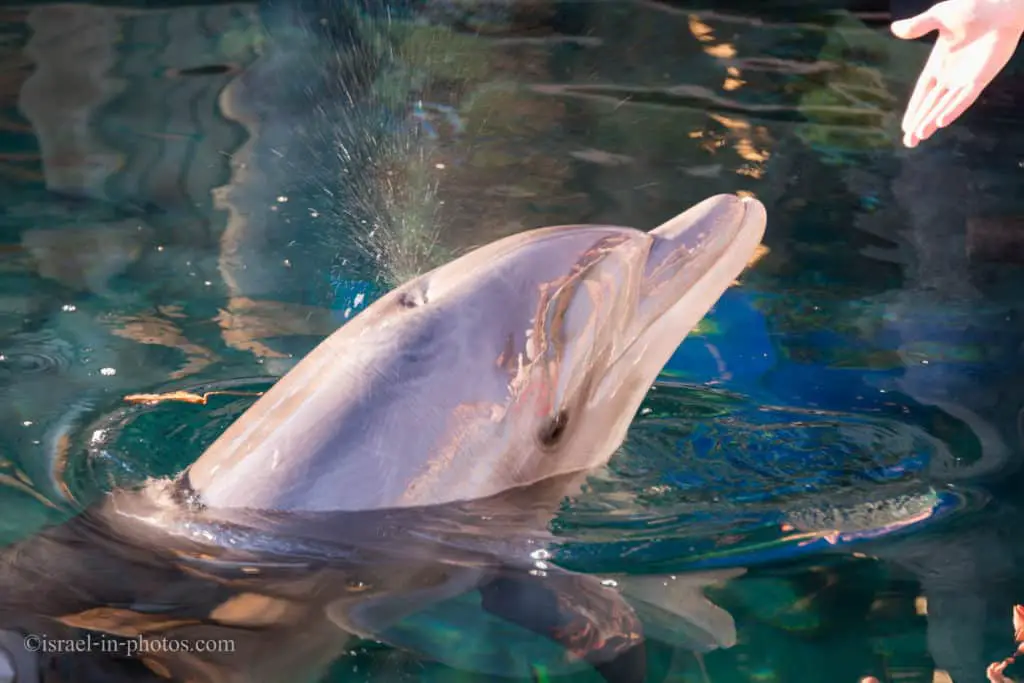 The feeding itself takes 5 – 10 minutes, and afterward, the dolphins swim away. Sometimes some of them remain for petting and then leaves.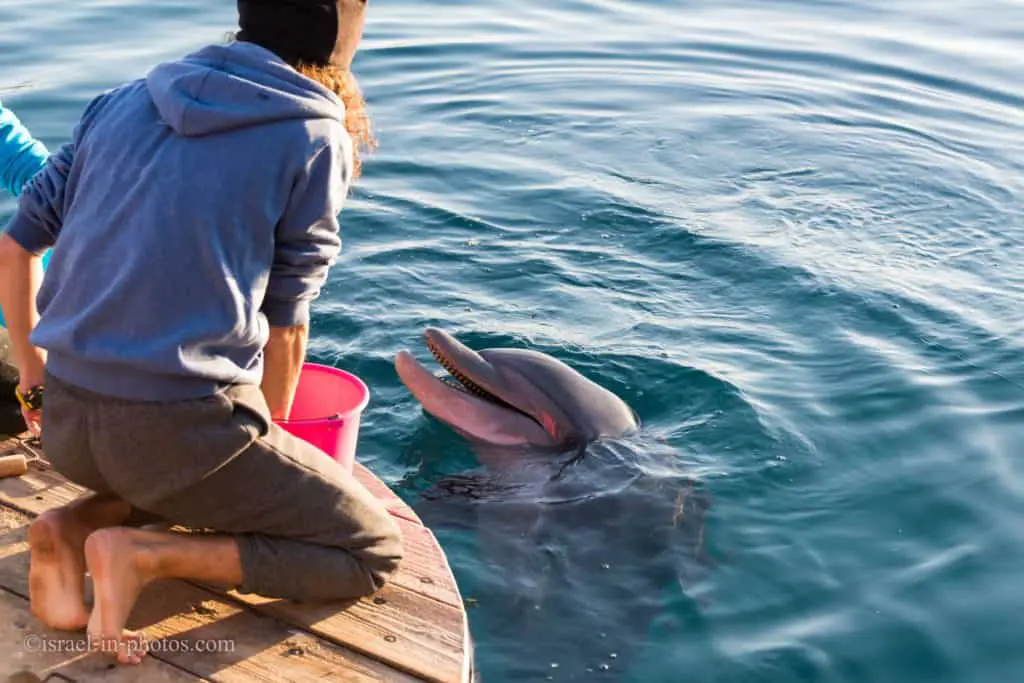 After the feeding, one of the crew members told about the dolphins, the place, and answered questions.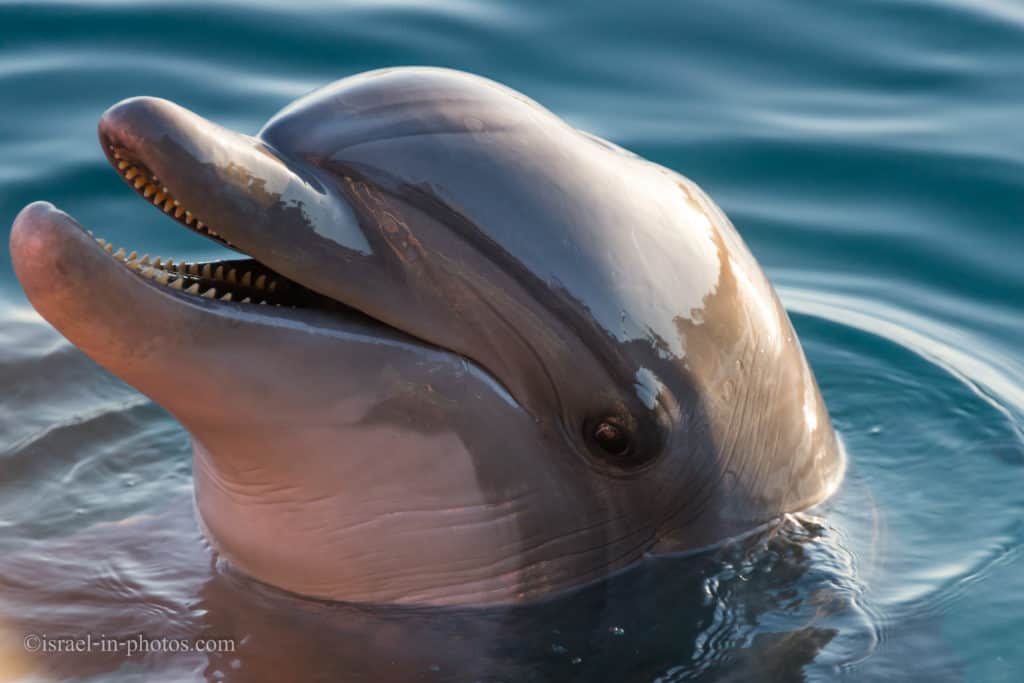 He told many interesting things about the Dolphin Reef and its inhabitants. Here are some of the things that he told us.
Questions And Answers
Are Dolphins Kept In Captivity?
The Dolphin Reef started as a commercial project. Dolphins were brought, and this part of the sea was closed, essentially it was transformed into a big aquarium. Over time as public critic rose, nets were removed, and the dolphins gained free access to the sea.
How Many Dolphins Are There?
Currently, there are four dolphins, three females and one male. All of them were born at the dolphin reef, and the crew hopes for a new generation soon.
And AFAIR, the biggest amount of dolphins living at Dolphin Reef in recent years was ten.
Do Wild Dolphins Come To Visit?
We asked about wild dolphins in this area, and as it turns out, they rarely come to visit. Our guide remembered only one instance when dolphins from the open sea came in here. There are two main reasons for this. First of all, dolphins swim in big packs. Thus they are looking for a lot of fish. Eilat is located at the end of the gulf. Therefore there is less fish and no reason for dolphins to be attracted here. The second reason is noise. There are two ports in this area, significant boat movement, and dolphins do not like the noise. Dolphins that were born at Dolphin Reef are used to it, but not others.
When Is The Best Time For A Visit?
I mentioned above that during our first 2.5 hours we saw dolphins at a great distance. Thus selecting the time for a visit is crucial.
Till this point, I visited the Dolphin Reef twice in recent years. At both times, we came in the second half of the day and saw the dolphin feeding towards sunset.
Most daytime animals are active during the day, especially sunset and sunrise. Moreover, they return to their home towards evening. AFAIK, usually dolphins sleep at night, and their eating habits are flexible. Thus, it is hard to know for sure, but I would suggest coming during the second part of the day, before sunset hours.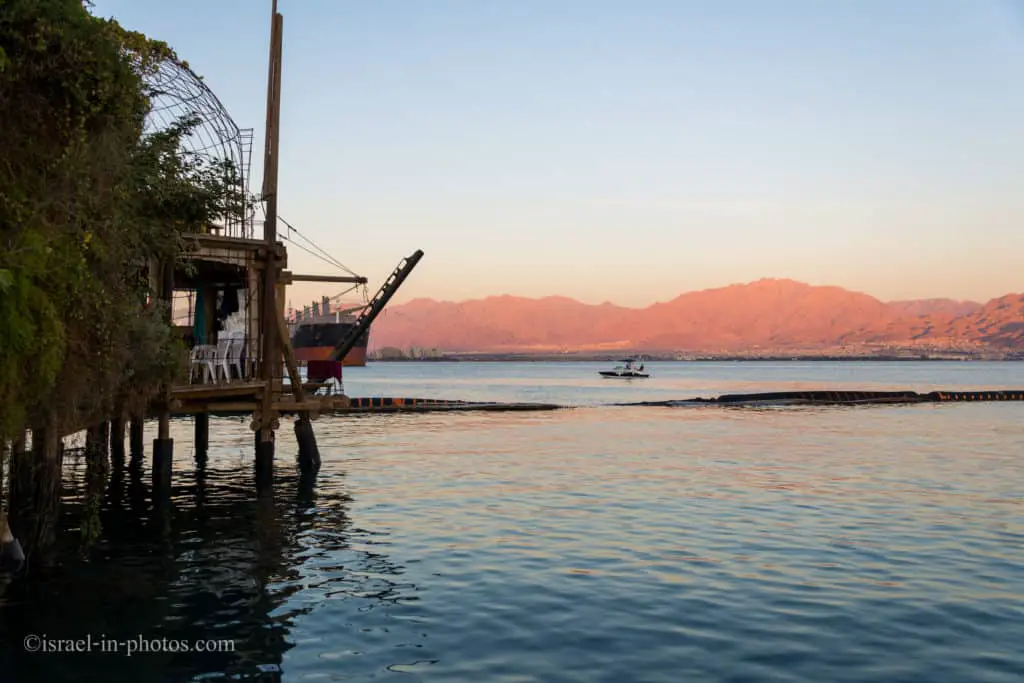 Summary
In the end, despite my initial rant, I left pleased. And according to TripAdvisor, the Dolphin Reef receives 4.5 stars rating, So it seems that most people enjoy this site.
Have you ever been to the Dolphin Reef? Tell us about your experience in the comments below.
That's all for today, and I'll see you in future travels!
Stay Tuned!

Additional Resources
Here are several resources that I created to help travelers:
And if you have any questions then check out Useful Information For Tourists To Israel.

Did not find what you were looking for? Email me at
hi@israel-in-photos.com
, and I will do my best to answer your questions.