Timna Park in southern Israel is the site of ancient copper mines. Moreover, there are stunning landscapes. And you can explore it by cycling and hiking trails.
Map
Timna Park is located about 25 km to the north of Eilat.
Map of the area:
Note: you can click on the map to enlarge it.
As you can see from Timna Park Map, there are hiking and cycling trails. And we will get to it later.
While we were at Timna Park's museum, I saw a map of Southern Arava. I hope it will be helpful for you.
Directions
Getting to Timna by public transport is not an easy task. If you look at Moovit's directions from Eilat to Timna Park, you will see it suggests taking a bus to Ramon airport and then walking for more than 9 km. Moreover, the park itself is vast. Thus we always arrive by car, and within the park premises, we use the vehicle to reach from one point to another.
If you do not have a car, then you have two options. The first one would be renting a car. Here is the link for rentalcars.com, where you can check the prices. Moreover, at the official site, they offer a small car + two entrance tickets for 45 USD. The second option would be joining a Timna Shuttle Safari from Eilat ($25 per person, excluding the entrance fee). You can find additional details on the official website.
Opening Hours
September – June
Sunday – Thursday and Saturday: 8:00 – 16:00.
Friday: 8:00 – 15:00.
On holidays usually 8:00 – 13:00.
July – August
Sunday – Saturday: 8:00 – 13:00.
Entrance Fee
Adult: 45 NIS. Child (3 – 12): 36 NIS.
The prices mentioned above were taken from the official site, and they refer to the online tickets. If you purchase tickets on location, the actual entrance fee will be 10% more expensive (i.e., 49 NIS per adult). At least, this is how it was during our last visit.
Note: opening hours and ticket prices were updated in March 2020. In any case, recheck the official site before visiting.
Discounts And Coupons
Different credit card companies offer various discounts. For example, MAX offers 1+1 for 39 NIS. You can also purchase discounted tickets through cpnclub.co.il for 44 NIS (adults) and 35 NIS (children). Moreover, GROO offers the same price.
Weather
In Events And Festivals By Season, I have presented data about the weather in Israel. Here is the data that I collected for that post: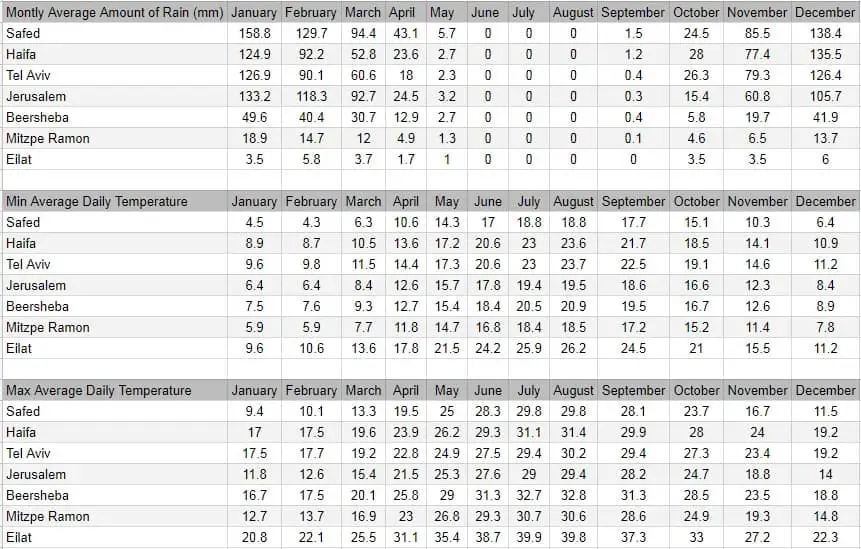 As you can see from the table above, the Eilat region is almost rainless and boiling during the summer. You can even see that during the summer month, they close early. Thus, winter is the ideal time for a visit. Check out Visiting Eilat During The Winter for additional winter attractions in this region.
Basic Info
Park Timna, located some 25 km north of Eilat, combines beautiful scenery with special antiquities and history and various activities the whole family will enjoy. The horseshoe-shaped valley covers some 60,000 dunams and is surrounded by cliffs. In the center is Mount Timna, 453 m above sea level. Timna Valley is a geological window revealing various minerals, including copper, iron, and manganese.

Timna is the site of the world's first copper mine. Thousands of ancient mining shafts can be seen throughout the park and remains of smelting furnaces dating back to ancient imperial Egypt. Copper was the first metal used to create work and household tools, weapons, costly ornaments, and cultic objects. You will thrill at the stories of Hathor, the goddess of copper, and the deified Pharaoh Ramses. Moreover, you will find remnants of Egyptian mythology and fascinating history.

You will also see exciting finds at the Temple of Hathor near the spectacular Solomon's Pillars, at the Mushroom, the impressive Arches, and of course, the ancient rock-drawings depicting hunters of ostriches and ibexes, Egyptian battle chariots, and other images.
Note: unless stated otherwise, all quotes were taken from the official site.
Camping
You can camp at Timna Park, and you can do this by choosing one of four options: private tent, rent a two-room tent, rent a room, or rent a caravan.
Whether you choose to camp out in your tent, rent a large two-room tent at our Villa Camp, rent one of our air-conditioned, well-equipped rooms suitable for couples and families, or rent a caravan, you will enjoy the park`s unique and tranquil vistas of the arid desert.
The main sleeping area in Timna Park is located next to the enchanting lake and includes Bathrooms and showers With hot water at all times, Electricity infrastructure, low outdoor lighting, garbage containers (sorting), shade arbor, faucet, benches, parking, and perimeter lighting.

Accommodation prices for the independent traveler (who brings a private tent), is 104 NIS per night (Entrance fee to the park is included in the price).
For more information and lodging reservations, please email us at timna8@parktimna.co.il
Note: I saw that currently, only on the Hebrew version of the official site you can make bookings online.
Cycling And Bike Rental
Bicycle lovers will find Timna Park a hidden paradise. The Jewish National Fund (JNF) has set up 14 kilometers of spectacular bike paths in the park, whose main theme is the "Single Timna" track, which is designed to fit a single cyclist – a group called cyclists will be required to ride one after another instead of parallel. Varied, with technical challenges, angles, ups, and turns, while changing the height of many who bring the rider to spectacular observation points.

The paths are divided into several levels, from comfortable family carriages to extreme tracks. Riders can come with their bikes or rent bikes instead. More than 100 pairs of advanced mountain bikes are waiting for cyclists, in different sizes, adapted to adults, children, and families. The rental is from the age of 8 and up and takes place at the entrance to the park or the shop counter in the lake complex.

The bicycle rental price is 60 NIS for a half-day rental.
Electric bicycle rental prices: 85 NIS FOR 4 hours rental.
Notes:
If you plan to rent a bike, especially on Saturday or holidays, then contact them regarding availability.
They created a useful map for cyclists, and it is called Timna Bike Park, and you can find it here.
Hiking Trails
There are many hiking trails at Timna. Once I overheard one of the guides who said you would need two weeks to complete all trails.
Over the years, we did only several sections that form round trails. And I want to warn you that some trails include rather strenuous hiking and are not suitable for kids. Therefore I would suggest asking for advice at the park entrance. There is an information office where you can tell the required hike's length and level, and they will give you some suggestions.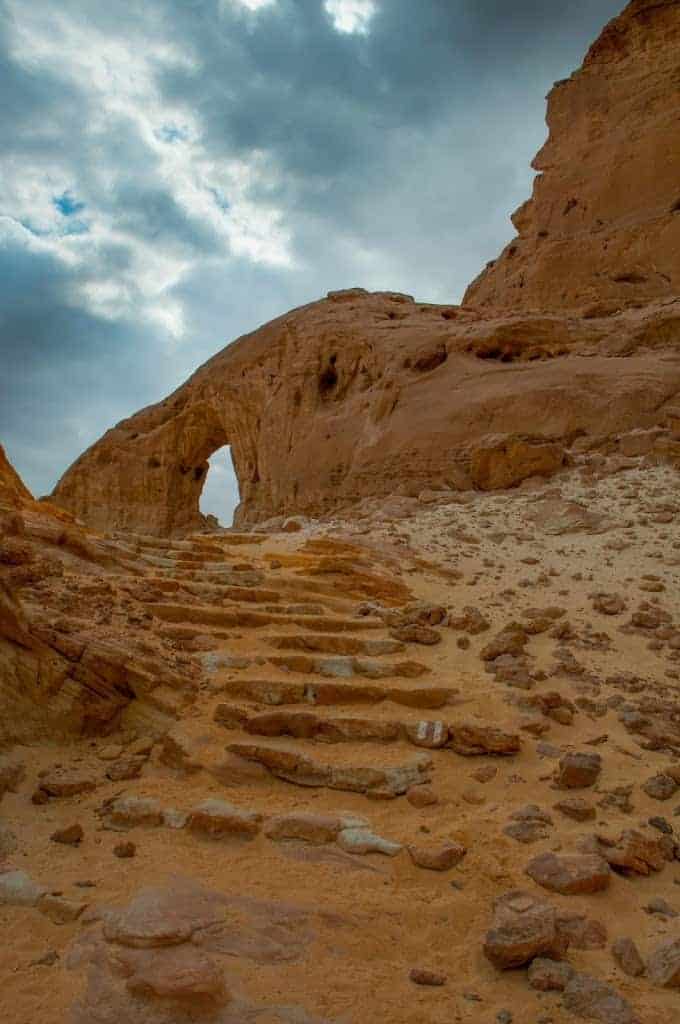 Note: the photos in this post are from several different visits. Thus you will see the difference in the weather.
The Pink Canyon Trail
The Pink Canyon is one of the suggested trails.
The trail starts from the "Mushroom," continues through Timna creek, passing by the"Roman Cave," and ends at the "Arches." Reddish and pink colored rocks surround this special walking path. During the day, you can see different faces, some stick out proudly, and others are hidden in the rocks, but once they are exposed, you'll see nothing but them! En route, you will see the face of Amalek-son of Timna, the face of Timna looking up to the sky, the duck, the Indian, the monkey face, and many more. You may also find new faces to tell us about.
Sunset And Night Tours
Another option for visiting Timna Park is by joining Sunset and Night Tours. But keep in mind that these tours are available only during the summer. And if you would like to join, then recheck the official site before visiting.
During the summer the Park offers sunset and night tours on the "Copper and Light Trail." A guided tour of the park's sights illuminated by silhouettes on the mountains.
Source: en.aravaway.co.il
Museum
When entering Timna Park, there is a small building. Inside this building, there is the ticket box, cafeteria, restrooms, and several exhibits. Near that building, there is another one that shows a short multimedia display about this site.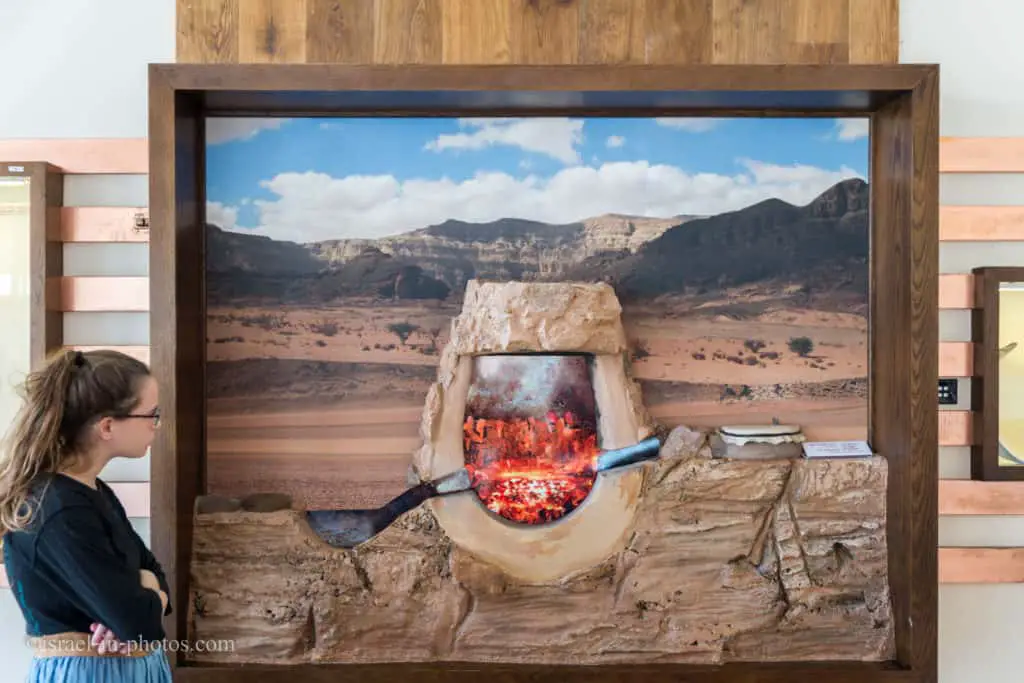 This display demonstrates how copper was mined: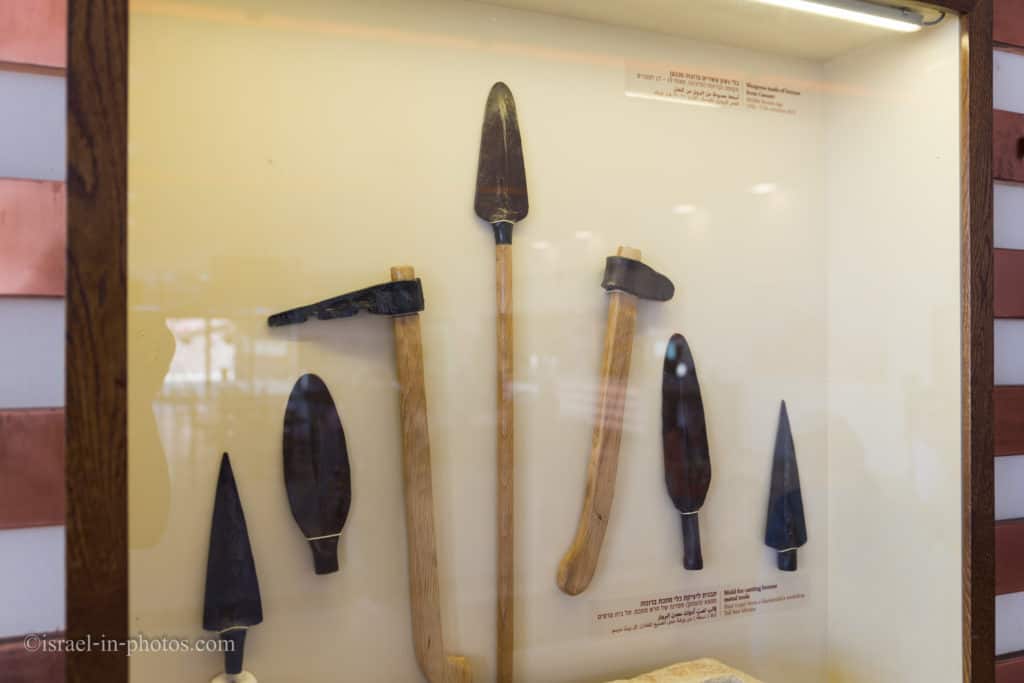 Multimedia Display – Following The Copper
The experience of visiting Timna Park begins with the visitor center. The best technological advancements were used to illustrate the historical and cultural background of the people who came to Timna thousands of years ago to carve copper, the first metal used by man. The 13-minute multimedia exhibit focuses on illustrating the copper production process in Timna and takes the viewer back in time with magical sounds, mirrors, and colors to a fascinating encounter with Egyptian gods from ancient Egypt and the Pharaohs.

The show is screened in Hebrew and English, and subtitles in English / Hebrew / Arabic / Spanish / German / Russian accompany each screening.
Spiral Hill
When driving from the park's entrance, the first thing that you will see will be Spiral Hill (on the right).
This hill is named after the spiral that 'climbs 'up and around the rock, like a spiral staircase. It is just one example of the various shapes and sculptures created by the natural forces of erosion.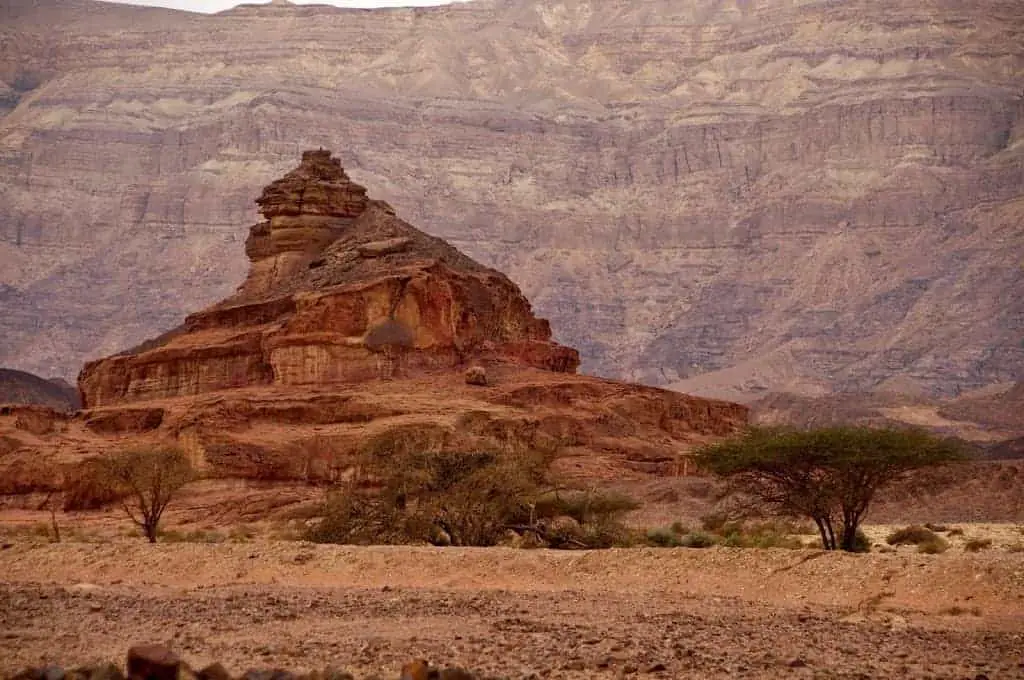 Since I mentioned driving, I want to explain how we usually visit Timna Park. By this point, you saw that you can hike, cycle, drive or do any combination of the three. We typically drive between parking lots and do short hikes to and around each POI. This way of visiting allows seeing most of the attractions the park has to offer within half a day. And each time, we put more emphasis on another area.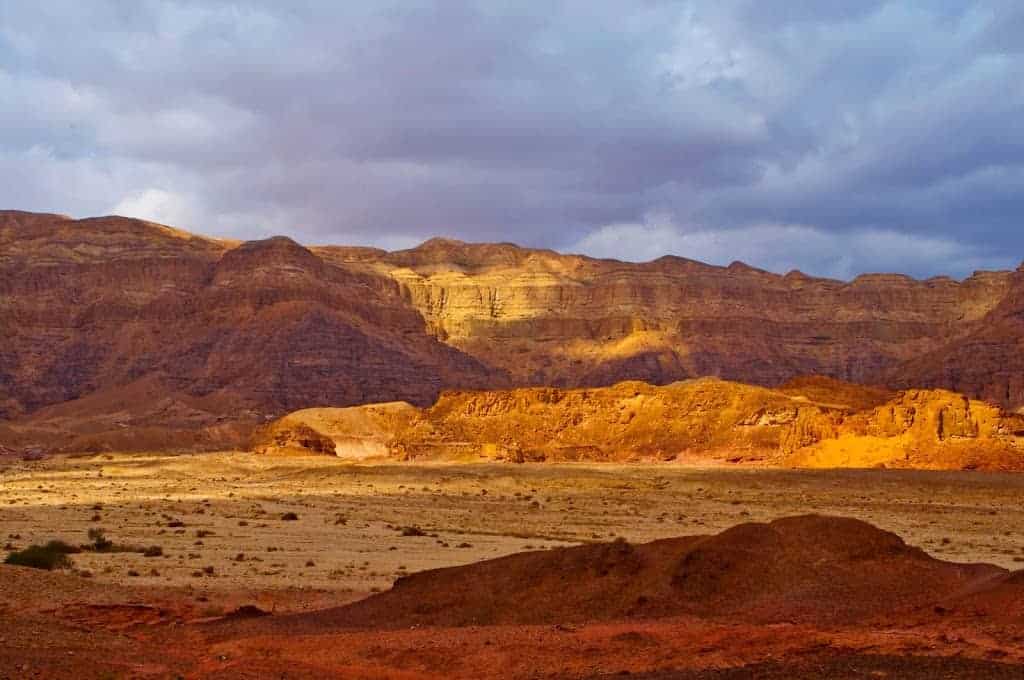 The color of the rocks gives away the high concentration of iron.
Look at the layers of soil: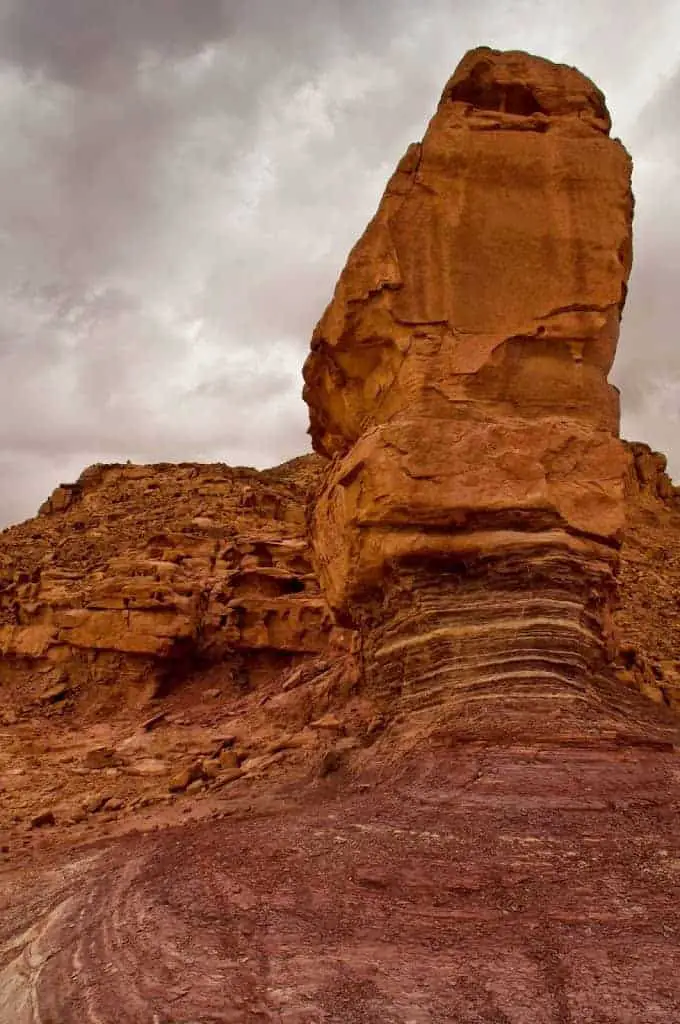 A day in the life of an archaeologist
I have mentioned Sunset And Night Tours above. But there are other events as well. During one of our visits to Eilat, which was on Hanukkah vacation, I saw that "A day in the life of an archaeologist" was taking place. So we drove to Timna and participated in this activity.
During this Hanukkah special event, visitors were given an opportunity to feel how it is to be an archaeologist.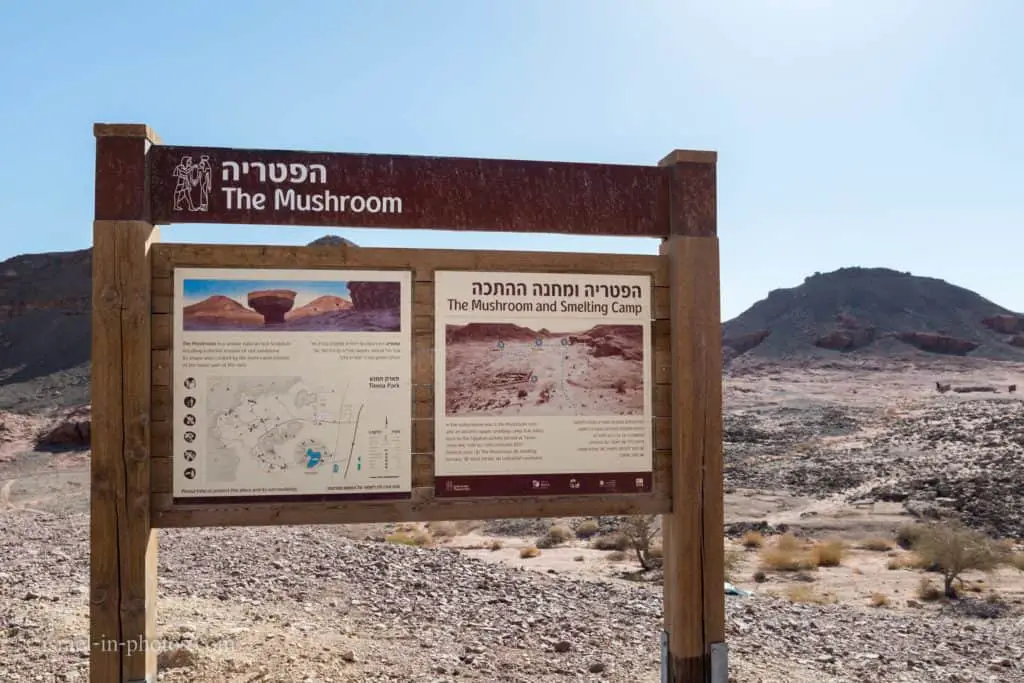 This activity took place near the Mushroom. As you can see in the diagram in the following photo, there was an ancient copper smelting camp.
Digging. Well, actually, in this closed area, archaeologists were working.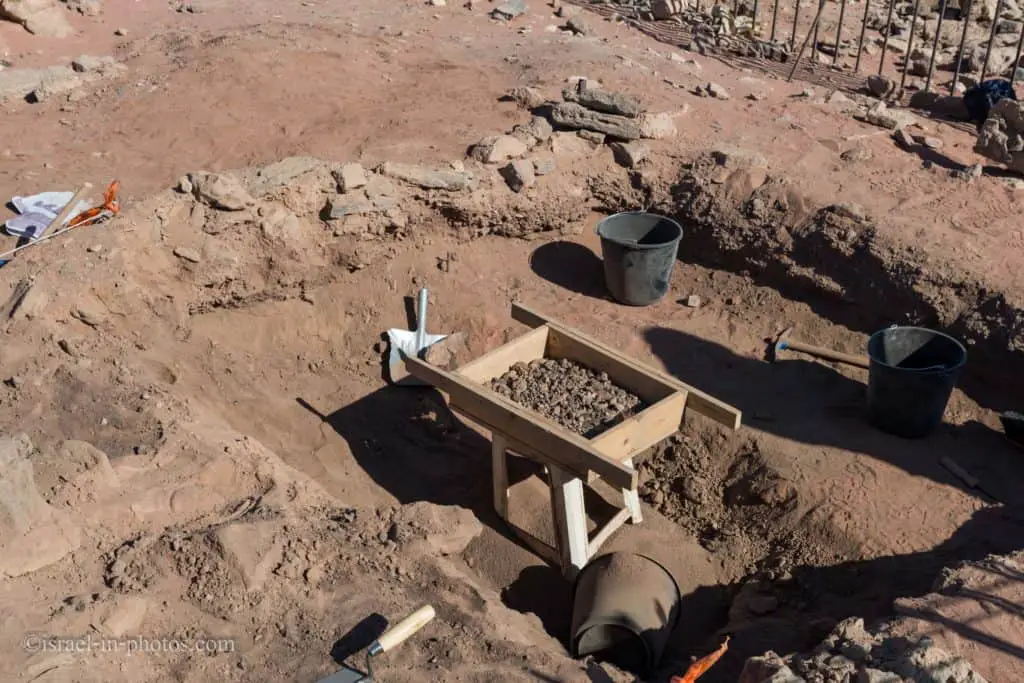 And here we are (my wife, daughter, and an archaeologist):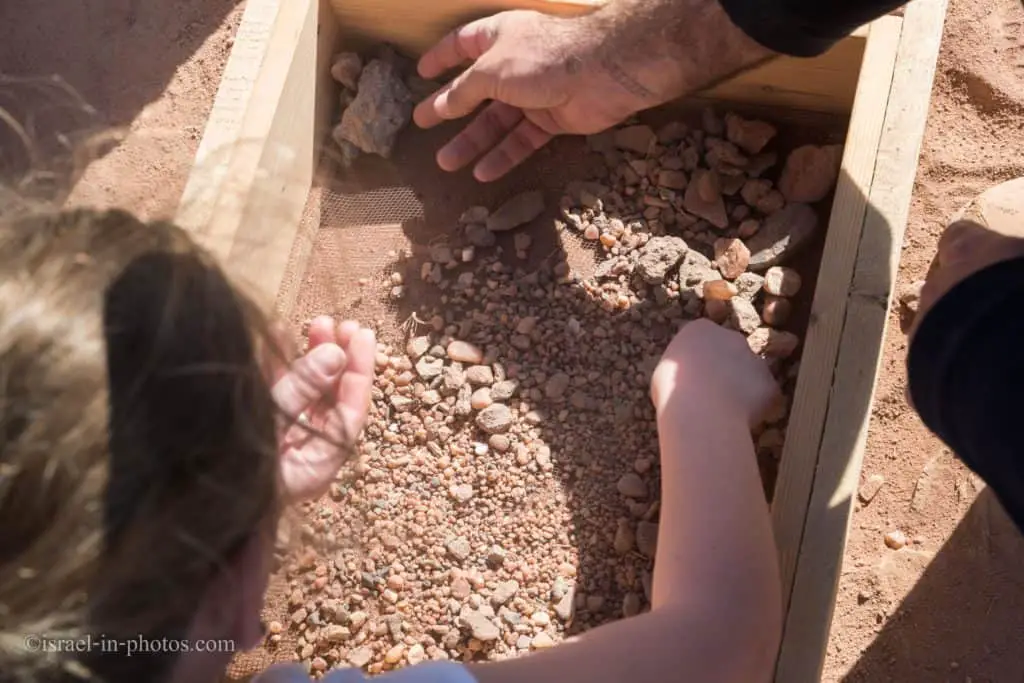 The Process
The area that archaeologists were interested in was divided into two-meter squares. In each square, there were tools and a plastic bag. You collected everything from your square, filtered it, and put the significant finding into the plastic bag. And, of course, there were several archaeologists on-site helping people and answering questions.
The primary purpose of this research was to find slag. Slag is a stony waste matter separated from metals during the smelting or refining of ore. And by using the amount of residue in an area, you can estimate the quantity of copper that was prepared. Moreover, if a specific area has more slugs, then it is most likely there was a furnace in that area. And further excavations will be performed.
Since several archeologists were present on-site at all times, you could join and leave the digging whenever you wanted.
A Day In The Life Of An Archaeologist was a lovely activity, and we all enjoyed it. So keep in mind that there may be different activities (especially on holidays), and if your timetable is flexible, check for activities on all possible dates in advance.
The Mushroom
After participating for an hour and a half at "A day in the life of an archaeologist," we continued to the Mushroom. The Mushroom is a unique natural red sandstone rock sculpture. Such a shape is the result of faster erosion of the lower part of the rock.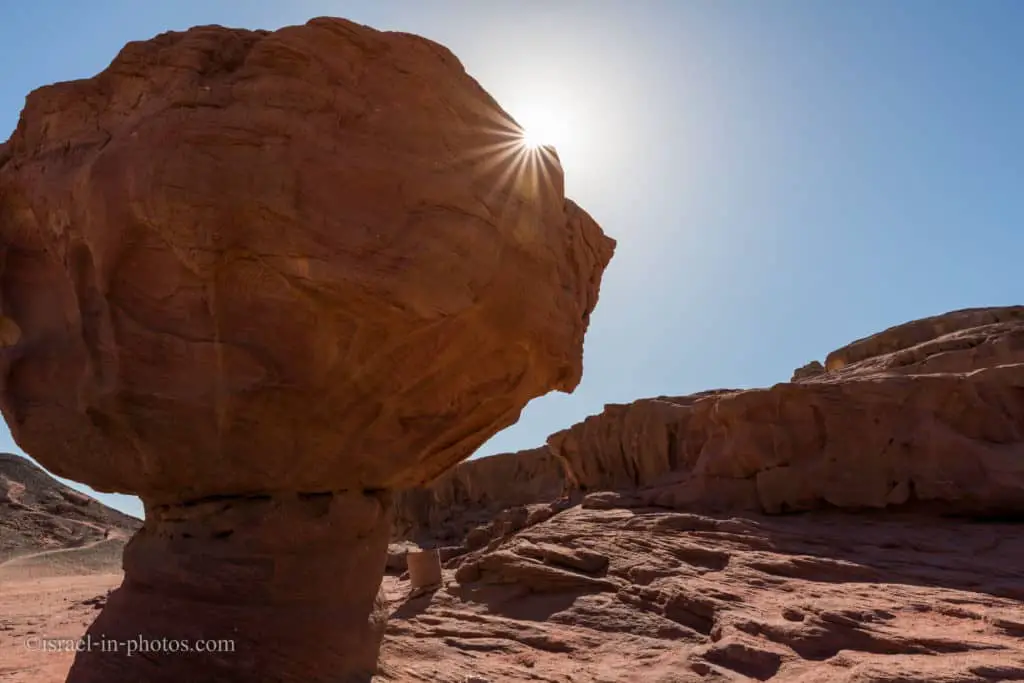 This unique natural sculpture resulted from the erosion of the red sandstone. The more rapid erosion of the bottom created the mushroom-like shape of half of the rock.

The nearby visitor center portrays the story of the copper-smelting camp located in the valley.

And here is The Mushroom on a rainy day: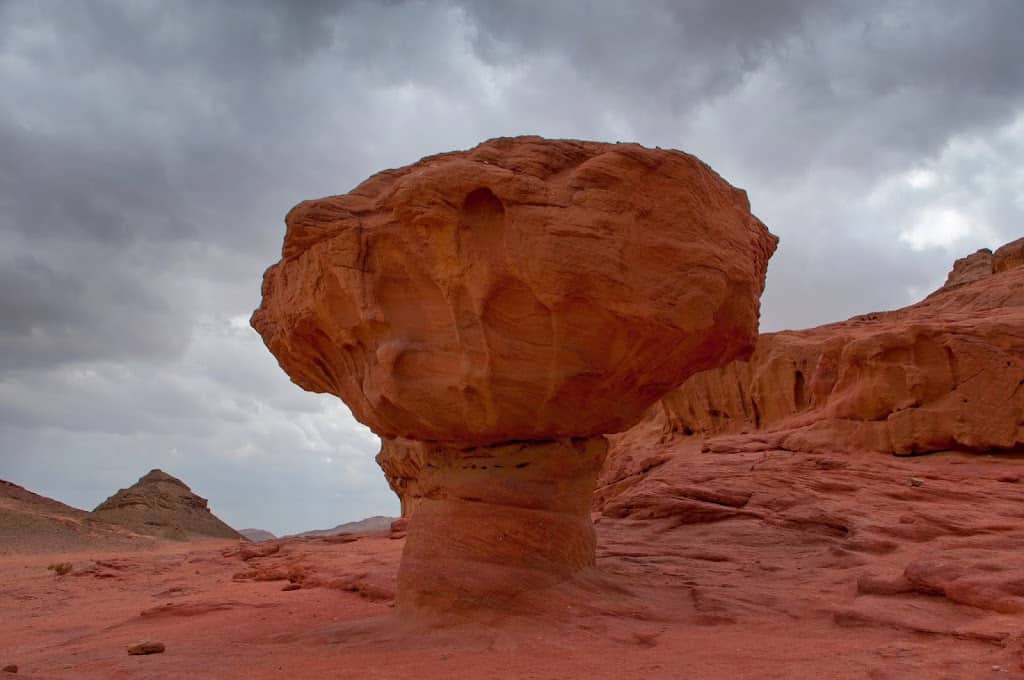 The Arches And The Ancient Mines
These sandstone arches are a unique expression of nature's creativity. The remains of the world's oldest copper mines are found nearby. Copper was the first metal human beings mined, produced and used. We invite you to enter these ancient mines and discover their secrets for yourselves.
During our last visit, we skipped The Arches And The Ancient Mines. And as I found out while preparing this post, I do not have decent photos from there. Thus I will only say that this point of interest is similar to others, and if time allows, do not skip it.
The Chariots
Two rock engravings from the 14th – 12th centuries BCE that depict human activity and wildlife in ancient ears. On the wall inside a small ravine are drawings of Egyptian chariots alongside a hunting scene. In the visitor center, you can observe various rock engravings that were found in and around Timna.
In this area, two works of rock art were found. "The Chariots" and the "Ibexes." Both are dated by the researcher Rothenberg to the period between 14th and the 12th centuries BCE. During this era, there was increased activity in the valley by Egyptian expeditions. However, the artists who painted "The Chariots" and the "Ibexes" are assumed to be locals and not Egyptians.
The view on the hike.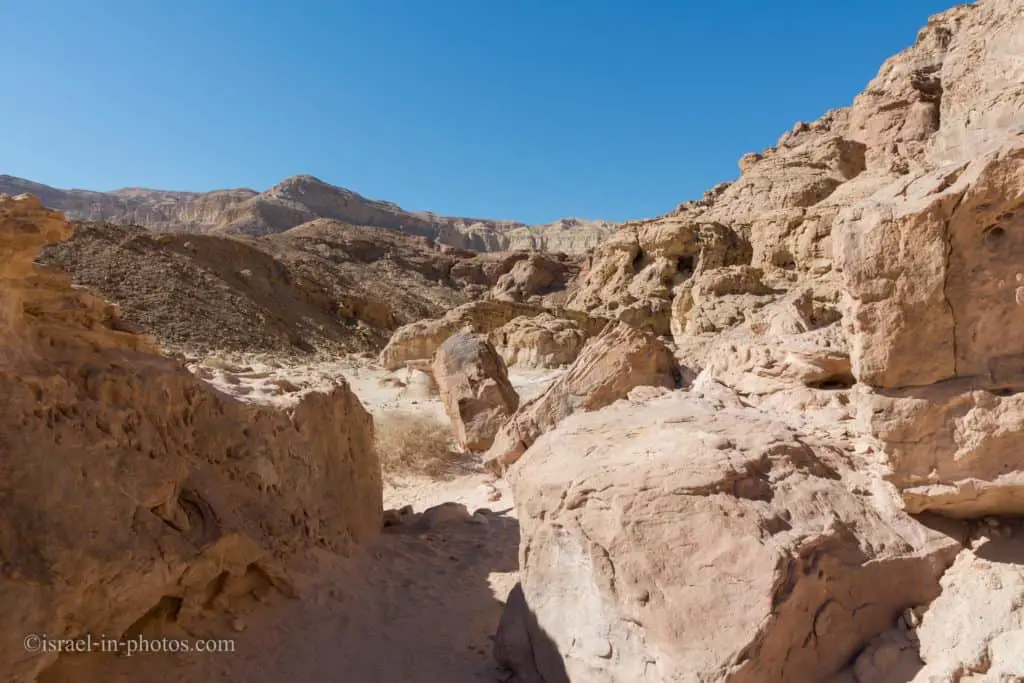 "The Chariots":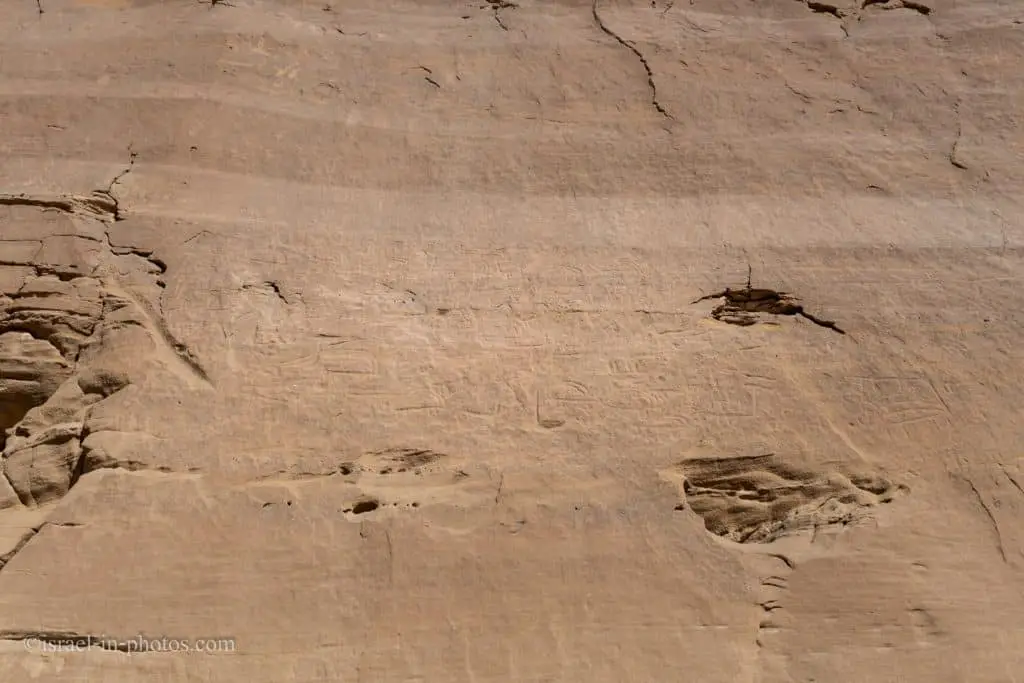 Quite hard to see under the blazing sun, so let's go to the second rock artwork.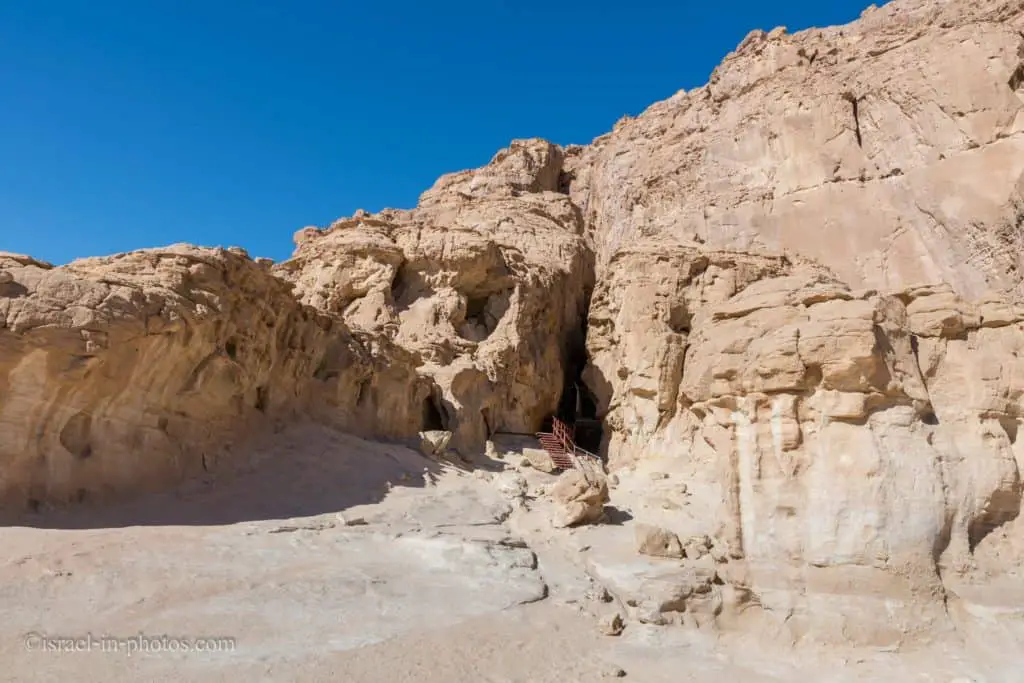 The "Ibexes":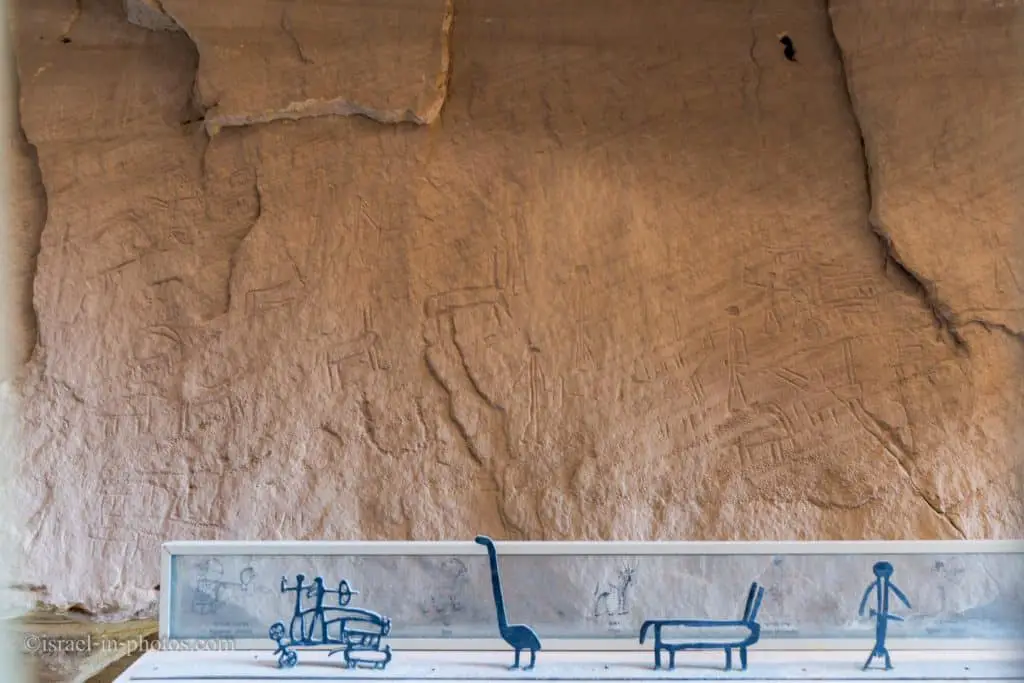 Solomon's Pillars And Hathor Temple
Our last stop at that visit to Timna was Solomon's Pillars.
In reality, there is no connection to Solomon. The name originated from a theory that the copper mines in this area were part of King Solomon's activity.
These sandstone pillars are a natural part of the cliff wall. They are a typical landscape formation that developed as a result of erosion along cracks in the hard red sandstone. They are named after King Solomon, due to a mistaken early theory that copper mining and production were part of Solomon's activities in this area. A short walk leads to a temple dedicated to the Egyptian goddess Hathor and an ancient engraving that depicts Ramses III making an offering to Hathor.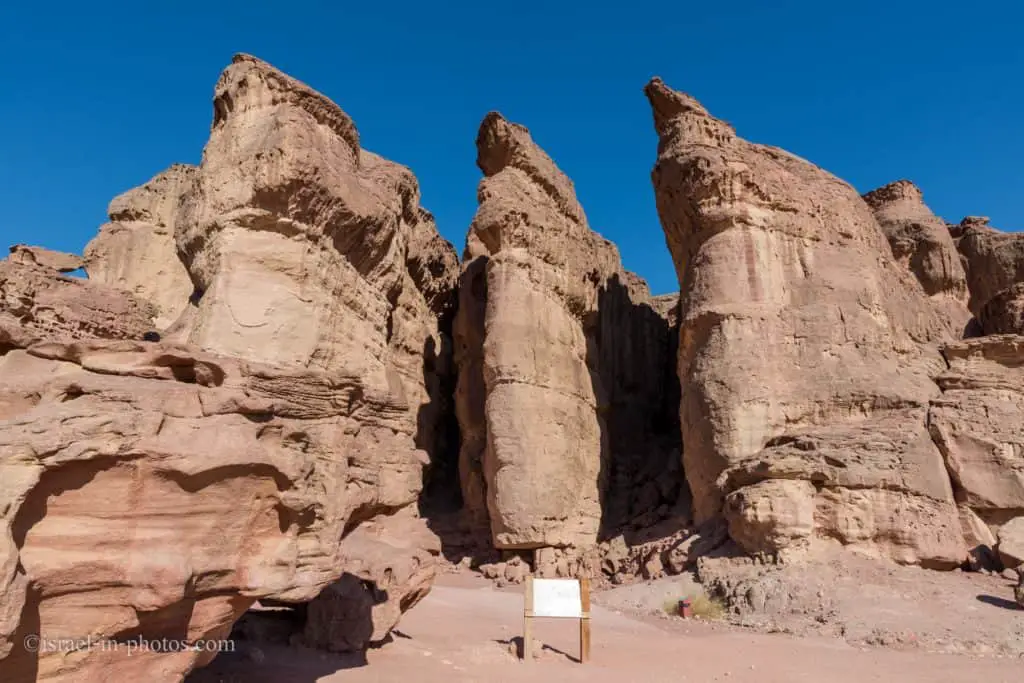 Here is a photo of Solomon's Pillars with people nearby so that you can see the scale.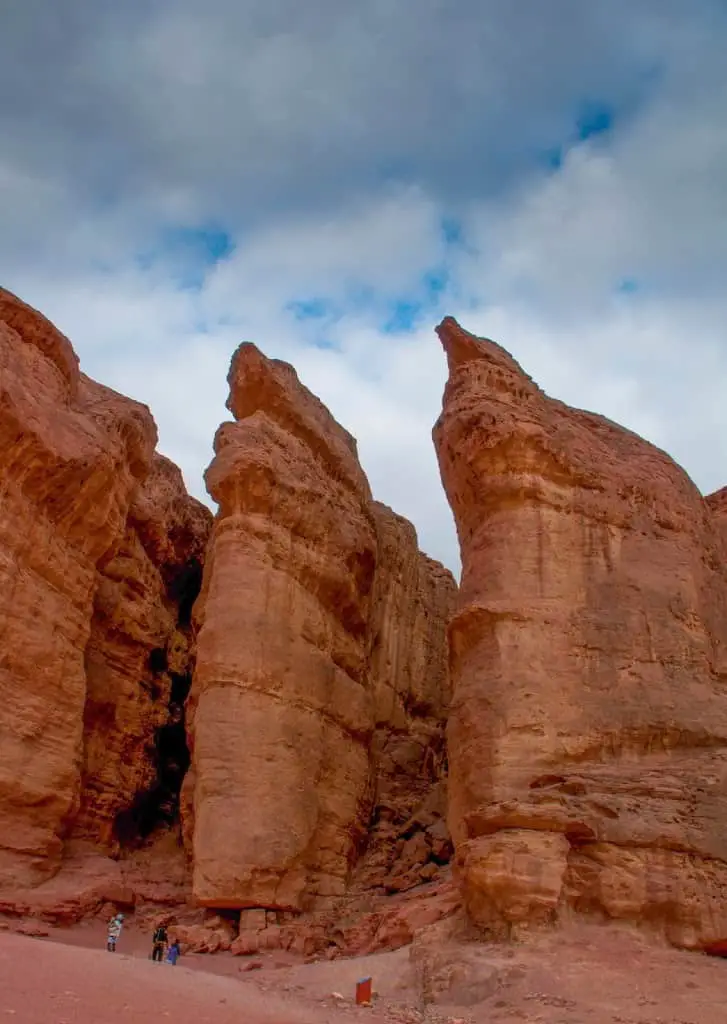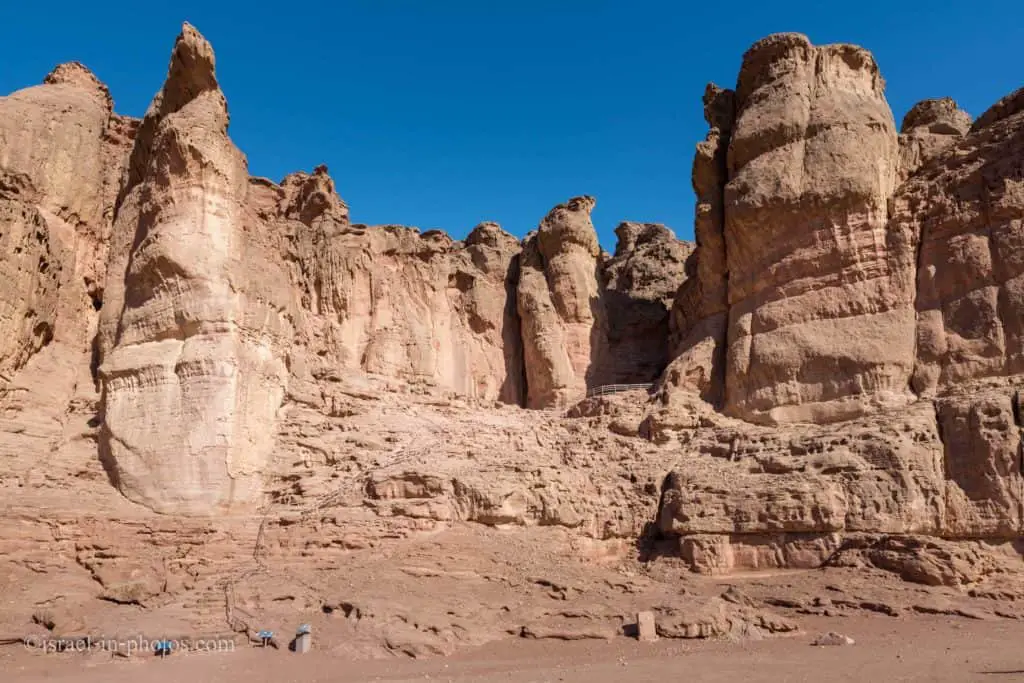 Next to Solomon's Pillars, a new route leads through Egyptian rock engravings to Hathor's Temple. If you do not want to climb all those stairs, you can go along the pillars (to your left when facing the pillars), and after several minutes you will reach Hathor Temple.
Hathor is an ancient Egyptian goddess who personified the principles of joy, feminine love, and motherhood. She was one of the most important and popular deities throughout the history of ancient Egypt. Royalty and ordinary people alike worshiped Hathor.

She was also believed to be the patron goddess of miners.
Source: Wikipedia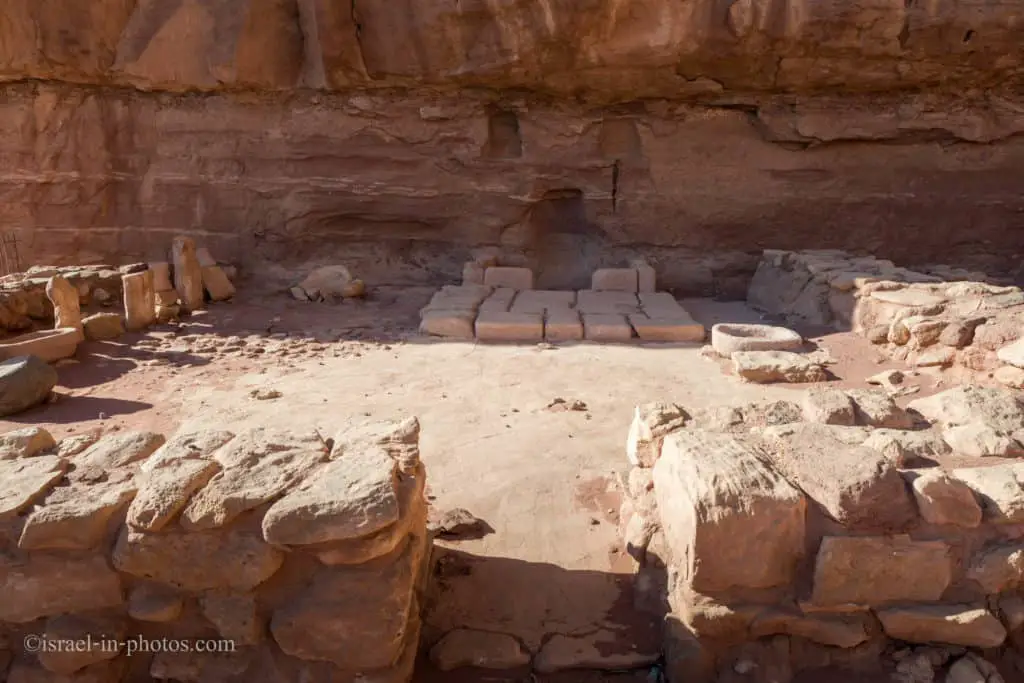 The Hathor Temple is the main ritual site in Timna Valley. And the archeological findings here helped to date the copper industry.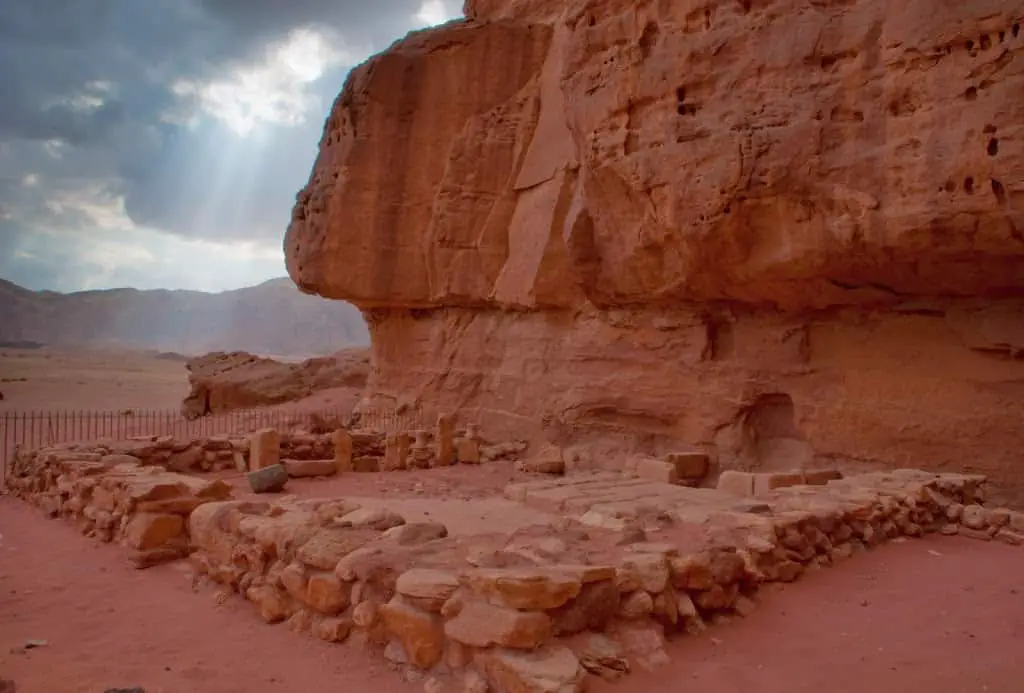 Timna Lake
Our last stop is usually Timna Lake.
Timna Lake is majestically situated at the center of Timna Park. The perfect place to relax under an acacia tree and enjoy the dramatic surrounding landscapes during the day and evening. Enjoy shaded seating areas while your children enjoy playing in the park's playground, rent a paddleboat or fill miniature bottles of colorful sand to take home as a souvenir of your visit.
King Solomon's Khan restaurant is located on the banks of the lake and offers a range of thirst-quenching beverages and tasty traditional dessert cuisine. Pop into our souvenir \ convenience store, selling a variety of souvenirs and daily use products.
You can find bicycle rental, camping site, restaurant, souvenir shop, and The Tabernacle near the lake.
The Tabernacle
Near the lake, you can visit one of Israel's most exclusive sites, the Tabernacle Tent.
An accurate and authentic life-size replica of the biblical tabernacle, used by the Israelites in the years they wandered through the desert, according to how it is described in the Bible. The visit is by appointment and entails a fee.
We have not visited The Tabernacle yet. And the main reason is that as far as I remember, the paddleboats, the restaurant, and The Tabernacle are all closed on Saturdays. And we usually stop at Timna Park on Saturday (the last day of the weekend) on the way home.
Related Attractions
Eilat guide suggests other nearby attractions, like the Red Canyon, Underwater Observatory Marine Park, and Dolphin Reef. There is also Hai-Bar Yotvata Nature Reserve, and further to the north, you can find Mitzpe Ramon And Makhtesh Ramon.
Summary
If you have never been to Timna Park, then you are in for a treat. The scenery, the rocks' look (their forms and colors), looks like another planet.
Moreover, there are interesting archeological finds, and there is a variety of hiking and cycling trails. And to top all of it, there are tours and events. So what are you waiting for?
Have you ever been to Timna Park? Tell us about your experience in the comments below.
That's all for today, and I'll see you in future travels!
Stay Tuned!
Additional Resources
Here are several resources that I created to help travelers:
And if you have any questions then check out
Useful Information For Tourists To Israel
.  
Did not find what you were looking for? Leave a comment below, and I will do my best to answer your questions.