This page lists Eilat's best cheap, luxury, and regular hotels. You can also find answers to the most common questions.
Note: I photographed the featured photo during an evening walk in Eilat. And it is a photo of the Queen of Sheba Eilat hotel.
Before going over the best hotels, let's answer several common questions.
What is the best time to visit Eilat?
You can visit Eilat all year round, but it gets boiling in the summer and is expensive during the Jewish holidays. Hence, I usually prefer visiting from October to April, not during Hanukkah or Passover.
Note: you can find additional information about the weather in Eilat below.
If you plan to visit other areas in the country, see: What is the Best Time to visit Israel?
What is the best area to stay in Eilat?
Eilat is not a big city, and it does not matter where to stay if you have a car. If you are traveling without a car, I suggest staying in one of the neighborhoods near the city center and the north beach. Examples: Hotels Zone, Merkaz, Tsofit, and Amdar.
There are also hotels near the west shore, but they are located outside the city. You can stay there if the main goal of your trip is snorkeling or scuba diving. But remember, you will have limited options (very few stores and restaurants) near the hotel.
Note: the tables below list neighborhood names or West Shore.
In the following three sections, we will go over the best luxury, regular and cheap hotels.
Best Luxury Hotels in Eilat
Notes to all tables:
You can filter and sort the table by values.
The price column only gives an estimation and might differ from actual rates. Prices were calculated based on December rates (checking about a month in advance). The price is an average of three weekdays for a couple.
See the location column to see the neighborhood name if it is located within the city or West Shore otherwise.
All the tables on this page contain only hotels with ratings of 8+ on Booking.com (and at least fifty reviews).

The tables contain affiliate links to Booking.com.
Best Hotels in Eilat
Best Cheap Hotels in Eilat
If you are looking for the cheapest solution, I suggest including apartments, guesthouses, and hostels in the search. Here are the best ten cheap hotels and flats in Eilat. The first six are hostels, guesthouses, and apartments. And the last four are hotels.
From my experience, including other property types is especially important for families. For example, on one of our visits to Eilat, we booked a four-room apartment at a third of the hotel's room price.
Annual Weather in Eilat
Monthly Average Amount of Rain
Here is the monthly average amount of precipitation: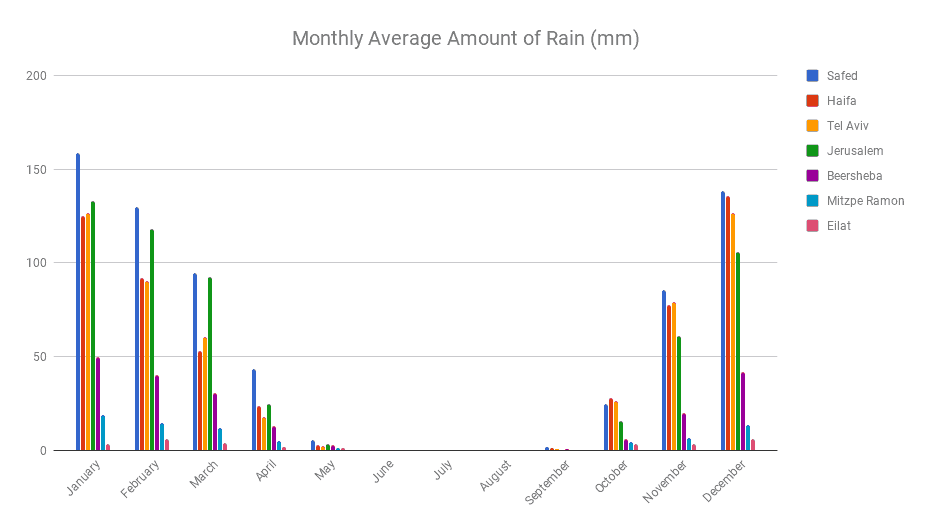 As you can see, there is almost no rain in Eilat. Thus, you can visit the city all year round.
Temperature
And now, let's look at the temperature: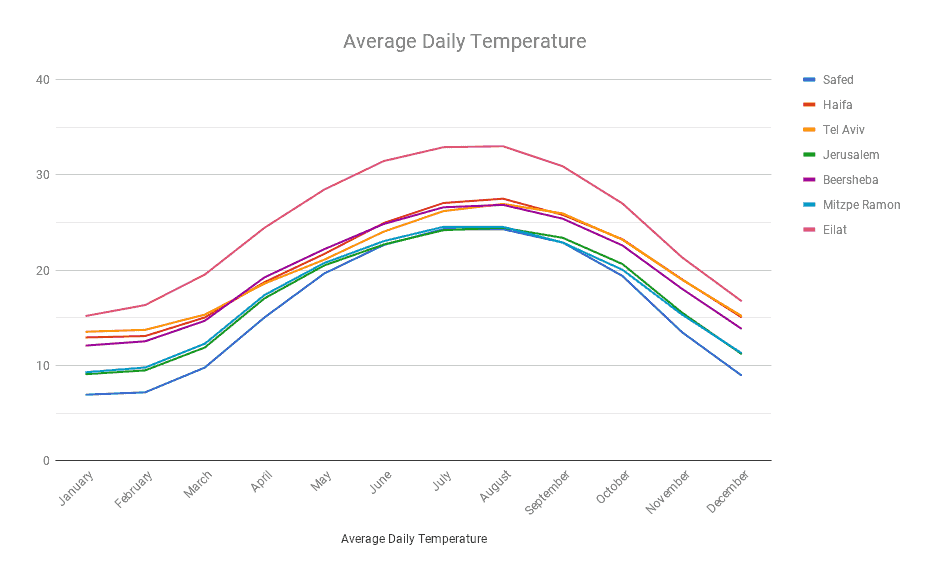 The red curve shows temperatures in Eilat. And on average, the temperature will be above 30 degrees C from June to September.
Note: see Events and Festivals in Israel to find out more about where I collected this data.
Water Temperature in Eilat
Here is the 2020-2021 average water temperature in Eilat (source):
The brave can swim in the sea year-round. Most Israeli will not go into the water when the temperature is less than 25 degrees C. I swam in the Red sea in December. It was cold initially, but you got used to it after a few minutes.
Best Things to Do in Eilat
You can find information about attractions in the guide to Eilat. Moreover, you can find additional travel ideas at Visiting Eilat During the Winter. And here is the map of the area with attractions and links to relevant articles:
Best Hotels Series
Additional related articles:
Additional Resources
Here are several resources that I created to help travelers:
And if you have any questions then check out
Useful Information For Tourists To Israel
.  
Did not find what you were looking for? Leave a comment below, and I will do my best to answer your questions.