Hallstatt in Austria is one of the most photographed villages in the world. But ancient people were drawn here because of salt.
Map
The visit to Hallstatt was part of the Austria trip (to see the entire journey check out 11 Days in Austria). And more specifically, we drove to Hallstatt from Salzburg. We decided to visit Hallstatt, a small village in the Salzkammergut region since this name kept popping up during my Austria research. Hallstatt appeared almost in all top ten attractions/things to do in Austria lists.
Map of the area:
But besides being very picturesque, the main reason ancient people were drawn to this area was salt.
Salzwelten Salt Mines
Visiting Salt Mines in Austria is a common tourist attraction. And Salzwelten Salt Mines is one of the popular ones. Thus, to skip long lines, I pre-ordered tickets online. But, as it turned out, there was no need. The groups were full, but there were no queues, maybe because it was not the peak season (our visit was in mid-April).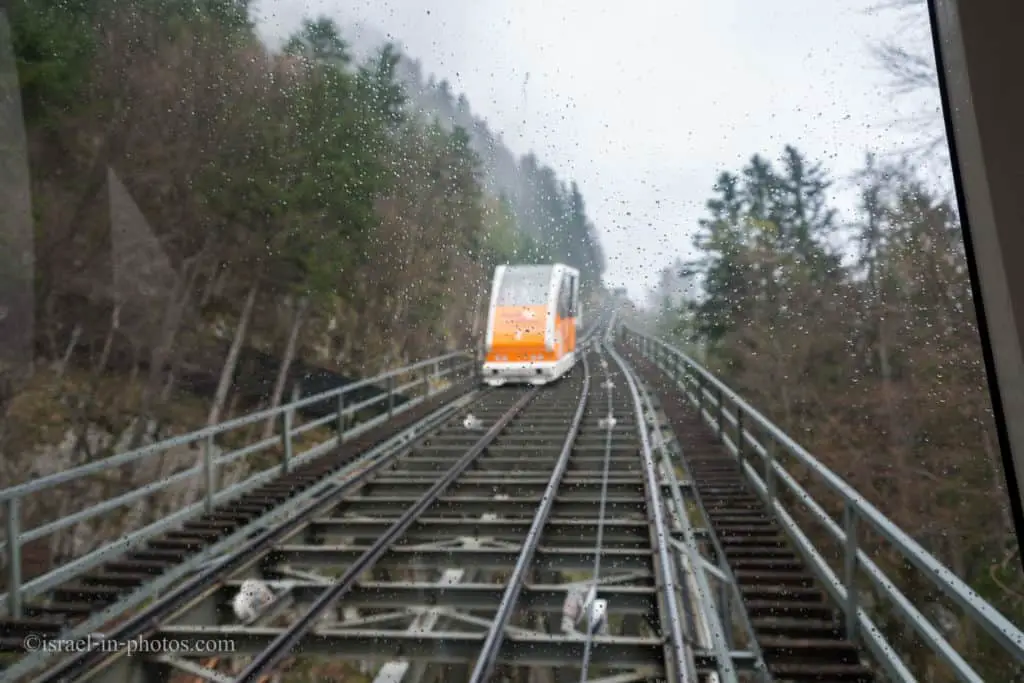 We had tickets for 11:00 (the plan was to leave Salzburg by 9:00). We reached Hallstatt only at 10:50, but the salt mines were high in the mountains. First, we took the 11:00 funicular. As far as I remember, it runs every 30 min, but maybe it is 15.
Then when you get up, you have another 10-15 min walk to the Salzwelten Salt Mines (without stopping at the points of interest on the way).
As you can see, the funicular station is #1 (at the bottom of the plan), and the tour starts at #9.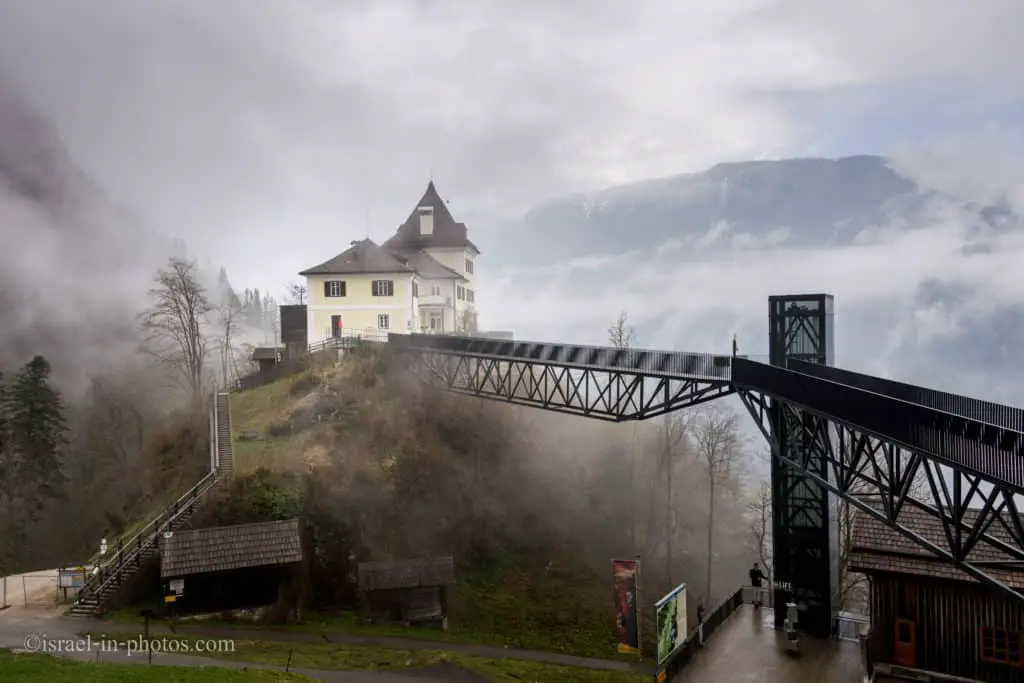 And here is the path that leads to the tour's starting point.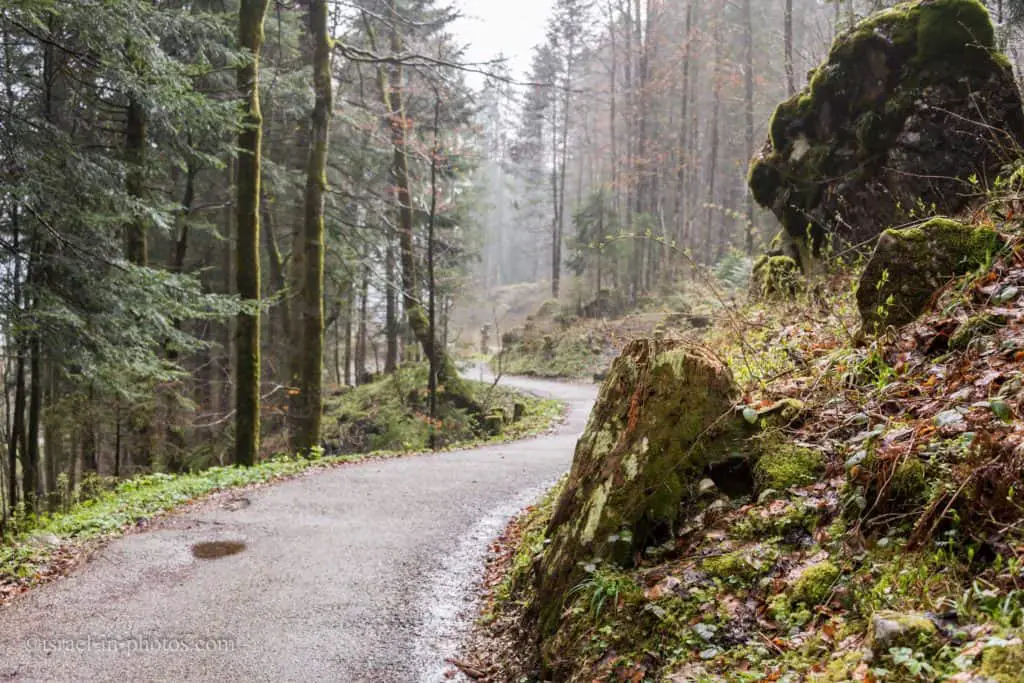 Tour At Salzwelten Salt Mines
The Salzwelten tour starts inside this building (#9).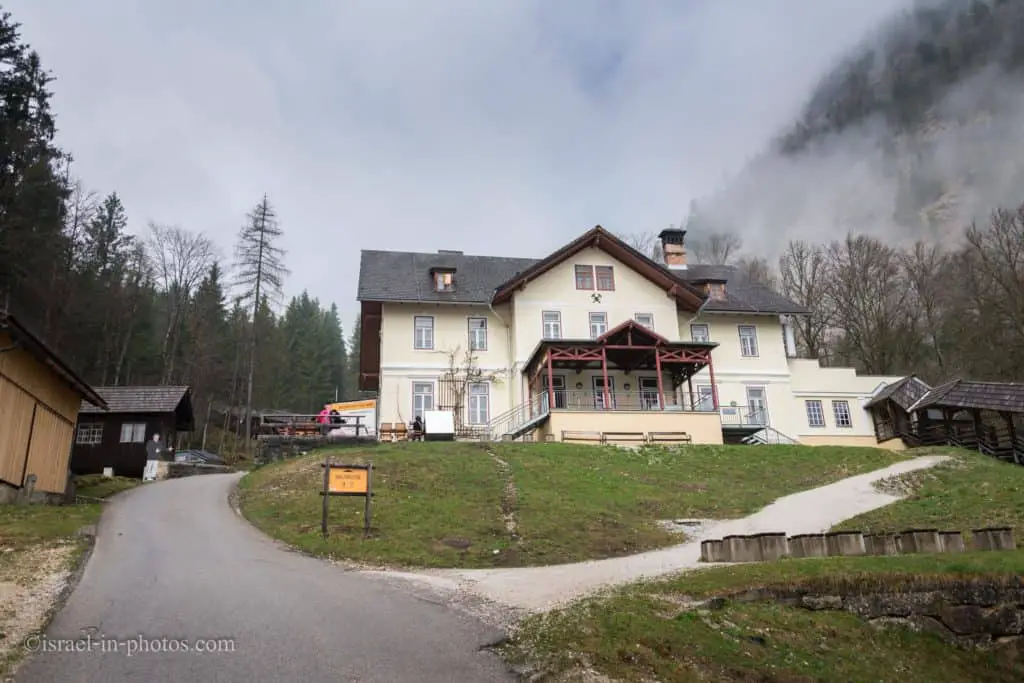 In the end, we joined the 11:30 group (instead of 11:00). But nobody told us anything.
First, the group (probably around 40 people) entered the changing room. We were asked to deposit our bags, and then each got clothes. The clothes were a pair of big pants and a shirt. We put these clothes on top of our clothes. I guess that the primary purpose is to keep your clothes clean.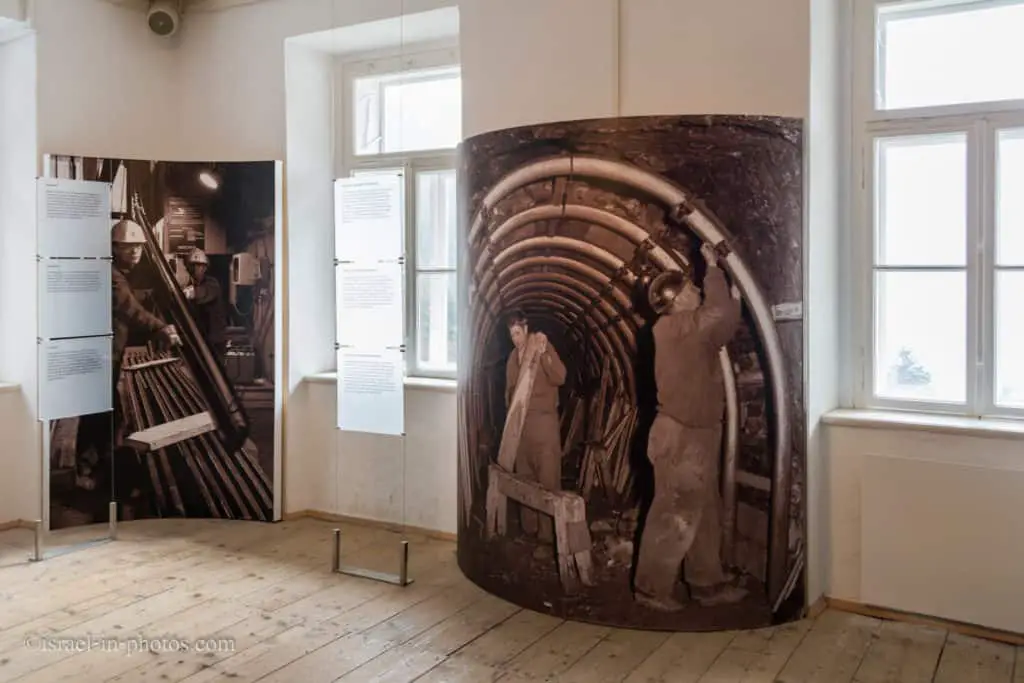 After adding a clothing layer, we passed through several showrooms and climbed the stairs toward the cave.
And since I mentioned clothing, the temperature in the caves is around 10 C all year round. Thus, come in suitable clothing.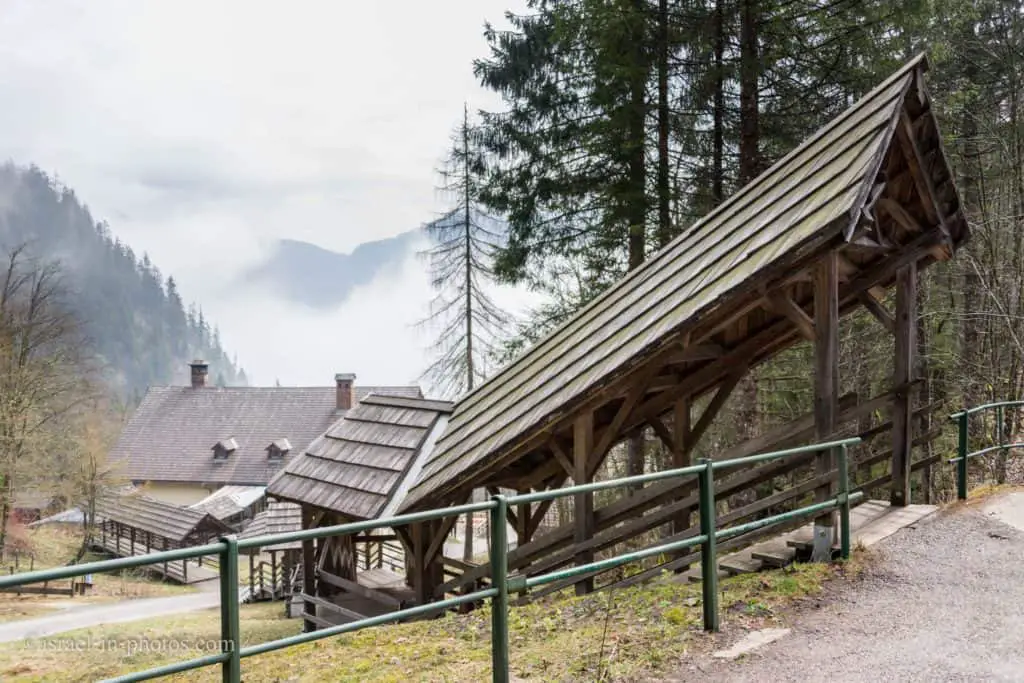 The entrance to Christina Cave has been active from 1719 until this day.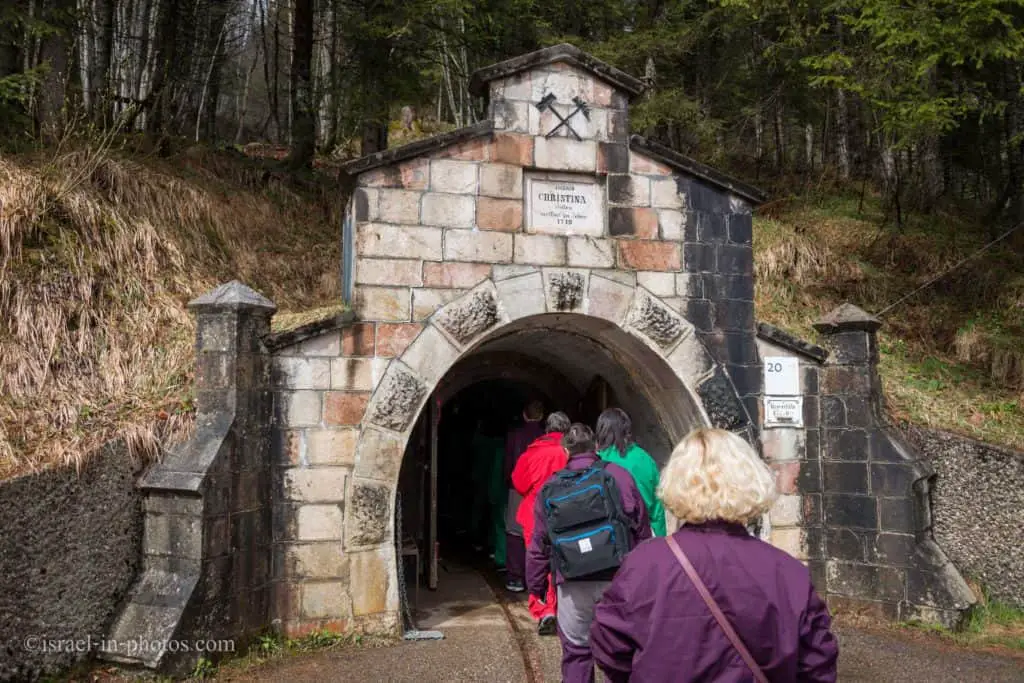 You can also see our protective clothes (each color means a different size).
Inside The Cave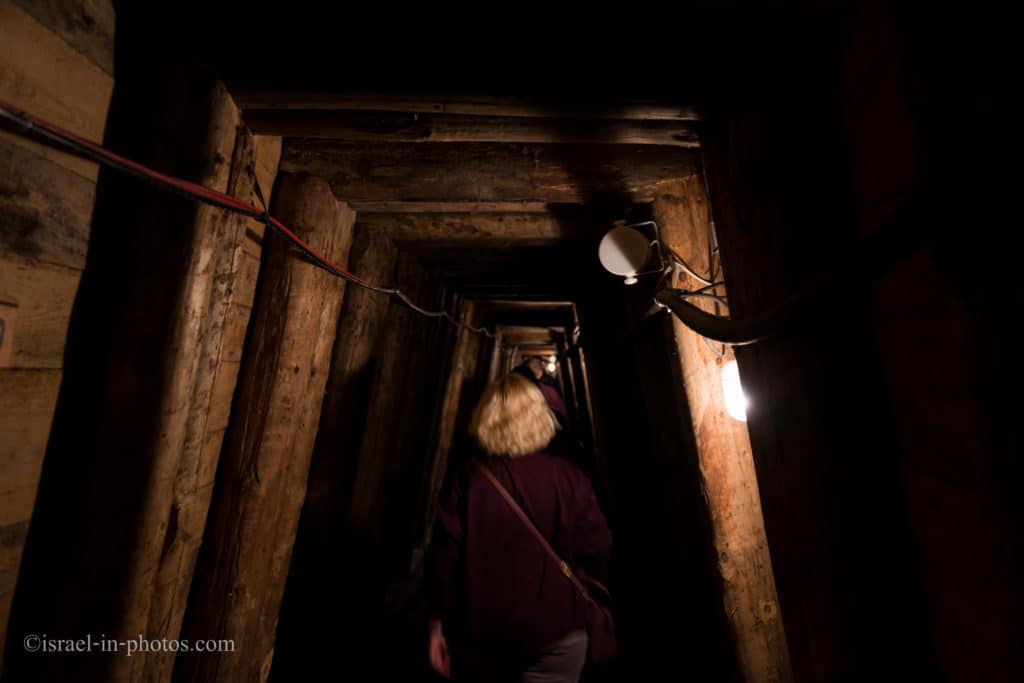 Our tour was both in English and German.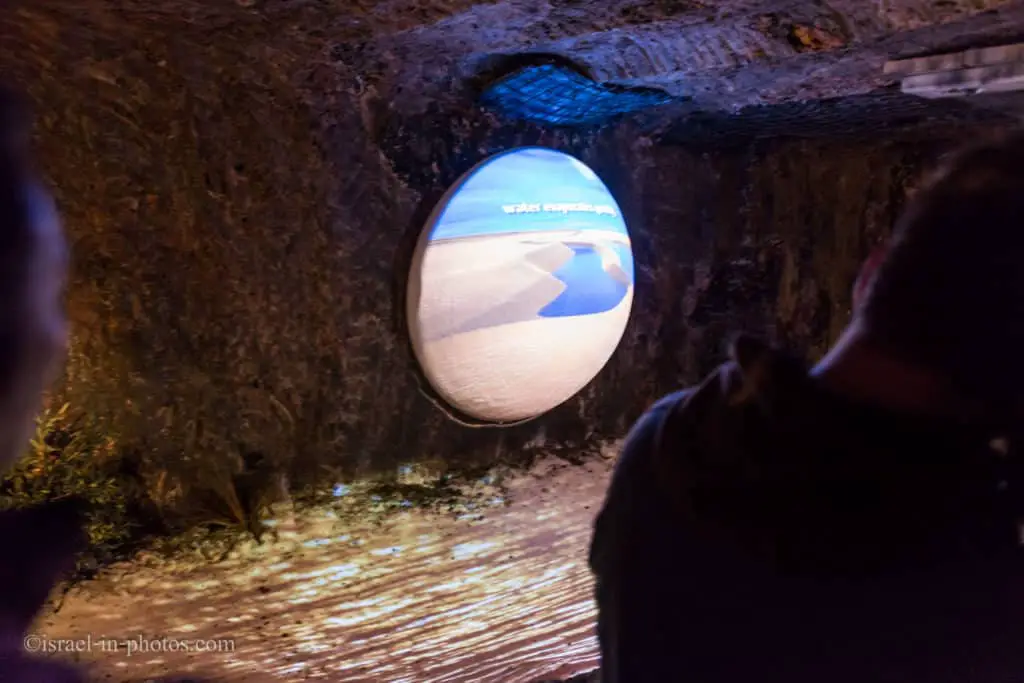 Once inside, we got various explanations, starting with how salt got into the mountains.
Many years ago, this was a sea. But as mountains formed, this area rose. So today, you got sea salt trapped high in the mountains.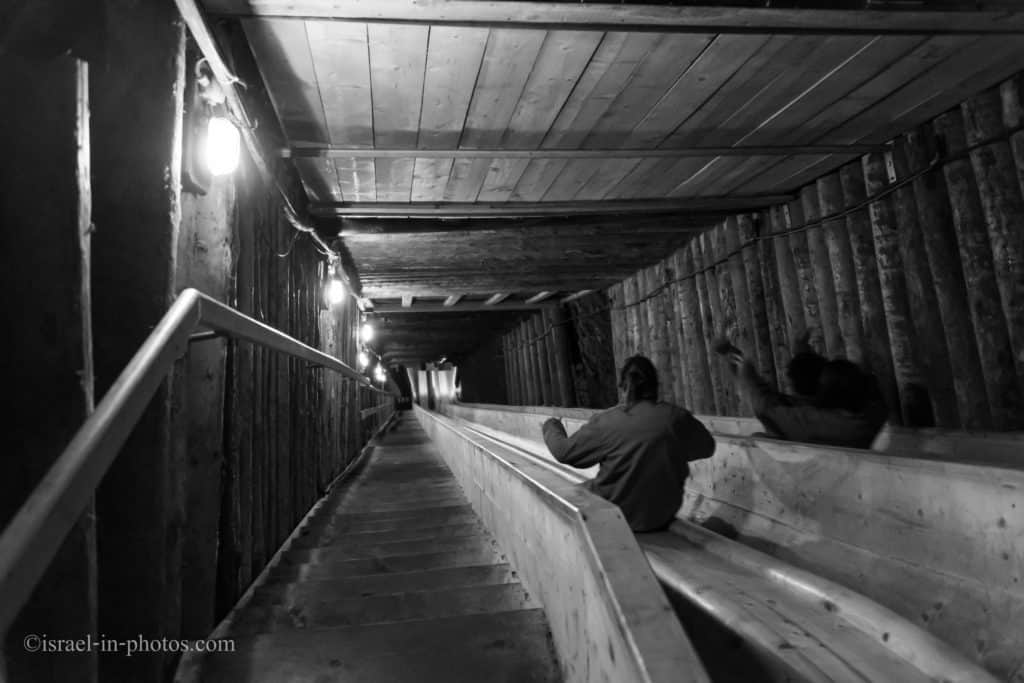 That is how miners used to go down.
You can slide alone or in pairs (handy when visiting with children).
The second slide was a little longer, with a camera in the middle. It took photos, and you can purchase your print on exit for 5 euros. There was also a TV showing pictures and sliding speed. Most people slid down at 20-25 km/h.
Then we saw a short show about ancient people.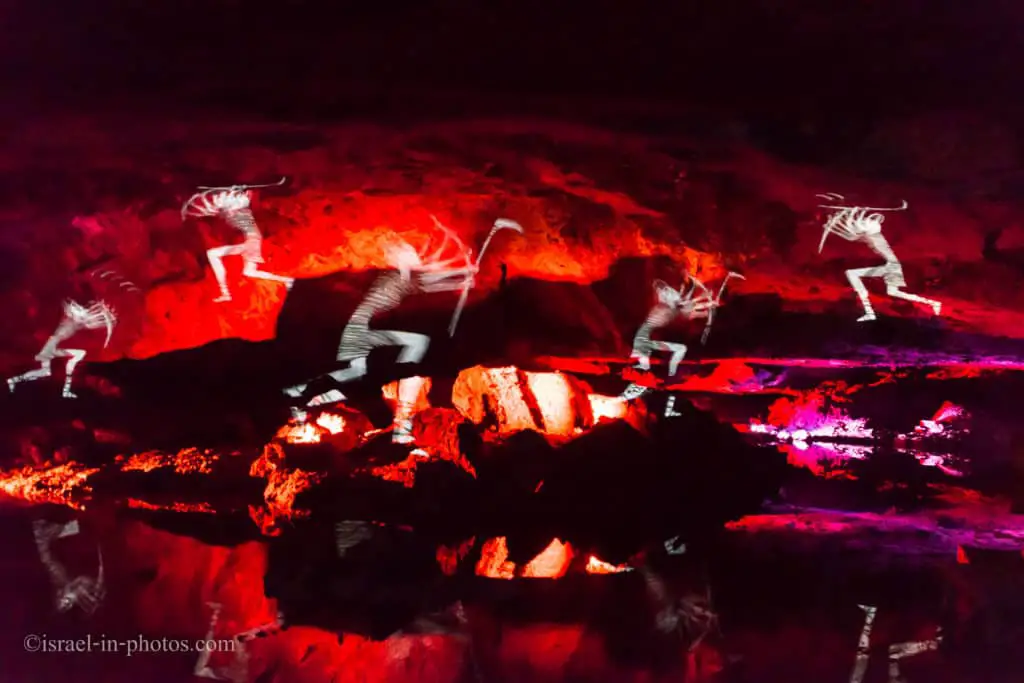 Mining Methods and Salt Usages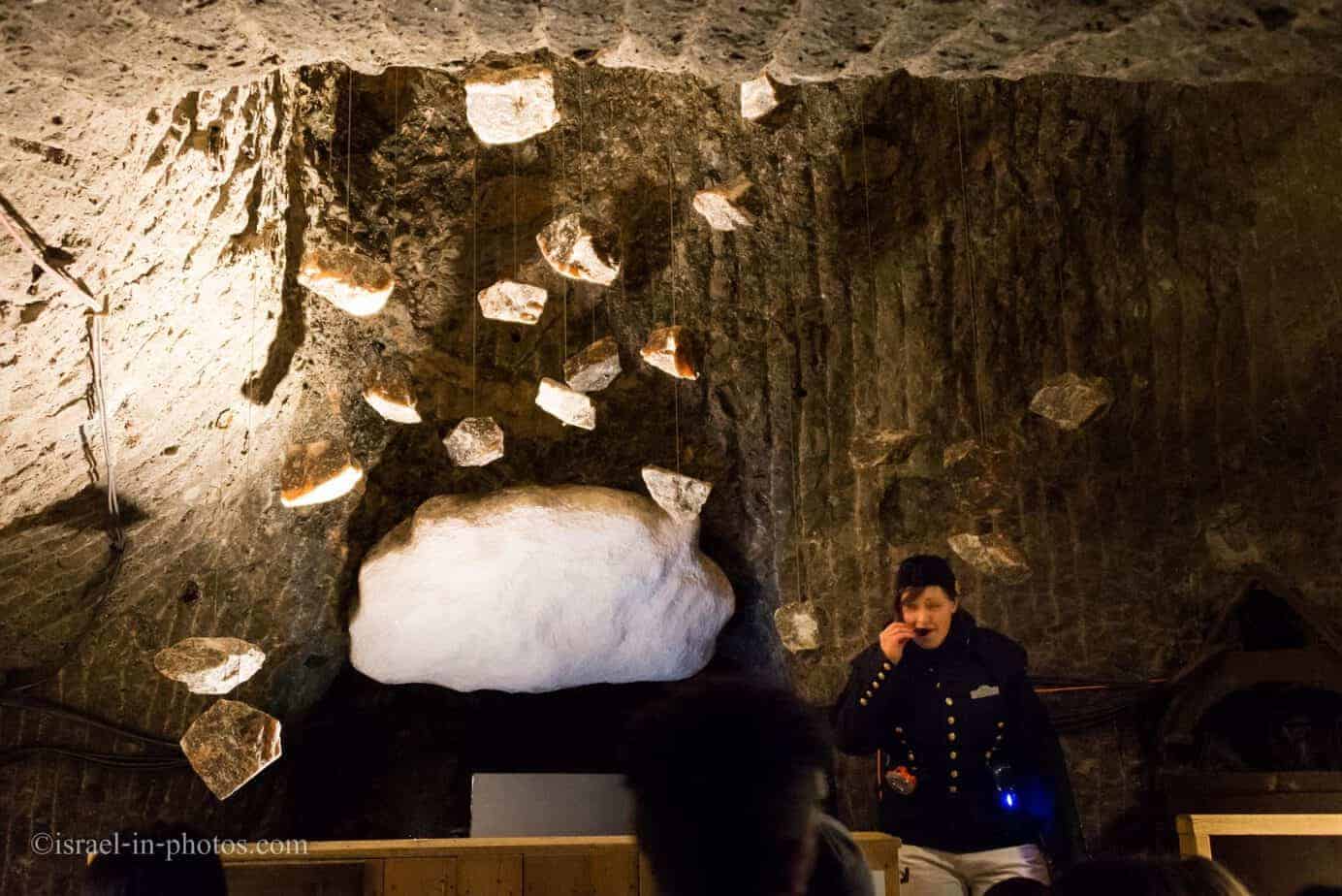 And here, our guide tells us about mining methods. There are two methods. Dry mining includes breaking stones and extracting salt blubs. Dry drilling is a tedious method, and it is no longer used.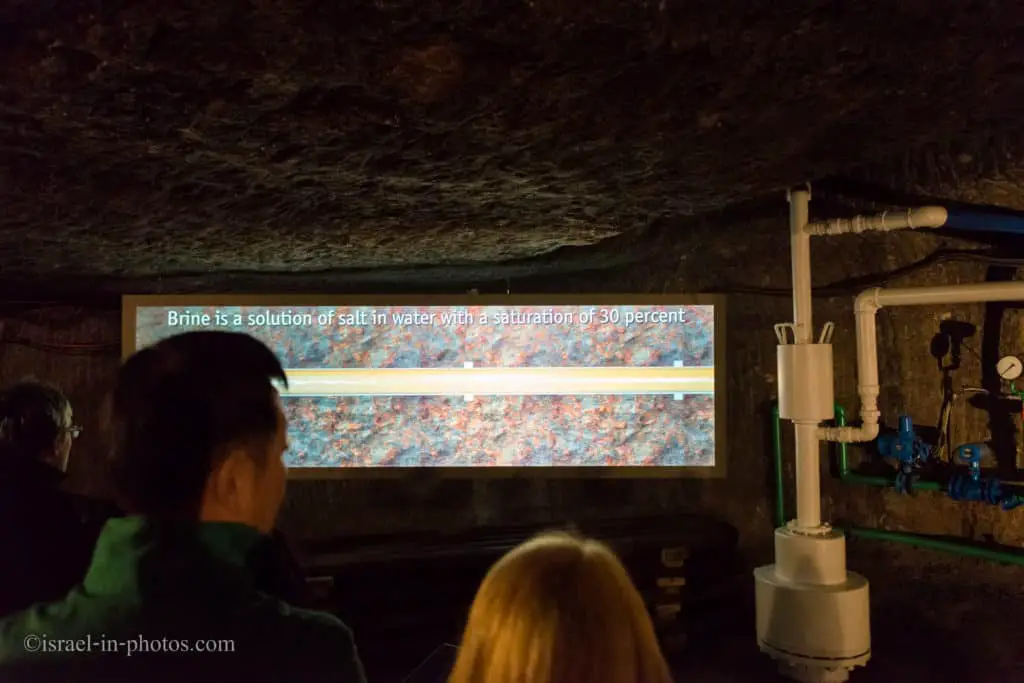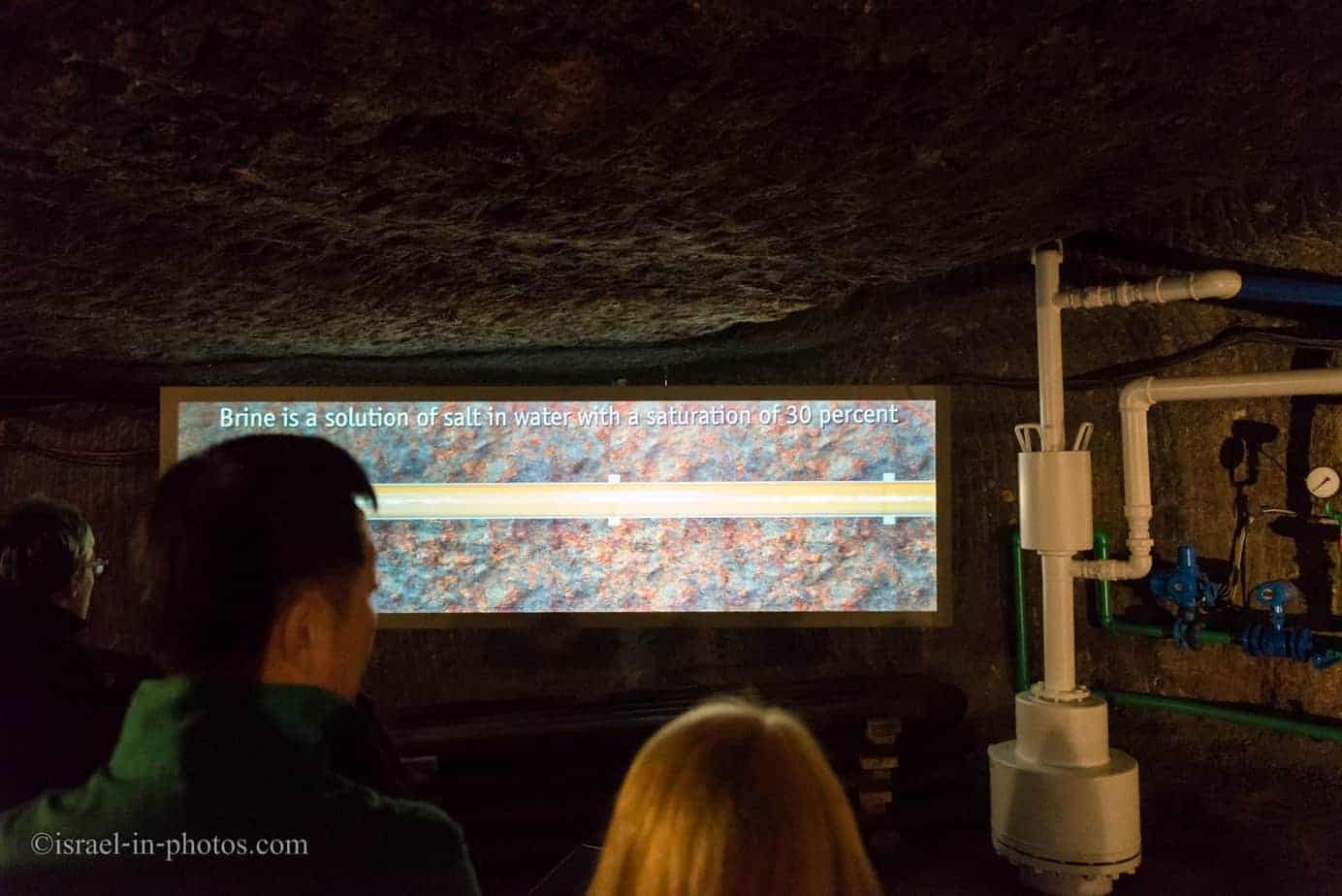 Instead, today they use wet mining. Wet mining reminds oil extraction. People dig a bore, insert a pipe, and pump water. On the other side, they receive brine (a solution of salt and water). And then they filter the salt.
Several years ago, a ladder was found in the salt mines. It is believed to be Europe's oldest wooden staircase.
Low humidity and salt helped preserve this ladder for centuries.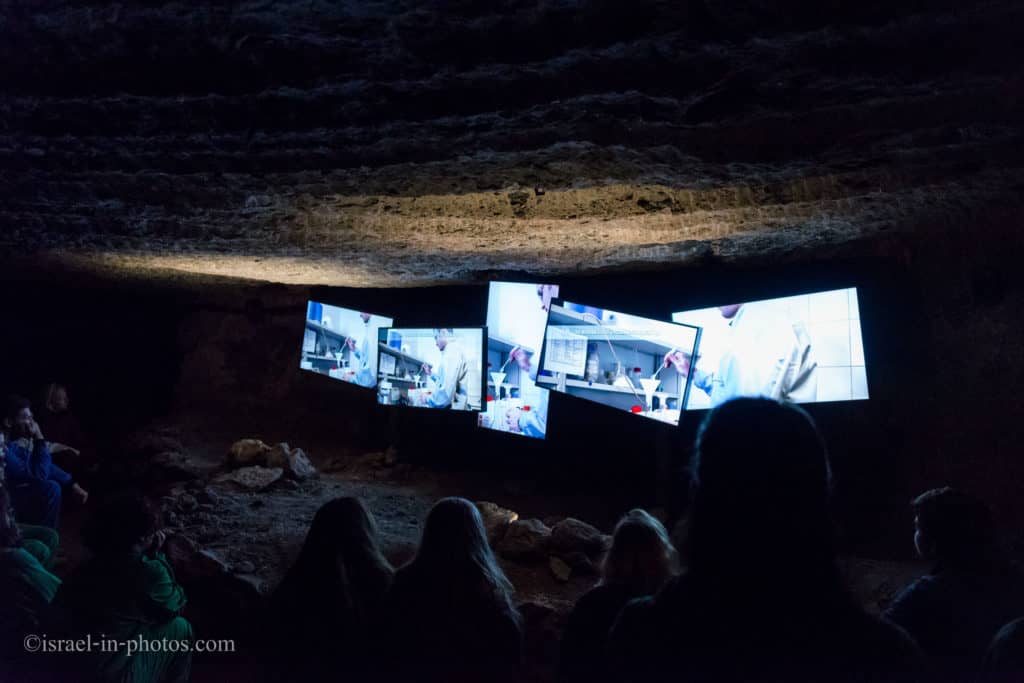 And this is another presentation we saw about modern usages of salt.
At the end of the tour, we hopped on this train, kept our heads down, and it took us outside.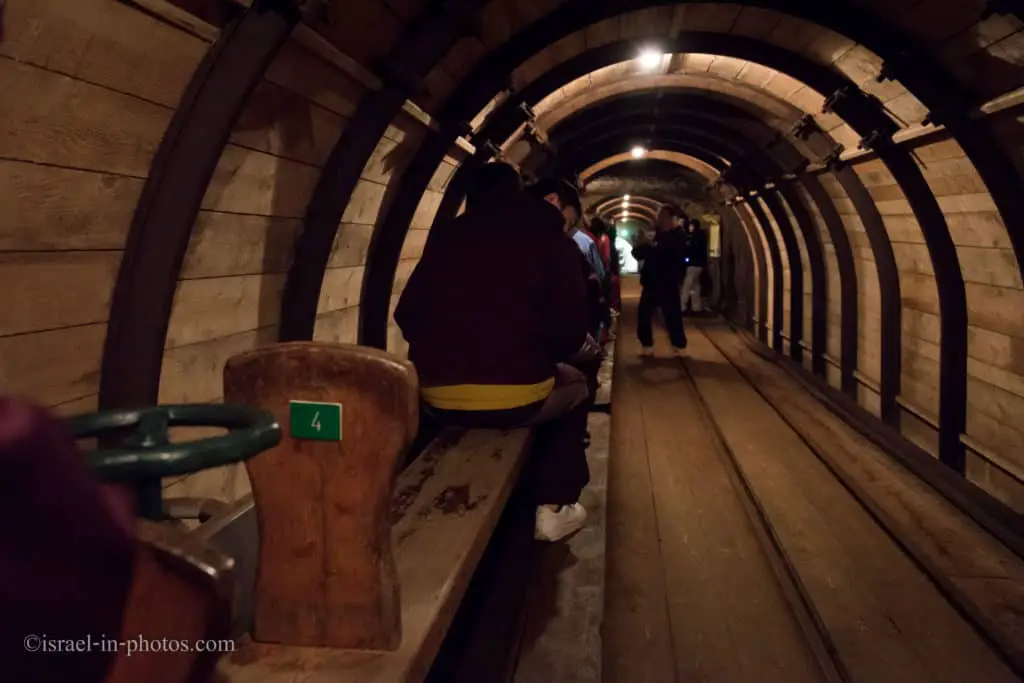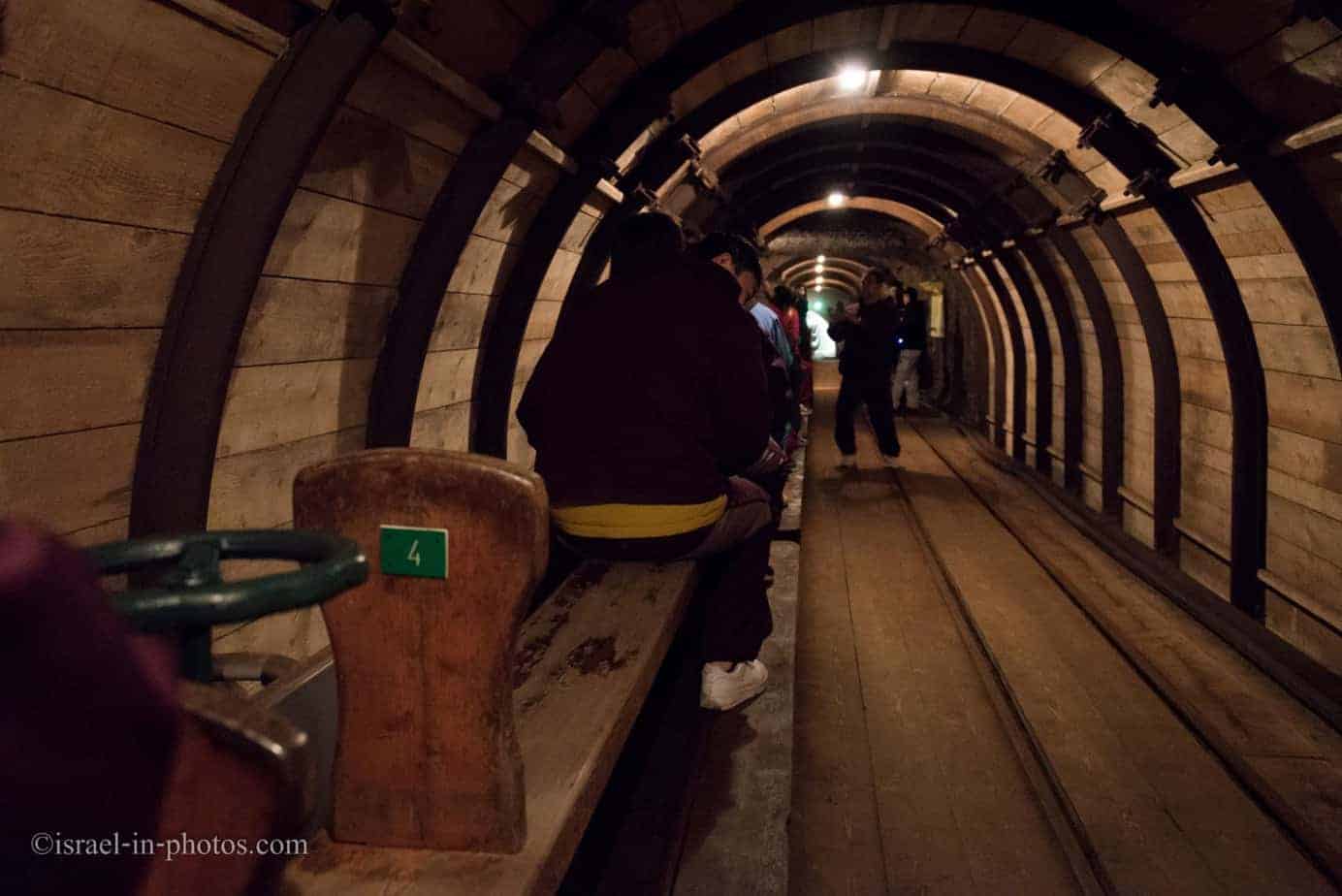 Then we returned to the changing room. We took off the protective clothes, got our bags back, and bought the photo of us sliding. Also, each of us received a 10g salt jar.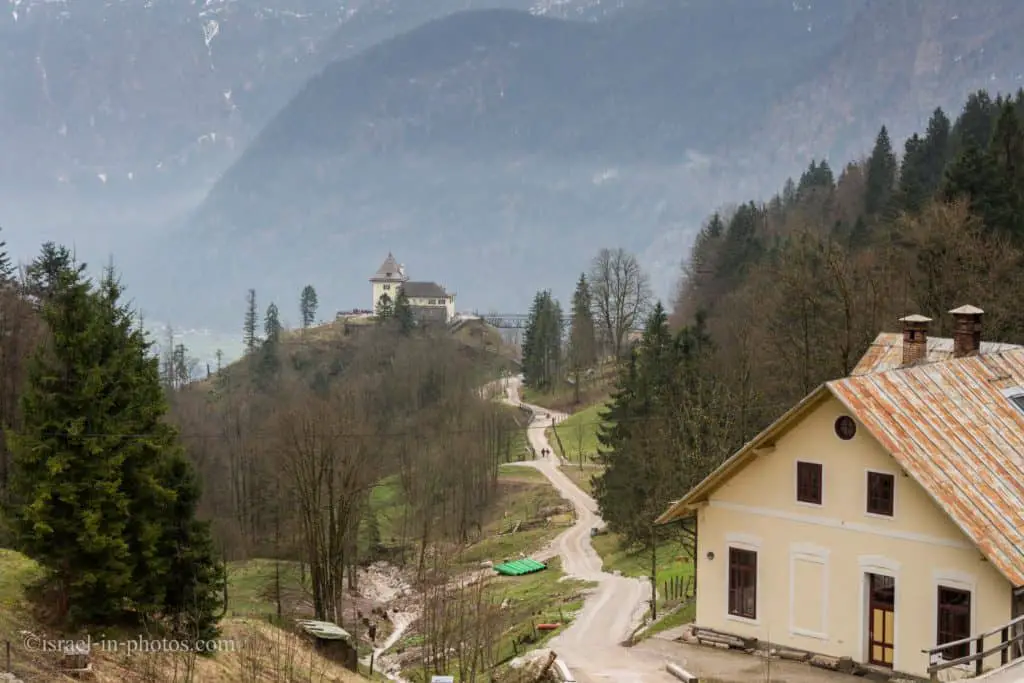 The tour was quite lovely and lasted for about two hours.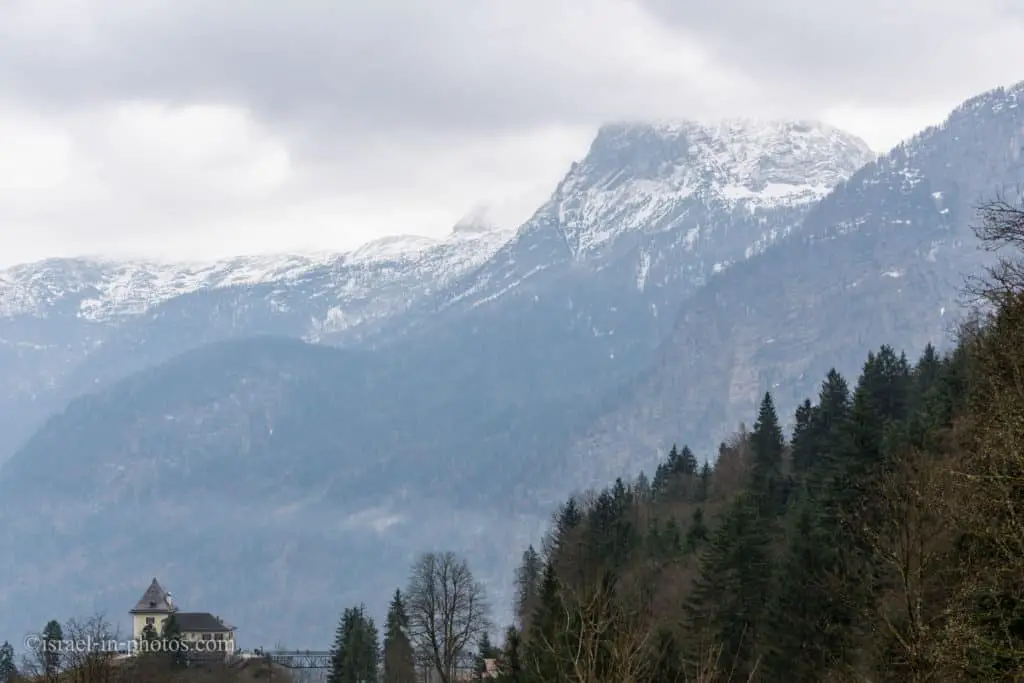 After the tour, we started walking back to the funicular.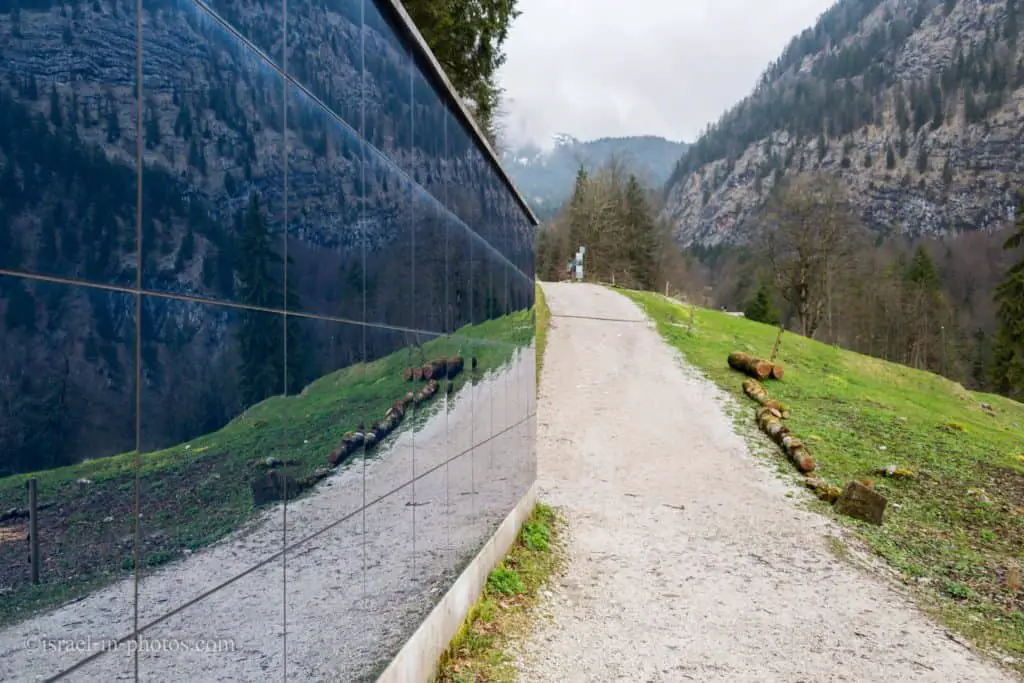 We skipped this mirrored building on the left since we were going up in a hurry. It tells the story of an ancient graveyard found on this site. It is believed that ancient people who worked in the mines were buried here. And since there is a lot of salt, it helped preserve both the bodies and the relics.
Skywalk Of Hallstatt
The area of the panoramic elevator (#2), the restaurant (#10), and the lookout platform (#11) is called Skywalk of Hallstatt.
Skywalk presents beautiful views of this area. Here is a picture of the restaurant.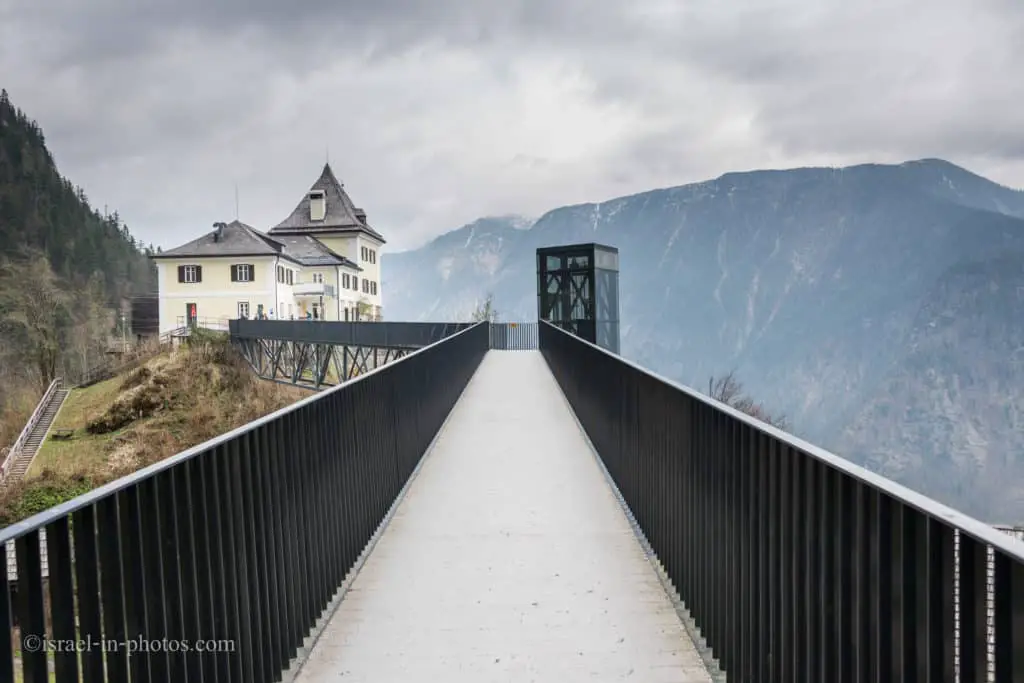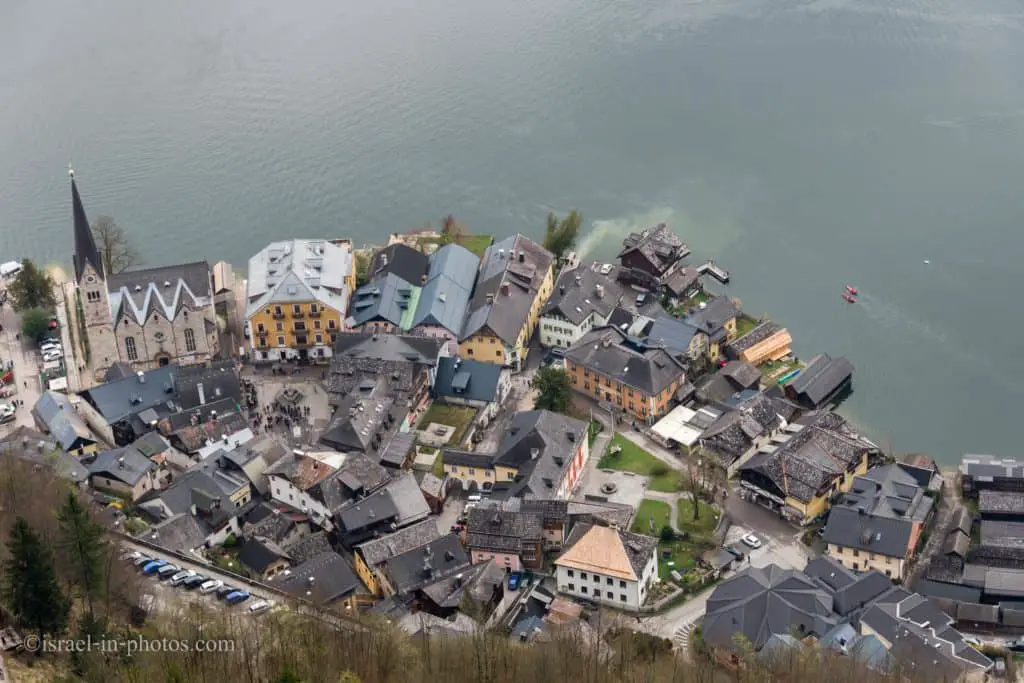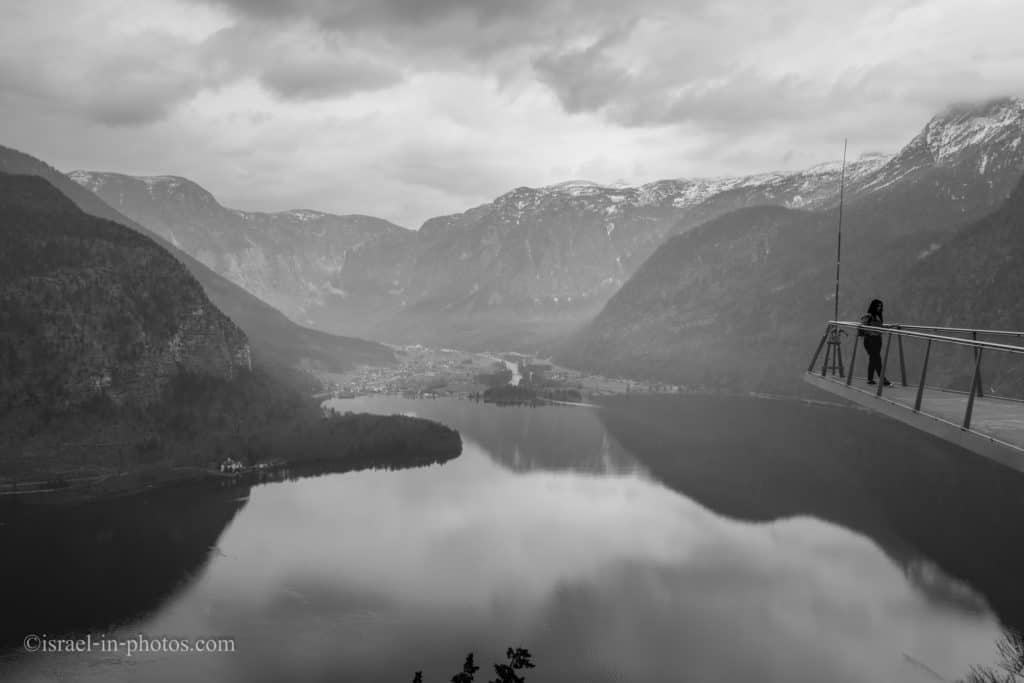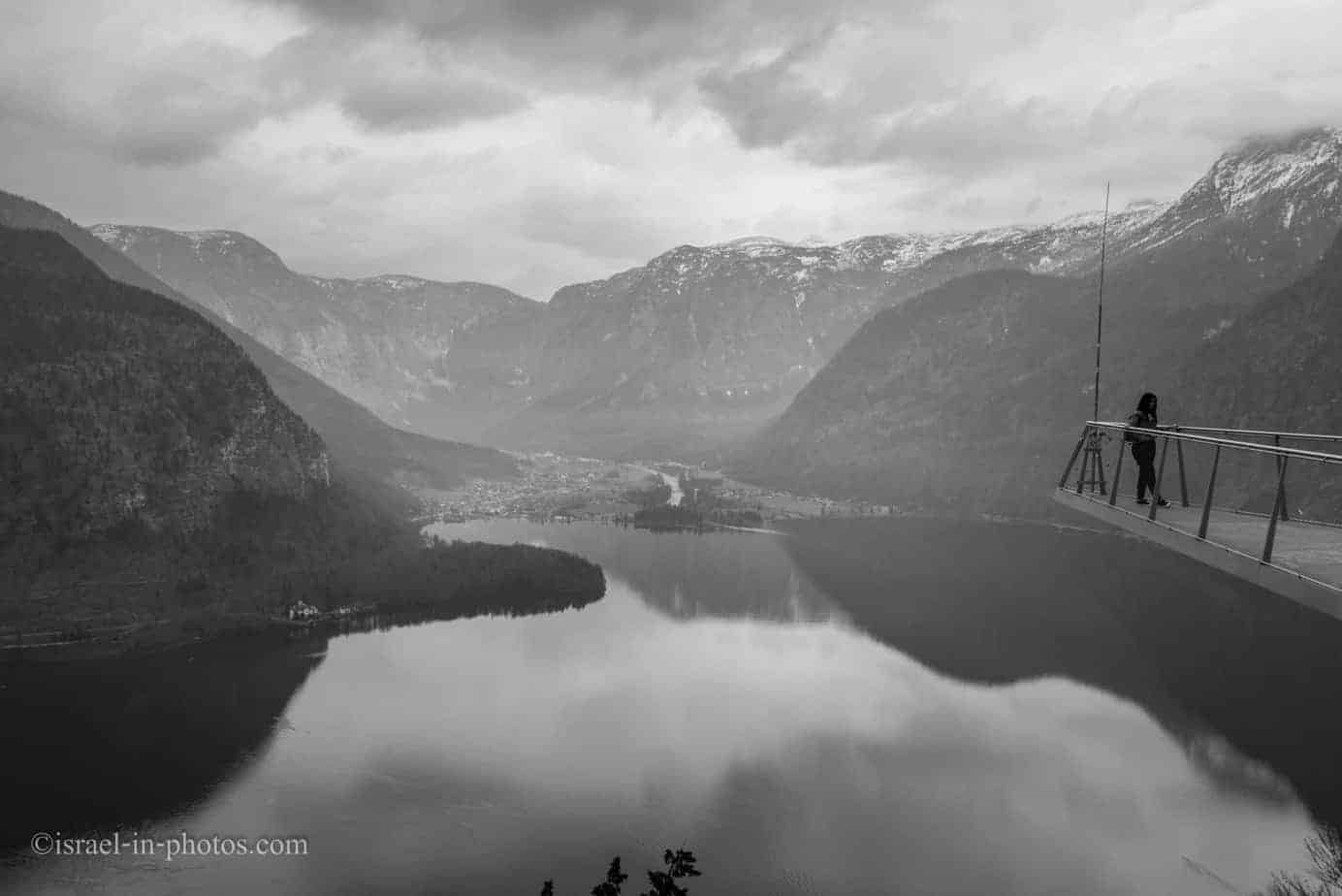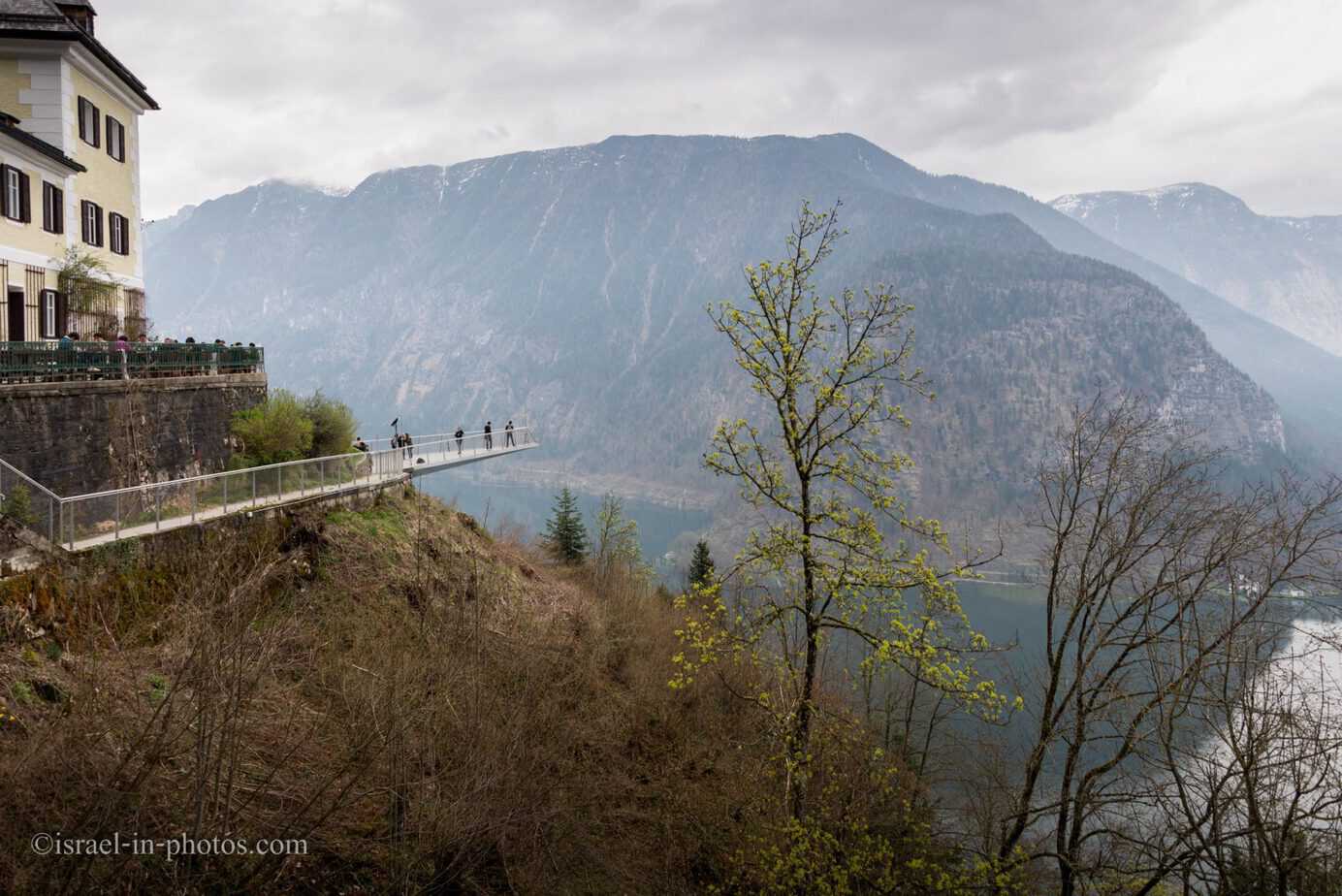 When we reached the funicular, I realized I had made a mistake. At the end of the tour, I threw away the tickets, but we needed them to go down. Luckily I had the file on my phone. And after several attempts at attaching my phone's screen to the scanner, it worked. So please do not repeat my mistake and keep the tickets till you get down.
Parking
I have not mentioned before, but when we rushed to Salzwelten Salt Mines, we left our car at a paid parking lot at Hallstatt's southern end. Its address is Salinenpl. 4. Hallstatt is a small village with narrow roads. Thus I would not recommend driving inside. Moreover, since the car parking, funicular station, and the town are all within a 10-minute walk, to visit all, you can leave the car in one place.
Thus, we did not return to the car and went towards the town center when we got down.
Getting a little ahead, but as long as we are on the topic of parking, I should mention that the parking cost was about 8 euros for almost the entire day.
In Hallstatt
Hallstatt is a tourist place, and many stores and services are aimed at tourists. But the nice thing is that you can also find handmade souvenirs.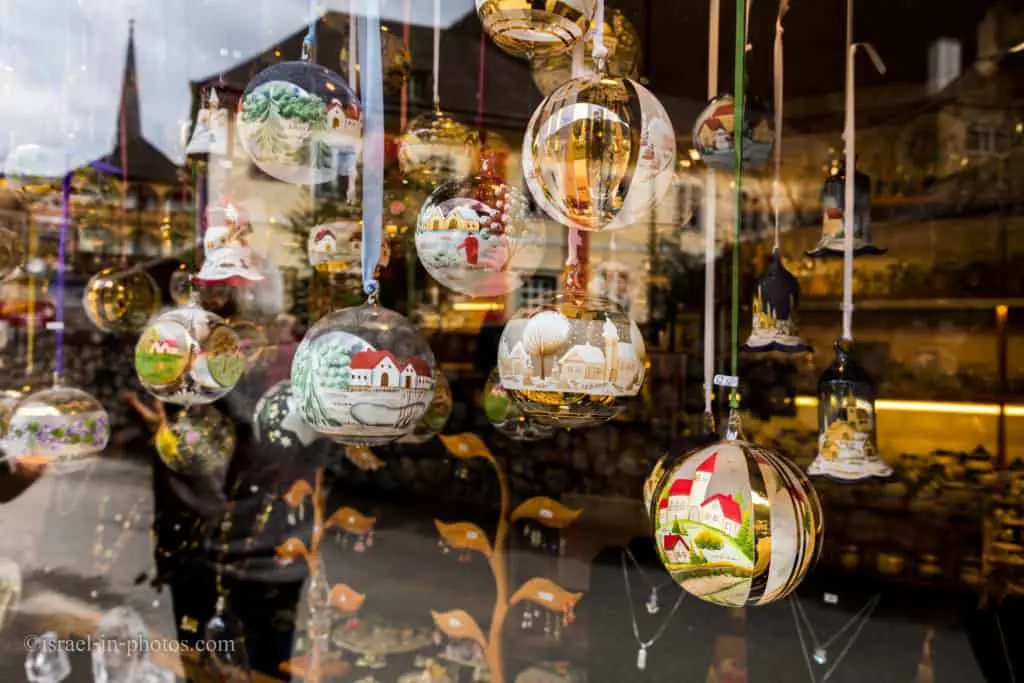 An interesting thing we saw several times in the village is the trees attached to houses.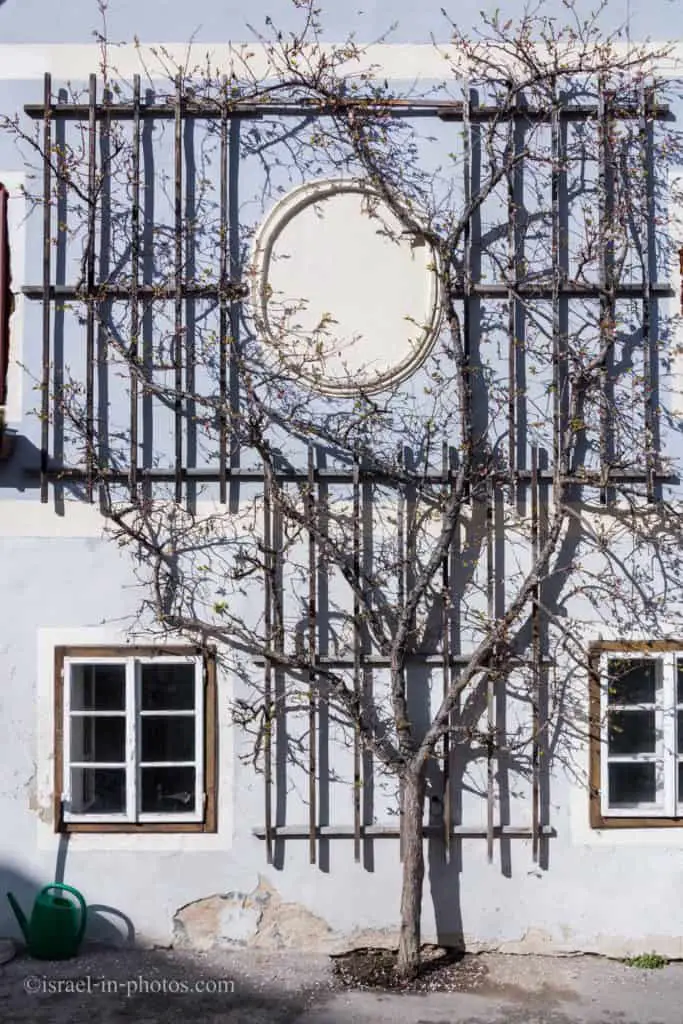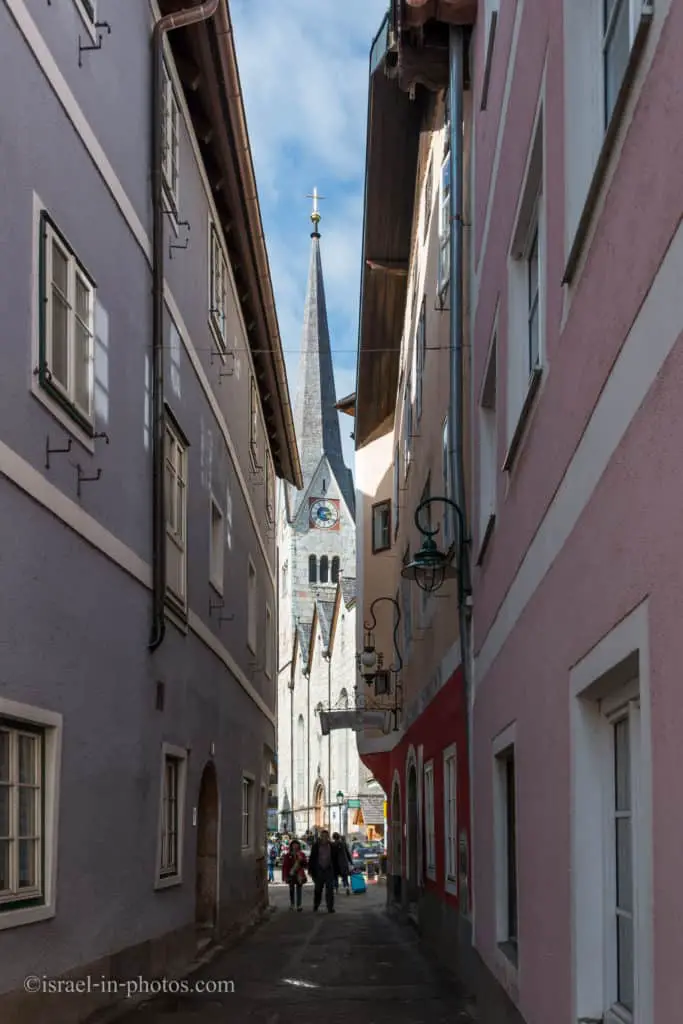 After some climbing, we reached the graveyard next to the Catholic parish church (in the background):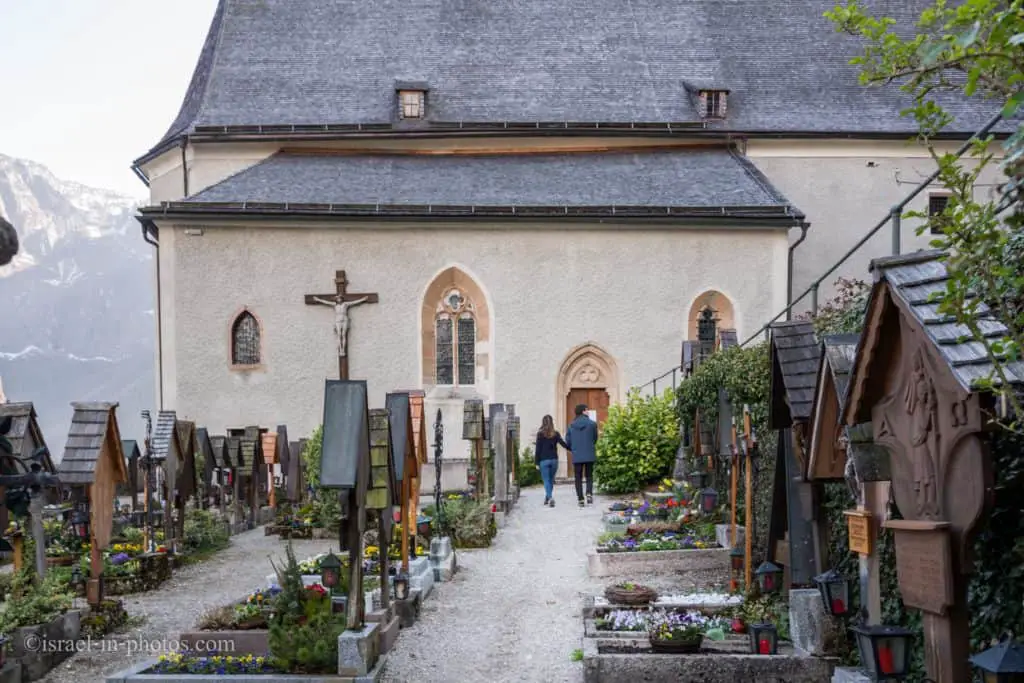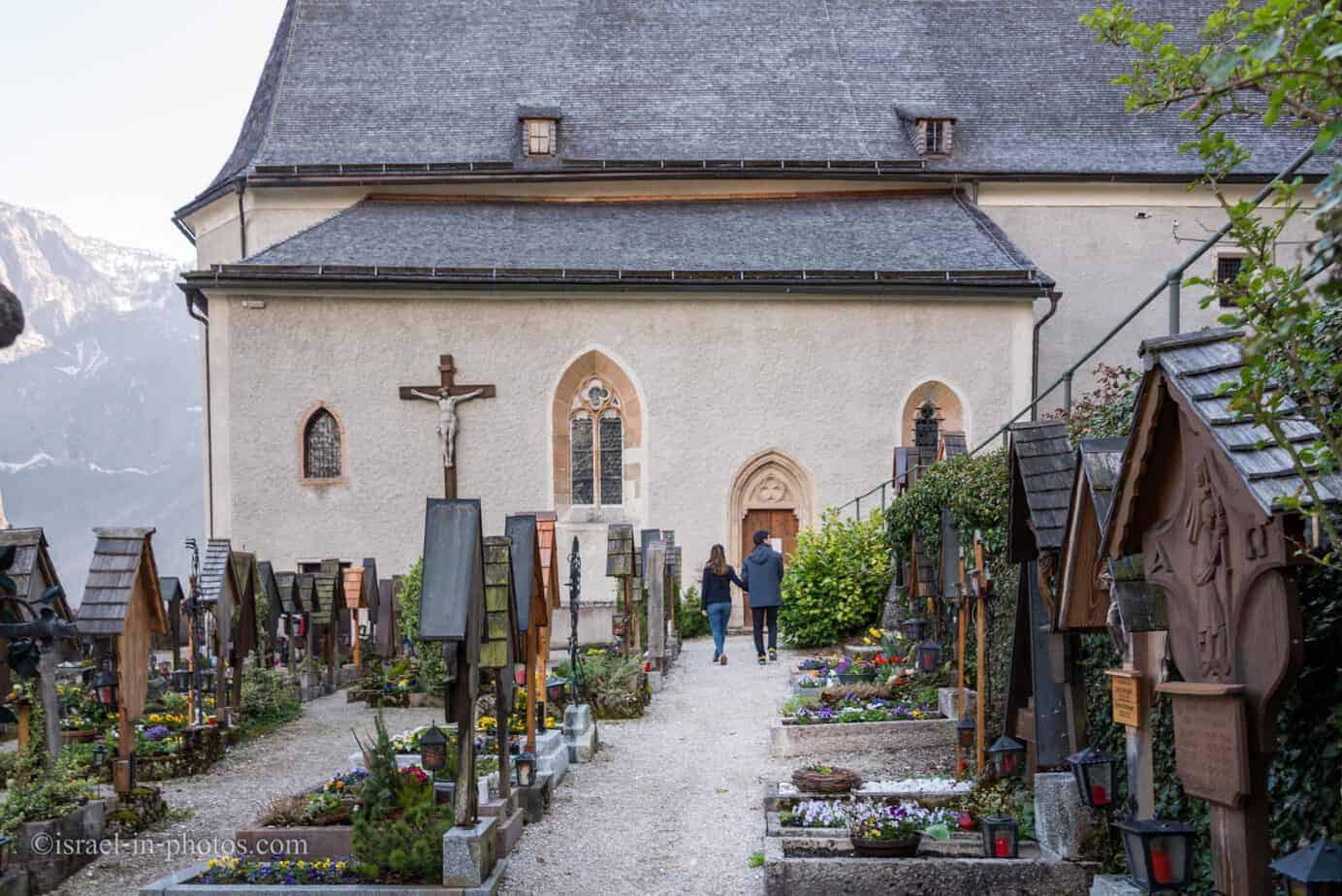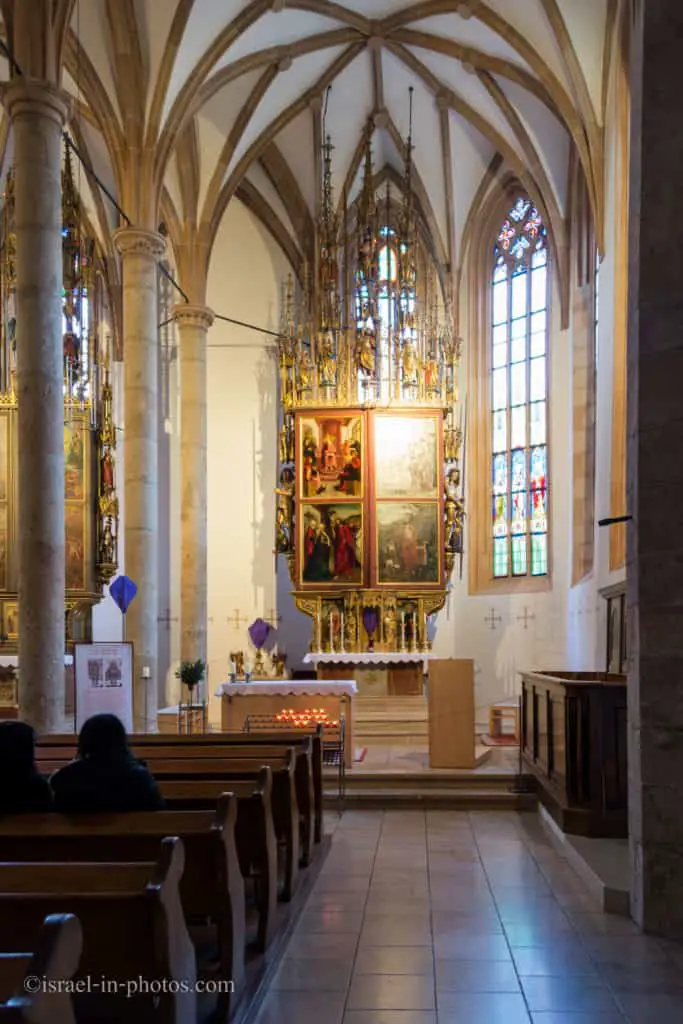 And here is a panorama from nearby the church: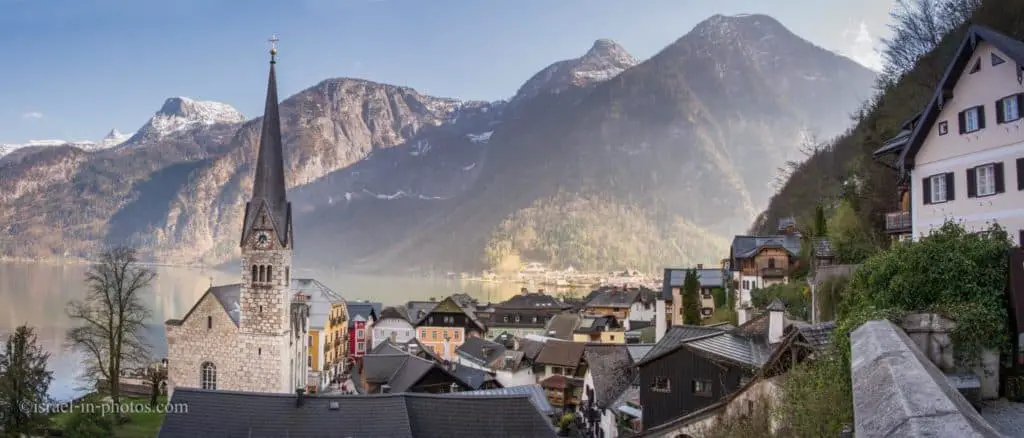 Another tree is attached to a house. This time, a tree log serves as a ladder for a cat (with a small door in the window).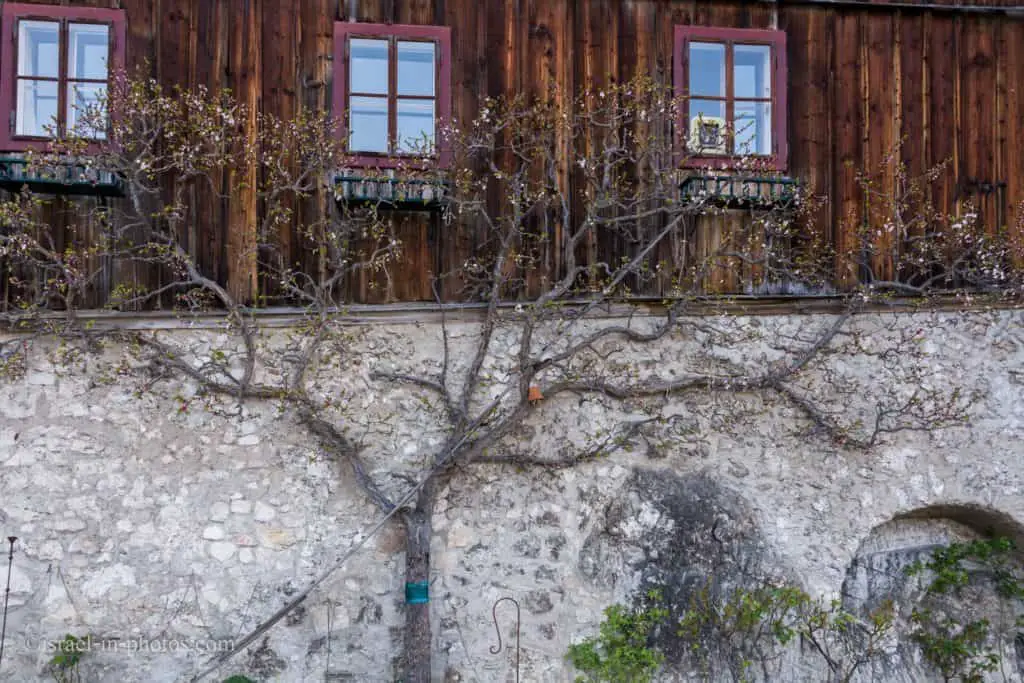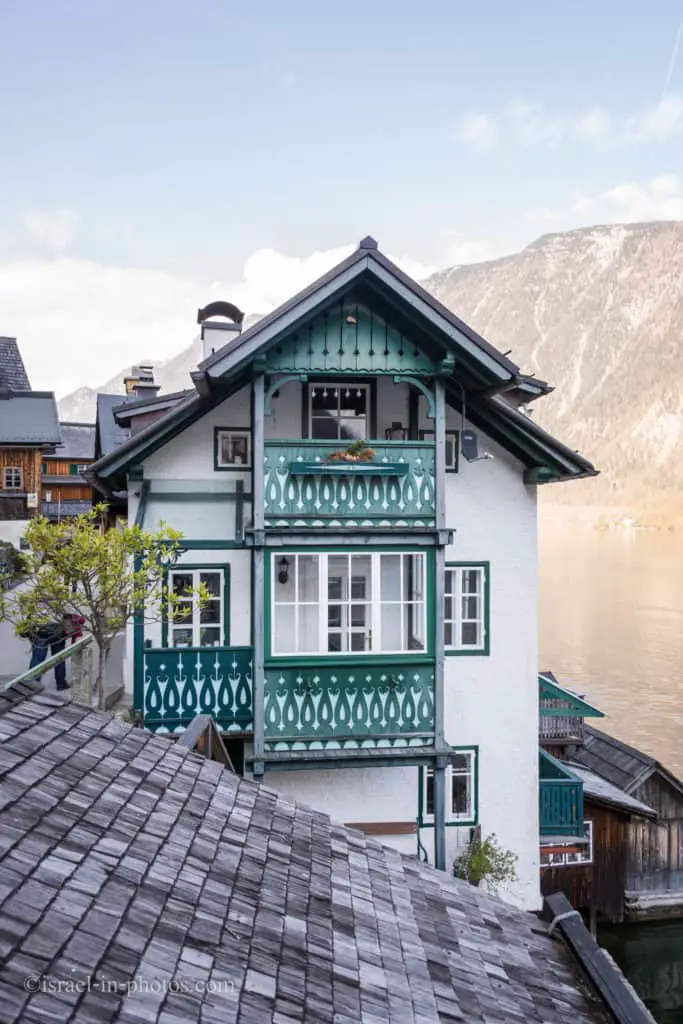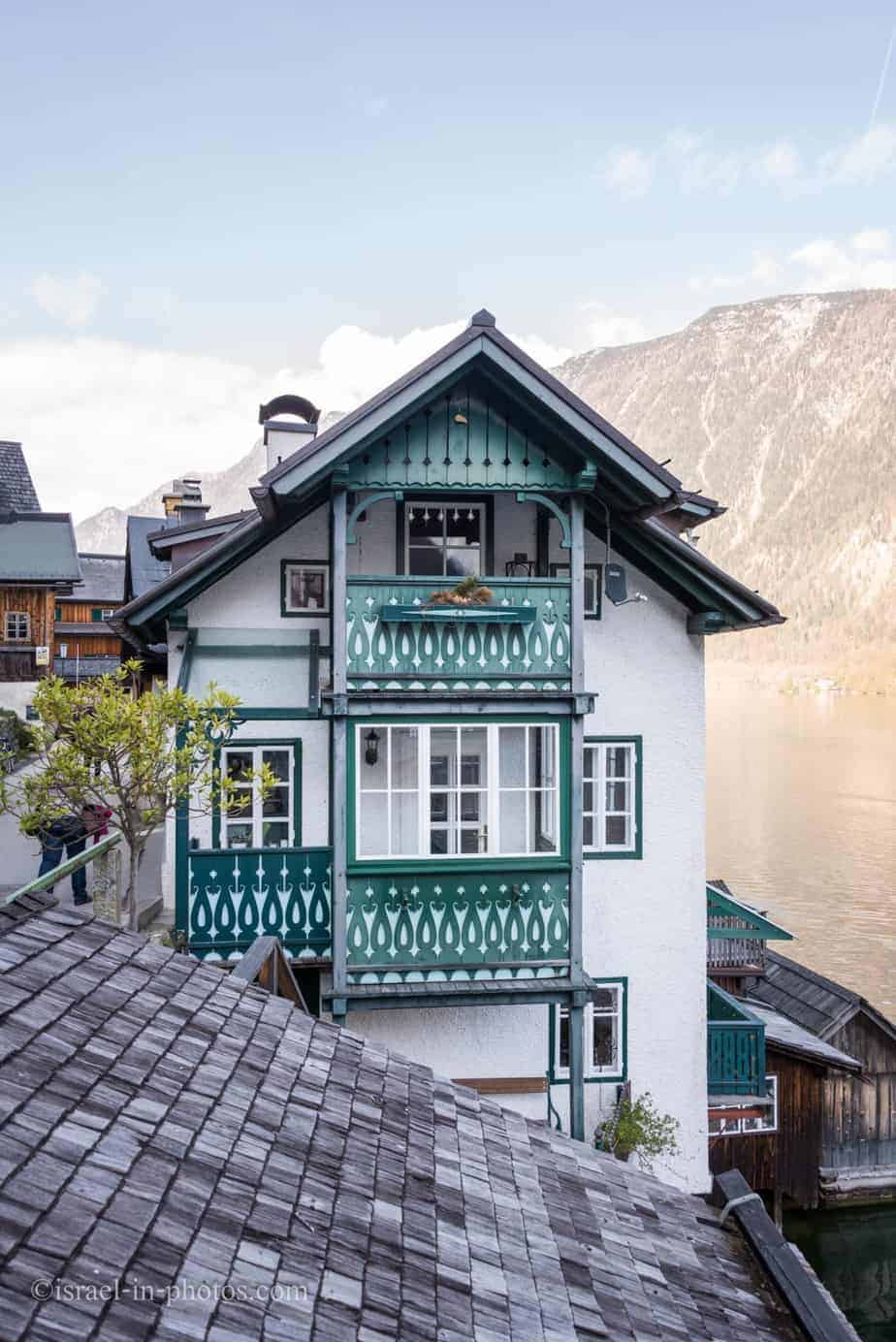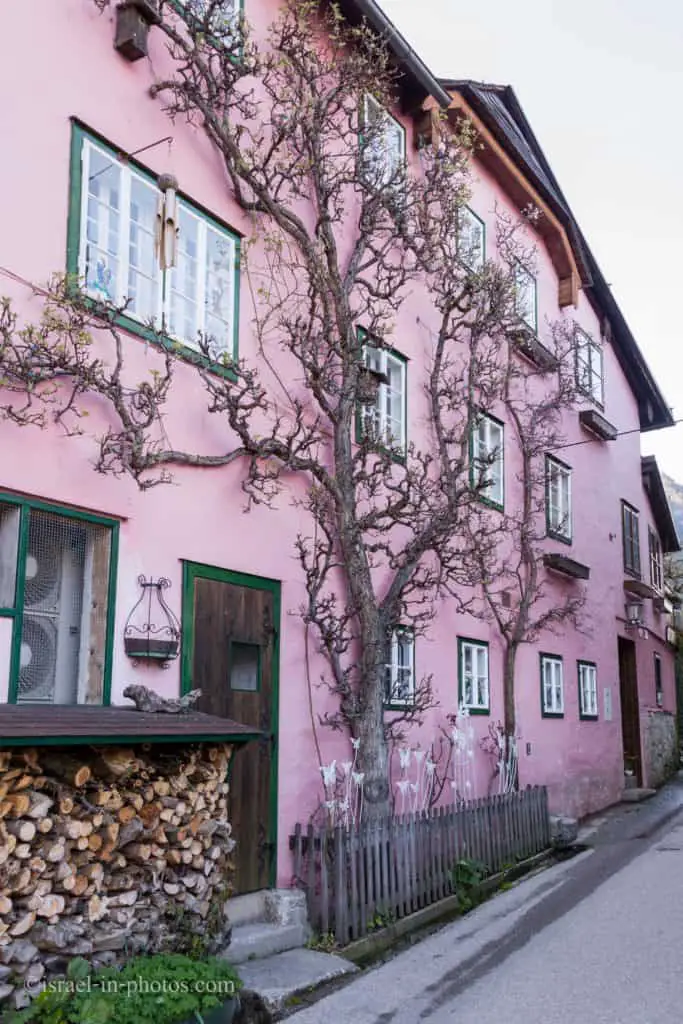 And this is probably the classical view of Hallstatt: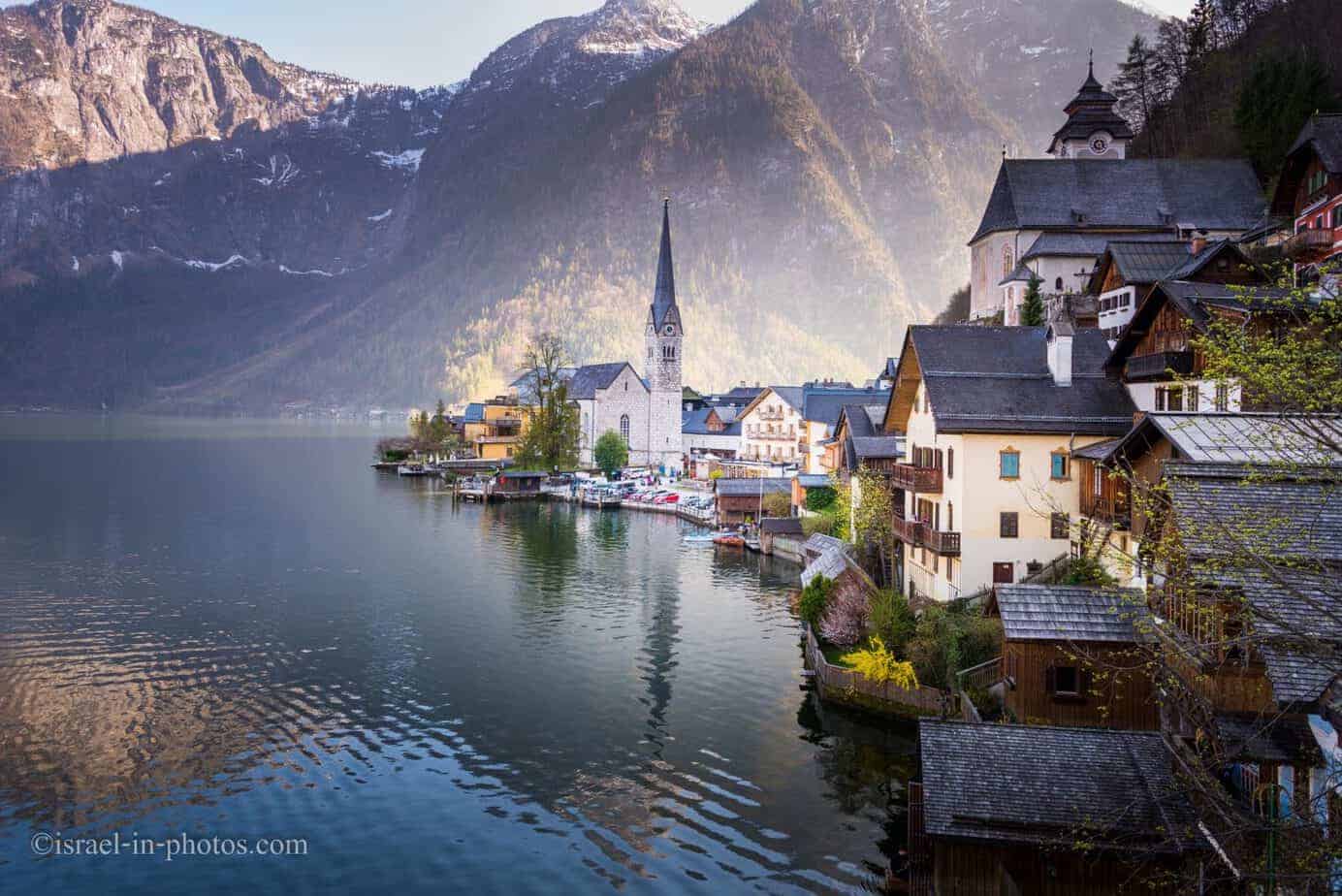 Boat Ride in Hallstatt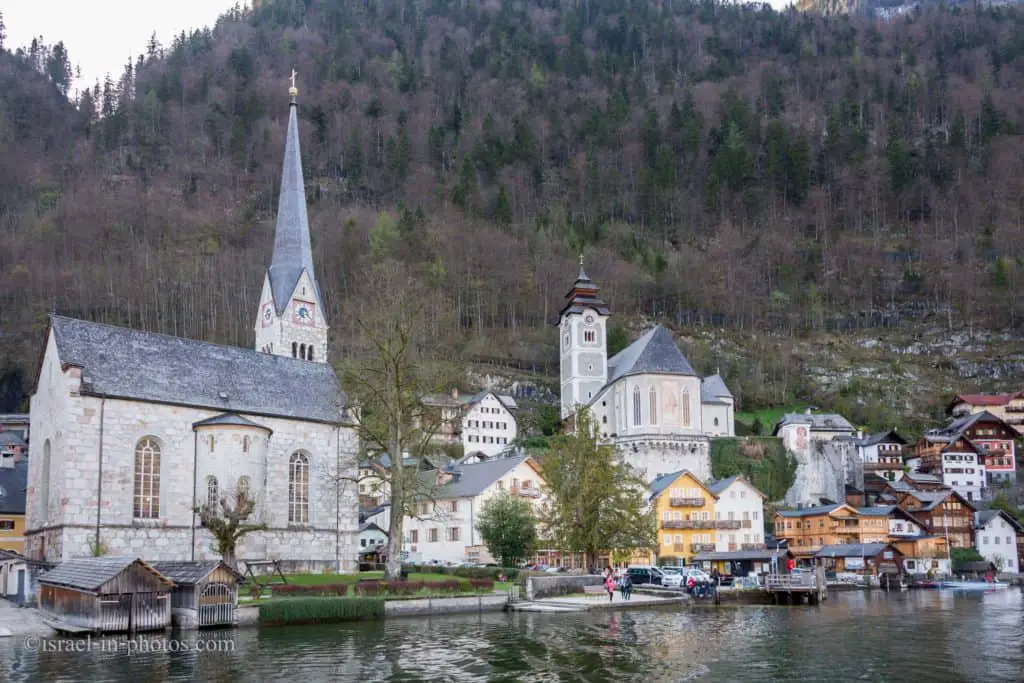 By this point, we were pretty tired but wanted to see more of this village. Thus when we saw boat rides, we decided to join.
There are several stations with small boats for rent. But since it was getting late, they were closed. What we saw was a boat bus. It goes to the train station on the other side of the lake and back. The roundtrip ride costs 5 euros per person, and it is about 10 minutes of sailing each way (with about ten minute break next to the train station).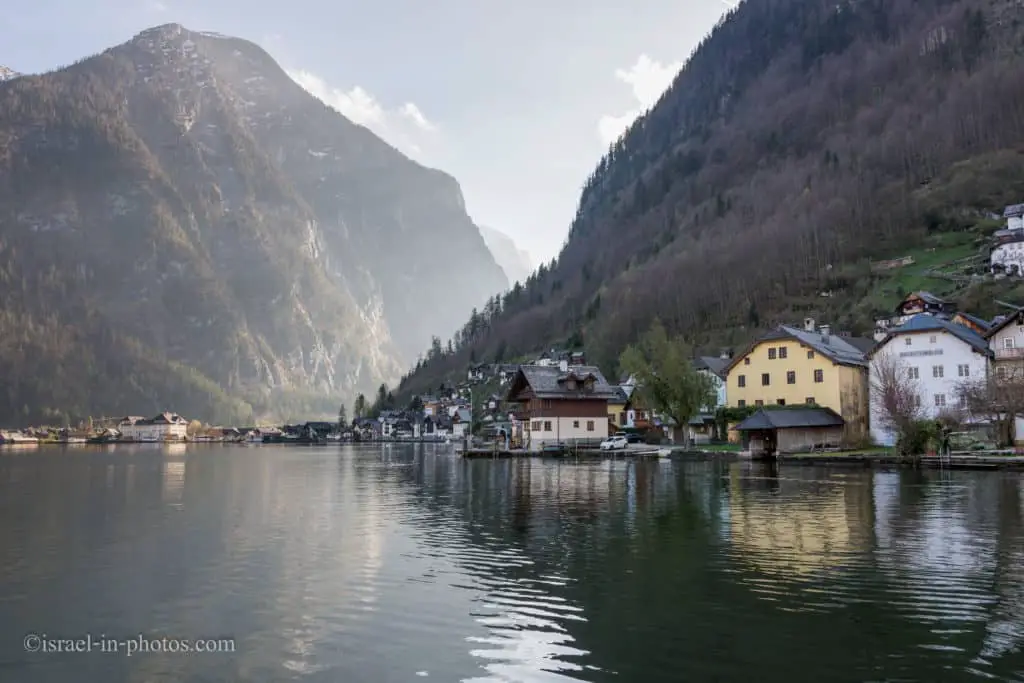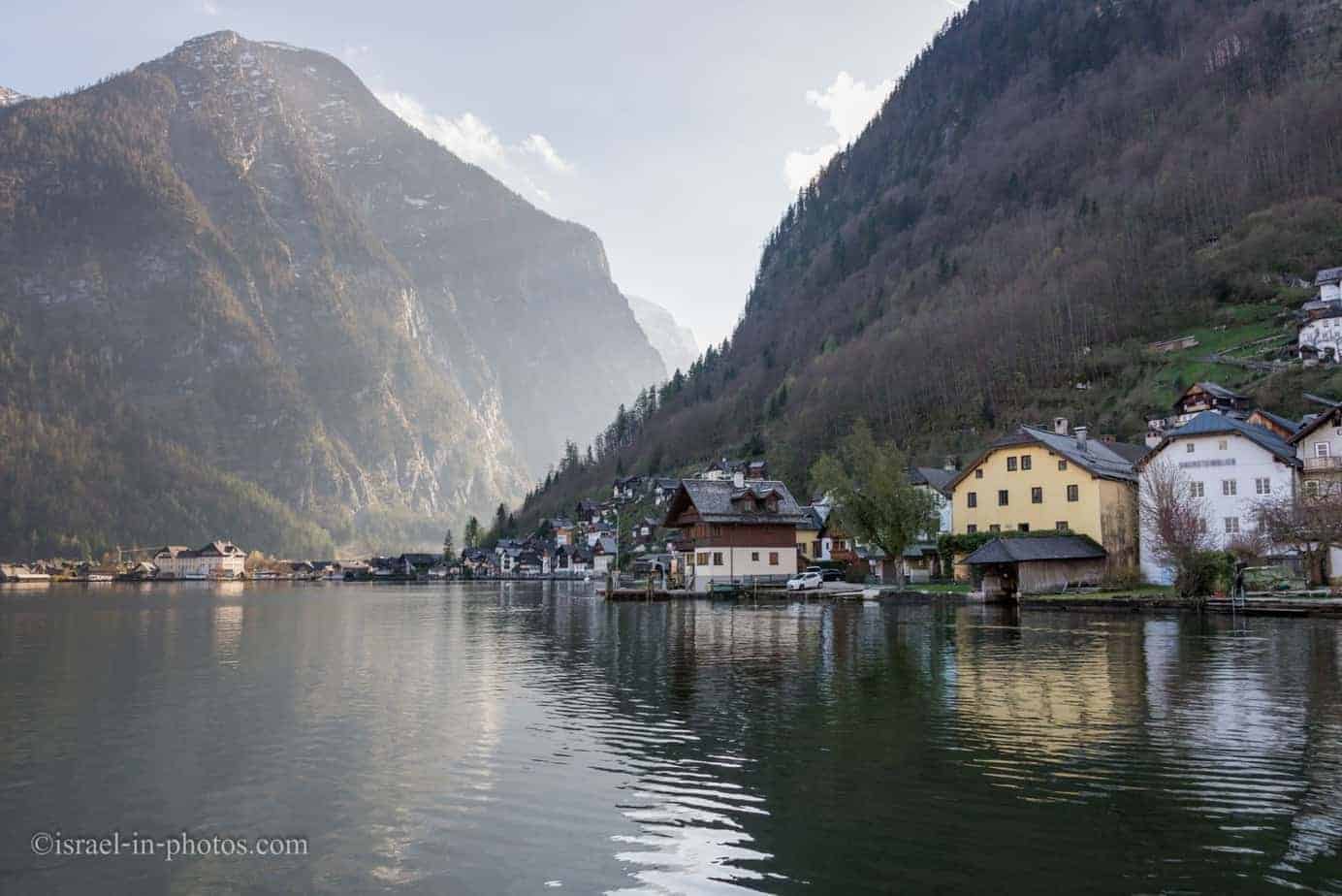 Since it is a beautiful village, some couples take pre-wedding photos here. And there was one couple on our boat: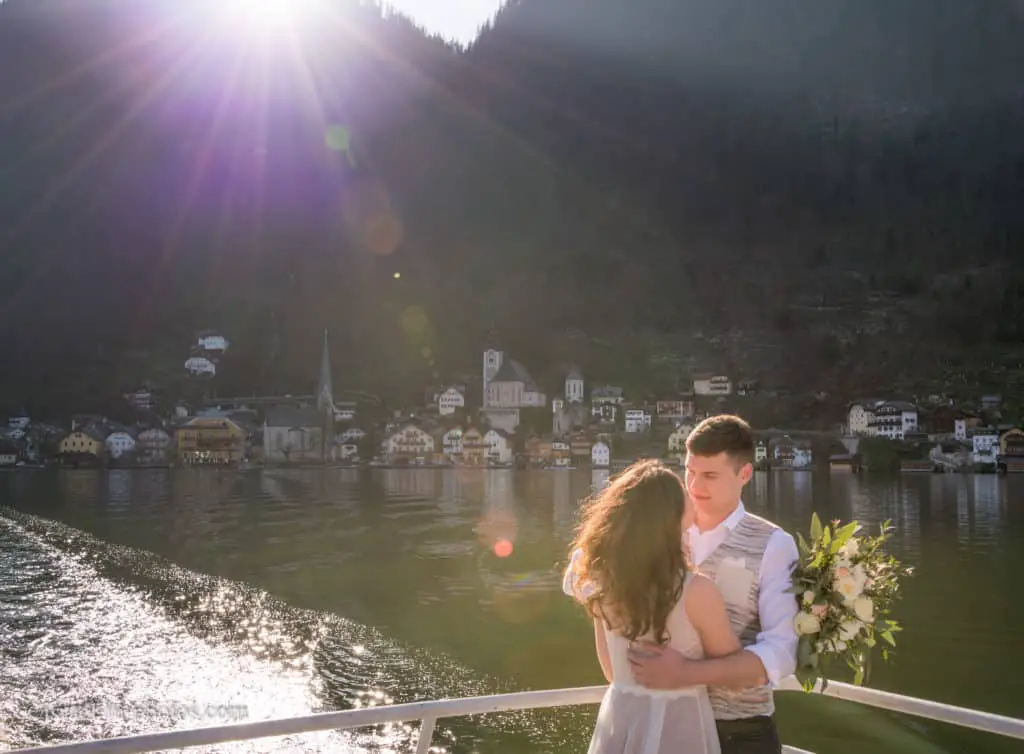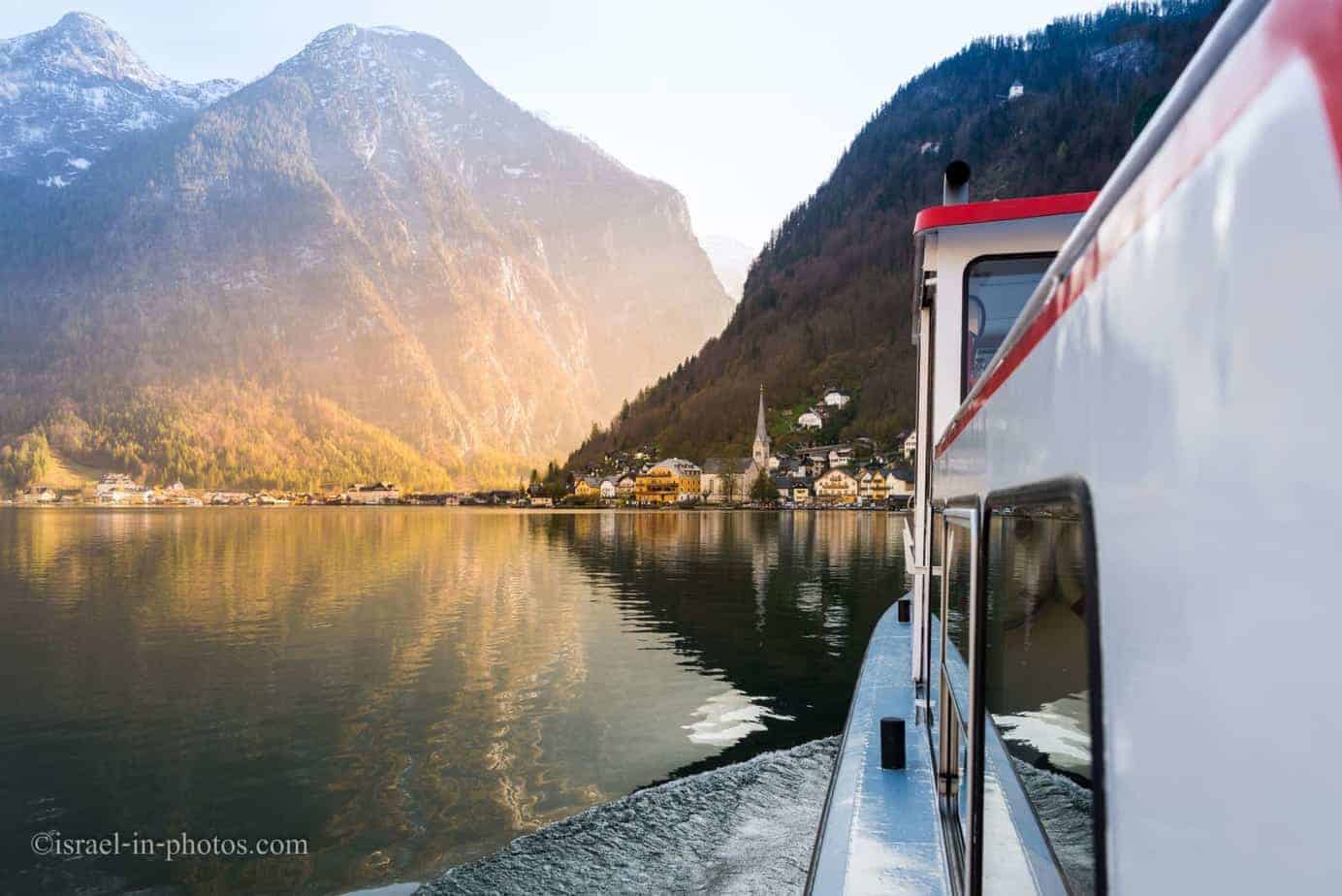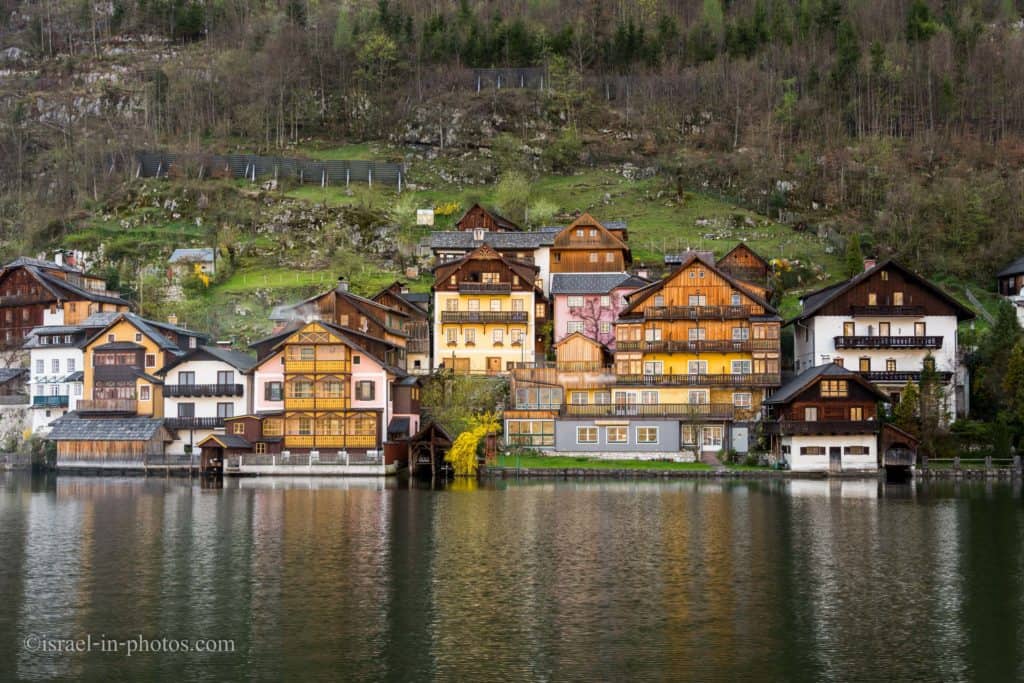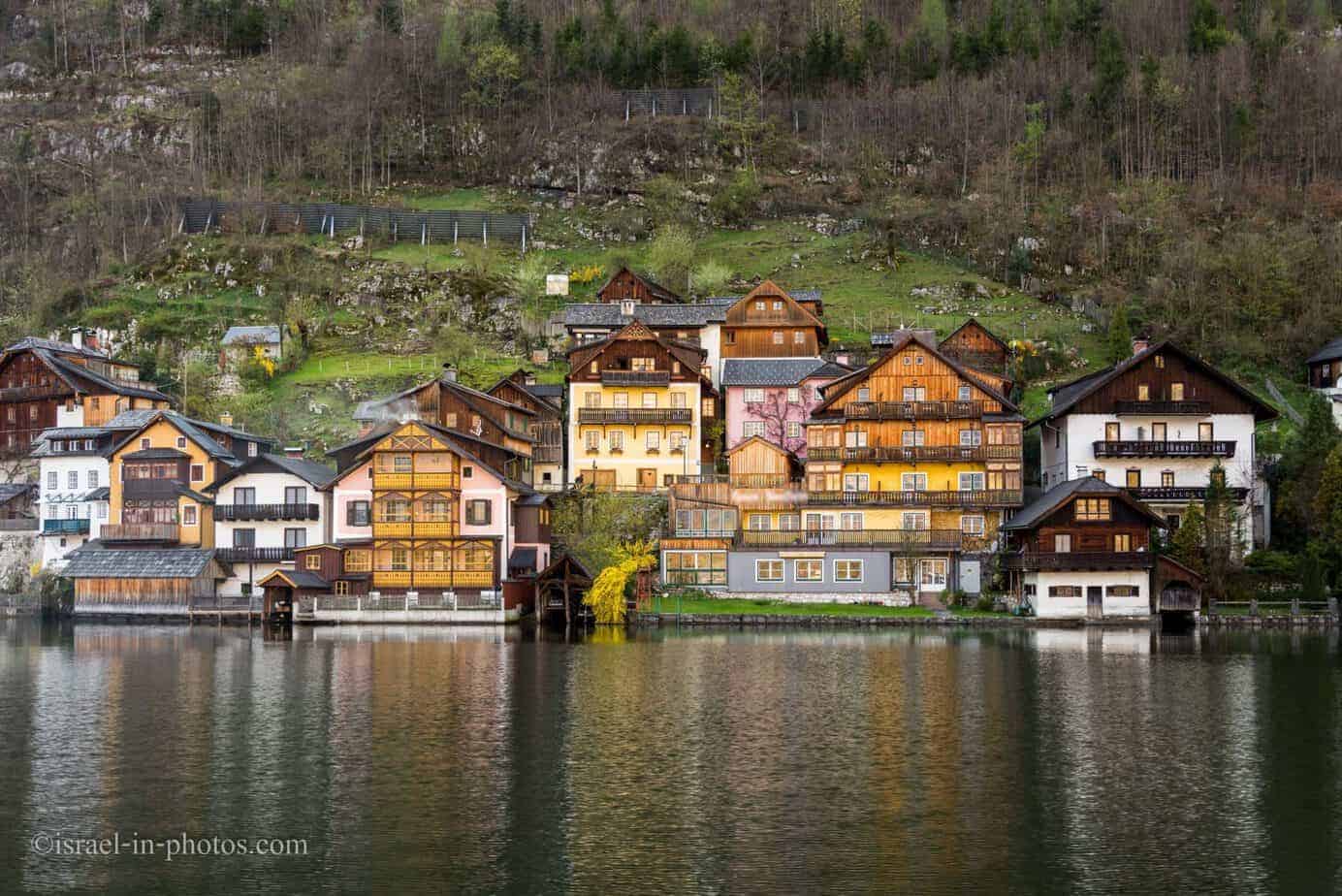 As I mentioned, it was getting late, and we started walking towards the car parking. On our way, we passed the main square (Marktplatz):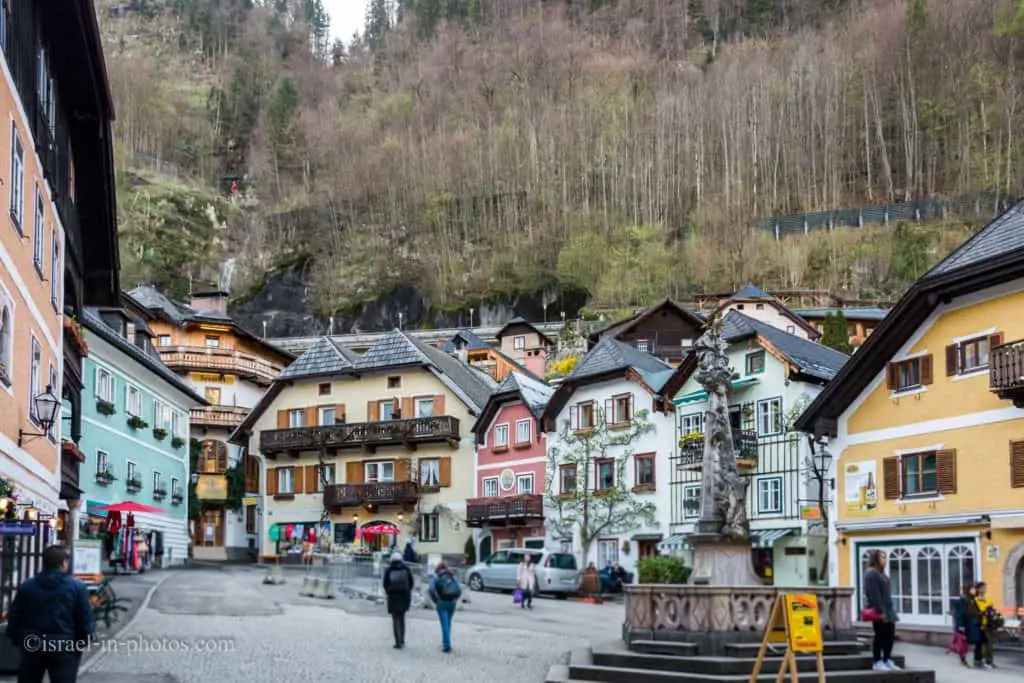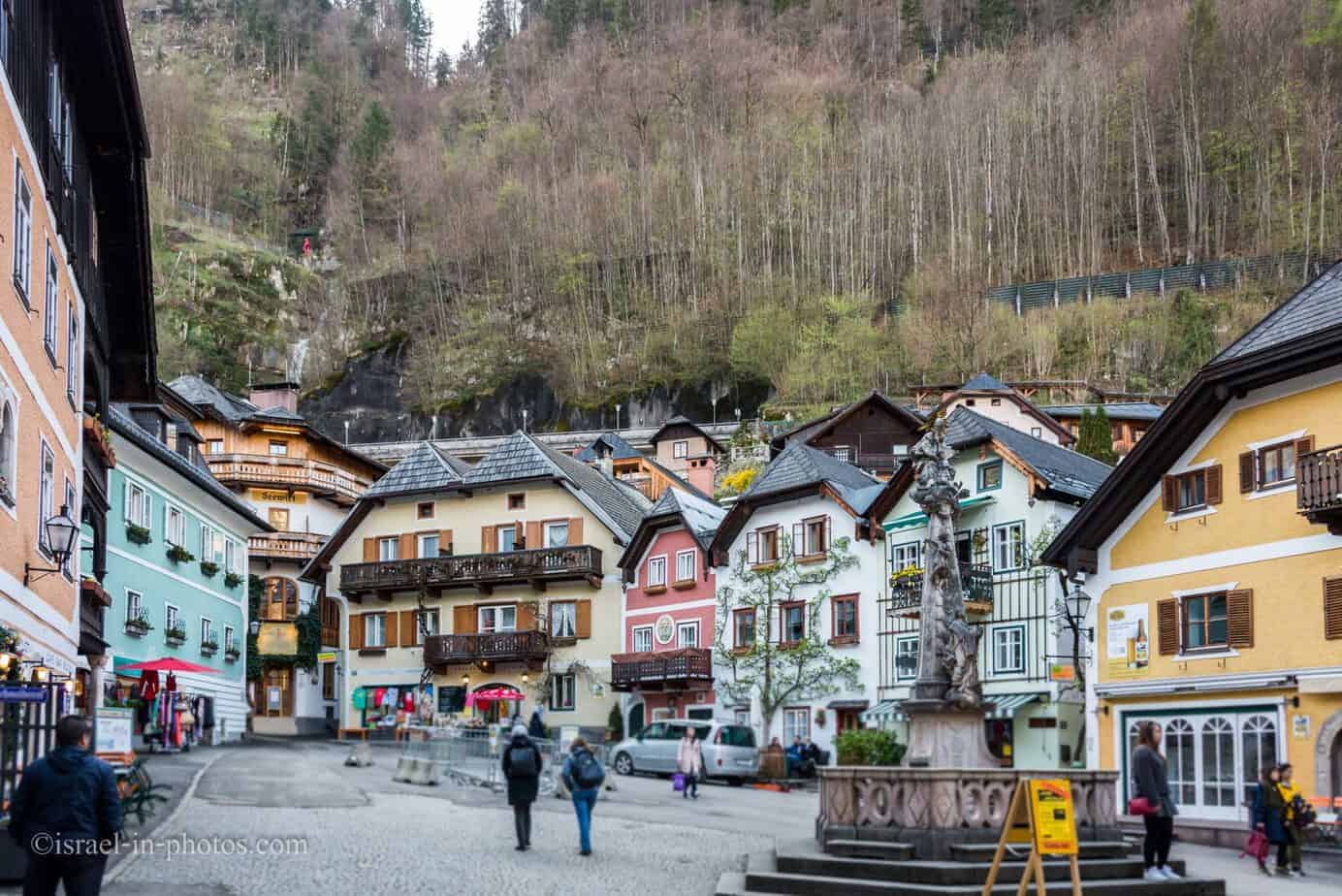 And then, we saw this woman as she was returning home after work. The unusual thing was that she did not need to cross to the other side of the lake but preferred using the boat.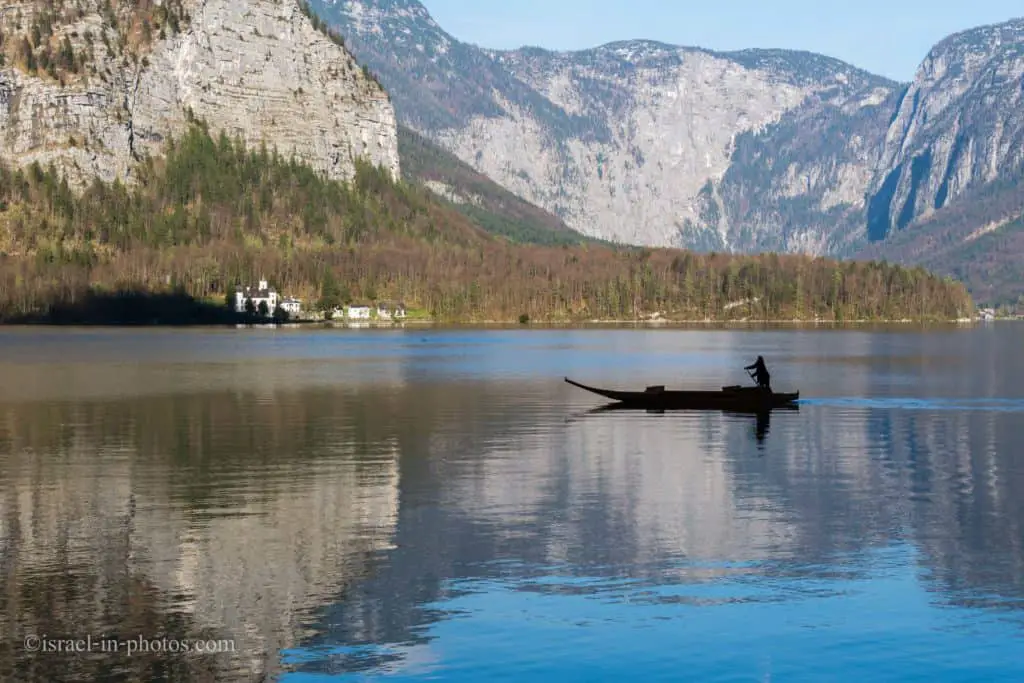 We returned to the parking lot. The tariff was about 8 euros for almost the whole day (11:00 – 19:00). We headed to our Bed and Breakfast in Gosau.
Night Stay at Gosau
The B&B was in Gosau, which is about 10 min drive.
When we drove in the morning to Hallstatt, we used the same road (#166). And I saw a stream with three small bridges. Since our way back was during the golden hour, we decided to stop. And the following two photos are the result.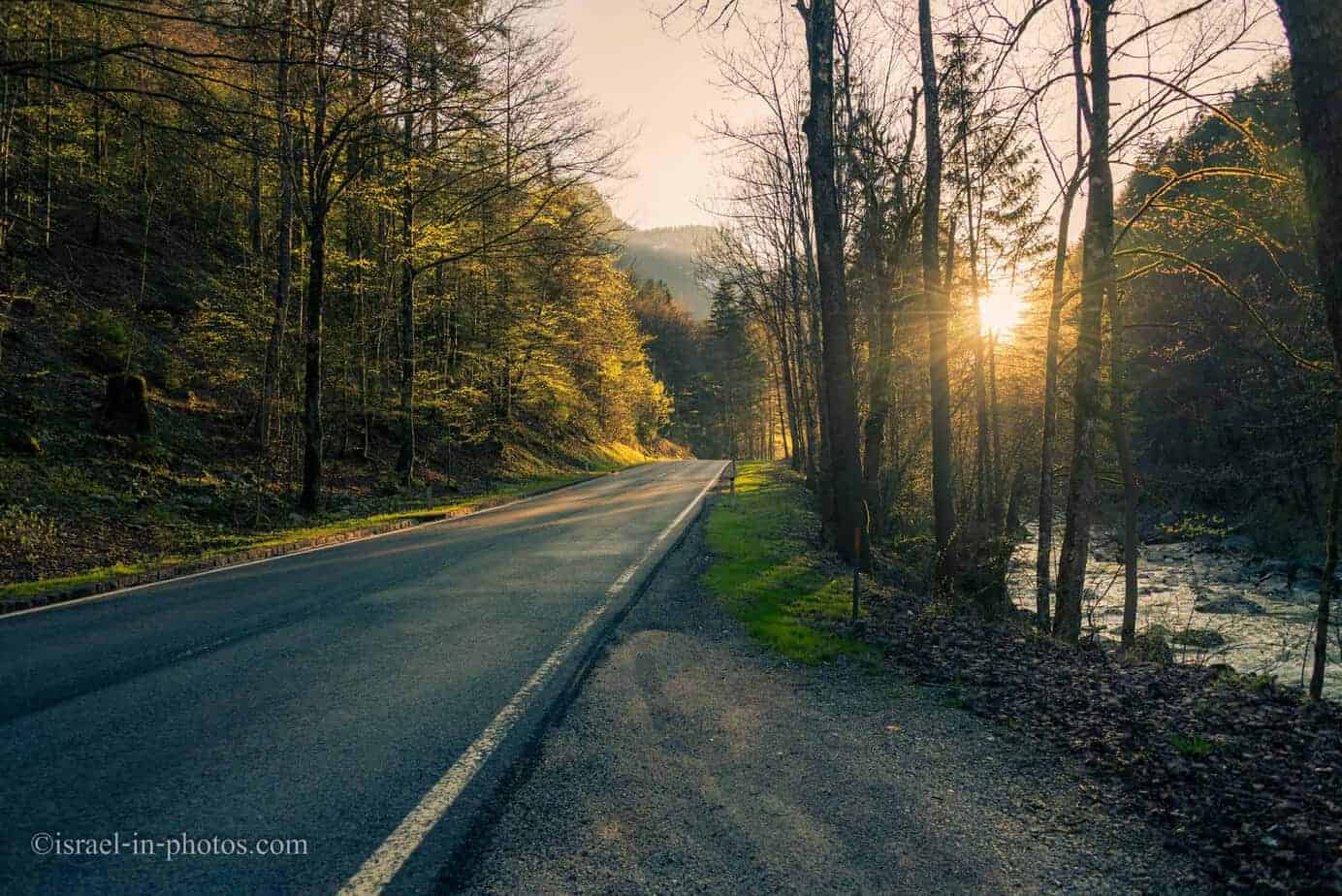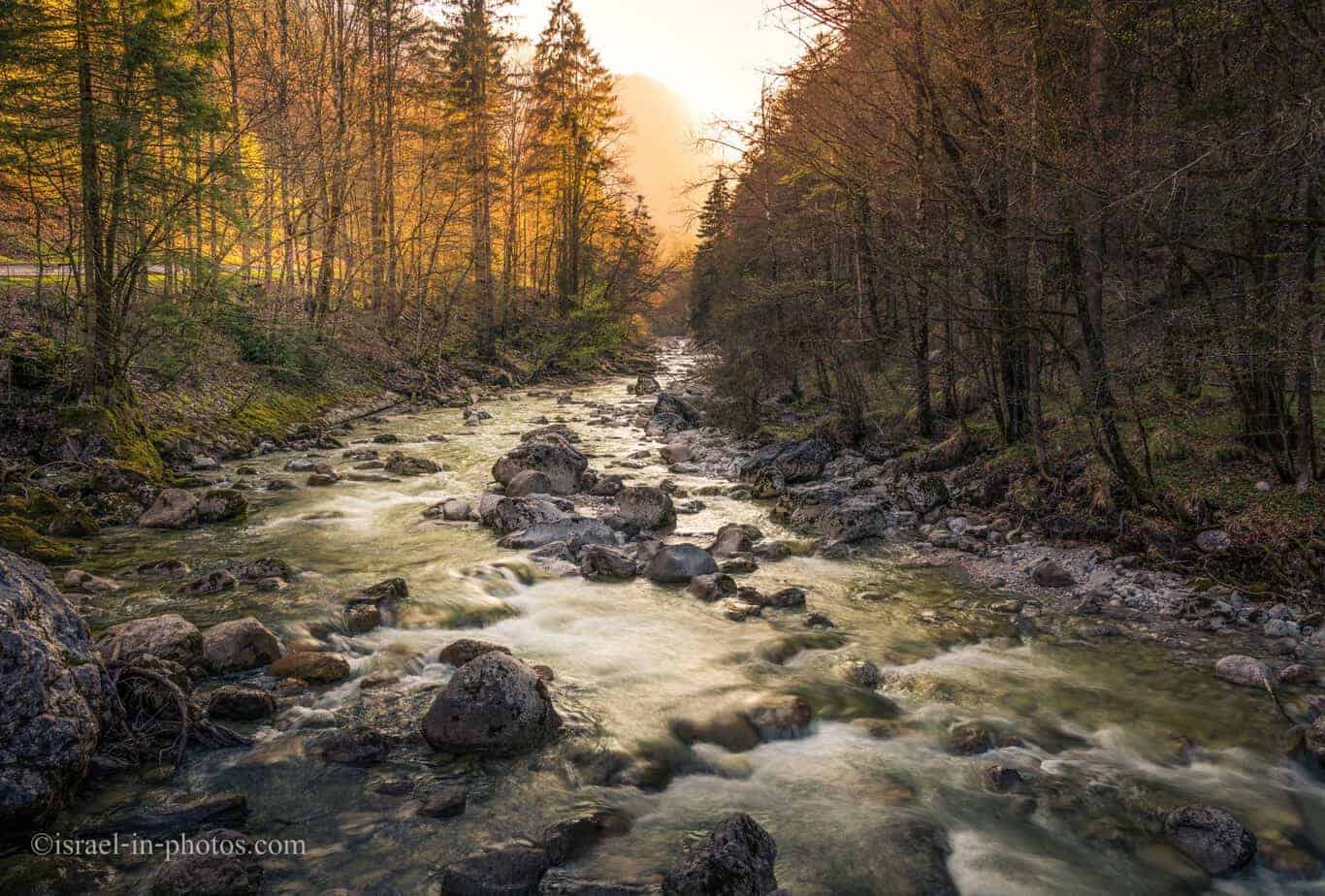 The following day, when the first rays of the sun started hitting the land, we saw this: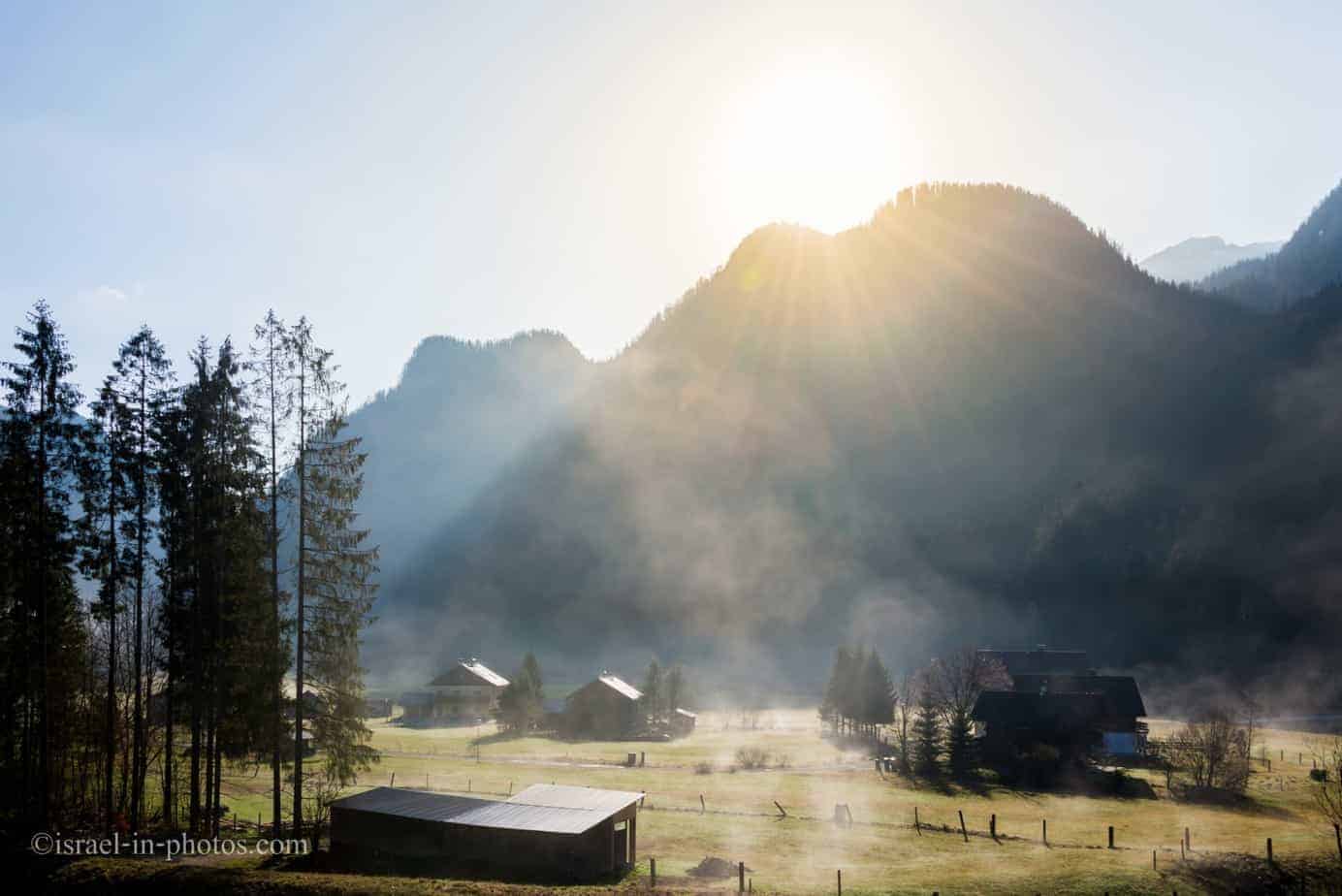 We left Gosau and returned to Hallstatt since there was one more place we wanted to visit there.
Hallstatt Museum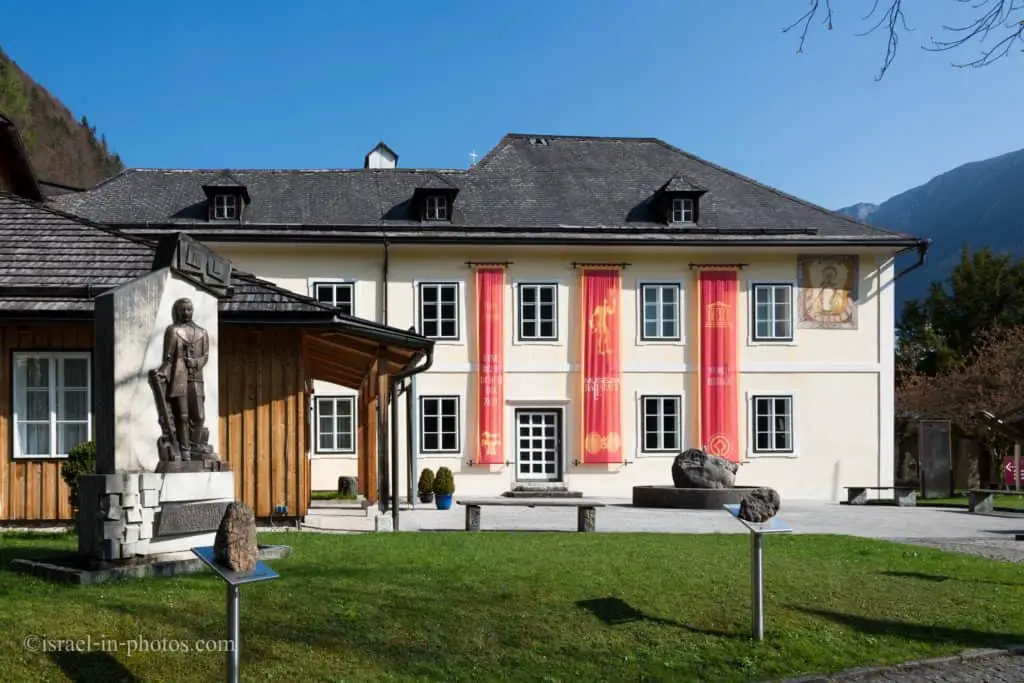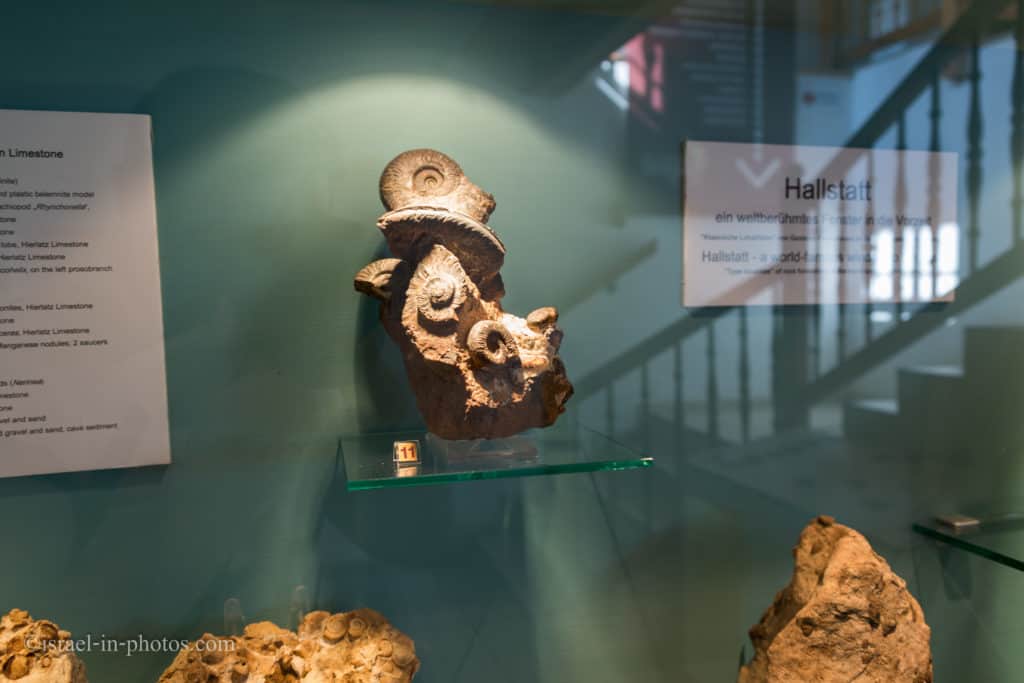 Ammonites are evidence of an ancient sea (see Ammonite Wall in Ramon Crater for more info).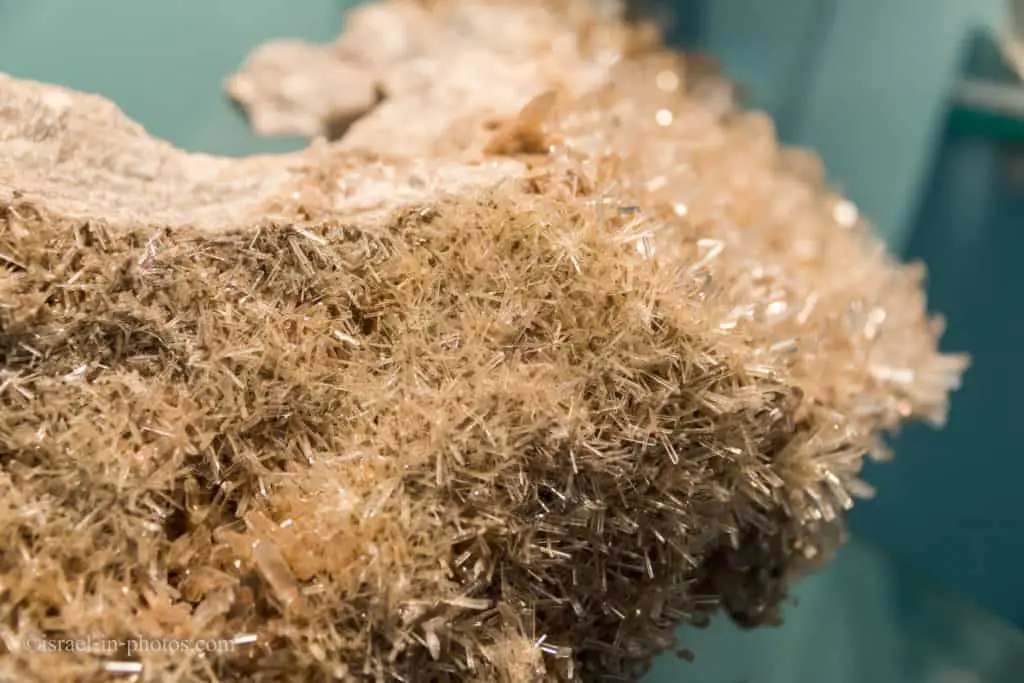 This museum is not only about salt but also about the life of people in this area.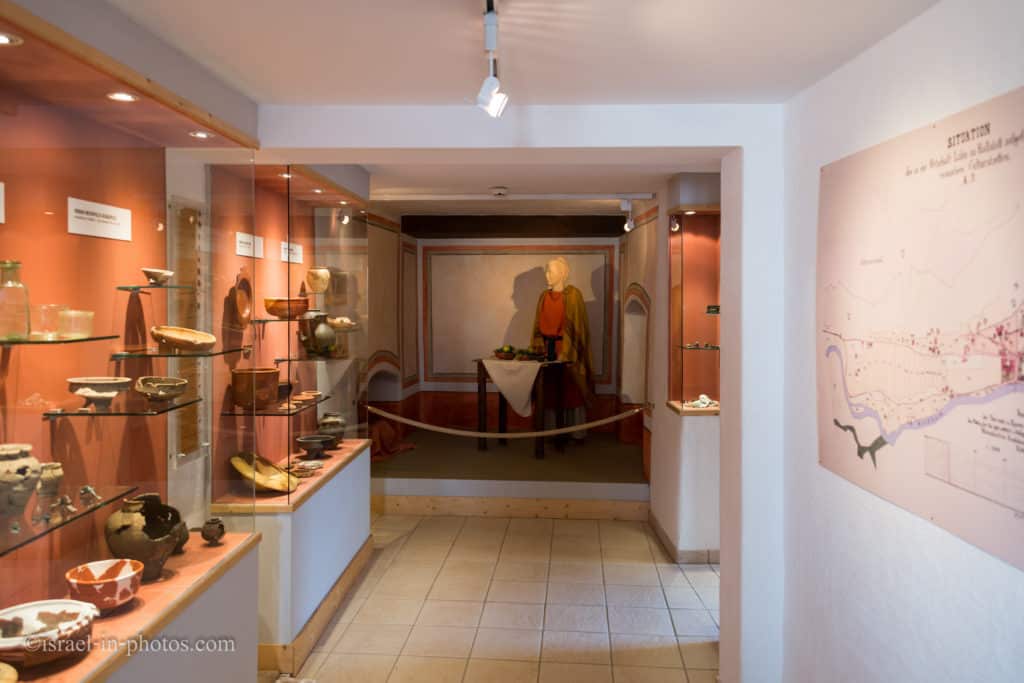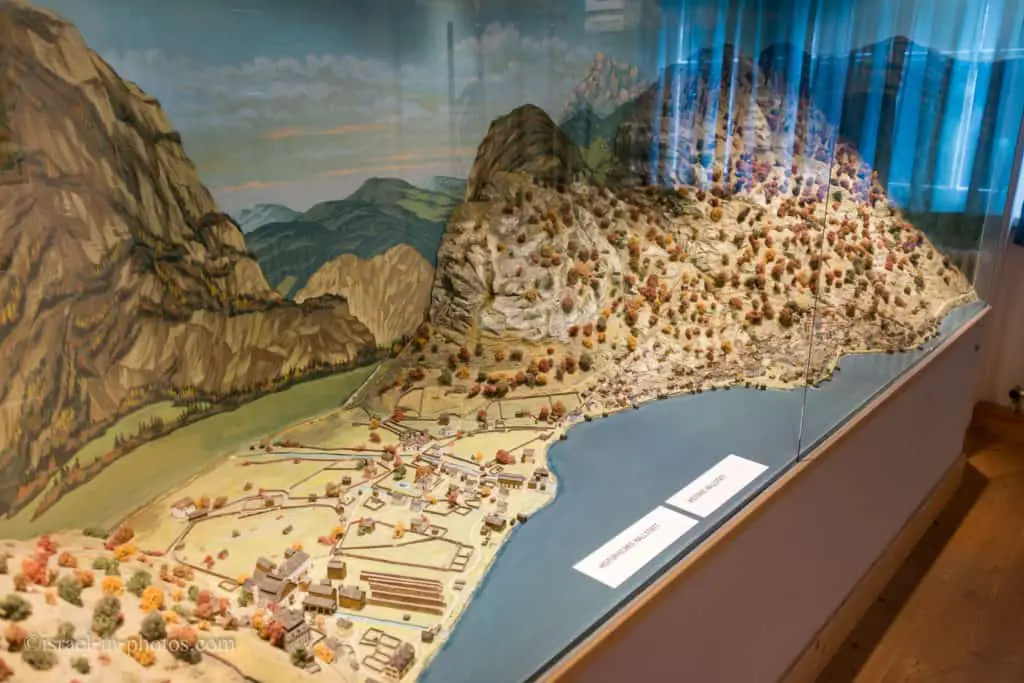 And this diagram shows the graveyard (each marking is a burial place), the remains we saw yesterday in the mountains.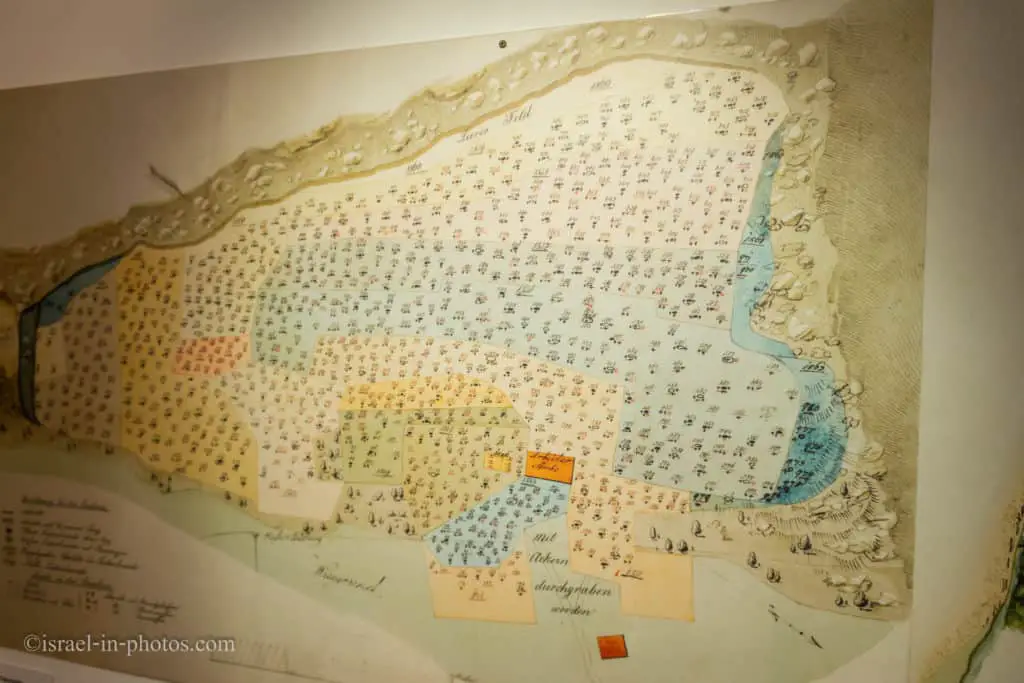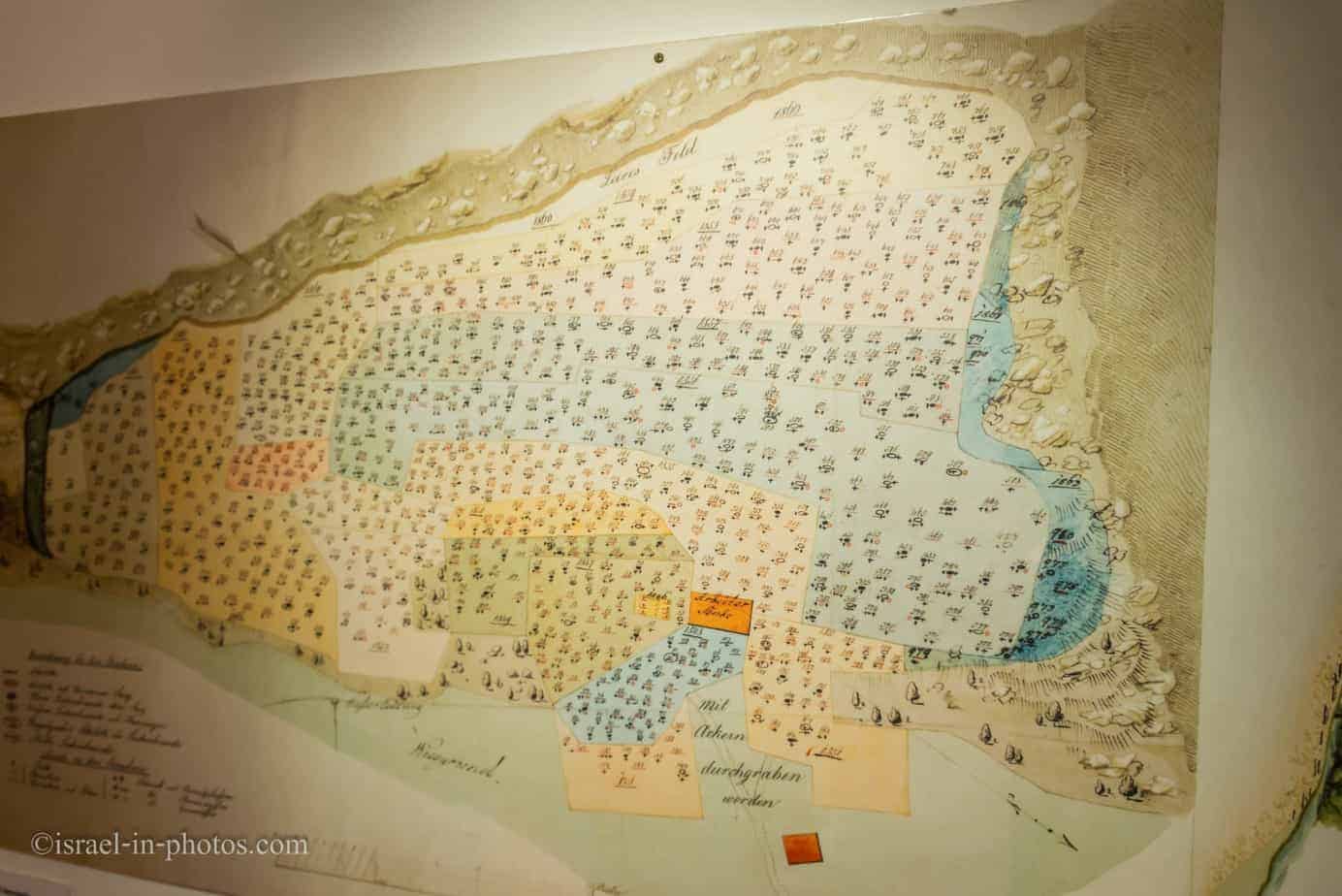 The museum is not big but quite charming. Our visit took about two hours.
Throughout our visit to Austria, I noticed that explanations in museums and tours are shorter in English. If you have 100% of the information in German, then there is only 80% in English. The same was for this museum. But, if there had been no English explanations, our museum tour would have been much shorter.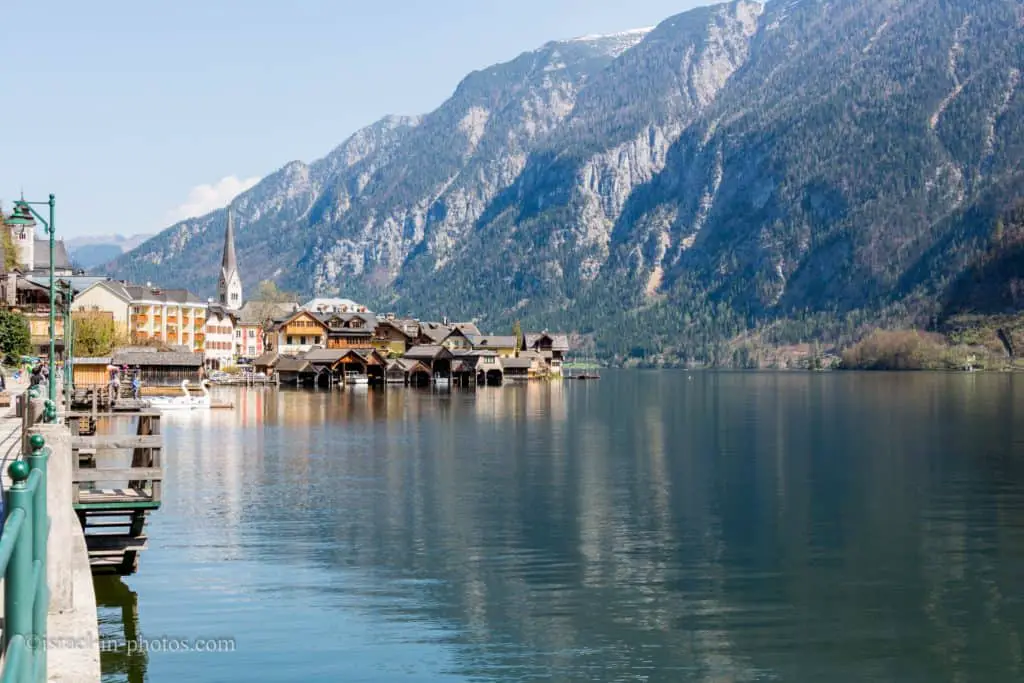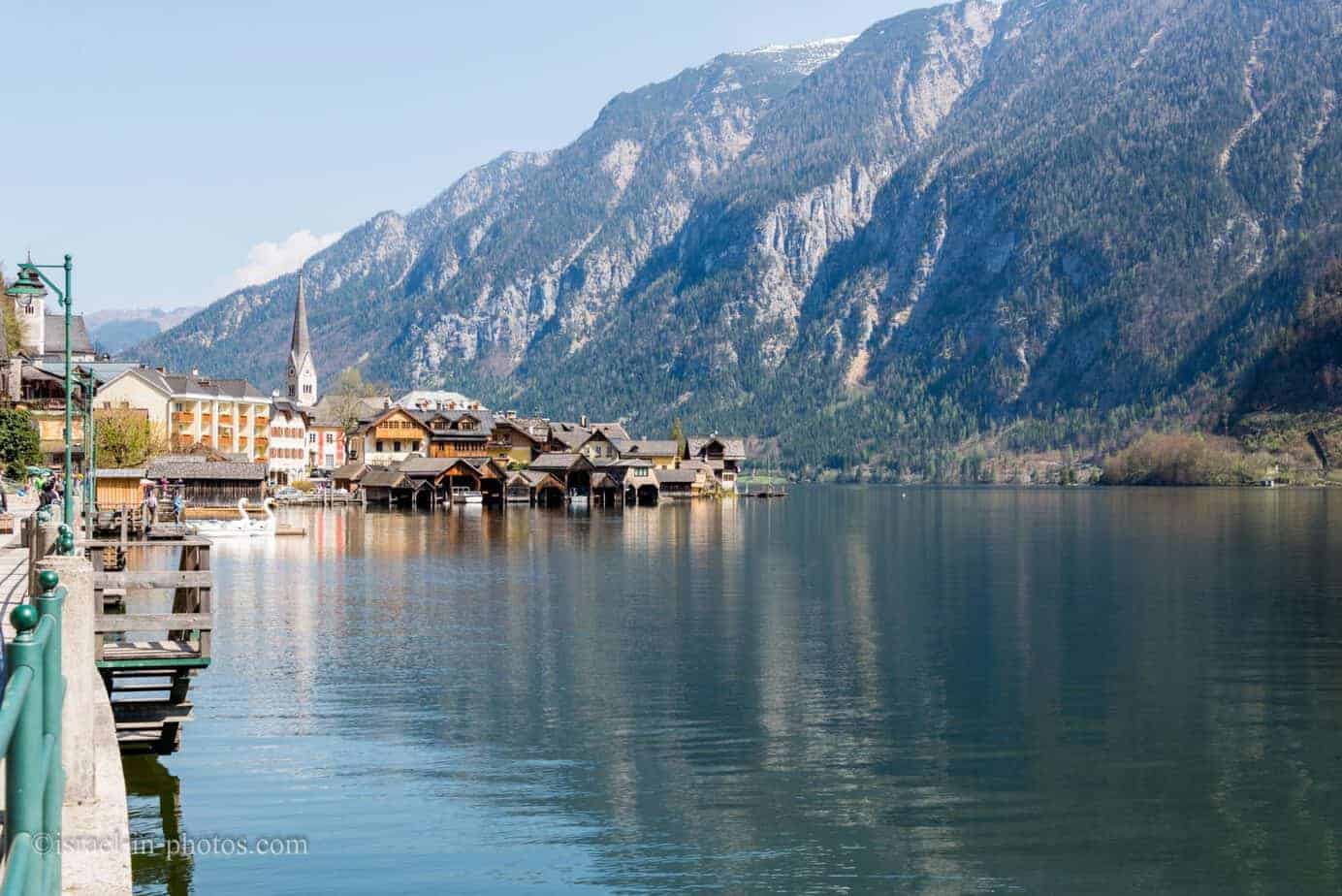 And we continue to our next destination.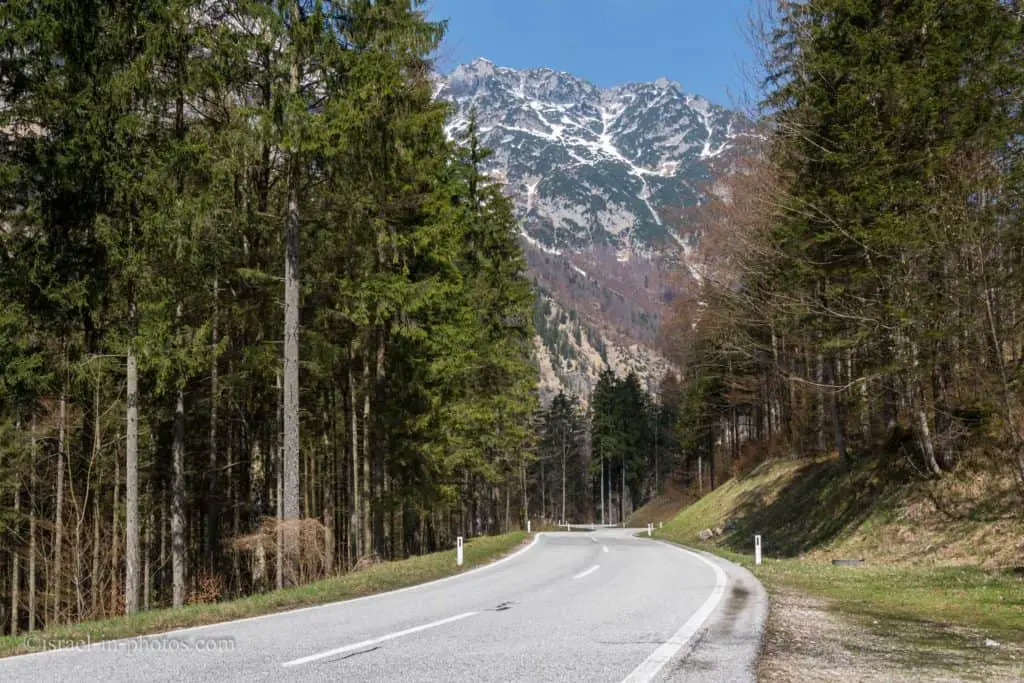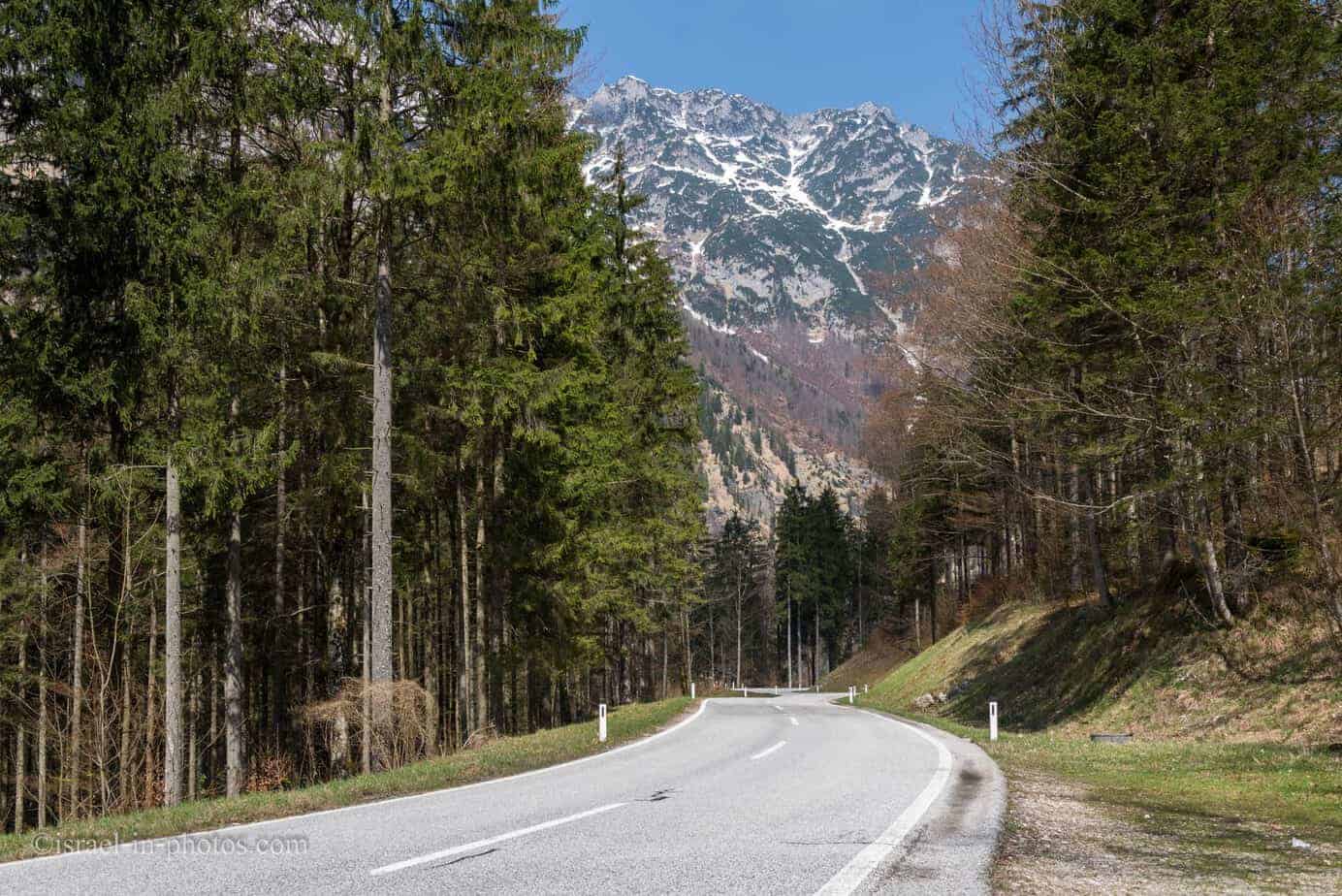 Where? You will find out in the next post 😉
And I want to end this post with a Cinemagraph, a moving picture of Hallstatt.
Check out Cinemagraphs – Photos with Motion from Austria to find out more.
Summary
Hallstatt is a picturesque destination. And if you are in the area, it is a must-stop. The shortest visit would consist of a several-hour walk through the village. A more extended stay (1 – 1.5 days) can also include the salt mines and the museum. Moreover, you can make Hallstatt your trip base and visit attractions like Dachstein Giant Ice Cave and the 5 Fingers viewing platform. In any case, Hallstatt will probably be among the highlights of your trip.
Have you ever been to Hallstatt? Tell us about your experience in the comments below.
That's all for today, and I'll see you in future travels!
Stay Tuned!
Additional Resources
Here are several resources that I created to help travelers:
And if you have any questions then check out
Useful Information For Tourists To Israel
.  
Did not find what you were looking for? Leave a comment below, and I will do my best to answer your questions.