Stalactite Cave Nature Reserve, AKA Soreq cave, or Avshalom cave, is a spectacular cave not far from Beit Shemesh. Let's begin our visit!
What is Stalactite?
Before we get to the Stalactite Cave Nature Reserve, let's explain what a Stalactite is.
A stalactite from the Greek stalasso, and meaning "that which drips." It is a type of formation that hangs from the ceiling of caves, hot springs, or humanmade structures such as bridges and mines. Any soluble material can be deposited as a colloid, or is in suspension, or is capable of being melted, may form a stalactite. Stalactites may be composed of lava, minerals, mud, peat, pitch, sand, sinter, and amberat (crystallized urine of packrats). A stalactite is not necessarily a speleothem, though speleothems are the most common form of stalactite because of the abundance of limestone caves.
Source: Wikipedia
And since we have a basic understanding, let's answer several other common questions.
What is the difference between a stalactite and a stalagmite?
Shortly put, stalactites hang from the ceiling, and stalagmites rise from the cave floor.
What is it called when a stalagmite and stalactite meet?
When a stalactite and a stalagmite meet and grow together, they form a column. Thus they are called a column or a pillar.
Here is an image by Dave Bunnell / Under Earth Images [CC BY-SA 2.5], via Wikimedia Commons, that explains all the names.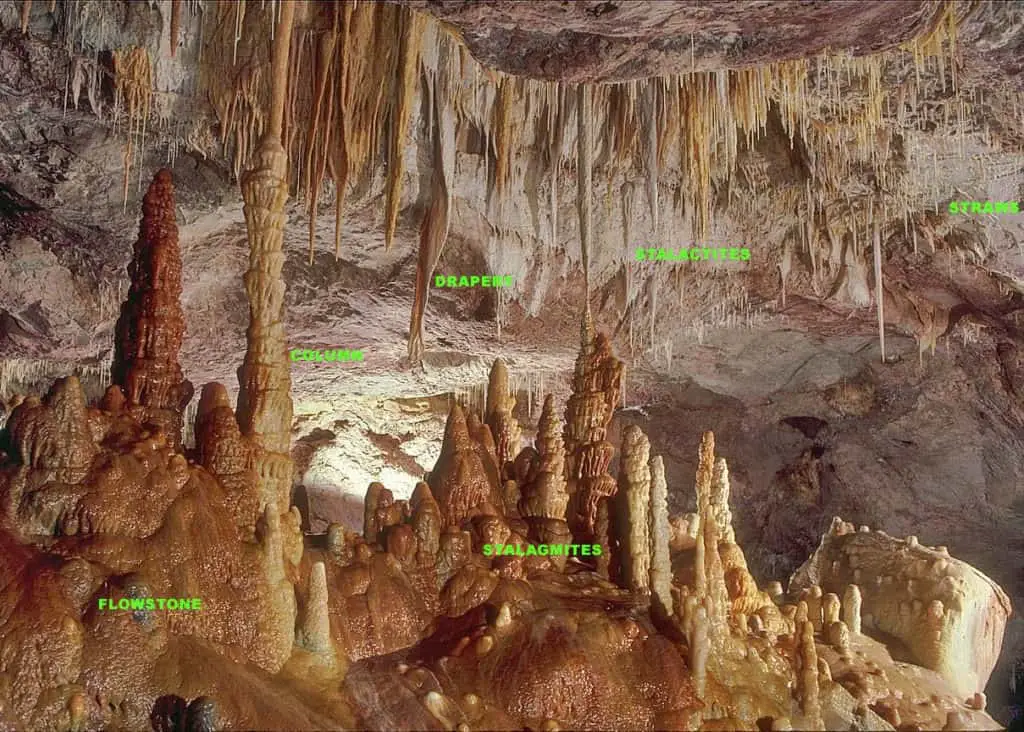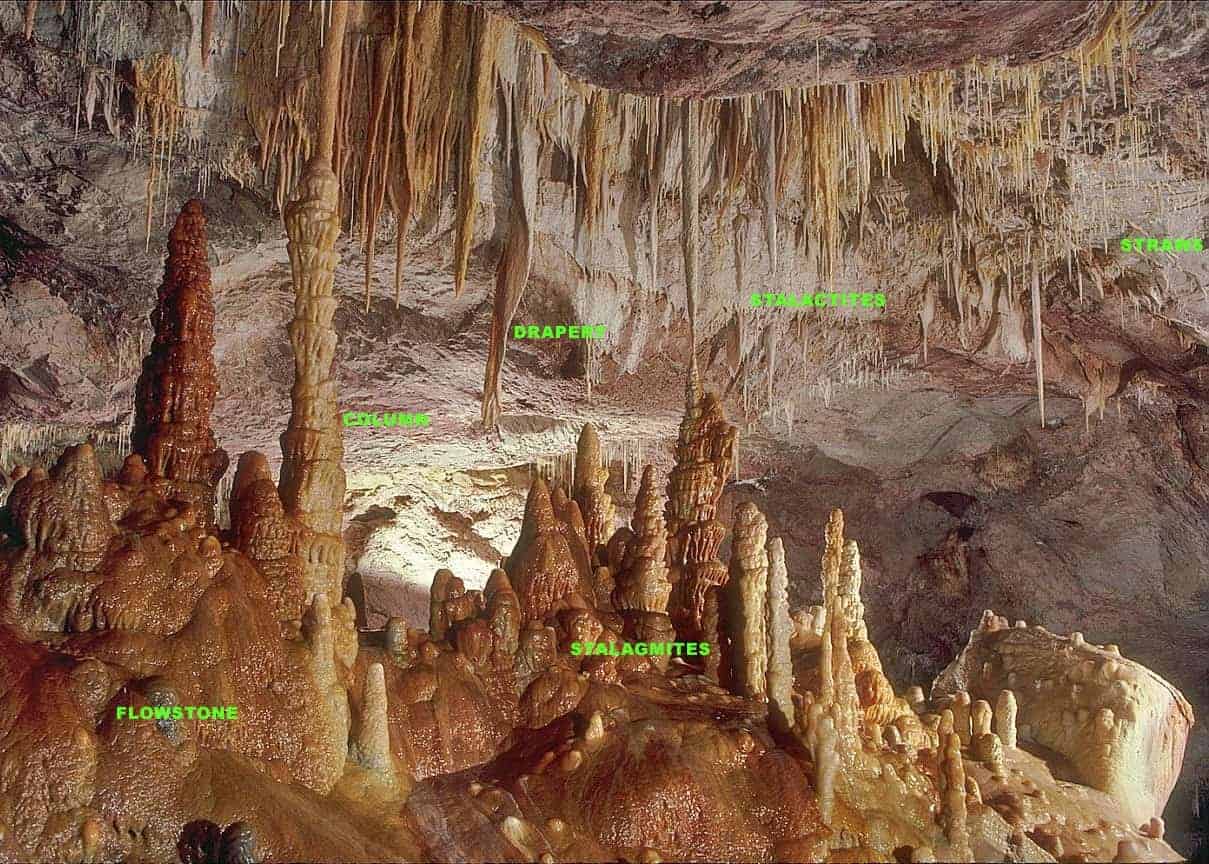 How fast do stalactites and stalagmites grow?
Stalactites and stalagmites grow slowly. The actual speed depends on different factors (like the amount of water reaching the cave). According to encyclopedia.com, they grow 0.00028–0.037 in/yr (0.007–0.929 mm/yr). That is roughly 1 cm in 11 – 1428 years. And during our last tour, our guide mentioned 50 years per one cm.
Map
As I mentioned above, the cave is located near Beit Shemesh.
Map of the area:
Directions
If you are reaching this national park by car, then type "Stalactite Cave Nature Reserve" into the navigation app.
Reaching by public transport is problematic. AFAIK, there are no buses that go to the site. You can get the nearby city of Bet Shemesh either by bus or by train. And take a taxi from there.
Opening Hours
Sunday – Thursday and Saturday: 8:00 – 16:00 (till 15:00 during winter).
Friday: 8:00 – 15:00 (till 14:00 during winter).
The last entrance to the park is allowed one hour before the closure.
Entrance Fee
Adult 28 NIS, child 14 NIS, and student 24 NIS. And free for National Parks annual subscribers.
If you are going to visit several National Parks, then consider purchasing a combo ticket. You can find additional info at National Parks And Nature Reserves post.
Note: opening hours and ticket prices were updated on September 2020. In any case, recheck the official site before visiting.
English Guided Tours
Tours in English for individual visitors:
Summer hours – Sunday–Thursday 11 A.M., 4 P.M.; Friday: 11 A.M. 3 P.M.

Winter hours – Sunday–Thursday 11 A.M., 3 P.M.; Friday: 11 A.M. 2 P.M.
Note: unless stated otherwise, all quotes were taken from the official site.
You must arrive 25 minutes before the beginning of the tour. And again, recheck the official site before joining a tour.
The Discovery Of The Stalactite Cave
The Stalactite Cave parking lot is located higher than the cave itself. You will need to go down about 160 steps till you reach the cave entrance (there is dedicated disabled parking next to the cave). Also, I should mention that it is not allowed to enter the Stalactite Cave with baby carriages and strollers. So take a baby carrier or a baby sling.
Anyhow, while you go down the stairs, you will see quarries around. The quarries were there also back in 1968, and this is how the cave was discovered:
One day in May 1968, the sound of blasting echoed across the western slopes of the Judean mountains. On the face of things, just another blast at the Hartuv quarry that supplies stone for construction, no different than the hundreds that preceded it. But this blast was entirely different: it revealed a small opening into a wondrous world that had been hidden deep within the earth, concealed from the eyes of all living creatures. With that blast, the current chapter in the life of the Stalactite Cave began.
Inside Stalactite Cave
When you get down, you need to wait for a tour to start. You can not enter by yourself. For a Hebrew tour it usually takes up to 20 min for a group to be formed, and then a guide will accompany you. Often, there is a short explanation outside (next to the cave) about this site and its surroundings. When inside, you will see a short movie about the Stalactite Cave, and afterward, you will enter the cave.
Comparing to other caves in the world, it is not a big one (max length – 91 meter, max-width – 80 meters, and max-height – 15 meters), but what makes it unique is the fact that it is densely packed with various types of stalactites.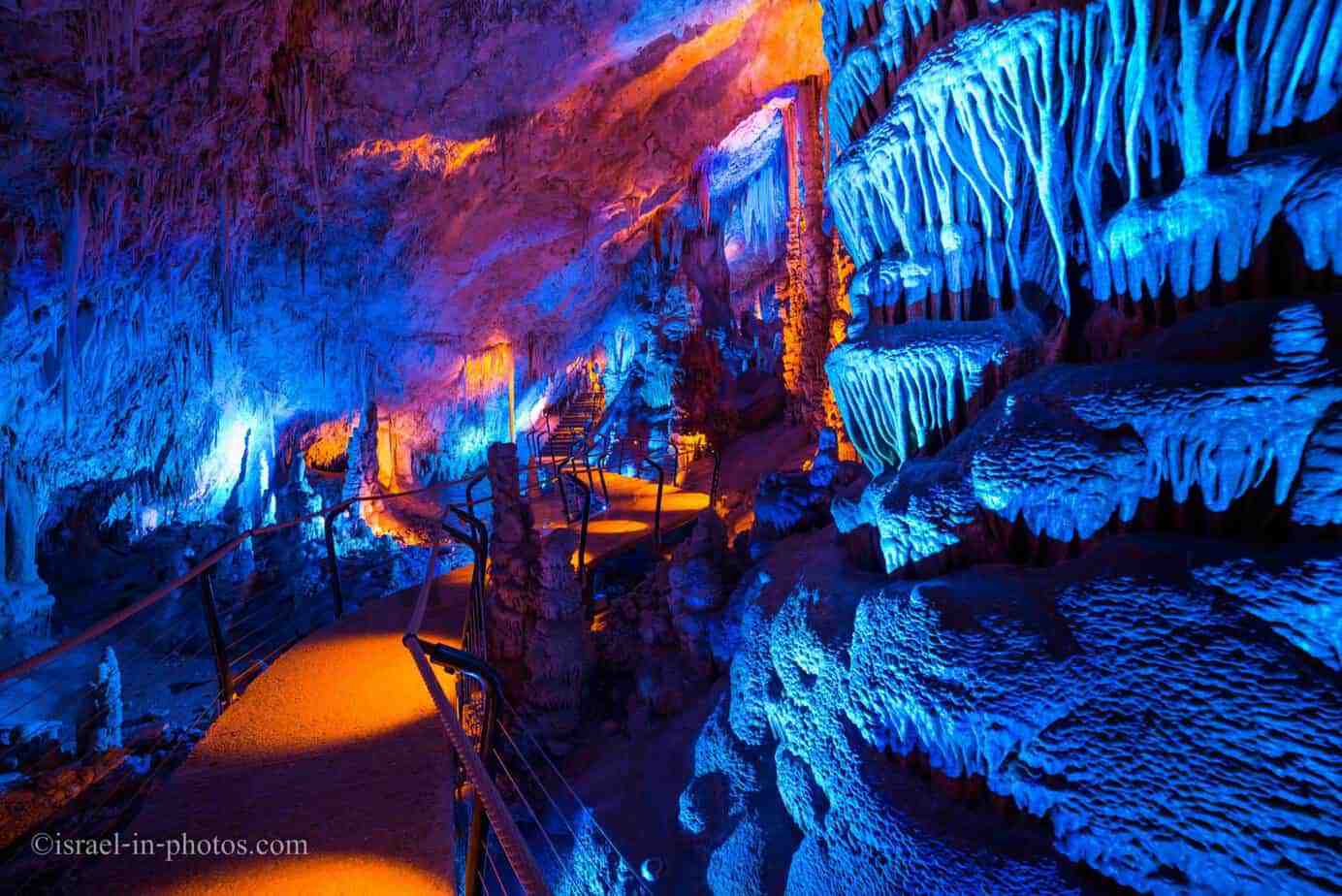 Inside Stalactite Cave, you are walking on a concrete path with fences around you. You are not allowed to touch the stones since it will ruin delicate chemistry. Once a stalactite touched, It stops growing. Next to the cave entrance, there is a "pet corner," where you can feel several stalactites.
The air temperature in the cave is constant year-round at 22 Celsius, and humidity range from 92% to 100%. High humidity, together with light, will create mold. And National Parks Authority does not want the stalactites covered with fungus (installed lights and flashlights used by guides are not regular ones). Thus, you are not allowed to use any lights, including flashes.
Therefore, in my photos, you will rarely see people. While shooting, I kept the ISO low. Thus in most cases, the shutter speed was 20-30 sec (and people do not stand still for such long periods). It also means that if you want to photograph there, you will need a tripod and drag behind your group.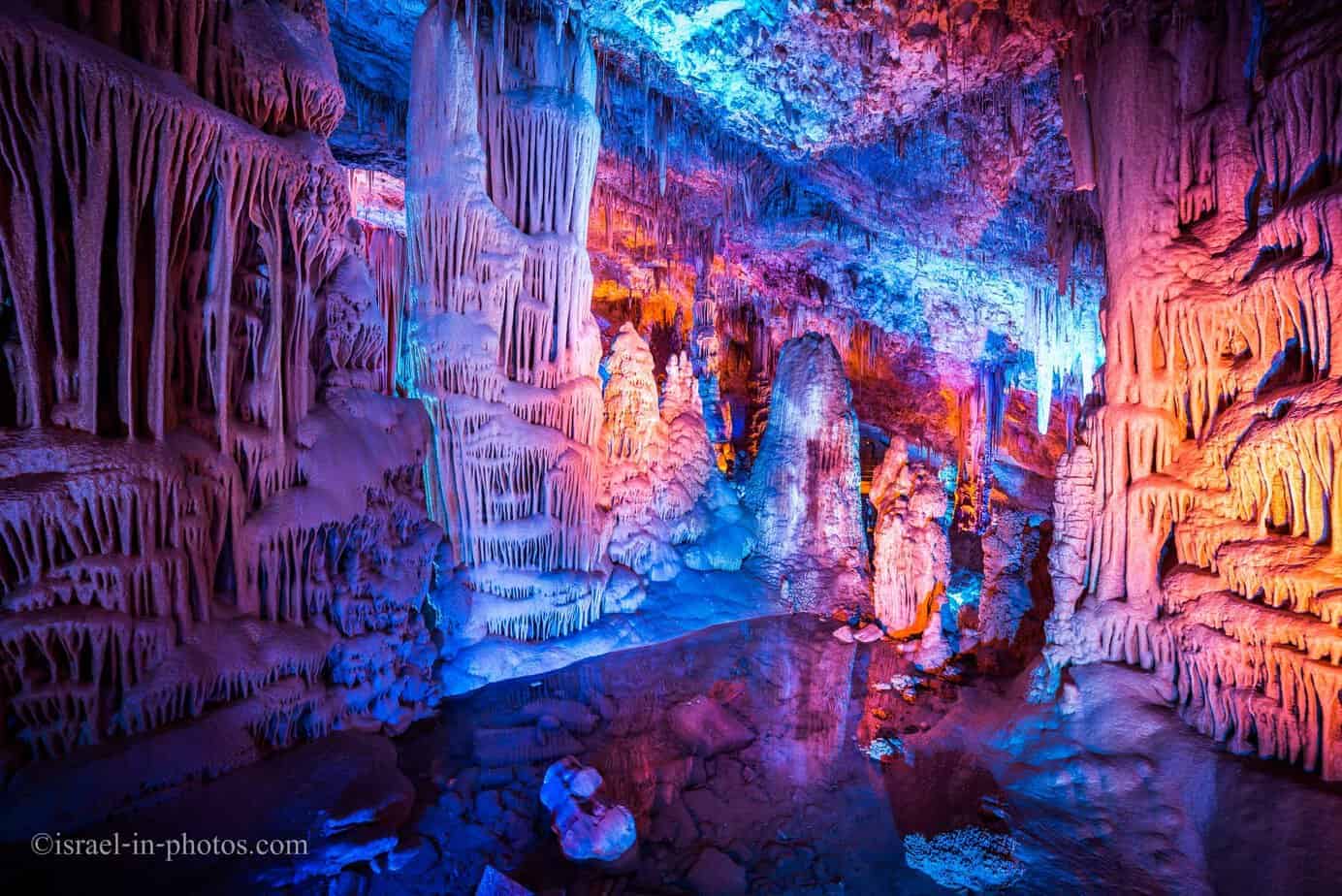 Why Is It Named Avshalom Cave?
This cave has three common names. The name Stalactite Cave Nature Reserve is evident. And Soreq is the name of the nearby stream. Thus, the remaining question is who was Avshalom.
The Stalactite Cave is dedicated to the memory of Avshalom Shoham. Shoham was severely injured during his army service in the elite Sayeret Shaked unit. He fought for three years to recover, but on February 4, 1974, he passed away.

Avshalom Shoham loved the land of Israel. He traveled its length and breadth and may have even visited the Stalactite Cave before it was officially opened to the public. As a meaningful way of perpetuating his memory, his family and friends assisted the Israel Nature and Parks Authority in preparing the cave for the opening to the public.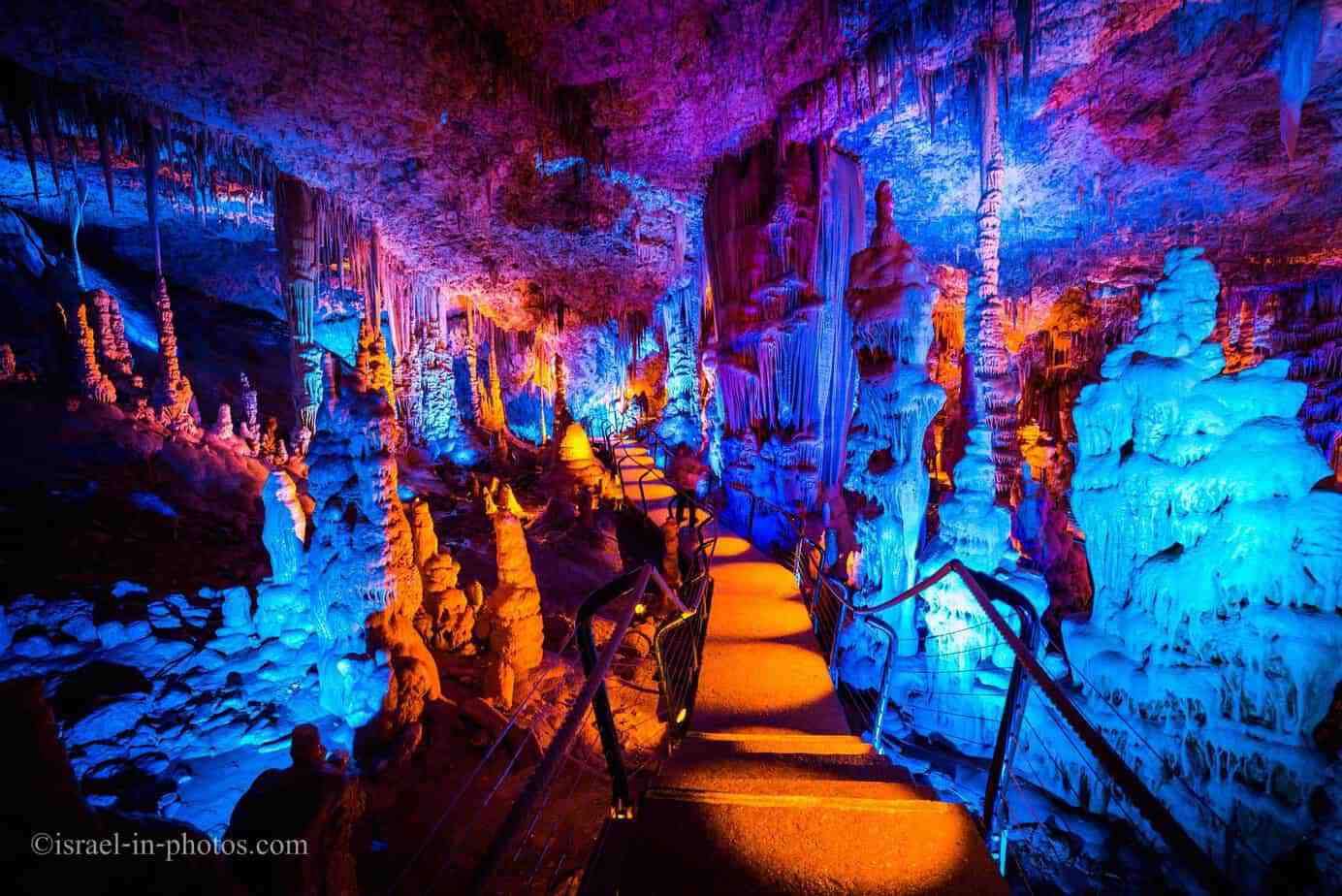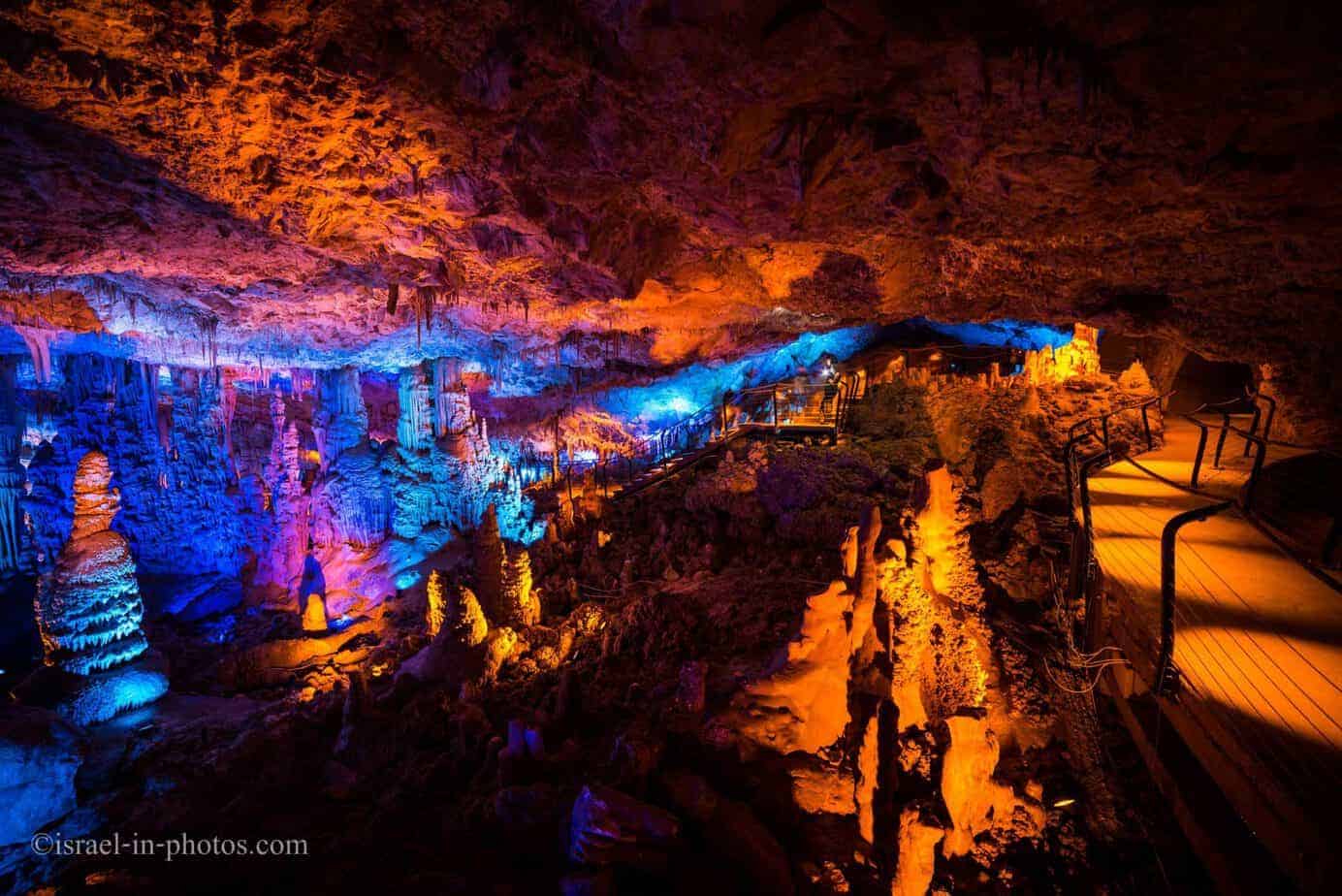 As I mentioned before, the cave is not that big. So if you are walking fast, you can cover it in 20 minutes. For most people, the round route inside the cave takes 40-60 minutes.
Here is a short video I created after my visit:
The last slide in the movie shows two signs. You can see those signs when you go up (back to the parking), and they tell you how many stairs are left and the approximate amount of calories you will burn. For example, the one on the left: "You still have 126 stairs, which is equal to 124 calories. It is the approximate amount of calories in a yogurt. Starting to get hungry?" 😉
You can find additional photos from my previous visits, in the Soreq cave post. You will also notice different colors in that post. The reason for the change is the new lighting system that Nature and Parks Authority installed in 2012.
Summary
Stalactite Cave is one of the most beautiful nature reserves in Israel. A visit will not take much time (up to two hours), but it will surely leave an impression. You can visit it on your way from Tel Aviv to Jerusalem. Or you can combine it with Bet Guvrin – Maresha National Park for a full day trip. In any case, my recommendation would be not to skip this hidden gem.
Have you ever visited Stalactite Cave Nature Reserve? Tell us about your experience in the comments below.
That's all for today, and I'll see you in future travels!
Stay Tuned!
For additional points of interest nearby, check out the Jerusalem page.
Additional Resources
Here are several resources that I created to help travelers:
And if you have any questions then check out
Useful Information For Tourists To Israel
.
Did not find what you were looking for? Email me at
[email protected]
, and I will do my best to answer your questions.