In Big Crater, you can find colored sands. It is where kids can fill bottles and also starting point for trails.
Map
Colored Sands is about twelve km from Yeruham, inside HaMakhtesh HaGadol (Makhtesh Yeruham). And while driving from Yeruham on road #225, you will see a sign pointing to the left.
If you are driving from Yeruham, consider stopping at Mount Avnon Lookout.
Directions for drivers: Link to Waze and Link to Google Maps
Directions for public transport: Link to Moovit
Interactive map of the area:
Offers:
Hotels, hostels, and apartments in this area:
And here is a photo of a map of the HaMakhtesh HaGadol:
You can see the colored sands to the right of the map.
Opening Hours
Always open. But keep in mind there are no artificial lights.
Entrance Fee
Free.
Parking
As you exit road #225, you will see large and free parking.
What can you find at Colored Sands?
At colored sands, you can find parking, picnic tables, and of course, colored sands. Moreover, this can be the starting point for the hikes to the small fin or the big fin (ridges that received the name due to the similarity to a fish fin).
Note: if you are interested in how the big crater was created, read Makhtesh Ramon Visitors Center. Makhtesh Ramon, the big crater, and the small crater are all erosion craters.
At Colored Sands
Tip: when visiting with kids, bring small transparent bottles. Then children can fill the vessels with layers of different colored sand.
We had a small bottle, and my daughters were busy for an hour.
The original plan was to hike to the small fin, but as I learned the hard way, there is no cellular reception. I could not get a signal even when I climbed to the top of one hill. Thus, bring paper maps if you want to hike in the area.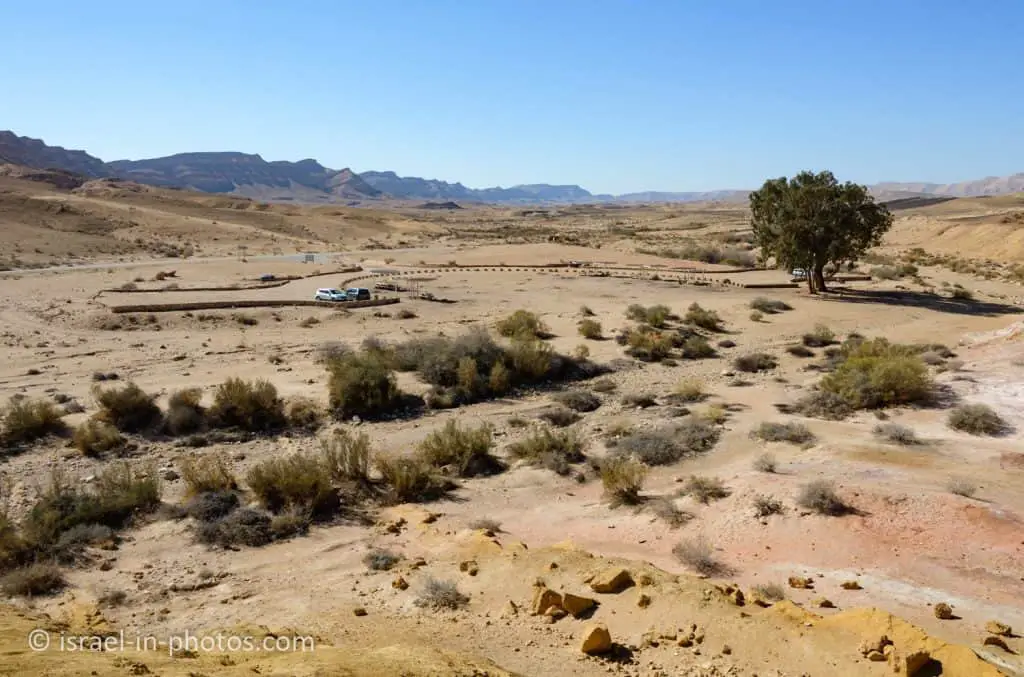 Here are additional photos of the colored sands:
Summary
Colored Sands in the Big Crater is a lovely place, and I recommend stopping there. And if you visit with kids, do not forget to bring a transparent container. Moreover, you can make a picnic or start hiking from this point.
This area has many attractions, and you can explore them using the interactive map above. And also, check out the post about HaMakhtesh HaGadol.
Have you visited Colored Sands in Big Crater? Tell us in the comment below about your experience.
That's all for today, and I'll see you in future travels!
Stay Tuned!
Additional Resources
Here are several resources that I created to help travelers:
And if you have any questions then check out
Useful Information For Tourists To Israel
.  
Did not find what you were looking for? Leave a comment below, and I will do my best to answer your questions.