Ursula Malbin`s Sculpture Garden is a hidden gem in Haifa, not far from the Bahai Temple. And today we are going to visit it.
Map
Ursula Malbin's Sculpture Garden is located on the corner of Shnayim Be'November and Sderot Hatsiyonut in Haifa. You can enter either "Shnayim Be'November 2" or "Sderot Hatsiyonut 138" into the navigation app to get there.
Map of the area:
Ursula Malbin
Ursula Malbin was born on April 12, 1917, in Berlin to Jewish parents, both doctors of medicine. She herself was trained to become a cabinet-maker. In 1939 after her family had already left, a few weeks before World War II, she fled Nazi Germany, alone, penniless and without a passport.

She was in Geneva when the war broke out, and there she met the sculptor Henri Paquet, whom she married in 1941. Ursula and Henri have a daughter Claudine born in 1945, who has two sons. Since 1967, Ursula Malbin has divided her creative life between the Artists' Village of Ein Hod in Israel and the village of Troinex near Geneva in Switzerland.

Malbin's work is exceptional in its simplicity, in its fragile yet graceful depiction of the human form, and its celebration of the enduring beauty of life despite all vicissitudes. To maintain the purity of her inspiration, the artist works without models, relying only on her imagination for the pure, sculptured indication of her attitude to life.

Over the years, Malbin's works have found their way into Hospitals, Parks, Gardens, Schools and private collections in Europe and North America. One original of each of her creations is donated to the Sculpture Garden in Haifa that opened to the public in 1978.
Source: ein-hod.info
Sderot Hatsiyonut Viewpoint
I have already visited Haifa's most famous viewpoints (Bahai Gardens from Sderot Ben Gurion and Yafe Nof Balcony), so this time I decided to scout for a new spot. I heard that next to Sculpture Garden in Haifa, there are good viewpoints. Thus, one evening I headed there.
Note: here is the link for the full Bahai Gardens post.
I have parked not far from the entrance to Bahai Shrine and started walking up along Sderot Hatsiyonut street.
In Haifa, you can find numbered signs to different viewpoints, like this one: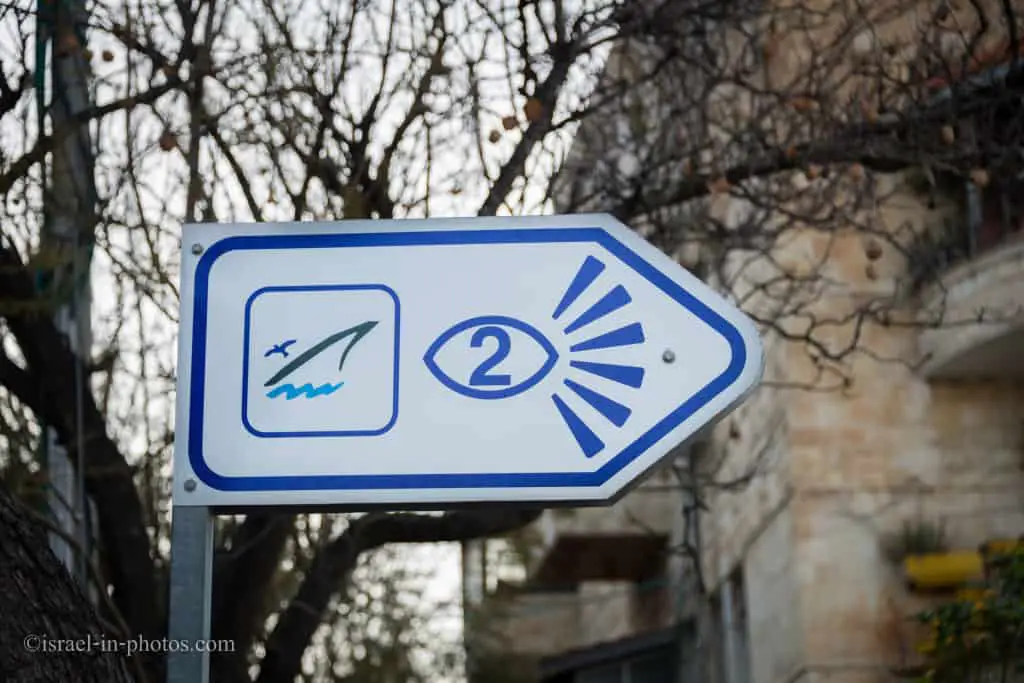 It is located on Sderot Hatsiyonut 111, and here are several views from there: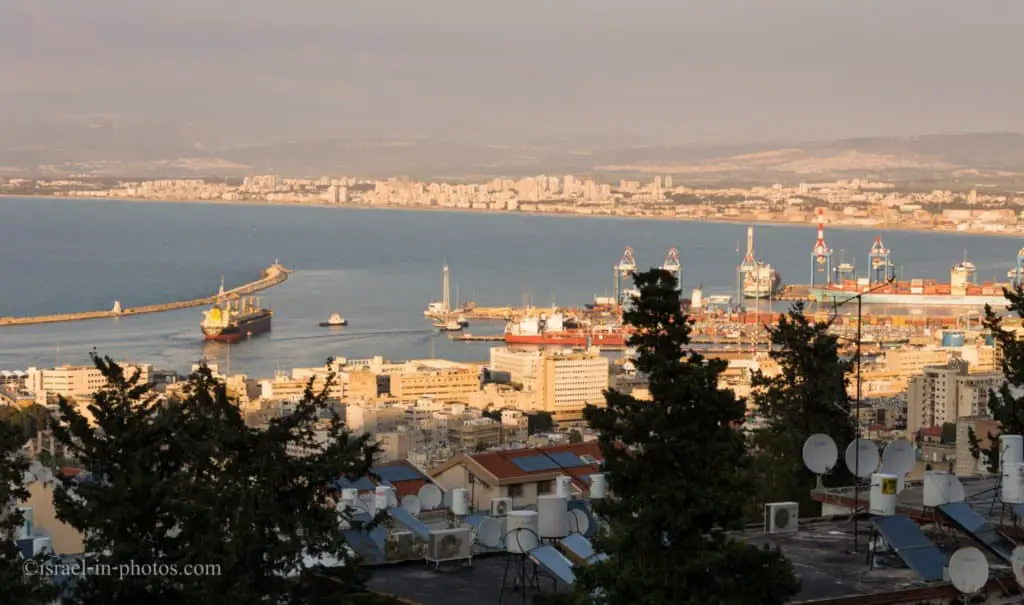 It is not the best viewpoint, so I decided to continue scouting.
After a two-minute walk, I have reached Shnayim-November street 2. There you can find another viewpoint sign. If you follow that sign, then you will enter the Sculptures Garden in Haifa.
In Ursula Malbin's Sculpture Garden
Sculptures Garden is a small garden that presents 29 bronze statues, all made by Ursula Malbin. Ursula donated the money for the park and donated all sculptures as well. And even after one of the sculptures was stolen, she replaced it with another one from her private collection.
Her work mainly presents people:
Firm in her belief in true and permanent values, Ursula Malbin, has restored, through her creations that trust and hope in the art which is all too often lost today. Mizpor Shalom also happens to be the first open-air sculpture garden in the world devoted entirely to the works of an individual woman artist. Malbin's works adorn private and public gardens, schools and institutional buildings in Switzerland and North America. Specimens of her work are also found in private collections. In 1995, the "Arts, Science, and Letters" division of "L'Academie Francaise" awarded her a gold medal at a special ceremony in Paris, in recognition of her lifetime work. Mizpor Shalom has a poignant and charming genesis.
Source: ein-hod.info
As a bonus, you can get views of Haifa from there: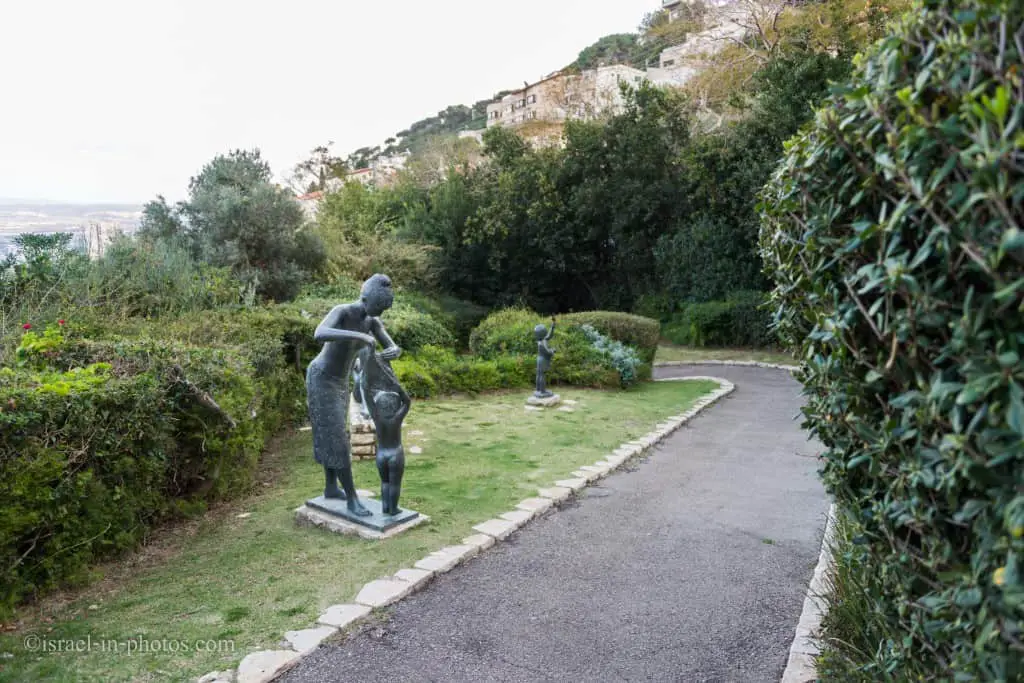 It is not a big garden, but a nice quiet green corner in the middle of the city.
Though I do not remember seeing signs on the spot, some sites say Sculptures Garden in Haifa is closed at night. So if you are planning to visit it, do it before 6 pm.
Shnayim Be'November Viewpoint
While scouting, several locals recommended another viewpoint. Well, this was a simple spot with several benches. It is located within a five-minute walk from the park at 12 Shnayim Be'November street. It was the best viewpoint of all I have seen that day. And here are several photos from there: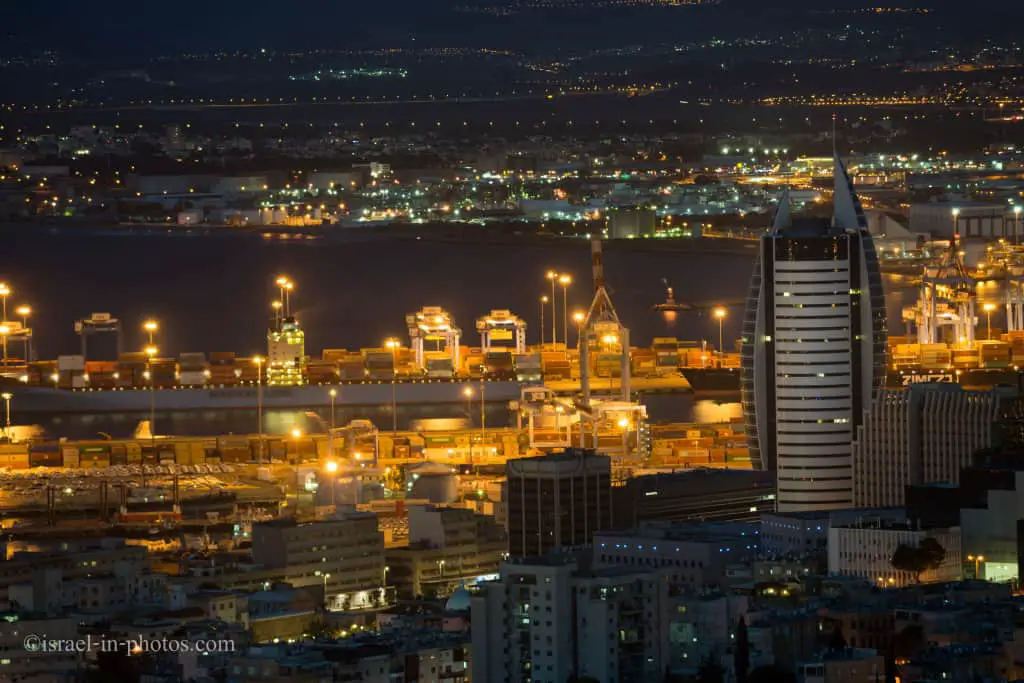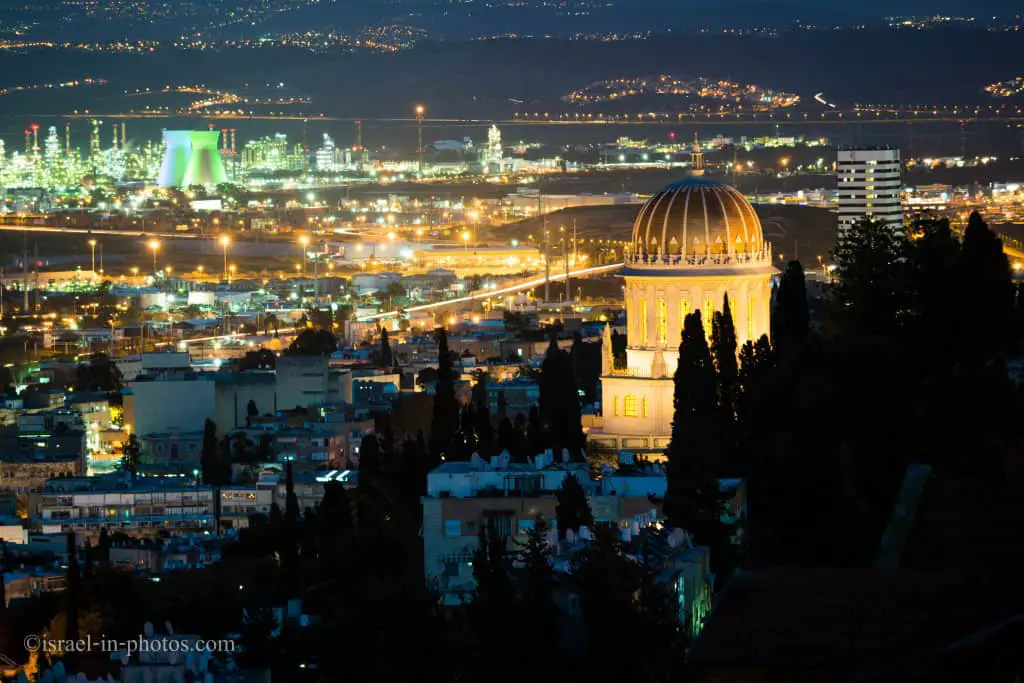 Summary
Ursula Malbin's Sculpture Garden is a lovely place, and if you have the time, I would suggest combining it with a visit to Bahai Gardens, specifically, the Bahai Temple.
 
Have you ever visited Ursula Malbin's Sculpture Garden? Let us know in the comments below.
That's all for today, and I'll see you in future travels!
Stay Tuned!
For additional attractions nearby, see Haifa.
Additional Resources
Here are several resources that I created to help travelers:
And if you have any questions then check out
Useful Information For Tourists To Israel
.  
Did not find what you were looking for? Leave a comment below, and I will do my best to answer your questions.