Tzurim Valley National Park is located on Mount of Olives in Jerusalem. There you can join the sifting activity and find treasures from the past. Let's begin exploring!
Note: Tzurim Valley National Park is also called Emek Tzurim National Park. And it is sometimes spelled as Zurim.
Offers:
Black Friday Deals on Booking.com are available from 18 November until 1 December 2021. Get 30% discount at participating properties. And stay from November 18 2021 until 30 June 2022. See additional details here.
Get 5% off for your next vacation at Isrotel.
Get 10% off for your next tour at Bein Harim with coupon code LEV10#12306.
Map
Tzurim Valley National Park is located on the western slope of the Mount of Olives in Jerusalem.
Map of the area:
Directions
If you are reaching by car, then enter "Zurim Valley National Park" into Waze. Note there are several entrances. You can park at Hadassa Lampel 10 and take the stairs down, or even better, enter Tzurim Valley through Derech E-Tur Shmuel Ben Adaya and use the free parking on site.
If you are using public transportation, then you need to reach the Hebrew University. Different bus lines stop there, and you can find exact directions on Moovit. I already set the endpoint in that link, so enter the starting point to get the updated directions.
Tzurim Valley National Park
Emek Tzurim National Park is a national park in Israel. It is located on the lower western slope of the Mount of Olives and Mount Scopus and the upper reaches of the Kidron Valley. It abuts the neighborhoods of Wadi al-Joz, At-Tur, and Beit Orot, as well as the campus of Brigham Young University Jerusalem Center. On its northern side, the Park borders Highway 1 and is overlooked by the Hebrew University of Jerusalem Mount Scopus campus. The grounds cover 170,000 square meters. During the years 2004—2017, the park housed the Temple Mount Sifting Project, where visitors participate in the sifting of soil from the Temple Mount. During 2017, the Temple Mount Sifting Project moved to a different locale, and the park now houses the Ancient Jerusalem Sifting Project, which sifts finds from various archaeological excavations within Jerusalem.
Source: Wikipedia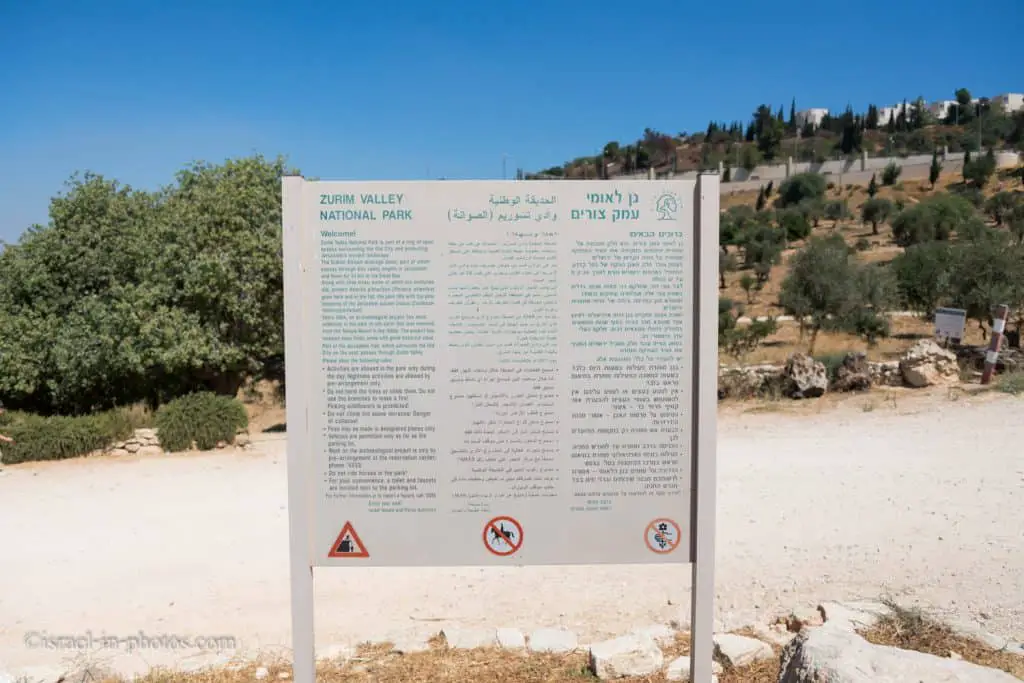 Temple Mount Sifting Project
In the previous photo, you can see a car parking at the bottom left corner. It is located near a building with a rounded roof. It was our main attraction for the day. And it is where the Ancient Jerusalem Sifting Project is taking place. But it all started from Temple Mount Sifting Project.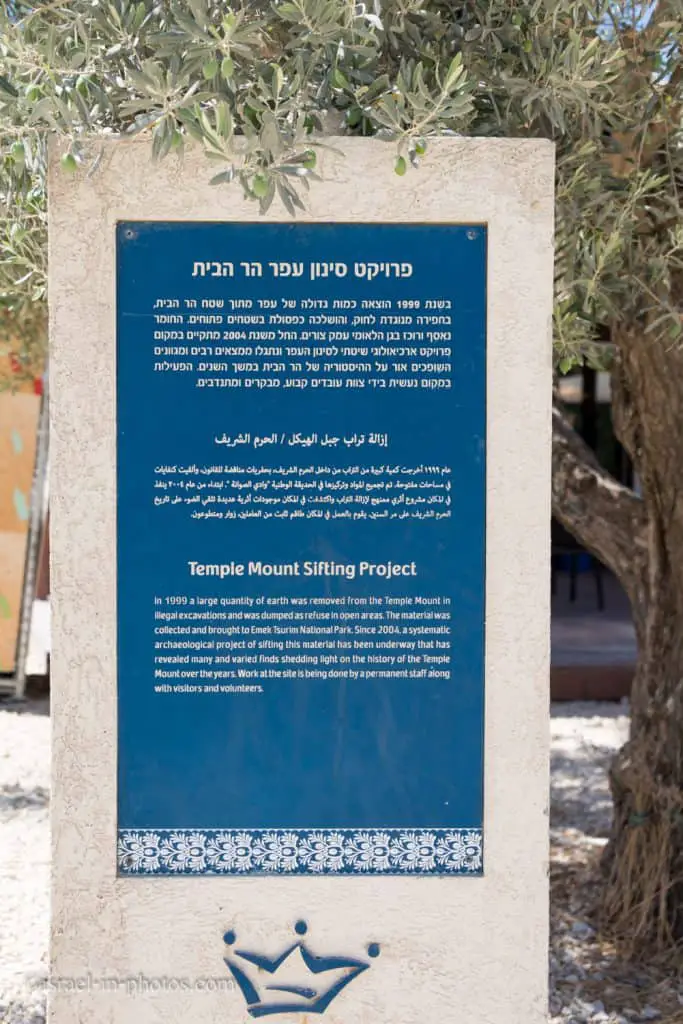 In 1999, the Muslim Waqf began renovation work in the ancient open spaces known as Solomon's Stables on the Temple Mount. The work, which was carried out without any supervision or archaeological study, raised fears that vitally important historical information would be lost forever.

The building contractors who worked on the Temple Mount dumped the earth and rubble they removed from the site at different trash dumping sites around the city, including the Kidron Valley.

In 2004 it was decided to carry out extraordinary rescue excavations: Usually, archaeology follows stratigraphy – examining findings and dating them according to the strata of the earth in which they were found. But in this case, the stratigraphy was meaningless because the earth was removed from its surrounding context, and the different layers of earth had been mixed. Nevertheless, it was decided to sift through the earth that had been dumped and to examine its contents to at least try and gather, for the first time, information regarding the finds from the Temple Mount, a site which – due to its sacred and sensitive nature – was never excavated.

Hundreds of trucks brought the earth to a site allocated for this purpose in the Emek Tzurim National Park, and the site is now a center of research combined with training and educational activity, which is carried out with the help of volunteers who do the sifting work as part of their visit to the site and funded by the Elad Foundation.

Tens of thousands of objects have been discovered thus far, including ancient coins, tools, and arrowheads dating from the First Temple Period, Second Temple Period, and the Crusader Period to the First World War – evidence of the many wars that Jerusalem has seen. Among the major finds was a bulla (a seal impression), which bore an inscription written in ancient Hebrew script, "For Gedalyahu son of Immer" – a member of a family of priests from the period of the Return to Zion who is mentioned in the book of Jeremiah.
Source: allaboutjerusalem.com
As mentioned above, today, the sifting project includes remains from various places in Jerusalem, but not from the Temple Mount. They performed sifting of the Temple Mount remains here until 2017. And now, the Temple Mount sifting project is located at Mitzpeh HaMasu'ot (The Masu'ot Lookout). You can find all details on the official website.
During our August 2019 visit, we sifted through remain from the City Of David.
Ancient Jerusalem Sifting Project
Note: as you can see in the following photo Ancient Jerusalem Sifting Project is also called The Archeological Experience.
Entrance Fee
Adult – 24 NIS.
Child (4 – 18), student, senior – 19 NIS
Family sifting pass (up to five participants) – 80 NIS
Note: to participate in the archeological experience, you will need to book slots in advance. And I tried to book tickets at least four times till I succeeded. Thus, I would suggest booking at least two weeks in advance (especially if you are looking for Friday or holidays).
Opening Hours
As I mentioned above, if you want to join the sifting activity, you have to book a tour at the official site. During the booking, you will select the date and the time. And here are the current opening hours:
Sunday – Tuesday: 9:00 AM – 5:00 PM.
Friday: 8:00 AM – 1:00 PM.
Saturday – closed.
Guided explanations in Hebrew at 09:00 AM, 11:00 AM, 1:00 PM, 3:00 PM. A guided tour in English will begin at 10:00 AM.
Note: opening hours and entrance fees were updated in January 2020. In any case, recheck the official site before visiting.
The Archeological Experience
I booked slots for 9:00 on a Friday morning. And our archeological experience started with a short historical overview.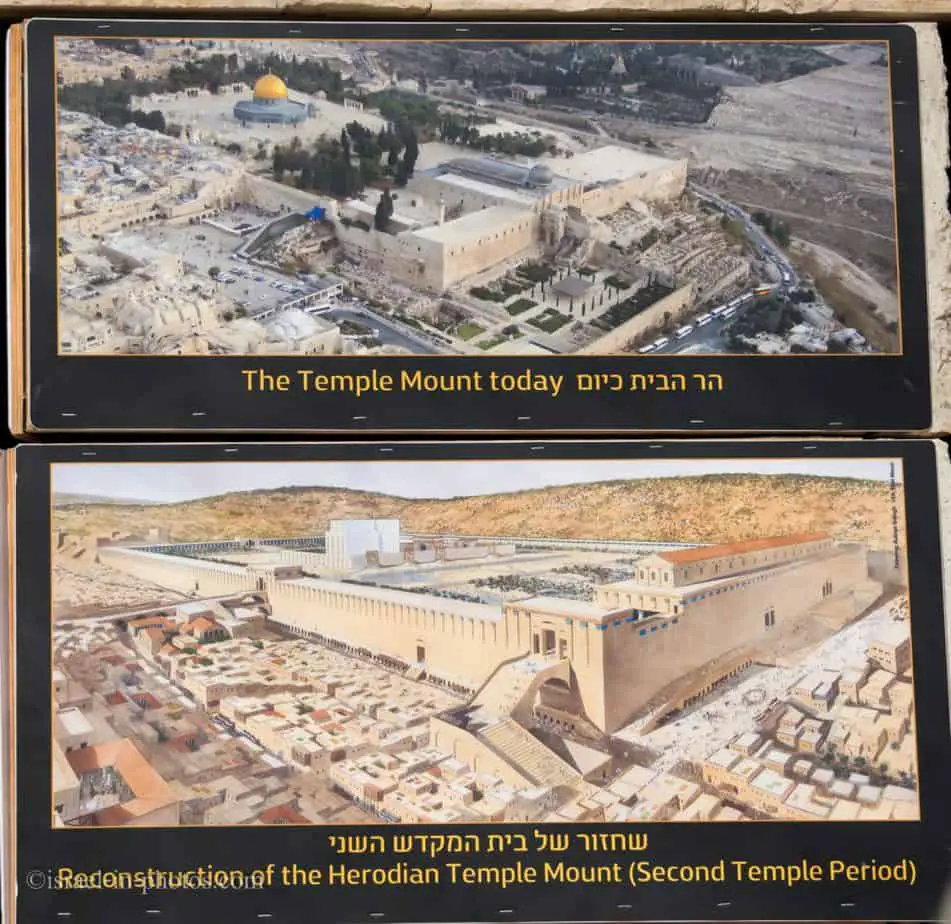 The area at the bottom of the Temple Mount photo is Davidson Center. Check out my guide to Davidson Center – Jerusalem Archaeological Park for additional info.
Then our guide explained and demonstrated the sifting process.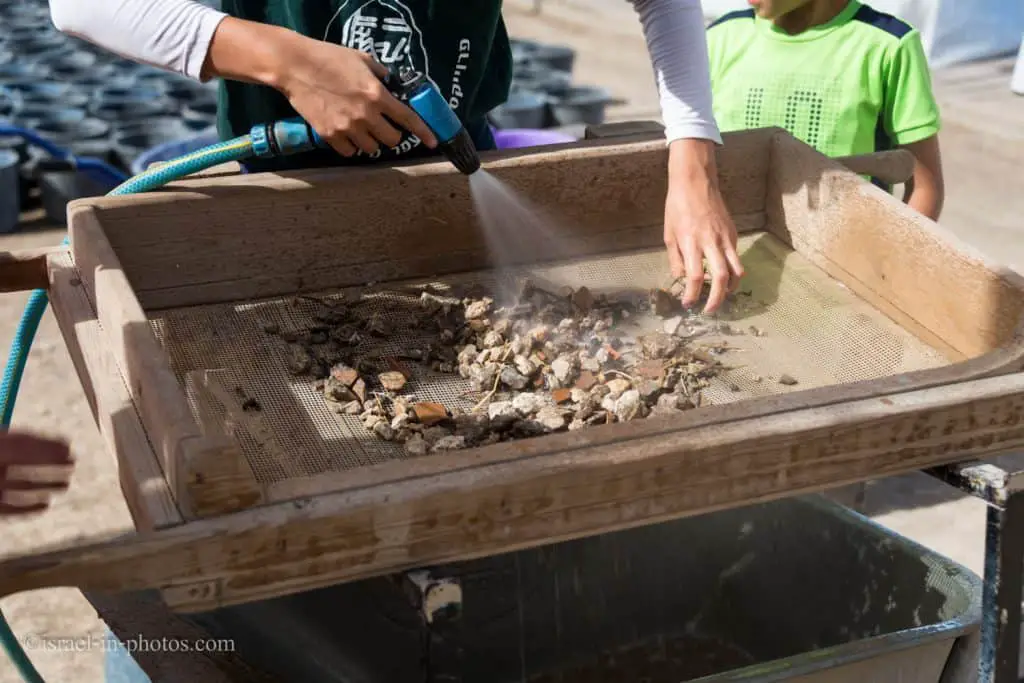 The sifting process is not complicated. Many buckets are waiting to be checked. You take one bucket and pour all its contents on top of the net. Then using water, you wash off the sand and dust. And then you start sorting. You sort everything into six different groups. They are metal, special stones, bones, pottery, mosaics, and glass.
First, you sort all the pieces at your station into a dedicated plate. And then you go to the sorting station and place your findings into the buckets.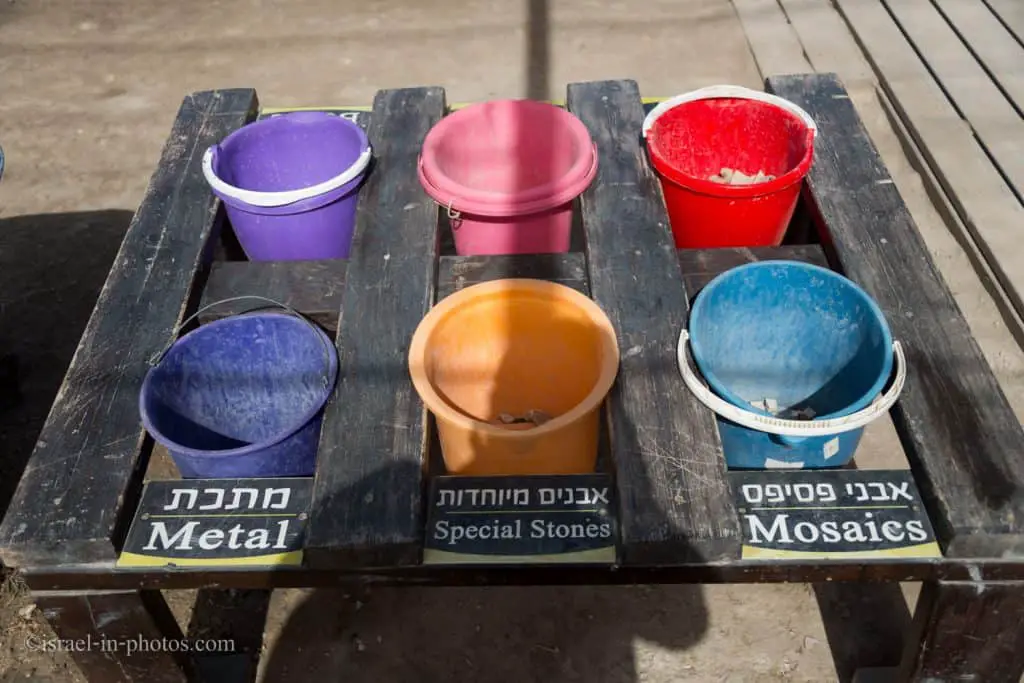 Here is an overview of this tent. Many buckets waiting to be sifted in the center. Behind them, you can see one of the sorting stations. And on both sides, you can see the white sifting stations.
We found mostly ceramics. Here is, for example, a bottom part of a cup or a small vase that we found.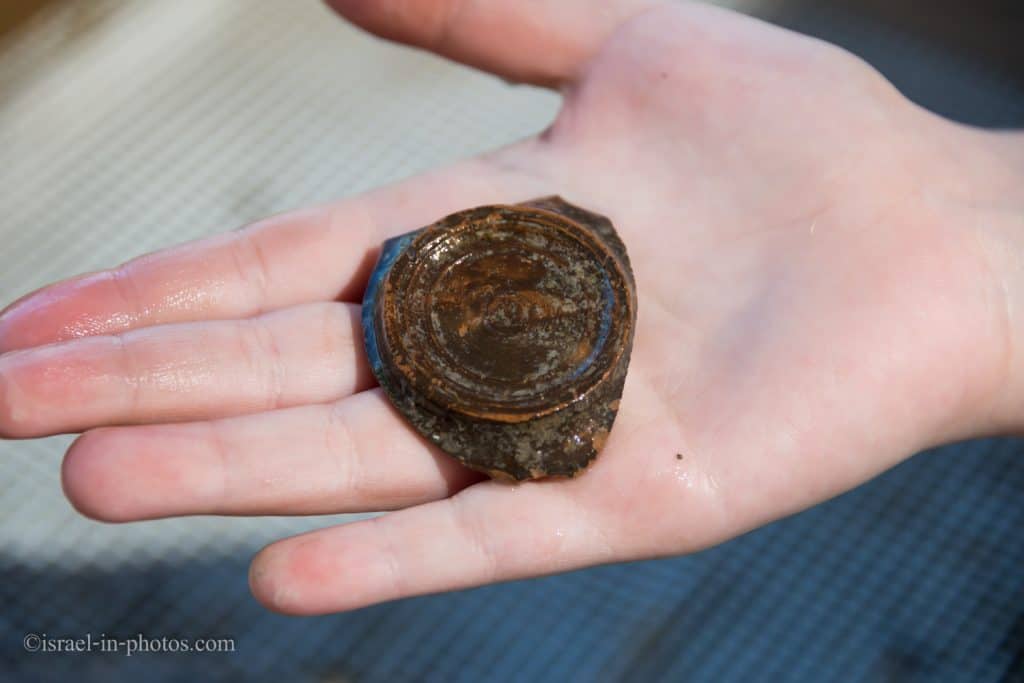 Since this is a real excavation, there are archeologists on site. During our visit, it looked like one doctor and several students. And as I mentioned above, we booked for the first archeological experience on a Friday morning. And since Israeli usually do not wake up early, during our time slot, besides us, there was one additional family. That was a big plus as the archeology students were not busy, and we could ask many questions. And, of course, they helped us in sorting. Here is one of them in action.
Towards the end, our guide showed us some of the previous findings at the sifting project. Here is for example and ancient earring.
As we saw different findings, I looked back and saw the next group. Almost all sifting stations were full. Thus, I suggest booking early, as there are fewer people and you can ask archeologists questions.
At the end of the sifting activity, we received a Jerusalem guide book and participation certificates.
The whole sifting activity took us about 1.5 hours, and the sifting itself was about one hour.
Hike at Tzurim Valley National Park
When the sifting activity ended, we decided to make a small hike at Tzurim Valley National Park.
Tzurim Valley National Park is located on the Mount of Olives. And if you get to a higher vantage point, then you can get a nice view of the Old City.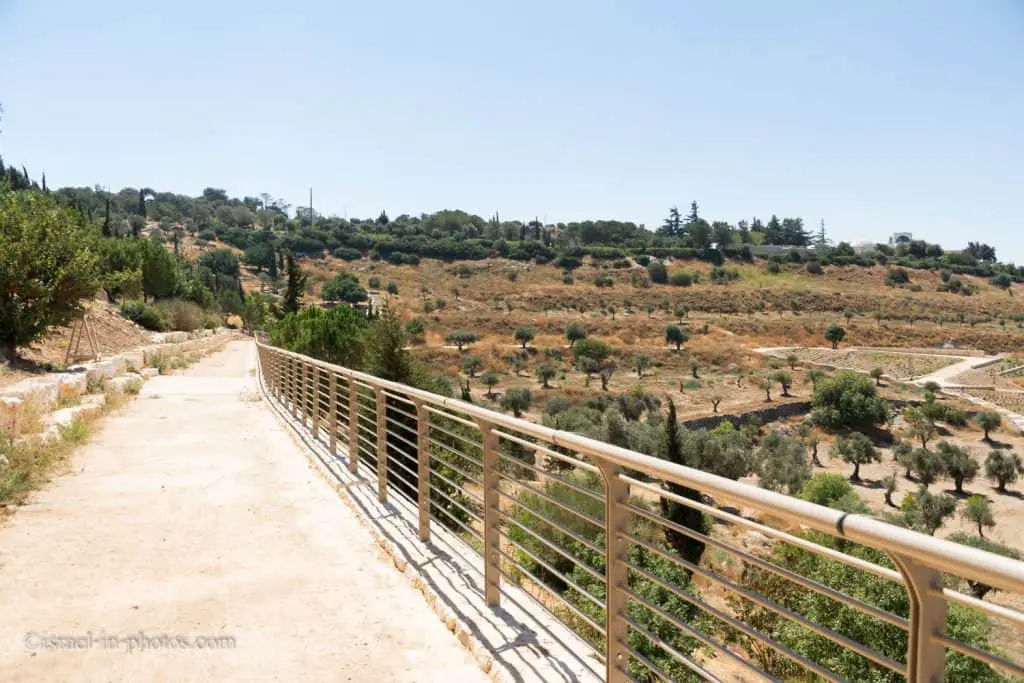 I photographed the Old City from the top and then added notations. And this is the result:

Here is another cityscape from there: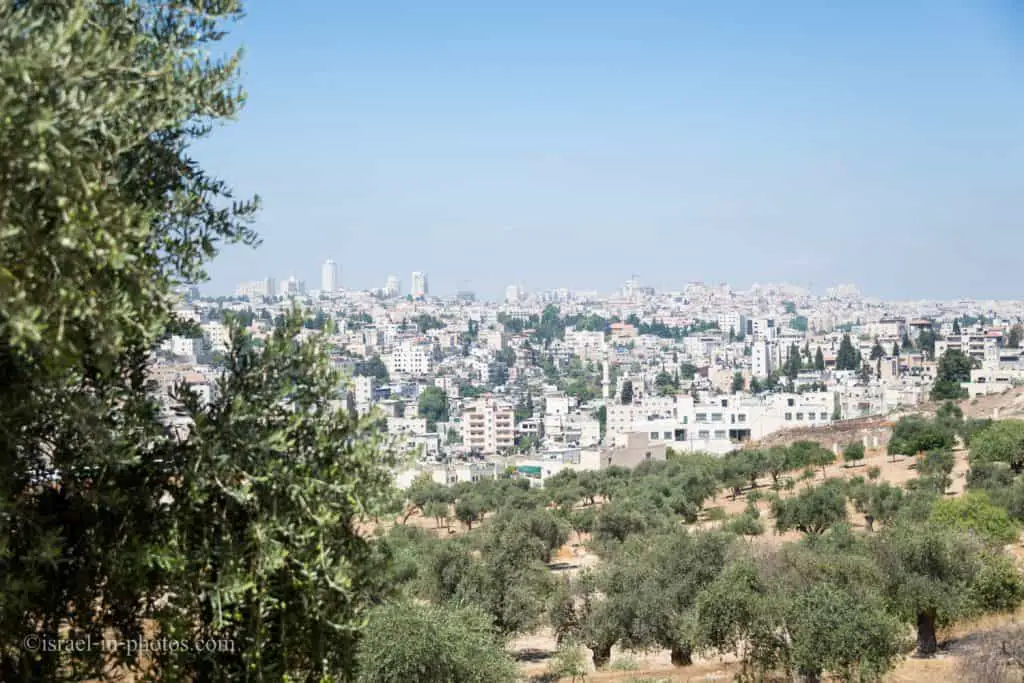 And here is a Dome of the Rock closeup:
If you are wondering about the distance, I will mention that the photo above was made with Nikor 28 – 300 lens at 190 mm on a full-frame body.
Towards the end of the hike, we were getting hungry. Thus we decided to head to Machane Yehuda Market.
Summary
We enjoyed the archeological experience at Tzurim Valley National Park. And since the activity lasts only 1.5 hours and includes hands-on experience, it is suitable for the whole family.
The bottom line is that if you love archeology, then I would recommend booking the archeological experience. It is a unique experience, and unlike the standard POI, here you can uncover real treasures.
Have you ever been to Tzurim Valley National Park? Tell us about your experience in the comments below.
That's all for today, and I'll see you in future travels!
Stay Tuned!
Additional Resources
Here are several resources that I created to help travelers:
And if you have any questions then check out
Useful Information For Tourists To Israel
.  
Did not find what you were looking for? Email me at
hi@israel-in-photos.com
, and I will do my best to answer your questions.