Carasso Science Park is an excellent science and technology museum in Beer Sheva. But it has one downside.
Science Museums in Israel
Carasso Science Park is one of the top Science Parks in Israel. Moreover, when we heard Dima would visit as part of The Last Mammoth exhibition, we purchased tickets and attended this science park.
I would add the Bloomfield Science Museum In Jerusalem, Madatech in Haifa, and the Garden of Science at Weizmann Institute to the list of Science Museums. For additional info, check out my overview of Science Museums in Israel.
The principles in all of them are similar. They are aimed at families with kids and offer many hands-on experiences. I visited all those places, and my experience was always positive. The only downside is the entrance fee.
A typical visit to any science museum will take several hours up to a half-day (or even a little more).
Also, besides the places I mentioned, there are about half a dozen smaller science-related attractions.
And since you are interested in science, check out my post about Researchers' Night.
About Carasso Science Park
The Carasso Science Park is located in the heart of the old city of Beersheba. According to the official site, it is the largest and most modern science museum in Israel.
The Museum's area, which covers 17 dunams, offers visitors a variety of interactive exhibits, an experiential facility for preschoolers, a scientific garden (outdoors) and an auditorium for conferences, events, and screening of films.

The museum offers the public an extraordinary experience that invites visitors to "play with science" and enjoy a practical experience in operating exhibits that explain and illustrate science experientially and fascinatingly.

"Tell me, and I will forget, show me and remember me." (Confucius).
Note: unless stated otherwise, all quotes were taken from the official site.
Map
The park is located at 79 HaAtsmaut, Beer Sheva.
Directions for drivers: Link to Waze and Link to Google Maps
Directions for public transport: Link to Moovit
Interactive map of the area:
Offers:
Hotels, hostels, and apartments in this area:
And here is the map of the park:
Also, though there is a suggested route since we arrived too early on a Saturday morning (before 10:00 and were allowed to enter), we did this route in the opposite direction.
Directions
You can reach Beersheba either by public transport or by car. If you choose public transportation, you can take a bus to Beersheba central bus station or ride the train to Beersheba center train station (located near the central bus station). Then you can walk 1.3 km or take one of the buses that will bring you closer (lines 5, 7, 8, 13, 18, 24, or 34 will suit).
You can also drive to Beersheba. The drive from Tel Aviv will take around 1 hour and 20 minutes (if you are using toll road #6 and there are no traffic jams).
Parking
There is a free parking lot for Carasso Science Park visitors. We parked there, and when I mentioned this at the cashier's office, she put a sticker on the parking ticket. The label allowed us to exit for free without any time limitation.
Opening Hours
Sunday – Thursday: 10:00 – 17:00
Tuesday: 10:00 – 19:00
Closed on Friday.
Saturday: 10:00 – 17:00
Entrance Fee
As mentioned, the entrance fee is one of the main negative things at science parks. It is usually quite expensive, and Carasso Science Park is not an exclusion.
Adult – 59 NIS
Child – 59 NIS
Student – 39 NIS
Pensioner – 29.50 NIS
Notes:
There are discounts for Beer Sheva residents.
There is a 5% discount if you purchase tickets at the official site.
Opening hours and entrance fees were updated in December 2022. In any case, recheck the official site before visiting.
Coupons
If you are a spontaneous user, you will pay the above prices. But if you read this before your visit, you can save money. You can find the least significant discount on the official site. An online purchase there will give you a 5% discount. But, if you search the net, then you will be able to find better deals. Many credit card companies offer opportunities. For example, I purchased multiple tickets for 49 NIS per person through Visa.
Currently, I found the following coupons:
Exhibitions
As in most museums, there are permanent changing exhibitions. According to the official site, at Carasso Science Park, there are 12 permanent exhibitions. And the trigger for us was the changing exhibition, "The Last Mammoth." But we will get to it a little later.
The Turkish Building
We started our visit at the Turkish building, which is located on the left of the map.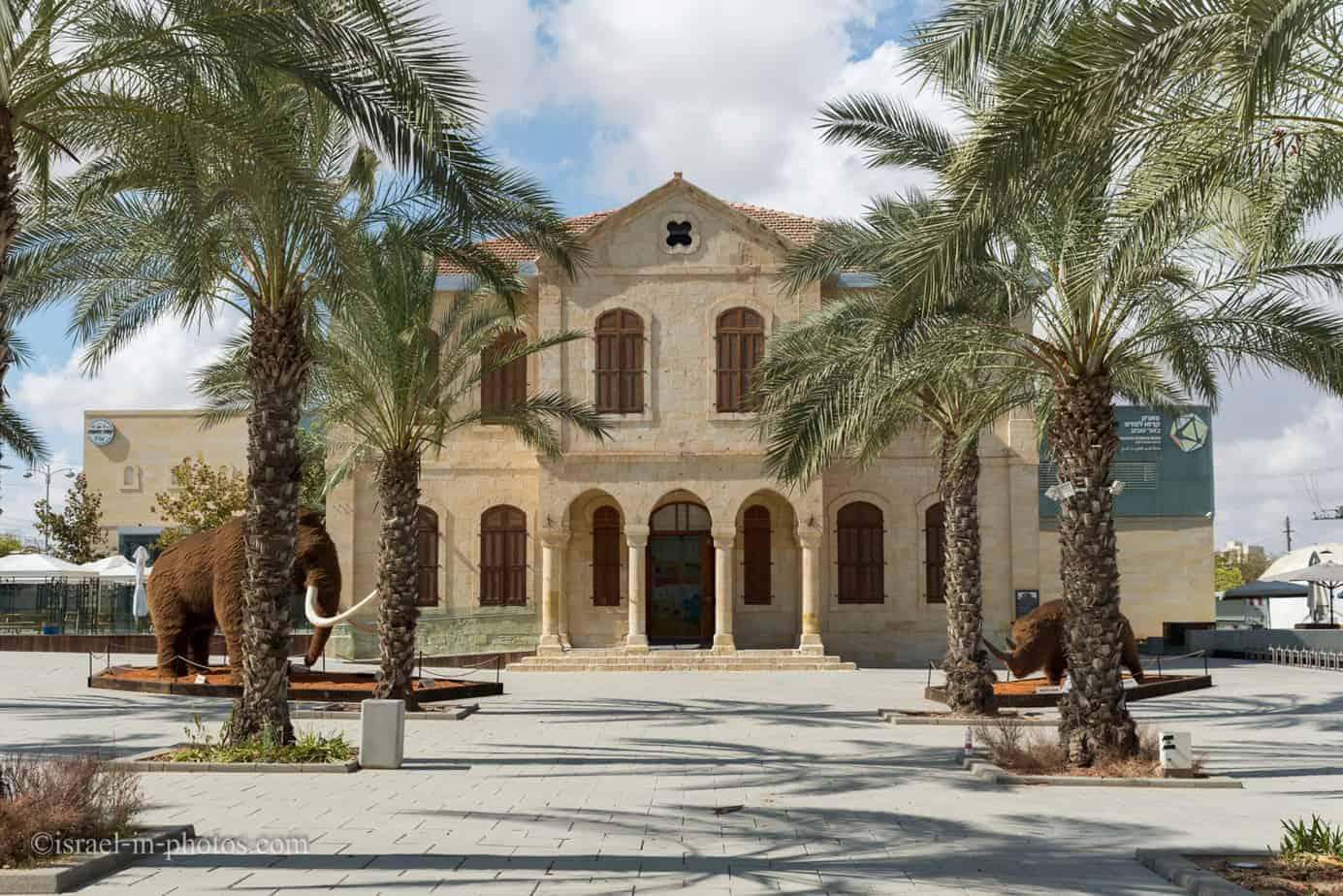 This park is located in the old city of Beersheba. Thus, some buildings, like this one, are historical. That was the Sheikhs` son's school.
The Ottoman Empire established an agriculture school to teach Sheikhs` sons and encourage them to settle permanently. The two-floor building was considered the largest and most beautiful of the Empire's school buildings. With its red roof shingles and three arches in front, it resembles other Ottoman governmental structures.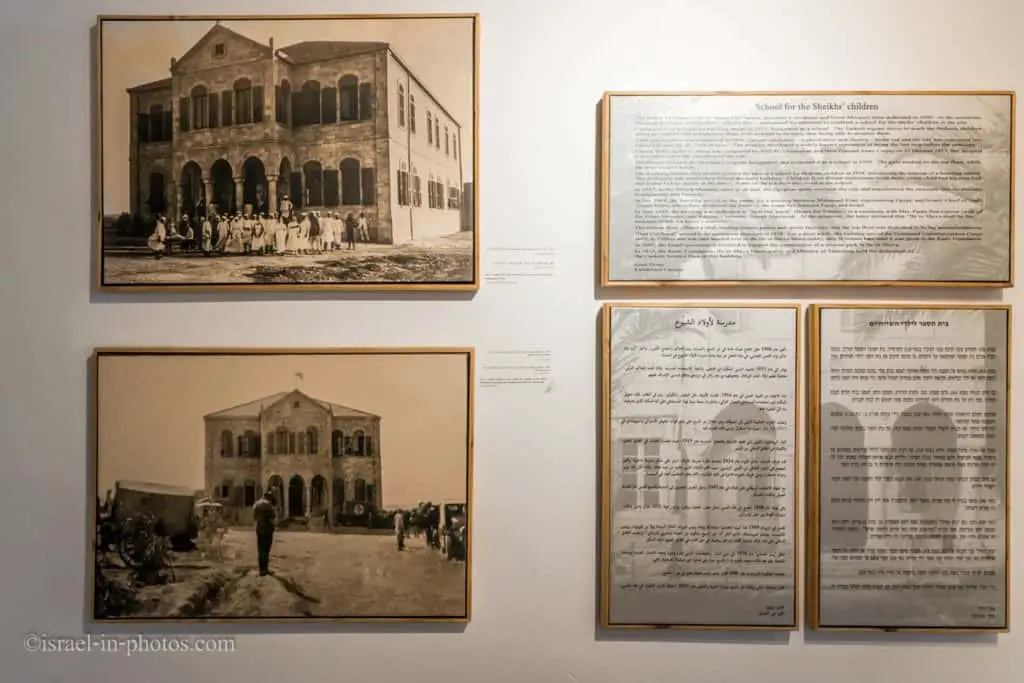 During WWI, it served as a military hospital, and during the British Mandate, the building resumed its original function as a school. In the 1950s, it became a Beit Hachayal for IDF southern soldiers. Over time it was neglected, but then Rashi Foundation and Beersheba municipality restored it and turned it into an interactive youth science complex.
The Last Mammoth – A Fascinating Journey to the Ice Age
The Last Mammoth temporary exhibition will be held at Carasso Science Park till 24 March 2019. It tells the story of the Dima, the mammoth, and the ice age.
For the first time in Israel – a fascinating international exhibition that will take you on a journey in the Ice Age – from the time of the Mammoths and the Cave Bear to global warming!
As part of the exhibition, a frozen mammoth was brought to Israel, which was discovered in its entirety in Siberia: "Dima" – the most beautiful mammoth puppy in the world!

Throughout the exhibition, there will be huge robotic models of Ice Age animals from all over the world – the Shengrabi Tiger (the "Sword-Sword Tiger"), the Mithrium – a 6-meter-high lazy man; the huge cave bear, the Irish ram with a width of 3 meters, armored armadillo and more.

You are invited to view the huge murals of the Ice Age animals as discovered in caves in Europe, to operate the interactive touch tables, to watch original artifacts from the ice age that were discovered in the country, to feel, to caress, to operate and dig.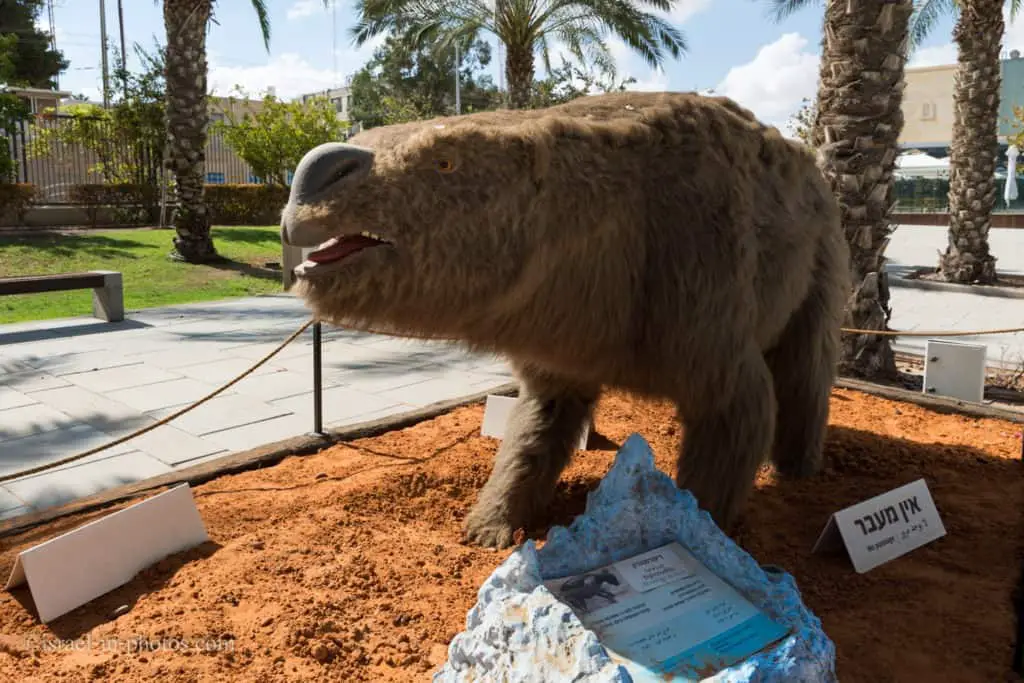 In front of the Turkish building and inside the museum, there were about a dozen models of animals from the ice age period. Each model moves and makes sounds. And you can also find signs in three languages with basic information.
In the photo above, you can see the Diprotodon, the world's largest marsupial. He was the koala's giant relative.
And this is the wooly rhinoceros. His horns are made of keratin – the same substance human nails and hair are made of.

Etya Tech
The first exhibition we visited inside the Turkish Building was Etya Tech. And the first question arises after hearing the name: who is Etya?
Etya Bachar
Forty-seven-year-old Atheer Bachar realized long ago that she would never have children. She learned to live with this pain, but only a few years ago she was struck by the realization that after a lifetime of work and work, nothing would be left of her after she had gone.

"It scared me to think that after everything I did, there would be nothing left when I closed my eyes," she says. "I always wanted to raise a family, and to this day I do not know why I did not realize it, I was sure I would marry, and when it did not happen, I did not feel that the years were passing. The feeling that there was nothing left of me hurt. I tried to comfort myself by giving something to the children of others."

Bachar went to the Carasso Science Park in Beersheba, where she once lived and offered to donate to the site. She refuses to specify the amount of the donation – "but I could buy an apartment in it." Park residents accepted her proposal, and with it, an entire floor was planned and built for preschool children – "Etya Kidz." After years of heartbreaking whenever others took pride in their children and grandchildren, now she too has something to be proud of. "It's hard to describe what it does to me when I see the children playing in a place where I have a part in its establishment, and that is named after me," Bachar says. "I became part of the team there, I get presents on holidays, they invite me to meals, this is my family, and I hope they never take it from me."
Posted at Xnet in March 2017.
Etya Tech Exhibition
In this exhibition, young visitors are invited to be impressed by colorful visual illusions in a pool of balls with a smart wall that teaches colors, a special room where roles will be replaced and many more cool exhibits with a scientific twist for the little ones.

The complex was built aesthetically, full of visual, cognitive, sensory and movement stimuli, and of course – comfortable and safe.
My daughter enjoyed this exhibition. She touched, turned, and twisted everything. Here, for example, are optical illusion wheels.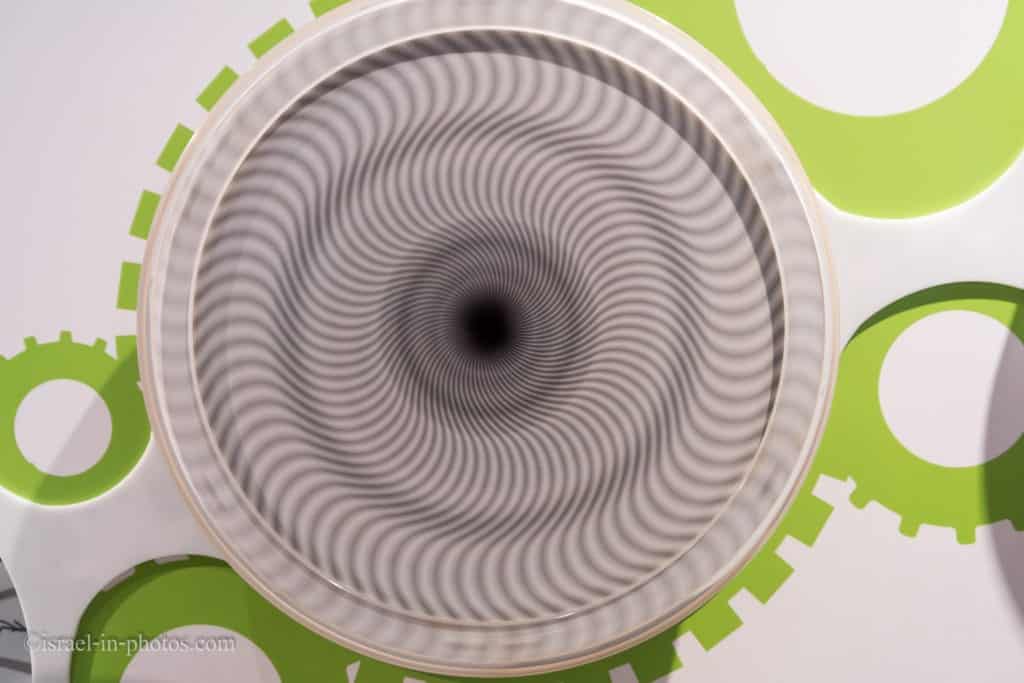 Try to guess what it is.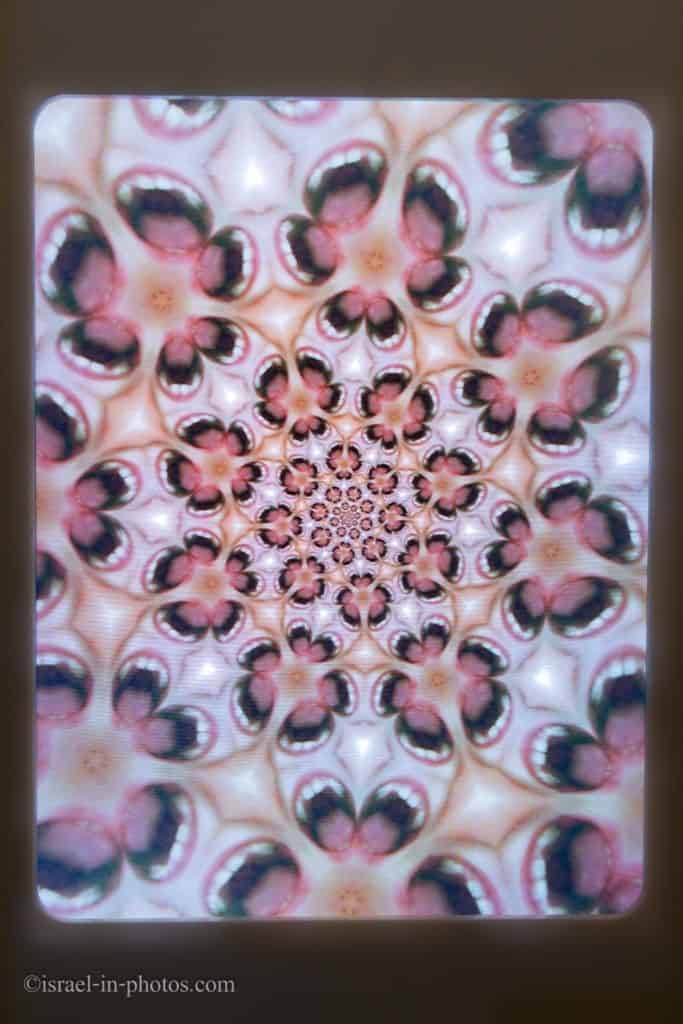 My daughter shows off her teeth in front of a special camera.
And this exhibit shows the basic principle of solar power and lets you shoot the solar panel with a light to make the plane fly.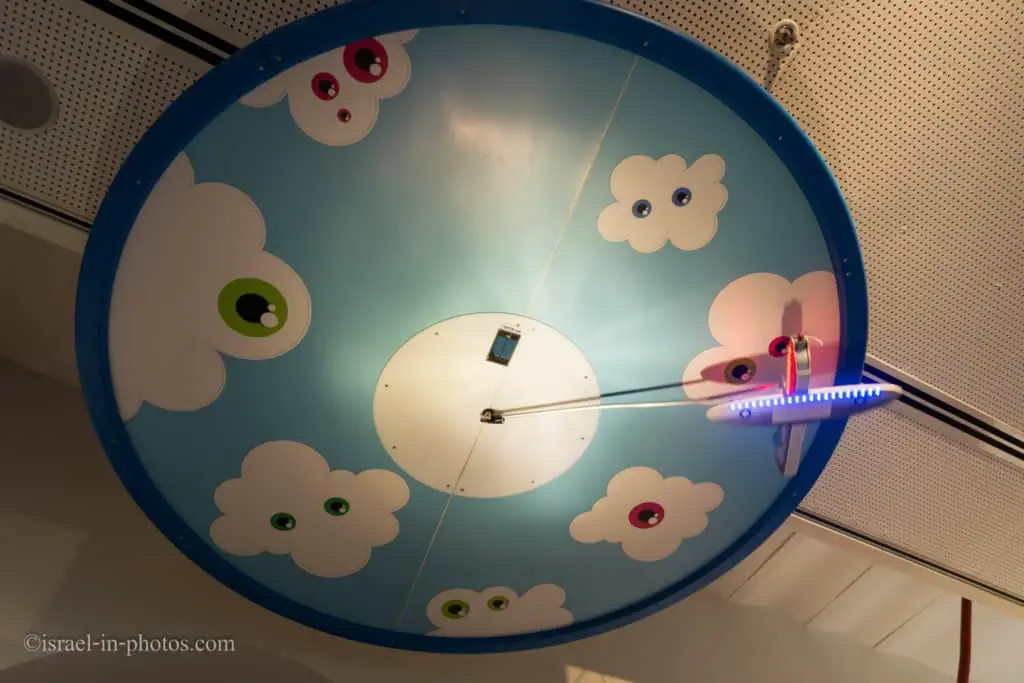 In this exhibit, a small video camera was filming us and showing the result in the upper left corner. When there were fewer people, it could interpret our moves, and the drawn robots copied our movements.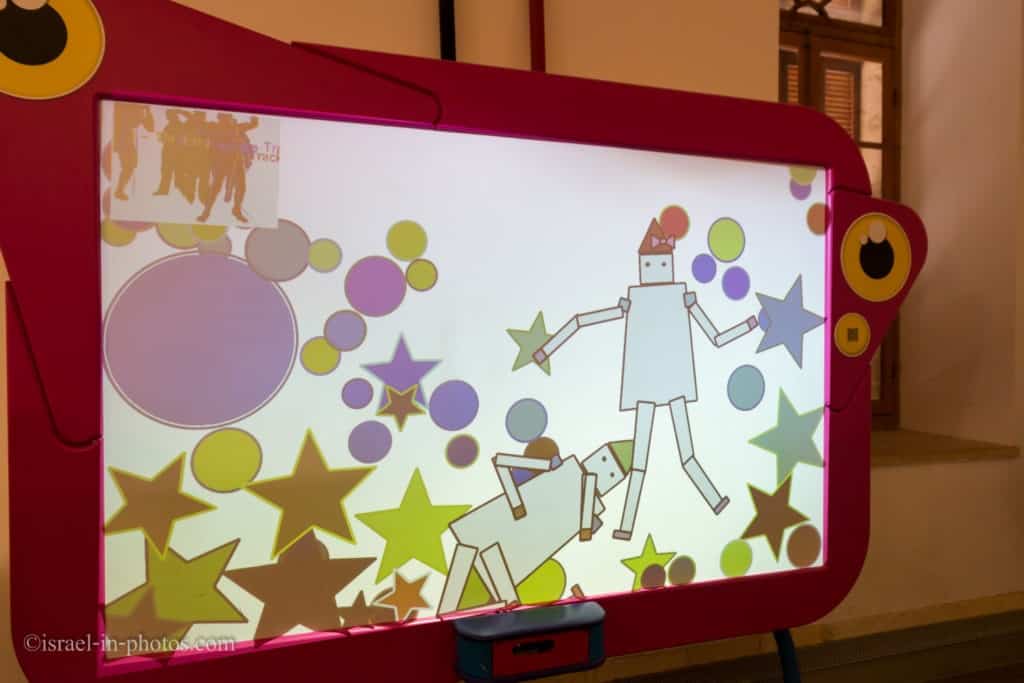 There was also a puzzle room with various ice age-themed puzzles and this mazes and icebergs room.
FabLab
At the rear exit from the Turkish building, we saw this 3D-printed car. That is the first entirely 3D-printed car in Israel. With the added motor, it can accelerate up to 15 mph.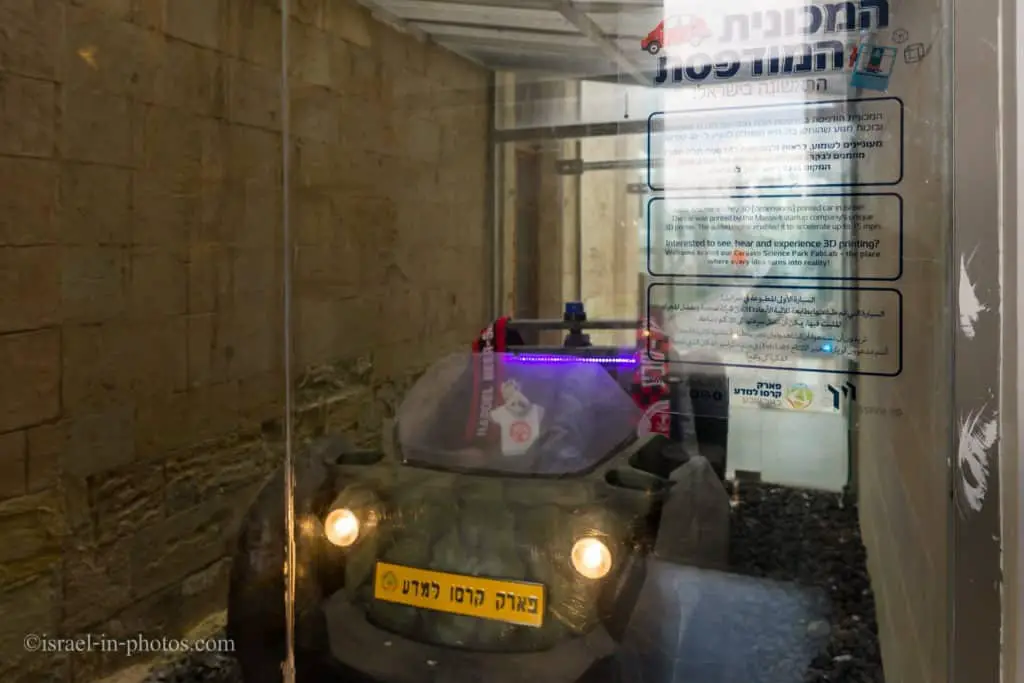 If you are interested in 3D printing, sign up for the FabLab workshops in advance.
The Carasso Science Park invites you to enjoy an extraordinary experience that will reveal to you the technology of the future! The park's 3-D printing laboratory opens the way for you to get to know a new world of cutting-edge technology.

In our FabLab lab, you can find about 20 3D printers that will print anything you can think of! The skilled team of instructors will expose you to the process of invention and creativity, and will lead you on a journey to a product – from the initial idea, through the design stage, and finally to the production stage.

The park offers a variety of workshops during holidays and vacations, where you can understand more about the world of printing in 3D.
Nucleus of Science
When we finished going through the first floor of the Turkish building, we took the stairs to the second one. This floor is dedicated to Nuclear energy.
The only exhibition in Israel in cooperation with the Nuclear Research Center and the International Atomic Energy Agency, which simulates a real nuclear reactor and exposes the secrets of the atom.
The exhibition starts with the scientist that researched this field.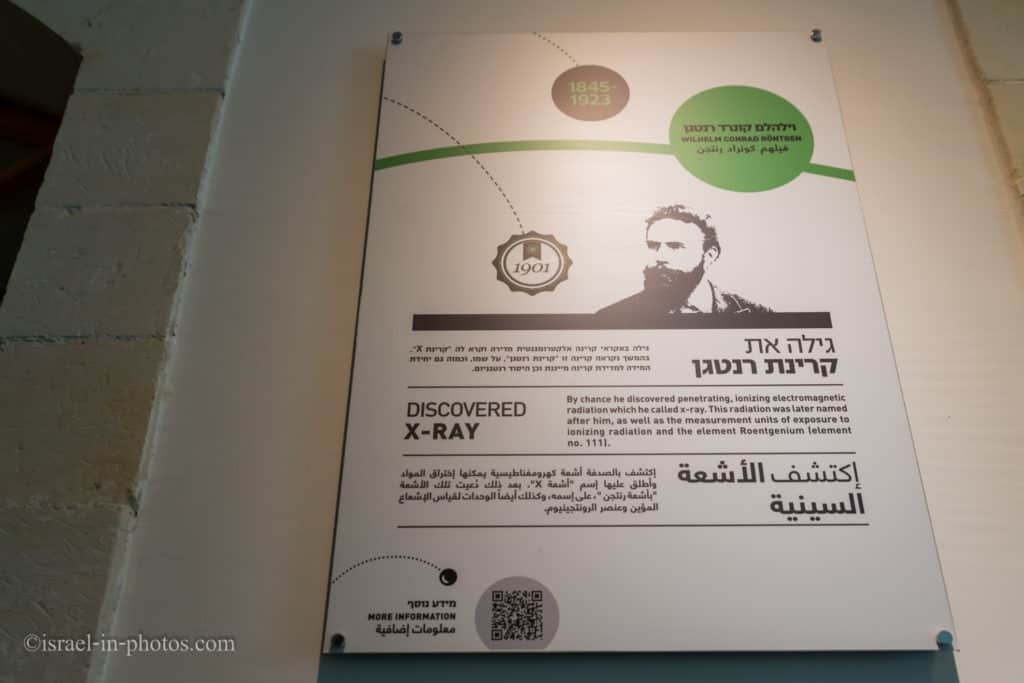 Then using two big launchers, we tried to turn hydrogen into oxygen.
But the highlight of the Nucleus Of Science exhibition took place inside this secret nuclear reactor.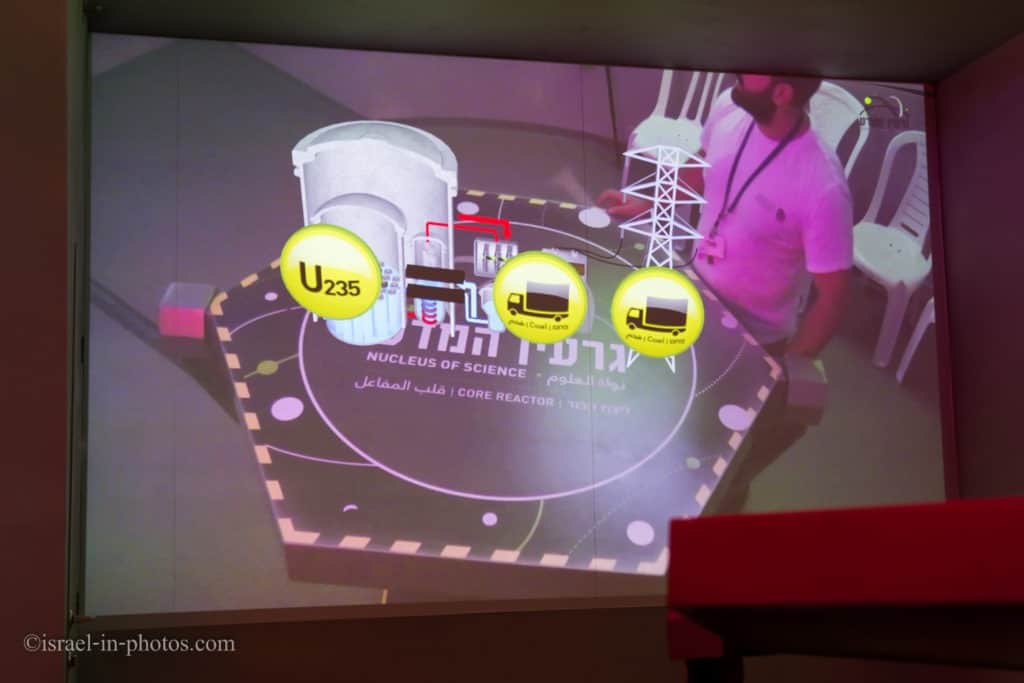 Just kidding 😉 There is no secret nuclear reactor. But a model resembling a reactor. And every round hour (or maybe every half an hour), you can enter inside with a guide. We attended the 11:00 lecture, and I found it fascinating. In those 15 minutes, you get to learn about power plants, specifically nuclear ones — basic principles and how they work. For example, in the photo above, you can see the basic concept of all power plants. And it is heating water either by burning fuels or nuclear energy. Then the hot water evaporates, and the gas rotates turbines, producing electricity.
But you can learn not only about nuclear energy. For instance, this hall talks about Nuclear medicine.
As you can see, since we visited early and walked in the opposite direction, there were few people. Thus we practically had the place to ourselves as we were the only visitors inside the nuclear reactor. As a result, there was no need to wait anywhere, and it was quieter than usual. Therefore, as I always say, come early.
Another exhibit from belonging The Last Mammoth exhibition:
Mechanics and Mechanisms
As you can see from the floorplan at the top, the Turkish building is connected to an additional facility. Inside the other building are several permanent exhibitions, including Mechanics and Mechanisms, Energy, Communication, and others. And there is also the changing display, the Last Mammoth.
Here we are at the Mechanics And Mechanisms exhibition:
The development of human society is related to and depends on its technological ability. Since the dawn of history, man has learned to use the natural resources in his environment, built and invented instruments and tools to help him overcome his physical limitations. In the exhibition, you will encounter games from different mechanics, special mechanisms, robotic arms, and many more inventions that have made us able to transform the world into what it is today.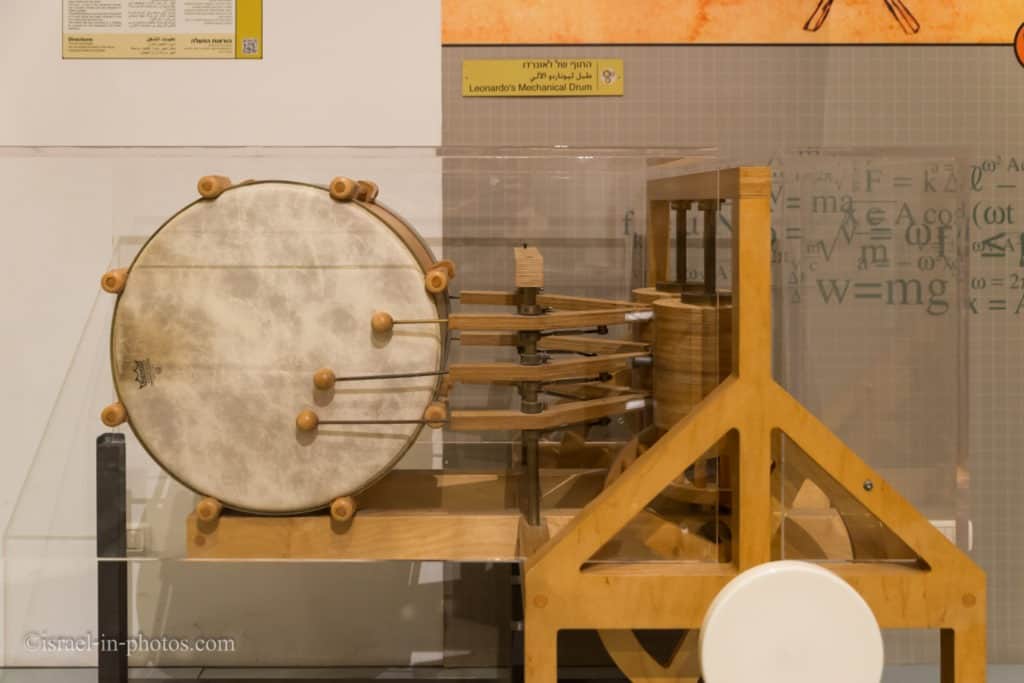 Most of the displays are interactive, and children love them.
Dima the Mammoth
This hall is dedicated to Dima. Dima is located in the back, and this is a grown-up mammoth.
These are lower molar teeth. The left one belongs straight-tusked elephant from 780,000 years ago, and the right one belongs to a mammoth from the site of Ubeidiya 1.4 million years ago.
I did not know that mammoth is closer to Elephas (Asian elephant) than Loxodonta (African elephant).
And this is Dima. Dima is a baby mammoth. Dima was born in the spring about 40,000 years ago in the Magadan region in Siberia. He died when he was only six months old. The cause of death was sunk mud.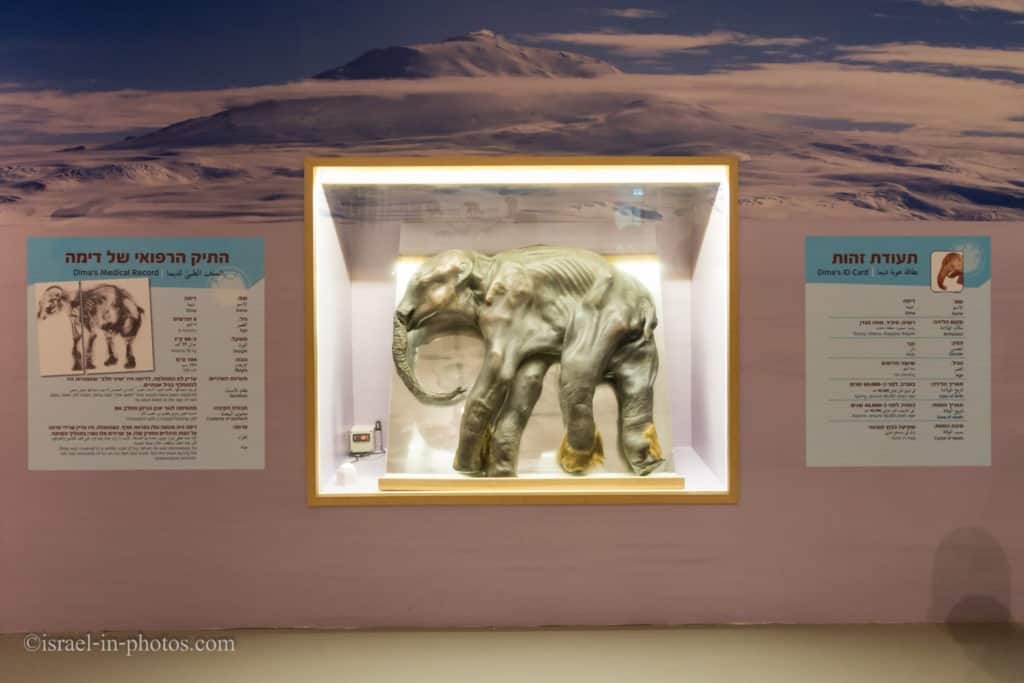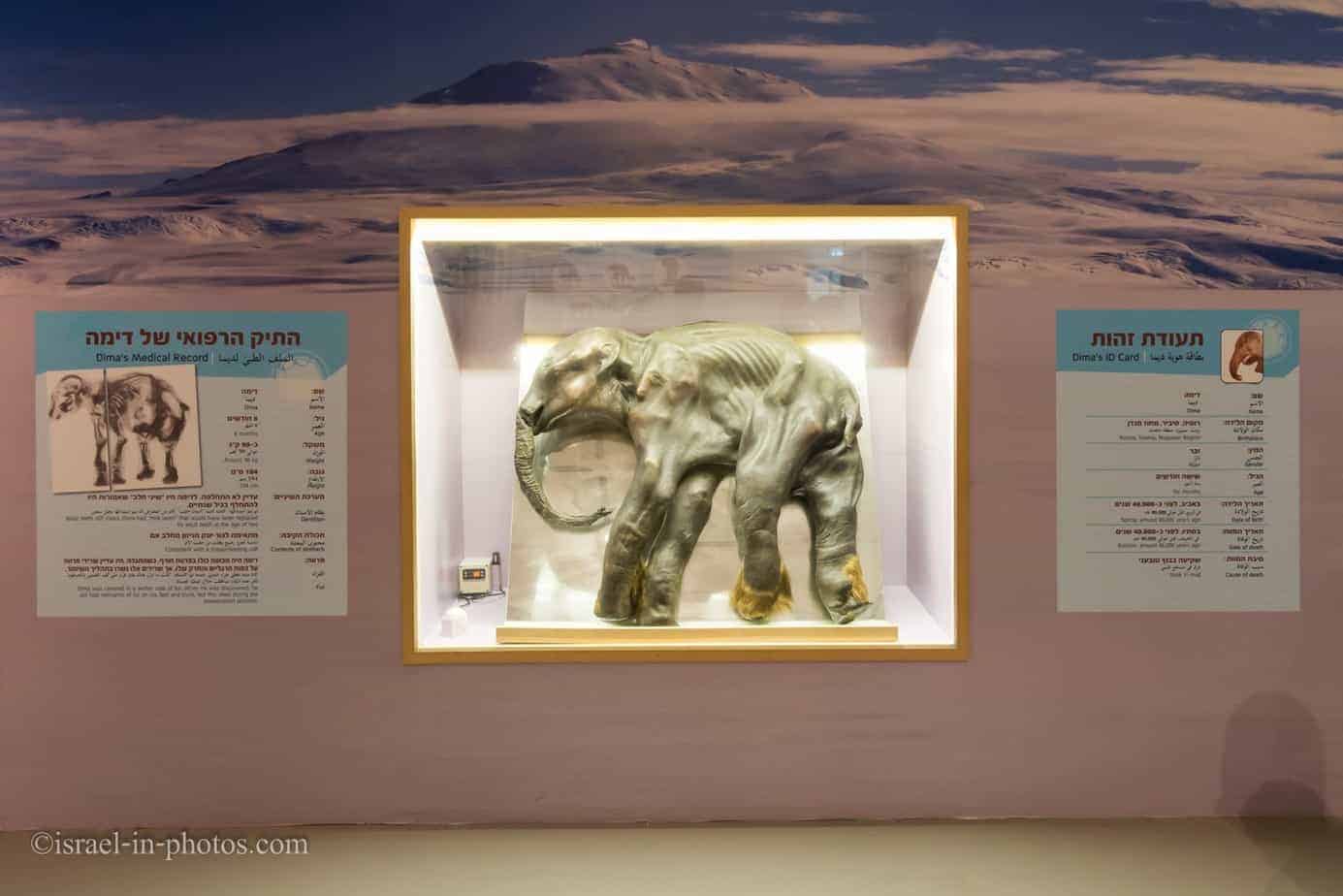 Dima was a wooly mammoth. And when he was accidentally discovered in 1977, parts of his body were covered with wool. But, people that found him initially thought that they found an elephant. Thus, they did not do the whole preservation process. After a while, they understood that they had discovered a mammoth and started the complete protocol preservation. As a result, small wool remains can be found only on his feet.
Ice coverage at the peak of the last glacial period:
Dinosaurs?
Since there are many misconceptions, exhibition organizers stressed that the presented Ice Age animals did not live during the dinosaur era. The dinosaurs appeared around 225 million years ago and became extinct 65 million years ago. At the same time, the most recent glacial period began approximately 250,000 years ago and ended about 11,000 years ago. Thus, the Ice Age animals and humans never actually encountered living dinosaurs. But on the other hand, this means that humans lived at the same time as the ice age animals. They hunted them and painted them on cave walls.
There were several more exhibitions in this building. But since it was getting late, and we were both tired and hungry, we moved quickly through most of the exhibits.
Science Games Graden
When we exited the building, we saw the Science Games Garden.
A unique exhibition in the museum's outer space, which consists of huge exhibits and games, which enable the public to examine scientific and technological issues through an experiential and enjoyable experience. In the garden area, 12 exhibits are presented relating to various scientific fields in the fields of mechanics, sound, energy, etc., which are placed under designed sheets that preserve the garden area.
I never thought you could play music on a stone. And yet, here is a musical rock.
The Greek mathematician and philosopher Pythagoras was interested in music and learned how the size and weight of the vibrating part in musical instruments affect the sounds coming from it. And here, when you strike various bulges on the rock, you get a different note.
Sound mirrors are quite popular in science museums in Israel. And you can find them in other places as well.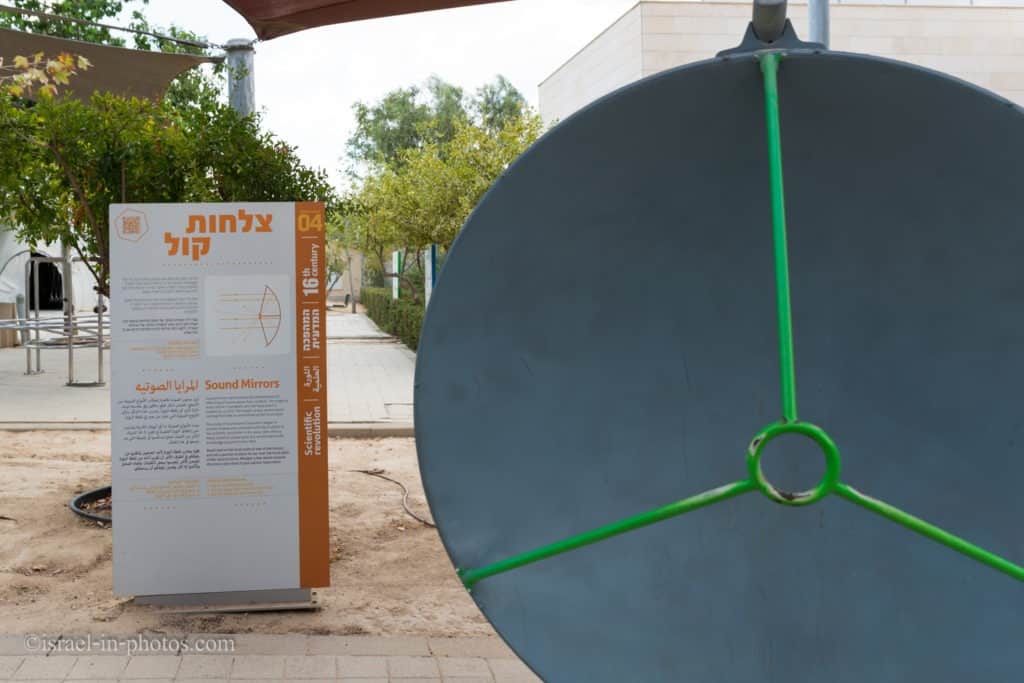 Each pendulum in this station comprises balls attached to threads and placed side by side. The device's action is based on converting potential energy to kinetic energy and transferring power between balls.
Isaac Newton formulated the laws of motion in the 17th century and was the first to understand the force of gravity. The rules of motion and gravity explain the action of "Newton's cradle," named in honor of the great scientist.
There are numerous other games in the science garden. We will not go through all of them. I will say that you can easily spend an hour there.
Summary
We spent 3.5 hours at Carasso Science Park and did not fully cover all exhibits. Thus, you can easily spend half a day there.
Overall, we (both adults and children) enjoyed our visit. Even without The Last Mammoth exhibition, there are plenty of things to see, experience, and learn. As I mentioned before, the only downside is the entrance fee. Thus, if you can find discounted tickets or the price does not matter, I recommend paying a visit.
Have you ever been to Carasso Science Park? Tell us about your experience in the comments below.
That's all for today, and I'll see you in future travels!
Stay Tuned!
Additional Resources
Here are several resources that I created to help travelers:
And if you have any questions then check out
Useful Information For Tourists To Israel
.  
Did not find what you were looking for? Leave a comment below, and I will do my best to answer your questions.