At Adulam Park, using a short loop trail, you can visit Horvat Etri. It is a partially restored Jewish village dating to the Second Temple period.
Note: Horvat Etri is part of the Adulam Grove Nature Reserve. In this grove, you can also find Horvat Midras and Horvat Burgin. Moreover, nearby you can visit Beit Guvrin National Park.
Map
Etri Ruins are near Beit Shemesh, close to Bet Guvrin National Park. There are many excellent trails in this area. And though it is about halfway between Tel Aviv and Jerusalem, meaning it is higher at the hills, it still gets boiling during summer. Thus either come early or better visit during Spring or Autumn.
To get there, enter "Horvat Etri" into the navigation app.
Directions for drivers: Link to Waze and Link to Google Maps
Directions for public transport: Link to Moovit
Interactive map of the area:
Offers:
Hotels, hostels, and apartments in this area:
Entrance Fee
Free.
Opening Hours
You can visit at any time. Just make sure to finish before dark, as there is no illumination along the route (the trail takes about 0.5 – 1 hour).
Tracks
It is an easy trail to navigate through. We did not use any maps. I entered "Horvat Etri" into Waze, and from the parking, we just followed the signs.
Here is an interactive map from israelhiking.osm.org.il where this trail is marked:
And here are the details of these tracks:
| Name | Color of the Trail on the Map above | Description | Distance (km) | Total climb and descent (meters) | Notes |
| --- | --- | --- | --- | --- | --- |
| Short Loop Trail | Blue | To Horvat Etri and back | 0.8 | 62 | |
| Longer Loop Trail | Red | A longer version of the previous path | 1.7 | 82 | This is only a suggestion. And if you wish to make a longer trail, you can incorporate additional parts. Alternatively, you can visit other places at Adulam Grove Nature. |
Most of the path has no shade. Thus do not forget water and sunscreen.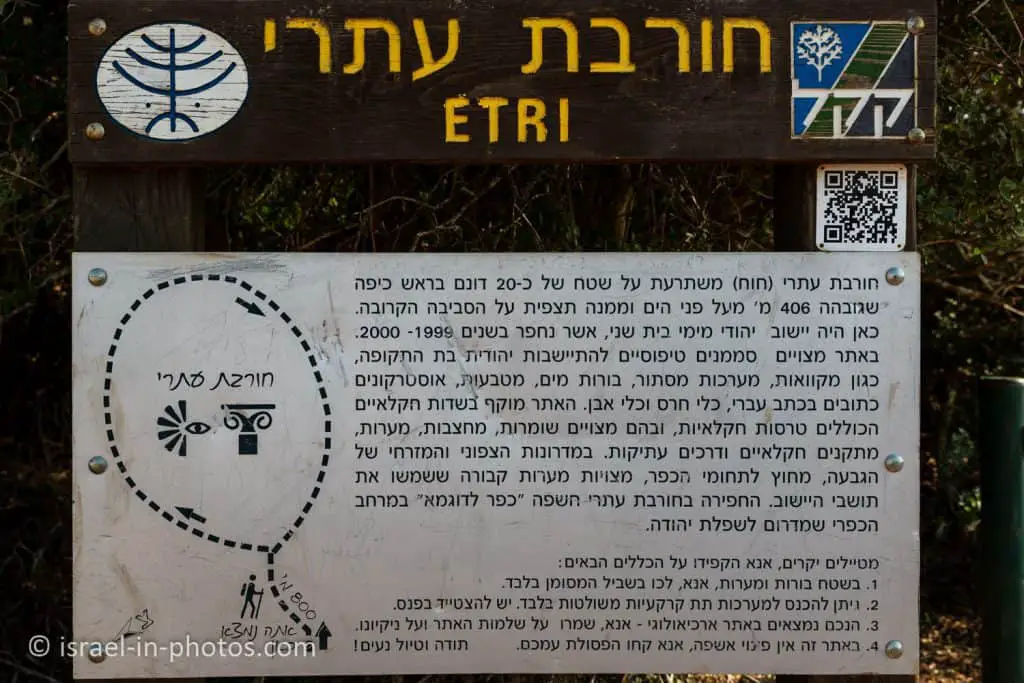 Basic Info
Horvat Ethri is a sprawling archaeological site that features a partially restored Jewish village that dates back to the Second Temple period. The site sits upon an elevation of 406 meters (1,332 ft) above sea level, wherein are preserved an ancient synagogue, wine presses, cisterns, ritual baths, and stone ossuaries, as well as an underground system of public hiding places. The site is located in modern-day Israel and is situated in the Judean Hills, southeast of Bet Shemesh, within the Adullam-France Park.

This site stands out among other archaeological sites because of its formidable defensive walls, with massive stones, which led Israeli archaeologist Boaz Zissu to believe that it may have been one of the fifty strongholds in Judea destroyed by Hadrian during the Bar Kokhba revolt.
Source: Wikipedia
At Horvat Etri
You take the green trail uphill from the parking lot towards Horvat Etri.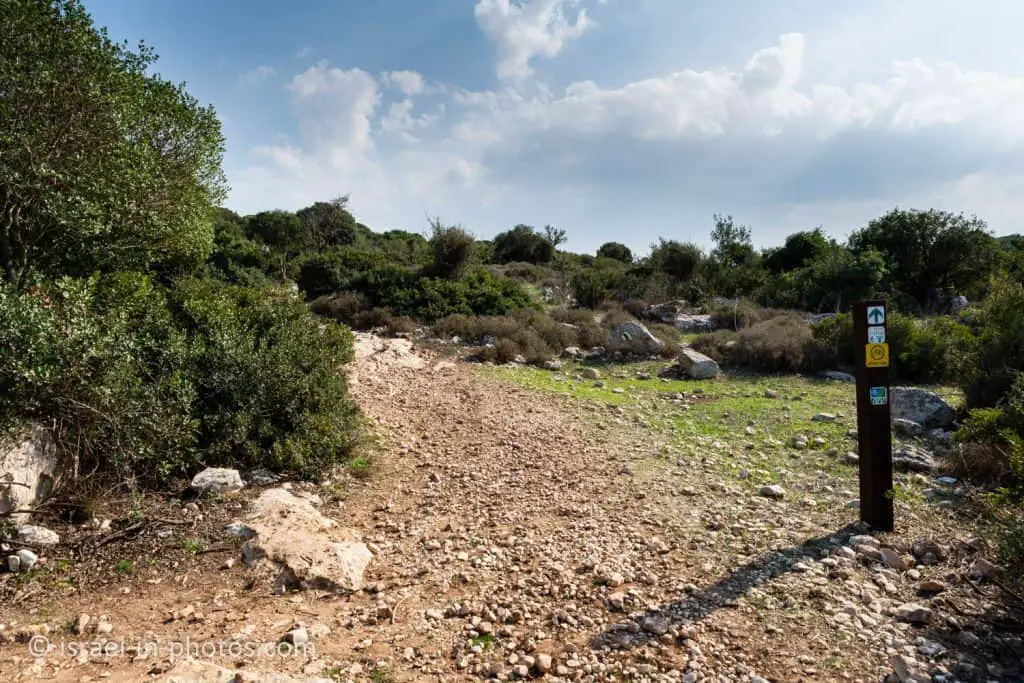 We visited on a sunny day in November. Thus it was not hot. But if you want to see more flowers, then visit during the spring.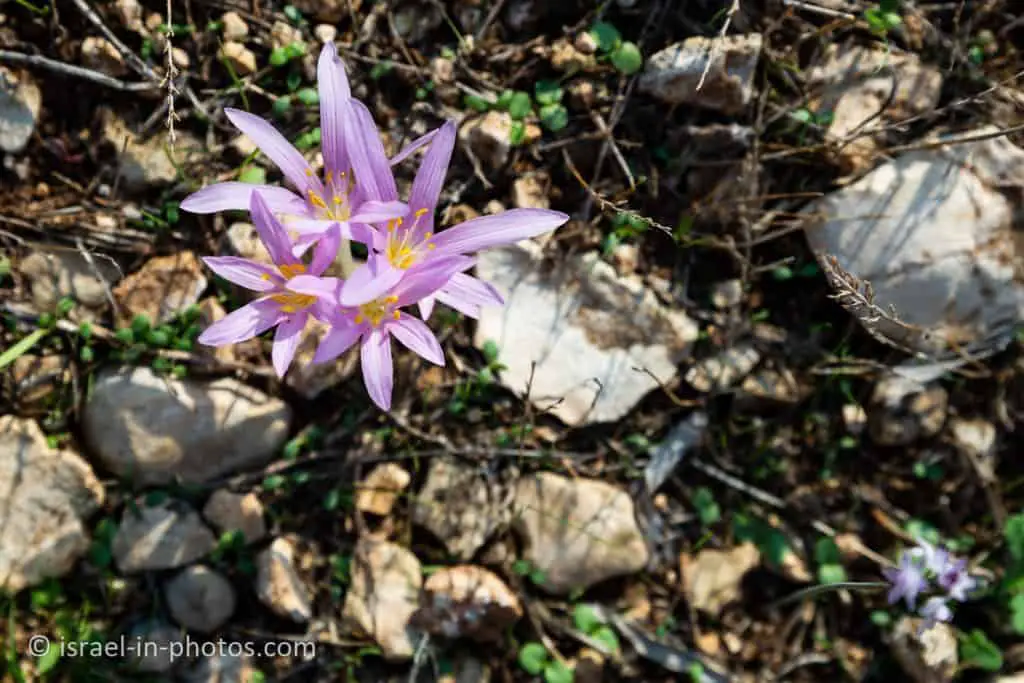 The parking lot is located below, behind the trees to the right. And this is what we saw when we reached the top: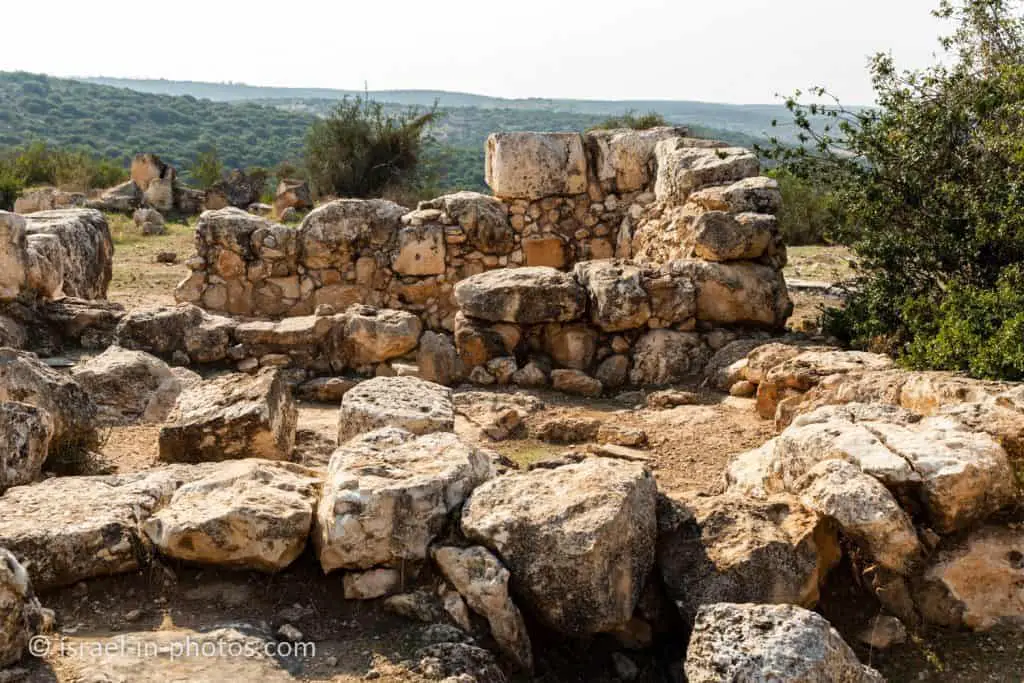 If you look closely at the tracks map above, you will notice that you must make a small detour to visit the caves. And since we initially skipped them, we decided to return.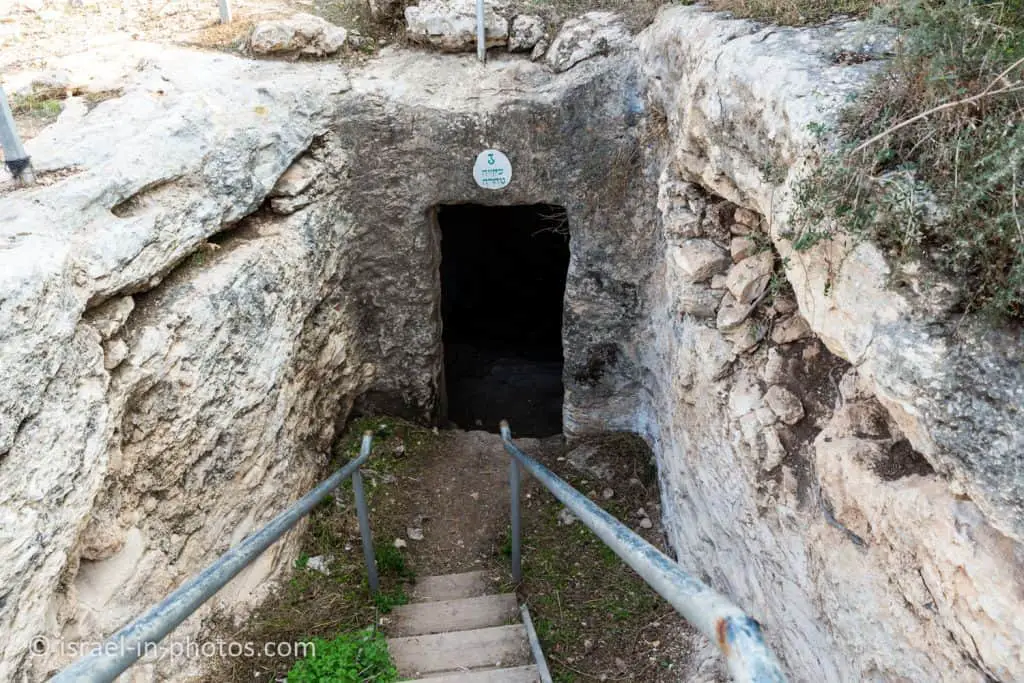 Since I was with a child carrier backpack, I let my older daughter explore first. And she said that there was not much to see.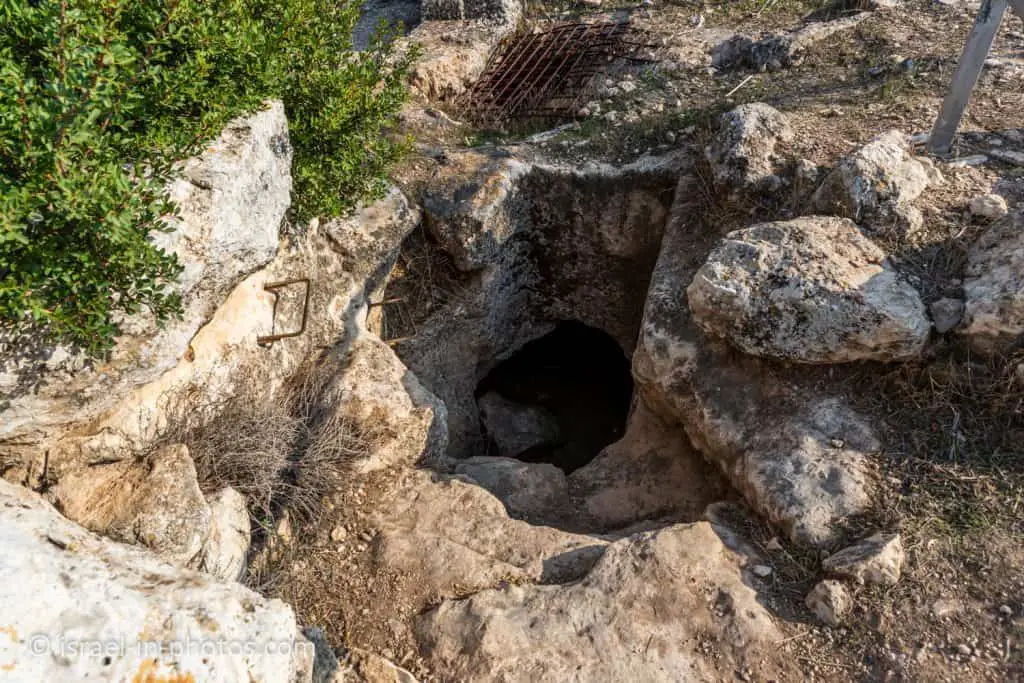 Further ahead, you will see a lone tree and a viewpoint. From that viewpoint, you can see a living quarter in the eastern part of the village.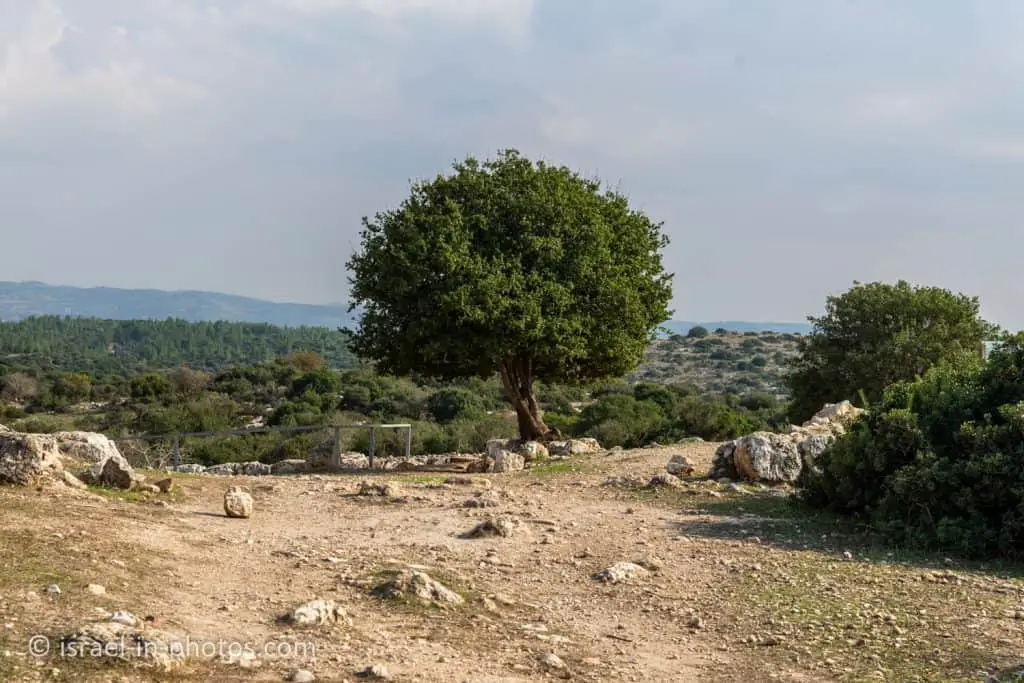 And here is a map of the complex with explanations: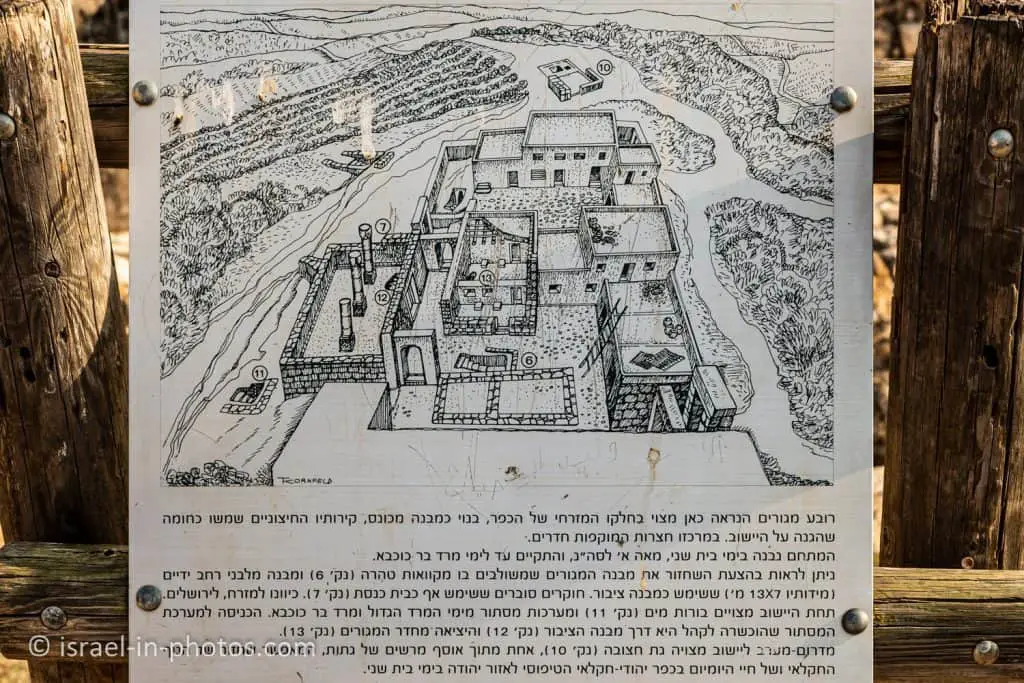 And there are not only buildings above the ground. There are also several underground tunnels built during the Bar Kokhba revolt. The underground passage connects points #12 and #13.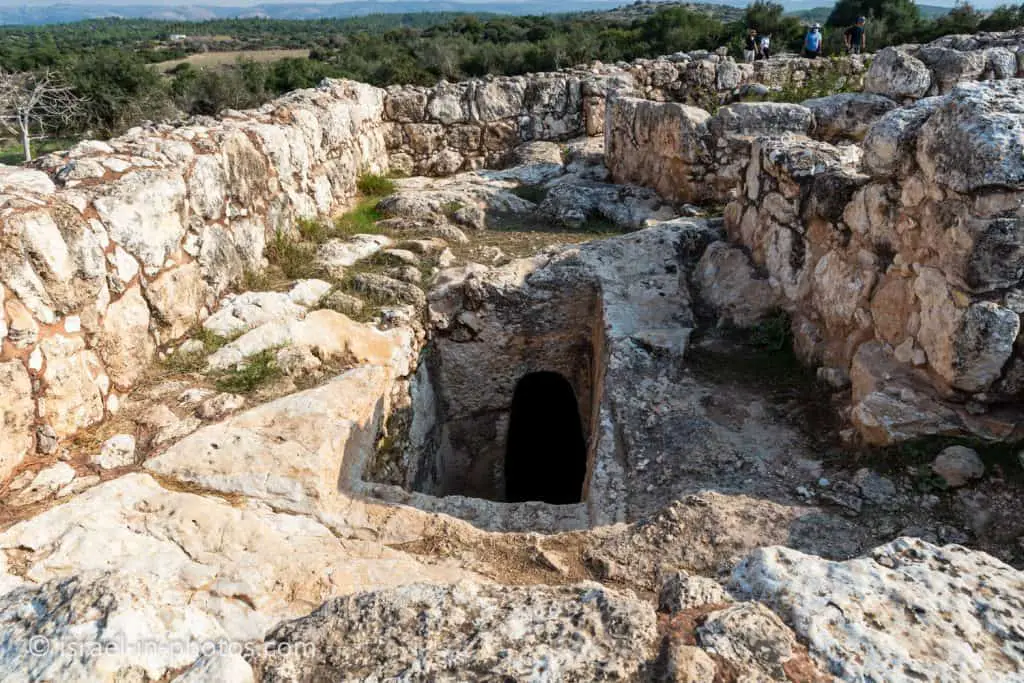 Point #10, to the southeast of the village, is a rock-hewn winepress. And during the Second Temple period, there were many winepresses in this area.
And before we leave Horvat Etri, I want to mention the bronze half a sheqel coin found in one of the complexes. The coin has an inscription: "Year One of the Freedom of Israel," meaning it was minted during the third year of the Jewish War. Hence we know that the complexes were used in the Jewish War. You can find images of the coin on page #17 of this paper.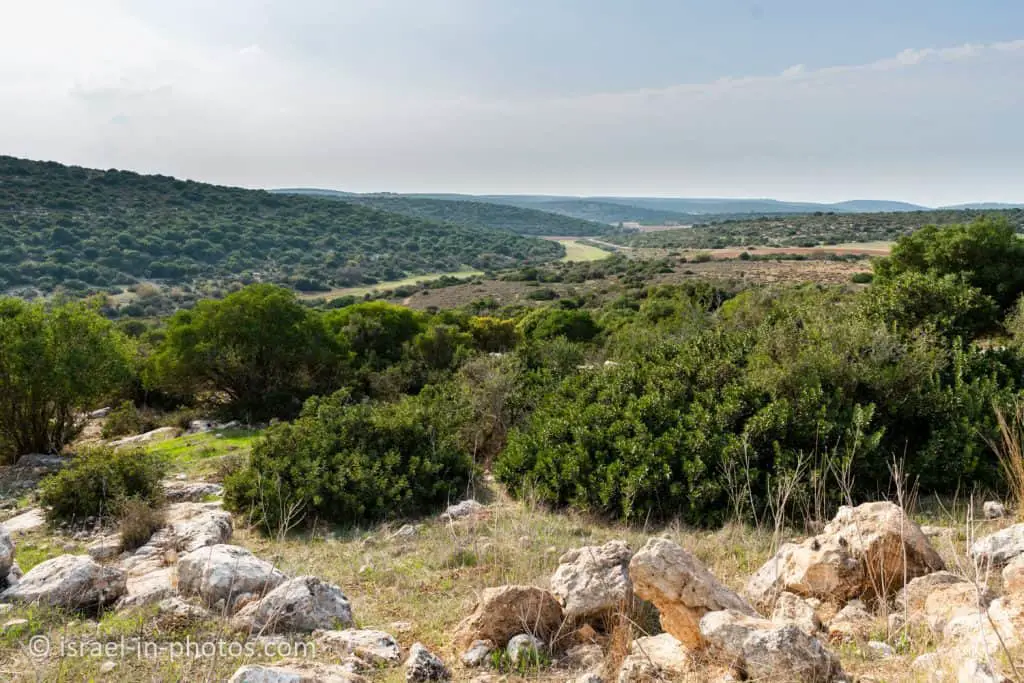 We did the longer hike (marked red on the map above) and returned to the parking.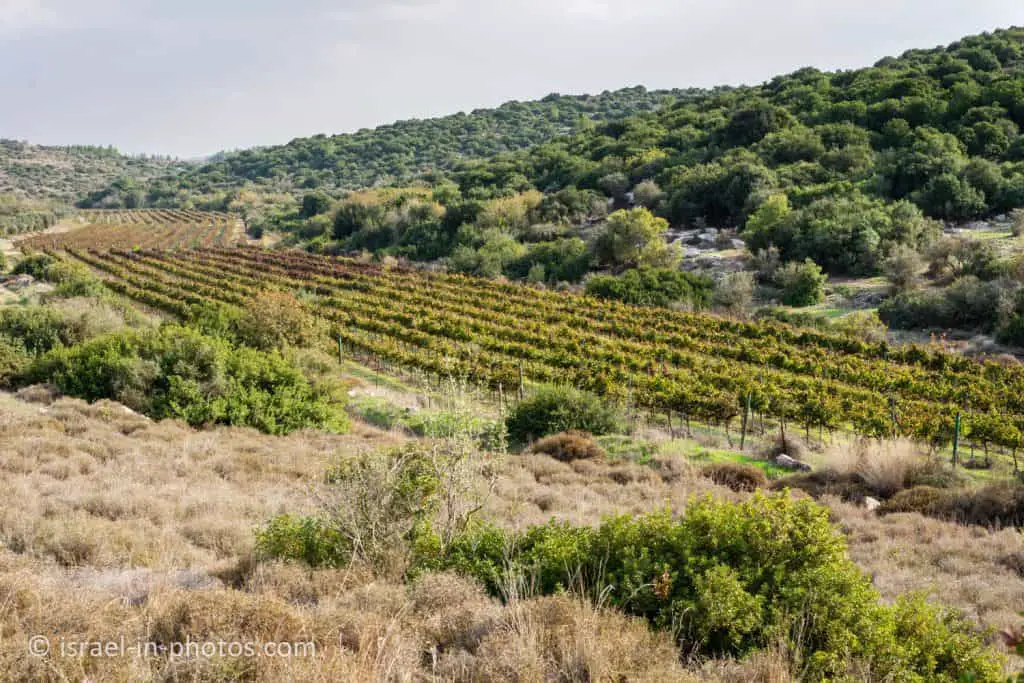 As you can see, almost two thousand years later, farmers still grow grapes in this area. And if you want to pick grapes and taste them, I suggest visiting Tali Grapes in Moshav Lachish.
Summary
We enjoyed our visits to Horvat Etri. And if, after this hike, you want more, I would suggest the nearby Horvat Midras, Horvat Burgin, and Beit Guvrin National Park.
Also, you can find a picnic area at the entrance to Adulam Grove Nature Reserve. And whenever we visit the Adulam forest, we eat lunch there. There are few tables there, but we always find a free one.
Have you visited Horvat Etri? Tell us in the comment below about your experience.
That's all for today, and I'll see you in future travels!
Stay Tuned!
Additional Resources
Here are several resources that I created to help travelers:
And if you have any questions then check out
Useful Information For Tourists To Israel
.  
Did not find what you were looking for? Leave a comment below, and I will do my best to answer your questions.