Madatech (Israel National Museum of Science, Technology, and Space) in Haifa is a leading museum in its field.
Note: if you are interested in similar attractions, check out the overview of Science Museums in Israel.
Map
Madatech is located at Shmaryahu Levin 25 or Balfour 12 Haifa. But the entrance is only from Shmaryahu Levin Street.
Directions for drivers: Link to Waze and Link to Google Maps
Directions for public transport: Link to Moovit
Interactive map of the area:
Offers:
Hotels, hostels, and apartments in this area:
You can find the ticket office at the bottom of the historic building (where you can see people). And the entrance is nearby.
And here is a photo of the map:
The campus consists of a historical building (at the bottom of the map), an exhibitions building, and the Noble Energy science park between the two buildings.
The historical building has three floors. You enter Madatech through the ground floor (marked as zero in the following photo). You can also find restrooms, a cafeteria, a store, and an area for toddlers. And the two top levels house different exhibitions.
Directions
You can arrive at Madatech either by public transport or by car. If you use public transportation, here is a preset link to Moovit. Just enter your starting point, and you will get the updated directions.
If you are arriving by car, enter "Madatech" or the address mentioned above into the navigation app. Just keep in mind that finding parking in this area can be a challenging task. I parked in surrounding streets, and usually, it was at Masada street. Madatech also has a paid parking lot for visitors. But since it is not a big parking lot, it frequently does not have empty spaces.
Opening Hours
Sunday: closed
Monday – Wednesday: 10:00 – 15:00.
Thursday: 10:00 – 17:00.
Friday: closed
Saturday: 10:00 – 17:00.
Entrance Fee
Box office ticket prices:
Adult/child (above five years old) – 89 NIS.
Child (0-5) – free.
Family passes for two adults and two children: 336 NIS.
There will be a discount if you purchase tickets through the official site. The entrance fee will be:
Adult/child (above five years old) – 80 NIS.
Child (0-5) – free.
Notes:
Opening hours and ticket prices were updated in January 2023. In any case, recheck the official site before visiting.
There are also annual subscriptions.
Coupons
The full entry price is expensive. Thus, before every visit, I look for coupons online. And usually, you can find various discounts online. Here are currently available offers:
About Madatech
Located in Haifa, MadaTech, Israel's National Museum of Science, Technology, and Space, is Israel's largest science museum.

Established in 1983, MadaTech is housed in the historic landmark, "Technion building", located at the heart of a 7 acres green campus in mid-town Haifa. The campus also features the Northern Garden, where the palm tree planted by Albert Einstein in 1923 still stands. The Noble Energy Science Park is located on the campus yard and not far from it is the CinematriX, and the laboratory department of MadaTech's education wing.

Visitors are welcome to use the parking lot located in the northern part of the campus. Designed at the turn of the 20th century, by renowned German Jewish architect, Alexander Baerwald, MadaTech was originally home to the country's first academic institution, The Technion, Israel's Institute of Technology. Every year MadaTech sparks the curiosity and interest of over 400,000 guests in science and technology. Guests who visit can look, feel, explore and enjoy over 20 exhibitions featuring more than 600 hands-on exhibits, and watch 7 Cinematrix multi-sense 3-D movies 362 days a year.

Within a school year, MadaTech delivers 300 educational sessions to more than 2000 groups, in our seven educational centers. MadaTech operates six demonstration halls and 12 well equipped advanced labs. Besides, MadaTech deploys three equipped mobile labs that travel throughout Israel, bringing science to life and inspiring the young minds of 150,000 students countrywide. At MadaTech everyone can explore, experience, discover and learn through play and fun.
Note: unless stated otherwise, all quotes were taken from the official site.
Cinematrix
I never visited the Cinematrix, not only because it is at an additional cost but also because there are plenty of things to do besides it. But so that you will have the complete picture, here is the relevant info from the official site:
Cinematrix is the first of its kind in the world: is an extraordinary, innovative SMART Theater that engages all senses simultaneously. Developed by Orpan, a world leader in edutainment technology, the Theatre provides an amazing experience for young and old alike. Using the 3E4DMi formula, it educates, explores and excites, engaging four dimensions: Seeing, Hearing, Feeling and Riding; and using Multi-Interactive systems boasting the latest techniques: 3-D film, multi-channel sound system, and smart seats, with built-in ticklers and dual-motion capability – complemented by scent, airflow, and water effects.

Not only can viewers watch phenomena and events on the screen, they experience these, as Personal Remote Controls enable them to interact with occurrences on the screen, as well as with each other, thus becoming an integral part of the film.
Exhibitions
And now, we will head to the historic building's first floor (#1) and look at some exhibitions.
Energy Makes Things Happen
The first exhibition showed different energy sources (fossil fuels, renewable). And the best part is that most stands are active, meaning children learn by doing.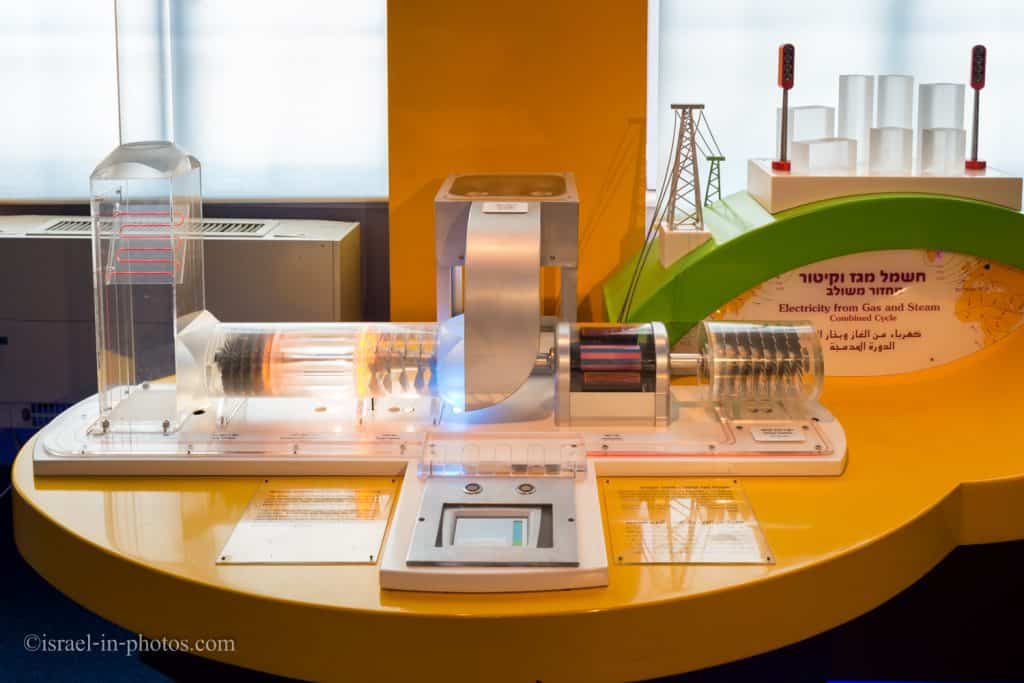 Located in a 250sqm hall, the exhibition's innovative design uses its large space creatively to create a spectacular vision of displays. The Green Energy exhibition focuses on the role and use of alternative energy sources and provides visitors with an innovative experience of exploration and discovery. It demonstrates the production and usage of alternative energy resources, in comparison to fossil fuels used today. The term "Green Energy" refers to all measures that can be taken to use energy in an efficient, economical, wise, and suitable for any goal in our everyday life. The Green Energy exhibition exposes professionals, as well as the general public to concepts of renewable energy and methods of energy conservation to sustain electricity and water.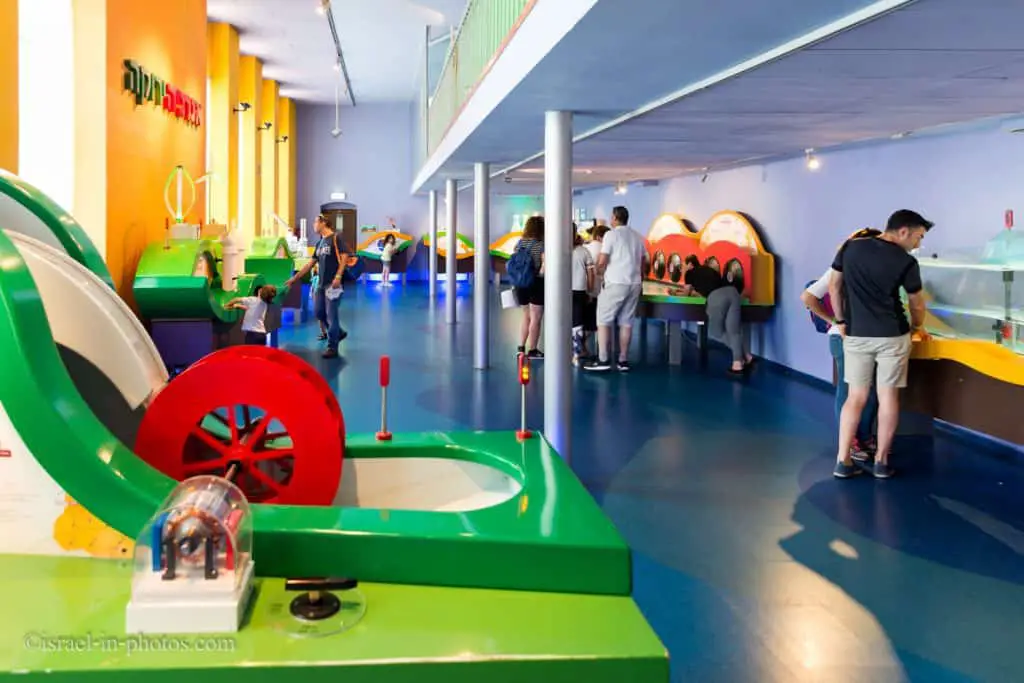 Between Mount Carmel and the Sea
Thanks to Israel's geographic location, which acts as a bridge between Asia, Europe, and Africa, it is blessed with a verity of over 500 bird species. Among them, 91 live here regularly, and the others pass by as part of their migration path. Some birds are widespread like the Bulbul, and some visit rarely like the Northern Gannet. Carmel beach area has a variety of landscapes, animals, and rich flora. In some parts of the Carmel, there are also areas of wetlands like wells and a wide area of sweet water from the fish pools in Kibuts Maayan Zvi and Kibbutz Maagan Michael.

In the exhibition visitors will have a chance to see parts of the vast variety of birds in Israel, from the 6-gram warbler to the 8-kilogram vulture.
Leonardo da Vinci – Scientist & Engineer
The following display that we attended was the Leonardo da Vinci exhibition.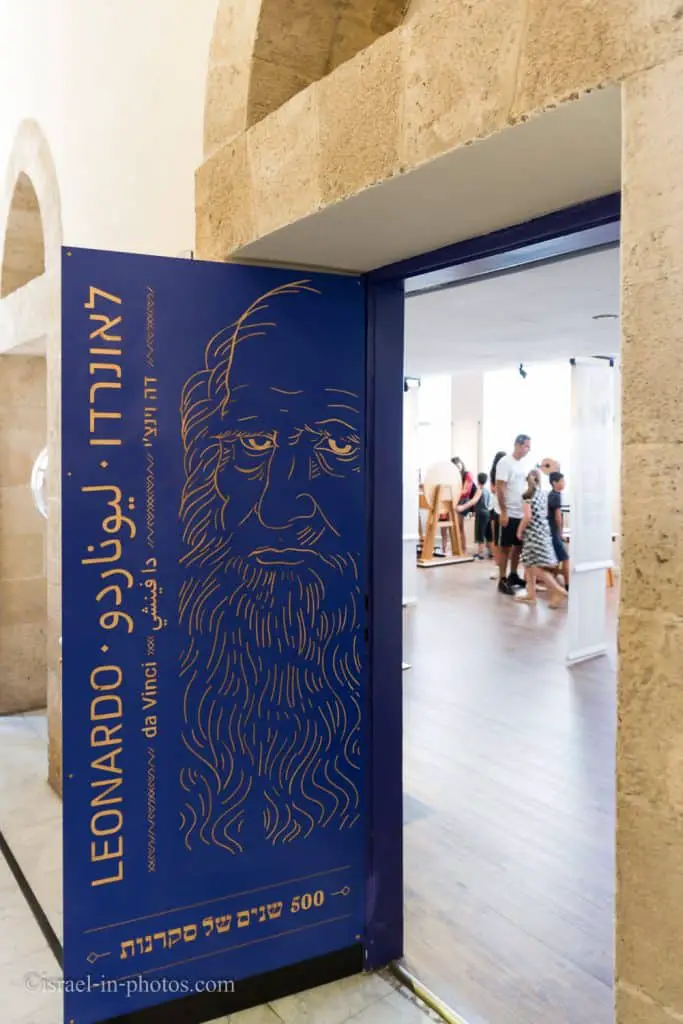 As we explored it, Madatech staff members told us that a free science presentation was about to start. So we headed to a nearby room, where we saw a variety of science experiments.
For example, parts of the map are revealed only when you pour dry ice.
When the 15-minute show ended, we returned to the Leonardo da Vinci exhibition.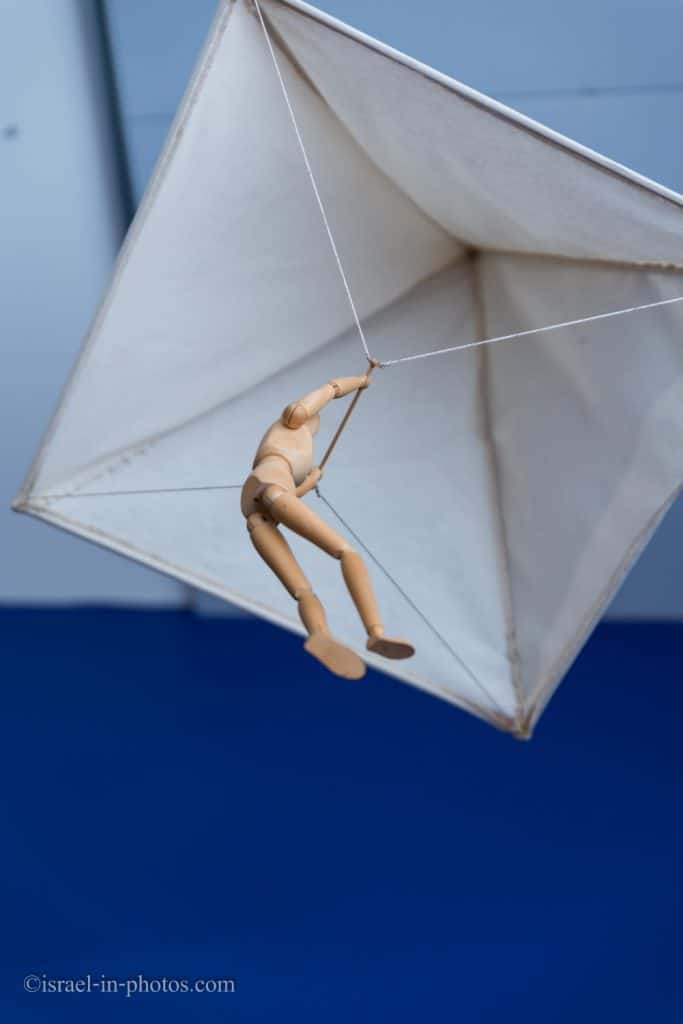 Leonardo da Vinci's exhibition presents an extraordinary insight into the life and workings of the incredibly talented Italian Renaissance master of arts and science and allows you to discover the enormous scope of his interests.

Leonardo was born on Apr. 15, 1452, near the town of Vinci, not far from Florence. He was educated in the studio of the renowned Florentine painter, Verrocchio. Leonardo's natural curiosity and interests were so broad that he explored nonartistic matters during this period.

Leonardo attempted to understand the world around him and thus was accomplished in painting, sculpture, architecture, music, anatomy, engineering, cartography, mathematics, philosophy, geology, and botany. His approach to science was an observational one: he tried to understand a phenomenon by describing and depicting it in the utmost detail.

Leonardo's impressive contribution to science has been preserved in a vast quantity of notes. As he was left-handed, he recorded his concise notes in "mirror writing" in his journals. His drawings, sketches, and notebooks revealed how he thought and allowed the construction of the marvelously crafted models displayed.
The collection of works displayed is based on Leonardo's specifications, as laid out in his Codices. It features twenty-five interactive models of some of his most complex and challenging designs in mechanics, automation, hydrostatics, hydrodynamics, and flight.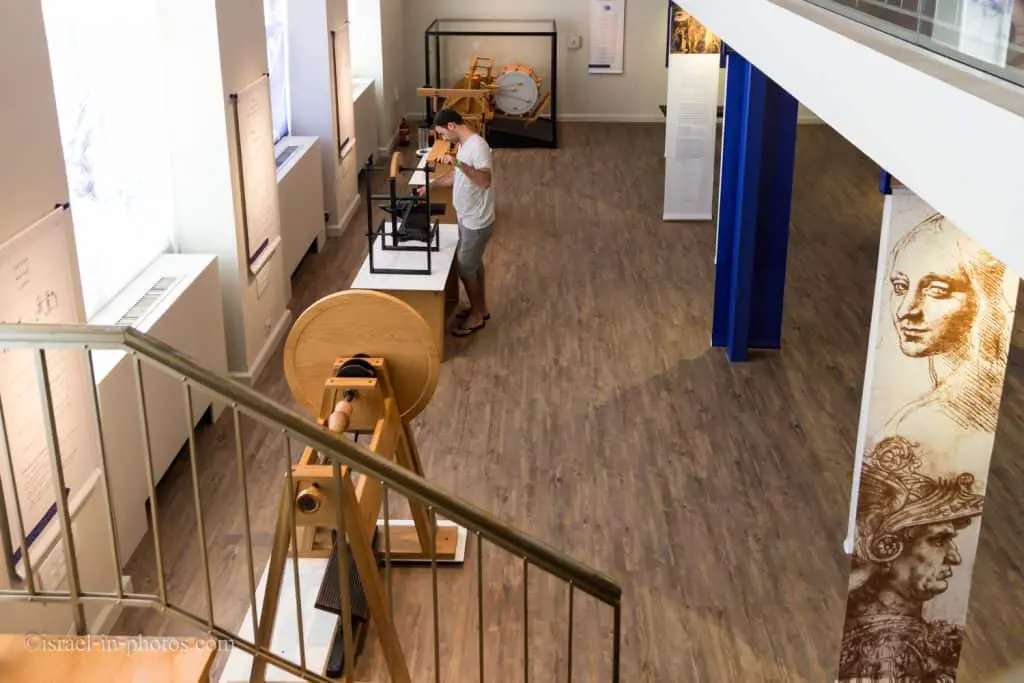 Puzzle Games
And above the Leonardo da Vinci exhibition, you can find puzzle games space.
The exhibition presents mechanical puzzle games, made usually of a few parts. To solve the puzzle, visitors must move the different parts of the game. Logic, wisdom, and concentration will lead to the solution. Some of the puzzles are based on different branches of mathematics such as logics, symmetry, geometry, topology, Knot theory, and more.
You get a view of the Noble Energy science park as you pass from one exhibition to another.
Magical Science
Fact: the first magic book was published in 1854: "The Discovery of Witchcraft" by Reginald Scot.

Magicians started to understand the complexity of optical delusions a long time ago. They have been using that knowledge to create experiences that seemingly contradict the laws of nature. The Magical Science exhibition presents a line of entertaining magic tricks to show the complexity behind the illusions. Operating the different exhibits will demonstrate the science in magic or maybe the magic in science.

Illusions and magic reminds us that the world is full of wonders while our perceptual processes are limited and vulnerable to delusions. Optics, mathematics, basic mechanics, electricity, and magnetism are the foundation for developing many different magic tricks.

The main experiences in the Magical Science exhibition include: creating illusions and effects using light, mirrors, electricity, and magnetism. You are invited to enter the world of illusions, hover above the ground, and witness your head placed on a tray. You will learn how to perform simple magic tricks.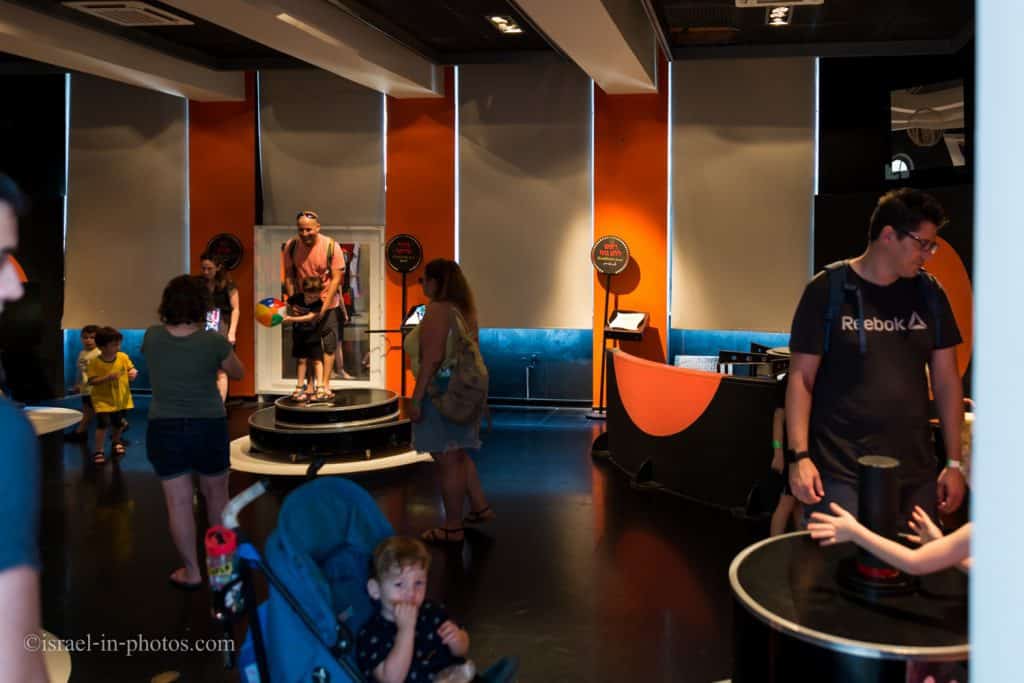 Visual Deceptions Exhibition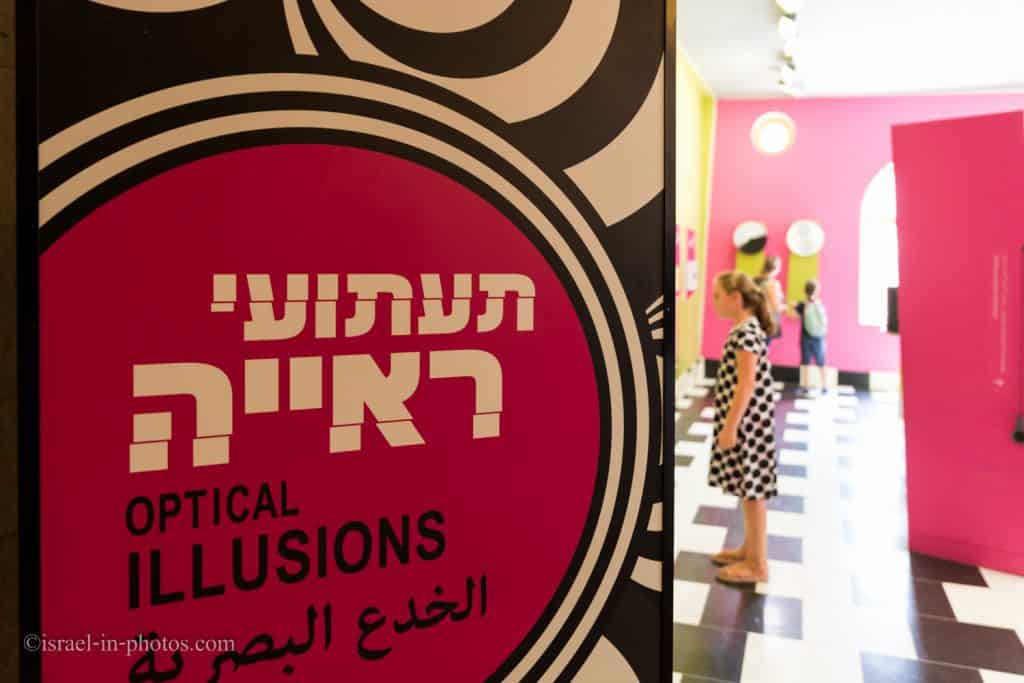 The exhibition illustrates the fundamental power of vision. Its hall is painted unevenly to create a sense of an inclined floor. It examines how optical illusions of size, shape, and color are created and how, by looking from a slightly different angle, reality can become fiction, and vision can become an illusion. It is an enigma, how reality is changing before your eyes, and the unexpected is revealed before you, as your mind is provoking your sight. The different exhibits on display demonstrate the mysteries of visual phenomena as well as the science behind it.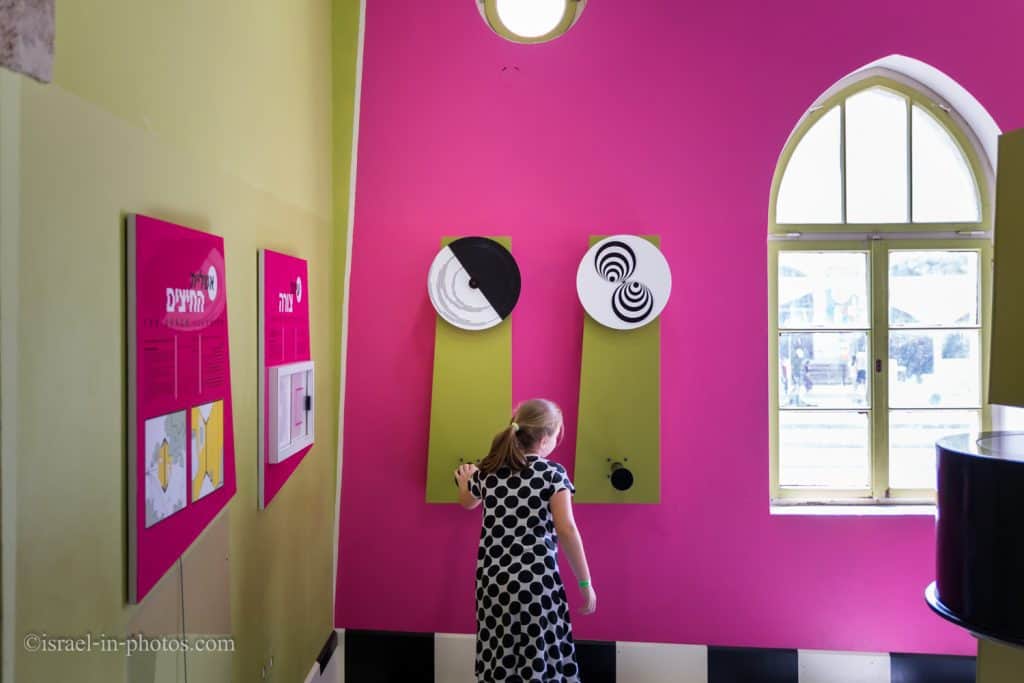 A Look to the Heavens
At MadaTech's new Astronomy exhibition visitors can reveal the mysterious wanderers of our solar system, its planets, and moons.

Take an interactive journey through the solar system and get a closer look at distant planets; Telescopes reveal that about half the stars we see are not merely just specks of light but groups of stars, held together by gravity. Operate a telescope, experiment with lenses to understand how telescopes create images of distant objects.

Add another dimension to exploring the solar system; the hands-on collection of celestial and terrestrial globes offers Interactive visualizations on various sizes of the physical sphere of earth and other planets that can be turned and viewed from all angles.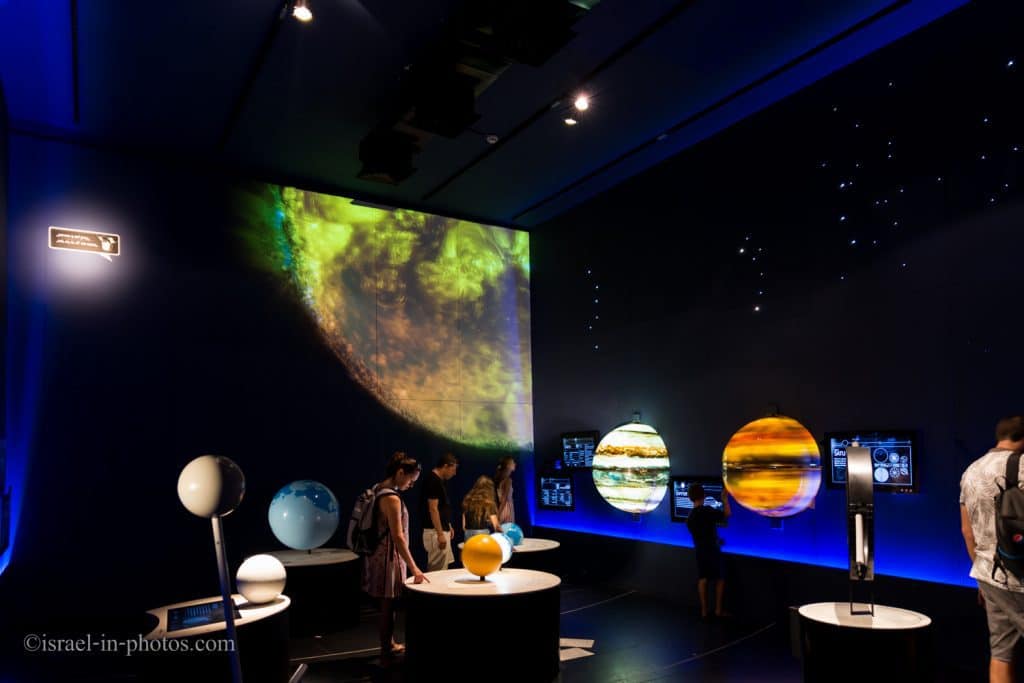 Harry Pommert's View of Science
It all started in a small London antique shop in October 1969, when the young Swedish Student first laid his eyes on a 100 years old microscope, which cost him a week's lunch. 44 years later, he is still fascinated by his unique collection of scientific instruments, adding up to about 470 valuable items of all different kinds and uses, amongst them 112 microscopes, 100 Telescopes, various telegraphs, watches, binoculars and many other navigation, medical and meteorological instruments, all on display at MadaTech's exhibition, Harry Pommert's View of Science.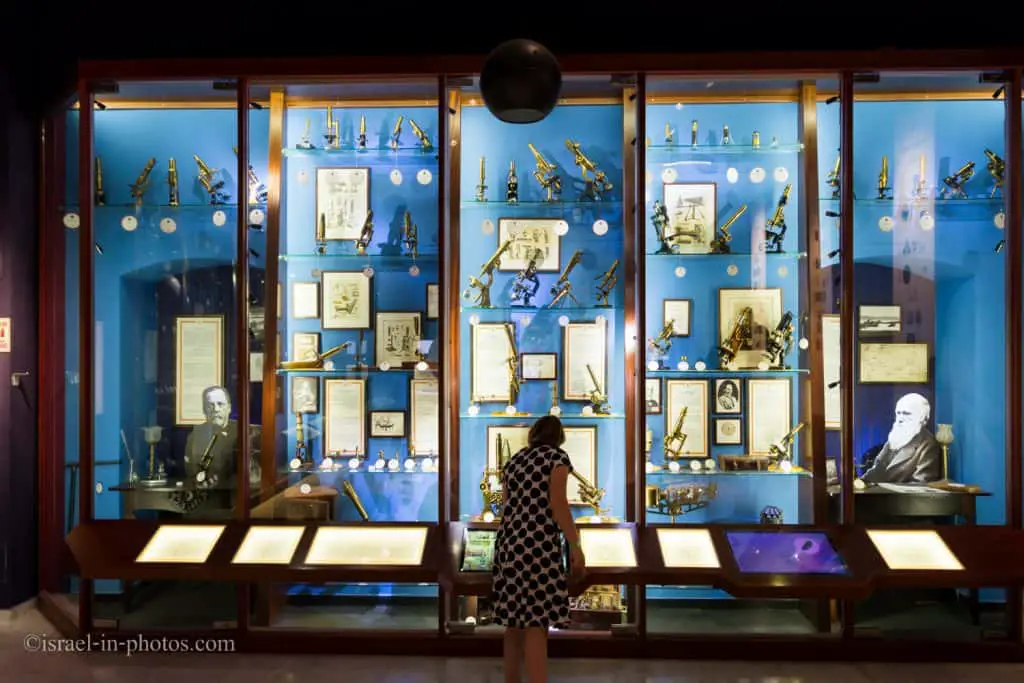 Dark Room
Frequently, when we see the colorful world around us, we take the information that is passed to us for granted. Using the interesting features of light allows producing a photograph with a camera, raise the temperature of our bathroom using infrared radiation and more.

The first person to separate light to its components was Sir Isaac Newton (1643-1727). He passed white light through a prism and saw colors come out the other side. Newton believed that the light is composed of particles that create the different colors. Around the same period, Christian Huygens repeated the experiment, but he believed that the light's characteristics originate from the light having characteristics of a wave.

Ever since we have been improving the ability to analyze light, however, it is interesting to note that to this day there are certain light characteristics which we explain based on the light being a combination of photons and other characteristics that we explain based on the lights wave behavior.
Light separation, assembling, breaking and reflecting are called optics and are a part of our everyday life.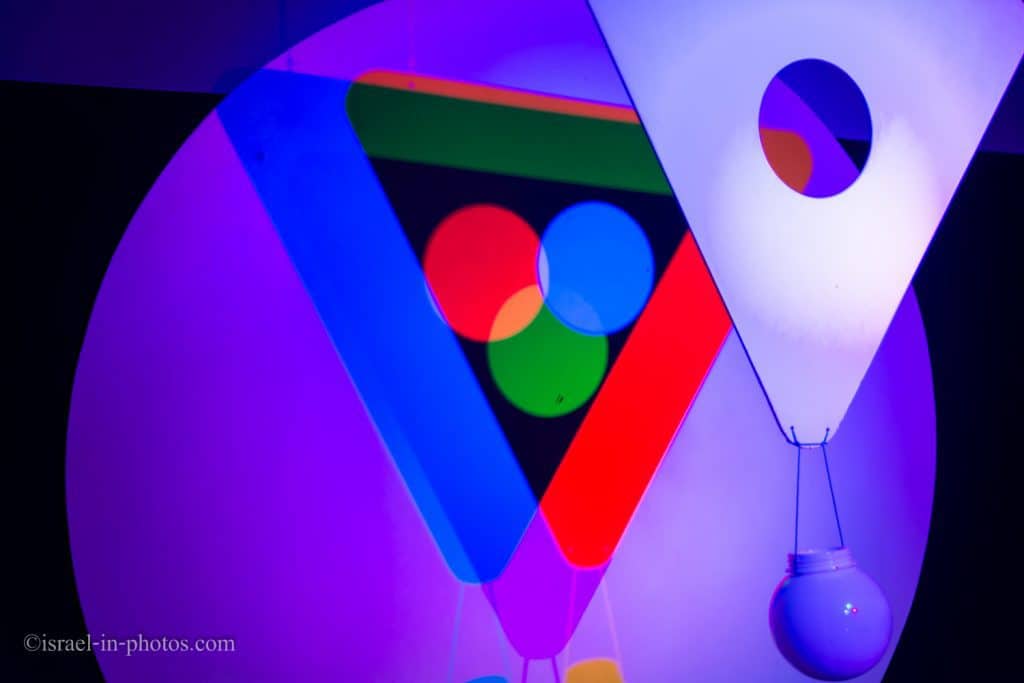 Note: these are not all of the exhibitions, and there are several additional ones that I did not mention. We will leave them as a surprise.
Cafeteria
We started our Madatech visit around 11:00, and it took us three hours to go through the exhibitions in the historic building. By that time, we were hungry, and since we did not bring food, we headed to the cafeteria.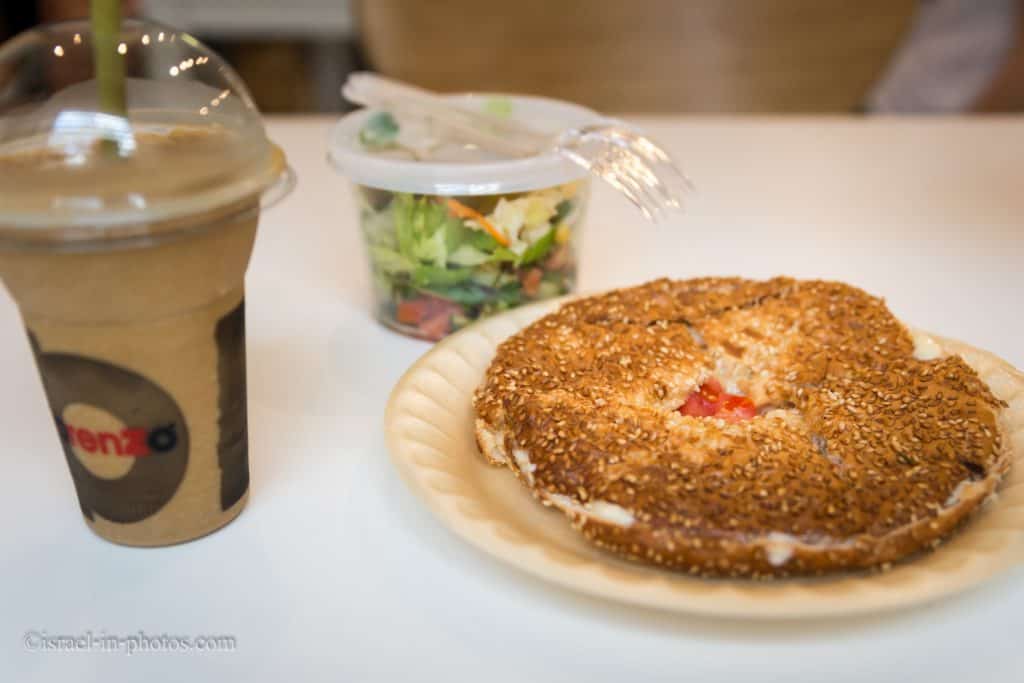 The menu in the cafeteria is somewhat limited, and it has a salad (the box in the photo above), drinks, bagel toast, sausages, and some sweets. The food was ok, but I will bring sandwiches from home next time.
After getting some sugar, we headed to the science park.
Noble Energy Science Park
Rotating with the sun, hovering in a helicopter, lifting the earth with a crane, opening and closing dams or playing with gravity – at the Noble Energy Science Park, you could get in, touch, climb and activate a series of giant interactive displays. The main subject is environment quality, and the park's exhibitions demonstrate important scientific principles that have to do with it. In case you would like to rest, you could do so at the pie-shaped bench or take a seat at the amphitheater and watch the water shows at the wind rose-shaped fountain.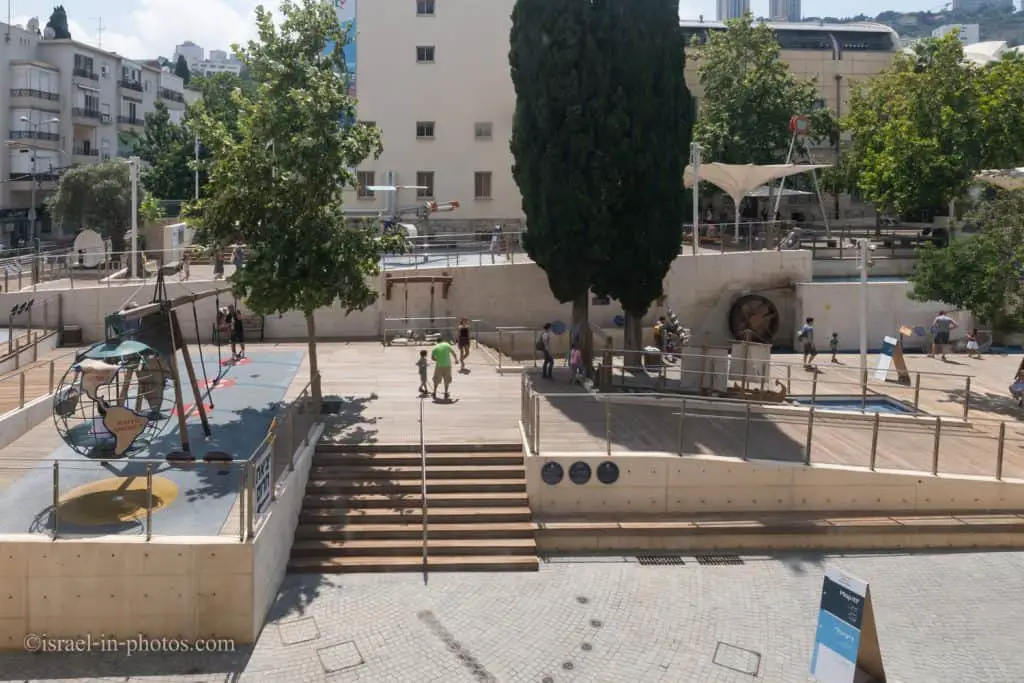 The science part is divided into courtyards. And each area is either dedicated to a theme or a scientist.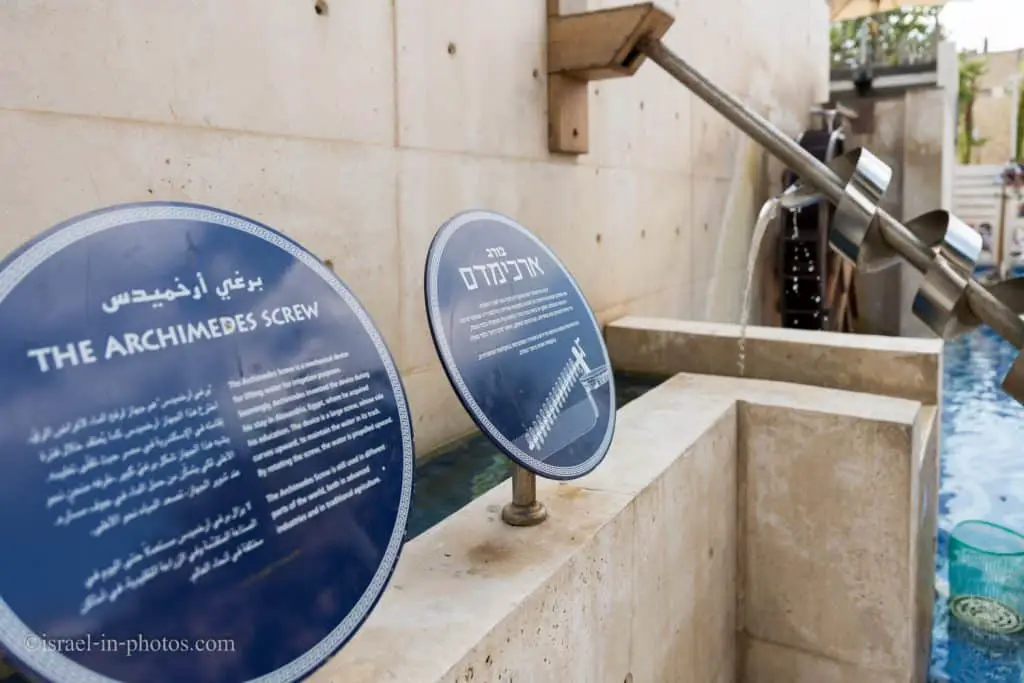 Beyond rotating Archimedes screw, you can find explanations signs in three languages.
We will begin our tour at the Archimedes courtyard; the great inventions of Ancient Greece's scientists are on display. "Archimedes' Death Rays", "The Archimedes Screw", a pulley block system for lifting boats and, of course – lifting the globe. Even if Mom and Dad are sitting inside, the children can pull the ropes and lift them high into the sky.
You should also visit Archimedes who is sitting in a bathtub with king Hiero's crown, a moment before he figured out how to calculate its volume. The widely known anecdote tells that he jumped out of the bathtub and ran naked while shouting, "Eureka!" (Meaning: "I have found it!"), but no worries, this is not going to happen here in the park.
Here is a photo of the science part from another side: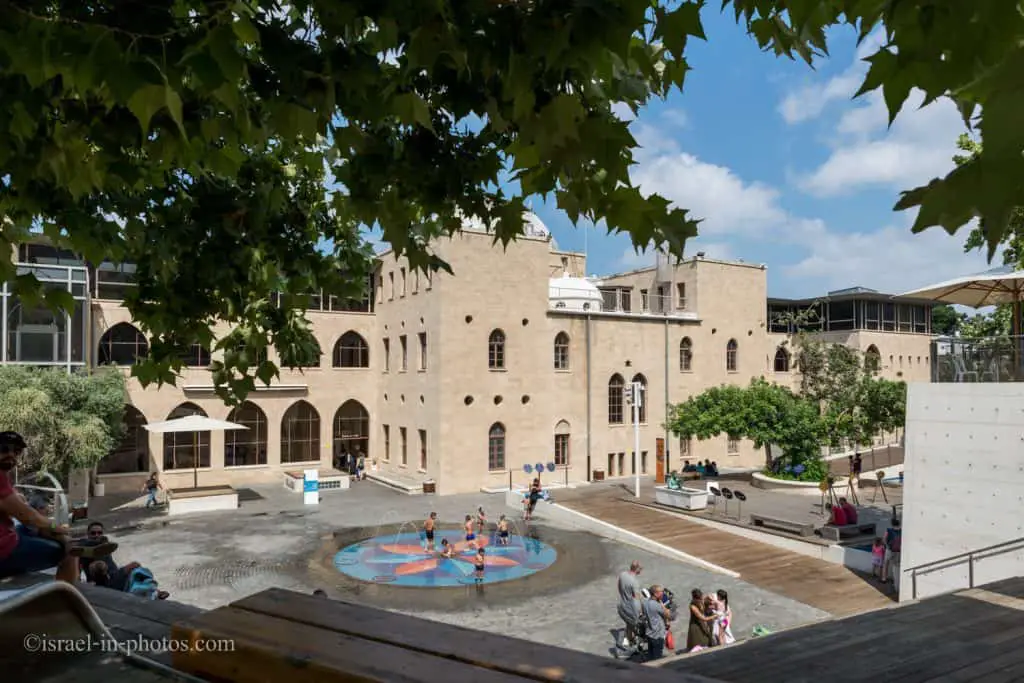 Additional Exhibitions
Madatech education building had two additional exhibitions. They were Map It and Digitali.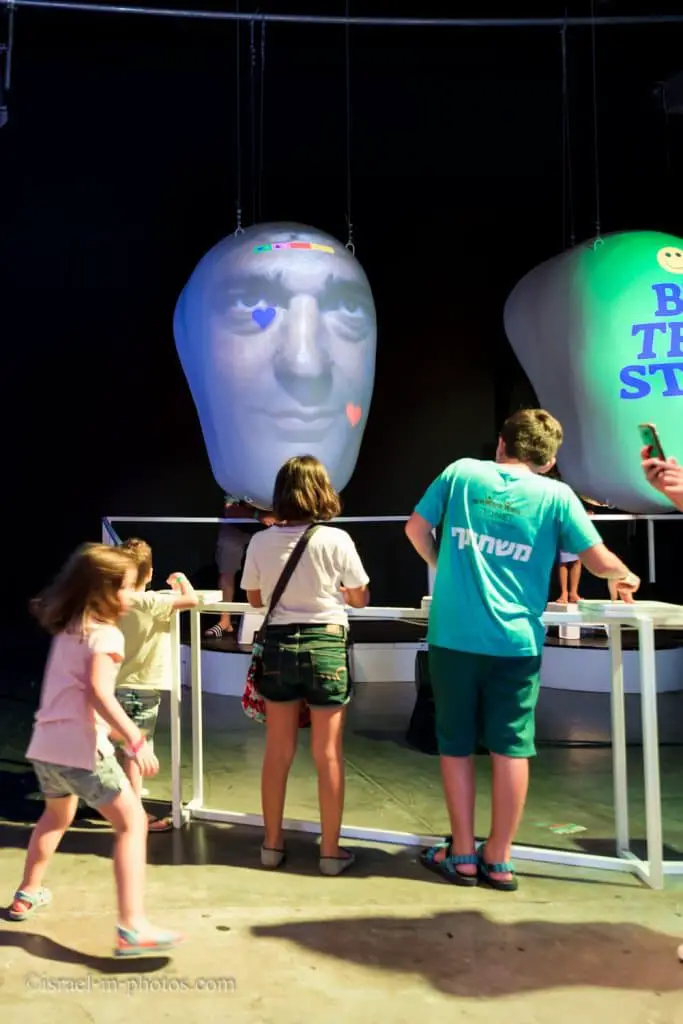 And while the exhibitions in the Historical building (Madatech Exhibition Building) change rarely, the ones in the Madatech education building change quite frequently.
After visiting both these exhibitions, we were tired but content. And headed home.
How Much Time Does a visit to Madatech Takes?
The number of hours you spend at Madatech depends on the age of your children. As I mentioned, this was my third visit to Madatech in recent years. And when my daughter was a preschooler, our visit lasted about three hours, and a significant portion of it was in the science park. During our last visit, she was already in the third grade, and our visit lasted five hours, and we visited all the exhibitions.
Summary
Madatech, similarly to other Science museums in Israel, is aimed at children. Most exhibits are interactive, where children can explore, play, and have fun. Thus children (including mine) love Madatech. And though I remember many of the exhibits from previous visits, for kids, each time is like the first time. Thus we keep coming back every couple of years.
The only downside is the entrance fee. But the coupons that I mentioned in the beginning, will help you to reduce the costs.
Have you ever been to Madatech in Haifa? Tell us about your experience in the comments below.
That's all for today, and I'll see you in future travels!
Stay Tuned!
Additional Resources
Here are several resources that I created to help travelers:
And if you have any questions then check out
Useful Information For Tourists To Israel
.  
Did not find what you were looking for? Leave a comment below, and I will do my best to answer your questions.