My wife loves Jerusalem in winter. According to her, it is gleaming with its true colors. Moreover, it is not too hot, and since we both have our birthdays in January, we decided to take a long weekend in Jerusalem by ourselves.
Offers:
Black Friday Deals on Booking.com are available from 18 November until 1 December 2021. Get 30% discount at participating properties. And stay from November 18 2021 until 30 June 2022. See additional details here.
Get 5% off for your next vacation at Isrotel.
Get 10% off for your next tour at Bein Harim with coupon code LEV10#12306.
Weekend In Jerusalem – Thursday
We took two nights (Thursday to Saturday) at Eldan hotel. We selected the Eldan hotel for several reasons. First of all, it has moderate prices. Secondly, it is close to the Old City, and lastly, it has private parking for guests.
On Thursday morning, we arrived in Jerusalem and made use of the hotel's private parking. After leaving the car, we walked towards our first attraction.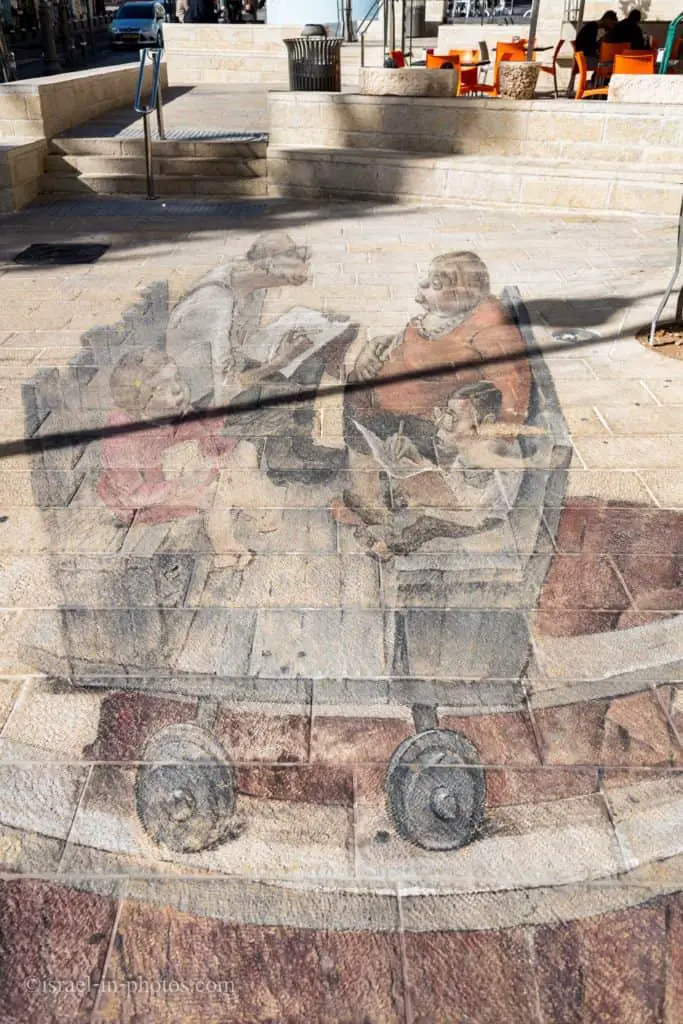 Hebrew Music Museum
You can find the full post at Hebrew Music Museum.
Another pavement Graffiti on our way back: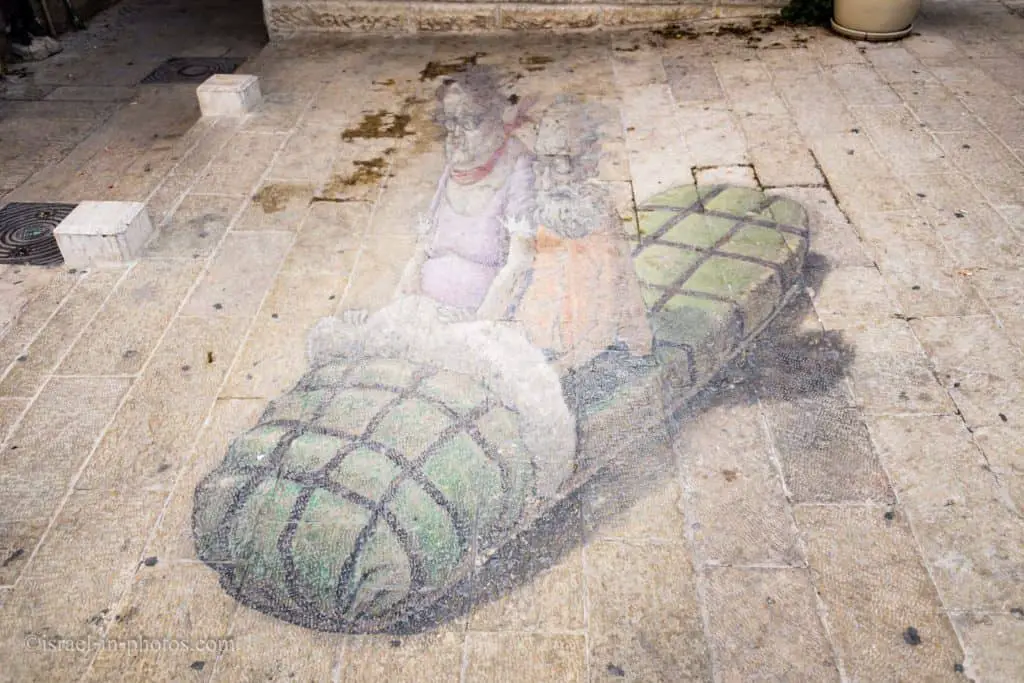 Jerusalem Great Synagogue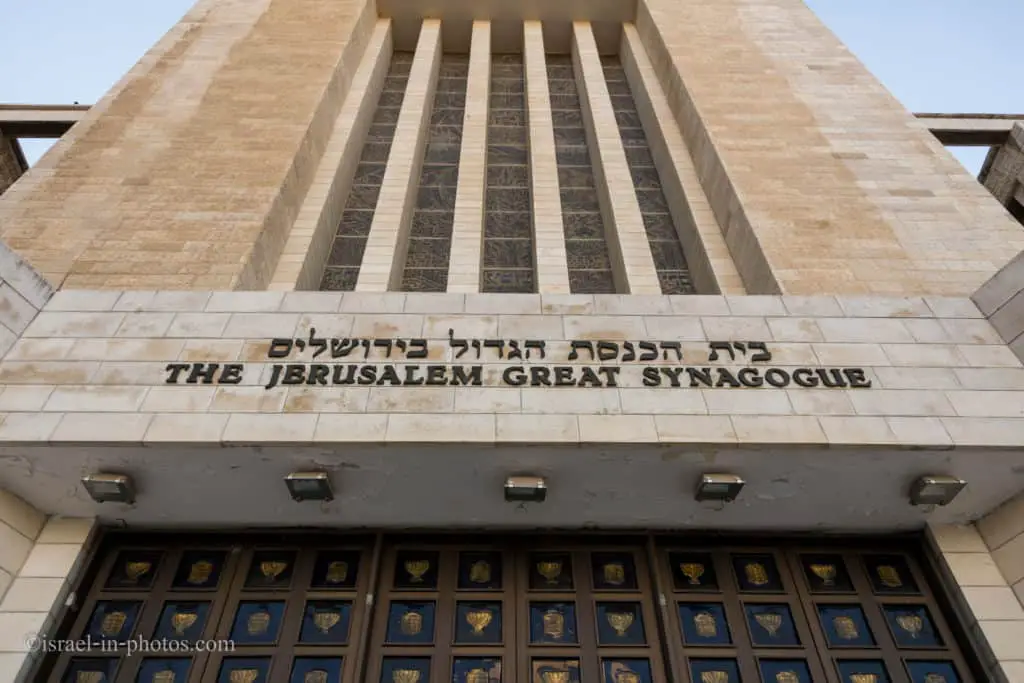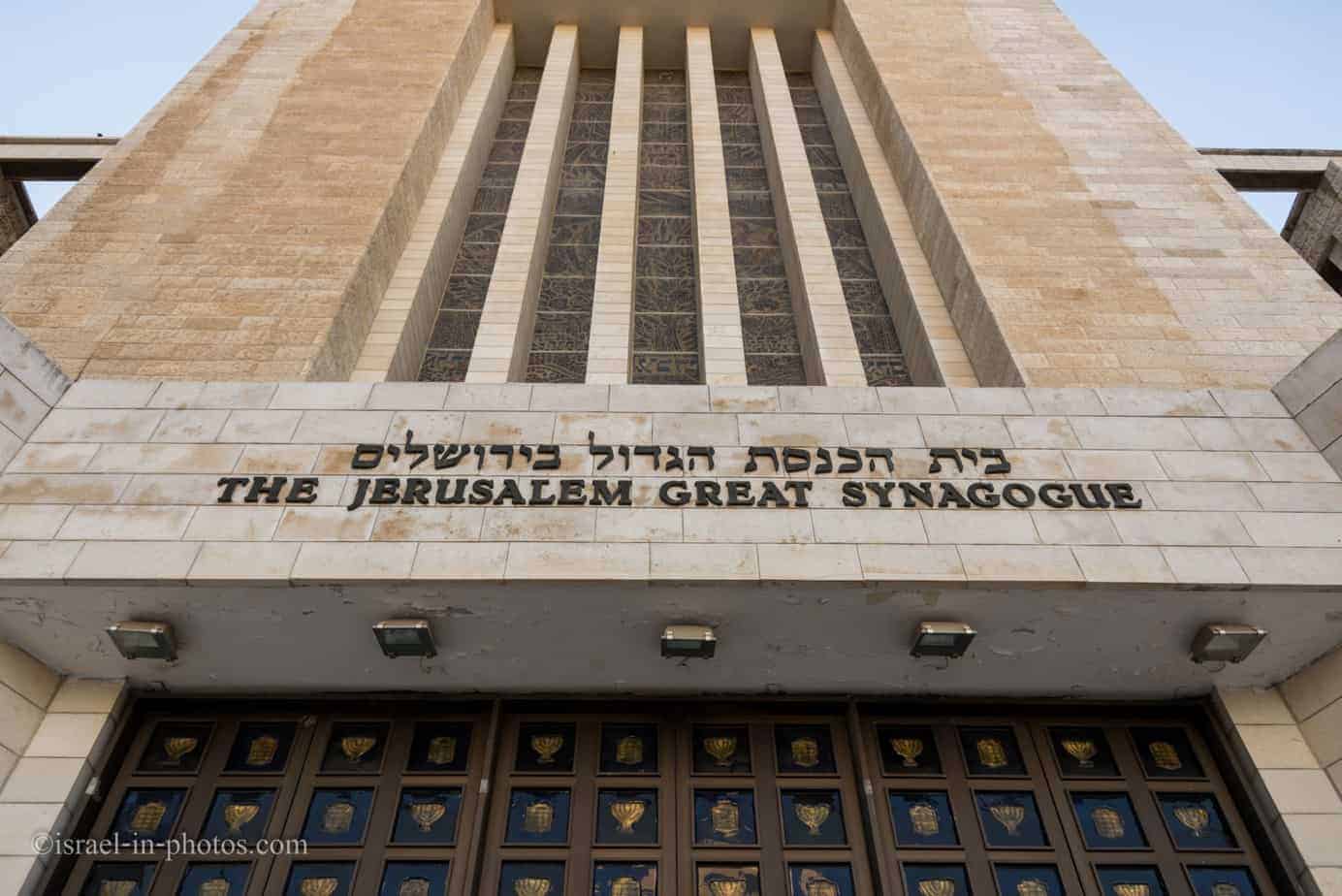 I visited the Great Synagogue of Jerusalem only once when I was a small child. Since we were in the area during a weekday, we tried our luck and went to 56 King George Street.
Unfortunately, we were not lucky, and Jerusalem Great Synagogue was closed. Thus, if you want to visit the Great Synagogue, then you should know that according to the official site:
The Jerusalem Great Synagogue is open to visitors Sunday through Thursday between 9:00 AM and 1:00 PM.
Jerusalem International YMCA
Our hotel, the Eldan hotel, is located close to Jerusalem International YMCA.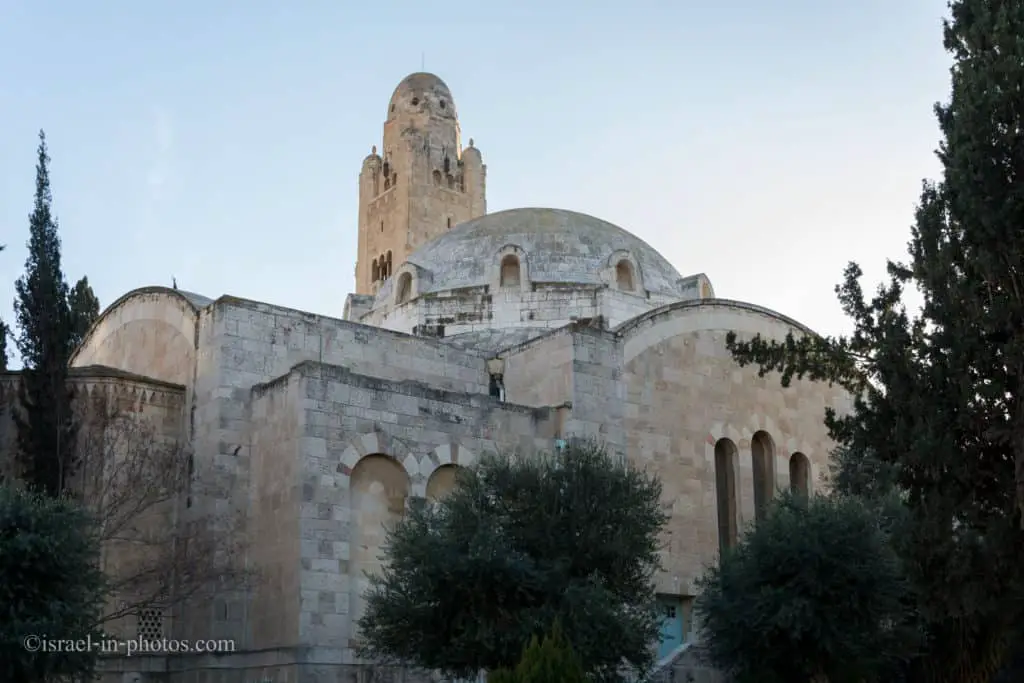 We visited the YMCA before but never been to the top. Thus, after lunch, we returned to the hotel for a short rest since I wanted to visit the tower during sunset.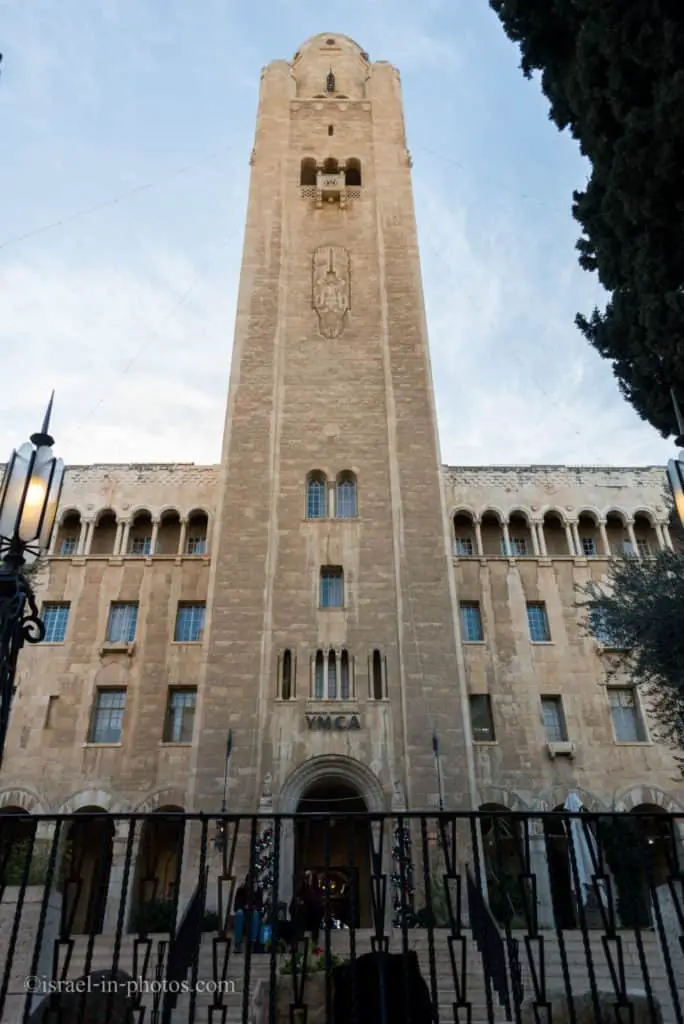 Though it was towards the end of January, there still was a Christmas tree in front of the YMCA. And this is our selfie: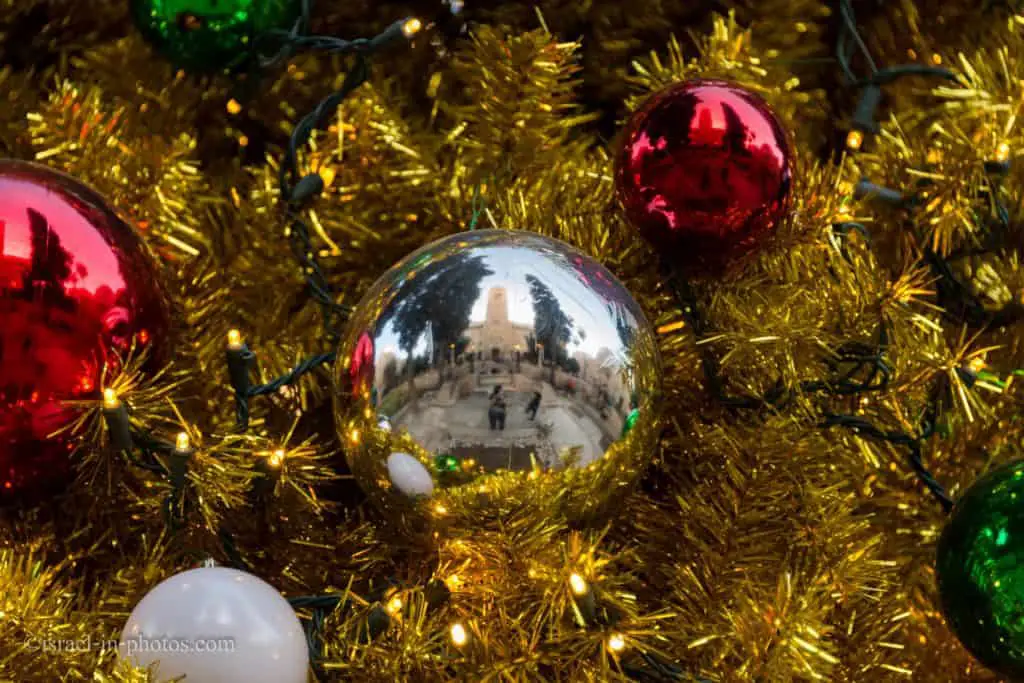 To visit the tower, you should go inside the YMCA and buy tickets at the reception (on the left).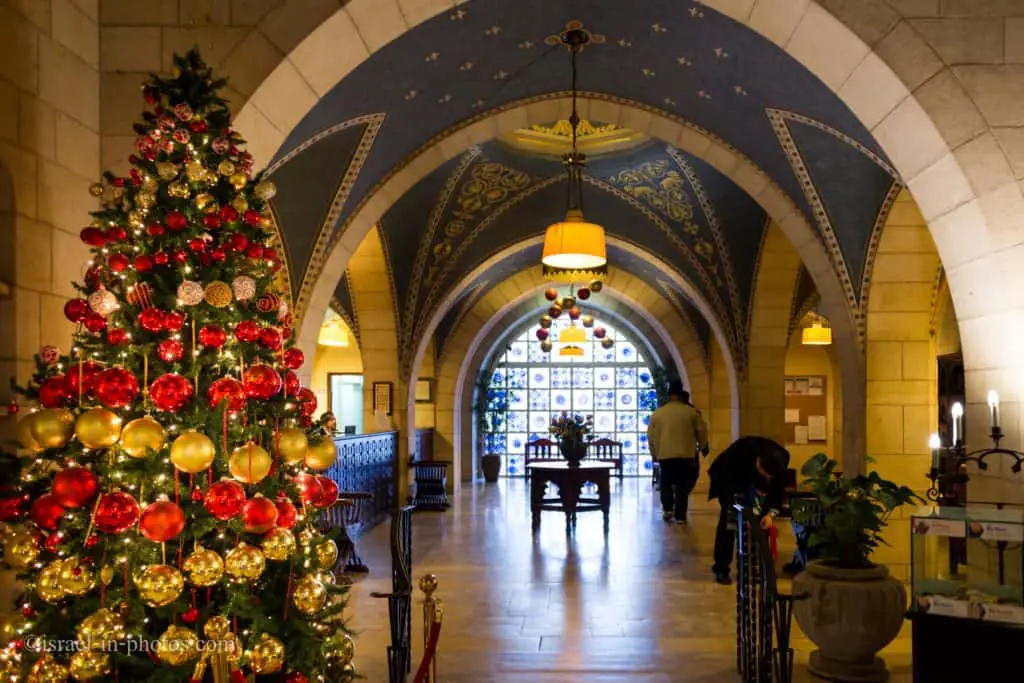 After purchasing the tickets (20 NIS per person), we were forwarded to the elevator next to the entrance.
YMCA bells on our way: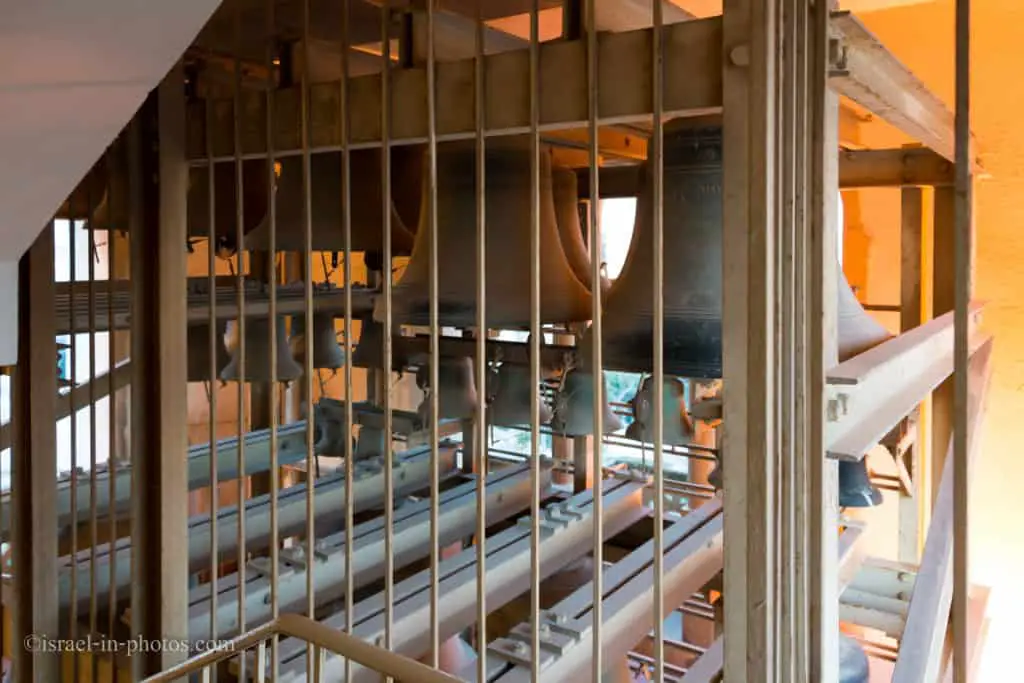 After exiting the elevators at the top, we had to go several floors up by staircase until we reached the viewpoint.
The tower is decorated, and each corner has the name of an apostle.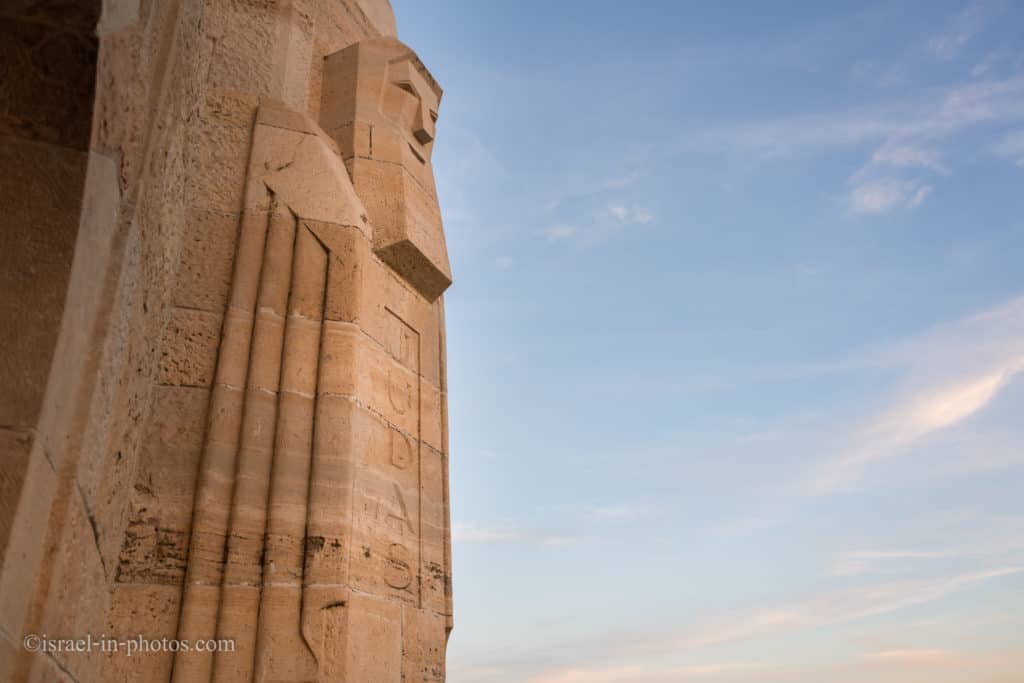 Looking north, you can see Leonardo Plaza on the far left and the Mamila area on the right.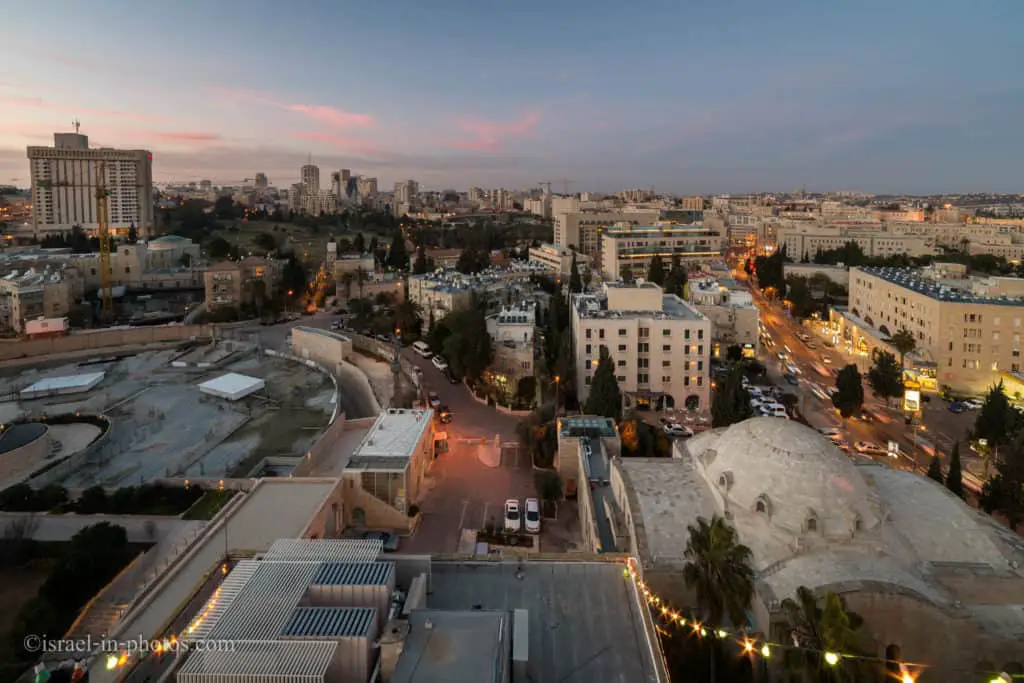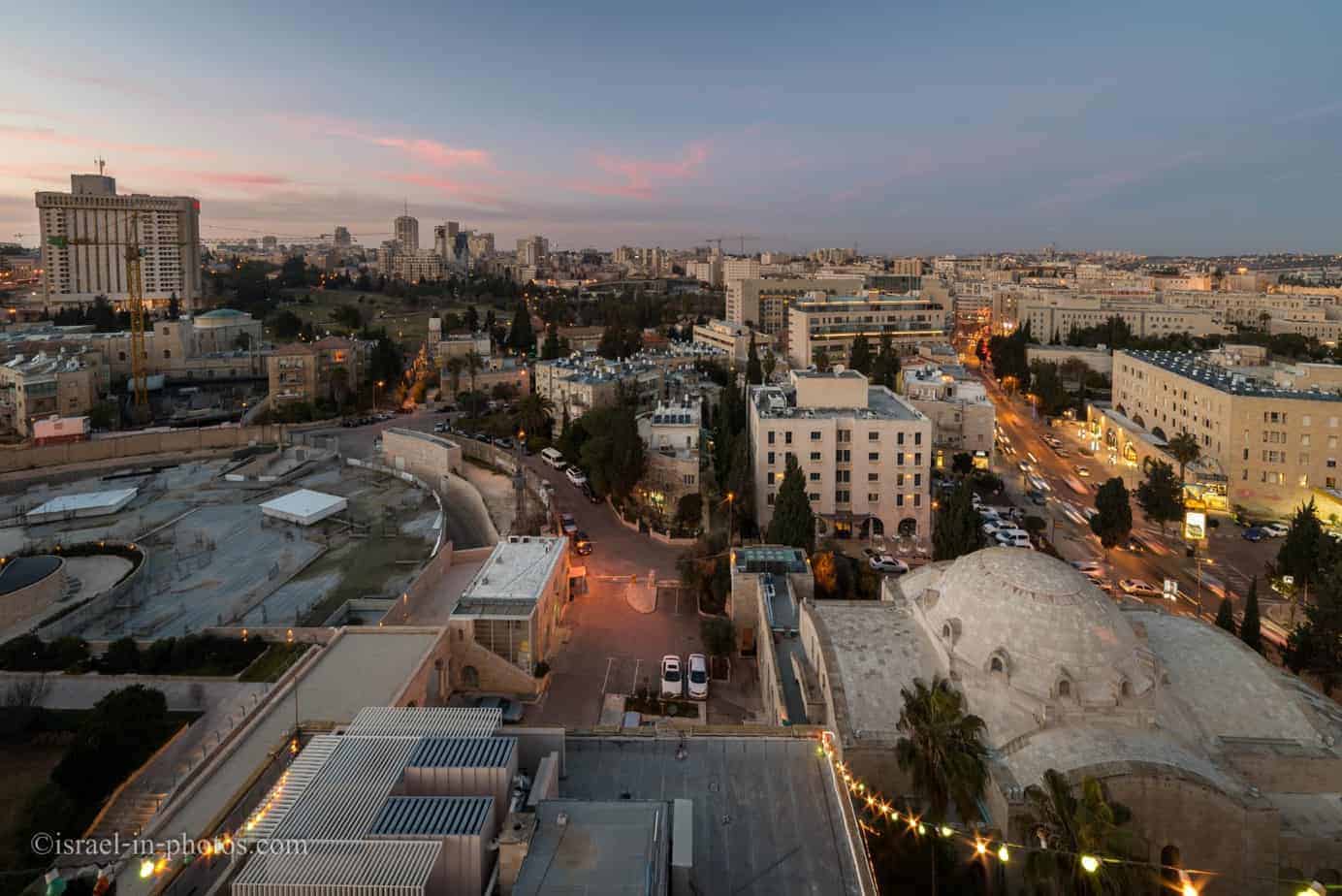 When standing on the street, you can see that the YMCA tower is higher than the King David Hotel. The question is how much higher and whether you will be able to see the Old City. The answer is not much higher. You can see the Old City and Mount Zion, but not too good.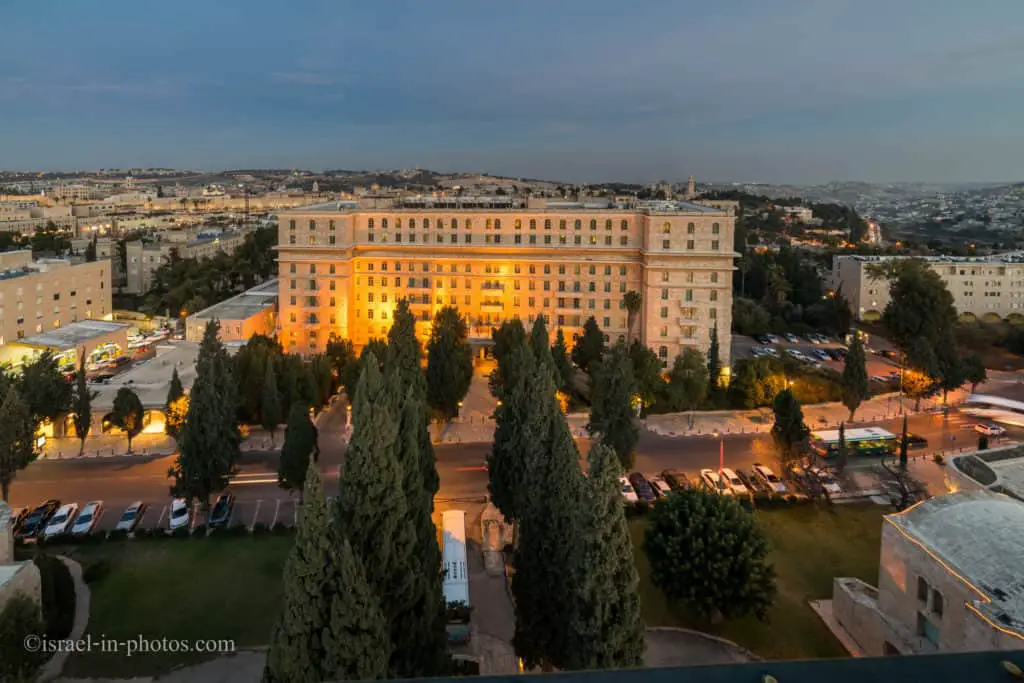 And this is a new residential neighborhood behind the YMCA.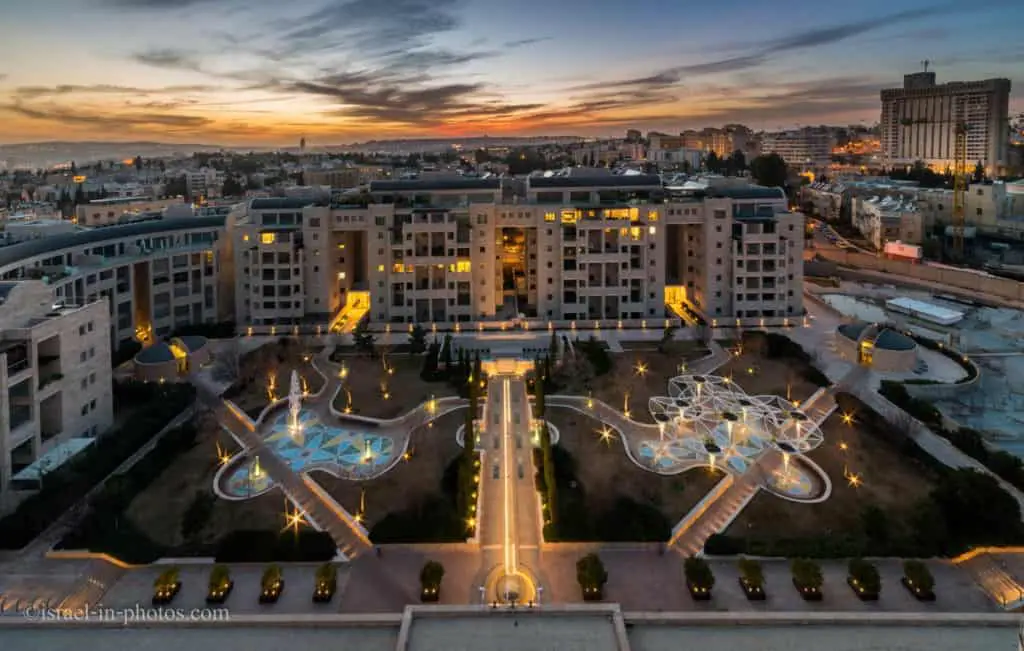 And here is the King David Hotel during the blue hour: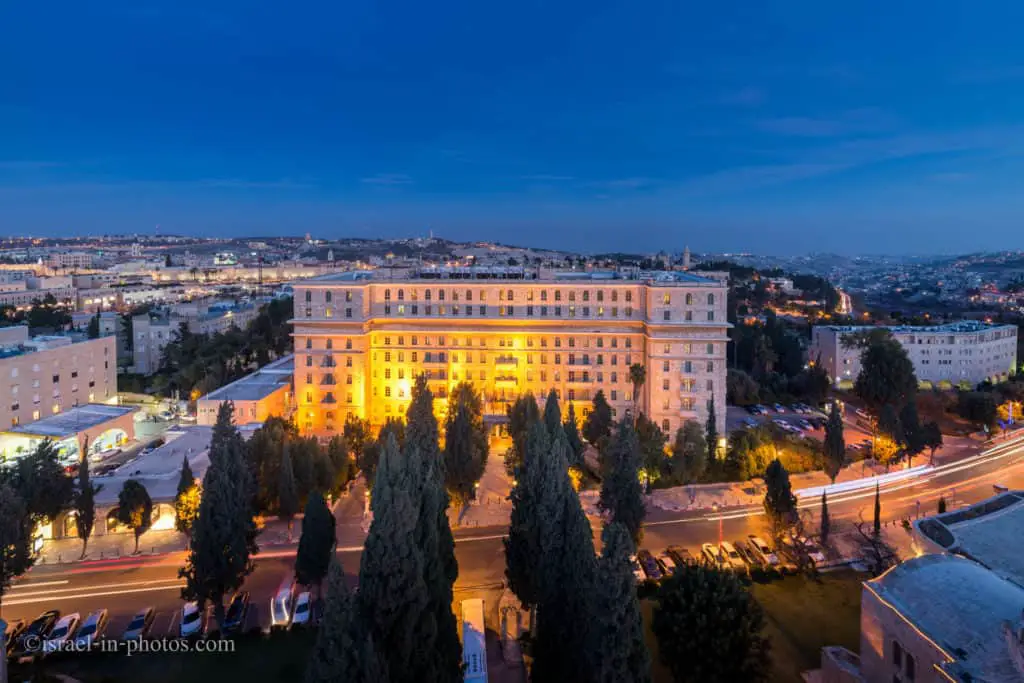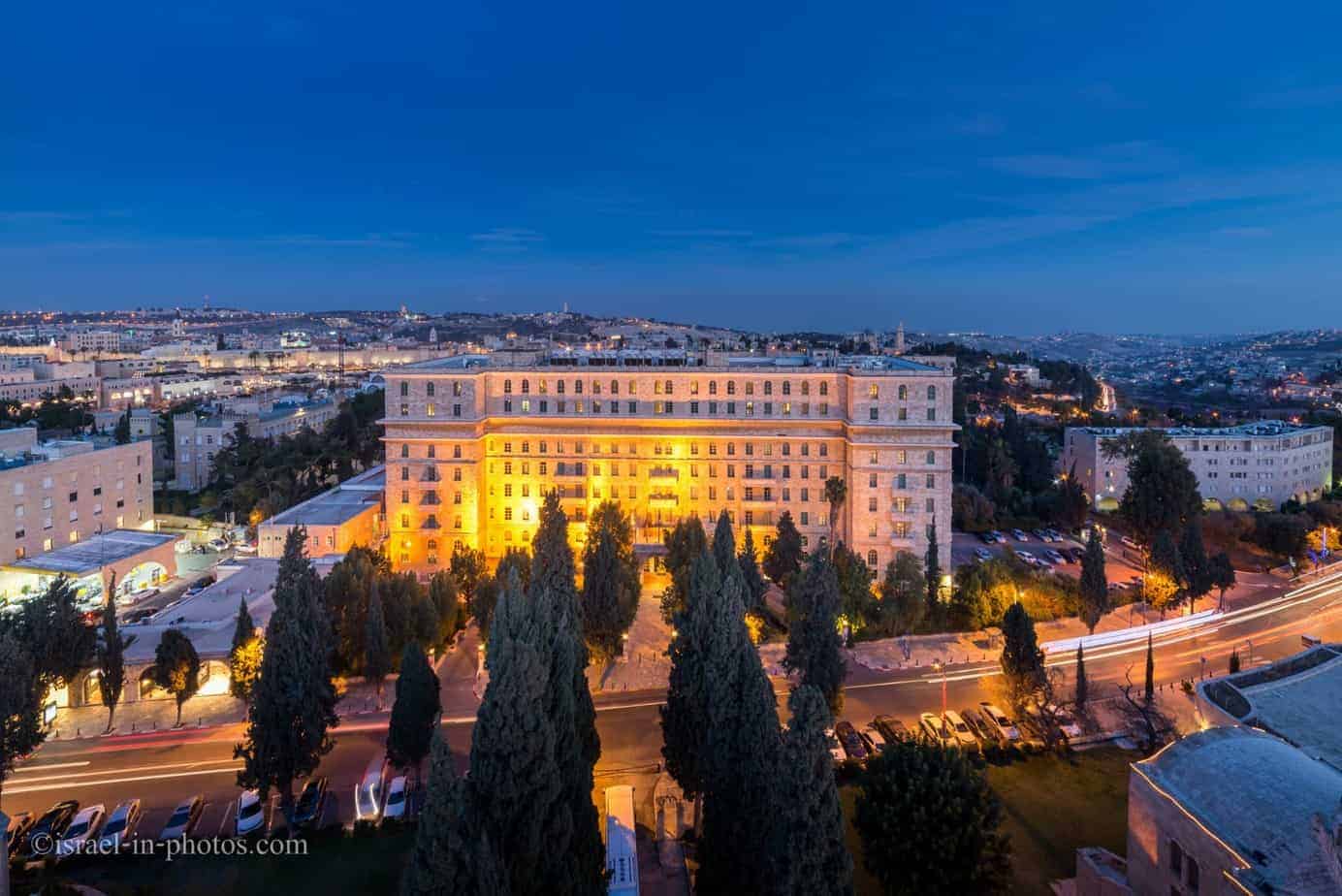 After about an hour at the tower, we went down. Here are two photos of the YMCA with Christmas decorations.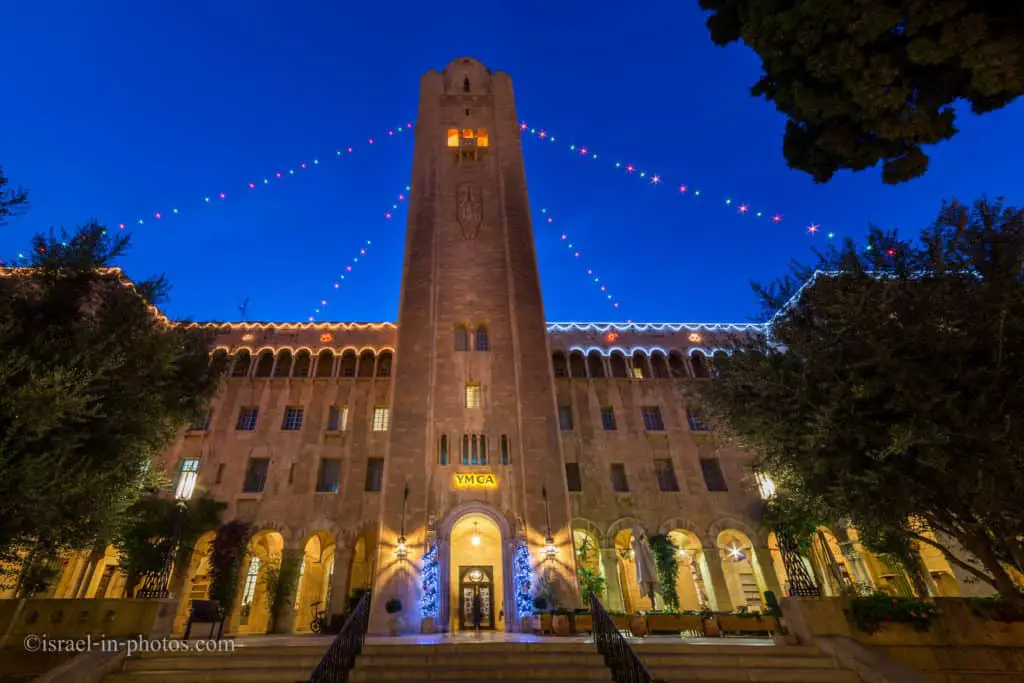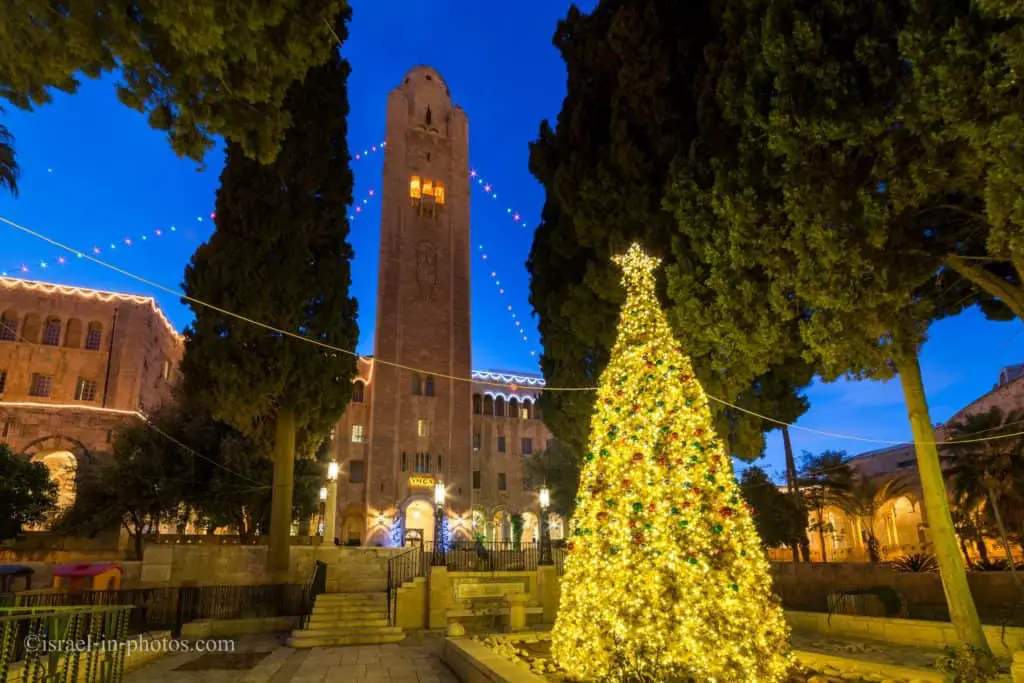 Since the light was still good, we took King David street until we reached Montefiore Windmill in Mishkenot Sha'ananim neighborhood.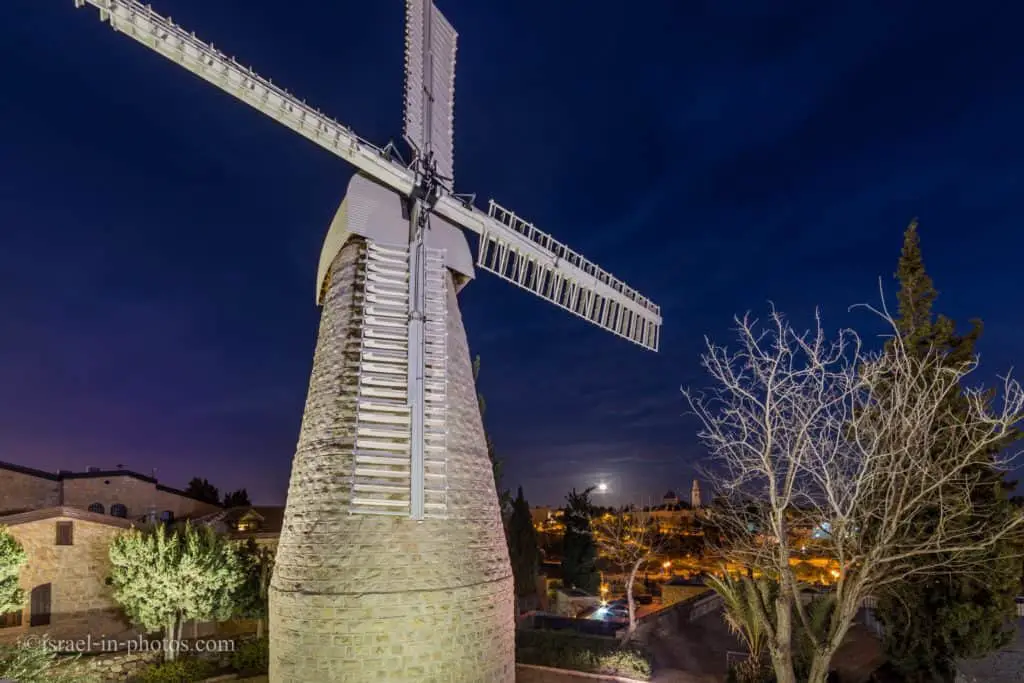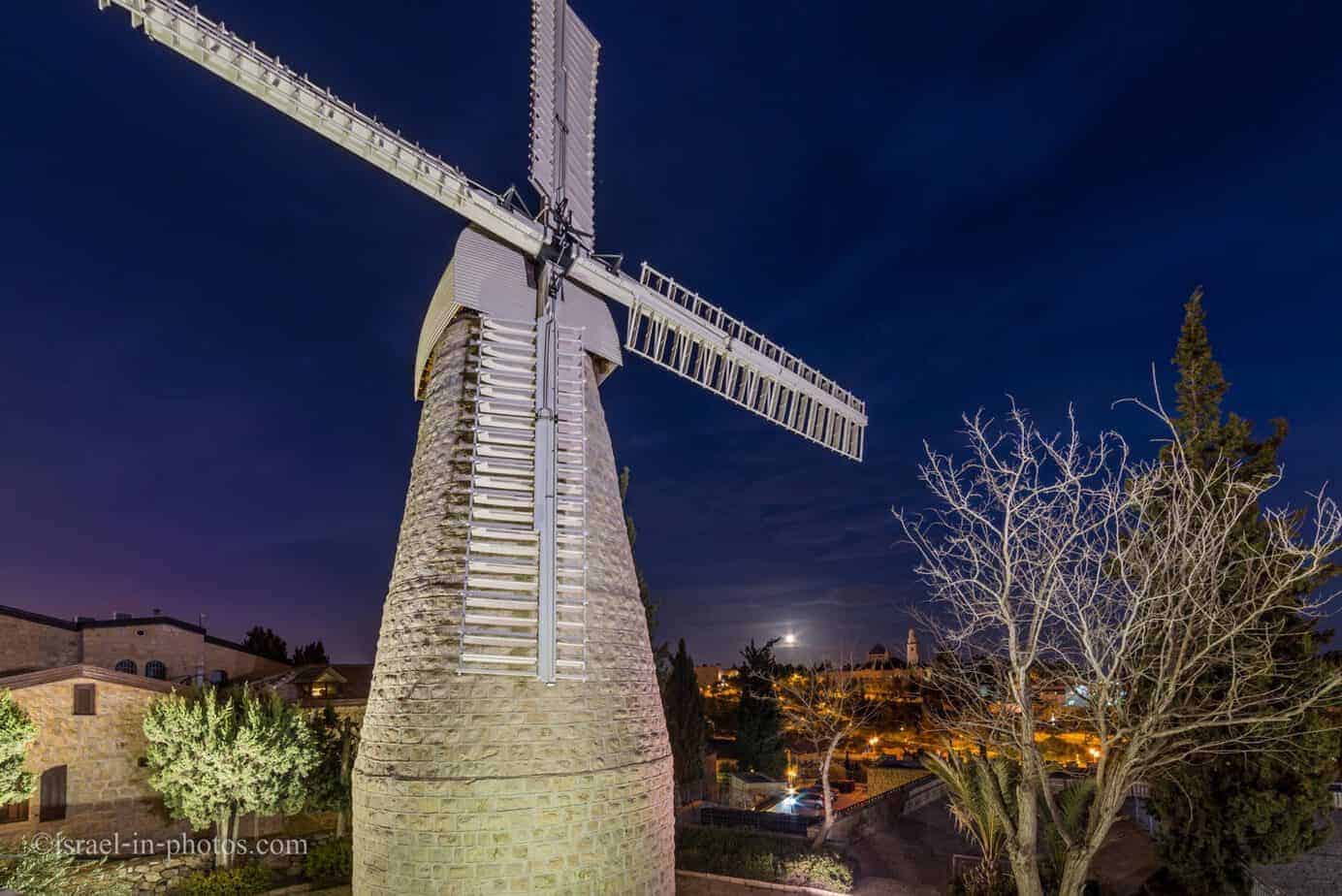 And this is Mount Zion with the full moon: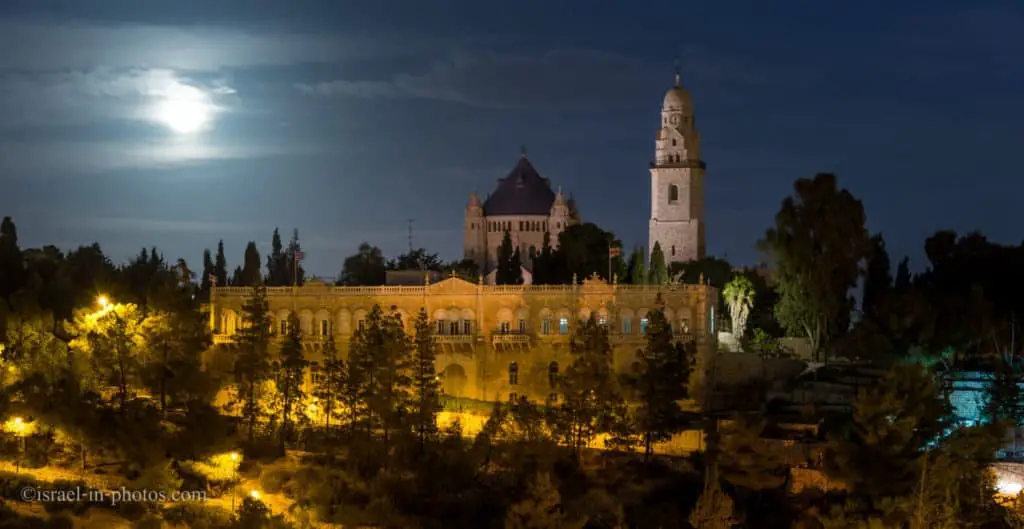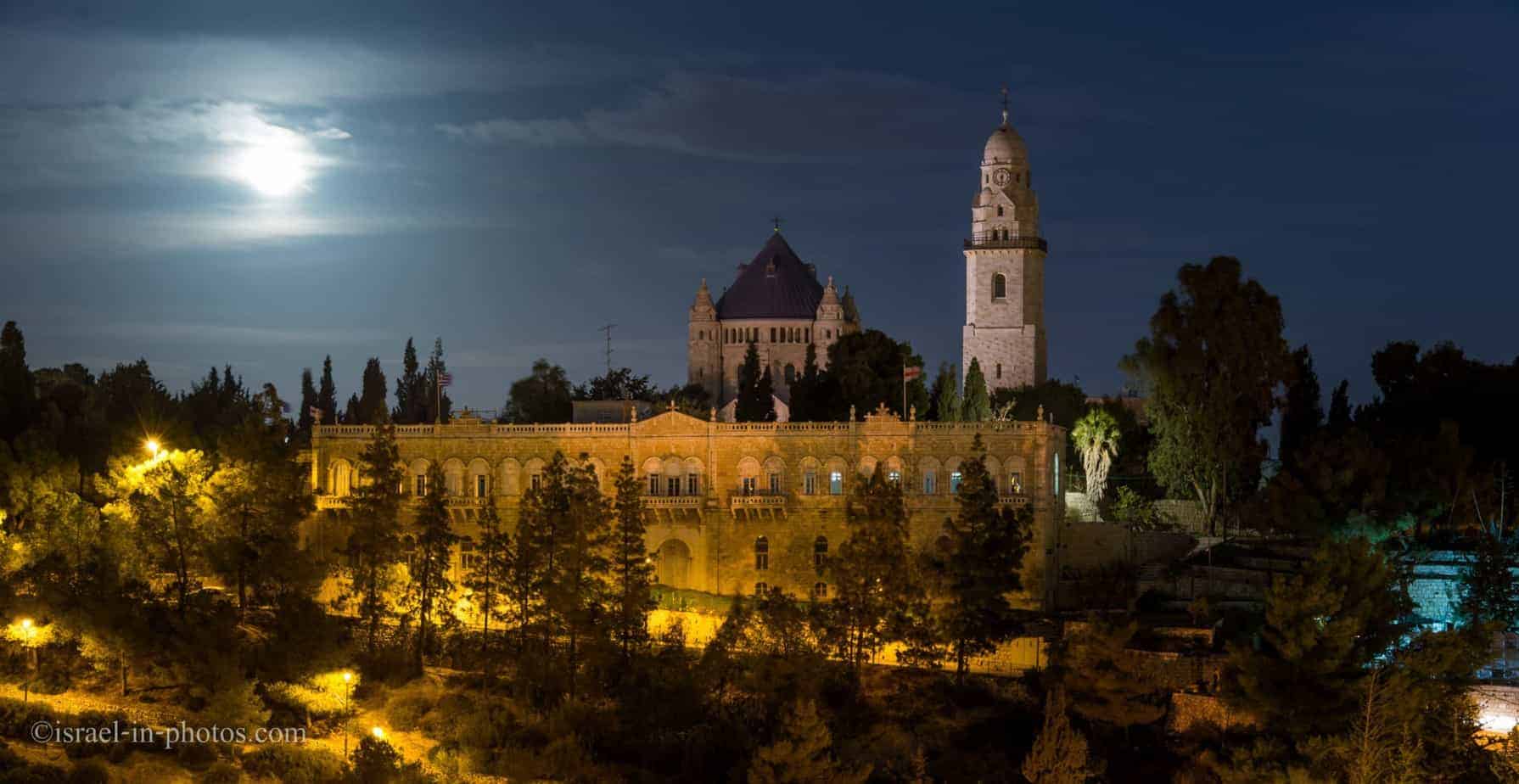 Weekend In Jerusalem – Friday
On Friday morning, we headed to the Machane Yehuda Market area since we pre-booked a tour at the market. We did the tour and ate lunch at the market.
You can find all the details in my Machane Yehuda Market guide.
Afterward, we headed back to our hotel. And here is challah in a bakery on our way.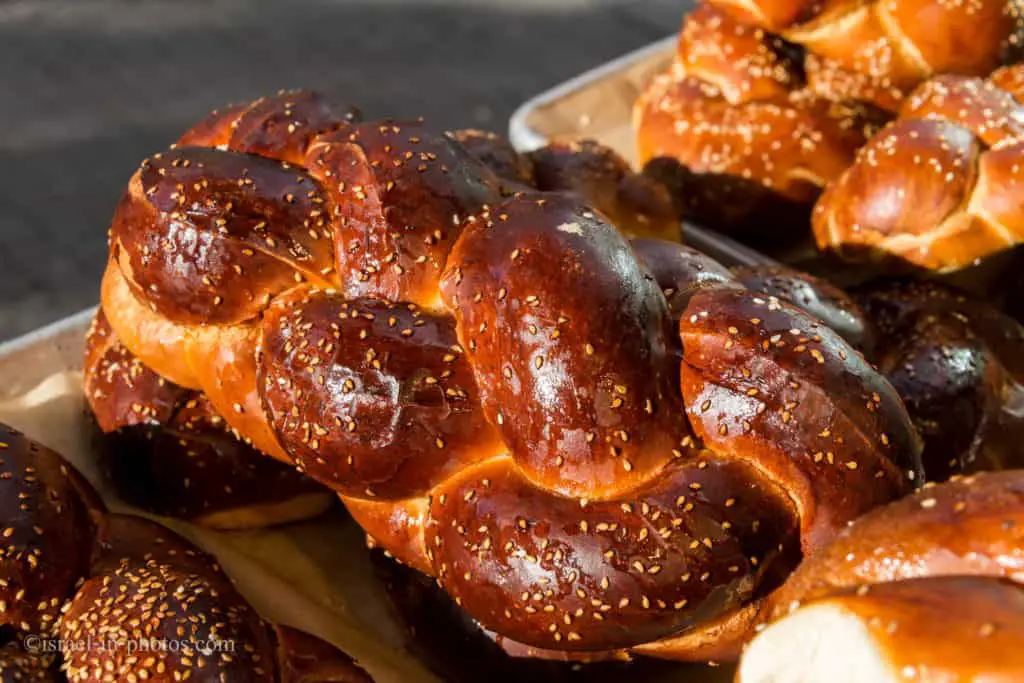 The streets are starting to empty.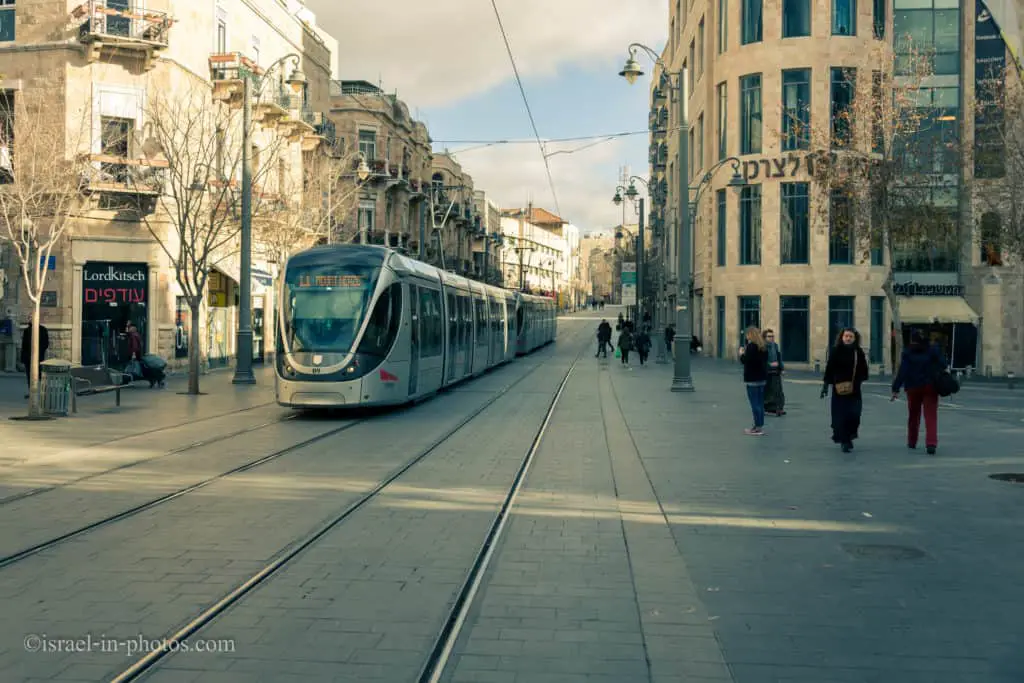 After a short break in our room, we went to the Old City.
Kabbalat Shabbat at Western Wall
Our goal was to visit the Western Wall for Kabbalat Shabbat. And since this is during sunset, I had to make several stops to photograph 😉
Note: for a complete guide about the Kotel, check out the Western Wall.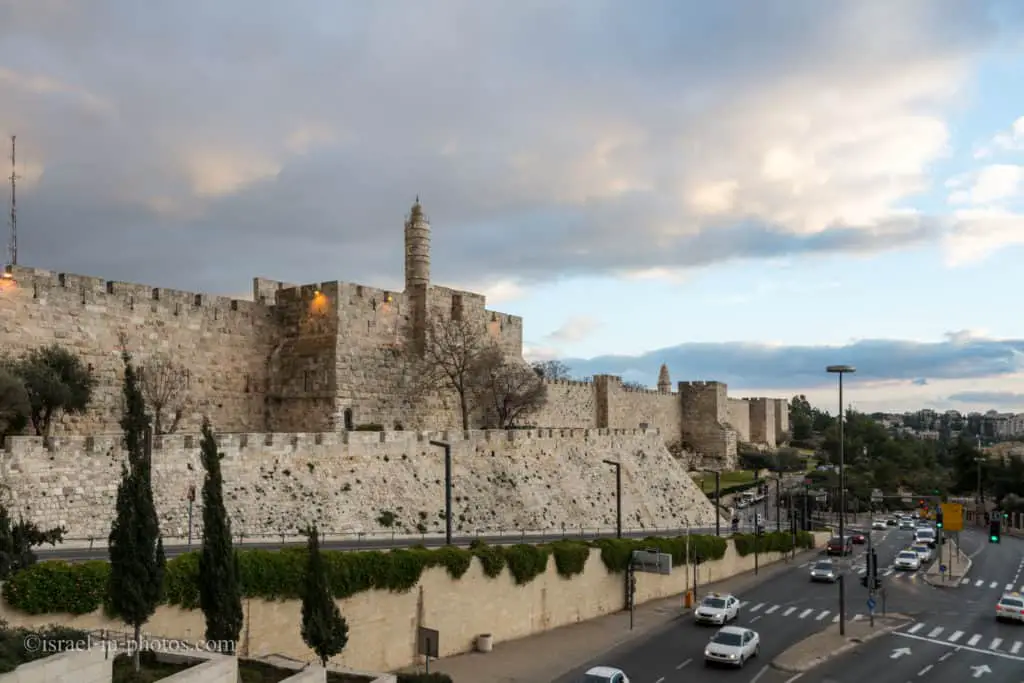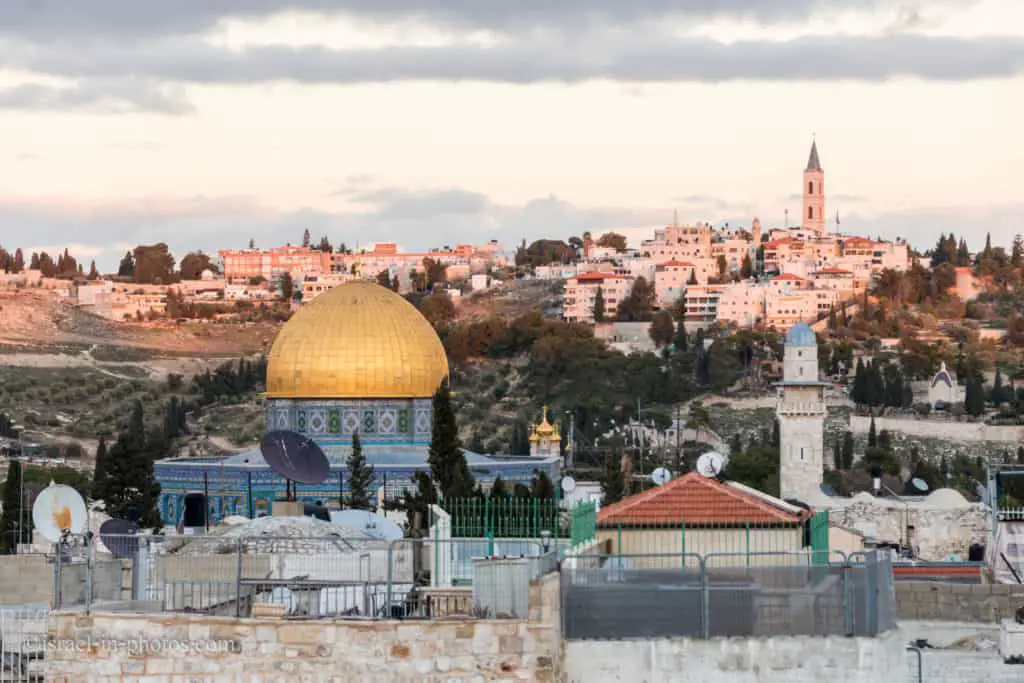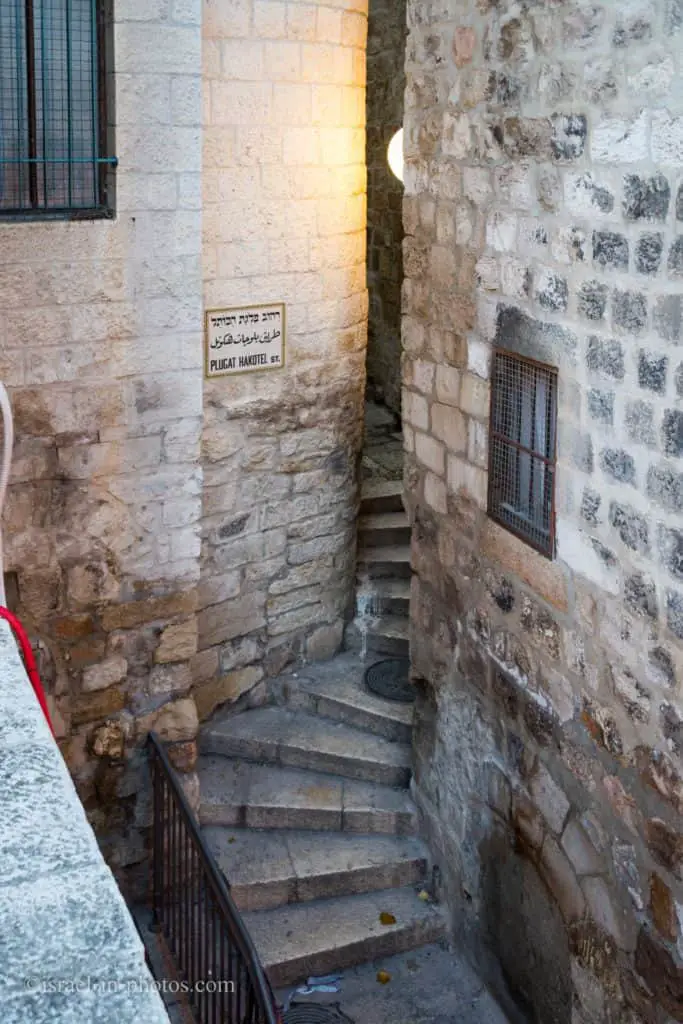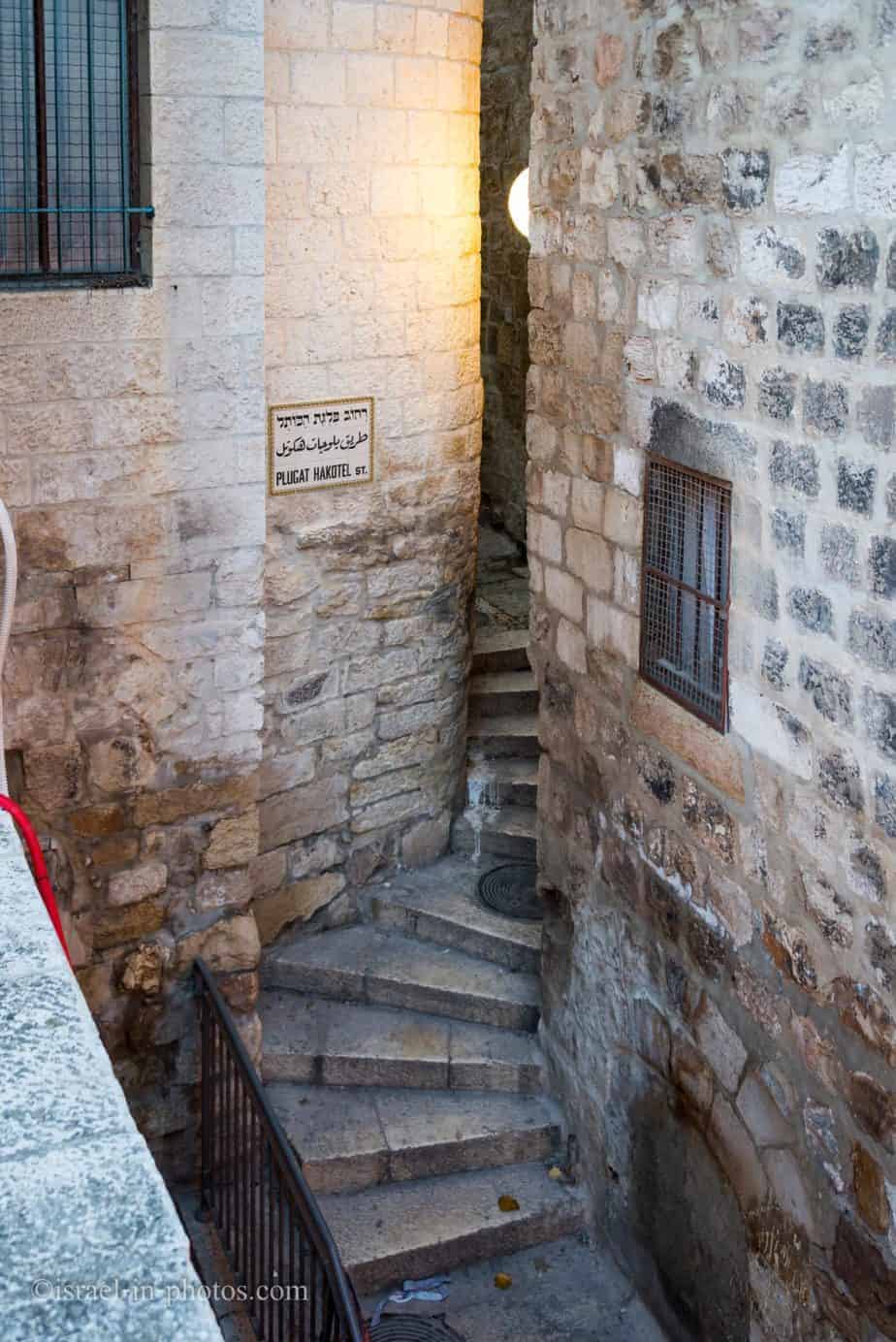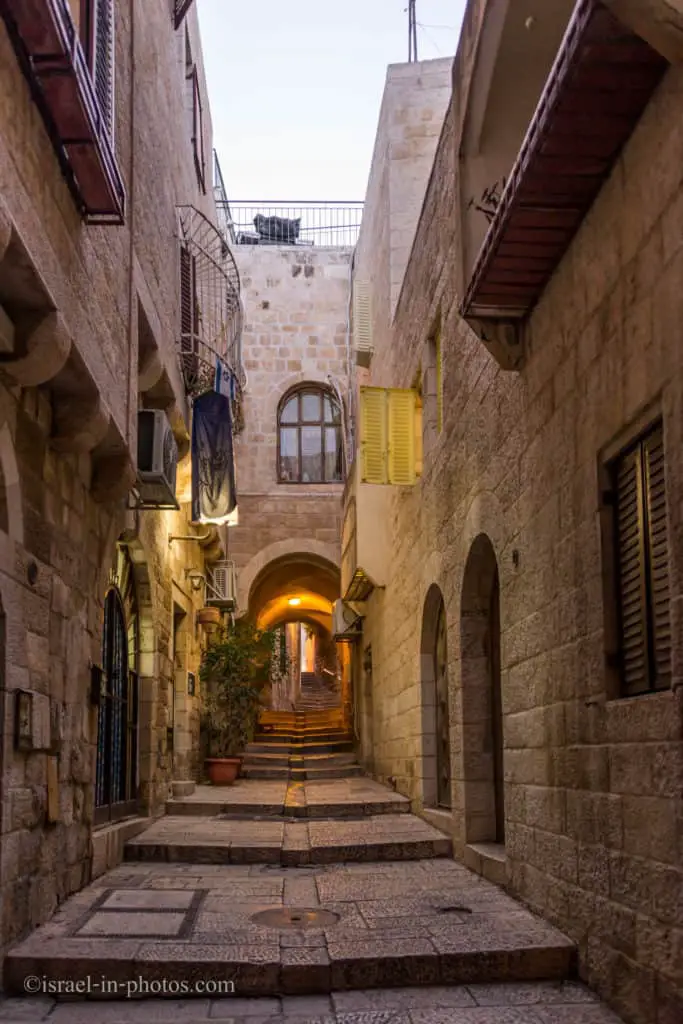 And this is one of the best viewpoints of the Western Wall:
Closeup:
I do not consider myself religious, but Kabbalat Shabbat at Western Wall was a powerful experience. In the beginning, we heard prayers from every possible direction. And when the main wave of prayers ended, the youngsters started dancing and singing.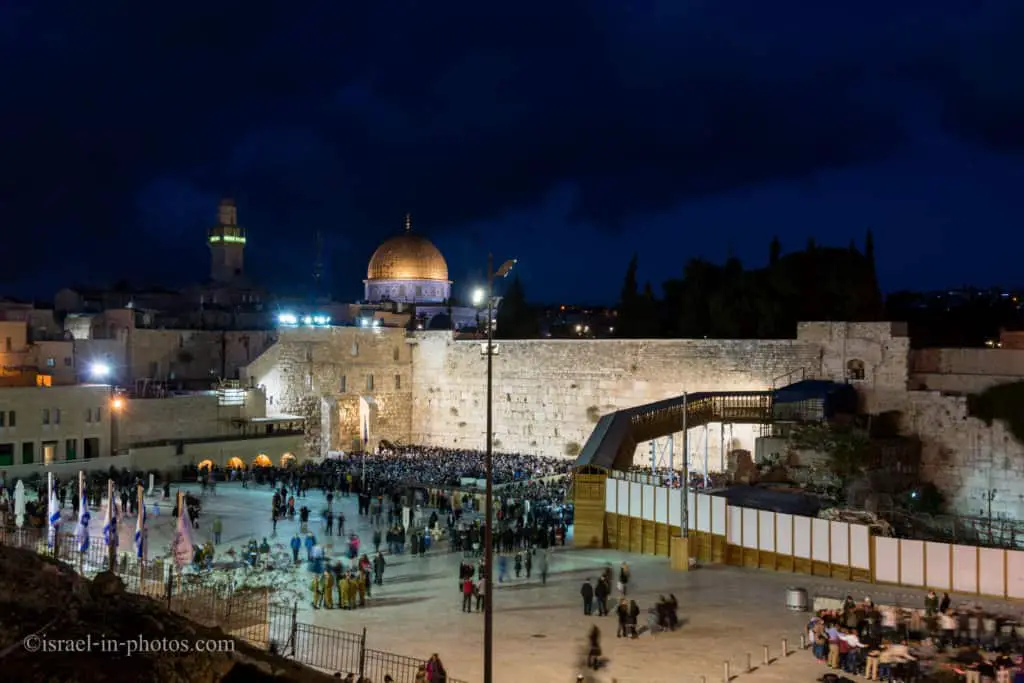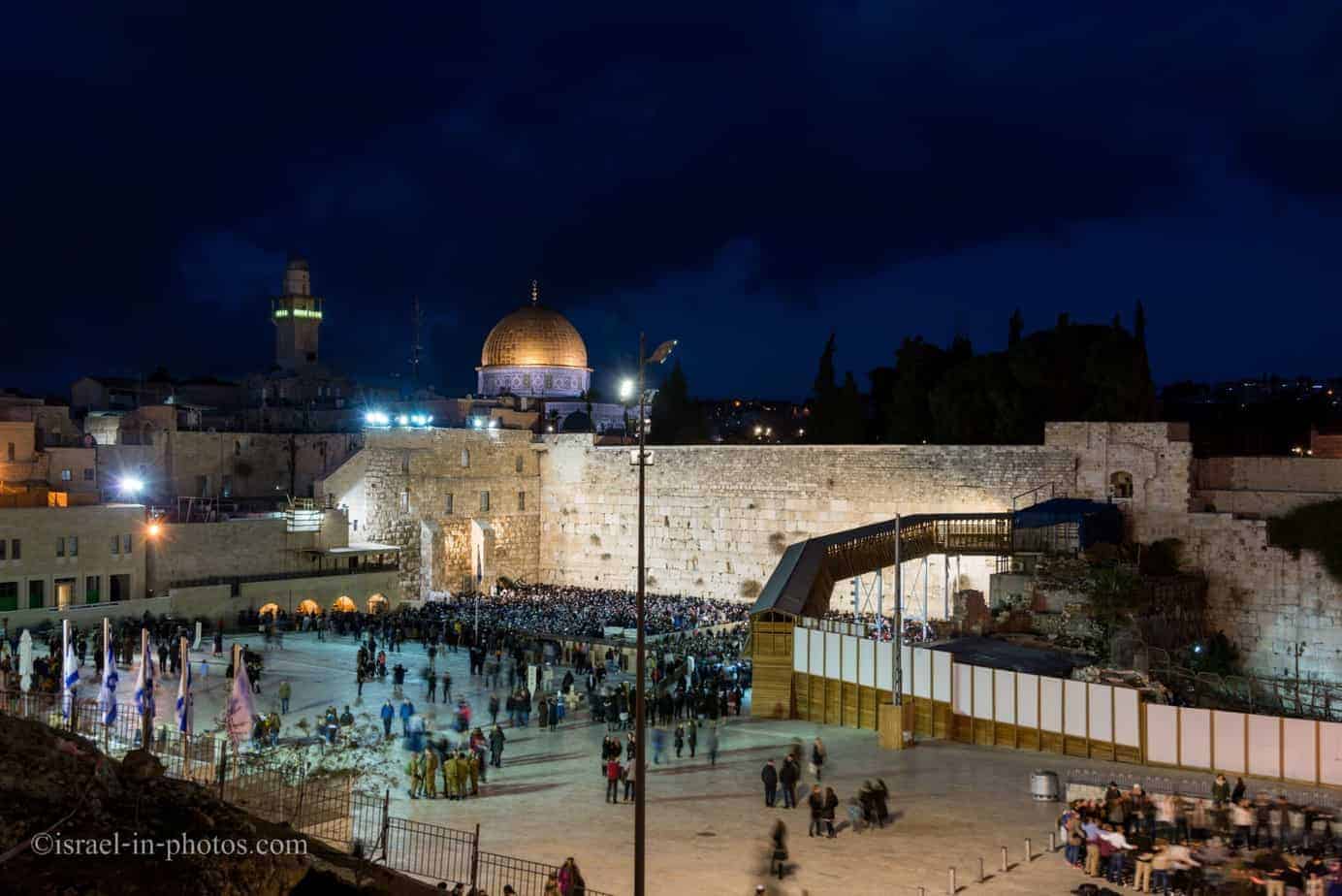 It is hard for me to describe the atmosphere with words. I would say a "Jewish joy." Though I did not expect it, it was one of the highlights of this weekend in Jerusalem.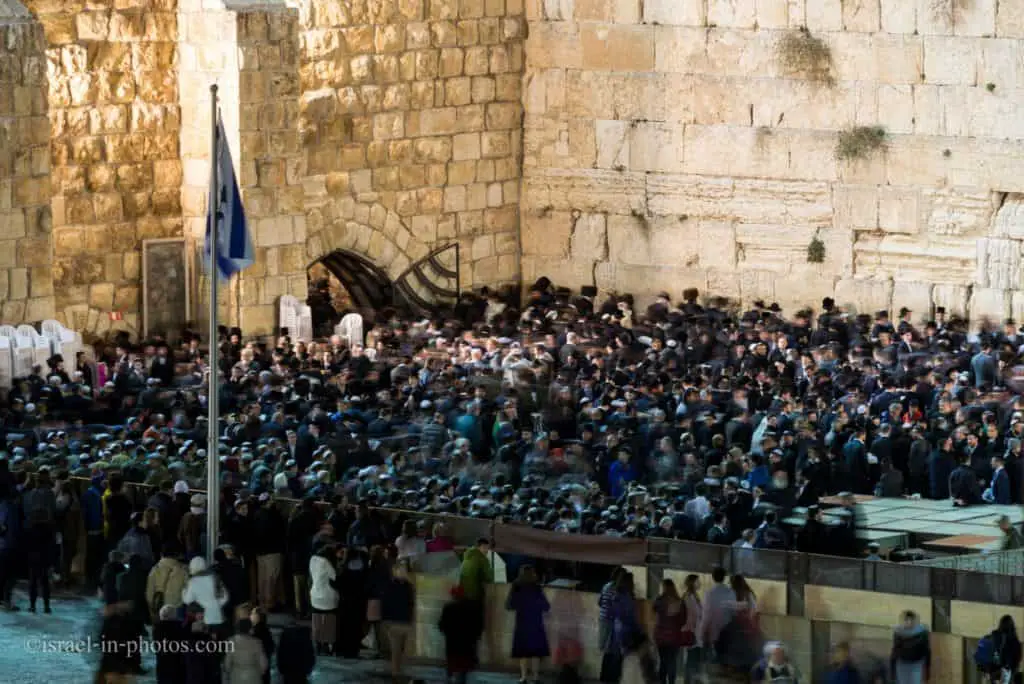 You can see the movement and the dancing of the people.

When the number of people decreased, we visited the Western Wall and headed back to our hotel.
One technical note: finding food on a Friday evening in Jerusalem can be problematic. After searching, we saw that a convenience store at the gas station in front of our hotel was working. We bought some snacks since it was our only option (everything in Mamila and around was closed). Hence, if you will be visiting Jerusalem on a Friday evening, plan.
Weekend In Jerusalem – Saturday
Saturday was the last day of our weekend in Jerusalem. After breakfast, we checked out from Eldan hotel and headed towards the Old City.
A note about the hotel: overall we liked it. It is a medium price range option with nice rooms, and it is close to the Old City (about a ten-minute walk). The only downside was breakfast. The food was mediocre.
After checking out, we parked in the free parking at HaPa'amon Garden. On our way to the Old City, we passed next to St Andrew's Church.
St Andrew's Church
St Andrew's Church was built as a memorial to the Scottish soldiers who were killed fighting the Turkish Army during World War I, bringing to an end Ottoman rule over Palestine. It is a congregation of the Church of Scotland.
Source: Wikipedia
St Andrew's Church is located at David Remez Street 1. And we visited St Andrew's probably half a dozen times, but it was always closed. The only thing I was able to find on the official site is:
Our weekly Sunday service is communion at 10 am.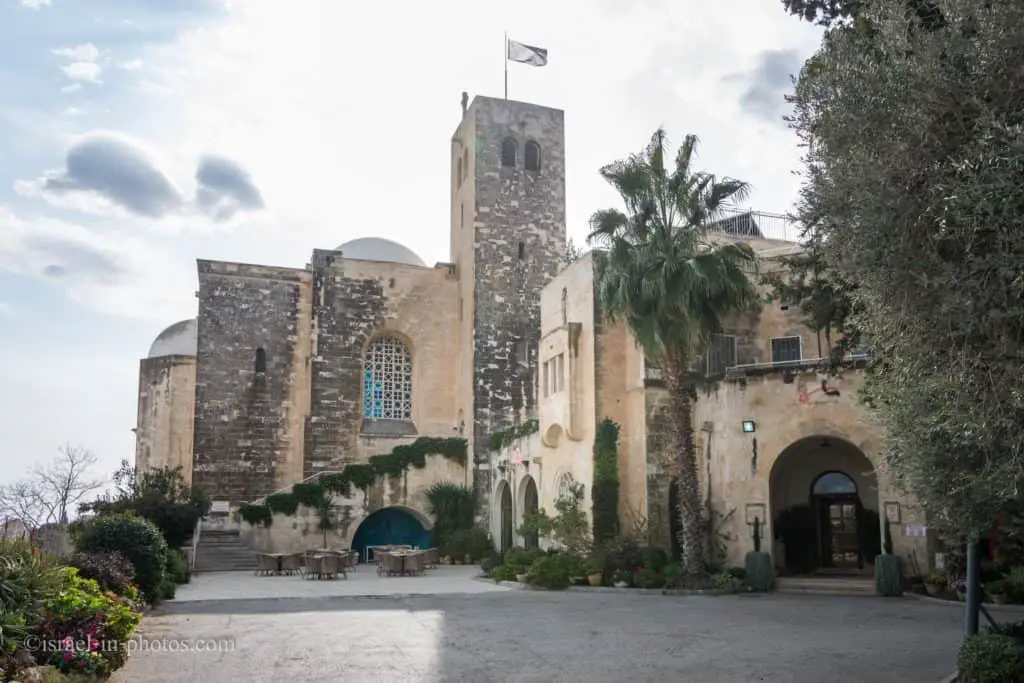 We started to climb Mount Zion, and here you can see Mishkenot Sha'ananim neighborhood with King David Hotel at the top of the hill. YMCA is peeking from behind the hotel.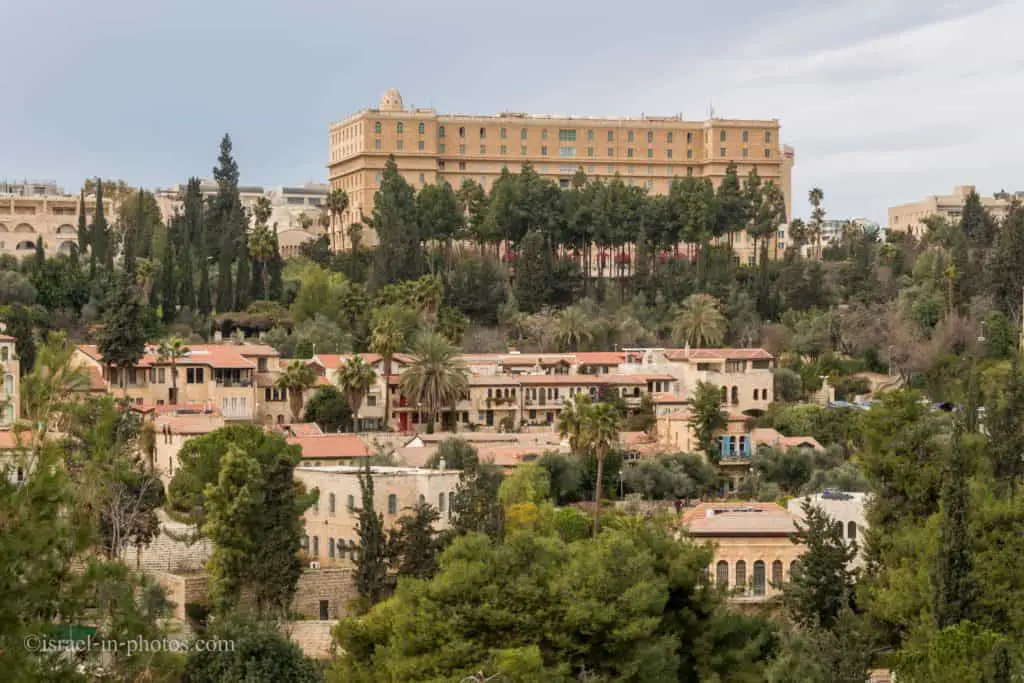 Dormition Abbey
We have visited Dormition Abbey many times before, and I already wrote about it. But this visit was memorable. When we entered, we heard Organ music. So we sat and heard several pieces, basically until the end. As it turns out, there was a group visiting the church, and their guide played the Organ. It was a charming surprise.

From the Dormition Abbey, we entered the Old City. We wandered around, and in the end, we reached the Church Of The Holy Sepulchre.
Holy Sepulchre Church
You can find additional information in my guide about the Church Of The Holy Sepulchre.
From the Holy Sepulchre Church, we headed back to HaPa'amon Garden. Well, since it was lunchtime, we went to The First Station close to HaPa'amon Garden.
The First Station was opened following the success of HaTachana Compound, Tel Aviv's Old Railway Station. And when The First Station opened, organizers promised that the whole complex would be open on Saturdays. During our visit, most of the complex was closed, and only several restaurants were open. But since you do not have many dining options in Jerusalem on Saturdays, we had lunch and headed home.
Summary
We enjoyed our weekend in Jerusalem. The highlights were Hebrew Music Museum, Machane Yehuda Market Tour, and Kabbalat Shabbat at the Western Wall. But, keep in mind that we have visited Jerusalem many times before and if it is your first time, then I would recommend spending more time in the Old City. I hope you enjoyed the journey and learned something new.
What are your favorite attractions in Jerusalem? Tell us in the comments below.
That's all for today, and I'll see you in future travels!
Stay Tuned!
For additional points of interest nearby, check out Jerusalem.
Additional Resources
Here are several resources that I created to help travelers:
And if you have any questions then check out
Useful Information For Tourists To Israel
.  
Did not find what you were looking for? Email me at
hi@israel-in-photos.com
, and I will do my best to answer your questions.