Ramat Gan Safari guide starts with basics (price, coupons, tours, feedings). And then we will join various tours and regular zoo visits. Let's begin!
Basic Info
Avraham Krinitzi, Ramat Gan's mayor, wanted to establish a park around the city. And in 1951 he established Ramat Gan National Park. Two years later a small petting corner was created in the park.
Today the safari extends over an area of around 1000 dunams. It has the most extensive collection of animals in the Middle East and is unique all over the world because of the vast herds that graze in the African park.
The word "Safari" originates from the Swahili language, and it means "a journey." The idea is to invite visitors to join the journey following animals in African Savannah.
Map
The Safari is located at Hatzvi Avenue 1, Ramat Gan.
Map of the area:


A short explanation about what you can find inside the Ramat Gan Geological Center: it can be divided into two areas.
In the open area, also called the African park, you can find different types of animals walk freely. There you drive around on paved roads. Also, part of the African space is closed. That is the lion's habitats.
Inside the open area, there is a zoo.
There is also an animal's hospital, but you can visit it only on a dedicated tour. These tours are free but do not take place every day. Check at the events schedule on the official site.
In a typical visit to the Safari, you drive through the open space. Then leave the car near the zoo and walk inside. And after a visit to the zoo, you drive back through the open area again towards the exit. You can visit the lions both before and after your visit to the zoo.
If you do not have a car, you can purchase an open train ticket that will take you through the open area to the zoo and back. But, since it is an open train, it will not enter the lion's territory.
Opening Hours
Opening hours depend on the month and the day of the week. In most cases, the Safari opens at 9 am and closes between 16 and 19 (in winter it closes earlier and during summer months later). And the lion area is opened from 10 am. But these hours may be affected by the weather. Thus I would recommend checking the official site, before your visit.
Entrance Fee
Full ticket price is 74 NIS (everybody above the age of 2 needs a ticket).
Soldiers, Police Officers, students, seniors, handicapped, and Tel Aviv and Ramat Gan residents enjoy a discounted entrance price of 67 NIS.
Train ride (for those who do not have a car) through the open area costs an extra 7 NIS.
Note: the entrance fee and coupons paragraph were updated in October 2018, and in any case recheck the official site.
Coupons
Usually, there are few coupons to Safari (though the number of offerings started to grow in recent years). But on multiple occasions, I was able to find discounted tickets. And the coupons reach up to 50%.
Currently, there are several programs at different credit card companies (1+1 at Leumi Card and 37 NIS per ticket for Visa Cal owners). Various unions also offer deals — for example, The Teachers Union, Electric Company, Organization of teachers, Police funds, and others.
In any case, if you are purchasing discounted tickets, you must buy them beforehand (usually online). Because, most likely, you will not be able to buy them at the cash desk on site.
Tours
In recent years, Safari started to offer various tours (additionally to the regular visits). The number of tours continually grows, and currently, there are:
Safari morning tour – starts before the Safari opens to the public (usually at 7:30). And during this three-hour tour, you get to learn and feed the animals. I have joined several of those tours, and I will show one later on. Full ticket price is 77 NIS. Age restriction: above 3 years old.
Memories from Africa – offers a fascinating journey following disappearing animals and forgotten tribes. And you will reveal stories about the connection between them. This 2.25-hour tour costs 72 NIS. Age restriction: above 3 years old.
Night Safari – when the stars go out, you will embark on a guided night tour through the open African terrain and enjoy a rare opportunity to discover what the animals are doing during the night. The 2.25-hour tour costs 86 NIS and come with an age restriction of above five years old.
Midnight Safari is similar to Night Safari, but it takes place later (around 22). It is a 2.25-hour tour and entrance fee is 96 NIS. Age restriction: above 18 years old.
Tickets for tours can be purchased on the official site. And I would suggest buying them in advance since they might run out.
Feeding
During a regular visit, you can watch an animal feeding and get a short explanation regarding those animals. Here is the timetable:
11: 00 – bears
11:30 – little monkeys
12:00 – apes
13:00 – deer
13:45 – pelicans
14:00 – penguins
Note: this timetable was updated in October 2018.
And now, let's start by joining Safari Morning Tour.
Safari Morning Tour
One of the benefits of this tour is that you start early (around 7:30 am). The tour starts before the Safari is open to the public, while it is still not too hot. And the animals are more active. But before buying tickets, if you do not know Hebrew check at what language the guided tour will be (our tours were in Hebrew).
Also, note that if you plan to come without children, then you will be probably the only one 🙂
In the Open Area
Last week we attended such a tour. We started by riding the train into the open area. That is the time when they are feeding the animals.
Hippo breakfast:

And of course the rhino, the symbol of Ramat Gan Safari. But we will get to the why later.
At The Zoo
After riding the train in the open area and receiving explanations from our guide, the train entered the zoo. We received explanations about different animals and had a chance to feed them. For example, we threw fruits and vegetables to bear territory (before their door to the open area was opened).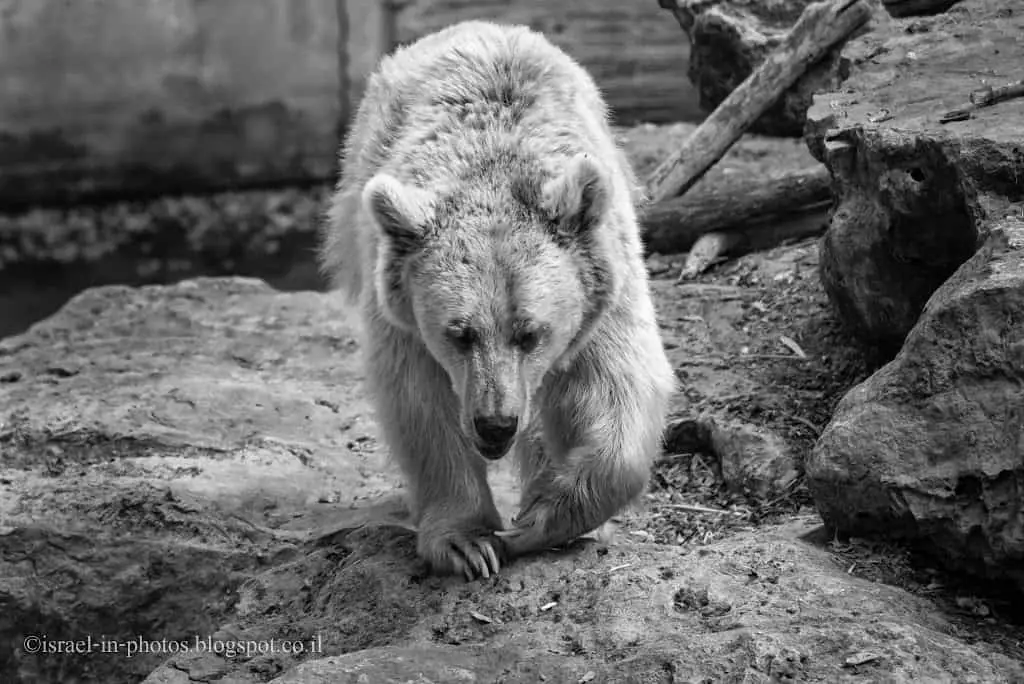 For me, the highlight of this tour was feeding giraffes with cabbage.
There are two ways to feed a giraffe. The "natural" one: giving food as if it is taken from a tree. Like in the following photo:

And the more courageous method is placing the food on your palm. But in that case, your hand will be wet with giraffe's saliva. The instructor told us that some believe this (being licked by a giraffe) is a good sign and brings luck for the next seven years.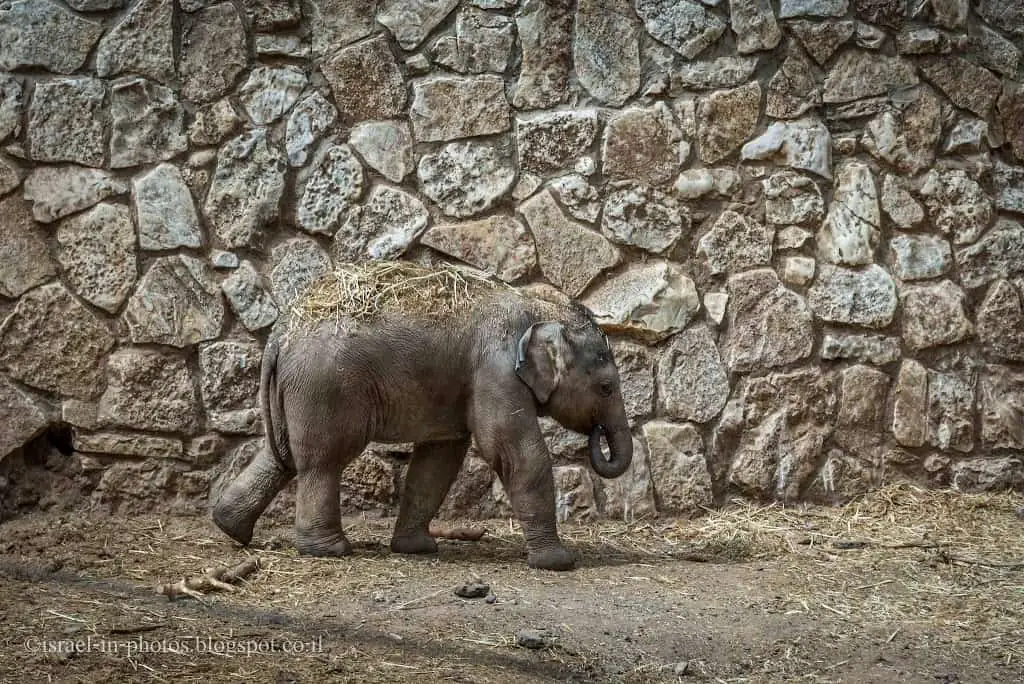 This mother elephant with two babies is one of my favorite photos from this Safari morning tour: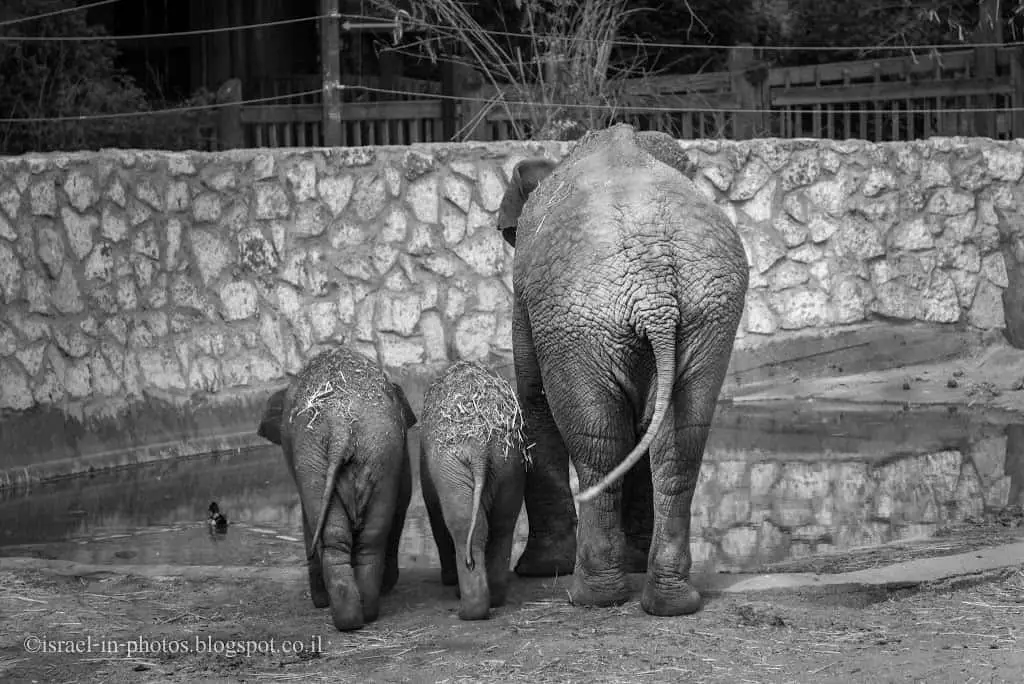 Since small elephants can not cover themselves with dust, their mother does it for them.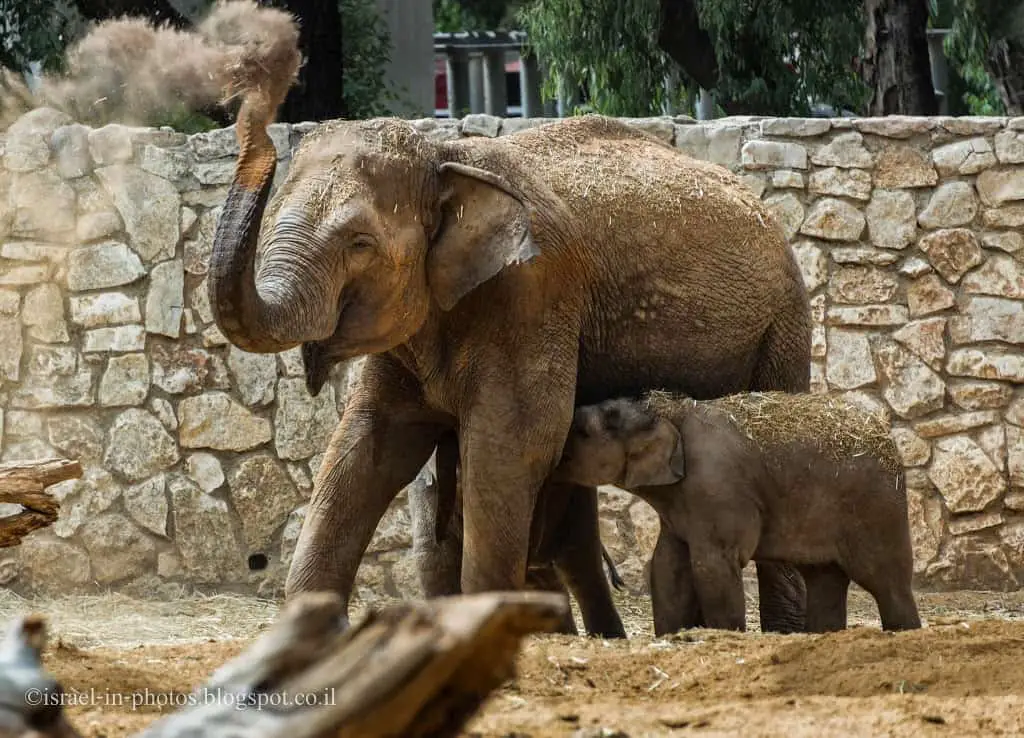 Though I didn't see the crocodile move, we were told that this is the real thing 🙂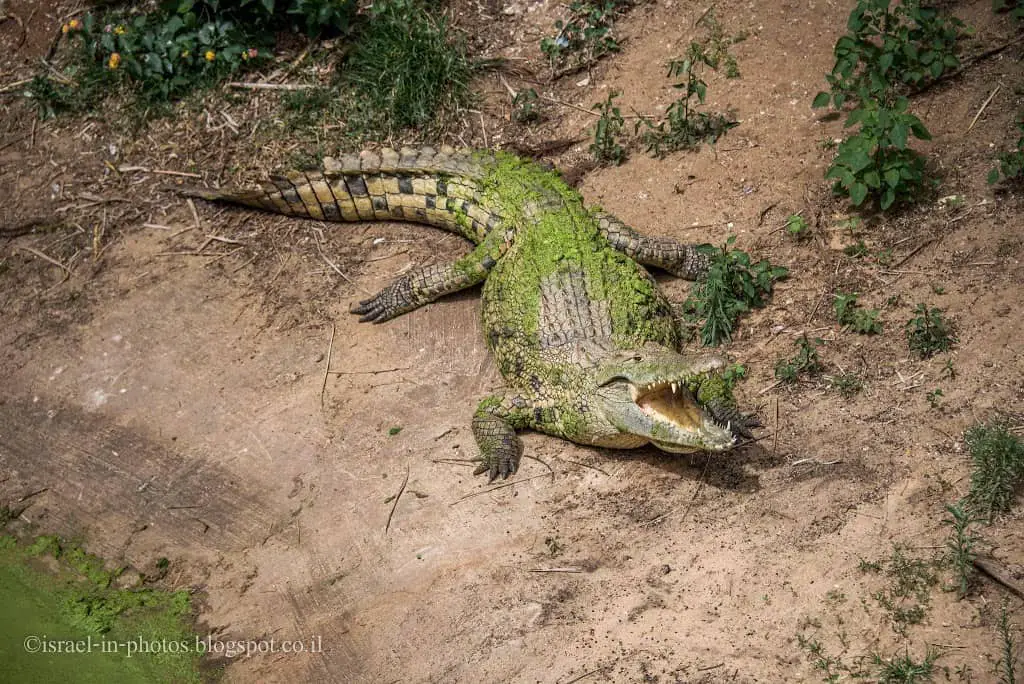 The duration of the Safari morning tour was about three hours. After the tour, we were allowed to enter the Safari with our car (included in the morning tour price). So we made another round since we wanted to visit the lions.
Note: the train is open (has no windows). Thus it does not enter the lions' area.
Visiting By Ourselves
We entered the open area once again with our car, and these are the photos I took on our way to the lions.
This rhino decided to make a mud bath: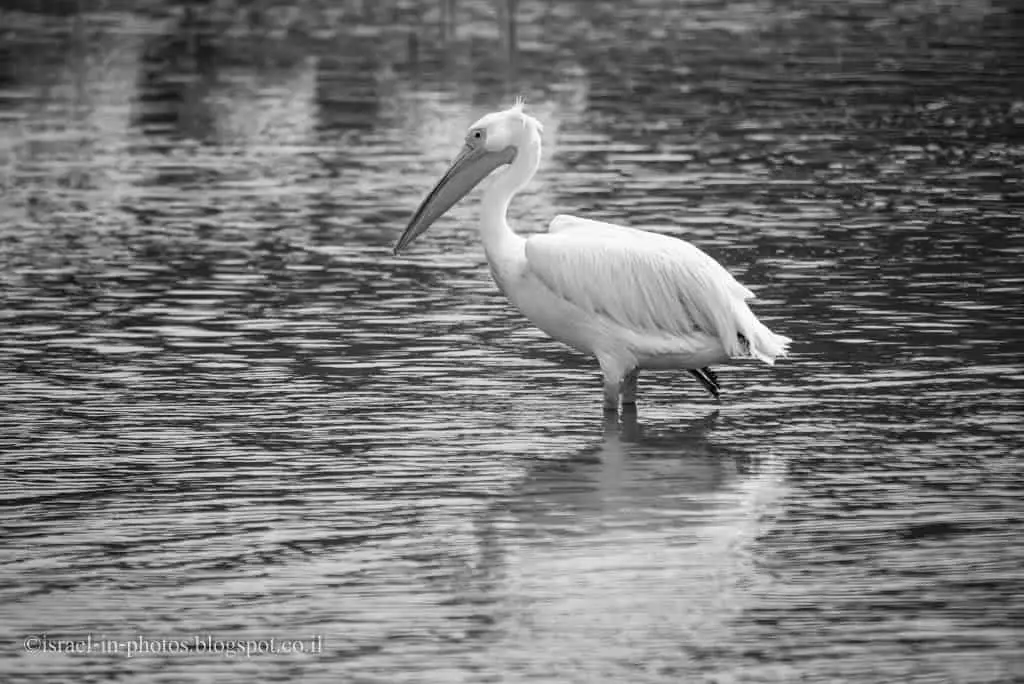 Until we reached the lions, it was already around 11 am, and it was boiling. So all lions lied in shade: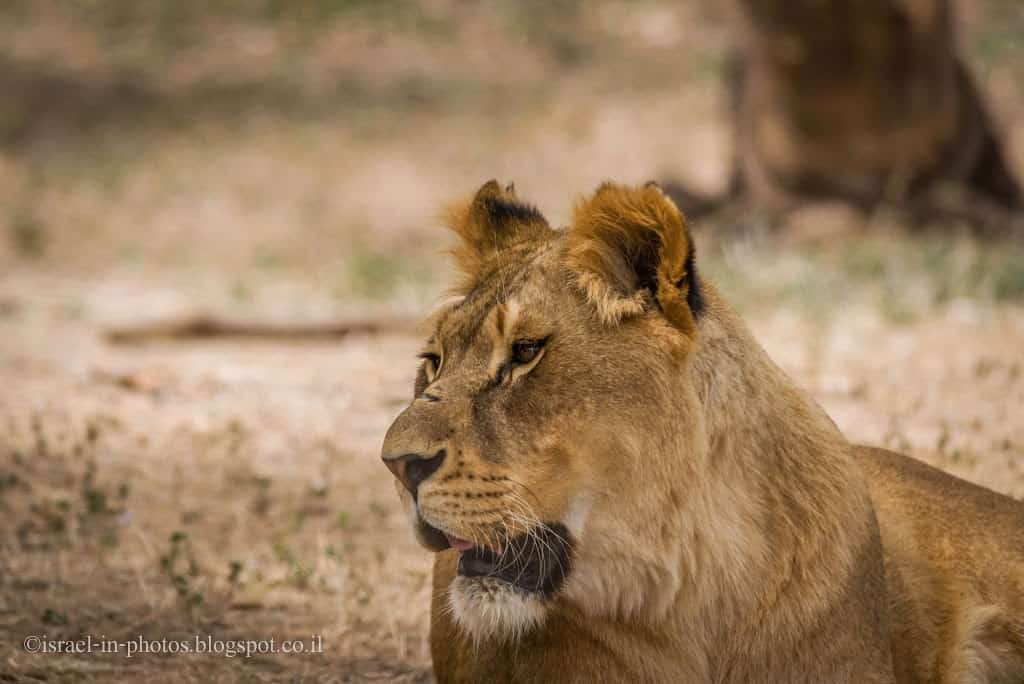 Overall, we liked the Safari morning tour a lot. There are many advantages. The main ones are: you get a guide, you come early while it is not that hot and you get to feed the animals. As long as kids are happy, their parent will be content. The only downside is the ticket price. But, since the difference in ticket price between morning tour and regular visit is not big, I am leaning towards the morning tour. So, if you are planning to visit Safari and buying tickets at full price, then consider the Safari morning tour. In my case, I purchased the tickets through a coupon and ticket price was 35 NIS per person (this is even cheaper than regular entrance). So, it was worth it.
Safari Morning Tour – Three Years Later
We took the first Safari Morning Tour in the summer of 2014. In 2017, I had another chance to buy discounted tickets, and so I did. In this part, I want to tell about updates/changes in the tour from our February 2017 visit.
Overall the tour was quite similar. We started our train ride in the open area and then headed to the zoo. But, since we had a different guide and saw slightly different animals, we were told different things. For example, do you know how baby zebra differentiates his mother from other zebras?

The form of stripes is unique, like a fingerprint. And each baby zebra knows the back stripes of his mother.
While we were next to the pond, this rhino ran straight towards our train. For such cases, there is jeep protecting the train, and the Safari keeper cut off the rhino.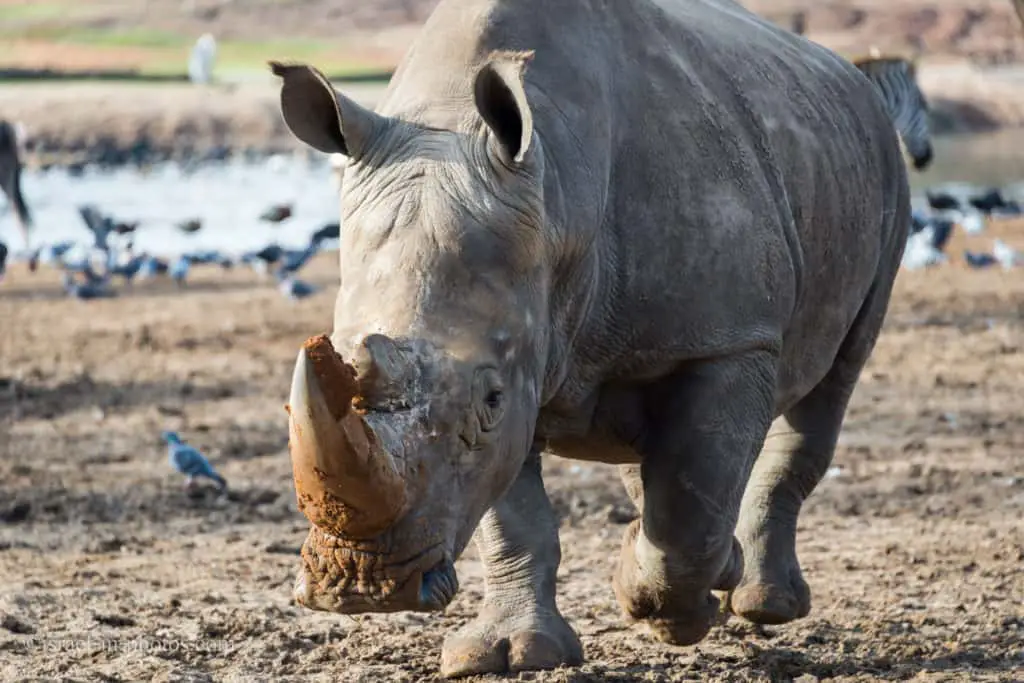 As it turns out, rhinos can see too good. They mostly use the smell sense. And he probably did not see us.
For reference, here is our train: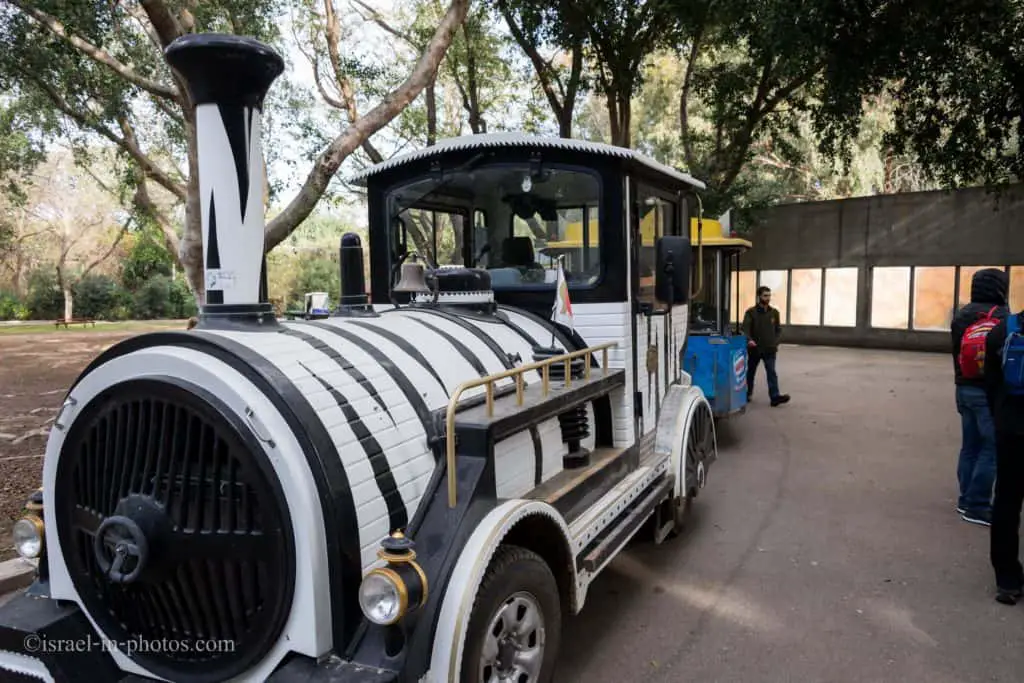 Since we mentioned rhinos, do you know what rhino horn is made of? I thought the horn was some bone, but actually, it is made of keratin, the same type of protein that makes up hair and fingernails.
Gorilla eating carobs:


This time we did not feed the lemurs. The guide told us that they are on a diet, so the zoo worker already spread all the food.


I did not know that bears used the back part of the palm as a plate.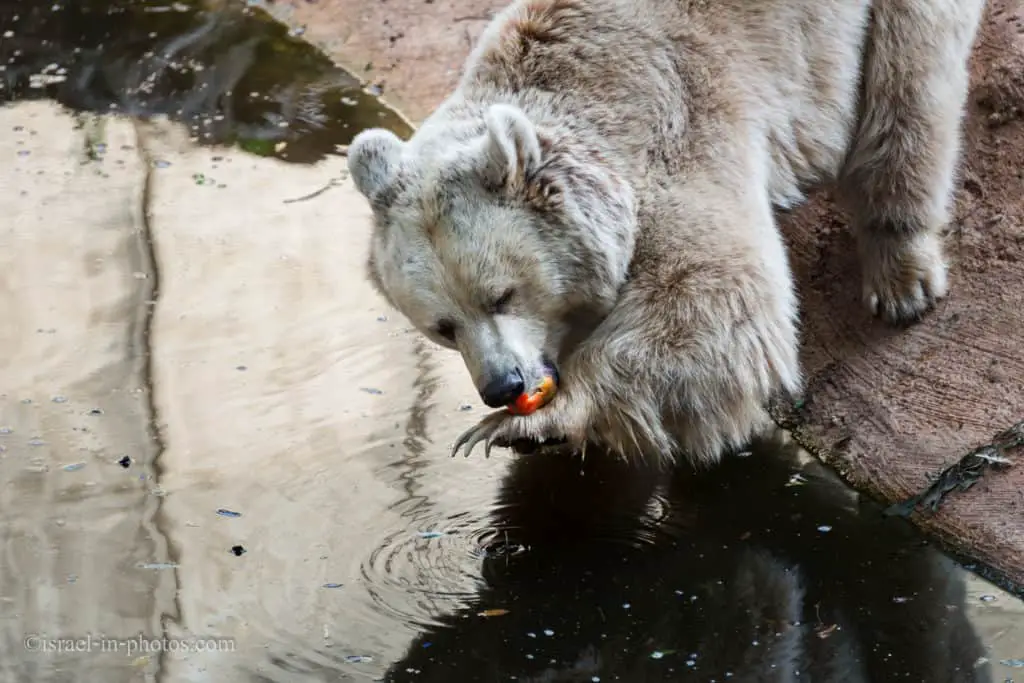 The Parrot Story
One of the highlights (same as in the previous tour) was giraffe feeding. And after giraffe feeding, our program was different. For example, we were introduced to this parrot. As it turns out, parents bought this bird for a young girl. As that girl aged and reached 18, she went into the army. The parrot became very sad, and finally, the girl's parents brought it to Safari. Until this day, the parrot holds grudges, and if a woman tried to pet him, he would bite (the biting is aimed only at women and not men). Parrots may live 40-50 years. So before taking a pet, think about a pet's whole life and not only the near future.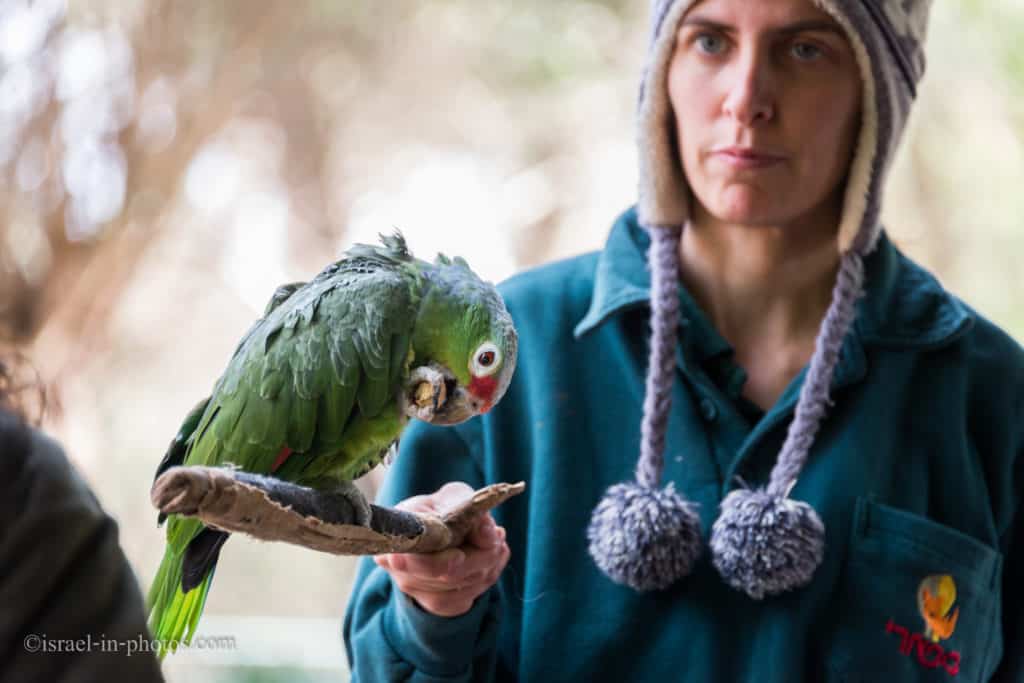 Our tour lasted a little more than three hours. We were brought by train back to the entrance and then entered Safari's back gate with our car (this entrance is included in the tour price).
Safari Morning Tour – 2018 update

The morning tour was pretty much the same. But each time some of the activities are different. And this time, we got to see the pelican and penguin feedings.
Also, Safari workers started to make feeding in the afternoon. Thus if you are near the birds' area, you can see the pelican and penguin feeding at 13:45 as part of a regular visit.
After the morning tour, we returned mainly for the lions. But, they were lying far away and without a clear line of sight.
A gazelle in the open area:

Rhinos Reproduction Program
Our guide told us that many people ask her how she, as an animal lover, works in a zoo. She told us that Safari is not a zoo. It is a zoological center. They have many different programs for helping animals.

As it turns out Safari is one of the only zoological centers in the world where rhinos reproduce. In September 2015, Safari's 27 baby rhino was born. That increases the rhino population in zoos and zoological centers significantly. And who knows, one day they might release them into the wild.
So I guess, this is why they selected the Rhino as their logo and the symbol.
At this stage, we decided to finish that visit to Safari, and the bottom line has not changed. If you love animals (and since you read this post you probably do), then go for it (especially if you can get cheap tickets). We loved it!
Regular Visit At Ramat Gan Safari
I have visited Ramat Gan's Safari many times before, but when I saw a deal which offered a ticket per less than 30 NIS (while usual ticket price was 67 NIS), I could not resist.
Here are several photos from the open area.
Heron at the pond: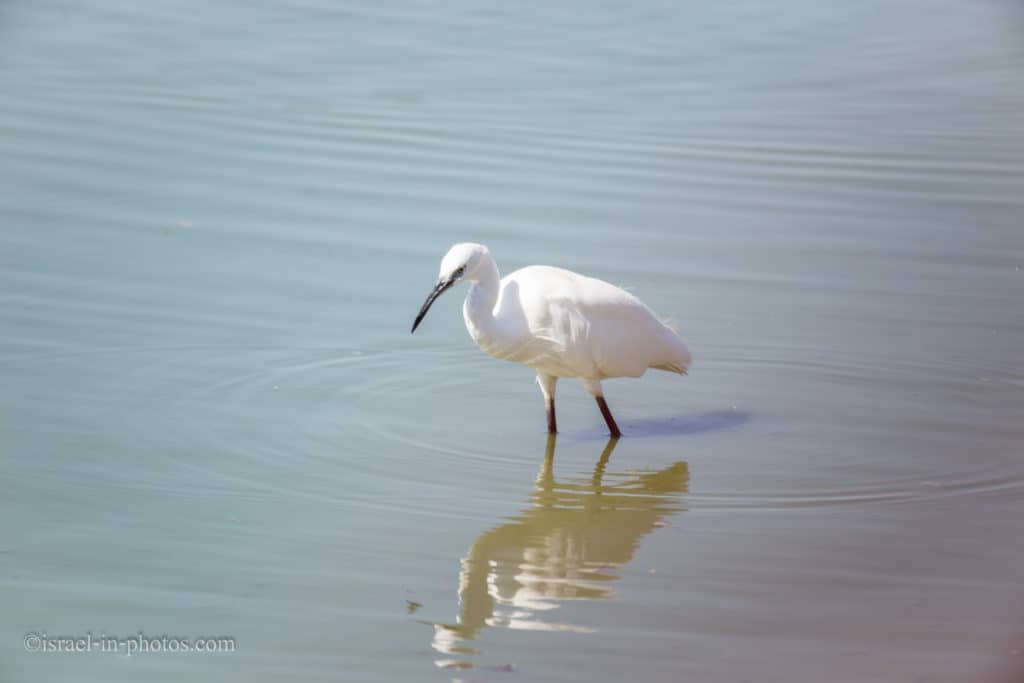 A family of wildebeests (gnus) resting in the shadow:

An interesting fact about Wildebeests is that they often graze in mixed herds with zebra. This gives heightened awareness of potential predators. Gnus are also alert to the warning signals emitted by other animals such as baboons.
While driving through the African area, Safari workers ask people to close the windows. Especially they are strict about it in the lion's territory. Also, please do not feed the animals!
Common eland:

The common eland is the second largest antelope in the world, being slightly smaller on average than the giant eland. In many areas, people have domesticated them, partly because of their nutritious milk.
And as I always suggest, start early. Early in the morning, it is cooler, and during this time, the animals are more active. We entered the Safari at around 9:30 am (they open at 9 am), and it was already quite warm. Thus I changed the usual visiting order. First, we visited the Safari animals, then we drove to the lions and only then went to the safari zoo.
But though I was hoping to see some actions, the lions were already standard position, lying: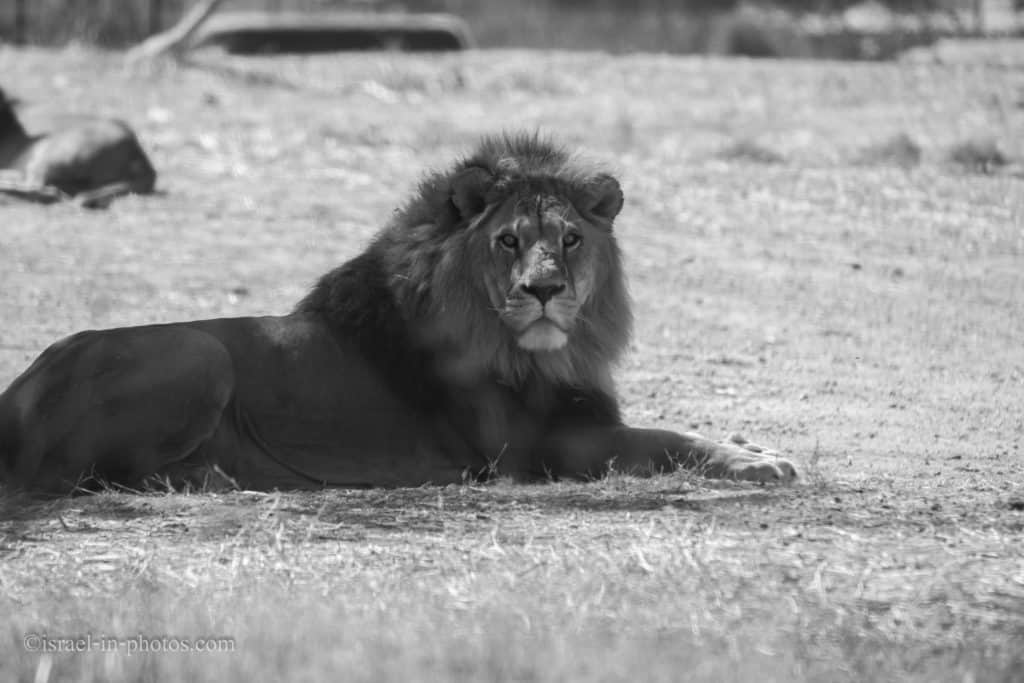 We exited the lion area and drove to the zoo (in the safari premises).
Zebra:


In the open area, we saw a group of Arabian oryx. If you look at Arabian oryx from a side, you see only one horn. I read theories that suggested that Arabian oryx were the base for unicorns (since when looking from a distance, you can see only one horn).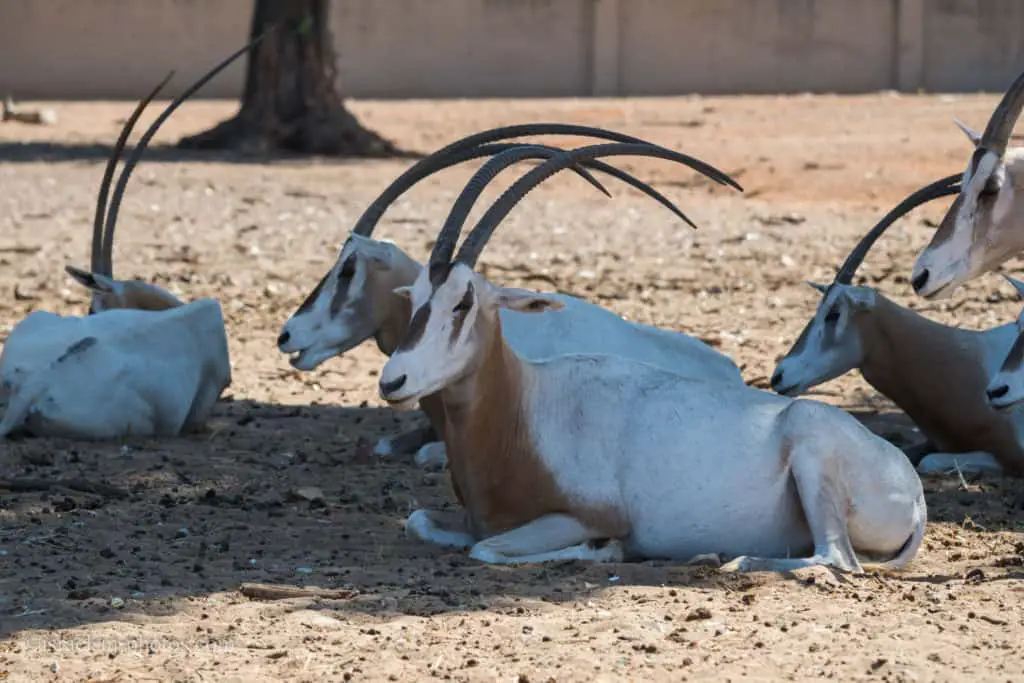 The Arabian oryx was extinct in the wild by the early 1970s, but was saved in zoos and private preserves, and was reintroduced into the wild starting in 1980.
In 1986, the Arabian oryx was classified as endangered on the IUCN Red List, and in 2011, it was the first animal to revert to vulnerable status after previously being listed as extinct in the wild.
Source: Wikipedia
The first animal at the zoo that we saw was the kangaroo. And I thought it was hotter in Australia 😉
If you like kangaroos then check out: Gan Garoo – Australian park in Israel.
We arrived just for the feeding time of bats. Interestingly, I noticed that bats do everything upside down. They rest upside down, they eat upside down, but one thing they don't do upside down. Do you know what it is? Take a look at the next photo: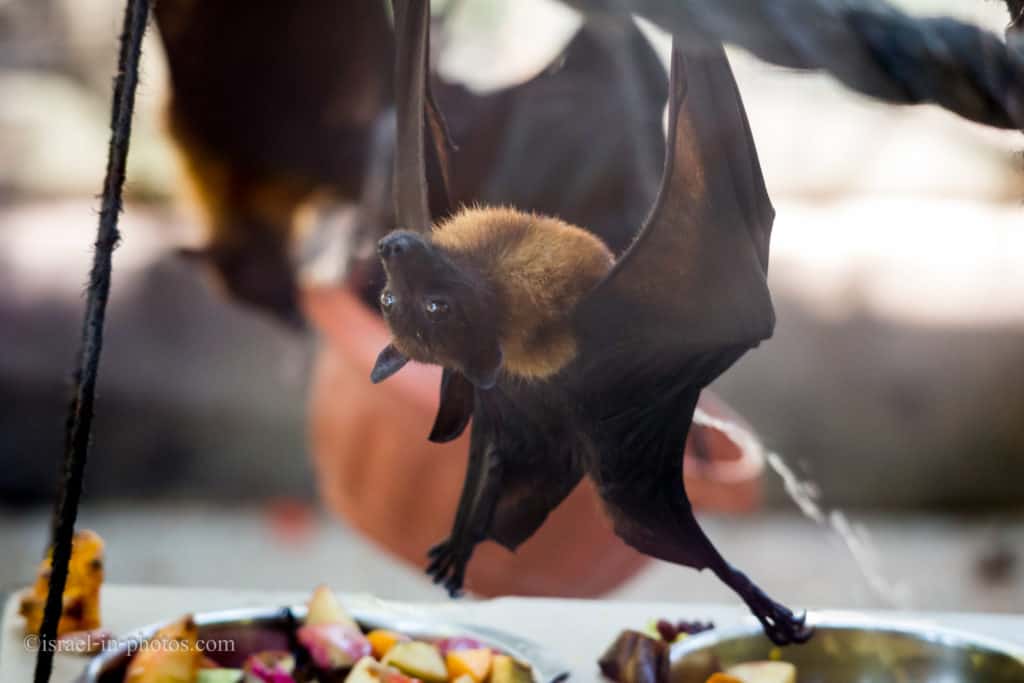 One of the differences that occurred in safari is the reorganization in monkey area. It seems they are changing older fences and water barriers to walls with windows. The Baboon area is one example of this change: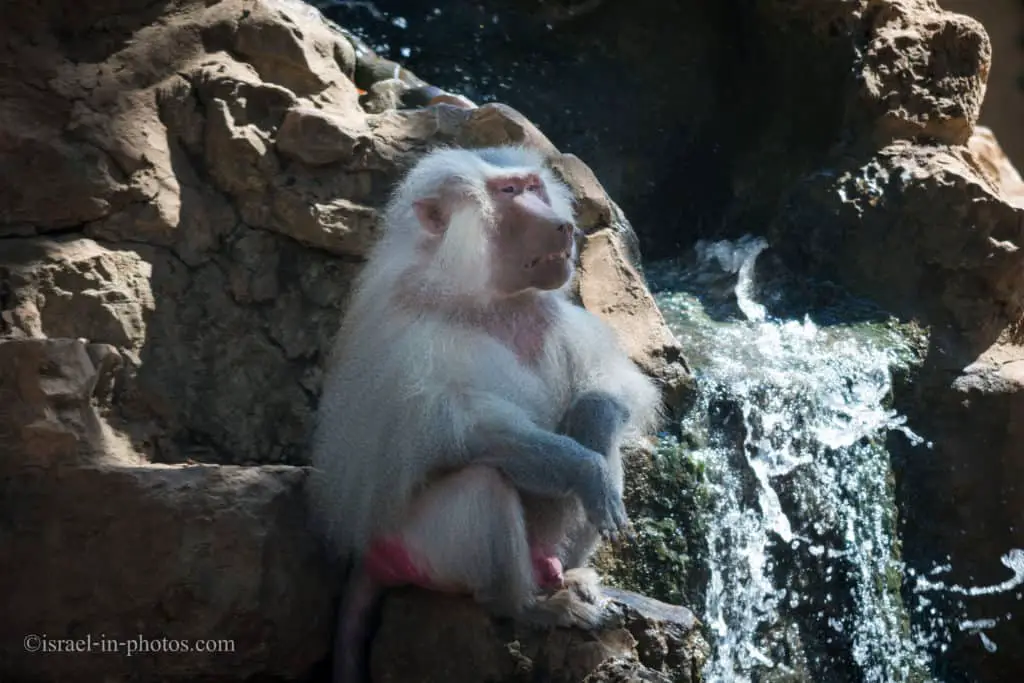 Cotton-top tamarin:


Nasua: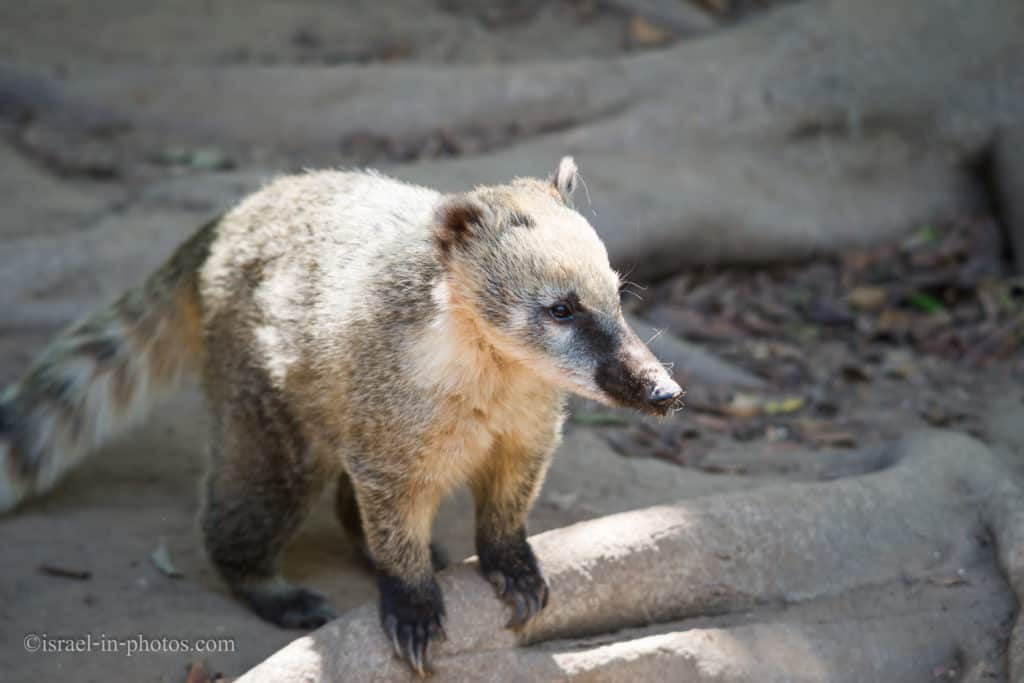 Lion-tailed macaque:


Somali wild ass: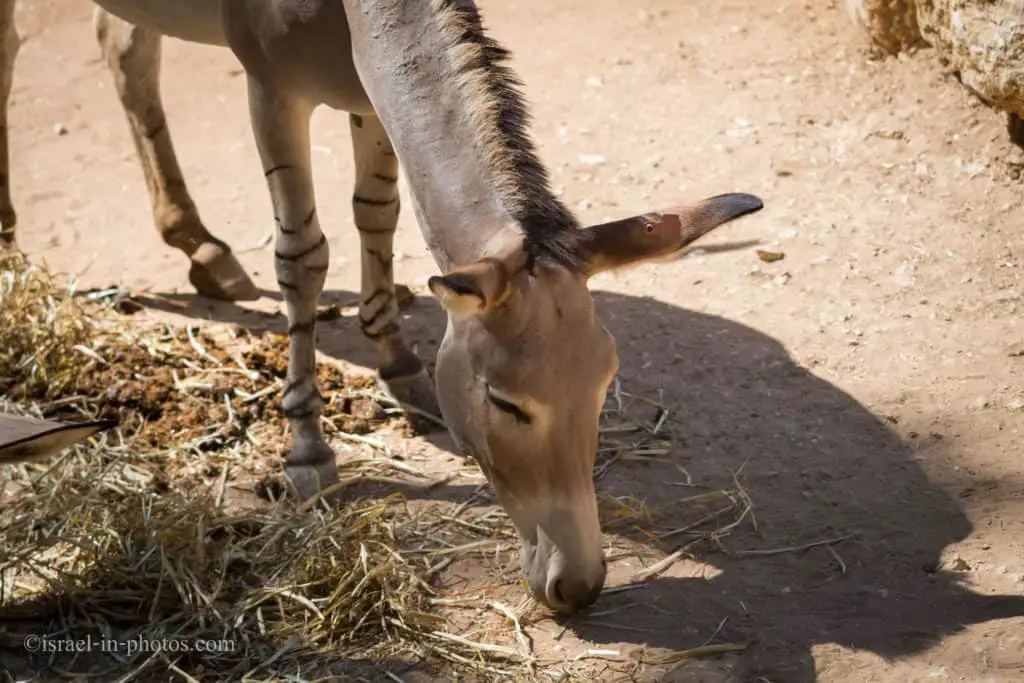 Somali wild ass is a subspecies of the African wild ass, and this species is believed to be the ancestor of the domestic donkey.
When the Giraffes finished eating the leaves they were given, one of the Giraffes went to the zookeeper and asked for more. Here they together: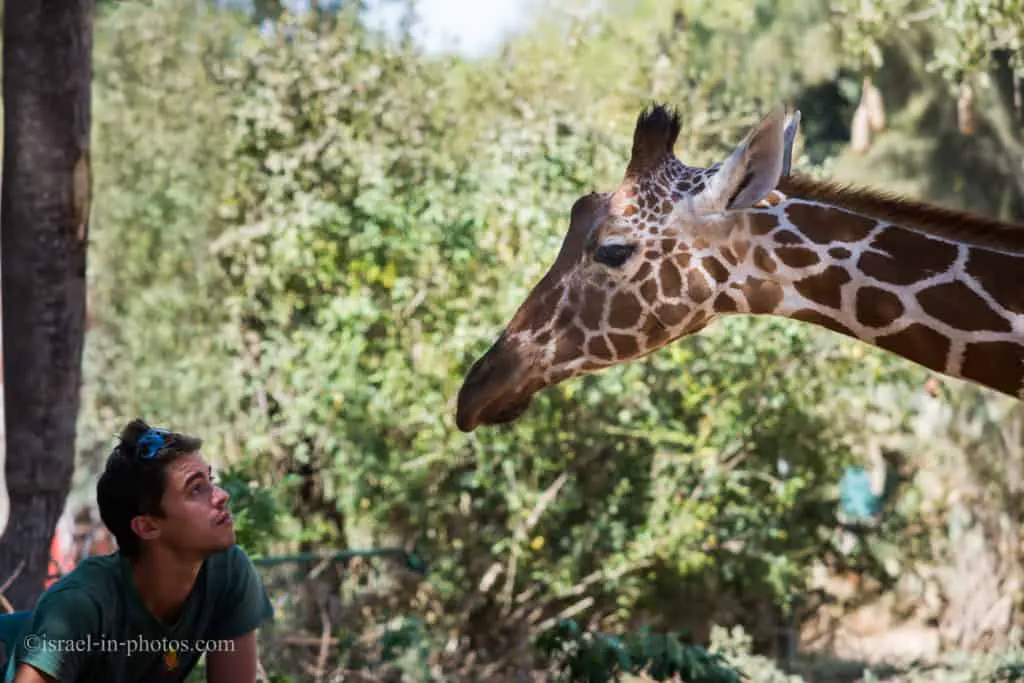 One more change inside the safari zoo that worth mentioning is the construction of a new playground for children. The downside is that after several minutes there, your shoes will be full of sand.
We finished our visit to the zoo and drove through the safari area (towards the exit).
Wildebeests (gnus) with rhinos in the background: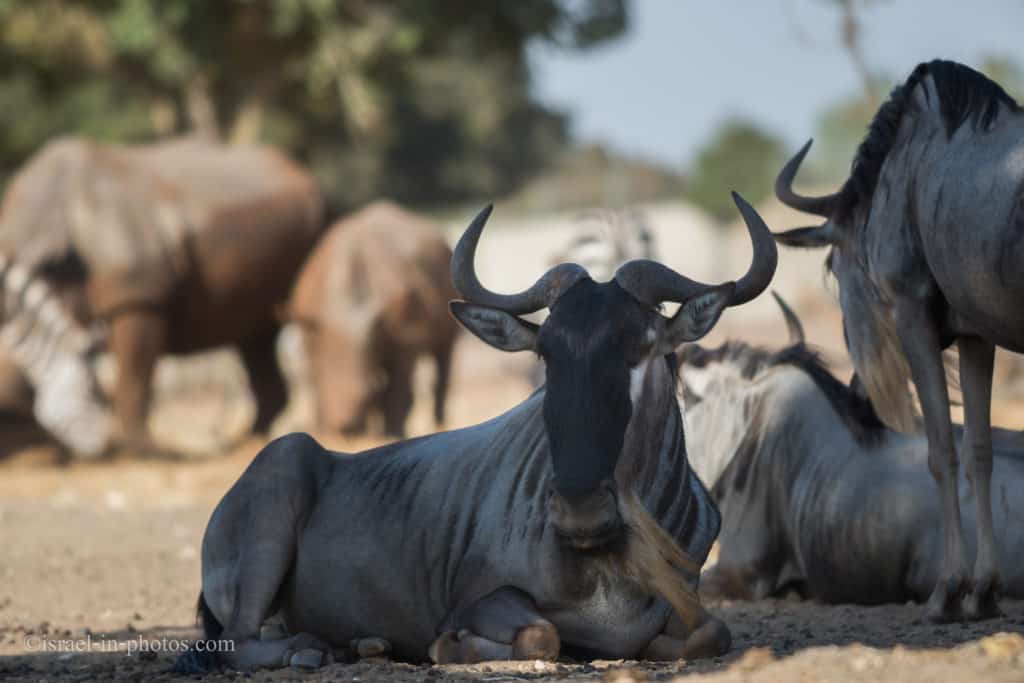 When To Visit Ramat Gan Safari?
It is always nice to visit Ramat Gan Safari. Especially on cooler days. But on this occasion, it was not one of such days. And it seems that the turtle does not mind the heat.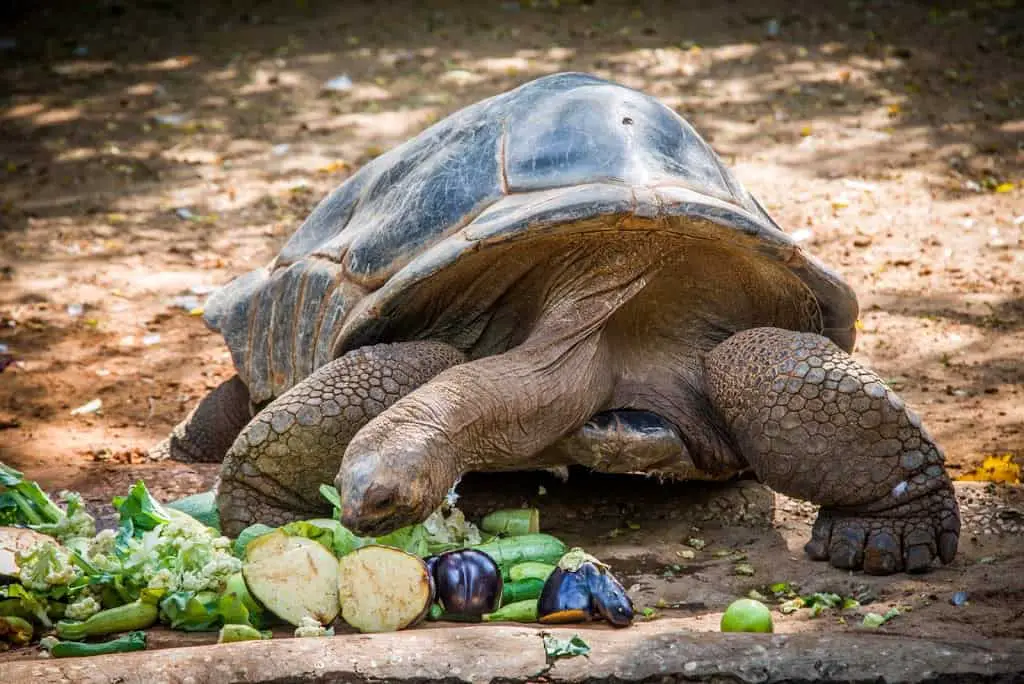 But, it is hot for the elephant. Thus, this zoo worker decided to cool them down (it's hard to see but the baby elephant is hiding behind his mother):
Chimpanzees are getting water from fruits and vegetables: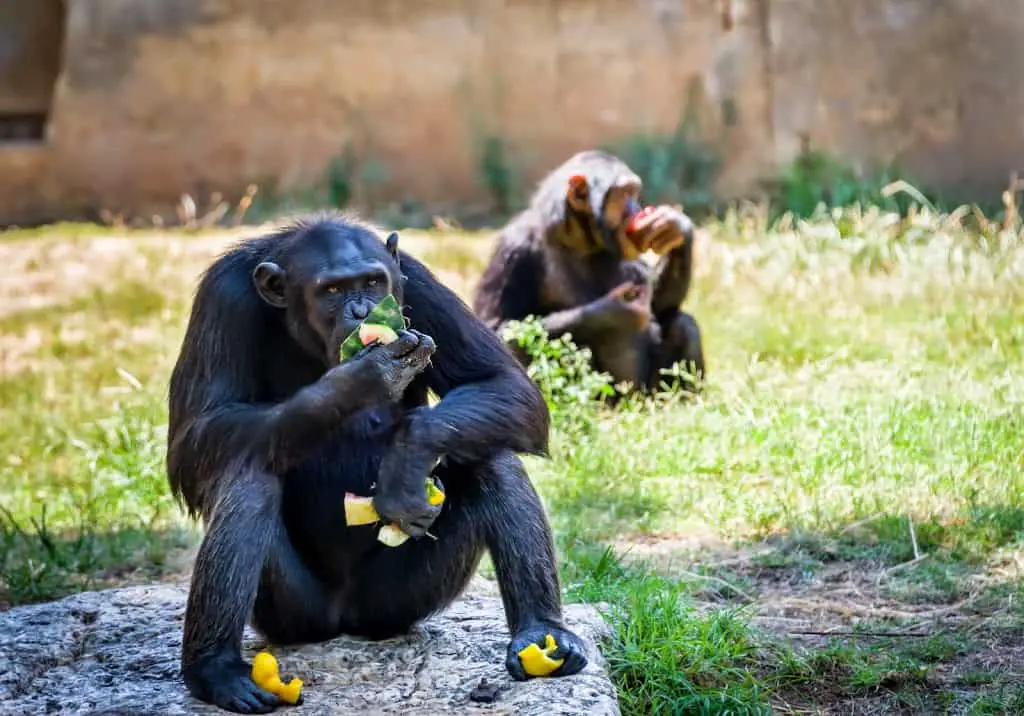 The lions in their usual poses.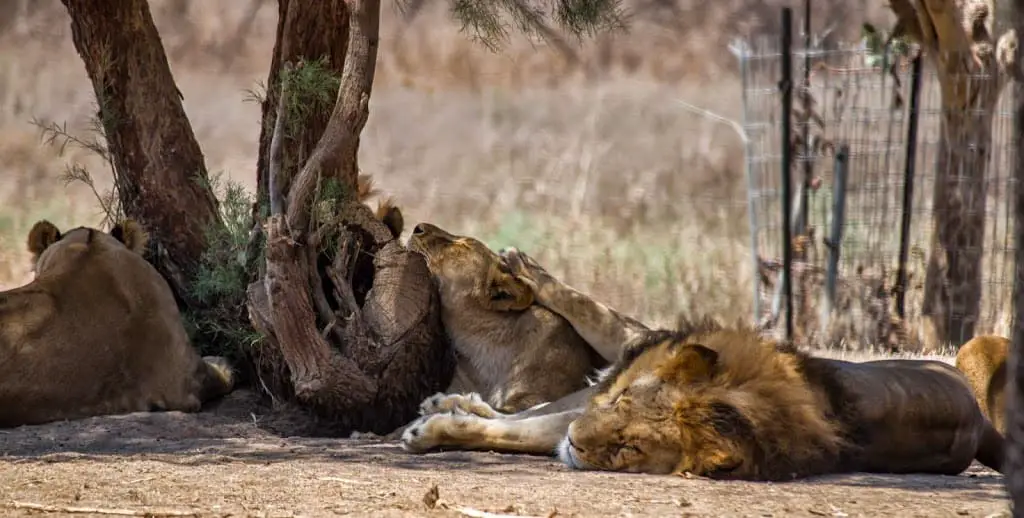 And most of the other animals were hiding in the shade, and in many cases, there was no clear line of sight. Thus, the bottom line is, though you can visit Safari all year around, I would advise that when you are planning a visit, consider the weather and go during the colder days and chiller hours of the day.
Life is tough, especially on a hot day 😉

So the bottom line, come either early or late (not during midday), and prefer cooler days.
Note: most photos in this post were made using Tamron 200-500mm on D610.
Summary
Ramat Gan Safari is a great attraction for the whole family. And it is probably a must attraction for animal lovers. Moreover, if you want to upgrade your visit, then check out available tours. I would recommend Safari Morning Tour. I attended this tour three times and enjoyed each one. Moreover, my family, including my wife, daughter, and parents, liked it as well.
The only downside is the price. Coupons to Safari are rare, but you can find them from time to time (see Coupons section above).
Note: before purchasing tickets for tours, recheck their language. All the tours I participated in were in Hebrew.
Have you ever visited Ramat Gan Safari? Let us know in the comments below.
That's all for today, and I'll see you in future travels!
Stay Tuned!
For additional attractions nearby see Tel-Aviv page or check out animals category.
If you have any questions then check out Useful Information For Tourists To Israel. And if you are looking for ideas on where to visit, then read Israel Trip Planner, National Parks And Nature Reserves, and Events And Festivals By Season.

Additional Resources
Here are several resources that I created to help travelers:
And if you have any questions then check out Useful Information For Tourists To Israel.

Did not find what you were looking for? Email me at
hi@israel-in-photos.com
, and I will do my best to answer your questions.