Tikotin Museum of Japanese Art is one of the lesser-known attractions in Haifa. And though it is not large, we enjoyed all our visits.
Map
Tikotin Museum of Japanese Art is located at 89 HaNassi Avenue, Haifa. And the easiest way to get there is by entering "Tikotin" into Waze.
Directions for drivers: Link to Waze and Link to Google Maps
Directions for public transport: Link to Moovit
Interactive map of the area:
Offers:
Hotels, hostels, and apartments in this area:
Directions
Depending on your starting point, you can reach the Tikotin museum by various buses. Here is a preset link to Moovit, where you can get the suggested route. Just enter your origin, and you will get updated directions.
If you are in Haifa downtown, you can take the Carmelit, Haifa's underground funicular railway, to the Gan Haem station and walk from there.
Parking
The museum does not have parking for visitors. Moreover, the nearby Dan Carmel Hotel's paid parking is often full. Therefore, I would suggest driving to Sderot HaNassi 57. You can see a turn right to free public parking at that address. This public parking also has an entry and an exit to Yefe Nof 46, which is close to the viewing balcony of the Bahai Gardens.
Entrance Fee
Note: as part of Israeli Saturday, the entrance to the museum is free on Saturdays. You can book tickets on the official site.
Tikotin Museum Of Japanese Art is part of six Haifa Museums. Thus, you can buy either a combined ticket or only to the Tikotin Museum. Here is a screenshot from the official site.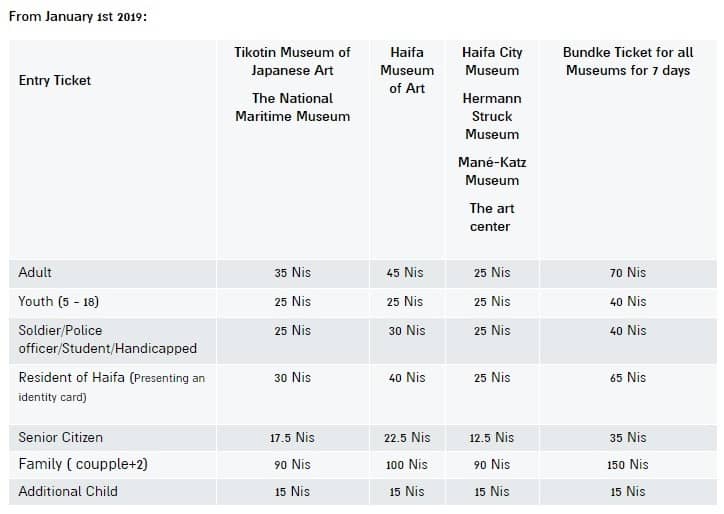 Currently, there are discounts for Mizrachi Tfahot card members and American Express customers. But, they are changing over time. Thus I suggest searching the web for discounts and coupons before your visit.
Note: our latest visit was on a Saturday (November 2021), and the entrance was free. Moreover, we joined a tour for free. I overheard that admission is free on Saturdays.
Opening Hours
Sunday, Wednesday: 10:00 – 19:00
Monday, Tuesday: closed
Thursday: 12:00 – 20:00
Friday: 10:00 – 14:00
Saturday: 10:00 – 16:00
Before rushing to the museum, there are two things that you should keep in mind. First of all, exhibitions change from time to time. And when they prepare new displays, the museum is closed. Secondly, opening hours can also vary. Thus check the official site before your visit.
Contact Information
Phone: 04-8383554
Email: info@hms.org.il
Tips
Check what exhibitions are currently displaying. There are no permanent exhibitions, and they change everything.
Contact Tikotin Museum and check whether the entrance is free on Saturday (or weekend). And ask about tours on that date. Also, keep in mind there are tours in different languages.
Join a one-hour overview tour and enjoy.
History
Felix Tikotin
Felix Tikotin, an architect by profession, was an internationally renowned collector and dealer in Japanese works of art. For more than forty years, he amassed his valuable and rare collection and organized exhibitions of Japanese art in many museums. During the Second World War, because he was Jewish, Felix Tikotin fled from the Nazis. He hid his collection in the Netherlands to prevent it from falling into their hands. After the war, Tikotin decided that his unique collection should be taken to Israel, and in 1956 he came to Israel and donated the collection to one of Israel's museums. During a visit to Haifa, he met Mayor Abba Hushi. He decided that the collection should remain in Haifa and build a pavilion specifically for exhibiting it here.

Tikotin traveled to the Netherlands, Switzerland, Belgium, France, England, and Japan to organize support for his idea. He engaged the help of museum directors such as Nagatake Asano (1895–1965); academics such as Chisaburoh Yamada (1908–1984) of the Tokyo University of the Arts, who was also chosen to be the first Director of the Japanese Museum in Haifa; spiritual leaders such as Victor M. A. Suzuki, son of the famous Zen philosopher, and others. During 1966-1992, the museum was directed by Eli Lancman, who received a prize from the Japanese government in 2001.
The Creation Of The Museum
At a meeting of the Haifa Municipality on May 18, 1958, it was decided to acquire the "Kisch House" and its surrounding land. Brigadier Frederick Kisch, Chairman of the Zionist Workers' Committee in Israel and Head of the State Department from 1923 to 1931, built the house. He lived in the house from 1934 to 1939. Kisch, who commanded the Engineering Brigade of the British Eighth Army, fell in battle during the North African Campaign in April 1943. The Kisch House is still the home of the offices of the museum, the library, the creativity workshops, and a Japanese room. The library – the largest of its kind in Israel – comprises some 3,000 books and publications relating to Japanese art and culture.

In February 1959, plans were approved for a Japanese pavilion, and construction began on the exhibition hall following the ideas and plans of Felix Tikotin, supervised by the architect M. Lev. The exhibition hall was designed in the Japanese spirit. It is spacious and has sliding doors of paper leading to the garden, conveying a Japanese atmosphere. On May 25, 1960, the Japanese Museum was opened to the public with an exhibition of works from the donor's collection. Following Tikotin's wishes, a Board of Trustees of the Museum was set up, headed today by his daughter, Ilana Drukker-Tikotin.
Source: the two quotes above were taken from Wikipedia.
Collection and Exhibitions
The museum has made it its golden rule to make traditional and contemporary Japanese art accessible to art lovers and the general public. The museum's collection displays over seven thousand Japanese art items, including paintings, prints, sketches, painted screens, textiles, decorated antique books, ceramics, miniature sculptures (Netsuke), lacquer and metalwork, antique swords, and functional art. Most of the items on display date back to the 14th through the 19th century. Moreover, the museum also holds a collection of modern Japanese art. Throughout the years, the museum's collection has vastly expanded as new collections were donated to the museum: L.B. Guttmann Collection, D. Labov Collection from New York, and A. Horodish from Amsterdam.

The museum's exhibitions change every three months and focus on diverse elements of the Japanese culture while offering a wide-ranging glimpse into the luxurious fabrics of this both traditional and modern art. Illustrated catalogs and texts also accompany many exhibitions.

The museum also has an educational team that helps spread Japanese culture and its uniqueness. The classes in the "Kisch House" offer art workshops designated for kindergarteners, school students, university students, teachers, and a wide variety of groups. Moreover, it also offers classes on Japan's culture, including the Japanese language, calligraphy, ink wash painting, the Japanese flower arrangement Ikebana, Japanese cookery, and classes for children on Japanese culture. As part of the warm relations with the Japanese people, the museum celebrates Japan day in cooperation with the Japanese embassy in Israel once a year. A colorful and celebratory atmosphere enfolds this festive day and makes it possible for the general public to experience a unique encounter with the Japanese culture, tradition, and spirit.
Note: unless stated otherwise, all quotes were taken from the official site.
Educational and Children Activities
Tikotin Museum Of Japanese Art offers a variety of activities. When we visited the museum on a Friday morning during Sukkot, there was a holiday activity for kids. My daughter enjoyed about a one-hour workshop where they prepared decorations in Japanese style for Sukkah. Here is what they created:
Each ball represented a season of the year and was decorated accordingly. It was a delightful and not too expensive (as far as I remember, 20 NIS) workshop.
Tours
The museum offers a range of tours in different languages. We joined guided tours in Hebrew and Russian. These tours are free to participate in after purchasing entrance tickets. I did not see a timetable on the site, but the cashier told us about the next tour once we entered the museum. If you are interested in joining one of the tours, which I highly recommend, you should contact the museum.
Note: Usually, my posts have many photos. But you are not allowed to photograph inside the Tikotin museum.
Nearby Attractions
Since the Tikotin Museum is not vast, you can combine it with other nearby attractions for a half or even a full-day getaway. If you visit with children or love animals, Haifa Educational Zoo is a short walk from here. You can also walk along Louis Promenade at Yafe Nof street and get a spectacular view of Bahai Gardens and Haifa.
Summary
On average, we spend about two hours in the museum. However, a typical visit will be shorter if you do not attend workshops (or the second-floor cafeteria). The standard tour lasts an hour. And after the tour, you might want to revisit some exhibits. During our visits, both adults and children enjoyed and learned something new. If you love art or learning new things, I recommend visiting the Tikotin museum. Moreover, join a tour. It will upgrade your visit.
And my last tip would be to combine the visit with nearby attractions for a pleasant half-day experience.
Have you ever been to the Tikotin Museum of Japanese Art? Tell us about your experience in the comments below.
That's all for today, and I'll see you in future travels!
Stay Tuned!
Additional Resources
Here are several resources that I created to help travelers:
And if you have any questions then check out
Useful Information For Tourists To Israel
.  
Did not find what you were looking for? Leave a comment below, and I will do my best to answer your questions.