Tel Jarmuth is a big Tel in Beit Shemesh. And you can find there the largest palace from the Early Bronze period in Israel.
We visited Tel Jarmuth during Hannukah 2021. And on holidays, Israel Antiquities Authority held various events, including tours and digs.
Map
Tel Jarmuth is located near new neighborhoods in Beit Shemesh. You can park along Abaye Street, and the entrance is near the intersection of Abaye and Mar Ukva Streets.
During our visit, we saw a sign near the mentioned intersection.
Interactive map of the area:
Opening Hours
Always open.
Entrance Fee
Free.
Note: Tel Jarmuth is a known place among archeologists, and there were excavations from 1970. When new neighborhoods were planned in Beit Shemesh, contractors also wanted to build on this hill. That is when Antiquetues Authority decided to convert this Tel into a park. Soon, they will be adding walking routes and transforming the place into an archeological park (open to the public). Afterward, Beit Shemesh municipality will be managing this place. Thus opening hours and entrance fees may change in the future.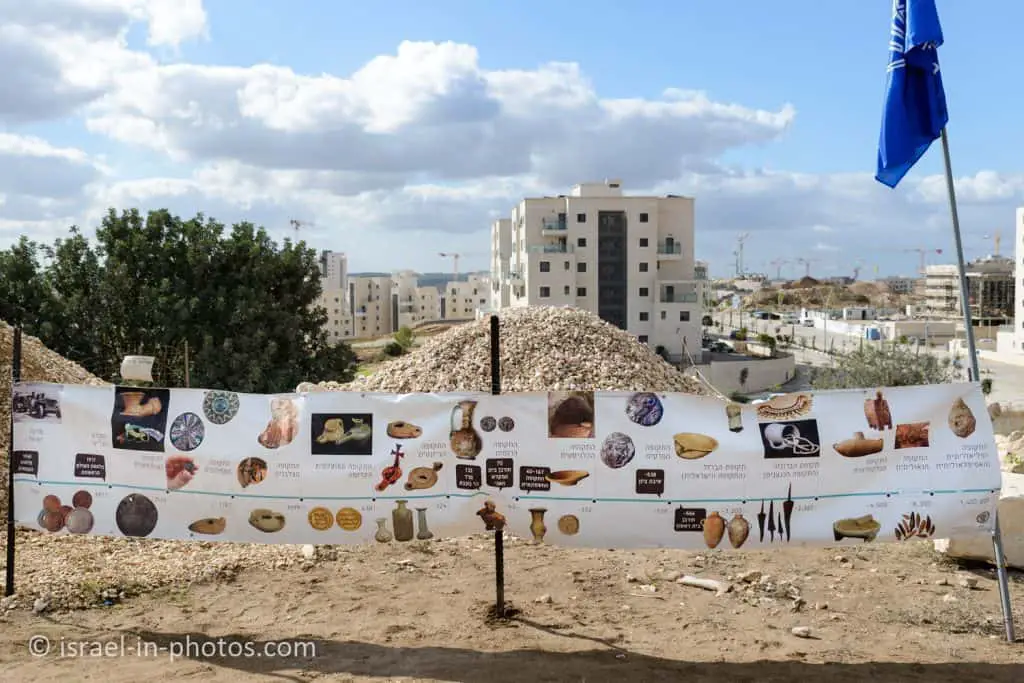 At Tel Jarmuth
When we climbed to Tel Jarmuth, there were several activities, and one of them was this stand with archeological findings.
Tel Jarmuth is a Tel. And the guide explained to us What Does Tel Mean? Megiddo National Park is also a Tel, and you can find an answer to this question there.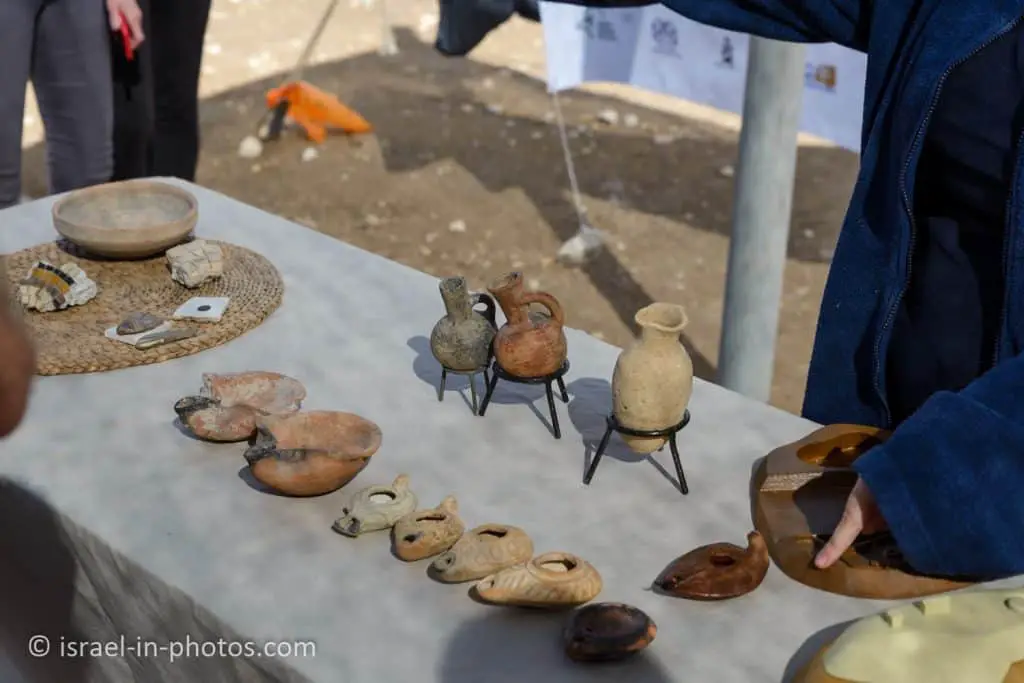 As the guide later explained, the archeological findings above are not from Tel Jarmuth.
As you can see in the following photo, archeological excavations are still in process, and there were two chemical restrooms.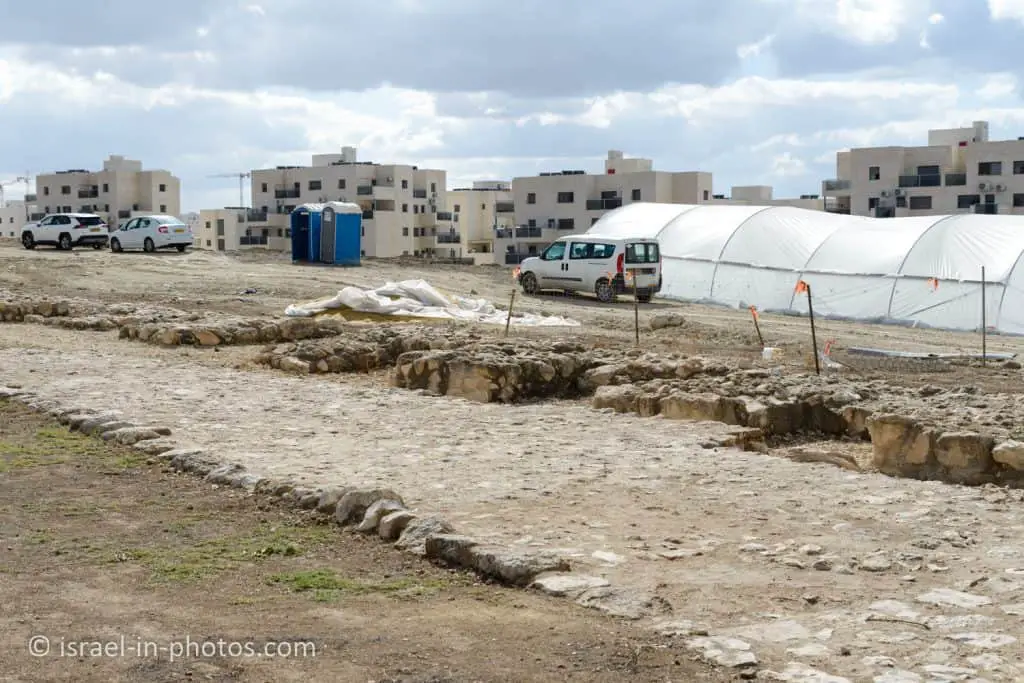 Here are several photos from the top of Tel Jarmuth: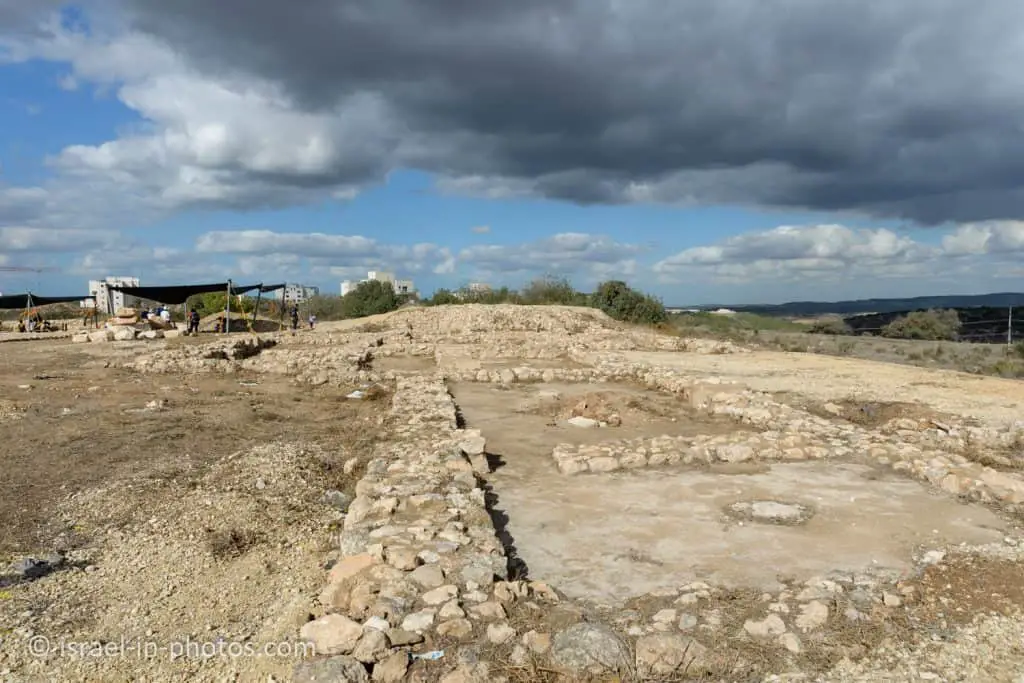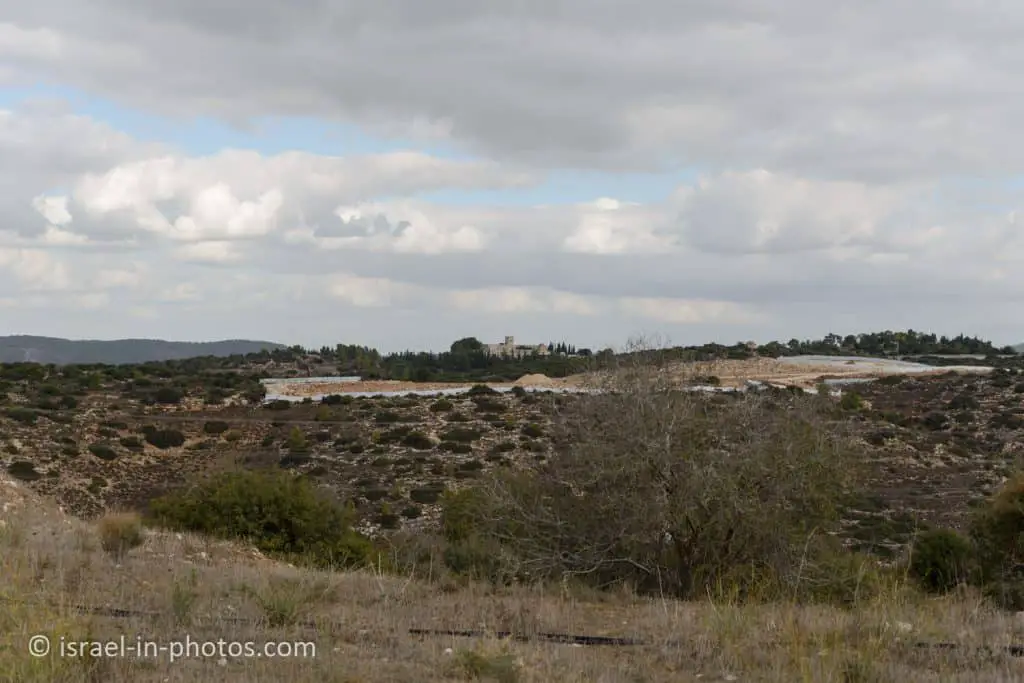 And now, let's join the free tour with Omer Shalev from Antiquities Authority.
Tour at Tel Jarmuth
I usually prefer starting with a map. So here is a map of Tel Jarmuth: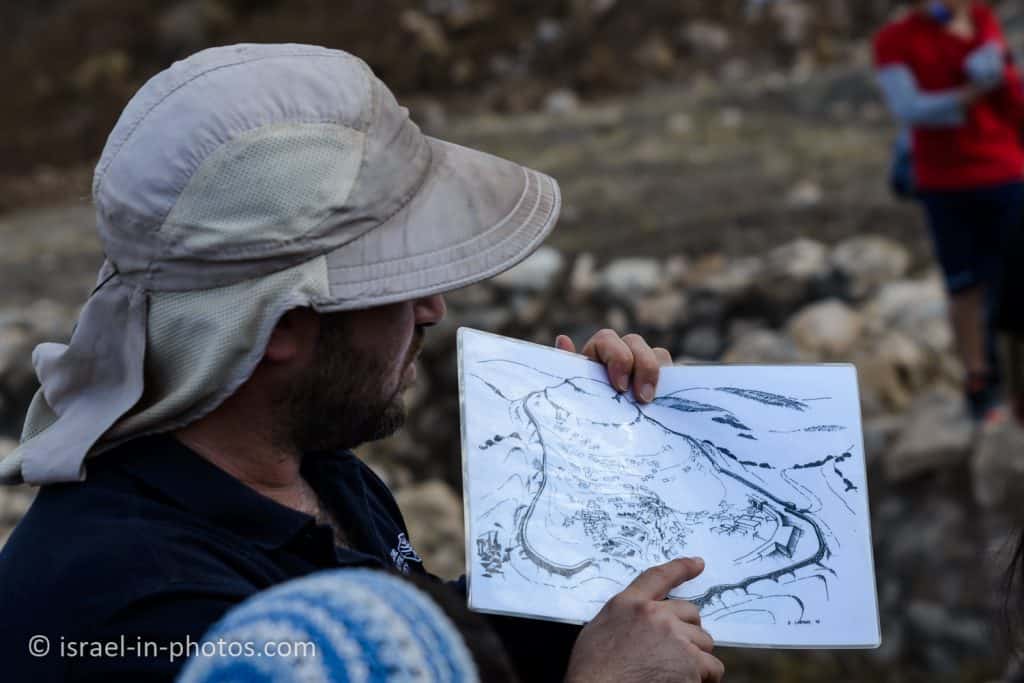 As you can see, the city is located on a Tel, and it can be divided into the lower town and the upper city. We will be focusing on the lower city during this tour and this post.
As far as I understood, two different approaches were taken by archeologists when excavating the upper and lower cities. In the lower city, they performed many width excavations. That is why we can see the palace and many rooms. In the upper city, they conducted a depth excavation. Thus they know that the upper city was inhabited for a more extended period than the lower city, but there is little to see.
As you can see from the following photo, the lower city of Tel Jarmuth is from the early Bronze period, which is about 3700 – 2500 BCE.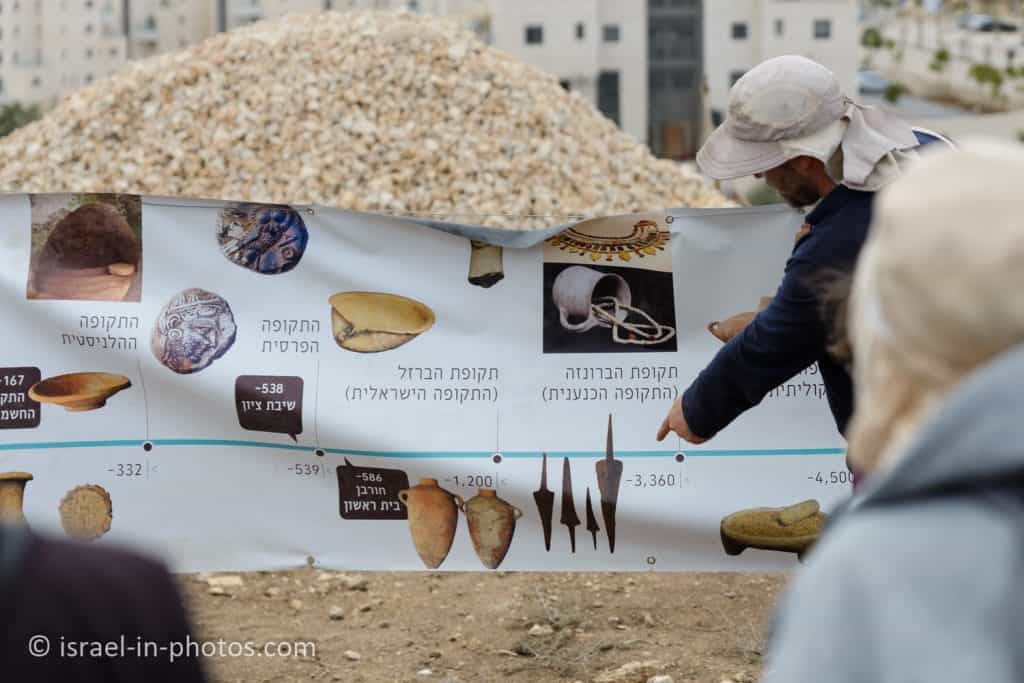 Here is a video where Omer Shalev explains about Tel Jarmuth. And at the beginning of that video (1:45), you can see a map of the lower city.
Also, if you are interested in tours and extra activities at Tel Jarmuth, you can contact Omer at omersh@israntique.org.il
The City Gate
After giving some background information, Omer led us to the city gate.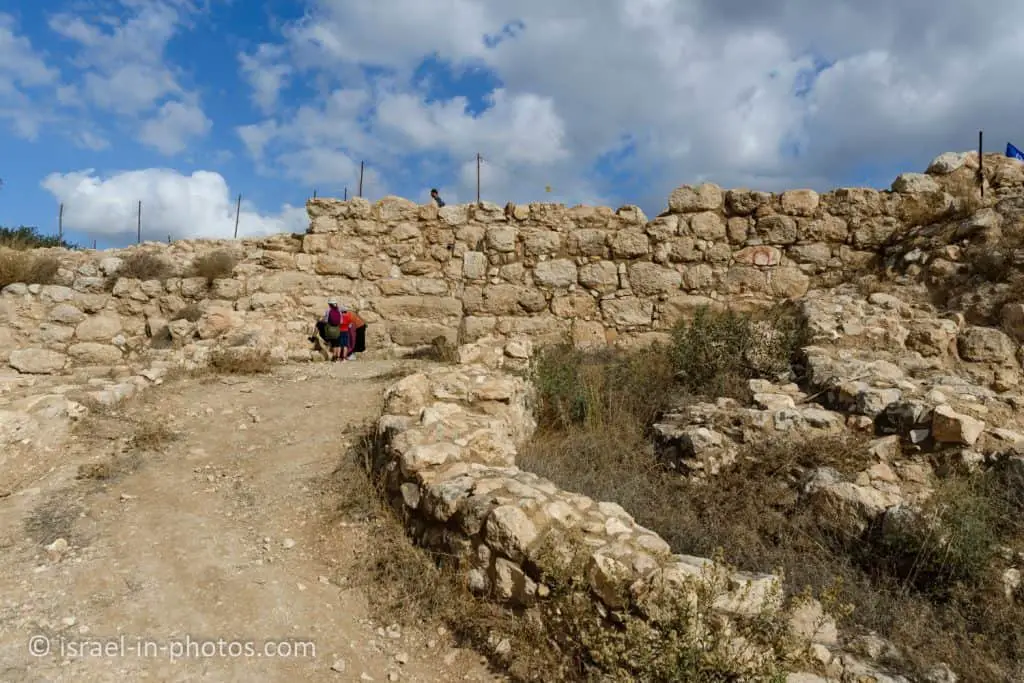 To enter the city, you have to turn to the right. And since most people are right-handed and hold their sword at the right hand, such a turn leaves soldiers exposed to archers standing on the wall. Moreover, the passage becomes very narrow towards the end of the turn. Thus this clever construction was good from a defense point of view.
The idea of a sharp turn by the gate continued for many years. Thus, for example, at Caesarea National Park or Jaffa Gate in the Old City of Jerusalem, you have to make a 90-degree turn inside the gate tower. But they did not keep the turn to the right. I guess the reason is the usage of horses.
Also, it is worth mentioning that the gate was not reconstructed. What you see is how archeologists found it. The only thing done was to add plaster between rocks for reinforcement.
The Palace
As you enter the city gate, you will see the base of the palace's walls.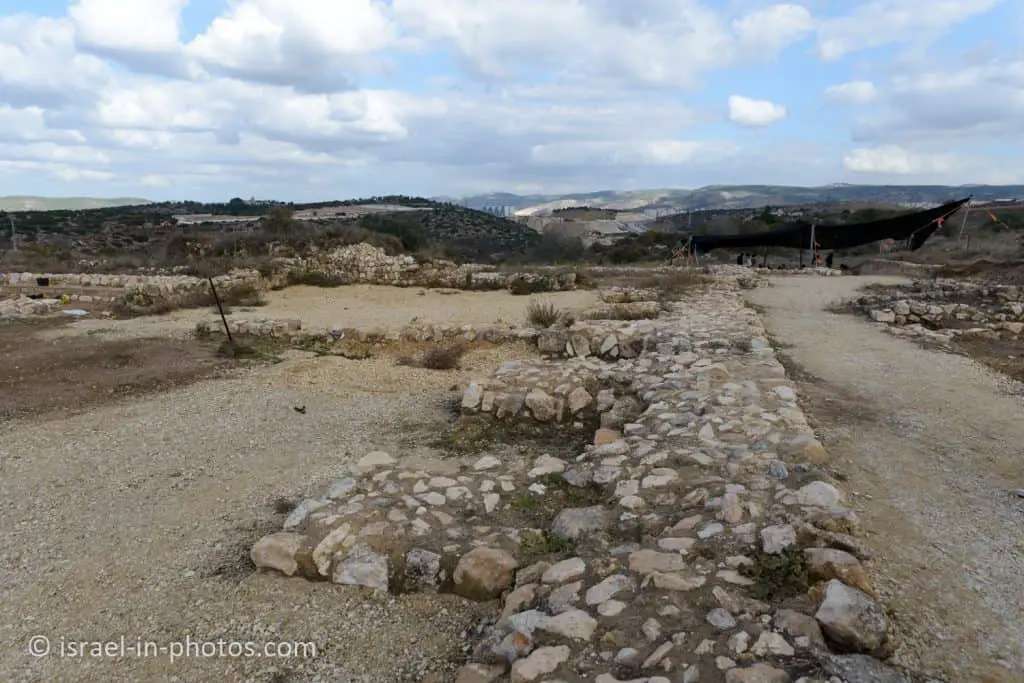 The palace is dated from 2500 – 2450 BCE, and this is the most extensive structure in Israel from the Early Bronze period (6000 square meters).
The wall's width is about 2 meters. And as you can see, every constant distance there is a "rectangular extension". Such form allowed the wall to be much higher since the "extensions" served as support stands.
The palace has two main areas: a big courtyard and small rooms and halls.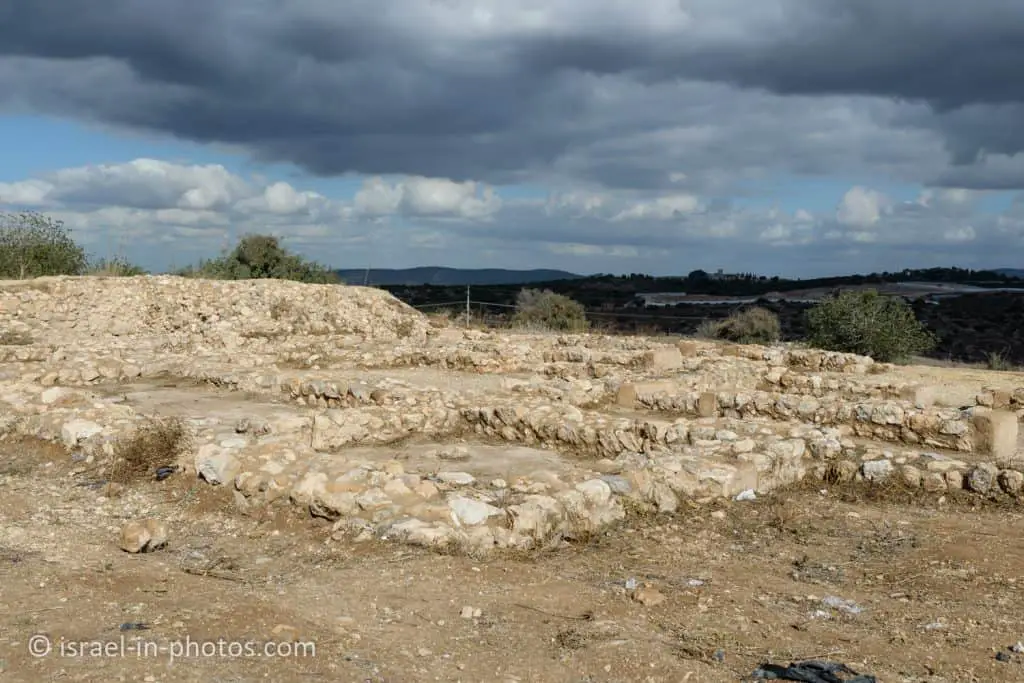 Near one of the entrances to the palace, you can find a hypostyle hall. There are nine column bases. And nine wooden pillars supported the roof.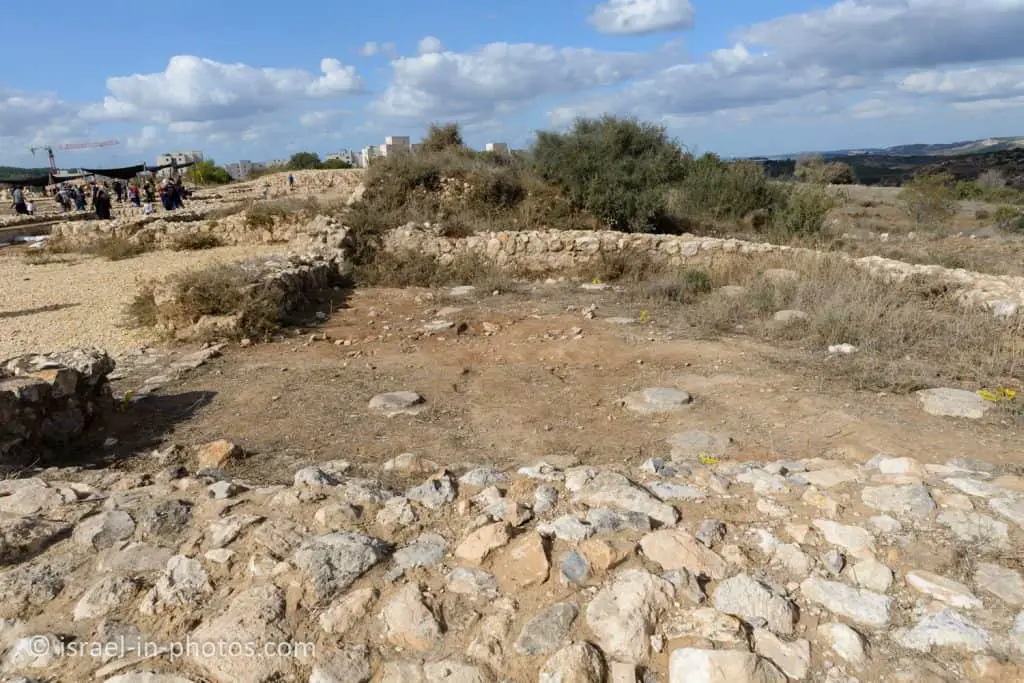 Another exciting place in the palace is the safe room. At around 2500 BC, people did not have coins. Thus they paid with goods. And in this room, archeologists found many jars with food. Moreover, you have to pass through many narrow corridors to reach this room. It allowed tight security around the safe room.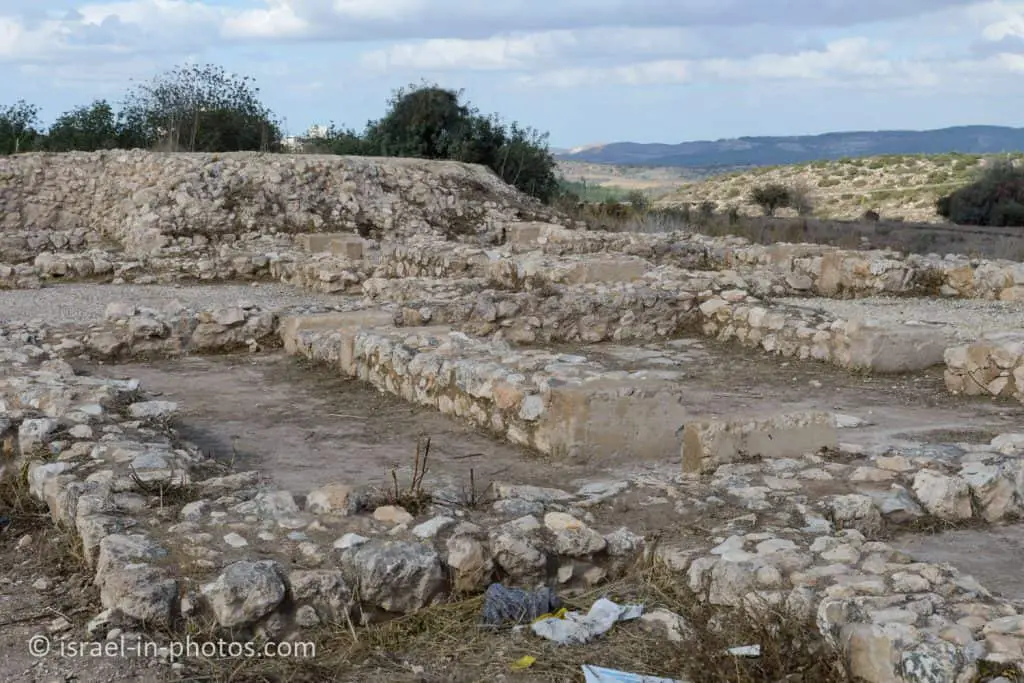 We visited several additional places, and after about 35 minutes, the tour ended. But if you cannot join the tour, I recommend watching the video above.
Tel Jarmuth in the Bible
The Tel is identified with the biblical city of Jarmuth (the name remained almost unchanged, and the described geographic location matches).
This city is mentioned numerous times, and here are some of the mentions.
Piram, the king of Jarmuth, joined forces with other kings of the Amorites to fight Joshua – Joshua 10:3-5 (New International Version):
3 So Adoni-Zedek king of Jerusalem appealed to Hoham king of Hebron, Piram king of Jarmuth, Japhia king of Lachish and Debir king of Eglon. 4 "Come up and help me attack Gibeon," he said, "because it has made peace with Joshua and the Israelites."

5 Then the five kings of the Amorites—the kings of Jerusalem, Hebron, Jarmuth, Lachish and Eglon—joined forces. They moved up with all their troops and took up positions against Gibeon and attacked it.
Joshua defeated the five kings, and Jarmuth became part of the tribe of Judah – Joshua 15:20-35 (New International Version):
20 This is the inheritance of the tribe of Judah, according to its clans:

21 The southernmost towns of the tribe of Judah in the Negev toward the boundary of Edom were:

Kabzeel, Eder, Jagur, 22 Kinah, Dimonah, Adadah, 23 Kedesh, Hazor, Ithnan, 24 Ziph, Telem, Bealoth, 25 Hazor Hadattah, Kerioth Hezron (that is, Hazor), 26 Amam, Shema, Moladah, 27 Hazar Gaddah, Heshmon, Beth Pelet, 28 Hazar Shual, Beersheba, Biziothiah, 29 Baalah, Iyim, Ezem, 30 Eltolad, Kesil, Hormah, 31 Ziklag, Madmannah, Sansannah, 32 Lebaoth, Shilhim, Ain and Rimmon—a total of twenty-nine towns and their villages.

33 In the western foothills:

Eshtaol, Zorah, Ashnah, 34 Zanoah, En Gannim, Tappuah, Enam, 35 Jarmuth, Adullam, Sokoh, Azekah,
Jarmuth is also mentioned in Nehemiah in the list of cities to which the people from Judah tribe returned after exile – Nehemiah 11:25-30 (New International Version):
25 As for the villages with their fields, some of the people of Judah lived in Kiriath Arba and its surrounding settlements, in Dibon and its settlements, in Jekabzeel and its villages, 26 in Jeshua, in Moladah, in Beth Pelet, 27 in Hazar Shual, in Beersheba and its settlements, 28 in Ziklag, in Mekonah and its settlements, 29 in En Rimmon, in Zorah, in Jarmuth, 30 Zanoah, Adullam and their villages, in Lachish and its fields, and in Azekah and its settlements. So they were living all the way from Beersheba to the Valley of Hinnom.
Extra Activities
Since we visited during Hannukah, there were several additional activities. For example, there was a workshop on creating mud bricks. And here we are, taking part in archeological excavations.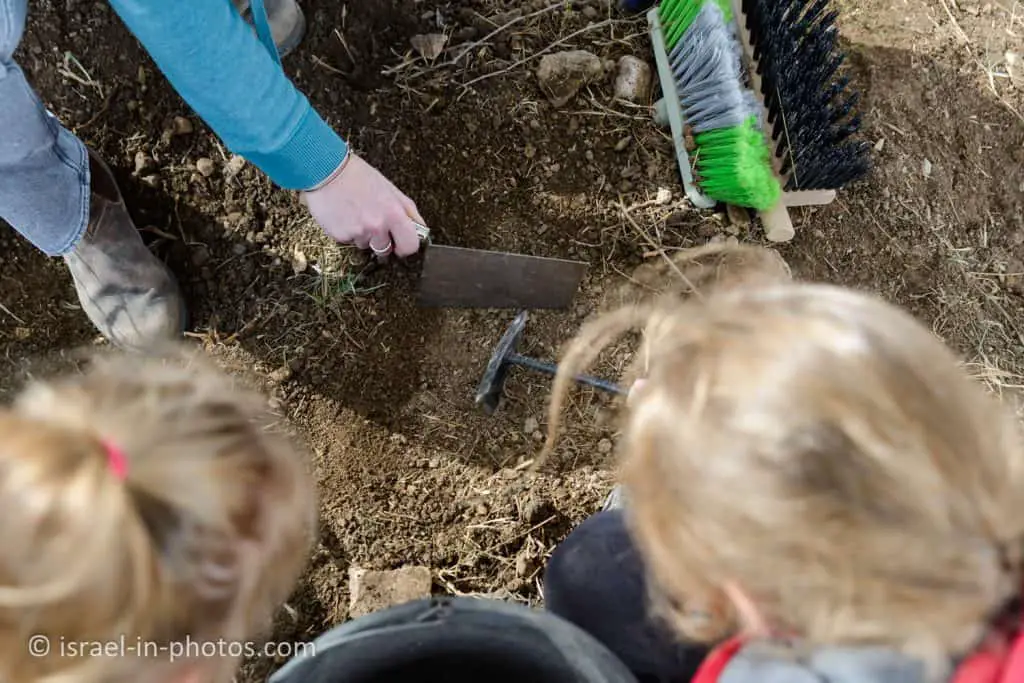 There were also activities for children, like painting and creating seals.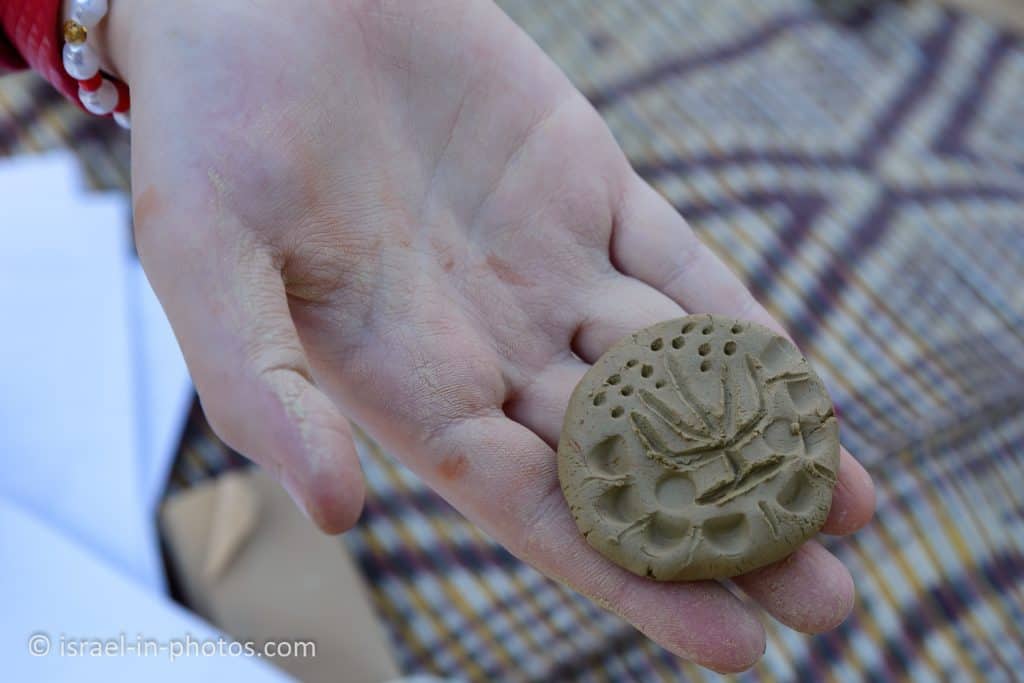 From Tel Jarmuth, we drove to Beit Jamal. But unfortunately, it was closed. Thus here are the opening hours of Beit Jamal.
Summary
Tel Jarmuth is a unique place. You cannot find such Early Bronze construction anywhere else in Israel. And I hope that during the archeological park's creation, they will add explanatory signs and maybe other visualization means. Meanwhile, you can read my blog 😉
There are many attractions in this area, and you can explore them using the interactive map above.
Have you visited Tel Jarmuth? Tell us in the comment below about your experience.
That's all for today, and I'll see you in future travels!
Stay Tuned!
Additional Resources
Here are several resources that I created to help travelers:
And if you have any questions then check out
Useful Information For Tourists To Israel
.  
Did not find what you were looking for? Leave a comment below, and I will do my best to answer your questions.