Sharon Beach National Park near Shefayim offers several short-loop hikes. The trails go on top of cliffs by sea, and during the season, there are many flowers. Let's begin exploring!
Note: since there are also animals in this nature reserve, entrance with dogs is forbidden.
---
Offers:
Map
Sharon Beach National Park is located by the Mediterranean sea between Arsuf and Wingate center. And it has two main entrances. The southern entrance is behind Shefayim, and the northern entry is to the north of Gaash. Both entrances are marked in Waze, and you can also see them in the trails map below.
Map of the area:
Trails
It is an easy trail to navigate through. We did not use any maps. I entered "Sharon Beach National Park" into Waze, and from the parking, we followed the trails. Just make sure you are reaching the entrance you want (southern or northern).
Here is an interactive map from israelhiking.osm.org.il where three trails are marked:
And here are the details of these trails:
If it is your first visit to Sharon Beach National Park, I would advise a hike in the southern area. Many explanation signs were added in this area (you can find additional info here).
Entrance Fee
Free.
Opening Hours
You can visit at any time. Just make sure to finish before dark, as there is no illumination along the route.
When to visit Sharon Beach National Park?
There is little shade along the trails. Thus either visit early or later in the day. Also, since many flowers bloom in this national park, the best time for a visit is Spring.
About
Sharon Beach National Park (official site) is located along the Mediterranean beach between Apollonia National Park and Nahal Poleg Nature Reserve. To be more specific, this park is next to Kibbutz Shefayim.
This national park offers light walks along the sea. Just keep in mind that significant parts of the trail have sand and are not suitable for strollers. Moreover, there are few trees. Thus most time, you will be under the open sun. Though the sea breeze makes it easier, I would still recommend visiting it early in the morning or late in the afternoon.
One of the reasons this park is not getting enough attention is the lack of clear directions and signs. It is not that easy to find it. My previous visit was about a decade ago, and when this time I used Waze, I reached a different part (northern entrance) of the same national park. Moreover, Waze got me to someplace near the park and not the entry itself. So if this happens to you, continue driving along the fence till you see many parked cars.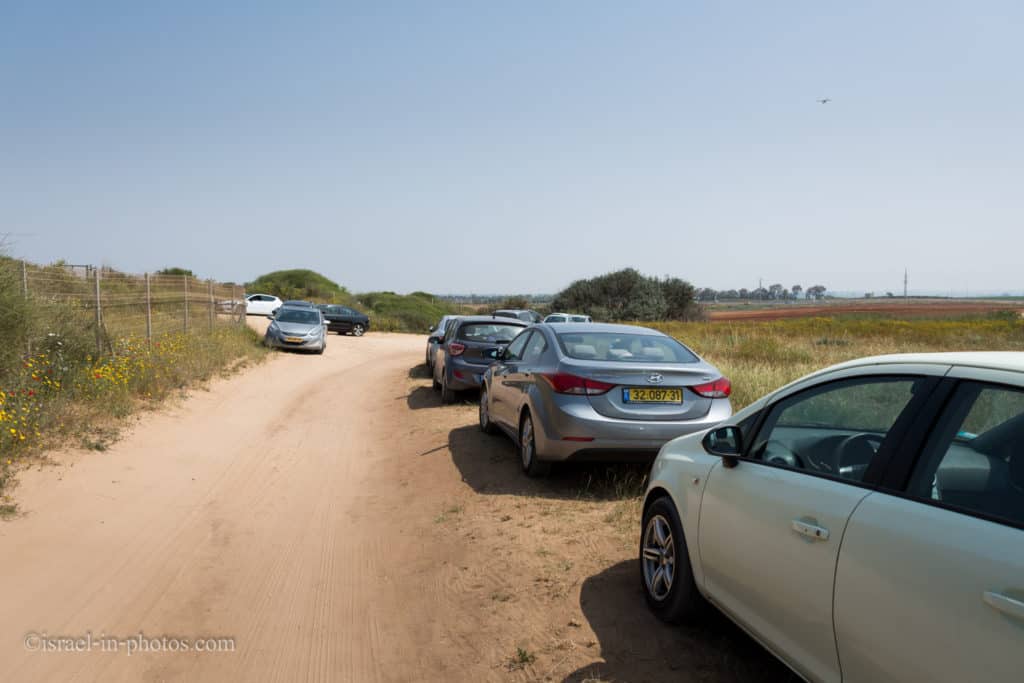 Note: the access road is not made of asphalt, but you can use any car to reach the park. However, I would not advise driving there after heavy rains.
Northern Area of Sharon Beach National Park
In this section, I will take you along the orange route (see trails section).
When looking North, we see the new Ir Yamim neighborhood in Netanya.
We started walking to the North. As you can see, the route is on top of limestones and has mostly sand and ground.
Even though it was towards the end of Spring, there were still flowers.
Two trails pass along Sharon Beach National Park. The red path also called the cliff trail, is closer to the sea. And the black trail, also called the limestone trail, is further away from the sea. The Israeli National Trail also passes here, and most of the time, it is the same as the black path.
Most of the time, the two trails are parallel to each other, but in several places, they meet. These intersections allow a circular pathway.
We started with the black or the Israeli National Trail and then returned using the red path.
Flowers and plants in the national park:
It was quite hot that day. Thus, at this point, we switched to the red path and started to go back.
On the red trail, you can see the limestone rocks and more of the sea.
The limestone cliffs are close to the sea, and as the wind from the sea hits them, it blows upwards. Parachuters use this wind. And here is one of them.
As I mentioned, this is an unshaded path. Thus come early and wear sunscreen.
There are several places where you can go down towards the sea. But as you can see, there are many rocks, and you cannot swim in this area. Swimming is prohibited and can be done only at the allowed beaches (either to the north or the south).
Even though there is sandy ground, I was amazed by the number of flowers.
One of the upsides of the red route is the sea breeze. There is no wind at some parts of the black trail, and it becomes boiling. Like inside this mini forest.
Summary
Sharon Beach National Park is an underrated park. It is less visited probably for two reasons. First of all, it is hard to find. And secondly there no beaches where you can swim. Nonetheless, this park offers excellent nature and stunning sea views. And all of this very close to the center.
Moreover, you can find many flowers in this area during Spring, like the Coastal Iris At Nahal Poleg Nature Reserve In Netanya.
Have you ever visited Sharon Beach National Park? Tell us about your experience in the comments below.
That's all for today, and I'll see you in future travels!
Stay Tuned!
Additional Resources
Here are several resources that I created to help travelers:
And if you have any questions then check out
Useful Information For Tourists To Israel
.  
Did not find what you were looking for? Leave a comment below, and I will do my best to answer your questions.