Ein Hardalit is a spring at Nakhal Kziv, and it offers a stunning water hike suitable for all ages. Moreover, It has water all year round.
Map
Ein Hardalit is part of Nakhal Kziv Reserve. It is located in Upper Galilee, near moshav Avdon. And not far from the intersection of roads #70 and #8911. The easiest way to reach it is by entering "Ein Hardalit parking" into Waze (or clicking this link).
Directions for drivers: Link to Waze and Link to Google Maps
Directions for public transport: Link to Moovit
Interactive map of the area:
Offers:
Hotels, hostels, and apartments in this area:
Parking
There is free parking nearby. But keep in mind that it is a popular place. And if you arrive late, you will see people parking along the road.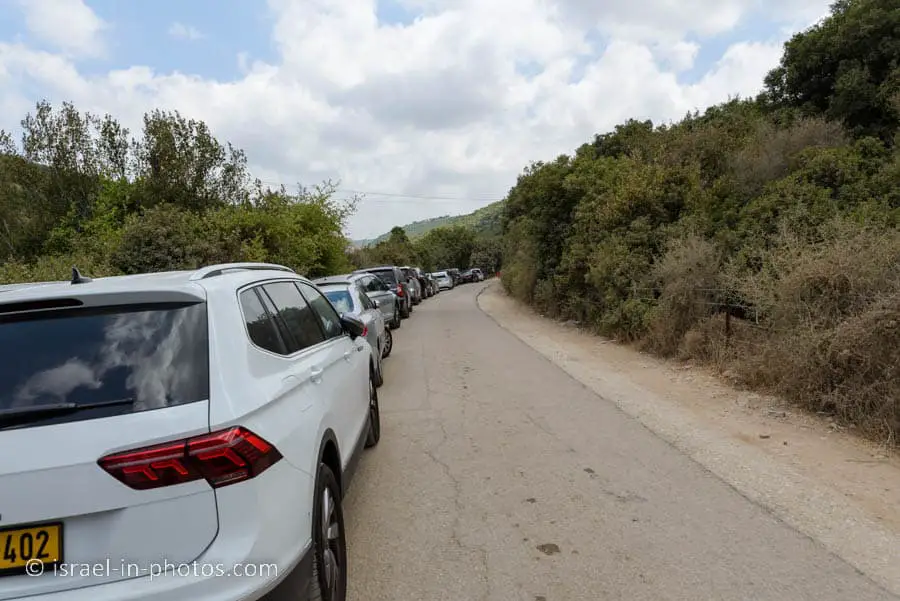 And here is the parking area. As you can see, it is not big.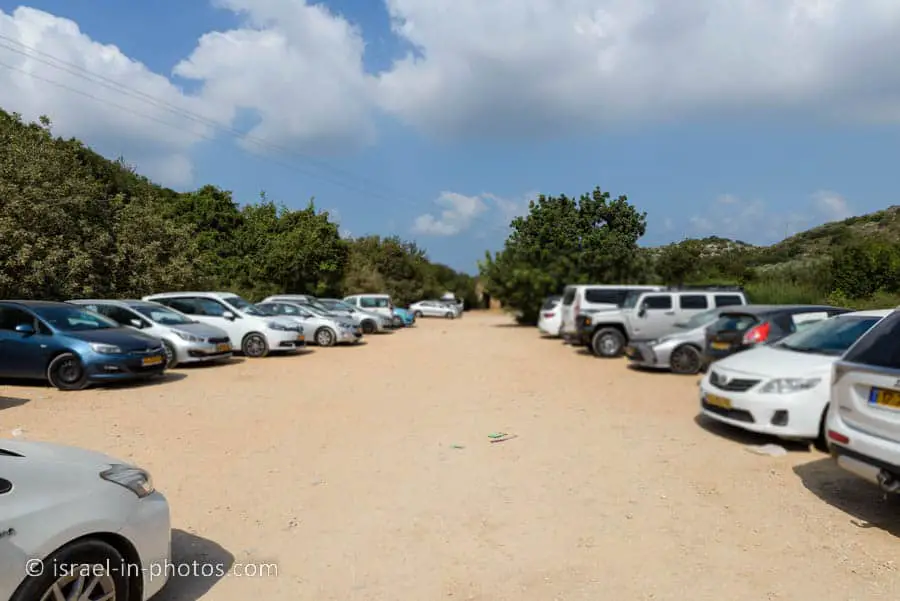 Opening Hours
Always open. But keep in mind this is a popular place. Many people visit it. Thus prefer weekdays and during weekends, arrive early.
Notes:
Do not stay in the nature reserve after dark.
Our latest visit was on a weekday during the summer vacation. There were no free places in the parking lot. But at the trail itself, there were not too many people (we always saw people around us, but there were no "traffic stoppages").
Entrance Fee
Free.
Walking Paths
Though the place is in Nakhal Kziv Reserve, there is no marked trail that goes inside the water. There is a trail by the water.
At the parking lot, you will see the stream (about ten meters to the north). Most people enter the water and head upstream (to the east). You can return using the same way.
Here is an interactive map from israelhiking.osm.org.il where I marked the trail that we hiked:
As you can see from the hiking map, we walked in the stream to the east. We did not reach Ein Hardalit. And at some point, we decided to return using the green trail, and then we walked in the water again.
Some info about the marked path:
Length 1.5 km
Total climb and descent: 20 meters.
Note: significant parts of the water trail are shaded. And the dry path has little shade.
Water Hike at Ein Hardalit
In this section, I wanted to show photos from the hike and discuss several issues.
Sign with info about Nakhal Kziv Reserve at the parking lot: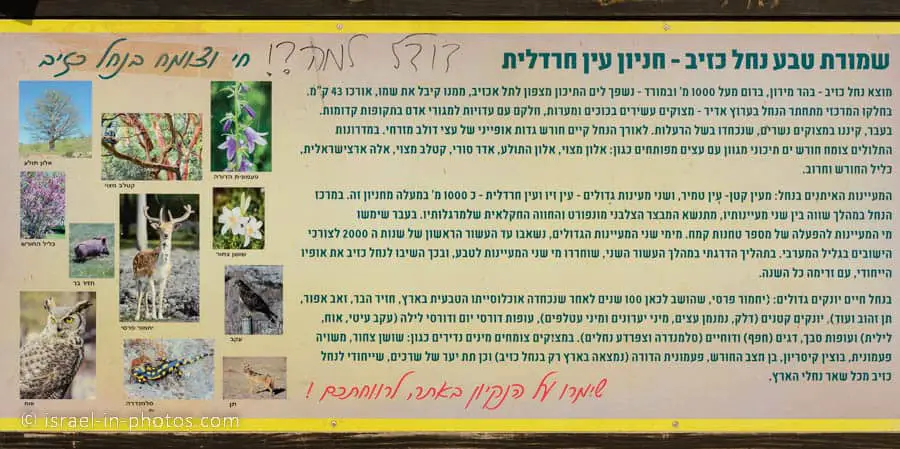 What to bring to this hike?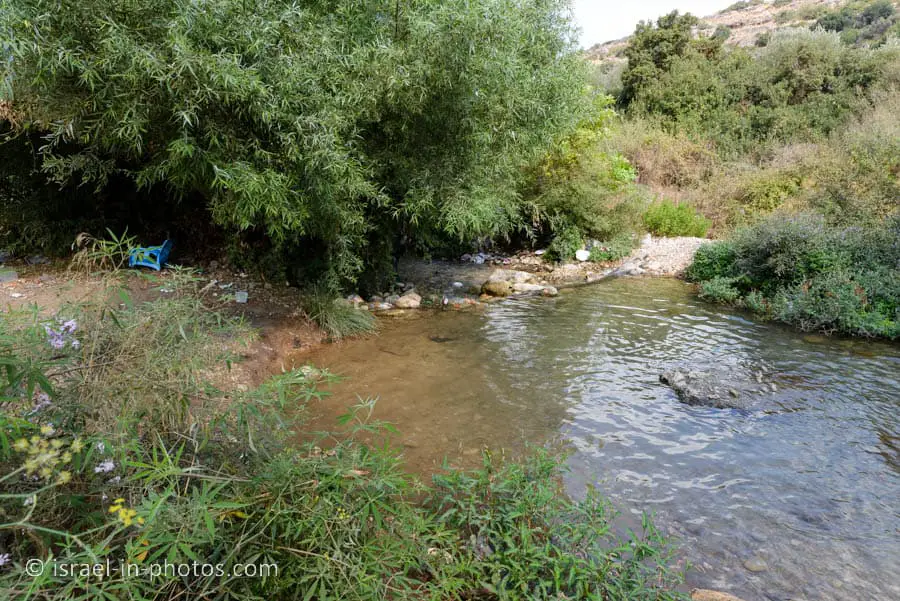 Near the beginning of the water hike, you can see a lot of garbage. Please bring garbage bags and take them with you.
Besides garbage bags, bring water shoes, drinking water, sunscreen, and snacks (you can find lovely spots for a small picnic along the way).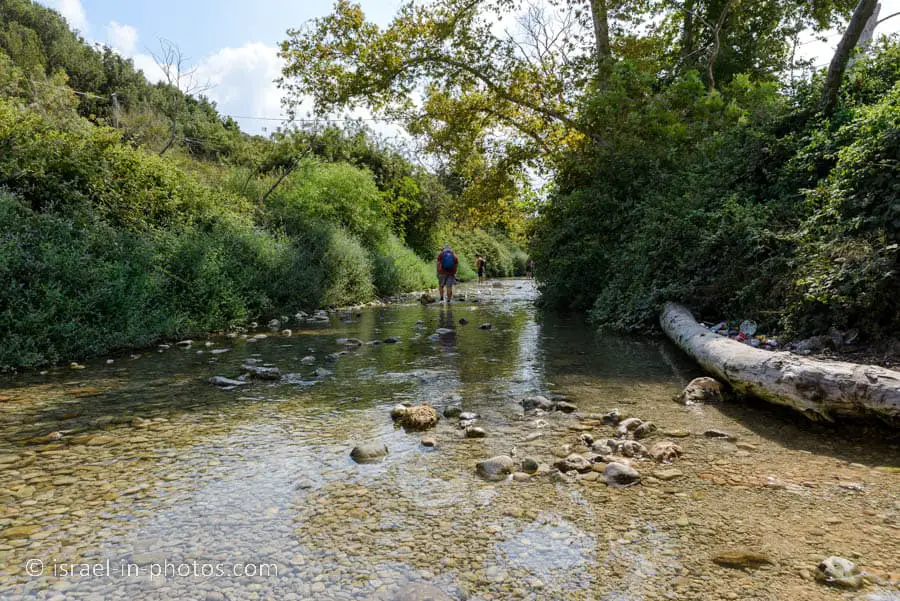 As you can see from the photo, you will be mainly walking on rocks. Thus water shoes with thick soles are recommended.
How deep is the water?
The water is primarily shallow – ankle level. There are several deeper small pools along the way – about knee level. And at the end of the trail, at Ein Hardalit (where you can see a pipe), the pool is waist level.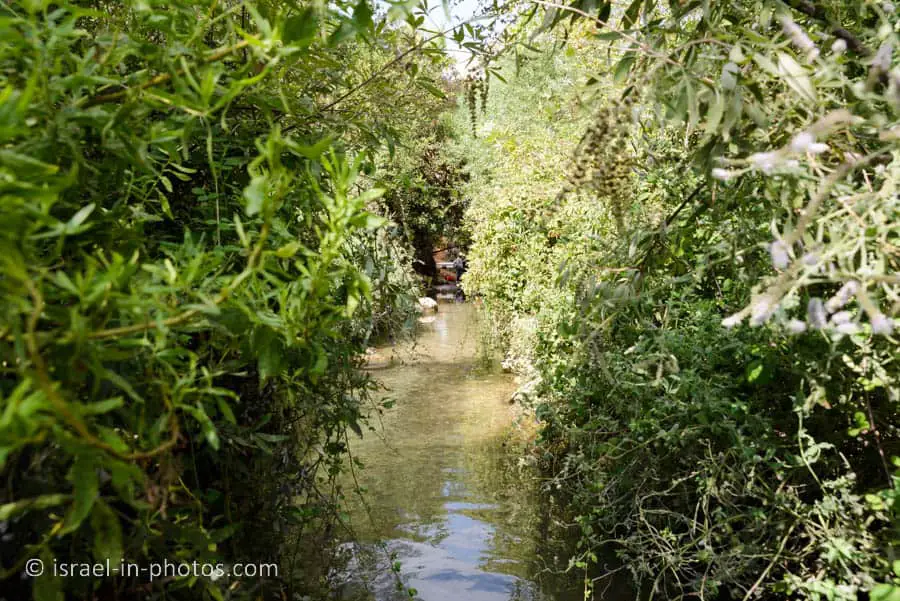 Here are additional photos from the trail: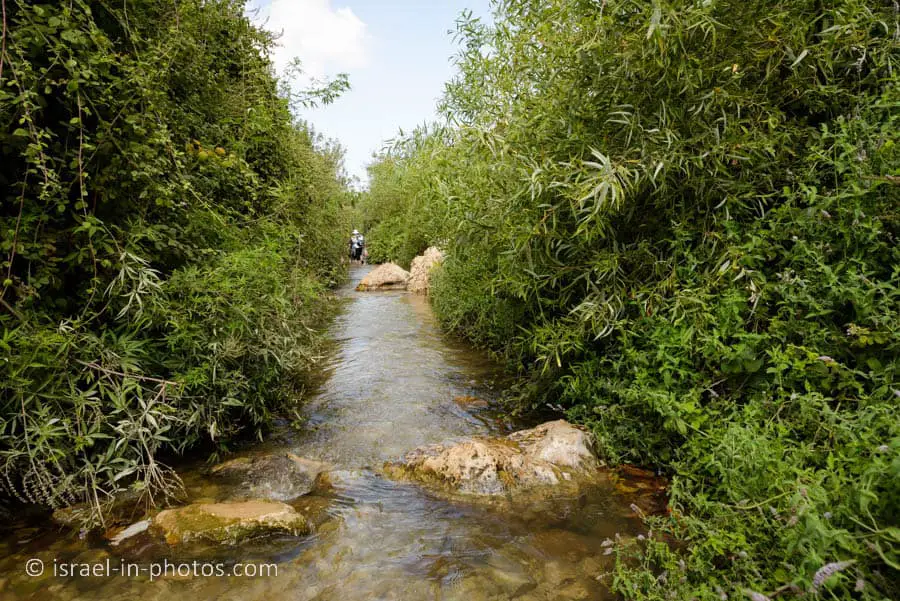 Some of the larger rocks are slippery, so be careful. I even fell once.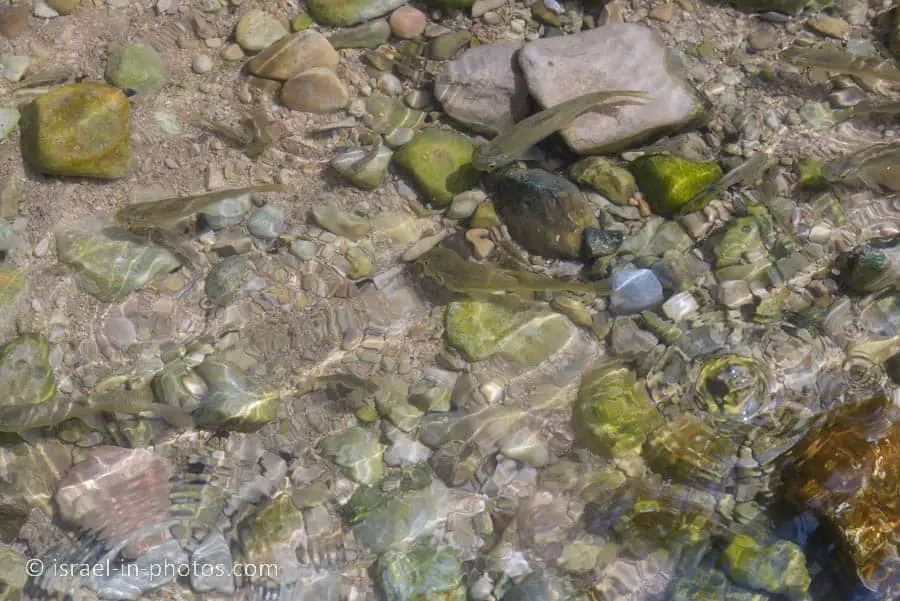 There are many small fish in the water.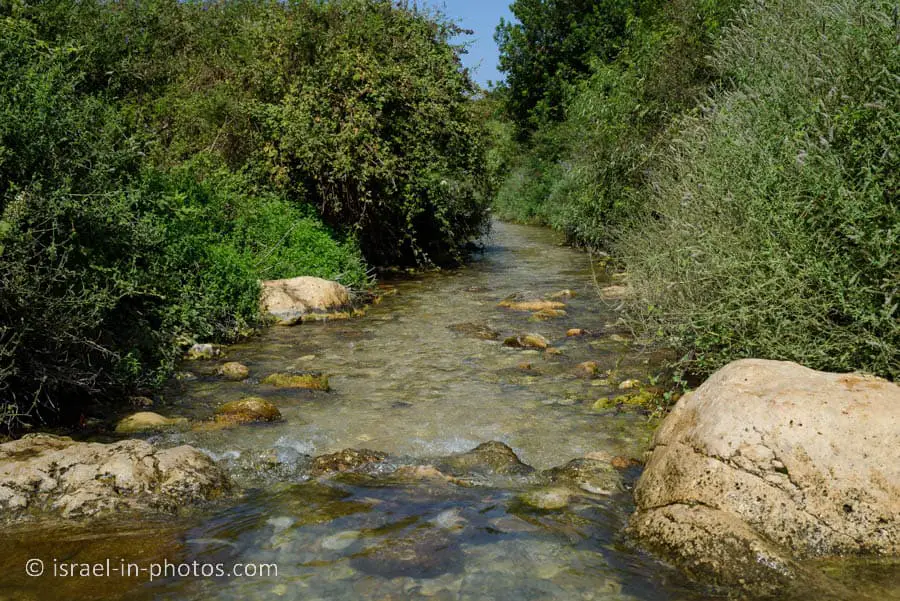 As I mentioned above, we hiked during the summer vacation. And it is hard to believe that these photos were photographed in August in Israel. Usually, in the summer, nature looks yellowish.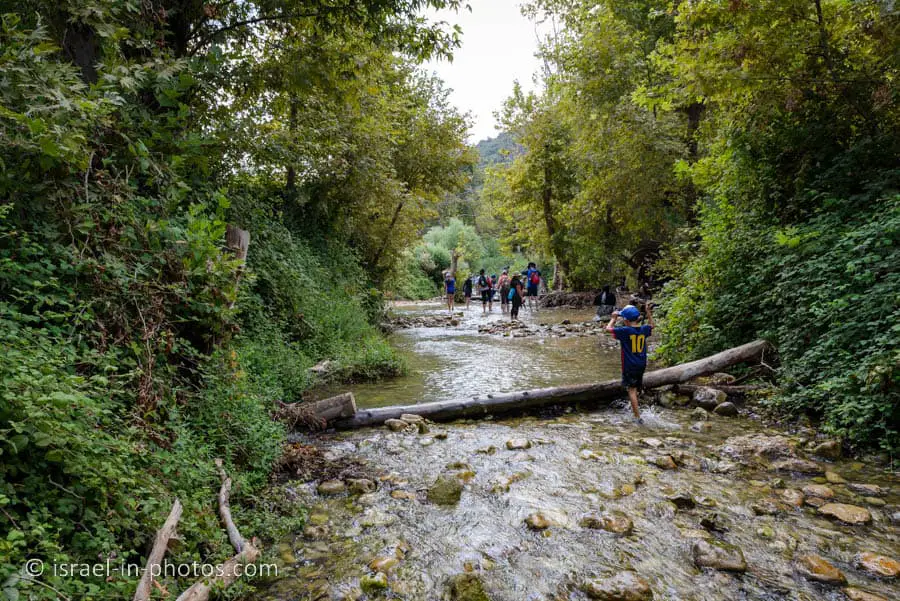 Restrictions at Nakhal Kziv Reserve
We walked in the water till we saw an intersection with the green trail. At that point, we saw several signs.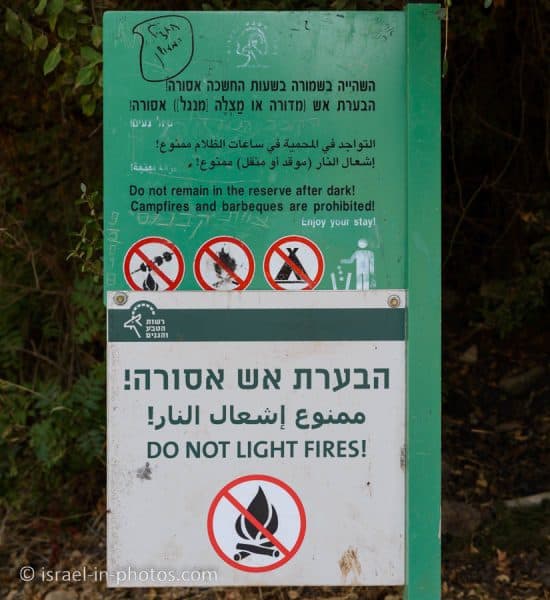 Do not remain in reserve after dark.
Campfires and barbeques are prohibited.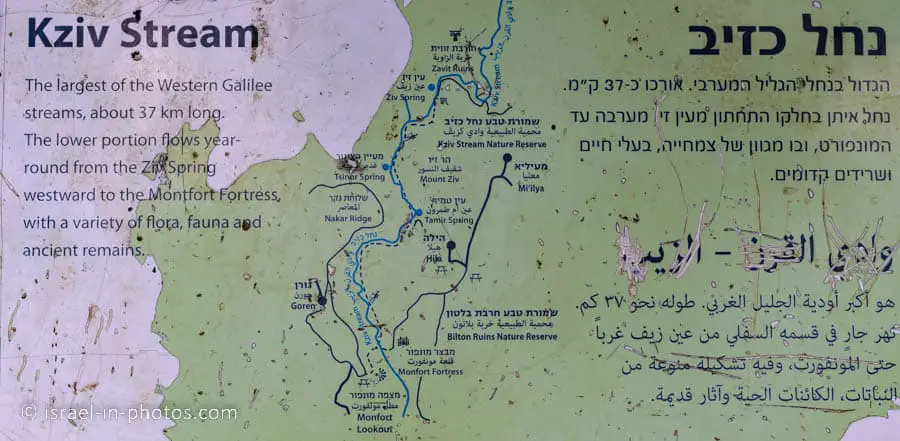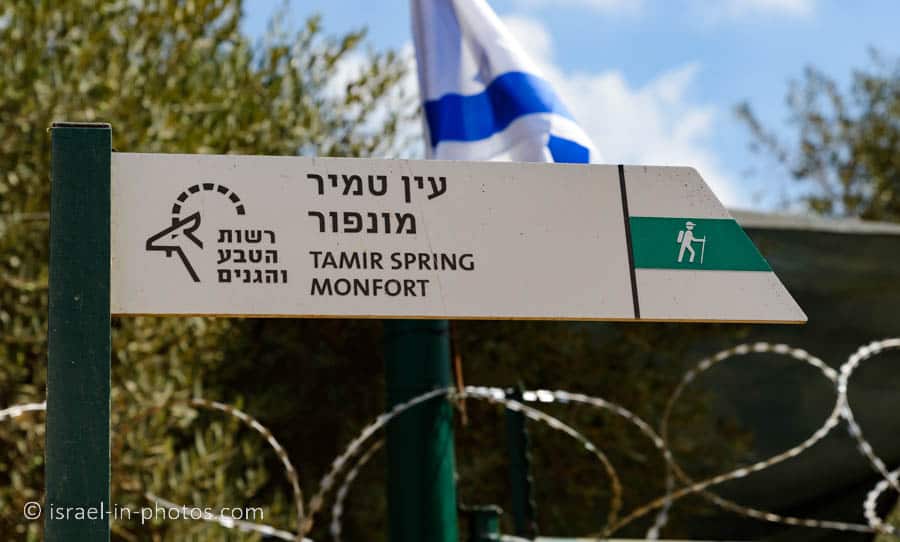 We did not switch to the green trail and continued walking in the water.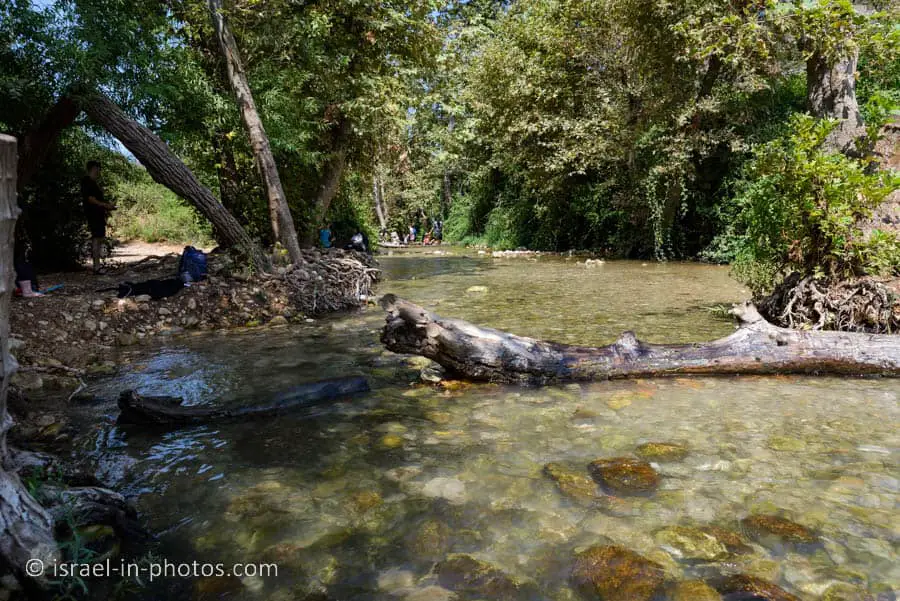 Here are several additional photos from this area: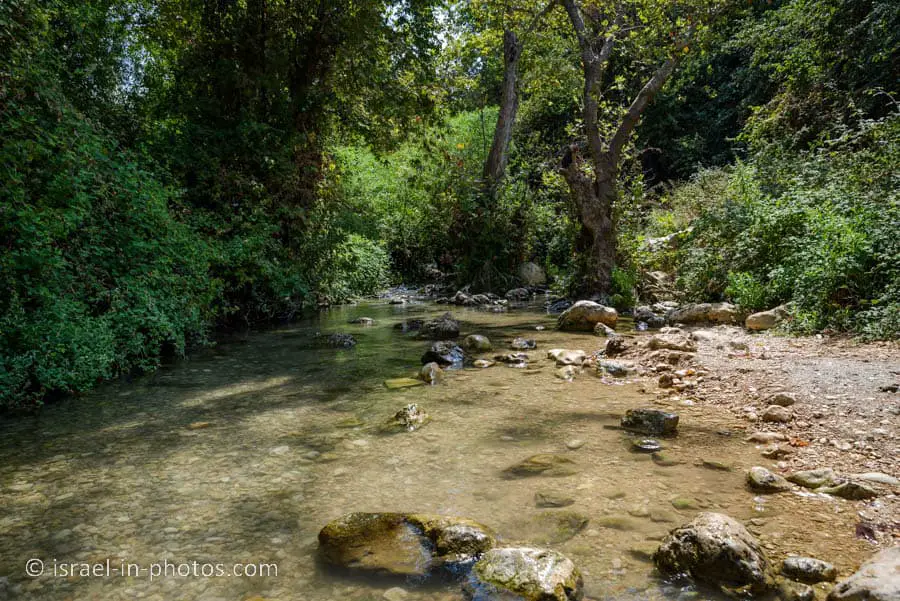 This area is wider and has many places for a picnic or a short break.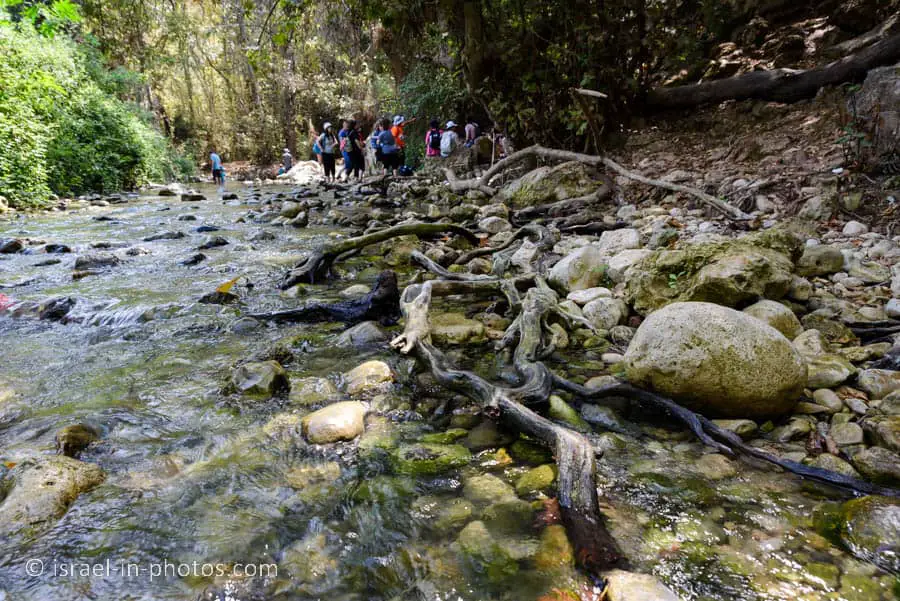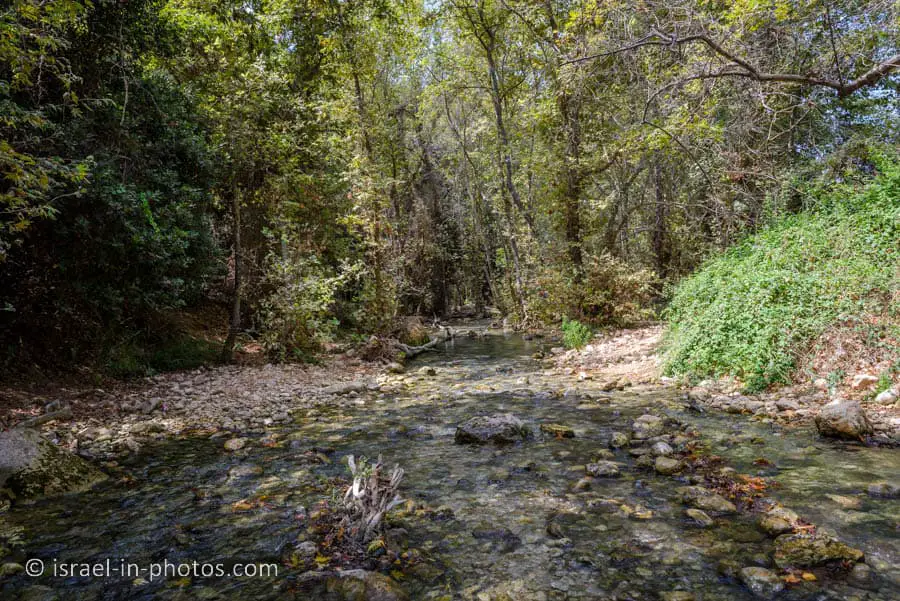 We walked to the second intersection with the green trail and decided to turn back. We took the green path to the first intersection to make the walk back faster.
And then we walked in the water to the parking lot.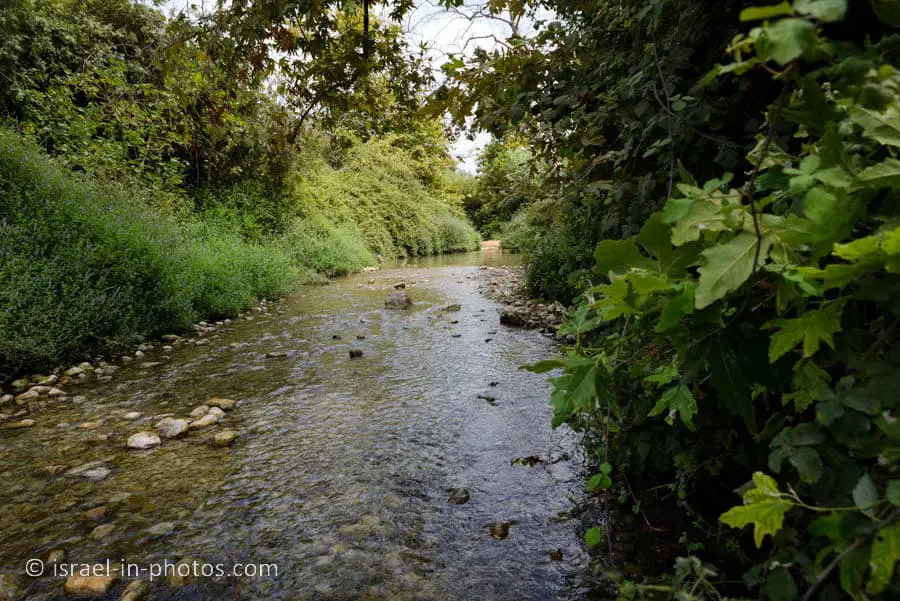 How much time does the track take?
It is not a long trail. Thus choosing how much time you spend in the pools, the duration of the breaks, and how far you go before you turn back will determine the duration of your visit. Most people spend there 1 – 4 hours.
The described trail took us (two adults and two children when the youngest was almost three years old) a little less than three hours.
Summary
Ein Hardalit is a very popular place. And there are several good reasons for it. First of all, there is water all year round. Secondly, the water is not deep. Thus this trail also suits small children (my almost three-year-old daughter walked by herself all the way). Thirdly, nature is stunning, and there is plenty of shade. Therefore, it is not hot even in August. We enjoyed our hike, and we will return.
If you are interested in additional water hikes, here are several of my favorites:
This area has many attractions, and you can explore them using the interactive map above.
Have you visited Ein Hardalit? Tell us in the comment below about your experience.
That's all for today, and I'll see you in future travels!
Stay Tuned!
Additional Resources
Here are several resources that I created to help travelers:
And if you have any questions then check out
Useful Information For Tourists To Israel
.  
Did not find what you were looking for? Leave a comment below, and I will do my best to answer your questions.