Colosseum
On our second day of the trip, we headed to one of the most famous landmarks in Rome, the Colosseum.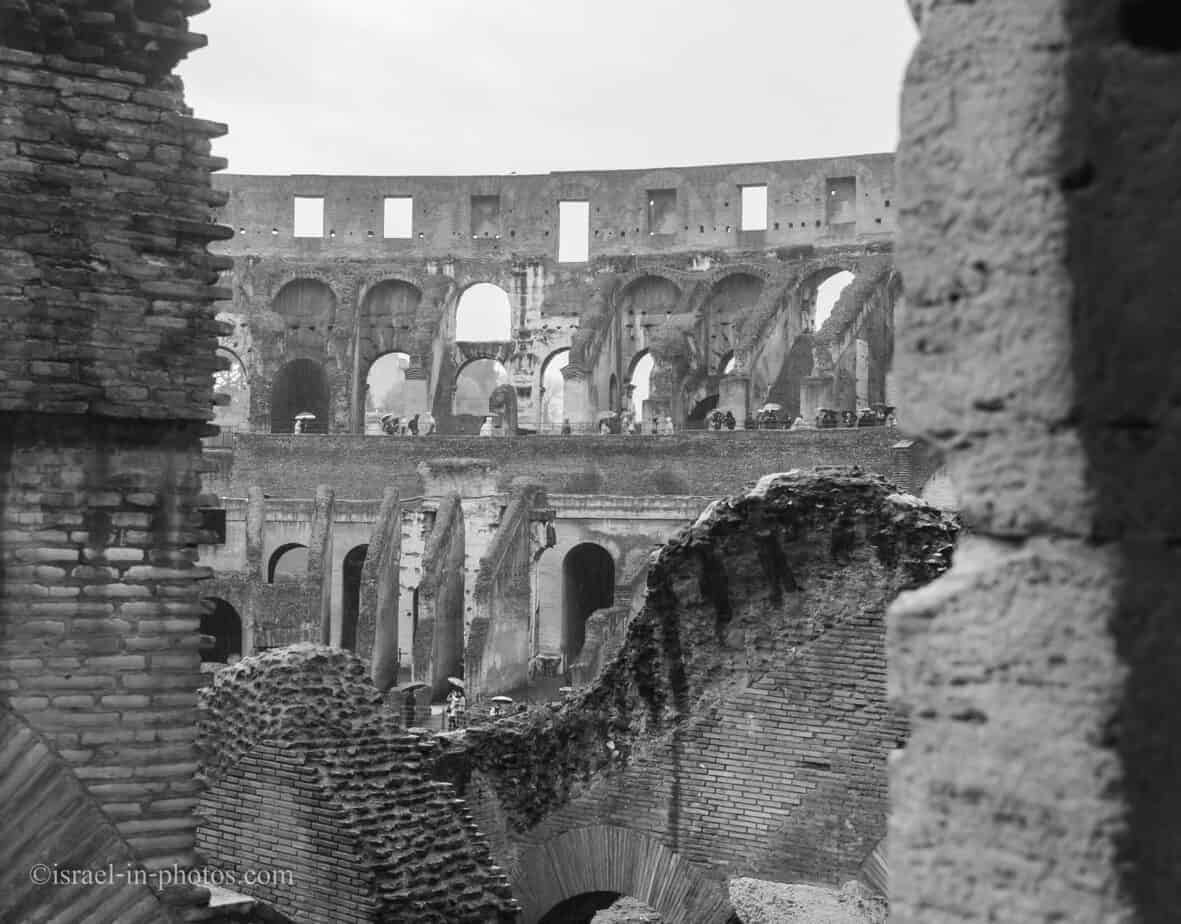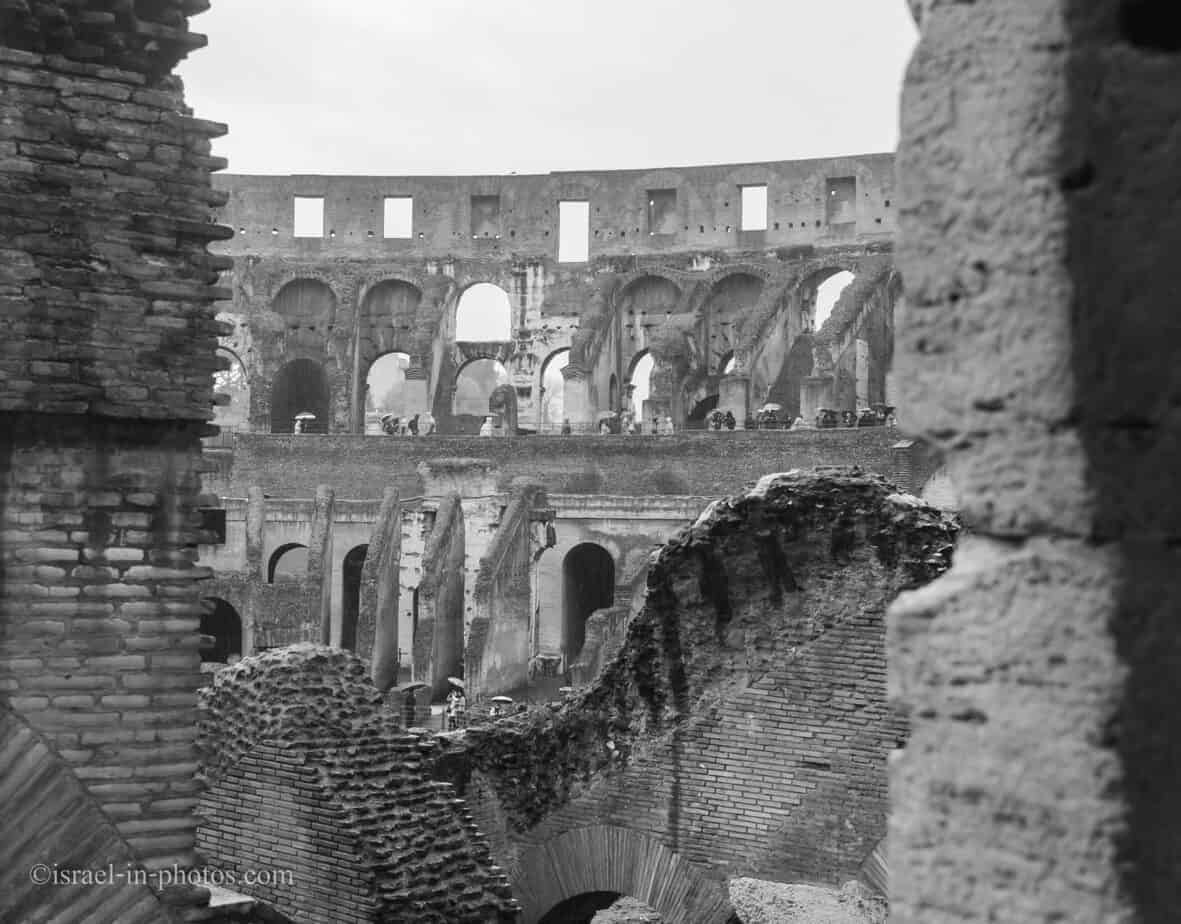 And here is my first tip: first Sunday of each month the entrance to the Colosseum is free. But, you have to come early since they limit the number of people inside the Colosseum to 1,000.
We were there around 8:20 am and despite it was raining cats and dogs there was already quite a long line.
Arch of Constantine from  Colosseum: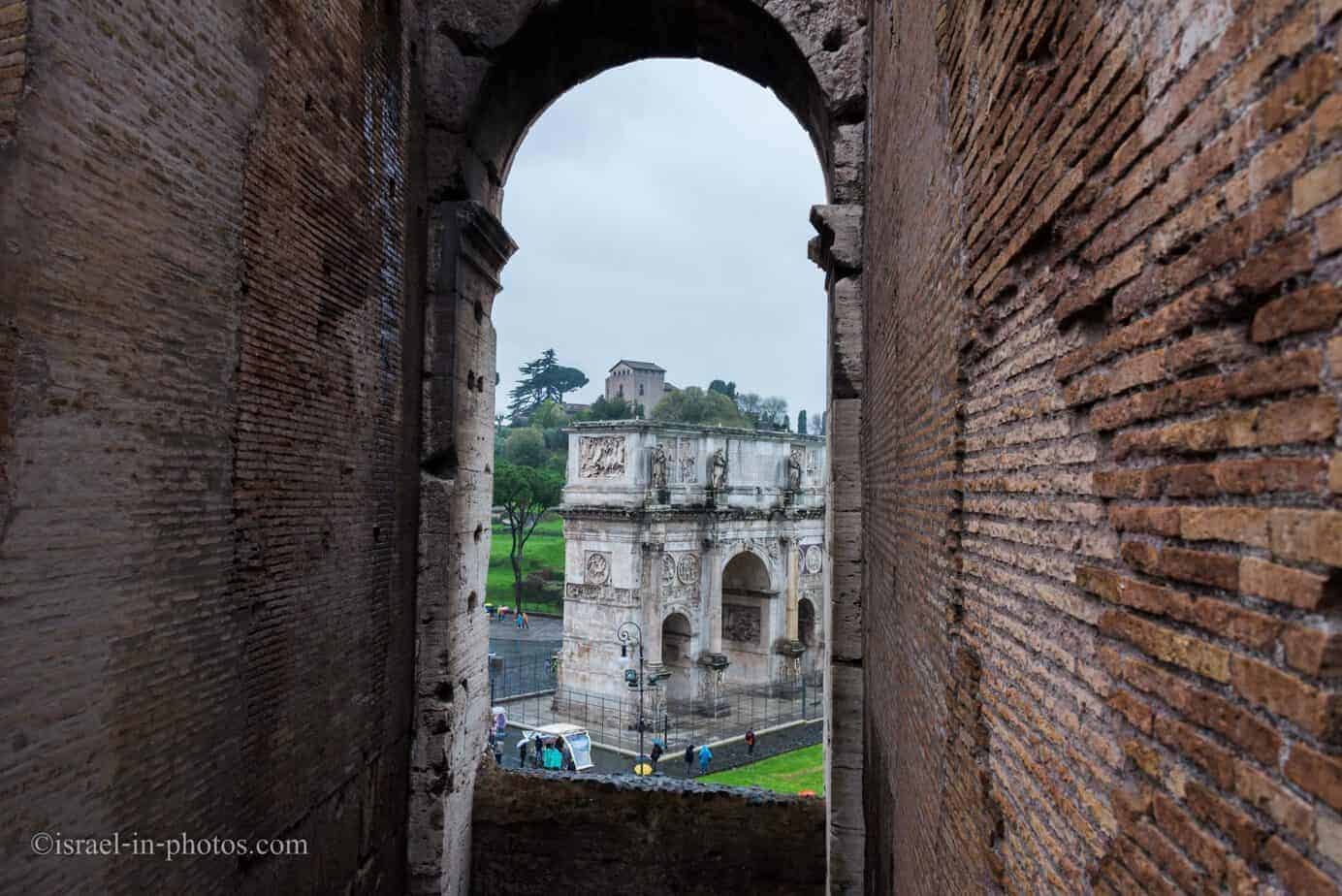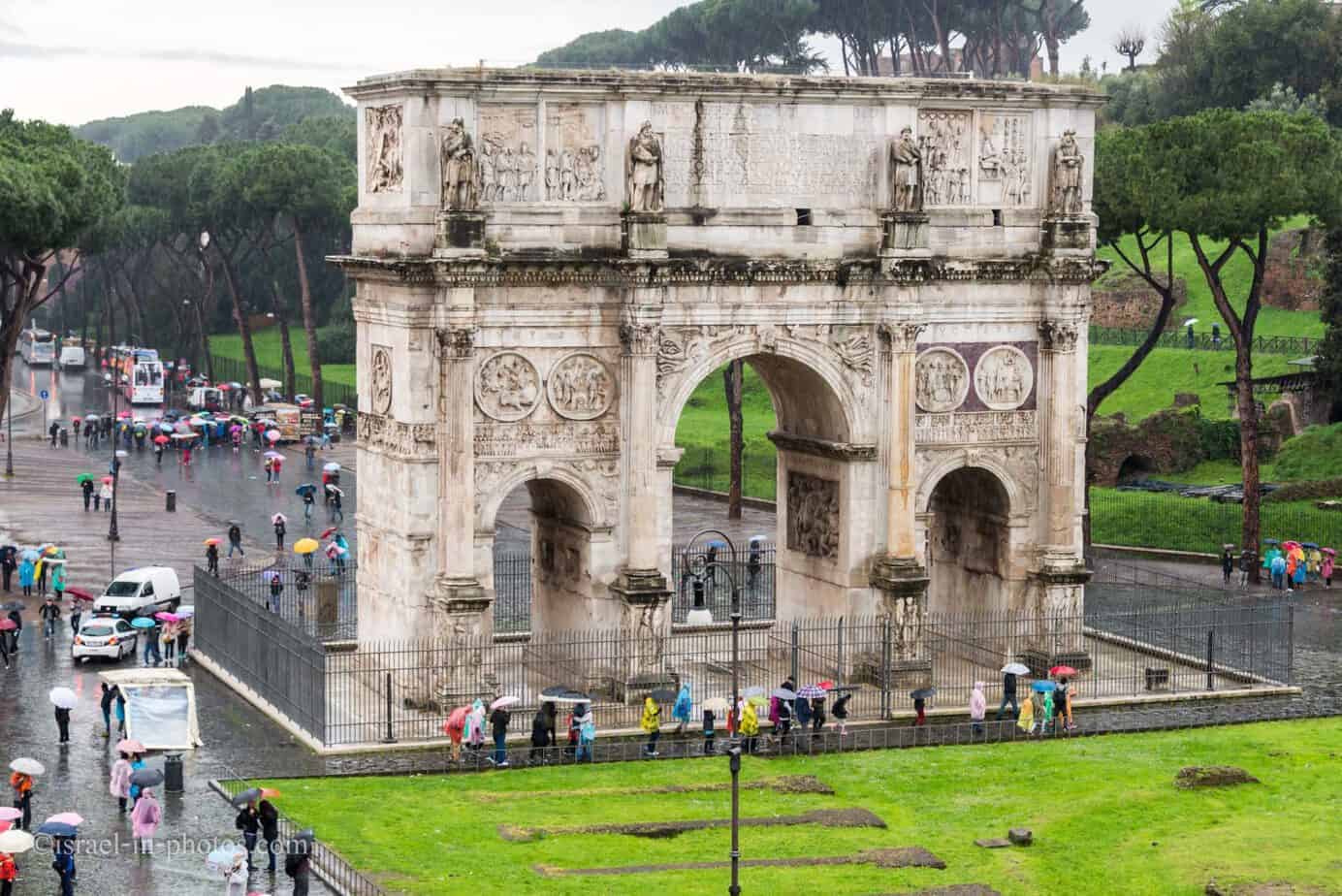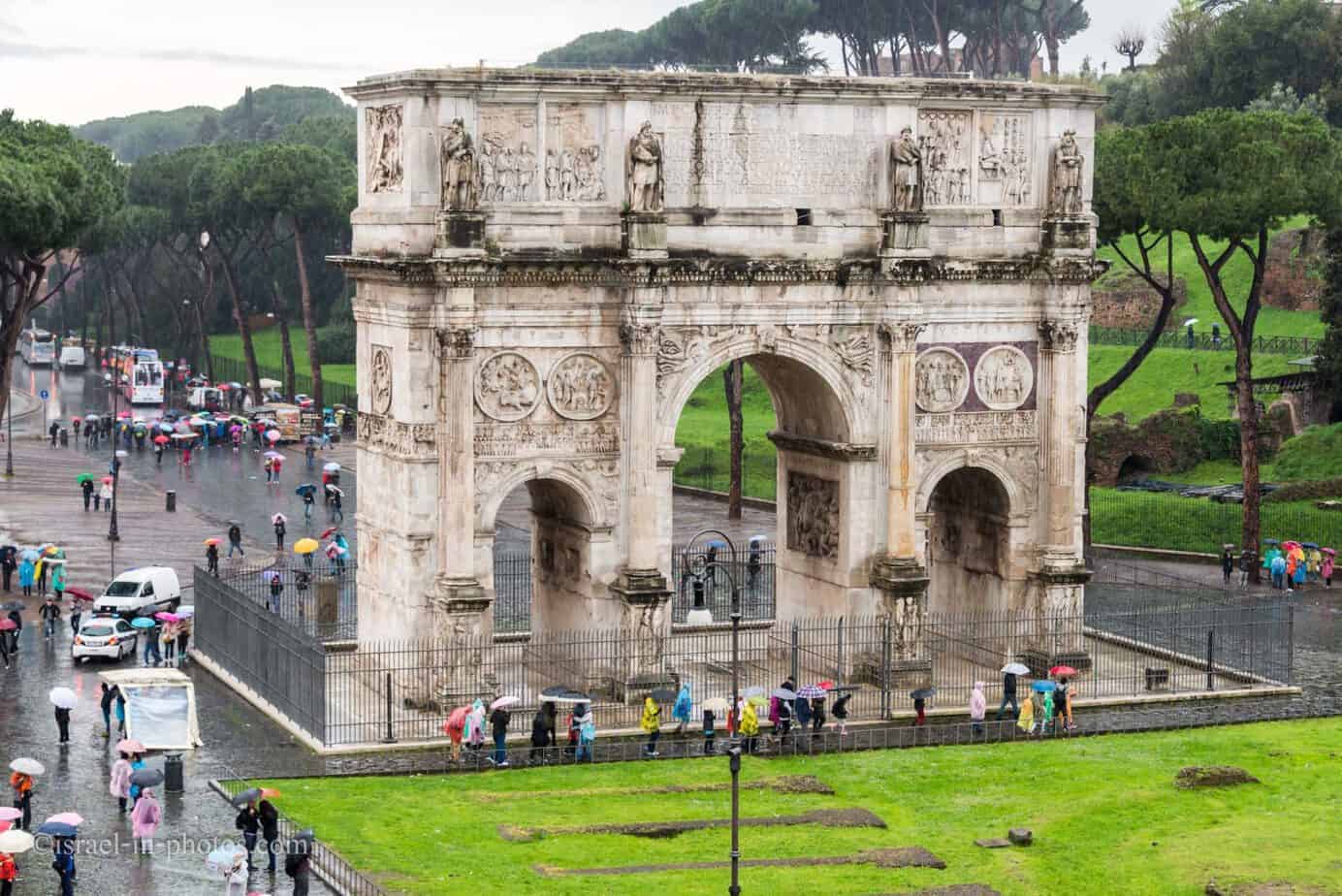 The Colosseum could hold, it is estimated, between 50,000 and 80,000 spectators, and was used for gladiatorial contests and public spectacles such as mock sea battles, animal hunts, executions, re-enactments of famous battles, and dramas based on Classical mythology. The building ceased to be used for entertainment in the early medieval era. It was later reused for such purposes as housing, workshops, quarters for a religious order, a fortress, a quarry, and a Christian shrine.
These are the lower levels and the people are standing on floor level: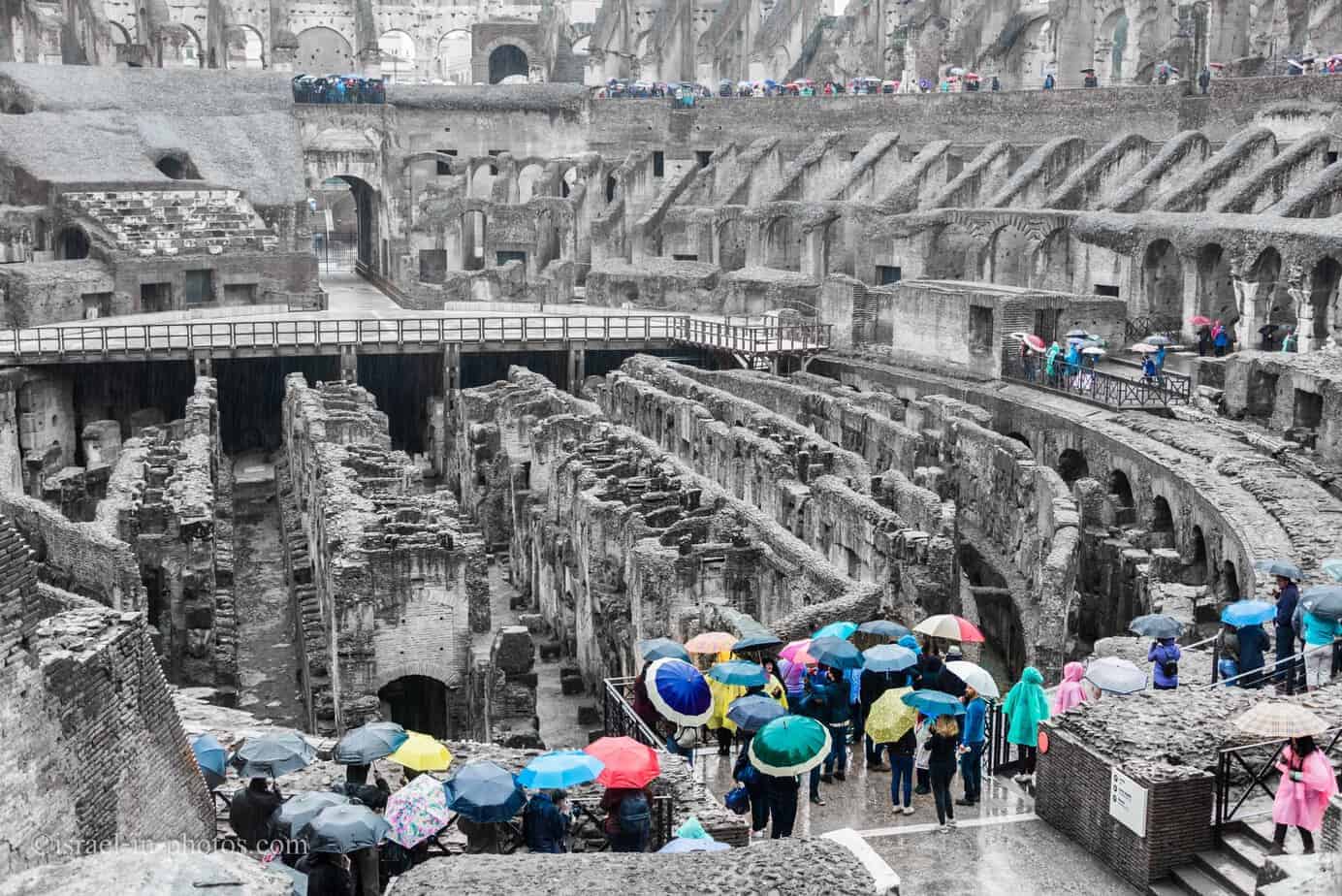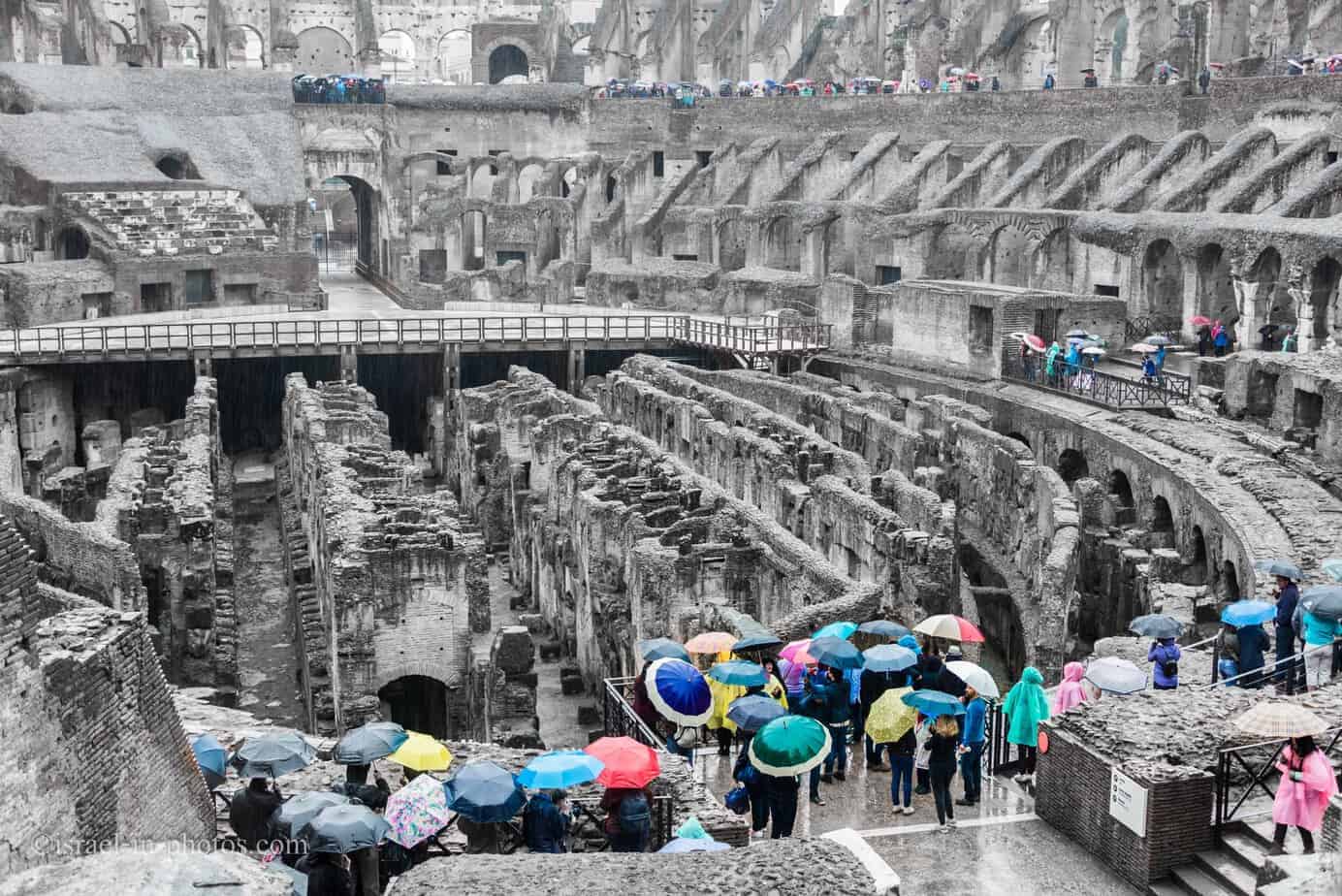 As you can see there are many chambers beneath the floor of the Amphitheatre. This is where the fighters and the cages with wild animals were before entering the arena.



You may be wondering why many of the photos were converted to B&W. So, here is a photo tip: when raining, colors are usually dull and in such cases, many photographers go with B&W.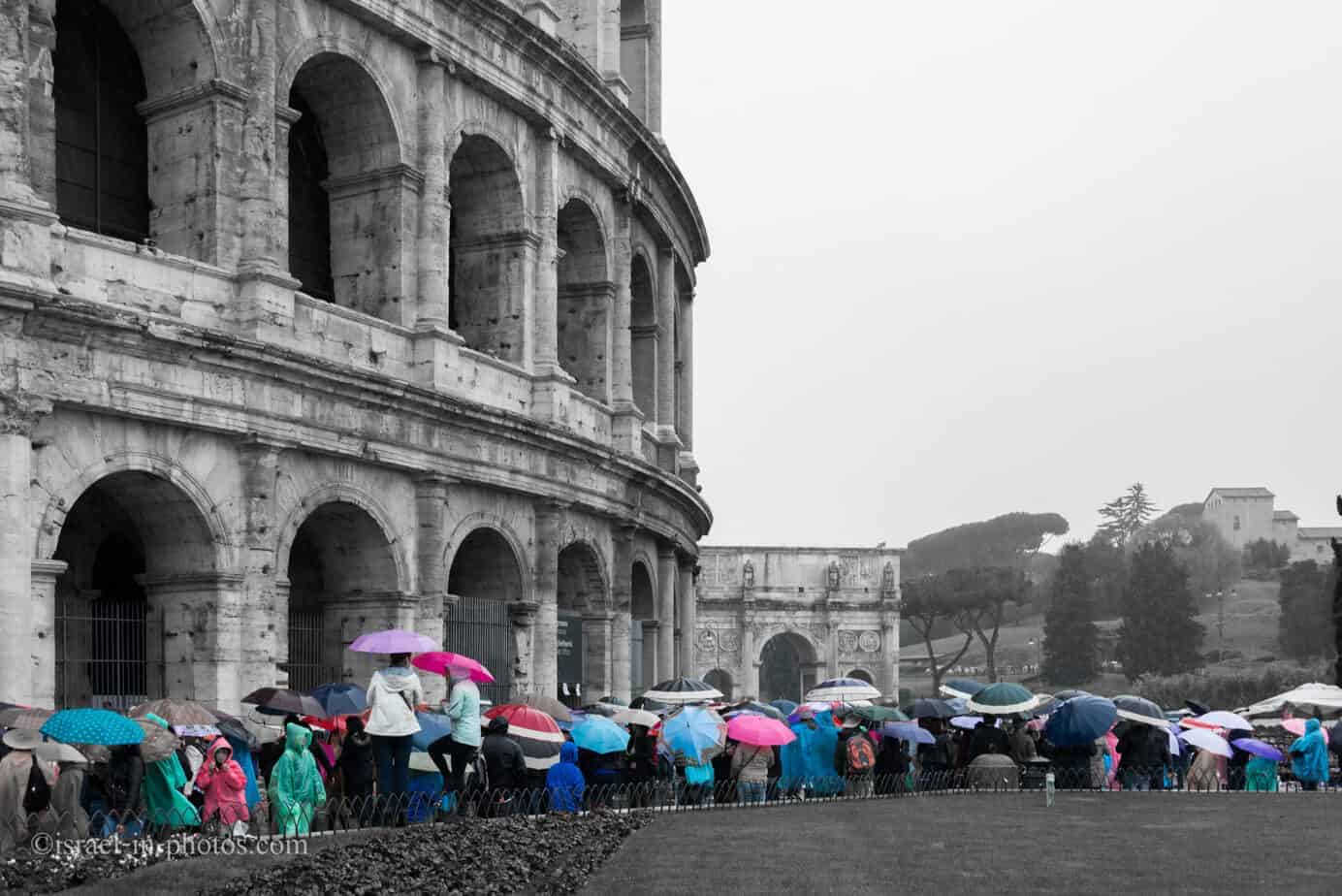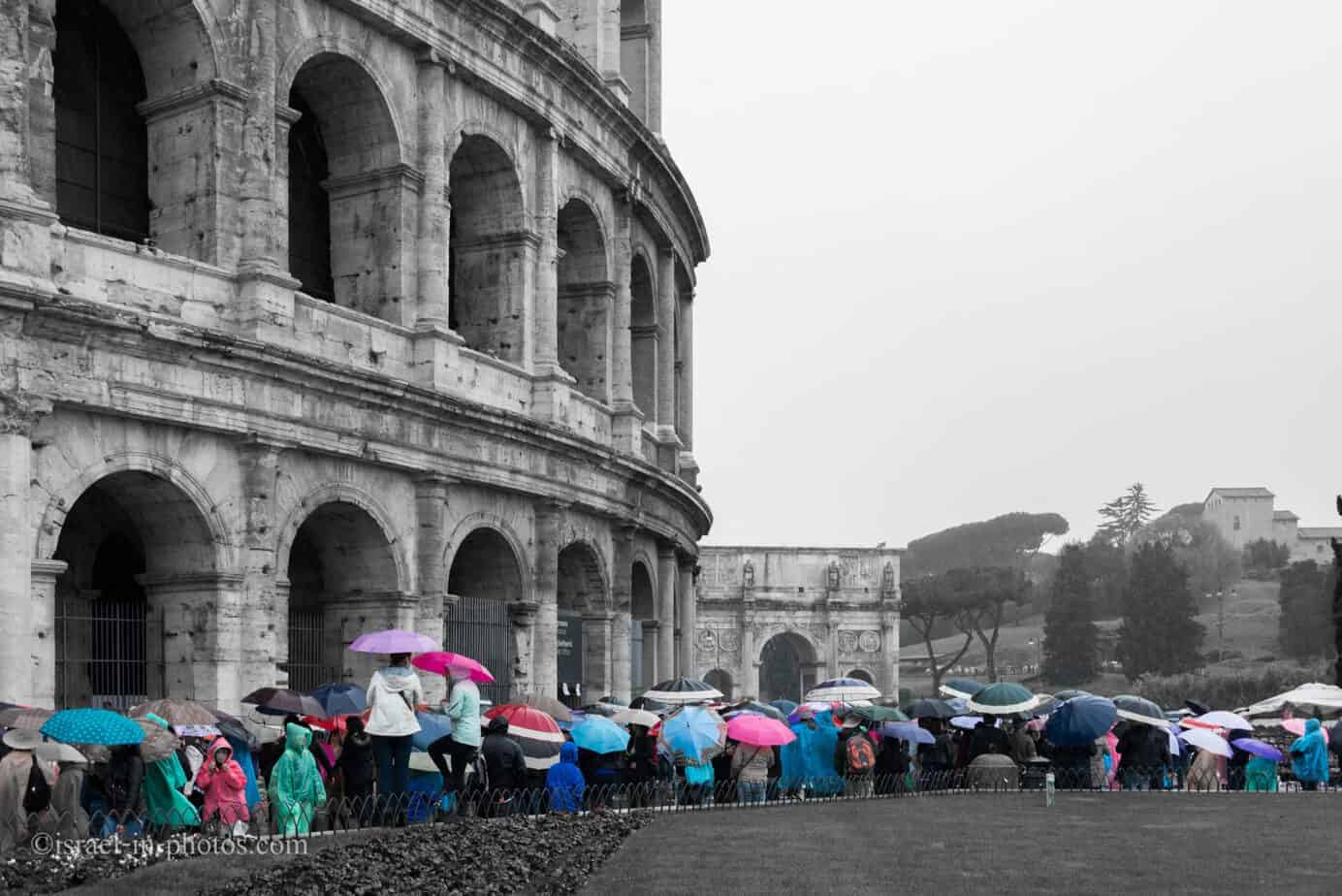 Palatine Hill
Next, we headed to the Palatine Hill. And the entrance to it was free as well (first Sun.). Just after the entrance, you can see  Arch of Titus: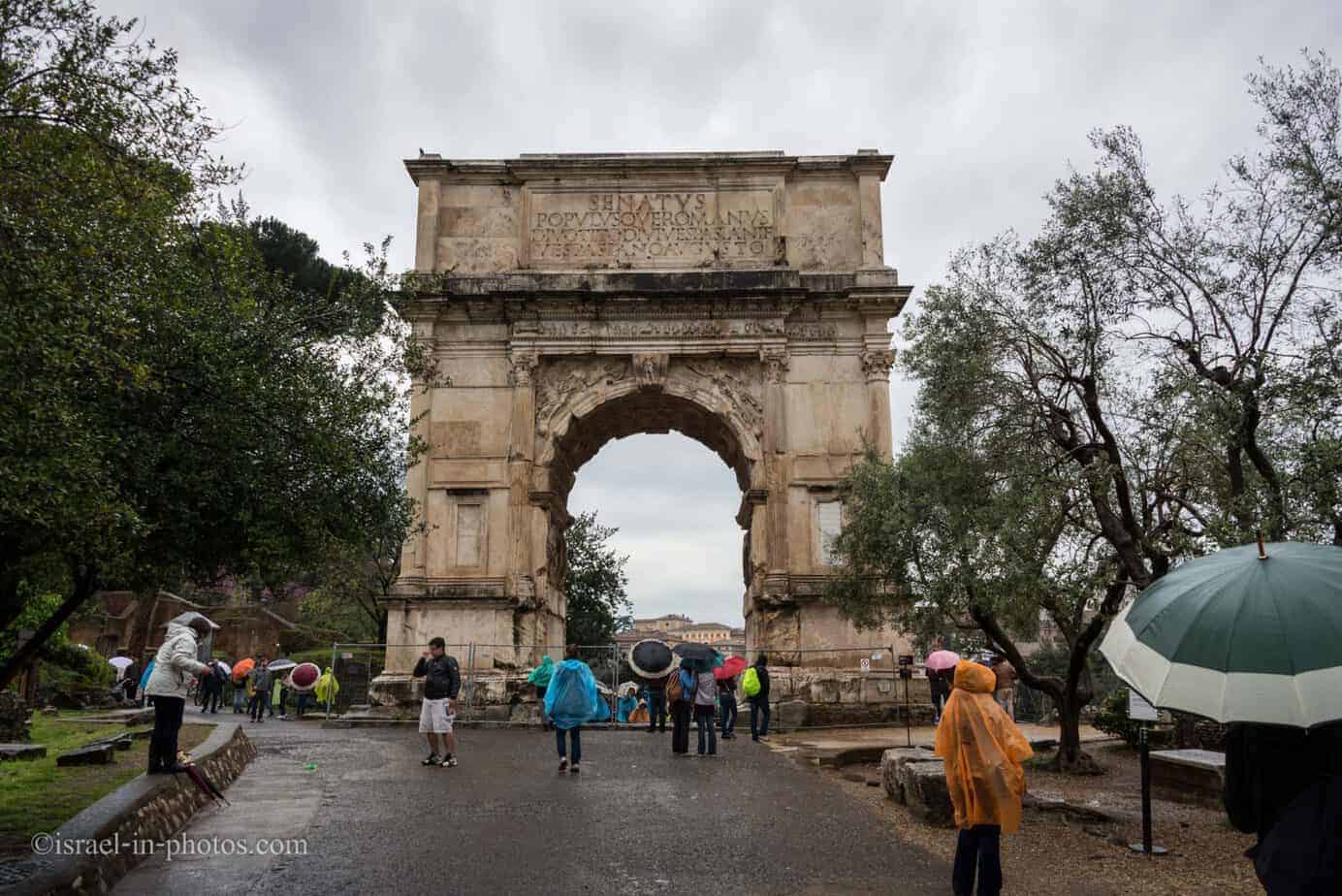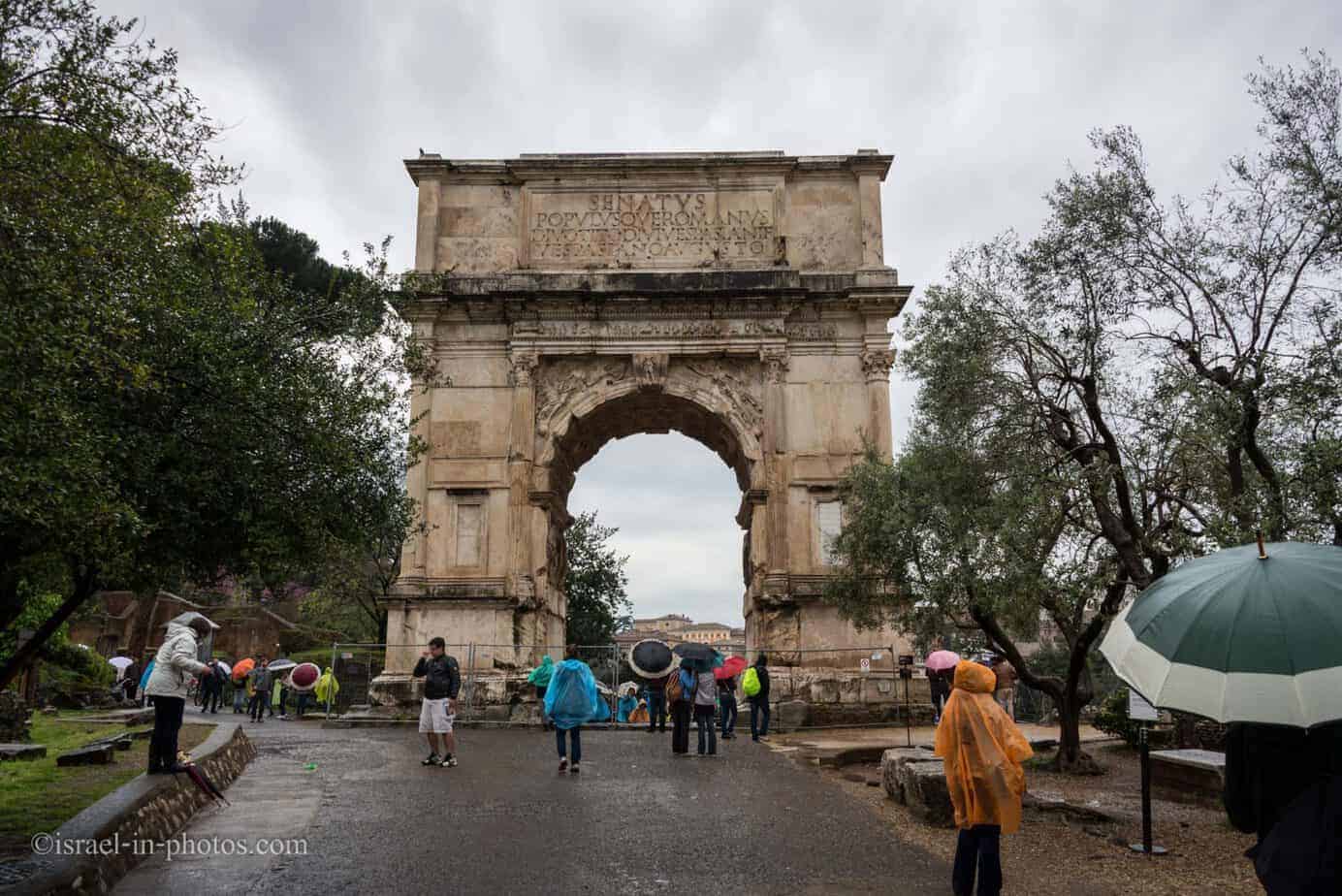 On the inner side of the arc you can see "Spoils of Jerusalem" relief: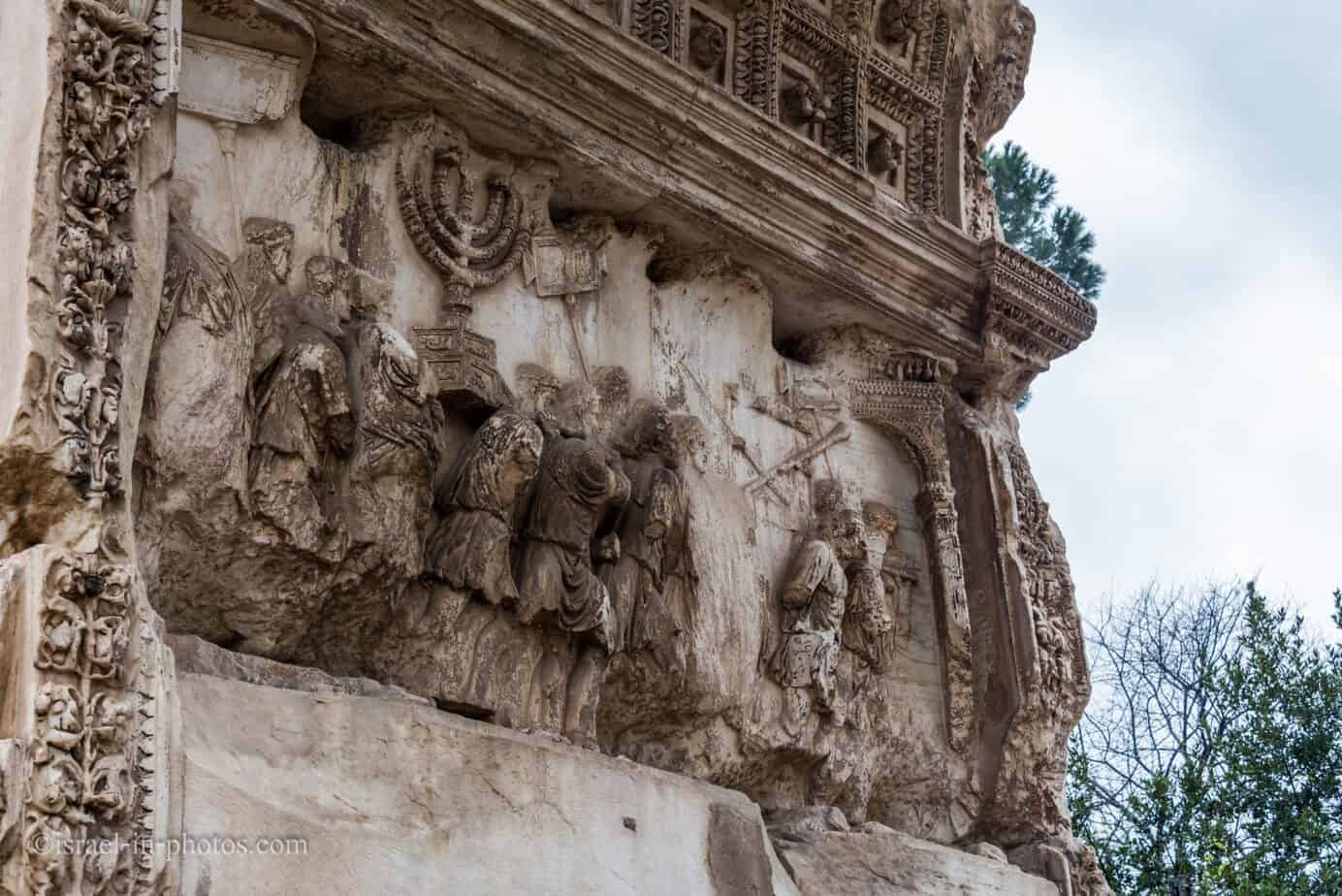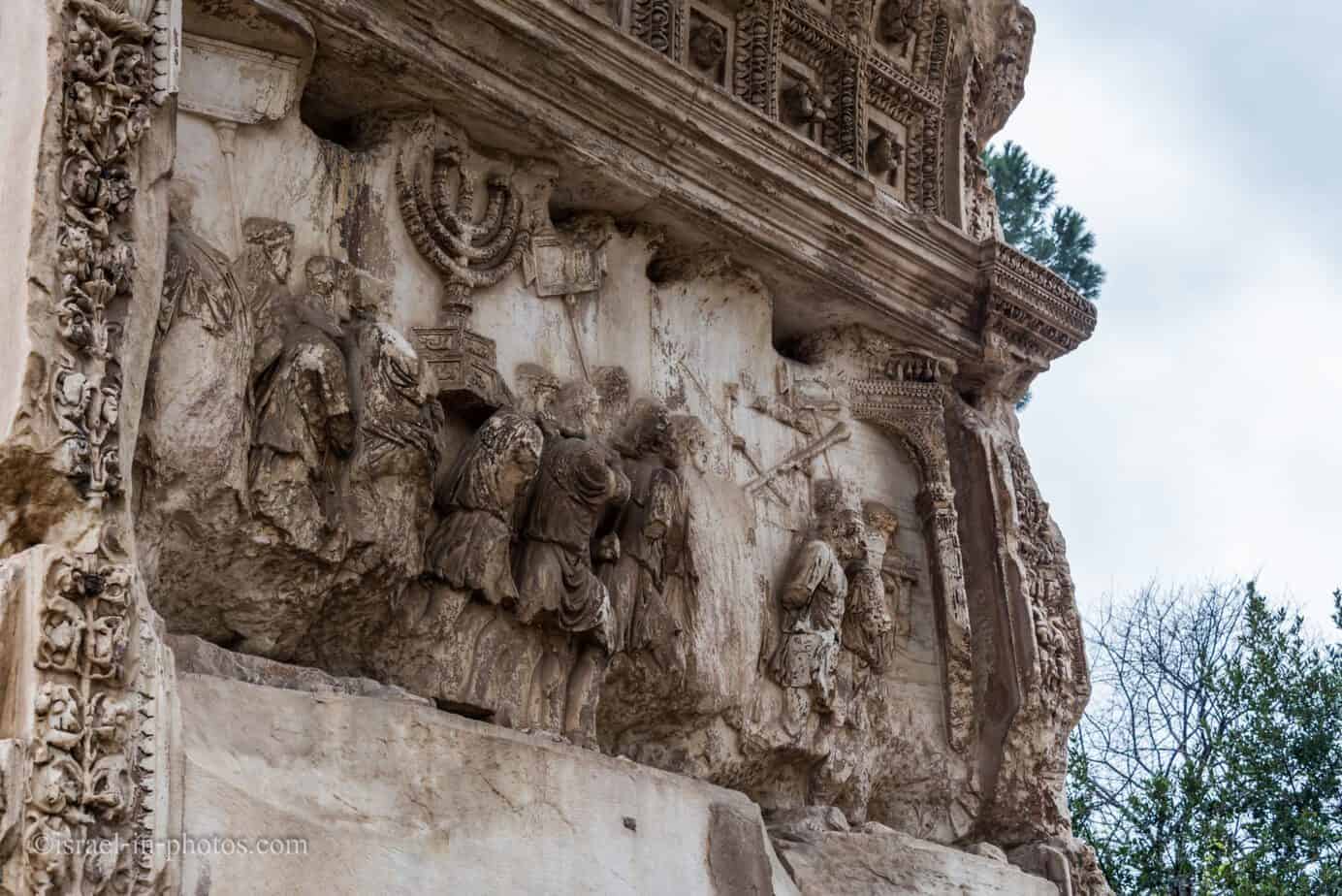 Here is a panorama of the Colosseum and Arch of Constantine:




A "small finger":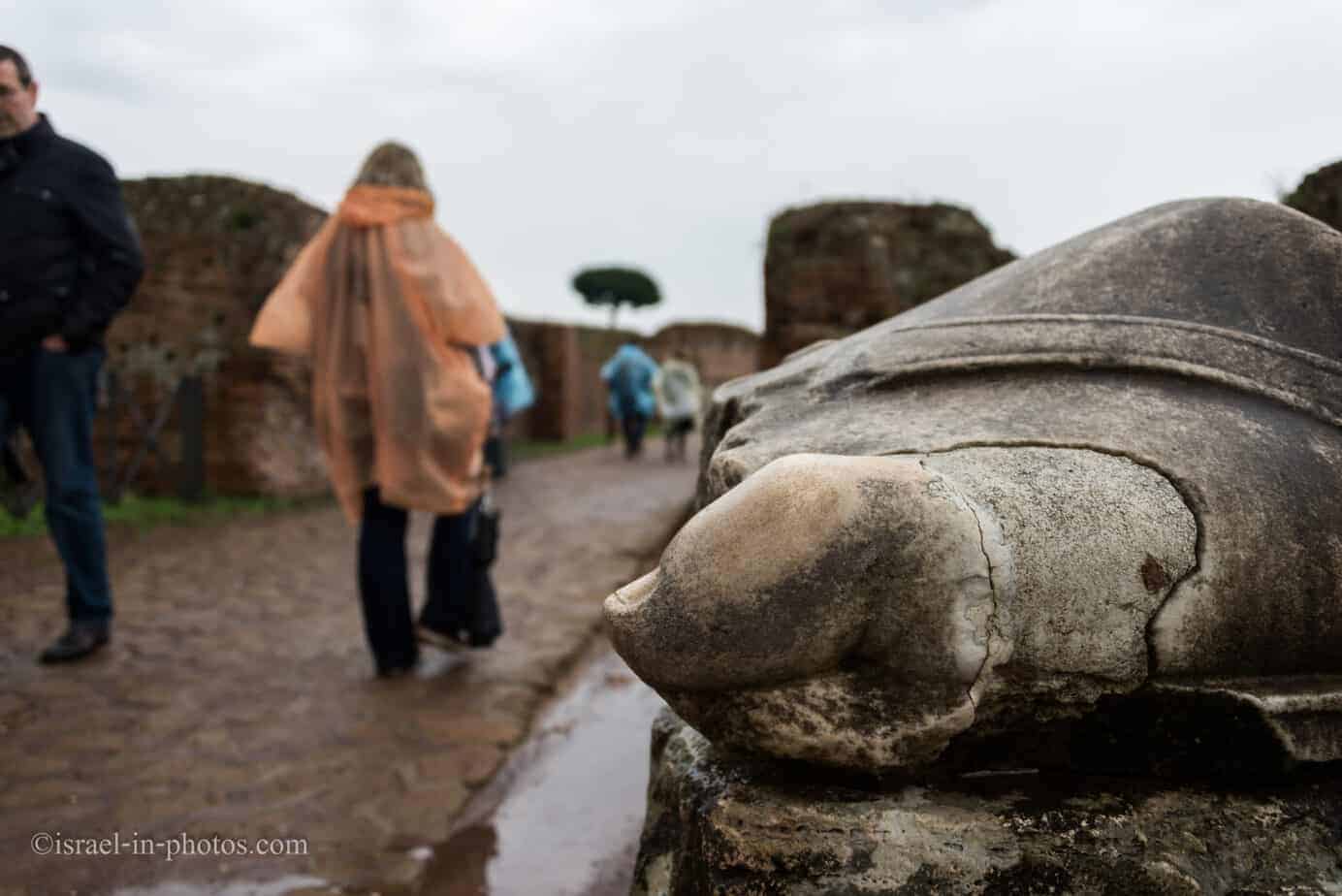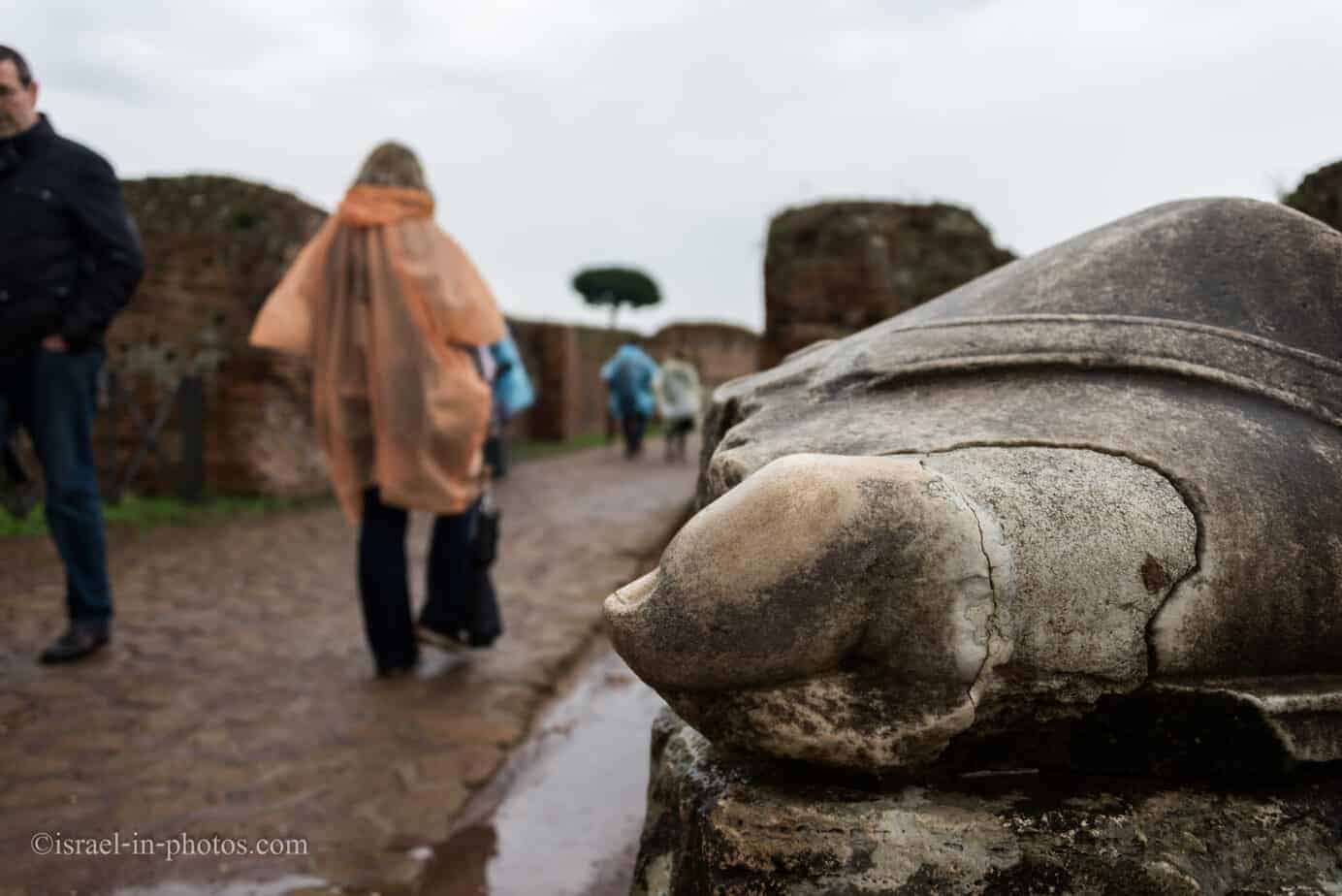 New mirrorless cameras have silent shutter mode. And here it would be very handy. Because, as soon as this seagull heard the click, well if I put it delicately, the area beneath the seagull became less clean.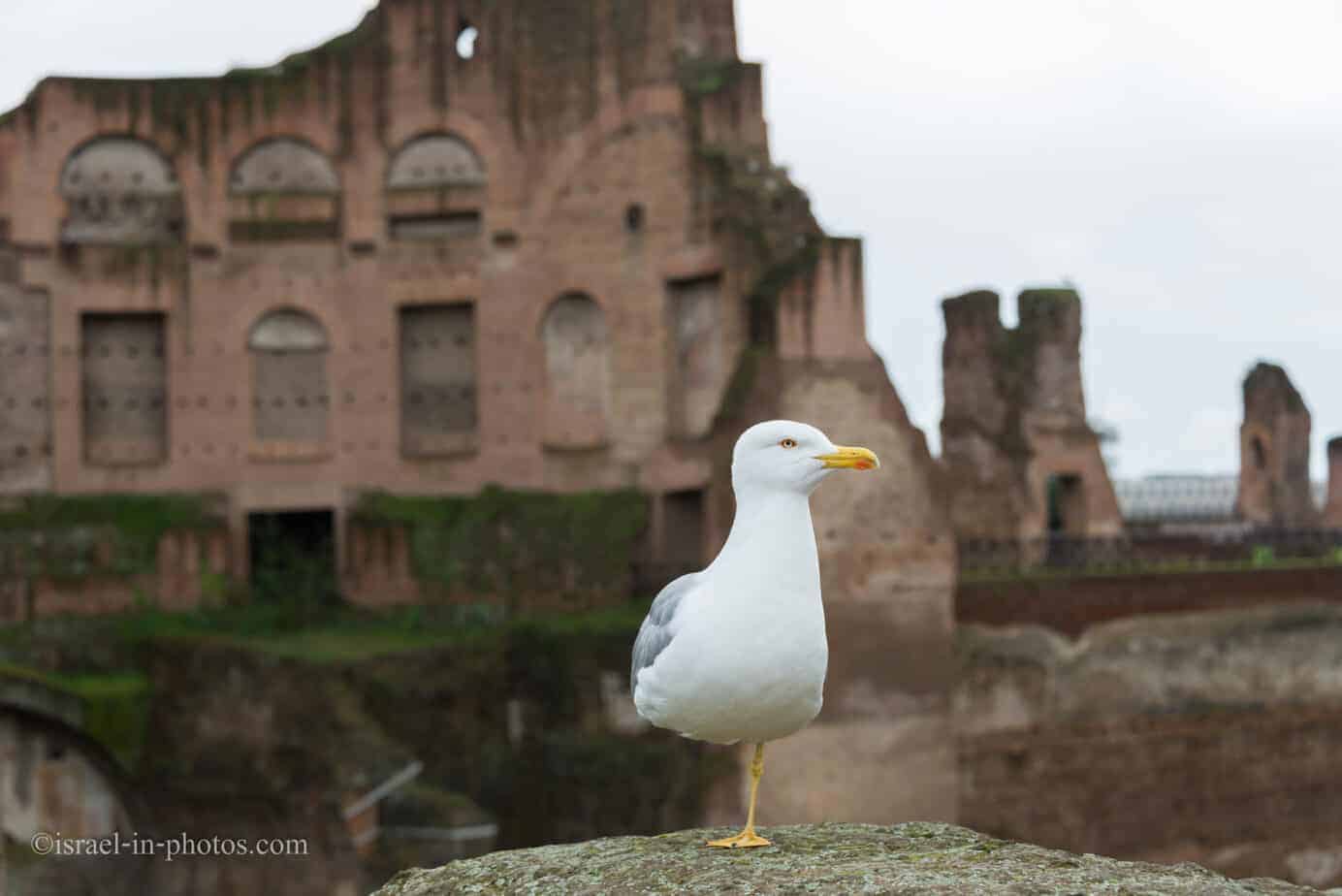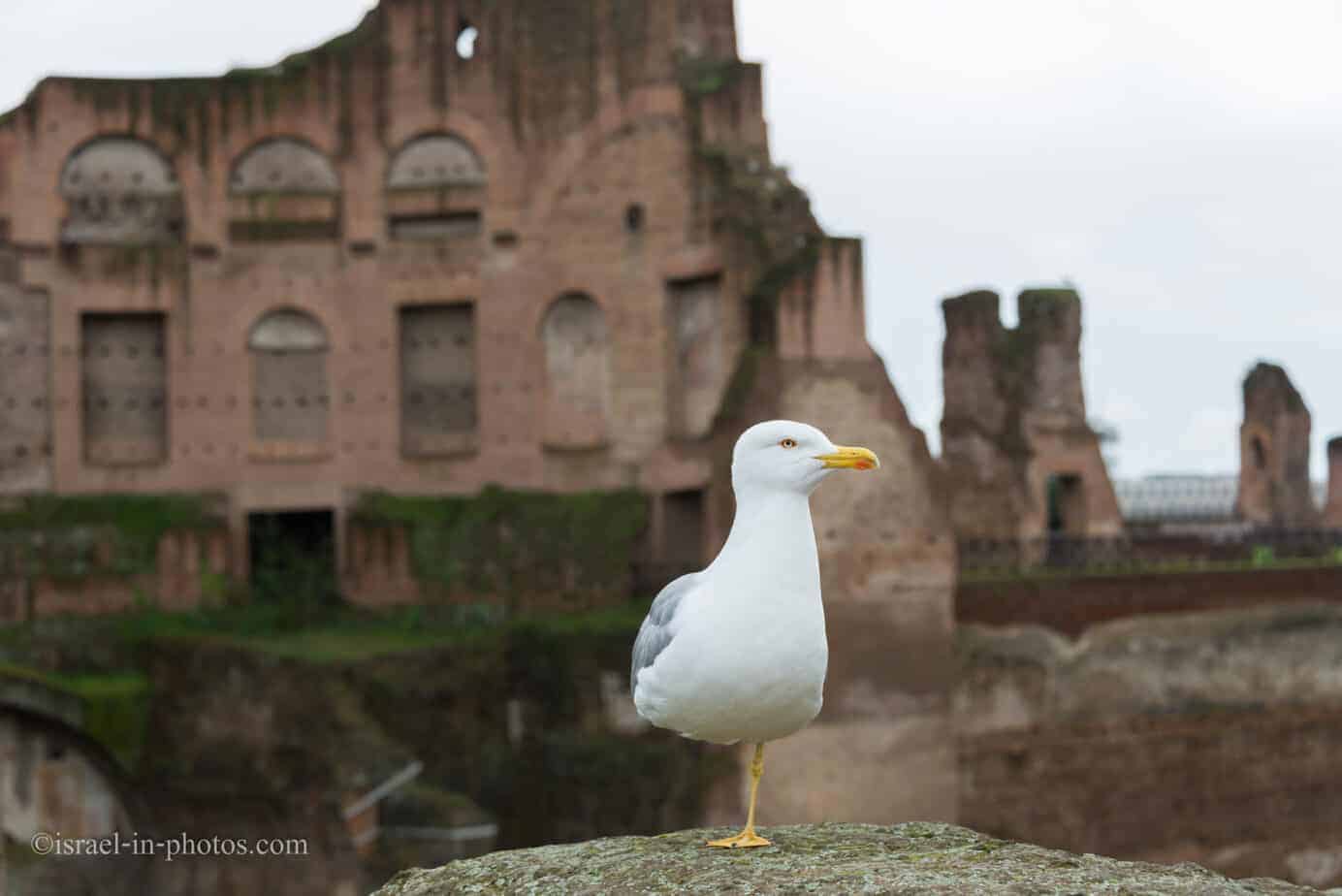 You can get great views of Roman Forum and all the surroundings from the top of the hill: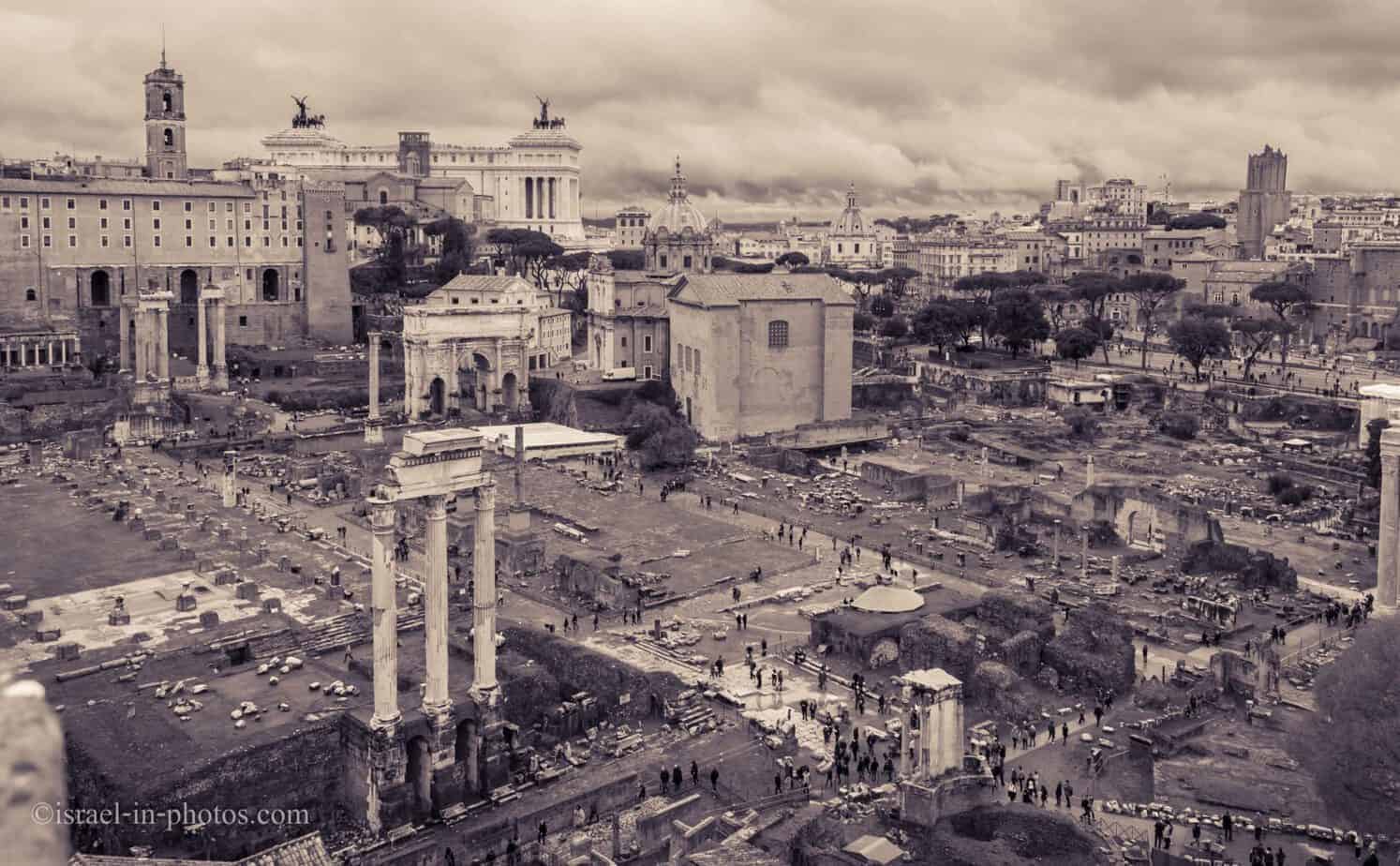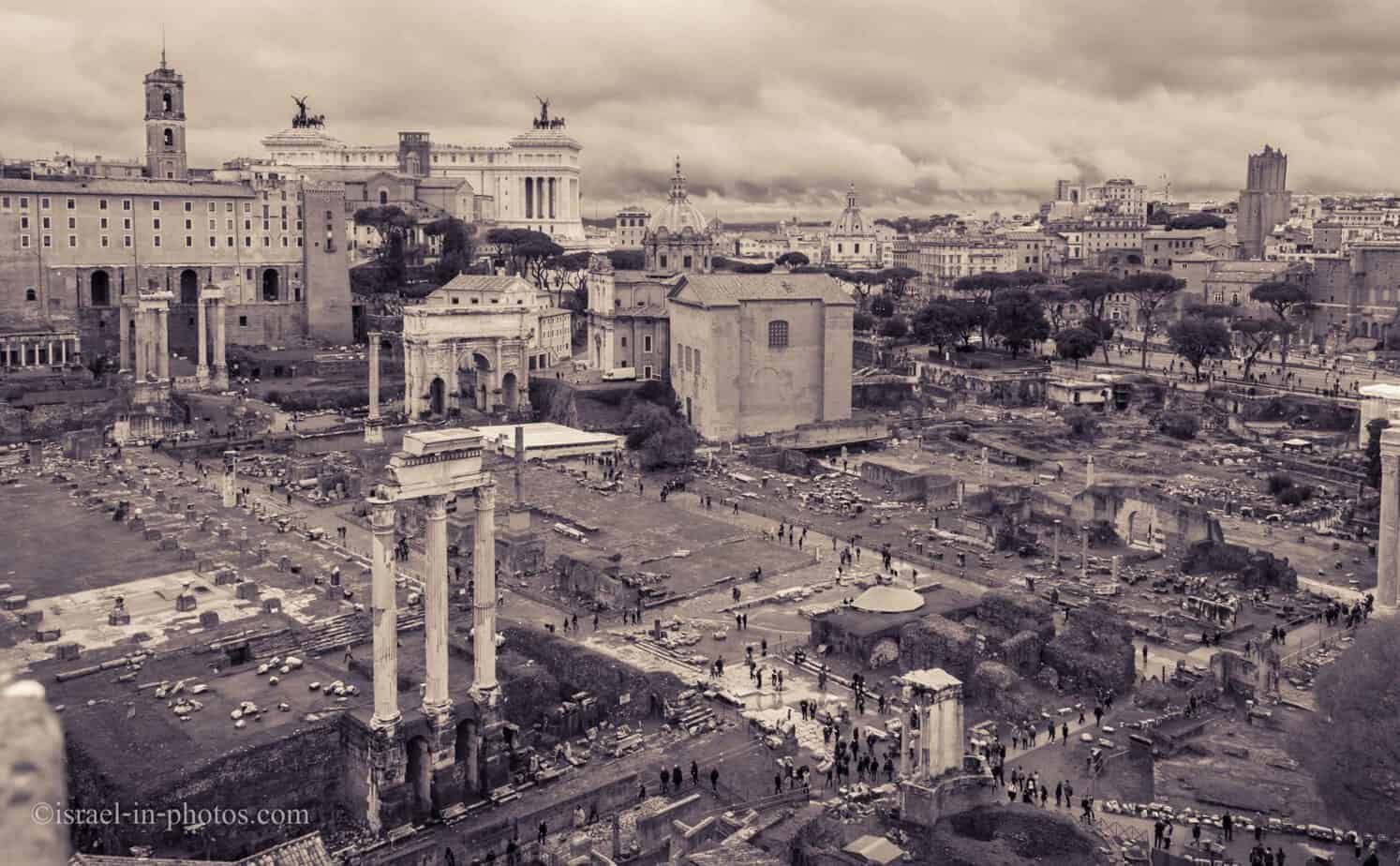 Here is another view from the top:




Several photos after getting down: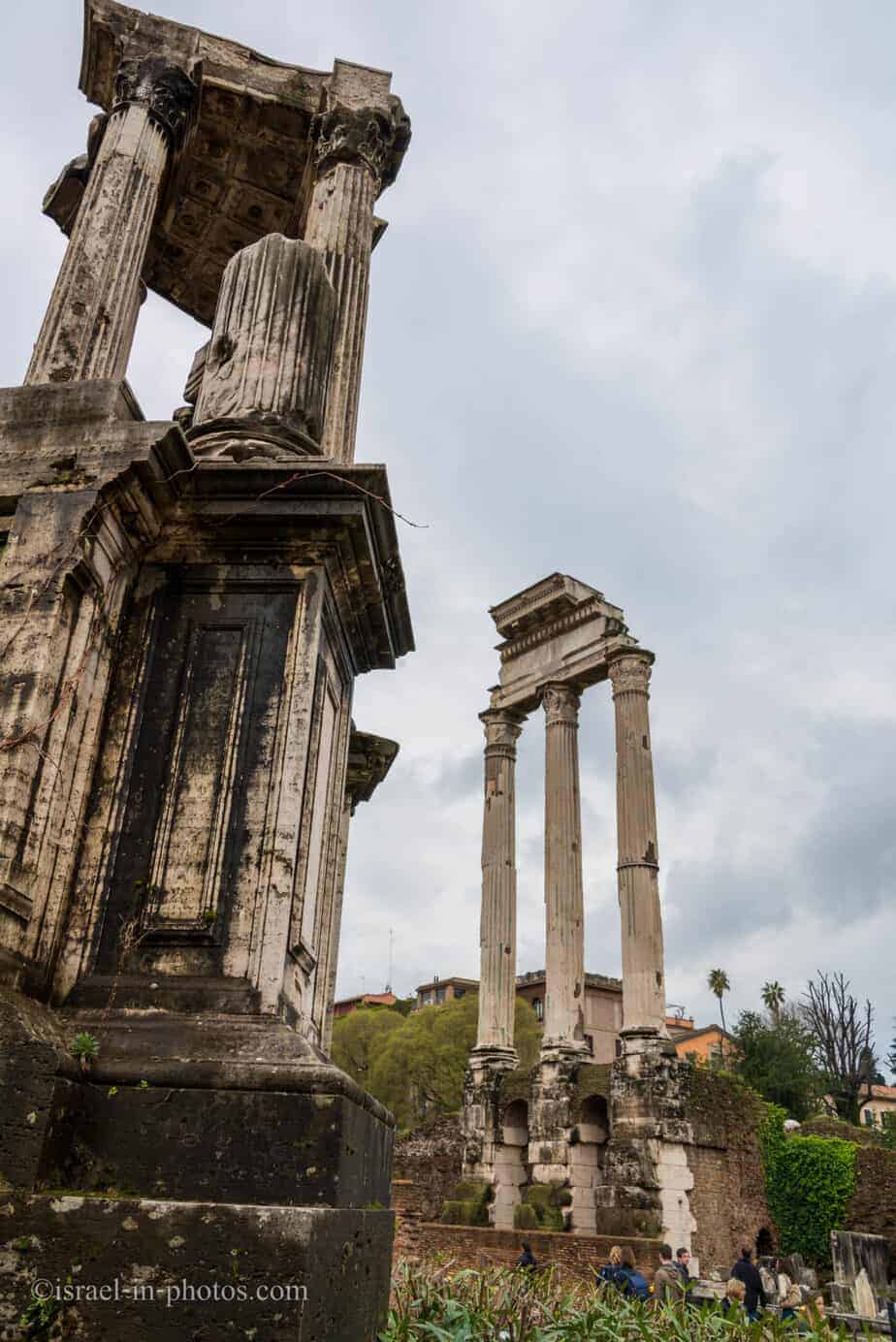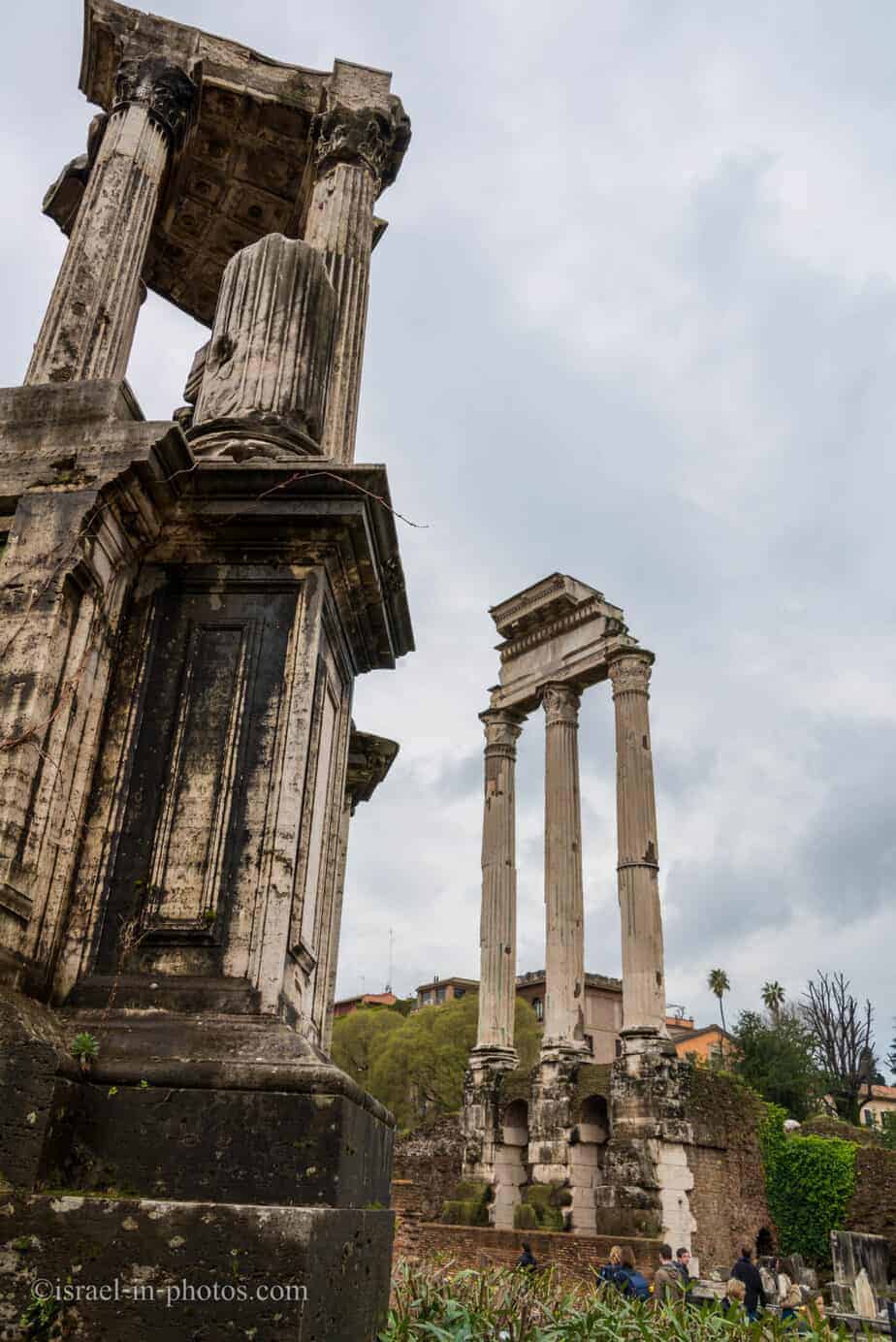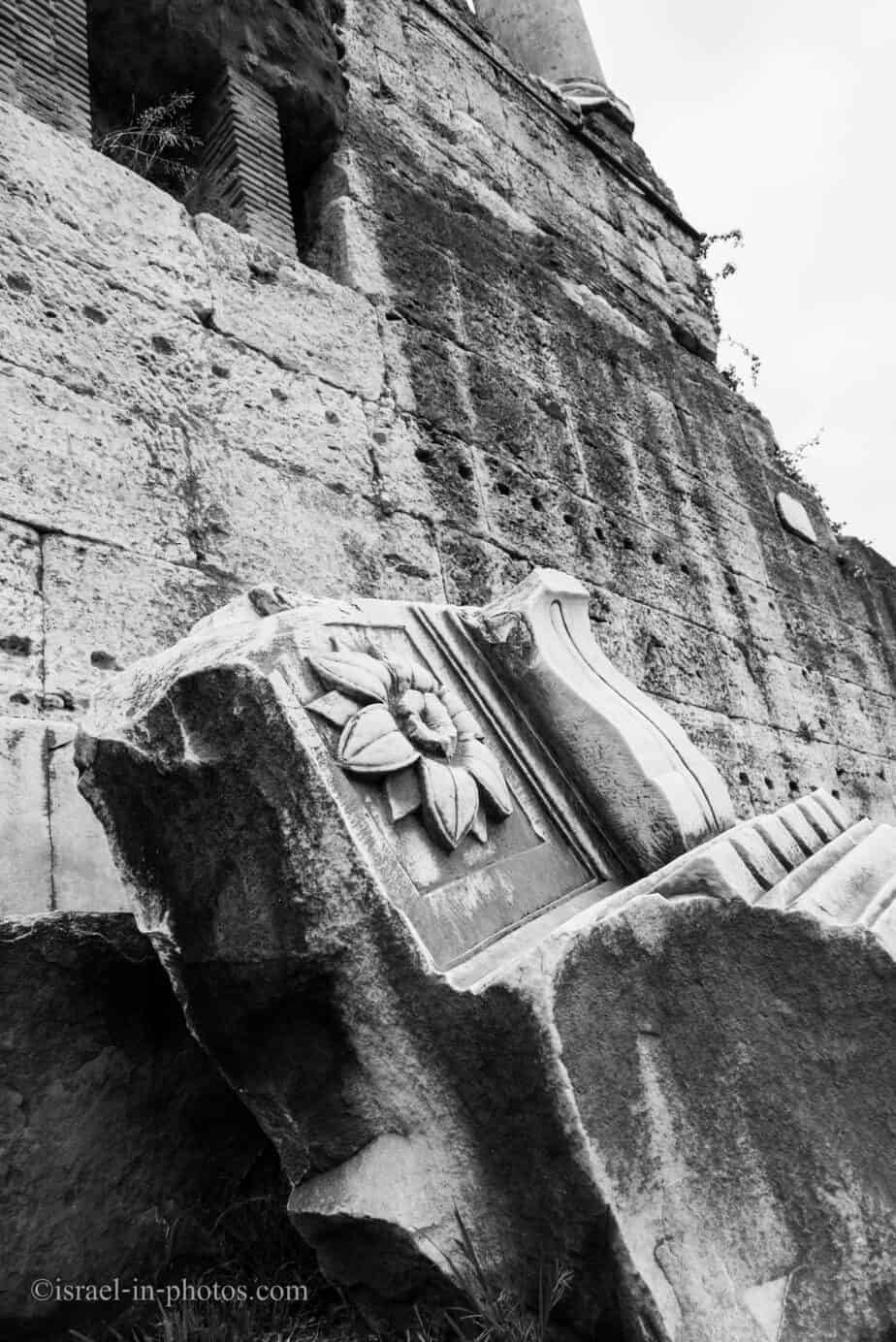 After exiting the complex we tried the line to Capitoline Museums, but it was too long and almost didn't move. Thus, after about 20 min. we gave up.
Here we are getting down from the  Piazza del Campidoglio: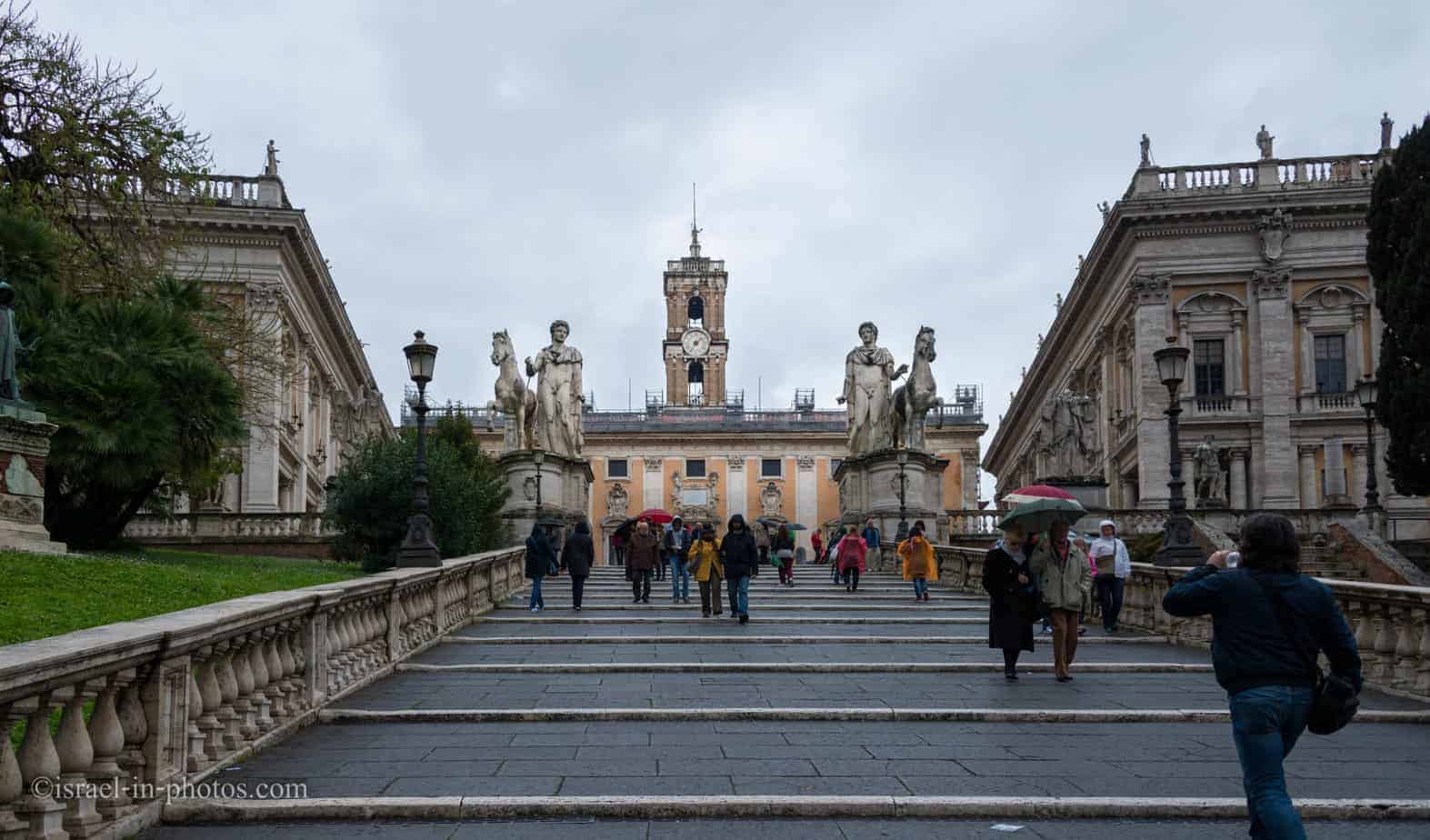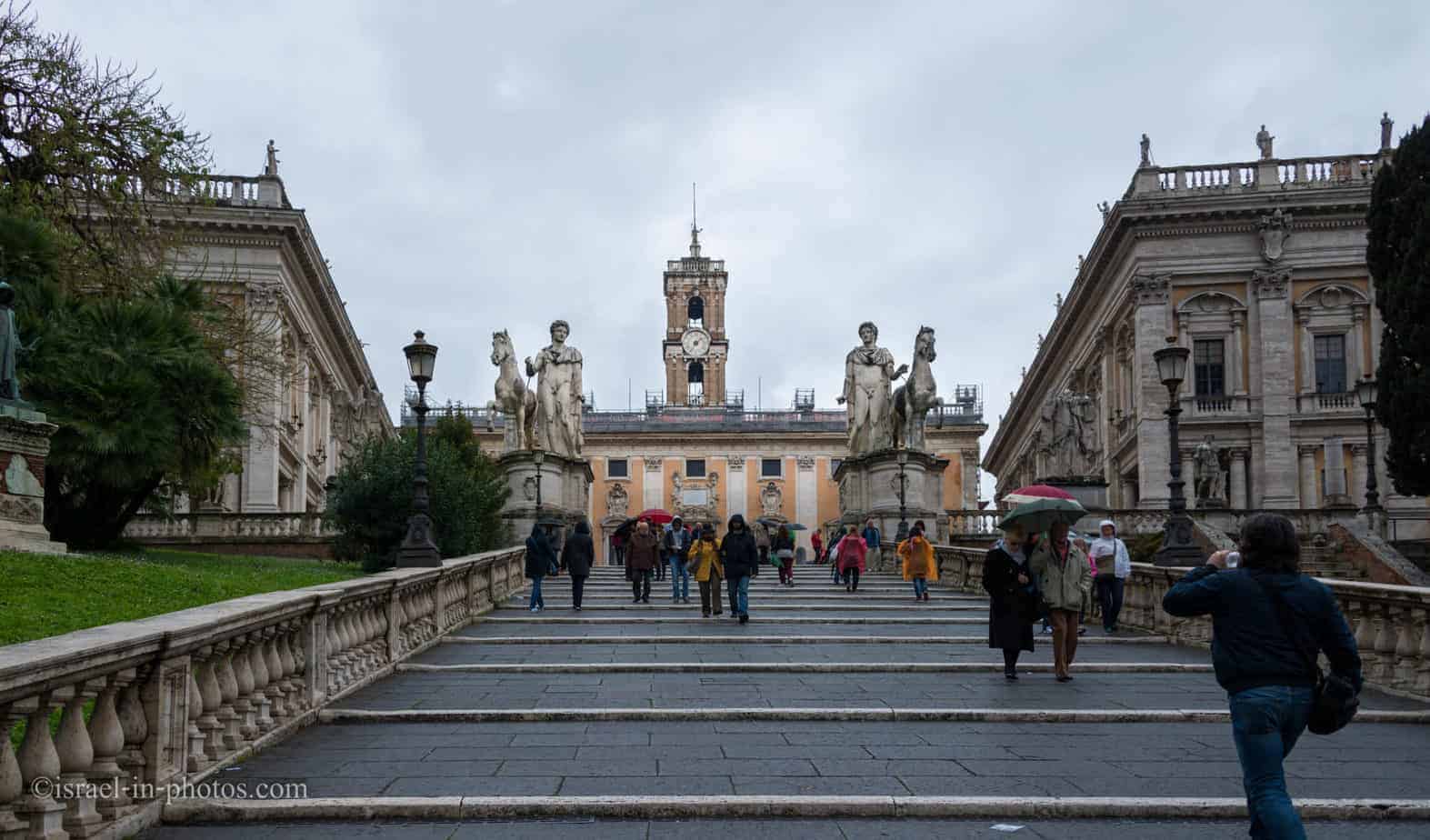 Victor Emmanuel II Monument
And just several hundred meters away you can find the Victor Emmanuel II Monument (on Piazza Venezia):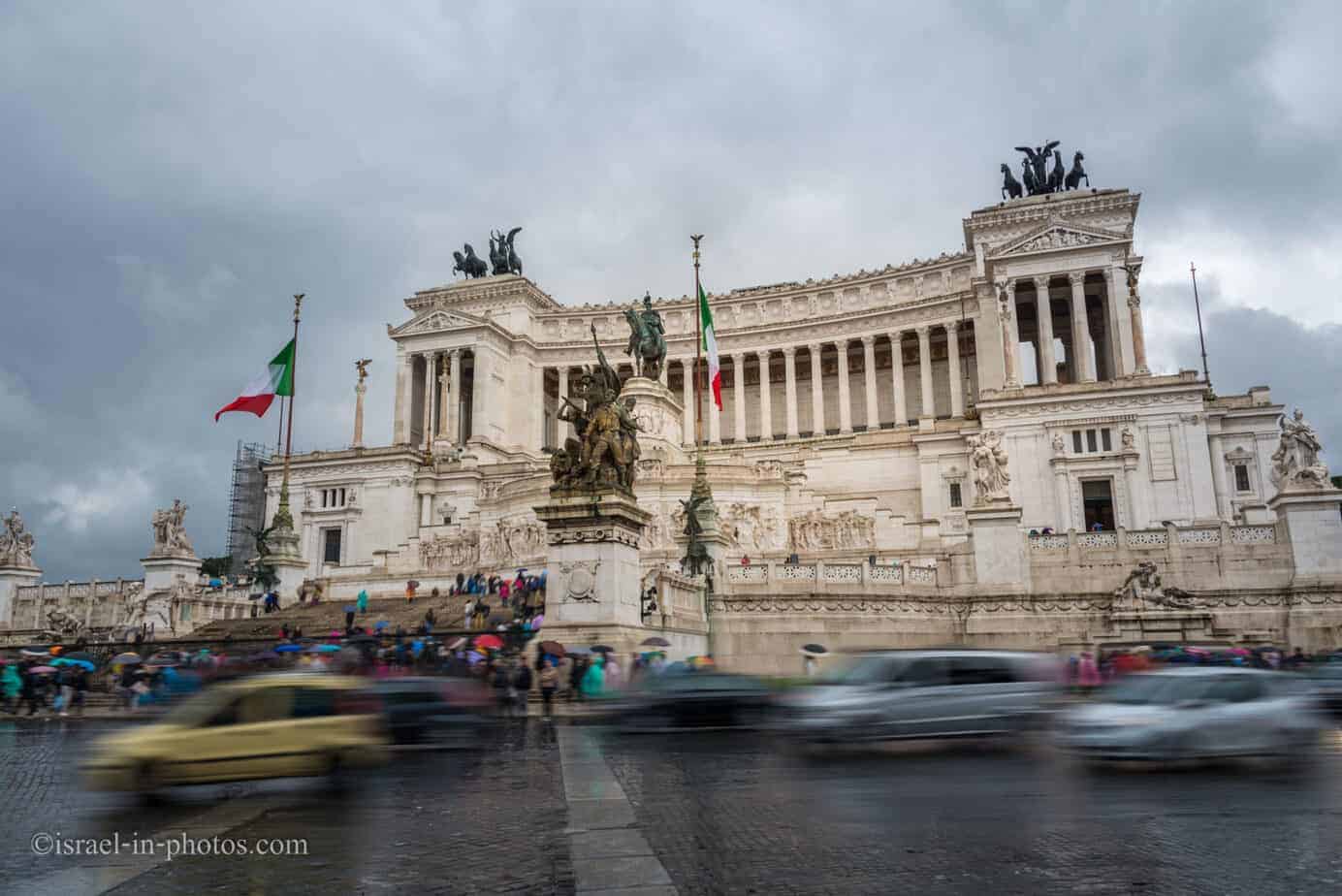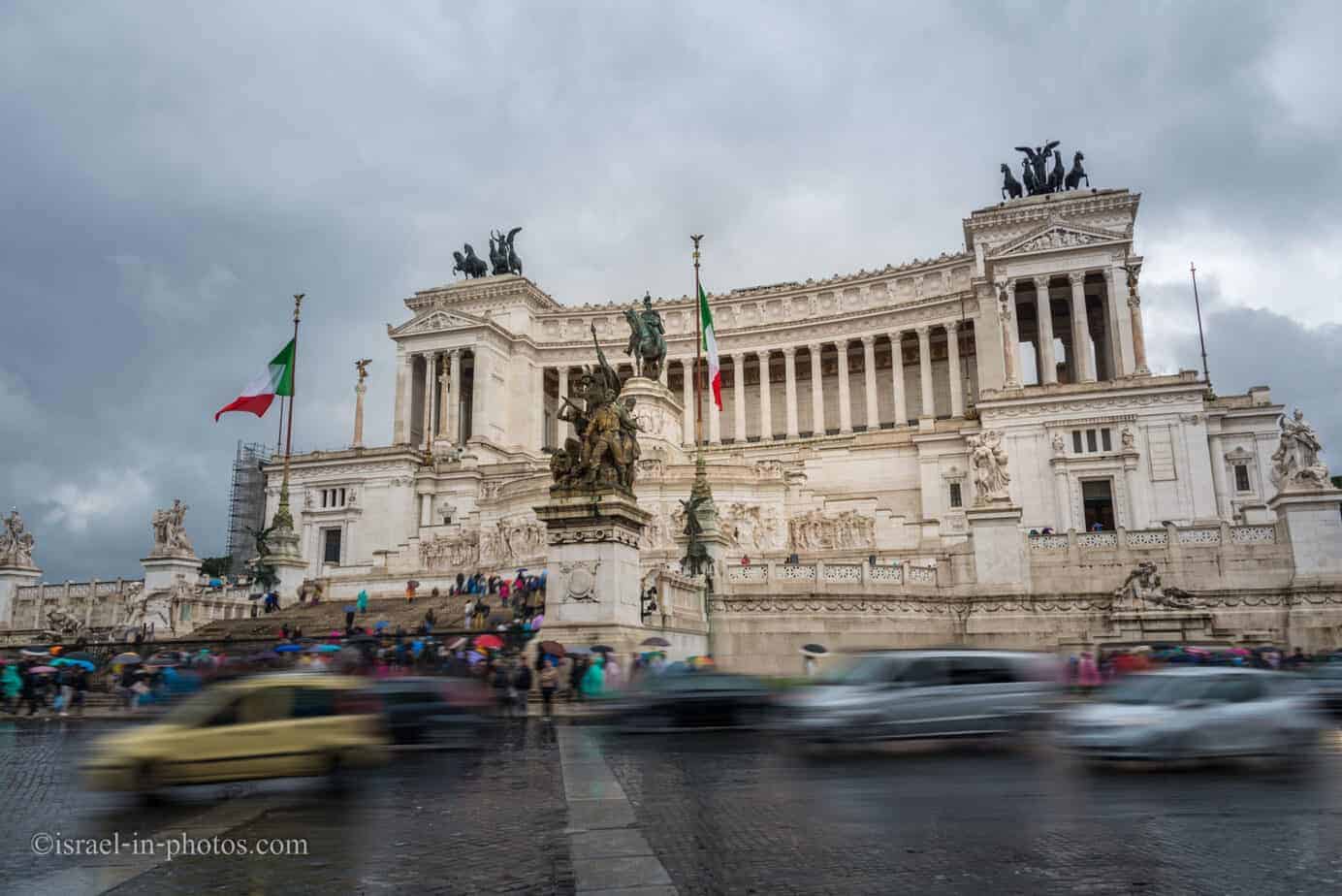 The Altare della Patria (Altar of the Fatherland) also known as the Monumento Nazionale a Vittorio Emanuele II (National Monument to Victor Emmanuel II) or "Il Vittoriano" is a monument built in honour of Victor Emmanuel, the first king of a unified Italy, located in Rome, Italy. It occupies a site between the Piazza Venezia and the Capitoline Hill.
You can enter it freely. Most people go there due to the beautiful views that can be seen from the roof. But, as we found out the elevator costs 7 euro per person and since it was raining all day and by that point, we were soaking wet, we decided to pass. But, you can also get some nice photos from the mid level. Another thing worth mentioning,  there are toilets inside, but due to the number of tourists, you'll probably spend half an hour in line.
This was pretty much the end of the second day. We went back to the hotel to dry ourselves and our clothes.
Note: take a look at Rome map to see all attractions & restaurants on a map and links to all relevant posts.
See you on day #3!
Stay Tuned! 
 
Additional Resources
Here are several resources that I created to help travelers:
And if you have any questions then check out Useful Information For Tourists To Israel.
 
Did not find what you were looking for? Leave a comment below, and I will do my best to answer your questions.