Neot Kedumim is a Biblical landscape reserve near Modiin. And you can explore this nature reserve using two lovely trails. Let's begin exploring!
Offers
Get 5% off for your next vacation at Isrotel.
Get 5% off for your next tour at Bein Harim with coupon code 'LEV5#12305'.
Map
Neot Kedumim is located by road #443, between Tel Aviv and Jerusalem. It is on the section of the road between Ben Gurion airport and Modiin. And about ten minutes drive from Ramla.
Map of the area:
And here is the map of Neot Kedumim:
Note: you can click on the map to enlarge it.
Directions
If you arrive by car, then enter "Neot Kedumim" into Waze, and you will get there. And there is a free parking lot on site.
You can take bus #210, #220, and #240 to Kdumim South Junction. And then walk about 1.4 km to the entrance of the park. Here is the preset link to Moovit. Enter your starting point, and you will get the updated directions.
Trails
Since we showed the map let's discuss the trails. There are two trails in Neot Kedumim:
Purple path – 1.5 km long and wheelchair accessible.
Orange trail – 3.5 km long.
Both trails lead you through original and restored agricultural sites. Moreover, there are other POI on the way, and you will see an explanation sign near each one.
Opening Hours
Sunday – Thursday: 8:30 – 16:00 (you can stay in the park till 18:00).
Friday and holiday eves: 8:30 – 13:00 (you can stay in the park till 16:00).
Saturday and holidays: closed.
Entrance Fee
Adult – 25 NIS
Child (4 – 18 years old) – 20 NIS
Student, pensionier – 20 NIS
Children up to four years old enter for free.
The prices above are for individual visitors. You can also find a variety of tours at Neot Kedumim (including tree planting). If you wish to join one of them, then check the official website.
Note: opening hours and the entrance fee were updated in December 2020. In any case, recheck the official website before visiting.
Coupons
Currently, you can purchase discounted tickets through GROO and cpnclub.co.il. Both these places offer an adult ticket for 20 NIS and a child for 17 NIS.
Contact Information
Phone: 08-9770777. Email: info@n-k.org.il
About Neot Kedumim
This section will bring several quotes from the official website that tell about Neot Kedumim and answer common questions.
Welcome to Neot Kedumim – the only Biblical Landscape Reserve in the world, where you can see and experience the Land of the Bible.

Neot Kedumim draws on a variety of disciplines — Bible scholarship, botany, zoology, geography, history, and archaeology — to bring the Bible and its commentaries to life.

We are located halfway between Jerusalem and Tel Aviv and only ten minutes from Ben Gurion International airport. We are on the ancient route that our forefathers and Jesus would have walked, from Jaffa and the North to Jerusalem. Pilgrims traveling up to the temple would have walked through our landscape, stopping at our ancient water cisterns and buying produce from wine and olive presses on the way.
What is a Biblical Landscape Reserve?
We are a reserve that teaches the Bible in context by bringing it to life.  We took the Bible in one hand and spade in the other and created natural and agricultural landscapes bearing names that indicate their textual source – the Forest of Milk and Honey, Dale of the Song of Songs, Isaiah's Vineyard, and the Fields of the Seven Species. Through hundreds of Biblical plants, we connect the ancient plants, flowers, and trees with the metaphors and parables of the Bible and the prophets.
How did we create a Biblical Garden?
Thousands of tons of soil were trucked in and spread on the eroded hillsides, reservoirs were dug to catch runoff rainwater, and ancient terraces were restored. Habitats were created for such varied species as cedars from the snow-covered mountains of Lebanon and date palms from Sinai desert oases. Following years of research, we planted hundreds of varieties of biblical and Talmudic plants. We reconstructed and restored ancient olive and wine presses, threshing floors, cisterns, and ritual baths, bringing to life the literal roots of the Bible in the soil of the land of Israel.
What can you do at a Biblical Nature reserve?
You can experience the Bible with all your senses. Walkthrough our trails of Biblical plants depicting the land of Milk and Honey and the Seven Species. Learn about the significance and symbolism in the Bible of the date palm, the almond tree, the hyssop herb, and many more. Visit ancient agricultural installations like the cistern, the oil and wine presses, and the threshing floor.  Do hands-on activities such as drawing water from the cistern, preparing hyssop seasoning (Za'atar), crushing olives, or grinding wheat. Extra activities include sheep herding, tree planting, Torah Scribe Demonstration, and Biblical cooking.
The Orange Trail
And now I will take you along the orange trail. Let's begin!
We visited the Neot Kedumim at the beginning of March. Spring is the best season for traveling in Israel. The weather is lovely, and nature is blooming.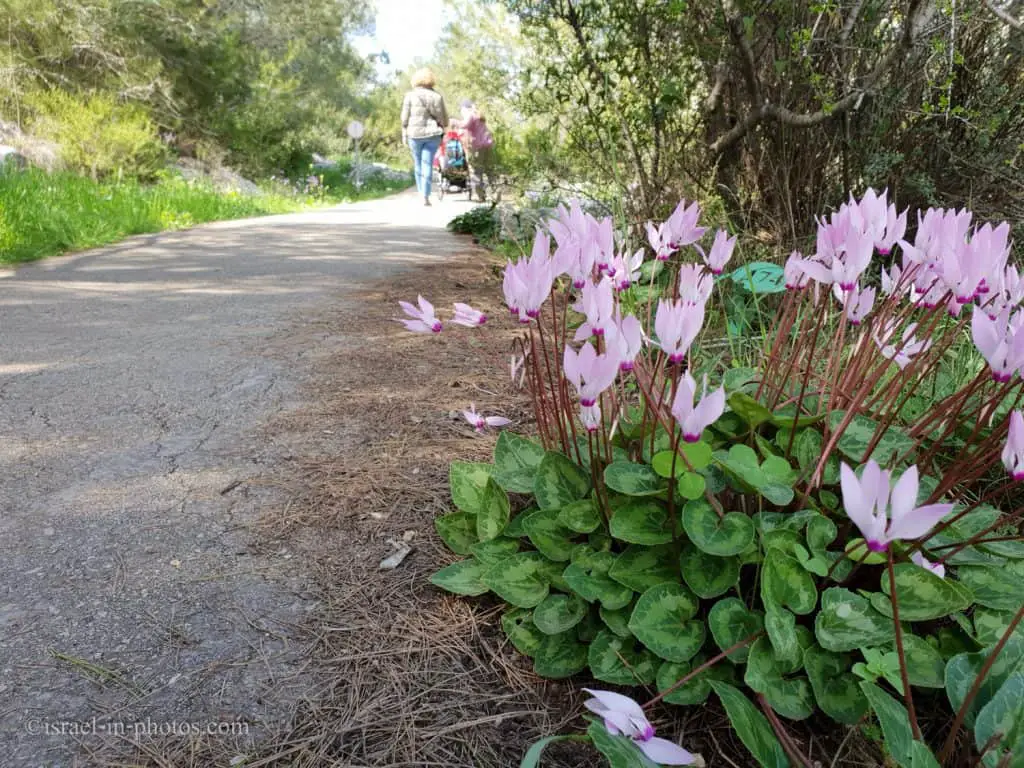 Along the trail, you will find informational signs both in Hebrew and English. These stops are also marked on the map. And the first stop tells about Neot Kedumim.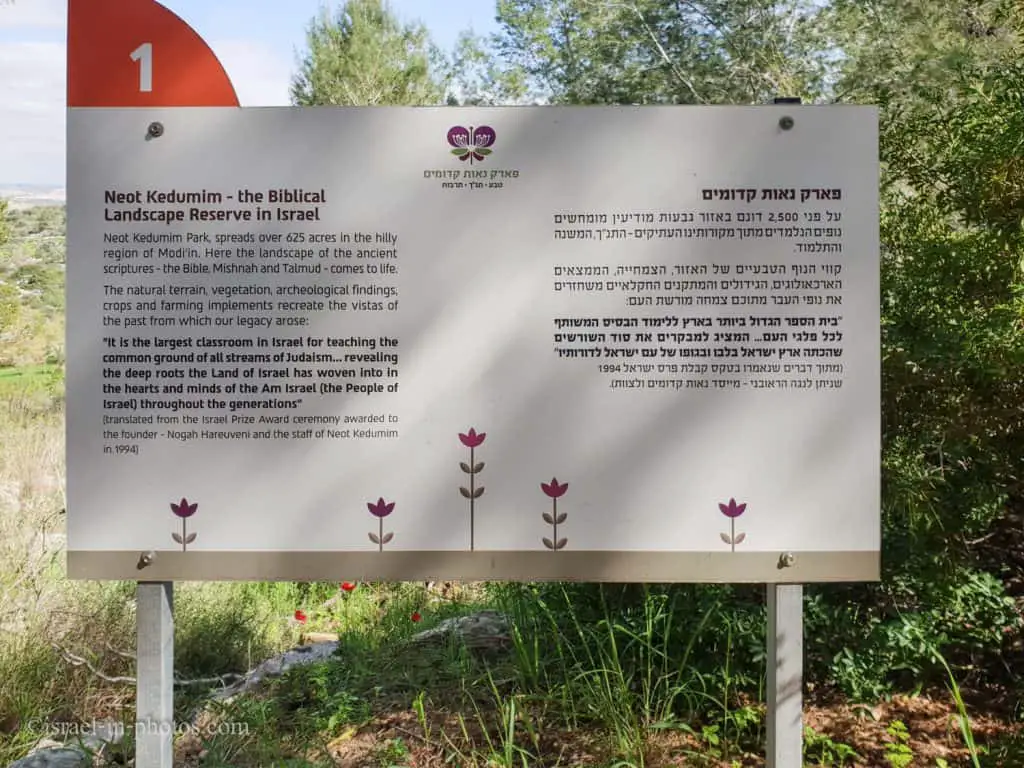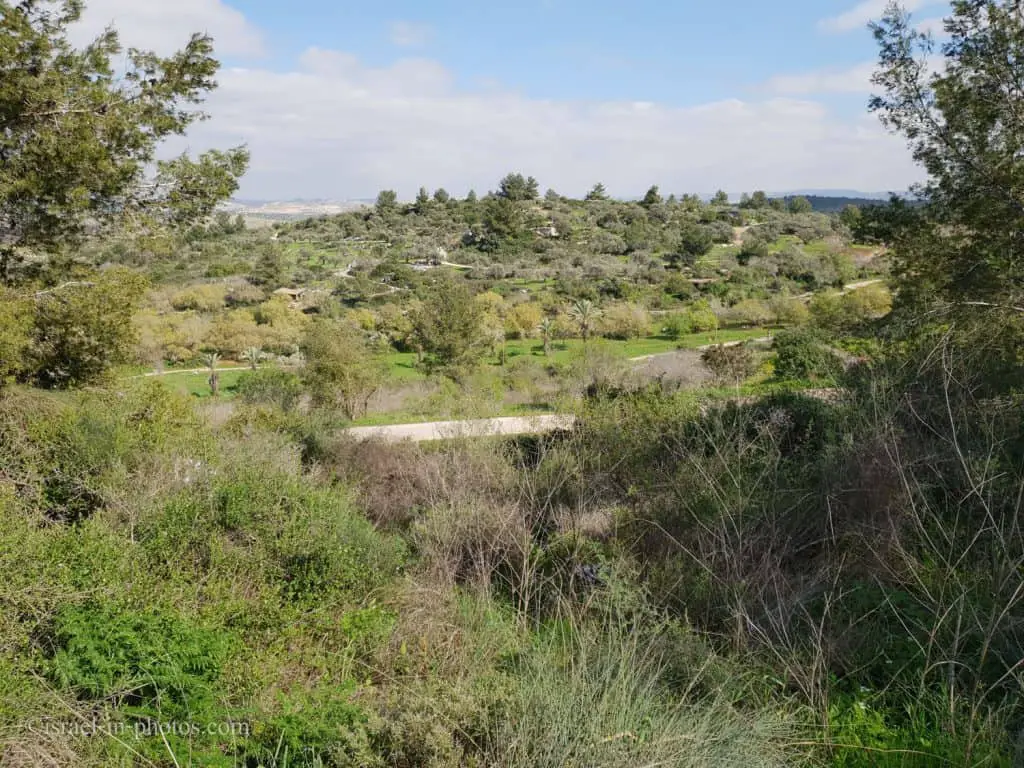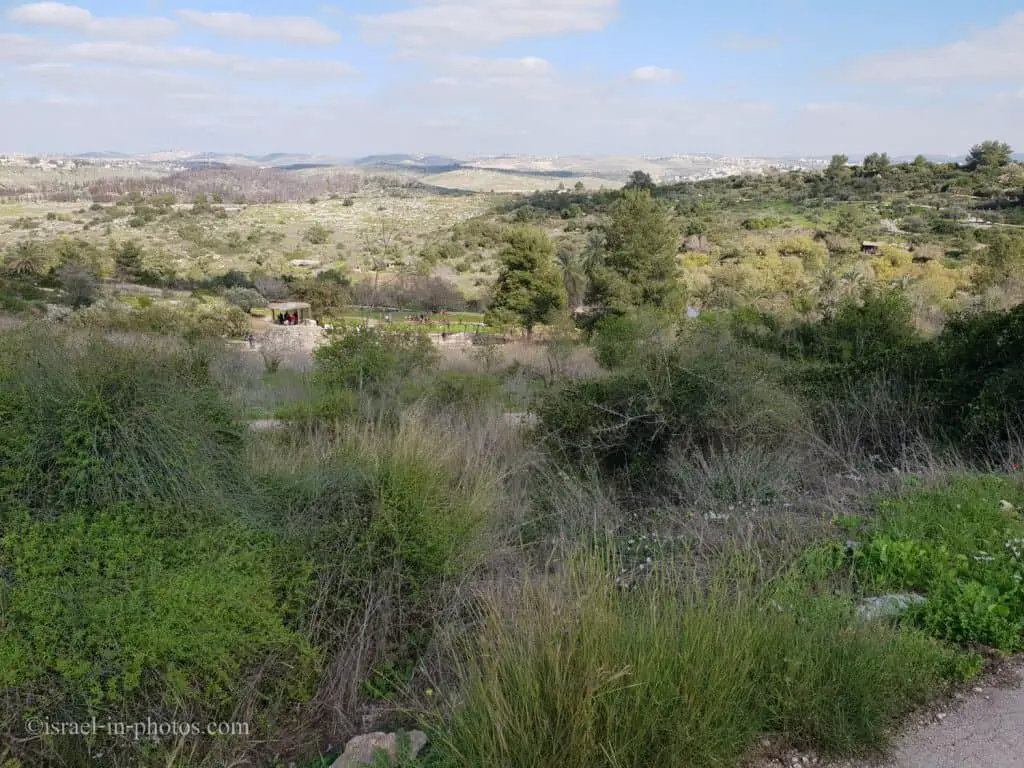 Joseph's Pit (cistern)
POI #2 on the orange trail is Joseph's Pit. And in Neot Kedumim, 45 cisterns were discovered. These cisterns supplied water for a settlement of about 500 people during 900 years.
Note: if you love Anemones, then check out Darom Adom.
Restored Ancient Olive Press
POI #2 on the orange trail is a restored ancient olive press.
In the photo above, you can see the process of olive oil creation. First, olives were crushed by the stone wheel. Then from the crushing station, the olives were placed in baskets under the long wooden press beam. And the extracted liquid was collected in basins.
This was a widespread process, and you can also see it in the oil press cave at Beit Guvrin National Park.
By the way, Neot Kedumim is a hands-on park. And you can rotate this stone wheel.
Ancient Living Quarter
You can see an excavated house on the other side of the olive press (POI #4).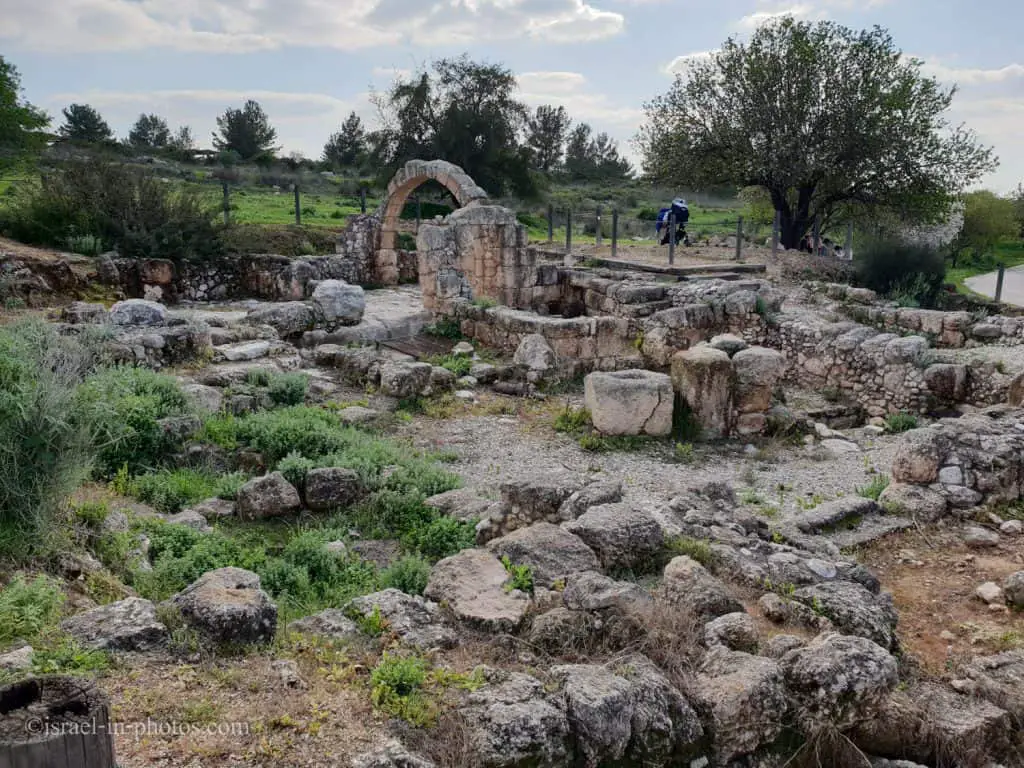 Jews inhabited this village during the Second Temple Period. Then in the Byzantine period, Christians settled here. And Muslims lived here during the early Islamic period.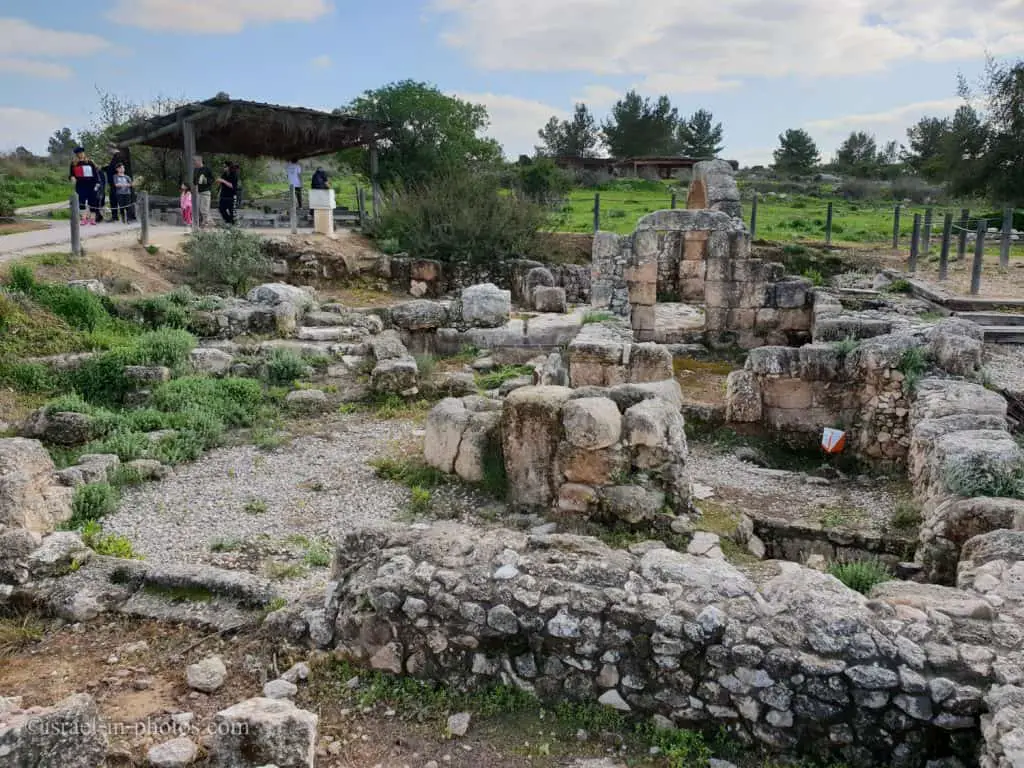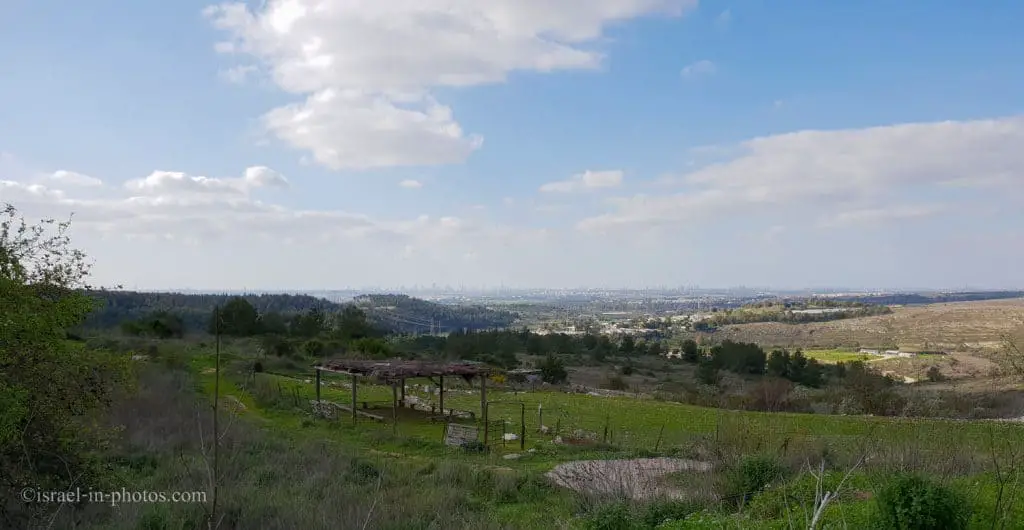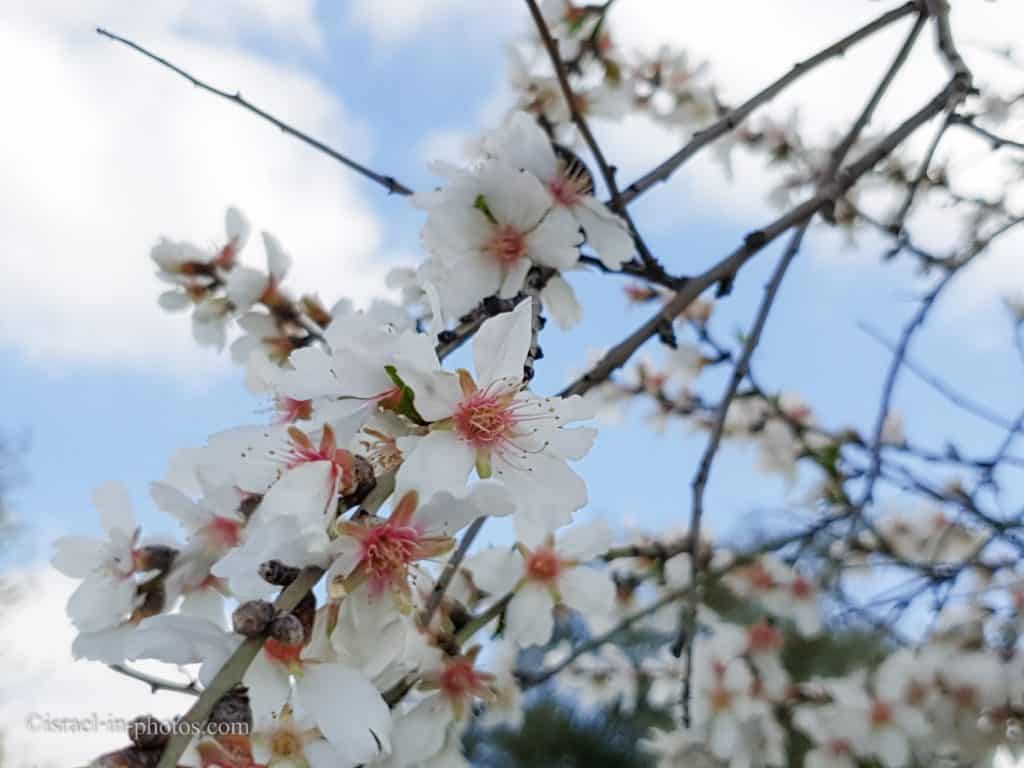 And now let's continue to POI #6, the wine press.
Mosaic Wine Press
The following wine press is from the Byzantine period.
First, people stepped on the grapes and then used the wooden screw (restored) to extract the pulp. And the liquid was collected in the pits.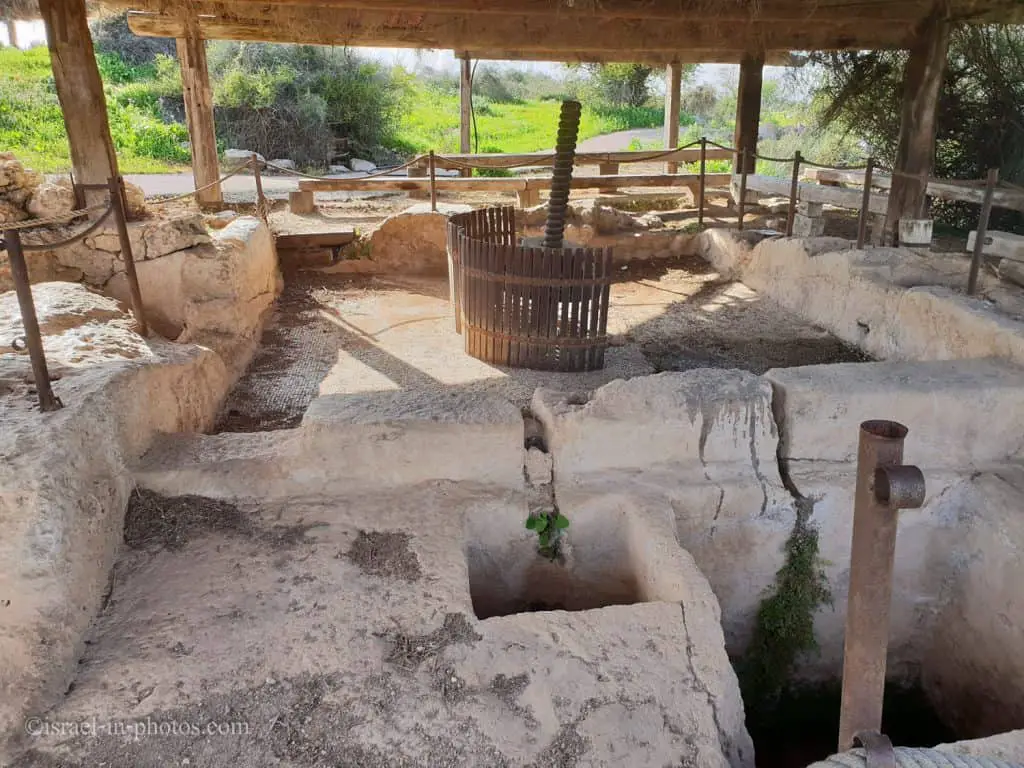 Caper
POI #8 shows us the caper.
Capparis spinosa, the caper bush, also called Flinders rose, is a perennial plant that bears rounded, fleshy leaves and large white to pinkish-white flowers.

The plant is best known for the edible flower buds (capers), used as a seasoning, and the fruit (caper berries), both of which are usually consumed pickled. Other species of Capparis are also picked along with C. Spinosa for their buds or fruits. Other parts of Capparis plants are used in the manufacture of medicines and cosmetics.
Source: Wikipedia
The caper is mentioned in Jewish scriptures because of its ability to survive in the harshest conditions.

The caper was chosen as the symbol of Neot Kedumim because it represents perseverance in difficult conditions and its ability to produce new fruit every day.
Source: sign on site
The Watchtower
The watchtower (POI #11) was built to guard farmers' fields and vineyards during the harvest season. The watchtower usually had two levels. The lower one was used to store the produce. And the upper floor was used for observation. Sometimes this floor was also used to sun dry figs and grapes.
At POI #11 you can also find a wine presses.
These wine presses were a part of a large wine factory in Ramla. They were moved to Neot Kedumim and restored.
By the way, this is POI #11, both for the purple and orange trails. The same is also true for POI #12.
Flour Mill
The 2nd-century flour mill (POI #12) uses a stream of water (that is channeled through a canal) to turn the millstones.
Solomon's Pool
Near Solomon's pool, you can see and operate various tools used to draw water.
Shadoof uses a wooden beam as a lever, tied to a bucket, to draw water. Also, note that this is stop #14 on the orange trail and #9 on the purple path.
Since I was using a front baby sling, I did not take the DSLR. And instead, I used my phone. Thus the photos are worse than usual, but I hope they can still pass the beauty.
The Purple Path
Since we were short in time, from this point on we used the purple trail.
Dovecote
After a short walk we reached POI #6 on the purple path, the dovecote.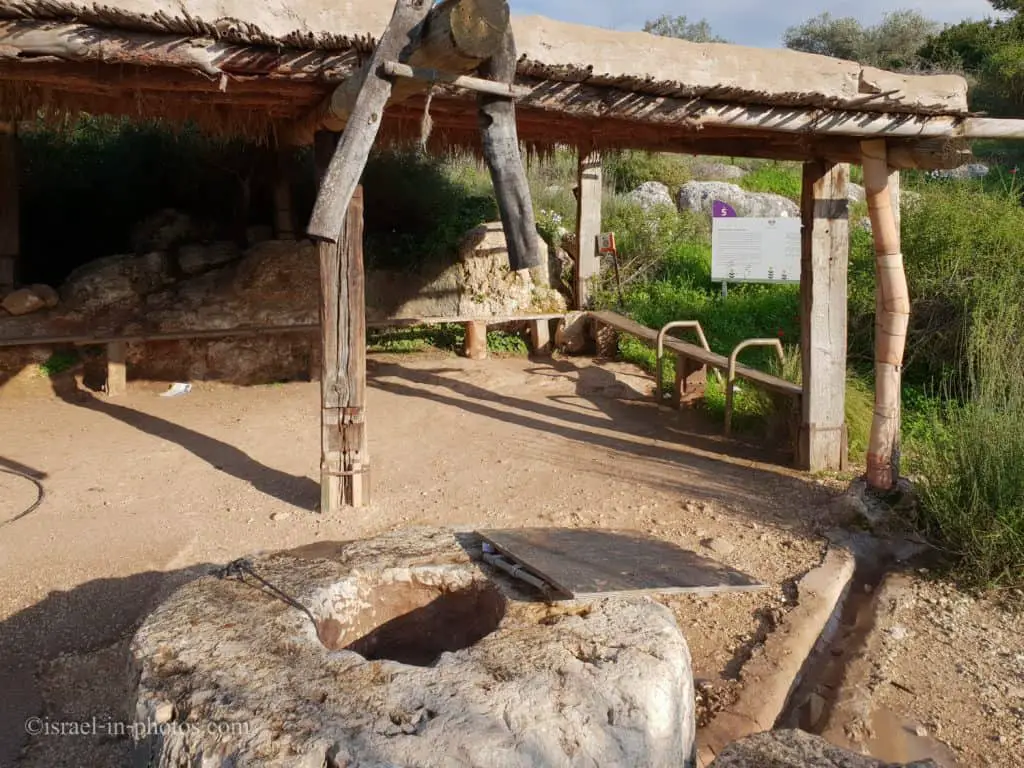 We were too late and missed the ceramics workshop.
Olive Press
At POI #4, we find another olive press. And it was operated similarly.
At this point, we heard a voice in a megaphone saying that the park is about to be closed. Thus we headed to the exit.
On the way we passed near the grain garden.
The Grain Garden
In our area, the domestication of wheat and barley started about 10,000 years ago. And people changed their way of life from hunter-gatherers to farmers.
In the grain garden, you can see the wild ancestors of five grains used in ancient Israel. And you can also see the grains that were cultivated from them.
The described path took us a little less than three hours. Thus, depending on the selected trail and your speed, a typical visit will take 2 – 4 hours.
Summary
Neot Kedumim is a great place where you can see, learn, and get hands-on experience. And if you are interested in how people lived in the Bible times or looking for some activity with your kids, I highly recommend visiting Neot Kedumim. We enjoyed our visit a lot. And the only downside is this place is closed on Saturdays.
Have you ever been to Neot Kedumim? Tell us about your experience in the comments below.
That's all for today, and I'll see you in future travels!
Stay Tuned!
Additional Resources
Here are several resources that I created to help travelers:
And if you have any questions then check out
Useful Information For Tourists To Israel
.  
Did not find what you were looking for? Email me at
hi@israel-in-photos.com
, and I will do my best to answer your questions.