Hanging Bridges at Nesher Park offers a lovely circular hike close to Haifa. And on this path, you will hike in a waterless river, visit caves and walk on hanging bridges. Let's begin exploring!
Offers
Get 5% off for your next vacation at Isrotel.
Get 5% off for your next tour at Bein Harim with coupon code 'LEV5#12305'.
Map
The entrance to Nesher Park from Haharuv Street, Nesher. And it is located near Haifa university. The easiest way to get there is by entering "Nesher Park" into Waze.
Interactive map of the area:
And here is map of Nesher Park:
And here is a closeup photo:
Note: you can click on the map to enlarge it.
Parking
There is a parking lot by the park. During the day (08:00 – 19:00), you have to pay for the parking (including Saturdays and holidays).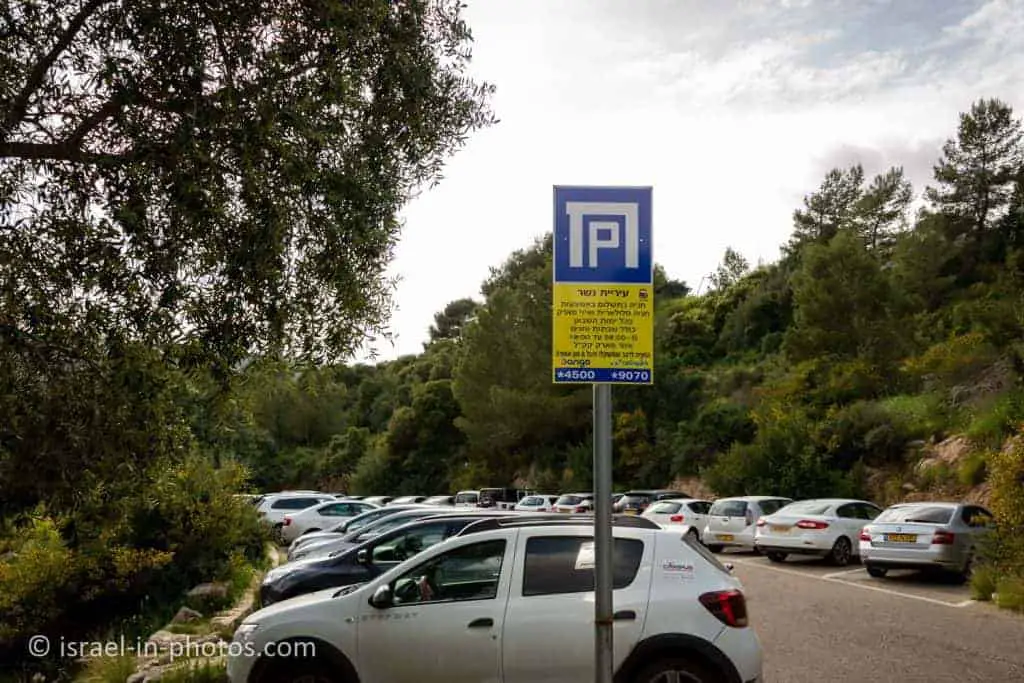 On the image above, you can see half of the parking lot. And because it is not big, and Nesher Park is a popular place, there will be no parking places if you arrive late on a Saturday. Therefore arrive earlier during the day.
Trails
As you can see on the Nesher Park map above, there are several hiking options. You can use the black trail to reach the hanging bridges and return using the same path. The black trail is a jeep road, and I even saw people using baby strollers. But keep in mind, it is not a paved path, and there are many small rocks.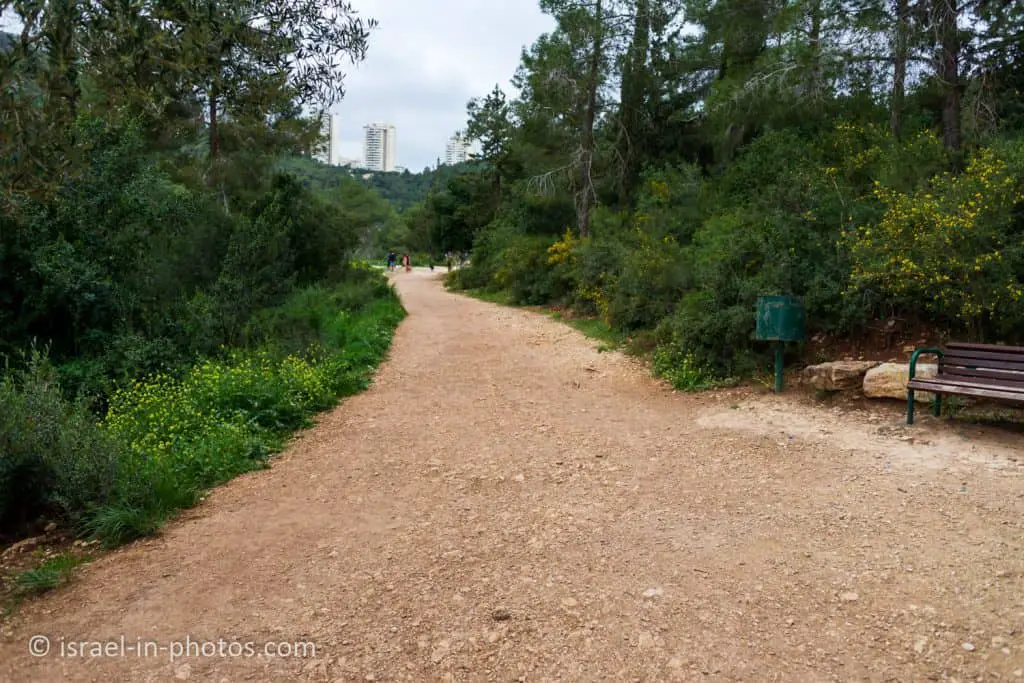 The more challenging hike takes you down to the waterless river. And then, using the blue and green trails, you will reach the hanging bridges. And then you can return using the black path. This is the hike we chose on our latest visit, and I will tell you about it later in this post.
Here is an interactive map from israelhiking.osm.org.il:
And here are the details of the most popular trails:
| | | | | | | |
| --- | --- | --- | --- | --- | --- | --- |
| # | Name | Color of the Trail on the Map above | Description | Distance (km) | Total climb and descent (meters) | Notes |
| 1 | The easy trail | Black | Use the black path to reach the bridges, and return using the same way. | 1.7 | 120 | The walk in each direction takes about 15 minutes. |
| 2 | The challenging trail | Green | Follow the green trail till the blue path and then return to the green trail till you reach the hanging bridges. Return using the black trail. | 2.2 | 192 | This trail took us a little less than 1.5 hours (at a moderate pace). |
Opening Hours
Always open, but there is no artificial light. So visit only during daylight.
Entrance Fee
Free.
Contact Information
This park is managed by KKL. Here is their phone: 1-800-350-550.
Dogs
I did not see any signs that forbid dog entrance. And many people walk with their dogs on the black trail.
When to visit Nesher Park?
As I mentioned above in the parking section, Nesher Park is a popular place. Thus I would suggest arriving early. And if you are wondering about the season, then spring is the best time for hikes in nature.
The Green Trail
At the end of the lower parking lot you will see the black trail leading upwards and the green trail leading down.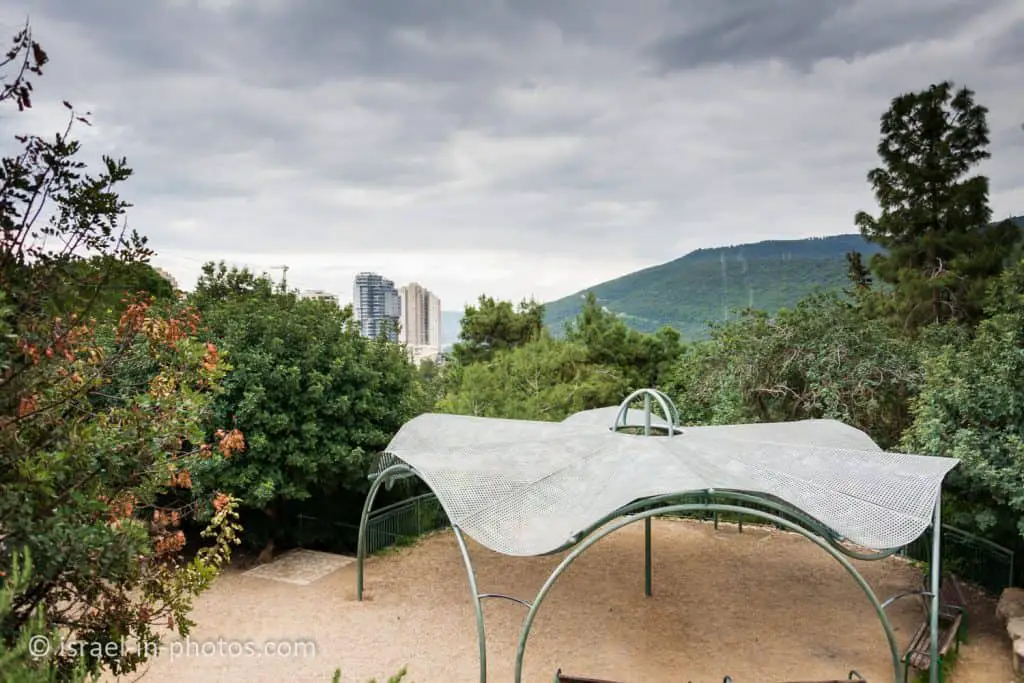 At the beginning of the green trail, you will see picnic tables and a playground for children.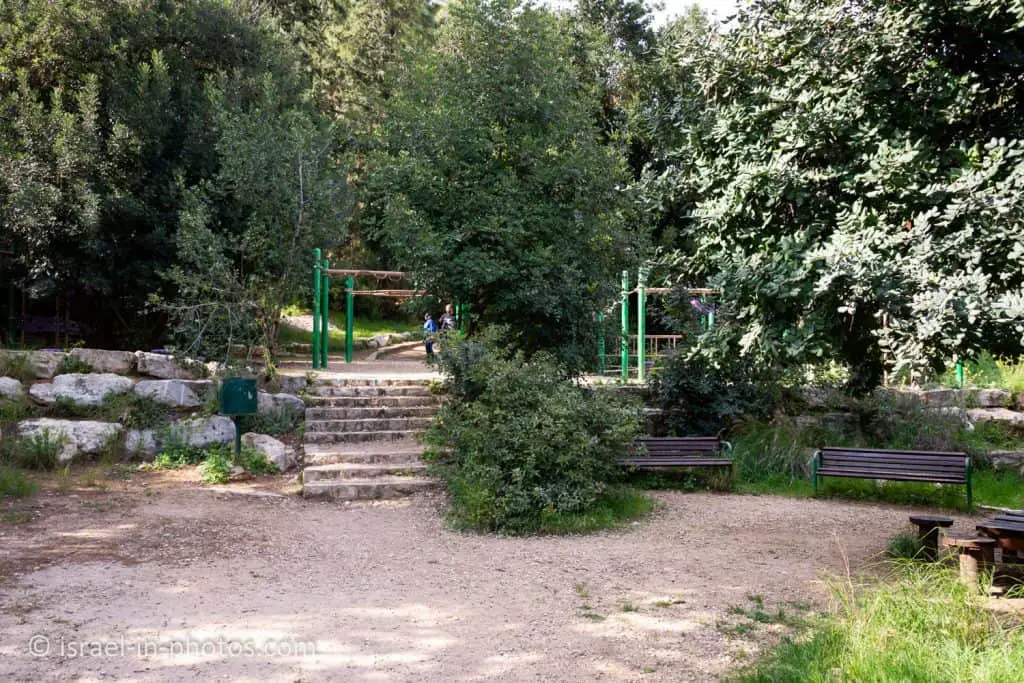 Uri's Way
You are about to enter "Uri's Way", a nature trail dedicated to the memory of Lieutenant Uri Binamo. "Uri's Way" begins at the Menorah, continues along a nature trail through the forest, and offers activities related to camouflage and observation till arriving at the Suspension Bridge. Lieutenant Uri Binamo fell on the 5th day of Hanukkah, December 29th, 2005. He was 21 years old. Uri was killed when he intercepted and prevented with his body two suicide bombers from entering Israel to commit an act of terrorism. Uri displayed courage, initiative and set a personal example by his actions. Lieutenant Uri Binamo was awarded a Medal of Honor for his bravery and dedication to his mission.
Source: sign on site.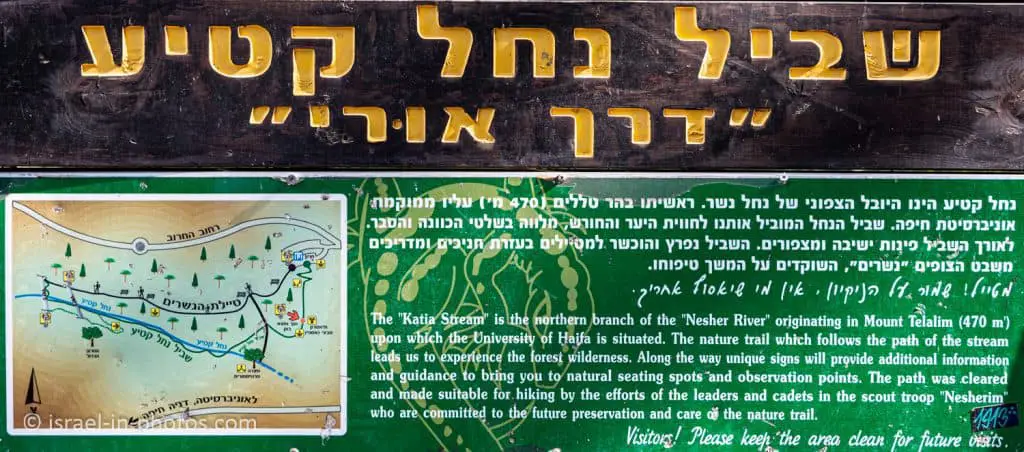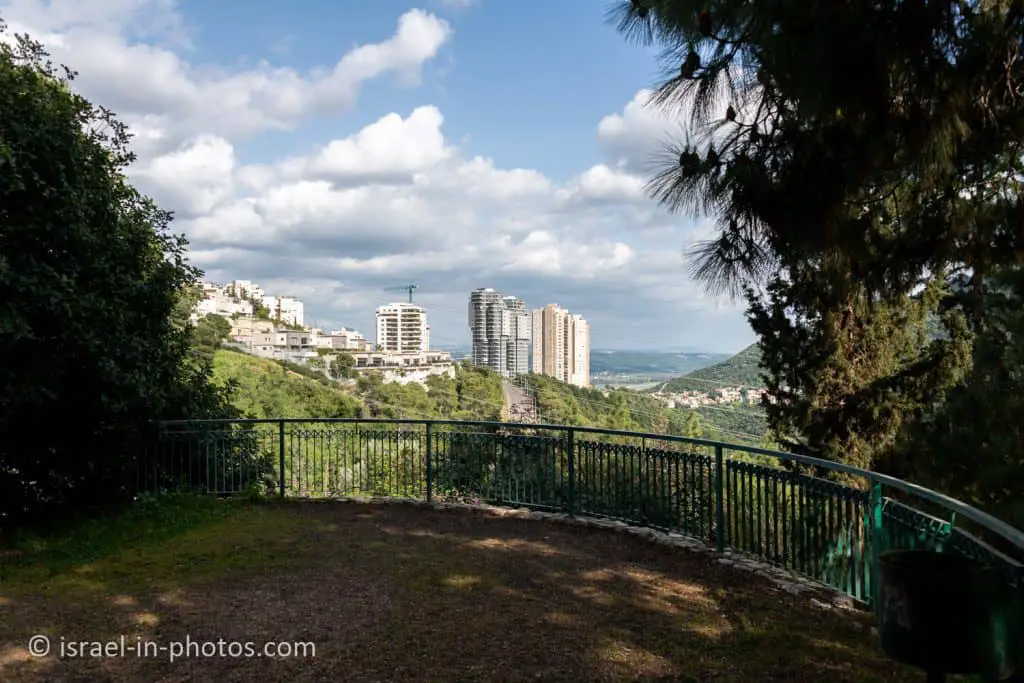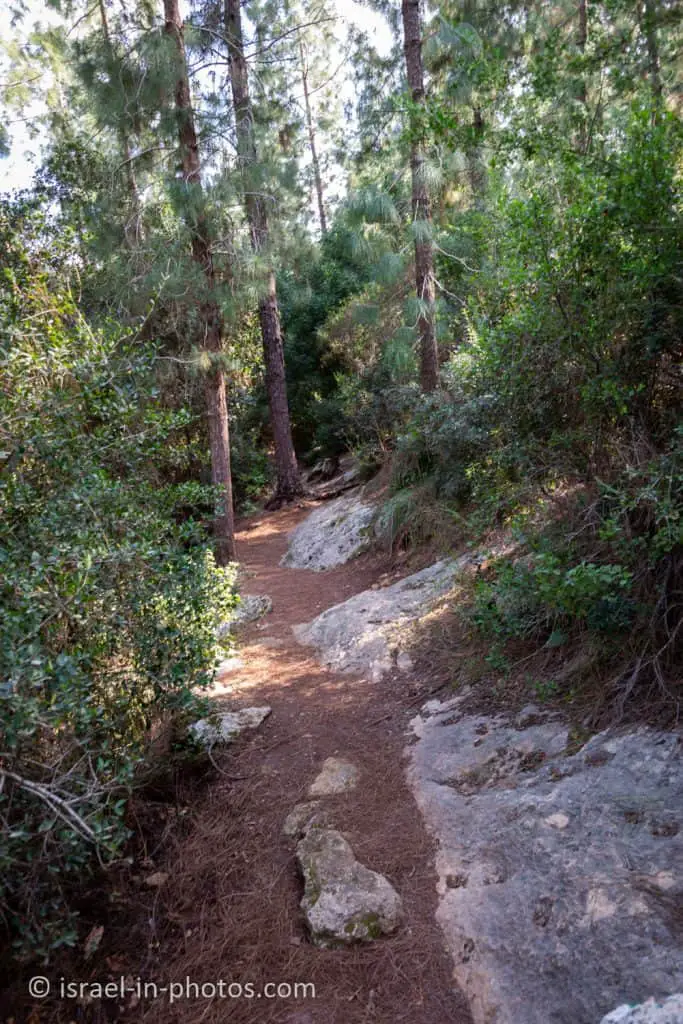 After about ten minutes, we switched to the blue trail since we wanted to see the prehistoric cave.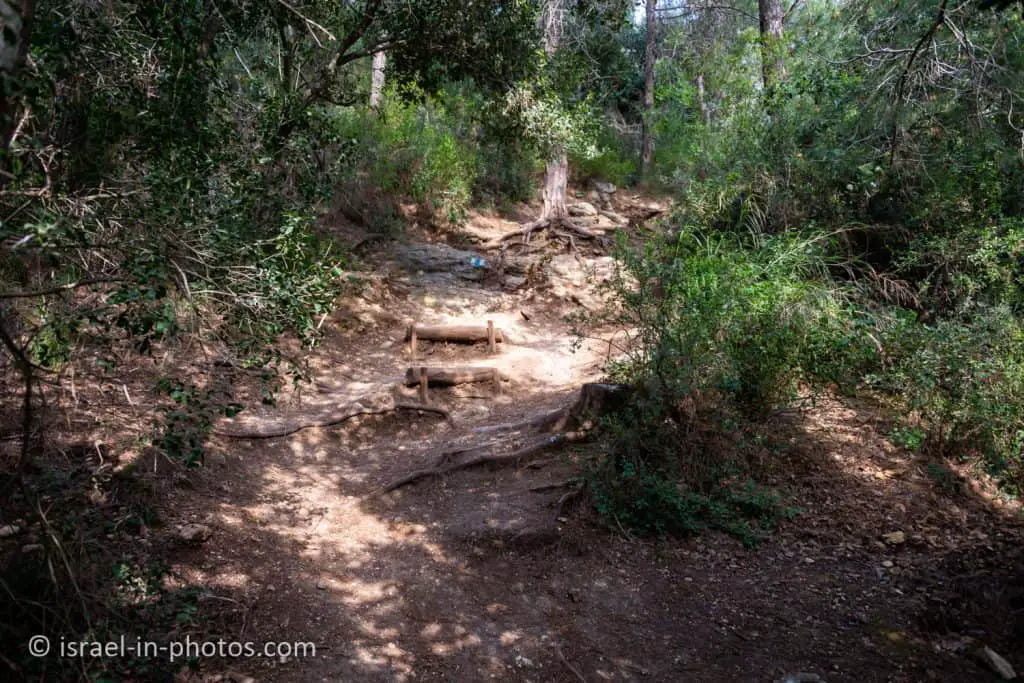 Here are several additional photos from that section of the trail.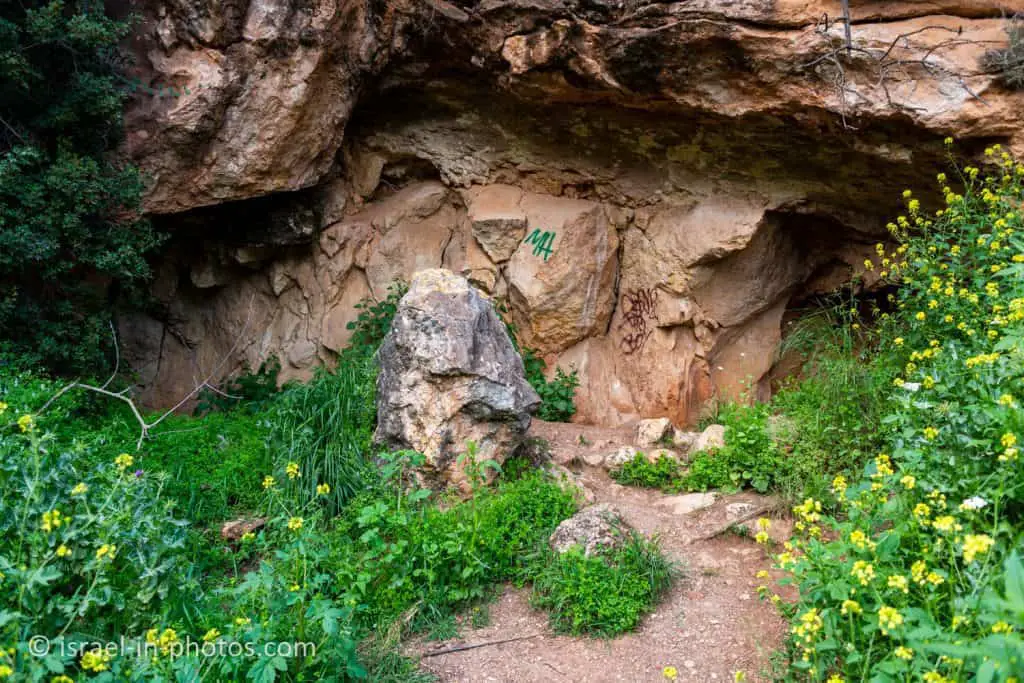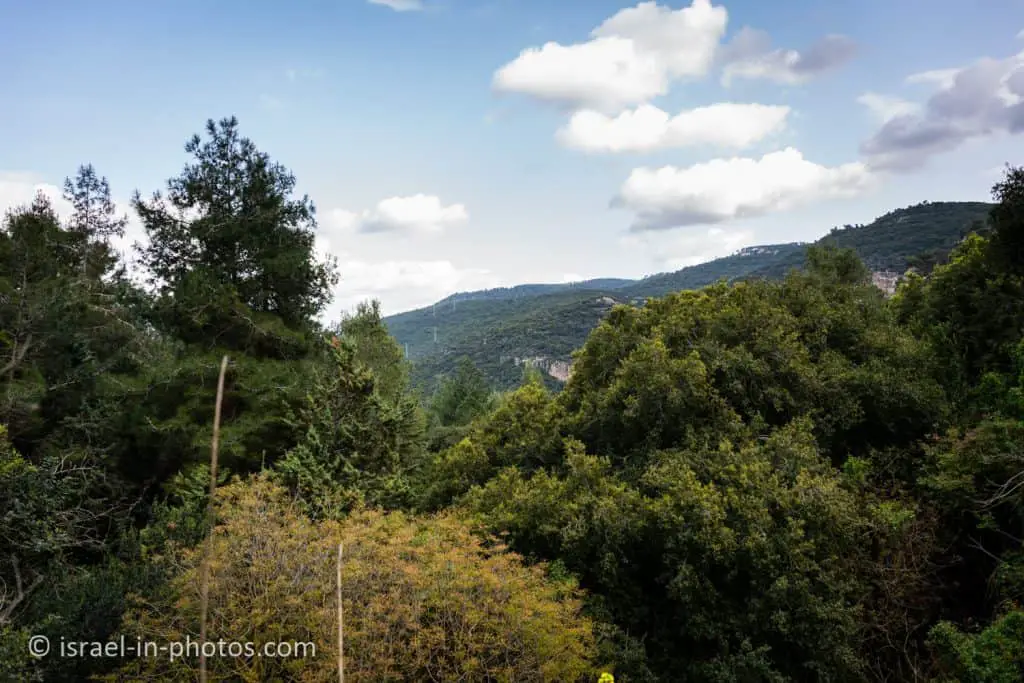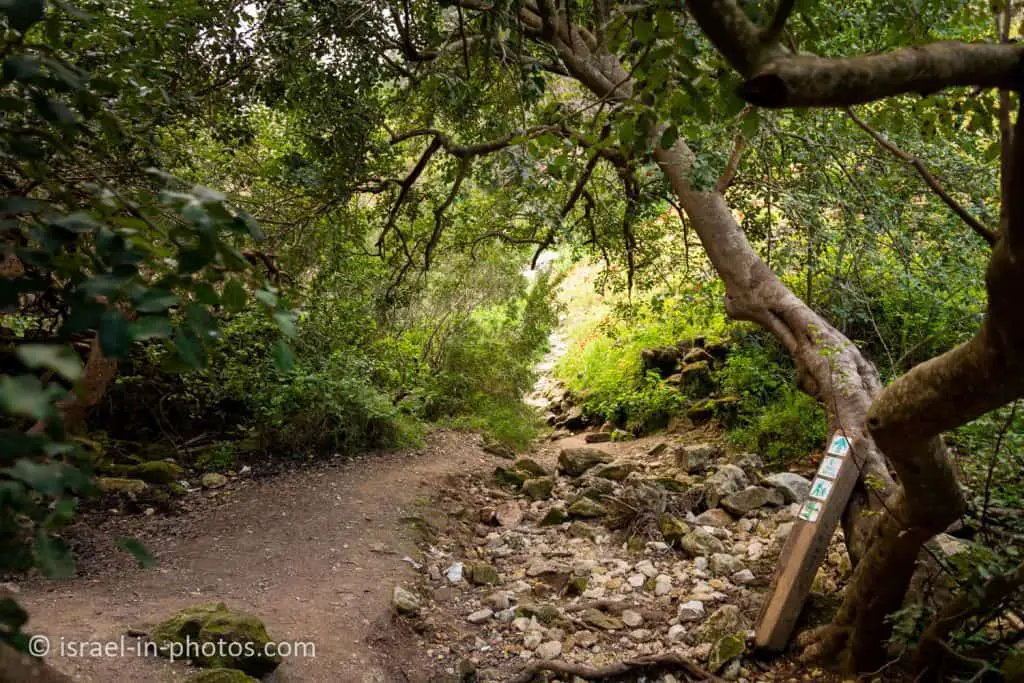 We visited in March, thus there still were many flowers.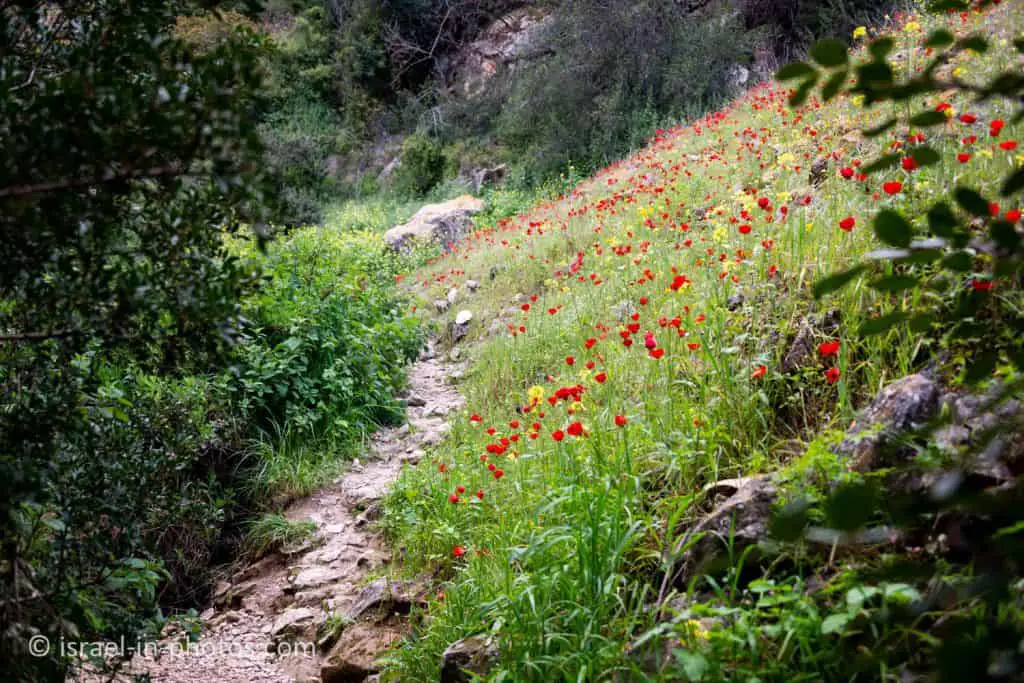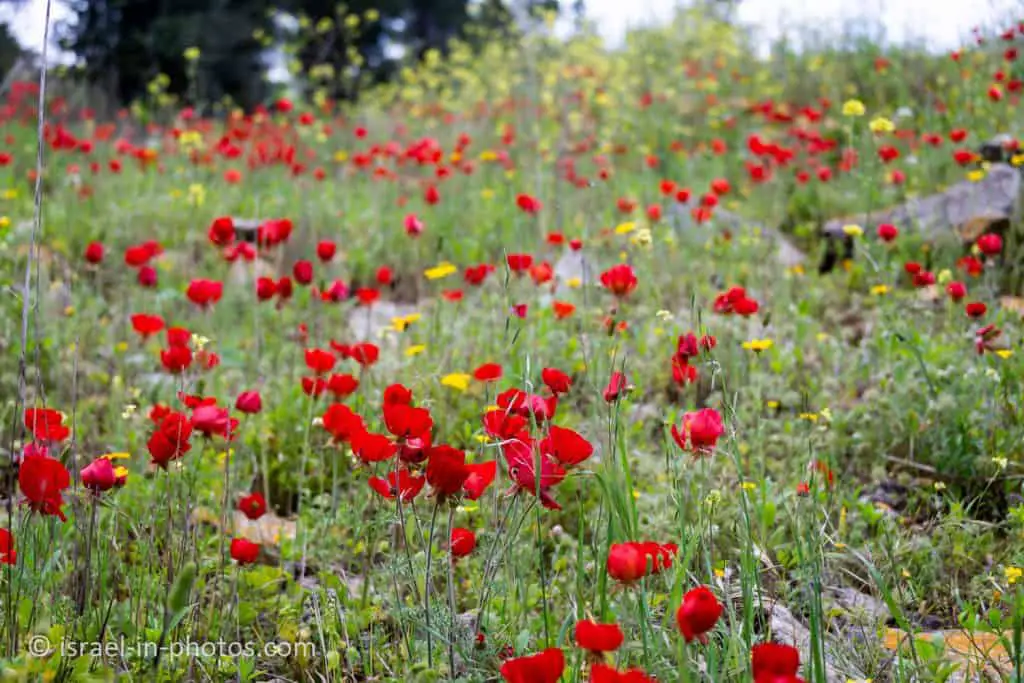 Prehistoric Cave
There were no signs near the prehistoric cave. Thus I do not know what was found there. But the cave is quite big and dusty.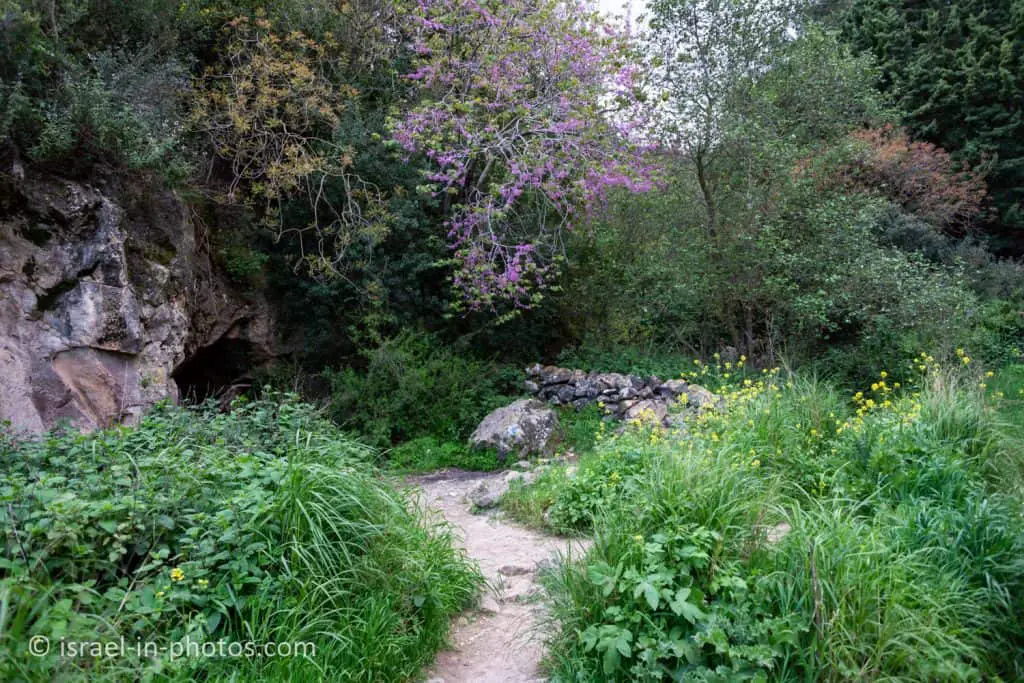 Moreover, we saw rugs and chairs inside the cave. So this space is probably used by travelers.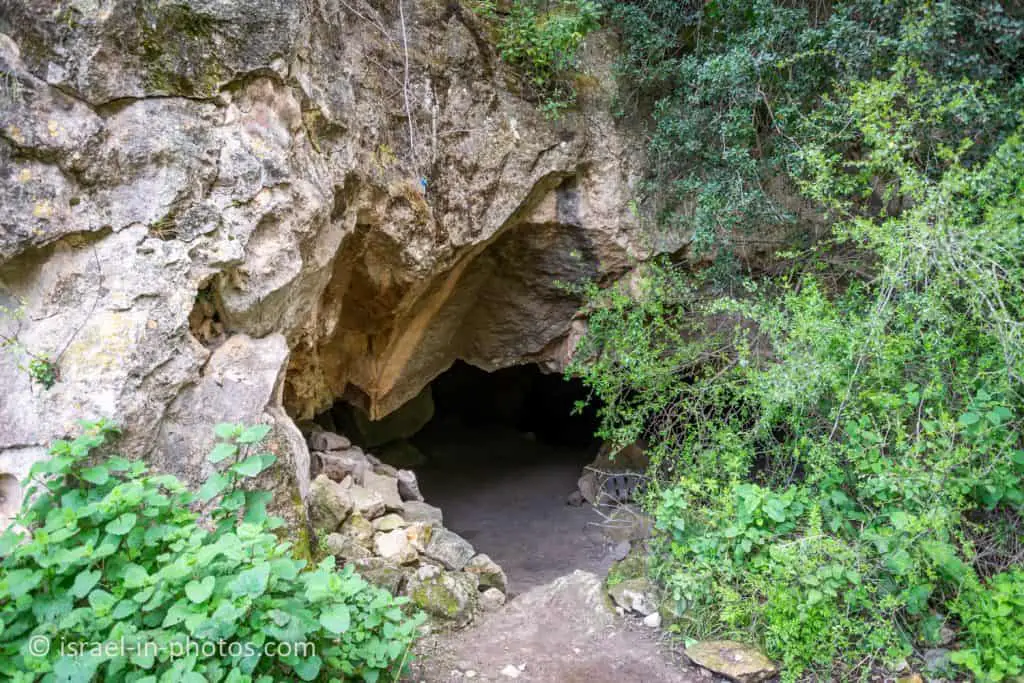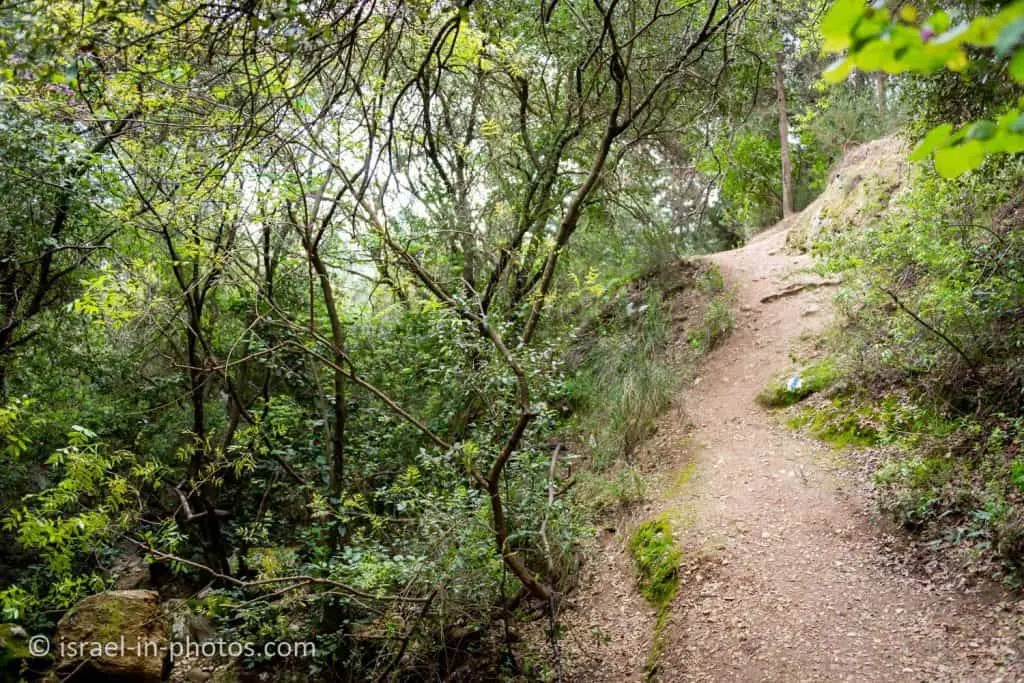 The trail continues inside Karia stream, and then the green trail leads you using a steep incline to the southern viewpoint.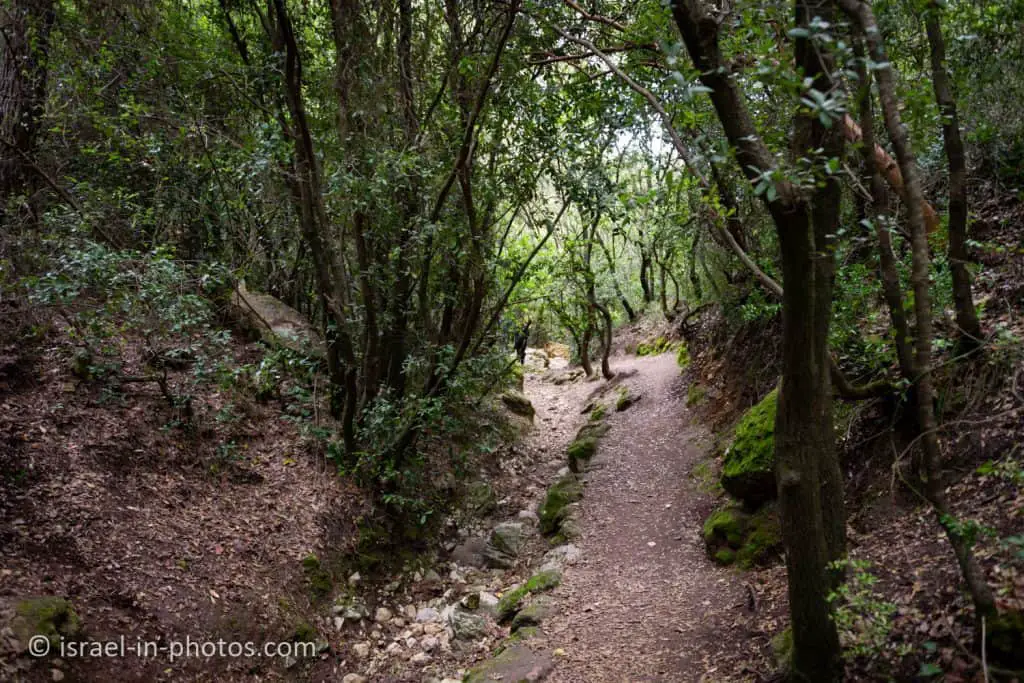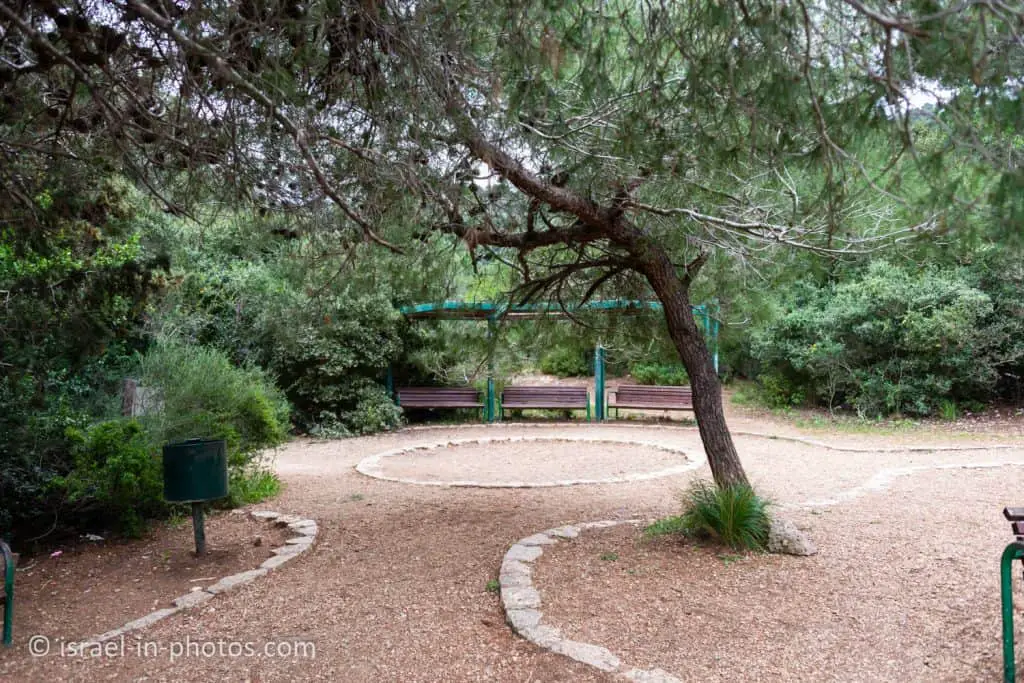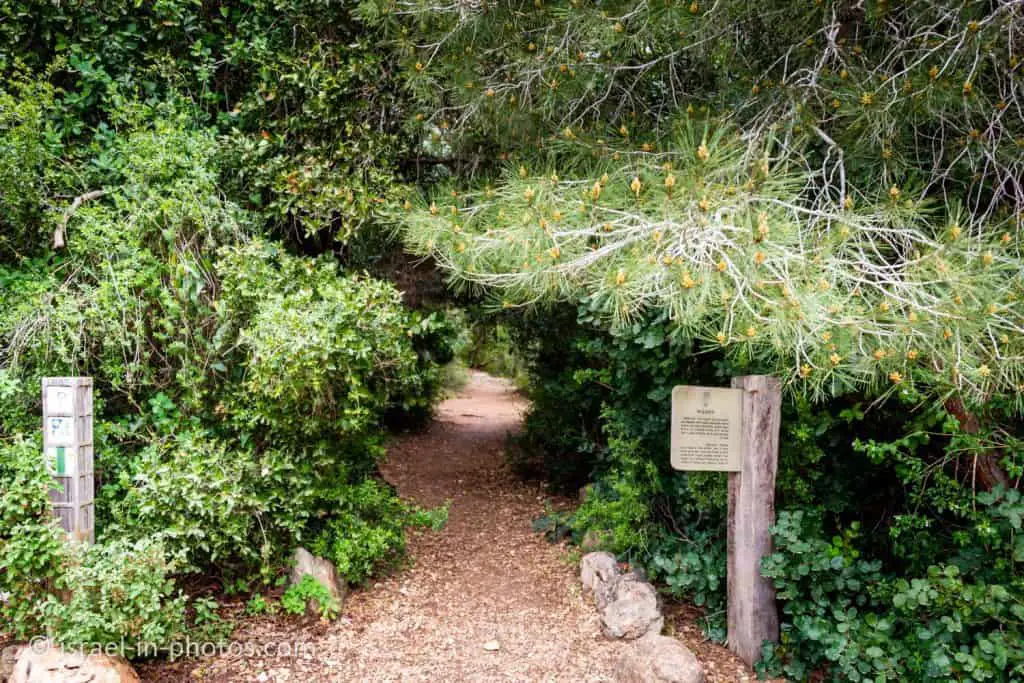 Hanging Bridges
After about an hour we reached the first hanging bridge.
The two bridges that hang in Nesher Park over the deep channel of Nahal Katia provide an unconventional view of the slope below the University of Haifa, which is entirely covered by a well-developed natural forest.

Walking on slightly swinging bridges, which are about 70 meters long, is an experience. There is also a hiking trail where you can cross the creek on one bridge and return on the other bridge. You can reach the first bridge by walking on the comfortable dirt road that accompanies the creek's north bank, a 10-minute walk. You can also cross the creek channel right and walk up the south bank to the bridge, in the heart of nature. This route offers grove vegetation and observation points on the stream and the green Carmel slope and lasts about half an hour.
Source: official site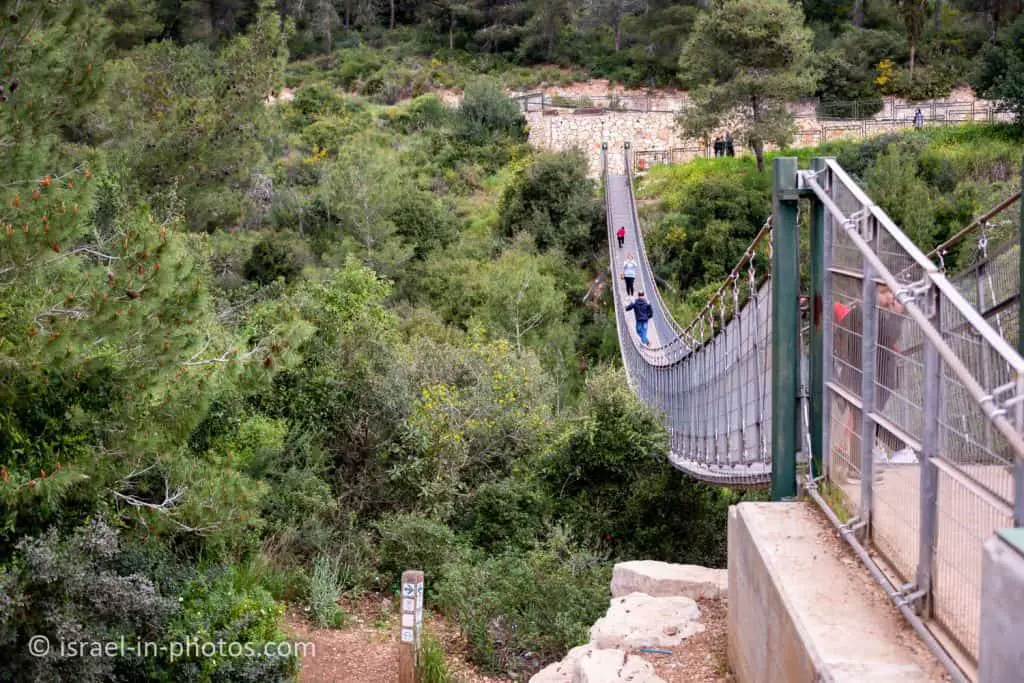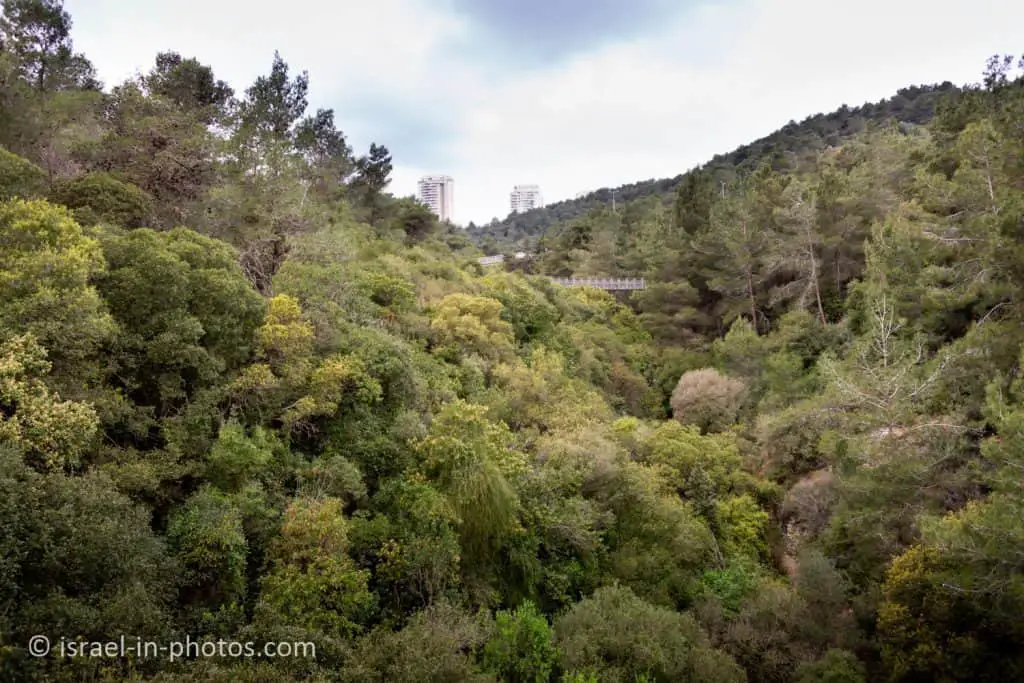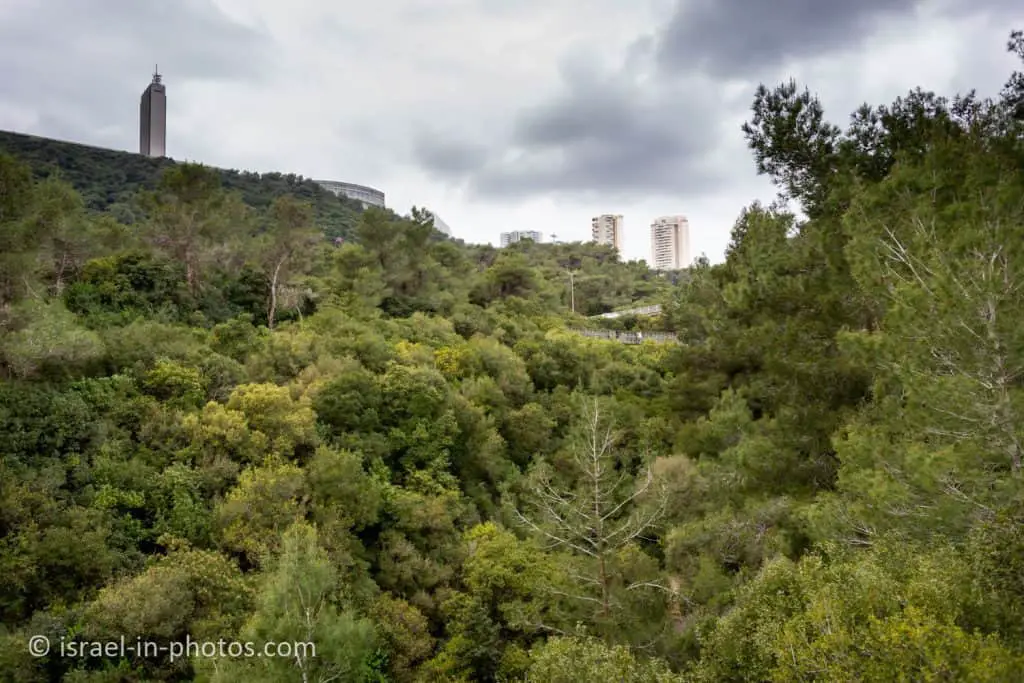 The bridges can be a little slippery, so walk slowly. Also, keep in mind that each bridge can carry at most fifty people at any given time.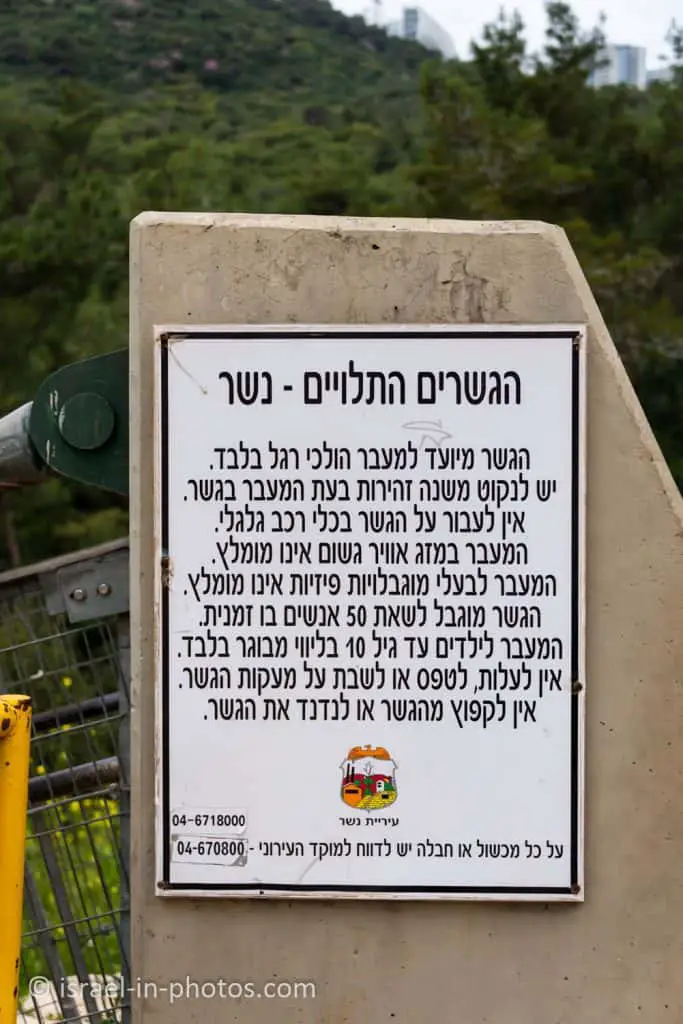 Then we headed to the higher hanging bridge.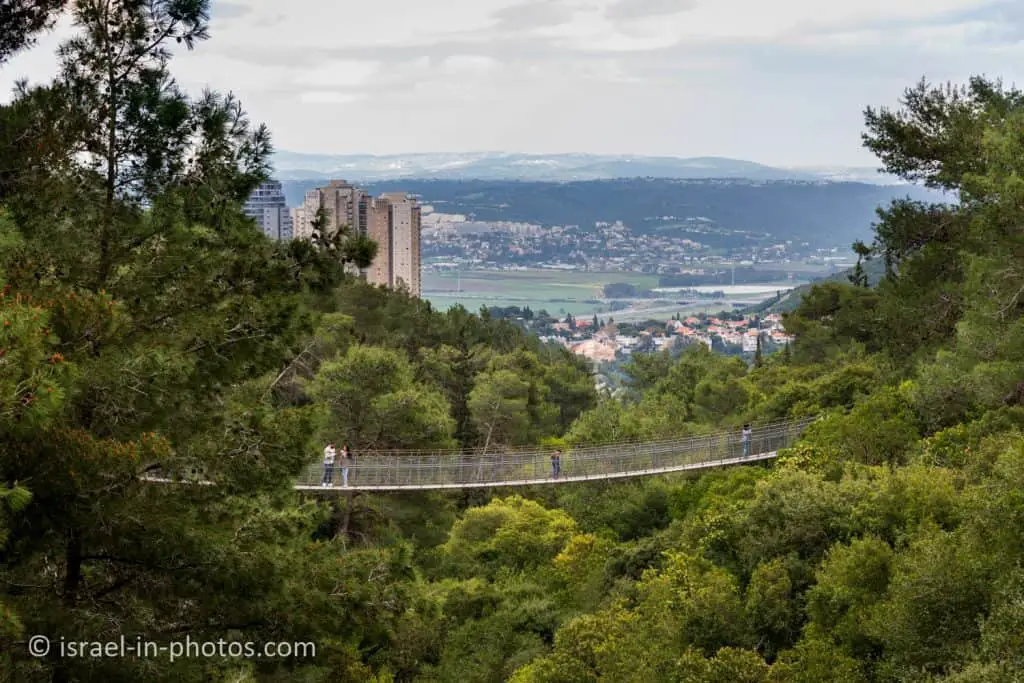 And using the black trail we returned to the parking lot.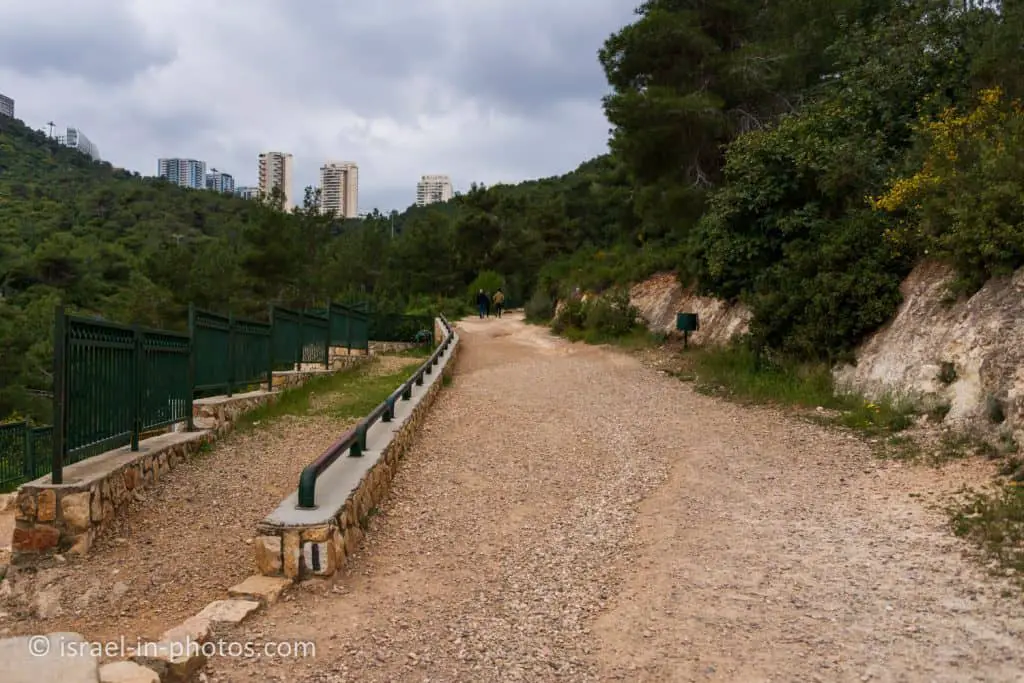 Summary
As you saw by this point, Nesher Park has more to offer than just the hanging bridges. And since it is close to Haifa, Nesher Park became a popular place. Therefore, arrive early, especially during holidays and weekends.
Have you ever been to the hanging bridges at Nesher park? Tell us about your experience in the comments below.
That's all for today, and I'll see you in future travels!
Stay Tuned!
Additional Resources
Here are several resources that I created to help travelers:
And if you have any questions then check out
Useful Information For Tourists To Israel
.  
Did not find what you were looking for? Email me at
hi@israel-in-photos.com
, and I will do my best to answer your questions.