Mount Bental is located in Golan Heights. It is a great lookout, with bunkers, hiking tracks, and a coffee shop.
Map
Mount Bental is located in Golan Heights, near Merom Golan.
Directions for drivers: Link to Waze and Link to Google Maps
Directions for public transport: Link to Moovit
Interactive map of the area:
Offers:
Hotels, hostels, and apartments in this area:
Parking
There is free parking on top of the mountain.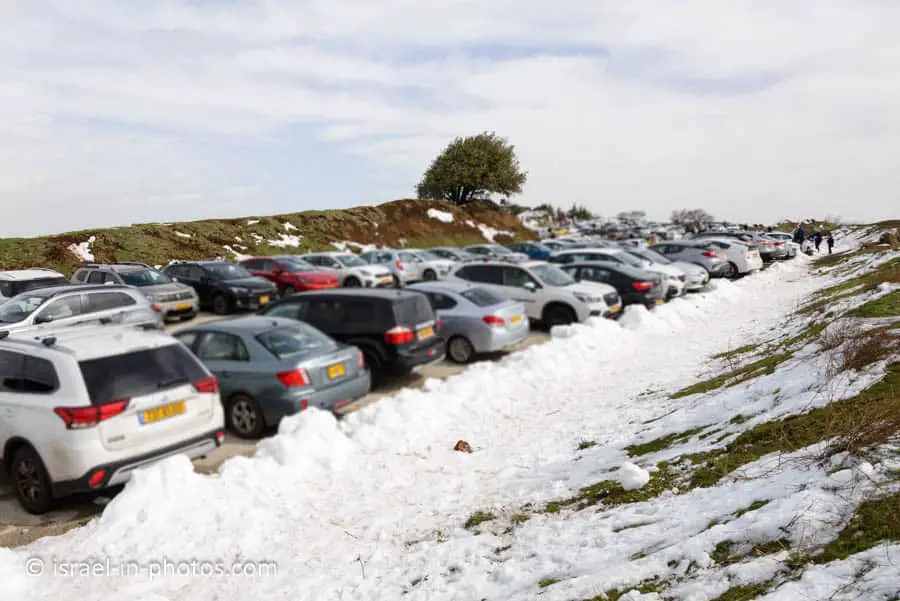 Opening Hours
According to the following sign, remaining in Mount Bental nature reserve after dark is forbidden. Thus visit only during the day.
The sign also states that lighting a fire in the nature reserve is forbidden.
Entrance Fee
Free.
When to Visit?
You can visit Mount Bental all year round. Due to its location and altitude, it is usually cooler than in other areas. Moreover, sometimes it snows on the mountain and its surroundings.
Snow on Mount Bental
The photos in this post are from our February visit. We, like many other Israeli, drove to Golan for the snow. But since I was afraid to get stuck in the traffic to Hermon, we decided to visit Bental.
However, you should know that the roadway to the top is a narrow two-lane (one in each direction) road. Of course, we got stuck in traffic when we headed up and down. Instead of a two-minute drive, it took us about 30 minutes to reach the top and 45 minutes to get off the mountain. If you want to decrease the traffic time, then arrive early.
Note: in some years, there is also Snow on Mount Meron.
Is there Snow Now?
The easiest way to see if there is snow is by checking this meteorological online video camera.
Track
The red track goes from the mountain to the Bental water reservoir (1.8 km and descends 200 meters). Once you get off the mountain, you can use other nearby paths. For example, the Golan trail passes on the north and east sides of the hill.
However, most people who hike take the red path down, and the driver walks or hitchhikes back to the top.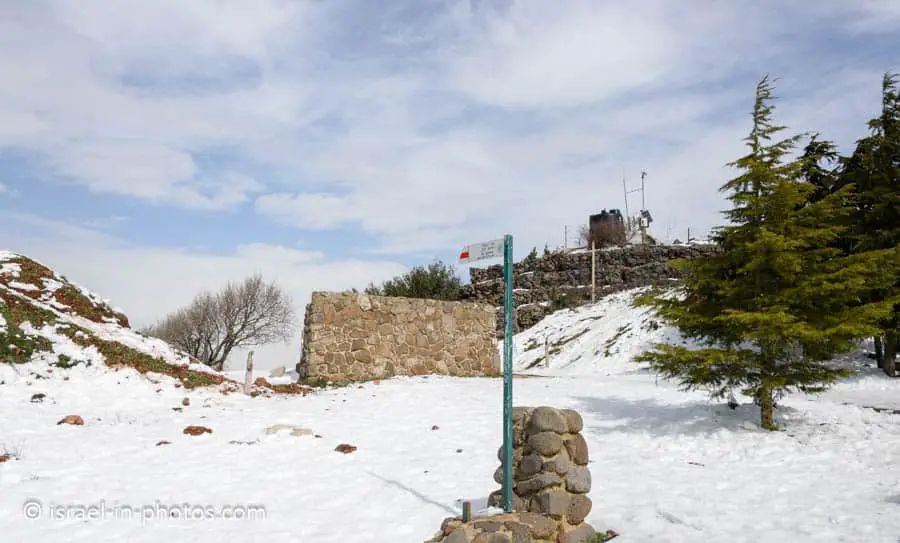 Why is it called Bental?
Mount Bental is 1165 meters above sea level. Nearby Mount Avital is higher at 1204 meters (entrance to Mount Avital is forbidden due to the military base). And since Bental is lower than Avital, it can be considered its son, hence the name. And Avital received its name due to large amounts of dew on the mountain.

Coffee Annan
On top of the mountain, you can find Coffee Annan restaurant. The name is wordplay. Kofi Annan is the former Secretary-General of the United Nations. But if you hear Kofi Annan in Hebrew, you can interpret it as coffee in the clouds.
Here is the link to Coffee Annan, and it is open daily from 09:00 (10:00 on Saturdays) till 16:00.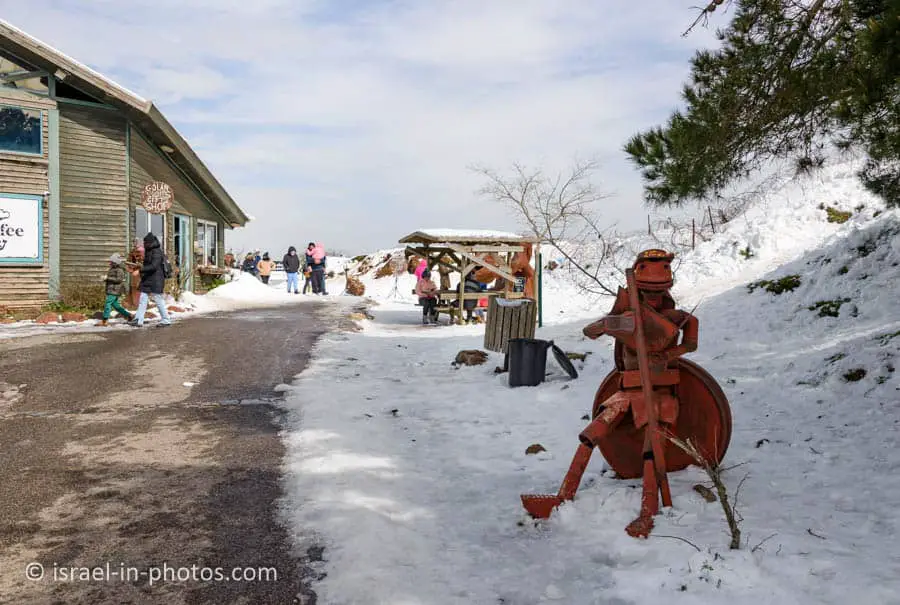 It is a self-service restaurant, and they serve mostly baked goods and pizzas. The food was tasty. But because we visited on a snowy day, it was overcrowded. And since you cannot reserve places to sit, you must wait for somebody to leave.
Bunkers
On the summit, you can find an IDF stronghold built on an older Syrian stronghold. It is an attraction point for visitors, and according to various sources, the bunkers are open to visitors. However, during our visit, they were locked.
Nonetheless, you can visit the trenches. Here are several photos: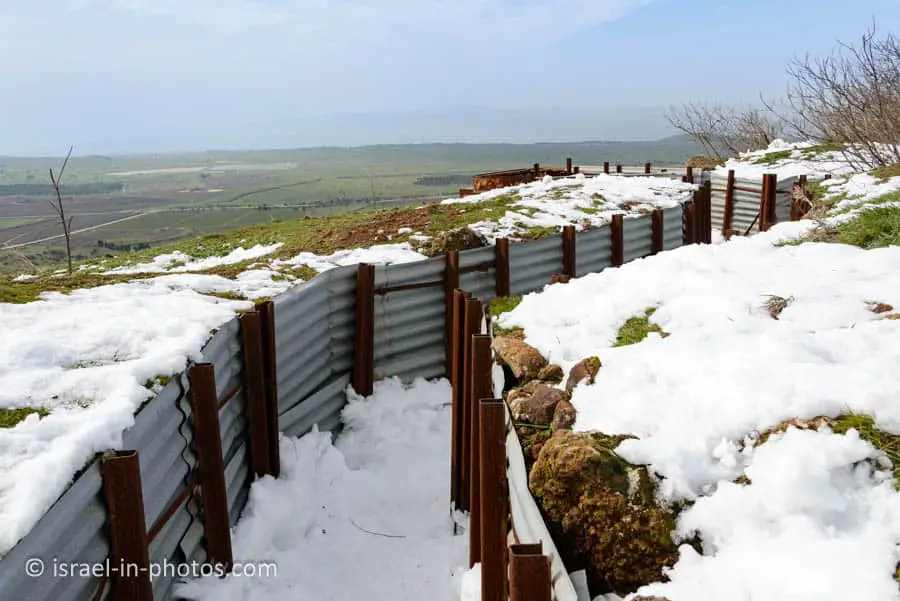 On the peak of the mountain, there are very few explanatory signs. But there are several binoculars with audio guides. After throwing a coin, it will tell about this area and allow seeing through the binoculars.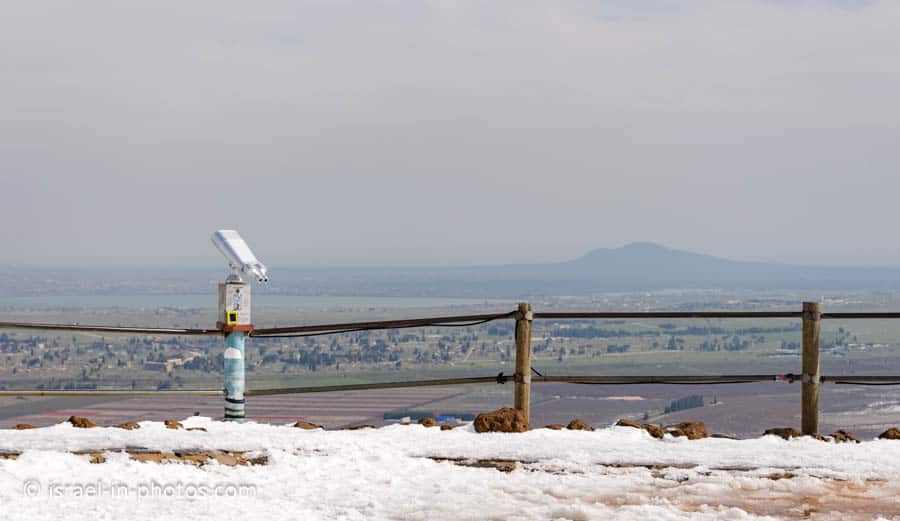 Lookout
The mountaintop has a good view of the Syrian lands, Mount Hermon, and the Golan Heights. Here are several photos of the surroundings.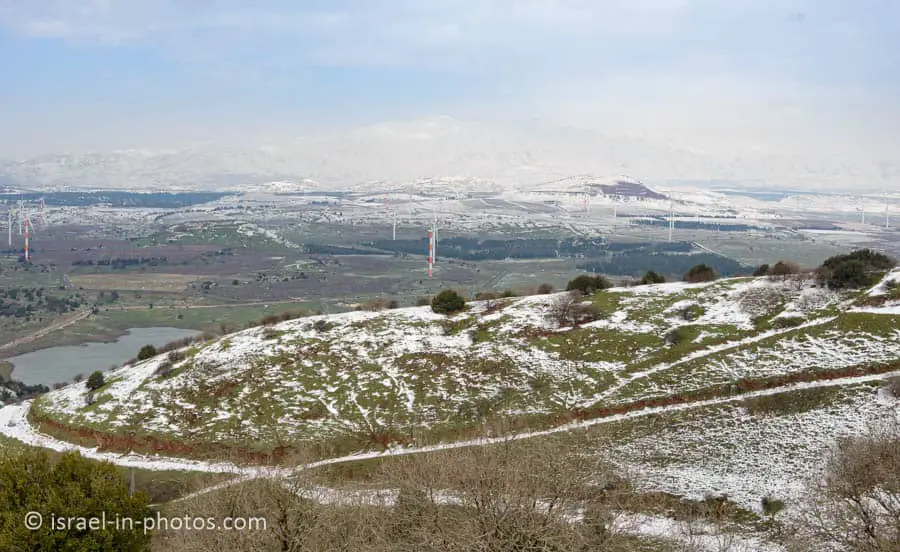 Bental Reservoir
North of the mountain, near Merom Golan, you can find the Bental reservoir. An underground hydrothermal vent was discovered in the area. And its water is directed through pipes to different water reservoirs. The water temperature is about 40 degrees C, and many people visit this "jacuzzi" in the winter. But keep in mind you cannot know in advance whether the water will be flowing (the pipe can be closed). Also, signs are telling that entry is forbidden. Thus people are visiting at their own risk.
Note: other hot spring places in the area include Hamat Gader and Hamat Tiberias National Park.
About Mount Bental
The reserve is situated on the ash cone whose western side was swept away by a lava flow. Unique woodland species of the Rose family grow here, including Syrian pear (Pyrus syriaca), bear's plum (Prunus ursine), Mediterranean hawthorn (Crataegus azarolus), spiny hawthorn (Crataegus aronia), and dog rose (Rosa canina), as well as sumach (Thus coriaria), and various species of oak and terebinth. The woodland and the open areas around it are a habitat for a variety of mammals and birds.
Source: sign
Geology
The mountain is part of a chain of dormant volcanic mountains spanning along the eastern part of the Golan Heights, starting from Mount Ram in the north and ending on Tal Saki in the south. It is the northern neighbor of Mount Avital, which shares the same volcanic magma source. Mount Bental was formed in a volcanic eruption that formed a scoria volcanic cone when the magma that tried to erupt from Mount Avital's top could not do so. The pressure led to an eruption of the western side of Mount Avital and Mount Bental.
Source: Wikipedia
Summary
Mount Bental is a good lookout. If you are in the area, I suggest stopping there. You can combine your visit with nearby attractions (see interactive map above), and if there is snow, it can become the main attraction.
Have you ever been to mount Bental? Tell us about your experience in the comments below.
That's all for today, and I'll see you in future travels!
Stay Tuned!
Additional Resources
Here are several resources that I created to help travelers:
And if you have any questions then check out
Useful Information For Tourists To Israel
.  
Did not find what you were looking for? Leave a comment below, and I will do my best to answer your questions.