Last Thursday we visited Ice Age and Dinosaurs Exhibition in Eretz Israel Museum in Tel Aviv and today I am going to share with you my experience.
Map of the area:

Background
Ice Age and Dinosaurs – The Exhibition (official site: www.iceagedinos.co.il) is taking place in Eretz Israel Museum during July – August (2016). According to the official site, there are more than 43 recreated models, and some of the model's height reaches 13 meters. Many of the models contain robotic parts which allow them some movement.
Tickets cost 89 NIS per person. Alternatively, you can purchase a family ticket for 280 NIS (2 adults + 2 children). But you can find cheaper tickets through credit card companies or different consumer groups. I purchased through visa 1 + 1, i.e. two first tickets for the price of 89 NIS and each extra ticket was around 60 NIS.
Update: yesterday when we were shopping at Hazi Hinam, I saw they offered (up to 5) tickets to this exhibition for 39 NIS. The offer was valid only for those purchasing above (as far as I remember) 500 NIS.
Visiting Ice Age and Dinosaurs Exhibition
I had concerns before going to the Ice Age and Dinosaurs Exhibition. One of the reasons is a sentence on the official site saying: "It's not allowed to photograph with professional cameras." There is no definition of what is a professional camera. And to somebody who has no interest in photography, any DLSR can look like a professional camera (since it's much bigger than a smartphone). And when I see something like this, I understand that the organizers don't want people to photograph. This means they probably don't want to see a full review online. Most chances because it won't be positive. And I knew exactly why my main concern was that this is a small and pricey exhibition, similarly to Here come the Dinosaurs, that was held in Tel Aviv several years ago. Did my concerns turn out to be true? Read on and you'll find out.
As I said we visited Ice Age and Dinosaurs Exhibition on Thursday evening. The exhibition is an open air one. Some parts are shaded and others are under the open sky. Therefore I would recommend visiting either in the evening or in the morning.
Short Movie
Every hour there is a screening of a movie about dinosaurs. We started our visit from watching this 25 minutes 3D movie. In the movie they start from the big bang, then the dinosaurs, ice age up to modern humans. The movie is quite scientific, so smaller children (5 and less) will not understand much. The 3D quality wasn't that good, and I saw almost everything in 2D with weird shadows (that's supposed to be 3D). But, maybe the 3D glasses are adjusted to children (narrower placed eyes). I didn't like the movie because of the content and the quality, but my daughter did like it (maybe because she hadn't see quality 3D movies yet).
Dinosaurs Exhibition
Then we went outside and in the beginning, you can find models of dinosaurs: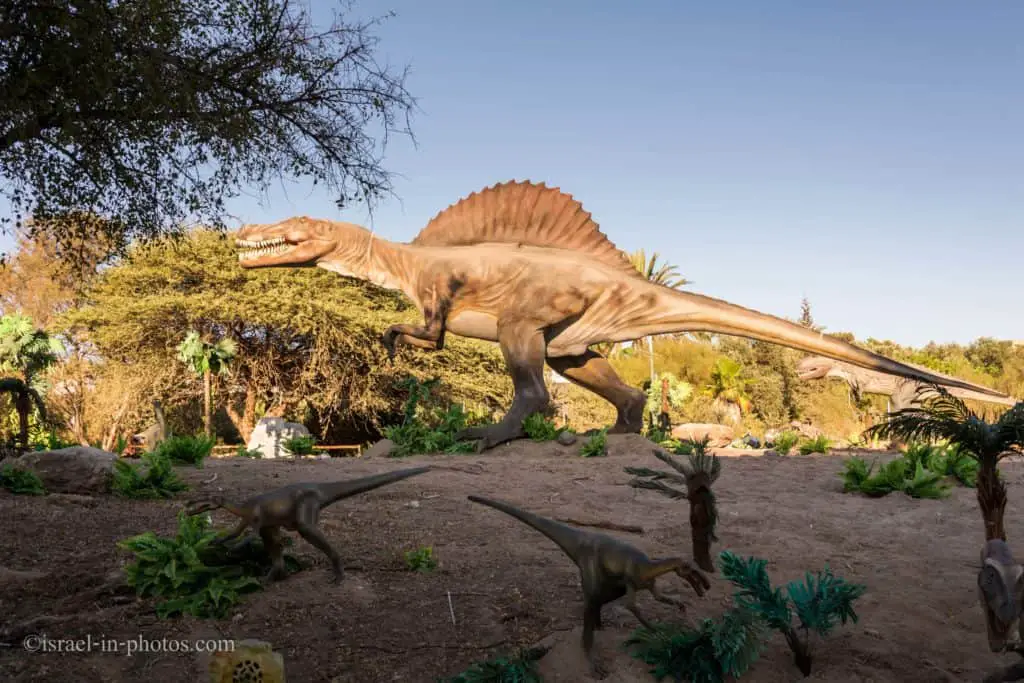 Many of the models are slightly moving. Like tilting heads, breathing and opening/closing their eyes.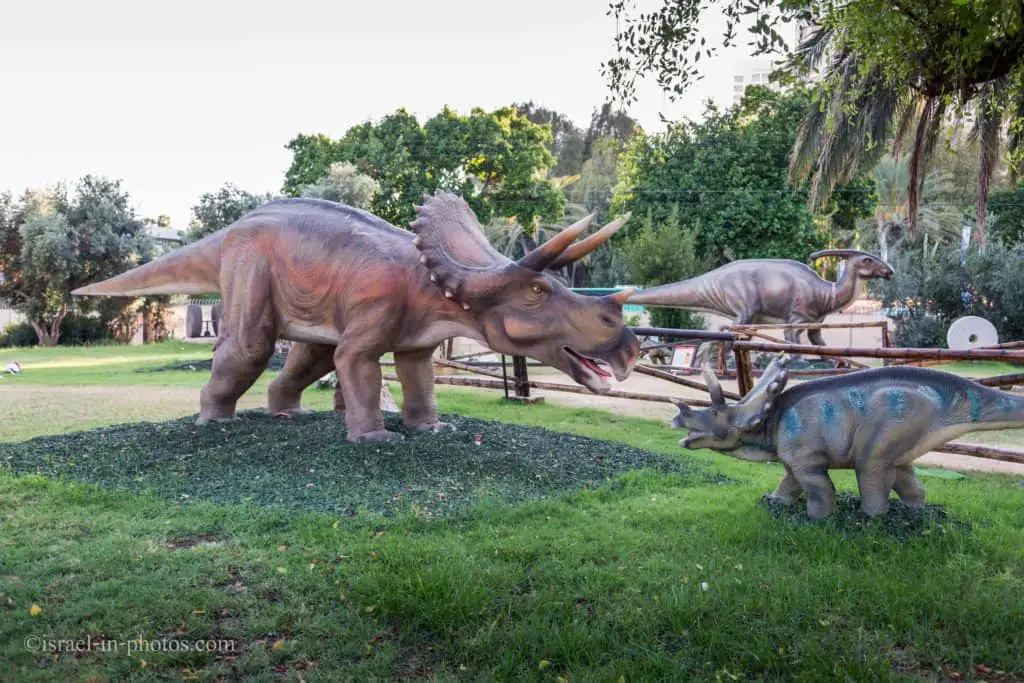 There are also speakers next to many dinosaurs. Thus, you can hear sounds as well.
Pteranodon: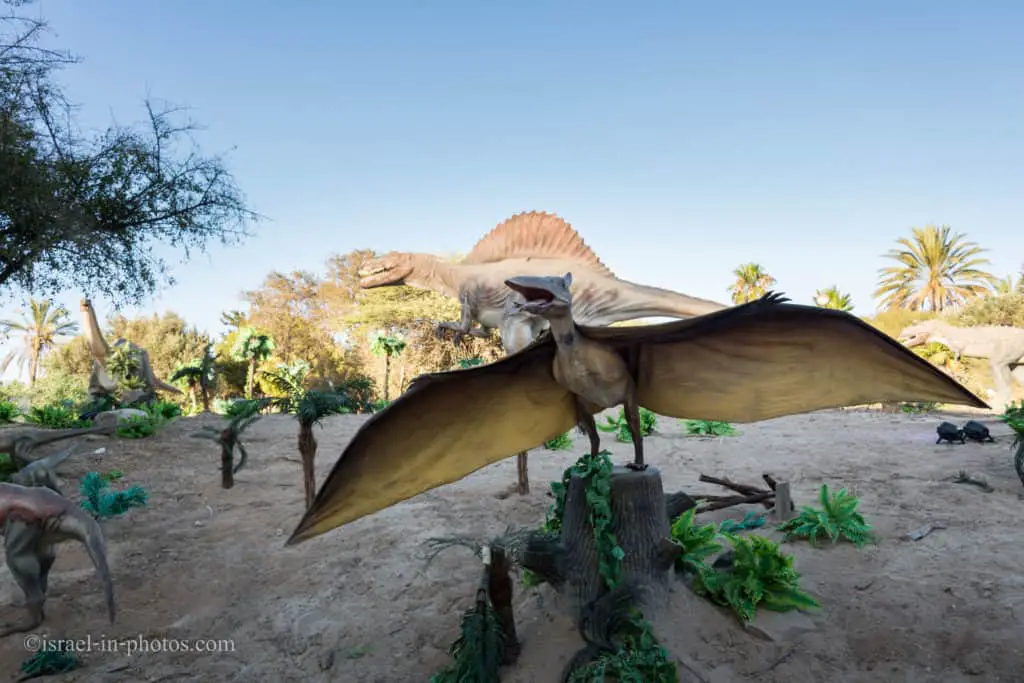 If you look closely then you will see colored lights among the dinosaurs. When we visited it was still too bright and those lights were off. But I guess that later in the evening they turn them on. So visiting later in the evening could be an interesting experience.
Tyrannosaurus Rex: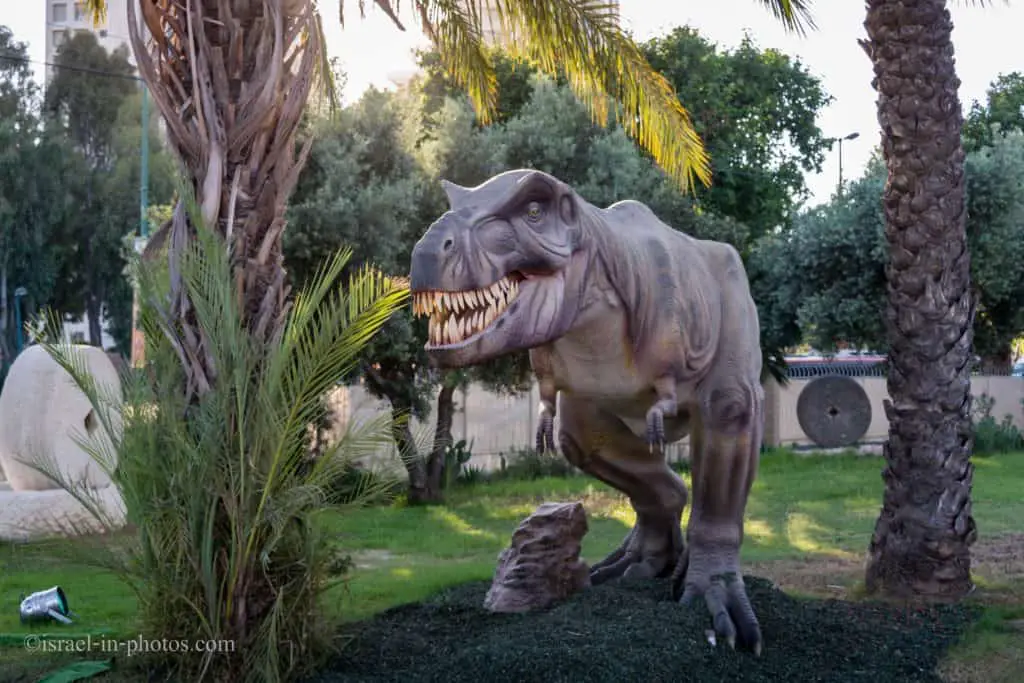 After about 300 meters we reached a covered complex. This complex had a food stand, toys (for sale) stand, tables with colors and booklets for children and several other small attractions. One of them was photographing children on top of different creatures. Photography was at an additional cost (as you can see in the photo below), but maybe because we visited at the middle of the week there was no photographer there. Thus most people simply photographed their children with phones.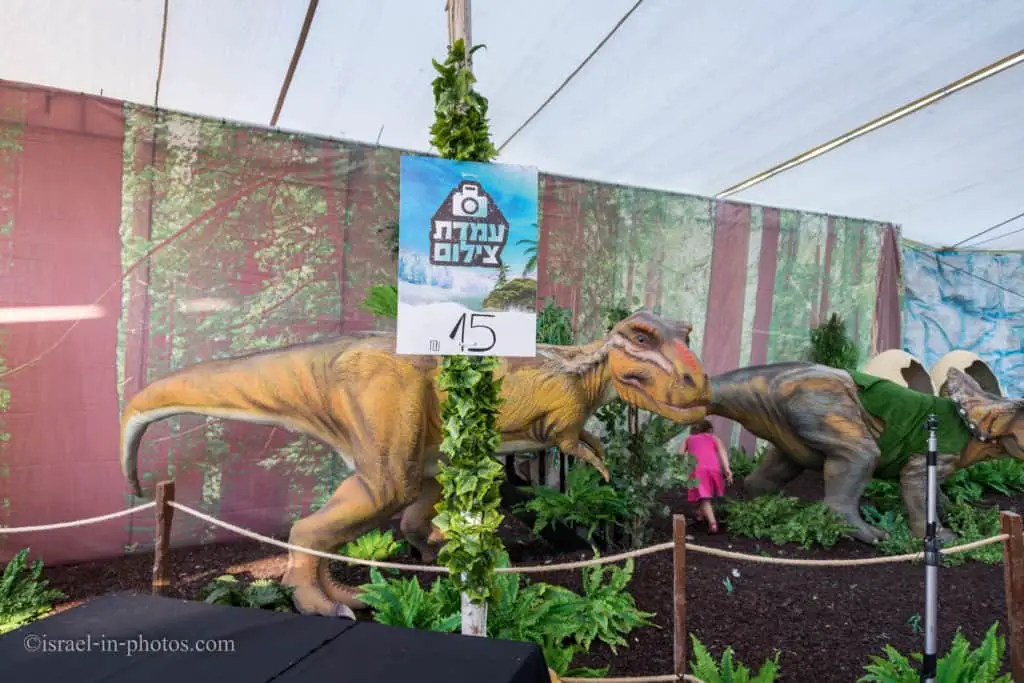 Does anybody want to be photographed on top of a snow tiger?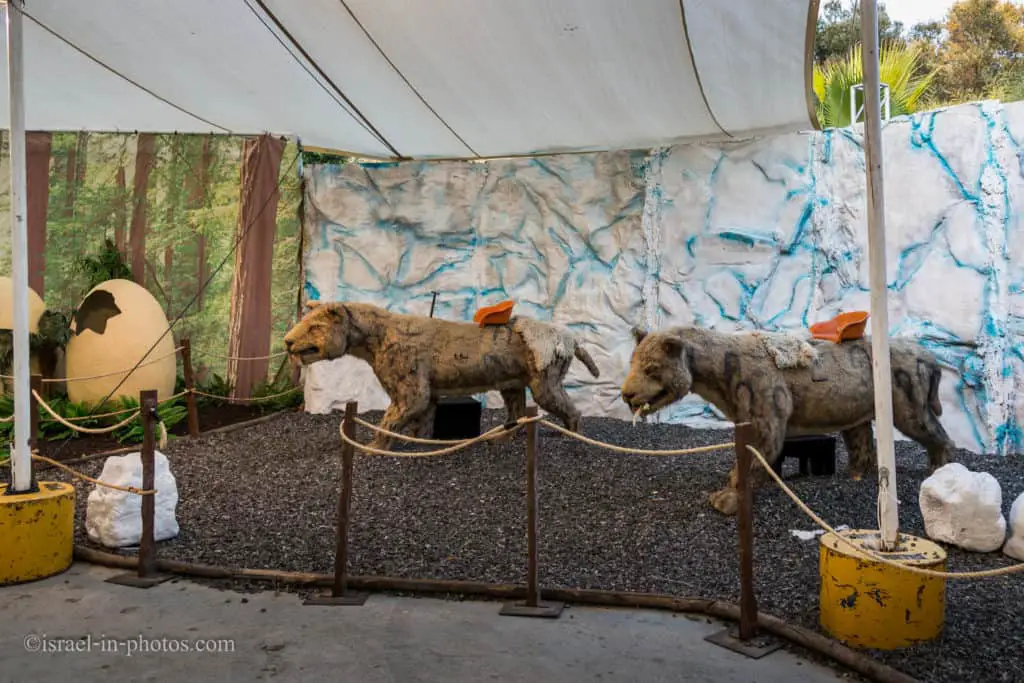 The fact that it was in the middle of the week and the workers at the exhibition looking a little "sleepy" were in my favor. During my visit, nobody asked me or even looked towards my camera.
At the eastern part of the covered complex, you can find a pathway. This pathway leads to the continuation of the exhibition.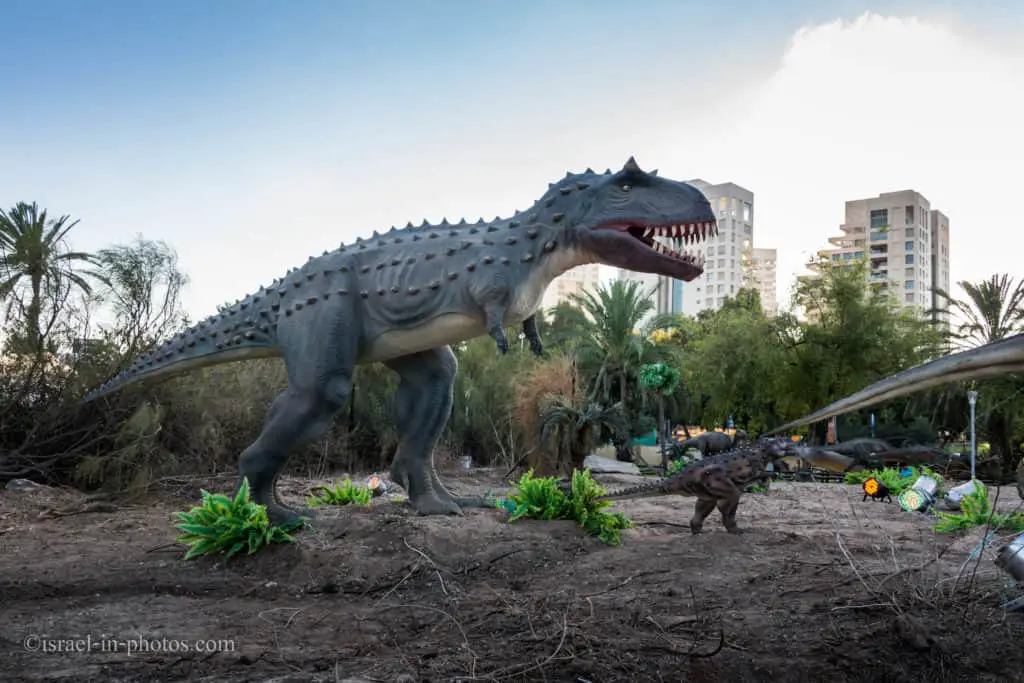 In the beginning, we saw more dinosaurs: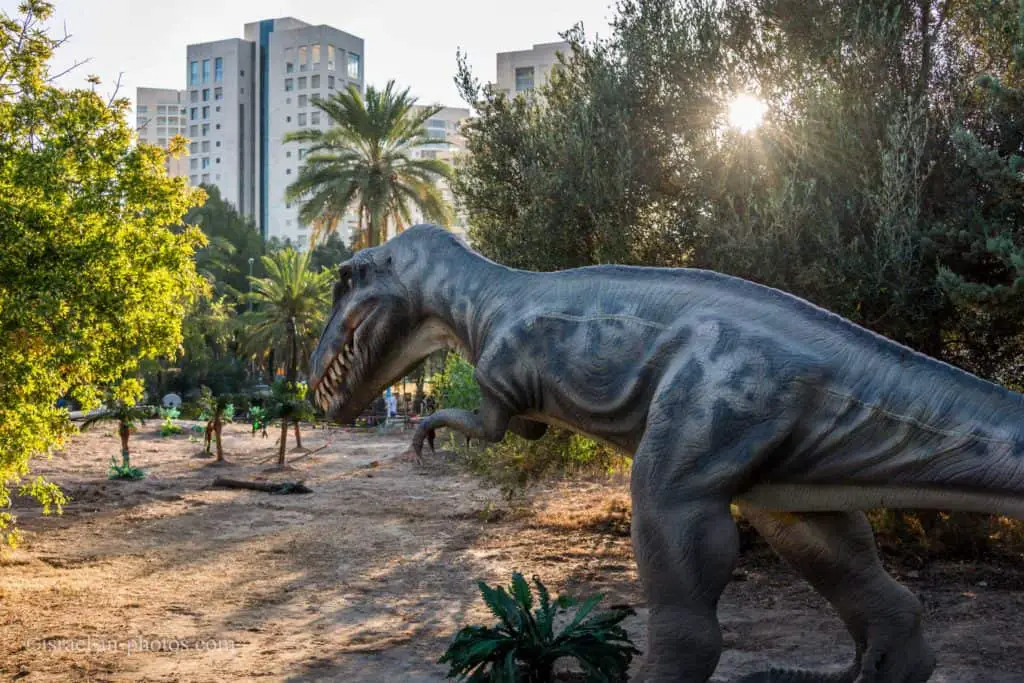 Ice Age Exhibition
But then we reached the ice age section.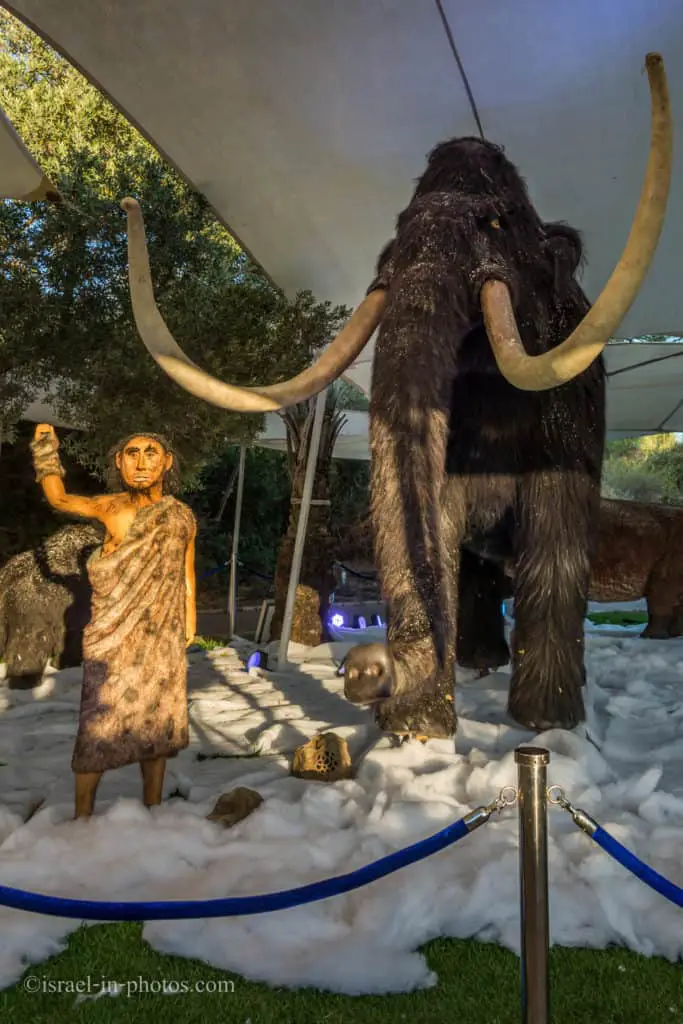 Most models have signs with explanations. Like in this case of a Mammoth: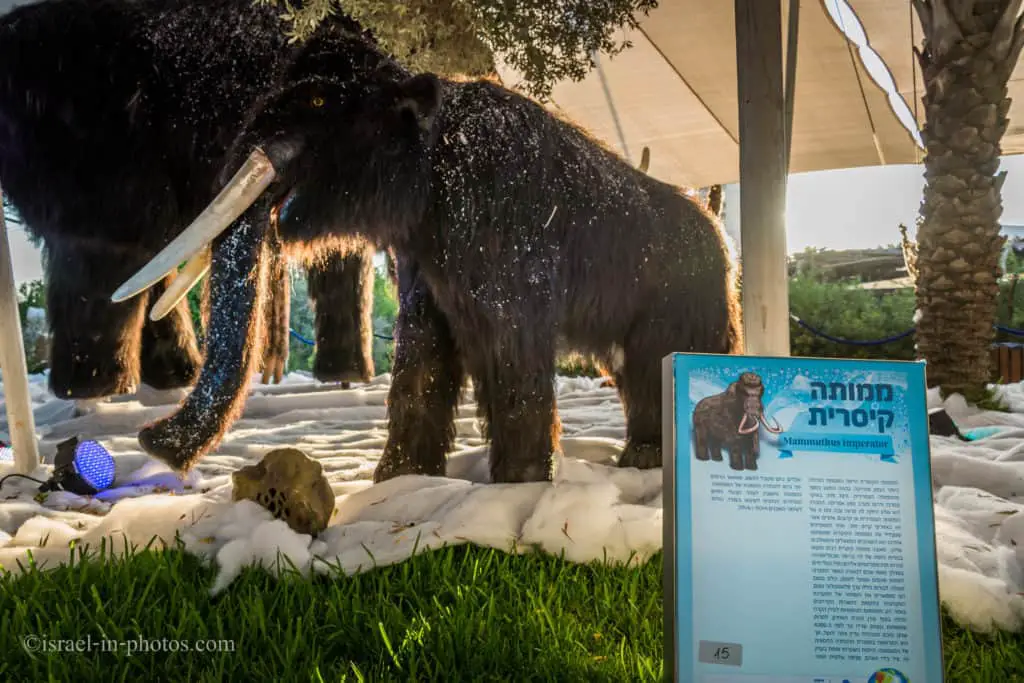 The ice age part is mostly covered. Therefore if you come early in the evening, it may be better to start from it. Here is a wider view: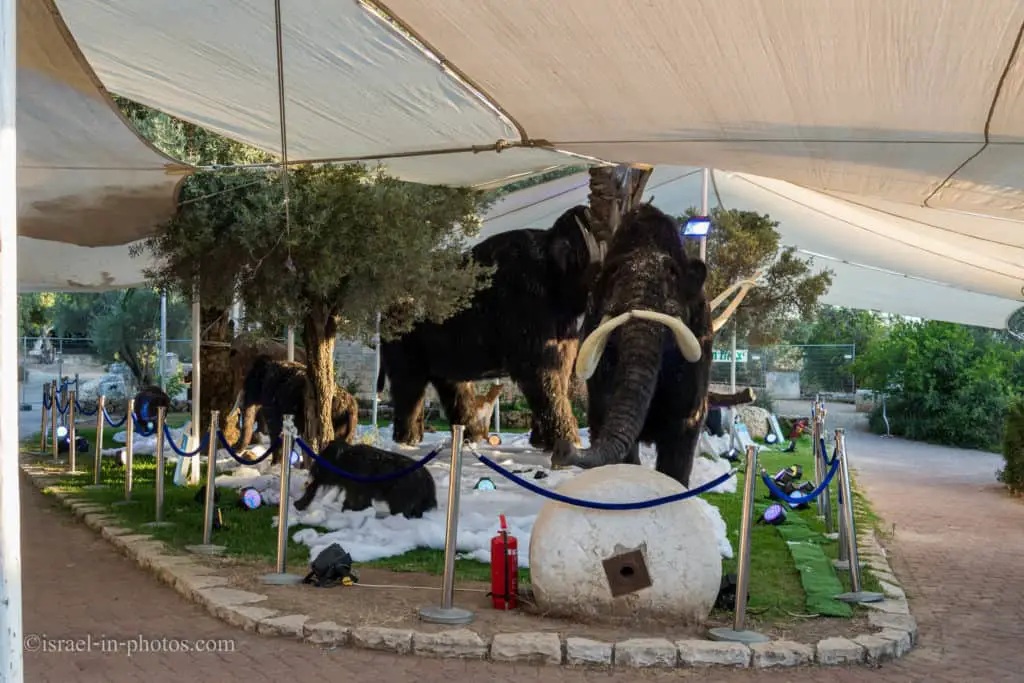 Dodo:

Ice age tiger: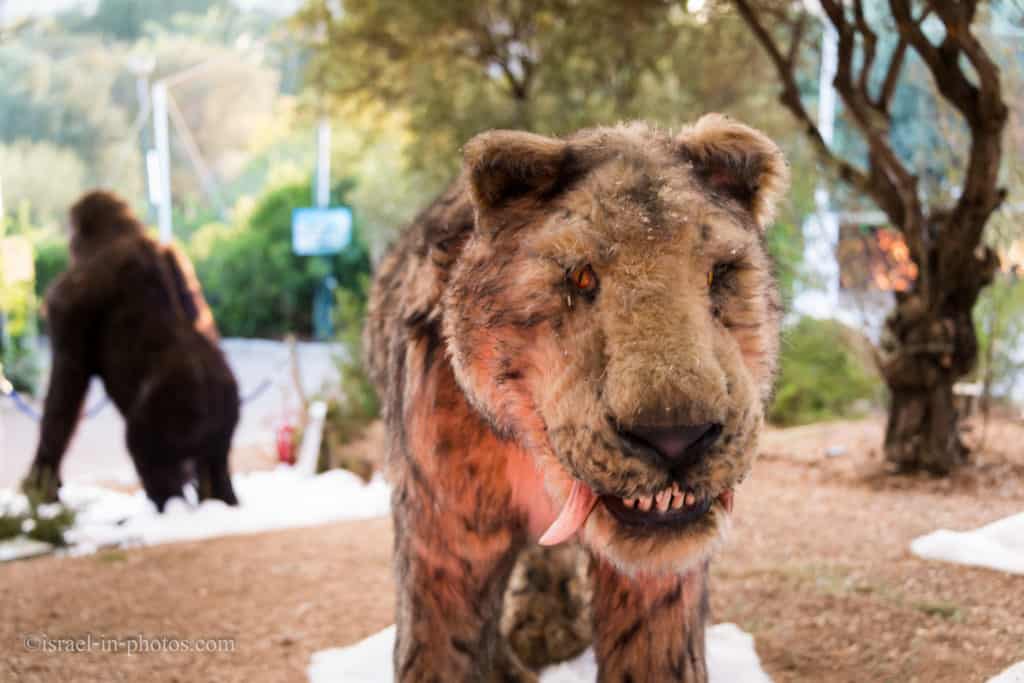 Here are two more photographs from the ice age: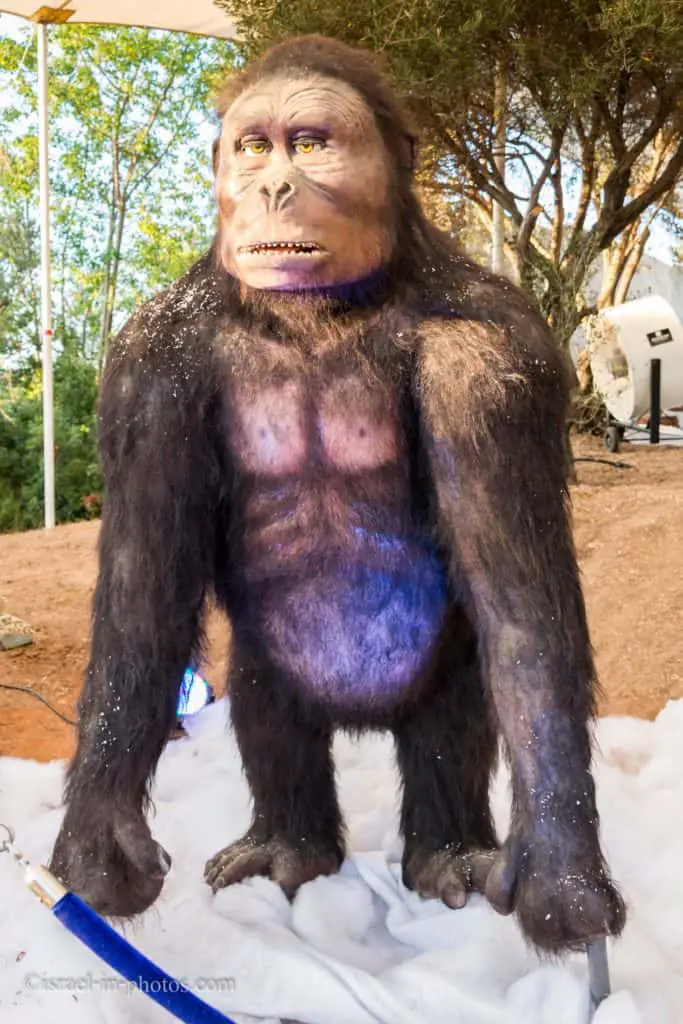 And that's it. Going through the whole exhibition (not including the movie) took us about an hour. And this hour also includes a 10-15 minute food break. From this point, we started to make our way back. Through the dinosaurs and toward the exit.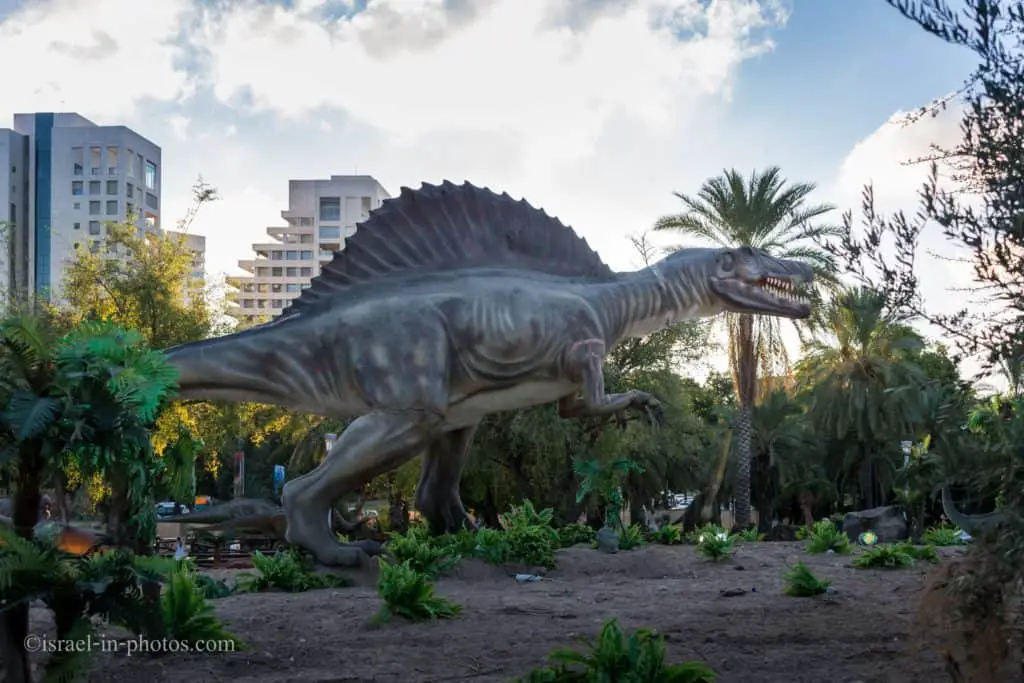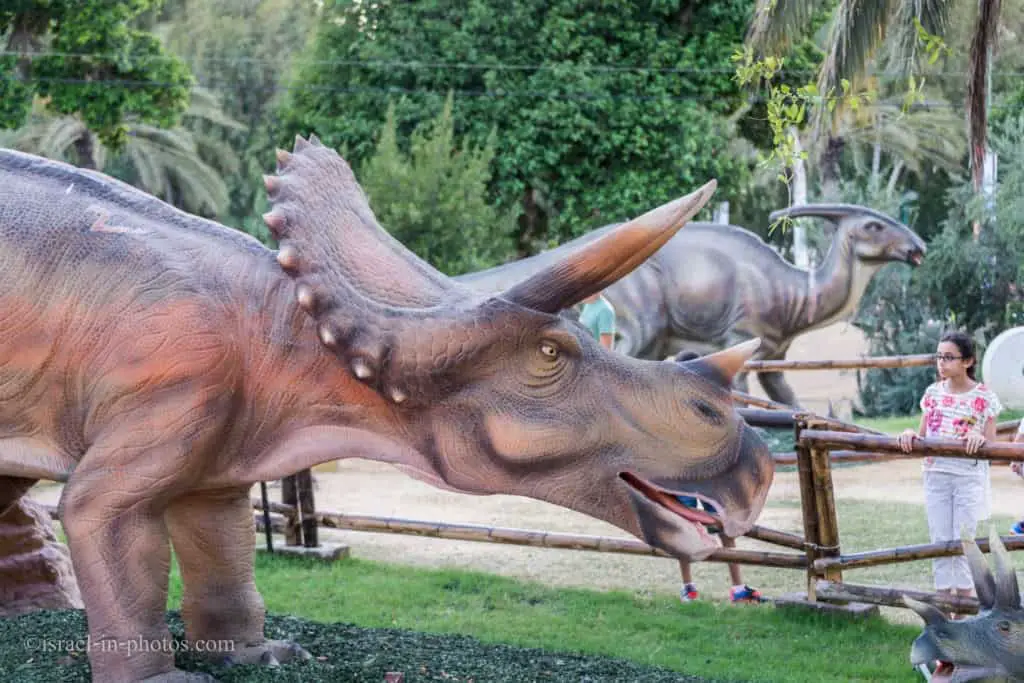 My daughter with Brachiosaurus: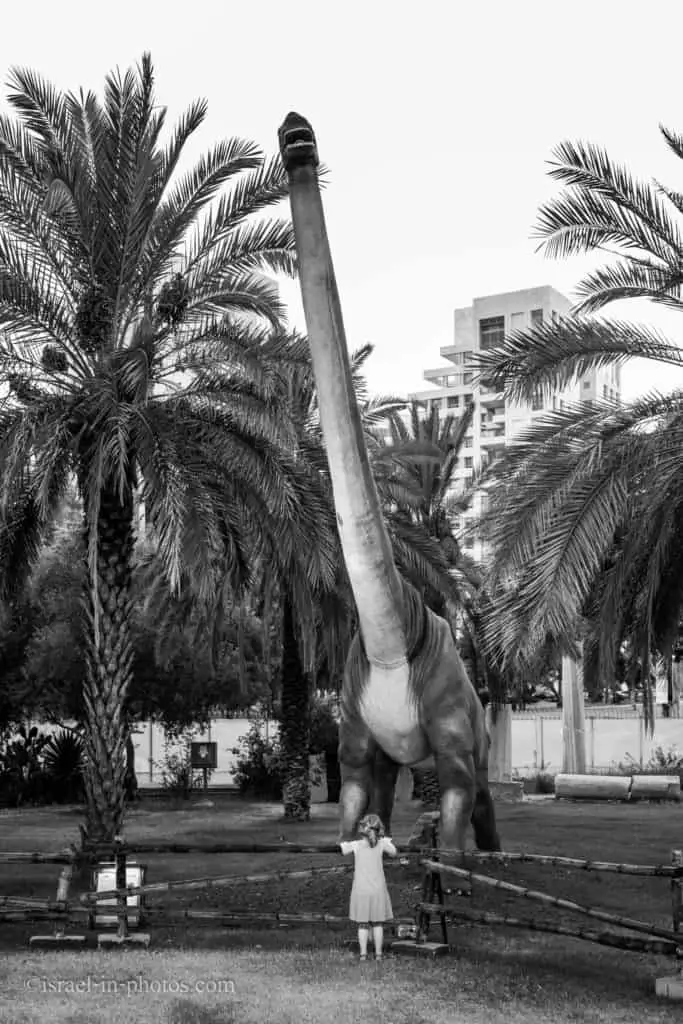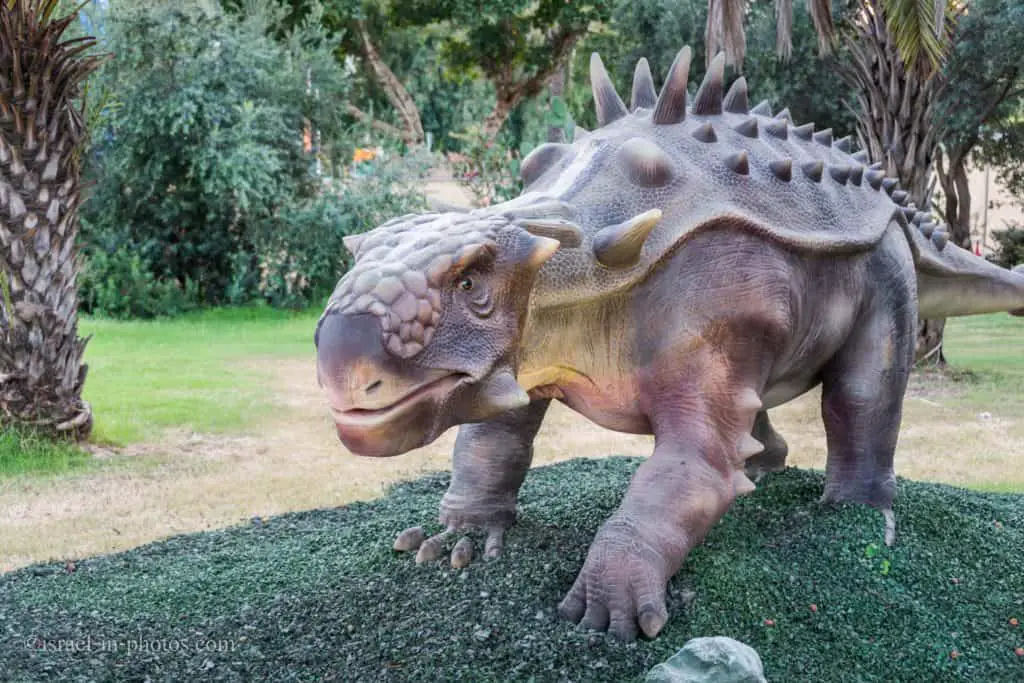 As you can see the birds aren't scared by dinosaur models:

Summary
If I had to sum up then I'd say that overall Ice Age and Dinosaurs exhibition is a nice one. But considering its size, I consider the full ticket price as overpriced. If you can get tickets for around 40 NIS or below (I mentioned several coupons at the beginning of this post), then you can give it a go.
Have you visited the Ice Age and Dinosaurs exhibition? Tell us about your experience in the comments below.
And I will leave you with the photo of a dinosaur with Tel Aviv in the background.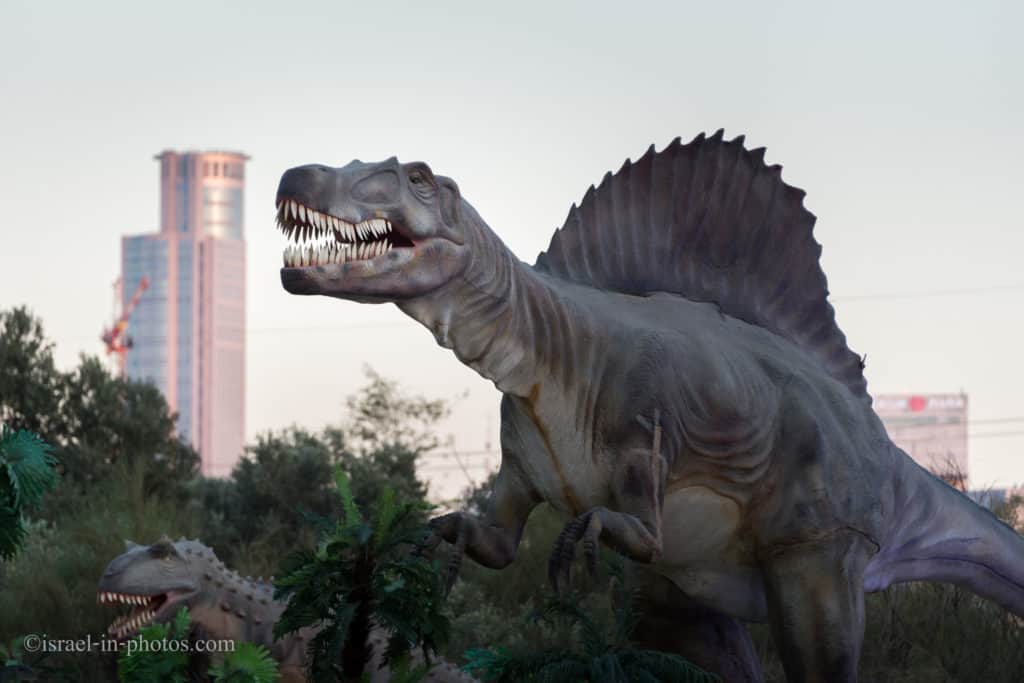 Have you ever been to the Ice Age And Dinosaurs Exhibition? Tell us about your experience in the comments below.
That's all for today and I'll see you in future travels!
Stay Tuned!
For additional points of interest nearby see Tel Aviv-Yafo page.
If you have any questions then check out Useful Information For Tourists To Israel. And if you are looking for ideas on where to visit, then read Israel Trip Planner, National Parks And Nature Reserves, and Events And Festivals By Season. 
 
Additional Resources
Here are several resources that I created to help travelers:
And if you have any questions then check out Useful Information For Tourists To Israel.
 
Did not find what you were looking for? Leave a comment below, and I will do my best to answer your questions.