Afeka Caves and Drezner Grove offer a lovely and easy hike close to Tel Aviv. This track allows seeing many flowers and ancient burial caves.
Map
Afeka Caves and Drezner Grove are located north of the Ramat Aviv Gimel neighborhood in Tel Aviv. Drezner Street is located to the south of this grove. And there are several passages between the street and the woodland. One of the entrances is near Yekhi'el Dov Drezner Street 16. You can park there and start hiking. But keep in mind there are many people on Saturdays. Thus, finding parking may be problematic if you arrive late.
Directions for drivers: Link to Waze and Link to Google Maps
Directions for public transport: Link to Moovit
Interactive map of the area:
Offers:
Hotels, hostels, and apartments in this area:
Tracks
The trails are clear and wide. Moreover, everything is located on a flat plane. Thus getting lost is virtually impossible. On the following map, I marked the track that we did, and it is a 2.3 km road. Most of the paths have similar lengths, and they are suited for families.
Here is an interactive map from israelhiking.osm.org.il:
The marked path crosses a small river. Rains shortly before a visit might prevent you from crossing the river. In that case, you will have to change your course.
Opening Hours
Always open, but there is no artificial light. So visit only during daylight.
Entrance Fee
Free.
Drezner Grove
And now, let's start our visit. As you enter Drezner Grove, you will see the next trail.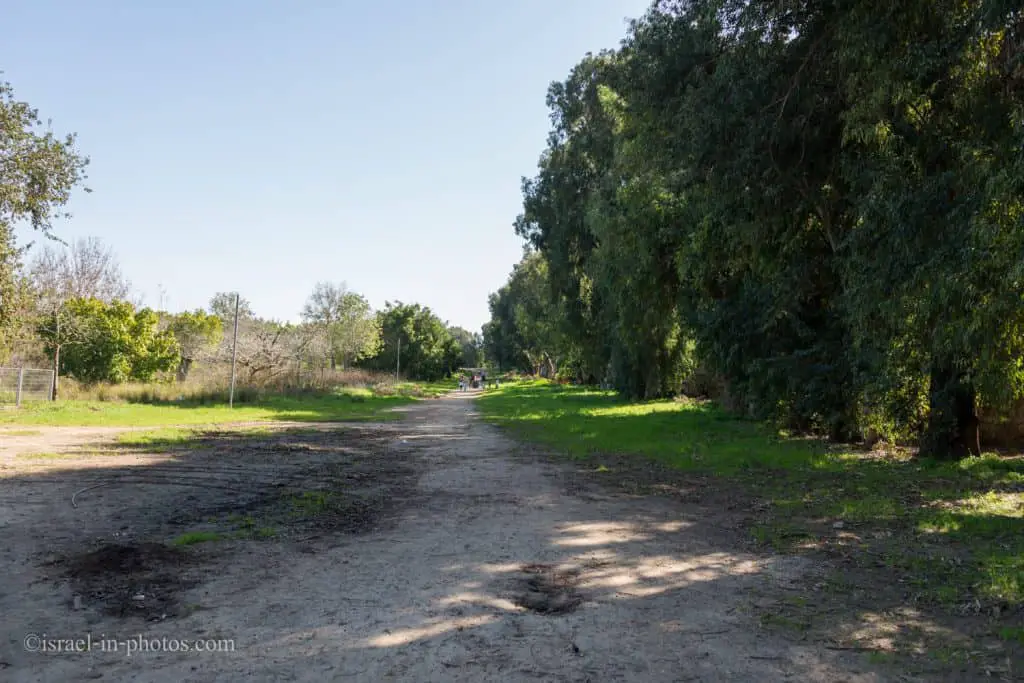 As you can see from the following sign, starting a fire at Drezner Grove is forbidden. But many people do picnics there.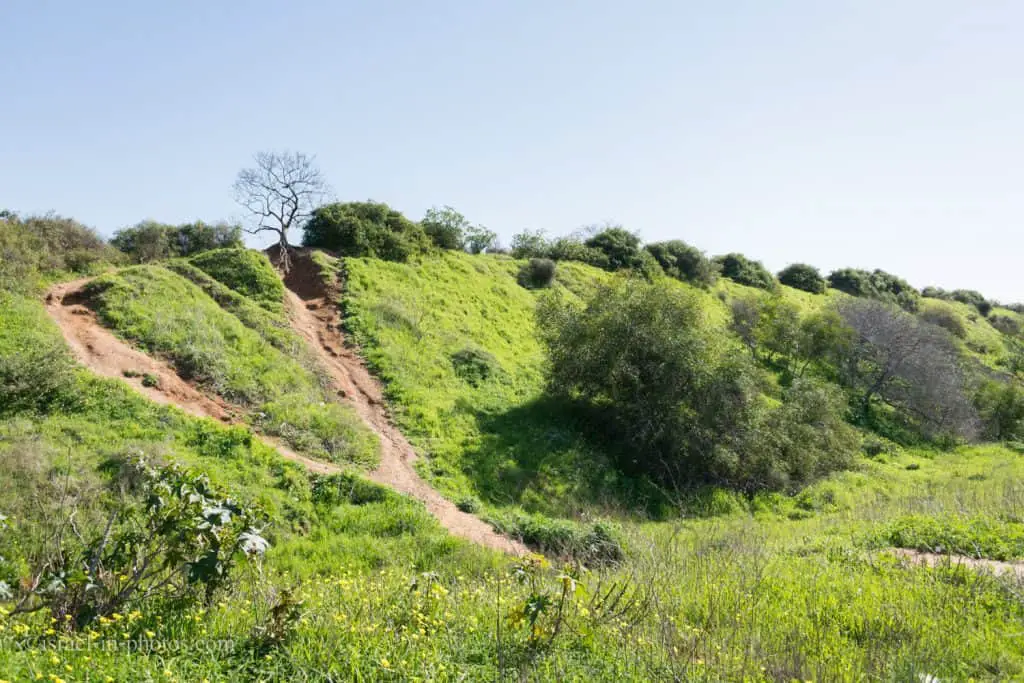 Samaritans
Afeka Caves are a concentration of ancient Samaritan burial caves. Thus, before visiting the caves, I want to make a short intro about Samaritans.
The Samaritans are an ethnoreligious group originating from the Israelites of the Ancient Near East.

Ancestrally, Samaritans claim descent from the tribe of Ephraim and the tribe of Manasseh and the Levites. The latter has links to ancient Samaria from the period of their entry into Canaan. Simultaneously, some Orthodox Jews suggest that it was from the beginning of the Babylonian captivity up to the Samaritan polity under Baba Rabba's rule.

The present-day population has been consistently divided between the West Bank and Israel. Samaritans in the West Bank live in Qiryat Luza on Mount Gerizim, while those in Israel are concentrated in the city of Holon. The Samaritans of Qiryat Luza hold dual Israeli and Palestinian Authority citizenship. Samaritans in Holon and Qiryat Luza today speak Hebrew and Arabic. For liturgical purposes, Samaritan Hebrew, Samaritan Aramaic, and Arabic are used, all written with the Samaritan alphabet, a variant of the Paleo-Hebrew alphabet distinct from the Jewish Hebrew alphabet, which is a stylized form of the Imperial Aramaic script.

Samaritans have a stand-alone religious status in Israel, and there are occasional conversions from Judaism to Samaritanism and vice versa due to marriages. While the Israeli Rabbinic authorities consider Samaritanism to be a branch of Judaism, the Chief Rabbinate of Israel requires Samaritans to officially go through a formal conversion to Judaism to be recognized as Halakhic Jews.
Source: Wikipedia
Afeka Caves
After about ten minutes, you will reach the caves.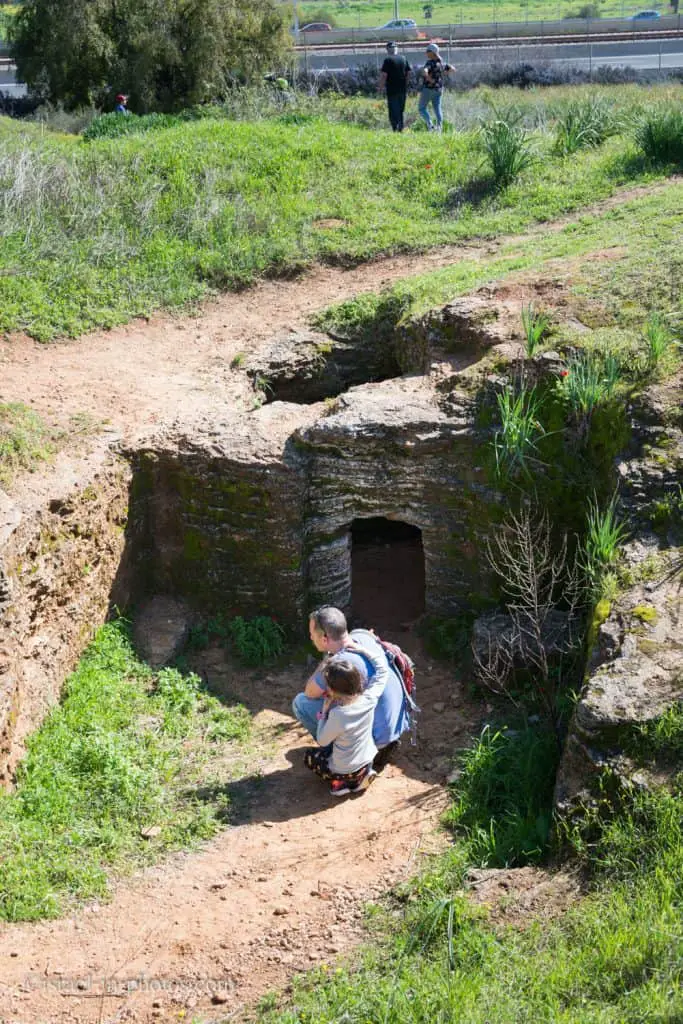 Afeka Caves are cut in the Kurkar rock adjacent to the Ayalon highway and Ramat Aviv neighborhood. The cave site was discovered in 1951 during the construction of the coastal railway and was investigated by archaeologist Yaakov Kaplan.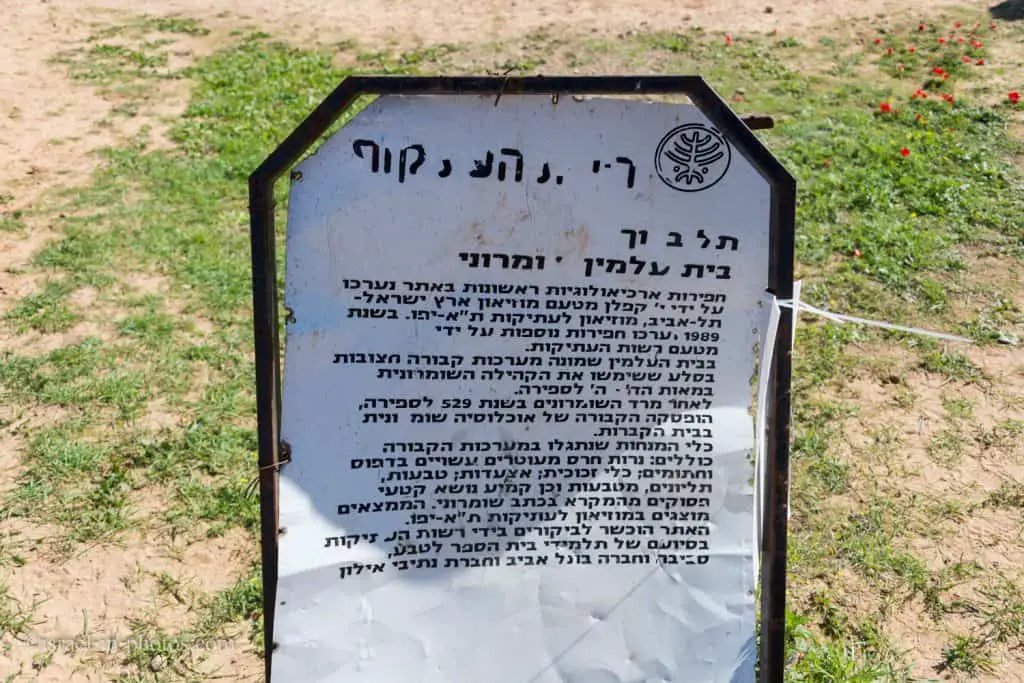 This place was re-explored as part of rescue excavations in 1989 while constructing Ayalon lanes.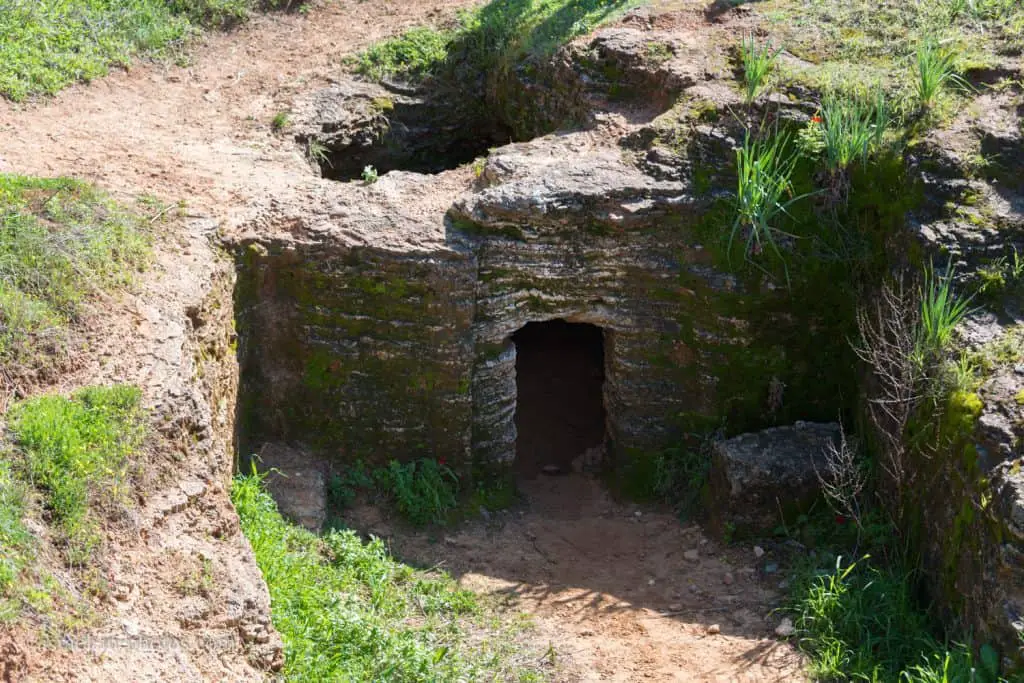 The cemetery has eight burial systems cut in the rock and was mainly used by the Samaritan community in the 4th and 5th centuries AD. After the Samaritan revolt in 529 AD, Samaritan burial in the cemetery was stopped.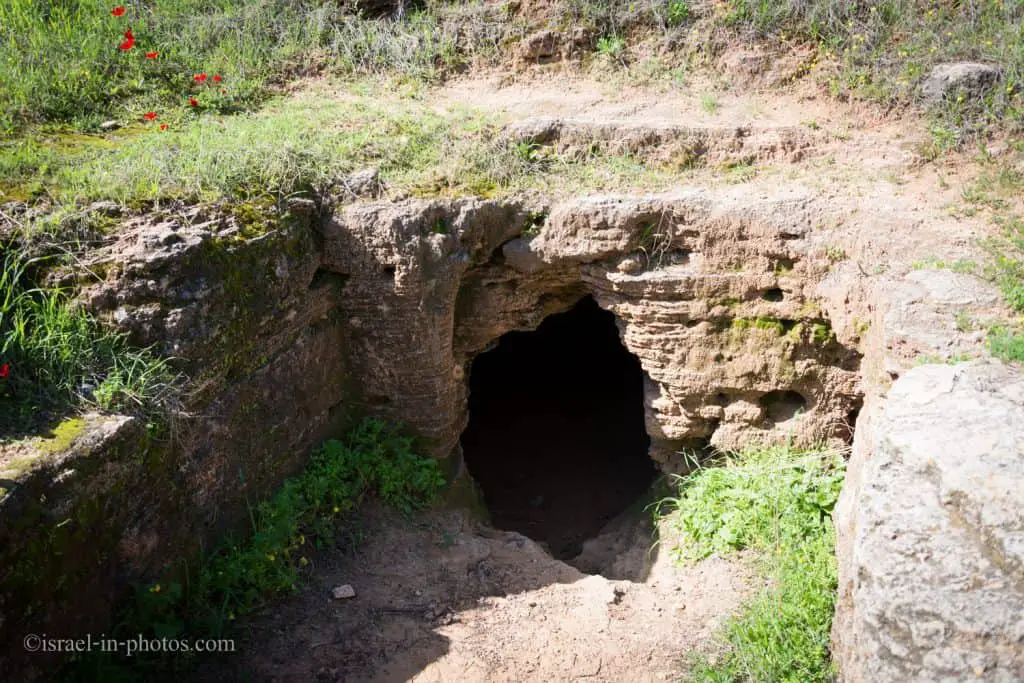 The memorial vessels discovered in burial systems include decorated pottery candles, glass vessels, rings, pendants, coins, and an amulet bearing passages from the Bible in Samaritan script.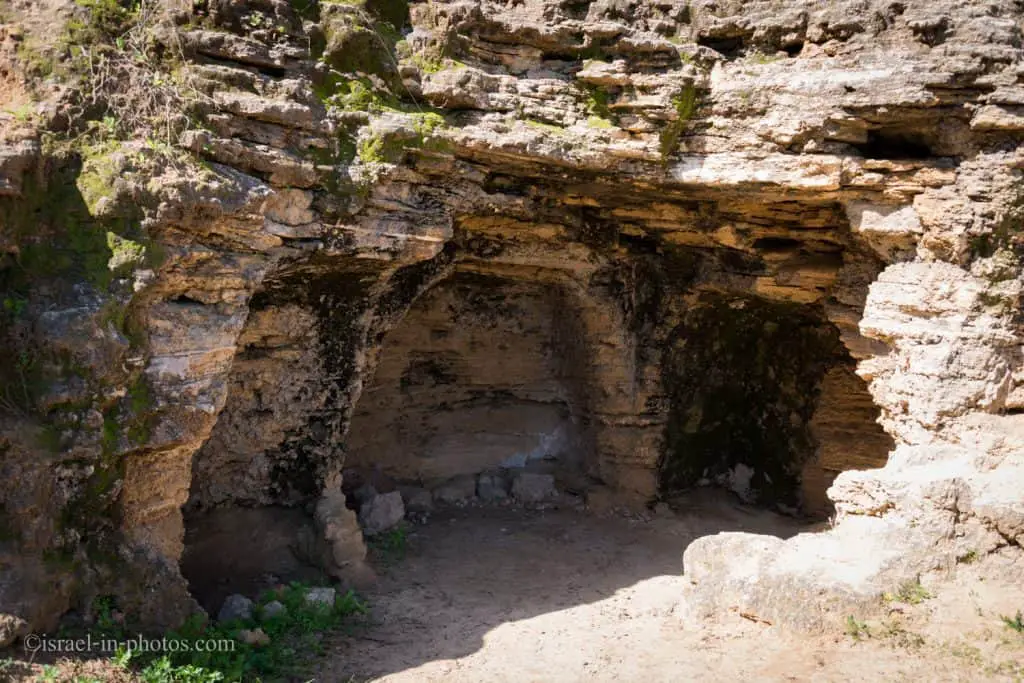 When to visit Afeka Caves?
Our visit was in the middle of February. And winter and spring are the best seasons for this trail. If you visit during December and January, then you will see Narcissus. And in February, you will see Anemones and Coastal Iris.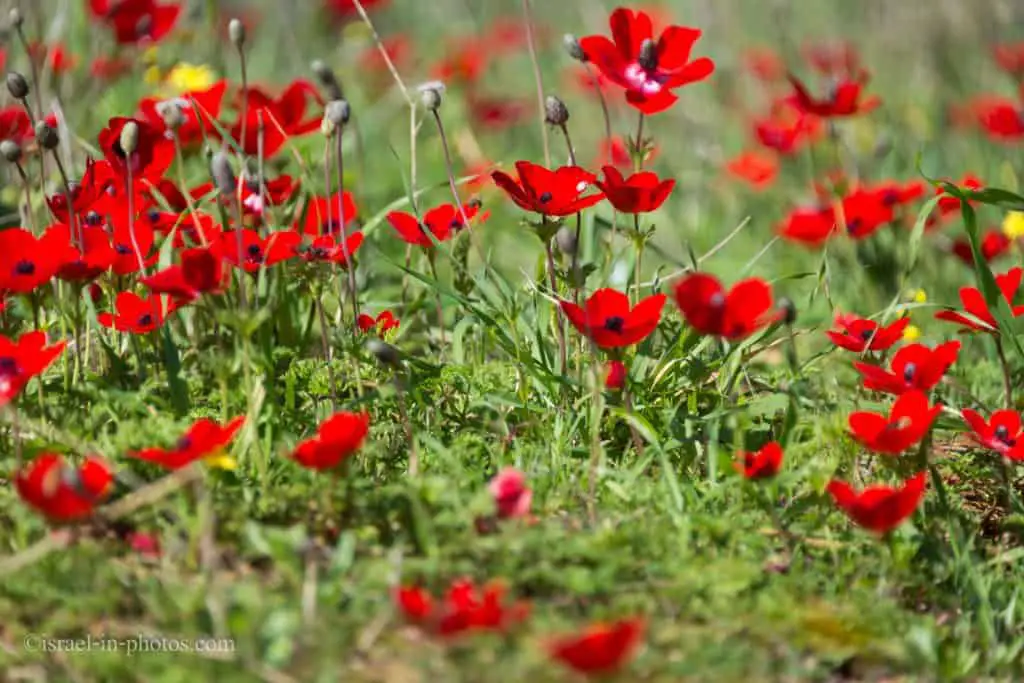 Darom Adom is the most famous festival where you can see a lot of Anemones. And though you can see fewer flowers in Drezner Grove, near Afeka Caves, you can find fields of anemone flowers.
Additional information about Coastal Iris can be found at Coastal Iris at Nahal Poleg Nature Reserve in Netanya.
As you can see in the following photo, the trails go on land. Thus it will be muddy after rain. Therefore, either wait for the ground to dry or wear boots.
Daffodil Field
We continued our hike to the north towards the Daffodil field. And to get to it, you have to cross a river.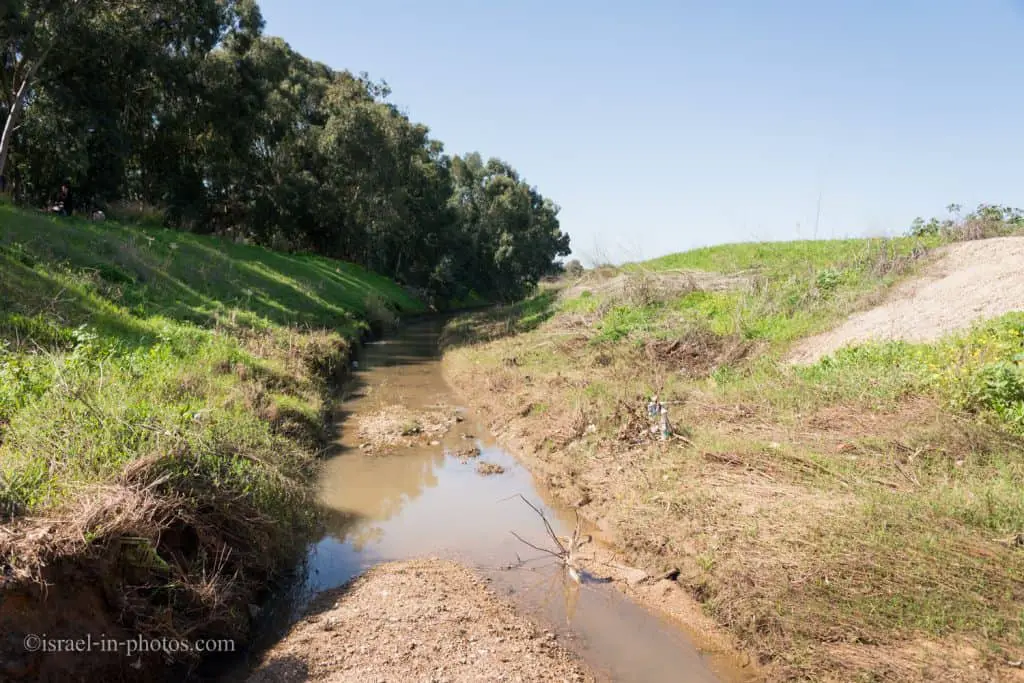 If there was no rain several days before your visit, you could probably cross it. In our case, we had to make two small jumps to get to the other shore.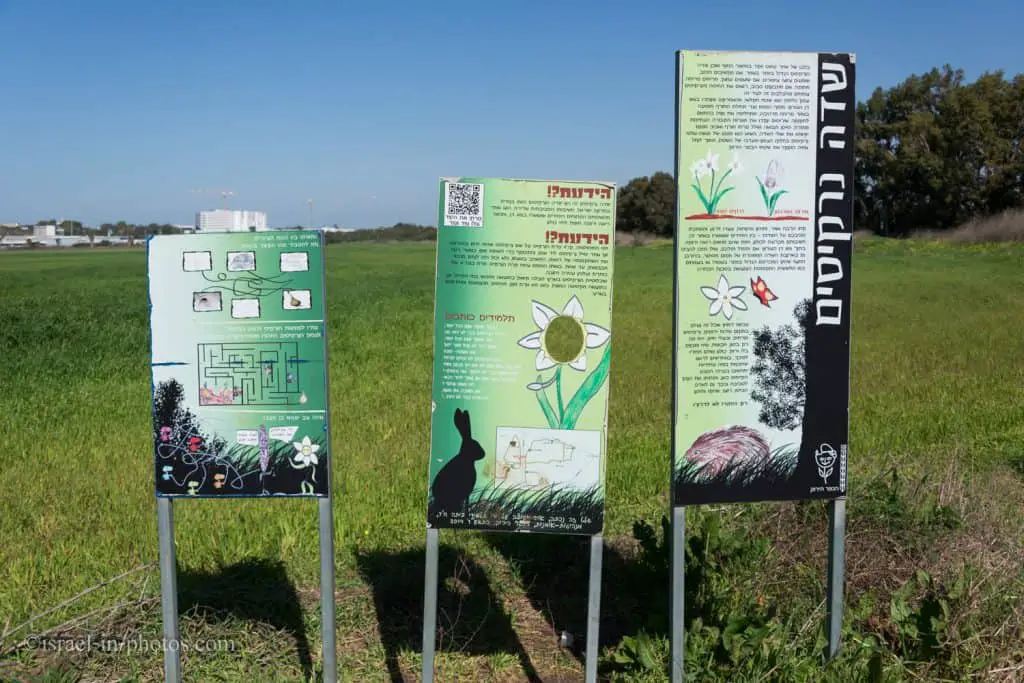 As I mentioned previously, we visited in the middle of February. And it is already late for Daffodil. We saw only a few Narcissus, and many were already withered. 
From the Narcissus field, we started to make our way back.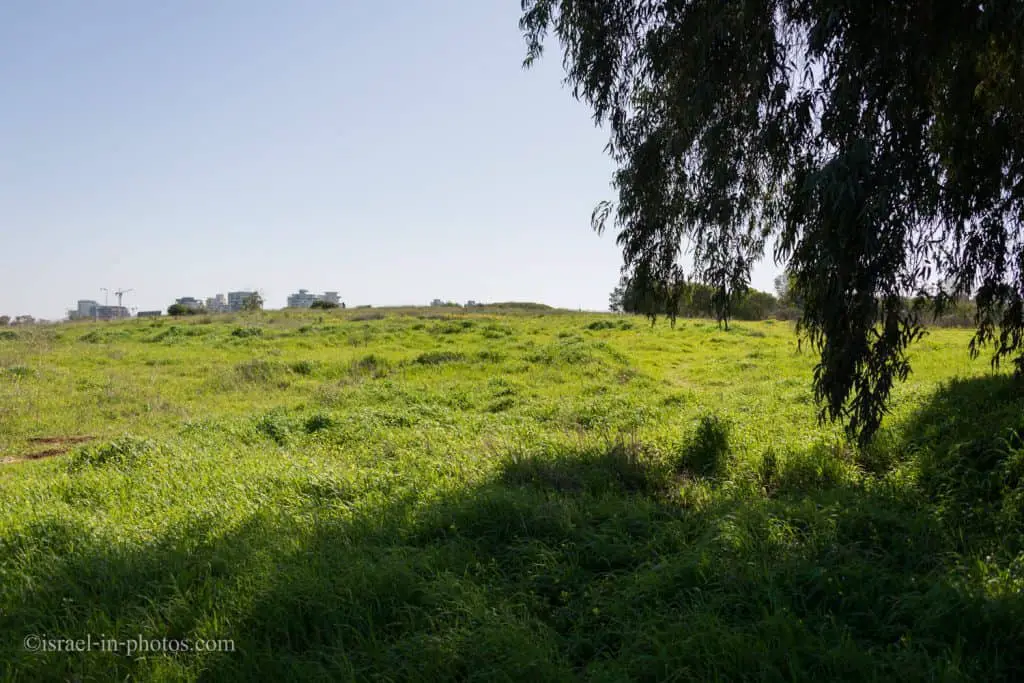 Summary
Afeka Caves and Drezner Grove offer a lovely hike close to Tel Aviv. Moreover, since the trail is easy, it suits a family hike. But do take a baby sling.
Have you ever been to Afeka Caves? Tell us about your experience in the comments below.
That's all for today, and I'll see you in future travels!
Stay Tuned!
Additional Resources
Here are several resources that I created to help travelers:
And if you have any questions then check out
Useful Information For Tourists To Israel
.  
Did not find what you were looking for? Leave a comment below, and I will do my best to answer your questions.