Joe Alon Center near Lahav houses the Museum of Bedouin Culture. Moreover, various events and exhibitions take place occasionally.
Preface
The Museum of Bedouin Culture tells the story of Bedouins and presents different findings. Your visit will not affect the situation in southern Israel, and the guides will most likely ignore any references to the actuality. Hence try to look at the visit from the perspective of learning something new.
Map
Joe Alon Center is located in the Lahav forest, about 20 km north of Beer Sheva.
Directions for drivers: Link to Waze and Link to Google Maps
Directions for public transport: Link to Moovit
Interactive map of the area:
Offers:
Hotels, hostels, and apartments in this area:
Opening Hours
According to the official site, the opening hours are:
Sunday – Thursday: 8:30 – 15:30
Friday and Saturday: closed.
However, the official site lists various exhibitions open on Friday and Saturday. Moreover, we visited on a Saturday during Festival Darom Adom. Hence, recheck the website or contact them before visiting.
Entrance Fee
Free.
Contact Information
Phone: 08-9913322, 08-8615344
Email: office@joealon.org.il
Website: joealon.org.il
Facebook Page: jeoalonmuseum
Who was Joe Alon?
Yosef (Joe) Alon was one of the founders of the Israel Air Force, along with Ezer Weizmann and Motty Hod, and was the commanding officer of future IAF commanders such as David Ivri and Amos Lapidot.
Men who built a legend.

Joe was born at Ein Harod in 1929. His parents were forced to return to Czechoslovakia in 1931, and in 1939 they sent Joe to England to escape the Nazis. He came to Israel in 1948 and joined the IAF's first pilot training course. In 1953 he became one of Israel's first jet pilots, and in 1955 was appointed squadron commander of the latest jet fighters, the Ouragan. Joe was also the first squadron commander of the famous Mirage fighters and afterward established the Flying Safety Branch at IAF HQ.
The peak of his career was to serve as the first commanding officer of the first airbase built from scratch by the IAF, a task in which he took great pride.

In the words of Major General (Retired) Hod, IAF commander at the time: "Joe knew every corner of the base, every road, every building, every bush. He turned the area of the base into a nature preserve". His deputy, Coloner (Retired) Yoel: "Joe was a warm person and an outstanding pilot, with the analytical and critical ability". "Joe was stubborn and strict in the air," said his successor, General (Retired) Bareket, "and a warm family man on the ground". He was devoted to his wife, Dvora, and his three daughters. Dvora's hospitality and cooking were legends in the IAF.

Joe's love of nature and the country were well known, and he often took the family by car to see places of natural beauty he had first seen from the air.

In 1970 Joe was appointed air attach to the Israel Embassy in Washington. Along with his formal duties, he often gave lectures to Jewish youth and made an outstanding impression.

On July 1st, 1973, a month before the end of his tour of duty, Joe was murdered in front of his home in Washington. The case has not been solved to this day.

The road from Beer Sheva to Hazerim is named: "the Alon Road," and the Study Center at Kibbutz Lahav is called "the Joe Alon Center." Uzi Halamish, the founder of the center, requested this of Dvora, Mr and Mrs Weizmann, and Mr and Mrs Hod, who all supported it enthusiastically. The center operates in folklore, archeology, and nature, educating about the love of man and nature – a fitting memorial to a wonderful man who is no longer.
At Joe Alon Center
We sought a new attraction during the celebrations of Festival Darom Adom in 2018, something we have not toured yet. Thus, we drove to Joe Alon Center, located inside Lahav Forest.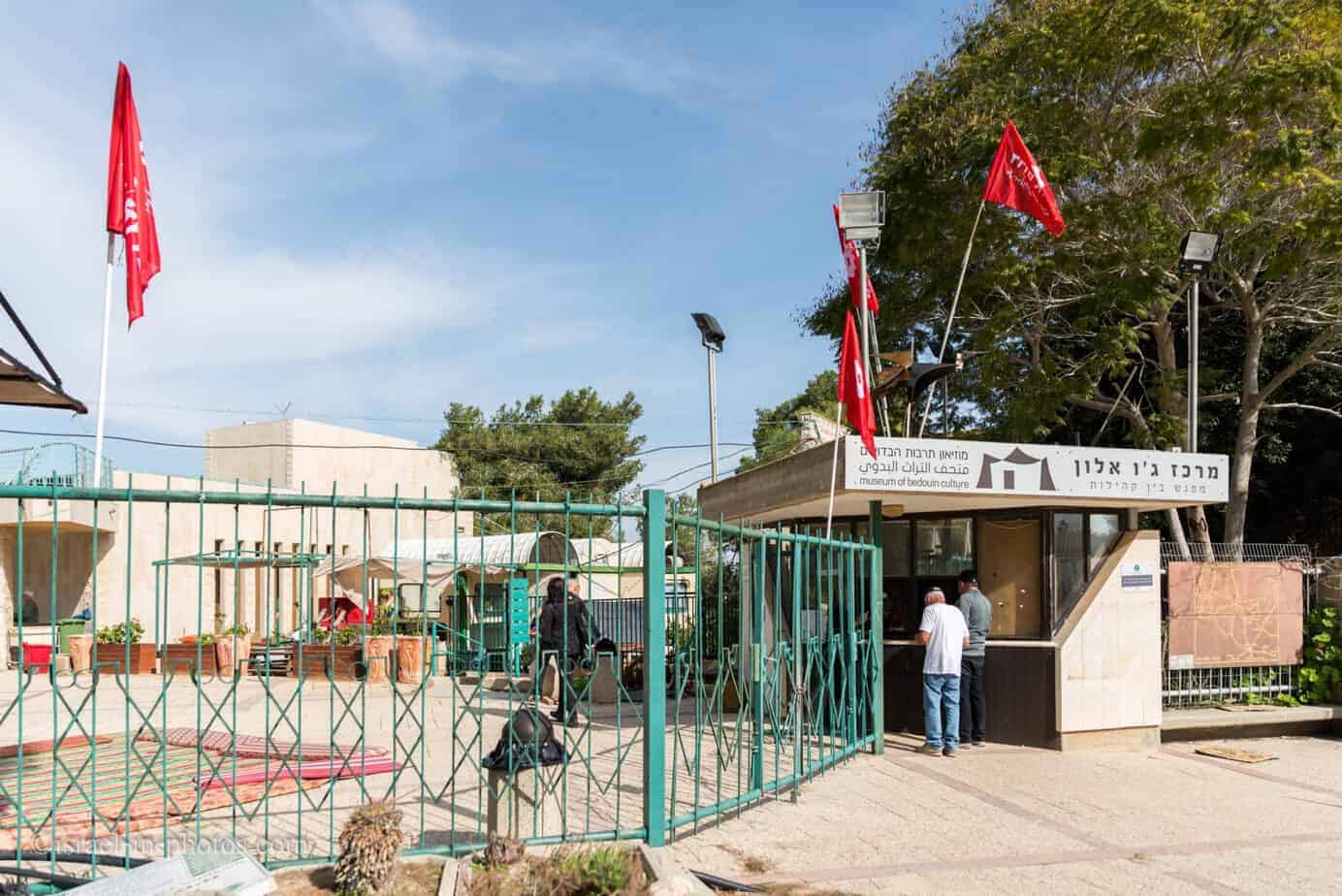 Joe Alon Center for Regional Studies, named after the late Colonel Joe Alon and opened in 1974. The center lies in the heart of Lahav Forest.

Lying in the middle of Lahav Forest, Joe Alon is an educational visitors` center specializing in the geography of Israel, particularly that of the Negev.

The center includes a Bedouin hospitality tent where tea and coffee are brewed, a Museum of Bedouin Culture, an exhibit about the Bar Kochba revolt, a presentation on Jewish settlement in the Negev, a stunning panoramic view of the entire region, and much more besides.
Note: all quotes were taken from the official site.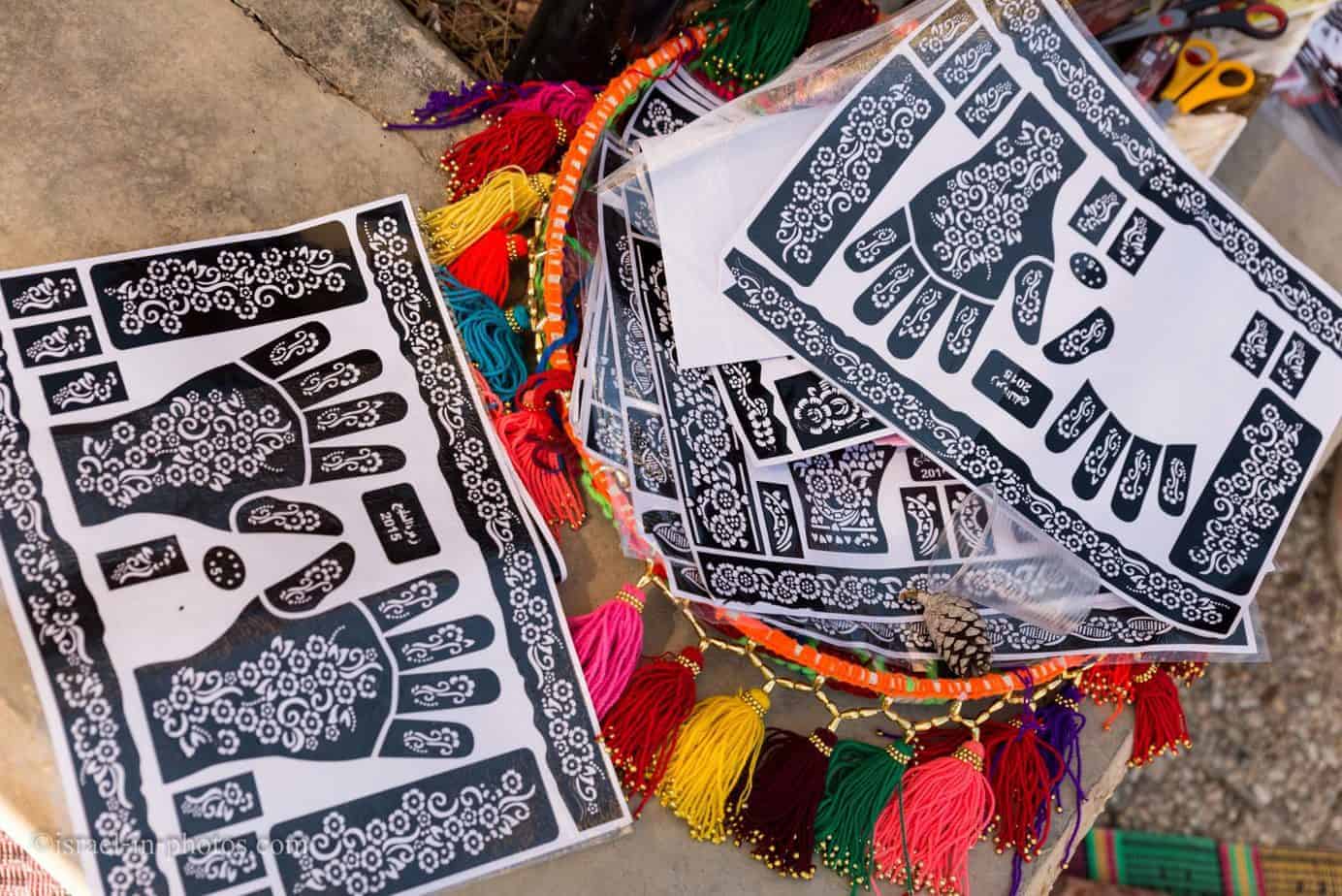 Since we visited during the Darom Adom Festival, there were additional attractions for kids. My daughter wanted to start with Henna decorations. She selected one of the decoration forms from the available ones. Then the chosen form was laid on hand, and a special paste was used to paint. And this is the result: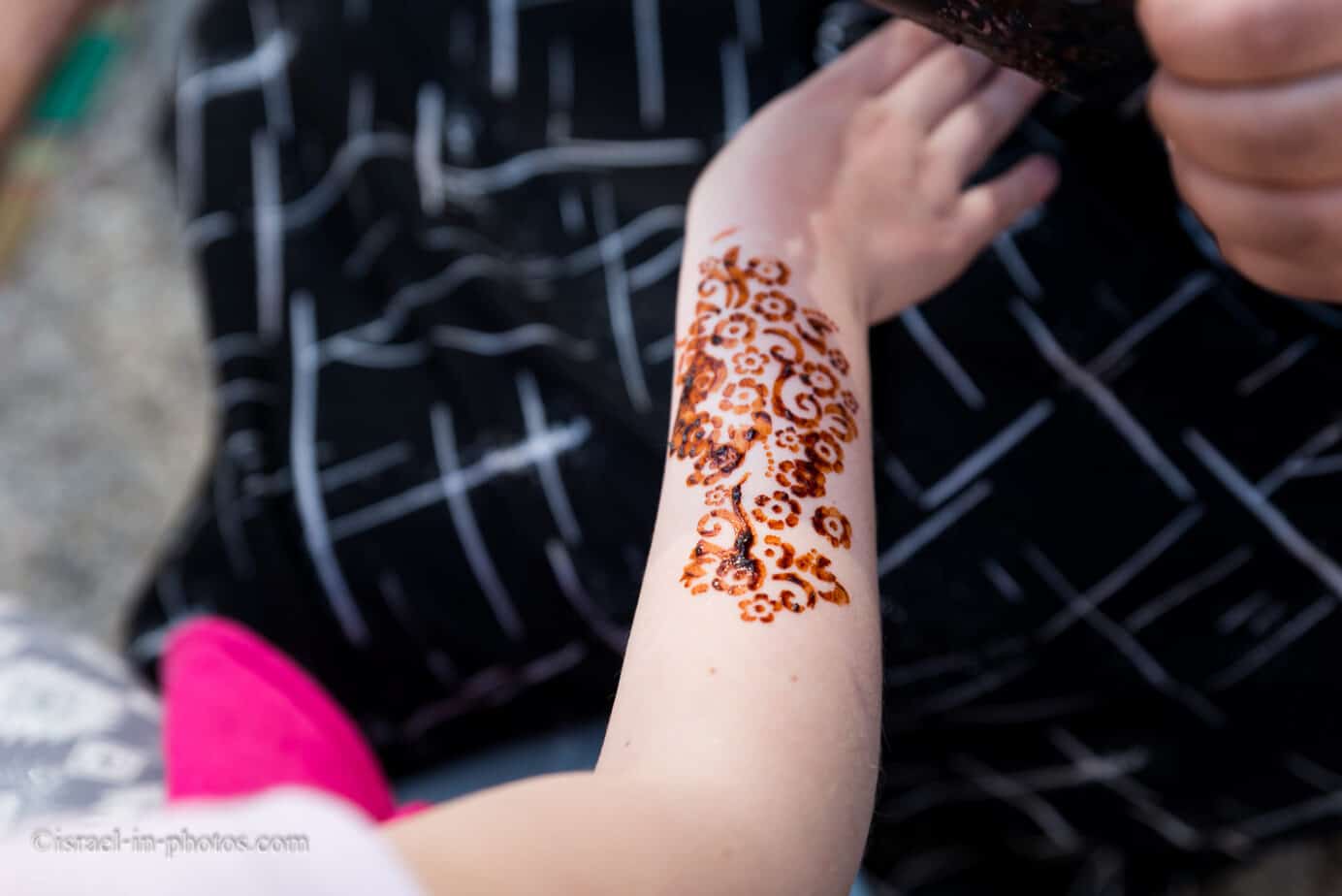 Interestingly, according to Wikipedia, this is called Mehndi, and it is a form of ancient Indian art:
Mehndi or Mehendi is a form of body art from Ancient India, in which decorative designs are created on a person's body, using a paste, created from the powdered dry leaves of the henna plant. Ancient in origin, mehndi is still a popular form of body art among the women of the Indian Subcontinent, Africa, and the Middle East.
From there, we continued with Pita bread preparation.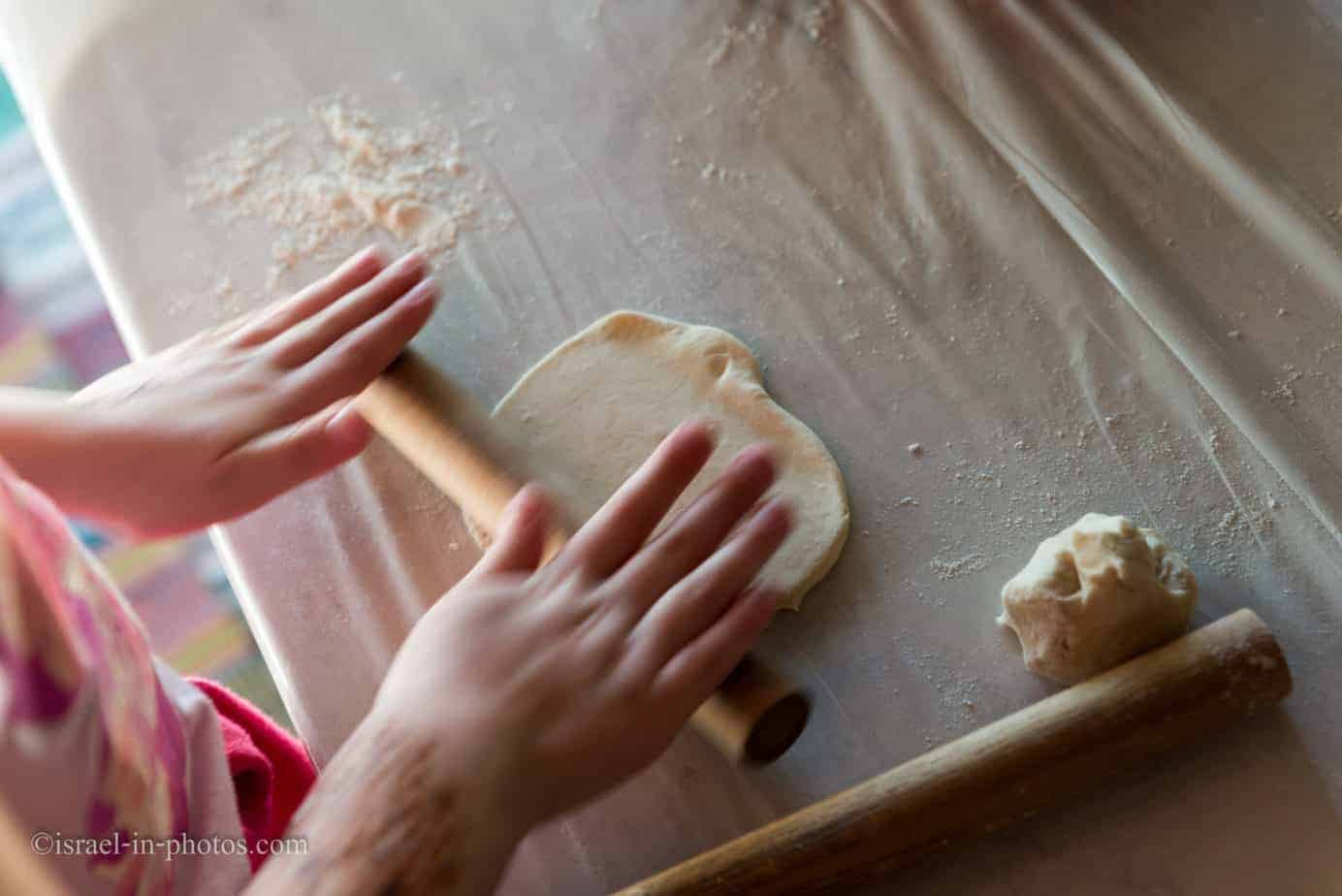 Adding some Za'atar to the Pita.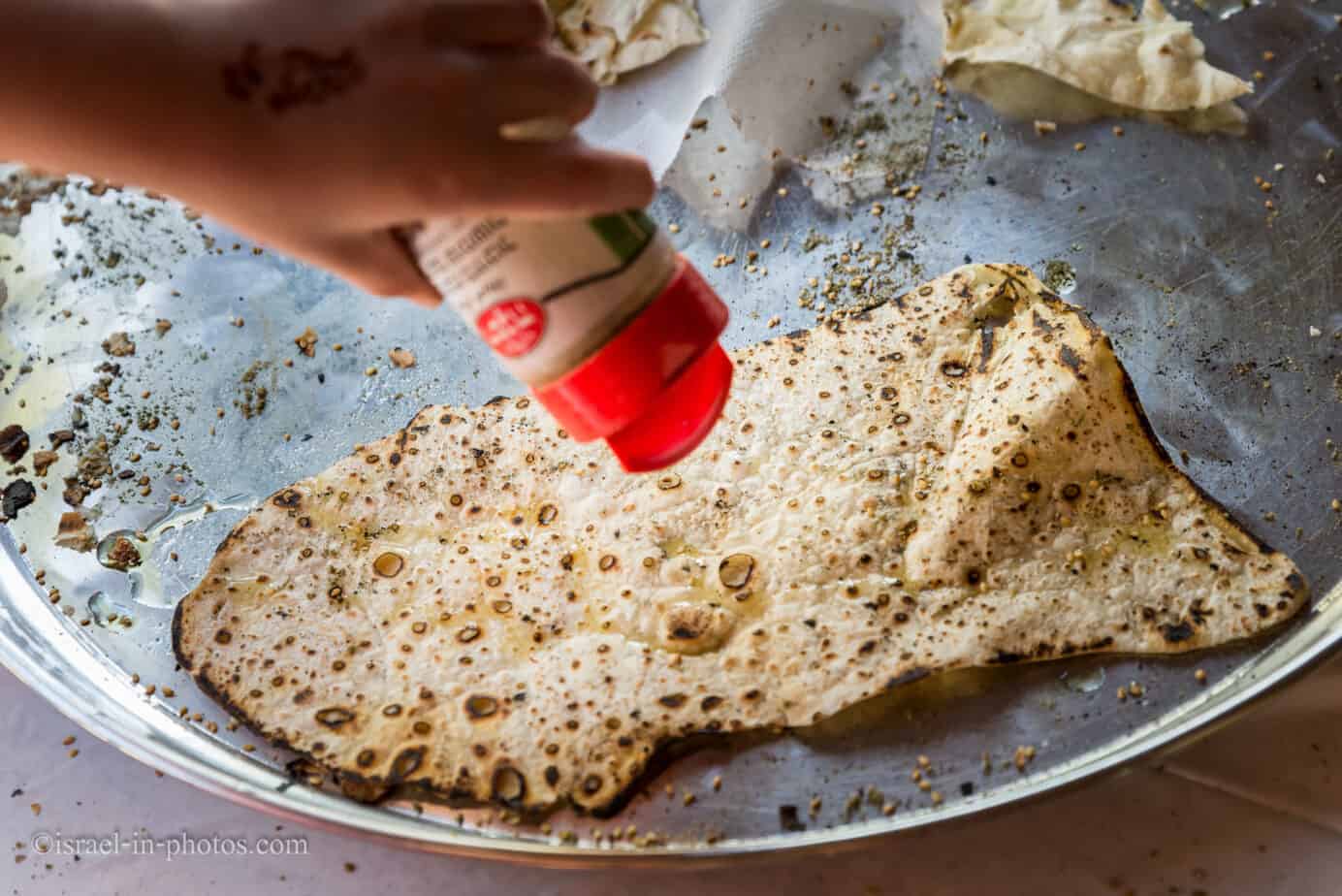 When we entered, we were told about a museum tour every round. Since we still had some time, we continued to the traditional Bedouin for tea and coffee.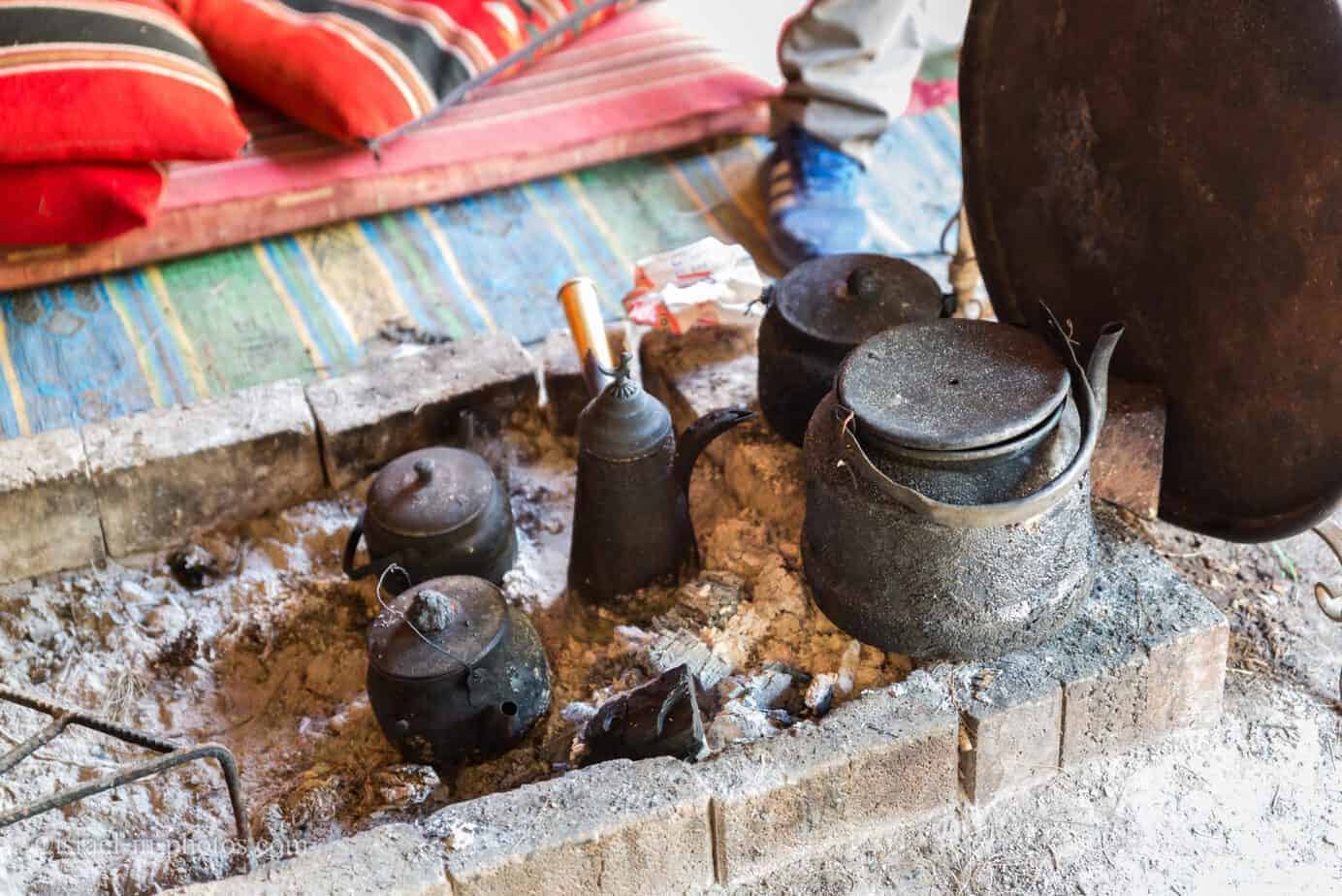 After a cup of coffee, we joined the 11:00 tour at the museum.
The Museum of Bedouin Culture
The Museum of Bedouin Culture is the only museum in Israel devoted entirely to the Bedouin culture. It was established in 1985 when it became apparent that the formerly nomadic Bedouin tribes of Sinai and the Negev were transitioning to a more settled way of life, moving to established towns and villages. The Bedouins have recently acquired a modern way of life, reflected in cultural, social, and economic changes, as well as changes in housing, dress, etc. As a result, many of the former Bedouin ways of life are disappearing, and with them, the objects and traditions of Bedouin society, prompting a need to collect, preserve and record them before they completely disappear. The museum's collection came from two main sources: Kibbutz Lahav and a Bedouin museum established in the Sinai Mountains by Orna and Avner Goren.

The museum reflects the life of the Bedouin in the Negev and Sinai over the last century. The colorful display includes historical exhibits alongside modern objects, demonstrating daily life and spiritual aspects of Bedouin tradition.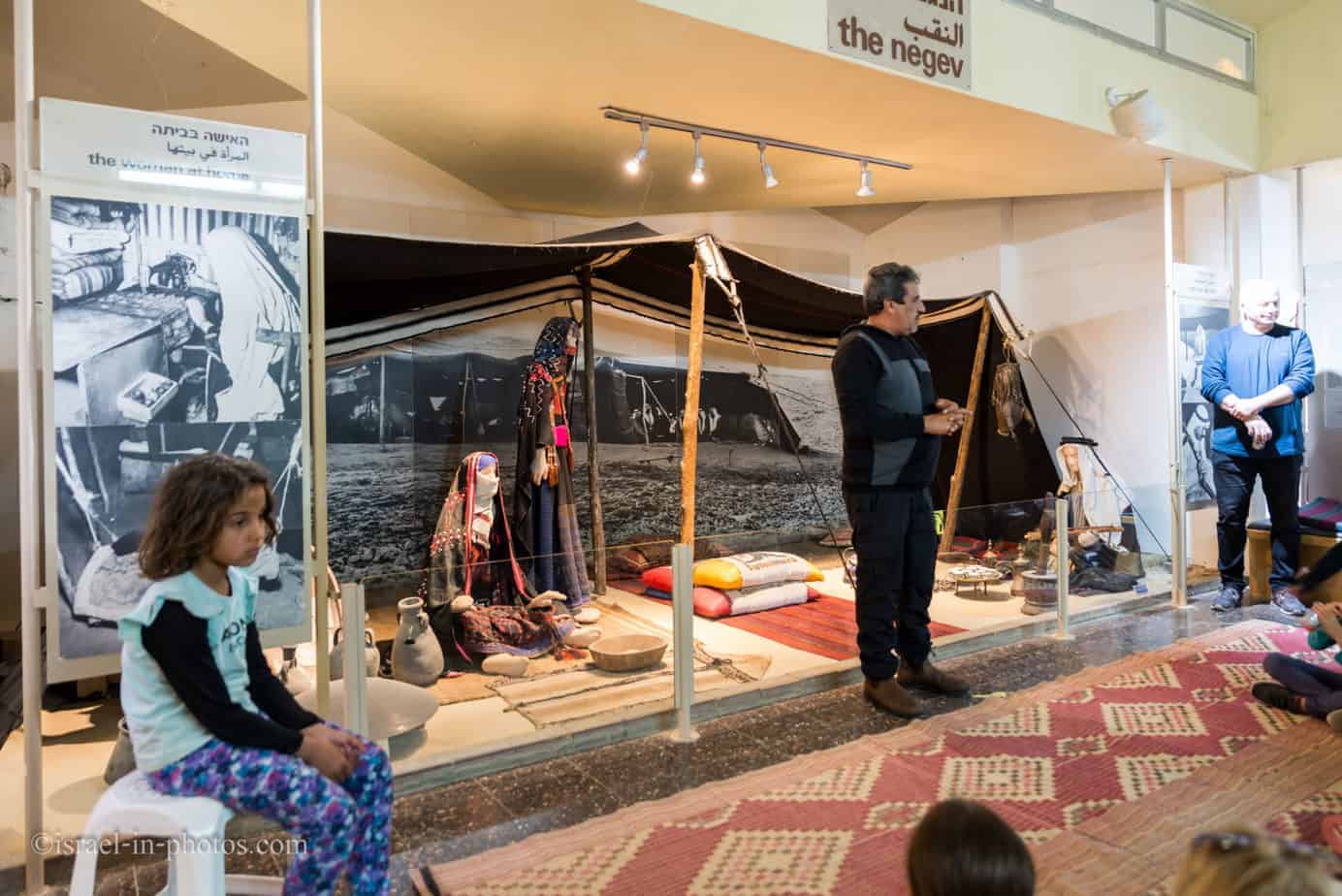 Our tour started with fifteen minutes of explanations about Bedouin culture. The word Bedouin literary means "desert men." There are around 250,000 Bedouins in Israel.
Though I previously visited Bedouin tents, there were many new things I did not know. For example, as it turns out, there are two types of shelters. Winter tents are heavier and made of black goat wool covered by a fat layer (so they will be waterproof). And summer tents are thinner (made of jute or cloth) and have lighter colors.
The museum itself is a small two levels building. Here is an interior photo: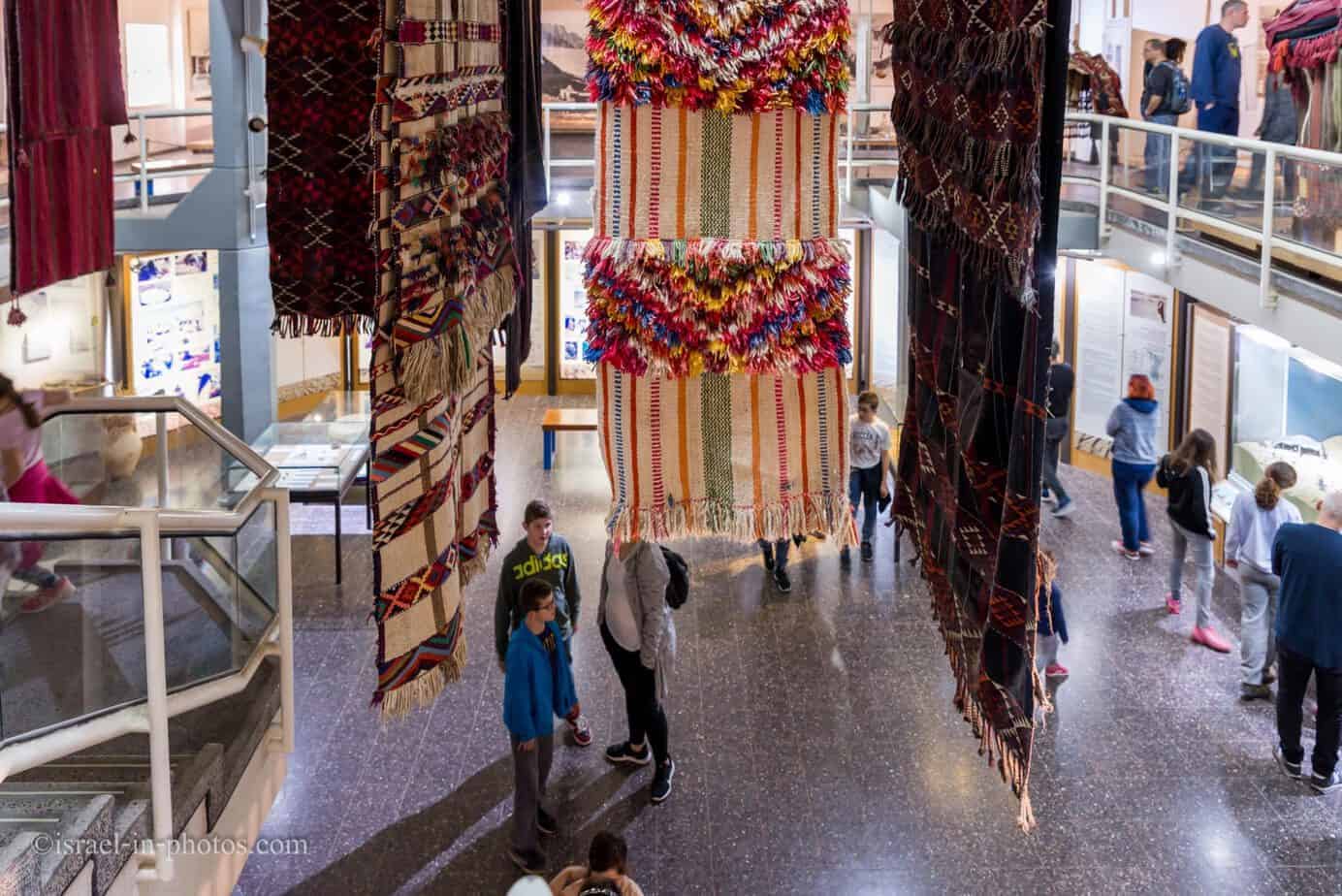 After the explanations, we went to the lower floor. There we saw a fifteen-minute movie about modern Bedouin life. When the film ended, we continued to wander around the museum.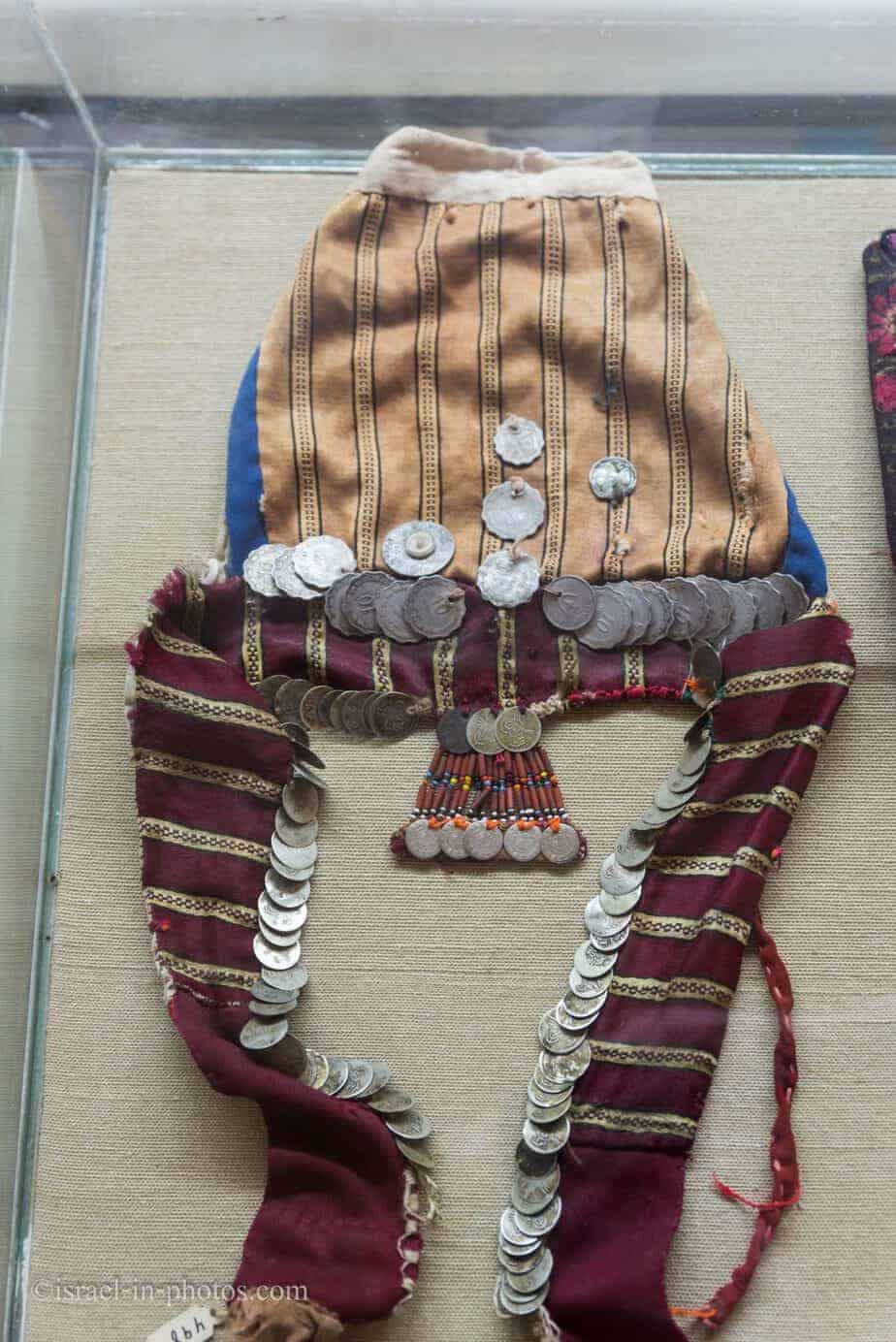 One repetitive motif was the unexpected use of everyday items. For example, large cans of olive oil are used as parts of musical instruments. Or coins used as decorations.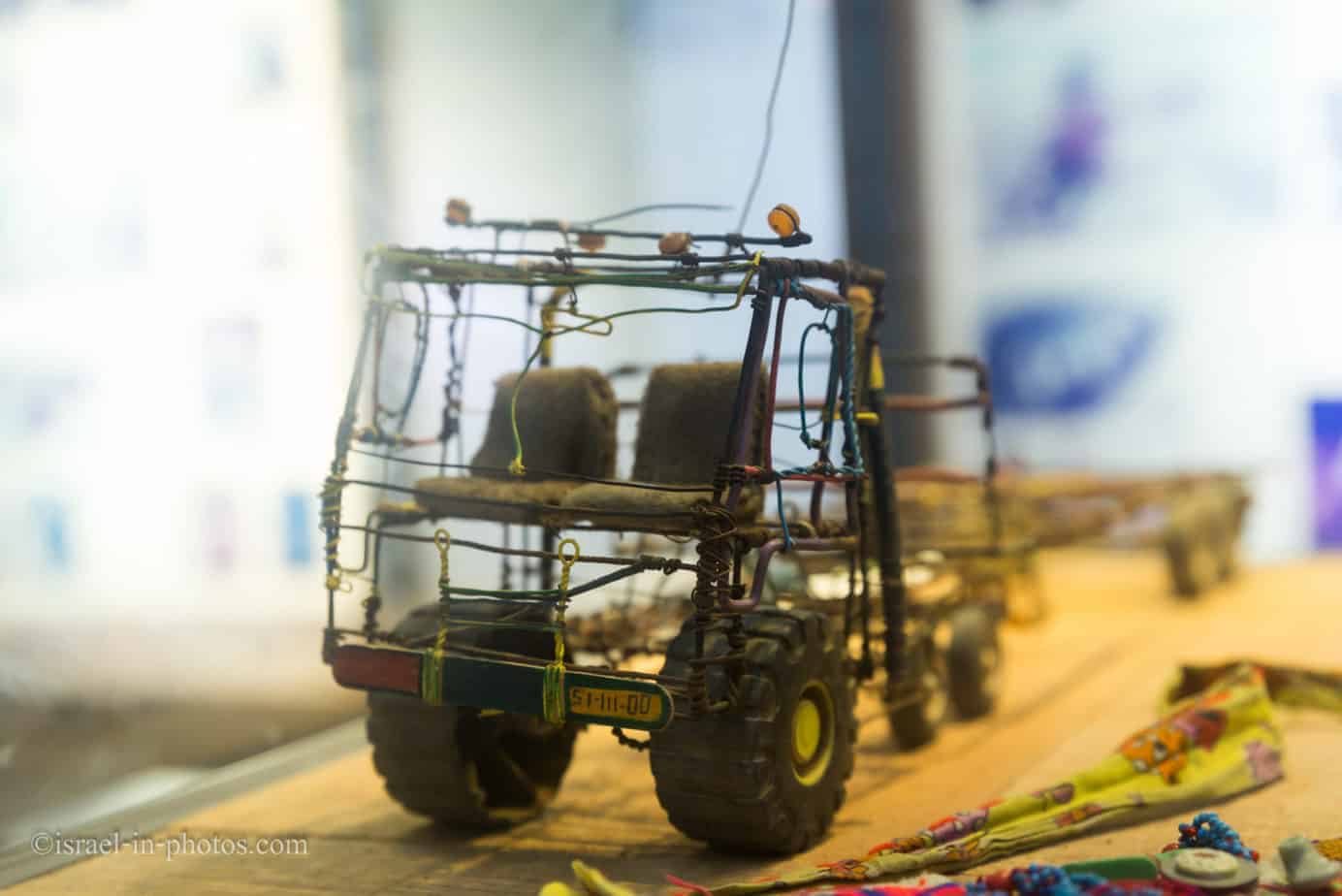 And children's toys that were made of anything that was found around.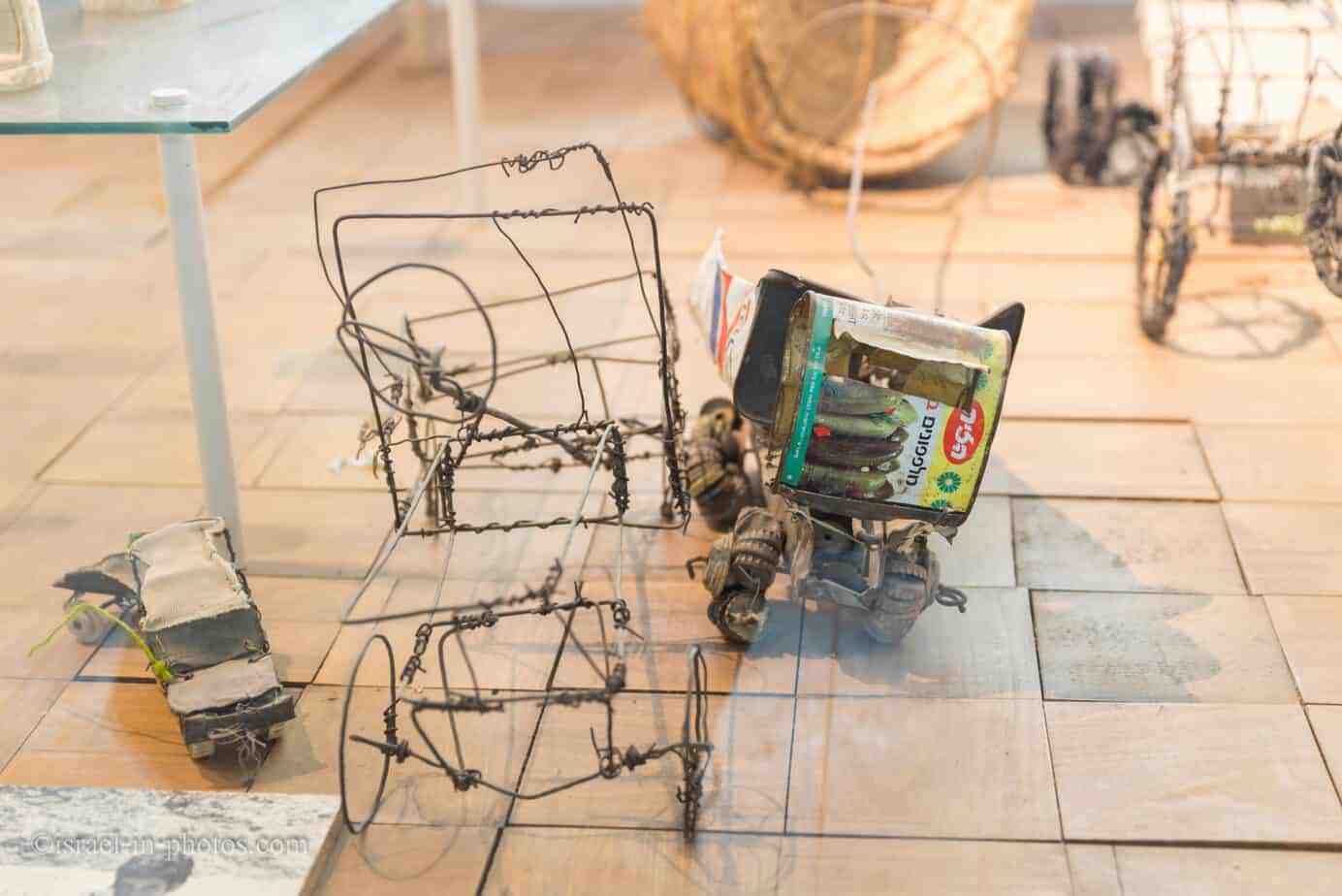 And this camel model is decorated as an actual wedding camel would look.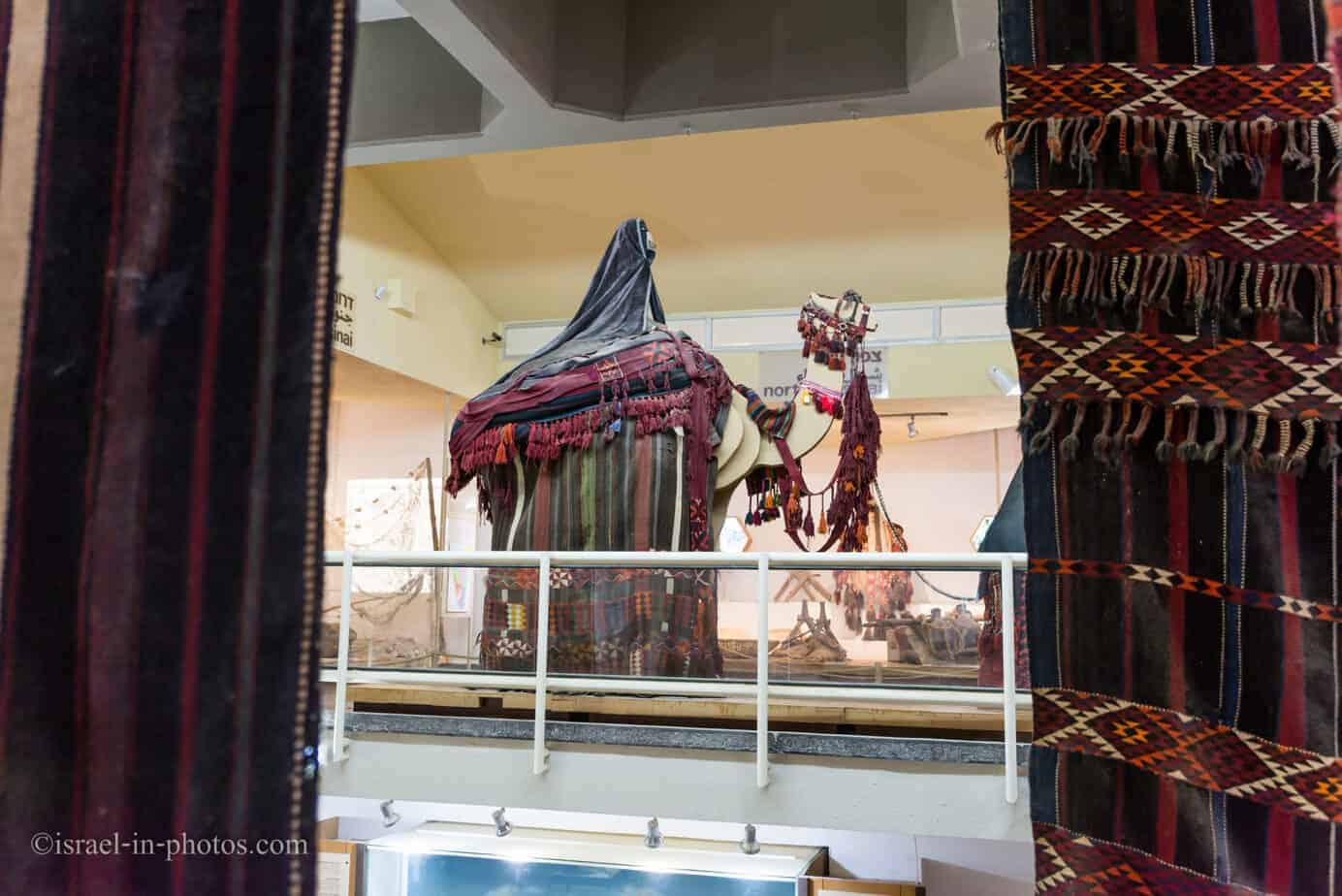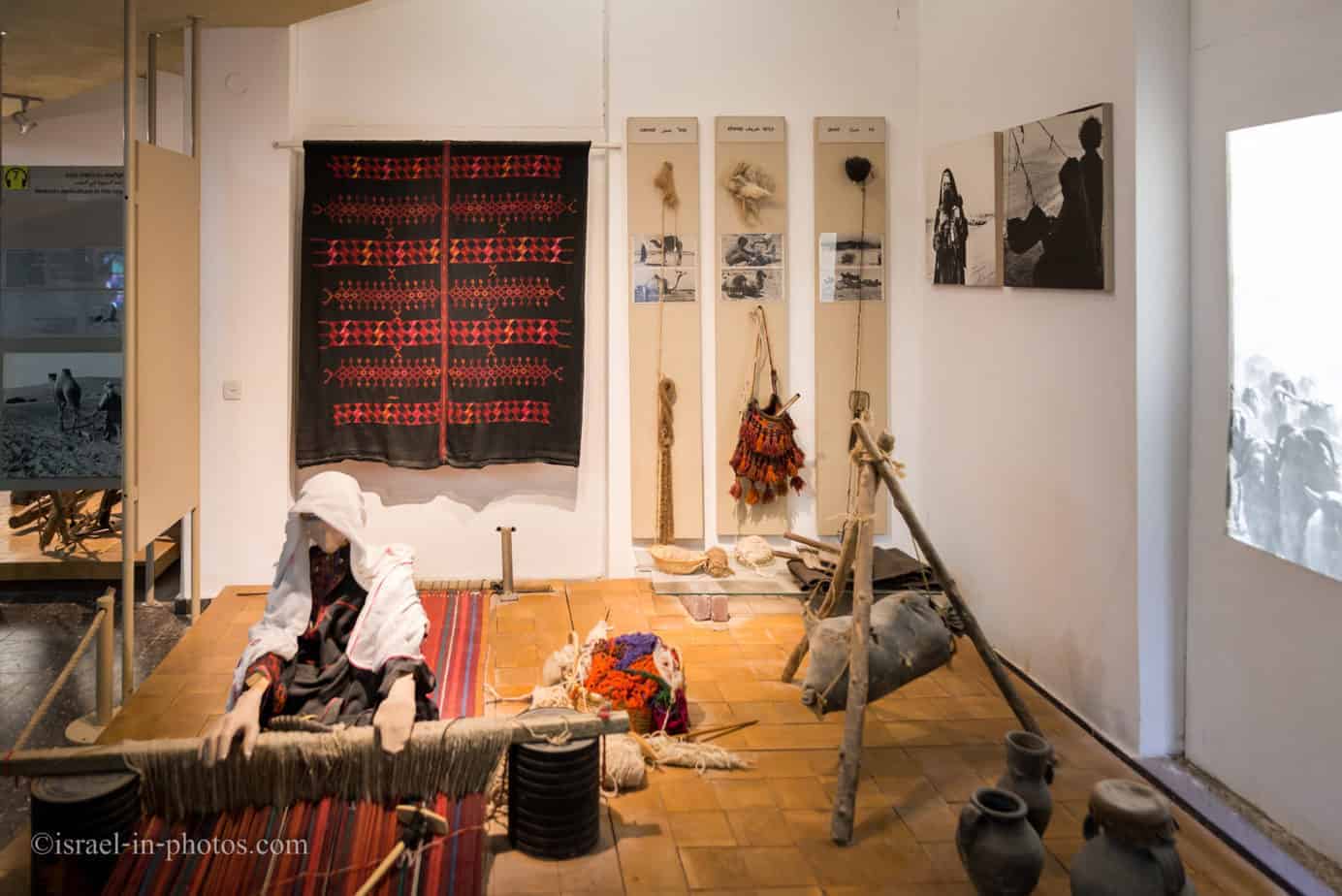 One of the associations with the word Bedouin would be desert. But some Bedouins lived next to the sea and fished. At the bottom of the next photo, you can see three palm trunks tied together and serving as a floating platform.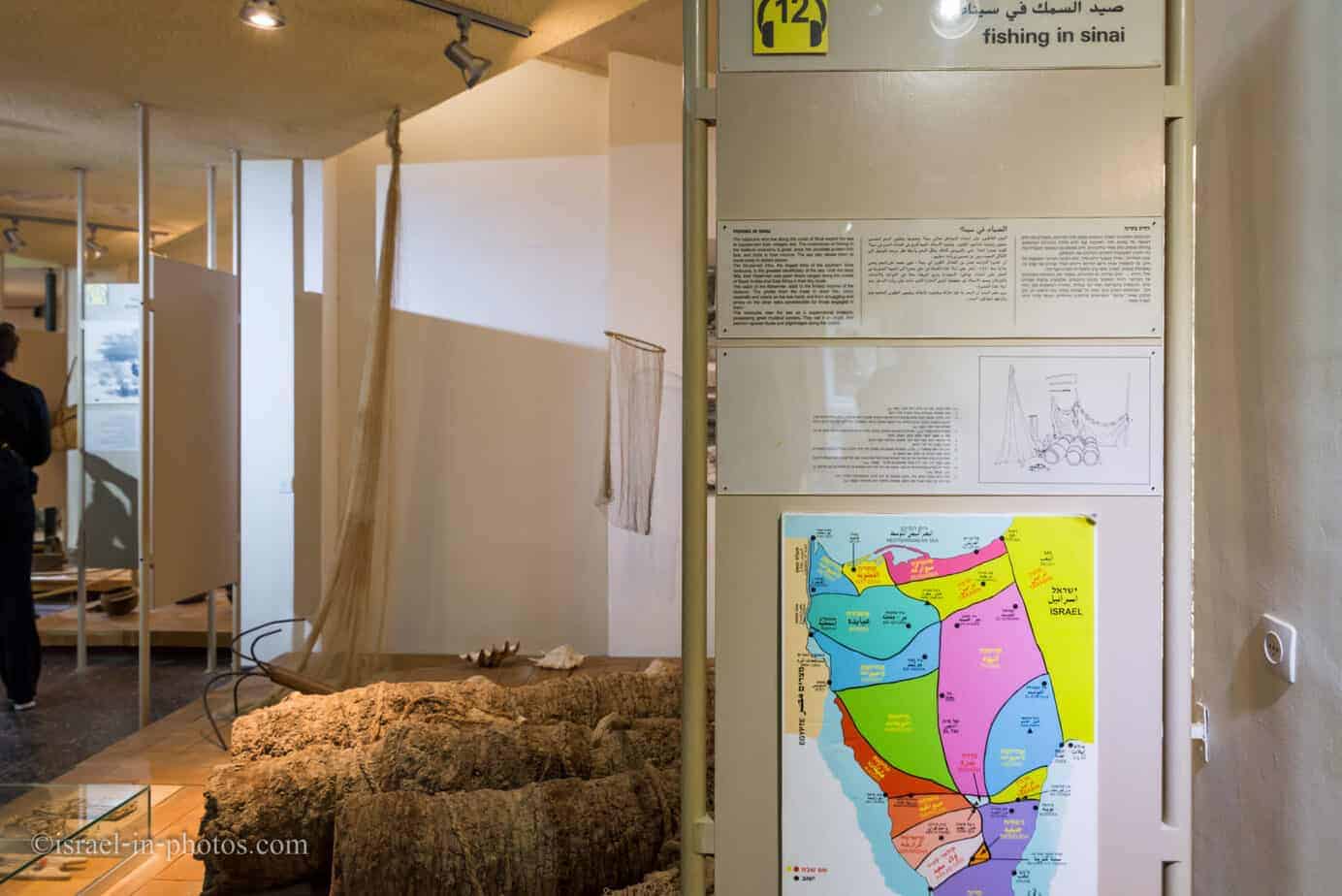 Here are several additional photos from the museum: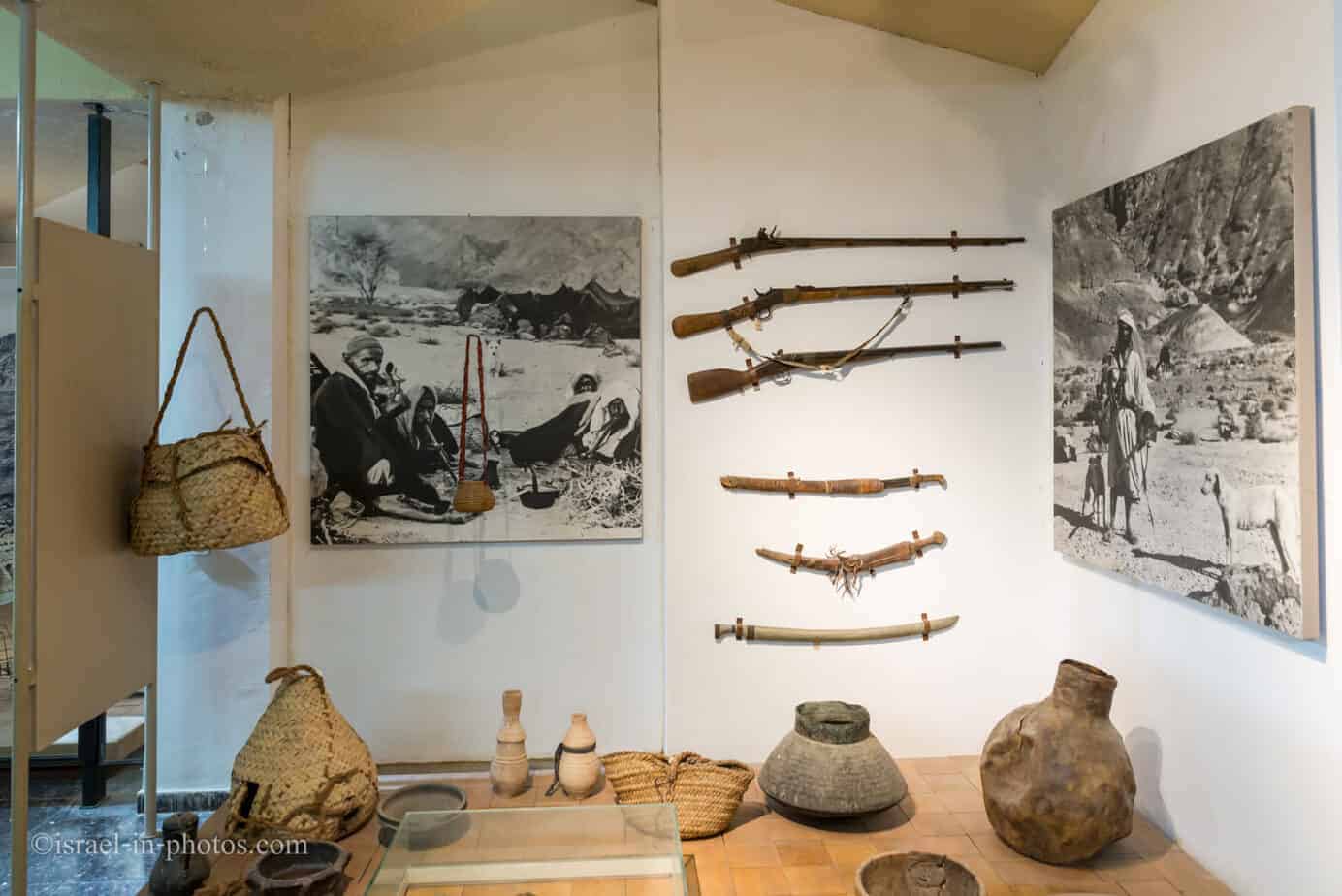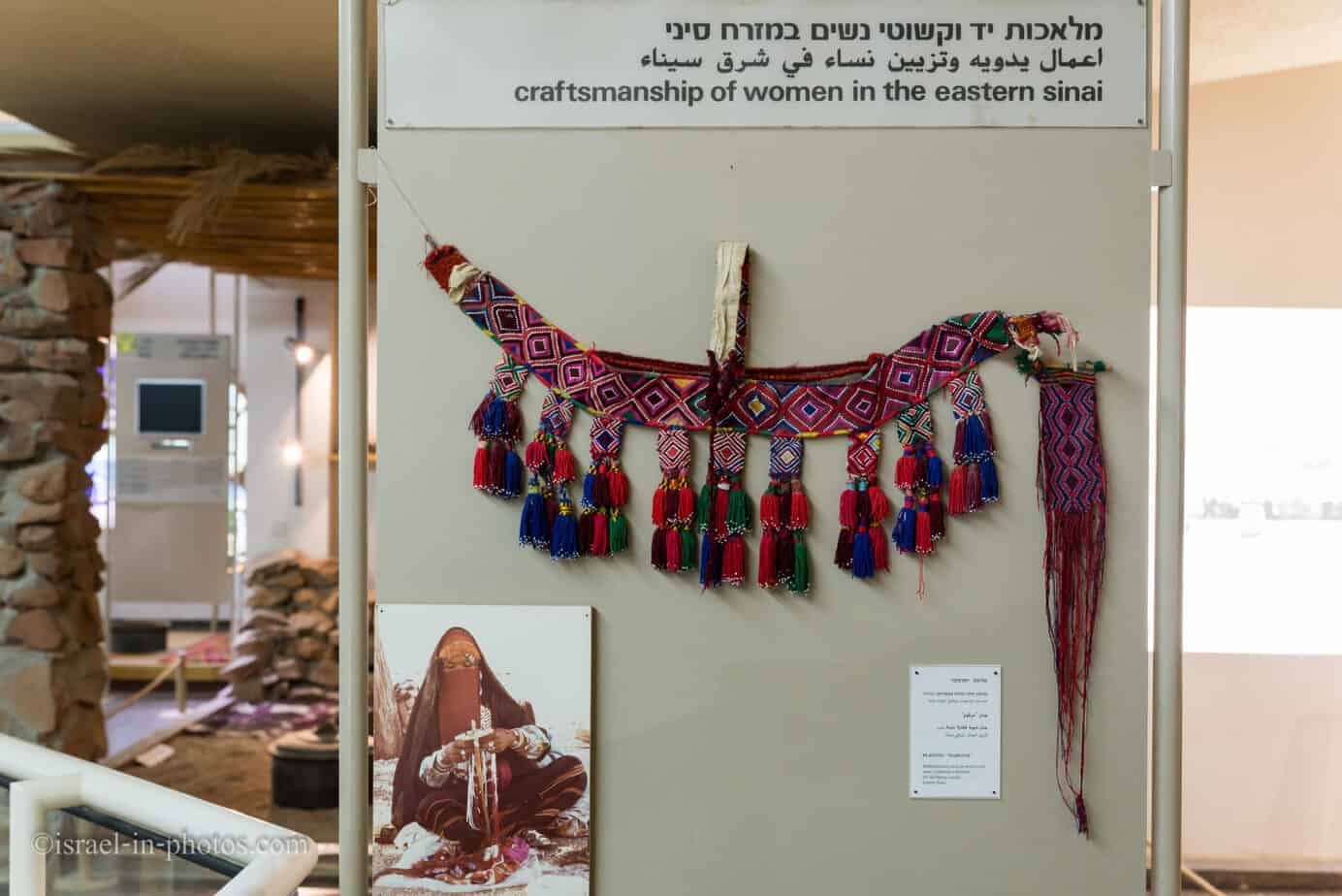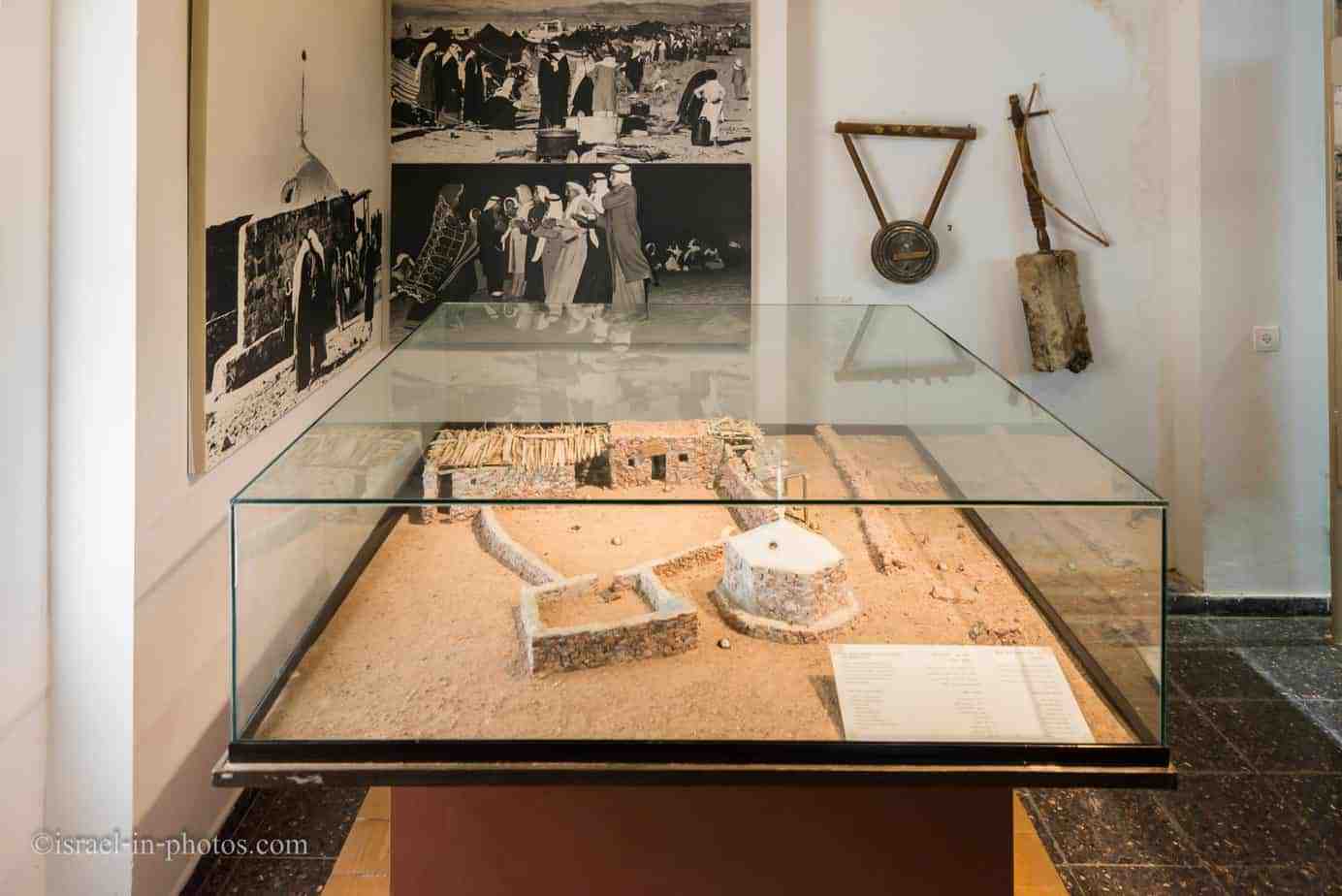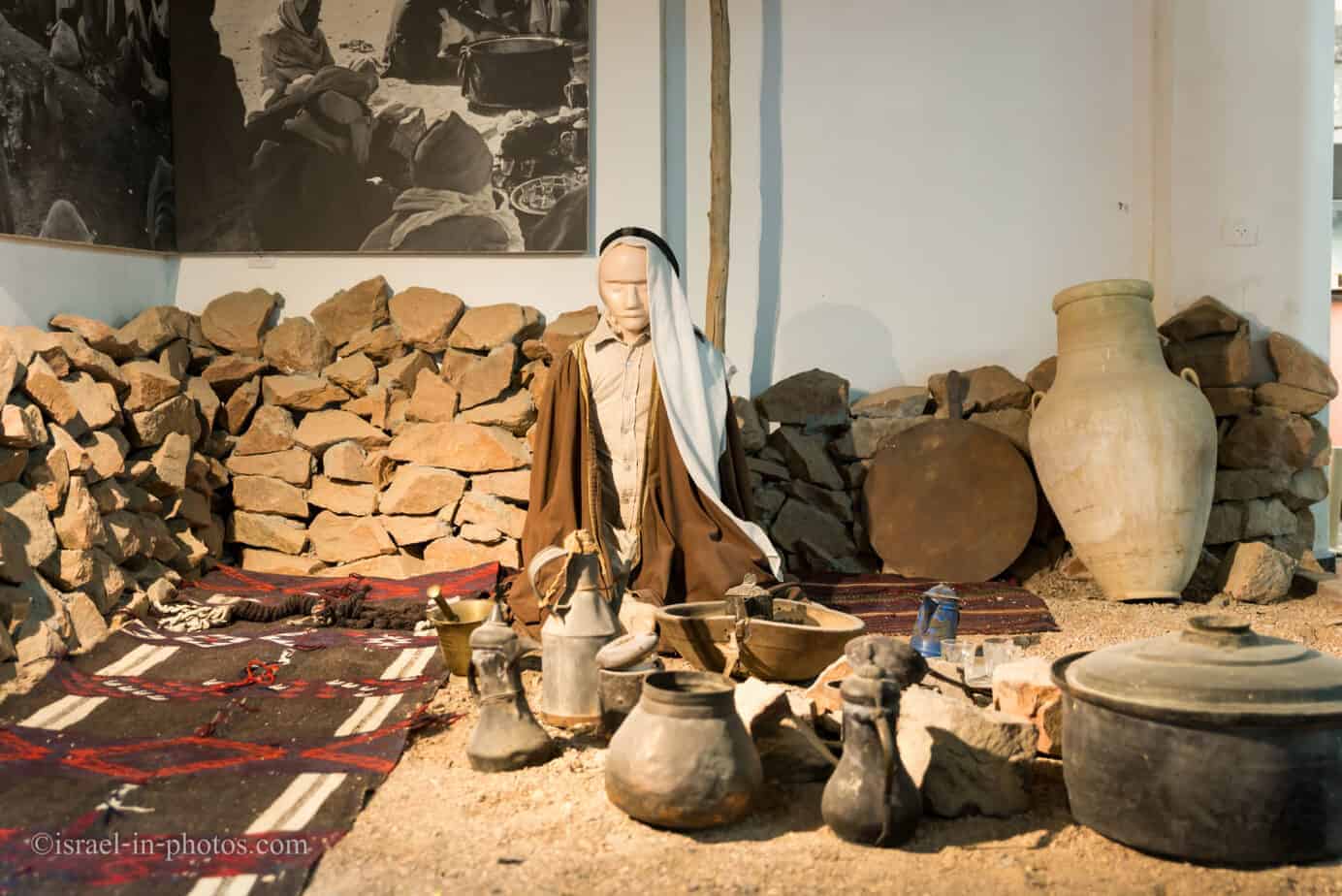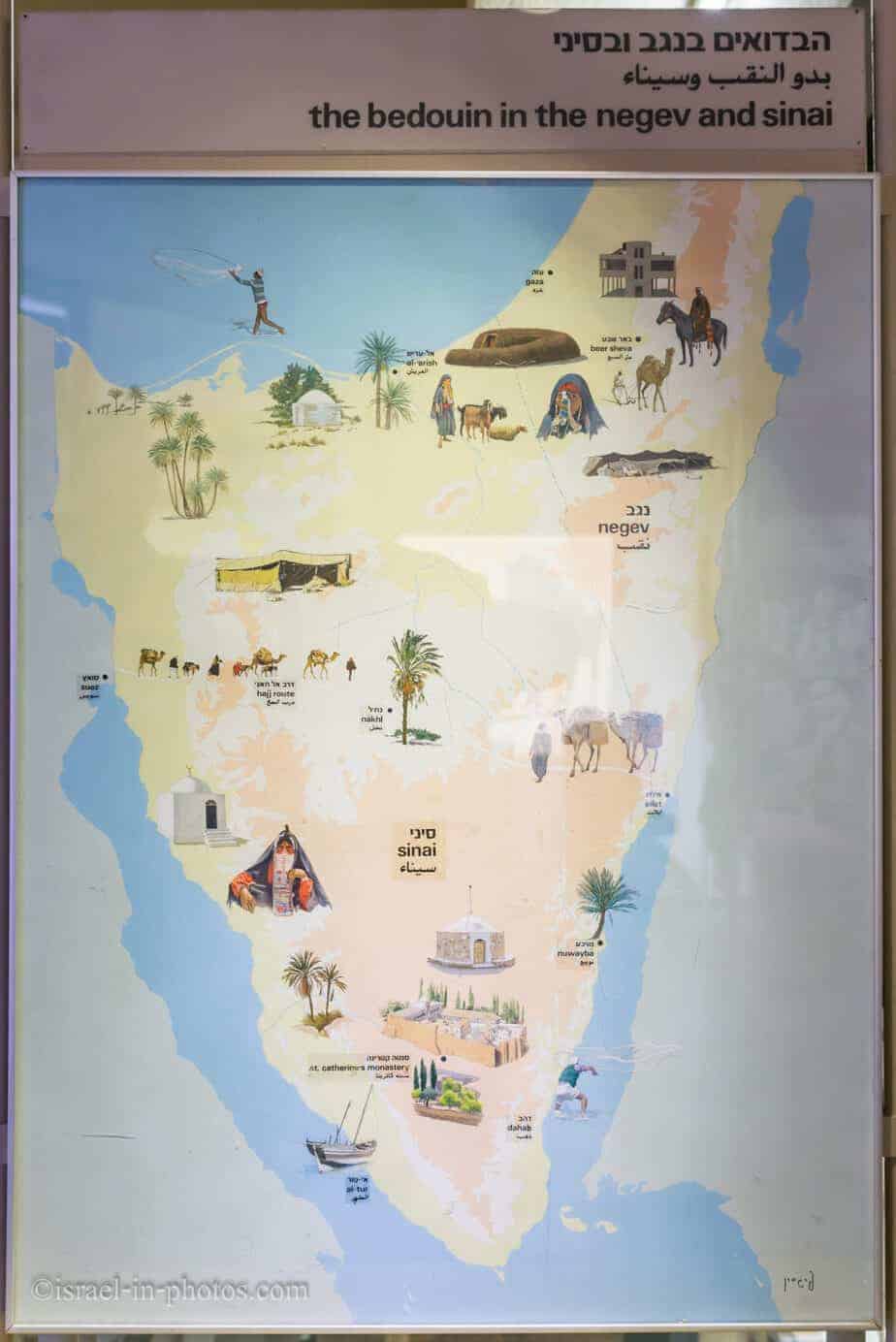 The tour, plus our wanderings, took about an hour. Then, my daughter dragged us to the last activity we had not done yet – bead knotting.
Lahav Forest
Our visit to Joe Alon Center with all the additional activities took about two and a half hours. When we finished, it was lunchtime. So we decided to make a picnic inside the nearby Lahav Forest. There were plenty of free tables and garbage cans, but I had not seen restrooms or water taps.
After lunch, we decided to take a short walk in the forest. This was our hiking trail: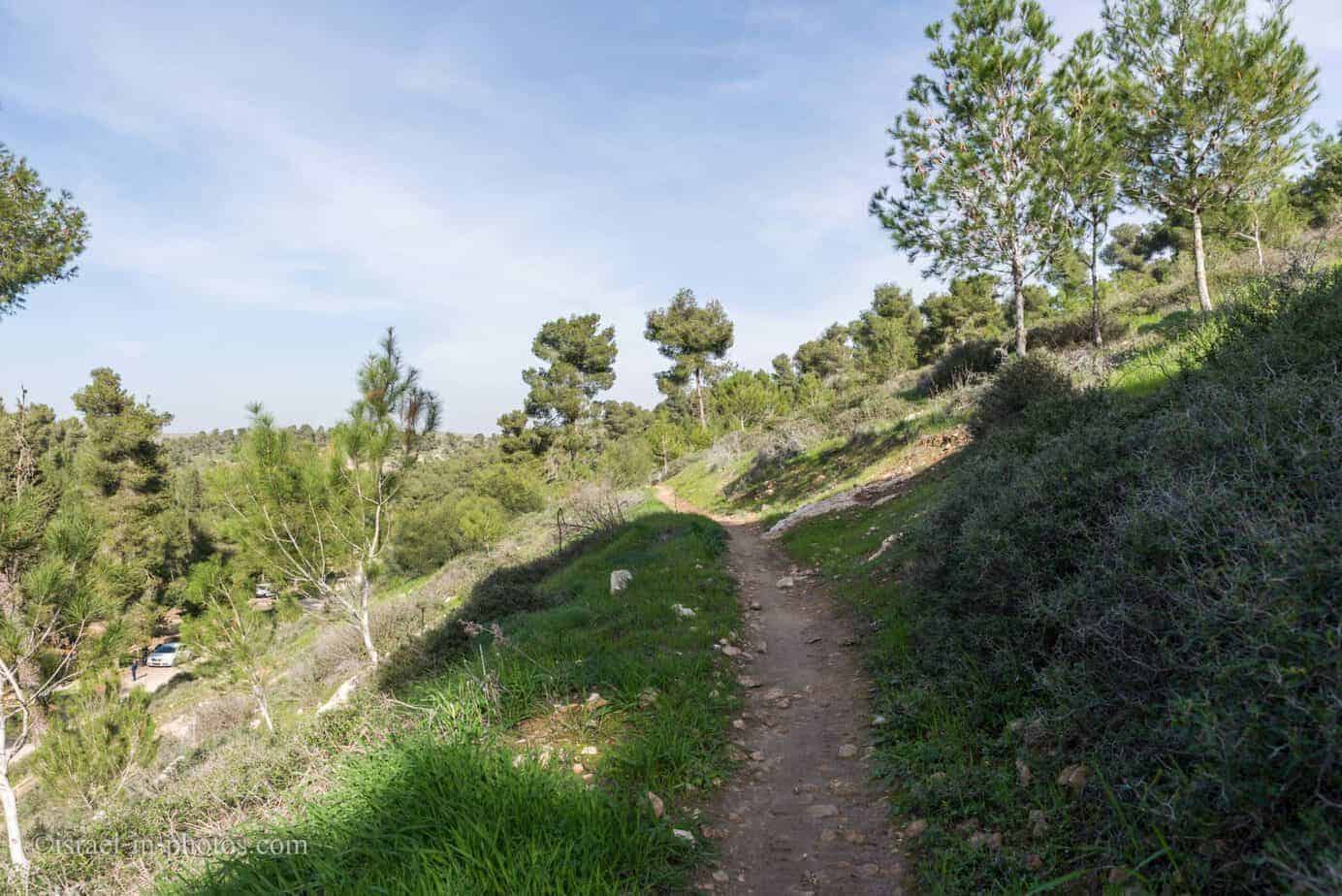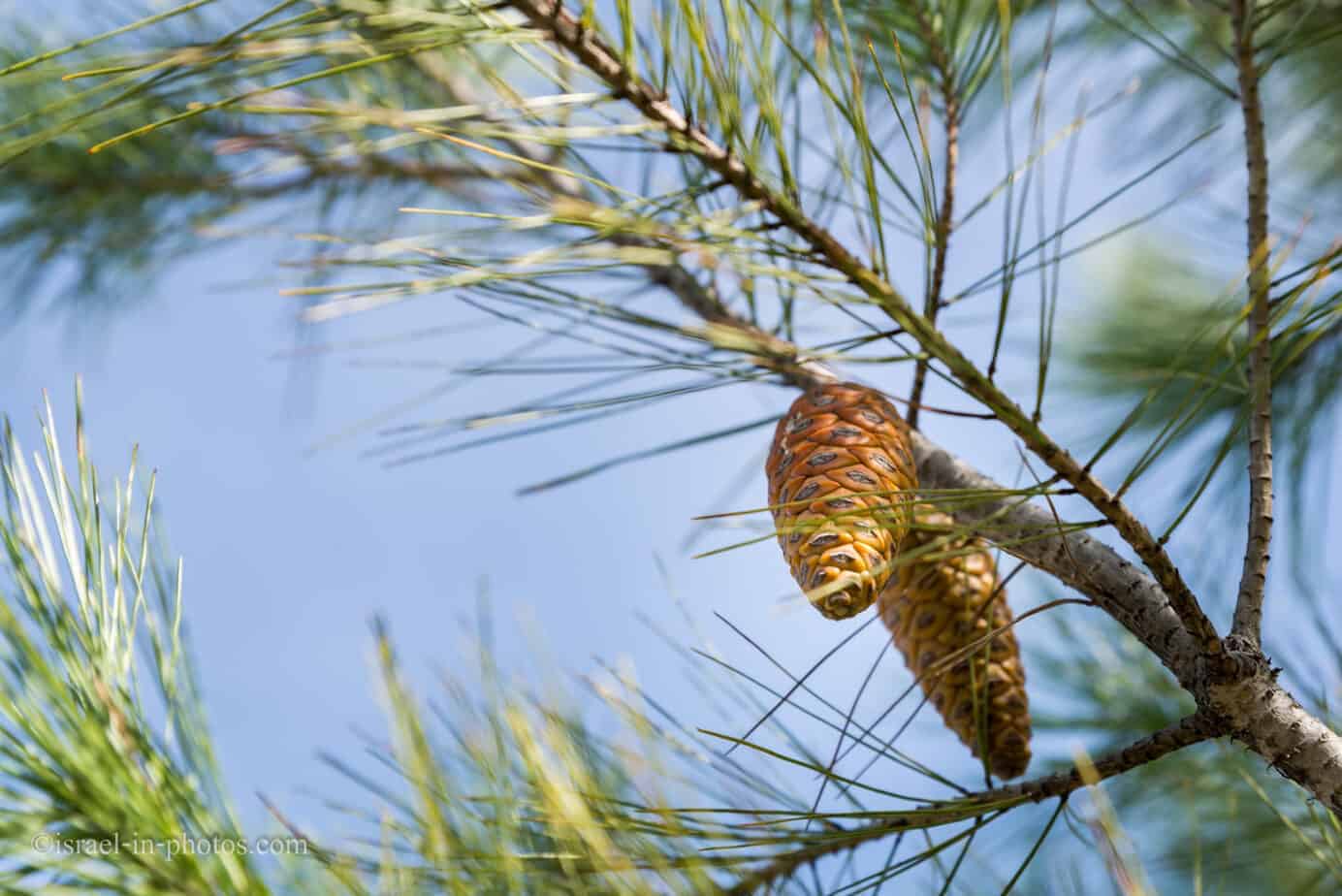 Though it was the flower blooming season, there were few flowers and no anemones. If you want to see anemones, check out Shokeda Forest.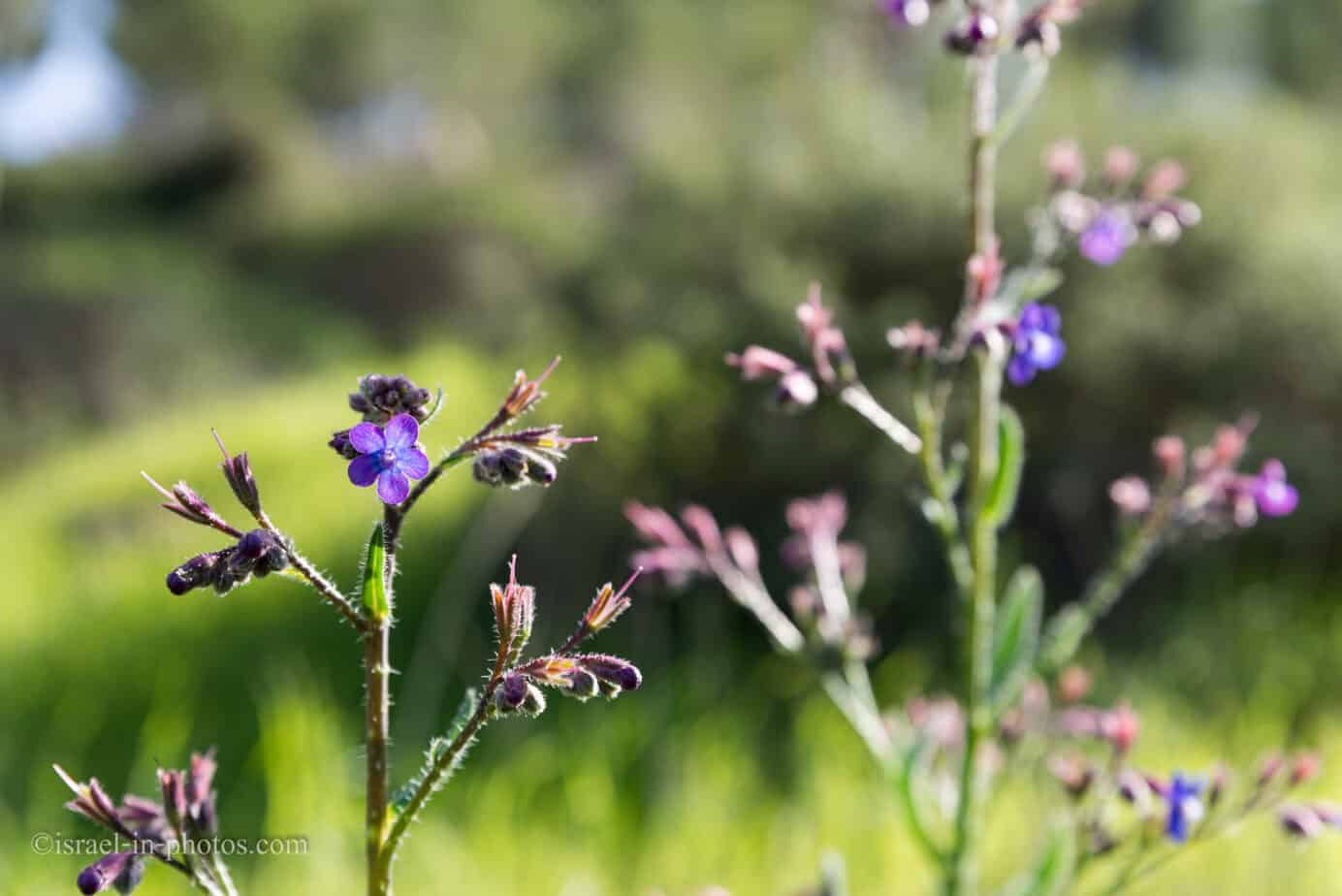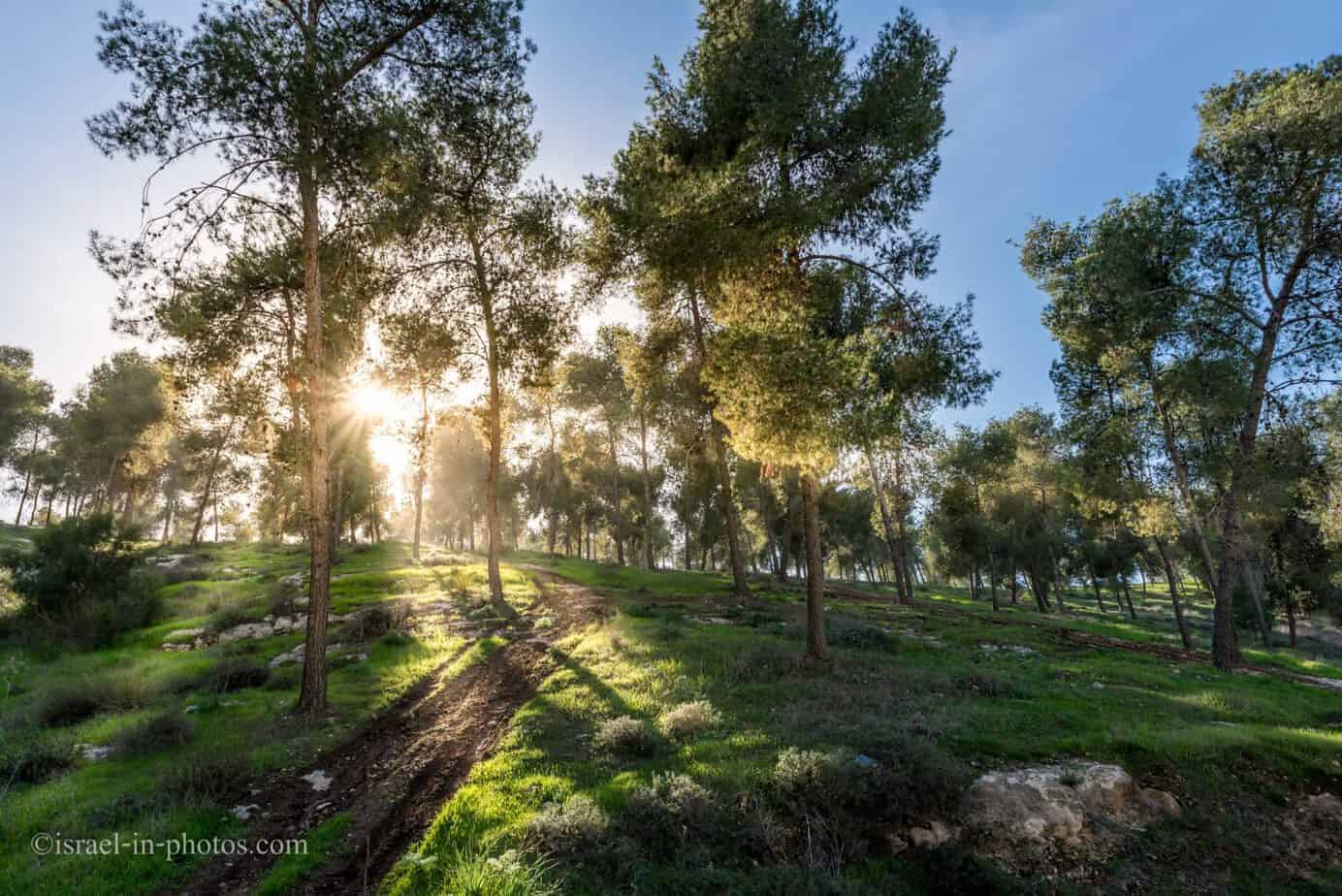 Summary
Visiting Joe Alon Center and Lahav Forest was a different experience. Mainly because we did not see many flowers, especially anemones, as during all previous visits to Festival Darom Adom. Nonetheless, we learned new things and relaxed in nature. That was half a day nicely spent.
For additional info about nearby attractions, see Festival Darom Adom or explore the interactive map above.
Have you visited Joe Alon Center? Tell us about your experience in the comments below.
That's all for today, and I'll see you in future travels!
Stay Tuned!
Additional Resources
Here are several resources that I created to help travelers:
And if you have any questions then check out
Useful Information For Tourists To Israel
.  
Did not find what you were looking for? Leave a comment below, and I will do my best to answer your questions.