The Monsters Garden exhibition has been running in Tel Aviv for several years. So far, since the show is aimed at families with children, it was open during summer vacations.
The show was created by Yossi Abulafia, Ephraim Sidon, and many other talented artists. Here is the official video telling about the creation of the concept and the monsters.
And after this introduction, let's begin the visit!
Monsters Garden Exhibition – 2018
Map
Last year the display was at Eretz Israel Museum, and this year it takes place at Tel Aviv Convention Center.
Map of the area:
Prices
As in many other events, full ticket prices are pretty steep. The total cost varies around 100 NIS per person (depending on the site). Some credit companies offer 1+1, and many websites provide discounts. I bought tickets for 50 NIS, and if you are persistent, you will probably find even cheaper ones.
Opening hours
The Monsters Garden Exhibition is open daily. On weekdays and Saturdays, it is open from 9:00 till 21:00, and on Fridays, it is open from 9:00 till 15:00. And the event will be available till the end of August 2018.
Note: usually, I prefer linking to the official site for such info, but I have not found such.
Parking
The exhibition takes place at Tel Aviv Convention Center in Pavilion 2. You can park in the big parking at Sderot Rokach, located in front of the Tel Aviv Convention Center. But since the entrance to Pavilion 2 is from the northern side, it will be more convenient to park on the backside in Isaac Remba street. Moreover, if it is not during rush hour, there is a chance of finding free parking there. And, when we visited, the back entrance was open.
At The Exhibition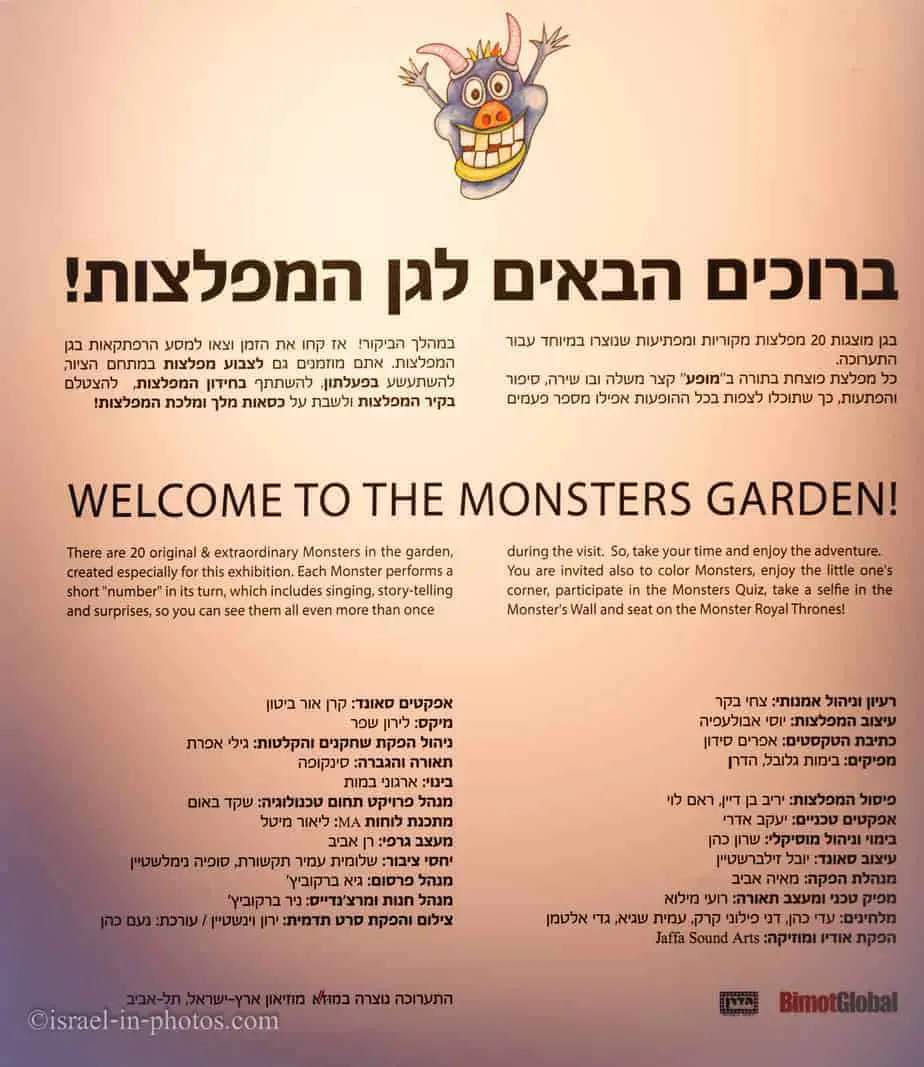 The exhibition presents twenty original monsters. Each monster has a unique story, and it tells the tale usually via a funny song. Here is a shot of the billboard at the entrance.
Since the show is in a pavilion, you can visit it at any time. It is always air-conditioned and continuously has audio-visual presentations (when the exhibition was outside, you could see the lightning only in the evening).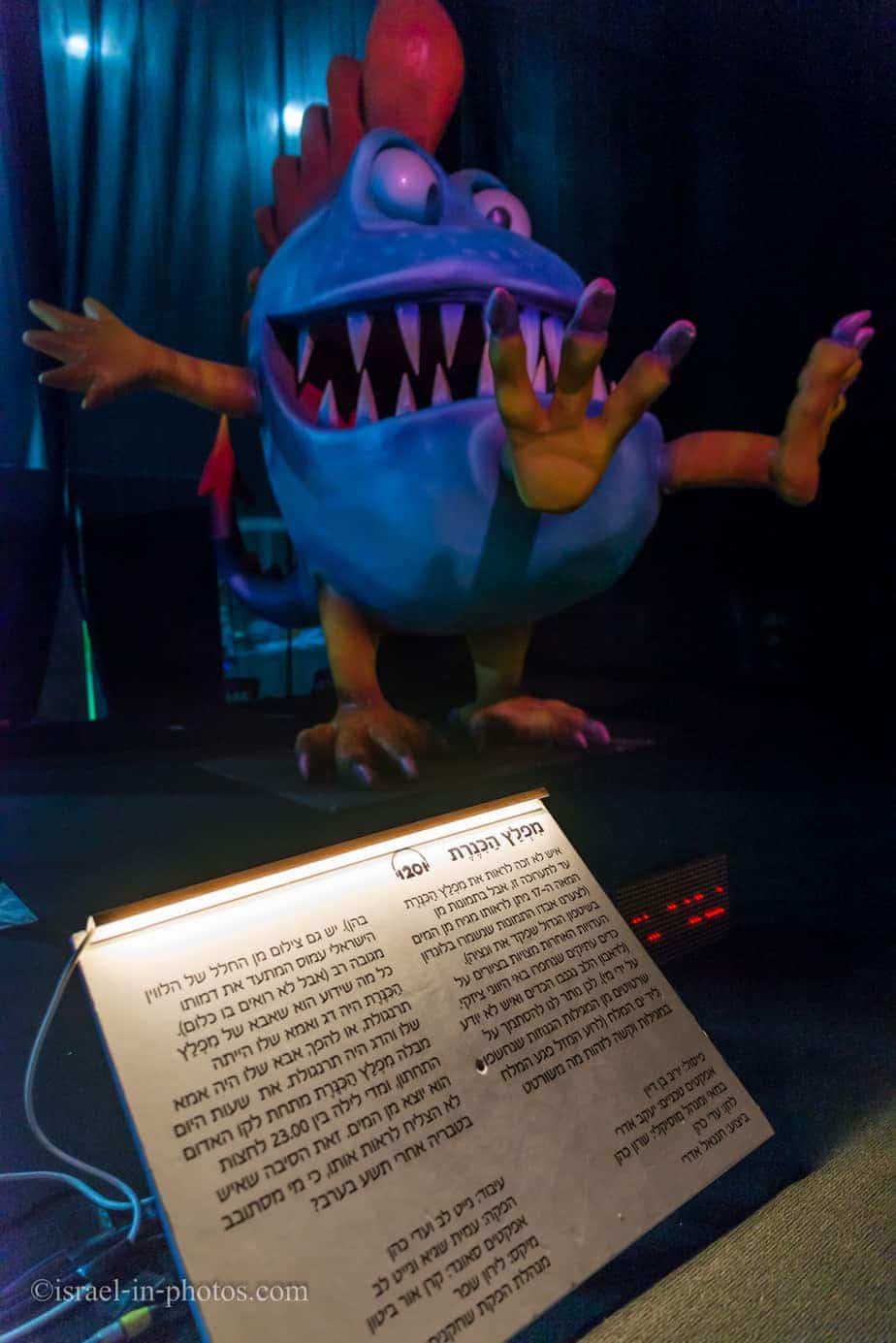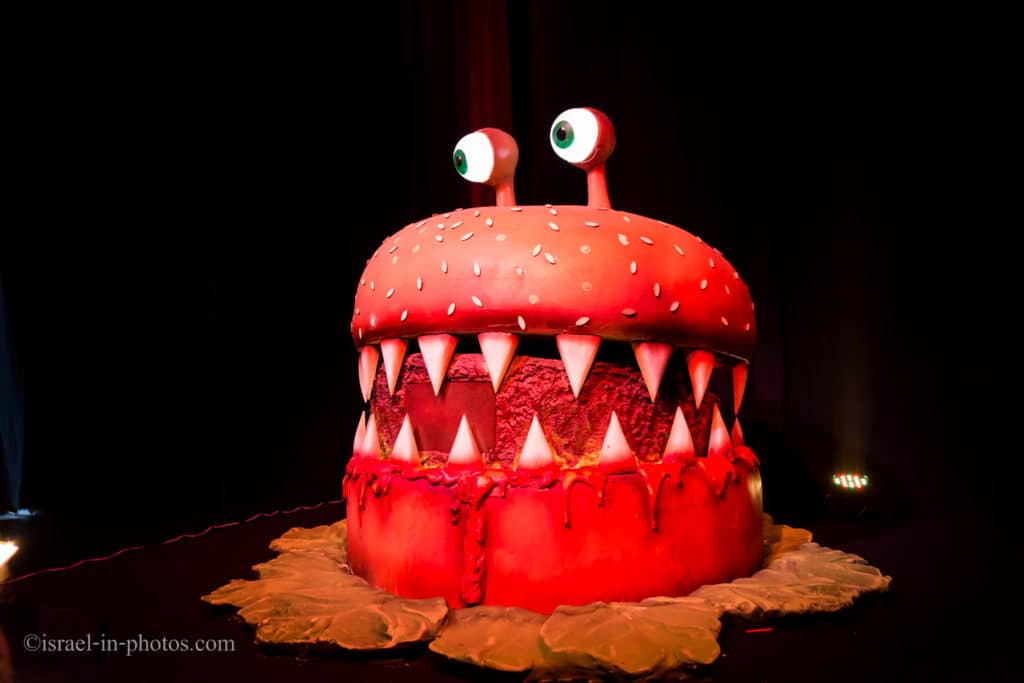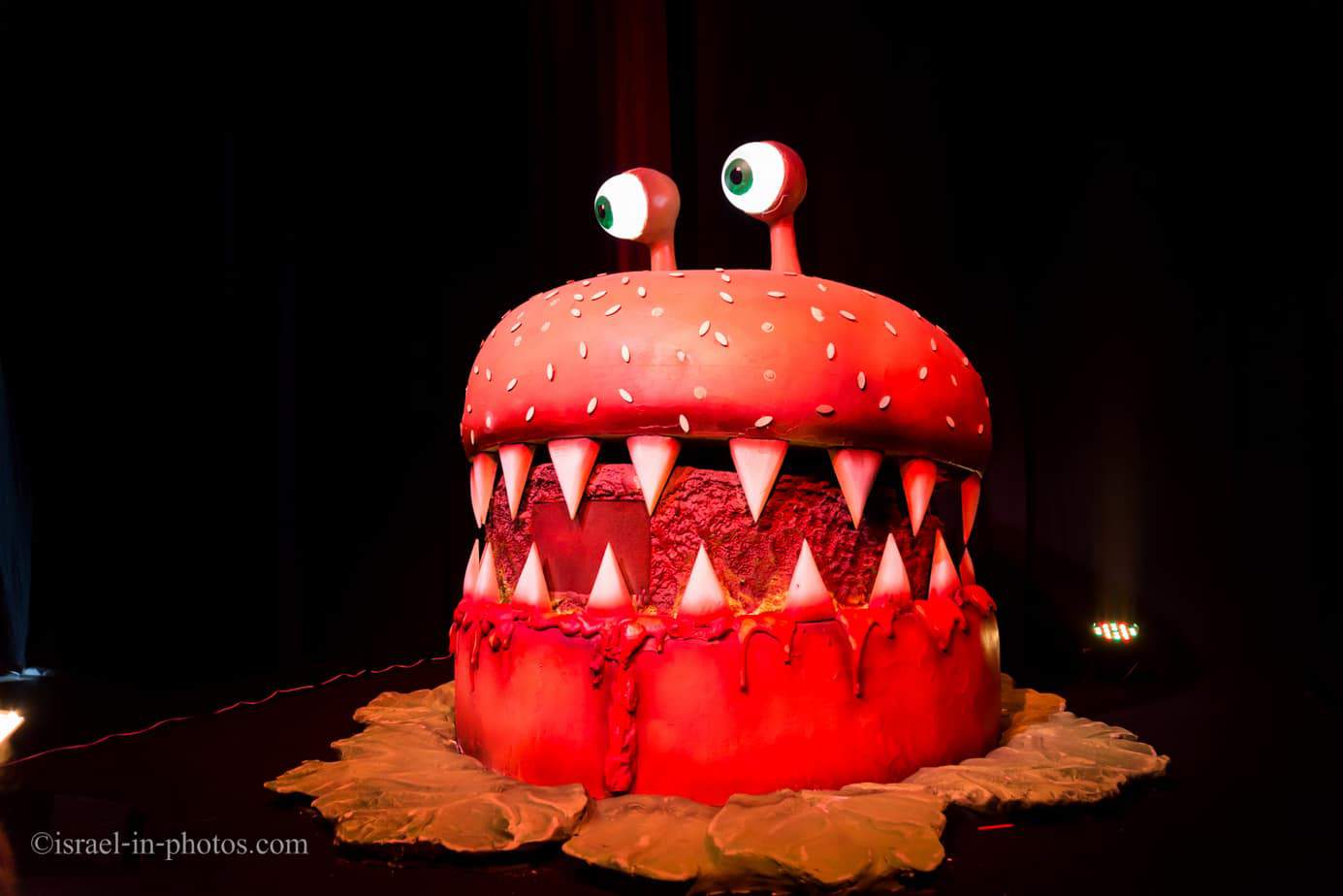 In front of each monster, there is a sign telling its story. There is also a countdown timer that usually starts at around five minutes. And when the timer reaches zero, the audio-visual show starts. During this show, the monster tells or sings its story. And after a minute or two, the audio-visual show end, and the timer is restarted. The timers are not synchronized, and each monster performs at a different time (as the organizers wrote so that they will not fight). And at any given time, ordinarily, several monsters perform.
Here is the Sea of Galilee Monster telling about herself.
Also, I should mention that besides several English signs, all the songs and most signs are in Hebrew. Moreover, there are many Israeli jokes and word games. Thus, I would not recommend visiting The Monsters Garden Exhibition if you do now know Hebrew.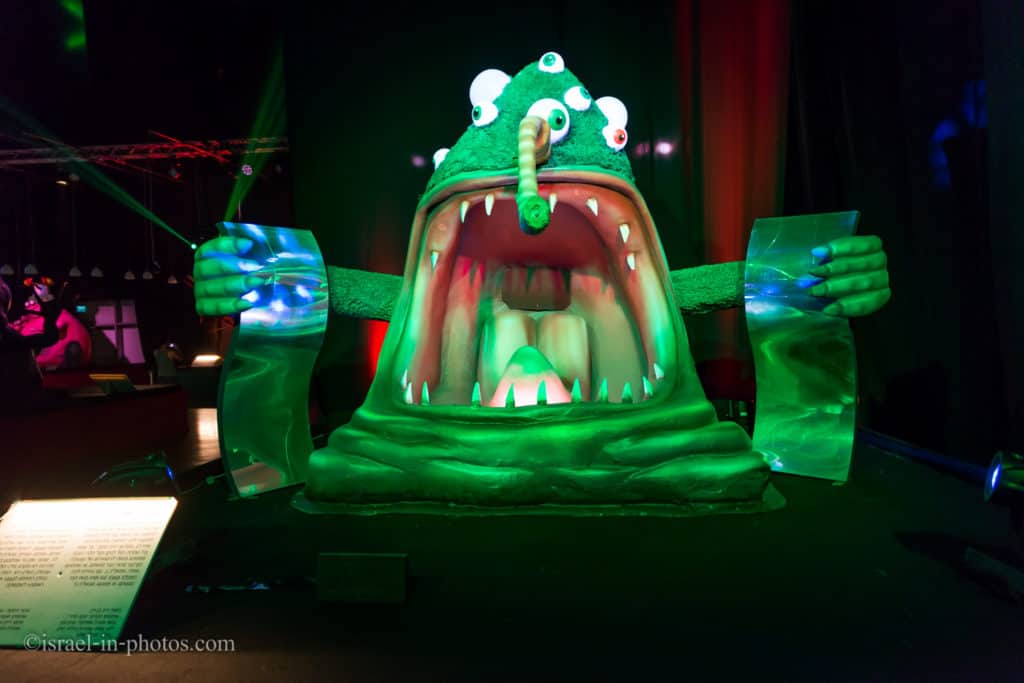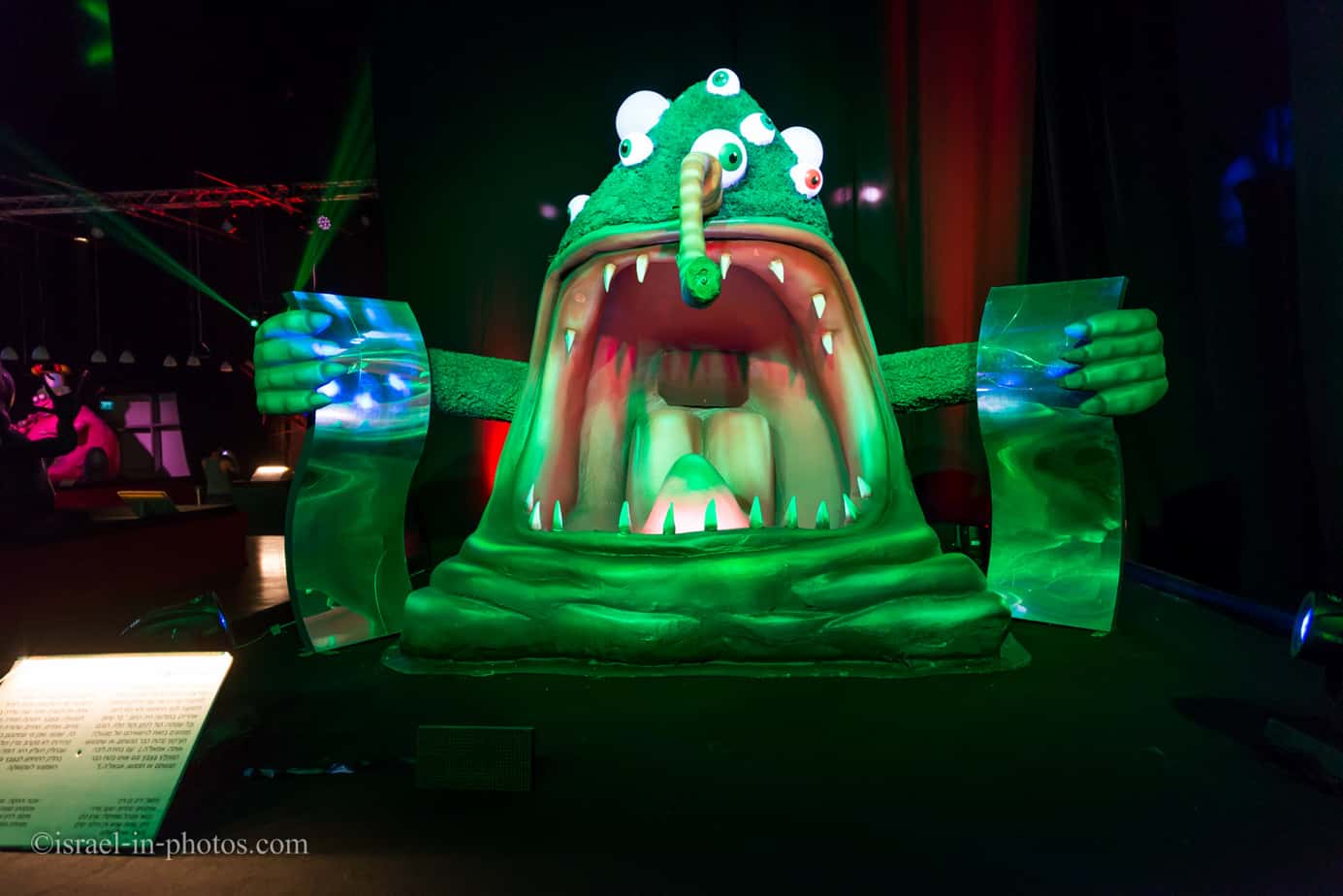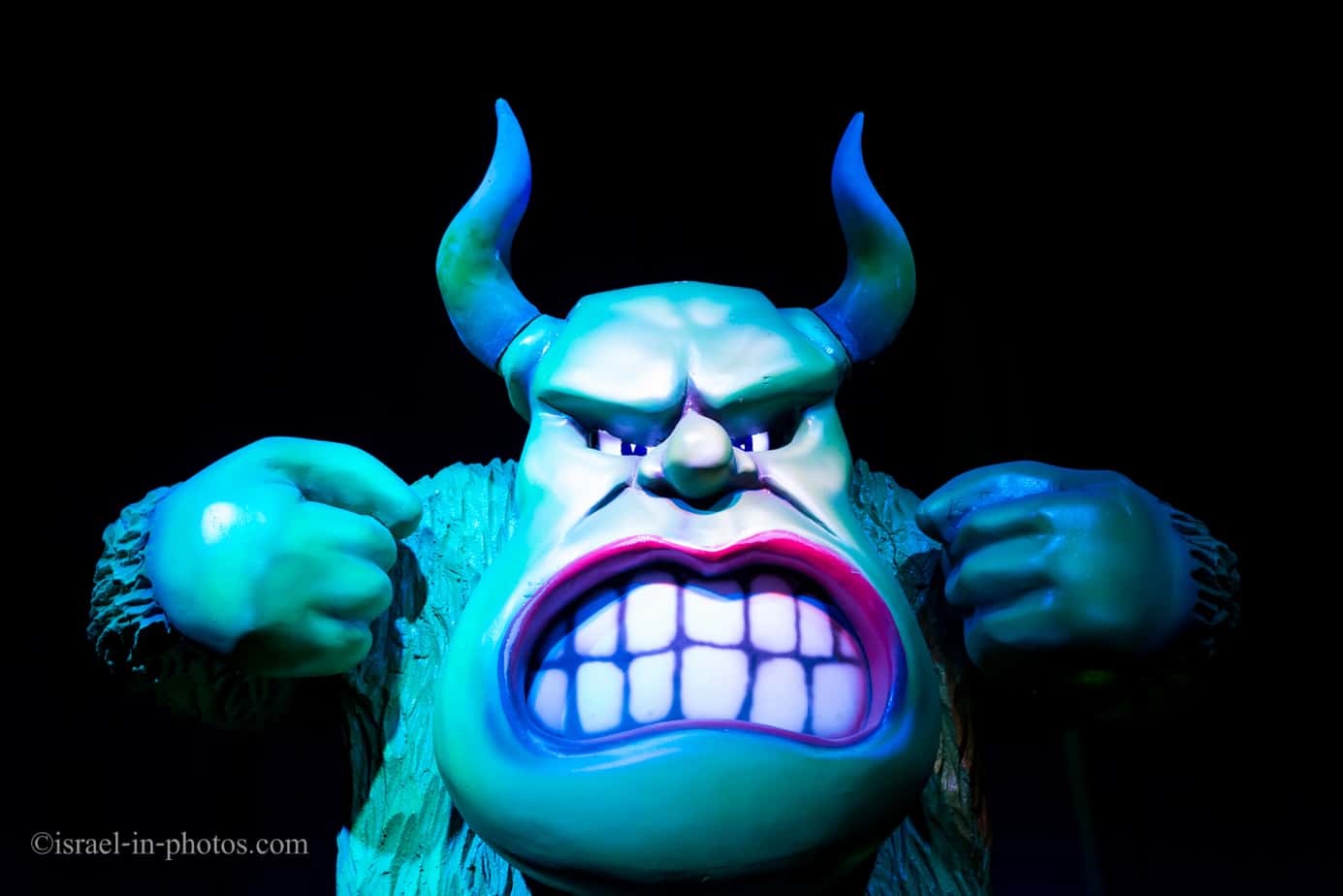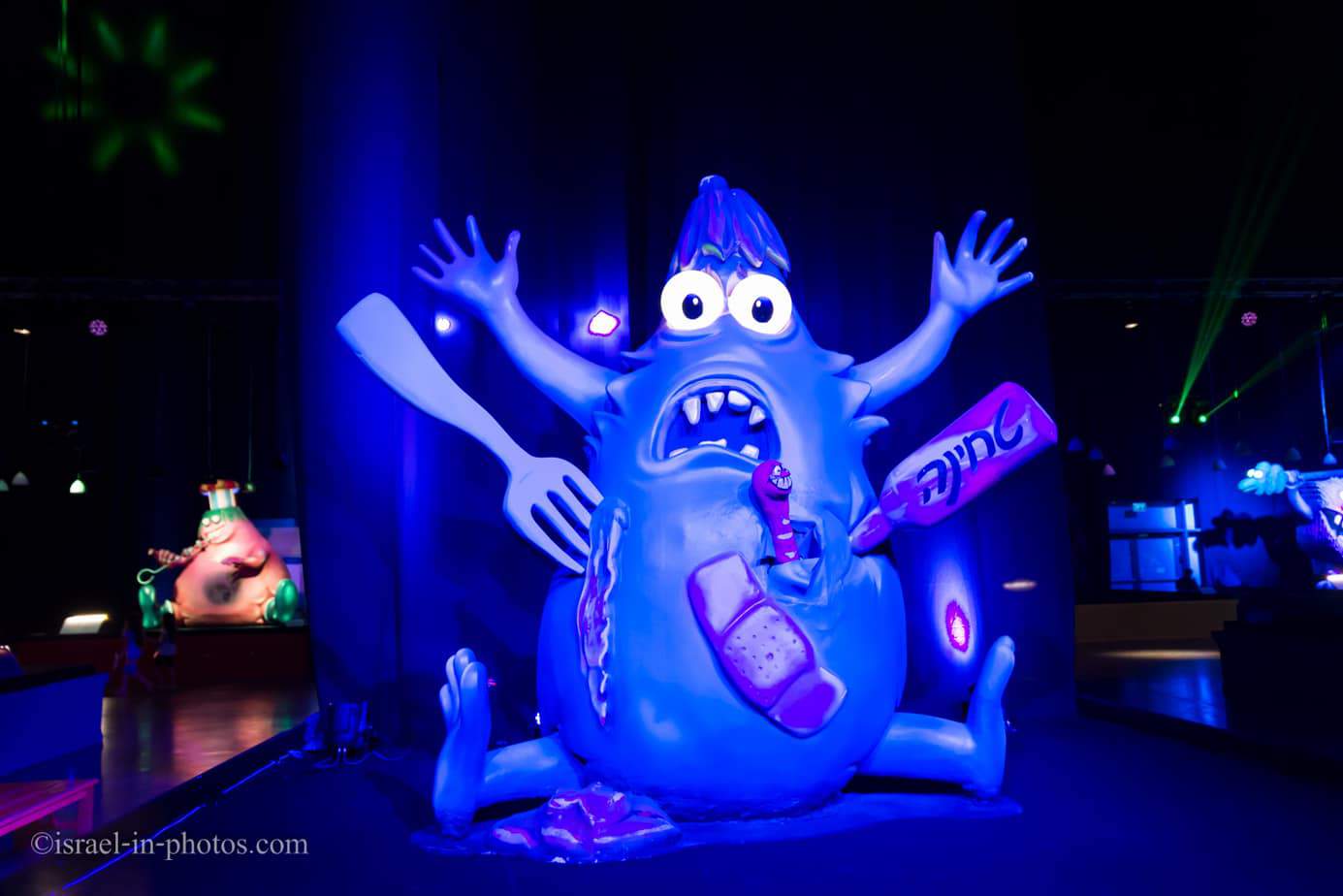 Most of the monsters are barely moving or not moving at all. But song lyrics are funny and enjoyable.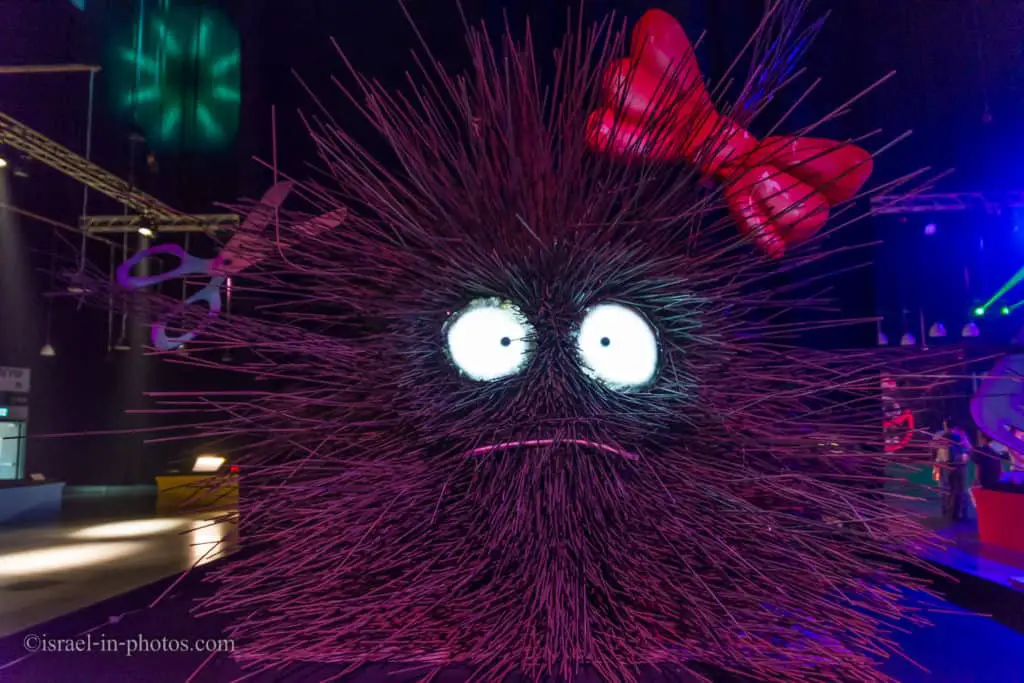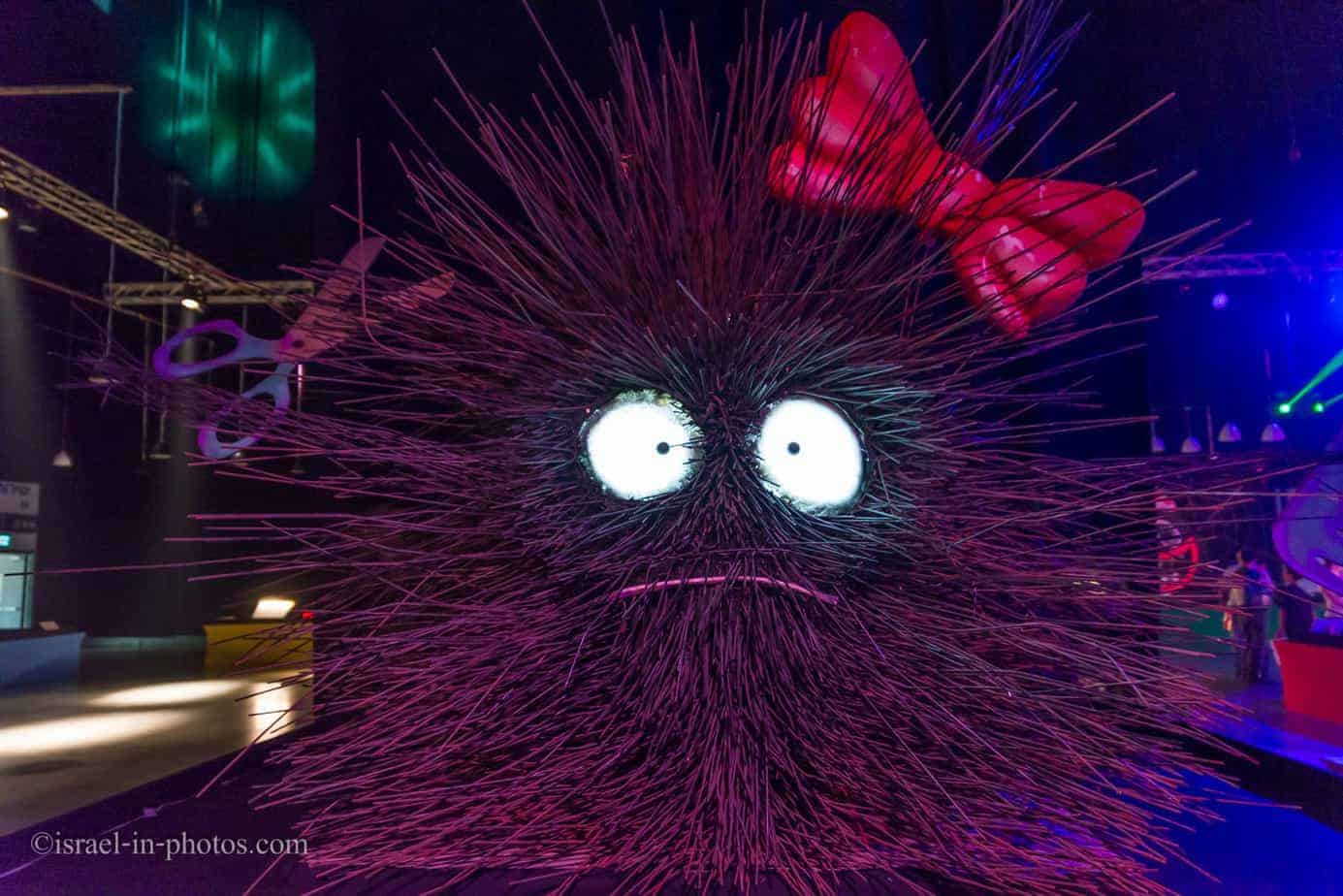 Here is a wider shot of the exhibition: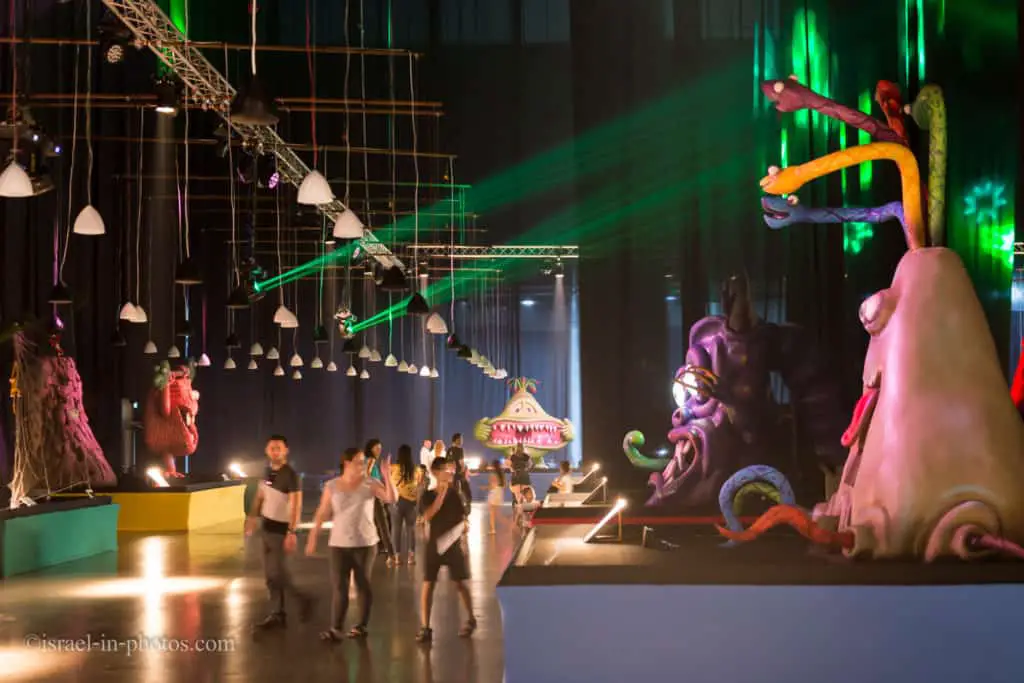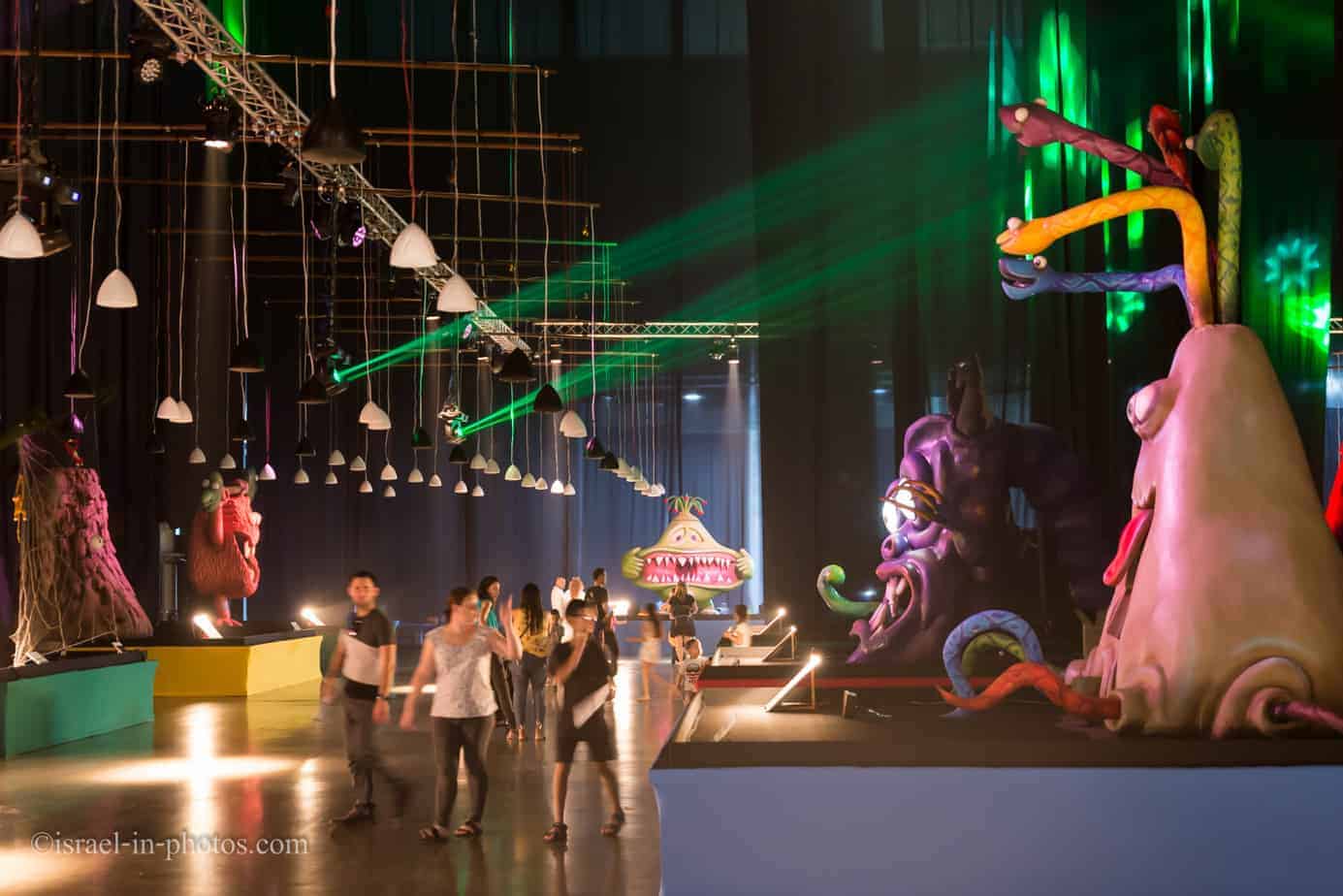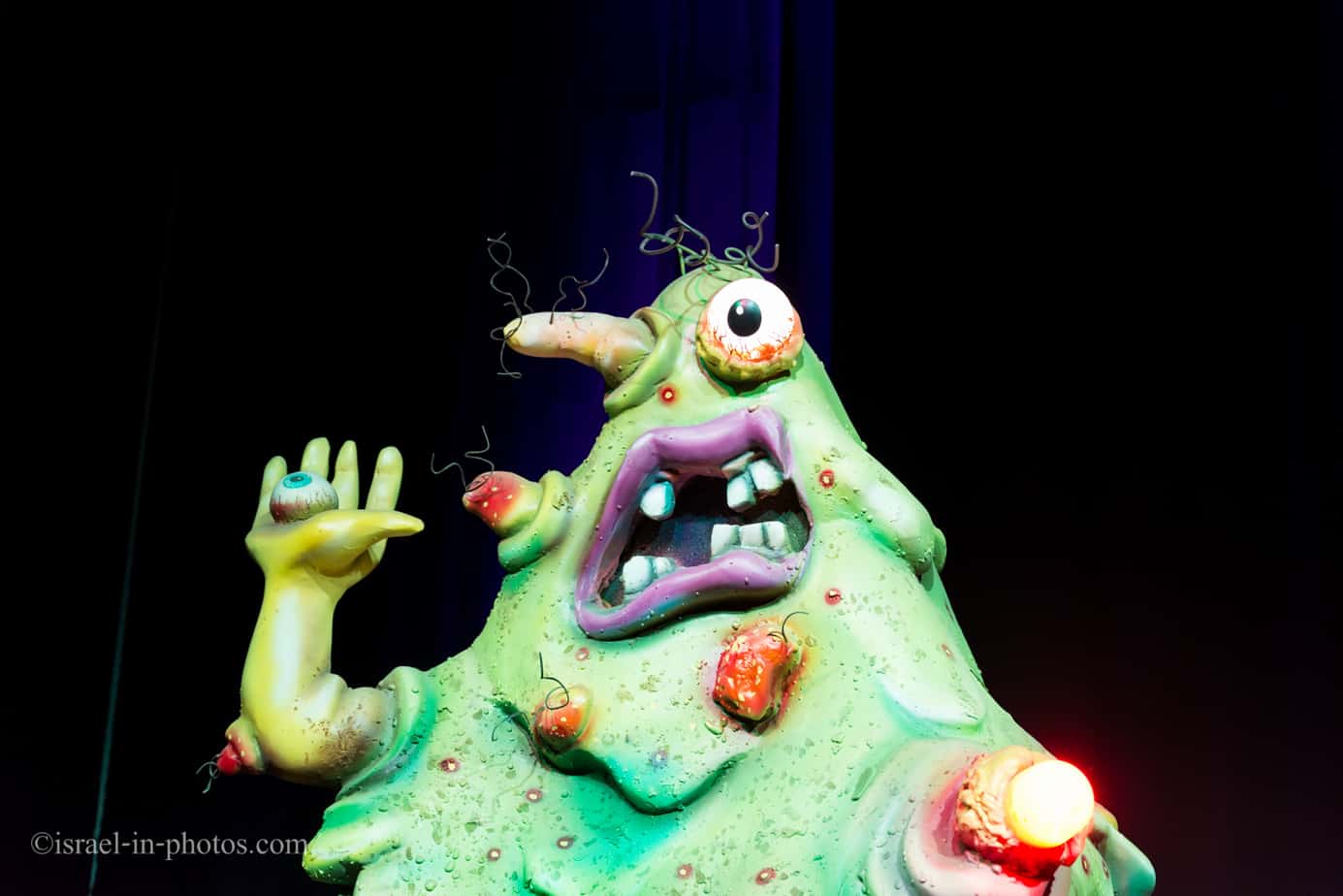 The monsters have many details, and it is clear that a lot of work has gone into preparing this exhibition.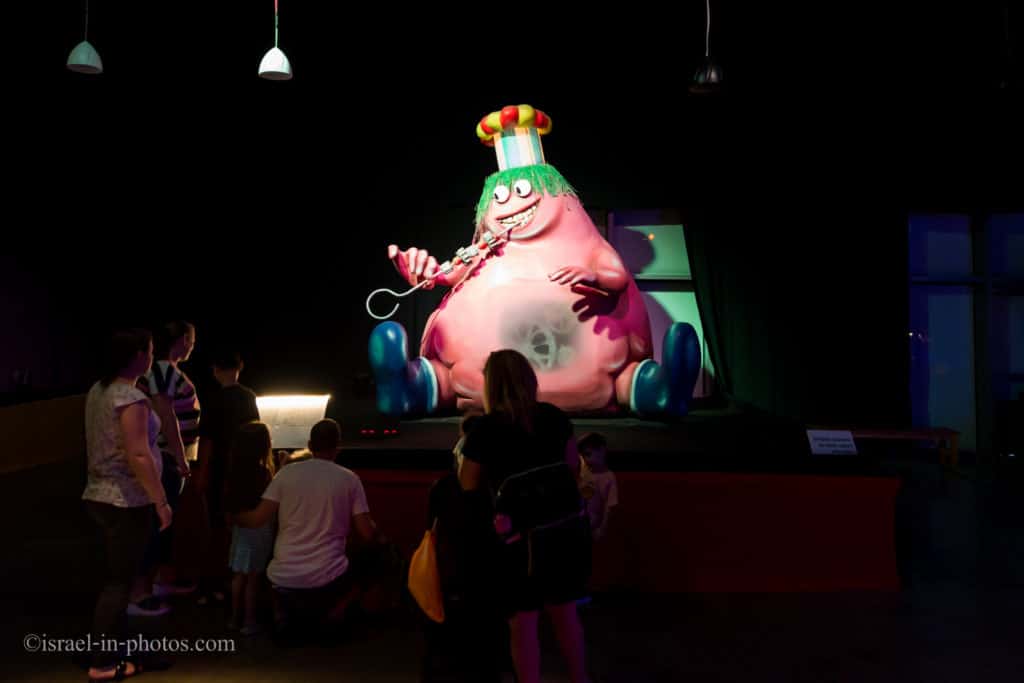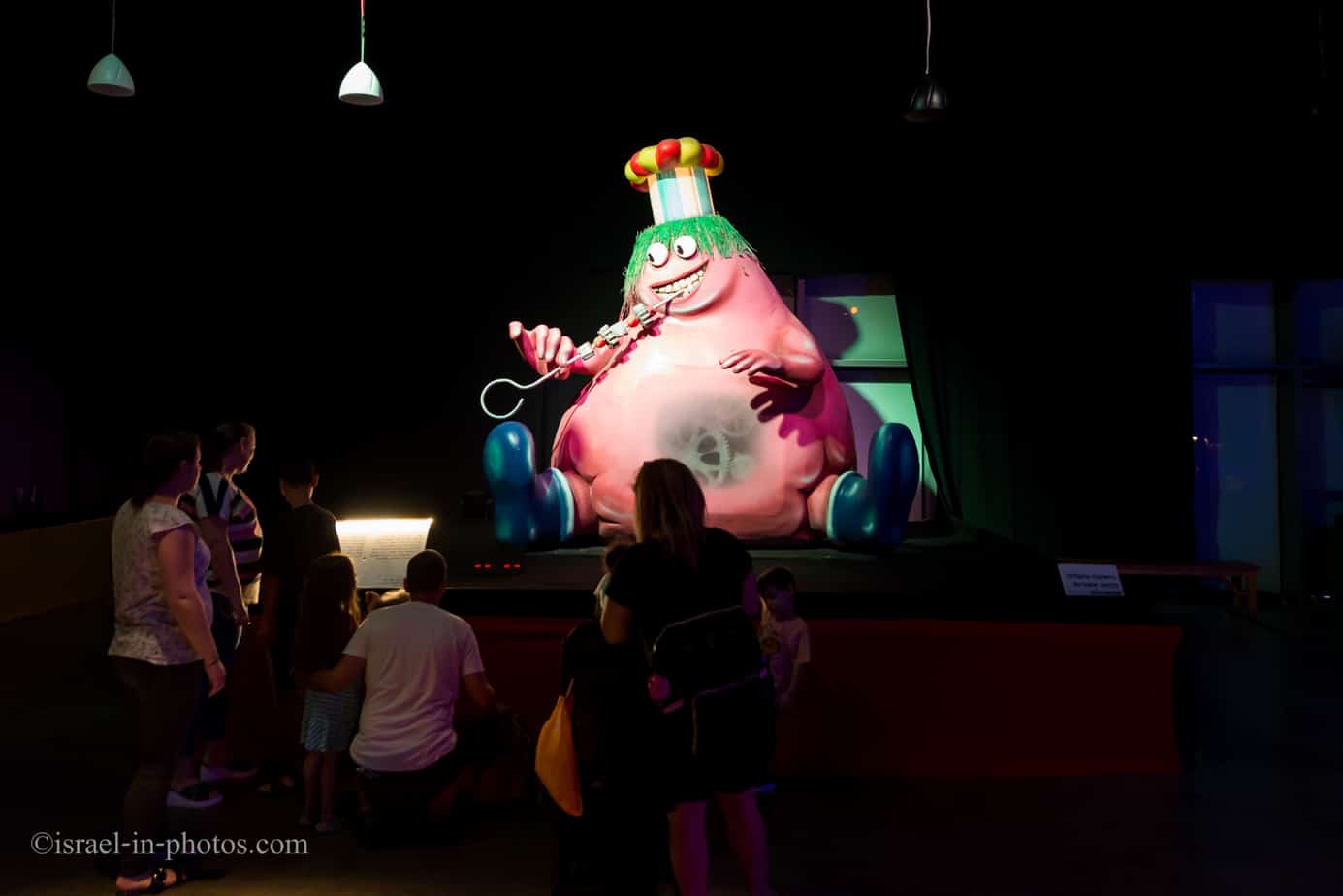 We visited on a Thursday evening, and the place was not crowded.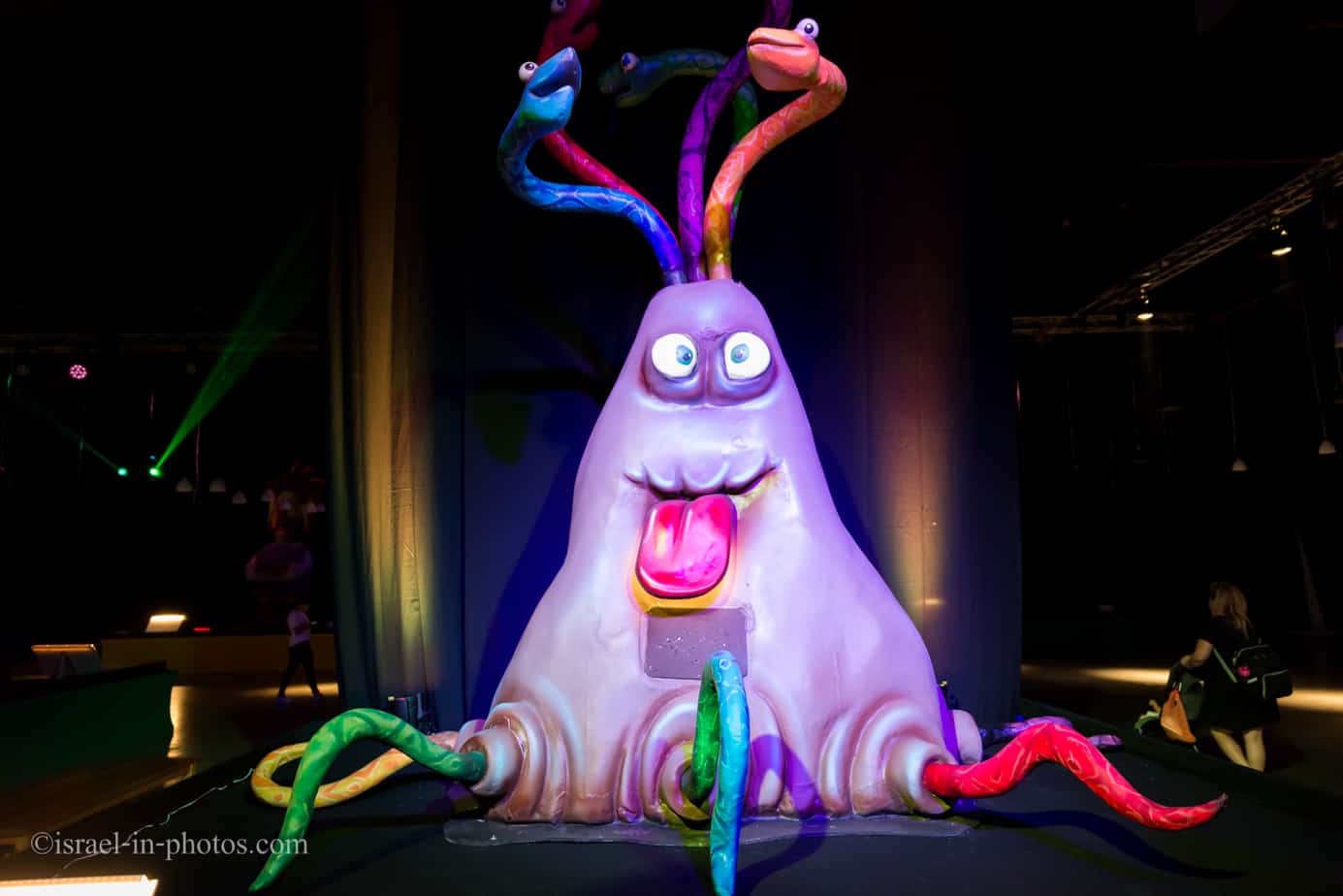 Here are several additional photos of the hosts: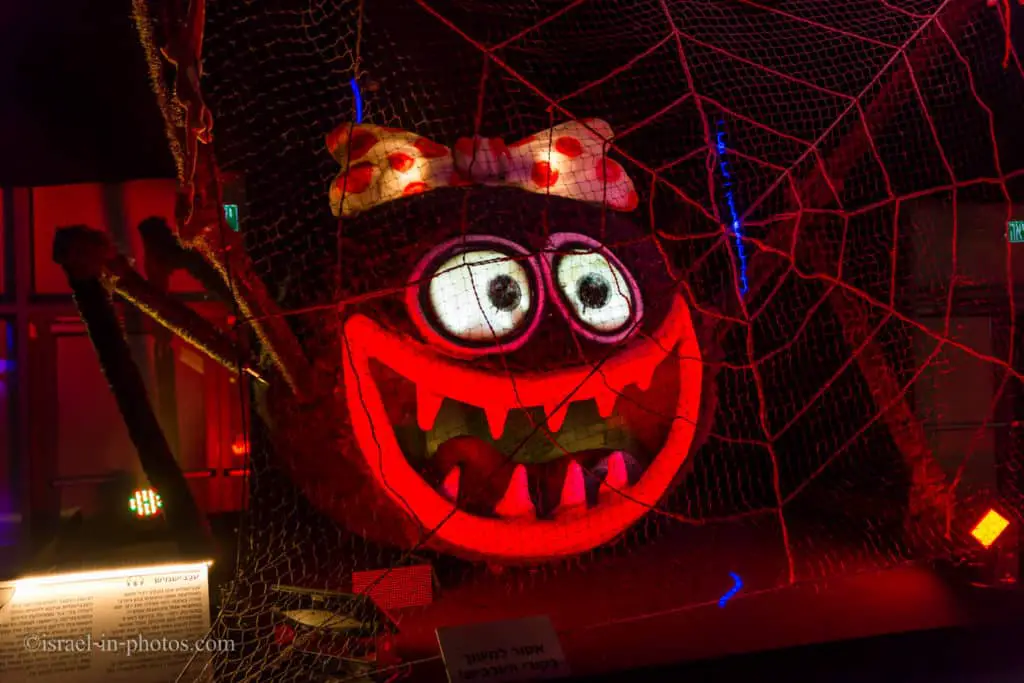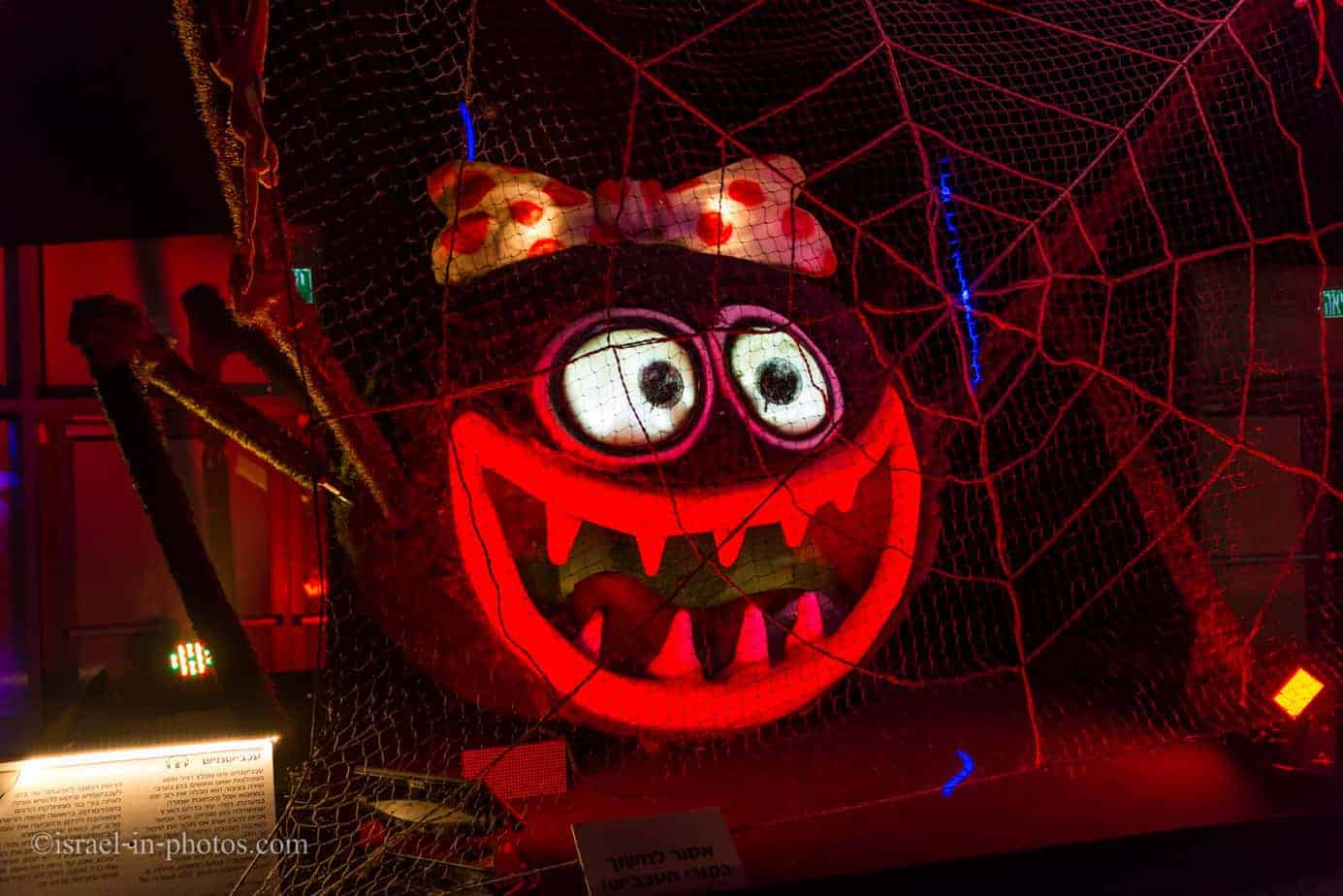 And in the next shot, you can see the timer.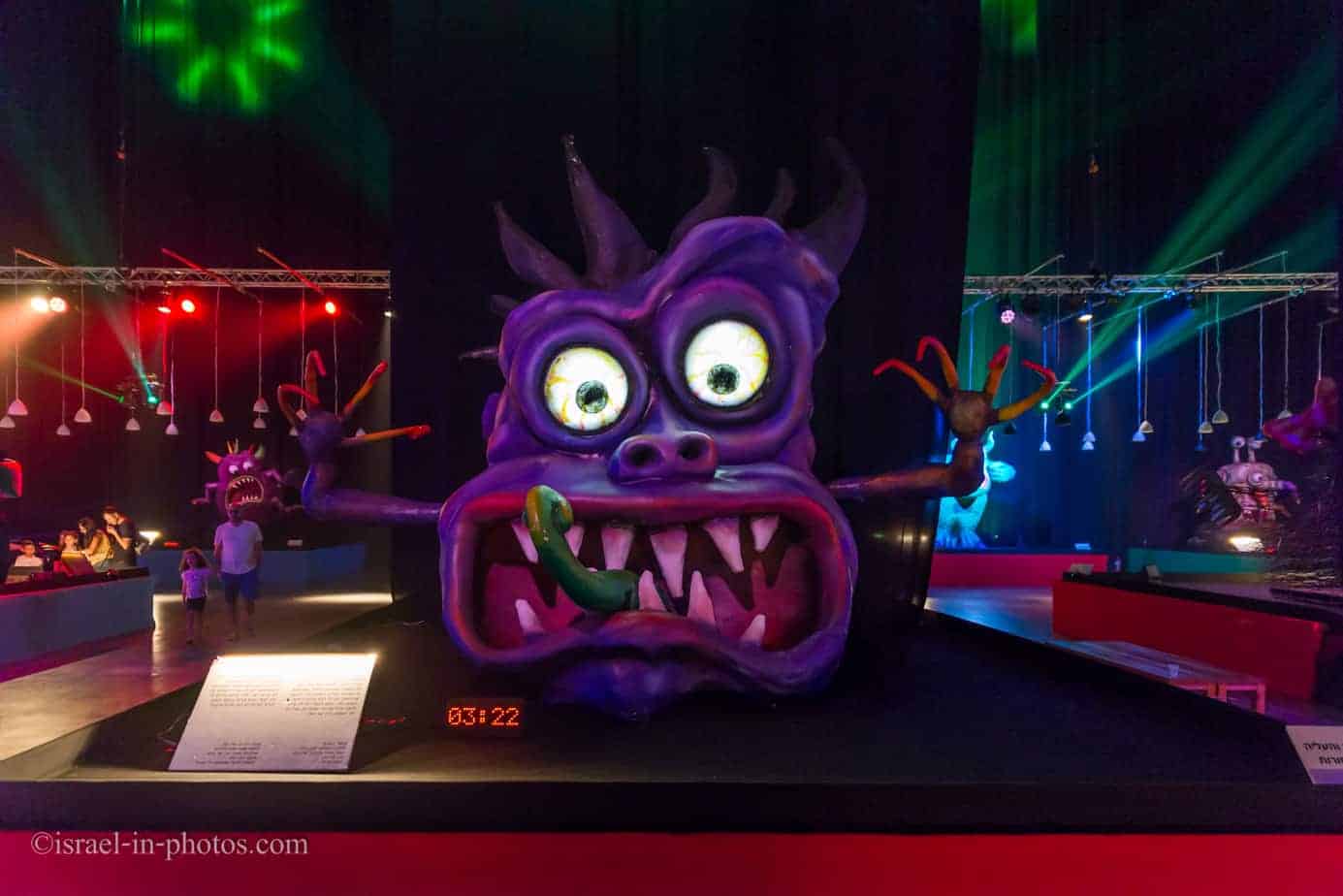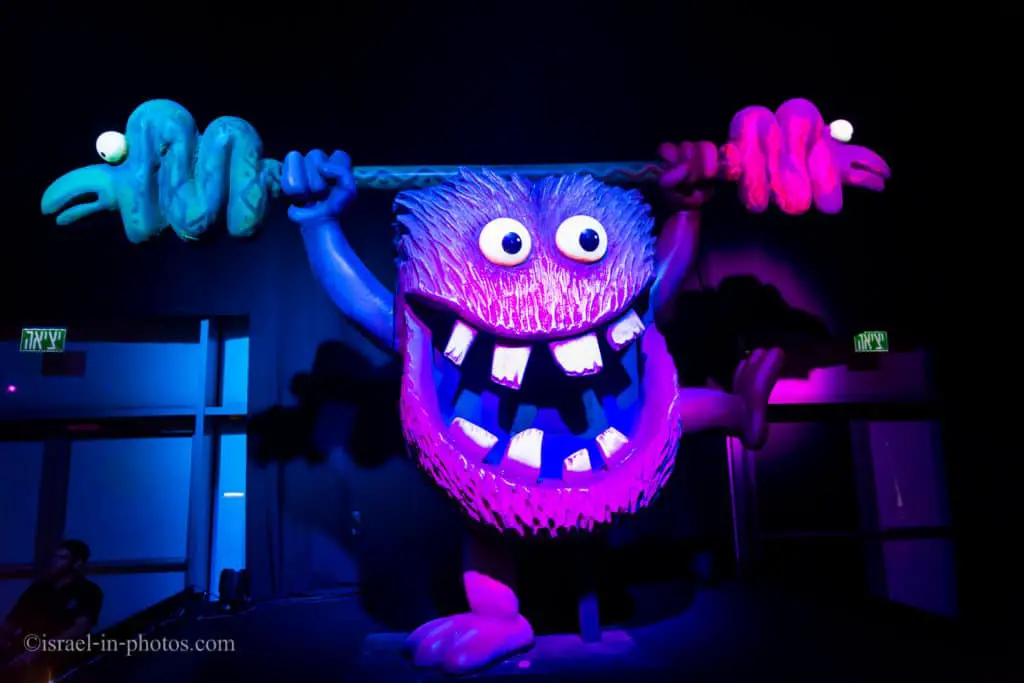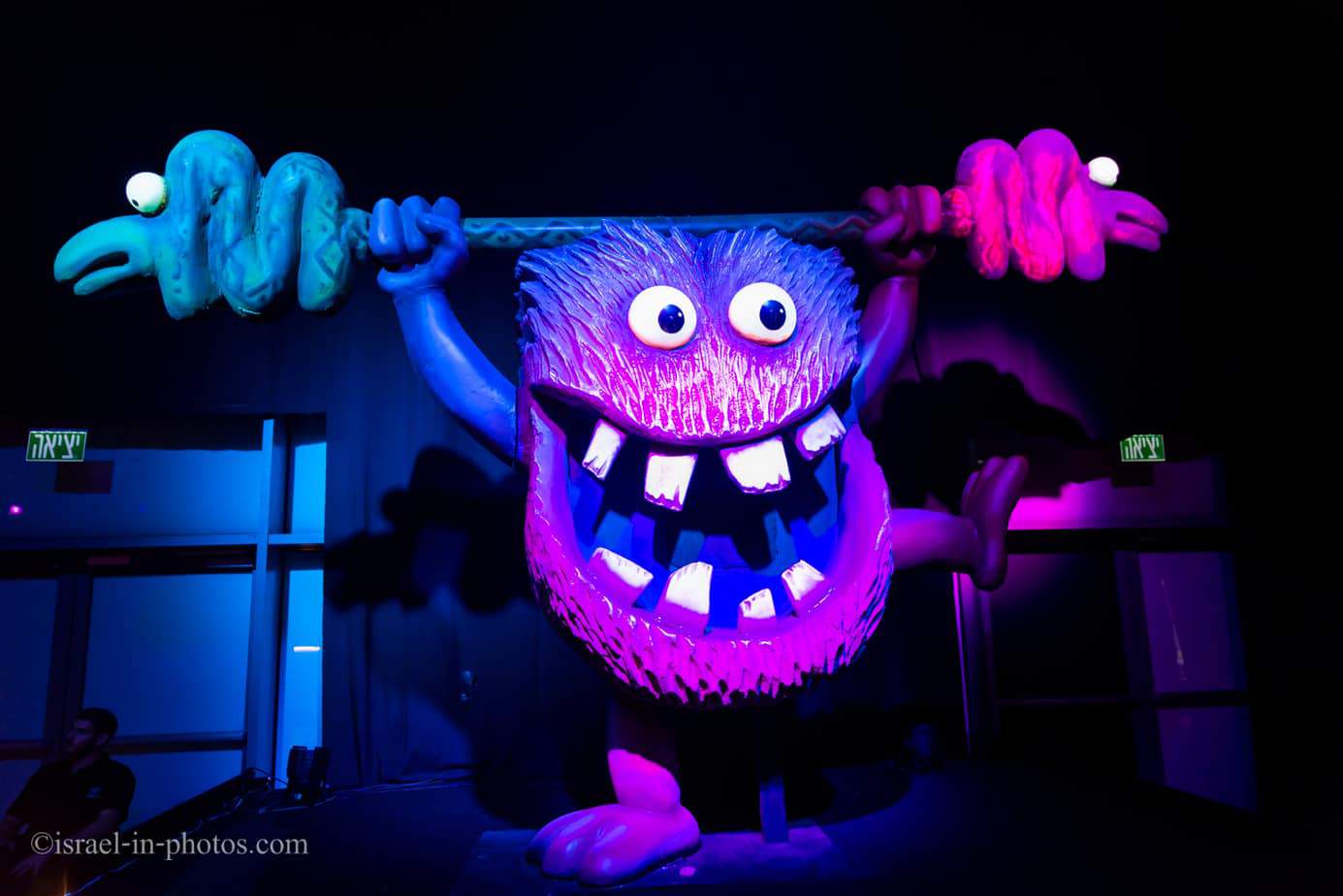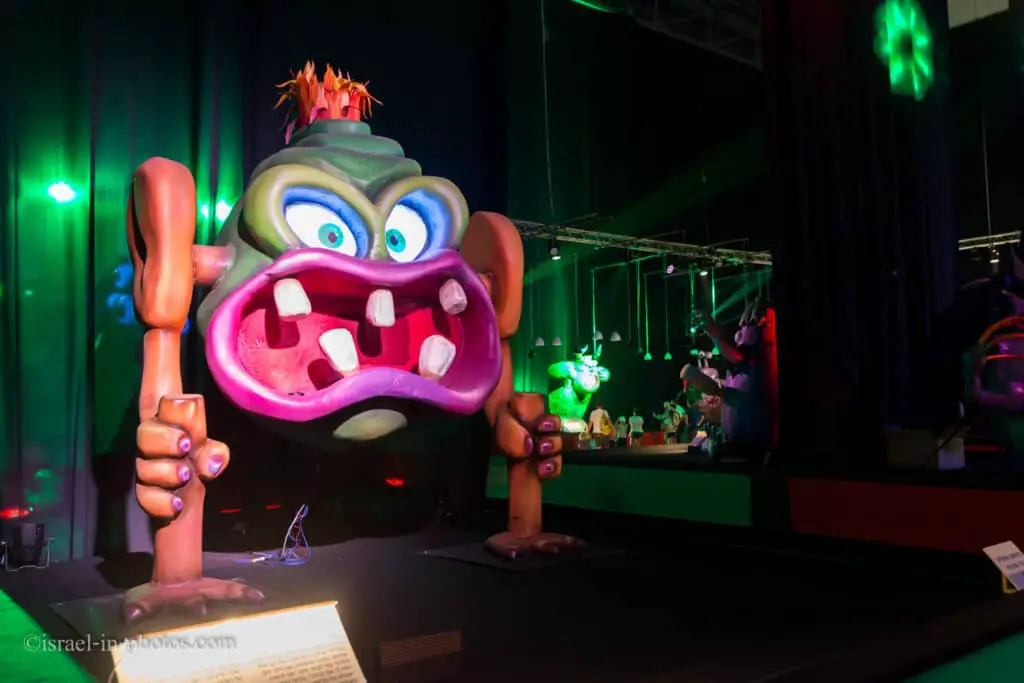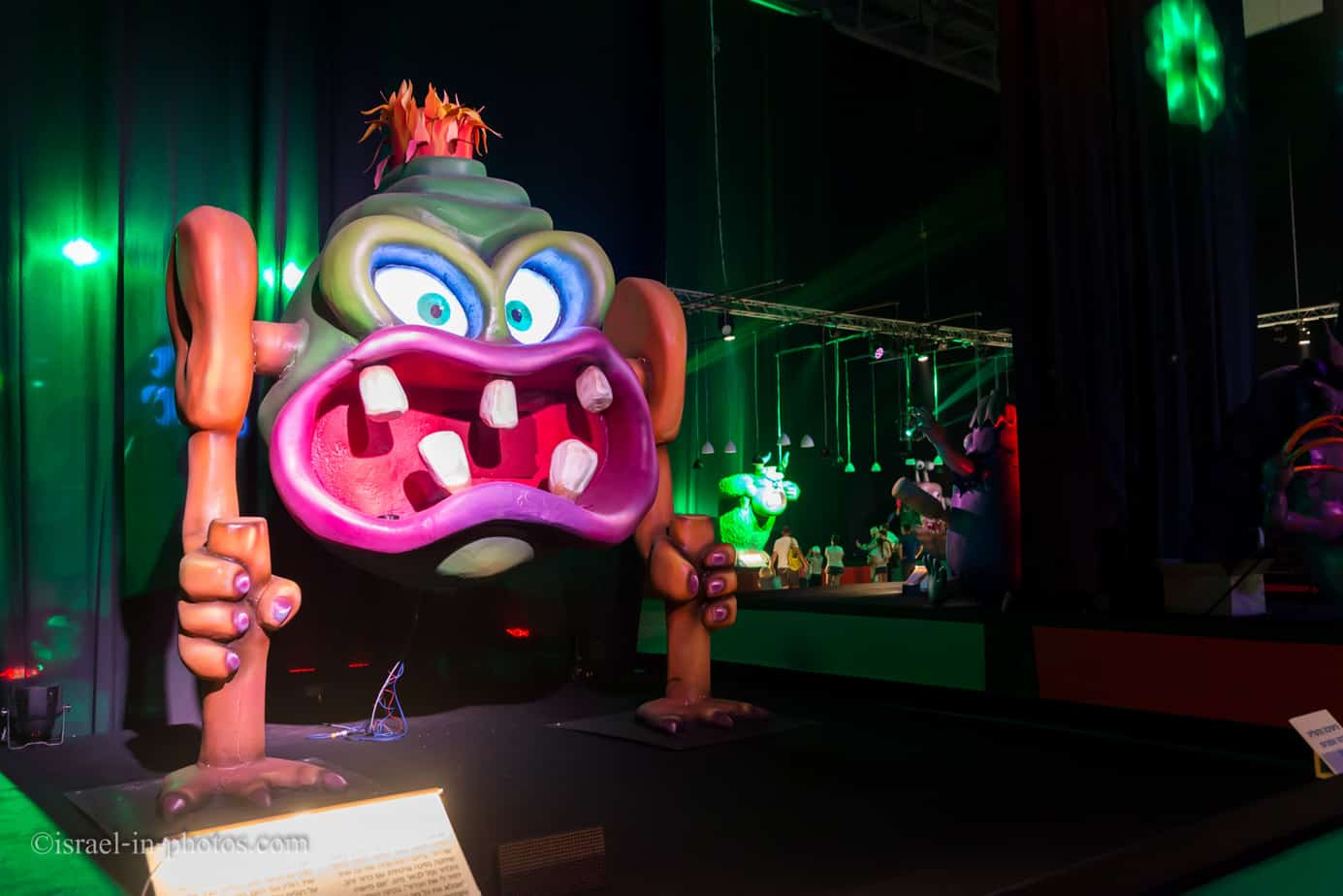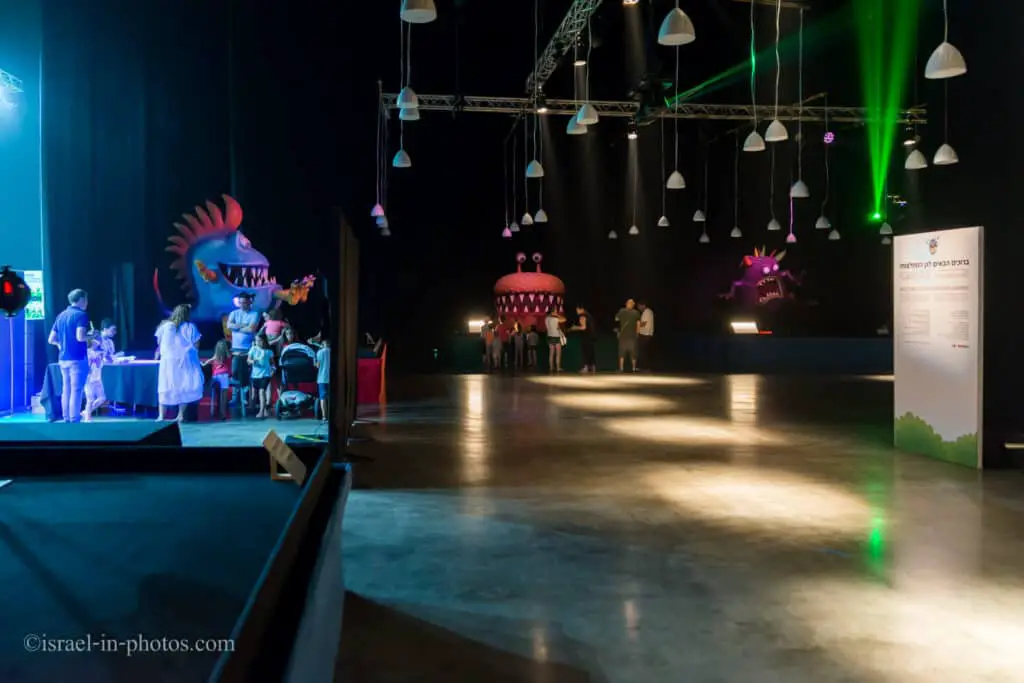 Extra Attractions
Besides the twenty monsters, there was a makeup artist stand.
There is a small playground for babies (on the left). There are also drawing tables where kids can color the monsters (on the right). And of course, there is a shop.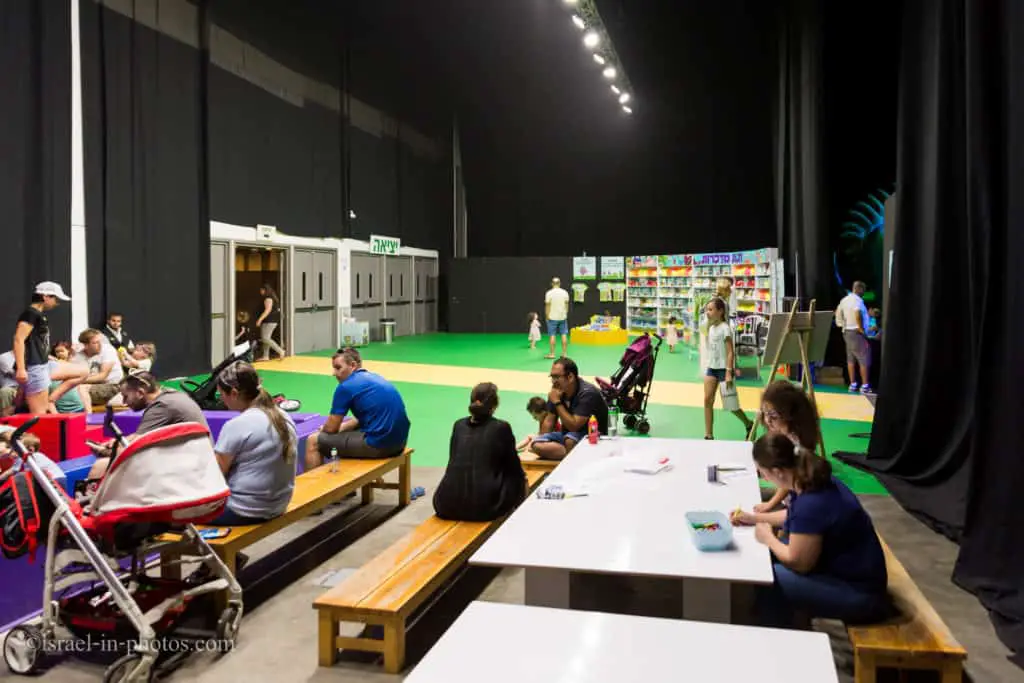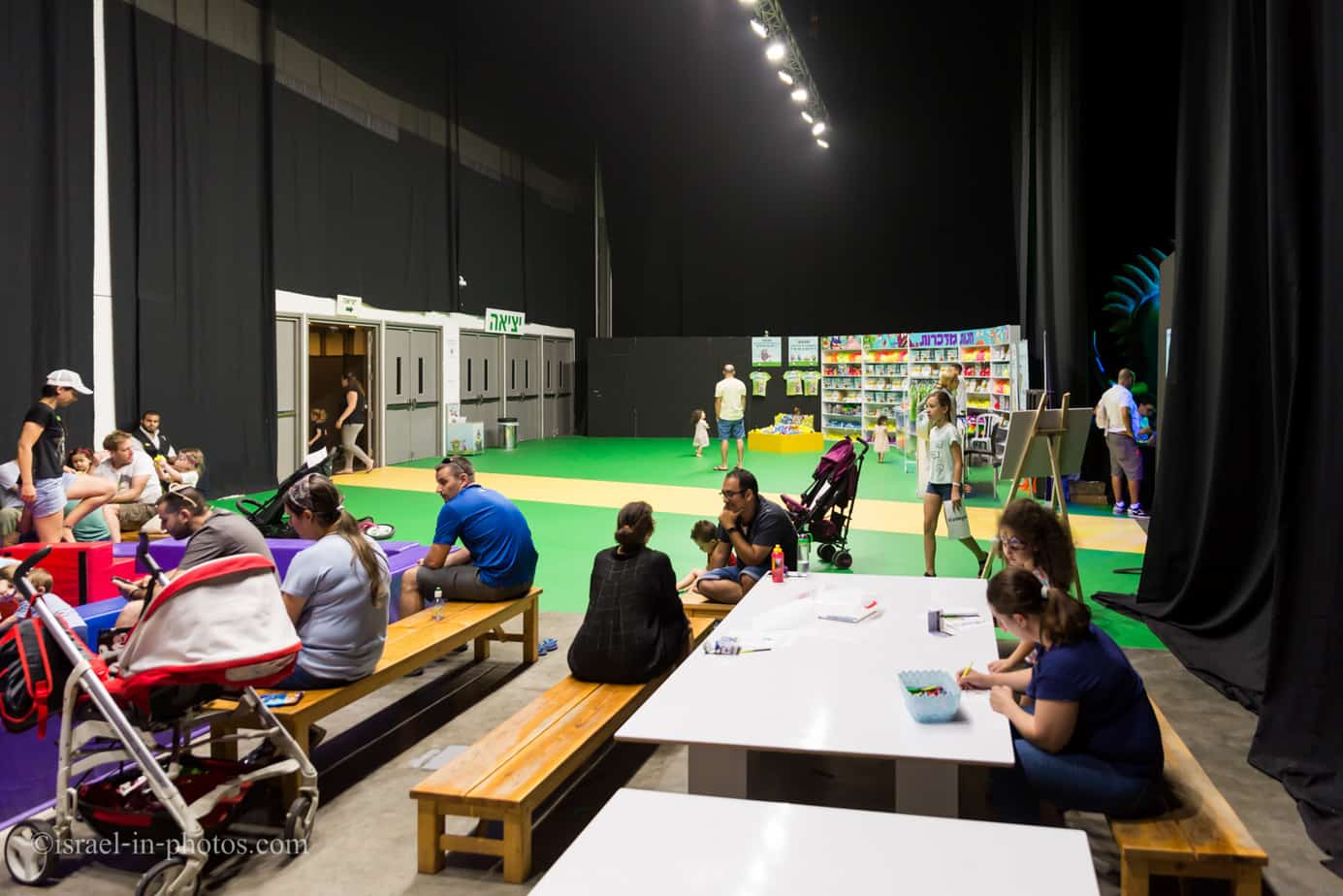 As it turns out, there is an audioguide. I missed that sign when entering.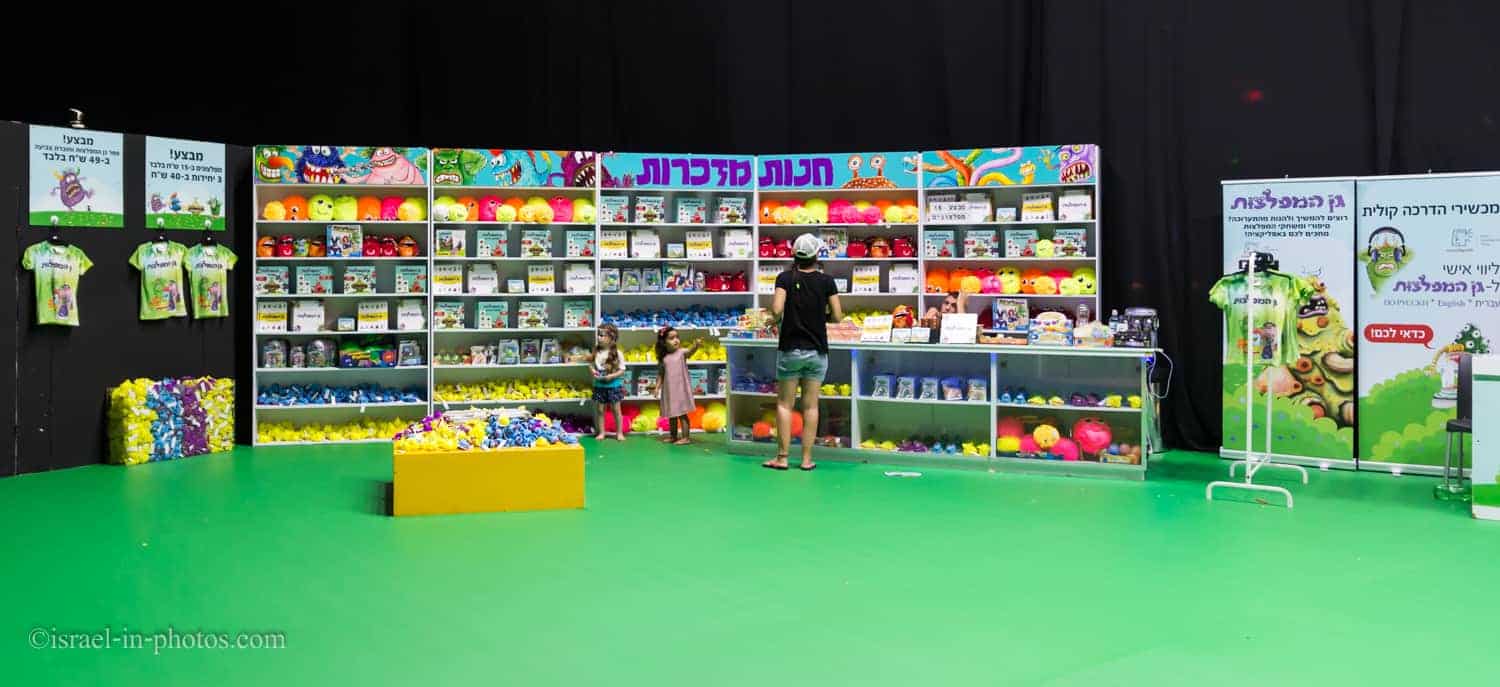 At the lobby, monster creation workshops were taking place. But since we finished late (around 20:00), it was already shut down.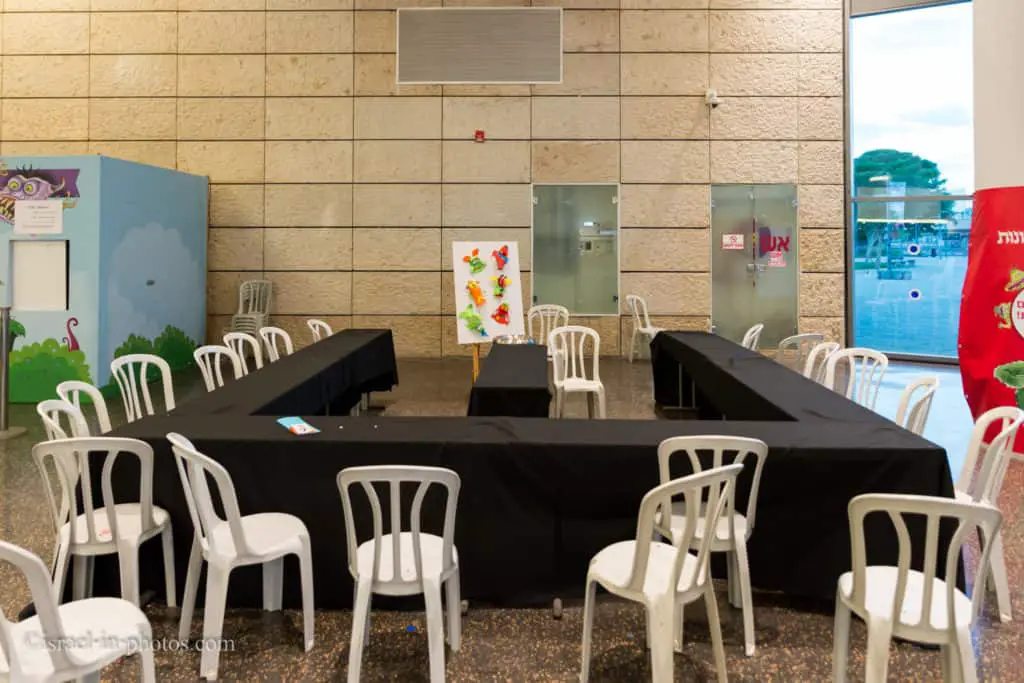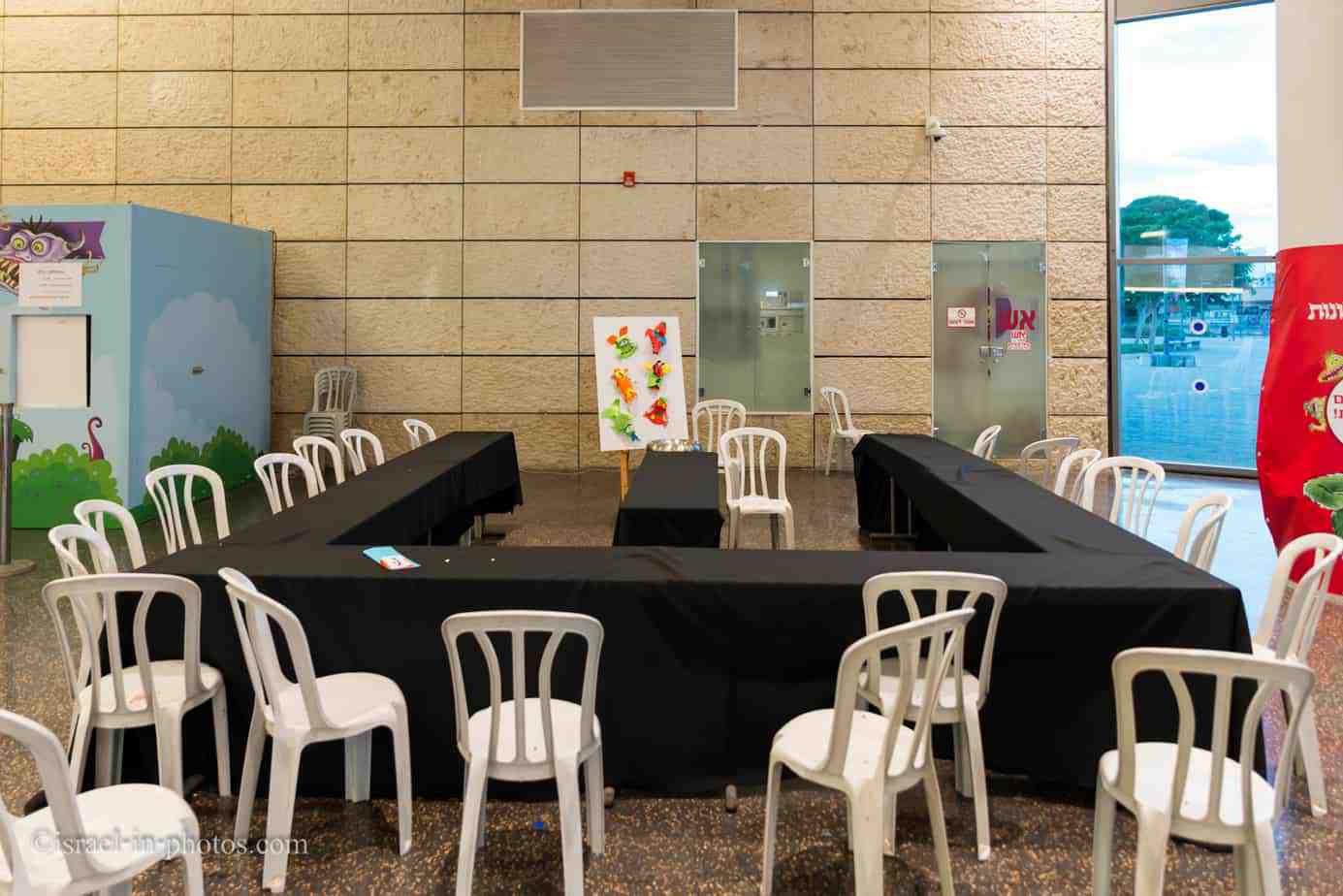 You can also find there the traditional food for kids and the movie about this exhibition.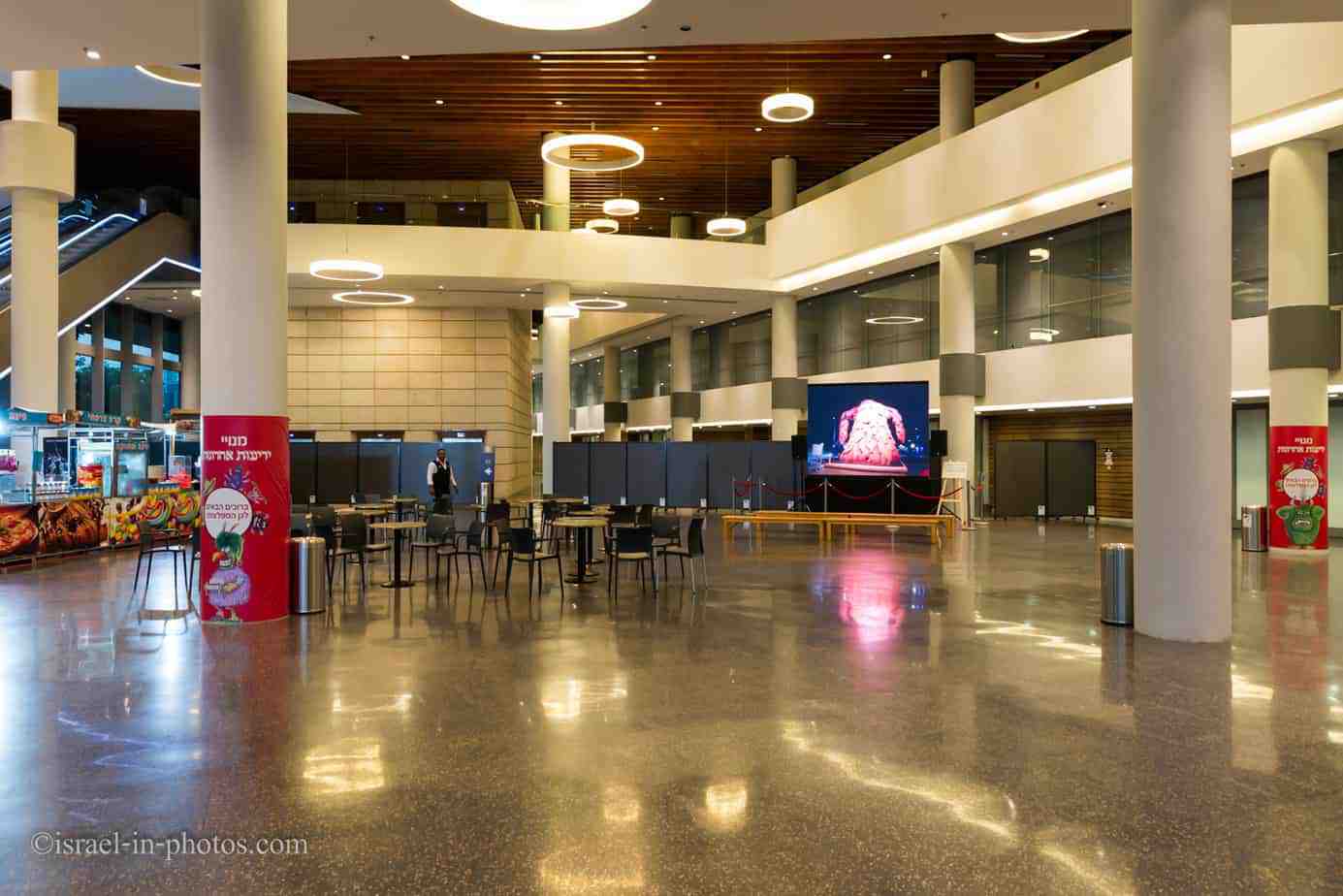 And this is the bridge above Sderot Rokach that leads to Tel Aviv Convention Center.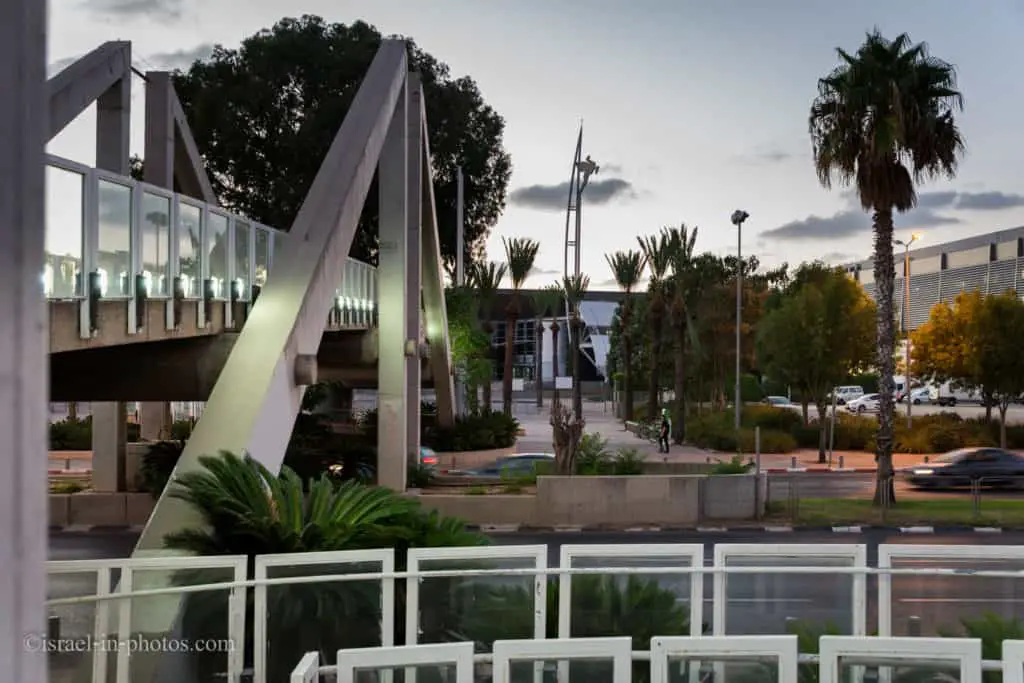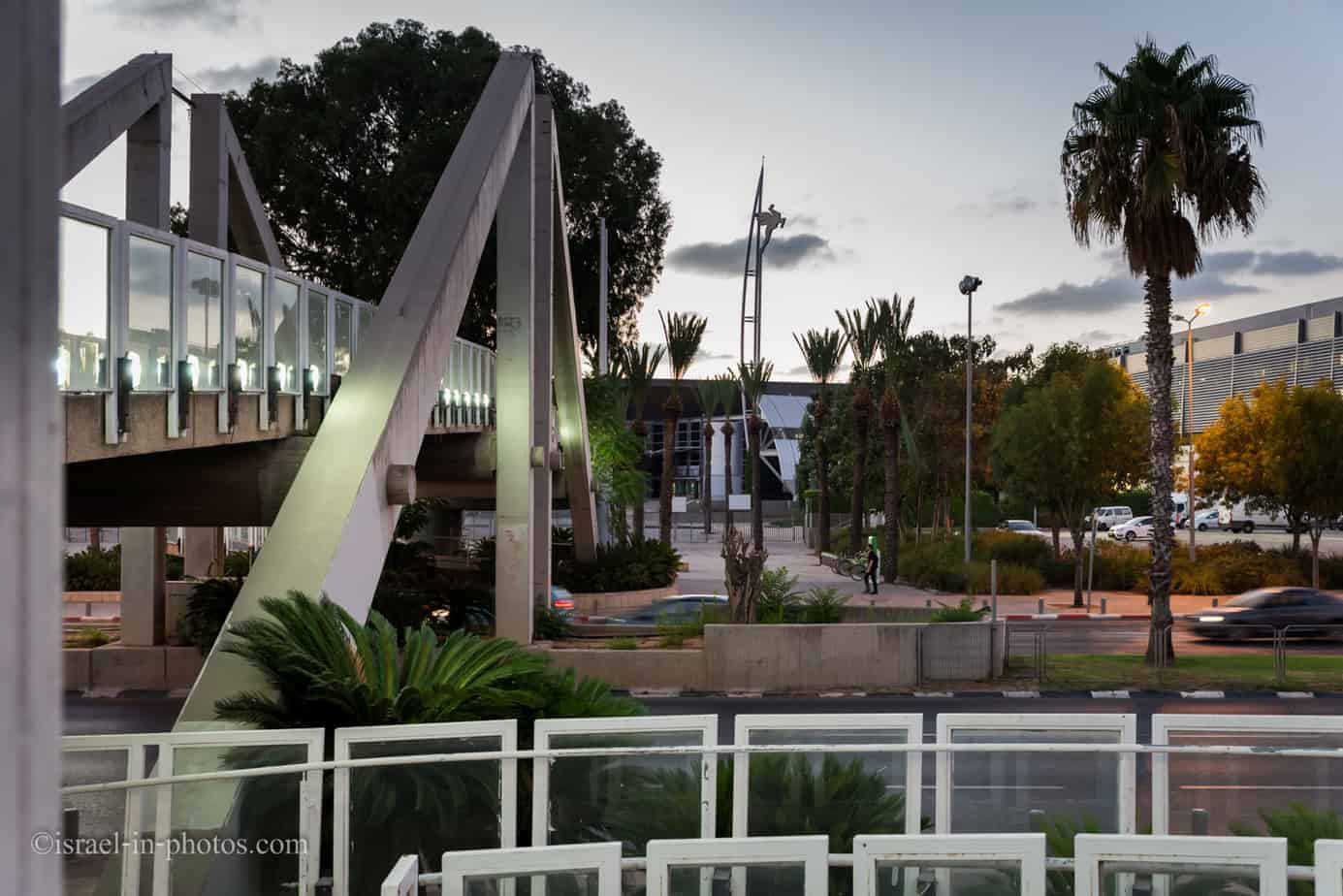 Summary
Since we arrived pretty late, we did not do any workshops, drawing, or other extra activities. We just visited the monsters. And this took us about an hour. But, if you do the other activities, you can spend several hours there.
Who is this exhibition for? Initially, I considered it as an event for children. But, our experience showed that adults enjoyed the Monsters Garden more than the children. My daughter, who is seven, did not understand many jokes and word games. Older kids would understand more. But teenagers probably will think this is a childish event and will prefer not to visit it. Thus, it is problematic to give any age recommendations, but keep in mind that toddlers and preschoolers probably will not understand much.
Overall, we enjoyed the Monsters Garden exhibition, and I would recommend it to people who look for something different. Though the full ticket price is expensive for an hour-long attraction, so look for coupons online. You can find tickets for half of the total rate.
Have you visited the Monsters Garden Exhibition? Tell us about your experience in the comments below.
That's all for today, and I'll see you in future travels!
Stay Tuned!
For additional points of interest nearby, see Tel Aviv-Yafo.
Additional Resources
Here are several resources that I created to help travelers:
And if you have any questions then check out
Useful Information For Tourists To Israel
.  
Did not find what you were looking for? Leave a comment below, and I will do my best to answer your questions.