Ilanot National Arboretum is a botanical garden with a lot of shade and paved trails. Hence, it is the perfect place for a family visit.
Ilanot Arboretum was founded in the 1950s by the Forest Research Department as a grove for tree acclimatization in Israel. And today, you can stroll and look at the collection of trees.
Notes:
Map
Ilanot Forest (near Netanya) is by the old Tel-Aviv – Haifa highway (road #4), close to Dror Junction. You can enter the Ilanot National Arboretum by turning right from highway #4 north. And the easiest way to reach it is by entering "Ilanot forest" to Waze.
Directions for drivers: Link to Waze and Link to Google Maps
Directions for public transport: Link to Moovit
Interactive map of the area:
Offers:
Hotels, hostels, and apartments in this area:
And here is the introductory sign that you can find near the entrance: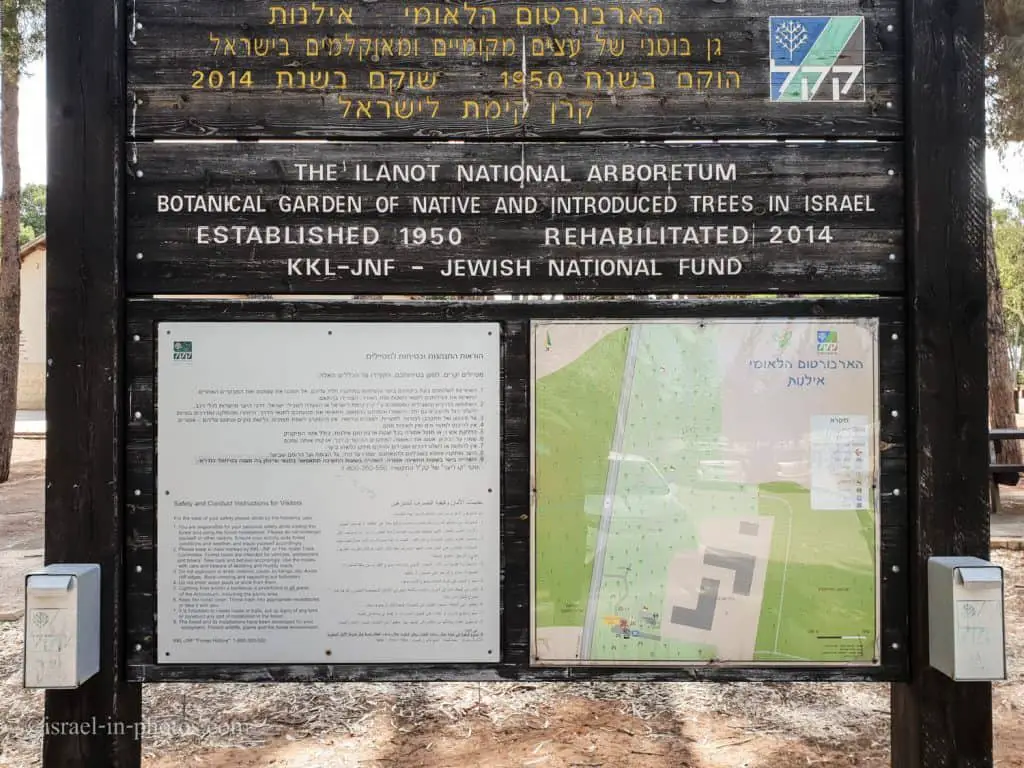 There is plenty of free parking on site. But this place is quite popular. And if you arrive later on a Saturday, entering Ilanot and finding parking will take time.
Note: you can click on the map to enlarge it.
You can see a grove on the bottom right of the map above. For more info about it, see Coastal Iris Trail at Ilanot Forest.
Recently a new app was developed. And it allows exploring the Ilanot forest by tree type.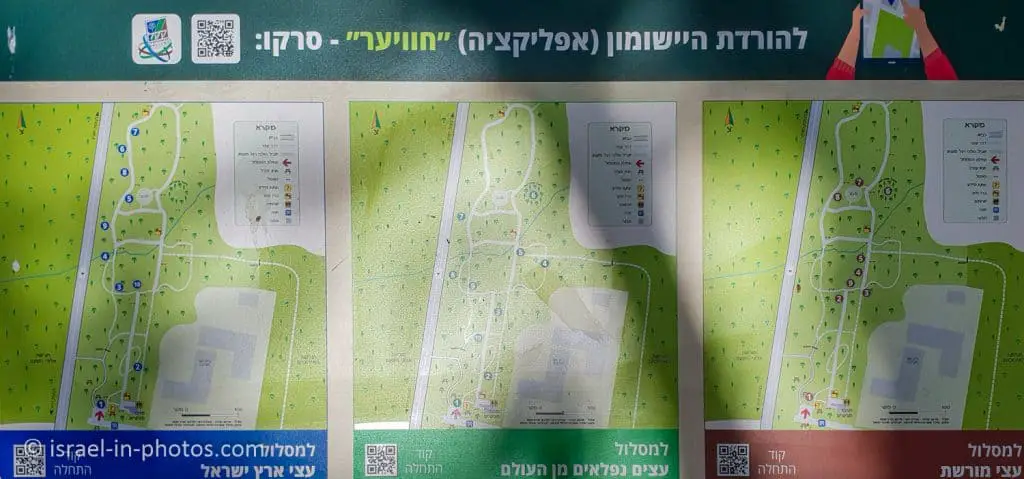 Opening Hours
The Botanical Garden is open daily from 08:00 until sunset (the gate is locked at sunset).
The restrooms are open daily from 9:00 to 16:00.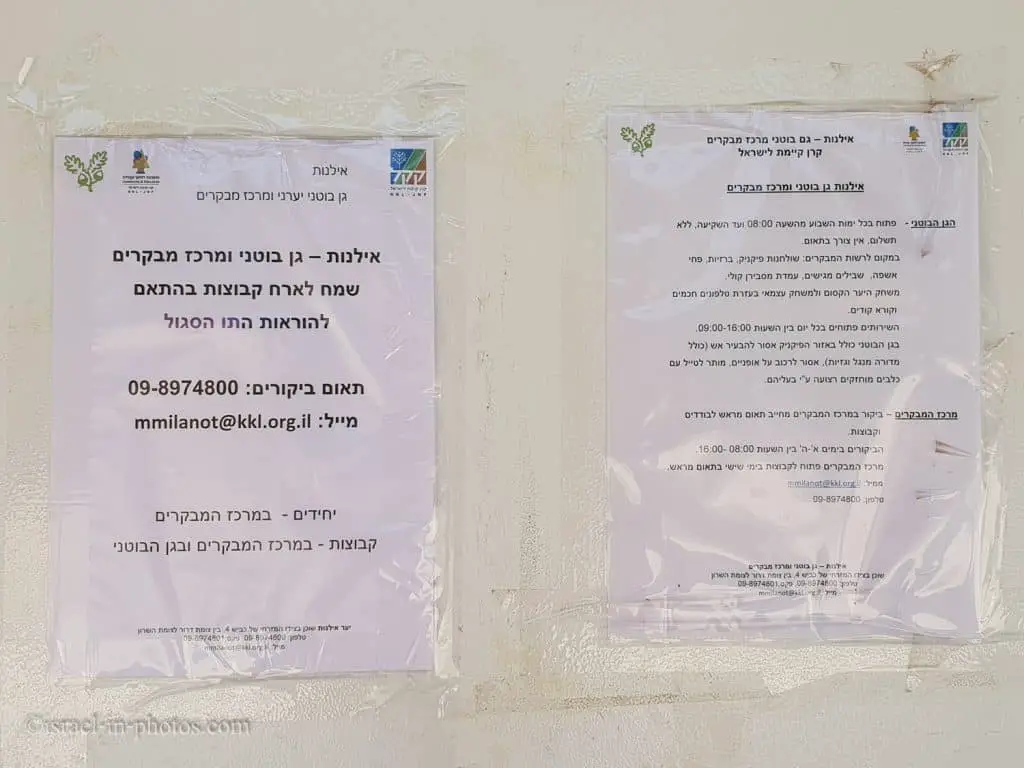 If you wish to visit the visitors center, you must schedule it by phone (09-8974800) or email (mmilanot@kkl.org.il). The Visitors Center is open on Sunday – Thursday: 9:00 – 16:00.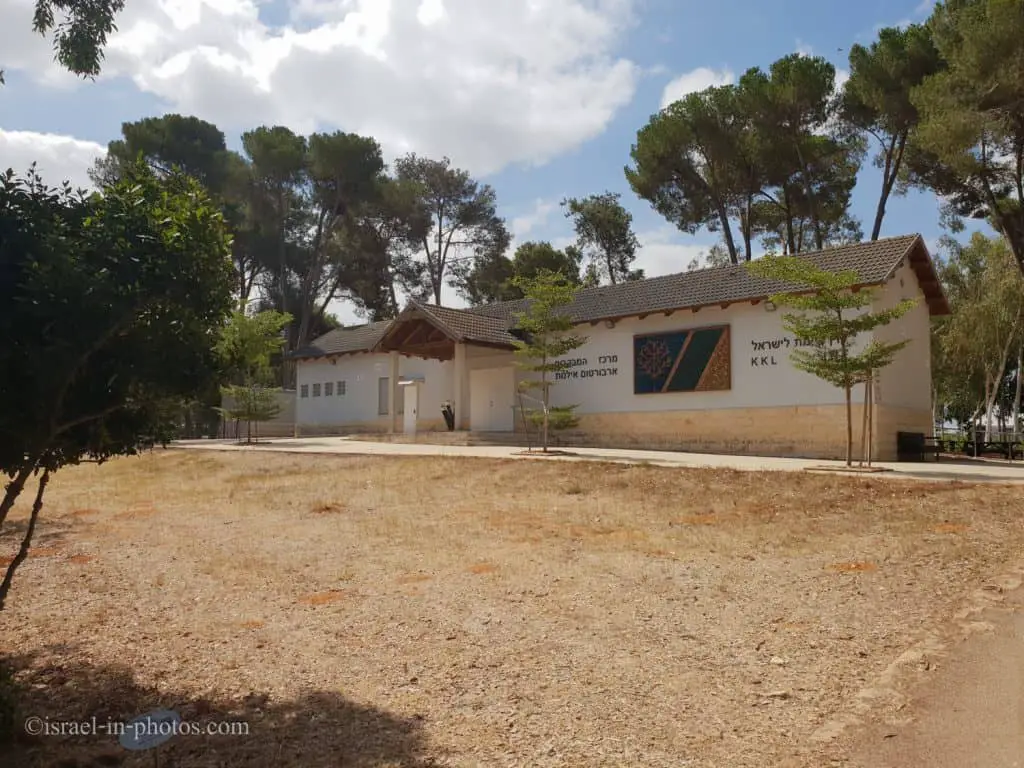 Entrance Fee
Free.
Contact Info
Telephone: 09-8974800
Email: mmilanot@kkl.org.il
At the Entrance
As you enter the Ilanot Arboretum, you will see several facilities near the parking. The first one is the visitor center. There is also a picnic area, restrooms, water fountains, and accessible trails.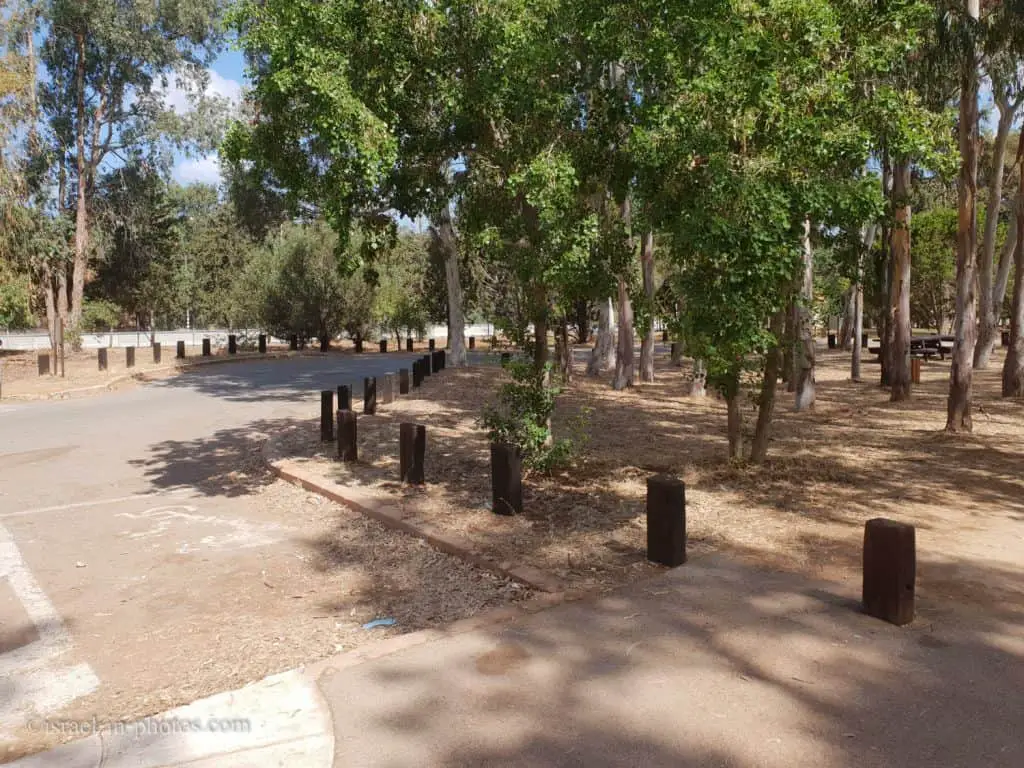 About
In the heart of the Sharon region, there is a unique and amazing arboretum, the only one of its kind in Israel. The arboretum, a botanical garden for trees, covers 130 dunams and was founded in the 1950s by the Forest Research Department of the Israel Ministry of Agriculture. The arboretum was a grove for the acclimatization of trees in Israel. Indeed, the Ministry of Agriculture's foresters did their work. They gathered more than 700 species of trees from all over the world and planted them in a grove with twenty-five sections by the geographical regions from which the trees were collected. The site was appropriately called Ilanot, which in Hebrew means trees.

The arboretum flourished. Scientists checked the species in the grove for their level of suitability as forest species in Israel. The site served as a center for forestry research in Israel, and many important studies were implemented there regarding seed collection, tree pests, and other fields related to forestry. The great diversity of tree species in the Ilanot grove drew students from the Faculty of Agriculture in Rehovot, high school students, landscape architects, and nature lovers from Israel and abroad.

In 1986, the Forest Research Department closed down, and work in Ilanot stopped. The place was abandoned. Some of the trees died because they did not suit the climatic conditions. Others withered due to lack of care. The area became filled with weeds, and the wonderful garden was forgotten.
Note: unless stated otherwise, all quotes were taken from the official site.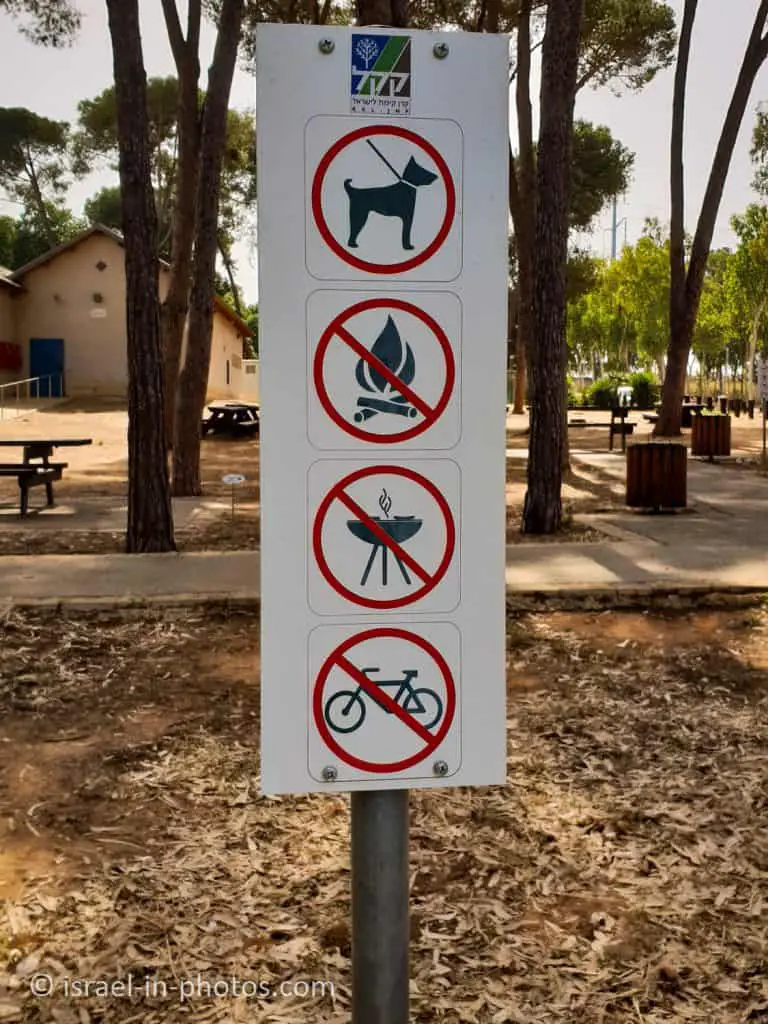 Note: lighting fire and preparing a barbeque at Ilanot National Arboretum is forbidden. Also, during the visit to the Ilanot forest, dogs should be on a leash.
The Restoration of the Arboretum
In 2013 KKL-JNF decided to save the arboretum and undertook its restoration. Restoration works included mapping the trees meticulously, treating the still alive trees, planting additional species, and installing a computerized irrigation system. At the foot of each tree species represented in the arboretum, there is now a sign that identifies it. The sign has a QR code that a smartphone can scan for additional interesting information.

KKL-JNF has paved two and a half kilometers of trails in the Ilanot arboretum. Thanks to a contribution from the Jewish Federation of Middlesex, New Jersey, the arboretum was made accessible for people with physical disabilities. The trails are well paved and wheelchair and stroller-friendly. Alongside the trails, there are benches where one can sit and contemplate the beautiful trees.

Next to the recreation area, which also has parking, there are accessible picnic tables and information stations that provide brief audio explanations about the arboretum. The restrooms in the renovated visitors center are also accessible.

Children and youth will also be interested in touring the forest botanical garden. They will find out about the tree species through an interactive game with QR codes to scan with smartphones for solving riddles.
The Trail
And now, after the introduction, let's take a walk at the conservatory. In the beginning, you will see an audio guide in three languages that will tell you about this place (similar to what we have covered so far).
Note: you can also hear it in the video.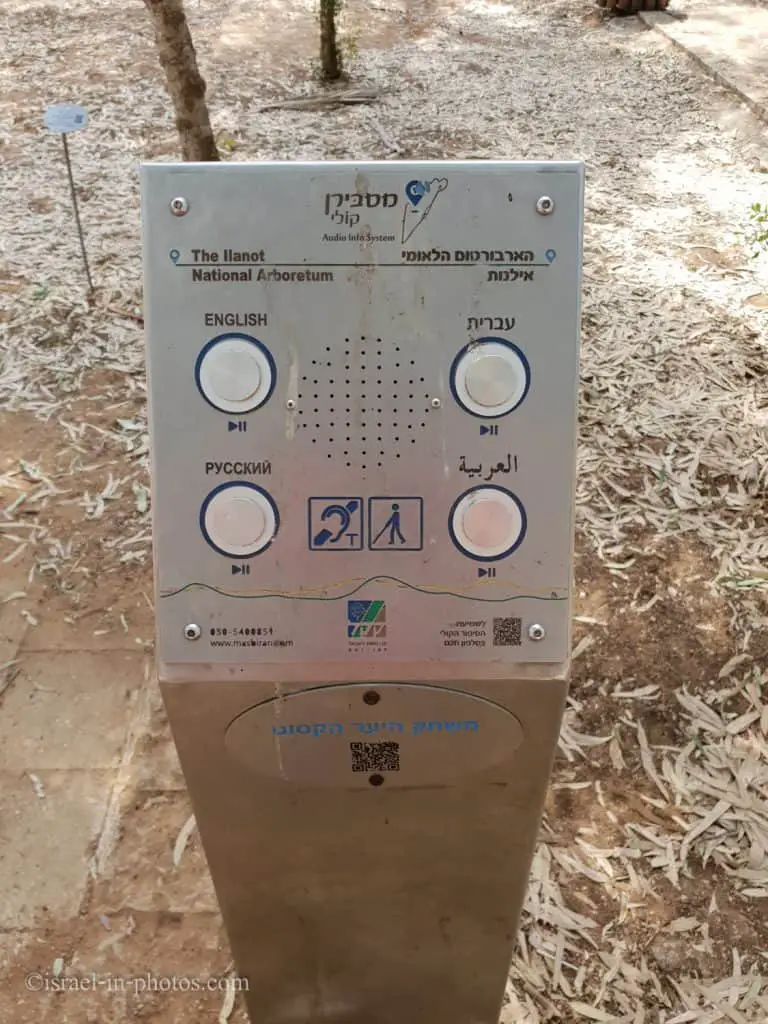 The trails at Ilanot forest are paved, thus suitable for baby strollers.
Eucalyptus melanophloia
At the beginning of the path, you will see Eucalyptus melanophloia.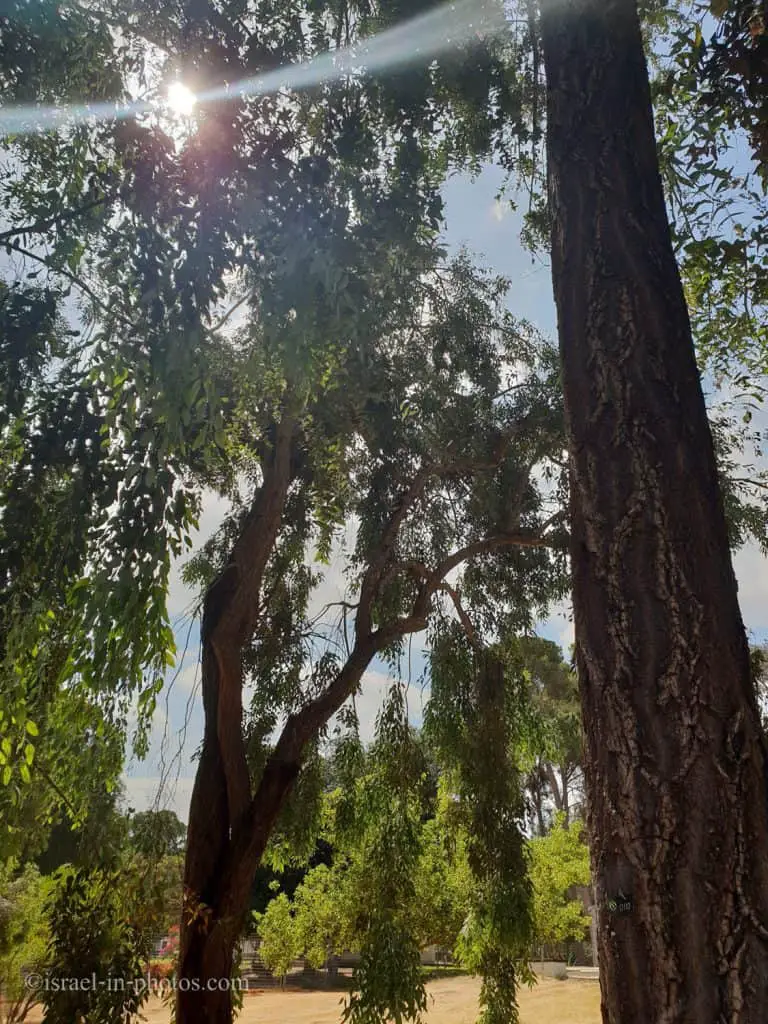 In the same place, to the right of the trail, is a tree very odd in appearance. It is hard to imagine anyone associating the silver-leaved ironbark tree with the eucalyptus species, but you can tell by the silvery leaves. The younger leaves are heart-shaped, the older ones elliptical like an egg, and their base envelop the stem that holds them. Its special appearance makes this eucalyptus ornamental. In Israel, it has been planted in the Jordan Valley and the Western Negev. There were 170 species of eucalyptus planted in Ilanot, and about half of them remain. They can be seen later on in the tour. (There are more than 700 species of eucalyptus trees.)
I did not know there are so many types of Eucalyptus, and we will see some of them later on.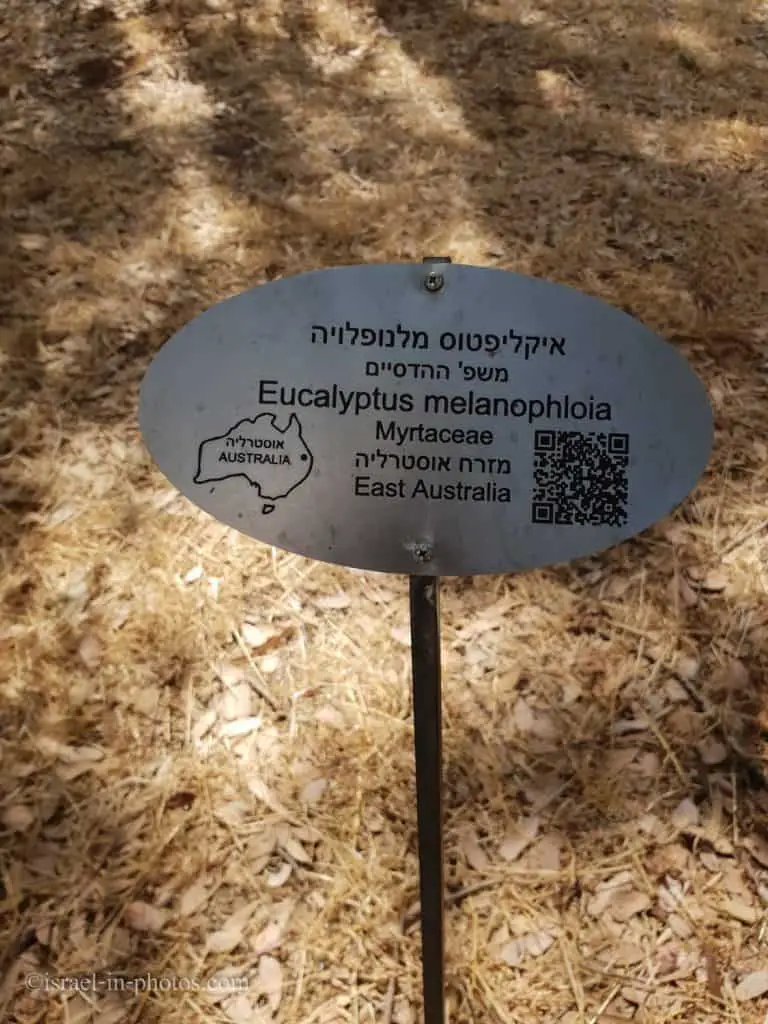 I loved that you can find the name, origin, and QR code by each tree.
Interactive game: an enchanted forest game for children and youth played by scanning the QR codes on the signposts all over the arboretum with a smartphone.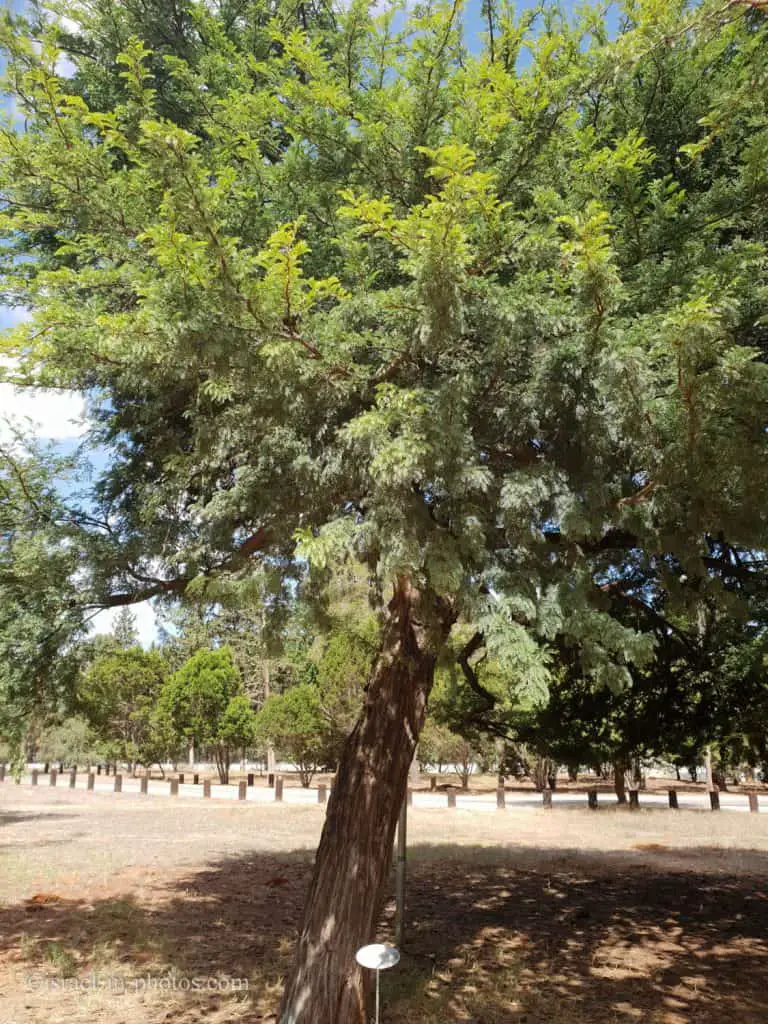 Cupressus
Further ahead, you will see an area with unique Cupressus. They are either unique by size or how they look or have historical importance. Like the Cupressus that Ben Gurion planted in 1949.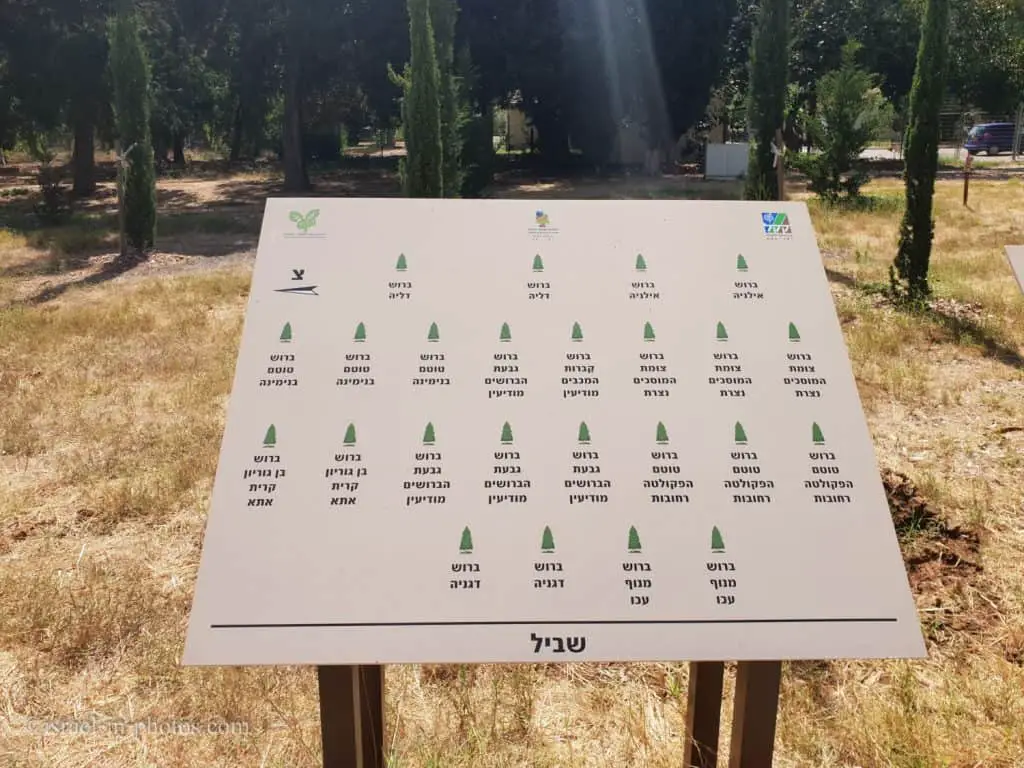 Relief of a Deer
To your left, you will see a relief of a deer. Until recently, the creator of the deer statue was unknown. But following a random visit by Haim Alon, the sculptor's son, we now know the artist's name.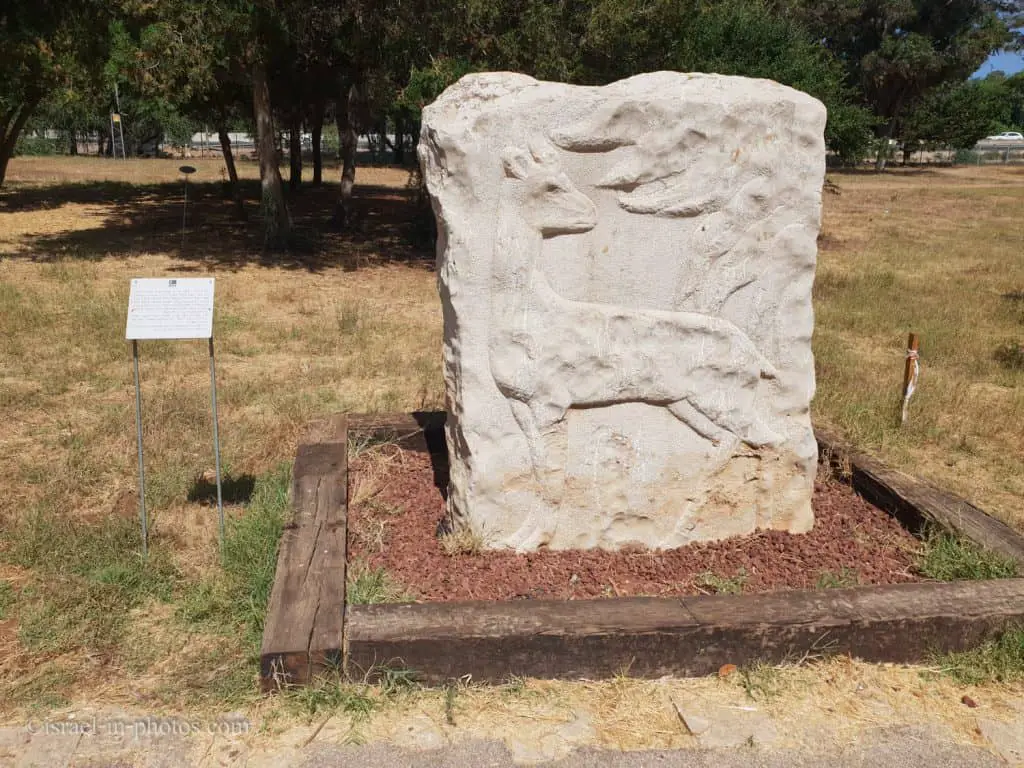 Zvi (Hirsch) Tverdezbo was born in 1915 in the town of Mezrit in Poland. Tveredzewo has been carving and sculpting in wood since childhood and even won a scholarship to study at the Warsaw School of Art due to his skills. Later, he also studied at the Art Academy in Krakow, and at the age of 21, he already had his first exhibition. During World War II, while a soldier in the Polish army, Tveredzew was captured by the Russians, charged with a speedy trial for spying for the Germans, and exiled for 10 years of labor in a Siberian labor camp, followed by another 20 months of work in the Kamchatka mines. Throughout his imprisonment, he engaged in painting and sculpture, carved figures of camp friends and crosses for Russian guards, and even erected wooden monuments. After the end of the war, his case was re-examined, and Tverdejo was released. In 1956, he fulfilled his dream of immigrating to Israel and settled in the Ein Hatchelet neighborhood of Netanya. He was also accompanied by his wife Hannah (Ania), who was also a prisoner in Kamchatka, and their eldest daughter Ella.

In the first years in the country, Tabardzhabo was employed in road and agriculture. As part of this, apparently, he also worked in the Ilanot forest and sculpted the deer statue. He later worked as a sculpture teacher at the ORT Leibowitz School in Netanya. Throughout the years, he continued the work of sculpture, especially in wood, characterized by his unique style in detail and tireless stubbornness to put his art into practice, even though it imposed on him the artist's daily difficulties. His sculptures were scattered throughout the Sharon and the Hefer Valley, and from time to time, he even exhibited them in small exhibitions. The sculptures' subjects were varied: biblical figures, scenes from the history of Zionism, African figures, portraits from life in Netanya, nude figures, and more. Two of them even gained modest fame. The Knesset in Jerusalem, to look at Ben-Gurion, the other is an impressive head sculpture of President Kennedy, who after hardships even came to the White House in Washington.
Source: KKL
Eucalyptus macrocarpa
Arriving at another gateway next to an intersection with four paths, we see one of the superstars of the arboretum, a mottlecah tree. It looks like a shrub and grows wild in the semi-arid regions of Western Australia. The fleshy leaves that recall arrows are covered with fuzz that makes them look gray. The main beauty of this plant is its giant red flower, the largest of the eucalyptus species. The flower has innumerable red stamens with yellow tips of pollen. It flowers from mid-October until mid-winter. Understandably, such large flowers will also produce large fruits, which gave the species its name. In Israel, this tree has been planted in a few places, among them the localities of the Western Negev, Nir Oz, and the Sde Teiman airfield.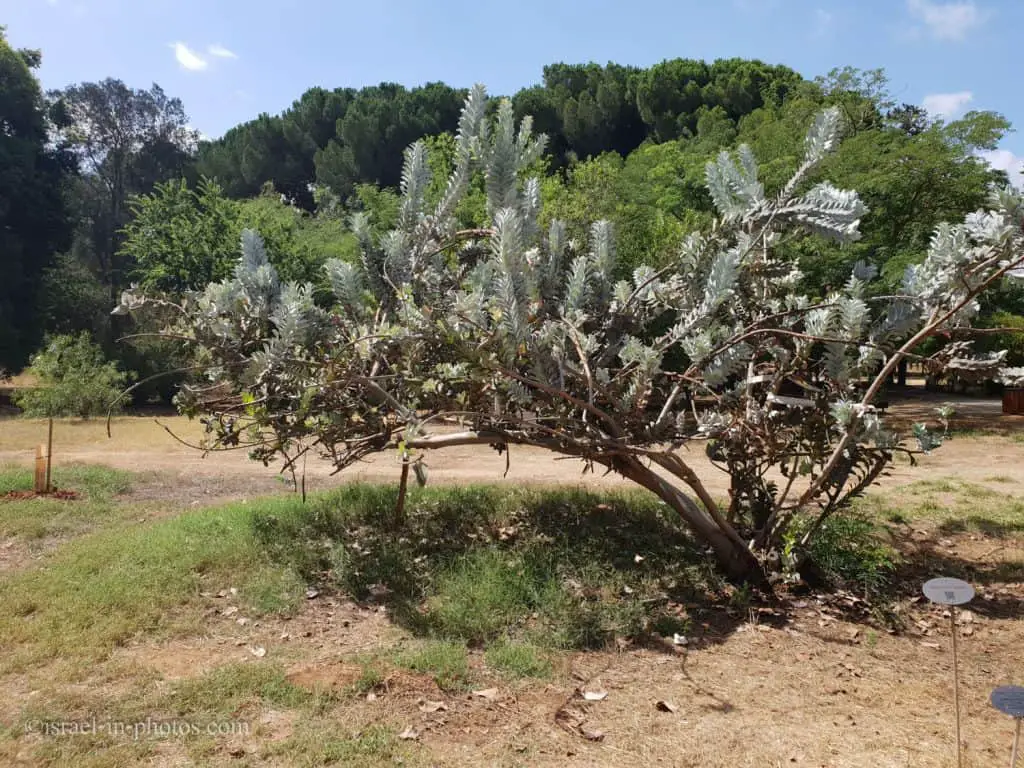 The Labyrinth
If you continue further ahead, then you will reach the labyrinth.
…we will see the labyrinth, a new attraction in the arboretum formed with concentric circles of two kinds of shrubs.

The shorter plants are Rhus glauca, blue kuni-rhus, and the taller ones are Lagerstroemia indica, crepe myrtle, which has colorful flowers in the summer. Both of these species are easy to shape and are therefore suitable for labyrinths.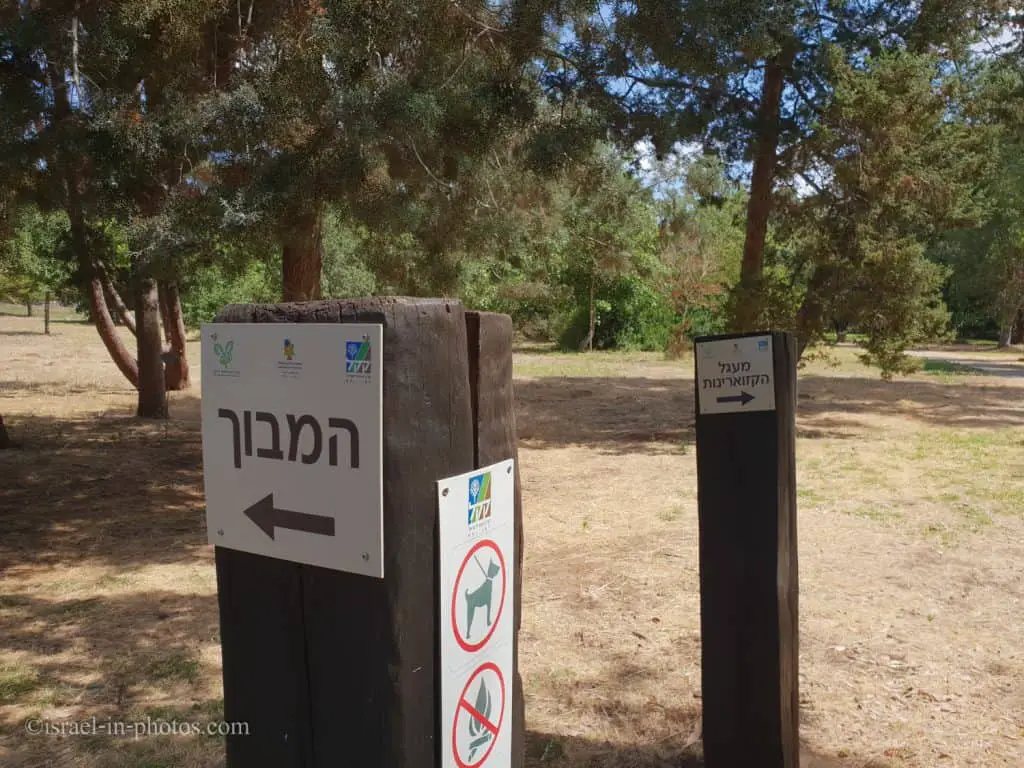 Casuarina Circle
Across from the labyrinth, several meters to the right of the trail is the Casuarina Circle, which is an excellent place to be alone or to get together with a group of people. These very tall she-oak trees create a circle with a diameter of 8 meters and an exceptional atmosphere.
And here are several photos: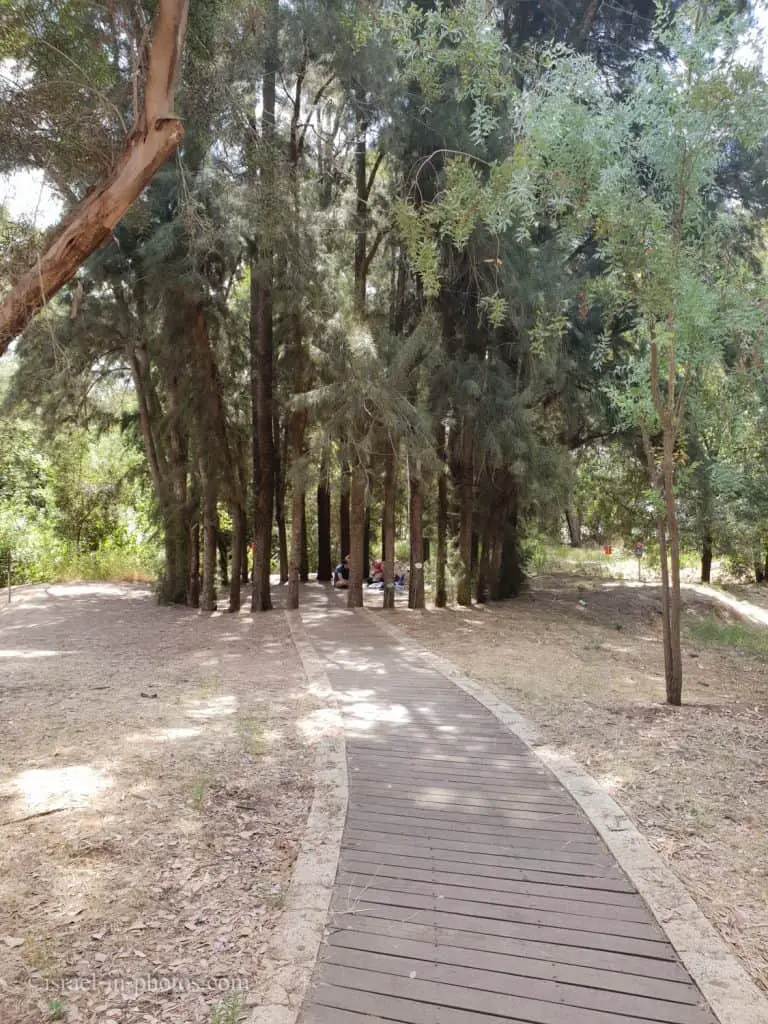 Quercus ithaburensis
Quercus ithaburensis, the Mount Tabor oak, is a tree in the beech family.

It is found in Southeastern Europe, from southeastern Italy, southern Albania and Greece, and in southwestern Asia from Turkey south through Lebanon, Israel, Syria, and neighboring Jordan, whose national tree it is.
Source: Wikipedia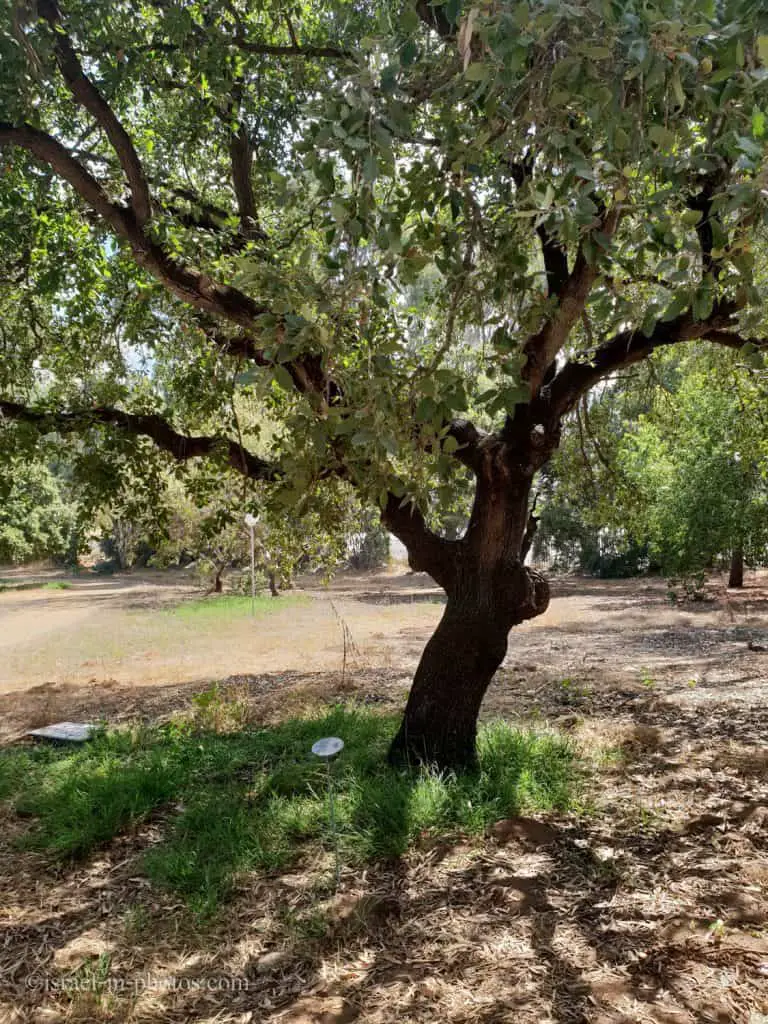 Leucaena leucocephala
Leucaena leucocephala is a small fast-growing mimosoid tree native to southern Mexico and northern Central America (Belize and Guatemala) and is now naturalized throughout the tropics.

Common names include white leadtree, jumbay, river tamarind, ipil-ipil, and white popinac.

L. leucocephala is used for a variety of purposes, such as fencing, soil fertility, firewood, fiber, and livestock fodder.
Source: Wikipedia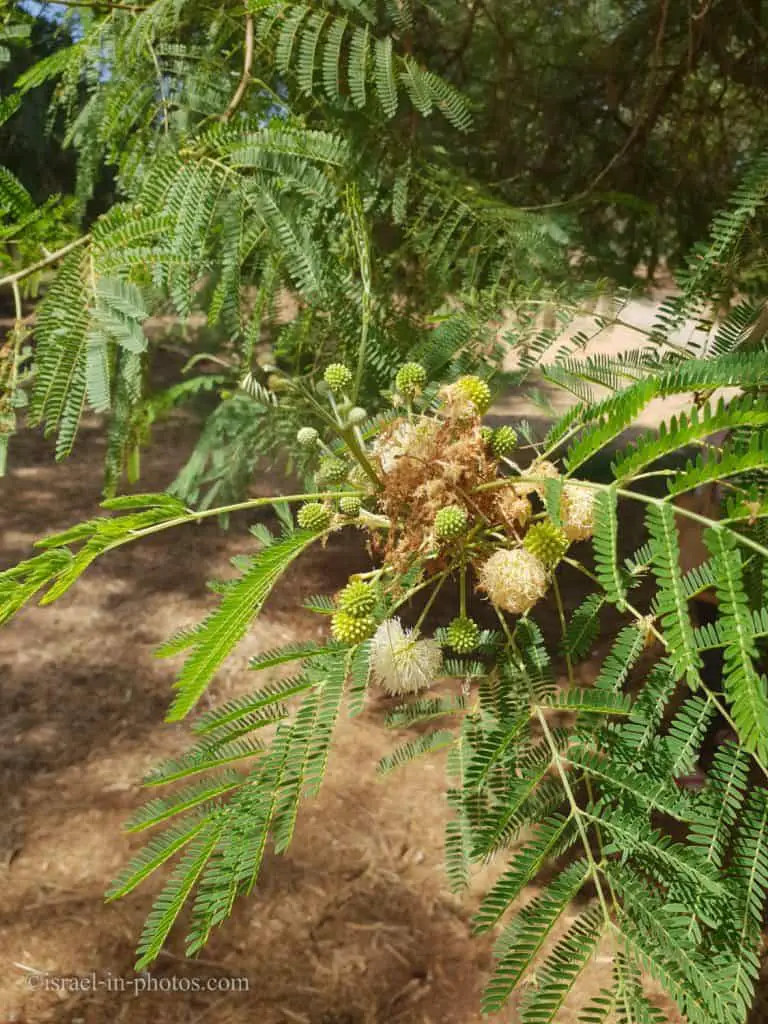 Dracaena draco
Dracaena draco, the Canary Islands dragon tree or drago, is a subtropical tree in the genus Dracaena, native to the Canary Islands, Cape Verde, Madeira, western Morocco, and introduced to the Azores. It is the natural symbol of the island of Tenerife, together with the blue chaffinch.
Source: Wikipedia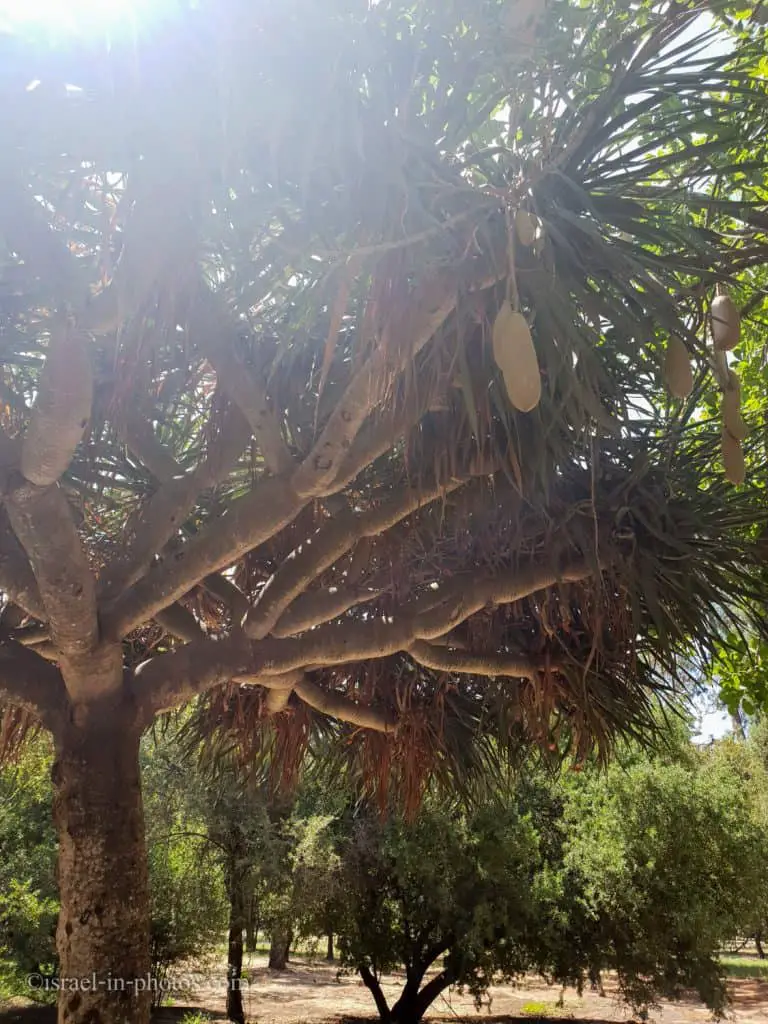 Note: the prologue fruits that you can see in the photo above belong to a nearby Kigelia Africana.
Kigelia Africana
Kigelia is a genus of flowering plants in the family Bignoniaceae. The genus consists of only one species, Kigelia africana, which occurs throughout tropical Africa. The so-called sausage tree grows a fruit that is up to 60 cm (2 feet) long, weighs about 7 kg (15 pounds), and resembles a sausage in a casing.
Source: Wikipedia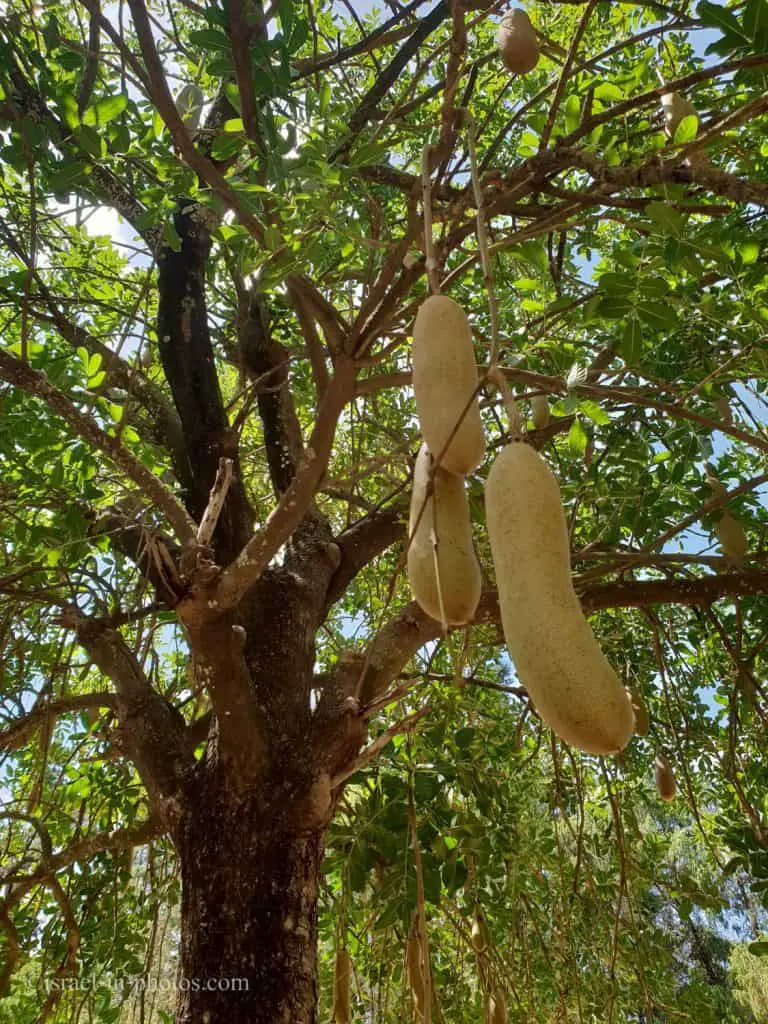 Cupressus lusitanica
Cupressus lusitanica, (Cedro Blanco; teotlate, distinctive names used in Mexico); Cedro Blanco means white cedar and is also known as Mexican white cedar or cedar-of-Goa, is a species of cypress native to Mexico and Central America (Guatemala, El Salvador, and Honduras). It was also introduced to Belize, Costa Rica, and Nicaragua, growing at 1,200–3,000 meters (3,900–9,800 ft) altitude.

The scientific name Lusitanica (of Portugal) refers to its very early cultivation there, with plants imported from Mexico to the monastery at Buçaco, near Coimbra in Portugal in about 1634; these trees were already over 130 years old when Miller botanically described the species in 1768.
Source: Wikipedia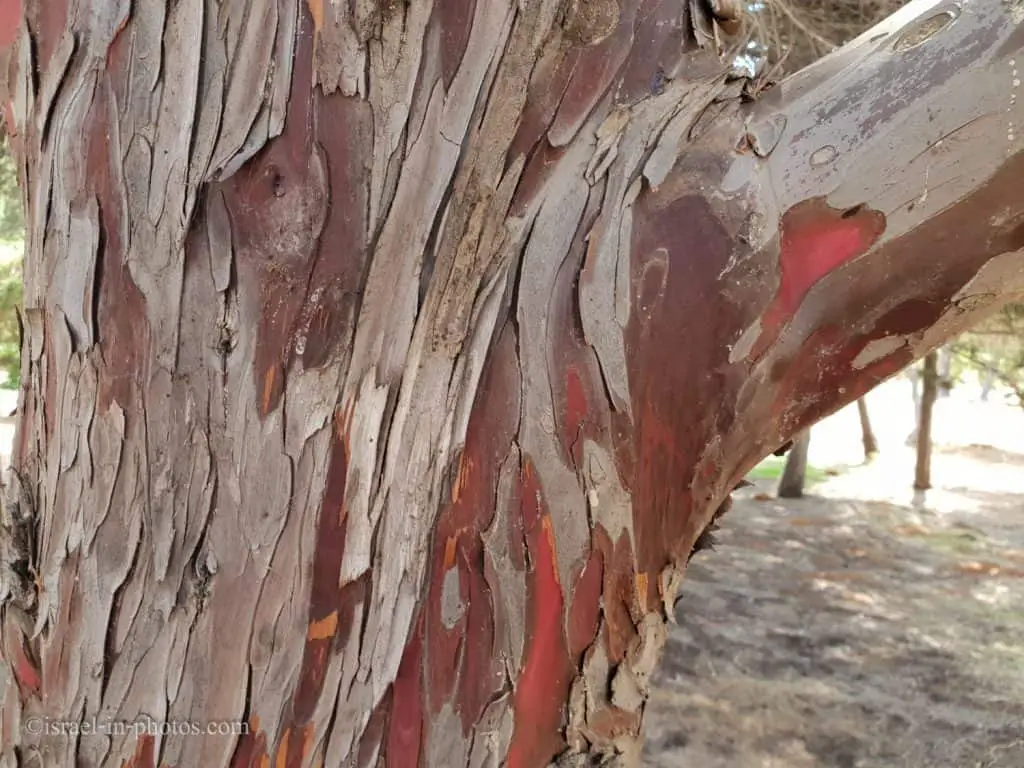 Prosopis chilensis
The paved trail veers left, and we are again near the labyrinth, which is on our left. Beyond it, to the right of the trail, is a Chilean mesquite tree. Israeli farmers fear the mesquite because the local species are incomparably tenacious shrubs and plague cultivated fields. In America, however, the mesquite is a proper tree creating landscapes that recall the acacia trees in Israel. They are important there as a source of food in the arid regions of that continent. The Chilean Mesquite is a small tree, which beautifies the arid regions of Chile as its name suggests.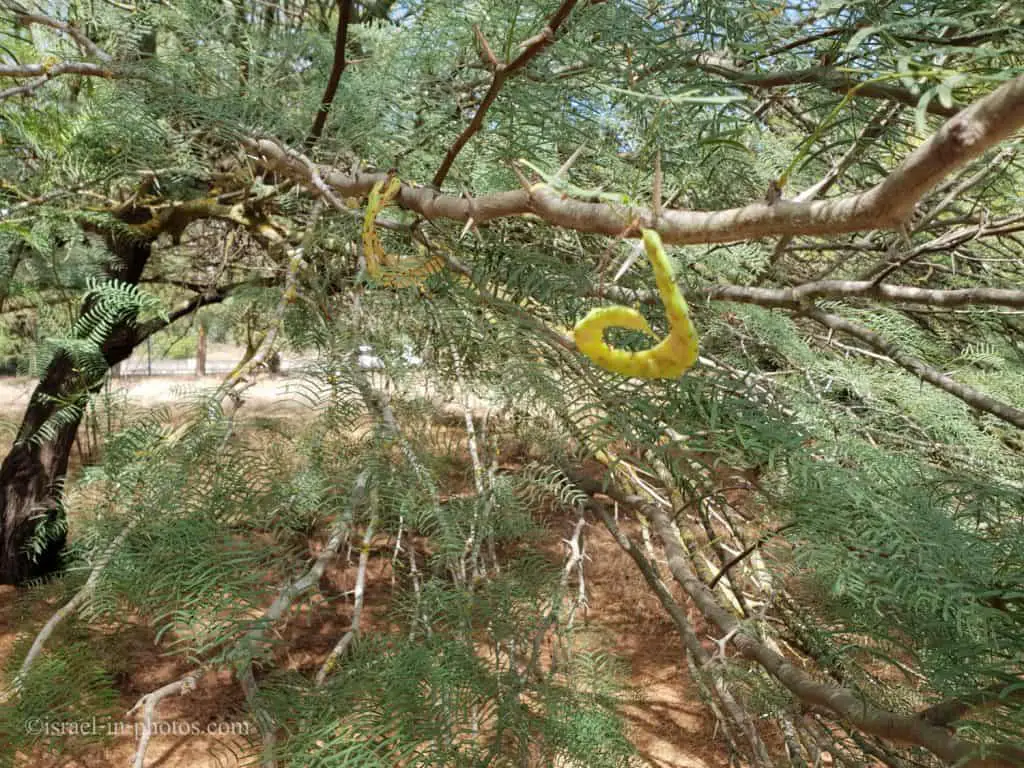 Pinus canariensis
Pinus canariensis, the Canary Island pine, is a species of gymnosperm in the conifer family Pinaceae. It is a large, evergreen tree native and endemic to the outer Canary Islands in the Atlantic Ocean. It is a subtropical pine and does not tolerate low temperatures or hard frost, surviving temperatures down to about −6 to −10 °C. It grows under extremely variable rainfall regimes within its natural area, from less than 300 mm (12 in) to several thousand, mostly due to differences in mist-capturing by the foliage. Under warm conditions, this is one of the most drought-tolerant pines, living even with less than 200 mm (7.9 in) of rainfall per year. It is the vegetable symbol of the island of La Palma.
Source: Wikipedia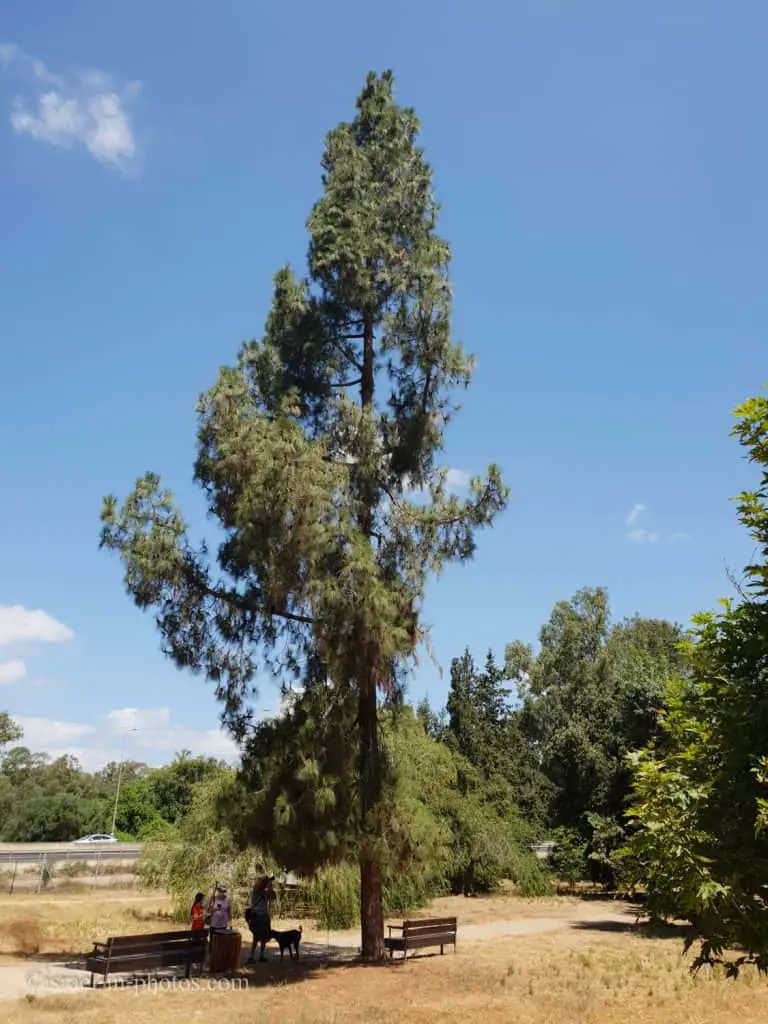 Pinus roxburghii
Pinus roxburghii, commonly known as chir pine or longleaf Indian pine, is a species of pine, native to the Himalayas. It was named after William Roxburgh.
Source: Wikipedia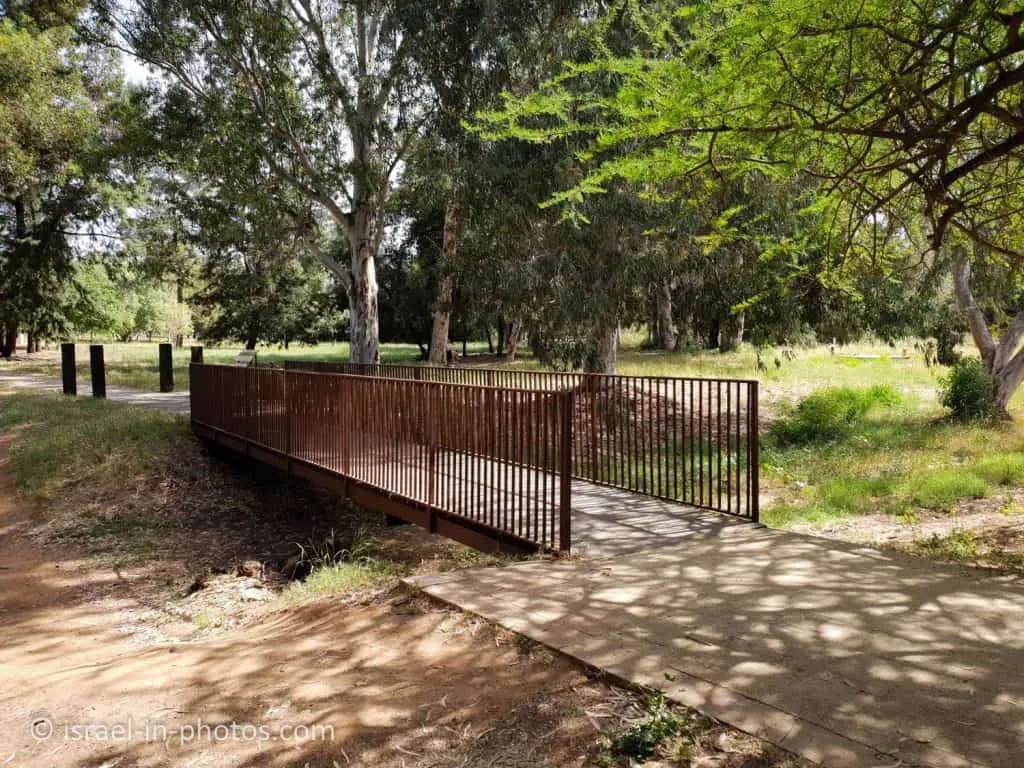 Wildlife
During our visits, we mostly saw insects and birds.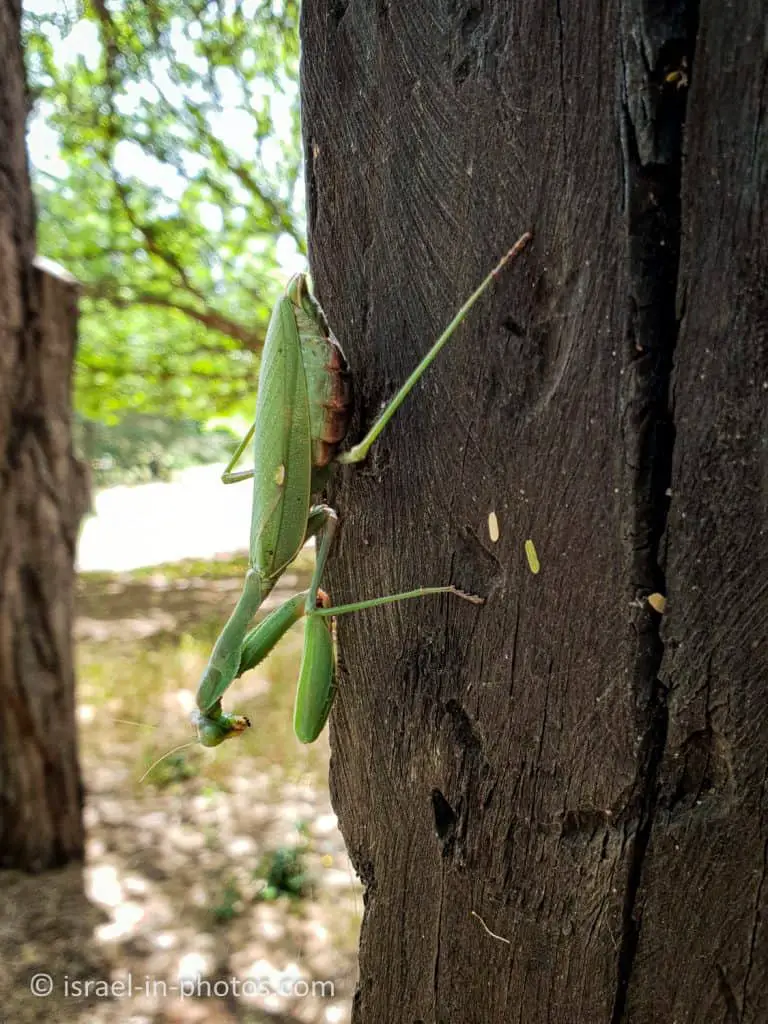 It took us about 75 minutes to complete the trail at a slow pace. Depending on your speed, interest, and the number of photos you take, it will take 1 – 2 hours to complete the cyclic trail.
And after completing the main trail, we had a small picnic near the visitor's center.
Frequent Questions
Can you visit Ilanot National Arboretum with baby strollers?
The path inside Ilanot National Arboretum is paved. Thus, you can visit with baby strollers.
Can we have a picnic at Ilanot Forest?
Yes, there are accessible picnic tables near the parking.
Can we prepare barbeque at Ilanot National Arboretum?
No, lighting a fire and preparing a barbeque at Ilanot National Arboretum is forbidden.
Can you bring dogs?
Yes, dogs are allowed, but they should be on a leash.
When can we see the blooming at Ilanot Forest?
This common question probably refers to the Coastal Iris bloom. It starts to bloom in the middle of January and peaks in the middle of February. For additional info, see Coastal Iris Trail at Ilanot Forest.
Summary
Many people do not know about the existence of this place. And that is a pity. It is a lovely place for a walk that allows seeing different kinds of trees. The accessible trails make it suitable for baby strollers, and since there is no wildlife, you can also walk your dog.
And you can always visit the nearby Coastal Iris Trail at Ilanot Forest and Havat Noy Botanical Garden.
Have you ever been to Ilanot National Arboretum? Tell us about your experience in the comments below.
Note: if you love similar places, check out agrotourism and nature.
That's all for today, and I will see you in future travels!
Stay Tuned!
Additional Resources
Here are several resources that I created to help travelers:
And if you have any questions then check out
Useful Information For Tourists To Israel
.  
Did not find what you were looking for? Leave a comment below, and I will do my best to answer your questions.