Splash water attraction in Sharonim Mall, Hod HaSharon, is lovely for children. But it is not suitable for all ages.
Note: Today, we will visit Splash and the nearby playground.
Map
The splash water park is located in Sharonim Mall at Ha-Rakun Street 2.
Directions for drivers: Link to Waze and Link to Google Maps
Directions for public transport: Link to Moovit
Interactive map of the area:
Offers:
Hotels, hostels, and apartments in this area:
The water park is situated outside near Hazi Hinam and behind the playground.
Entrance Fee
Child – 35 NIS
Card index of 6 entrances – 180 NIS
Card index of 12 entries – 300 NIS
An accompanying adult (above the age of 18) – free
Note: during our latest visit, my youngest daughter was less than two years old, and I also purchased a ticket for her.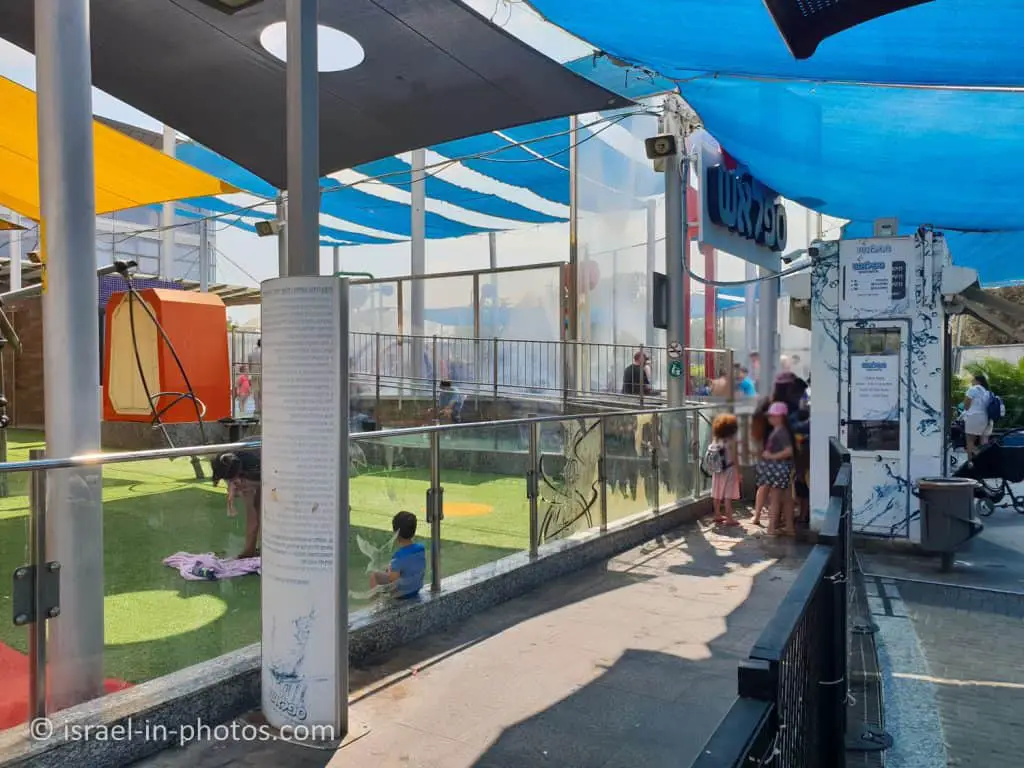 Opening Hours
The opening hours change depending on the season. During the summer vacation (1.7 – 31.8), the opening hours are:
Sunday – Thursday: 09:30 – 20:00
Friday: 09:00 – 16:00
Saturday: 10:00 – 20:00
Since Splash is located outside, the water park is closed during the winter. Thus, in any case, recheck the official site before visiting.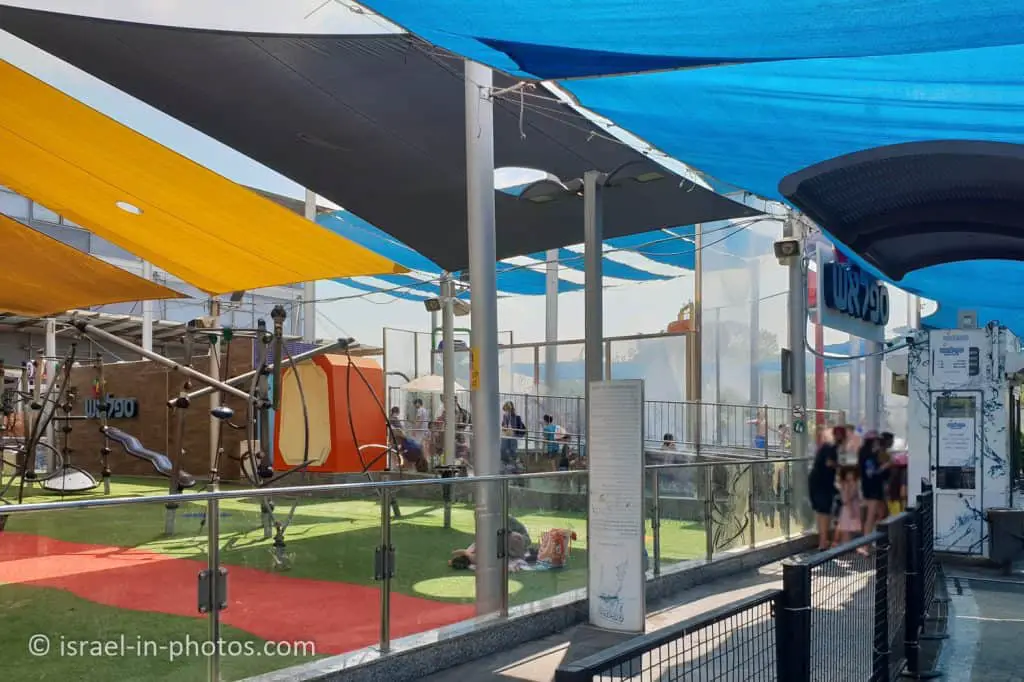 Note: we visited during the summer vacation of 2021. And since I thought there would be crowds, we arrived at 9:30. As it turned out, it was the correct decision because, at 11:30, the park was packed.
Contact Information
Phone: 09-8856427
And now, let's visit the park and answer some common questions.
Who is Splash for?
As you can see from the photos, Splash is best suited for kids aged 2-7. But these are only suggested ages. And, of course, it depends on the kids.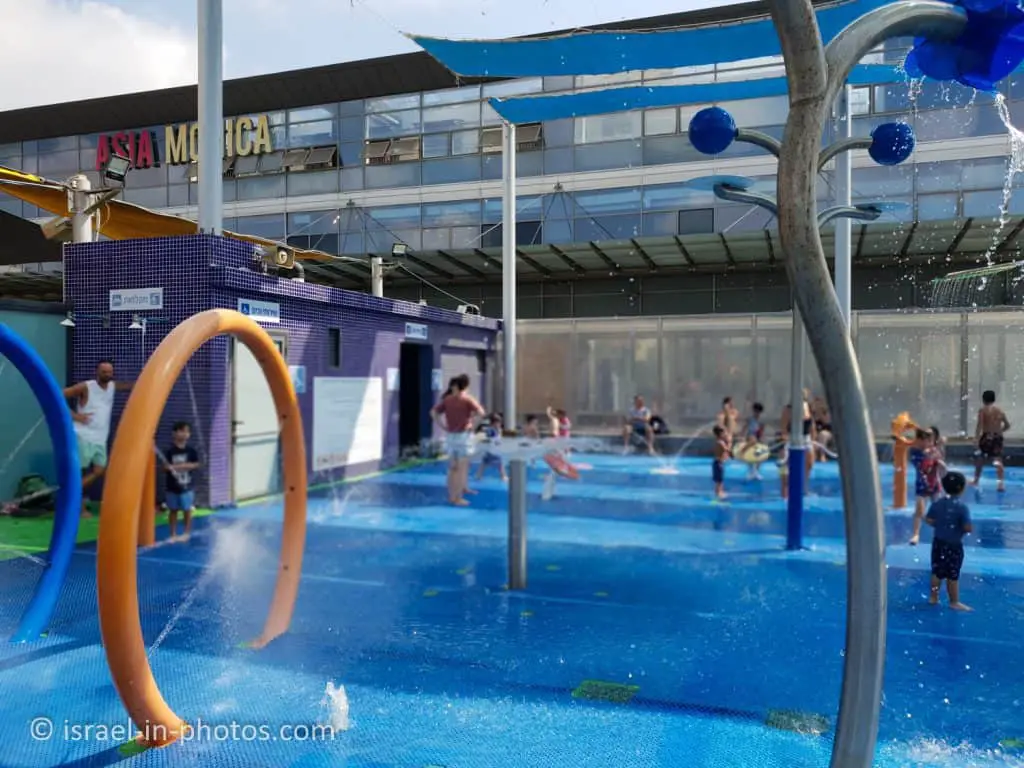 I visited with my daughters, and during our visit, the younger one was 1.5 years old, and my older daughter was ten. The younger daughter feared most facilities, and the older daughter found most facilities boring. Thus she mostly enjoyed the big water buckets (see the next photo).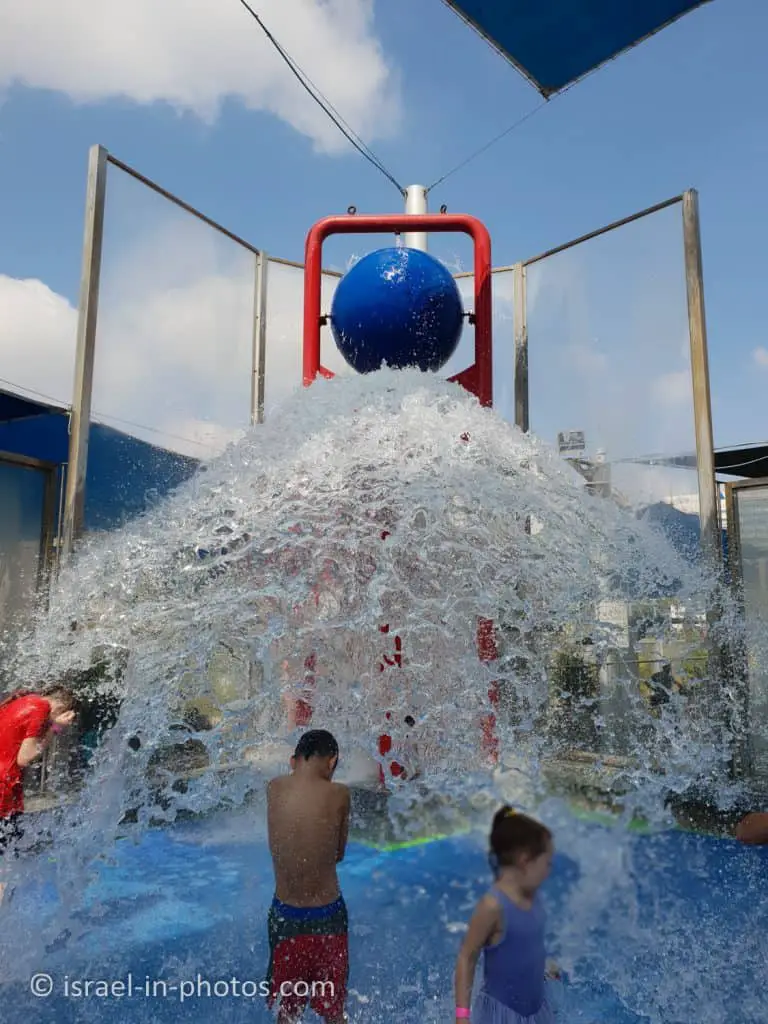 What Can You Find at Splash?
That was the main question I had before visiting. So here is a panorama of the whole compound where you can see the facilities.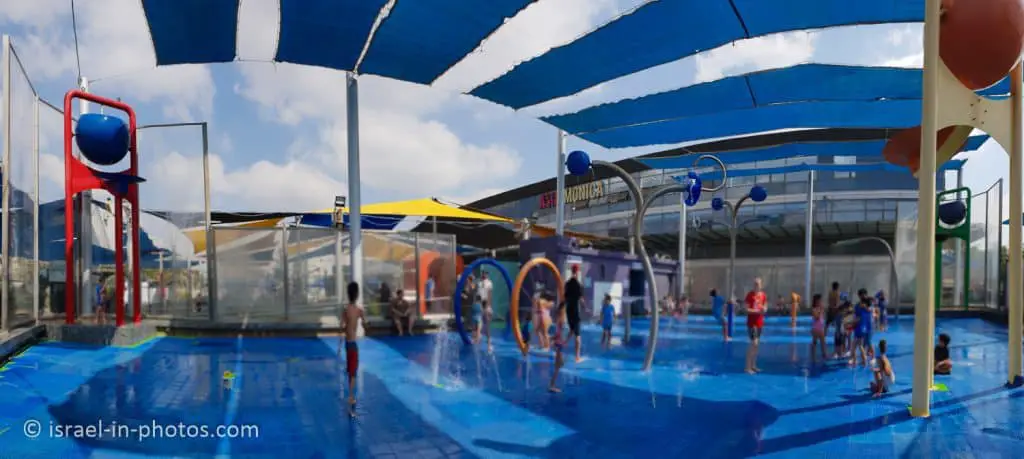 The park is not very big, and besides water-related attractions, there are restrooms (in the far corner).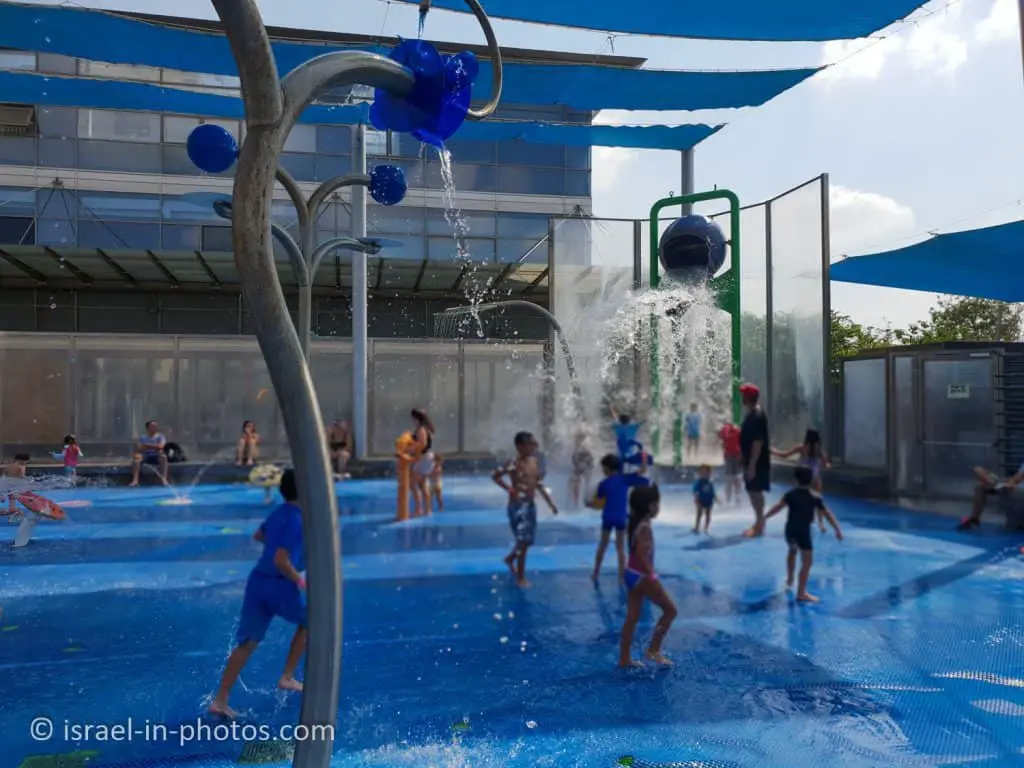 Do not expect to exit the park with dry clothes. There are many kids and water splashes. Thus even parents that do not participate in any activities will most likely get some water sprays.
How Much Time Does a Visit Take?
Since the variety of attractions is not big, kids will be bored after a while. In my case, that was one hour. But if you have several kids aged 5-7, they could easily spend several hours.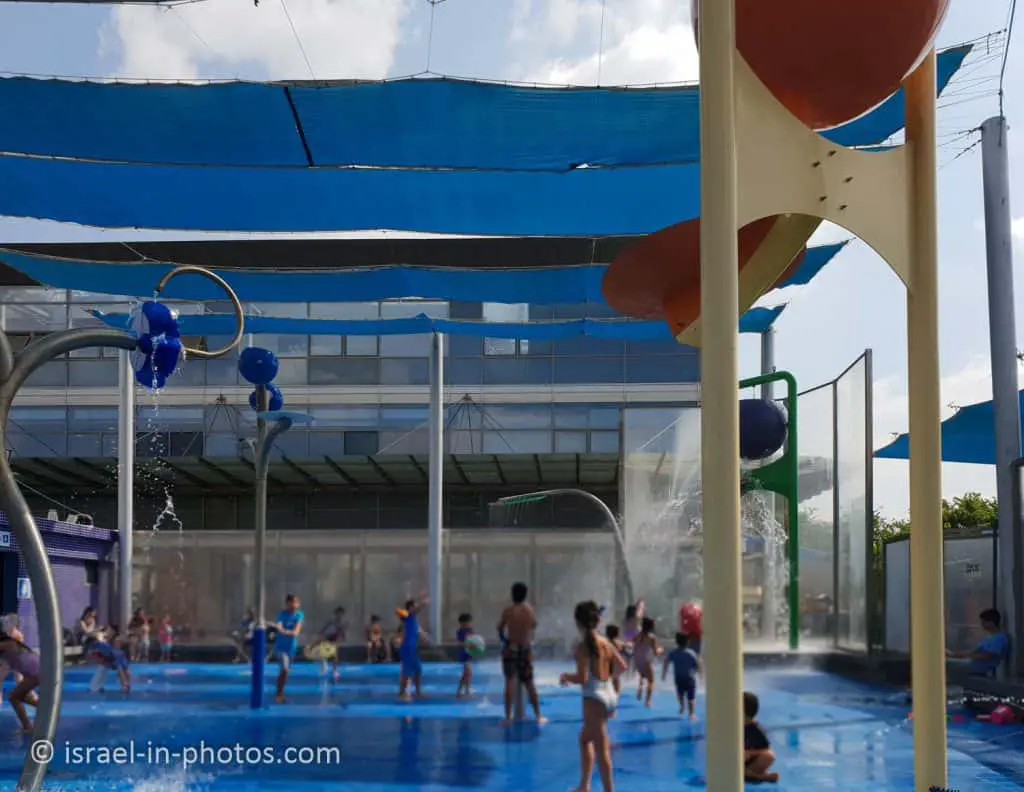 When you enter Splash, you receive a paper ribbon. By wearing it, you can exit and return. Thus you can take a break and go for snacks (there is a kiosk at the playground) or visit the playground. And then return to Splash.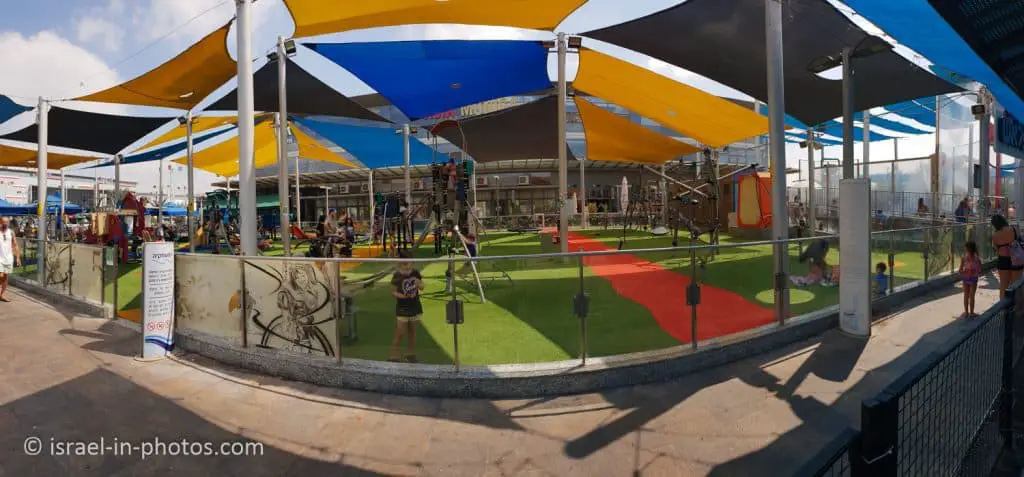 Note: the entrance to the playground is free.
We visited the playground and considered returning to Splash. But by then, the water attraction was packed with people, so we decided to go home.
Summary
Splash in Sharonim Mall is an attraction that kids enjoy on hot summer days. But before visiting, you should coordinate expectations regarding who this place is for and how much time people typically spend there. And if you want more at the end of your visit, I can suggest the nearby Hod HaSharon Park.
Have you visited Splash? Tell us in the comment below about your experience.
That's all for today, and I'll see you in future travels!
Stay Tuned!
Additional Resources
Here are several resources that I created to help travelers:
And if you have any questions then check out
Useful Information For Tourists To Israel
.  
Did not find what you were looking for? Leave a comment below, and I will do my best to answer your questions.