Rob Roy is a tourist attraction by the Sea of Galilee. And their most popular attraction is Indian canoeing.
Map
Rob Roy is located on the Jordan River, near the southern shore of the Sea of Galilee, close to the Yardenit Baptismal Site and Kibbutz Kinneret.
Directions for drivers: Link to Waze and Link to Google Maps
Directions for public transport: Link to Moovit
Interactive map of the area:
Offers:
Hotels, hostels, and apartments in this area:
Directions
If you are reaching by car, enter "Rob Roy" into Waze or Google Maps, and it will take you there. Furthermore, you will find free parking near the entrance.
And if you are using public transport, you can take bus #28 to get there. Here is the preset link to Moovit. Enter your starting point, and you will get the updated directions.
Opening Hours
Open all year round from 10:00 till 13:00. Although these are the opening hours according to the official site, they are open until later during the summer. During our August visit, they were open from 08:00 – 18:00.
When I checked their Facebook page, I saw a recent post stating the winter opening hours are 10:00 – 15:00. Thus, I suggest checking their Facebook page since it is constantly updated.
Entrance Fee
In August 2020, the prices were:
One canoe for two people – 150 NIS.
One canoe for three adults or two adults and two children (at least one of the children must be younger than twelve years old) – 220 NIS.
Family Canoeing (two canoes tied together) – suitable for 5 – 10 people – 350 NIS for the first five people and 30 NIS for every additional person.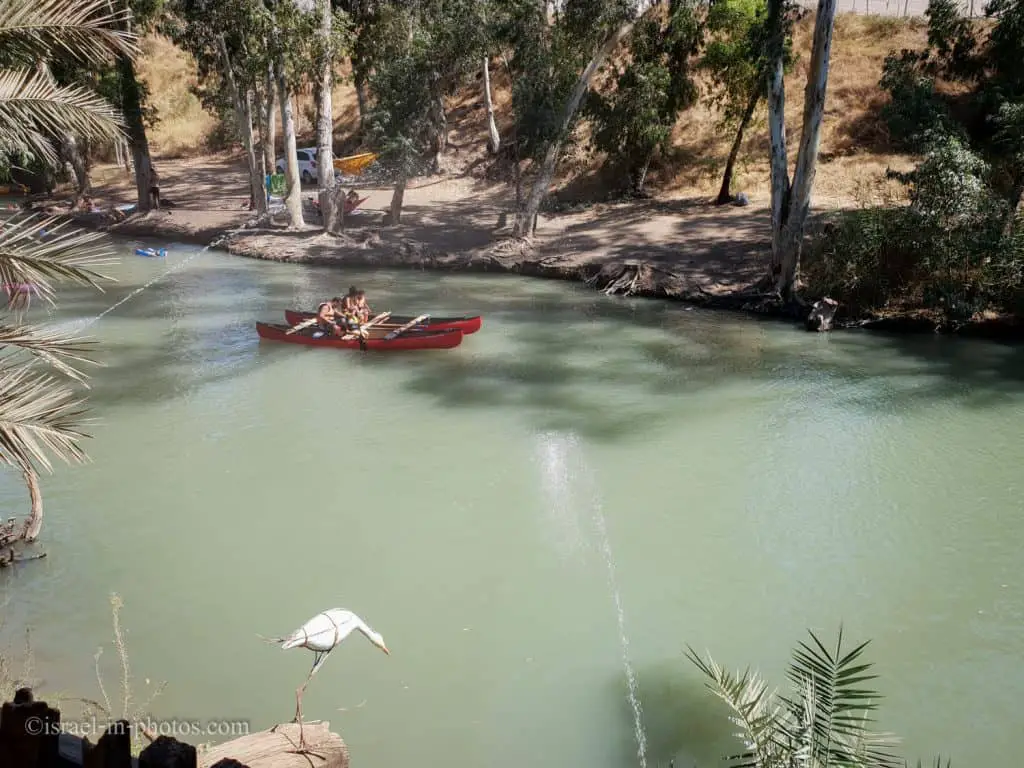 The official website does not list the prices. You can find the prices on their Facebook page. Just ask ChatBot about pricing.
Notes:
You are renting the canoe for one and a half hours. And as you start your sail, they will tell you when to return.
The minimum number of people is two. If you rent a canoe alone, it will cost you the same as a couple.
The minimum allowed age for sailing is two years old.
Coupons
There are various coupons online, and some credit cards offer discounts. I purchased tickets through cpnclub.co.il. The discounted tickets allowed me to rent one canoe for three people for the price of 178 NIS (instead of 220 NIS).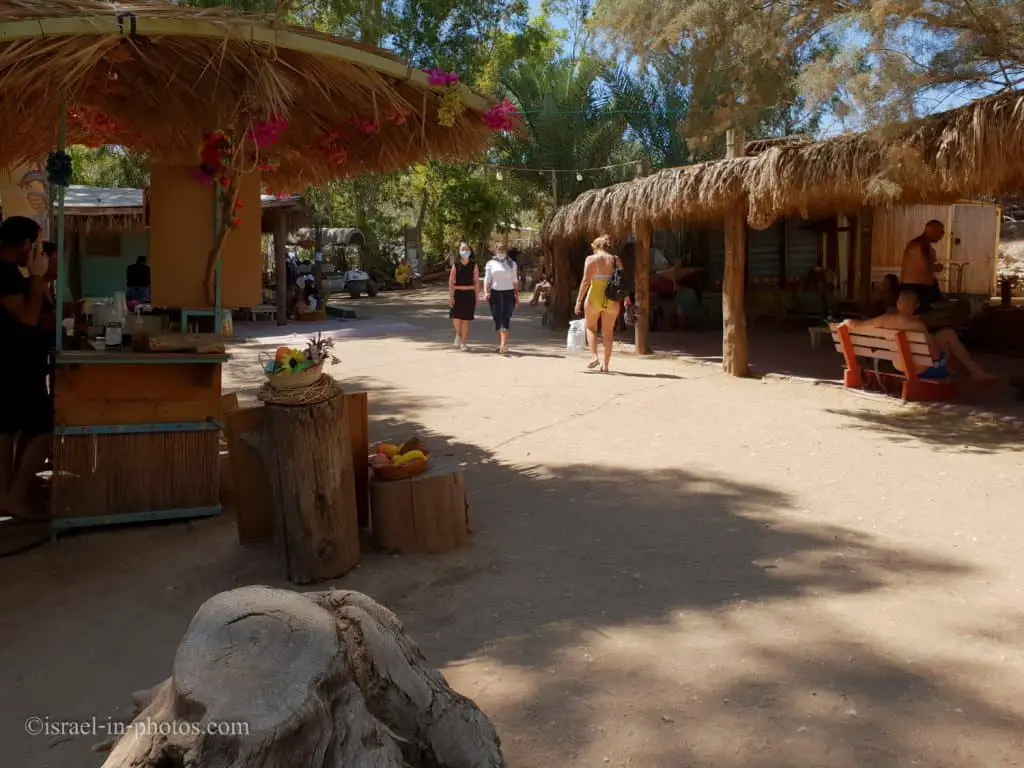 When is the best time for a visit?
The short answer is early in the morning during the summer (preferably not in August). The longer answer is a bit more complicated. According to Rob Roy, their insurance is not covering the entrance to water. And then they add, we can not prevent you from entering into the water. And according to what I saw, most people spend more time swimming and splashing in the water than canoeing. Thus you want the water to be warm enough for swimming.
Moreover, this is a family attraction. And most kids have a vacation in the summer. Hence summer vacation is the time when most people visit Rob Roy.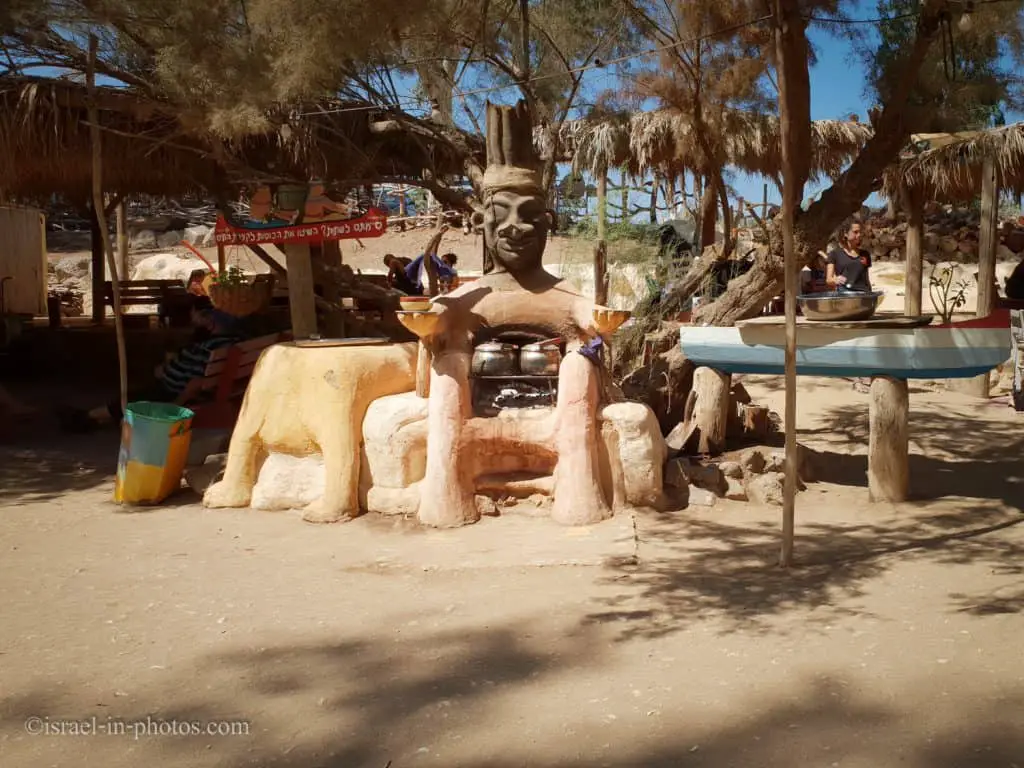 We visited in August 2020. Not only was it during summer vacation, which is already peak season, but it was during the Coronavirus pandemic, which means that most Israelis could not travel abroad and thus explored the country.
When I checked in advance, I was told that reservations were unnecessary. We arrived at Rob Roy in the afternoon and were told we would have to wait for at least two hours for a canoe. We left the site and returned early the next day.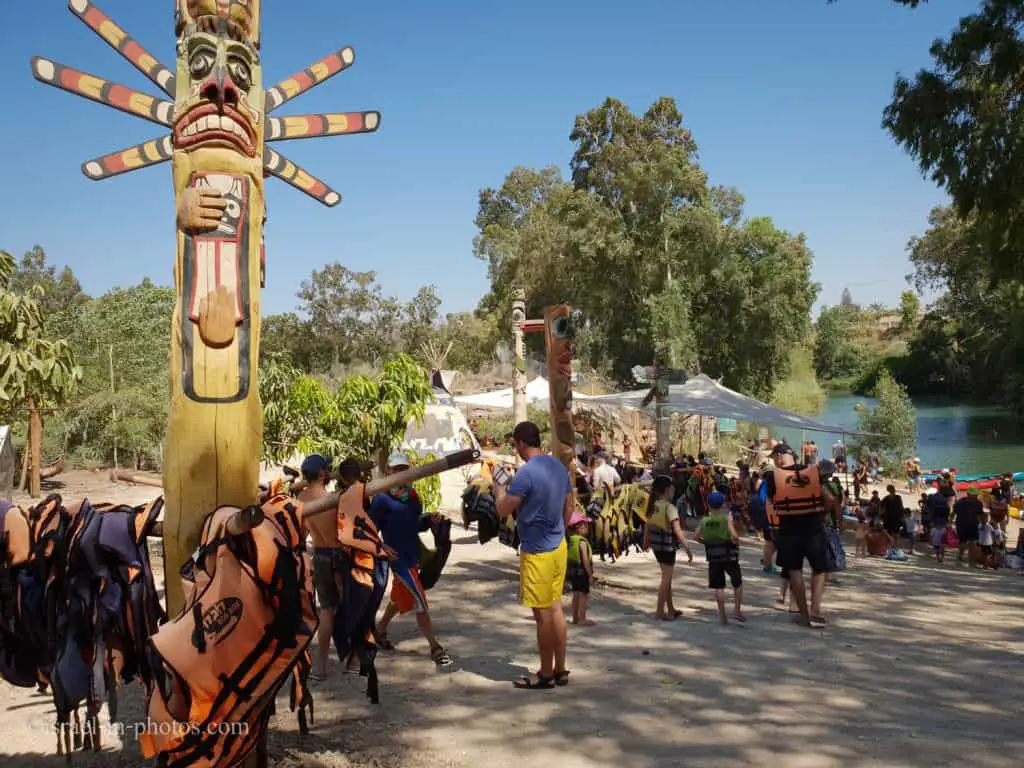 Photographing
If you want to take pictures during the activity, you can bring a waterproof camera or some other water-protective gear. I used a simple zip-lock bag on my phone. That is why some photos look a little muddy. And yes, you can buy a bag for your phone at Rob Roy, but I think it is overpriced (as far as I remember, 50 NIS for a bag).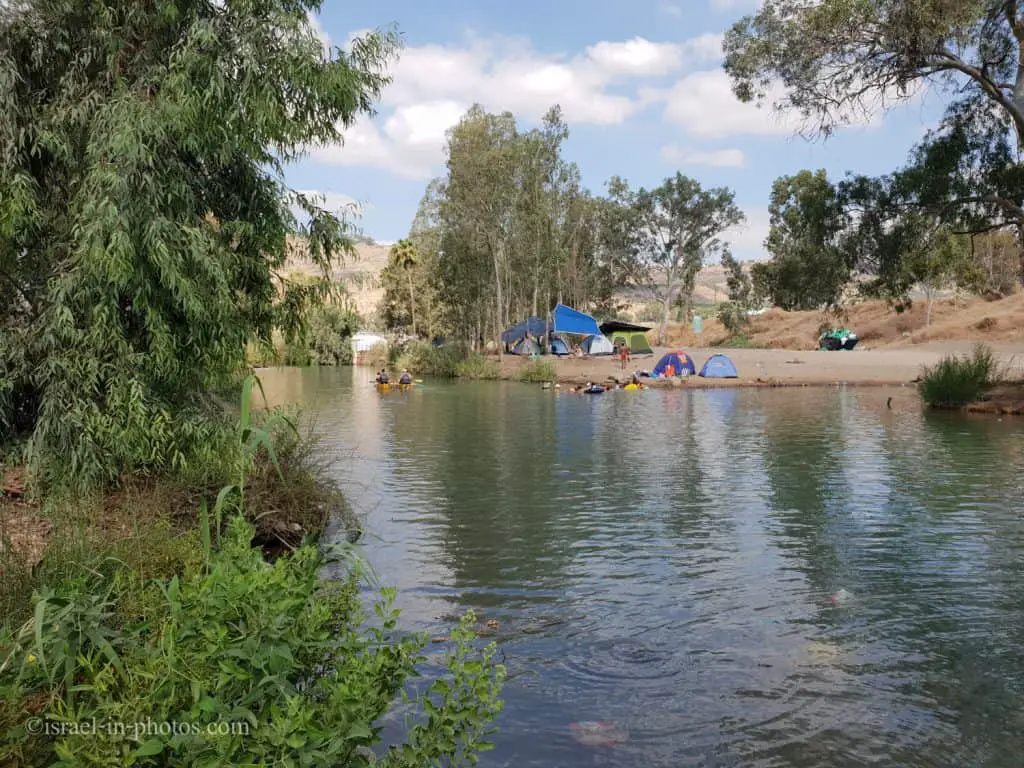 Canoeing
As I mentioned, we returned the next day before 9:00, and there were few people. Thus, within ten minutes of arriving, we started canoeing.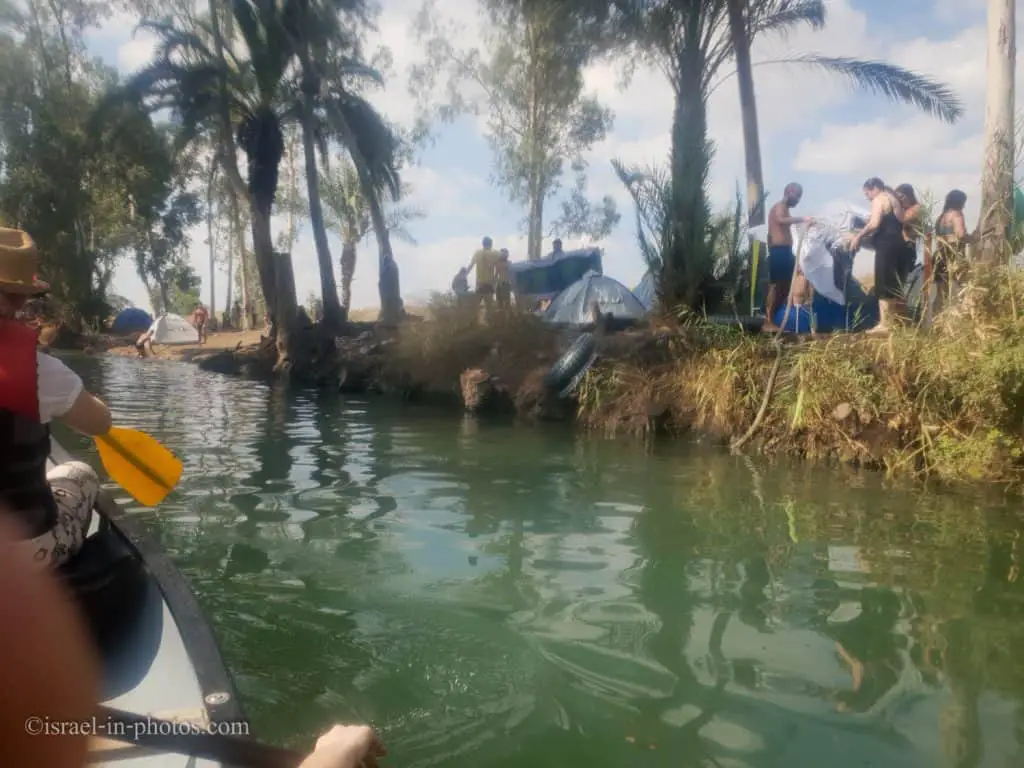 Since it was summer vacation and there were travel restrictions to other countries, the Jordan river's banks were packed with people. These are not Rob Roy visitors but people who came here for several days. There were primarily youngsters living in tents.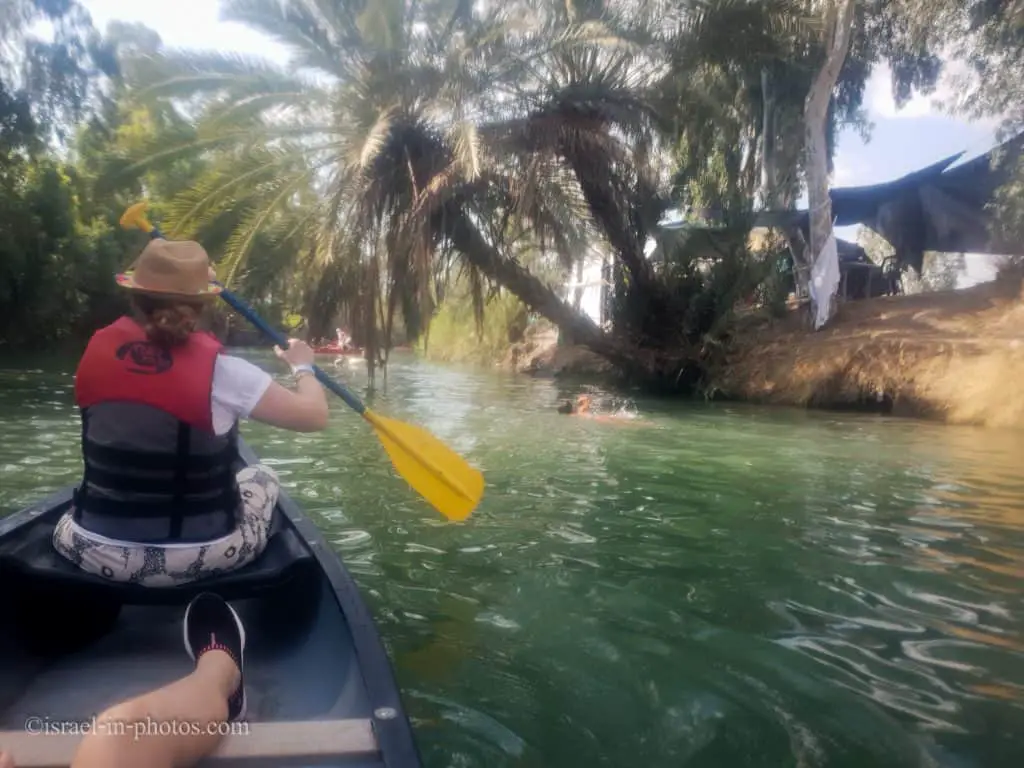 The Downsides of Rob Roy
Everywhere I checked, Rob Roy got positive reviews. Thus I anticipated a great attraction, but in the end, I was disappointed. Here are the main reasons why:
The place was filthy. Yes, there were more people than usual, and Rob Roy's staff cleaned the nearby area, and nonetheless, there was a lot of garbage in the water and on the banks of the river.
The water in the northern part of the Jordan river (before it enters the Sea of Galilee) is much cooler and clearer. And in this area, the water is hot and not clear.
If you are expecting some canoeing action, this is not the place. The water is almost completely still, and there is no action whatsoever.
Moreover, after less than half an hour, we reached the end. And I should mention that it was my first time canoeing. Thus, even though you rent the canoe for one and a half hours, canoeing to the end and back will probably take less than one hour. Meaning the anticipation is that most people will swim (and their insurance does not cover swimming).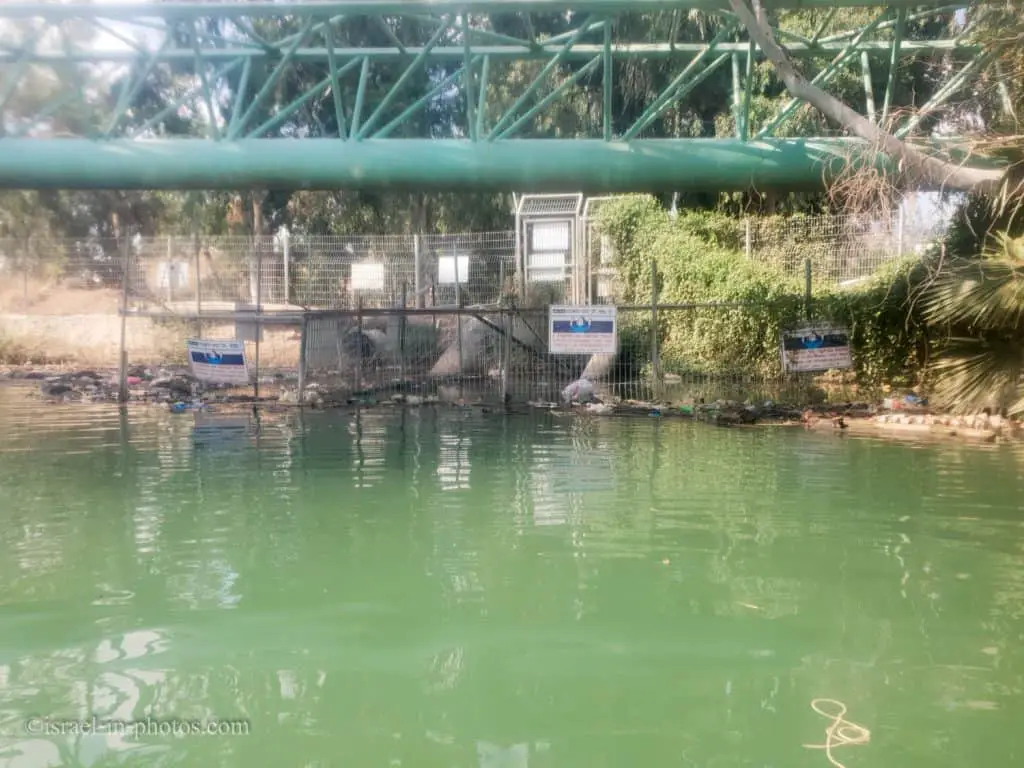 Summary
Is Rob Roy worth it? Well, that depends on what you are looking for. I was not looking for a swim in the Jordan river (I do not need to rent a canoe for that). Thus we ended up disappointed. If I had to choose, I would prefer Kayaking and Rafting in Upper Galilee. That is something we enjoyed. But many people love this place, so this is individual.
This area has many additional attractions, and you can find them in my guide to the Sea of Galilee.
Have you ever been to Rob Roy? Tell us about your experience in the comments below.
That's all for today, and I will see you in future travels!
Stay Tuned!
Additional Resources
Here are several resources that I created to help travelers:
And if you have any questions then check out
Useful Information For Tourists To Israel
.  
Did not find what you were looking for? Leave a comment below, and I will do my best to answer your questions.