Ticho House is a little gem in the center of Jerusalem. You can find an art exhibition and restaurant in this historic building.
Note: the official name is Ticho House, but because the lower floor is dedicated to Anna's works and the cafe is called Anna, many people call it Anna Ticho House.
Map
Ticho House is located at 10 HaRav Agan Street, Jerusalem.
Directions for drivers: Link to Waze and Link to Google Maps
Directions for public transport: Link to Moovit
Interactive map of the area:
Offers:
Hotels, hostels, and apartments in this area:
Building Plan
You can find an art exhibition and restrooms on the first floor of the building. And on the second level is occupied by the Anna Italian Cafe.
The historic house is open with refurbished galleries and a renewed permanent exhibition about the house and its former owners, Dr. Abraham and Anna Ticho, as well as with new spaces for temporary exhibitions.

Situated in the Jerusalem city center, the serene Ticho House is a perfect place to experience the atmosphere of old Jerusalem while taking in the art of Israel's beloved painter, Anna Ticho (1894 -1980) and of contemporary art exhibitions.

Ticho House, one of the most-beloved cultural centers in Jerusalem, recently underwent a year of conservation work and renovations. The ground floor rooms, which had previously served as a restaurant and library, have been converted to galleries. They combine the splendor of rooms built 150 years ago with modern museum infrastructure.

The upper floor includes Anna Italian Café and reveals the beautiful ceiling paintings discovered during the renovations.
Source: official website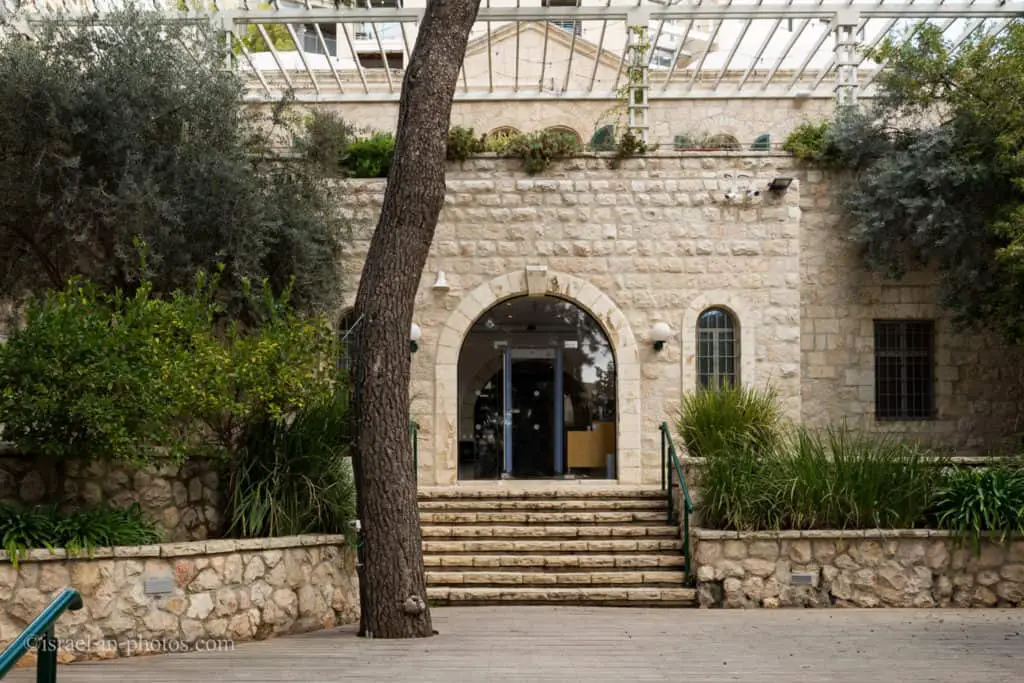 Opening Hours
Opening hours of the art exhibition called "Lifescape – The Work of Anna Ticho" are:
Sunday – Thursday: 12:00 – 20:00
Friday and holiday eves: 10:00 – 14:00
Saturday: closed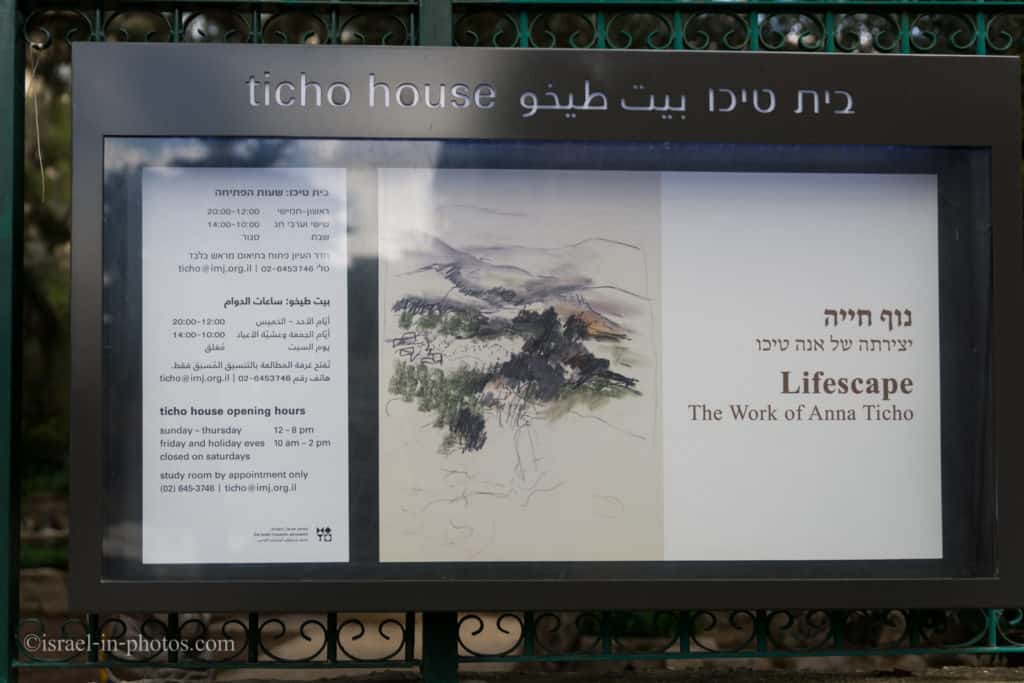 Opening hours of Anna Italian Cafe are:
Sunday – Thursday: 9:00 – 23:00
Friday: 9:00 – 15:00
Entrance Fee
Free entrance to the art gallery and according to the menu in the cafe.
History
Constructed in the early 1860s, this house was one of the earliest to be built outside the walls of the Old City of Jerusalem. It exemplified the typical Ottoman urban style of the time, with vaulted ceilings, thick walls, and a large central area flanked by side rooms. The spacious garden originally reached all the way down to Jaffa Road. Over the years, changes were made to the structure; rooms were added, and the house was extended both at the front and at the back. For a long time, the house was known as the Aga Rashid villa, supposedly after the original owner. Among its first occupants was the family of the antiquities dealer (and forger) Moses Wilhelm Shapira, whose daughter Myriam Harry described her childhood home a memoir entitled La petite fine de Jerusalem.

In 1924 Albert and Anna Ticho bought the house, turning the ground floor into an eye hospital and using the upper story as their private apartment. Until Dr. Ticho's death in 1960, the hospital served the population of Jerusalem, rich and poor alike. Anna assisted her husband in his work but later began to spend more time pursuing her art in a makeshift studio added on to the upper floor. In the 1960s and 1970s, her career gathered momentum, with works exhibited locally and internationally and garnering recognition that culminated in the prestigious Israel Prize.

Anna Ticho bequeathed the house in which she lived and worked until her death in 1980 to the Israel Museum, to be held in trust for the people of Jerusalem as a cultural center. Thus Ticho House carries on a tradition that began in its owners' lifetime when the city's intellectuals and artists would meet here for coffee, strudel, and conversation.
Source: one of the stands on site.
Art Exhibition: Lifescape – The Work of Anna Ticho
The lower floor is mainly dedicated to the works of Anna Ticho.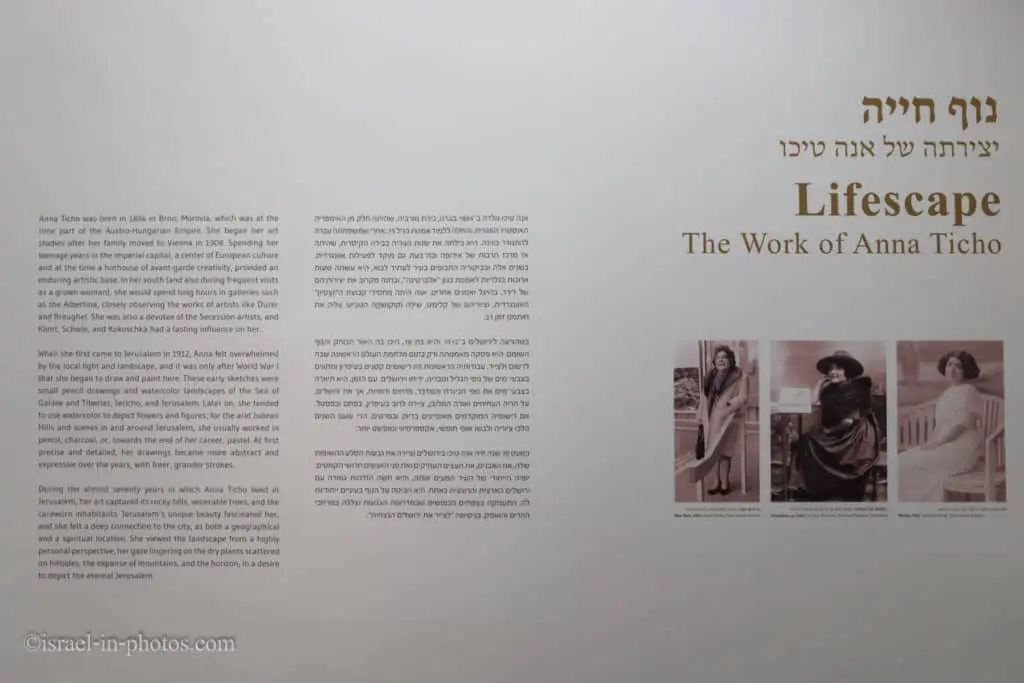 As you can see from the photo above, there are explanations in both Hebrew and English. And now, let's dive into Anna's biography.
Anna Ticho
Anna Ticho was born in Brno, Moravia, then part of the Austro-Hungarian Empire (today the Czech Republic) in 1894. At the age of 15, she began to study drawing in Vienna in an art school under the directorship of Ernst Nowak.

In 1912 she emigrated from Vienna to what was then the Mutasarrifate of Jerusalem in the Ottoman Empire with her mother, Bertha, about four months after her fiance, ophthalmologist Avraham Albert Ticho (1883–1960), who was her first cousin. The two married on November 7, 1912, in Jerusalem and they settled in their home above the Lemaan Zion Eye Hospital, the hospital which Dr. Ticho had reopened four months earlier. Anna worked as her husband's assistant.

The Tichos were exiled to Damascus in December 1917, just days before the British conquest of Jerusalem. There Dr. Ticho entered active service as a medical officer in the Austro-Hungarian Empire and Anna worked as a nurse. She developed a severe case of typhus and during her recovery, Anna Ticho returned to her art by sketching landscape scenes, foreshadowing later mastery of this genre.

Via a long and circuitous route after the war, the Tichos returned to Jerusalem in December 1918 where Dr. Ticho established a private clinic and hospital, just to the north of the ruined Lemaan Zion building.

In 1924, the couple purchased a large house surrounded by gardens where they lived and worked. The mansion was built around 1864, apparently for the Nashashibis, a prominent local family. The house had previously been lived in by antiquities dealer and forger Wilhelm Moses Shapira. The Tichos hosted local and British government officials in her home, as well as many artists, writers, academics and intellectuals. Toward the end of her life, she willed the house, her art collection, including many of her own works, and her husband's extensive Judaica collection to the city of Jerusalem.

Anna Ticho had several solo exhibitions in Mandatory Palestine and in Europe during the 1920s, 30s, and 40s. An even greater number of her individual exhibitions took place in the years following World War II.

She died on March 1, 1980. Ticho House operates today as a branch of the Israel Museum and houses a popular restaurant and cafe.
Source: Wikipedia
Art Exhibition
The exhibition is not vast, and it is spread across several rooms. And in those rooms, you can find Anna's works from different periods. Here are several photos: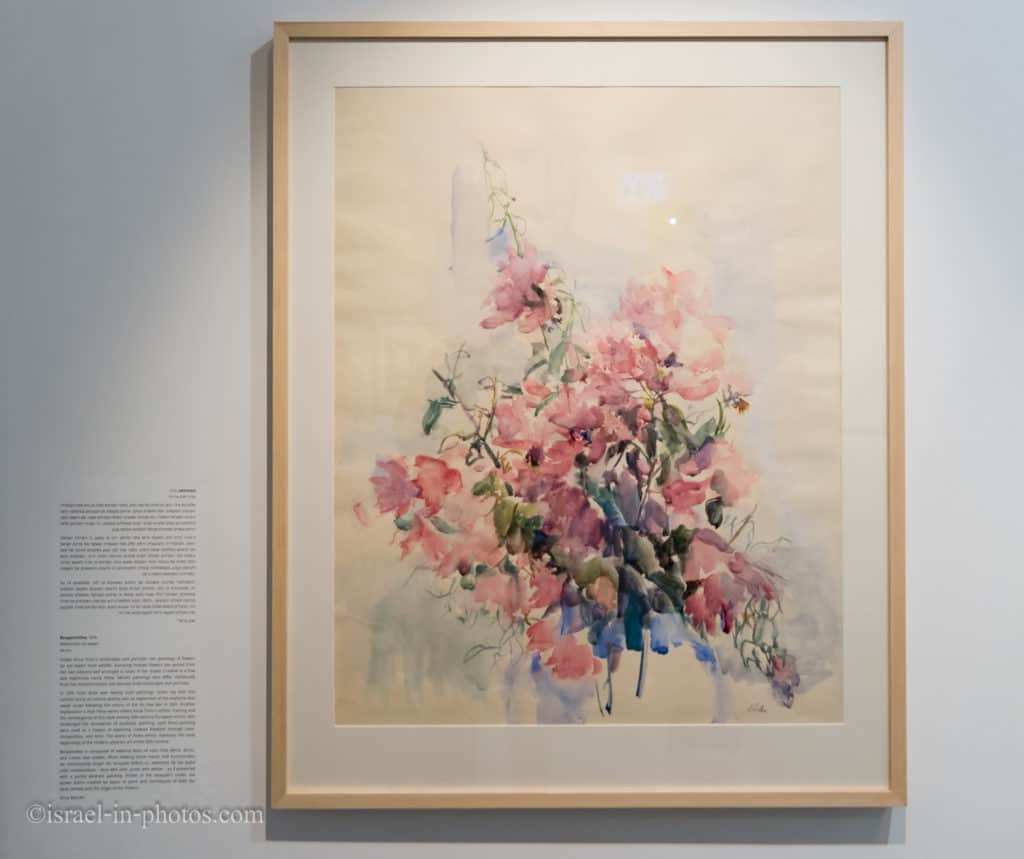 Most of the work presents landscapes, but there are some cityscapes. Here is one of Jerusalem:
The last room we visited presented different items from their collection.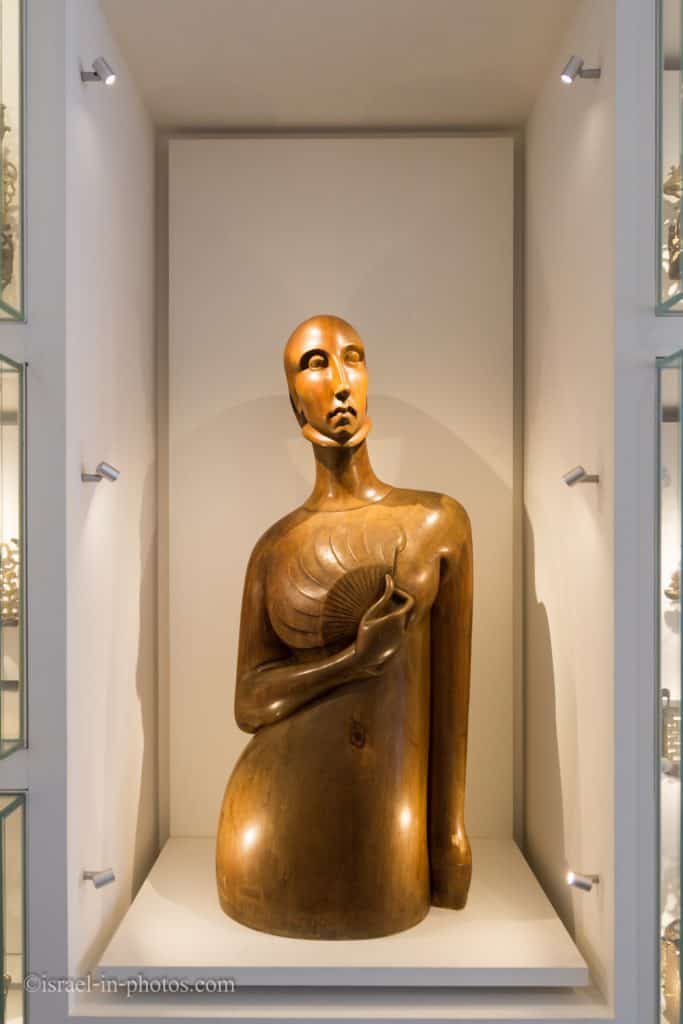 We also saw a short movie about Anna. The film included interview sections with Anna where she talked about her life. And I got the impression that she was likable and very determined. Despite the dangers of exploring new areas (and it was hazardous for a Jewish woman to travel alone around Jerusalem during her lifetime), she did it anyway. She even said that Arabs thought she must be a crazy person and thus never touched her. Moreover, she did not give up when her vision deteriorated and continued drawing.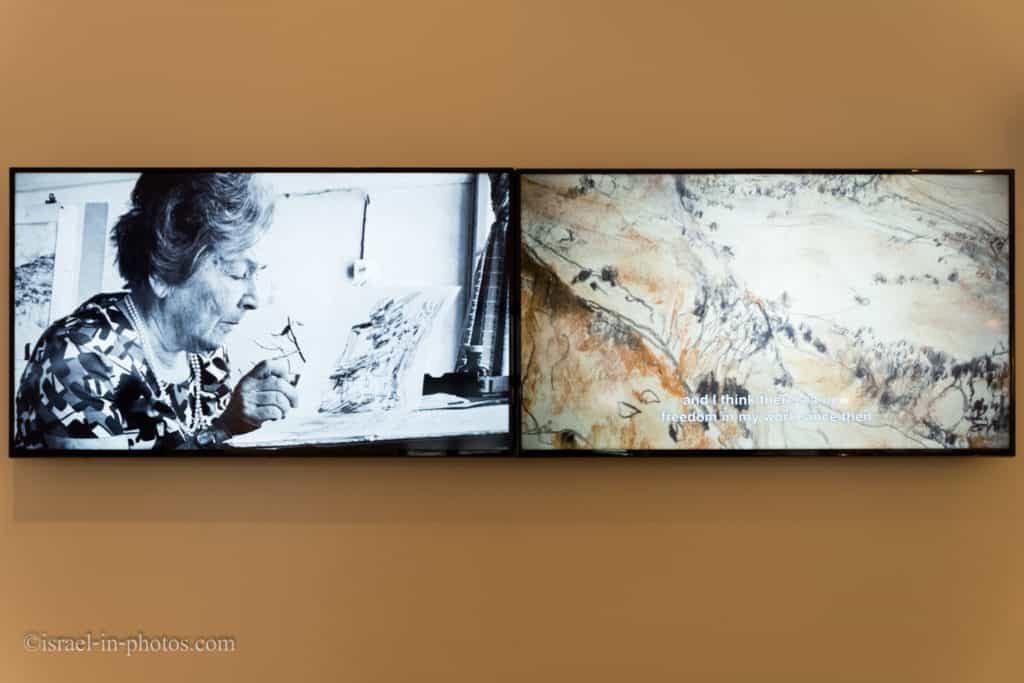 As I mentioned above, the exhibition is not a big one, and it took us about an hour to go through it (including reading explanations and the movie). But at a faster pace, you can also cover it within half an hour.
Anna Restaurant
You can find Anna Italian Cafe on the second floor of the building. And as they say, it is more than a restaurant. It is a social business.
What is Anna? There are so many ways to describe us. An Italian restaurant, a kosher restaurant, a restaurant with a social agenda. We are that and more but you are here because someone recommended us, and you are looking for a good restaurant. So yes, we serve great Italian food but we are defined by so much more than that.

"Anna" is a social business and together with the Dualis foundation and the Jerusalem municipality, we are part of an amazing program where we employ at-risk youth in our kitchen. Which in turn means that you not only eat well you feel good about it too.

Standing at the helm of our kitchen is our chef the talented Guy Harpaz accompanied by the Mona restaurant group.

​If you know Nimi then you are well aware that he doesn't compromise, on ANYTHING. No compromises on location, no compromises on the atmosphere and most definitely no compromises on the quality of our raw materials. We hope he does not read this, lest it goes to his head, but we have learned that he is very good at what he does.

The Italian magic is waiting for you at our enchanted location, Anna Ticho House, atmosphere, mountains, and more than a little wine. When conceiving the idea of Anna we couldn't help thinking to ourselves "how can we take the restaurant to the next level?". Make it something a bit more than just a restaurant, a restaurant with an agenda? Consequently this idea to help at-risk youth was born. We want to give people a chance to change the course of their lives. If you are looking for an Italian restaurant that serves food at the highest standards but isn't satisfied with just good food, you've come to the right place. Bon Appetit.
Source: official site
We did not dine there since we had other plans, but I saw good reviews online. So we will eat there on another occasion.
Summary
Ticho House is a lovely and refreshing stop in the busy city. Since the exhibition is not a big one, you can combine it with a visit to Anna restaurant. Moreover, due to its location, you can stop there when walking to the Old City or Machane Yehuda Market.
Have you ever been to Ticho House? Tell us about your experience in the comments below.
That's all for today, and I'll see you in future travels!
Stay Tuned!
Additional Resources
Here are several resources that I created to help travelers:
And if you have any questions then check out
Useful Information For Tourists To Israel
.  
Did not find what you were looking for? Leave a comment below, and I will do my best to answer your questions.