My Baby is a big baby and children's product store in Yarka. And on the second floor, you can find an amusement park.
Map
My Baby Amusement Park is inside Yarka Village, about a 50-minute drive from Haifa. And the easiest way to reach it is by entering its name into Waze.
Directions for drivers: Link to Waze and Link to Google Maps
Directions for public transport: Link to Moovit
Interactive map of the area:
Offers:
Hotels, hostels, and apartments in this area:
The complex consists of two buildings with several attractions in between. Here is the main building (terminal 1):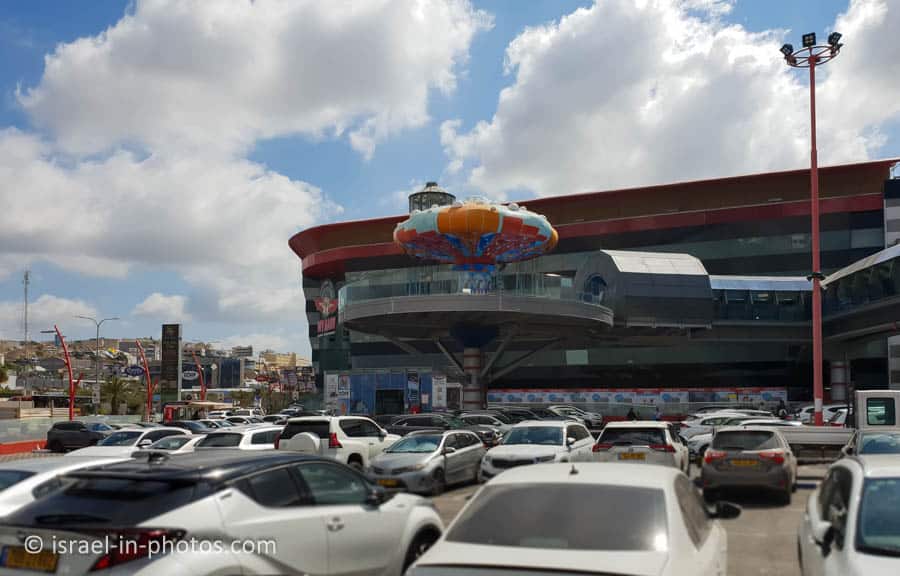 You can find a big store on the first floor of this building, and on the second level, you can visit the amusement park.
Kids Airport is a newer building (terminal 2), and on its second floor, you can find additional attractions, like bowling and ice skating.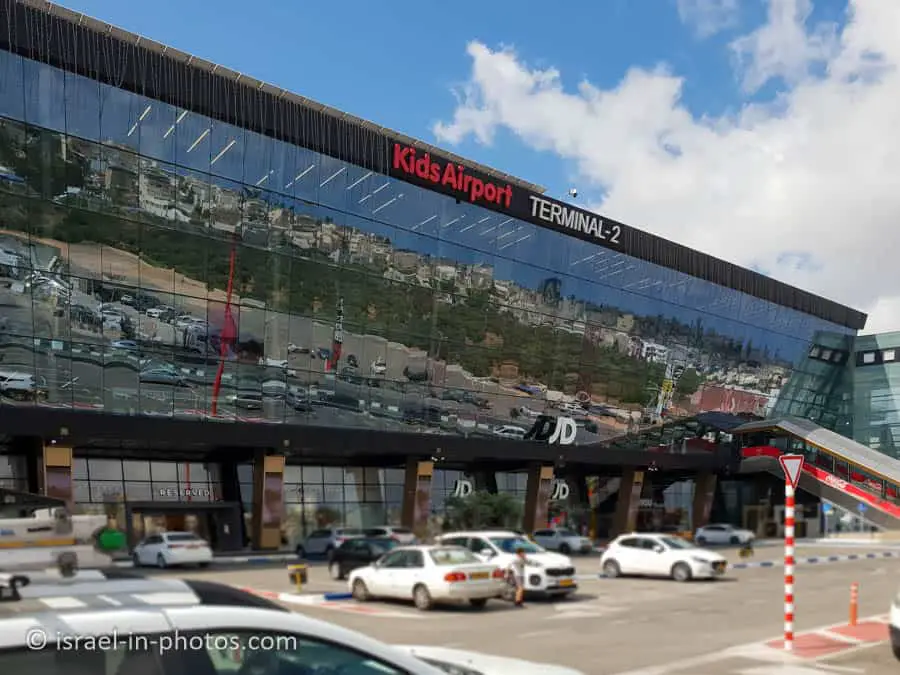 Opening Hours
The Store:
Sunday – Saturday: 08:45 – 21:00
Amusement Park:
Monday – Thursday: 12:00 – 21:30
Sunday, Friday, and Saturday: 10:00 – 21:00
Holidays and vacations: 10:00 – 21:30
Contact Information
Phone: 0533316200
Whatsapp: 054-5767566 / 04-9563336
Official website: mybaby.co.il
Entrance Fee
At the cash registers, you purchase a rechargeable card. And you can charge it with one of the amounts in the following photo: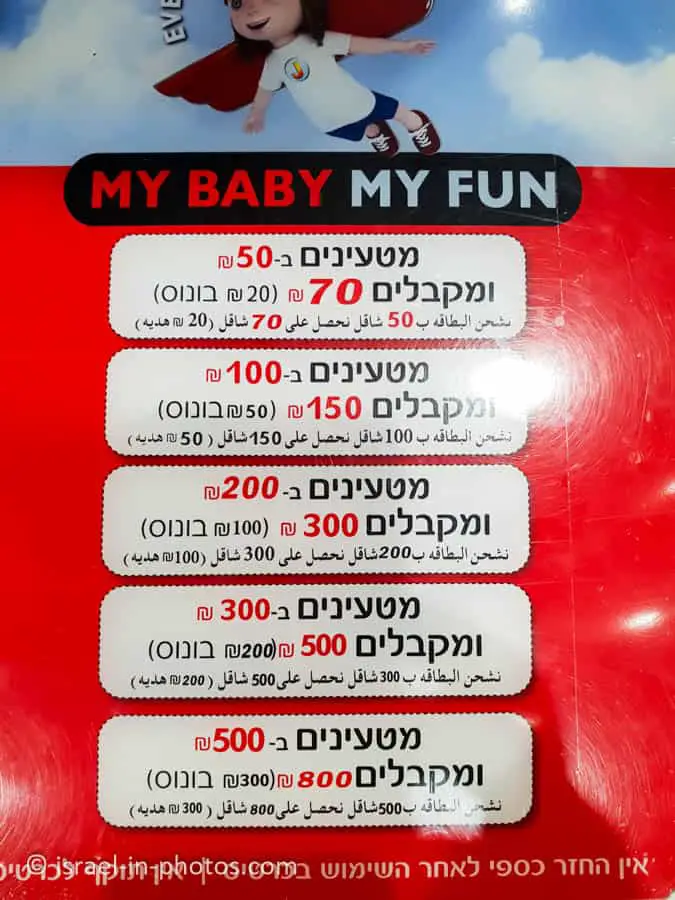 As you can see from the price list, small attractions, like the carousel, cost 5 NIS. A ride on the roller coaster costs 15 NIS, and entry to the trampoline complex costs 35 NIS. A game on most arcade machines costs 2 – 10 NIS.
Coupons
As you can see from the photo above, when you pay 200 NIS, your card is charged 300 NIS. Moreover, you can find better deals online:
Cpnclub – 88 NIS for 150 NIS card
HTZone – 69/89 NIS for 150 NIS card. 135/165 NIS for 300 NIS card and 229/269 NIS for 500 NIS card.
Attractions at My Baby Amusement Park
And now, let's enter the main building (terminal 1) and see what attractions you can find.
Here is a series of photos from terminal 1:
Food and Kiosks
You can find an additional floor in several areas above Terminal 1 (the main building). One of these areas is the food court. You can find Pizza Hut, a hamburger kiosk, a corn booth, and an ice cream stand in the food court.
We took one family pizza, and I am attaching the bill.
In terminal 2, you can find several additional places. For example, there are Italian and Thai food stalls.
Between the Buildings
There are several additional attractions between Terminals 1 and 2. There is a carousel, fly space, and catapult bungee. Here are several photos:
Terminal 2
As mentioned, the main attractions in Terminal 2 are bowling and ice skating. There are also several arcade games and food stalls. Here are several photos from terminal 2:
Summary
We spent over three hours at My Baby Amusement Park with a 300 NIS card. And my kids (12 and 3) enjoyed the experience. There are many attractions for younger kids. And there are also attractions for older children (like the drop tower and 360 swings). Thus, none of them was bored.
Moreover, a big plus of this place is that the whole complex is air-conditioned. Thus, there is no problem visiting it in any weather. Also, compared to other amusement parks, this place is cheaper (mainly if you use coupons).
Overall, we enjoyed our experience, and we will return.
Have you ever been to My Baby Amusement Park? Tell us about your experience in the comments below.
That's all for today, and I'll see you in future travels!
Stay Tuned!
For additional attractions nearby, see Haifa.
Additional Resources
Here are several resources that I created to help travelers:
And if you have any questions then check out
Useful Information For Tourists To Israel
.  
Did not find what you were looking for? Leave a comment below, and I will do my best to answer your questions.