Balagan is an amusement park in kibbutz Yagur (near Haifa). And it is primarily designed for younger children.
Map
Balagan is situated by the entrance to kibbutz Yagur, near Haifa. And the easiest way to reach it is by entering its name into Waze.
Directions for drivers: Link to Waze and Link to Google Maps
Directions for public transport: Link to Moovit
Interactive map of the area:
Offers:
Hotels, hostels, and apartments in this area:
And here is a map of the Balagan complex:
You can find a big dirt parking lot near the Balagan entrance.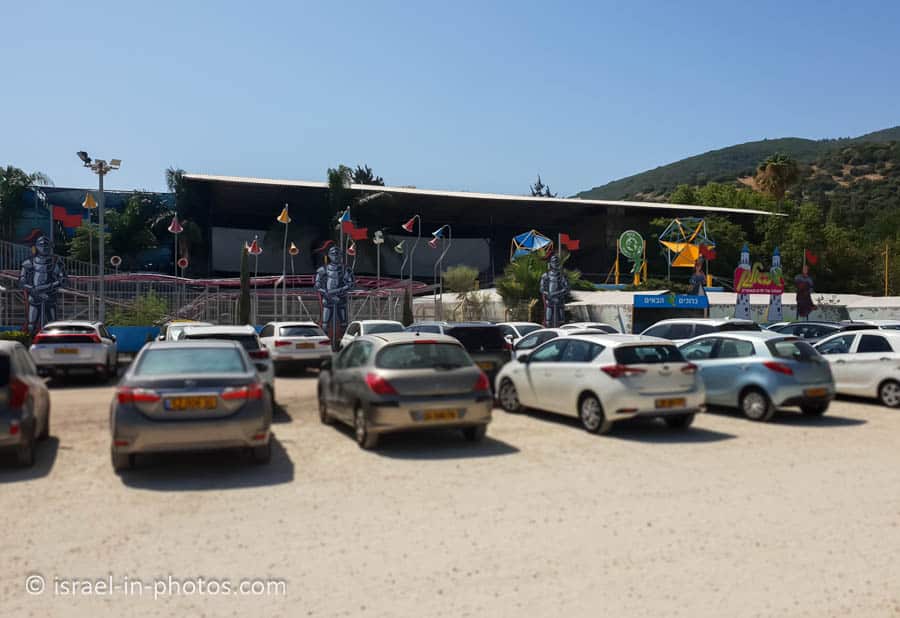 Opening Hours
The opening hours change weekly. Thus recheck the official website before visiting.
The usual opening hours during the summer are:
Sunday – Thursday: 10:00 – 19:00
Friday – Saturday: 10:00 – 18:00
Entrance Fee
Child (1 – 13 years old) – 88 NIS
Adult (14+ years old) – 42 NIS
You can find discounts for pregnant women and grandparents on the official website. You can also purchase discounted tickets for the last two hours.
Note: opening hours and ticket prices were updated in August 2023. In any case, recheck the official site before visiting.
Coupons
Balagan Yagur, similar to many other attractions in Israel, offers steep entry prices for occasional visitors. But you can find many coupons online. Here are several examples:
Attractions at Balagan
And now, let's enter and see what attractions you can find inside.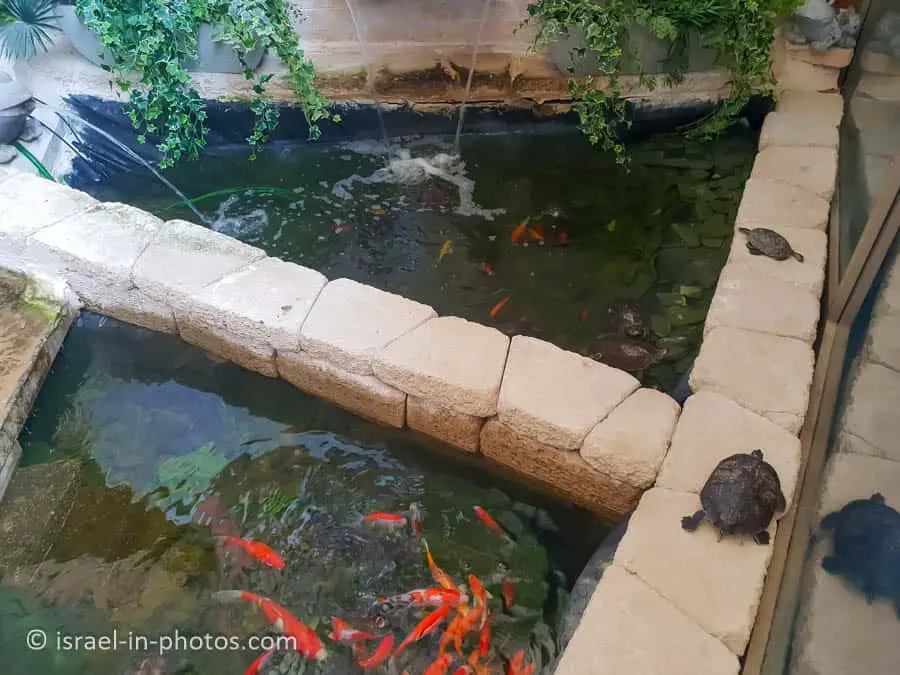 There are standard amusement park attractions. Like bumper cars (for small children and older kids), a small roller coaster, a carousel, a train, and bumper boats. Here are several photos: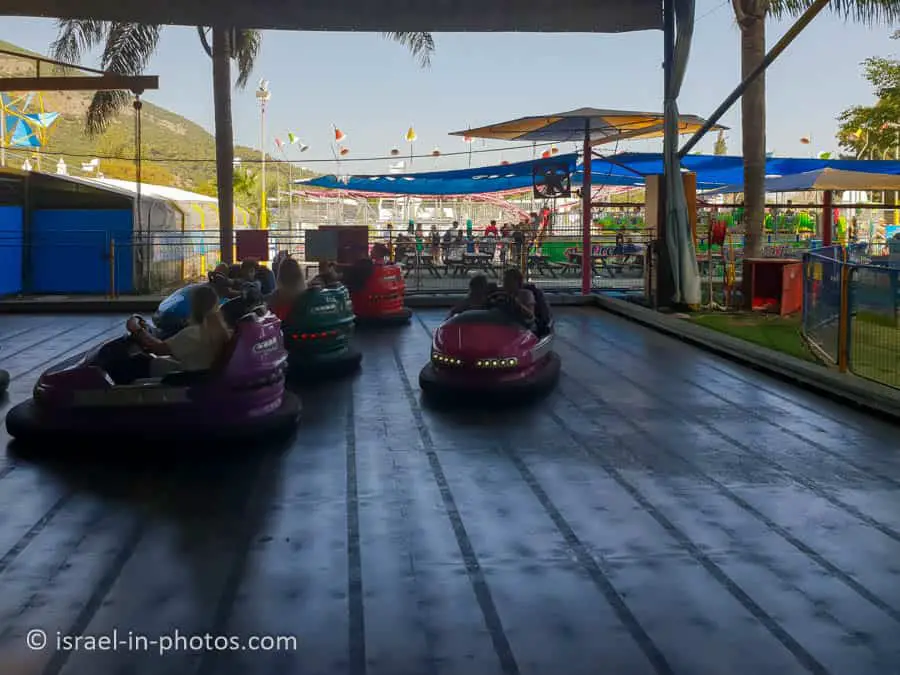 Near each such attraction, there are signs with height limitations. Thus smaller children would not be able to enjoy all activities. But my three years old daughter (about 105 cm) was on all the mentioned rides.
There are also activities that kids can use without waiting in line. There are inflatable attractions, air cannons shooting sponge balls, a complex for toddlers, trampolines, an air-conditioned area for babies, and more. Here are several additional photos: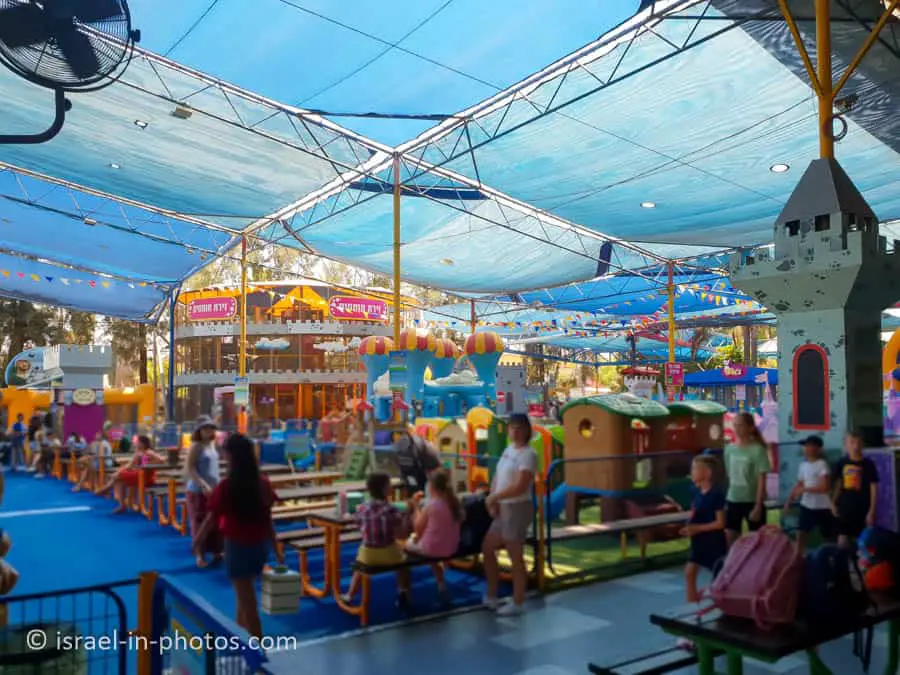 Also, entrance tickets to Balagan allow entering an animal area (see photo above). But since our last visit was on a hot summer day, we decided not to go there (on hot days, most animals will hide somewhere in the shade).
As you can see from the photos, the whole complex is in the shade (except for the roller coaster and the boats). And several rooms, including the area for babies, are air-conditioned. This is a big plus for hot summer days.
We visited during a hot summer day, and it was bearable.
Food and Kiosks
Many people bring food from home. There are many tables and sitting places. Thus you can easily bring lunch and eat it there. Moreover, there is a barbeque area, but I did not see anybody there.
There is also a kiosk with drinks, ice creams, and other sweets. And when I asked them about food (not sweets), they only had a children's meal (schnitzels and chips) for 42 NIS. See the photos below.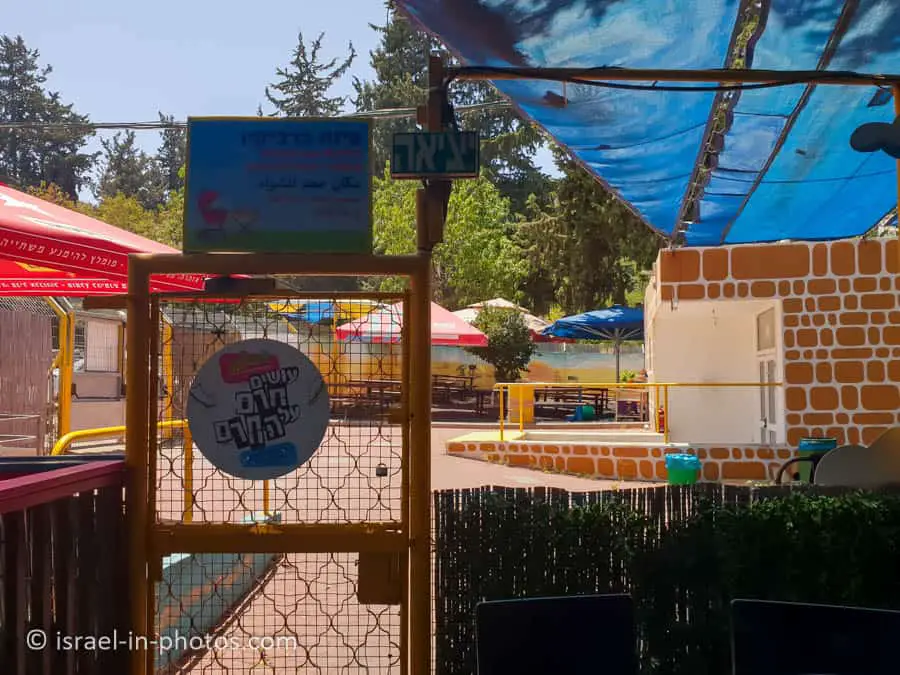 When to visit Balagan?
I prefer to visit on Fridays, as there will be fewer people than on Saturdays. I also noticed that in the morning there were lines, but in the afternoon there were almost no queues for all attractions. Thus, you can arrive after 13:00 and wait less in the queues.
Summary
My children enjoyed all our visits to Balagan. And though our latest visit was on a hot summer day (above 30 C), we spent more than four hours there. Thus shade is a big plus.
From my experience, Balagan is more suited for smaller kids. Children of ages 3 – 8 will probably enjoy a visit the most. However, during our latest visit, my twelve years old daughter also found things to do.
Balagan could be a good option if you have children of the mentioned ages. And to make the activity more affordable, you can use one of the mentioned coupons.
This area has many attractions. You can explore them using the interactive map above.
Have you ever been to Balagan? Tell us about your experience in the comments below.
That's all for today, and I'll see you in future travels!
Stay Tuned!
For additional attractions nearby, see Haifa.
Additional Resources
Here are several resources that I created to help travelers:
And if you have any questions then check out
Useful Information For Tourists To Israel
.  
Did not find what you were looking for? Leave a comment below, and I will do my best to answer your questions.