Today we talk about camera angles Interior. From which angle should shoot and what you should put in the frame.
Before we talk about camera angles Interior mention that if you are looking for a professional photographer, Please feel free to contact me at-[email protected]
Note: All posts about photo interior design and architectural photography can be seen under הקטגוריה של צילום אדריכלי ועיצוב פנים.
Post of צילום דירותI referred to the point of where to stand. So I wrote: "Small spaces are usually standing in the corners to grab a bigger part of the room. So I would suggest to start from switching between all four in the room and see how the room looks away. And then go into the space. "Indeed,, If it's a very small space, You'll have no choice but to shoot from one of the corners. But if the room is large then several options costs.
Let's start with a question:
Right angle or not?
Credit: All photos appeared in this post are from Villa filmed for architectMordechai eraA week ago.
Here is a bedroom at right angles;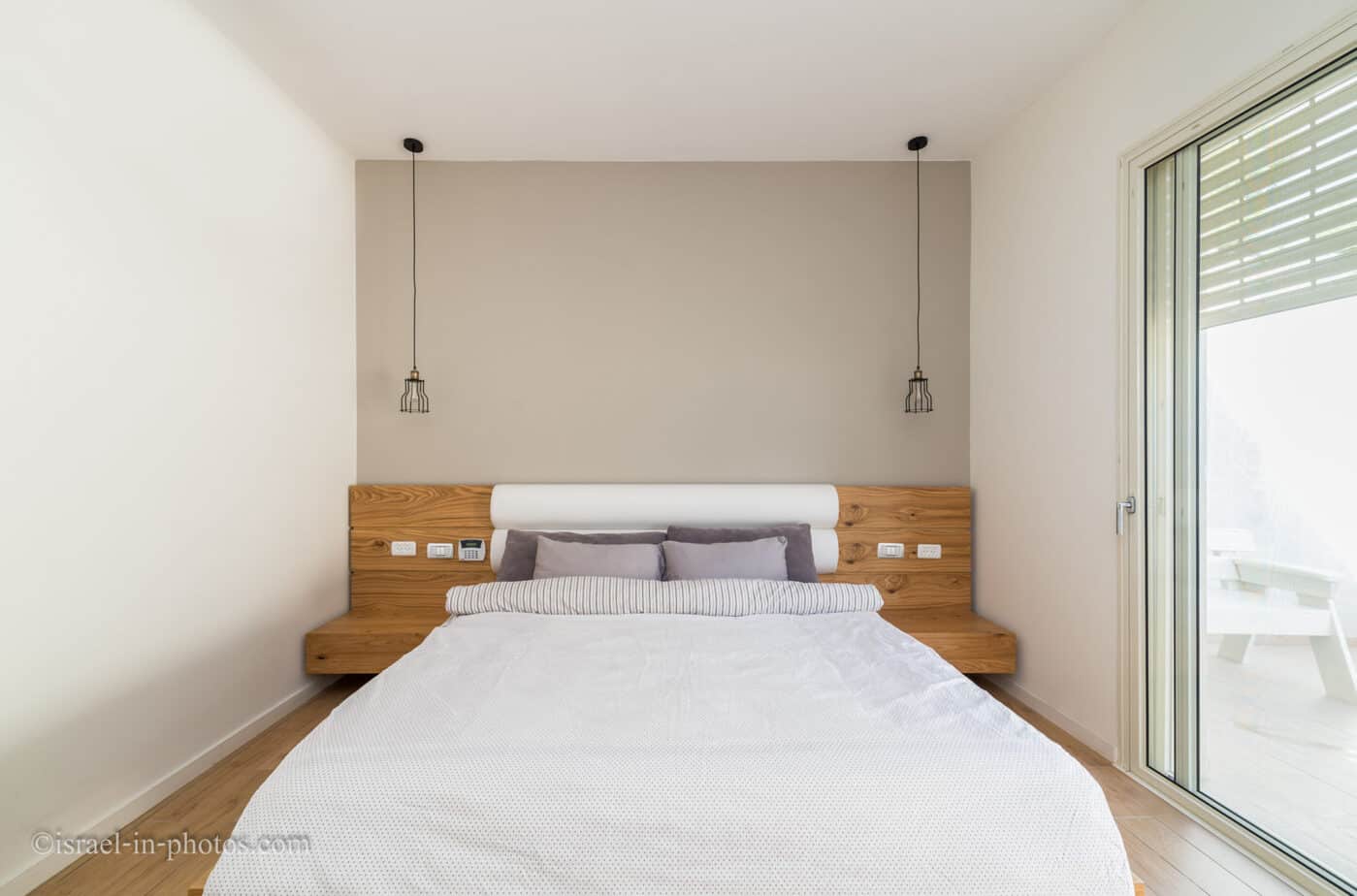 And now it diagonally bedroom: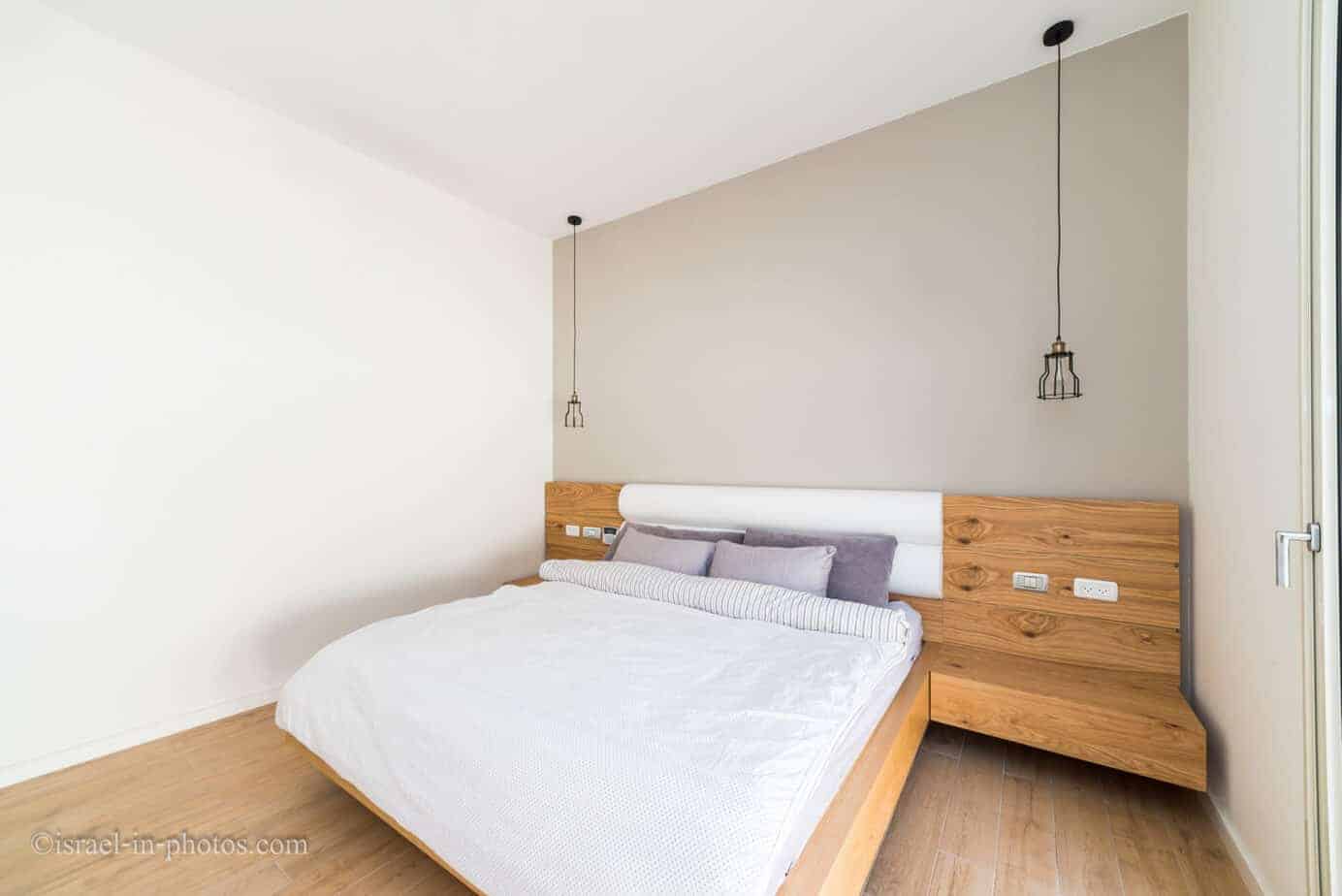 Let's look at another example in the same house, Kitchen: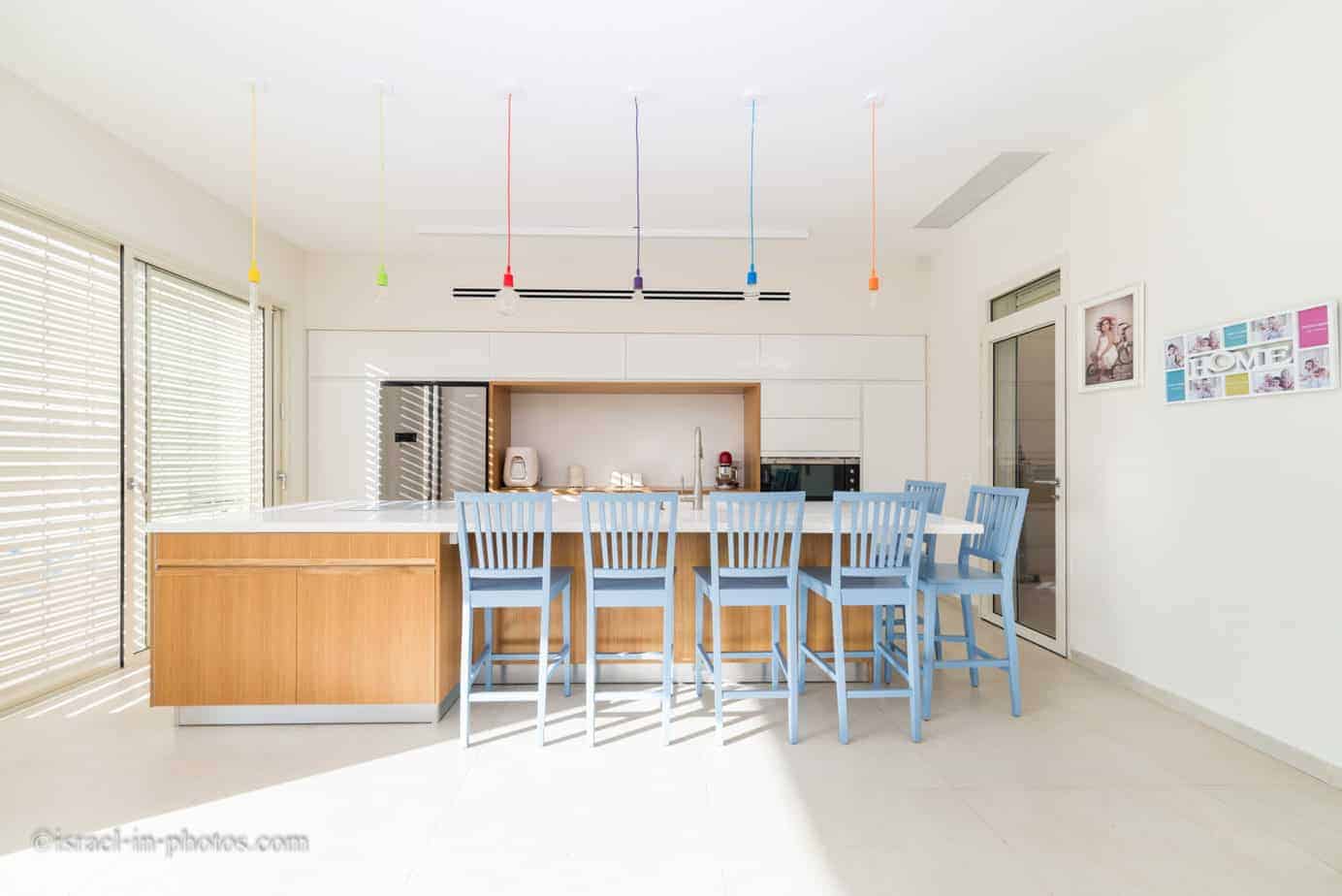 Now the kitchen diagonal: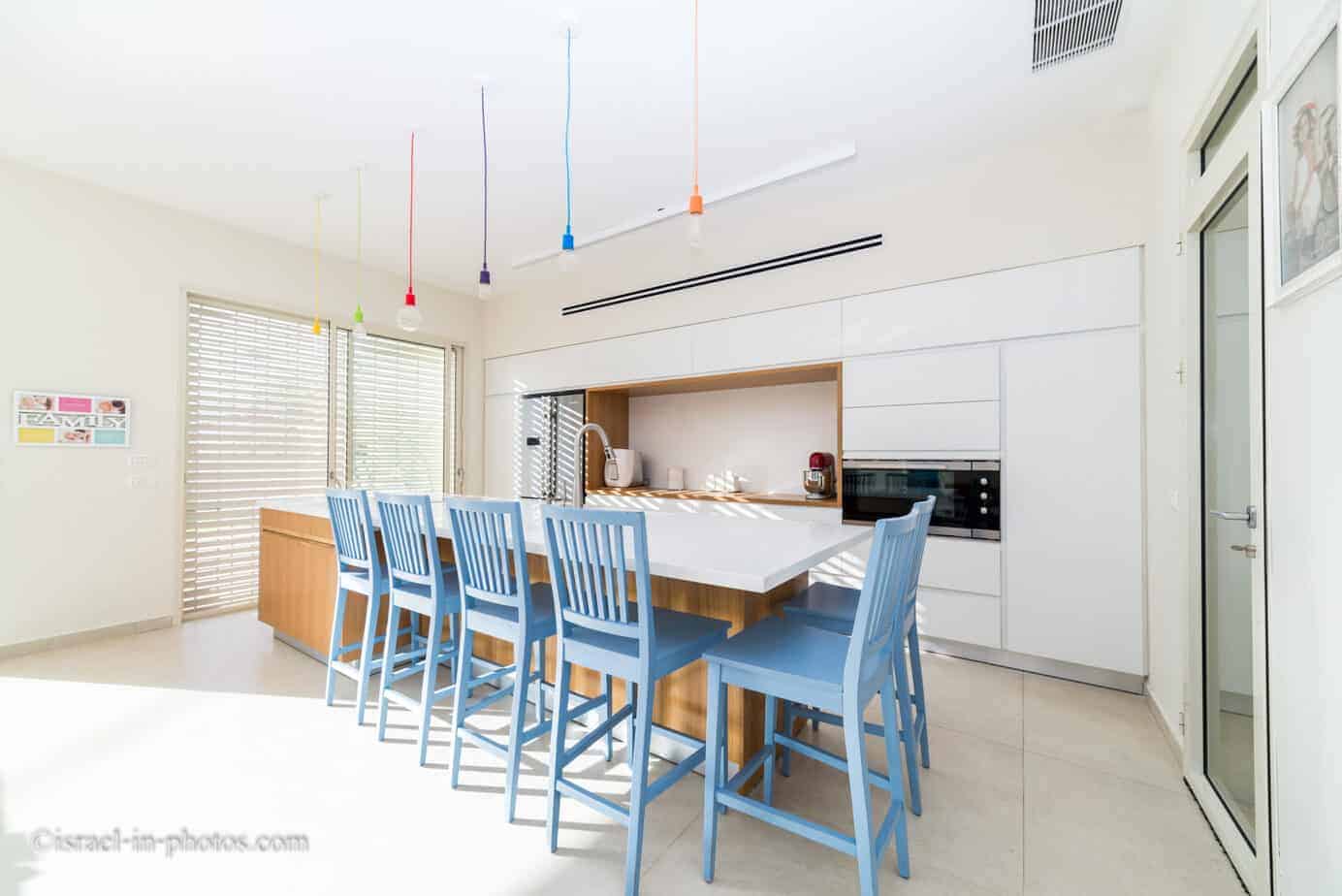 What do you prefer? Right angle or diagonally?
I'm always taking pictures from several angles to the architect / designer chooses his favorite photography. My experience shows that many prefer a right angle.
I think the preference right angle of distortion associated with wide lenses. There are two distortions:
1. barrel distortion - Although the lines were straight photography, they see little curved. For example, all of a sudden the walls or doors uneven. It depends on the size of the lens distortion can be corrected in time retouching or using tilt-shift lens.
2. Distortion size - objects closer to the lens appear larger than in reality and distant objects appear smaller than reality. If you look at the latest kitchen, Look at the difference between the chair closest to farthest. True, there Perspective, But the wide lens is highlighted. This may be why the preference right angle, Since the objects are within the same uniform size and you.
Interior camera angles: Only room?
I showed up photo of the bedroom and hallway photo here with built-in closets;


how is that related? So if you look on the next shot will understand: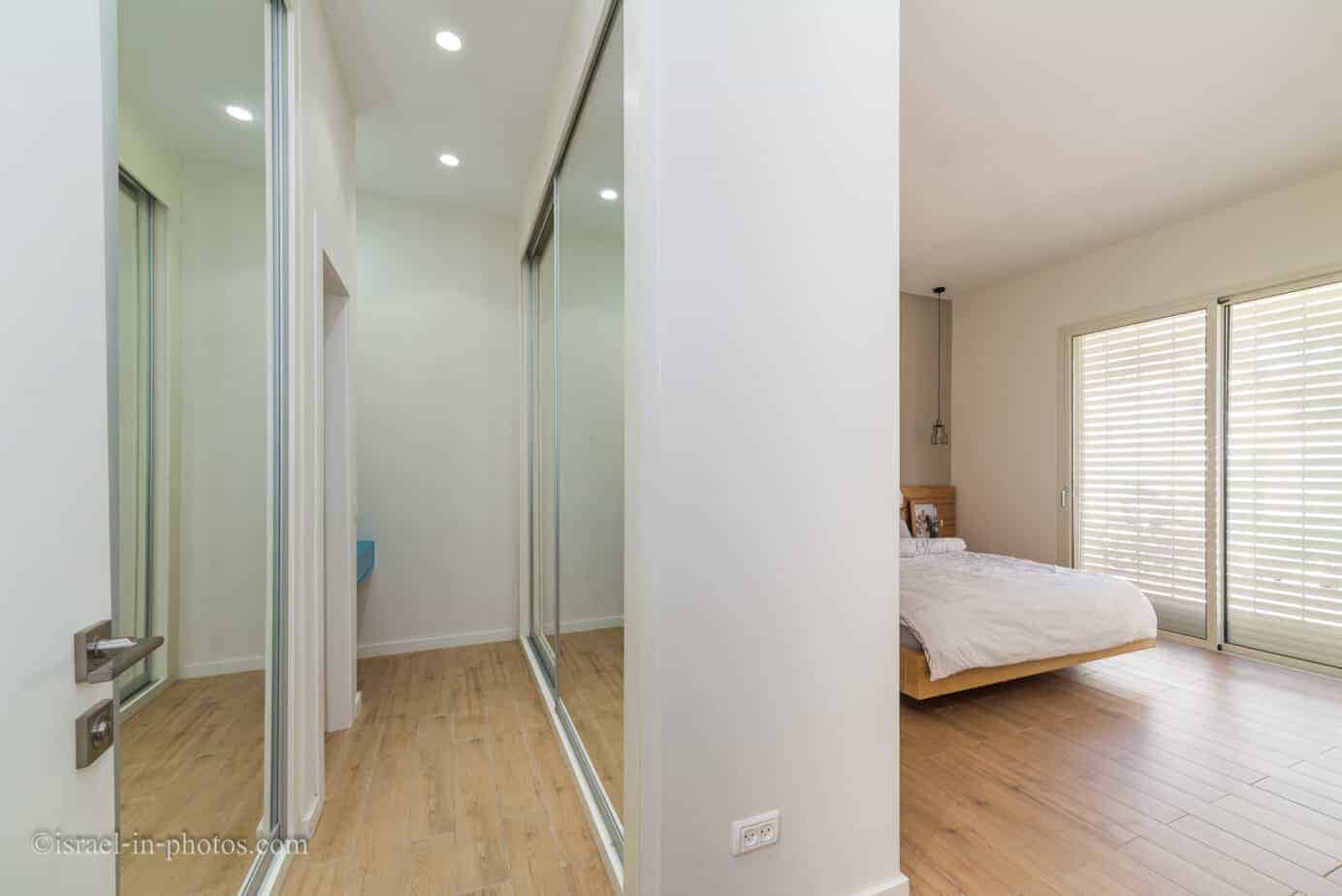 What I am trying to convey is worth Transfer photos of each space will connect all photos. This way it will be clear to the viewer how to connect and spaces of the house out of me. For this reason some people open doors when filming.
Let's look at a few more examples:


Photo above shows not only the work area, but also the relative position.
Here is an example of the dining table: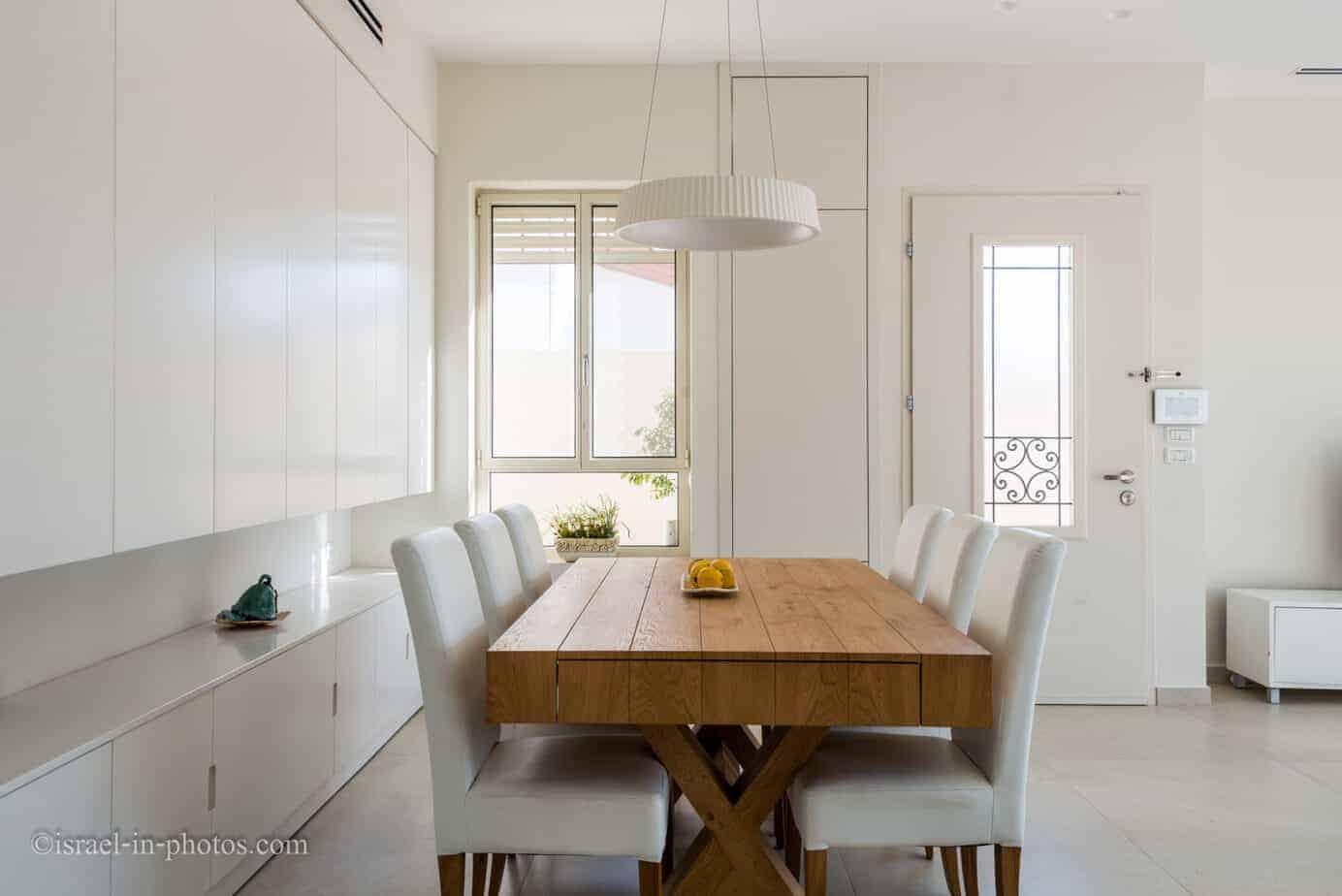 but, This example is analogous to taking a furniture catalog. If we shoot the other side of the table, we get:


Beyond the fact that in this way we put more information photography, In some cases, we make it even more aesthetic. Landscape photography has included: better to have something in the foreground, middle-ground ו- background. Ie if there is a beautiful picture of a sunset, It will look nicer if forefront is something, For instance flowers, And in the middle is another element (this is of course not always valid rule, but in most cases give a better result).
Here panorama of space that explains to the viewer what is where: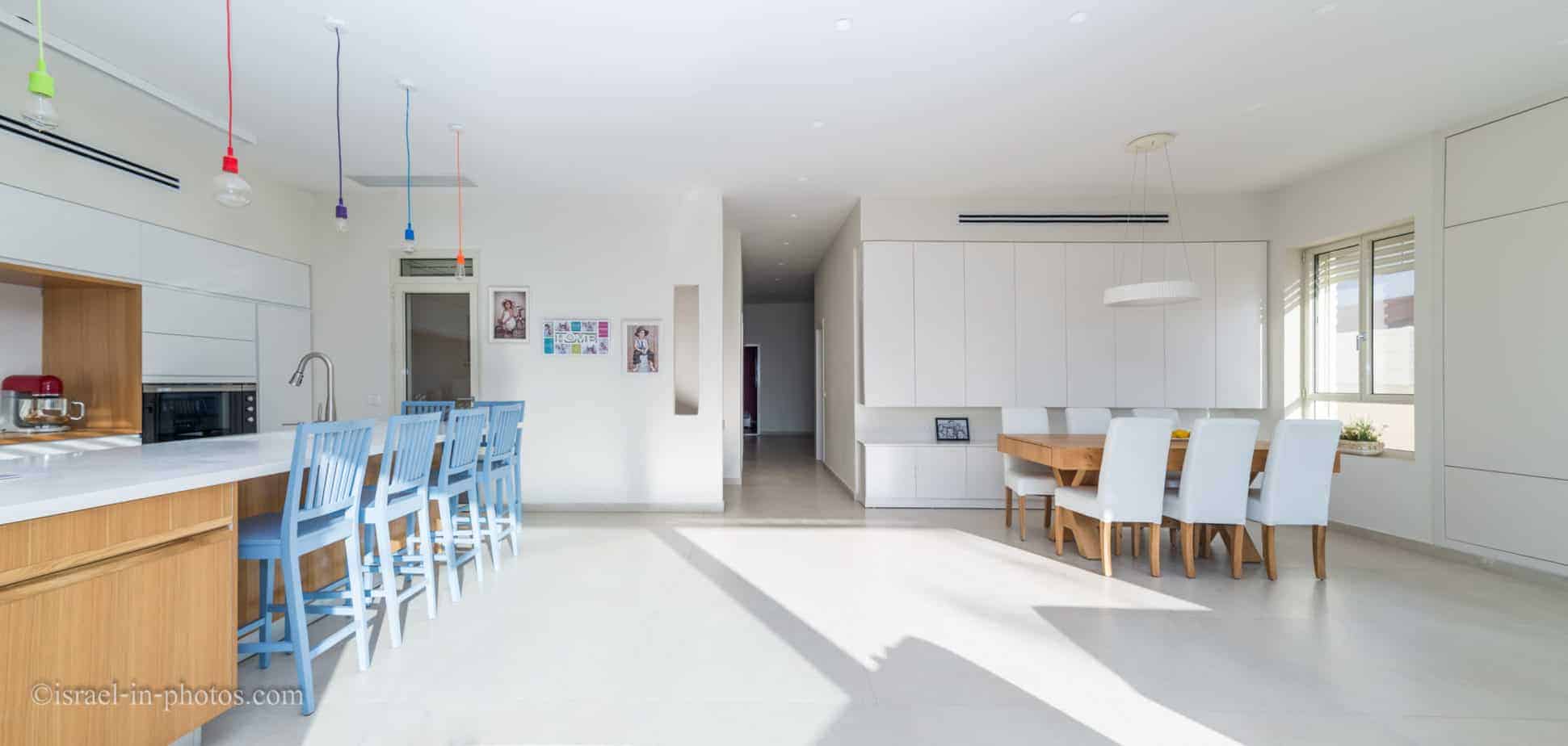 The camera height
We've spoken angles, interior design. But the issue of height is a part of it. If we put the camera low, we will empower room, That is the room will look larger but not necessarily see the desired details. So what height put the camera?
If there is no clear preference, Ie do not want to show more than the lower part of the room or to highlight the top so you can put the camera in the middle. That is if most of the apartments ceiling is some 3 meters, So you can place the camera at a height of about 1.5 meters.
Why should pay attention to? If you place the camera too low, you may lose important details. For example, if you take the kitchen, When the camera is low, Not see the counter and stove. If you place the camera in the kitchen so high put more emphasis on the upper cabinets, But hardly see not lower cabinets and the floor.
And now I want to show an extreme example I took yesterday for the designer Vicki Kravtsov:


In addition to all the usual photos we wanted to show the descent that includes lighting. So the best way to show I went on a stool and almost put my camera to the ceiling. And the picture above this outcome. That is the height and angle serve one purpose and to know the, Answer one question: What do you want to photograph will take?
I hope that the issue of interior design camera angles became clearer if you have any questions or comments you can contact me by e-mail to:[email protected]Or leave a comment below.

Additional Resources
Here are several resources that I created to help travelers:
And if you have any questions then check out Useful Information For Tourists To Israel.

Did not find what you were looking for? Email me at
[email protected]
, and I will do my best to answer your questions.