Today we will talk about interior design photography reflections. Almost every property I take I'm having a lot of reflections. It is not just these sights any reflective surface, Such that, Televisions and computer monitors, Glass of douches and glass frames of images, Aluminum surfaces which include kettles, Taps and much more other examples.
Before we talk about interior design photography reflections I'll just mention that if you are looking for a photographer or a professional photo retouch, Please feel free to contact me at-hi@israel-in-photos.com
Note: All Entries photography interior design and architecture can be seen under הקטגוריה של צילום אדריכלי ועיצוב פנים.
Several examples of reflections in the kitchen
A week ago I took a villa for an interior designer Vicki Kravtsov. The kitchen was a beautiful black marble. But when the windows are open not just see marble. See mostly the reflection:

It's not ideal but intentionally composition closer to having illustrate the problem. What happens when lowering the curtains;

Suddenly see the marble much better. Of course in this case because of the color and structure of the curtains would have been better just to stand with black cloth and reduce reflections further. But with a little trick of closing the curtains improved the situation. And when you combine two frames of the open window and the window is closed, we get the desired result. Here's Warranty: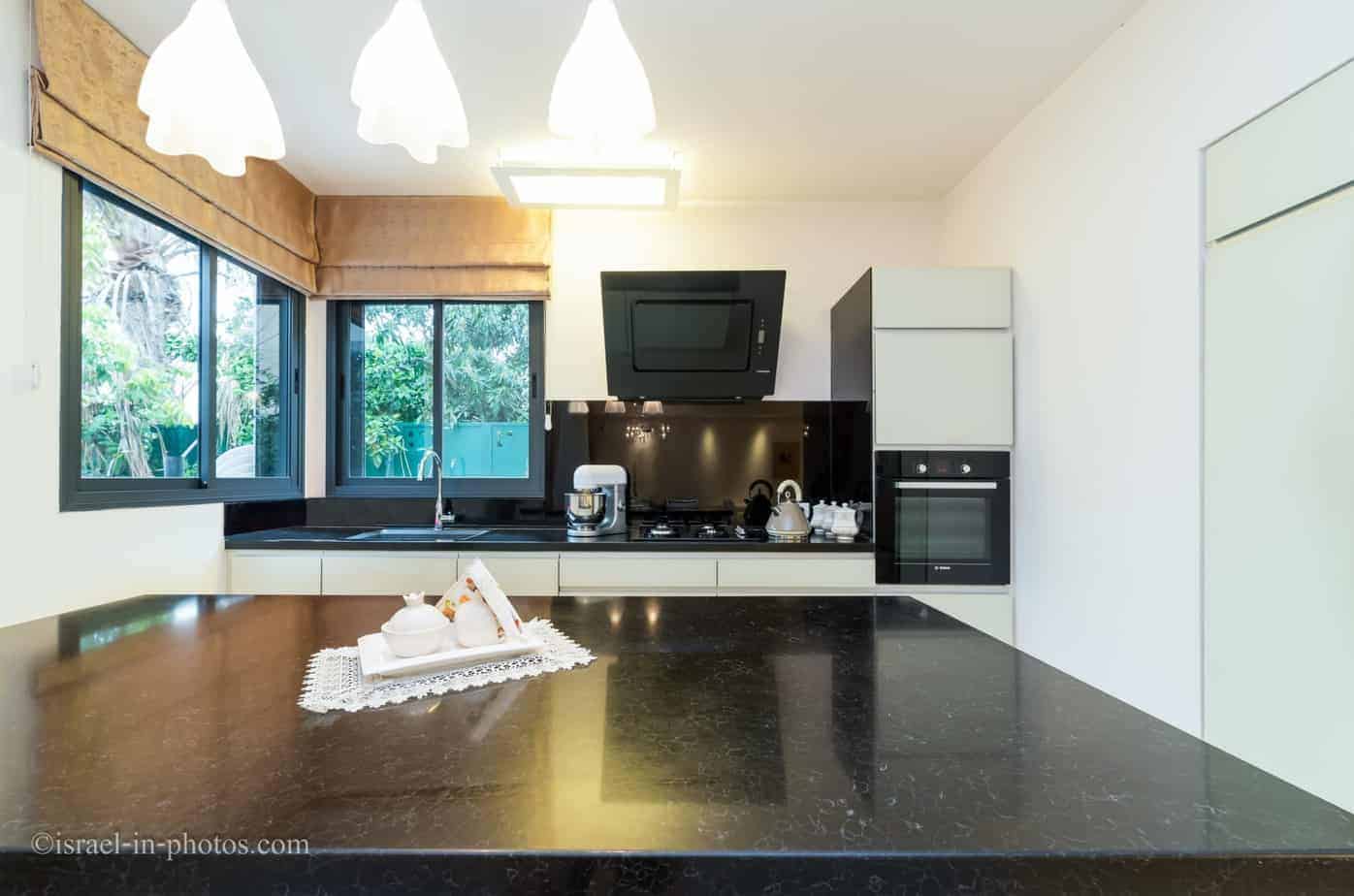 If I mentioned a black cloth so here is a kitchen where you do not see the picture: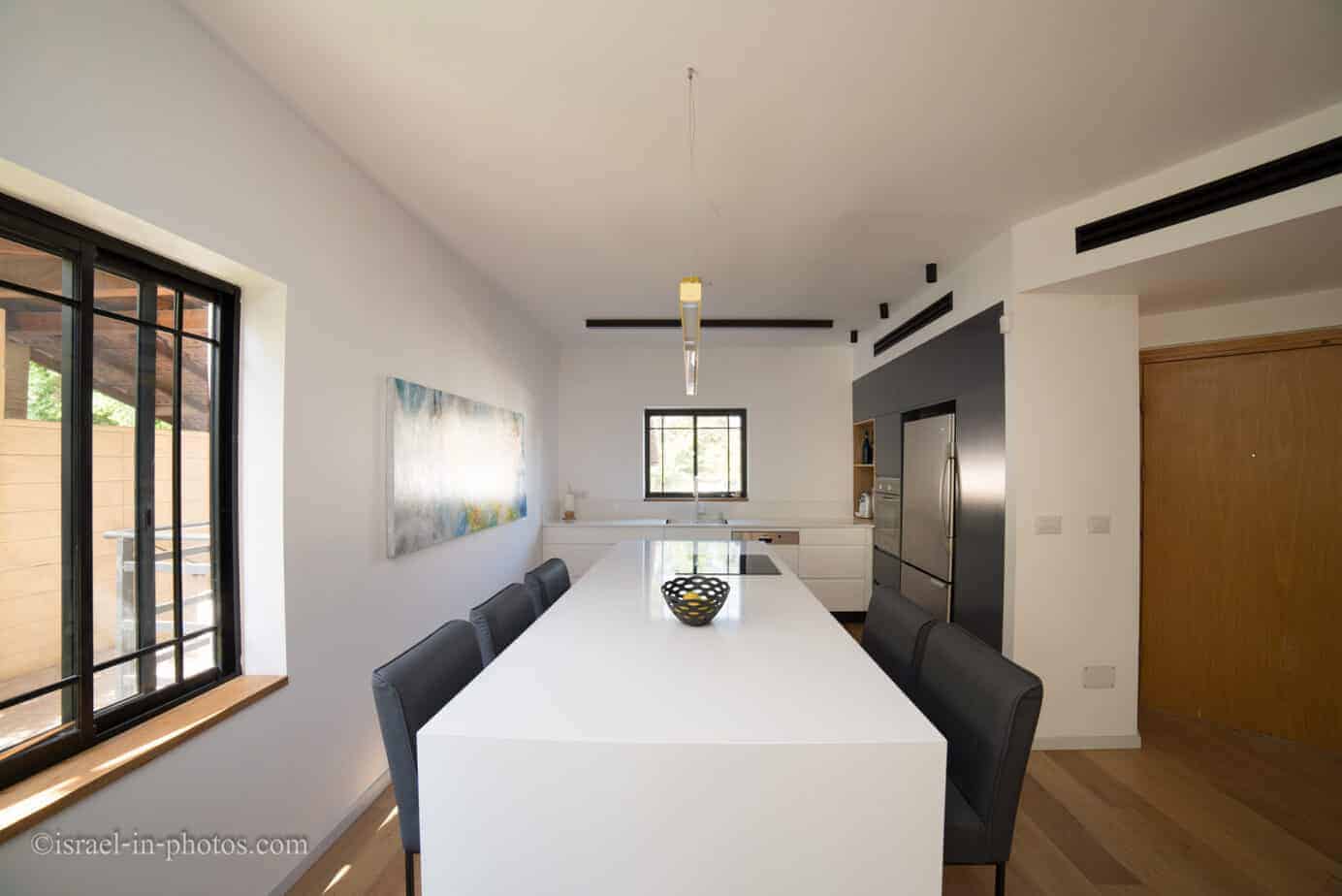 This window would not Trisim so we asked the landlady blanket. Here the architect Mordechai era A blanket;

This is the final result: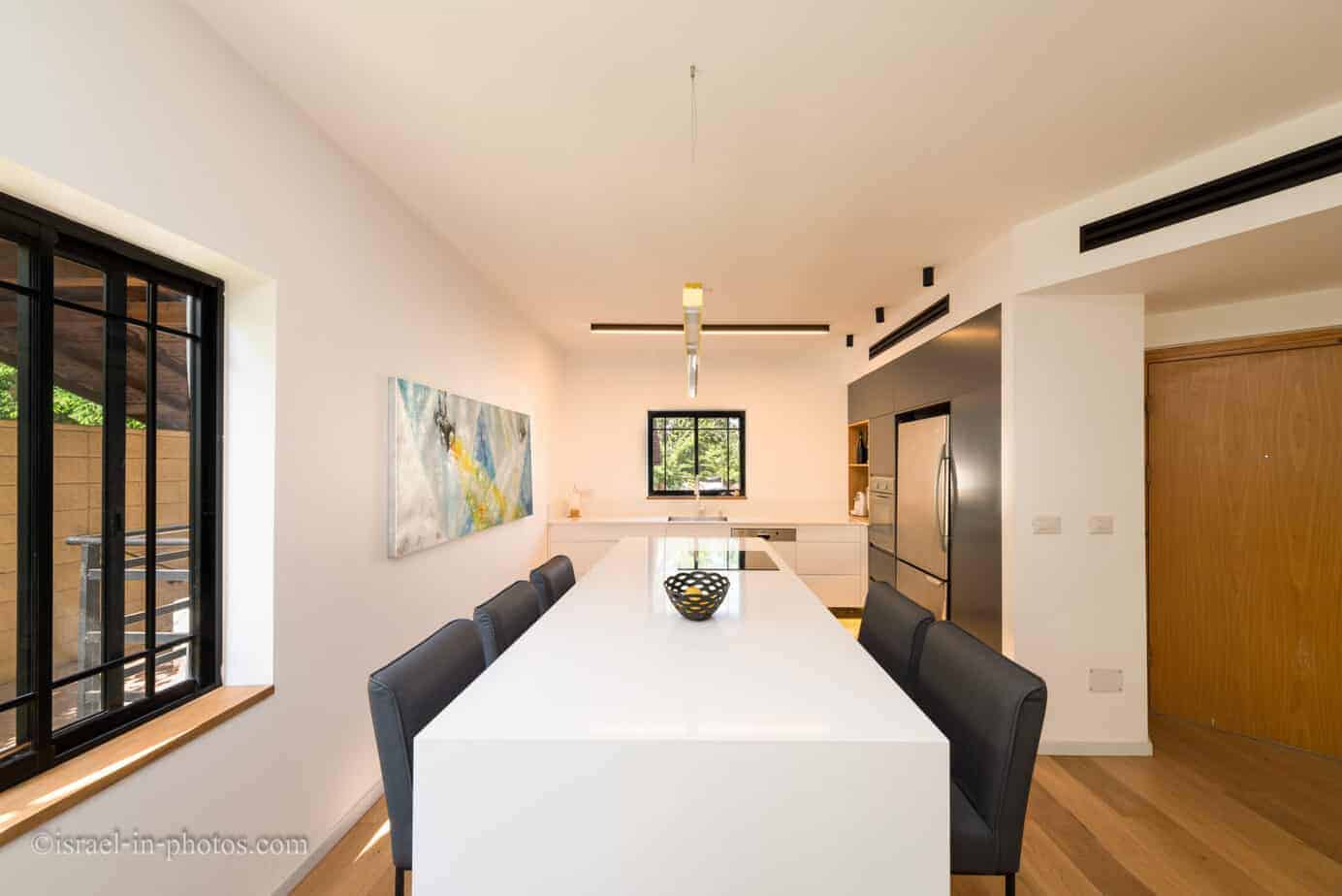 Here is another example of the kitchen. This time I took for kitchen Perfecto. This kitchen has a photo of the forest all the way. To protect Photography, There are glass elevators. And that makes photography more challenging. Here is one of photographs:


As you can see, or more accurately, No one can see the photograph of the forest near the window for reflection.
We can easily solve this problem by closing the window:

But the photo with a closed window as nice. In most cases, we want to show Bright and beautiful. So I merged the two exposures with the following results:
Reflection incapacitating inevitable?
I took an apartment for a week Mordechai era And one of the services has been showing throughout the wall. That is wherever we put the camera, See it. Well, Almost everywhere. You can go down low and then not see the reflection. Low angle photo here: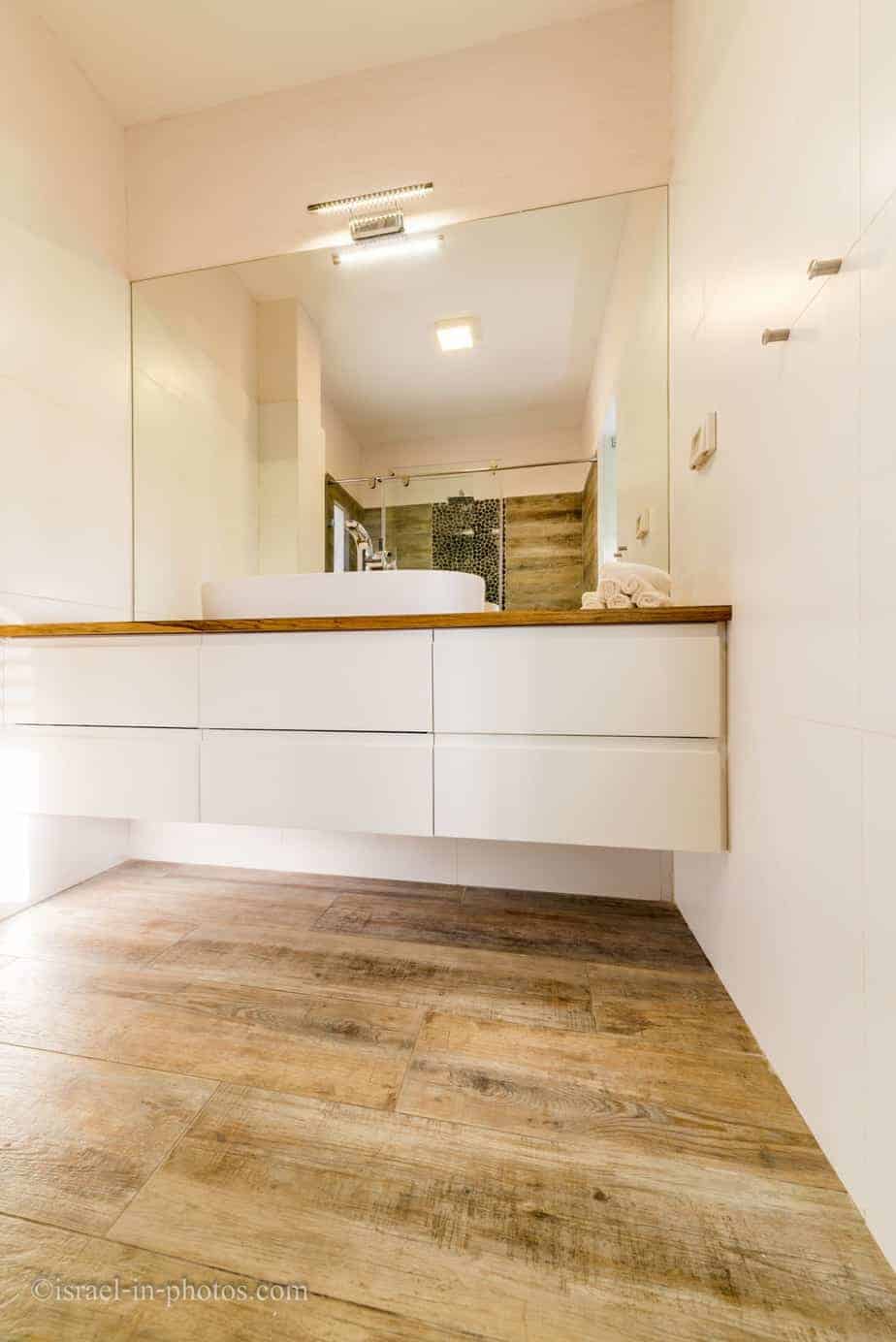 Another option is to photograph the entrance: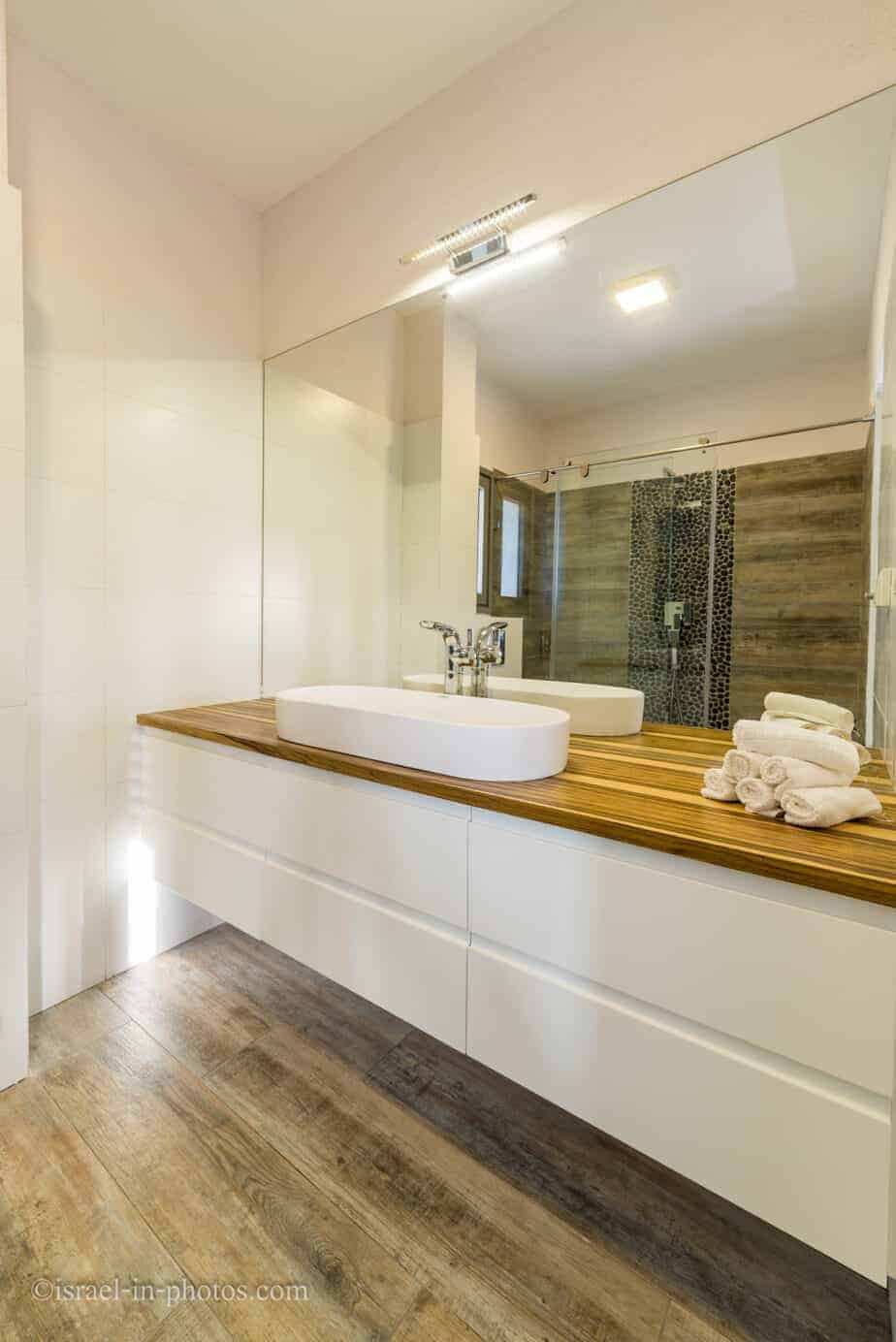 If you want to get a photo from another angle, There will be no escape from using Photoshop. If you are going to use Photoshop then you should choose the background behind the camera to be as simple. The intention is much more than just drop a camera or a human being than painting a white wall.
Here is one of the photographs I had downloaded from the reflection of the camera and tripod;
Reflections on TV
Here is an example of photography Interior with TV did for Tel Aviv apartment Vicki Kravtsov. But this is a unique situation because almost every one has a TV. TV footage mirroring function. I think this reflection distracting and not conducive. Beyond that, Very simply download the reflection and most people will not notice anything done. They just feel more professional photography. Here is an example of a reflection ( "before") and without reflection ( "after");

A situation of no choice
A final example would be Villa which rooms service was long and narrow. And no matter where we will see the reflection in the doors showers. Unable to shoot from below and not from the entrance angle (the long room and we can not catch it all). There is of course the possibility to open the doors showers, But in this case the customer wanted to keep them closed. so what to do?
There is one more Trik. You can drop open the doors showers. This is true not only sticks but also doors and other surfaces sights. If we change the angle by several degrees and stand back far enough in front of the object, So we will not see. I tried it here too, But I was not far enough and still see me. So we got last tip. If there is no choice and must be retouched in Photoshop, Willed that: 1. You'll have to retouch as little as possible (quality of work will be higher) and 2. The object should be to download the picture should be on a solid background, It will be easier to download it and again the quality of work will be higher.
After each introduction Here's a picture of my hand with the camera and the result after retouching:


I hope that the issue of interior design photography reflections become clearer if you have any questions or comments you can contact me by e-mail to:hi@israel-in-photos.com Or leave a comment below.
Note: This post does not mention the use of a polarizing filter (Folriizr). Folriizr could help in some cases reduce the amount of reflections but the front element of the lens of my extension (and as much of the market wide lens) is not straight ones round and therefore can not screw filters on the lens.

Additional Resources
Here are several resources that I created to help travelers:
And if you have any questions then check out Useful Information For Tourists To Israel.

Did not find what you were looking for? Email me at
hi@israel-in-photos.com
, and I will do my best to answer your questions.